---
The day had finally arrived. After packing in the morning my mom drove my brother and me to the airport at 2PM, getting us there an hour before our flight. We proceeded to the "Priority AAccess" line where we were immediately helped. We handed the agent our passports and I put my checked bag on the scale. Looking at my brother, the agent commented "is dad traveling too?" Eh, don't think my brother looks *that* much older than I do. We're still trying to figure out if that was a joke or not.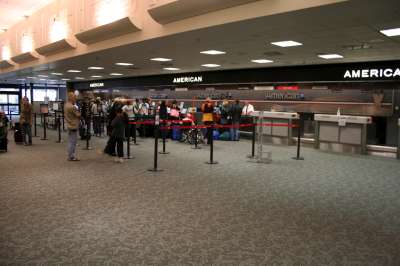 Check-in area
With boarding passes to New York (via Miami) in hand, we proceeded up the escalators to the F concourse, where we cleared security within minutes. Of course I was one of the lucky ones to get put in the full body scanner. As the agent basically tried to push me in there I indicated I would prefer a pat down instead. The agent, obviously pissed that I wasn't playing his game, called over a colleague to handle my "non-compliant" self. As I walked off he said "it's always the guys that act like girls and girls that act like guys when it comes to this." Sorry, until I'm forced to I'm just not using one of those things.
After the pat down I got a chicken pesto sandwich from the great airside sandwich place, as boarding was announced. We were aboard in no time.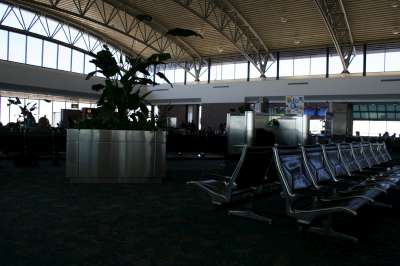 F concourse
American 1819, TPA-MIA, 757
Saturday, March 6
Depart: 3:40PM
Arrive: 4:45PM
Duration: 1hr05min
Seat: 2A (First Class)
As we were on the jet bridge we noticed the flight attendant at the door immediately handing the two commuting flight attendants in front of us full bottles of water, and telling them to let him know if they needed anything. Classy. Aboard we were acknowledged (as opposed to greeted) by that same male flight attendant that had his tie tucked into his shirt near the very top. Classy yet again. We took our seats in row two.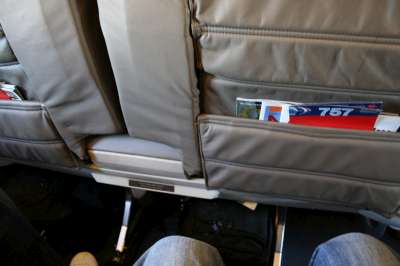 Legroom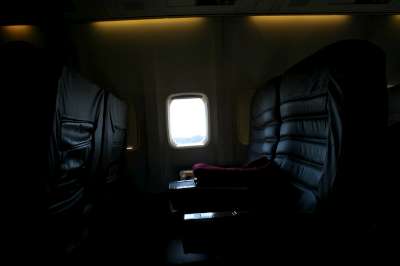 Seats across from us
American's 757 first class seats are ancient although quite comfortable. Boarding seemed to take forever with the spring break crowd, and somehow the flight attendants didn't find time to do pre-departure beverages despite the less than full first class cabin. The captain announced that our flight time would be 36 minutes.
We pushed back on-time and the safety video started playing, in both English and Spanish, as is the norm on American. It finished just as we pulled up to the runway and had a particularly powerful takeoff towards the north.
About ten minutes after takeoff the purser offered us drinks. I went with a Diet Coke with lime and my brother went with tomato juice and water (trying to stay rather "pure" for his Krug destruction the following night). The drinks were served with American's "premium snack mix." I'm still trying to decide which I prefer between American's and United's "premium" snack mix.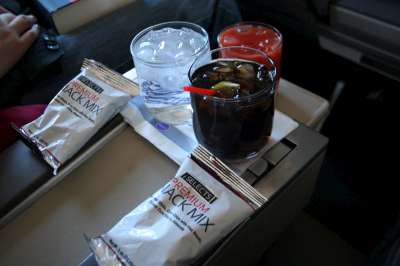 Drinks and snack mix
The purser was busy serving drinks, while the other flight attendant sat in the jumpseat the whole time. No clue why, because the purser was quite busy. And no, the other flight attendant wasn't commuting. This made it very difficult to ask for refills, as drinks were collected just as he finished serving the last row.
As usual the descent into Miami was beautiful.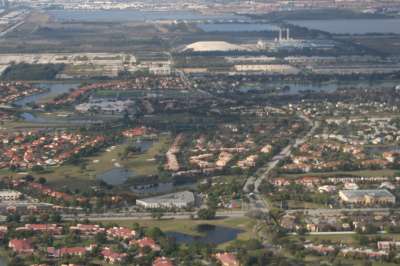 Approaching Miami
We landed a few minutes early, arriving in the D concourse. While Miami is a decent airport, I swear they designed it in such a way to maximize walking time. We made our way towards the lower E gates to visit the Flagship Lounge (American's international first class lounge). It must have taken 20 minutes to walk there. Insane.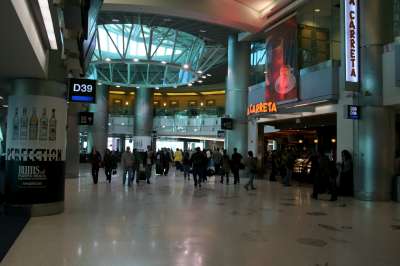 D concourse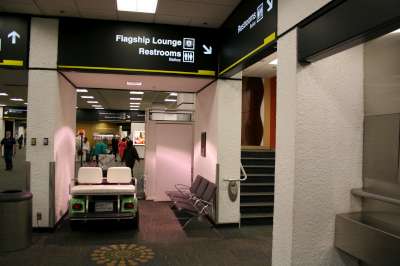 Flagship Lounge, here we come
Obviously not a very grand entrance for a first class lounge, although my understanding is that the lounge is temporary. Inside we were admitted by the friendly agent, who also offered us Wi-Fi cards.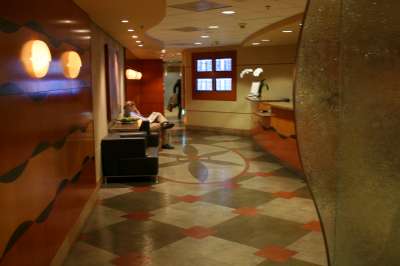 Entrance
The lounge was tiny. Tiny. While it wasn't too full at first, it did fill up over time.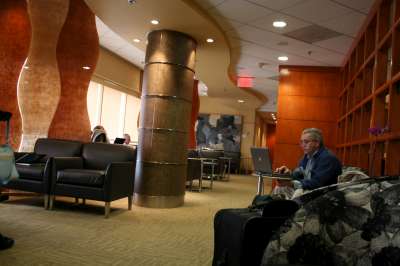 Flagship Lounge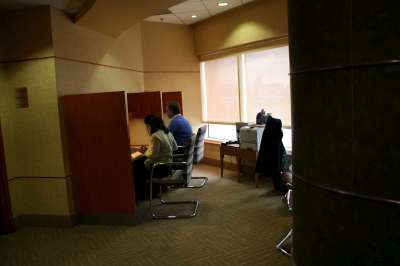 Cubicles
The food and drink selection was decent, comparable to a United International First Class Lounge. There were a couple of types of salads and sandwiches, cheese, crackers, and some desserts. Later in the evening they brought out some hot junk food which was quite tasty, like quiche, empanadas, etc.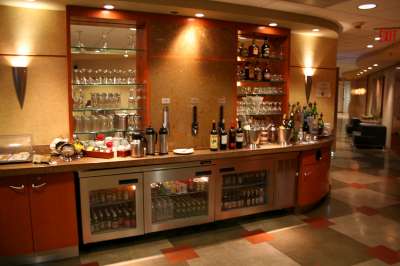 Drink selection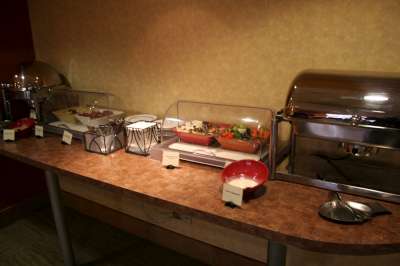 Buffet area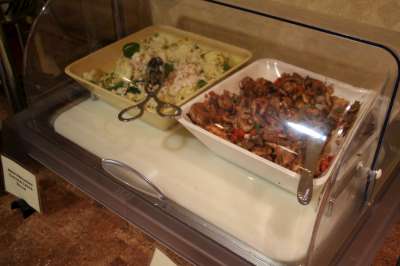 Chicken salad and something with mushrooms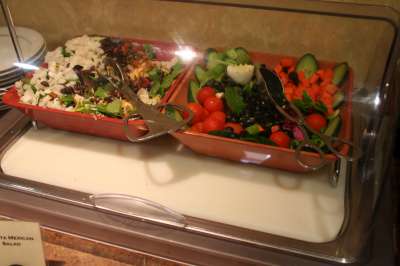 Tasty salad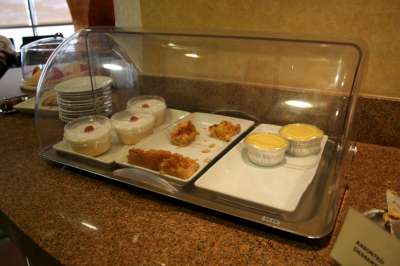 Dessert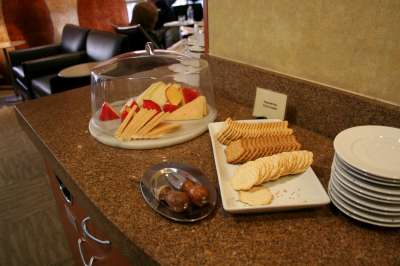 Cheese and crackers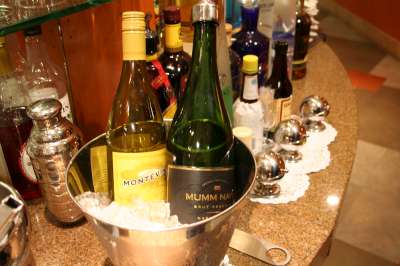 Decent sparkling wine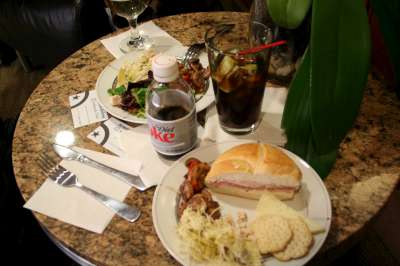 Dinner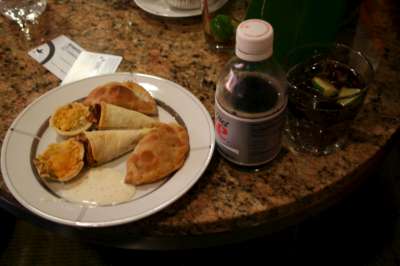 Hot snacks that arrived later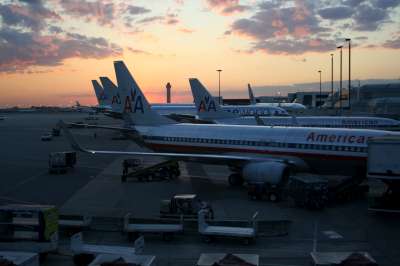 Nice view from the lounge during sunset
My only frustration with the lounge had to be one guy that was "roaming." You know the type of person that will roam a lounge, desperate to start a conversation with someone, even if it only revolves around the most superficial subject? Yeah, well this guy was a roamer. And engaging him resulted in hearing his whole life story. He wasn't telling it to me, but I had the pleasure of overhearing it.
After a couple of hours of email and eating, we headed to the gate at around 6:45PM for our 7:35PM departure. This time the gate was right around the corner, although they started boarding early.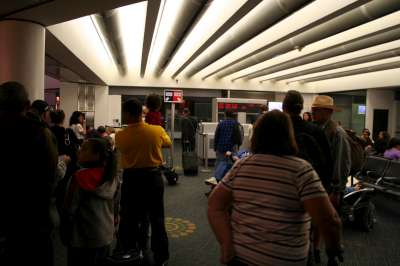 Gate
American 1400, MIA-JFK, 757
Saturday, March 6
Depart: 7:35PM
Arrive: 10:29PM
Duration: 2hr54min
Seat: 2B (Business Class)
Aboard we were greeted by the friendly purser. We were quite excited about this flight as it was a 757 configured with American's business class seats. We settled into row two, where we found our seats with comfortable pillows and blankets.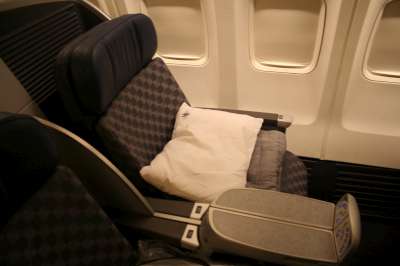 Seat 2A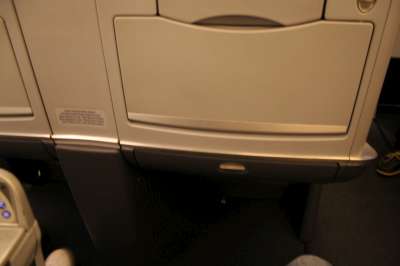 Legroom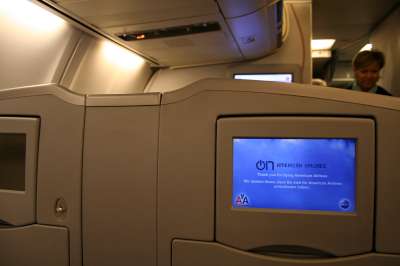 Entertainment system
The seat felt very "boxed in." At first it even seemed comfortable. The seats were well padded and the entertainment system looked fancy, so we figured we were in for a comfortable flight. As the coach passengers walked by at least a dozen people commented on how these were the weirdest first class seats they had ever seen. We were soon offered pre-departure beverages.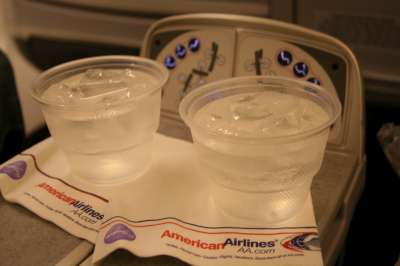 Water
As the door closed the captain advised us of our flying time of 2hr25min. After the safety video we were ready for takeoff. Our climb out was smooth and after about 30 minutes the seatbelt sign was turned off and service began.
We were offered our first round of drinks along with hot nuts. Ah, hot nuts. I went with a Diet Coke with lime and my brother went with white wine. My brother was a bit peeved by the wine glasses basically being shot glasses. He expected he'd at least get a refill soon, but it took forever. After our first round of drinks we didn't see the flight attendant for at least 30 more minutes. While she was friendly, a level of attentiveness was certainly missing.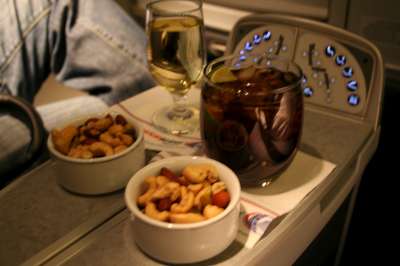 Drinks and hot nuts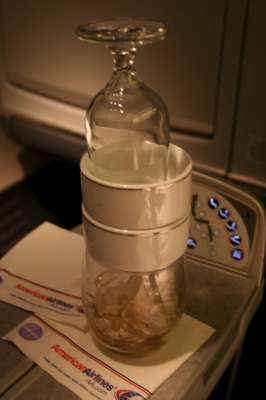 The way our console looked for nearly half an hour
30 minutes later the flight attendant came around with hot towels.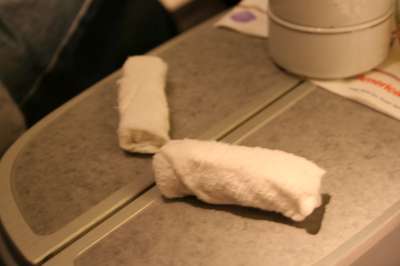 Hot towels
Next we were asked for our dinner preference, the choice being between a salmon salad and chicken parmesan. My brother went with the salad and I went with the chicken. This was quickly followed by tablecloths and then dinner.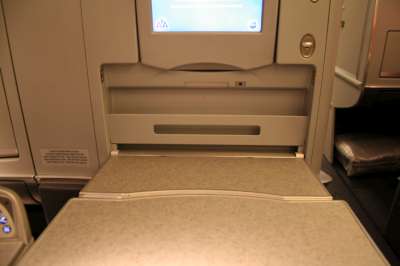 Gotta love how big American's tray table gets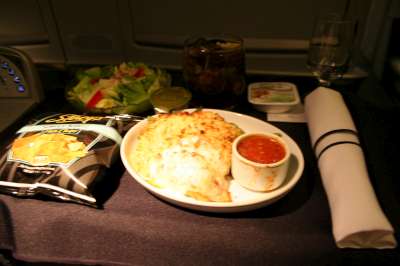 Chicken parmesan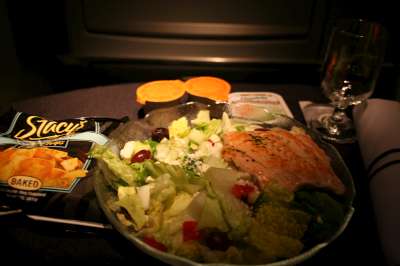 Salmon salad
I find it hilarious that American considers this to be a "snack." As a point of comparison, this is what United considers to be a snack: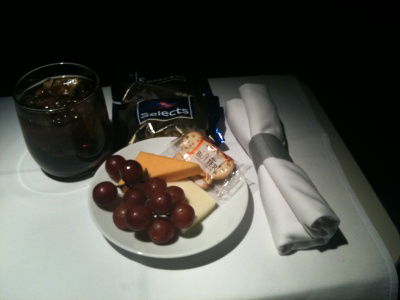 Anyway, dinner was delicious. The chicken parmesan was tasty, the side salad was good, and the pita chips and hummus were good.
After dinner we were offered cookies, which we gladly accepted. They were once again delicious.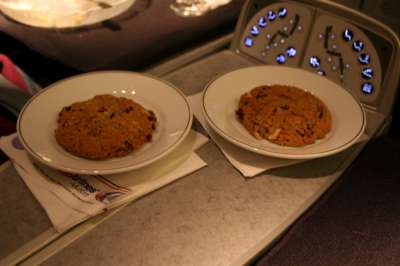 Cookies
This leads me to the issues with the flight. First of all, the entertainment system in business class was down. The flight attendants didn't know how to work the "system" to make the TVs work. And while the main screen video worked, the audio was broken in first class. So we were left totally without entertainment in this rather blinged out product.
So I decided to do what any other reasonable person would do — sleep. I reclined my seat and tucked myself in with the thick blanket. But then I realized just how uncomfortable these seats are. Holy cow. I'm not really tall (six foot), but I found these seats to be some of the most uncomfortable once reclined. Definitely more uncomfortable than any other business class seat I had ever tried. While the recline was okay, the area for my feet was just too restricted. I couldn't place my feet straight up when reclined, and if I placed them sideways it was extremely uncomfortable.
Even using the footrest in any way got my feet into the "cubby" area, which was just too restrictive. I immediately brought my seat into the upright position and proceeded to twiddle my thumbs for the remainder of the flight. I felt like an air marshal. Oh wait, no, that's just what they're supposed to do, as opposed to watching movies and playing Play Station Portable as they usually do. Fortunately our descent soon began and we landed in New York right on time.
After a lengthy taxi to the gate we parked, deplaned, and hiked all the way to baggage claim, which is indeed quite a hike from the furthest gates. The bag was there in no time, so we boarded the AirTrain to Jamaica to catch the subway into the city.