---
We got to JFK at around 4PM for our 6PM departure. We proceeded to American's premium check-in area, which is surprisingly "premium," given that it's even for domestic first class passengers. It's partitioned off from the rest of the terminal, and is quite similar to Lufthansa's first class check-in at Munich.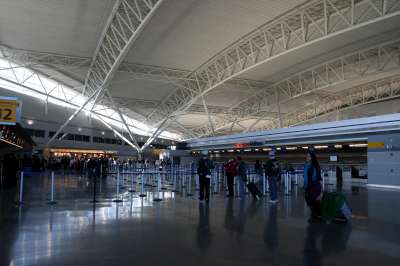 American's terminal at JFK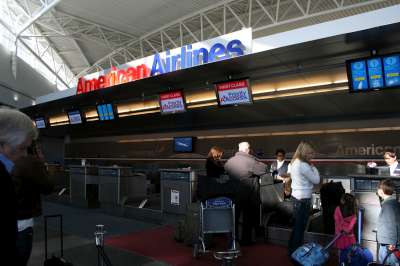 American's premium check-in at JFK
We had to wait for about ten minutes, but were then helped by a very nice lady who can most accurately be described as an older version of Wanda Sykes. The funniest thing had to be that she couldn't tell my brother and me apart. Literally. And we look very, very different. Nonetheless she promptly checked us in, went over our seat assignments with us, and explained that we had access to the Flagship Lounge.
We headed towards security, where the premium line was quite short. As I was about to put my laptop into a bin, the agent that checked us in came running over and handed me the tag for my checked bag, as she addressed me by name and apologized for giving it to me earlier. Wow, very impressive!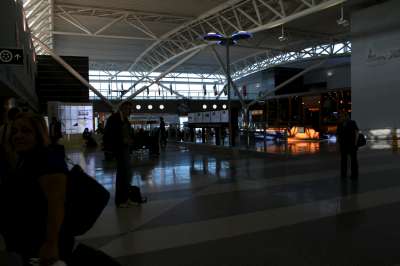 Airside
Once through security we proceeded straight to the Flagship Lounge, which is located inside the Admirals Club. We handed the Admirals Club agent our boarding passes and she escorted us to the Flagship Lounge and opened the door for us, where yet another agent checked us in. She welcomed us and handed us Wi-Fi cards.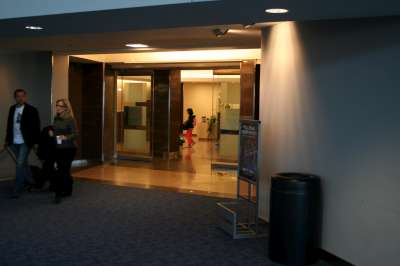 Admirals Club entrance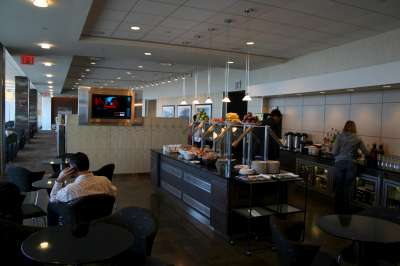 Flagship Lounge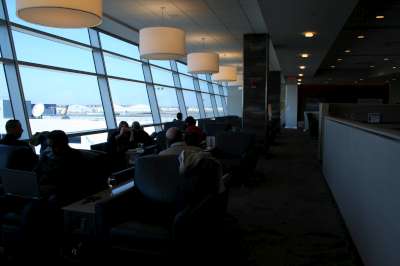 Flagship Lounge
The Flagship Lounge at JFK is spacious with great views of the tarmac. At the same time it was a bit on the crowded side, so felt a bit more like a business class lounge than first class lounge. The snack and drink selection was great, though, at least by US standards. They had salad, sandwiches, wraps, cookies, etc.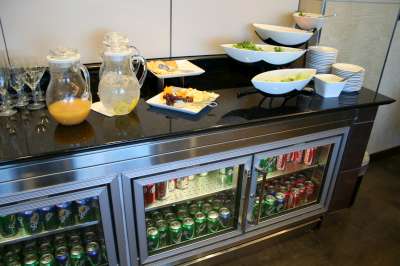 Salad and drinks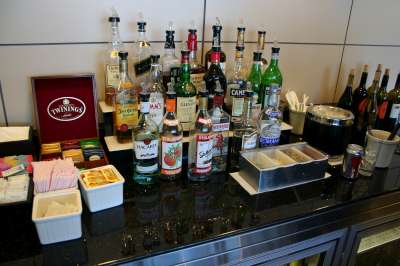 Booze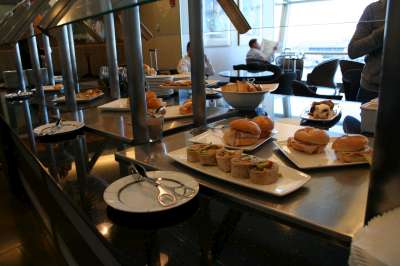 More snacks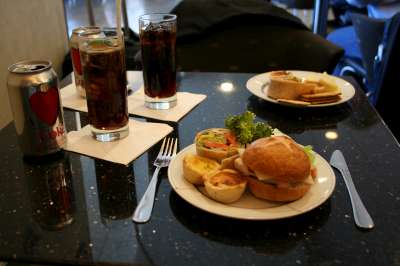 Lunch
After checking my email for a bit it was time to head over to our departure gate, which was a bit of schlep. As we approached boarding began, shortly before 5:30PM.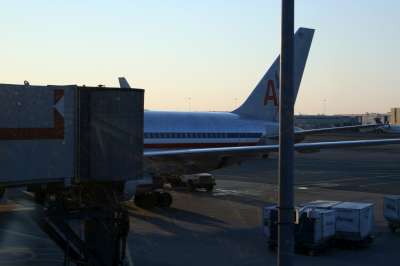 Our old bird
American 177, JFK-SFO, 767-200
Sunday, March 7
Depart: 6:00PM
Arrive: 9:45PM
Duration: 6hr45min
Seat: 3J (First Class)
Once aboard we were directed to our seats on the far side of the aircraft by two very friendly (and relatively young) flight attendants. I flew the 767-200 last year from New York to Miami, and while it was the same seats, it wasn't the "Flagship Service," so I was quite looking forward to trying the product. I was also especially interested in seeing how it stacks up to United's Premium Service (review of that can be found here).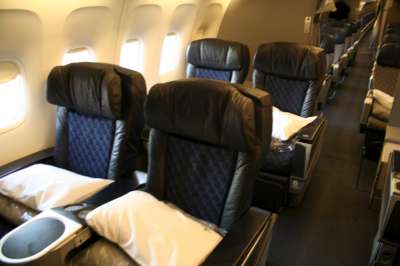 First class cabin on the 767-200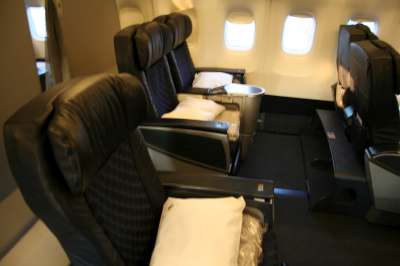 Looking to the other side of the aircraft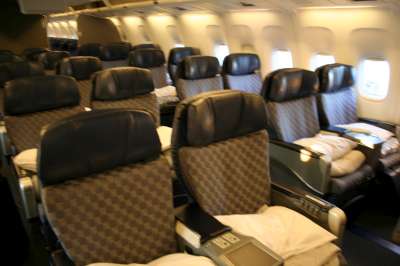 Business class (which I got to experience on the return, unfortunately)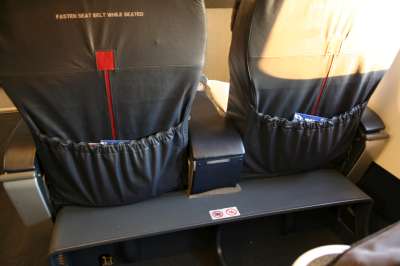 Legroom from our seats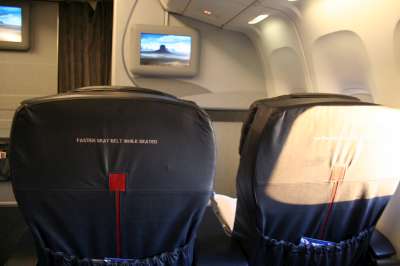 Screens and seats in front of us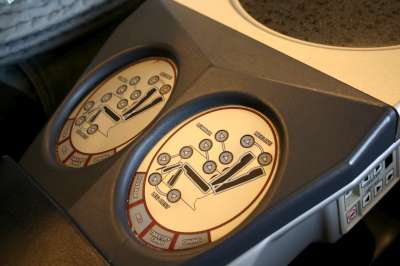 Seat controls (if I'm not mistaken the electric seat controls are new)
Once we were settled in the very friendly purser came around offering us beverages. My brother went with sparkling wine and I went with water. Shortly thereafter dinner menus were distributed.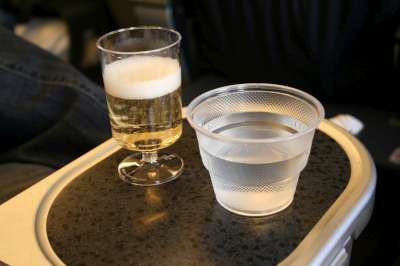 Pre-departure beverages
Boarding was finished up in about 20 minutes or so. I have to say I was a bit apprehensive about having booked this flight, since it left us only a little over two hours in San Francisco to make our connection. A US carrier plus a departure out of JFK isn't exactly a great combo, either.
As departure time rolled around the captain came on the PA and announced we were just "topping off" our fuel tanks and would be underway shortly. I figured that was it, until I saw mechanics come aboard. Then I immediately started to worry, since I figured there was more to it.
The captain once again came on the PA and announced we were having an "issue with our hydraulics system" (that's reassuring, isn't it?) and that they were working on figuring out how they could fix it. He announced our flight time would be 5hr44min, which was a bit under schedule. He also rattled off the most detailed description I've ever heard of a flight plan. I swear he listed every single city we were going to fly over all the way across the country, which took the better part of two minutes.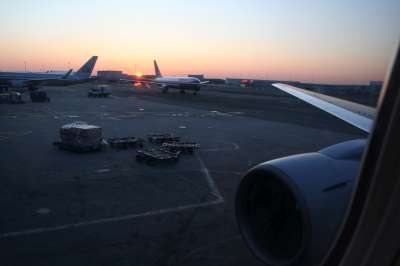 View as we wait and the sun sets
By around 7PM, nearly an hour late, the captain announced that they just had to "run some tests" and we'd be underway shortly. I was still concerned we would miss our connection, especially since pushing back at JFK and actually taking off at JFK are totally different things, fearing we'd be number 69 for takeoff.
As promised we did push back ten minutes later, started our engines, and taxied out for departure. I was shocked when the captain announced we were number three(!!!) for takeoff. Number three at JFK? WTF?
Either way it put a smile on my face as I knew we'd make our connection.
After a smooth climb out the service began. First the flight attendants distributed the media players. These are the same ones United has on Premium Service. The only difference is that they come with Quiet Comfort 3 headsets, which is a huge plus, as they're noise canceling. I'm pretty sure United's headsets are just noise isolating, as the cover for each ear is about the size of a777 engine.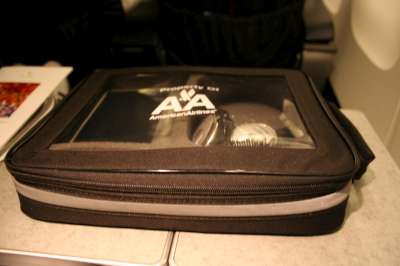 Entertainment system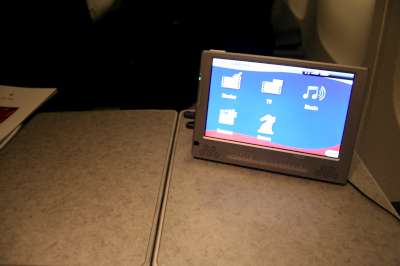 Entertainment system
Shortly thereafter the very friendly purser came around taking meal orders. She started with us, although I wasn't too worried about not getting our meal choice since there were only five people in first class including us and two air marshals (gotta love when two passengers talk to each other for much of the flight yet don't sit next to each other, drink nothing but water, and don't recline their seats while playing crossword puzzles nonstop).
The dinner menu read as follows:
Dining Service

To Start
Warm mixed nuts
or
Marinated cheese antipasto

Appetizer
Apple soy marinated beef
served with horseradish cream and thin potatoes

The Salad Cart
Fresh seasonal greens
offered with pepper cream dressing
or Sapori d'Arte olive oil and balsamic vinegar

Artichoke, wild mushroom and pea salad

Sliced chipotle chicken breast

Bread Basket
Assorted gourmet breads

Main Course
Chateaubriand with Onion Demi-Glace
Salt and pepper fillet of beef served with a
smothered onion demi-glace, roasted root vegetables
and smashed potatoes with spinach and Gorgonzola

Pork Tenderloin
Tender pork medallions served with a butternut
squash puree and a preserve of apple and onion

Stuffed Lasagna Roll
Tender lasagna pasta stuffed with ricotta cheese and spinach, topped with a creamy tomato sauce and shredded mozzarella

Dine Upon Request
You may choose one of the featured entrees
for your Dine Upon Request selection, presented
all at once, at any time you wish during the flight

Dessert
Ice cream sundae
Vanilla ice cream with a choice of hot fudge,
butterscotch or seasonal berry toppings,
whipped cream and pecans
or
Grand Marnier fruit salad

Light Refreshment
Freshly baked on board cookies

Pre-Arrival Beverage

For Your Enjoyment
Chilled sparkling water with a fresh citrus garnish
Service began with hot nuts or marinated cheese, although due to the light load we were offered both. I went with both along with a Diet Coke with lime, and my brother just went with the marinated cheese and a glass of red wine. He was a fan of the larger wine glasses, as opposed to the shot glasses on the previous flight.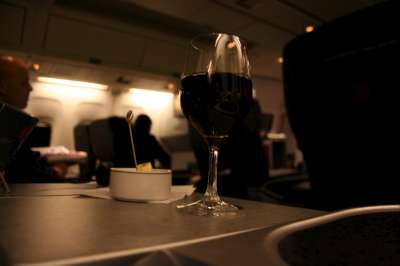 Glass of red wine and marinated cheese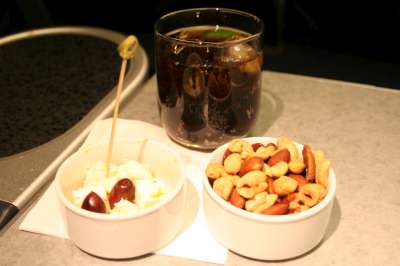 Massive ramekin of nuts, cheese, and Diet Coke with lime
Drinks were constantly being refilled and the service was really attentive. There were two flight attendants working in first class, and they were both top notch. With only ten seats it's impressive that American has two flight attendants in first class, while United only has one in first class with 12 seats.
Next came hot towels and tablecloths, along with plates, napkins, and water. Shortly thereafter the appetizer was placed on our trays, which was delicious. I have to compliment American's presentation. I know it's a small touch, but putting the appetizer plate on top of another plate (with a napkin between them) really does make it feel a bit more "premium." Next bread was offered from the bread basket.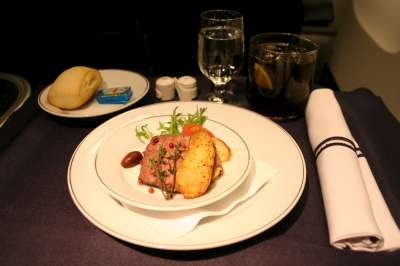 Apple soy marinated beef
I had to laugh at the in-flight movie American was showing. As we were finishing up the appetizer I saw the "elite card throwdown" scene from Up in the Air.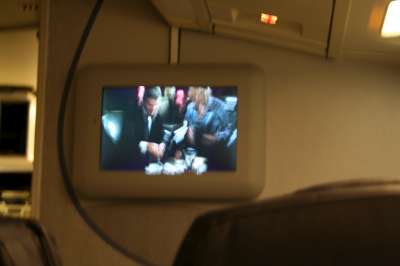 "I didn't think these actually existed."
Next the flight attendants came around with the salad cart. And when I say salad cart I mean salad cart. Like, it was served on a cart. Take note, United!
I went with the pepper cream dressing and chipotle chicken. It was really, really, really good.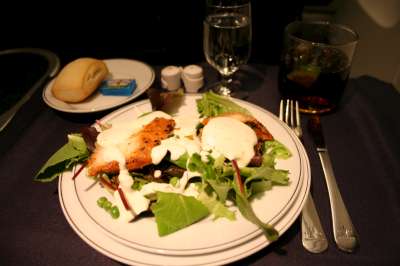 Salad
For the main course I went with the Chateaubriand, while my brother went with the lasagna. And yet again, the main course was phenomenal. Easily the best piece of meat I've eaten on a domestic flight, and probably among the best of any flight ever.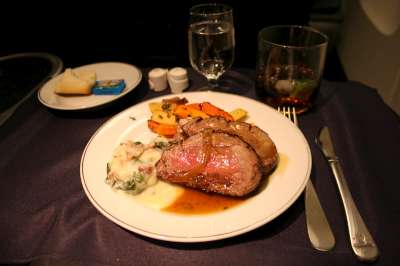 Chateaubriand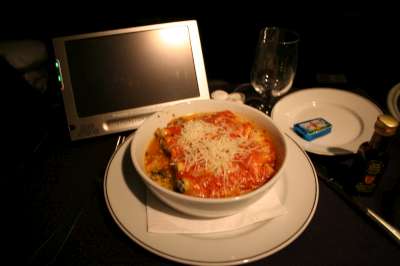 My brother's lasagna roll
Besides the lack of being referred to by name, I almost felt like I was on Singapore Airlines. The flight attendants were super friendly, always said "would you like" as opposed to "ya want," always responded with "you're welcome" when I said "thank you," and always kept glasses topped off. They also did a great job clearing plates. They didn't take them away as I was still eating the last bite, but my food wasn't sitting there for ten minutes either.
Before long my gastronomic experience on American peaked. The ice cream sundae cart was brought out. There's nothing I can do to describe American's sundaes that would do them justice. Simply amazing. Incredible. Delicious.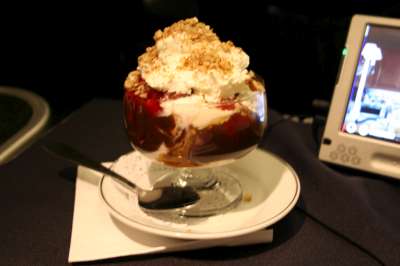 Ice cream sundae
As dinner finished up we were once again given hot towels and also some bottles of water. I started watching Couples Retreat on my personal entertainment system. I apologize to the air marshals if I ruined their concentration while playing crossword puzzles and sudoku due to my laugter. Great movie.
After that I decided to take a nap, since it would be a long night. American's seats on the 767-200 are extremely comfortable in first class. While they're not flat, they're very well cushioned and much more comfortable for lounging than United's Premium Service first class seats (though I would almost argue that United's Premium Service business class seats are more comfortable than the first class seats when it comes to lounging). I'd probably give Premium Service the slight edge for redeyes since the seats are slanted flat in first, but for just relaxing, these seats were very comfortable.
Also, while this plane was ancient, it is kind of nice to be on a widebody. My one major frustration is American's cockpit crews consistently not turning off the seatbelt sign. The seatbelt sign was off for a grand total of 30 minutes on this flight, despite minimal chop. Sorry, but in my book that's dangerous. The pilots can't realistically expect us to not have to use the lavatory for five hours, so we have no way of knowing when we really need to be seated as opposed to the seatbelt sign being on "just because." I find this is something United's pilots are much better at. While they'll turn it on for every little bump, they'll turn it right off again.
About an hour out of San Francisco I could smell the cookies in the oven. My understanding is that American actually bakes them aboard, as opposed to United, where they only reheat them.
The cookies were brought out on a cart once again, displayed very nicely. I went with some milk, coffee, and a cookie. Hot towels followed shortly once again.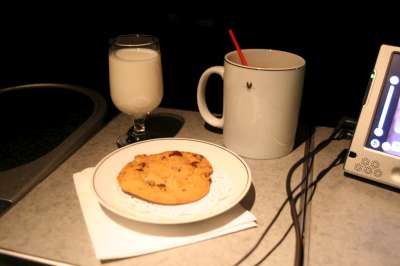 Cookie!
Our entertainment systems were collected well into the descent, at which point sparkling water was distributed. This part of American's service always cracks me up. It's very creative on the part of American in that it makes the service feel more "complete," but at the same time it's not like the same drink couldn't be ordered any other time during the flight. It's just sparkling water! I'd love to see United add a pre-arrival "Diet Coke with lime" service.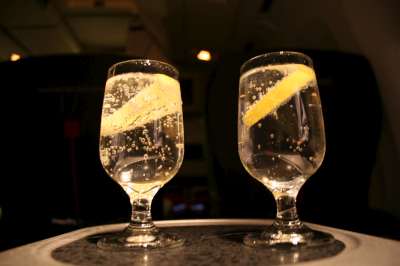 Sparkling water
As we began our descent our tour guide, I mean captain, made another announcement advising us we'd be on the ground right around 10:30PM. Yet again he rattled off everything we'd be flying over, even the most obscure places. It wouldn't have surprised me if he listed every street we would fly over for the remainder of the flight as well, since it was a really long list.
We landed on runway 28R at 10:30PM and had a pretty quick taxi to the gate. We thanked the crew for their great service and headed towards the AirTrain to transfer to International Terminal A for our Cathay Pacific flight, which is where the fun was really about to begin.