Upon getting to the airport we headed into the building, where there was immediately a ticket check and security screening. The security seemed somewhat lax and took all of two minutes. Once we were through security we proceeded to SQ check-in, where the Business line was just as long as the coach line.
After waiting for about ten minutes we got up to the counter and had our BP's within a few minutes, along with a lounge invitation.
We paid our departure fee of $19 USD (or something like that), and proceeded towards the lounge. The airport was nicer than I expected past security, with some decent duty free shops. The contracted lounge is located one floor above the main terminal without any elevators, which can be a bit impractical when carrying aboard a kitchen sink.
We handed the agent our invitations and proceeded inside. The lounge was great for a contract lounge, with a nice food and drink selection, not to mention an outside terrace with views of the tarmac and runway!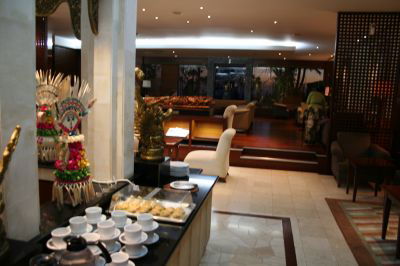 Lounge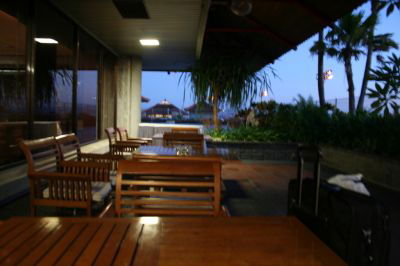 Outdoor terrace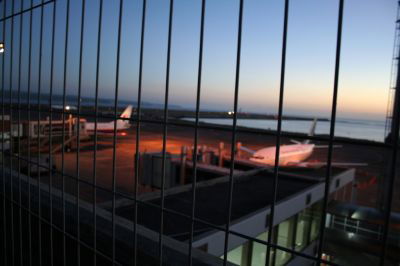 View from the (fenced in) terrace
Since we had already seen the menu for the DPS-SIN flight and weren't terribly impressed, we decided to have a mini-dinner in the lounge.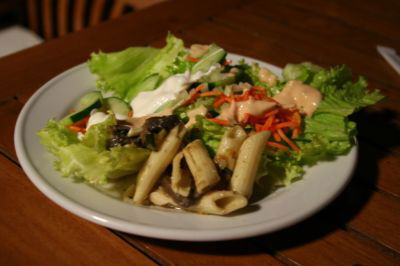 Salad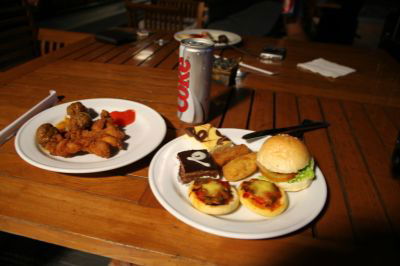 Lounge food
We left the lounge about 45 minutes before departure and headed towards the gate, where there was a long line for security. We made it through about 10 minutes before boarding began.
As we were in the gate area the SQ supervisor came up to AJ and showed him a printout saying he was really booked on the earlier flight in coach (which is true). This is a problem I've consistently had with SQ awards using Mileage Plus miles, and it's annoying. Basically when making a change to an award ticket it often doesn't reticket, which is a real pain in the a$$. The supervisor told AJ he'd have to call United to get it reissued, but of course the flight was leaving in 30 minutes, so that wasn't really an option.
Eventually he let him board and all was good, but it didn't go without a bit of sweat on AJ's part (and by extension my part, cause I wasn't leaving him alone with a screwed up ticket).
DPS-SIN, SQ947, 2005-2235
This was yet another typical SQ flight with top notch service. We left on time, arrived on time, and it felt just like any other SQ flight. The menu read as follows:
Dinner Menu

A Savoury Note
Grilled octopus with palm heart and fennel salad
citrus dressing

The Main Event
Perch fillet in soya curry cream with tomatoes, green beans and potatoes
Braised chicken with mushrooms and bamboo shoots, carrots and fried rice
Beef strogonoff with mixed vegetables and pasta

A Sweet Note
Chocolate and orange cake

A Connoisseur's Choice
Gourmet coffee
Selection of tea
We both went with the beef, although didn't eat too much of it.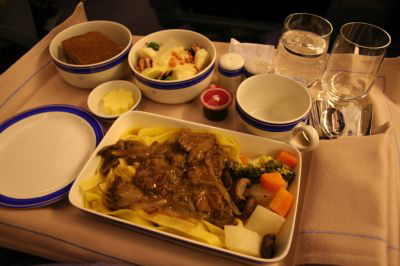 Dinner
The thing that scared the hell out of me was octopus. Call me uncultured on this one, but it really nearly made me throw up. I should say I was a vegetarian for eight years so in general don't like eating animals, although I have no problem with beef or chicken anymore. That being said, when it's an octopus and you can see its head and all of the tentacles, I really got queasy. AJ actually took the octopus out of the bowl and put it onto a separate plate and photographed it, so I'll see if I can bug him for the picture. Either way, I couldn't handle that.
This flight really felt like a redeye. After dinner we were both ready to sleep, which really wasn't a good idea since we had a whole night in SIN before our connection flights, without so much as a transit hotel booked.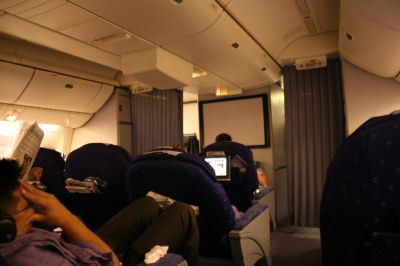 Cabin after dinner
We got into T3 on-time, and then the next challenge began. While I had my ongoing boarding pass to PVG with SQ and was therefore entitled to lounge access, AJ was flying on UA, and their counters only open at 4AM. Since he's Global Services and was flying F with UA, we figured we'd try to hunt down the UA staff meeting the evening arrivals from HKG and NRT and see if they could make an exception for him.
While we didn't actually find them, we did run into an SQ "Duty Manager" that really helped us out. We explained the problem and he wrote AJ a lounge pass, which was perfect. We headed to the SKL, which was still pretty full despite the late hour.
We constantly heard delay announcements for the SIN-LHR A380 flight, and at about 2AM they decided to swap the equipment and downgraded it to a 747. I've never seen such furious passengers. They were yelling, screaming, saying "this is the last bloody time I'm flying Singapore Airlines," etc. It was rough.
Once that flight left, the lounge was pretty quiet, and we actually enjoyed the layover. We were surprisingly awake (with the help of some tea), and it was really nice to be able to check emails, FlyerTalk, etc. in a relaxed manner for once.
At around 3AM we decided to go landside to get some fresh air and also go to UA check-in. We filled out immigration cards and the immigration agents were slightly surprised to see people trying to enter Singapore at 3AM. While AJ's agent was a bit confused for a minute, I just whizzed right through. So far the only question I've ever been asked by Singapore immigration is "Would you like a piece of candy?"
We went outside a bit in the blazing heat, and quickly headed back inside. We waited about 15 minutes at that point for UA check-in to open, and it eventually did. I also took the opportunity to take a picture of my absolutely massive rolling carry-on kitchen sink.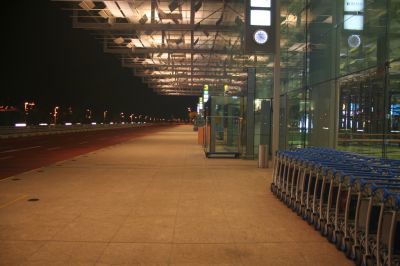 SIN at 3:30AM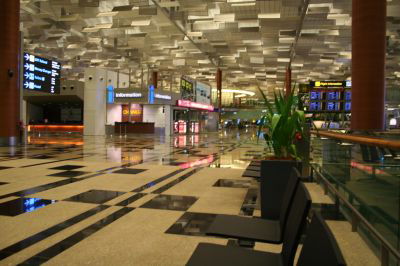 T3 check-in area at 3:30AM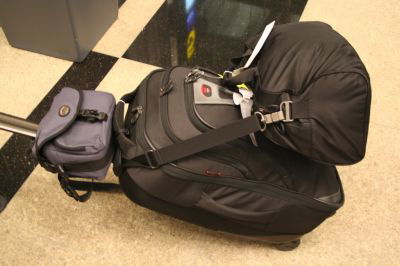 My ridiculous rollaboard
Once check-in opened AJ got his boarding pass and we headed back to the lounge, this time the F side. We even had it all to ourselves!
The lounge wasn't that impressive, although in general I've found SQ to be stellar in the air and not so much on the ground. I would even say the C side was nicer, and didn't really notice any better snacks. Of course it was 4:30AM, so I'm guessing they didn't have all of their best stuff out at that time.

First Class side of SKL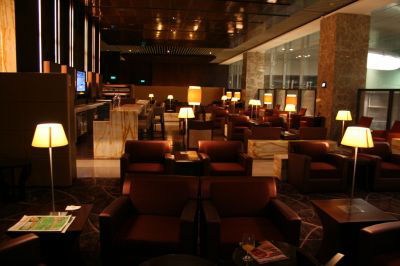 Totally empty F SKL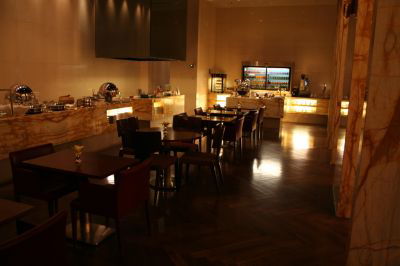 The F SKL dining area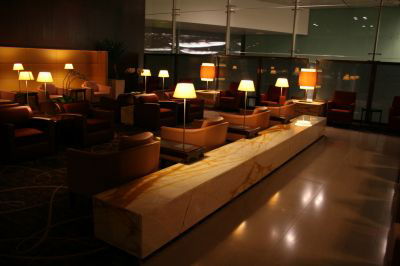 More of the F SKL
AJ and I split ways here, as he continued to NRT and I continued to PVG. I headed to the gate for my flight to PVG at around 7AM for an 8:05AM departure. Eventually boarding began, and at this point I just wanted to sleep.
SIN-PVG, SQ828, 0805-1325
Again, typical SQ flight. Doesn't flying without problems just get boring really fast? This flight was about five hours and got in on-time. I slept for most of the flight, at least after breakfast.
The menu read as follows:
Brunch Menu

A Fresh Start
A choice of apple, tomato, freshly squeezed orange juice or soya bean milk

Smoked salmon with mesclun and avocado
Lemon Dressing

A Healthy Note
Choice of cereals or yoghurt
Cornflakes or muesli with milk
Plain or fruit yoghurt

The Main Event
Braised ee-fu noodles with chicken and leafy greens
Selection of dim sum
Steamed rice roll with char slew, pork dumpling, prawn dumpling and vegetable dumpling

A Sweet Note
A selection from the fruit basket

From the Bakery
Choice of bread rolls
Butter – Fruit Preservatives

A Connoisseur's Choice
Gourmet coffee
Selection of tea
I wasn't all that hungry so just had some yoghurt, muesli, and croissants. The only picture I took is the one below. The brunch looked great though.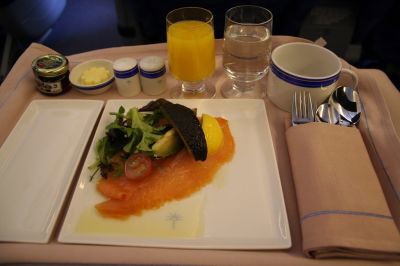 Smoked salmon
Upon arrival in PVG I was looking for international transfer signs but couldn't find any. I tried to ask some of the agents standing around, but none of them spoke English. They all pointed me towards the arrivals line, but I didn't fill out a form since I'm just in transit, and I was under the impression that one needs a visa to clear immigration.
As it turns out you can clear immigration without a visa if you have an onward ticket, so I was relieved to know that I wouldn't be subjected to a Chinese prison as a holding cell.
As soon as I cleared customs/immigration I headed to the Air Canada check-in counter, where I had a boarding pass within a few minutes. I headed back airside, where I proceeded to the lounge, which belonged to Shanghai Air, if I recall correctly.
Upon entering I asked about Wi-Fi, and they said they shut it off for the Olympics, which I don't totally understand. I sat down at a PC instead and browsed the web for a while.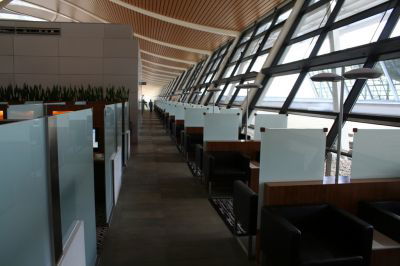 Lounge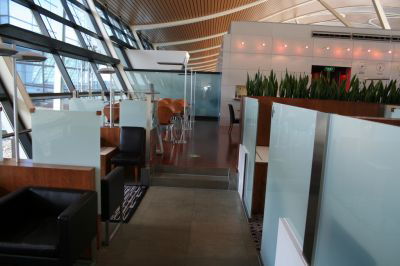 Lounge
About an hour before the flight I decided to leave the lounge and walk around the terminal for a bit to get some movement, since I had been sitting for the last decade, it seemed. The new terminal at PVG is great, very modern, and airy. Definitely not like what I remember the last time I was here.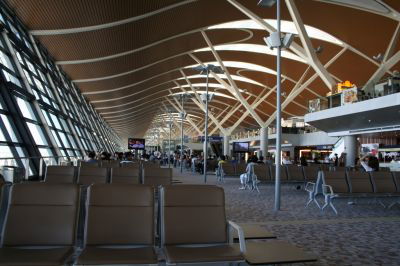 Terminal
I headed towards my departure gate about 45 minutes before departure for boarding, and they began promptly.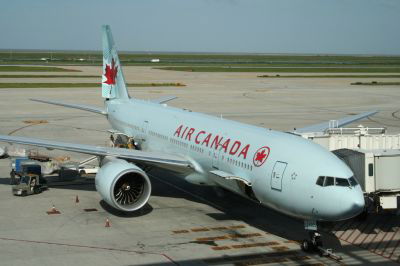 Plane that would be taking me to YYZ
PVG-YYZ, AC88, 1710-1850
Once aboard I was greeted by several friendly FA's who directed me towards my seat. I'm a huge fan of the NZ/VS/AC style seats, so was very pleased to be on a plane with a comfortable, flat bed, after a sleepless night.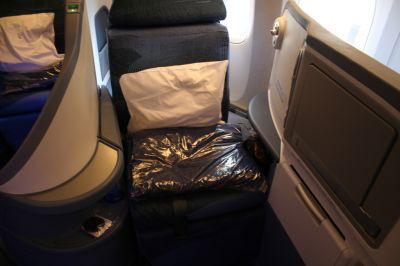 My seat, 5A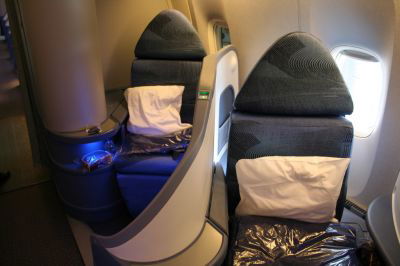 Seats 5A and 6A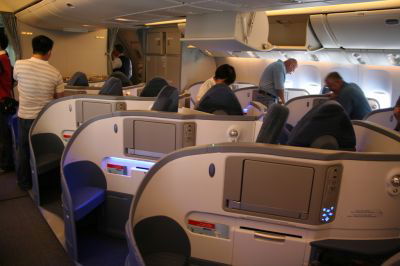 View looking forward from my seat
Within a few minutes of being seated pre-departure beverages were offered, and I took an OJ.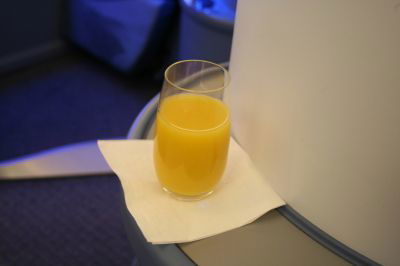 Pre-departure OJ
The FA's were all cheery and friendly, and some of them were even surprisingly young. As one of the younger FA's offered me a magazine I said "Do you have any clue how much energy reading requires?" She chuckled and later came by with newspapers and said "trust me, you definitely won't have enough energy to read one of these things."
The door closed about 10 minutes early and we began our taxi. One thing that drives me crazy about AC is that the announcements are in three languages on this flight (they always do French), and not only that, but they also have to be some of the longest announcements in each language as well!
Eventually we were airborne, and menus were distributed in no time.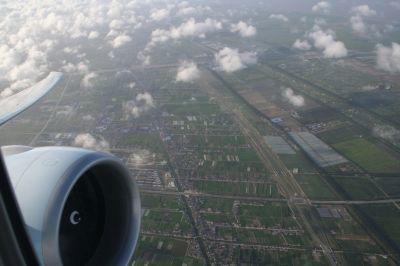 The climb out… there's actually green in China?!?!? 😉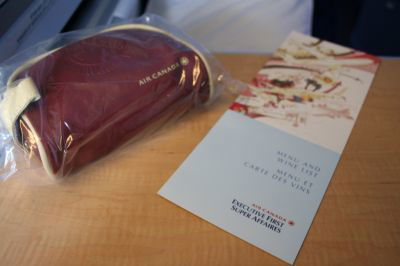 Amenity kit and menu
I decided to check out what was on TV, and was pleasantly surprised by the selection of sitcoms and movies.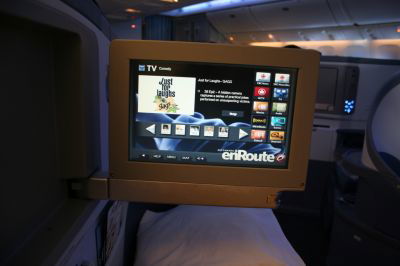 Entertainment system
About 20 minutes into the flight the meal service began, starting with drinks and something really good tasting. The bag was pretty small, so as soon as I finished it I asked the flight attendant for "another bag of this good tasting stuff," and she chuckled and brought me a handful more.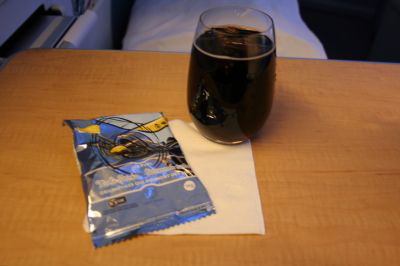 Drink and awesome snack mix stuff
Tablecloths were distributed shortly thereafter, followed by dinner.
The menu read as follows:
DINNER

Appetizers
Salmon and Crab Timbale with Wasabi Mayonnaise and marinated Cherry Tomatoes
or
Roasted Mediterranean Vegetables with Feta Cheese and Olives

Main Courses
Chinese-style roasted Chicken with fried Ginger Julienne, Vegetables and steamed Rice with Black Sesame
or
Seared Black Cod with Watercress Sauce, Green Pea Risotto, Broccoli, and Pumpkin
or
Grilled Beef Medallion with Mushroom Cream Sauce, Garlic Mashed Potatoes and roasted Root Vegetables

Additional seasoning is available upon request

Cheese
Gourmet Cheese with Crackers

Dessert
Green Tea, Vanilla and Chocolate Ice Cream
or
Fresh Fruit

SNEAK A SNACK
Please help yourself to our in-flight pantry

REFRESHMENTS
Refreshments are available at any time throughout your flight: Dim Sum, Asian Noodle Bowl, Sandwiches and a Light Snack. Your Flight Attendant will be pleased to assist you.

BREAKFAST
Juice Selection
Fresh Seasonal Fruit and Yogurt

Main Courses
Fried Shanghai Noodles
with Pork, Shiitake Mushrooms and Bok-Choy
or
Mixed Pepper Frittata
with Hash-Brown Potatoes, sautéed Spinach, Mushrooms, grilled Tomato and Chicken Sausage
or
Chilled Breakfast Option
Muesli in Orange Cup with sliced Chicken and Turkey, Cranberry Scones and Cherry Tomatoes

Warm Breakfast Pastries
The meal was served at a good speed and took maybe an hour altogether. Ya wanna know something? This was the best meal I've ever had on a plane! As I said earlier, I'm a simple eater. I don't like octopus, I like stuff I can actually pronounce, and I like "basic" meals that taste good, and that's exactly what this was.
I took the veggies and feta cheese as an appetizer, and it was incredible. The beef was also great as a main course, and the ice cream was delicious.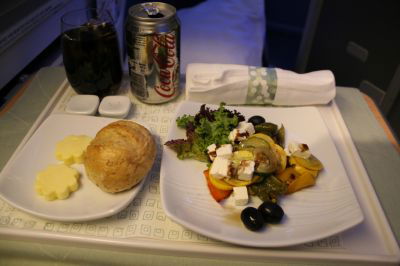 Appetizer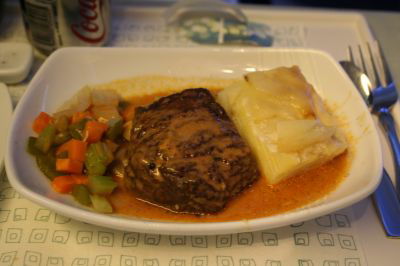 Main course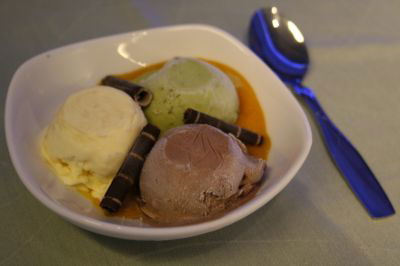 Dessert
Once dinner service was complete, they dimmed the lights in the cabin and put on the "mood lighting," which is pretty cool.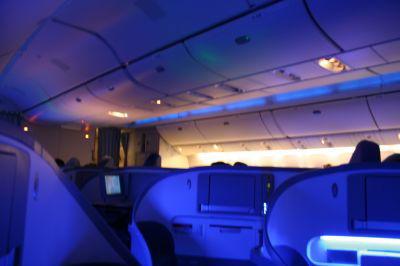 Mood lighting
About two hours into the 13hr20min flight I decided to put my seat into a flat bed and sleep. The bed couldn't have been more comfortable, and I got a solid six hours of sleep. I then woke up, watched another sitcom, and chatted to the FA's for a bit in the galley. I went to the rear business cabin and saw that there were only two passengers in it, so this flight was about 25% full up front at most.
I then decided to take another nap, and slept for another three hours. Can't beat nine hours of sleep on a plane!
As I woke up breakfast service began, and I went with the frittata. Again, it was absolutely friggin' delicious!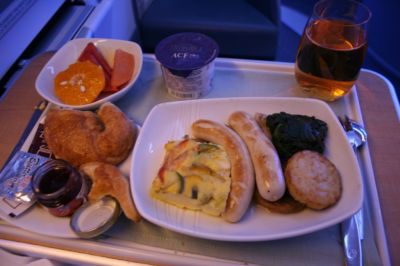 Breakfast
AC has to be my new favorite airline. I love the seat, love the service, love the entertainment, and love the food. Heck, next time I go to Asia I'll take them over SQ, NH, or OZ. For a product that seems to be mediocre to most, I couldn't have been happier.
As we began our descent the highlight of my flight (and probably whole trip) came. I saw the first officer fumbling down the aisle looking up at the seat numbers, and eventually he approached my seat. He says "So, we hear you have a friend in Toronto ATC?" I couldn't stop laughing and said "Oh boy, did he really?" He then went on to say "he told us some stories, hopefully they're not too embarrassing." We talked for about five minutes, and eventually he headed back to the cockpit, inviting me to come up after the flight.
That was just too damn funny for me! Thanks again guys, you know who you are! I owe you a minibar party in Toronto.;)
We made it into YYZ right on time and I began the long trek towards transfers. One of the many things I love about Canada is that you can clear US customs in Canada at most airports. That means that as soon as you clear, it's like a domestic flight. It makes life really easy.
I was in line by 7PM and the line was maybe five minutes long. I was surrounded by people that were just getting off a cruise, and never in my life have I heard so much nagging and complaining about a good thing. "This is ridiculous, we're going to miss our flights." All of their flights were at 8:30PM or later, and the line was maybe five minutes. I had a hard time not saying anything in that line, that's for sure…
By around 7:15PM I was in the Maple Leaf Lounge, which is one of my favorite lounges. They had incredible cookies, which I had one too many of.
I headed to the departure gate about 30 minutes before departure, and they hadn't started boarding yet. About 20 minutes before departure this guy comes sprinting down the moving walkway (and I mean sprinting), thinking he missed his flight. He runs up to the gate agent as there's 100 people in the gate area, and hands him his boarding passes. He's panting as if he just finished a marathon and waves for his family that's still half way down the moving walkway to hurry up. The gate agent says "we haven't started boarding yet," and the look on the guy's face is priceless.
Eventually we boarded and still managed to leave on-time.
YYZ-ORD, AC513, 2035-2118
This flight was very uneventful, except for the fact that everyone up front ordered Perrier with lemon. It was actually really funny, since I had overheard the two people in front of me order it, so by the time I ordered it I was laughing at myself. Little did I know I wouldn't be the last…
We got into ORD on-time, and I was happy to be back in a hotel room for the night (although home sounded even more tempting).
I was staying at the Renaissance Suites Chicago O'Hare, which was royally mediocre. The rooms were quite nice, but the service was matronly at best. Here are some pictures of my room.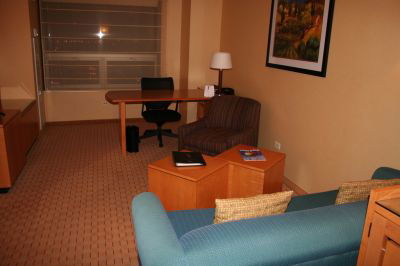 Living room/desk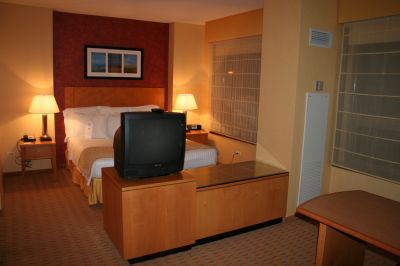 Bed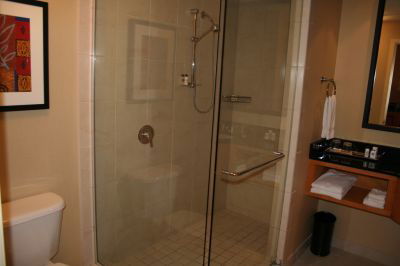 Bathroom
The next day I stood by for an earlier Ted flight back home since the flight I was booked on didn't look bump-worthy. The only thing of note on that flight was my Channel 9 incident, which I wrote about here.
More to come…