---
Before I get into the actual review of my ground experience, I want to cover a couple of things:
The Air France first class ground experience is the best in the world
Before even getting into the review, let me say that the Air France first class ground experience is the best in the world. I've reviewed it twice before:
This is simply an incredible experience. Air France picks you up at your arriving flight, drives you to your connecting flight, you get a complimentary spa treatment in their lounge, and they have the best food of any airline lounge in the world.
This layover was non-ideal
As someone who loves maximizing mileage redemptions, there was one major issue I had with my itinerary — my layover in Paris was only 65 minutes, which most definitely isn't enough time to enjoy the first class lounge. However, the Milan to Paris flight I was taking was the first one of the day, so I had two choices:
I could book myself a Paris to Houston flight with no one else in first class, and be able to review Air France's new La Premiere 777-300ER product in "peace"
I could have booked a later flight to another US city that had space, but where the cabin would have been full, which would have made this intimate cabin tougher to review
I've thoroughly reviewed the ground experience twice before, and the priority was having the best inflight experience. If anything, a 65 minute layover would show me how Air France handles short layovers for first class passengers.
With that out of the way…
My Air France first class ground experience
As soon as I got off my A318 from Milan I was greeted by a La Premiere agent, who introduced herself and said she'd be escorting me to the lounge and then to my connecting flight. It's a little bit awkward when everyone is getting on a bus, while there's a Jaguar right behind the bus that's just for you.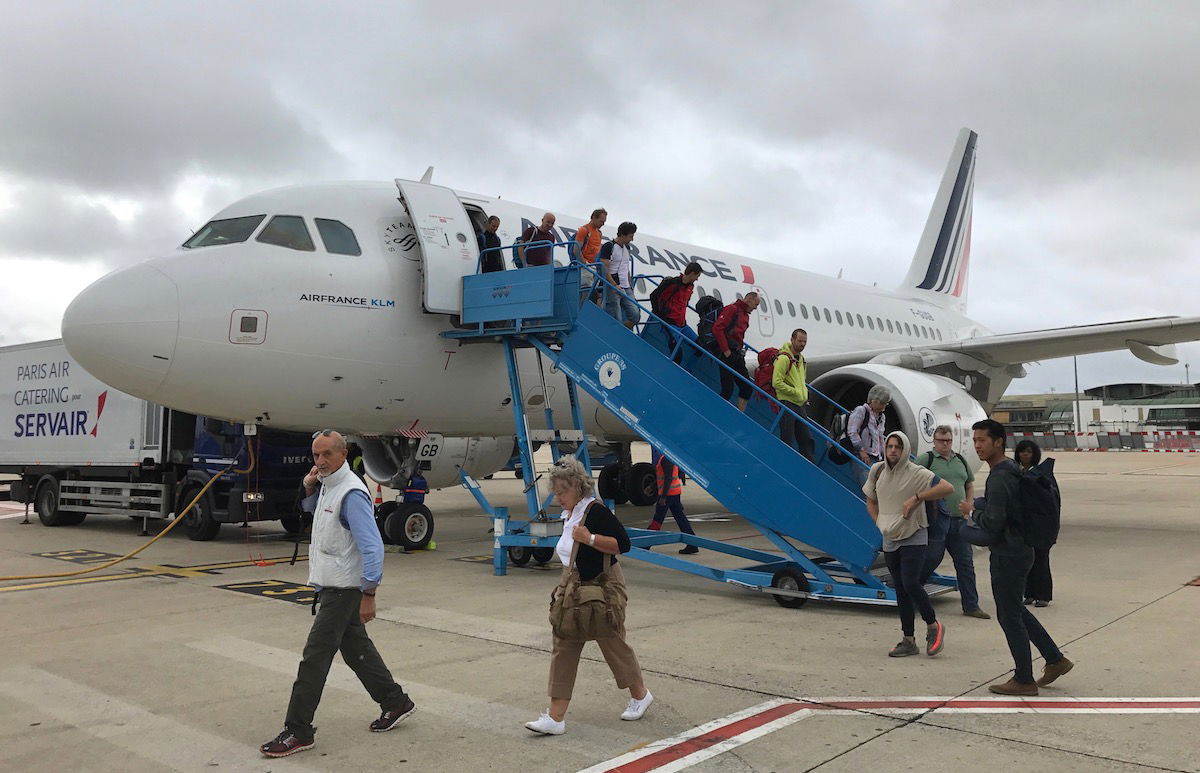 Air France A318 upon arrival in Paris
Speaking of the car, until recently Air France had BMW and Peugeot cars for their first class ground experience, but they recently switched to an all-Jaguar fleet.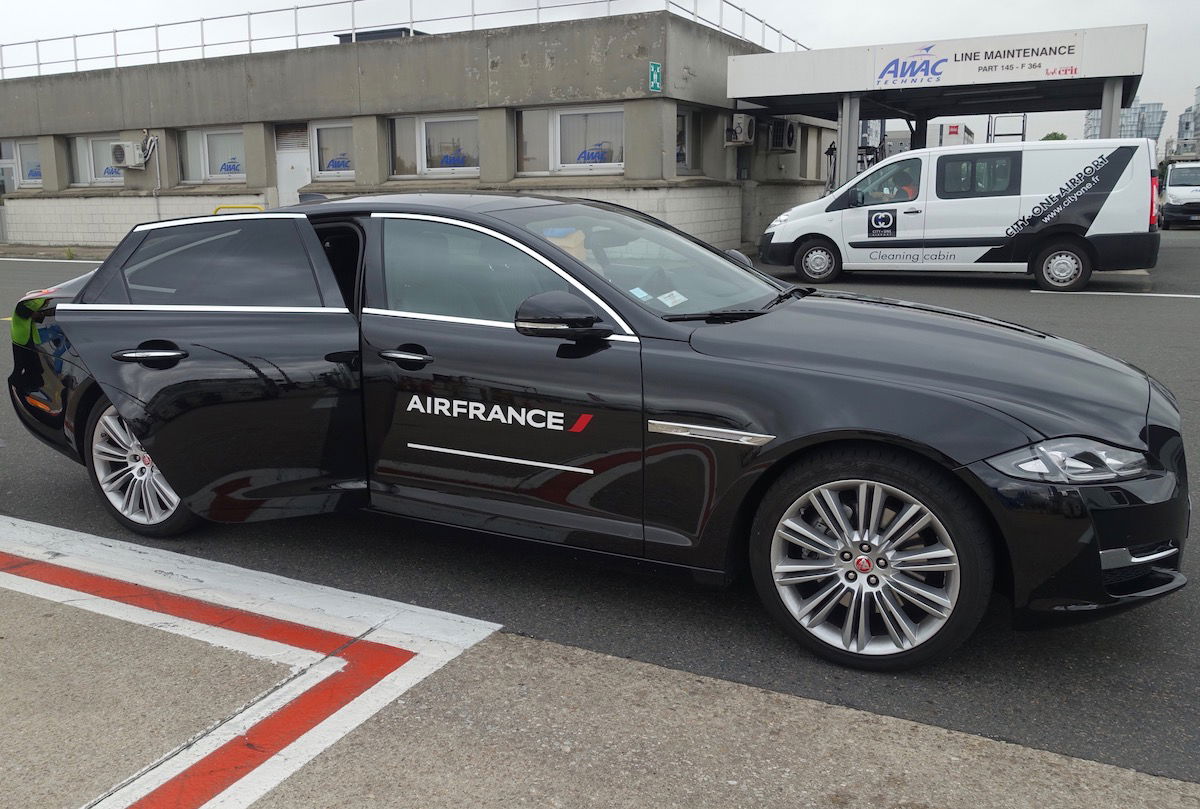 Air France first class Jaguar
These cars are absolutely gorgeous.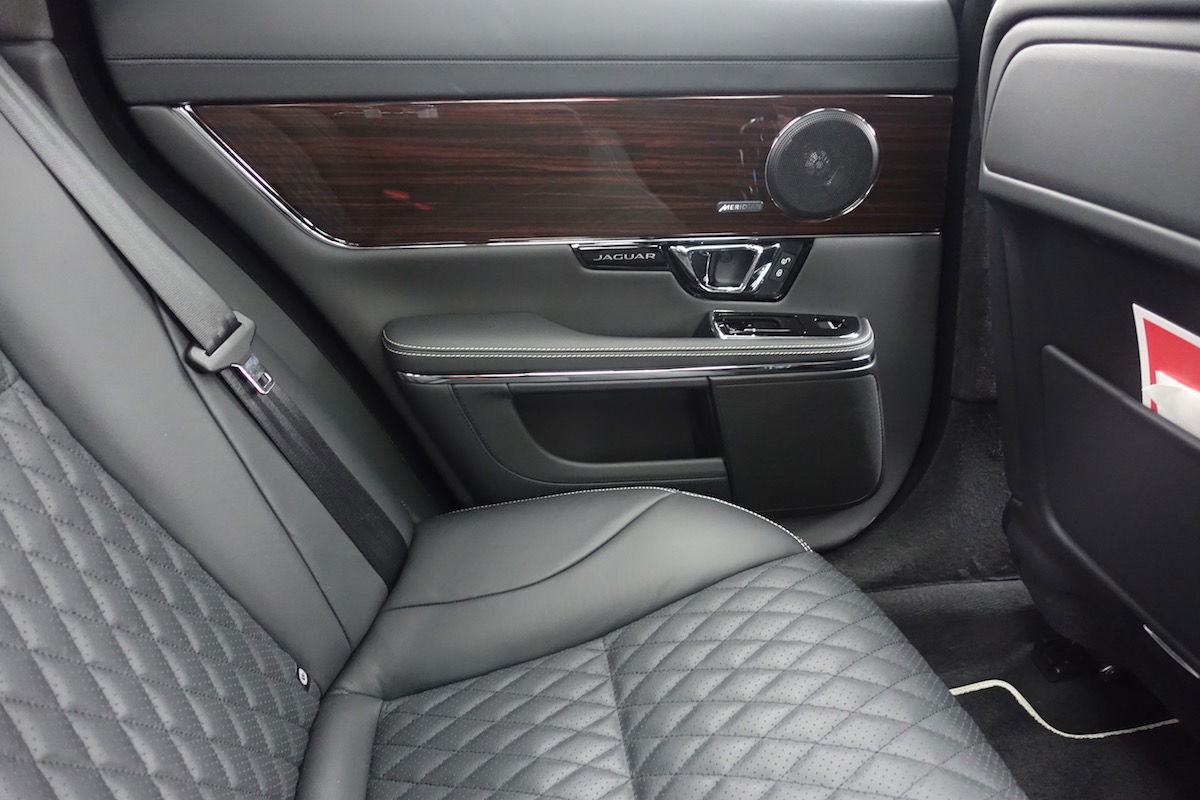 Air France first class Jaguar transfer
I was a bit confused that I had both a driver and a La Premiere agent in the car — usually it's just the La Premiere agent, as they drive you to the lounge, and it's easy for them to park there. So I asked about that, and she explained that unfortunately they didn't have an immigration officer on duty today, and as a result we wouldn't be able to go straight to the lounge.
Charles de Gaulle Airport seems to have serious immigration staffing issues lately, so I guess for this particular day they took the immigration officer out of the La Premiere lounge. Usually that means you can skip the terminal, but that wasn't an option here.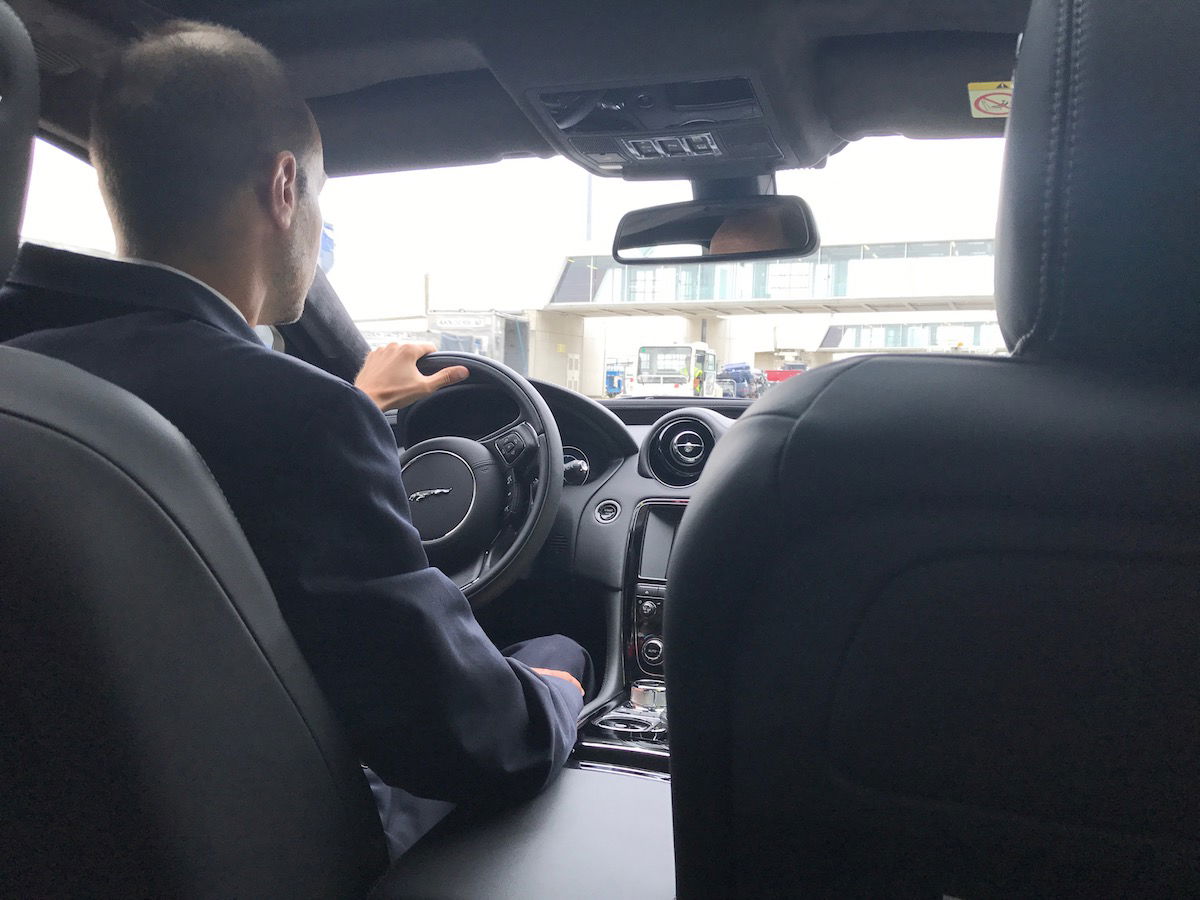 Air France first class Jaguar transfer
I enjoyed the views as we drove to the terminal, and after about five minutes our ride was over.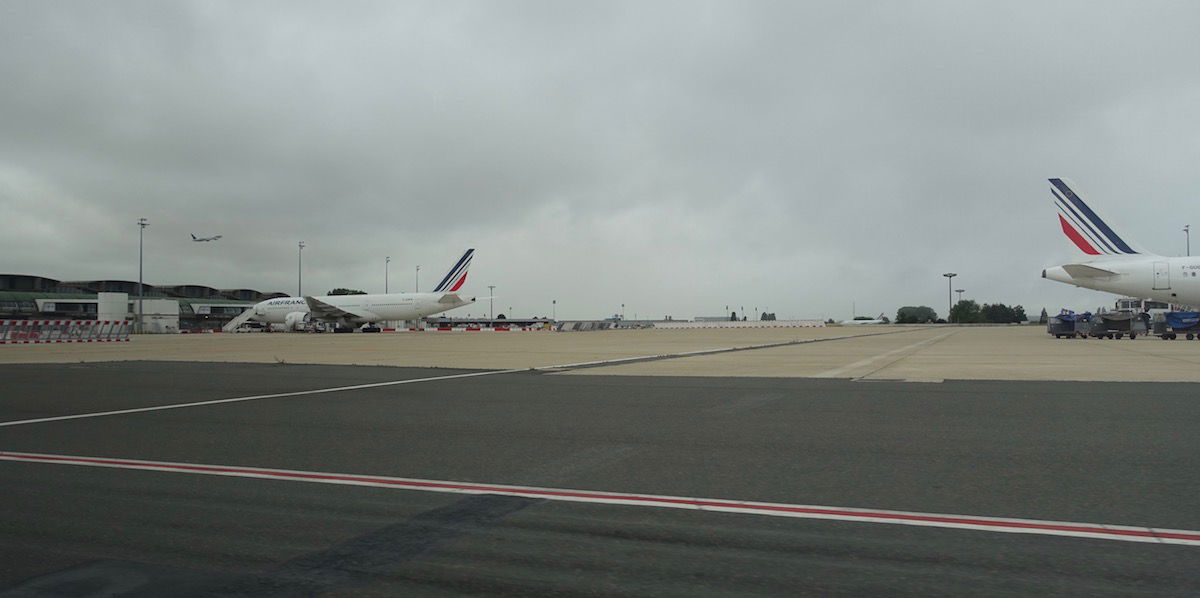 Driving across the tarmac at Charles de Gaulle Airport
We were dropped off at Terminal 2E, where there was an insane line for immigration. INSANE. Yet the La Premiere agent walked me to the very front of the line. As we got there she said "technically we aren't supposed to cut the line, but usually they allow it. Stand here, and I will signal to you when you should come over. People are always very aggressive."
So I stood to the side of the immigration line, she cut in, she went up to an immigration officer, spoke to him for a minute, and then signaled for me to come over.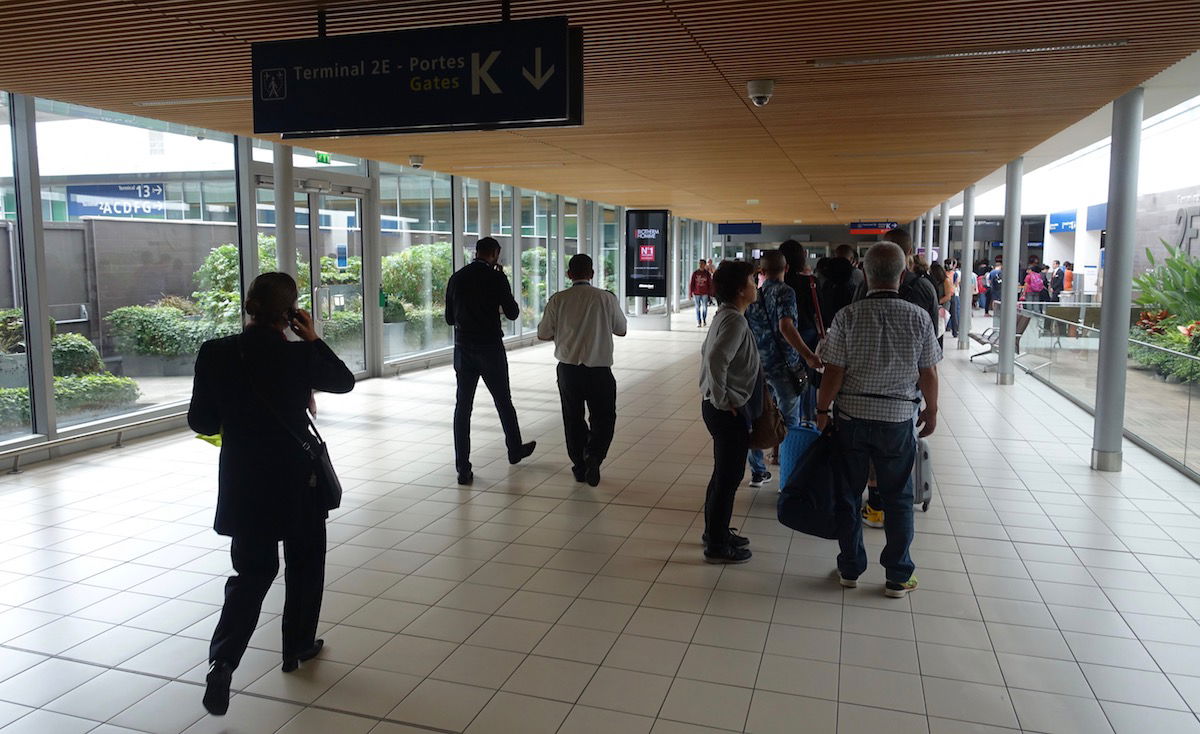 Walking towards the Air France first class lounge
Once past immigration it was just a short walk to the La Premiere lounge, which was located up a level from the main concourse.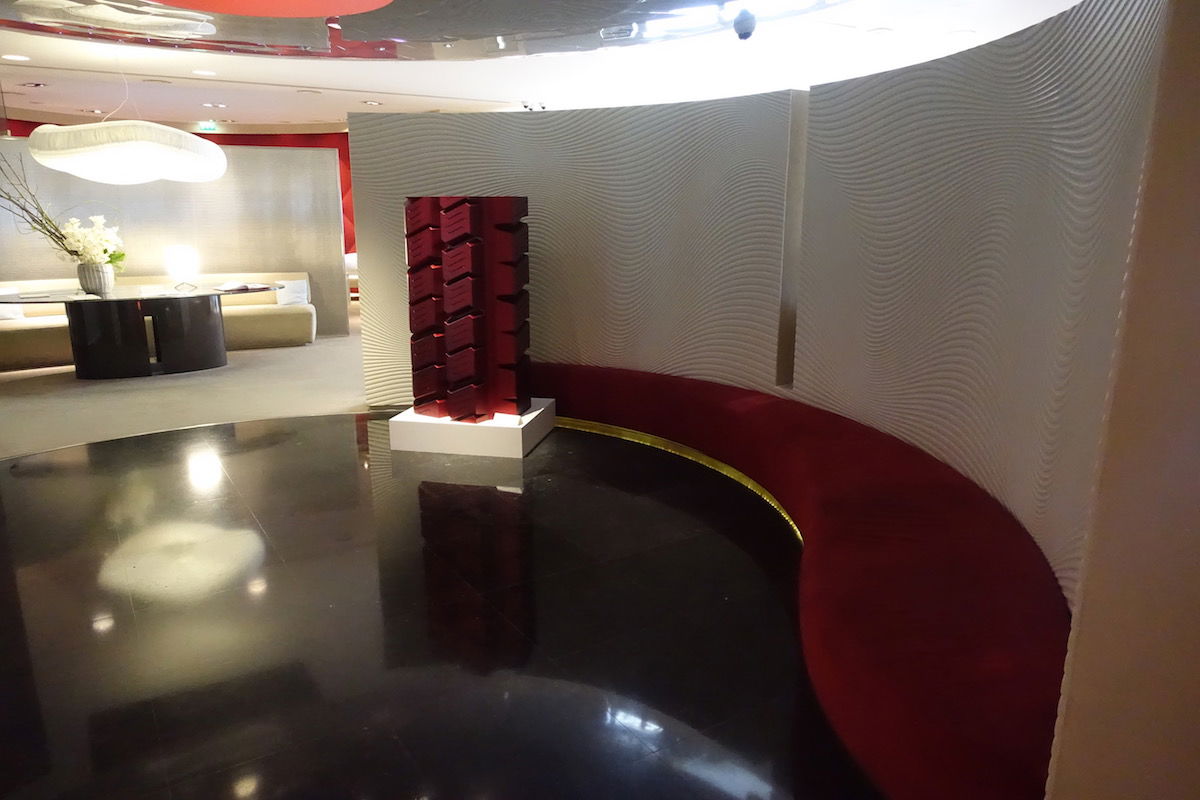 Air France First Class Lounge Paris
The associate explained that my flight to Houston was a little bit delayed, and that she'd keep me updated. It was 9:30AM by the time I got to the lounge, so I was initially expecting I'd have to leave within minutes. When I first arrived the lounge was full, and my gosh, the people in the lounge were interesting.
In most lounges you just have a lot of frequent flyers, while this lounge is a bit different. For example, the Lufthansa First Class Terminal has a lot of HON Circle members, and many of those are just super frequent business class flyers.
The crowd in the La Premiere Lounge feels decidedly, um, rich. There was a family of eight in the lounge(!!!!). Can you imagine how much they spent on their first class tickets? There was a dude wearing a gold dog chain around his neck. Like, my gosh, wow…
Anyway, I won't do a full review of the lounge, but it did empty out at around 10AM, so I'll just share a few pictures, though I've written much more extensive reviews in the past.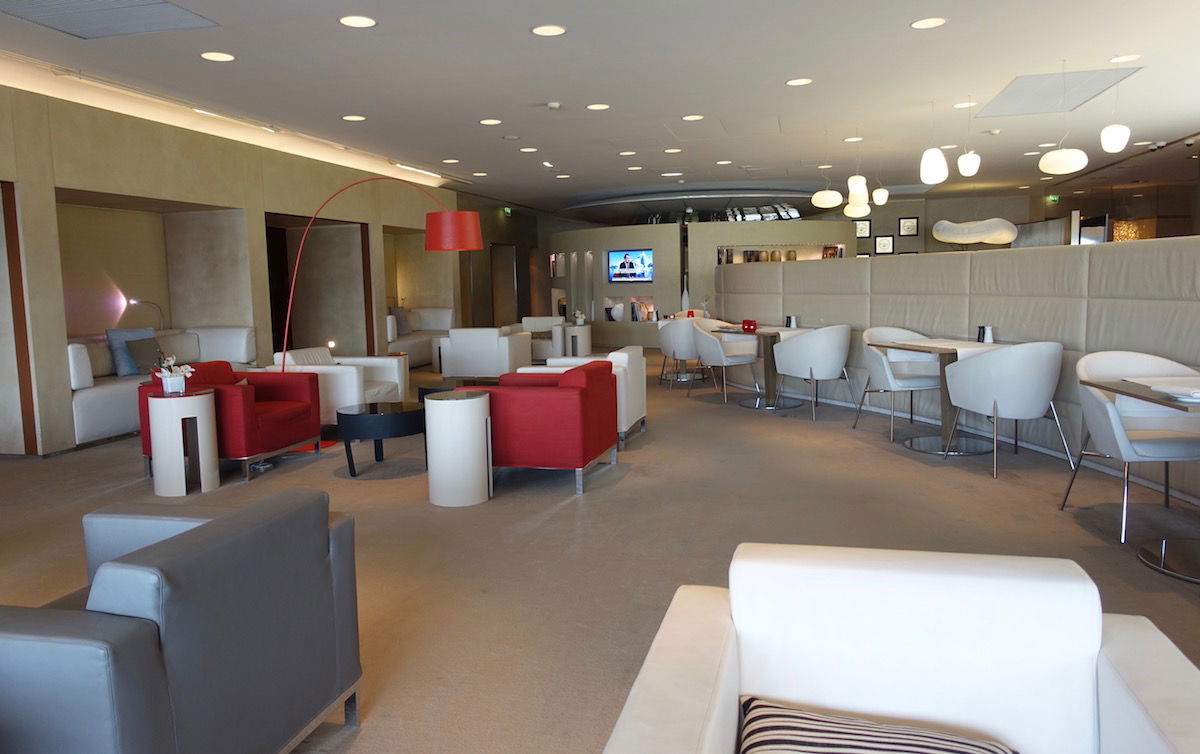 Air France First Class Lounge Paris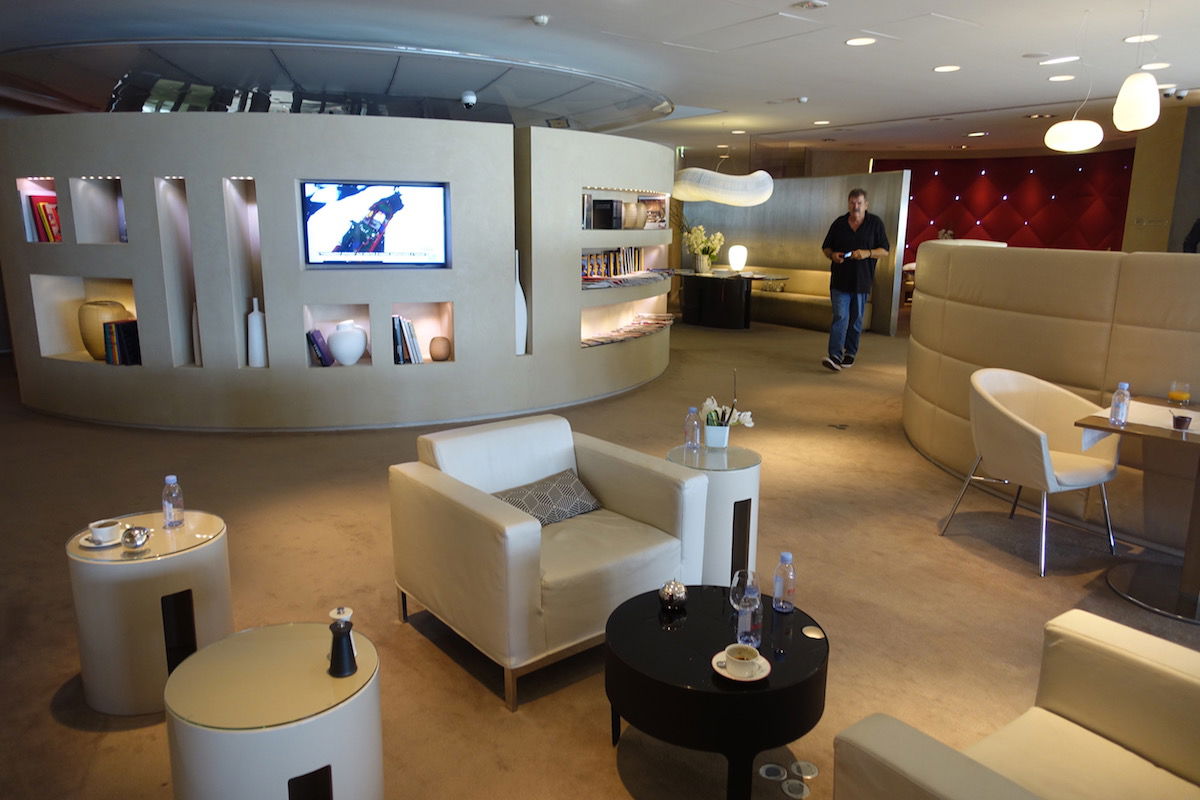 Air France First Class Lounge Paris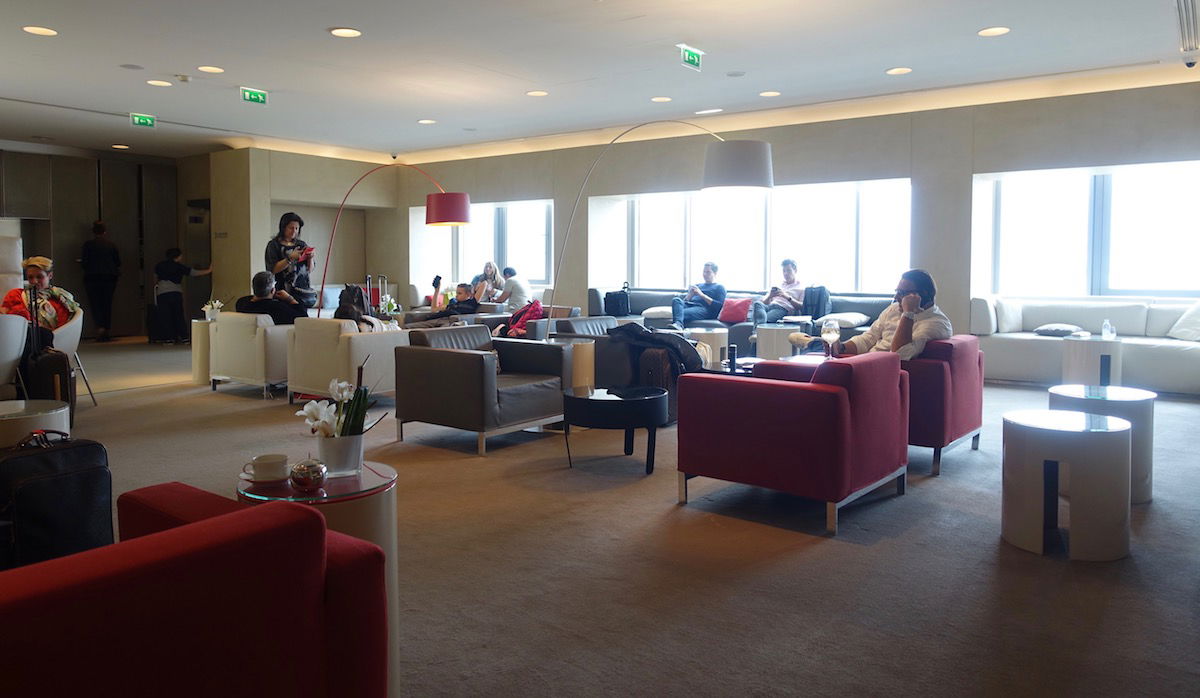 Air France First Class Lounge Paris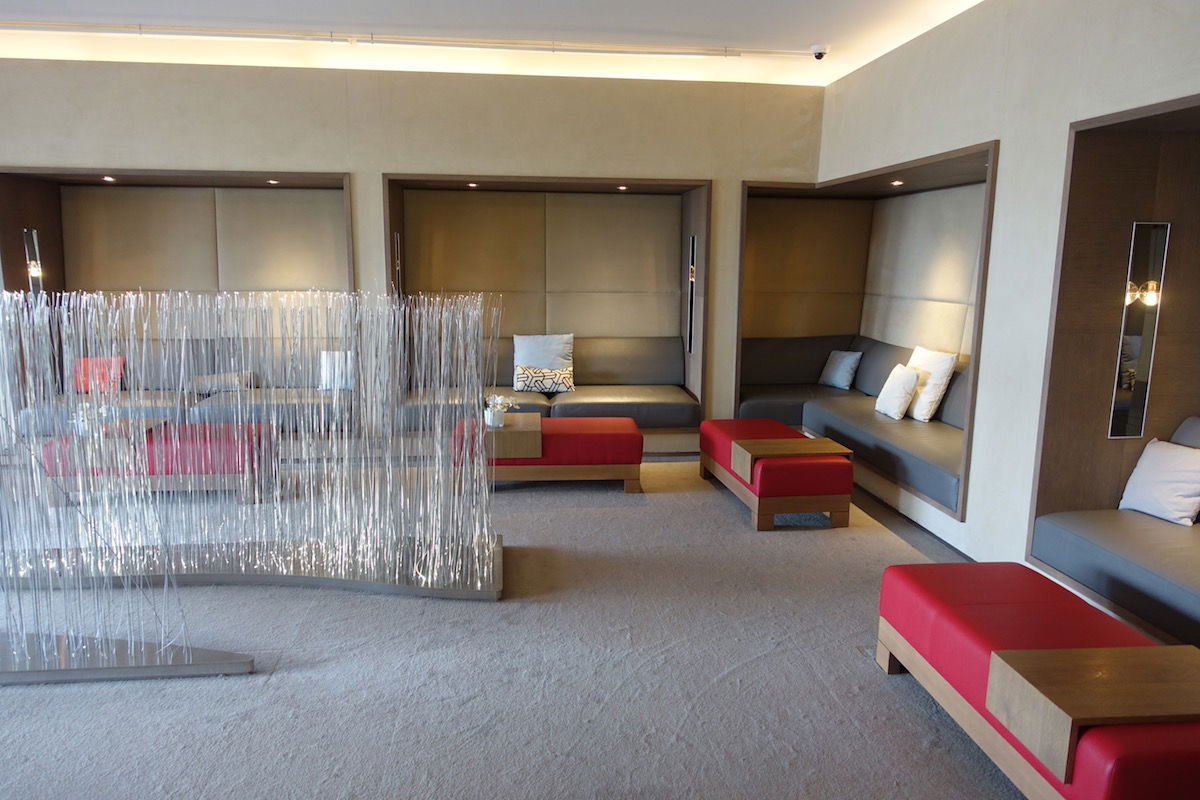 Air France First Class Lounge Paris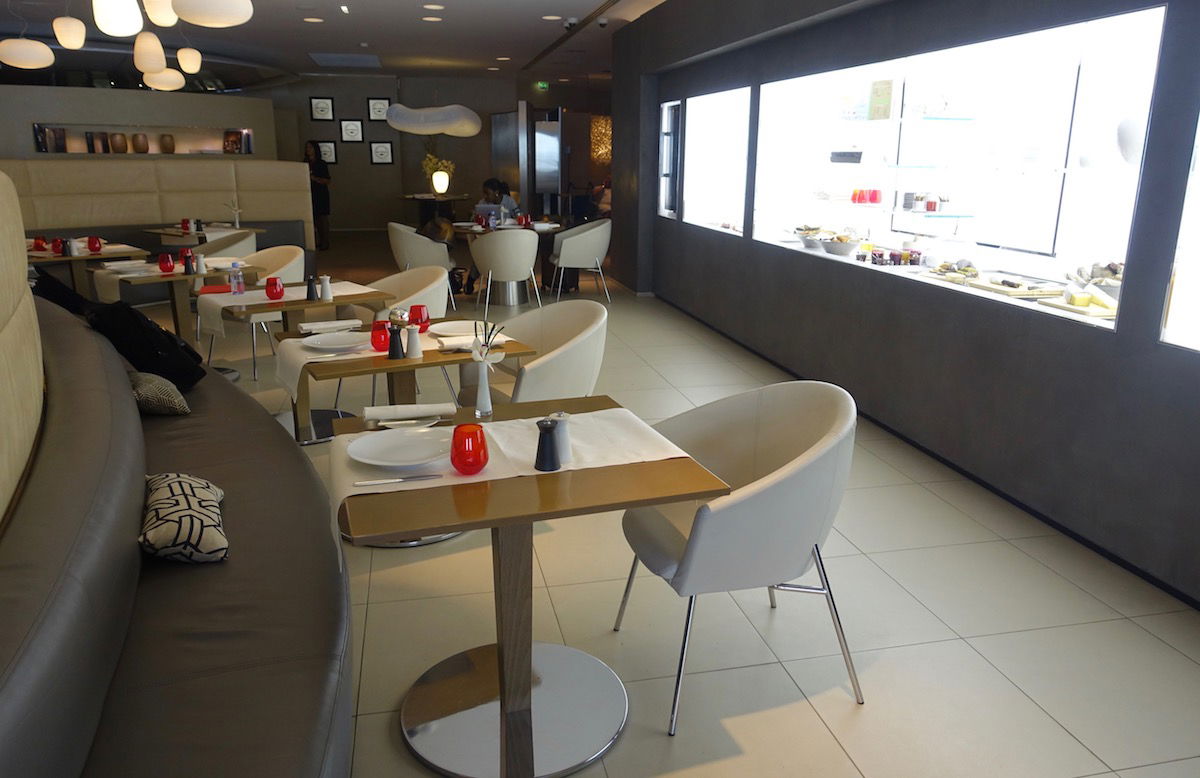 Air France First Class Lounge Paris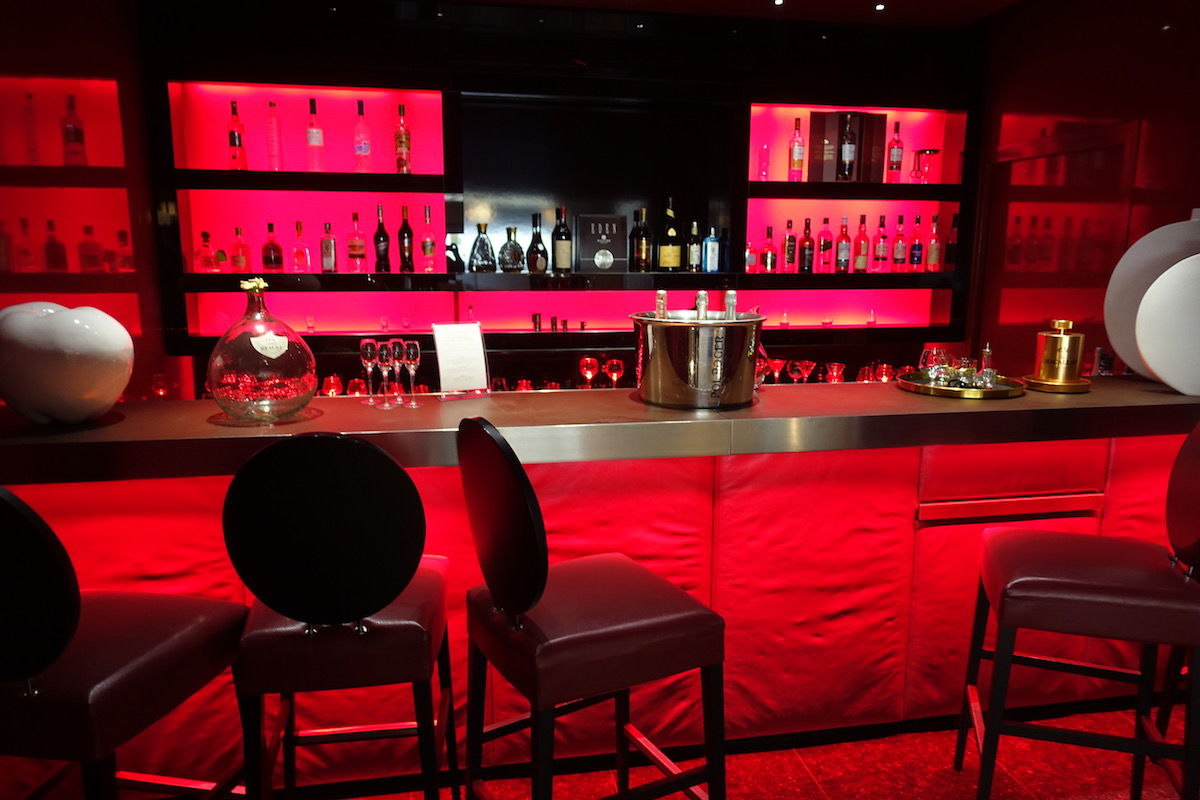 Air France First Class Lounge Paris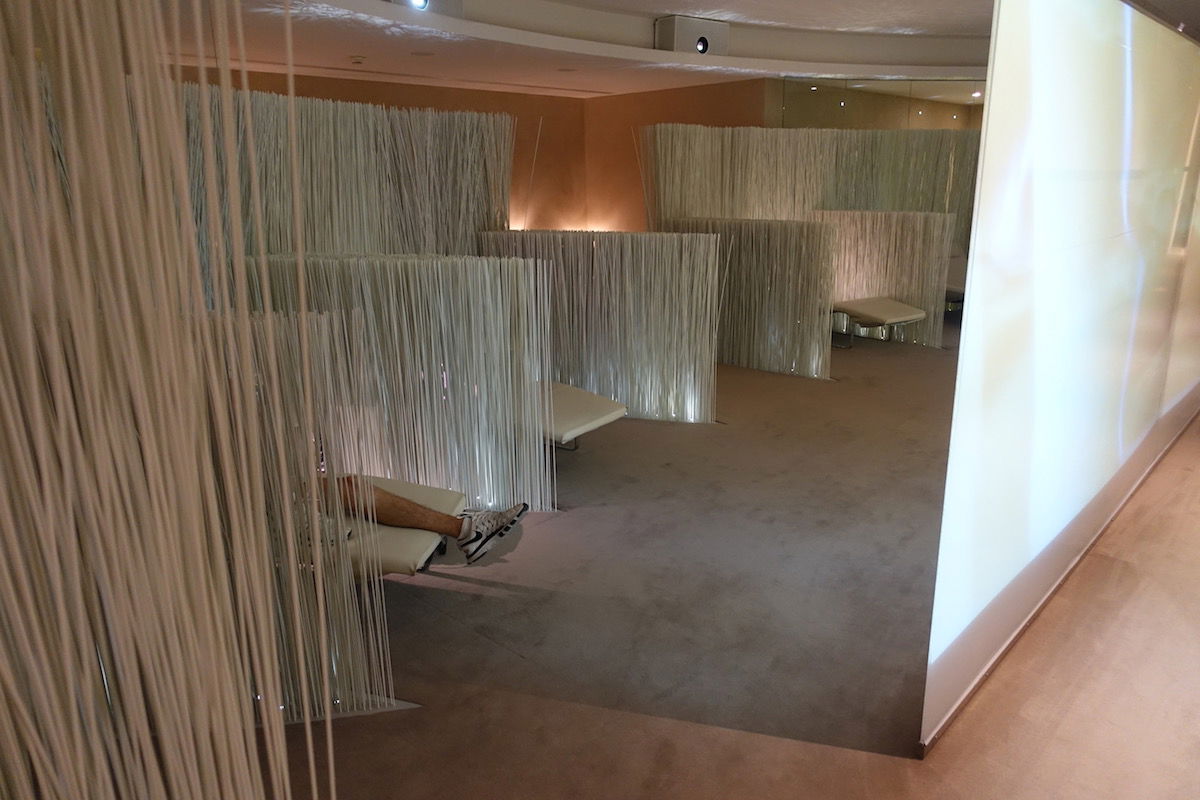 Air France First Class Lounge Paris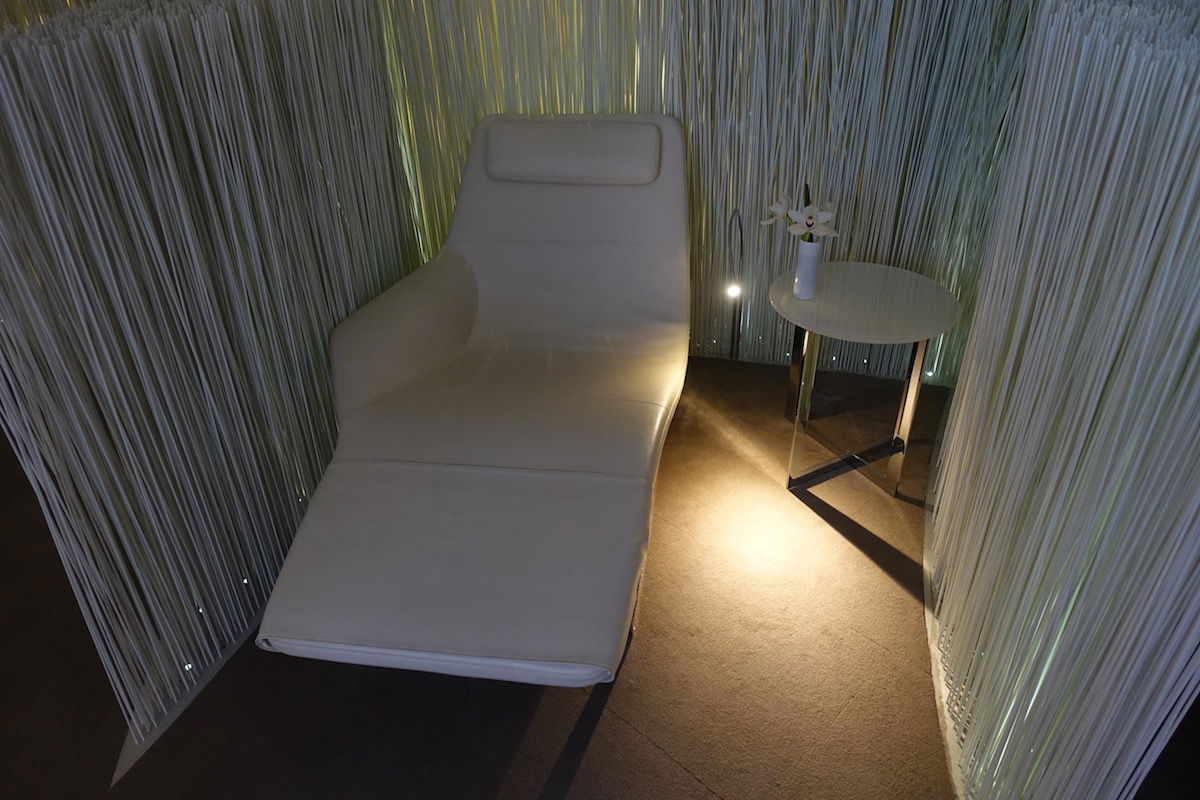 Air France First Class Lounge Paris
I intentionally didn't eat anything in the lounge. That's partly because I wanted to save my appetite for onboard, and partly because my flight had a rolling delay, and I always expected we'd board within a few minutes. So instead I indulged in the lounge's incredible water selection.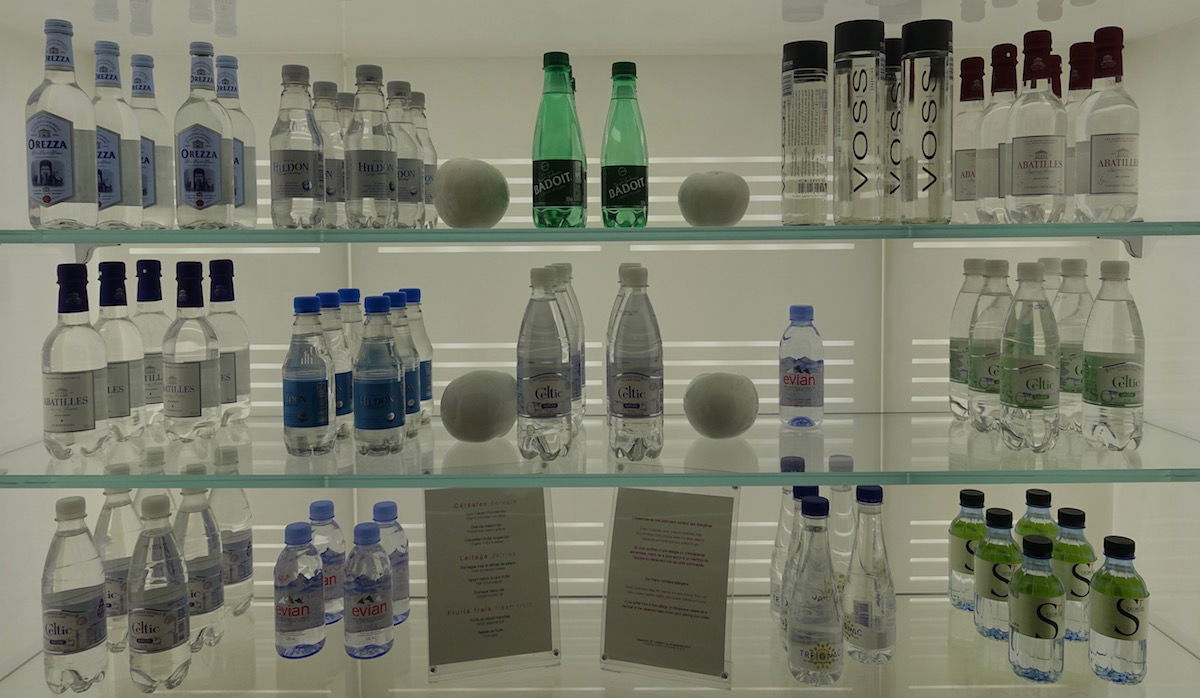 Air France First Class Lounge Paris water selection
Hopefully I didn't overdo it. 😉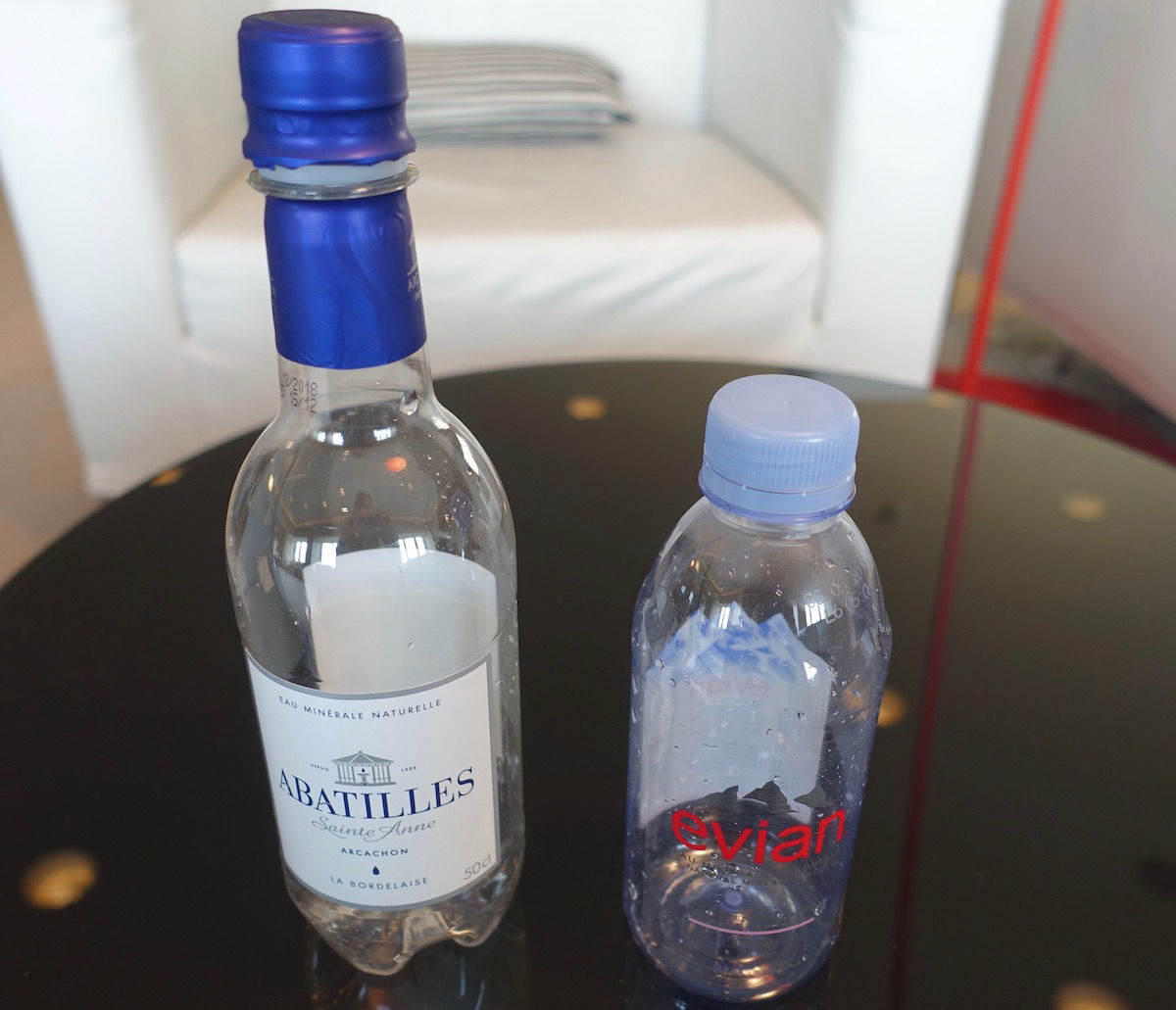 All I had in the Air France First Class Lounge
There was also a very small breakfast buffet, though of course the highlight is being able to order off the menu.


Air France First Class Lounge Paris breakfast selection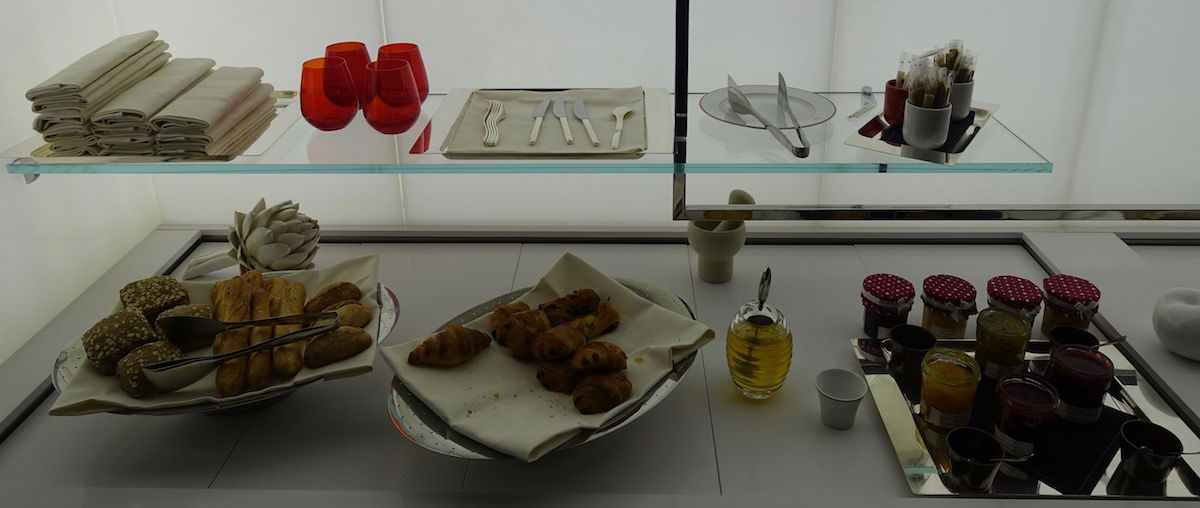 Air France First Class Lounge Paris breakfast selection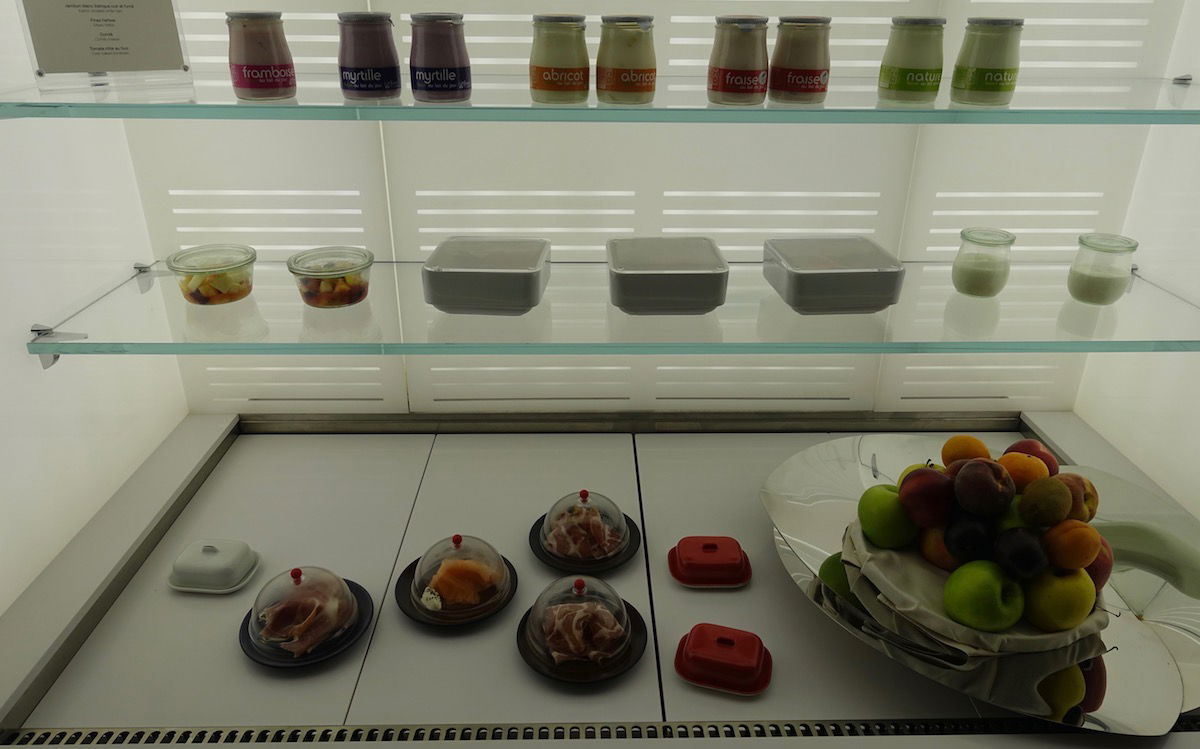 Air France First Class Lounge Paris breakfast selection
My flight was originally scheduled to depart at 10:10AM, though there was a delay due to "security." The associate explained to me that due to new rules, there's an independent company that comes in and searches all US-bound planes before boarding, and they were running late because of the number of planes they had to take care of. So that was the cause of the delay.
Finally at 10:45AM I was told that it was time to go. We took the elevator down a floor to the parking lot, where I was brought to a Jaguar.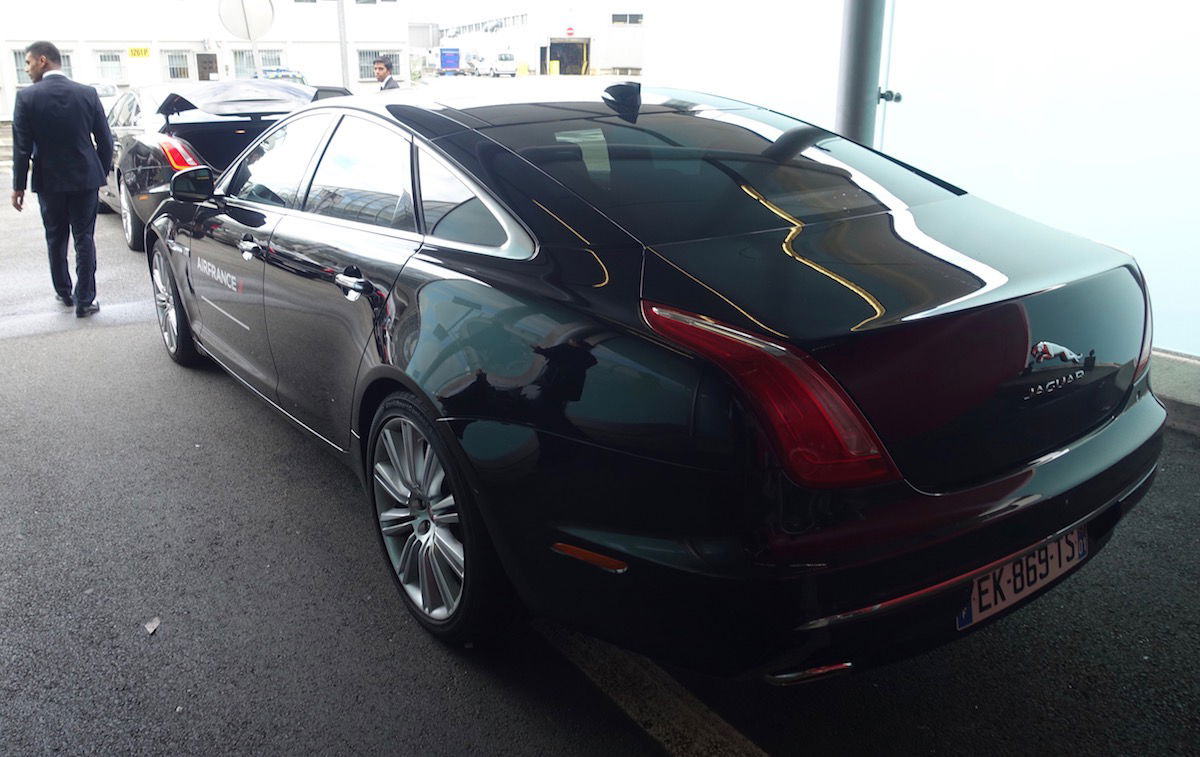 Transfer back to the plane
I was driven to the plane, which was this time parked at a gate rather than a remote stand.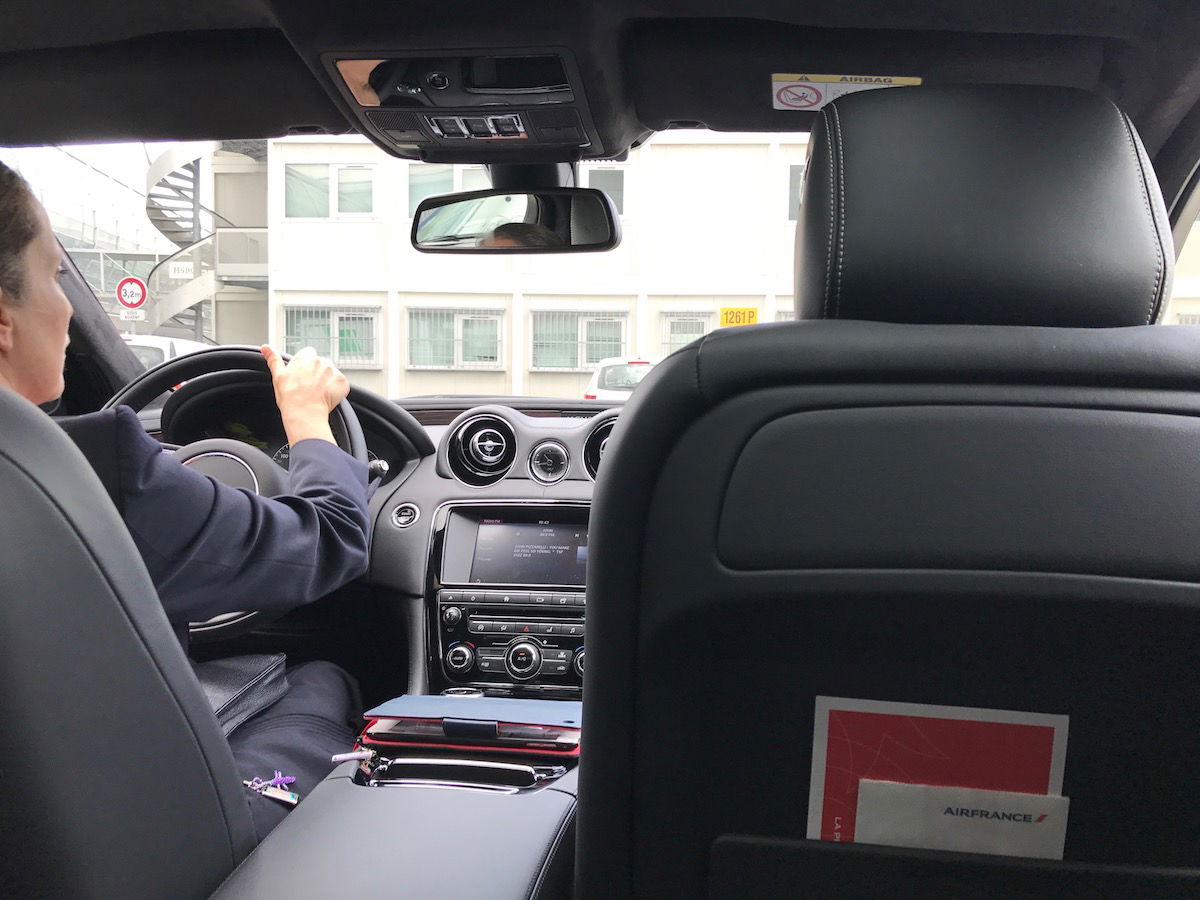 Jaguar transfer to my 777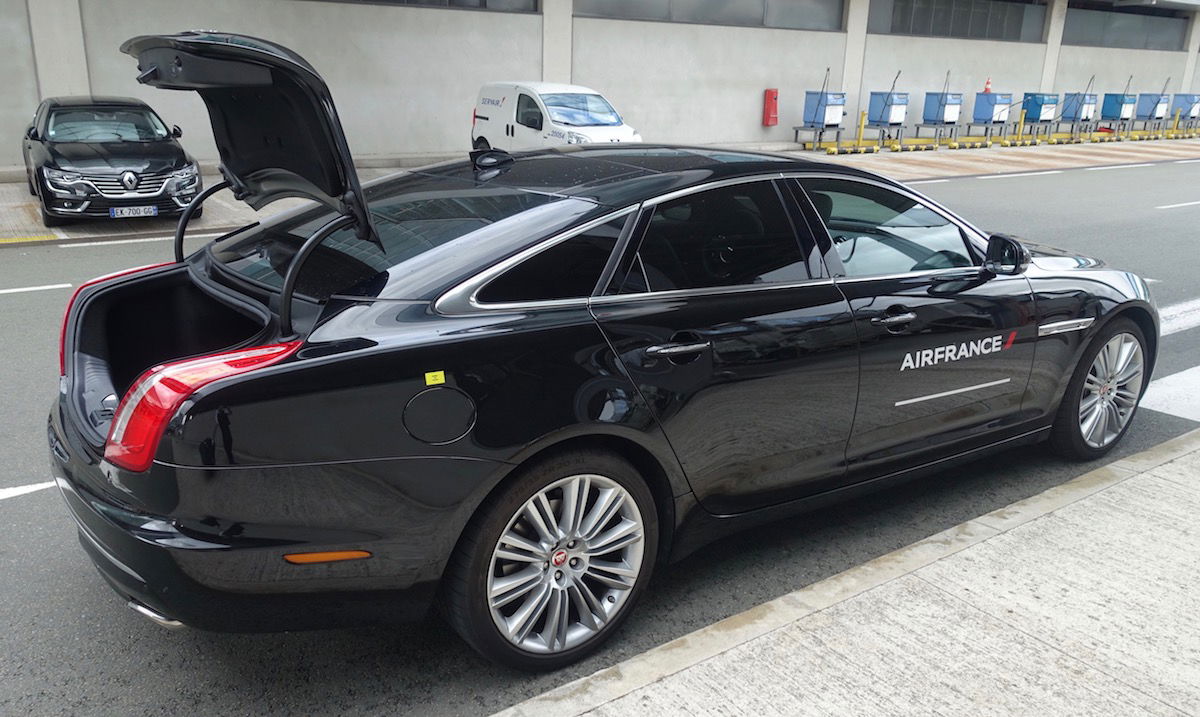 Jaguar that drove me to my plane
What a beauty!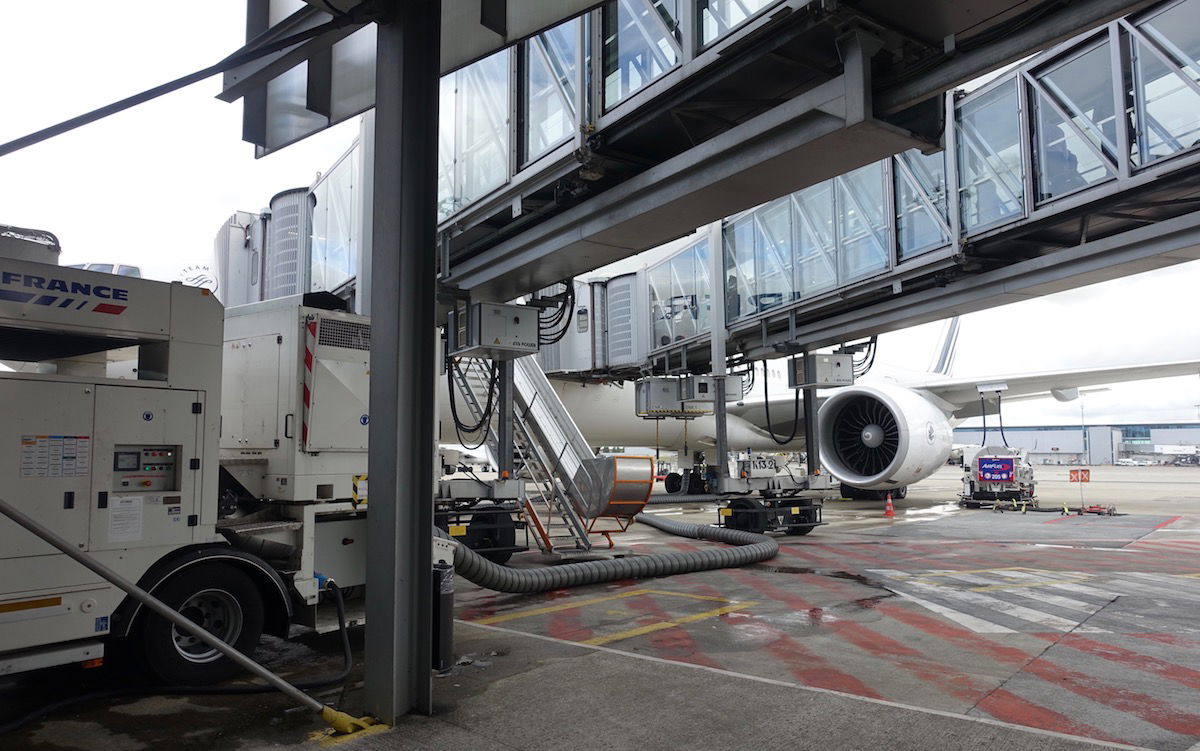 Air France 777 taking me to Houston
I was brought up a set of stairs, and then we found ourselves in the jet bridge. The door L2 jet bridge was backed up with probably over 100 people in it. Meanwhile the jet bridge to the forward door was closed completely. Like the door was shut and there was a barrier in front of it.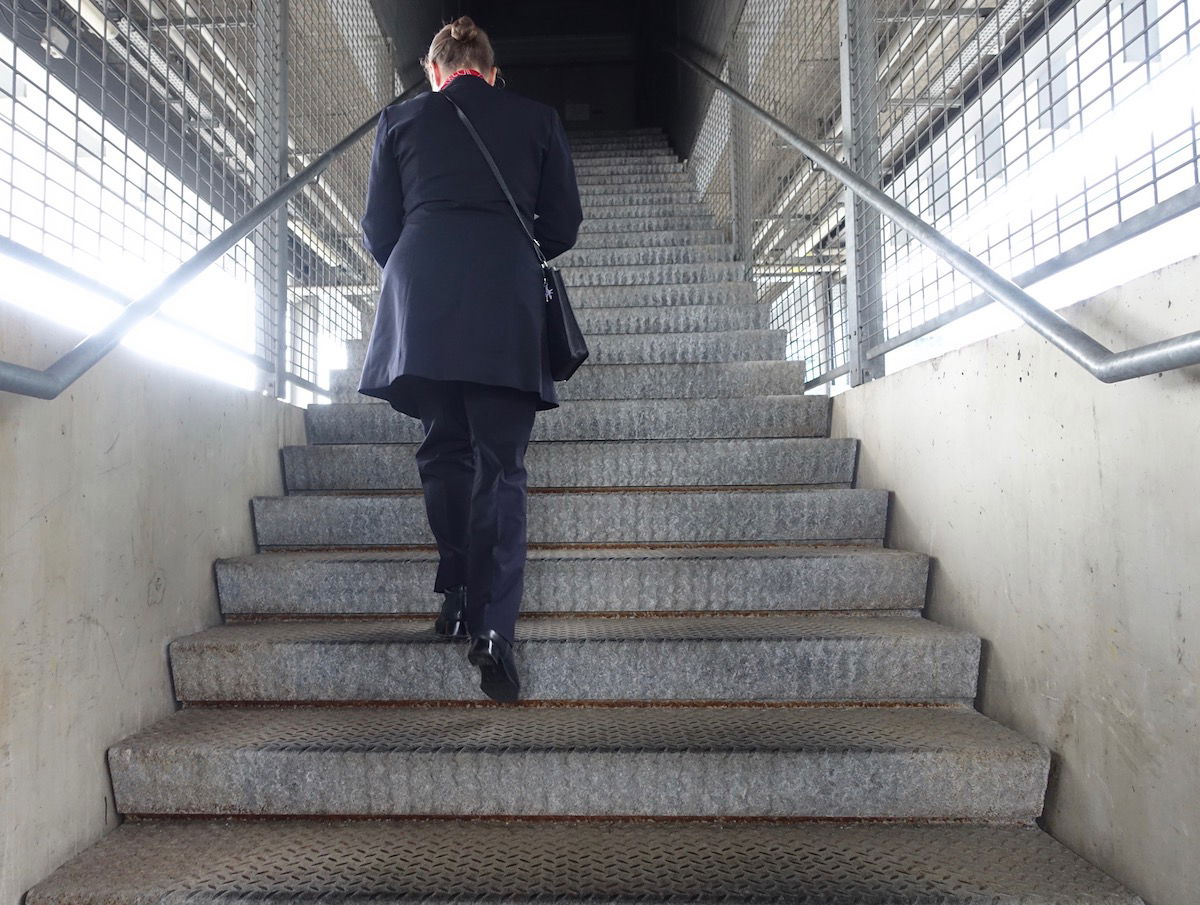 Walking to the jet bridge
My lovely La Premiere agent opened the door, removed the barrier, let me through, and then closed the door and put the barrier back up again. Not only did I have the cabin to myself, but I also had this jet bridge all to myself. Amazing!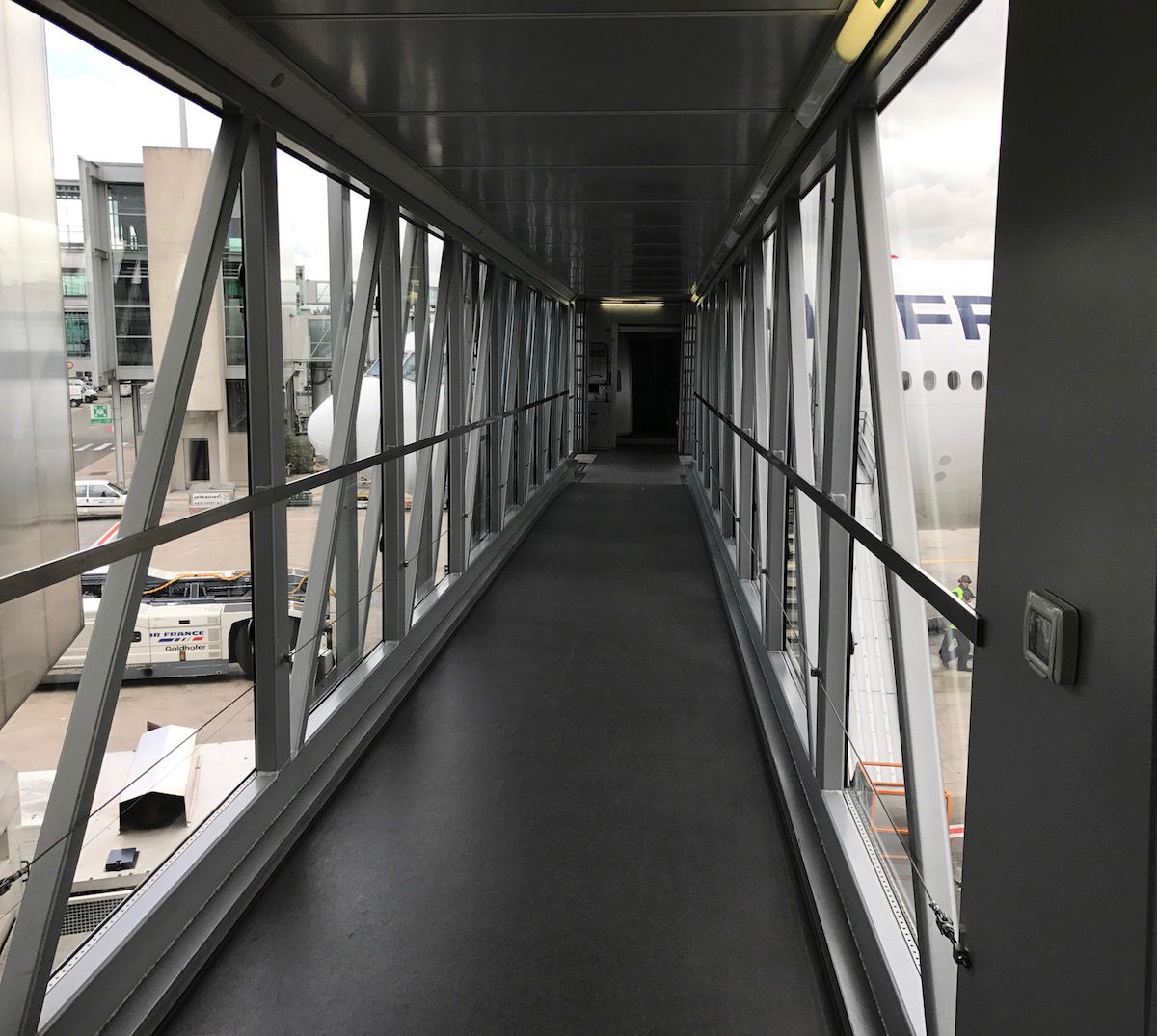 Private first class jet bridge
And this is where the real fun started…
Air France first class ground experience bottom line
Air France knocks the first class ground experience out of the park, and that's true even when in-lounge immigration isn't fully functional. Air France gets that it's not about how glitzy the lounge is, but rather about the experience being good from start to finish. Even though this was my shortest layover in the La Premiere lounge, and I didn't get to enjoy the incredible restaurant or spa, this was still a top notch experience. It truly is one of the best airport lounges in the world.