---
Want to receive extra benefits for your stay at Il Sereno, including a space available room upgrade, a hotel credit, and more? Contact [email protected] for more details. He may even be able to help if you already have a stay booked.
Ford booked us three nights at Il Sereno over our anniversary several months in advance, as the hotel just opened last summer. Il Sereno looked absolutely stunning online, and I had mostly read good things about it. The website proudly boasts that Bloomberg called Il Sereno "Europe's most luxurious new hotel," so I was curious to see if it lived up to the hype.
Lake Como in summer is expensive, and our rate was about 800EUR per night. That's a lot of money, though at the same time that's less than half of some of the other hotels on the lake. Ford booked us through Virtuoso, so we also received the following perks:
Upgrade on arrival, subject to availability
Daily full breakfast, for up to two in room guests
$100 USD Equivalent Resort or Hotel credit, to be utilized during stay (not combinable, not valid on room rate, no cash value if not redeemed in full)
Early check-in/late check-out, subject to availability
Complimentary Wi-Fi
Based on my understanding, generally Villa d'Este is considered to be the best hotel on Lake Como. We had drinks there one night and the setting was gorgeous, but the style is very much not my preference. Here's a picture of a room at Villa d'Este. Meanwhile Il Sereno looked like it had incredible modern decor, and reminded me a lot of the Cathay Pacific Pier First Class Lounge in Hong Kong in terms of design. At the same time I recognize that the decor of Villa d'Este is very true to the area — perhaps an old world hotel blends in better than a stunning modern hotel.
Anyway, on to the actual stay. Il Sereno is located in the town of Tomo, which is about a quarter of the way from Como to Bellagio. The hotel is quite small and has an understated exterior, as there's just a small gate. There were just Mini Coopers in the parking lot. There didn't seem to be conference or anything, but rather there was some sort of photo shoot, it seemed like.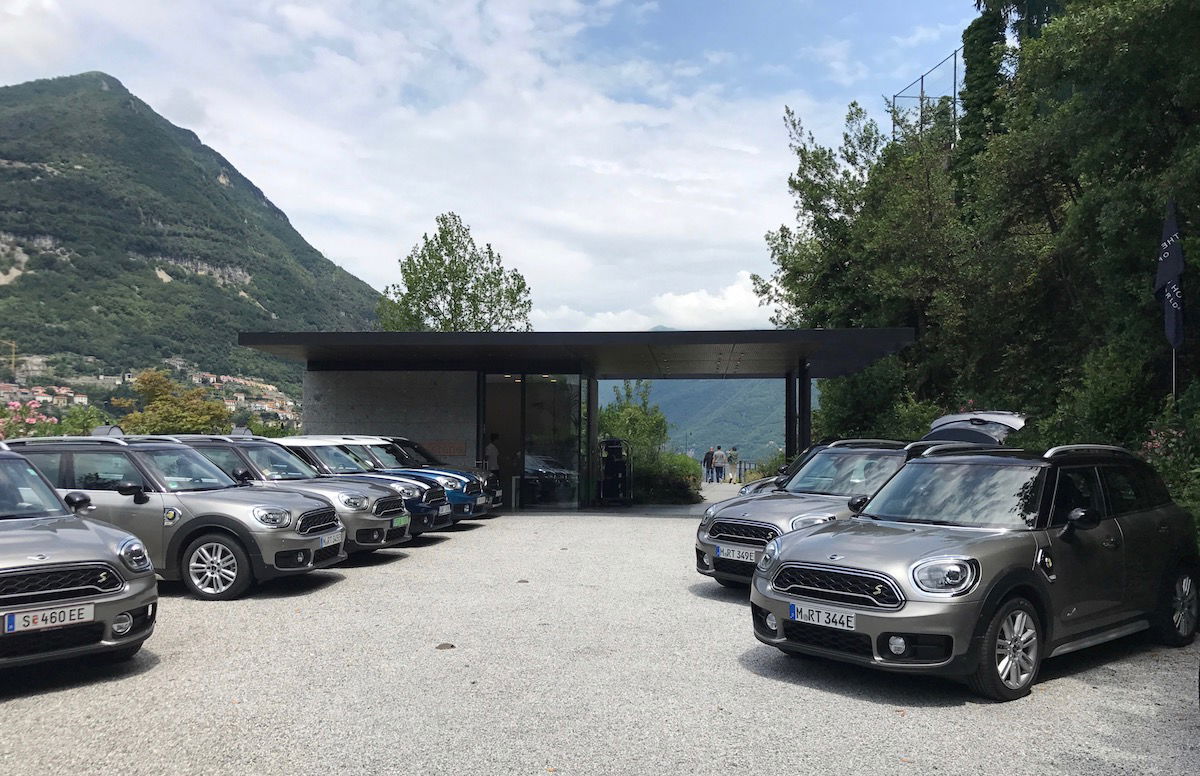 Il Sereno Lake Como parking
There was a small area for the bellmen, and then a walkway leading to the actual hotel.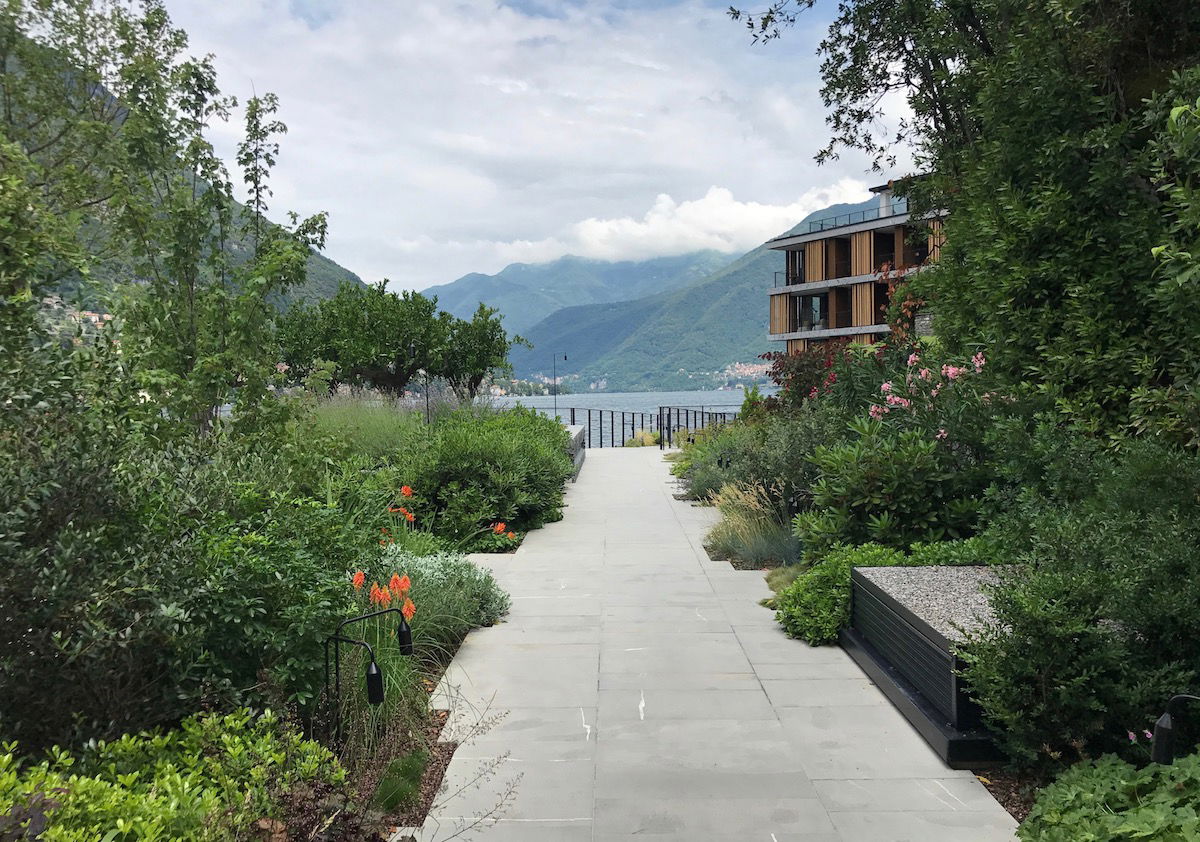 Path to Il Sereno
I'm going to try to control my enthusiasm here, so let me just say upfront that the design of this hotel is stunning. The architecture, the furnishing, etc., are all so impressive. This might be the most gorgeous hotel I've ever stayed at. There are some hotels that feel palatial, but this hotel actually felt comfortable and like a home. They did an incredible job with the design of this place.
Anyway, the hotel has only 30 rooms, and all of them have views of the lake.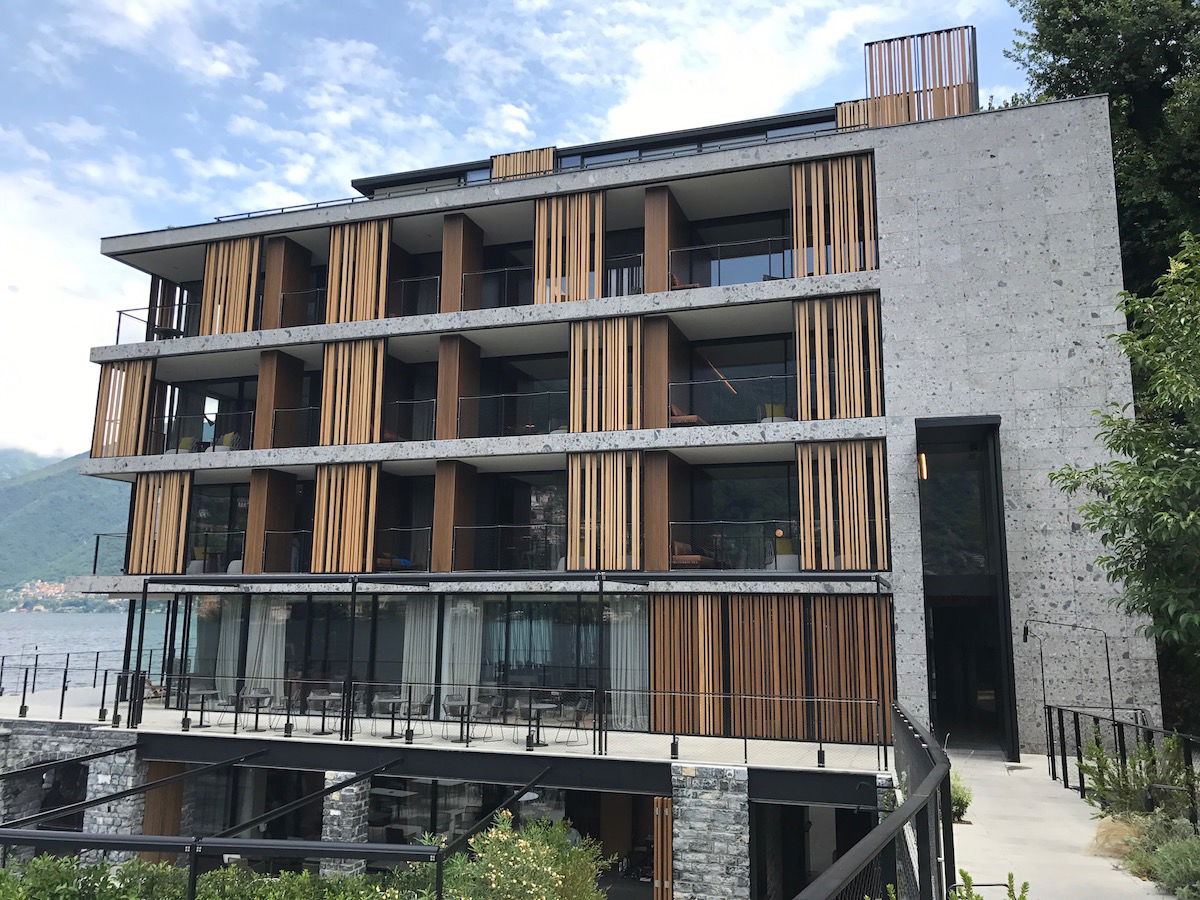 Il Sereno exterior
As we entered the hotel there was a small reception area which was surprisingly crowded for such a small hotel, as about four parties were checking in and out.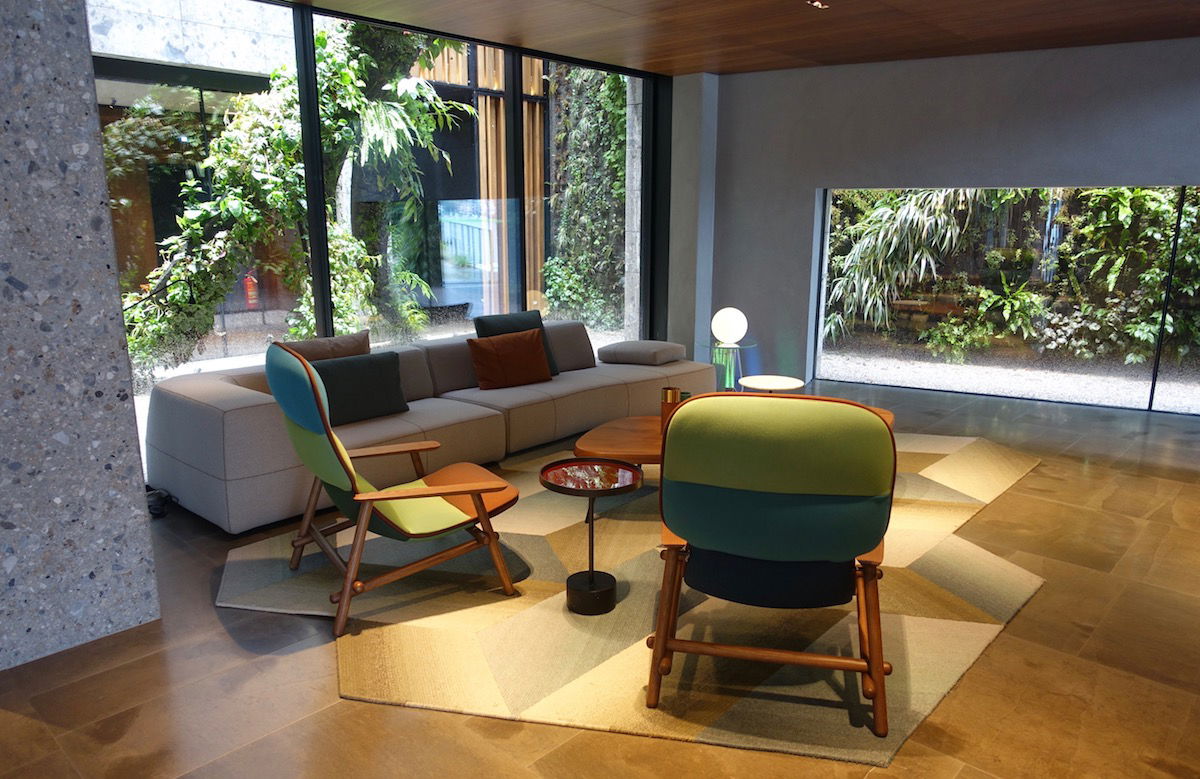 Il Sereno reception seating
The associate who welcomed us was friendly, and invited us to have a seat in the huge lobby area, which also doubled as the hotel's bar.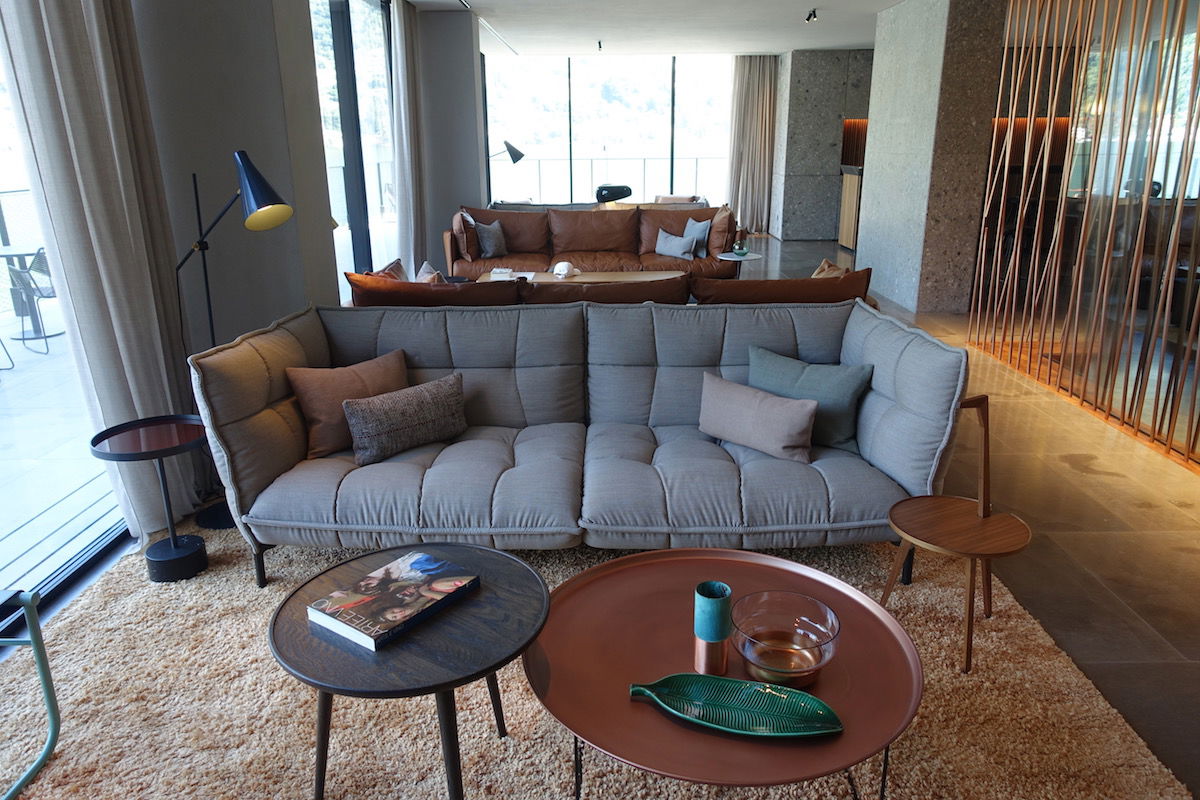 Il Sereno lobby seating
Seriously, how gorgeous is this?!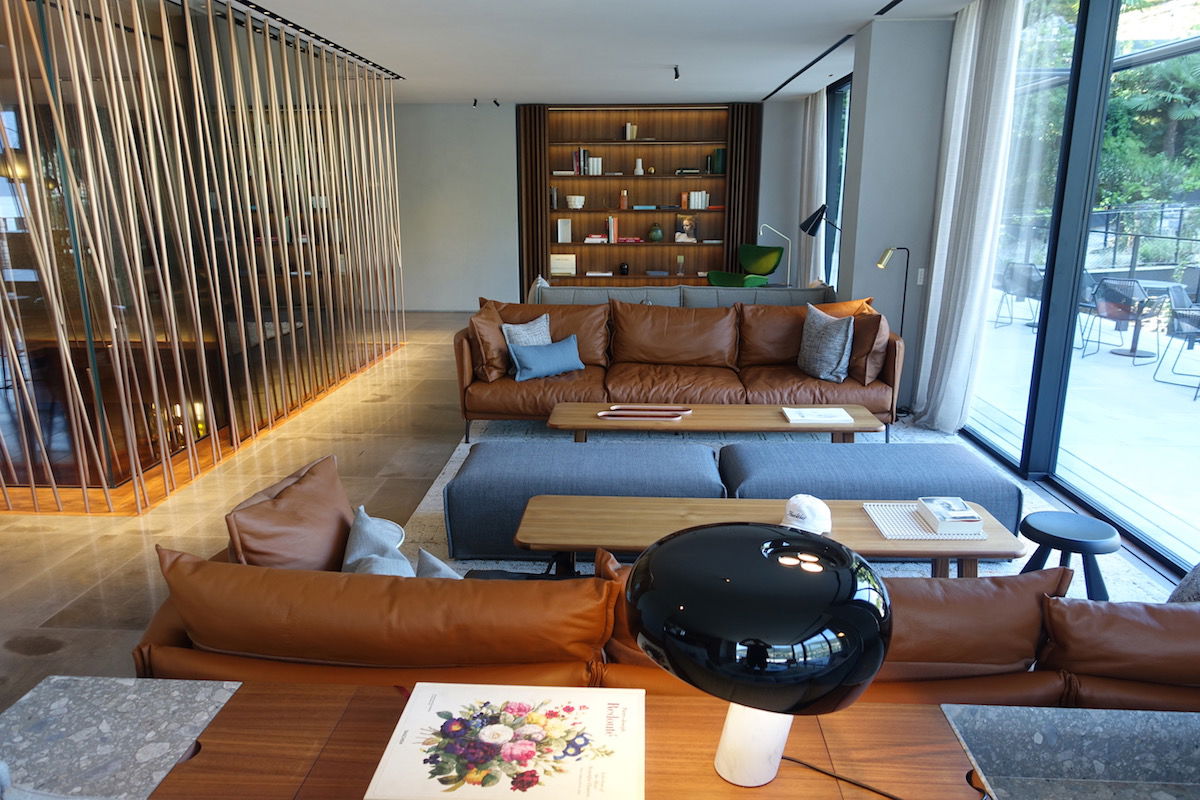 Il Sereno lobby seating
To me every part of this hotel felt like it was right out of a magazine shoot.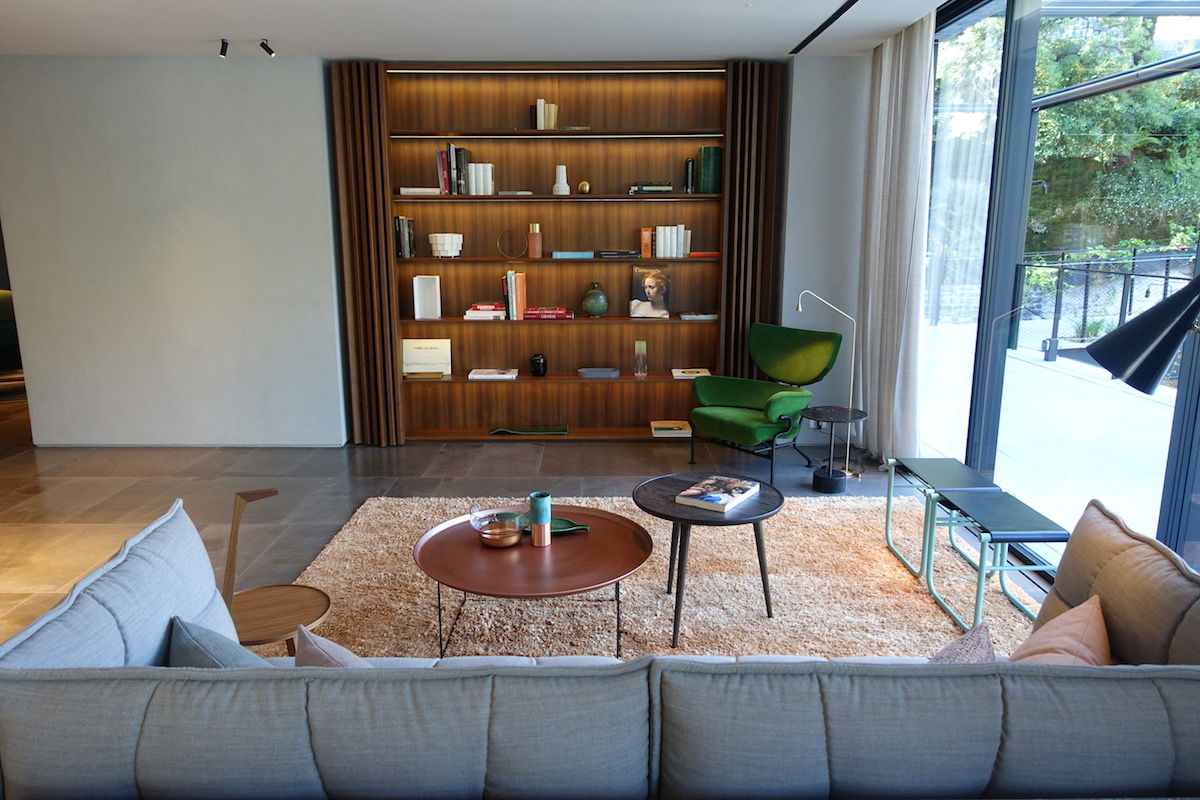 Il Sereno lobby seating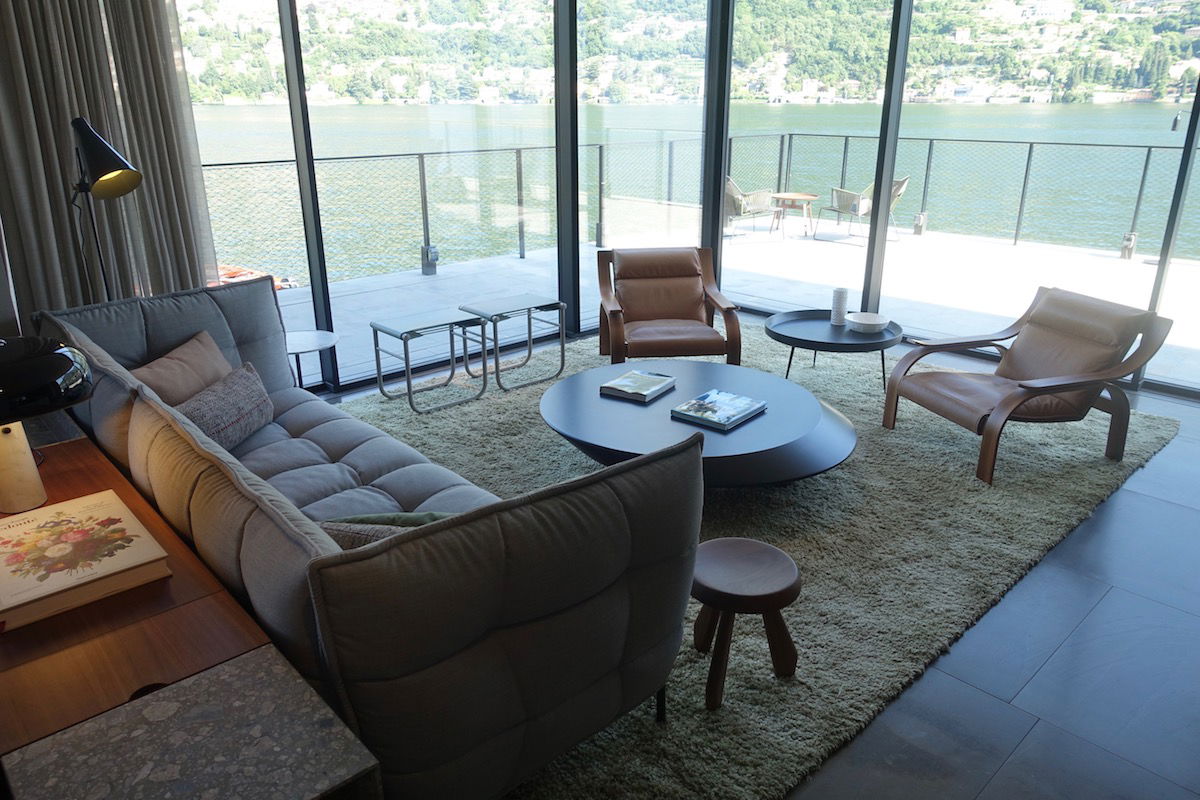 Il Sereno lobby seating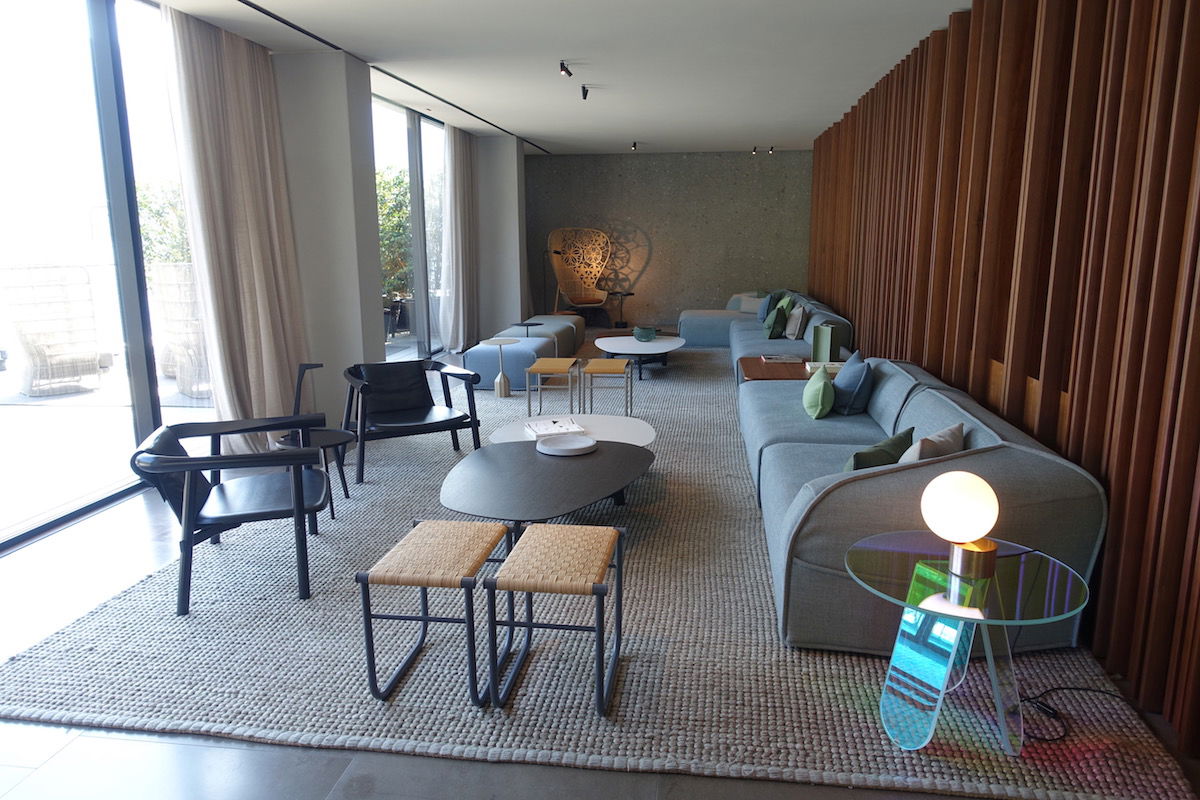 Il Sereno lobby seating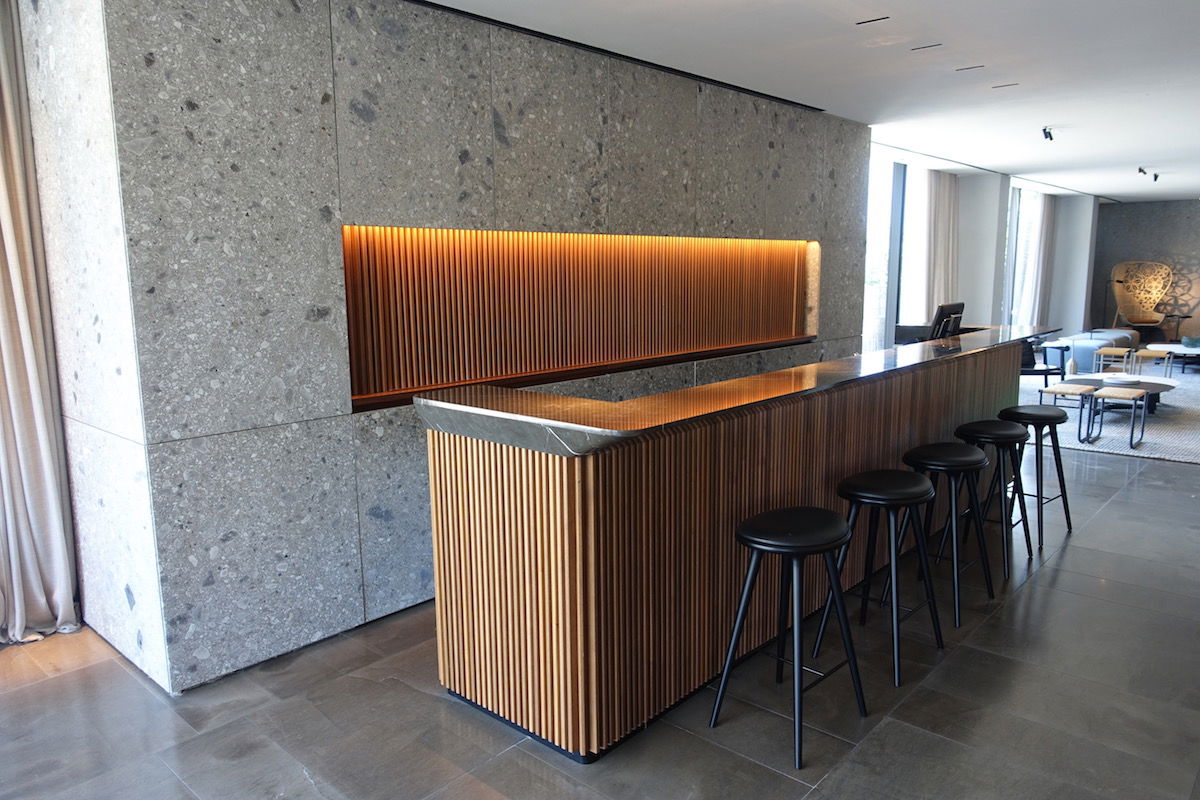 Il Sereno bar
There was equally beautiful outdoor patio seating, which had great views of the lake and pool.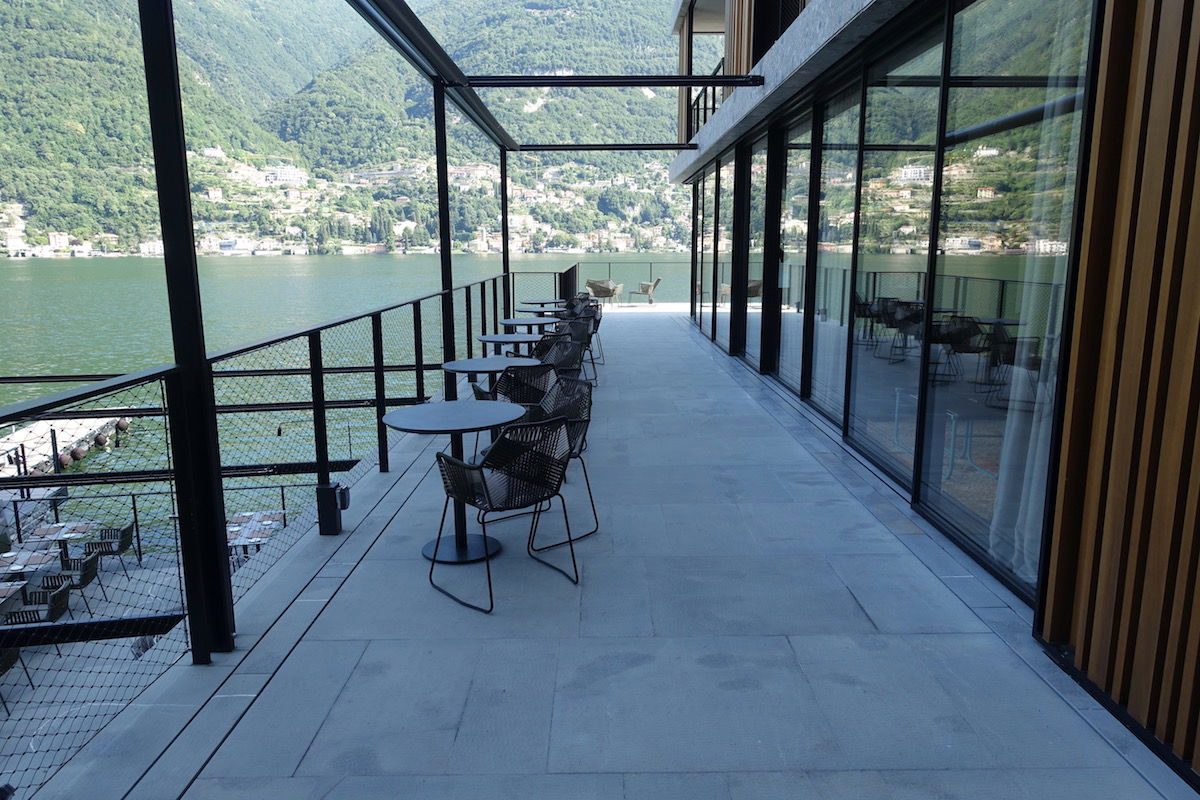 Il Sereno outdoor seating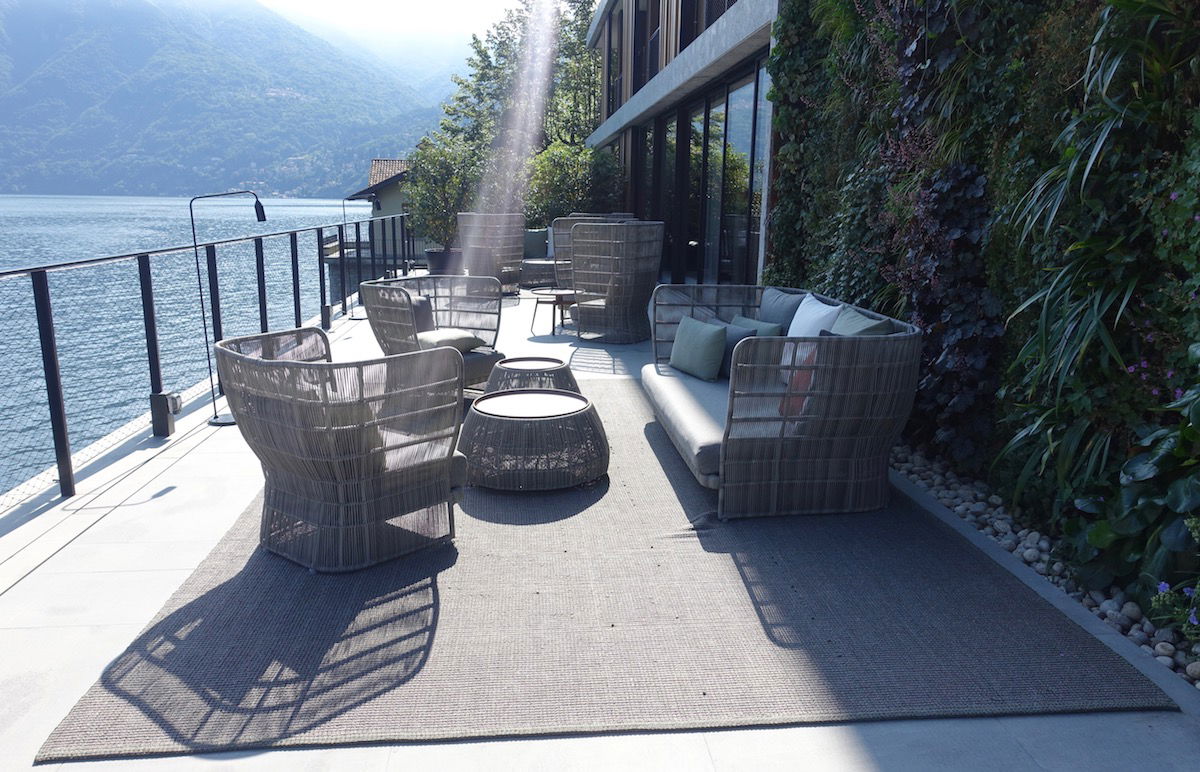 Il Sereno outdoor seating
The pool is probably the most picturesque part of the hotel.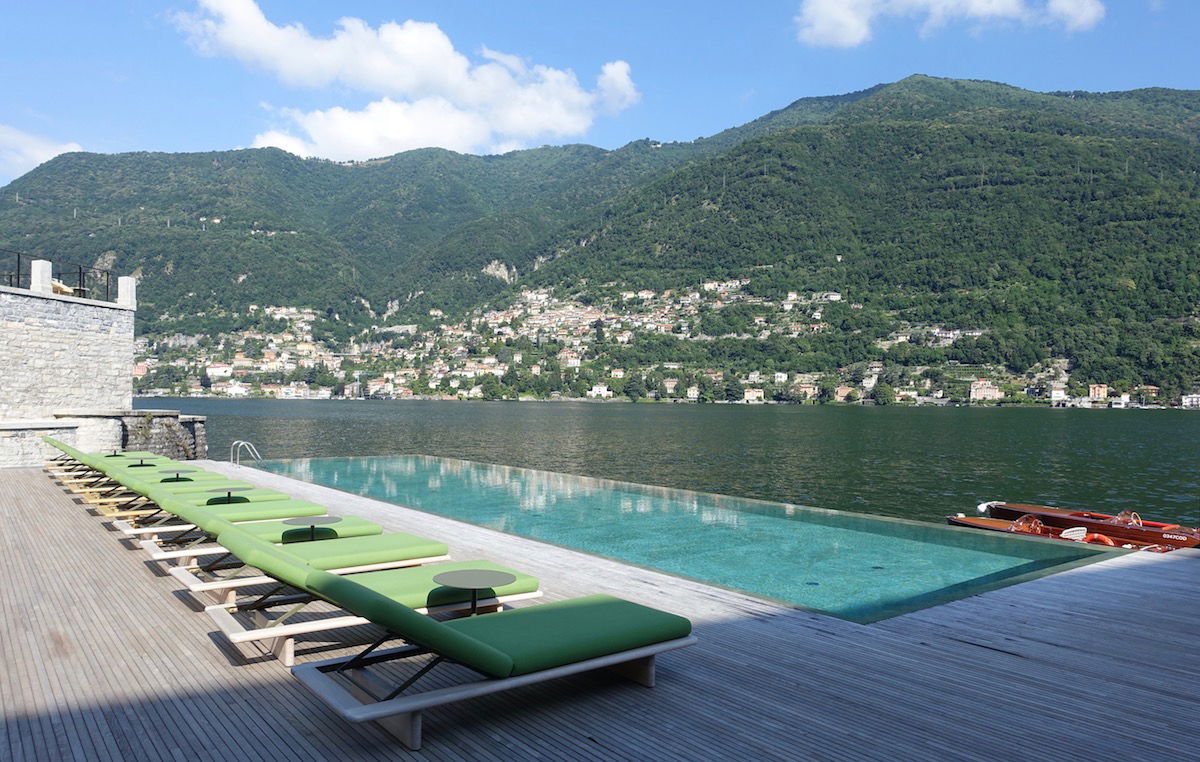 Il Sereno pool
Beautiful, beautiful, beautiful…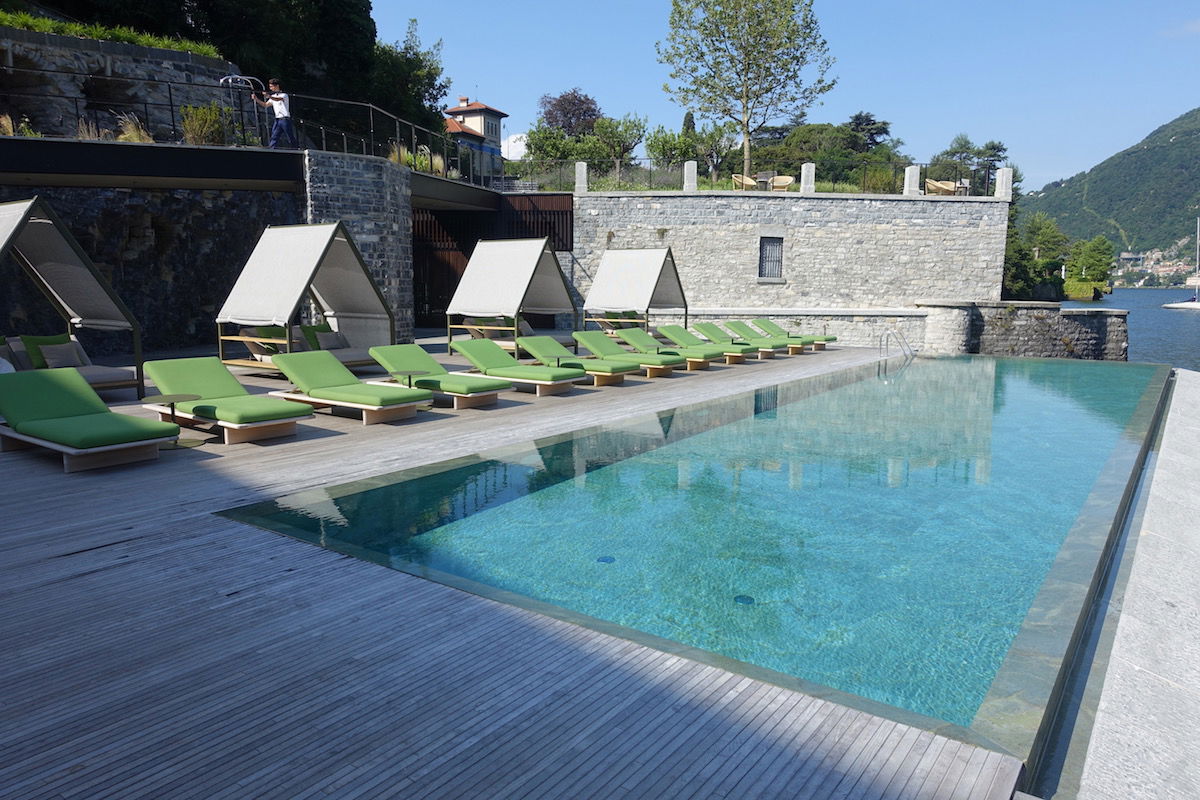 Il Sereno pool
Our room wasn't quite ready, so we were asked if we wanted their signature welcome drink. Since it was still early in the morning we instead asked for cappuccinos. These were among the best cappuccinos I've ever had anywhere. We were also invited to breakfast, which was a nice gesture, though we declined, since we had just eaten.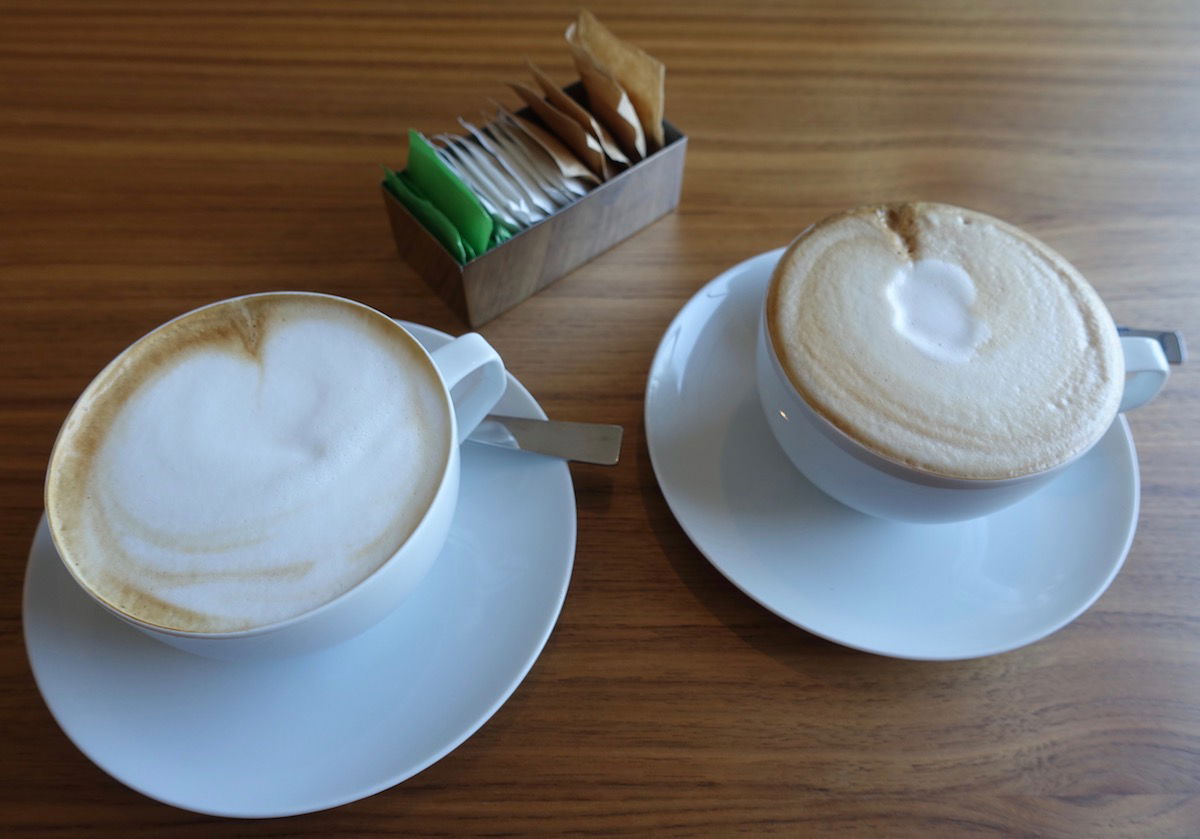 Il Sereno cappuccinos
We were initially told our room would be ready within 30 minutes, but it ended up being a couple of hours, and they weren't very good about providing updates. Fair enough, we were way early, so I'm not going to hold that against them too much.
Eventually we were escorted up to our room on the second floor.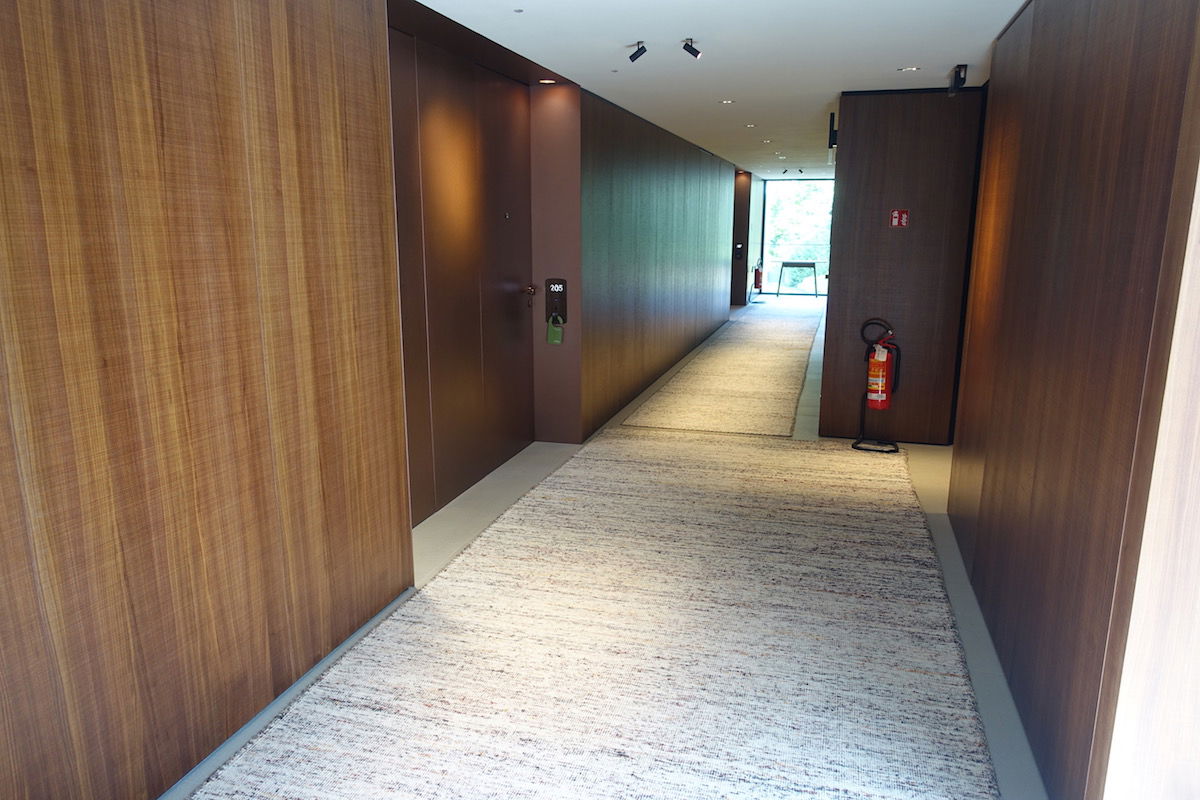 Il Sereno hallway
We were assigned room 202.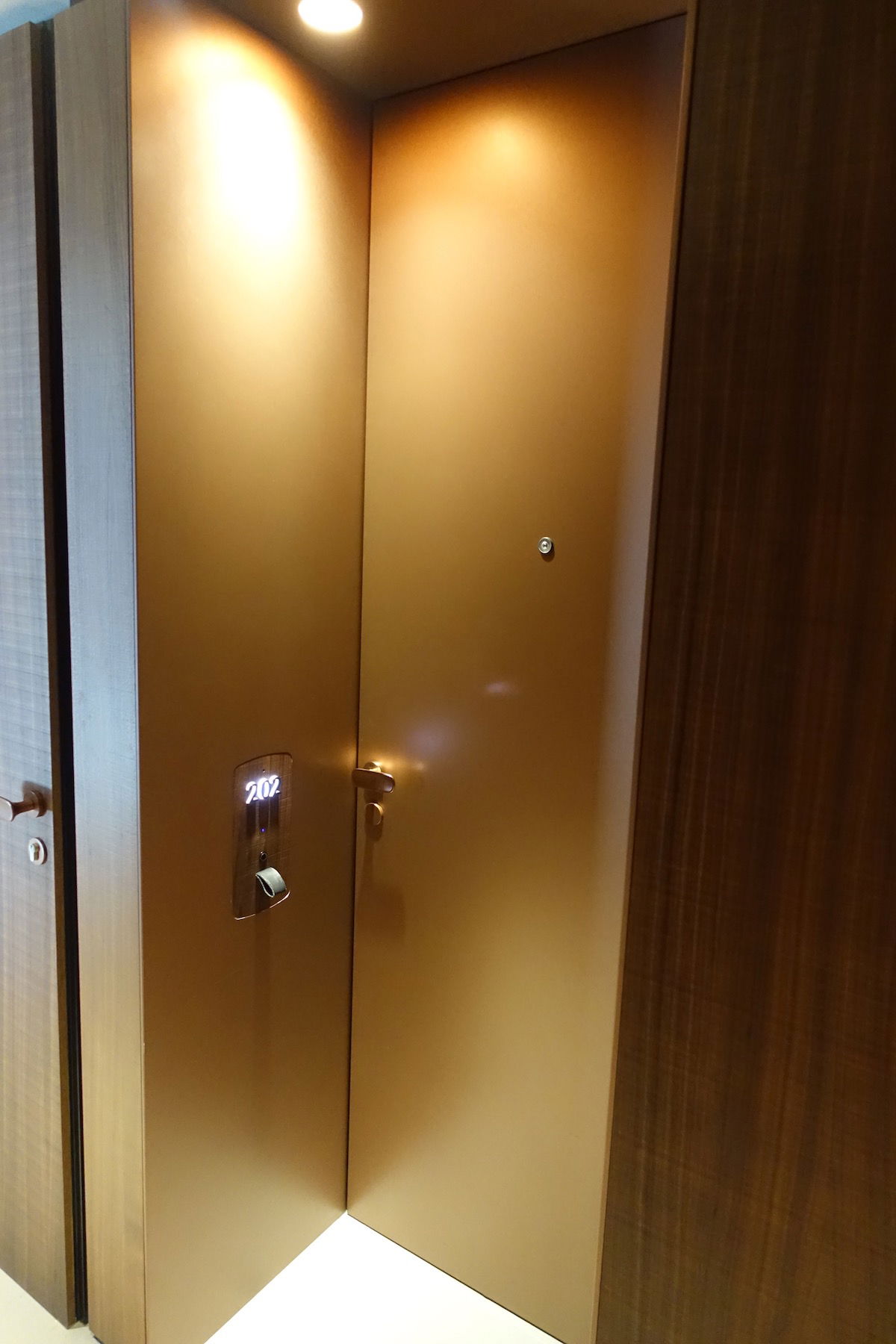 Il Sereno room exterior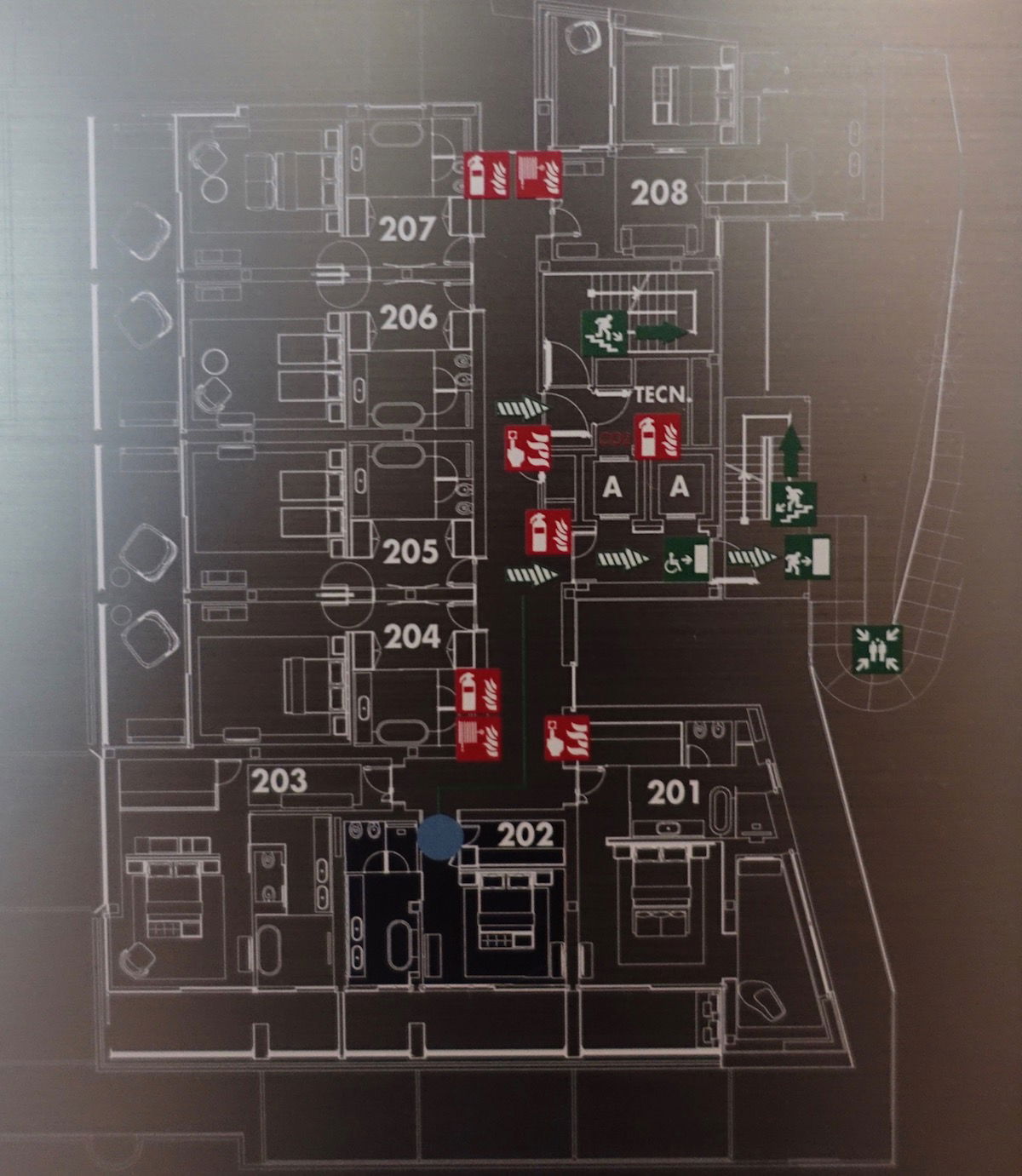 Il Sereno floorplan
Beautiful!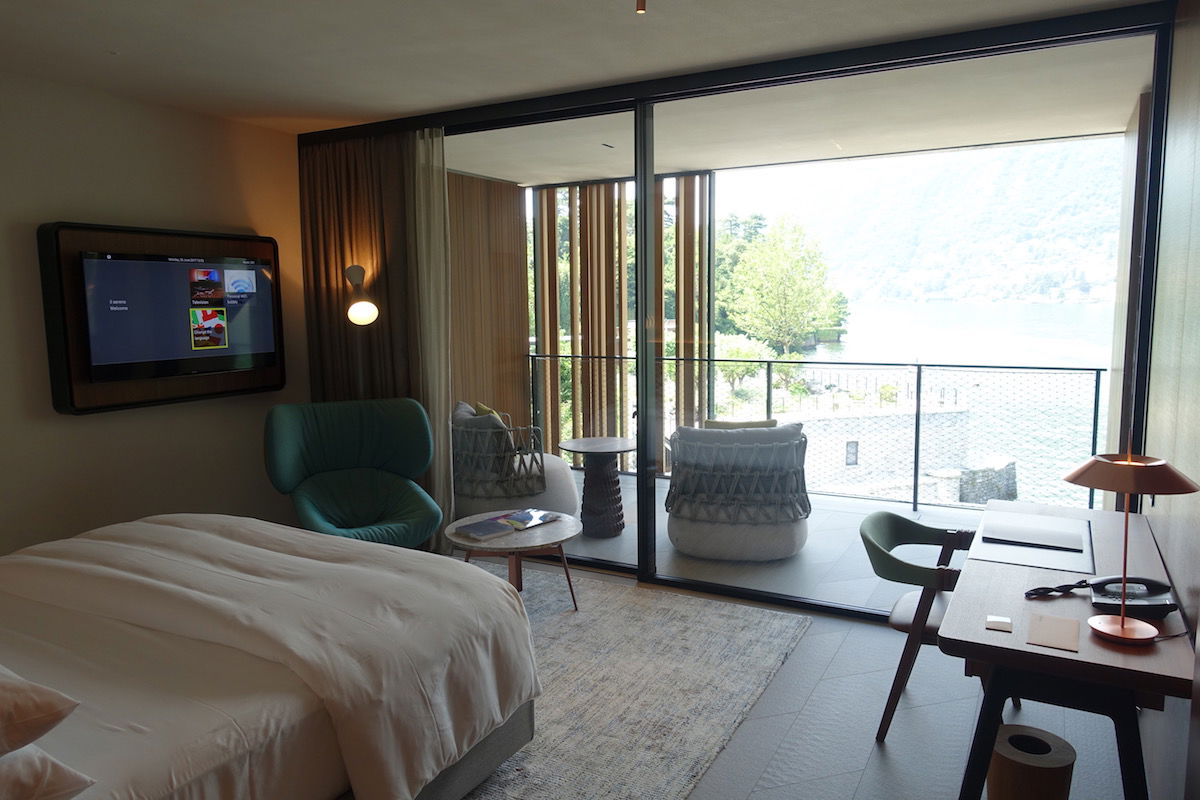 Il Sereno suite
There was a comfortable king size bed, a green chair under a wall-mounted TV, and a desk.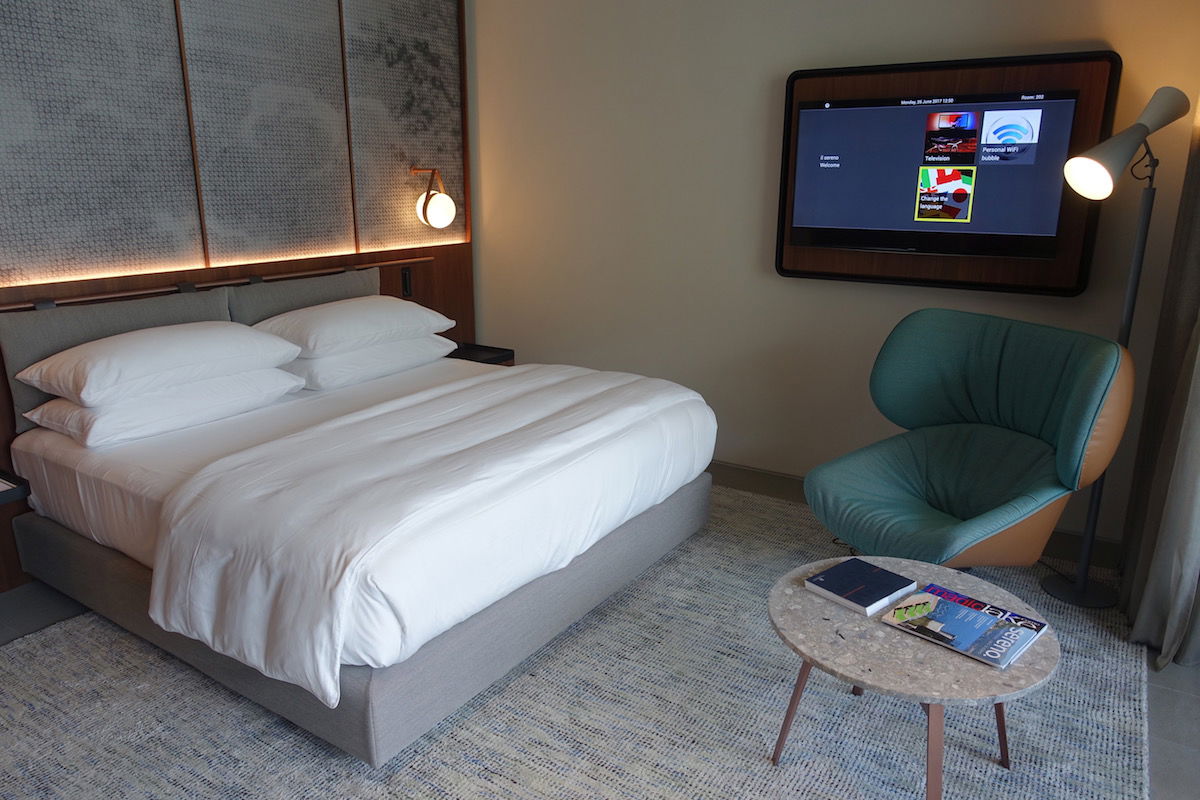 Il Sereno suite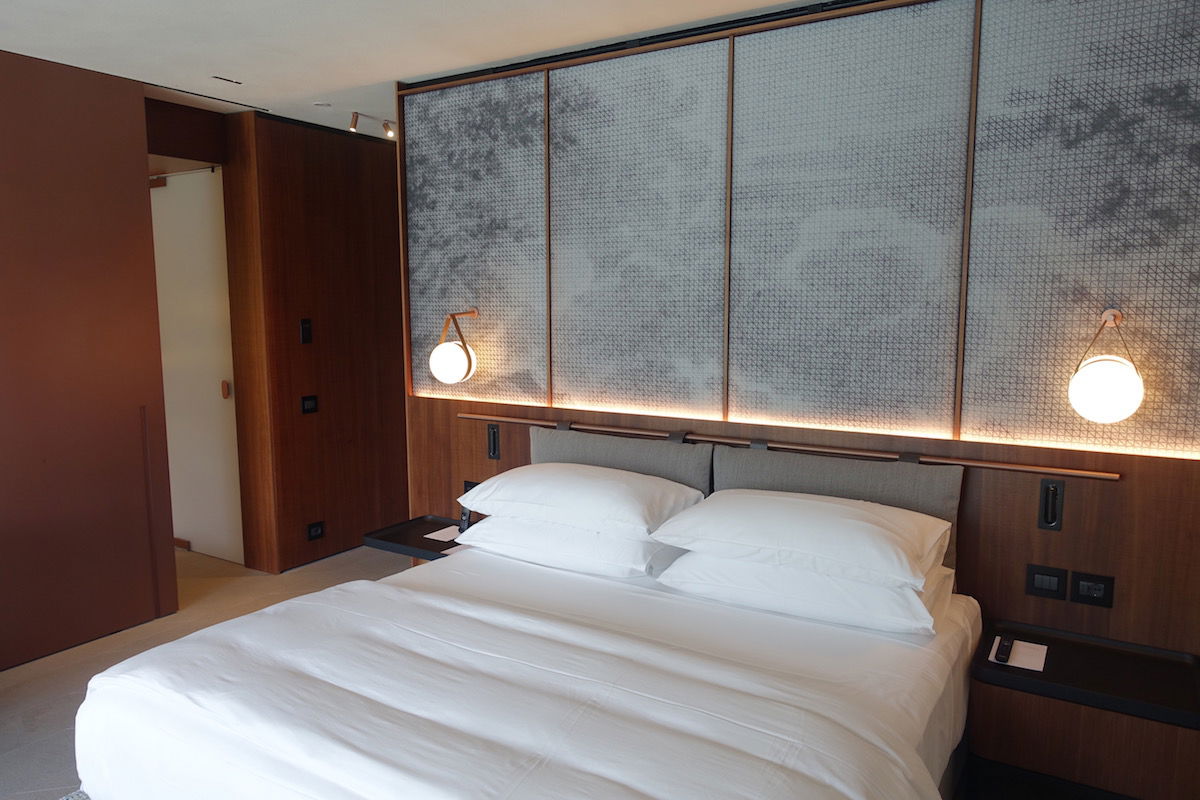 Il Sereno suite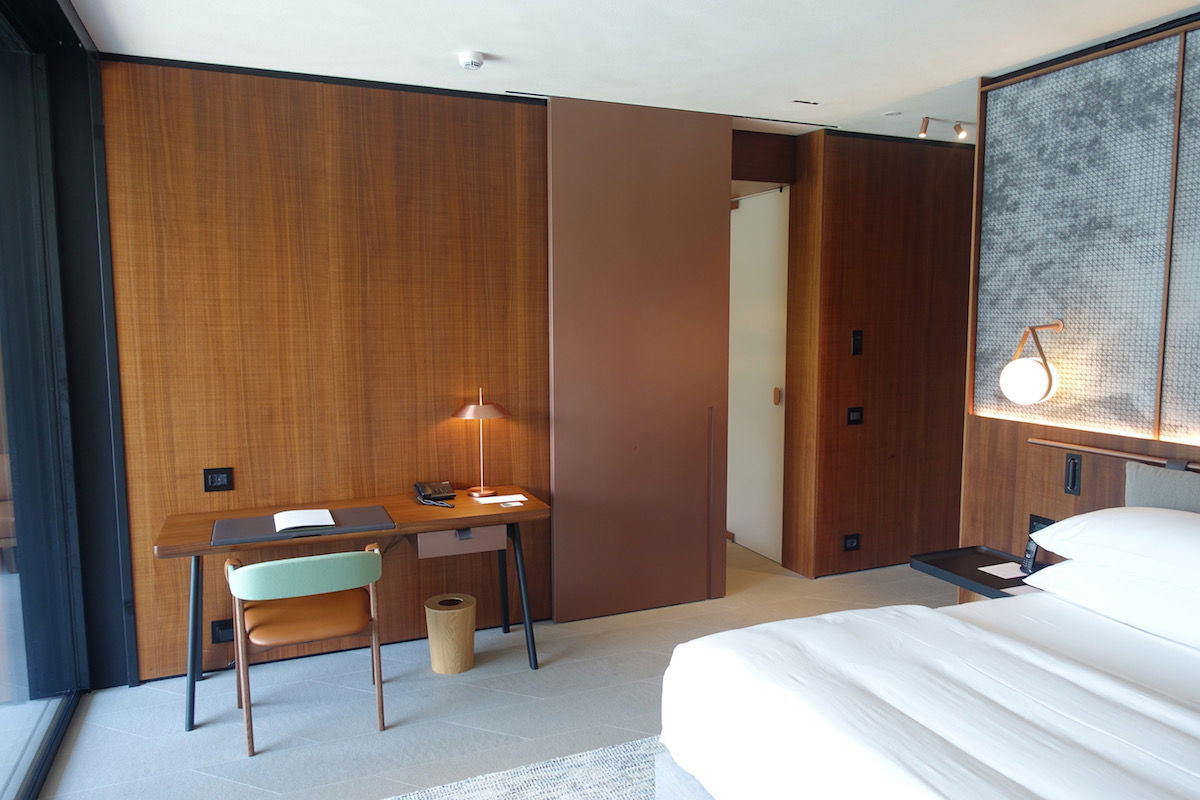 Il Sereno suite
Back by the entrance was a long closet.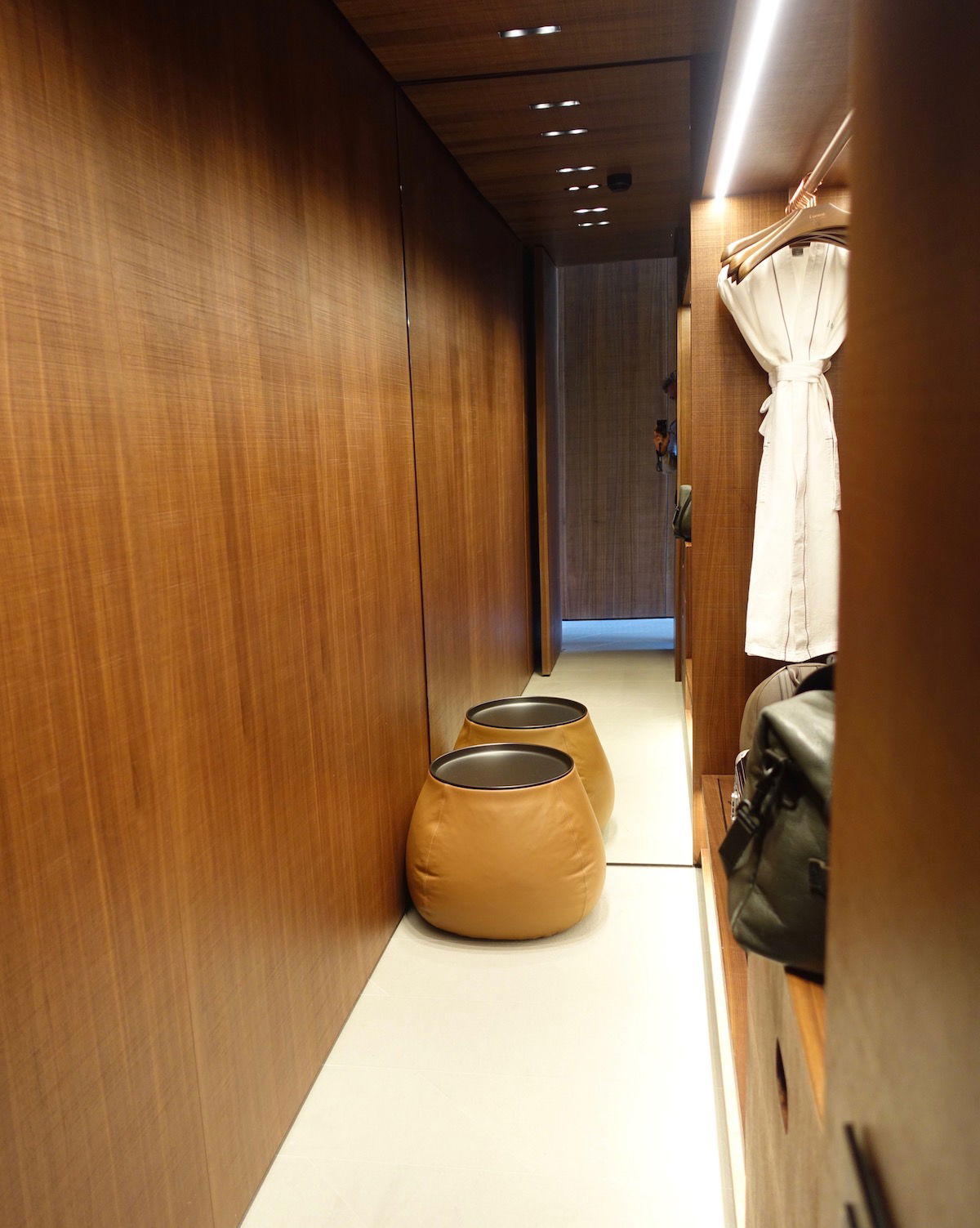 Il Sereno suite closet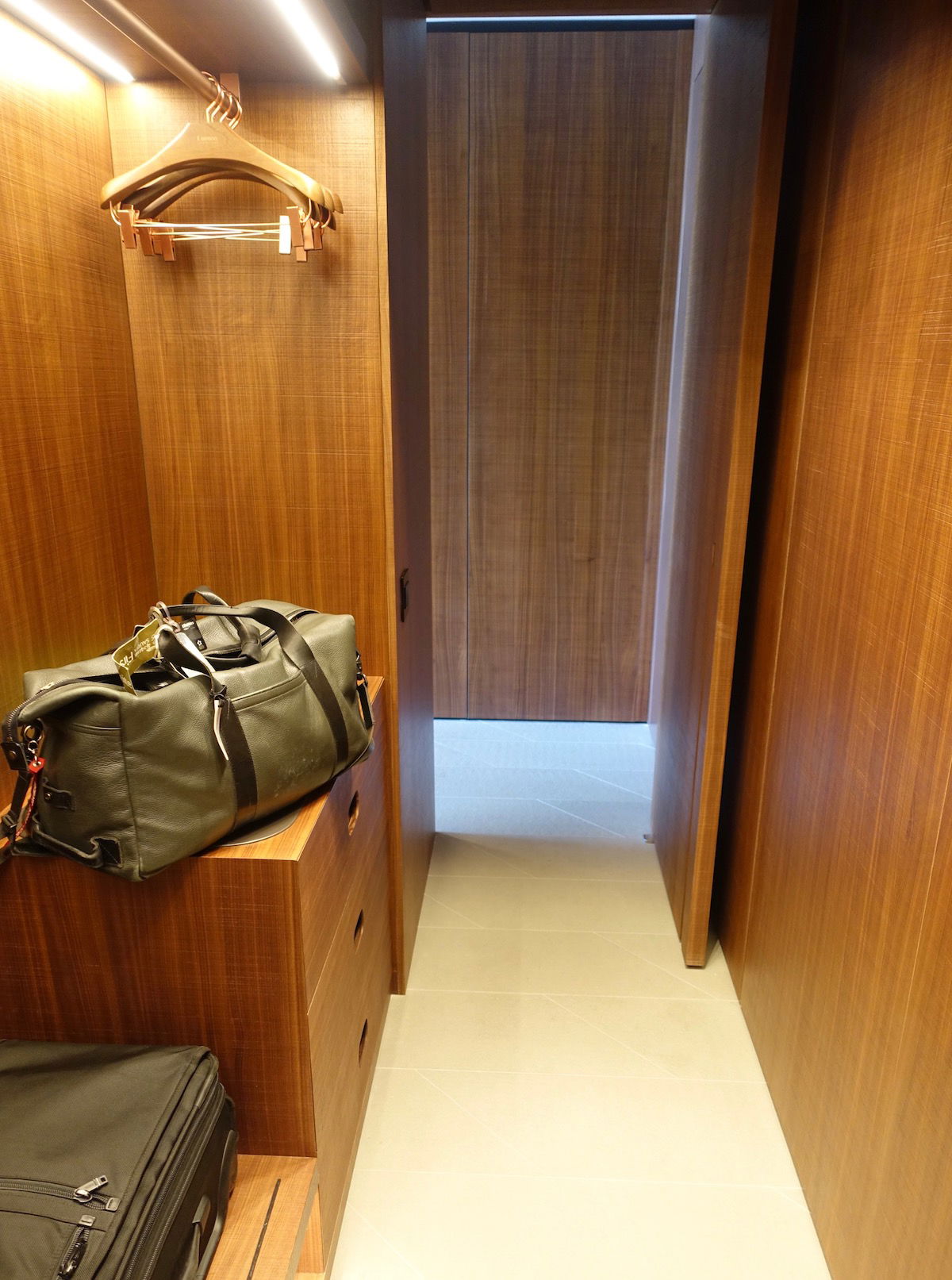 Il Sereno suite closet
Next to that was the minibar, which was complimentary, aside from the alcoholic drinks. So all soft drinks, nuts, muffins, etc., were free, and were restocked daily. Very nice! However, there was no in-room coffee machine. On the plus side, there was no service charge for room service, so you could order up a coffee at a reasonable price.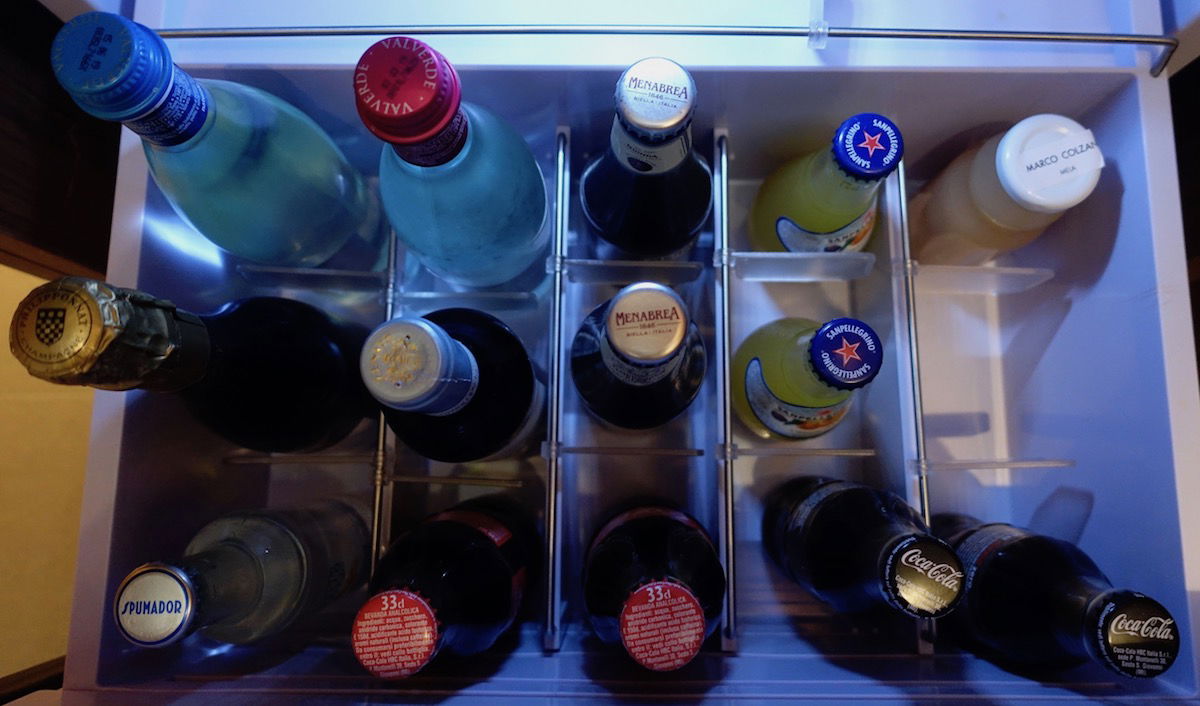 Il Sereno suite complimentary minibar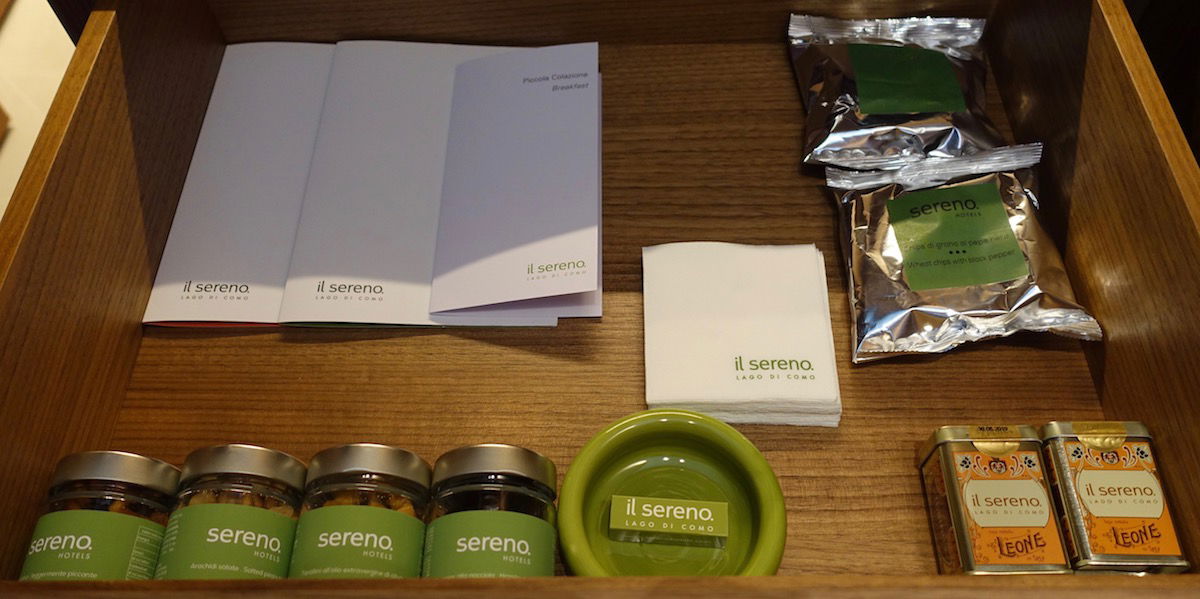 Il Sereno suite complimentary minibar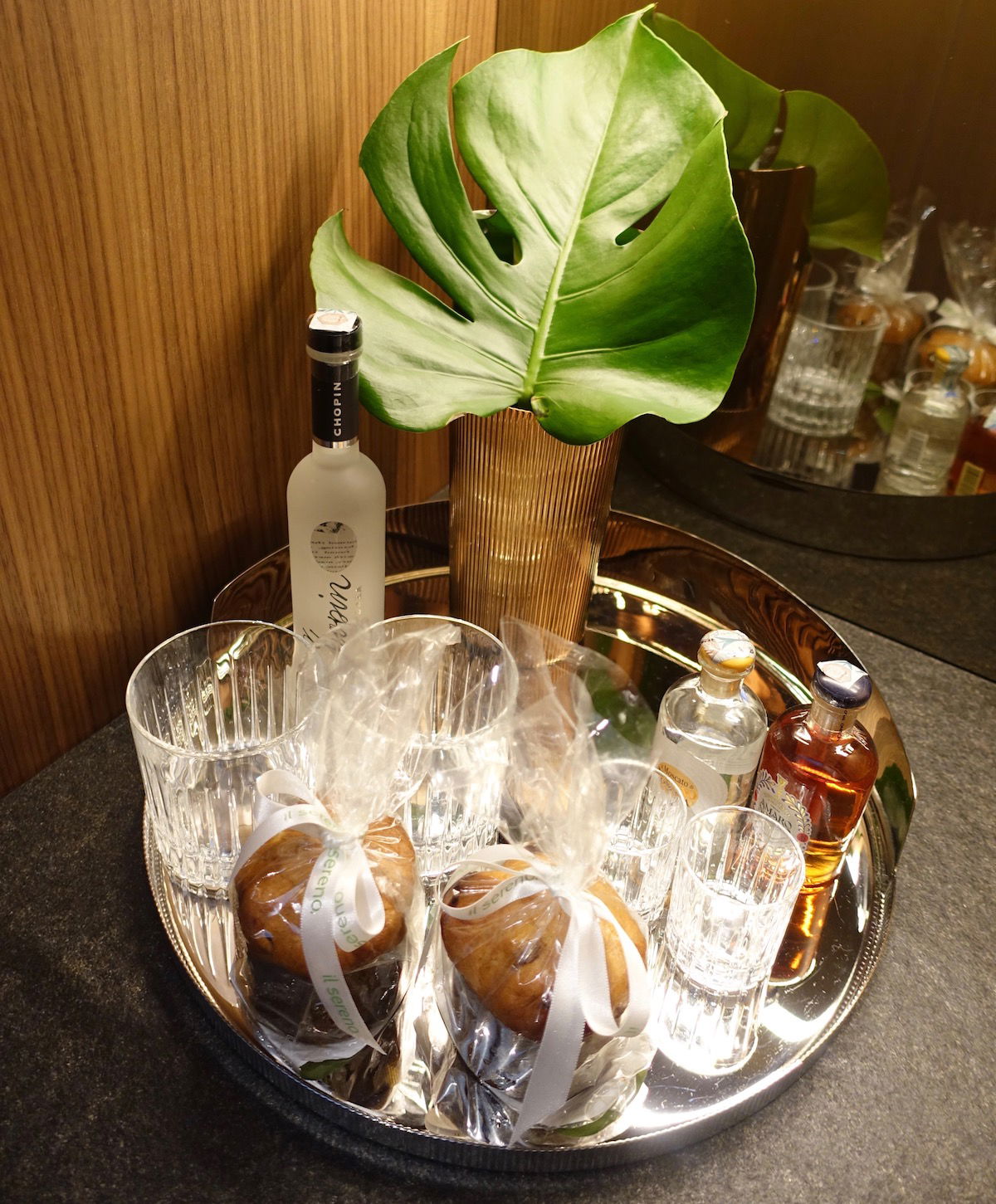 Il Sereno suite complimentary minibar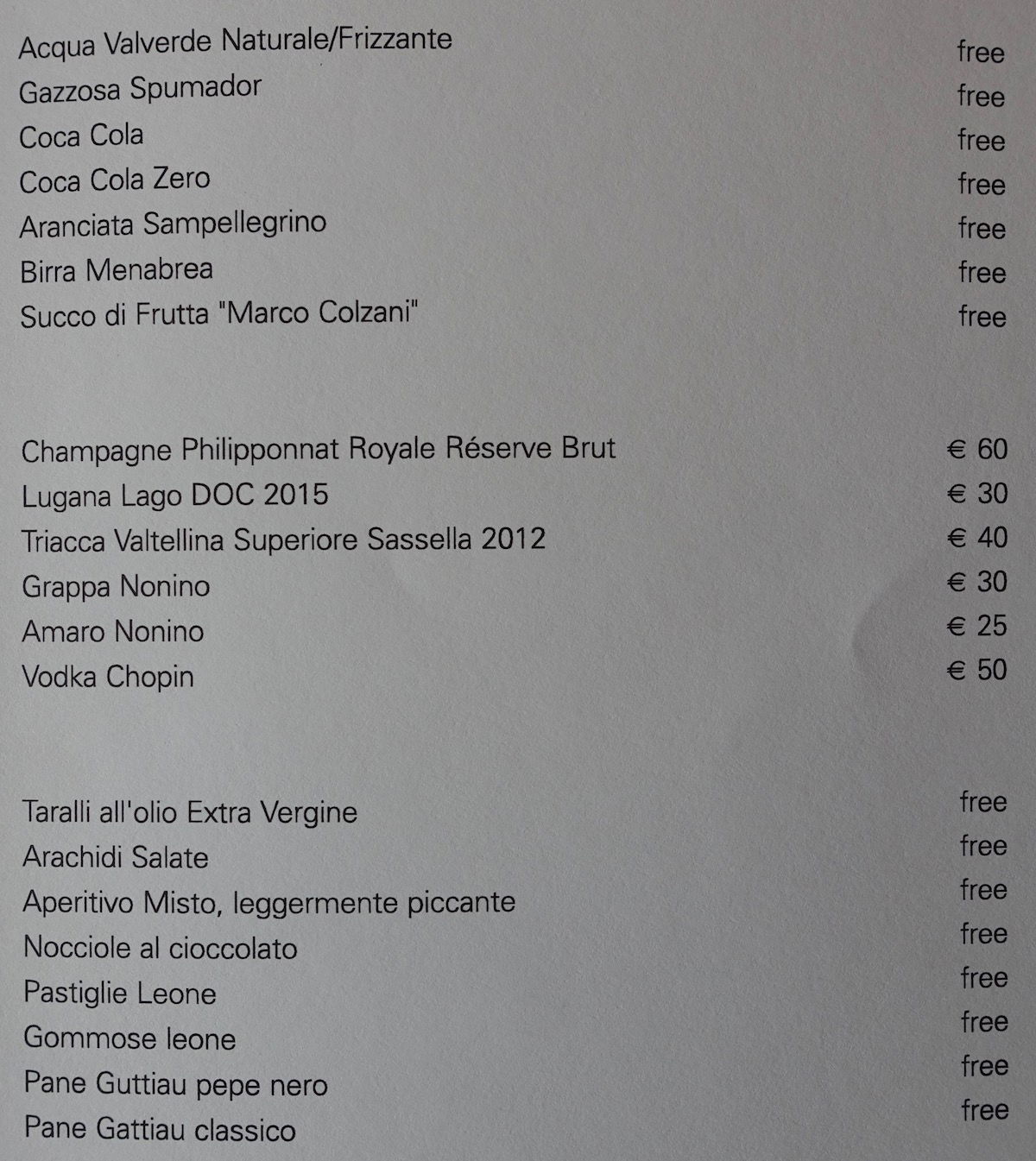 Il Sereno minibar price list
Then there was a sliding door that led to the oversized bathroom, which had double sinks, a vanity with mirror, a gorgeous soaking tub, a walk-in shower with rainforest showerhead, and a partitioned off toilet.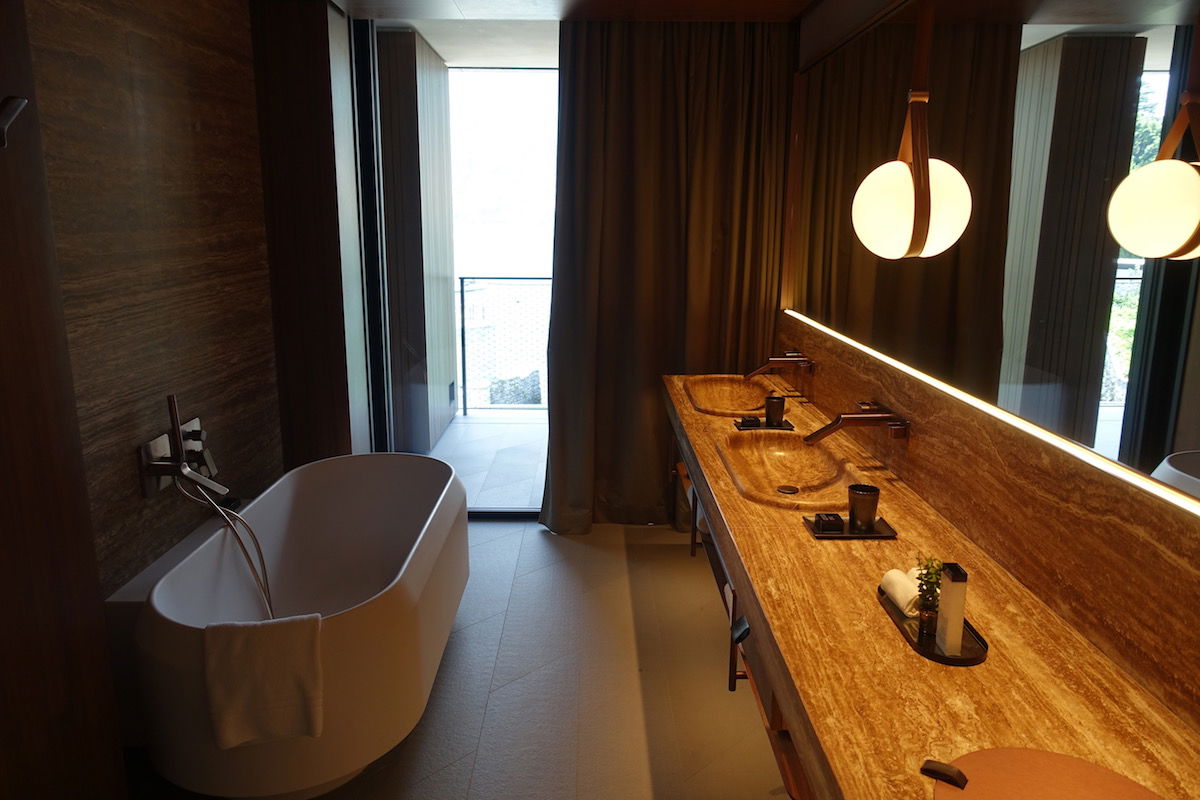 Il Sereno suite bathroom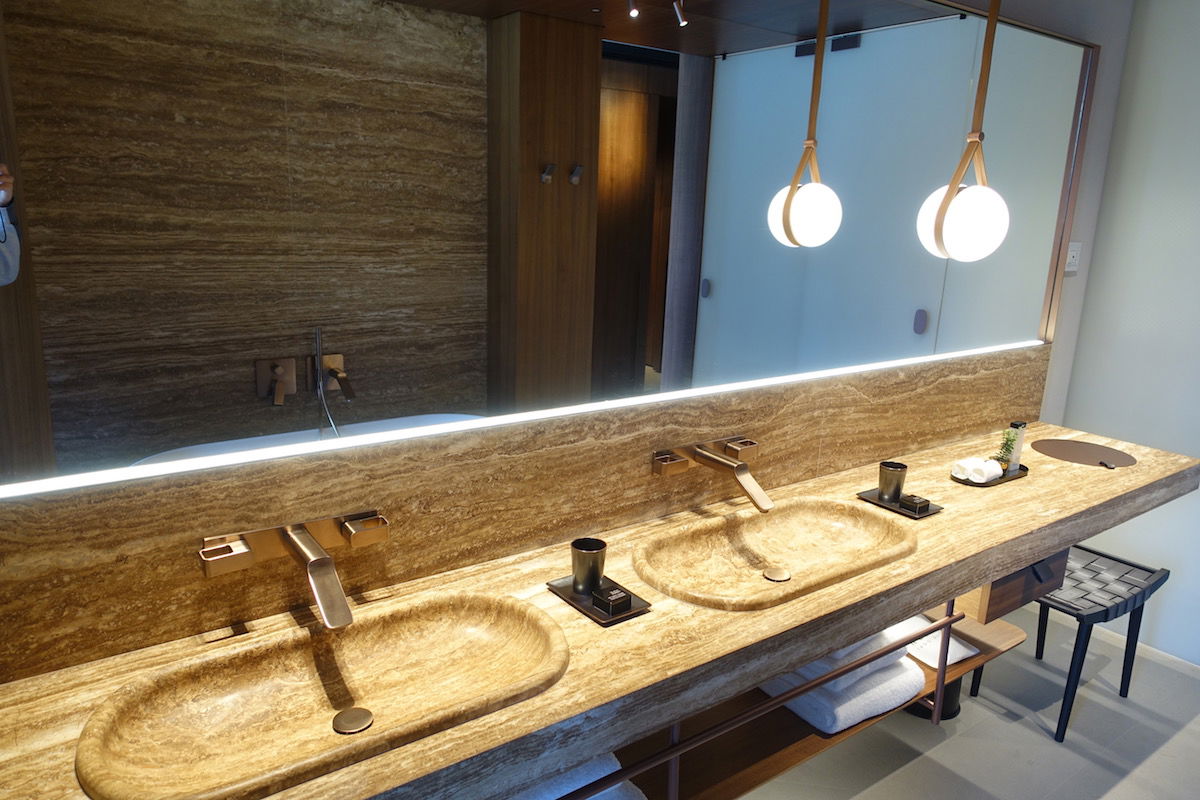 Il Sereno suite bathroom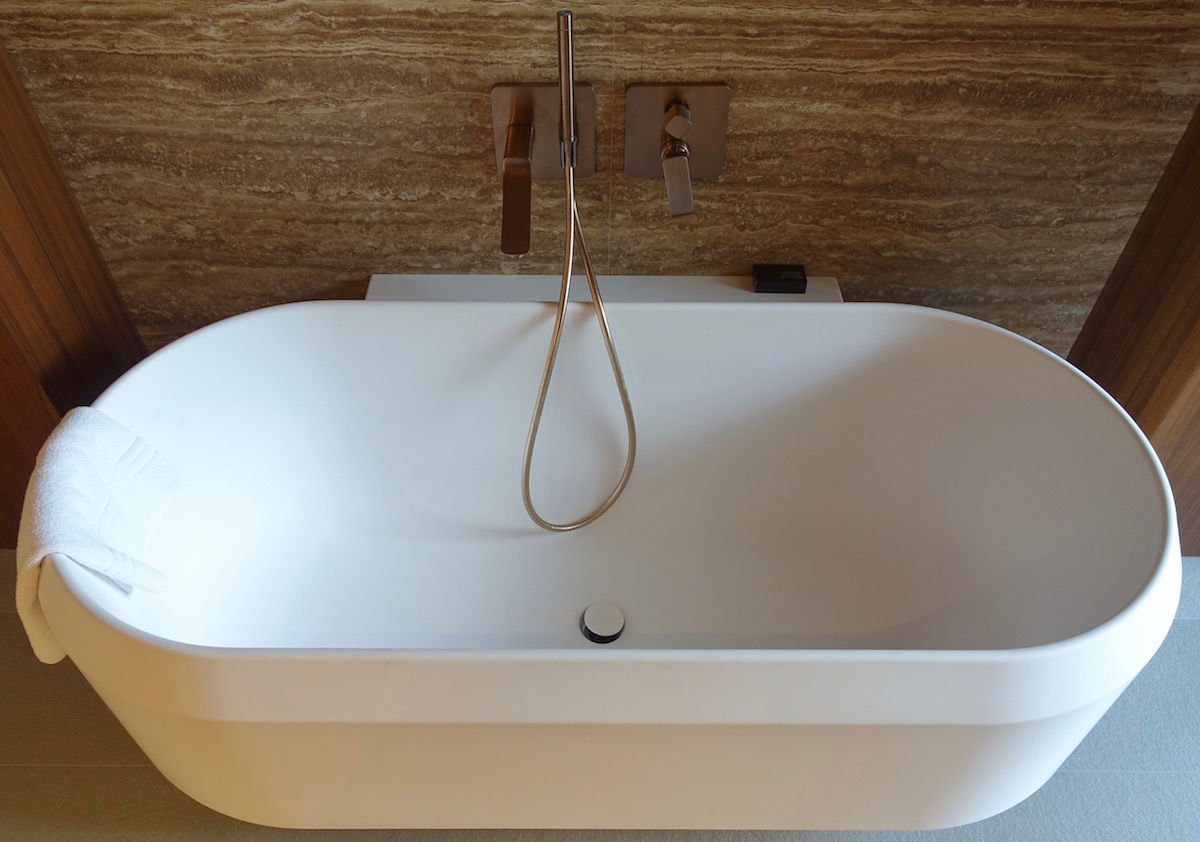 Il Sereno suite bathtub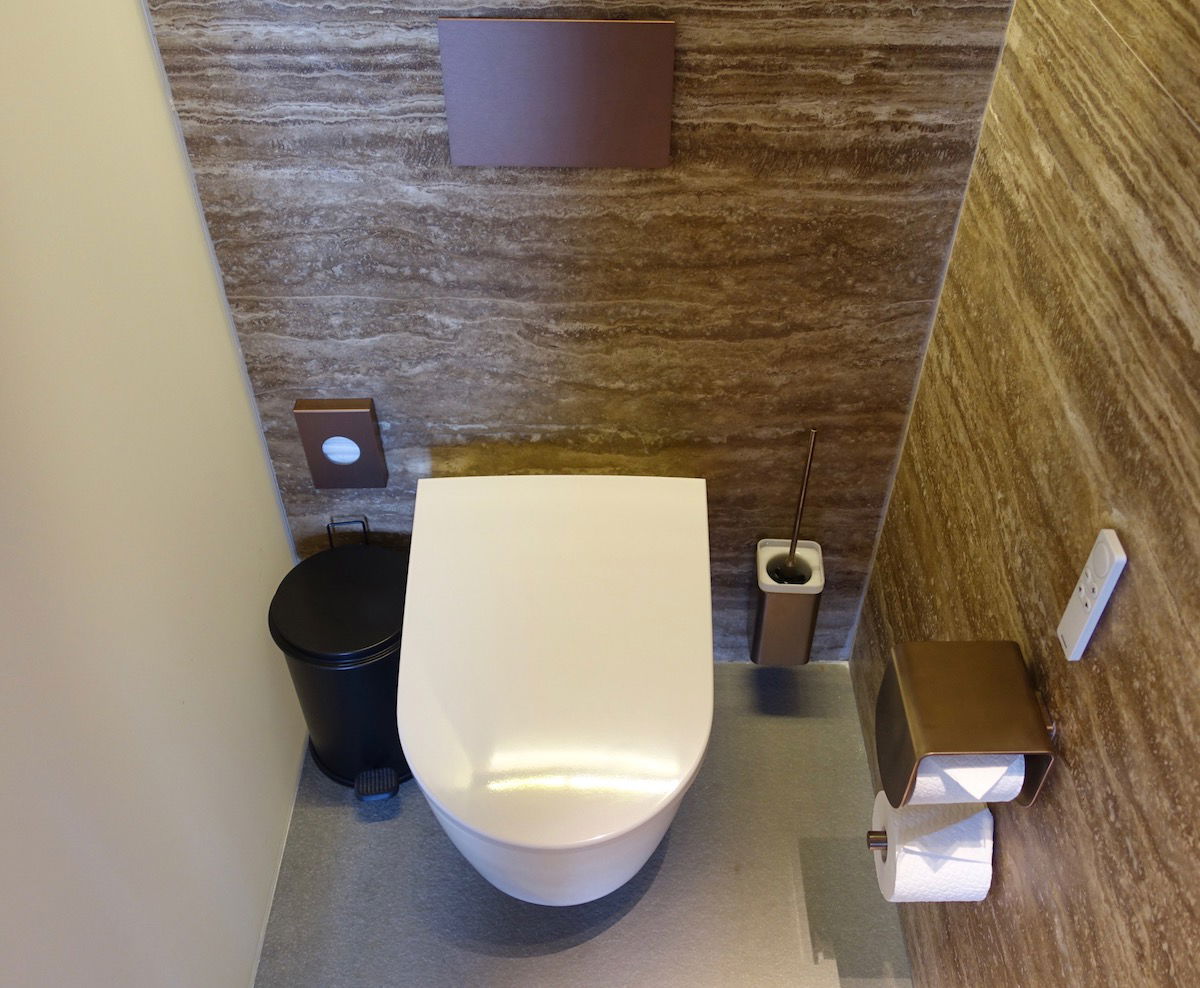 Il Sereno suite toilet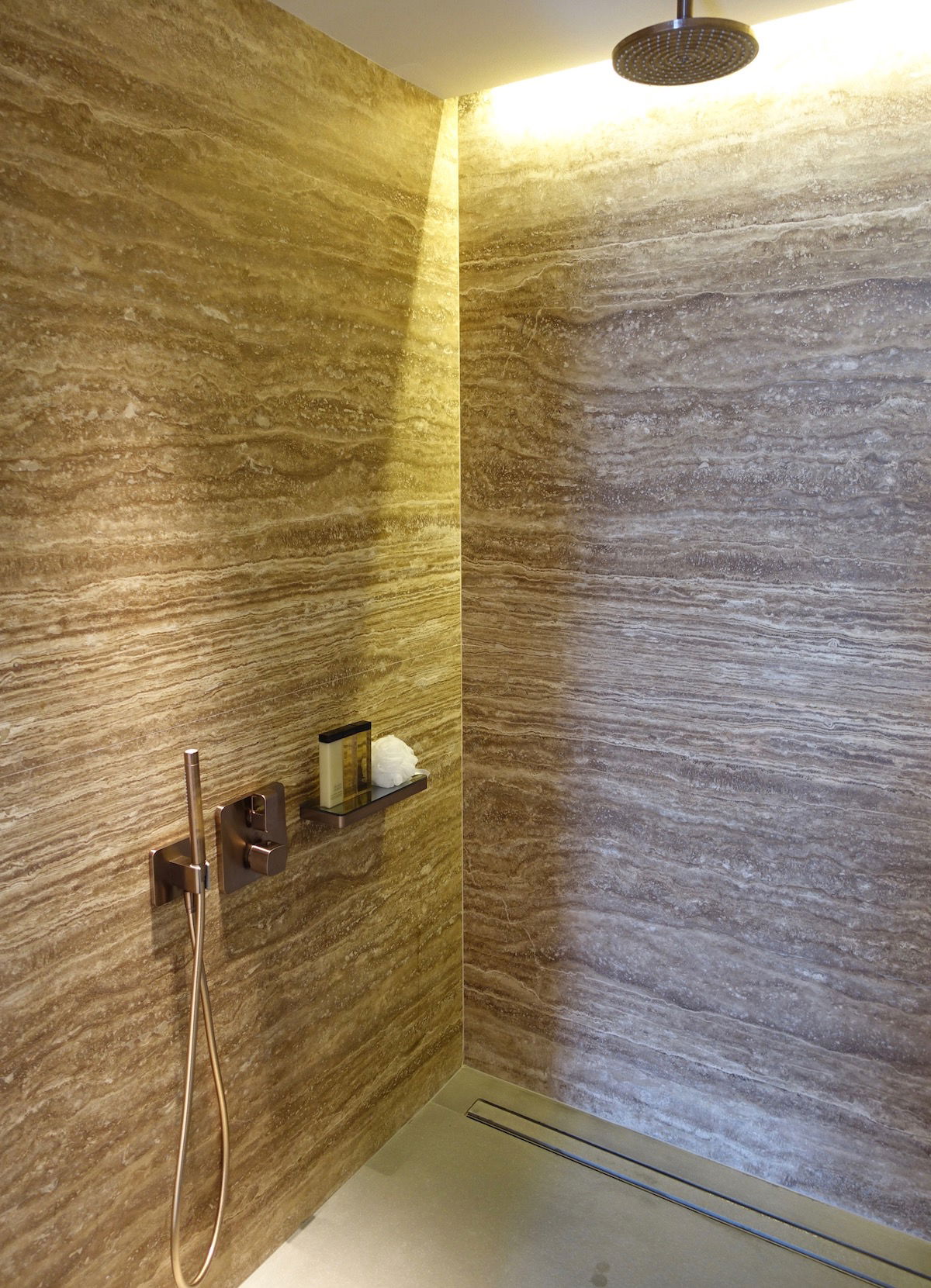 Il Sereno suite shower
Toiletries were from Ex Voto and had sleek packaging, but I didn't especially like the Black Amber scent.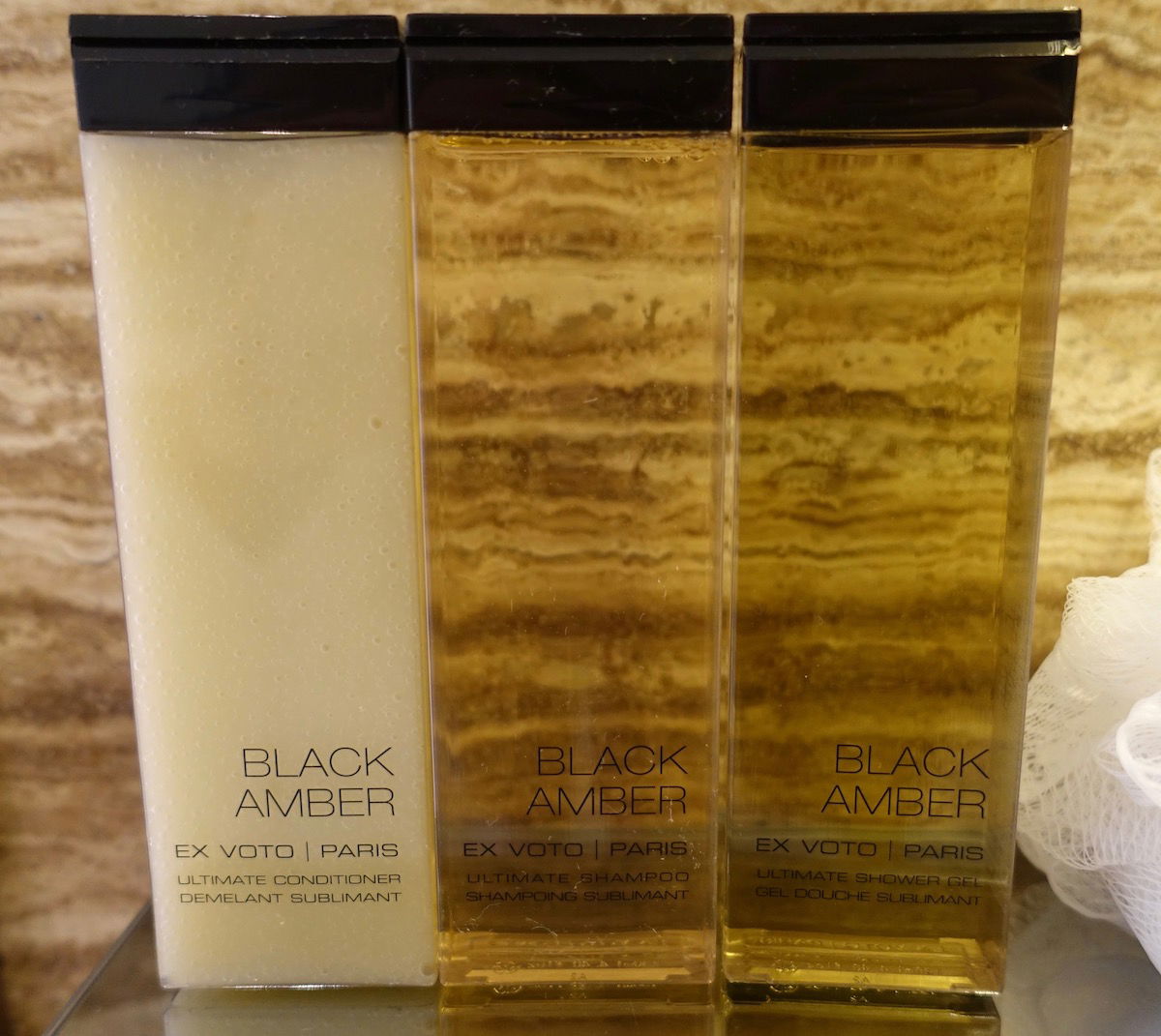 Il Sereno suite toiletries
The room also had a balcony with two comfortable chairs and a bench. It would have been nice if there were a table out there as well, given that there's not a dining table in the rest of the room.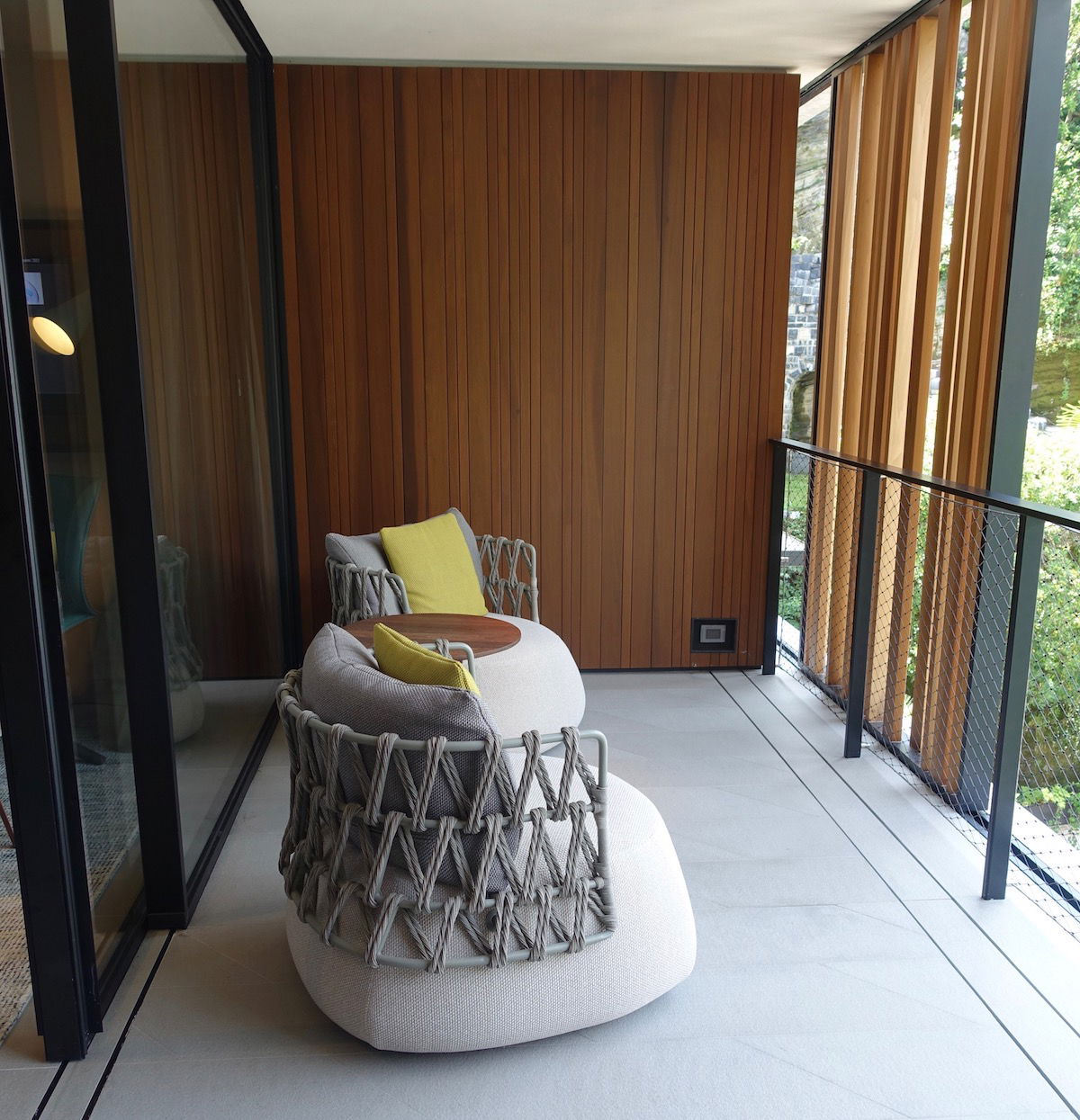 Il Sereno suite balcony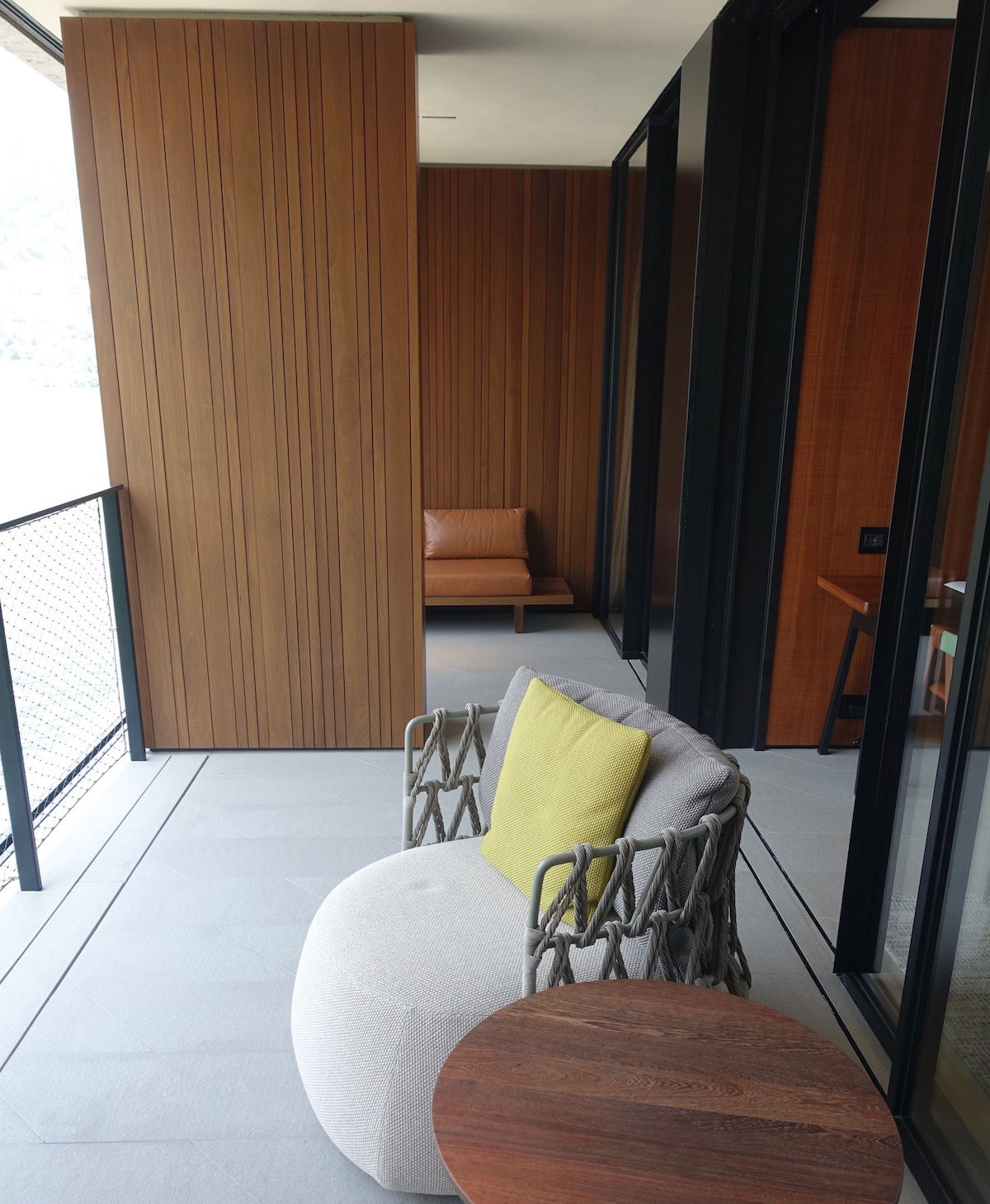 Il Sereno suite balcony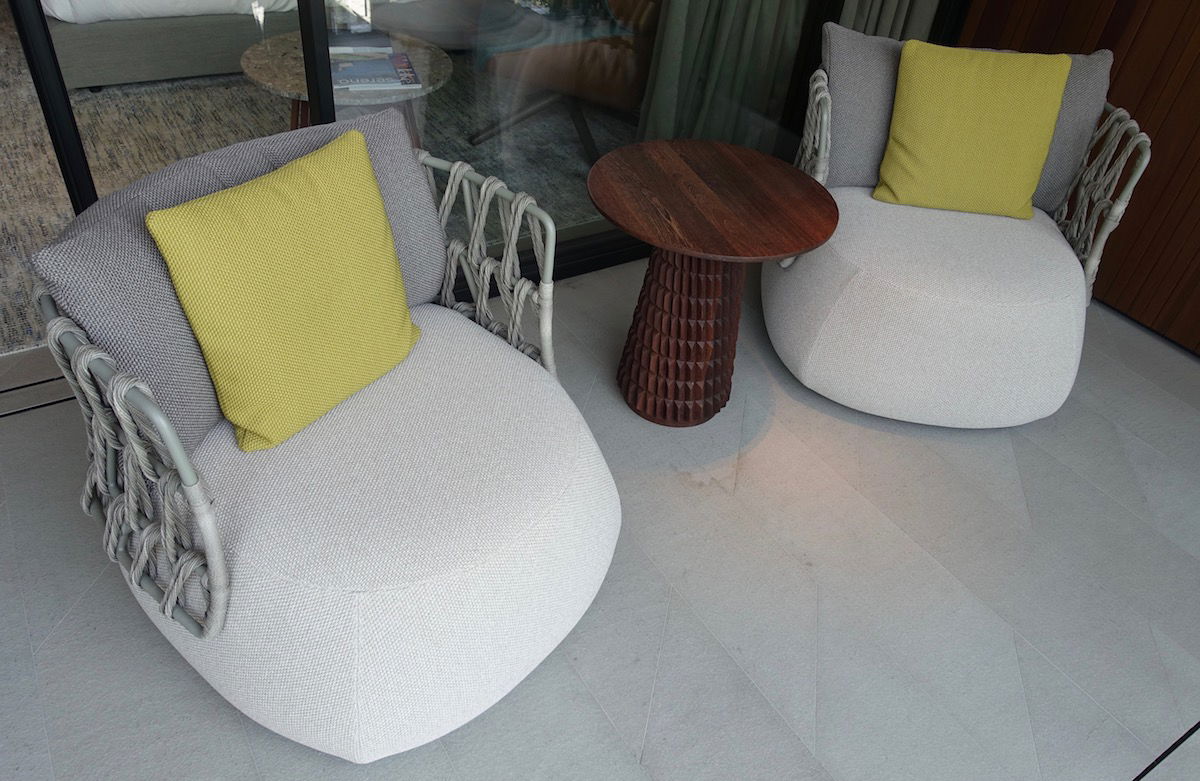 Il Sereno suite balcony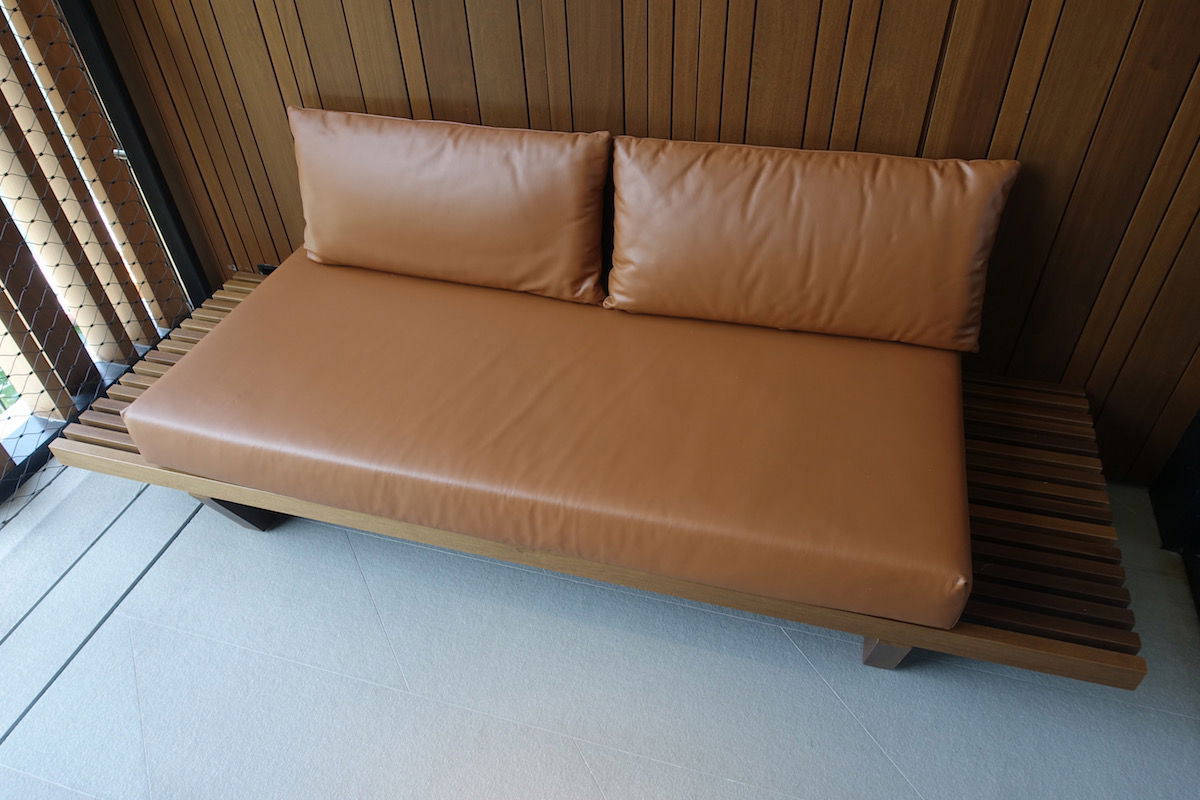 Il Sereno suite balcony
The balcony had views of the pool and Lake Como.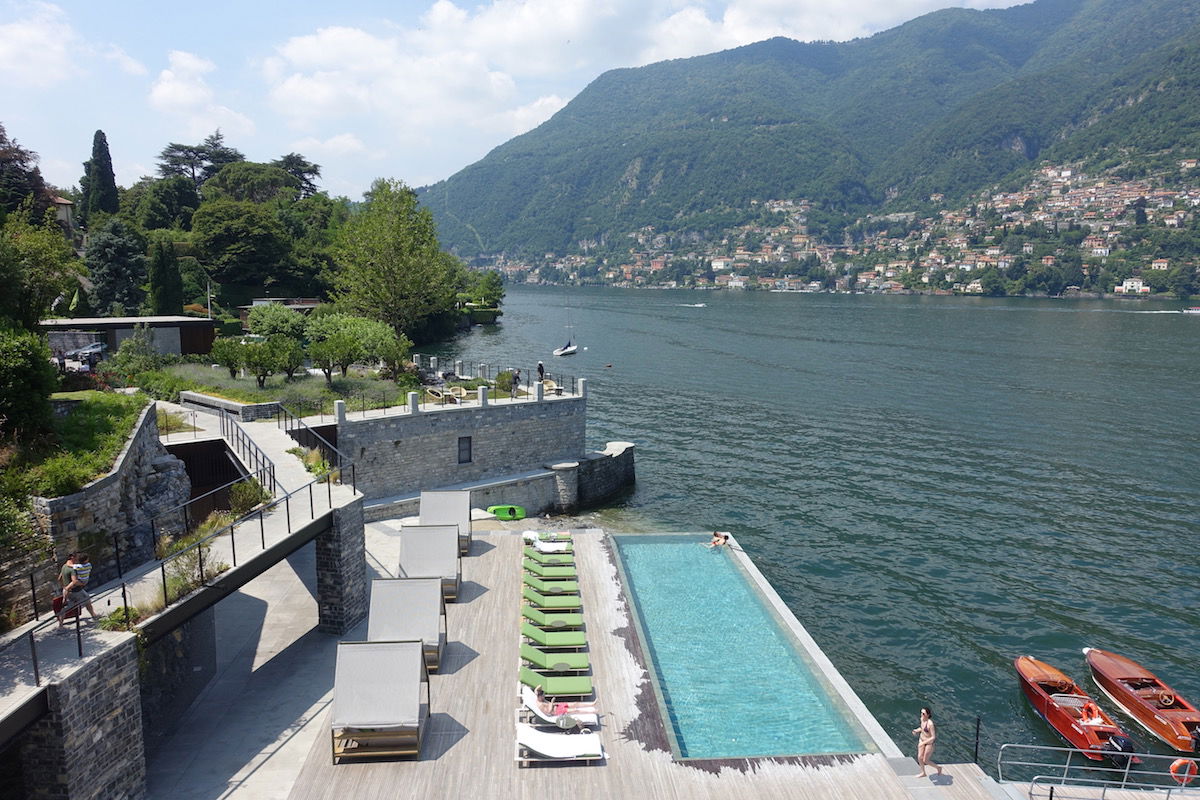 Il Sereno suite view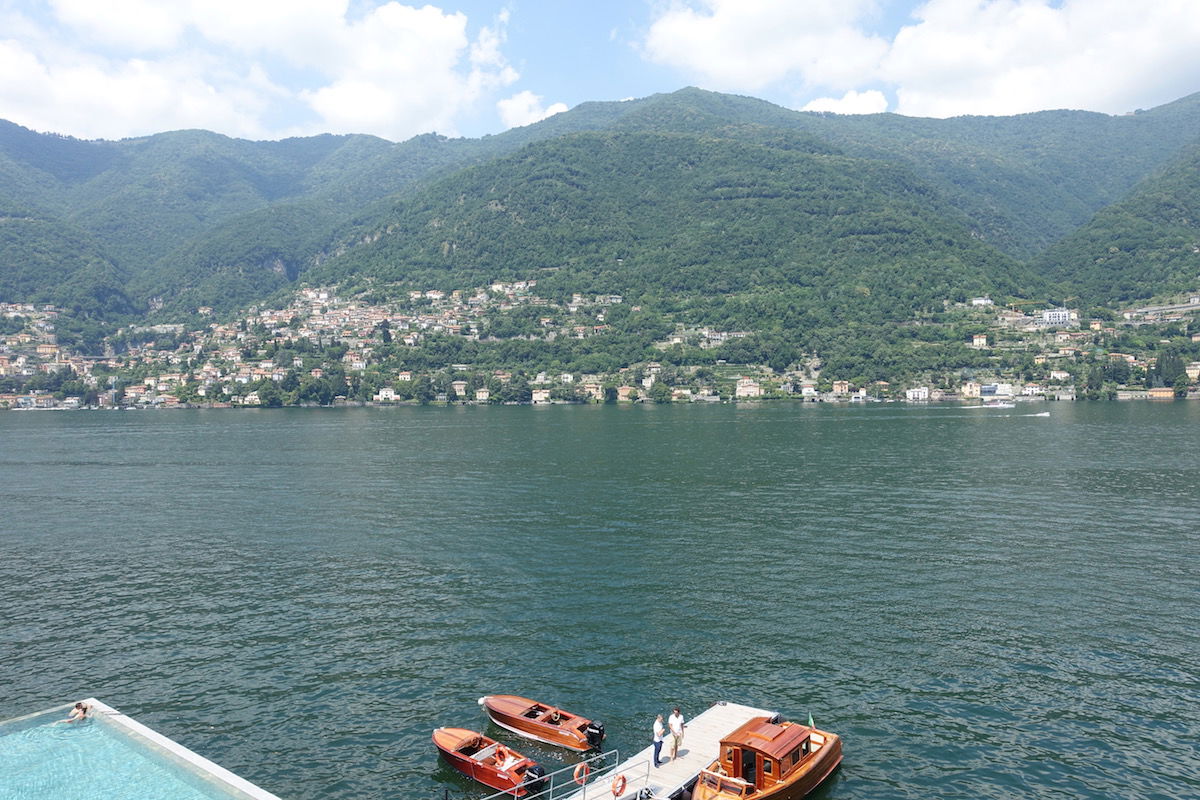 Il Sereno suite view
We were also brought a welcome bottle of sparkling wine shortly after checking into the hotel.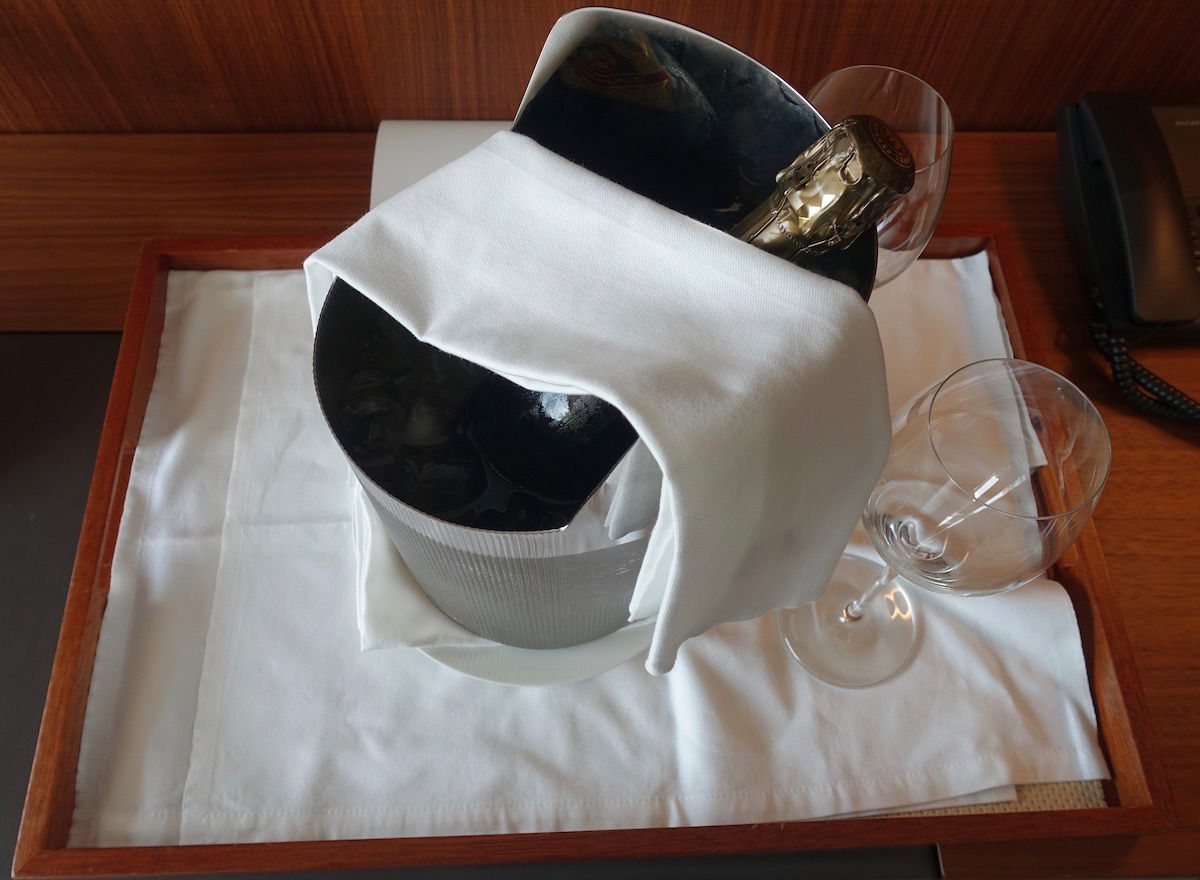 Il Sereno welcome amenity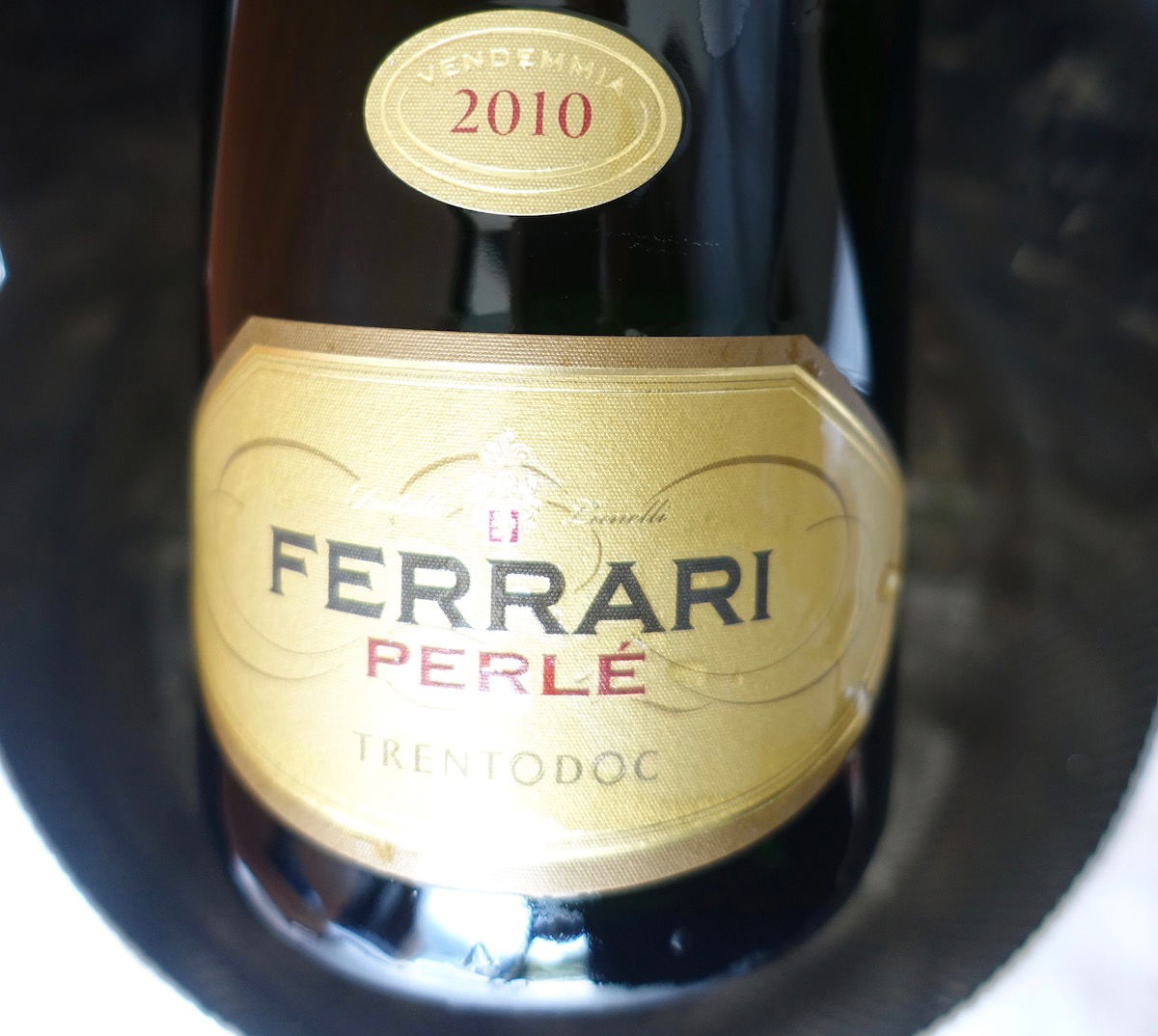 Il Sereno welcome amenity
The room was great, though I do have two things to add — one very minor, and one not so much.
The minor issue is that I find it a bit deceiving that they call all the rooms at this hotel "suites." To me a suite is a hotel room with a living area and a bedroom, and I think anyone who hears the term "suite" would assume that. In fairness, the hotel does have a floorplan of the rooms on their website, so it's not a big deal for someone doing their research, though it does seem like they take some liberties with the room descriptions.
My much bigger issue was the quality of the Wi-Fi. It was horrible. Sometimes it would work normally, and then sometimes for hours on end it would be the slowest Wi-Fi imaginable. I know some might say "well you're outside a major city, so what do you expect?" I've been a lot of remote places, and haven't had Wi-Fi this bad in a very long time. It worked perfectly well at the Sheraton across the lake, just as a point of comparison.
I realize others might not care about that at all, but as someone who needs to still work while traveling, the quality of the Wi-Fi here would be enough to prevent me from returning, unless I knew that they did something to fix it.
In terms of the hotel's other features, the hotel has an all day dining restaurant on the ground floor. You can either take the elevator down from your room, or take a beautiful wooden and glass staircase down from the lobby.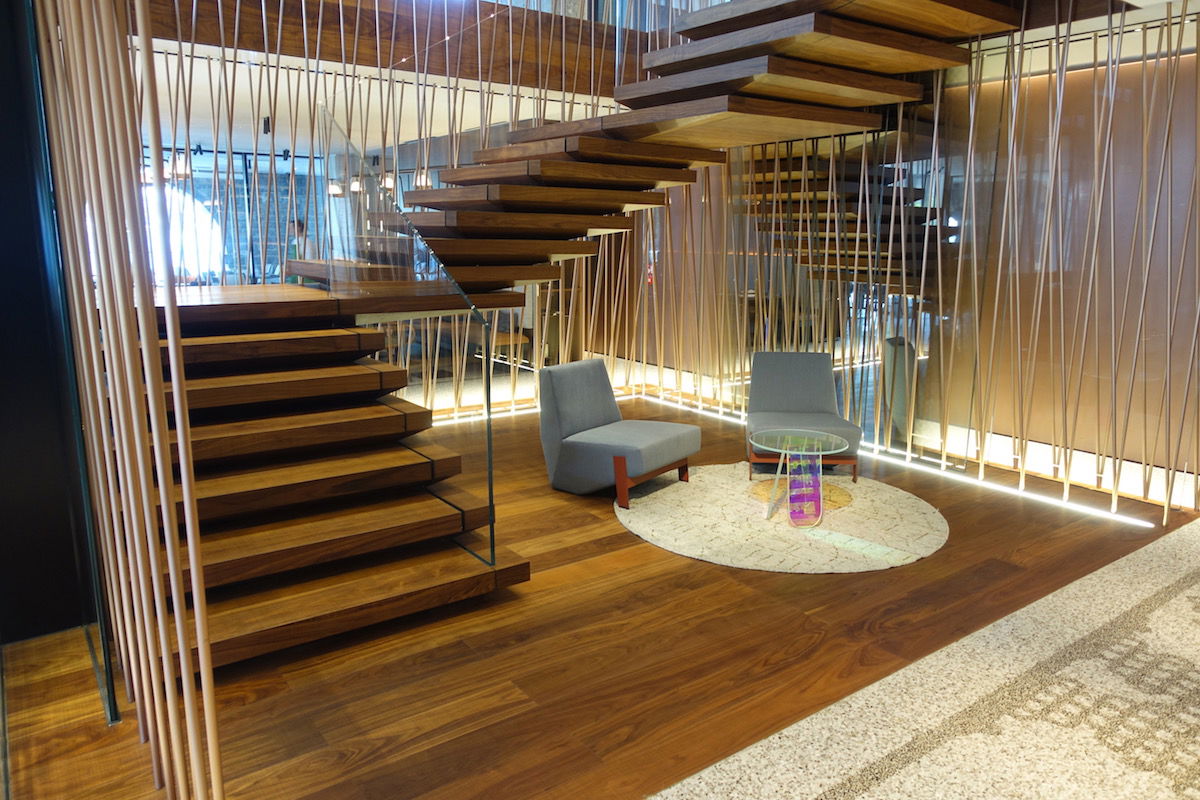 Il Sereno restaurant entrance
The restaurant has a wine cellar right by the entrance.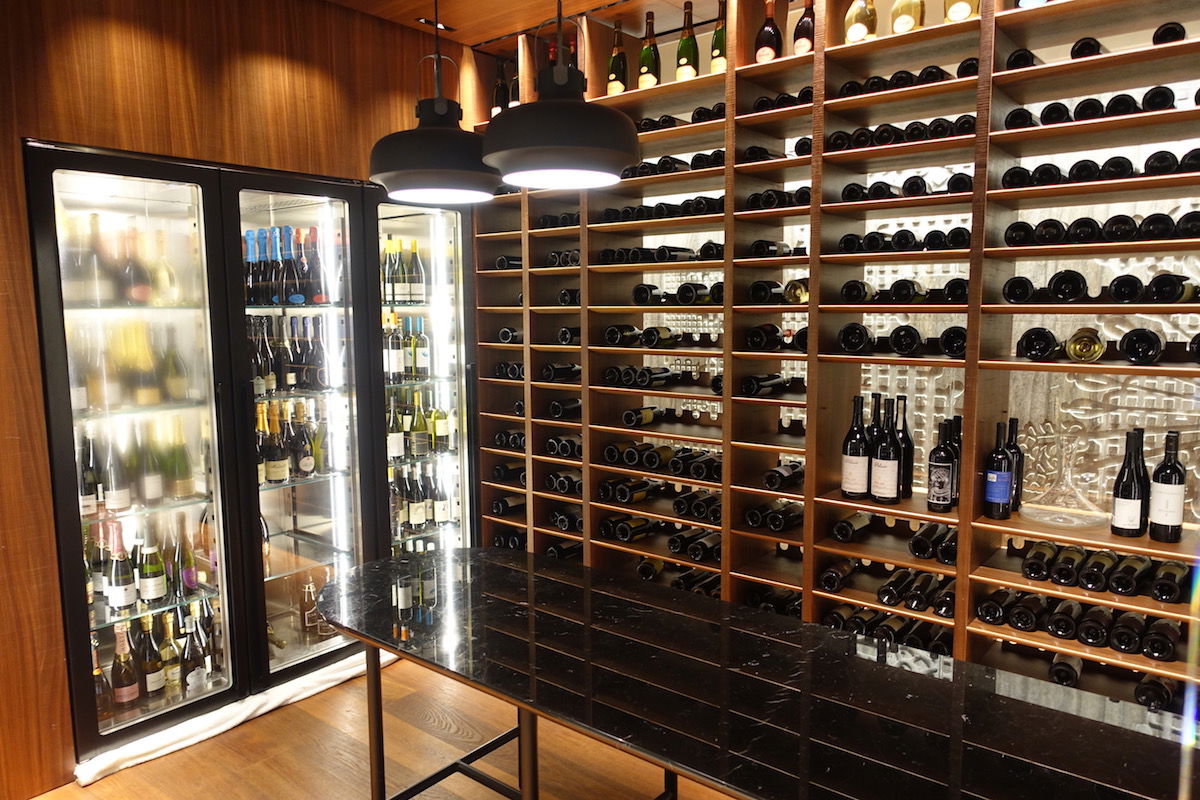 Il Sereno wine cellar
Much like the rest of the restaurant, the design is gorgeous. There's indoor seating, covered outdoor seating, and then a fully open air patio.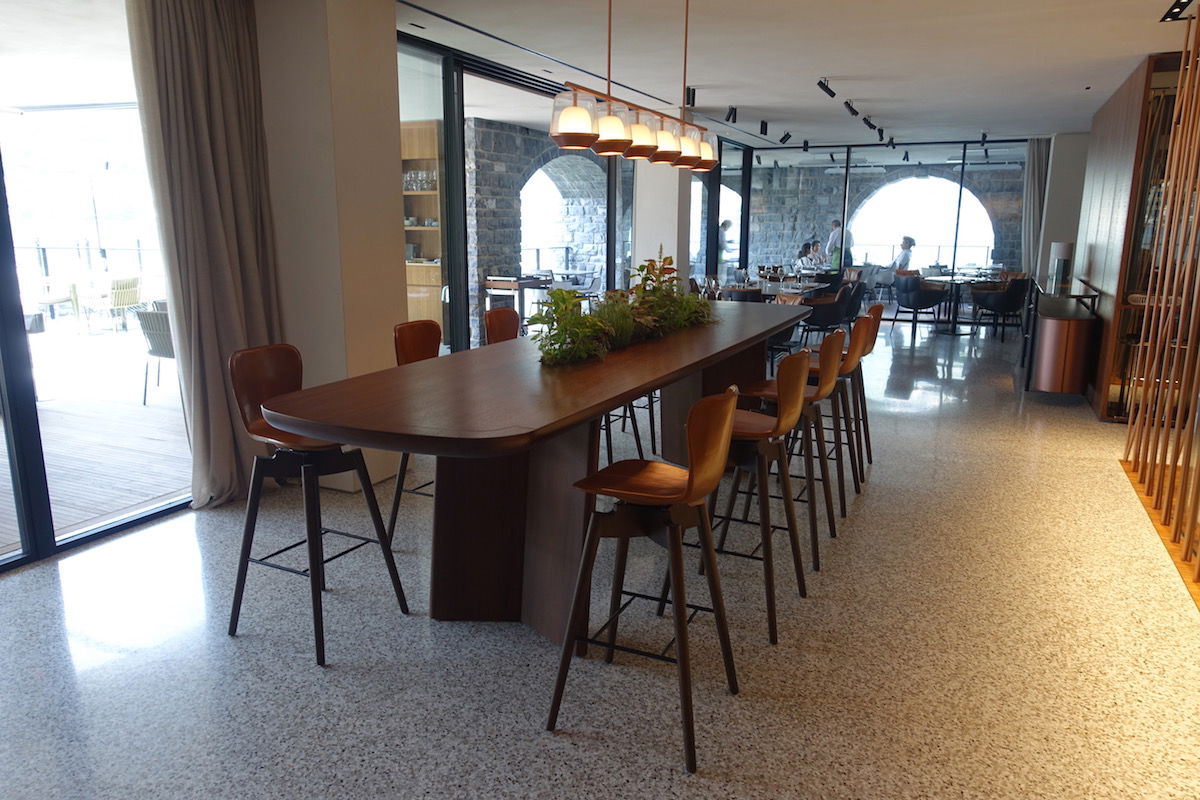 Il Sereno restaurant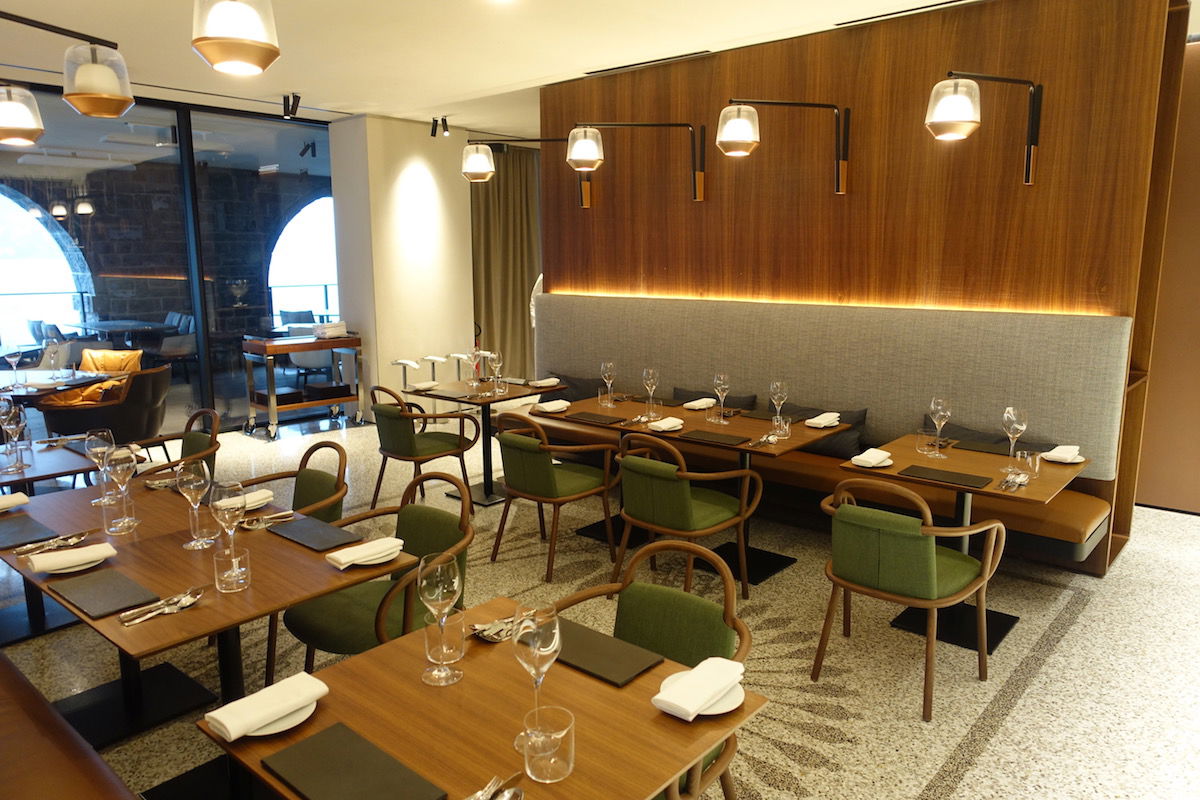 Il Sereno restaurant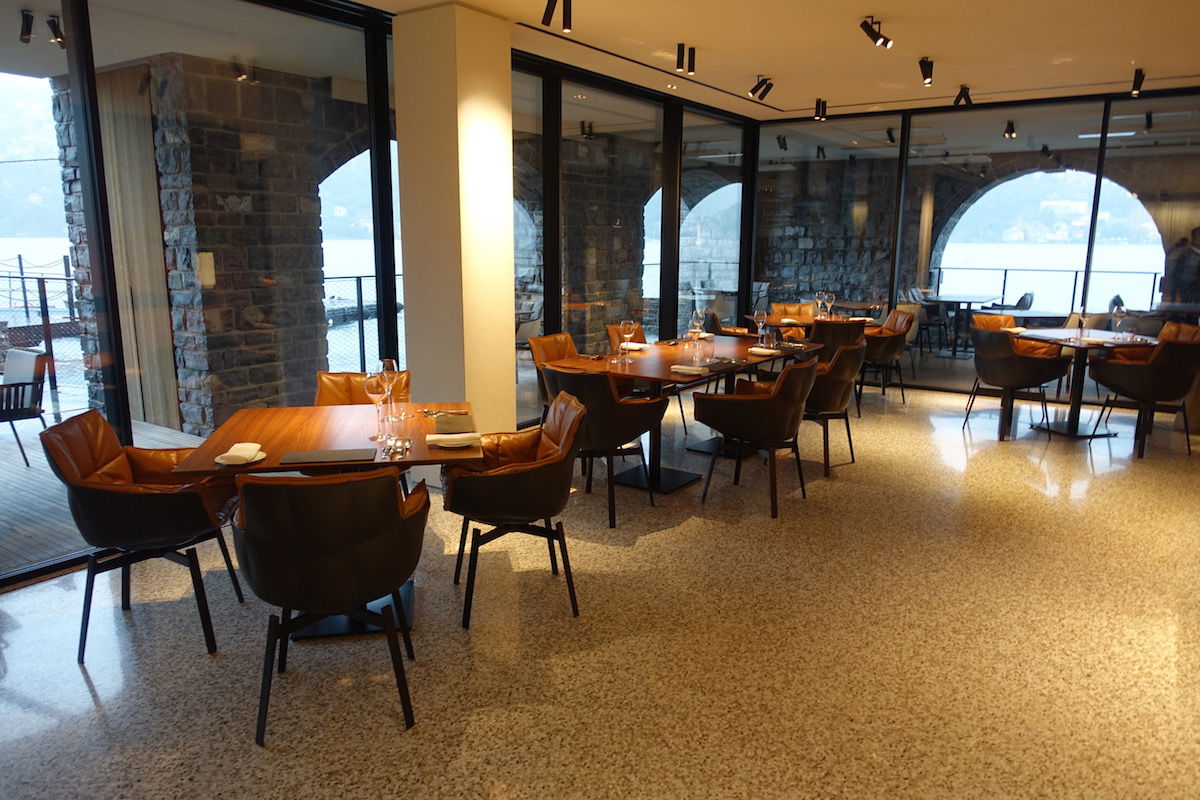 Il Sereno restaurant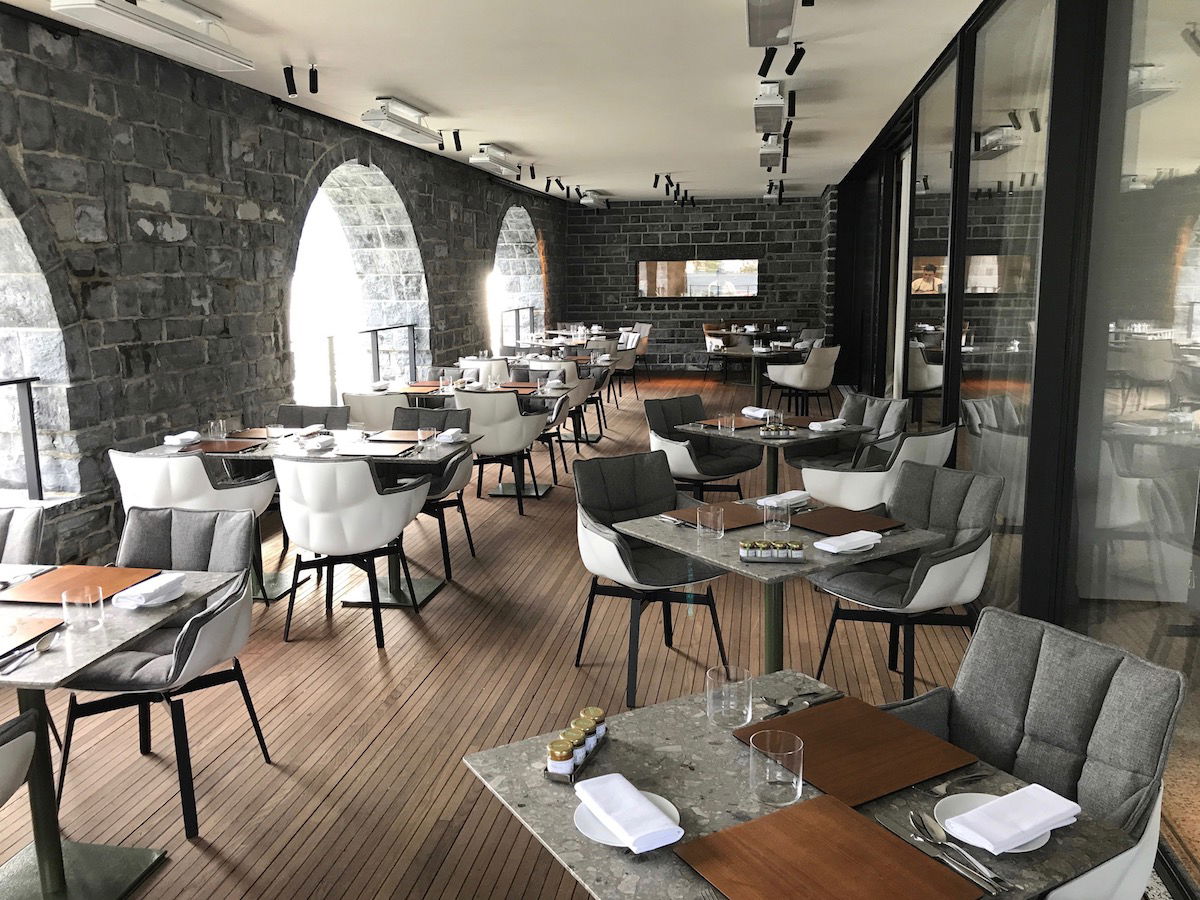 Il Sereno restaurant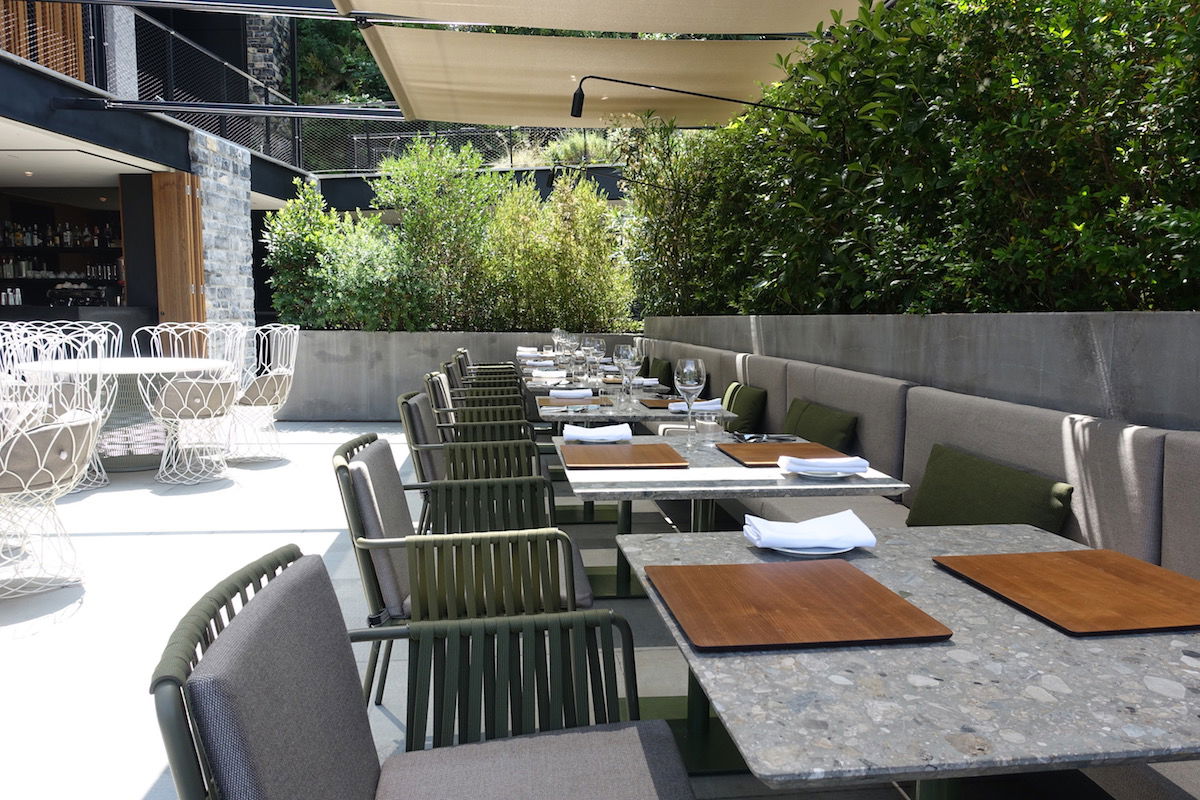 Il Sereno restaurant
For booking through Virtuoso we received complimentary breakfast. The breakfast menu read as follows: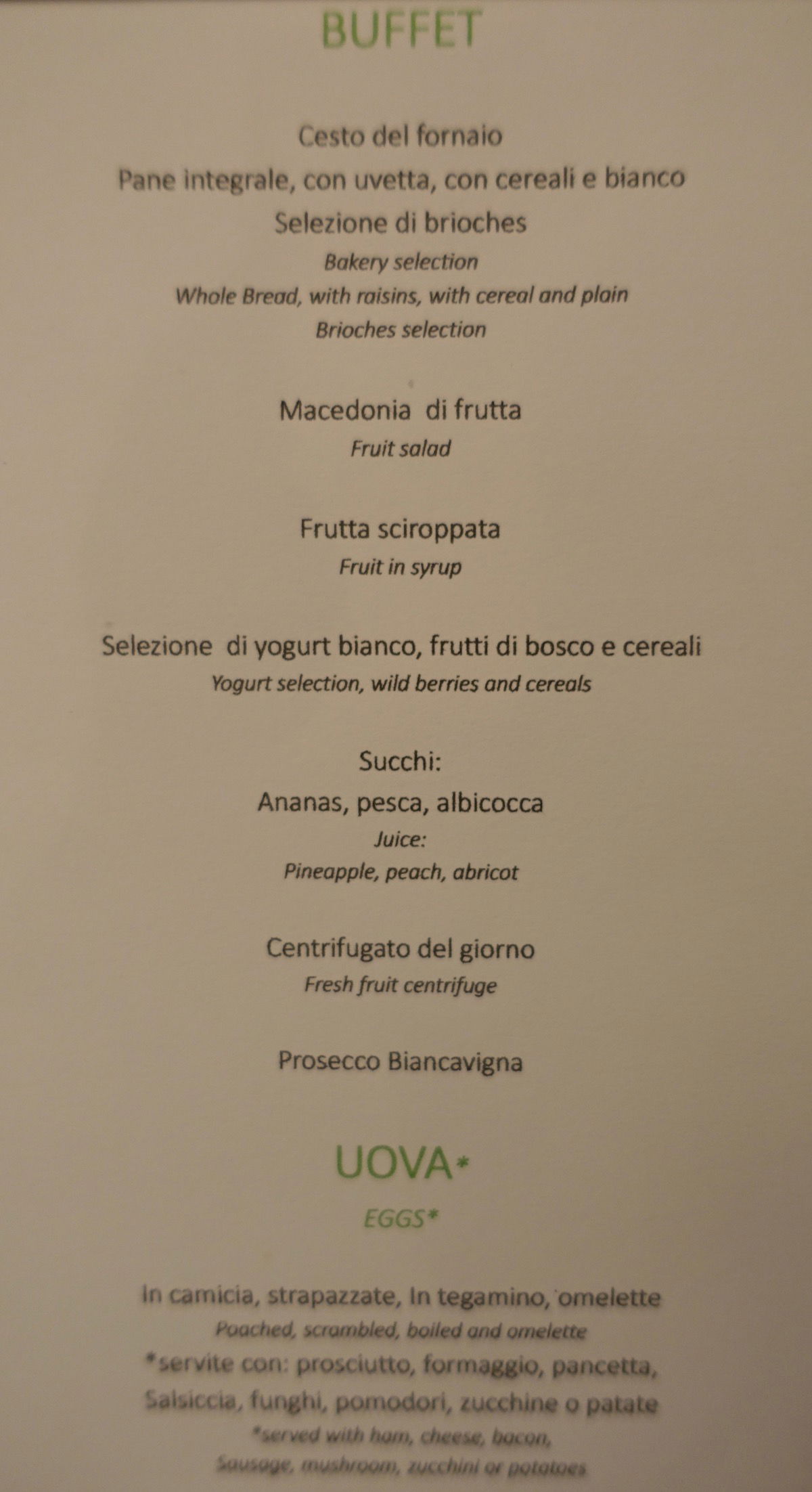 For those who book breakfast inclusive rates, the breakfast includes the buffet, a bread basket, yogurt, and either scrambled eggs or an omelet. That sounds fine on the surface, but the buffet was very small.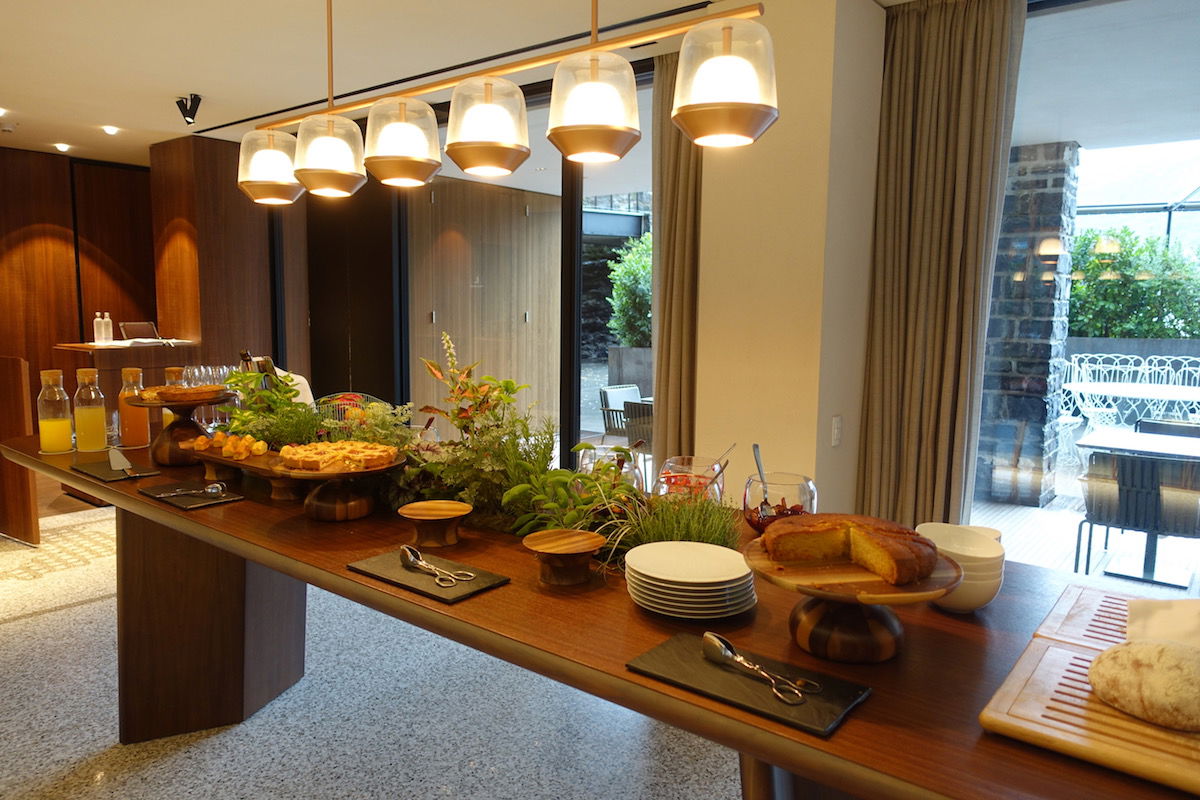 Il Sereno breakfast buffet
It consisted of fresh fruit, juice, sparkling wine, and a few types of cake.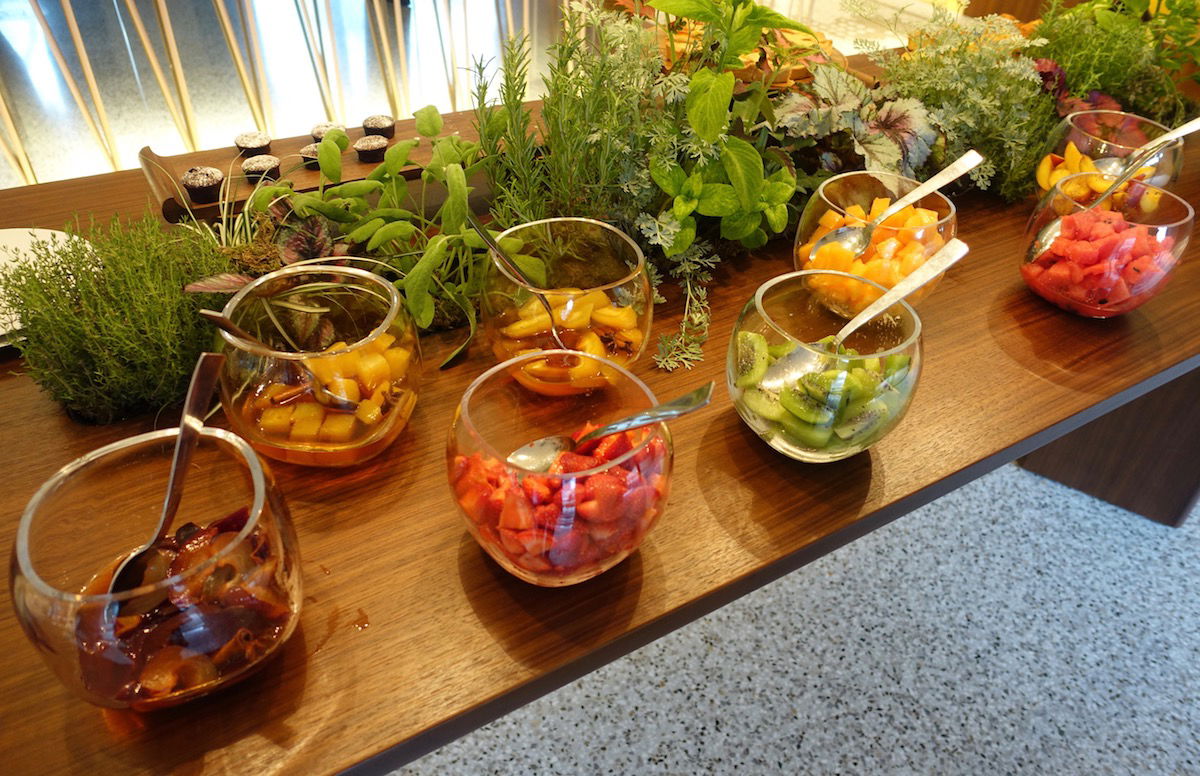 Il Sereno breakfast buffet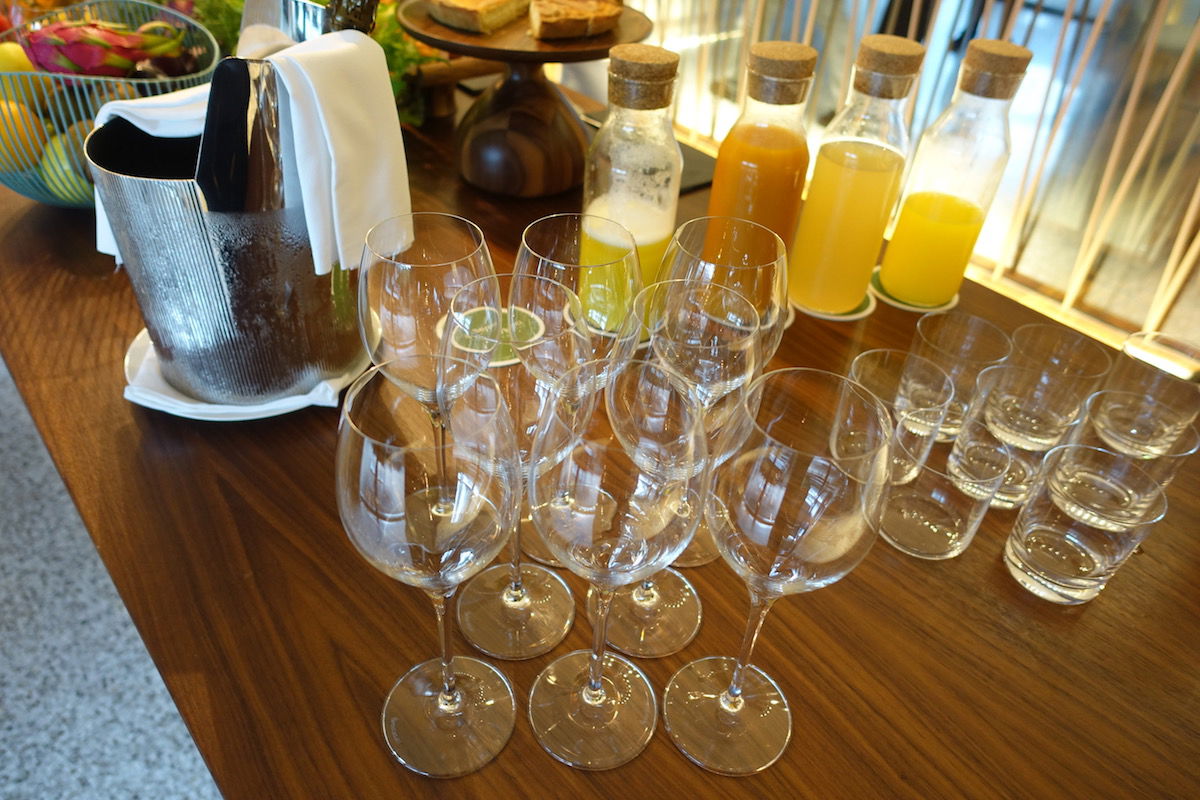 Il Sereno breakfast buffet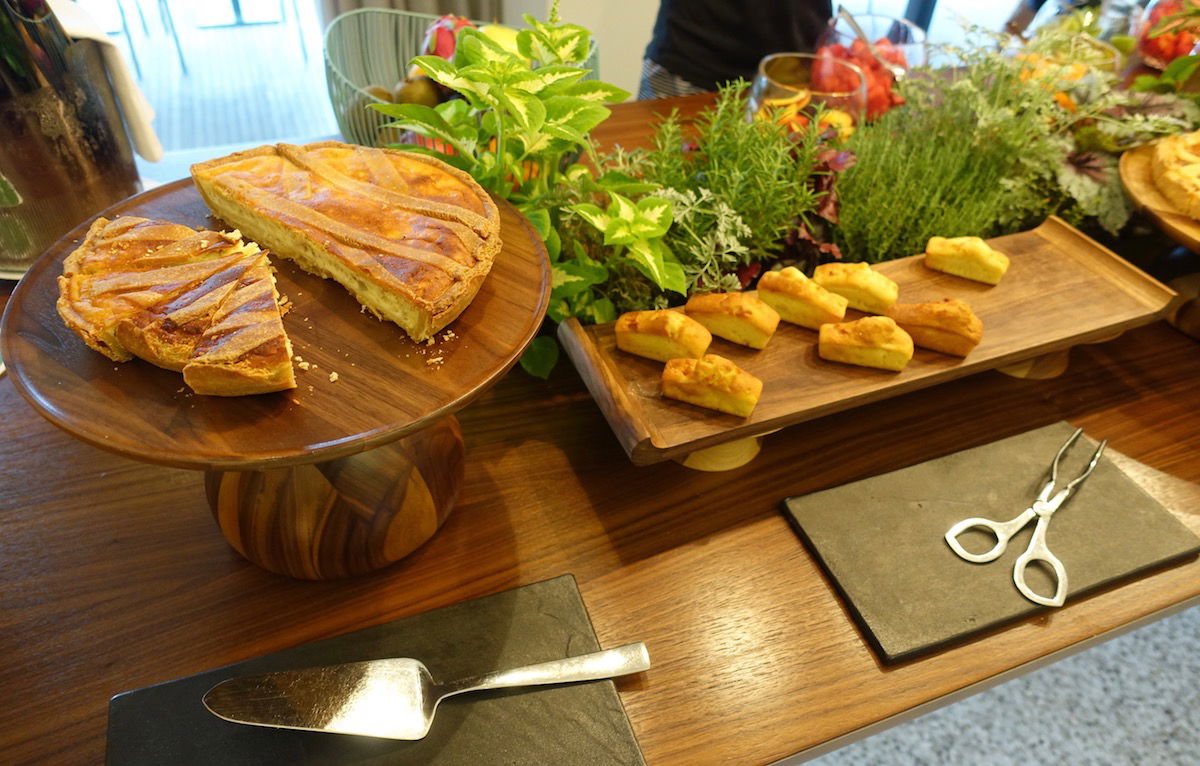 Il Sereno breakfast buffet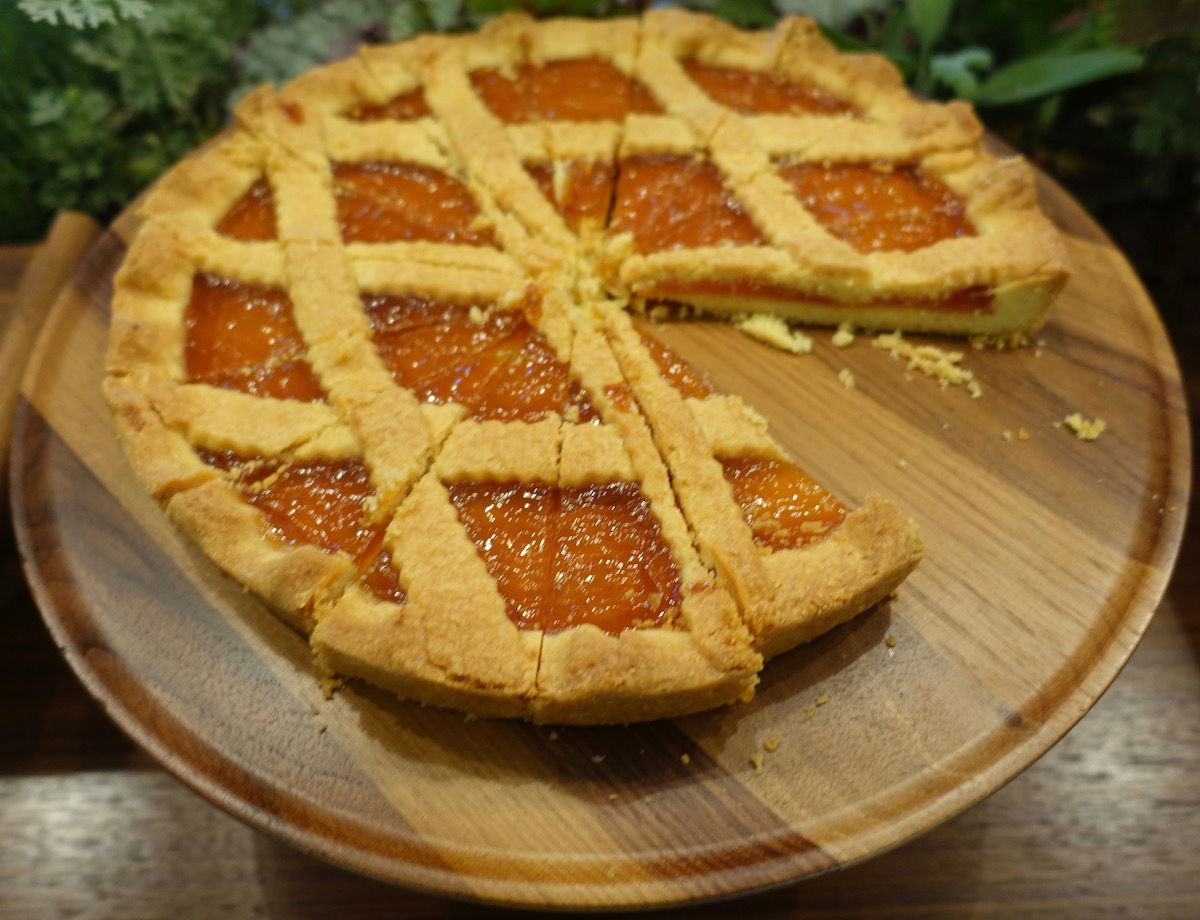 Il Sereno breakfast buffet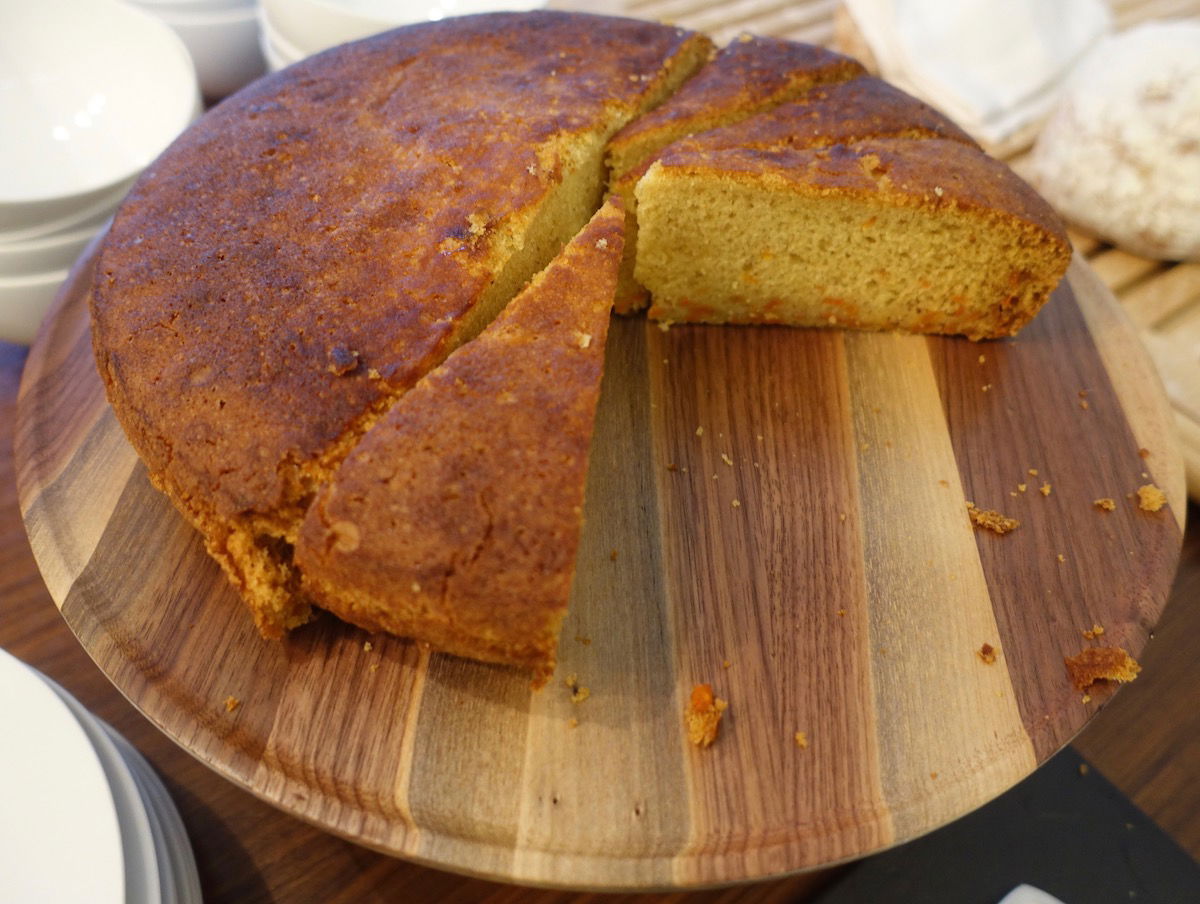 Il Sereno breakfast buffet
In addition to the above they brought out a basket with croissants, bread, and pastries.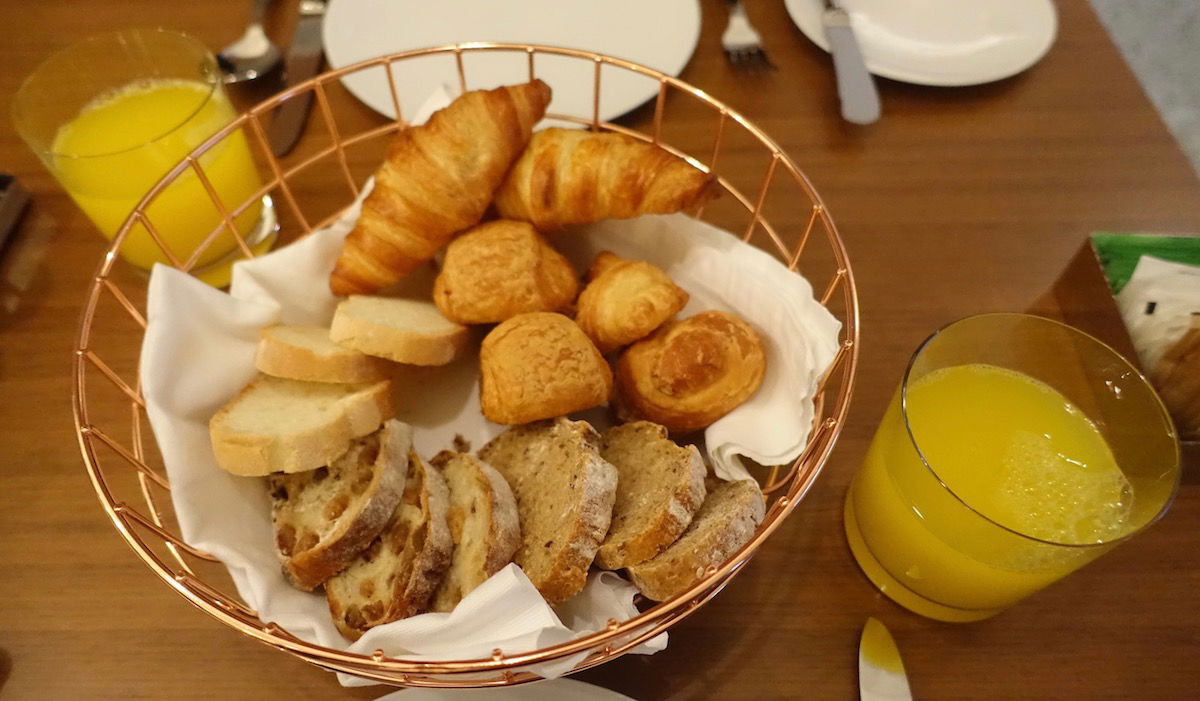 Il Sereno breakfast bread basket
So I got always got some fruit from the buffet, and then they'd bring out yogurt as well.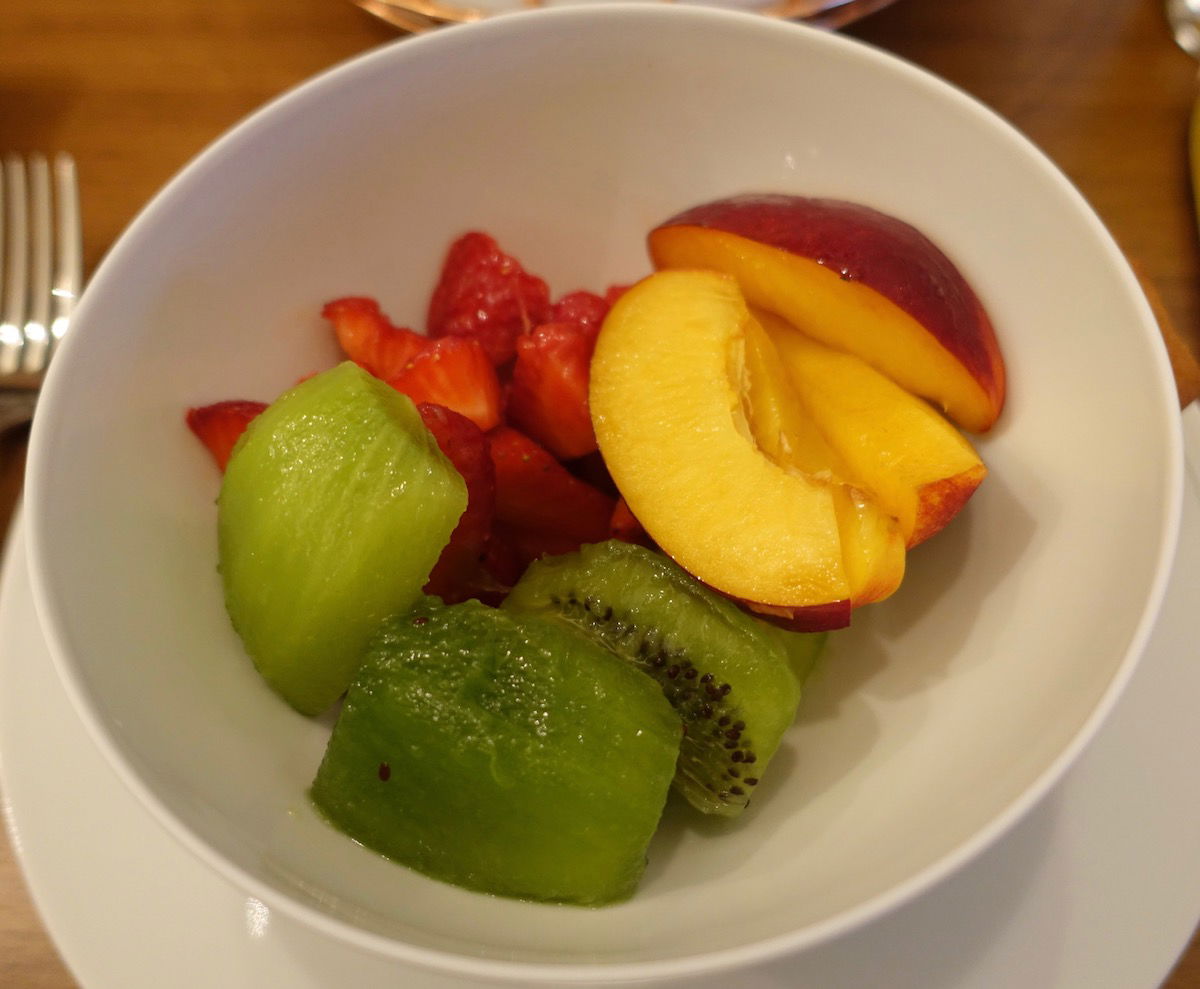 Il Sereno breakfast fresh fruit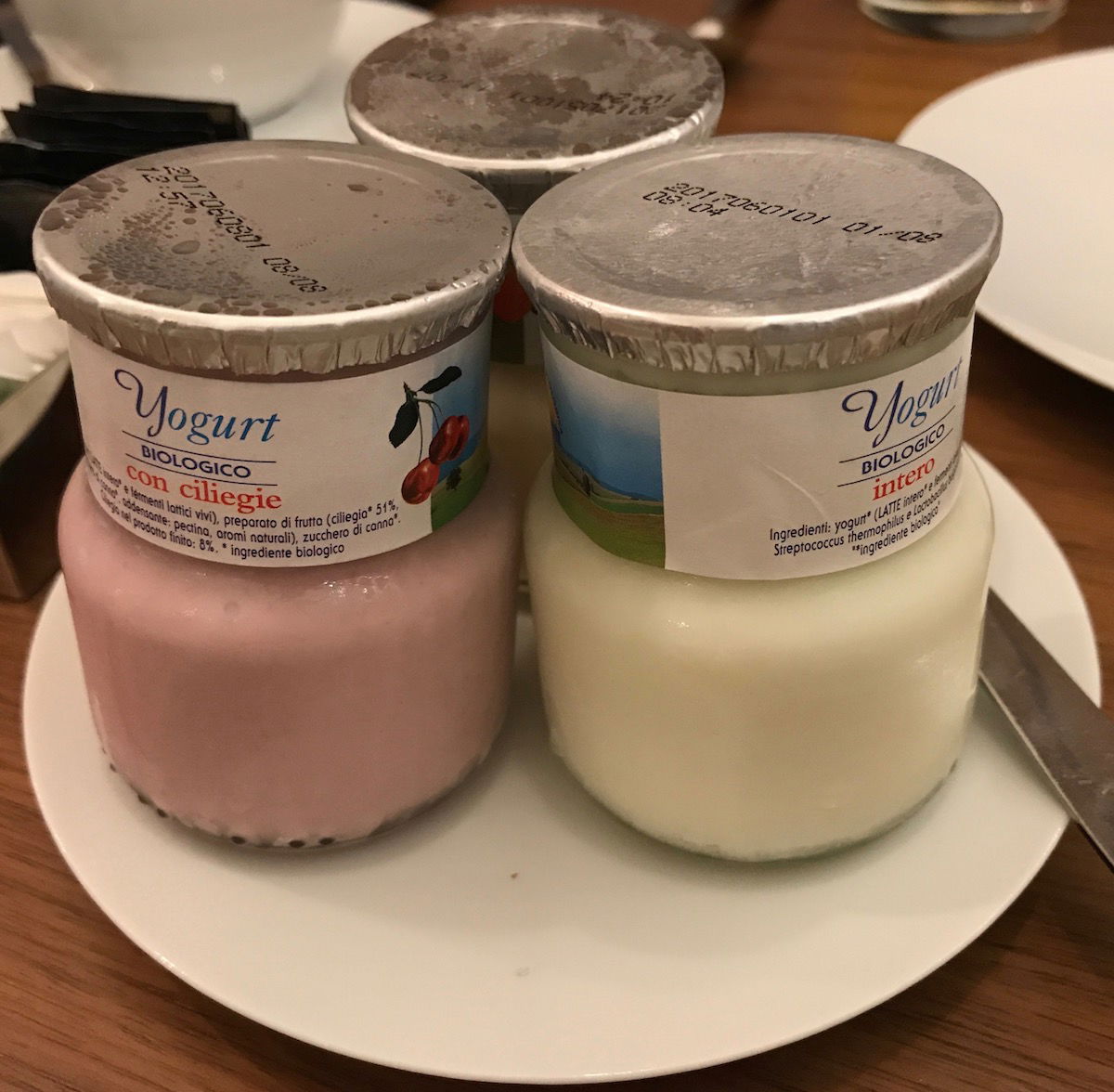 Il Sereno breakfast yogurt
One morning I had an omelet to go along with it, while another morning I had scrambled eggs.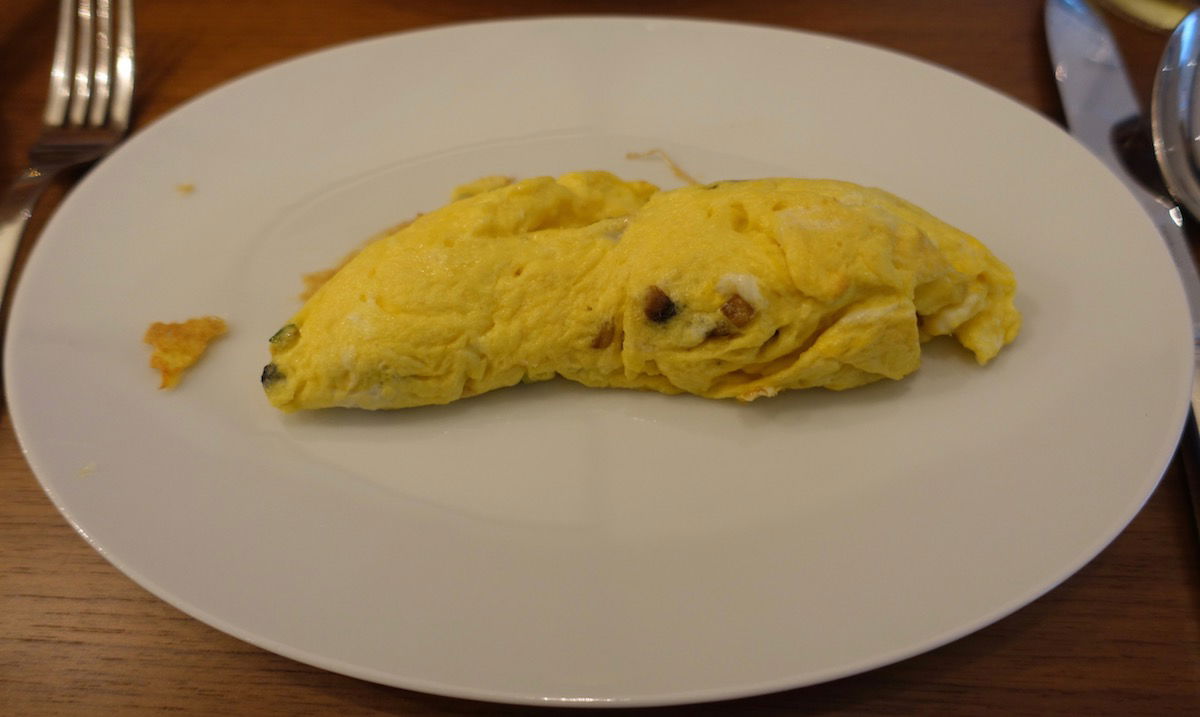 Il Sereno breakfast omelet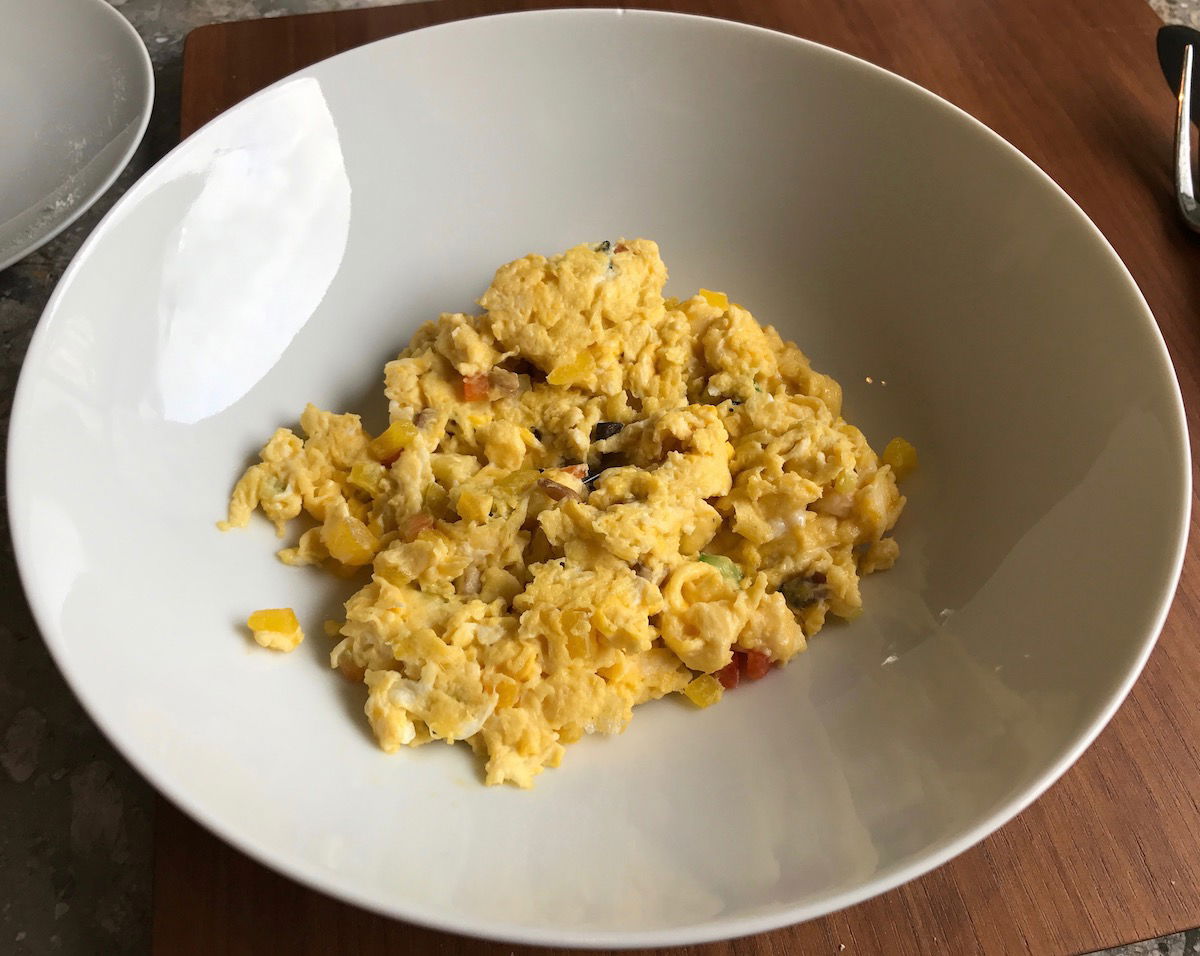 Il Sereno breakfast scrambled eggs
I found it a bit cheap that they only included basic eggs, and tried to charge 12-15EUR for eggs benedict, waffles, etc. Ultimately that's not a huge deal, but it just feels cheap at a hotel in this price range, in my opinion. One morning Ford ordered one of the premium dishes, which looked great.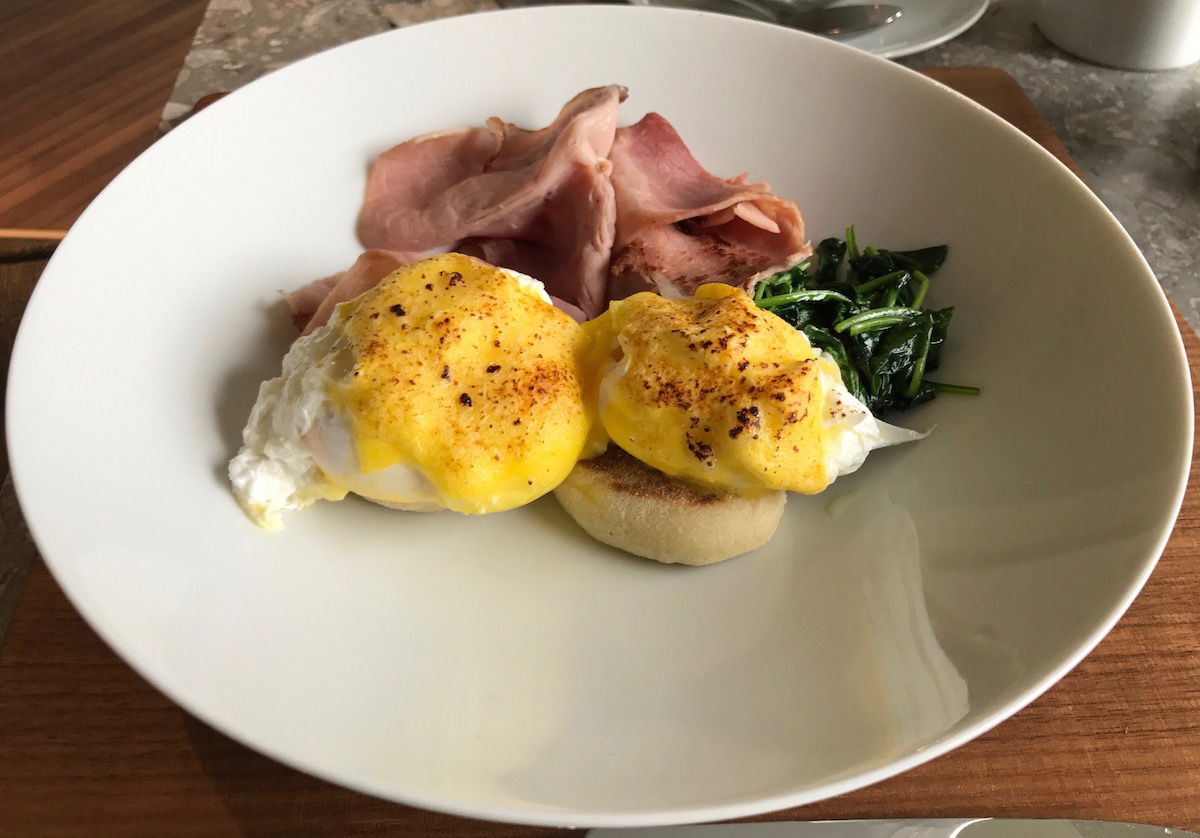 Il Sereno breakfast eggs benedict
We also had lunch a couple of days at the hotel's restaurant. The lunch menu read as follows: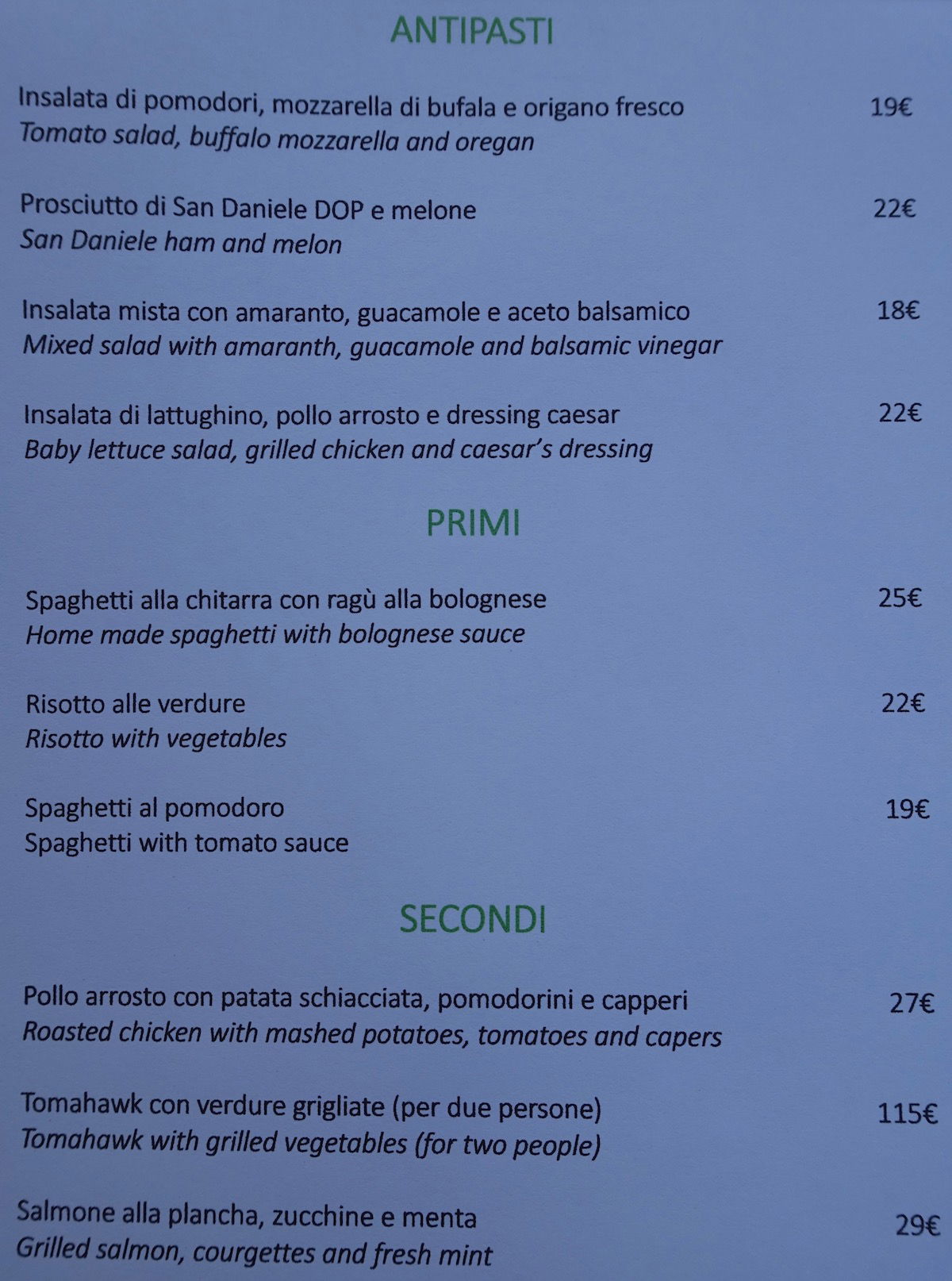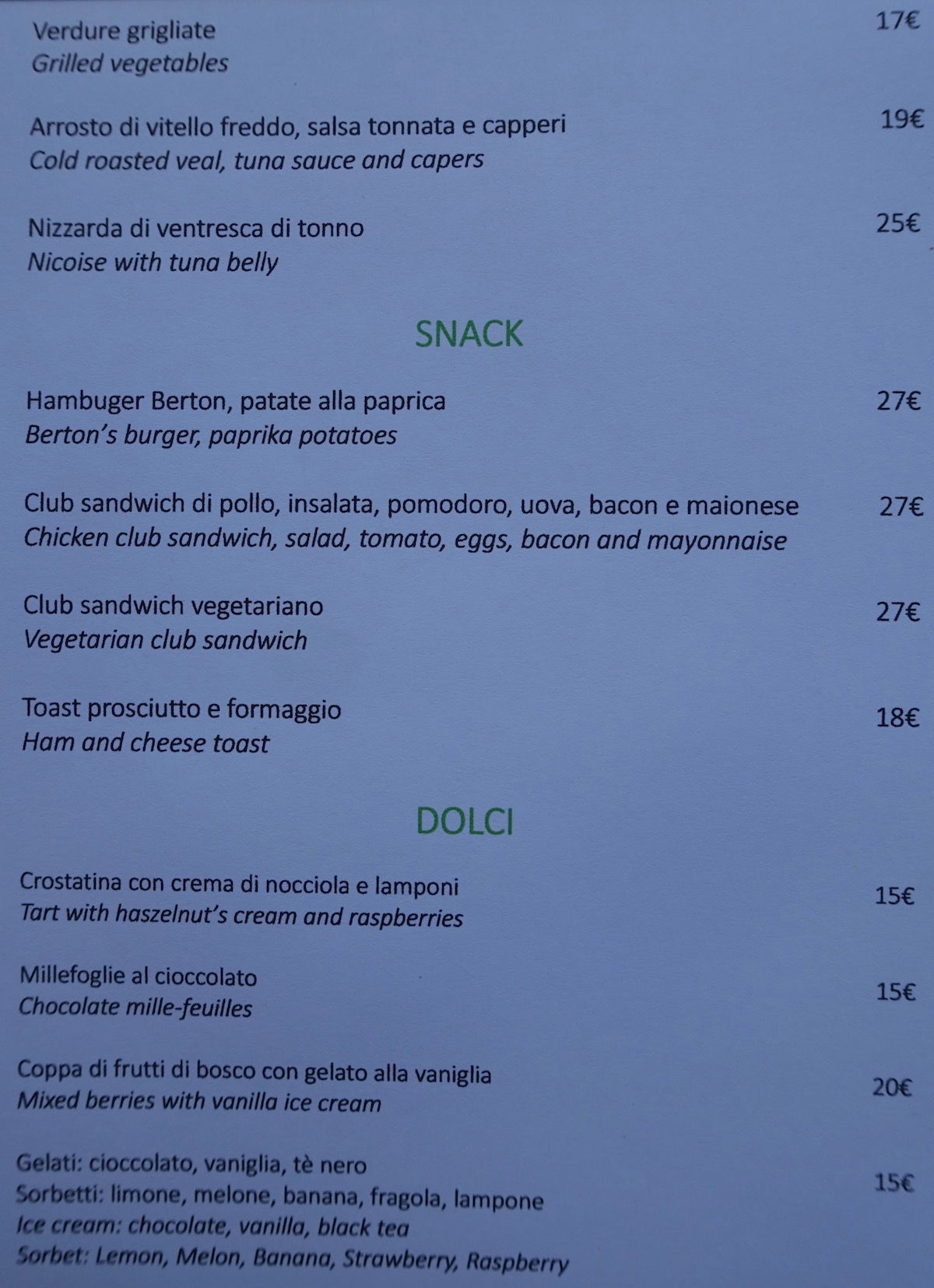 We had some tasty aperol spritzes to go with lunch both days.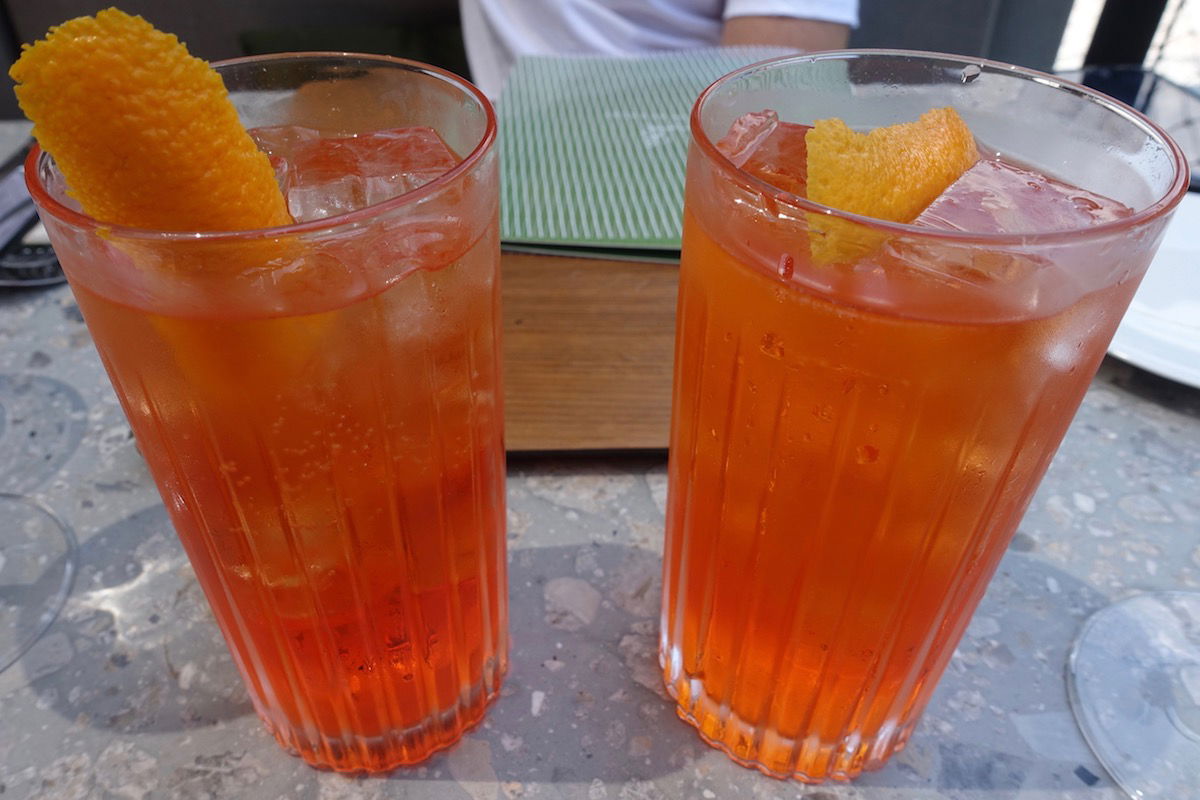 Il Sereno lunch — aperol spritz
The quality of the food we had was excellent, though I didn't think the variety was especially impressive. Of course I appreciate that they want high quality ingredients and you can't do that if you have a huge menu, but this seemed especially limited. I'll let the pictures of the food speak for themselves otherwise.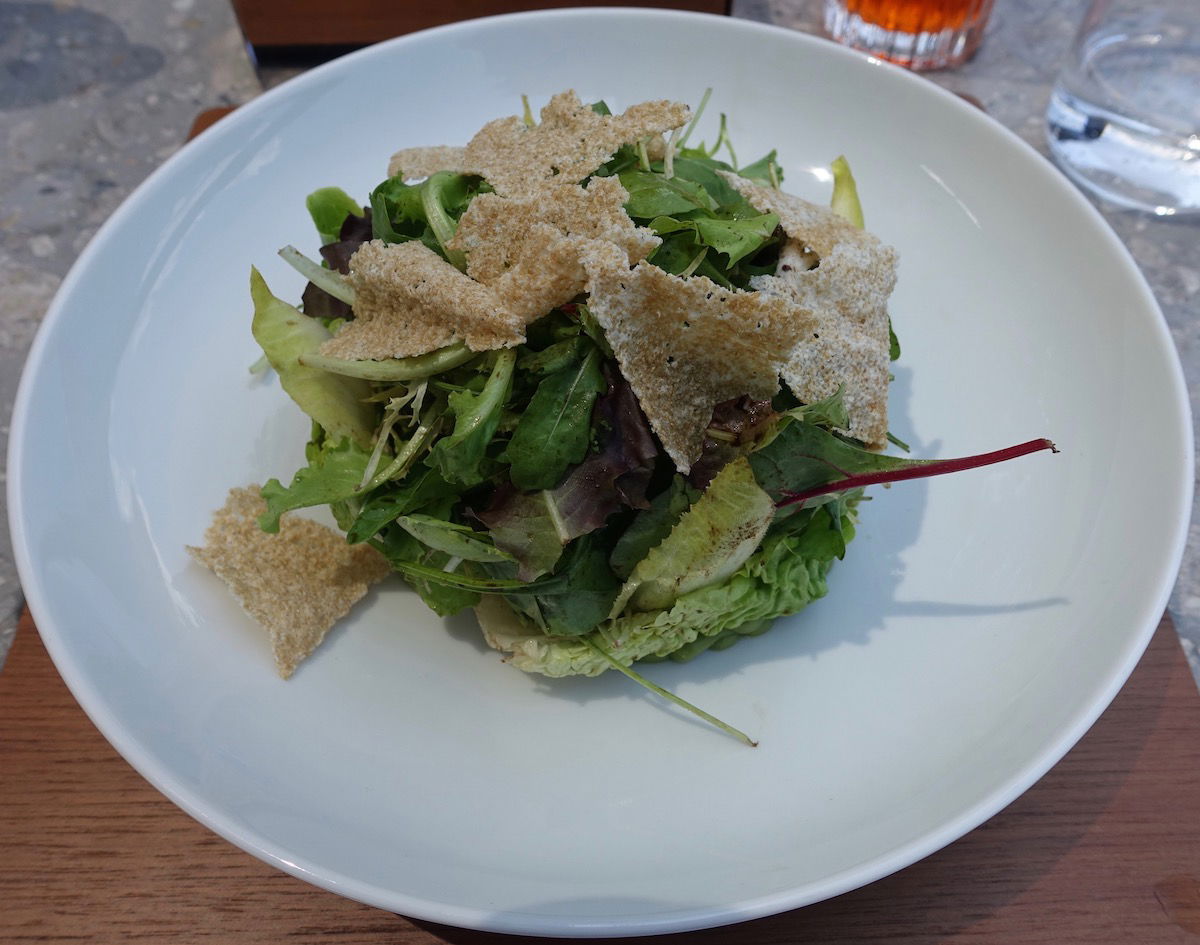 Il Sereno lunch — salad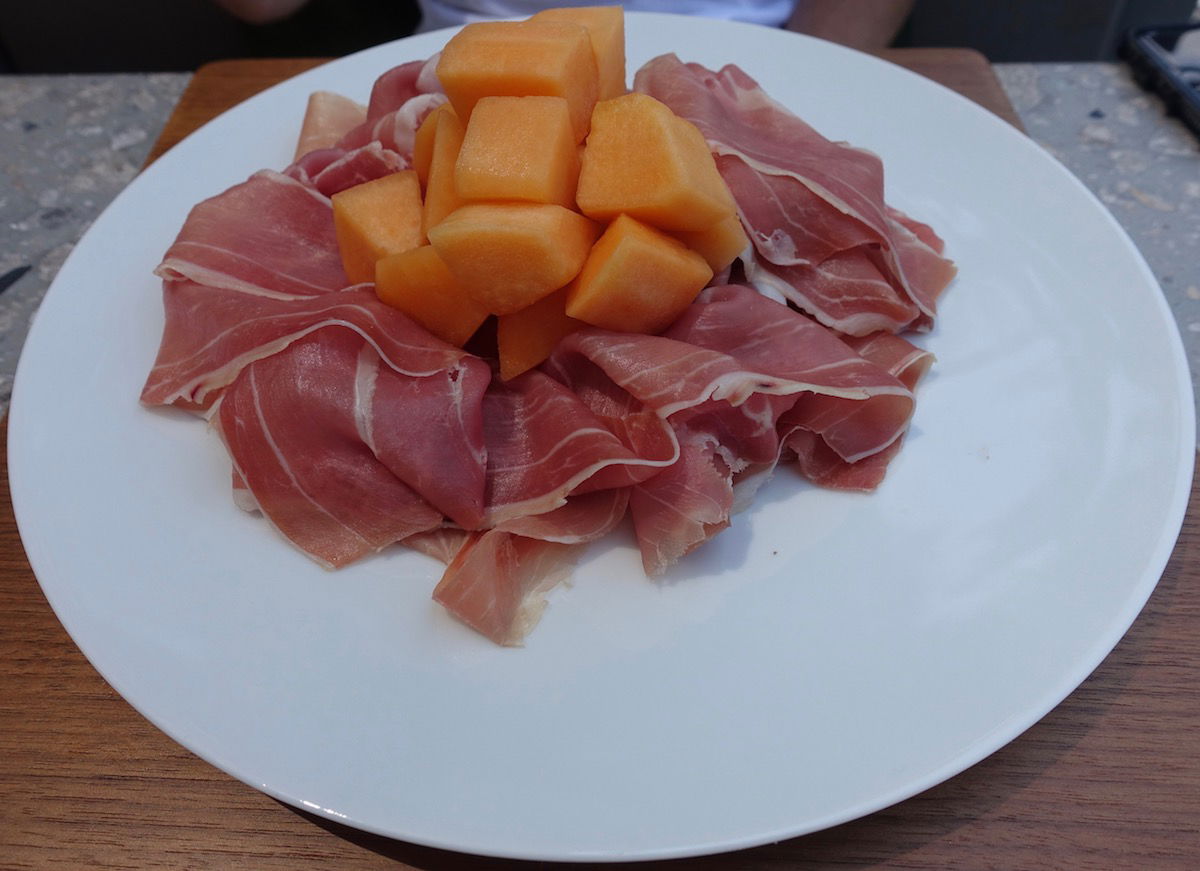 Il Sereno lunch — proscuitto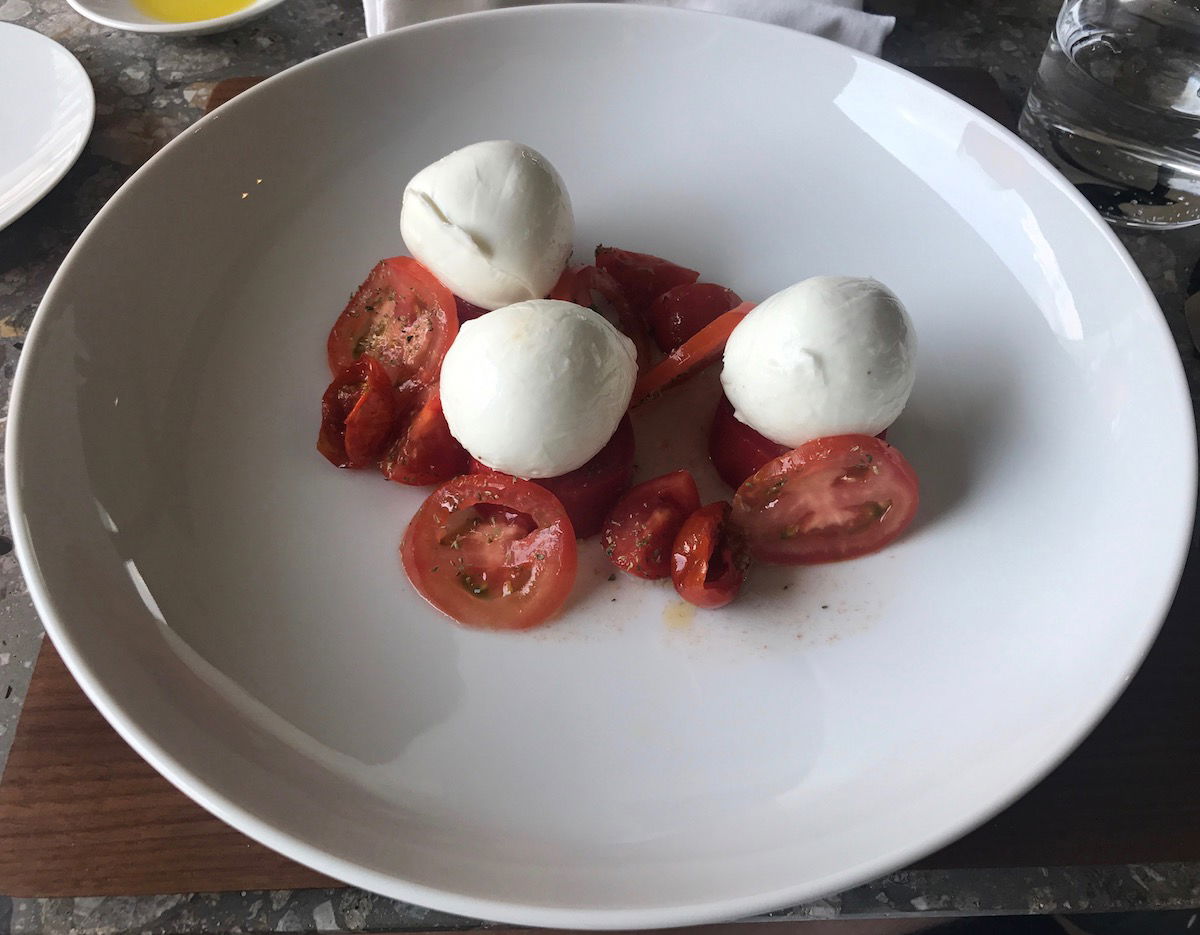 Il Sereno lunch — tomato & mozzarella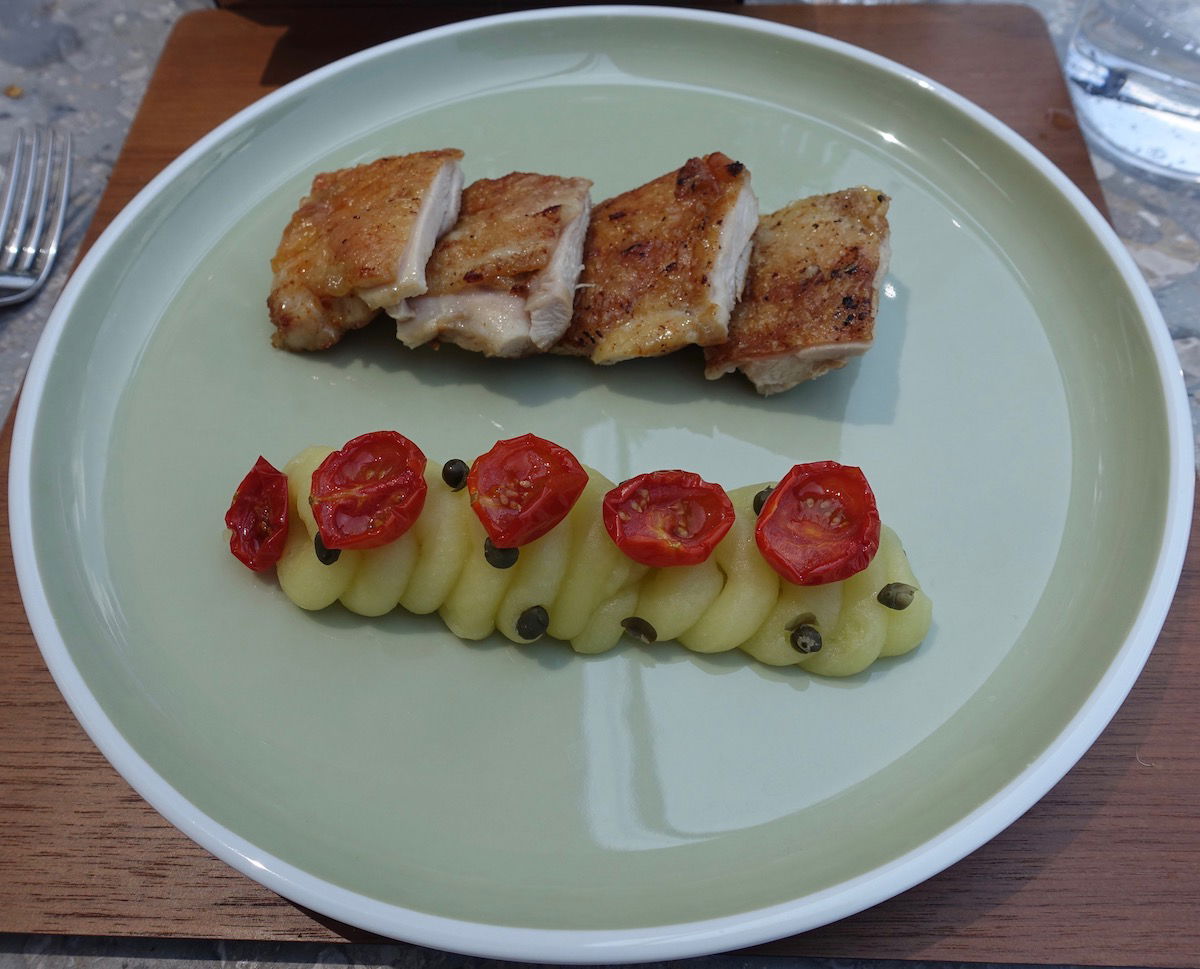 Il Sereno lunch — chicken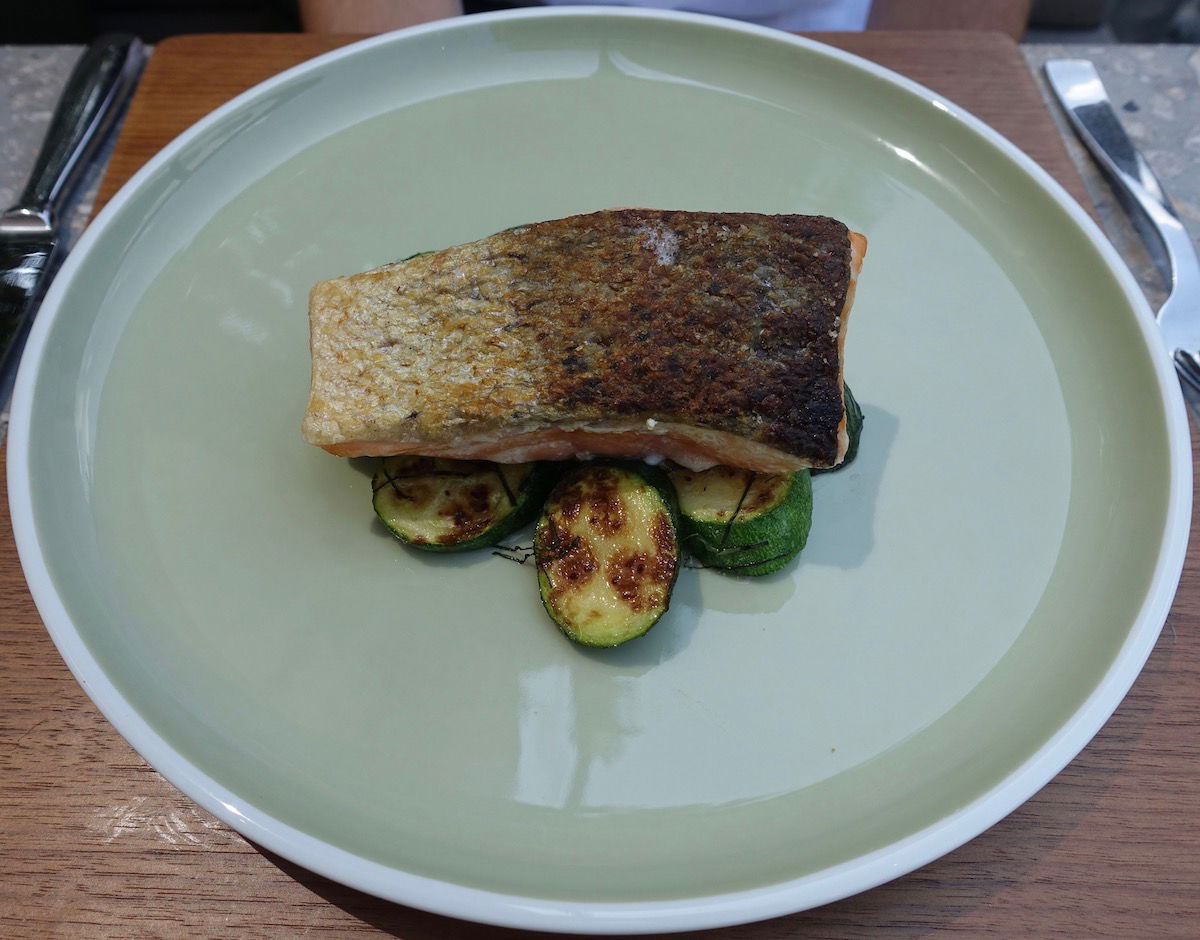 Il Sereno lunch — salmon
One of the highlights of the hotel was having drinks every night at sunset. The cocktails and wine were great, and as is standard in Italy, the snacks that went along with the drinks were great as well.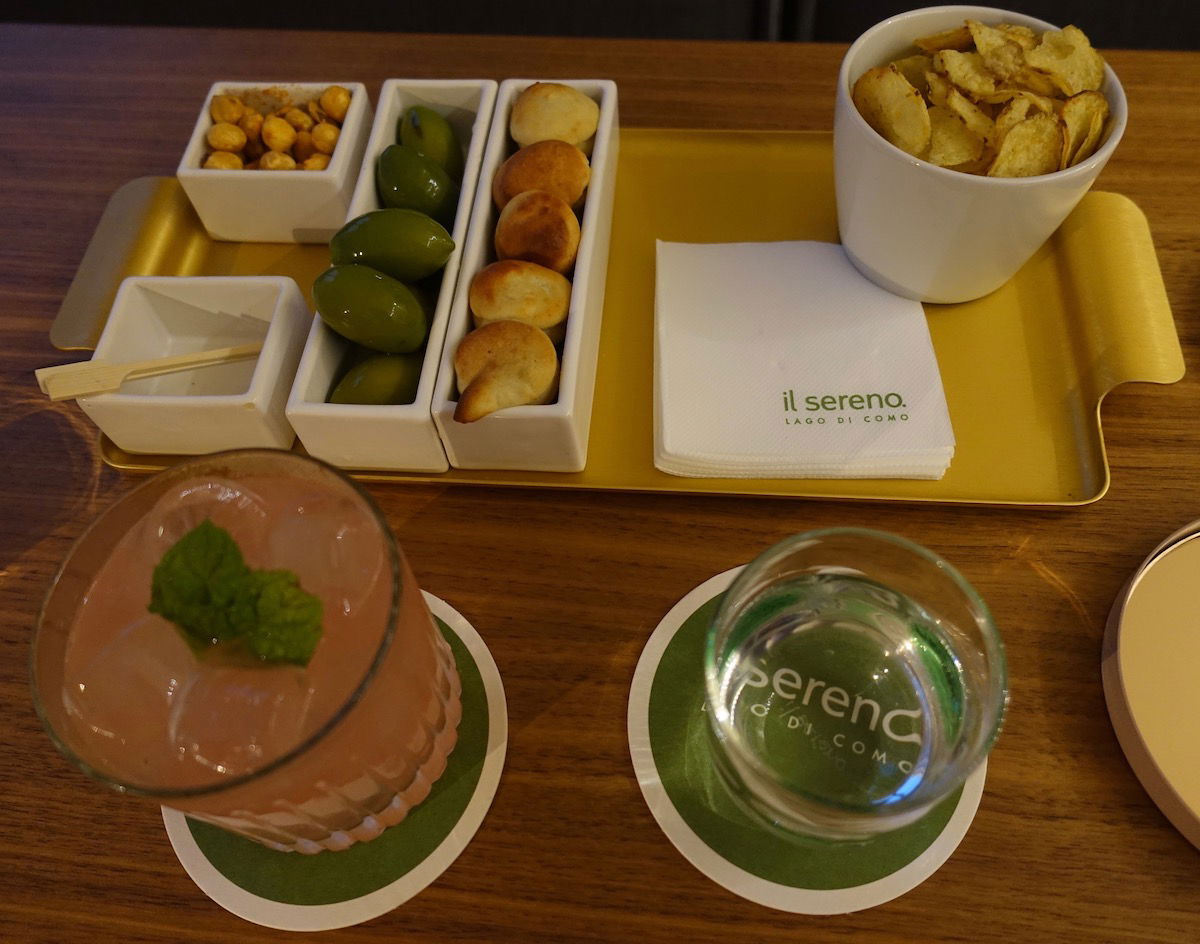 Il Sereno evening drinks
Unfortunately we had terrible weather for our stay at Il Sereno. While the weather was nice for the first day, for the next two days it rained almost nonstop. The weather was terrible, and I felt bad for the honeymooning couples at the hotel, of which there were a few.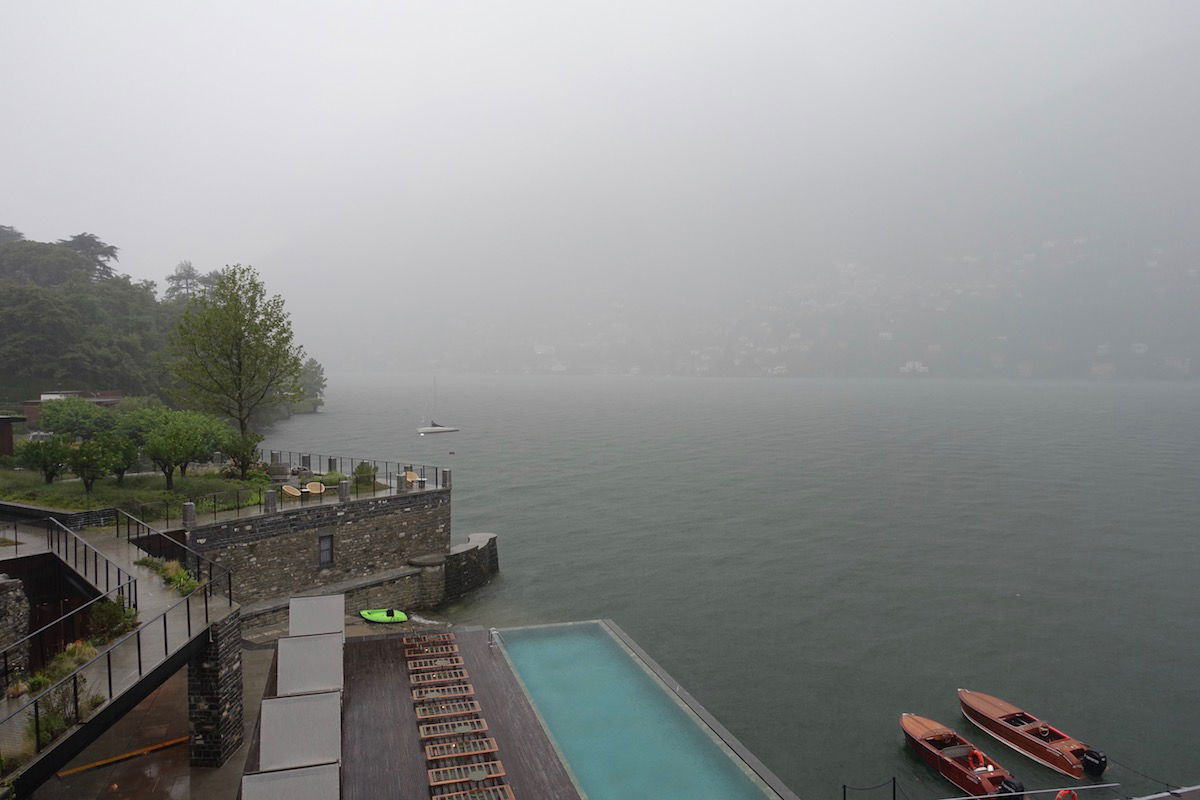 Il Sereno bad weather
The highlight of our time on Lake Como was when we rented a boat for two hours. You don't need a license to drive a small boat around Lake Como, and Il Sereno has a couple of cute boats you can rent by the hour. Here's the pricing: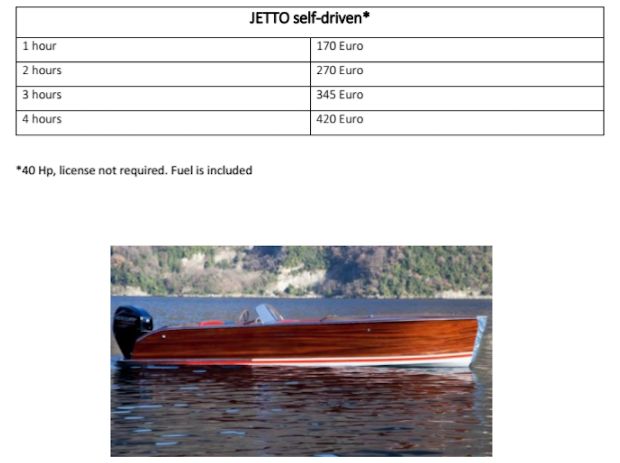 As you can see, two hours cost 270EUR (which isn't cheap), but at least that includes gas, etc.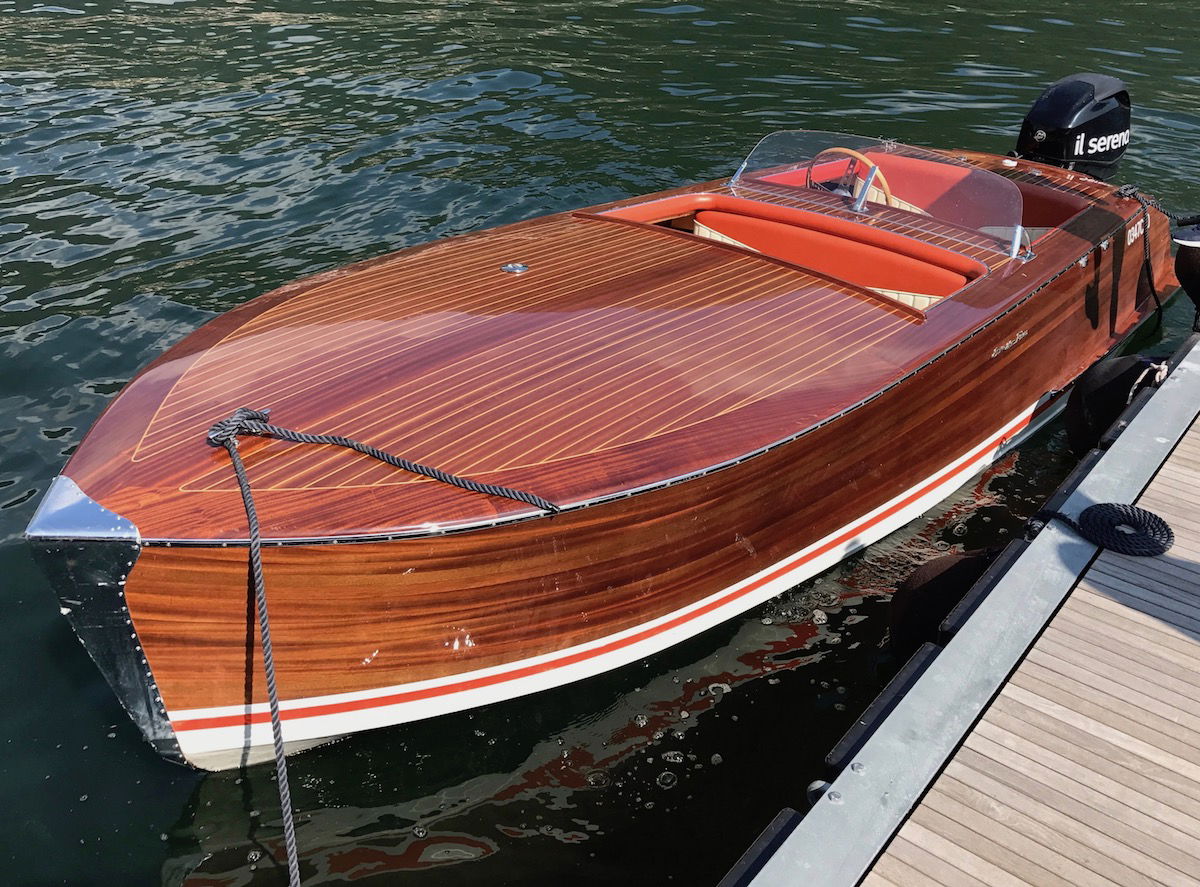 Il Sereno boat rental
This was so so so so so so so so fun. Magical, even. Lake Como itself is gorgeous, and since it was a weekday, the lake was mostly empty. We had perfect weather and cruised around for a couple of hours. This is an absolute must, if you have the chance.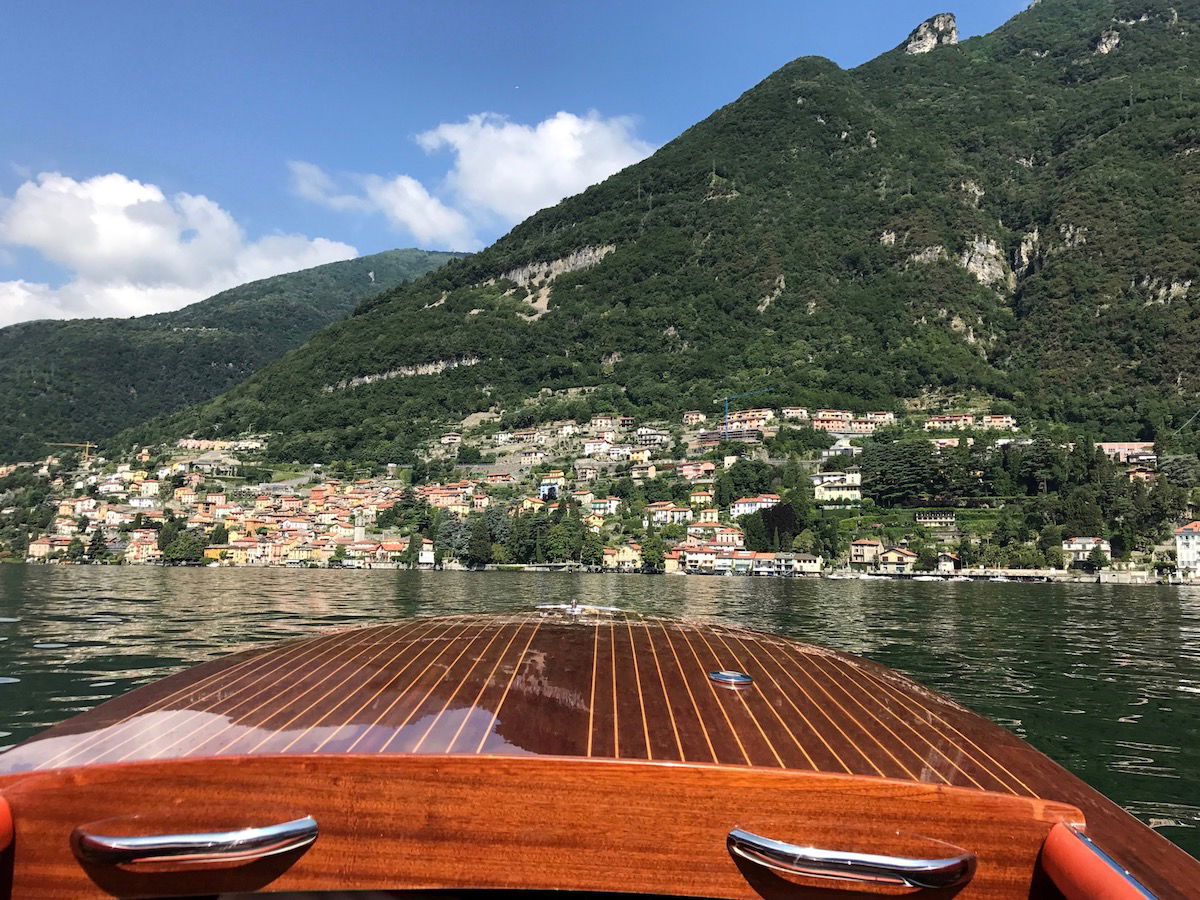 Il Sereno boat rental
In terms of the hotel's other features, rather ridiculously the spa and gym weren't open for our stay. We didn't realize this beforehand, but apparently they hadn't yet gotten the permits for that (as they explained to us "we are waiting for the lawyers to sign"). I'm sorry, but it's ridiculous if Europe's "most anticipated hotel" has been open for nearly a year and it's peak season, and they still haven't opened the gym or spa. It wasn't a huge deal, but just shows a lack of organization.
Lastly I wanted to talk a bit about the service. Oh boy. Let me start by saying that there were some nice people working at the hotel. The people at reception were friendly. The bartender in the lobby lounge was friendly. One of the more experienced servers was friendly. The restaurant manager was friendly.
But otherwise I don't think I've ever experienced such incompetence at a luxury hotel. Just to give a few examples (and there are lots more):
At breakfast the first morning the coffee ended up coming after the egg dishes, despite following up about it three times. The yogurt I ordered also never arrived, despite asking twice.
It was pouring rain one evening so we called down and ask them if the restaurant at the hotel would have availability for dinner. They said yes. We asked if we needed a reservation. They told us it wasn't needed and we should just come down. We arrived 10 minutes later and no tables were available. They told us to go up to the lobby lounge and they'd buy us a round of drinks, and that we should have a table within 15 minutes. 45 minutes later we hadn't heard anything, so we went to our room and ordered room service.
We ordered room service, and to drink I ordered a bottle of sparkling water and Ford ordered a Diet Coke. They brought us still water and regular Coke.
I could go on and on, but those are just a few examples. While some staff here are good, this hotel really needs to get their act together when it comes to service, as a luxury hotel shouldn't be this disorganized.
Il Sereno bottom line
Il Sereno is possibly the most stunning hotel I've stayed at in terms of the design. It's exactly my preferred aesthetic. The hotel has a gorgeous setting with great views of Lake Como.
Unfortunately as far as everything else goes, they need to get their act together. The Wi-Fi barely works, and the service isn't at all to a five star level. It's also incredible disappointing that after being open for nearly a year, the hotel still doesn't have a gym or spa. The hotel's website indicates that the spa may have finally opened, which is at least good news.
So yeah, I'm sort of conflicted. Maybe we just had very bad luck with the service? I don't know…