---
This flight was unique because it wasn't operated directly by Azores Airlines, but rather by HiFly. HiFly is a company that has a fleet of about a dozen planes, and they wet lease these planes to various airlines. In other words, when airlines have a short term need for a plane, HiFly supplies both the plane and the crew.
HiFly's fleet is fascinating, since all of their planes used to operate on behalf of other airlines, and they didn't change the interiors. So if you look at their fleet page, you may notice that a lot of the interiors look familiar.
Our particular flight was operated by a HiFly A340-300 with the tail number CS-TQZ. This is a plane that flew for Singapore Airlines from 1997 until 2004, and then for Emirates from 2004 until 2012, then it briefly flew for Air Algerie and XL Airways before being taken over by HiFly.
Interestingly this is exactly the same plane that La Compagnie and Finnair have leased in the past couple of years on a short term basis.
Azores Airlines 326
Ponta Delgada (PDL) – Lisbon (LIS)
Friday, June 23
Depart: 9:45AM
Arrive: 12:55PM
Duration: 2hr10min
Aircraft: Airbus A340-300
Seat: 2D (Business Class)
I boarded through door L1, and even though I was the first passenger onboard, there were already two pilots seated in first class, so I couldn't get a good cabin picture. The cabin on this plane was so damn cool, as it featured Emirates' old first class seats. It's amazing to think that Emirates only phased out this plane product last year. The first class cabin consisted of a total of 12 seats, spread across two rows in a 2-2-2 configuration.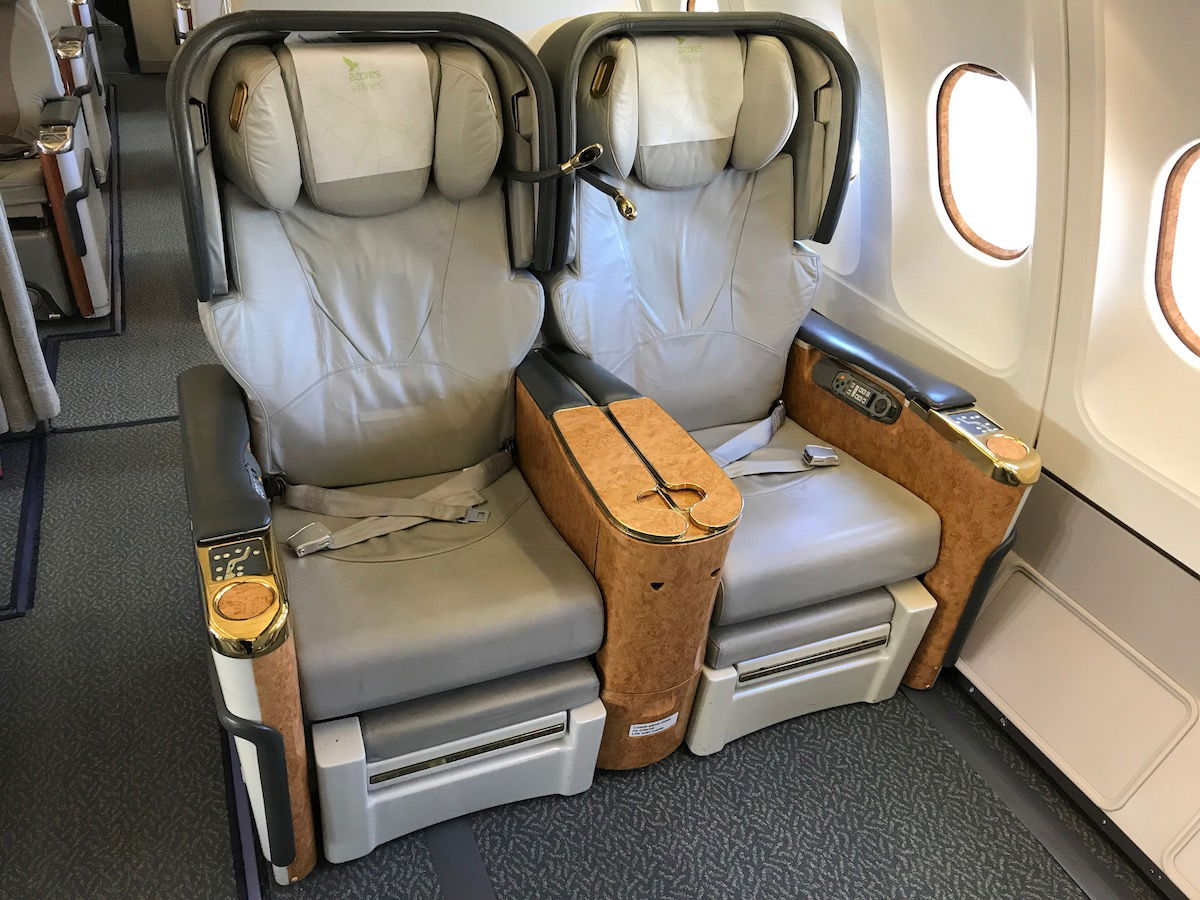 HiFly A340-300 first class seats
Unfortunately we were only able to assign ourselves the two center seats, which meant we wouldn't get any window views, though at least we'd get to fly this awesome vintage first class product.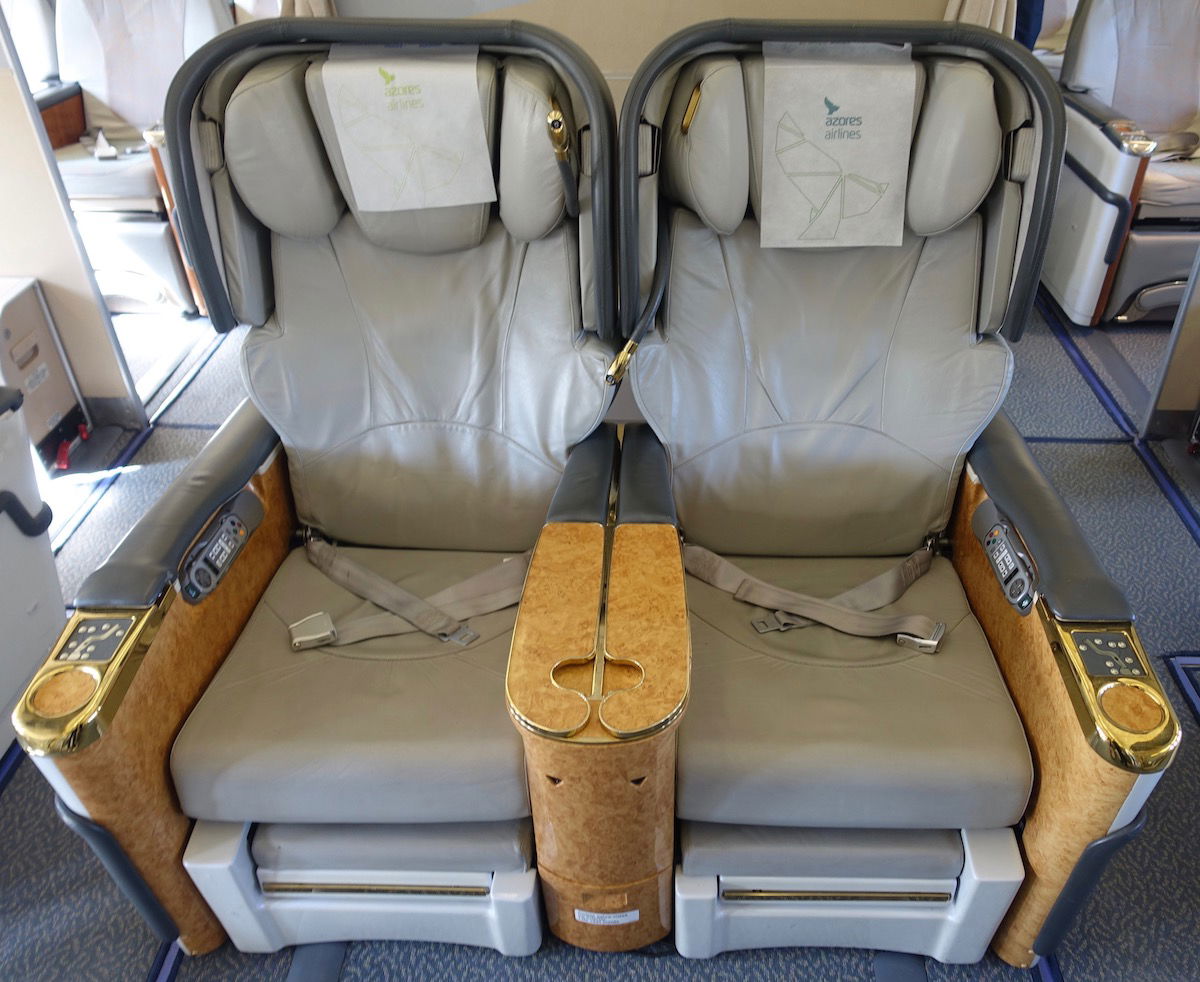 HiFly A340-300 first class seats
There was legroom for days in this cabin.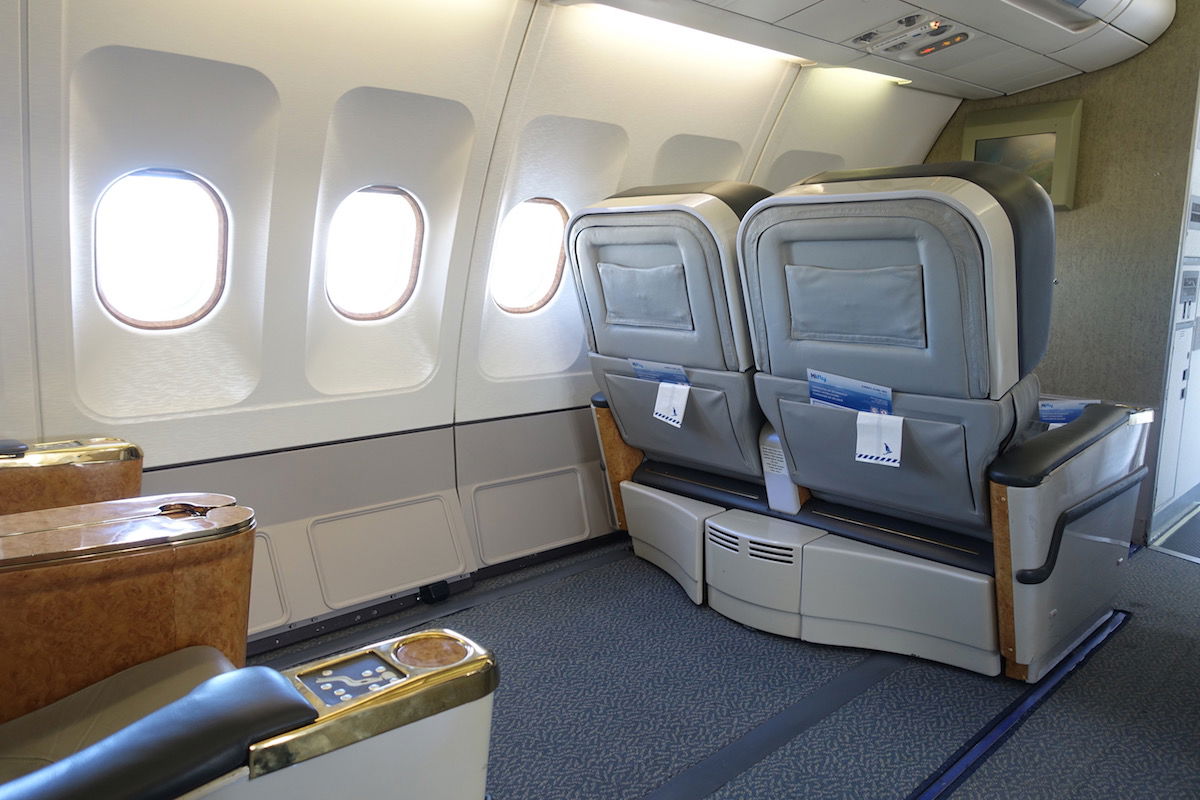 HiFly A340-300 first class legroom
Just to give you a sense of how much these seats recline, look how much room there was behind the second row of seats.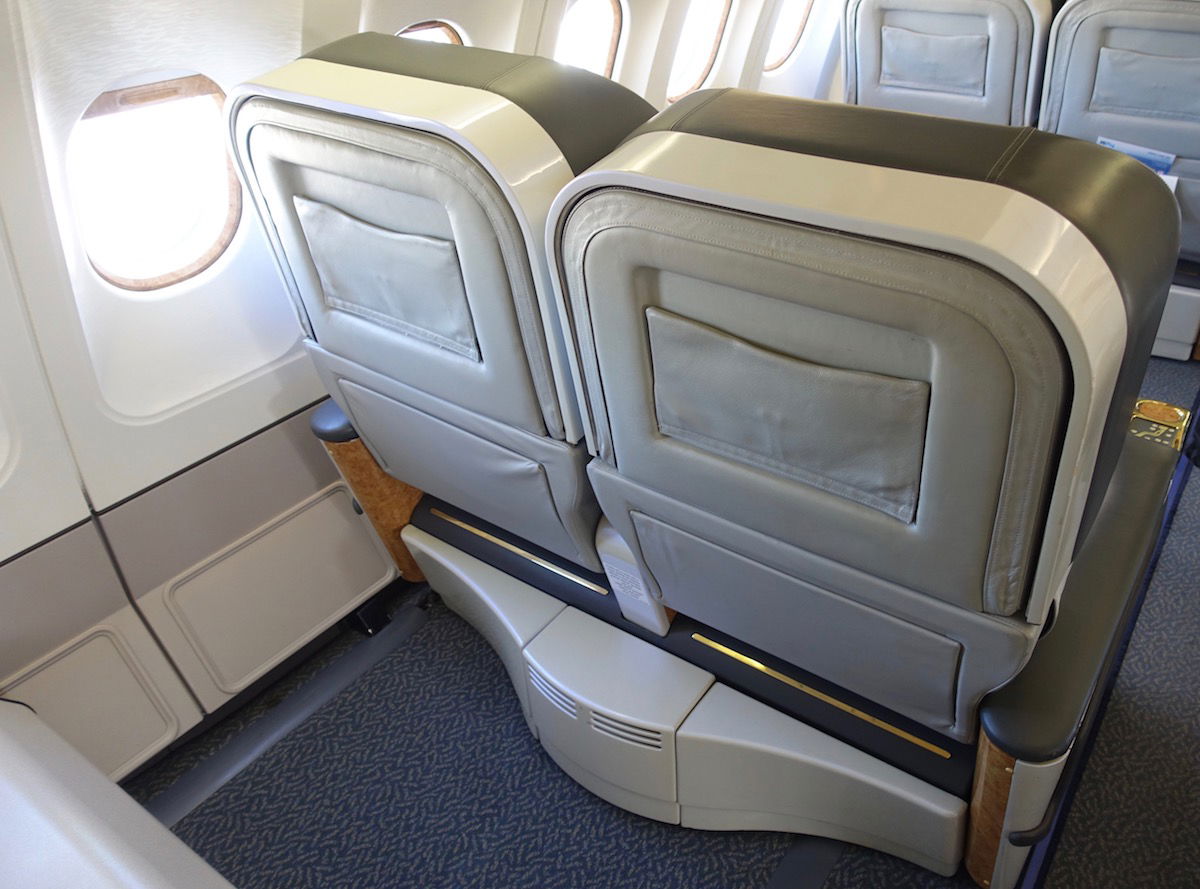 HiFly A340-300 first class recline
There was no mistaking that this was an ex-Emirates plane, based on the amount of faux-wood and gold trimming. On my left armrest were the seat controls.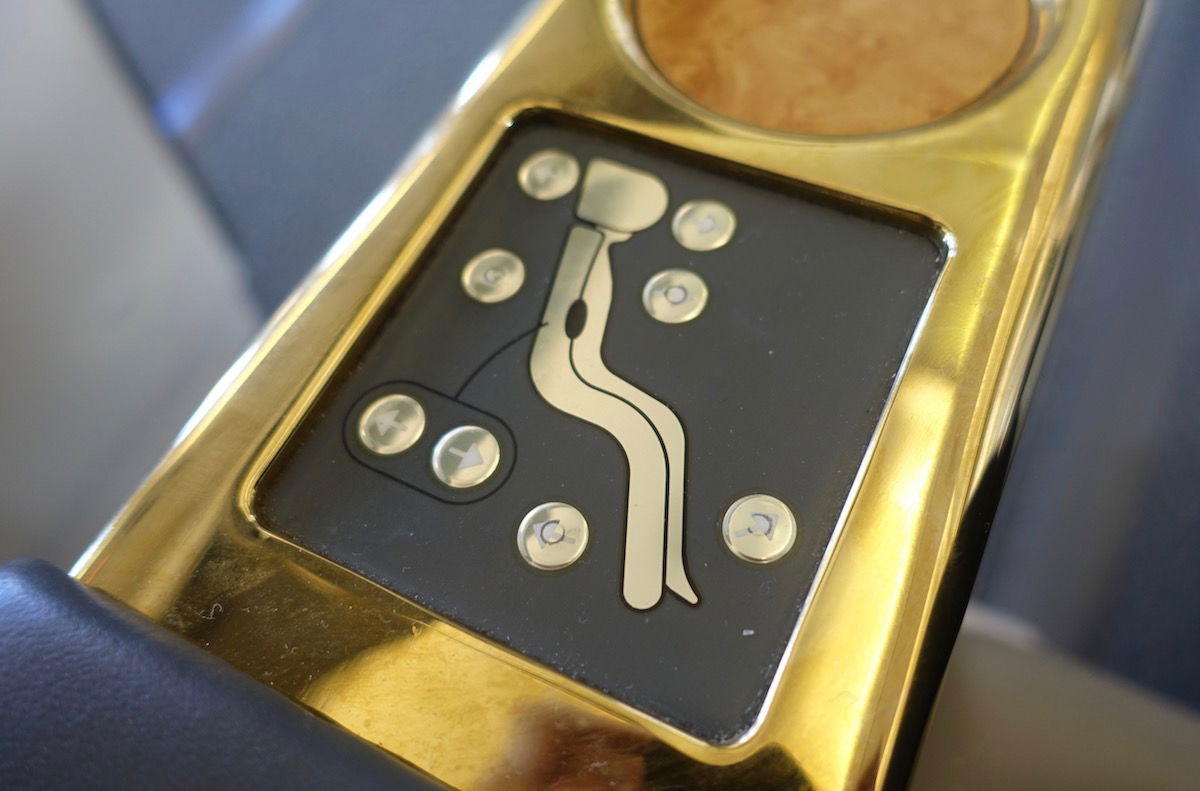 HiFly A340-300 first class seat controls
Then underneath the center armrest was the entertainment controller.


HiFly A340-300 first class entertainment controls
The personal television could be extended out of the center console, though unfortunately there was nothing to watch, as HiFly doesn't offer entertainment.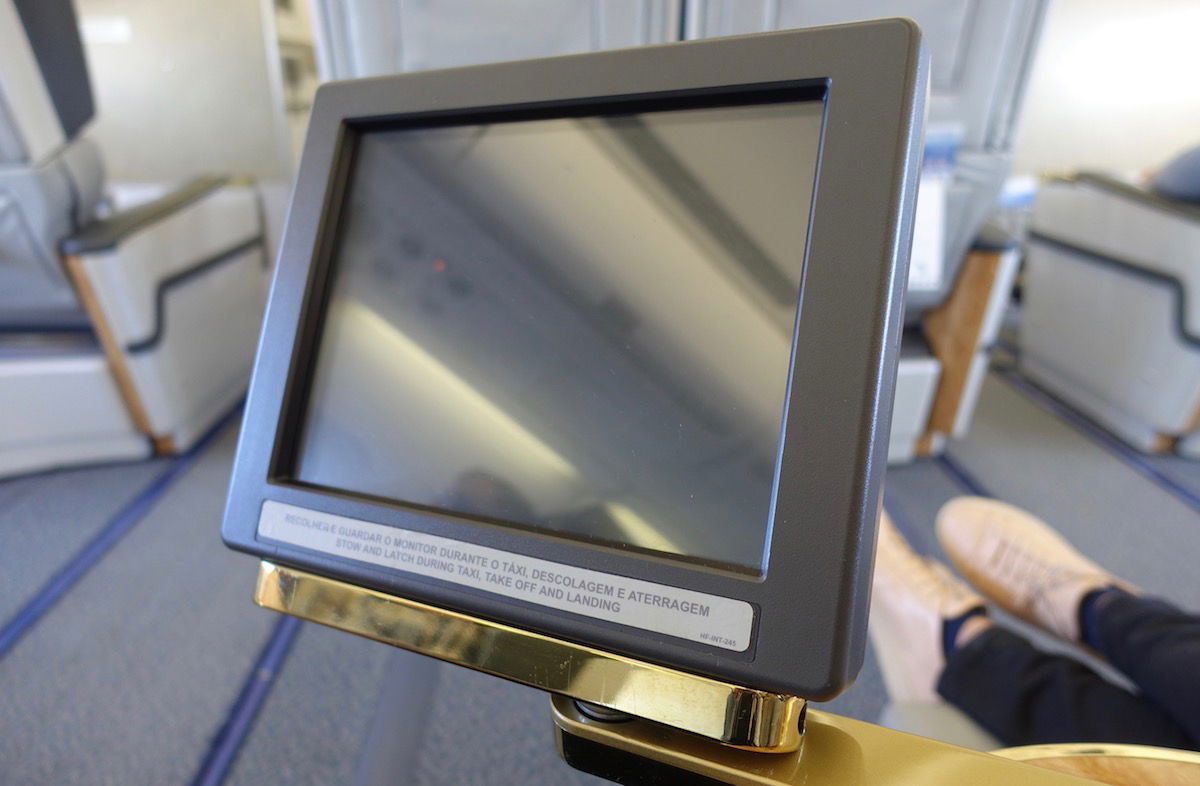 HiFly A340-300 first class television
The tray table extended out of the left armrest, and could also be folded in half.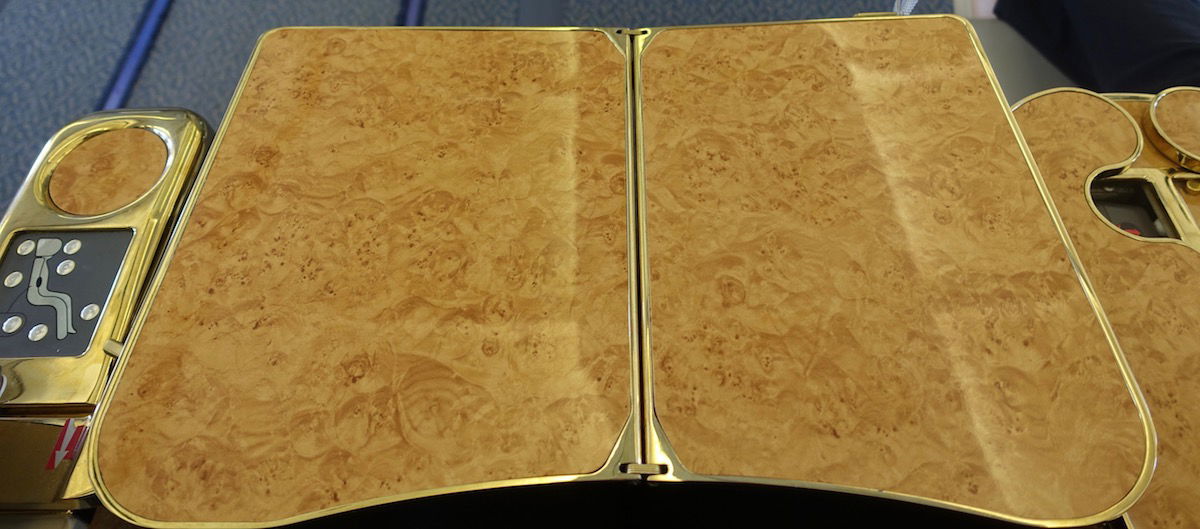 HiFly A340-300 first class tray table
Immediately behind first class was business class, though I'll have more on that in a bit.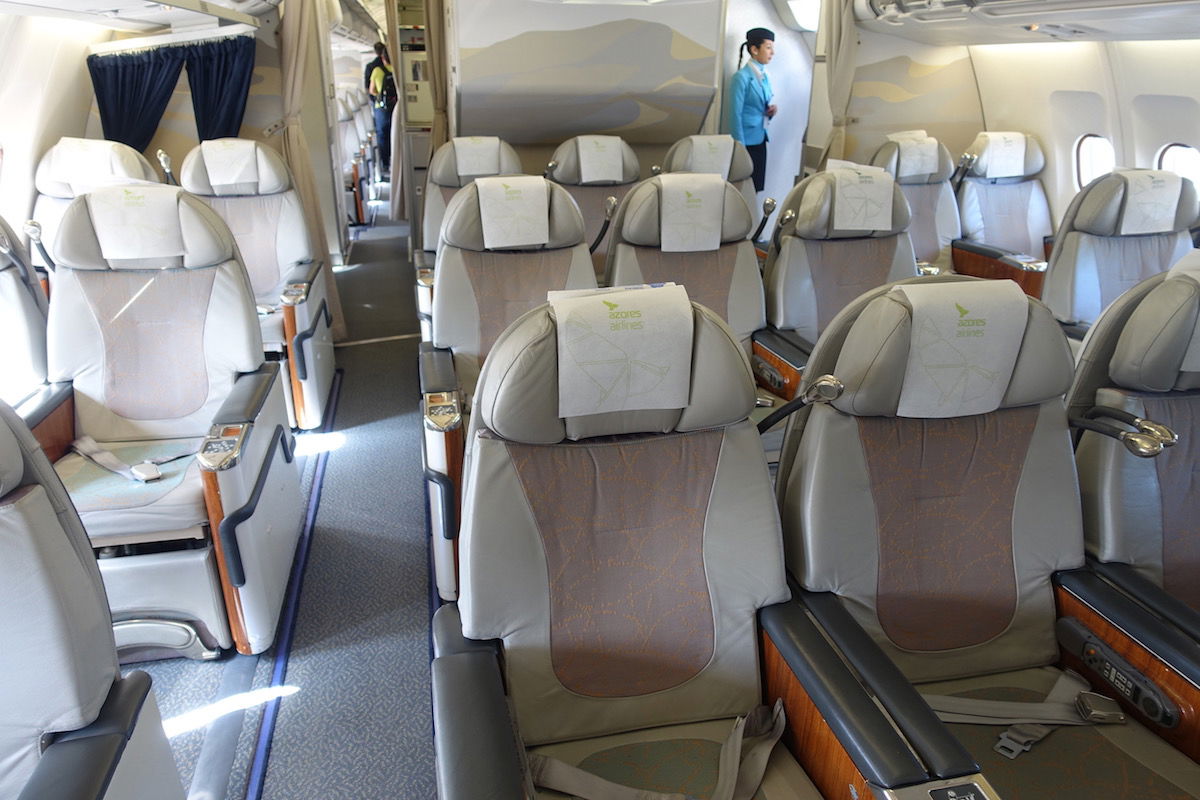 HiFly A340-300 business class cabin
The boarding process was extremely efficient, and within about 10 minutes everyone was onboard. The crew was generally quite friendly, much more so than on the previous flight. These were all HiFly employees. The company is based in Portugal, so they happened to be Portuguese, though these are the same crews that operated flights when they leased out the plane to Finnair, La Compagnie, etc.
At around 10AM the captain made a welcome aboard announcement — "good morning, this is your commander speaking, I would like to apologize for the delay. The airplane arrived late from Montreal, but we will try to make up some time on this two hour flight."
I briefly asked the purser whether they also worked the flight from Montreal. He explained that their colleagues flew from Ponta Delgada to Montreal and back the same day, and that they were picking up the plane from there. Ouch, that's a long day, especially as the return is a redeye!!
By 10:10AM the door was closed, and two minutes later the manual safety demo began. I found the safety announcement to be pretty funny, given the branding confusion. "Safety is very important to SATA… and Azores Airlines… and HiFly… so please pay attention."
In the end nine of the 12 first class seats were taken, and two of the 42 business class seats were taken. Economy seemed to be about half full.
The taxi was quick, and by 10:20AM we were cleared for takeoff on runway 12.
The climb out was smooth, and just five minutes after takeoff the seatbelt sign was turned off. I quickly checked out the lavatory at the front of the cabin, which was pretty basic, with luxurious Softsoap branded toiletries. 😉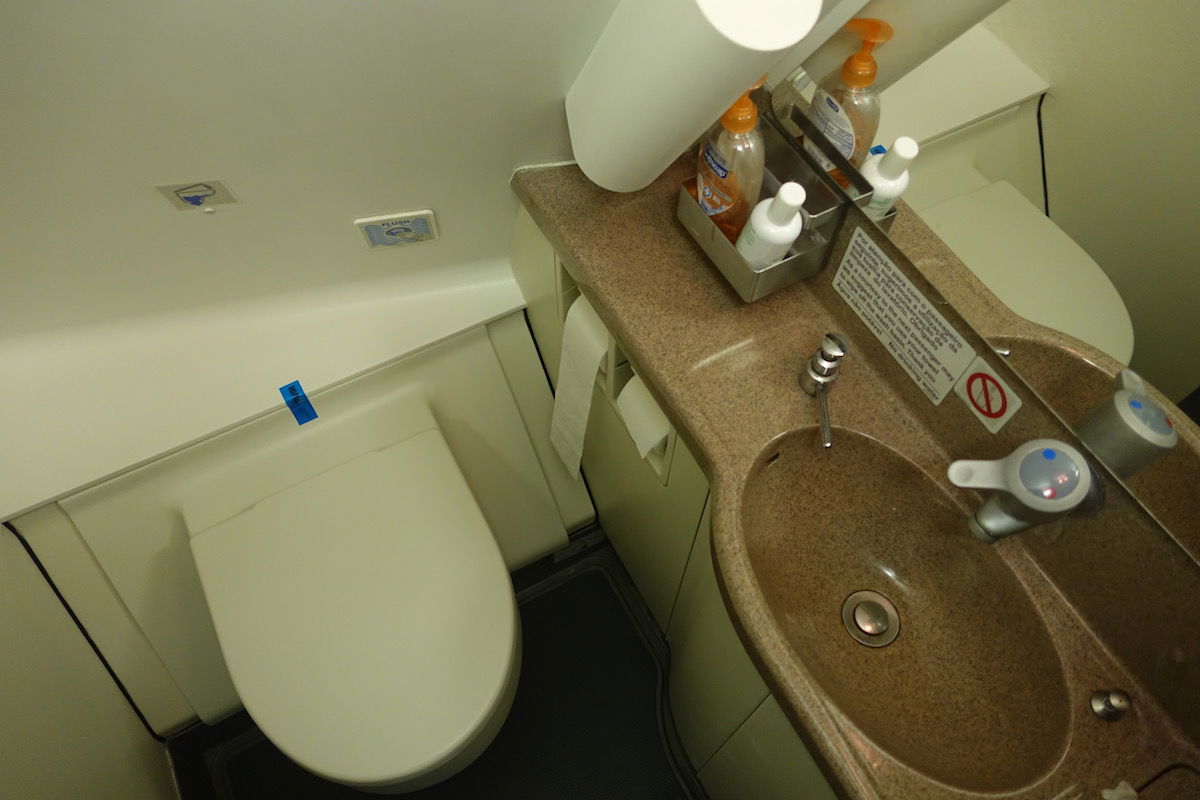 HiFly A340-300 first class lavatory
Once back at my seat I managed to snap a picture from the back of the cabin, given that the curtains were closed.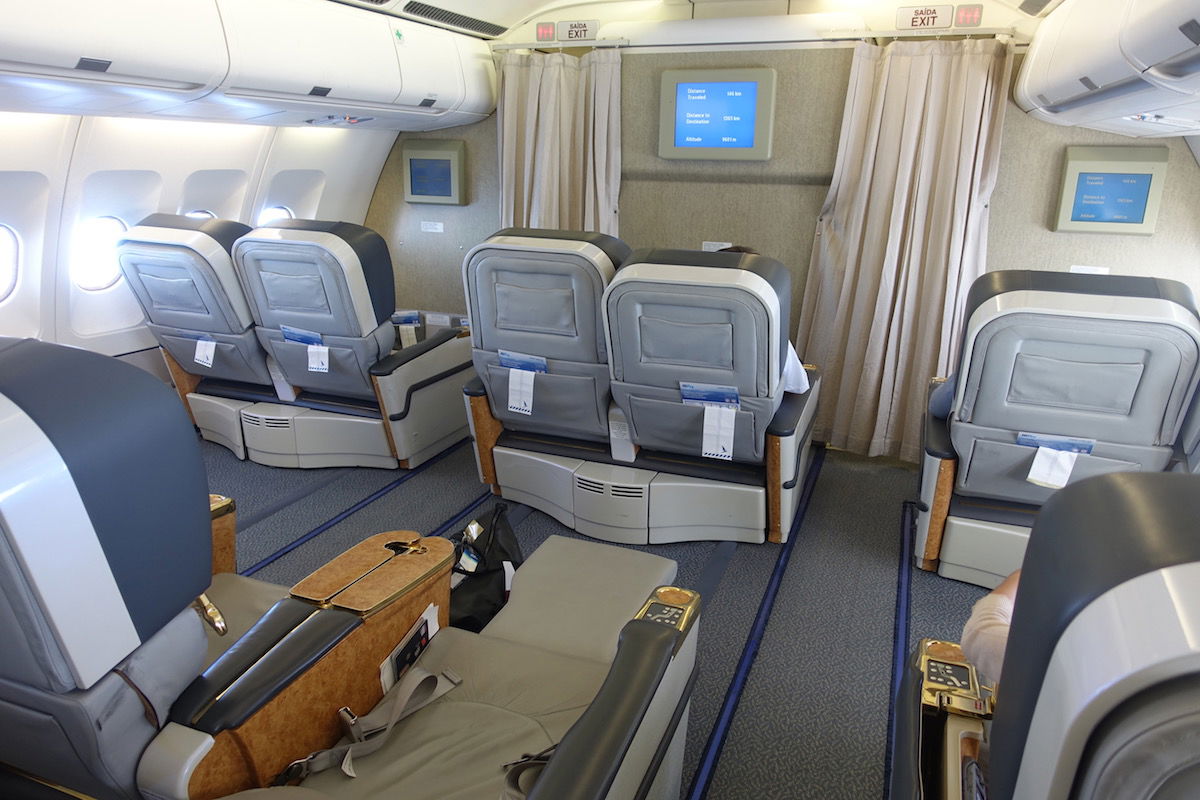 HiFly A340-300 first class cabin
We also reclined the seat, which was fully flat, and had one of the most interesting legrests I've ever seen.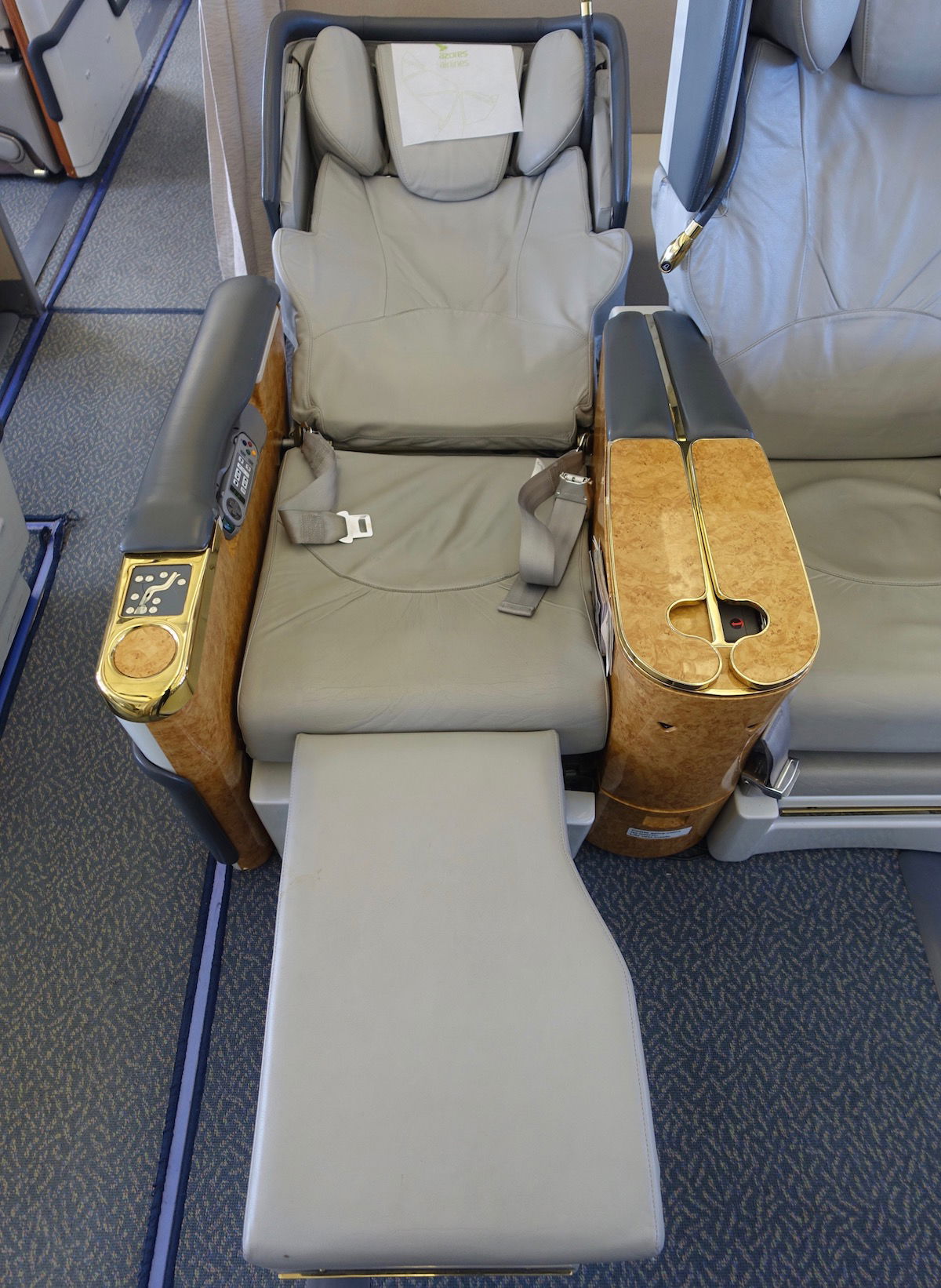 HiFly A340-300 first class seat recline
After that I checked out the business class cabin. Business class consisted of two separate cabins, each of which had three rows, in a 2-3-2 configuration. Only a total of two seats were taken, so it was a bit surreal to see a cabin this empty in flight.
Here's the forward cabin: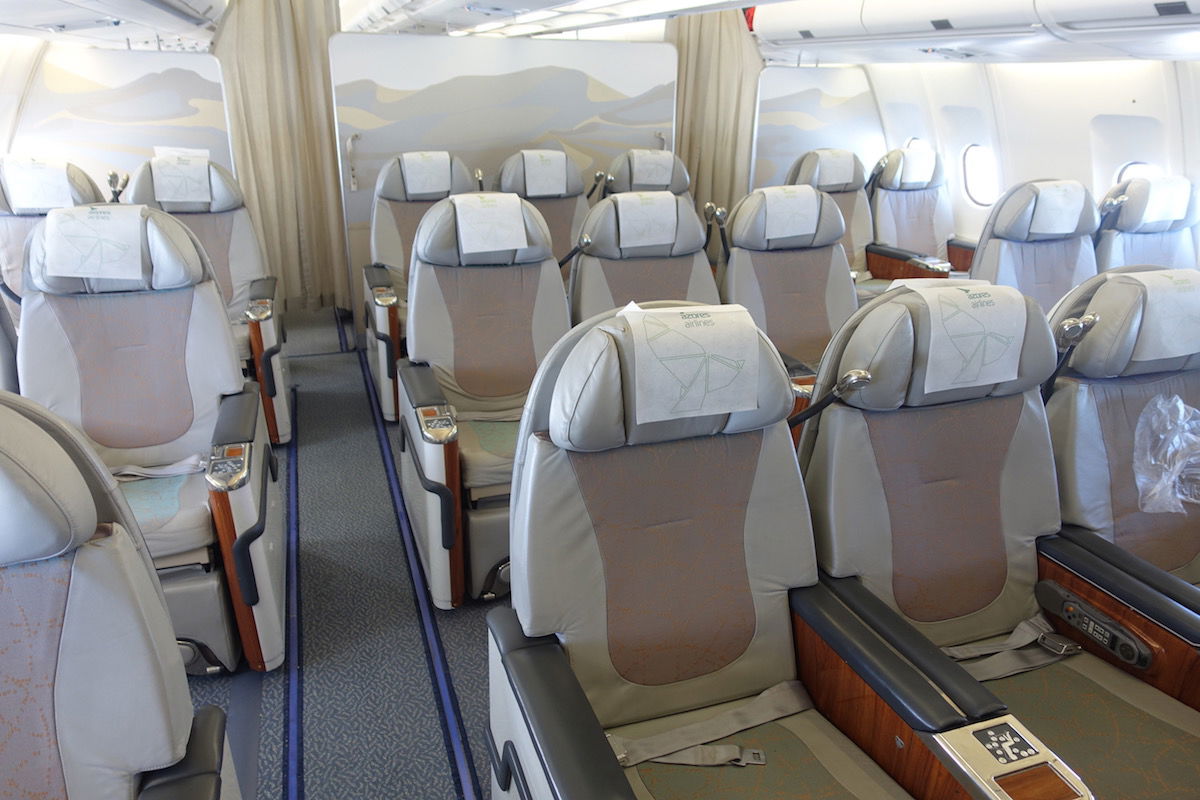 HiFly A340-300 business class cabin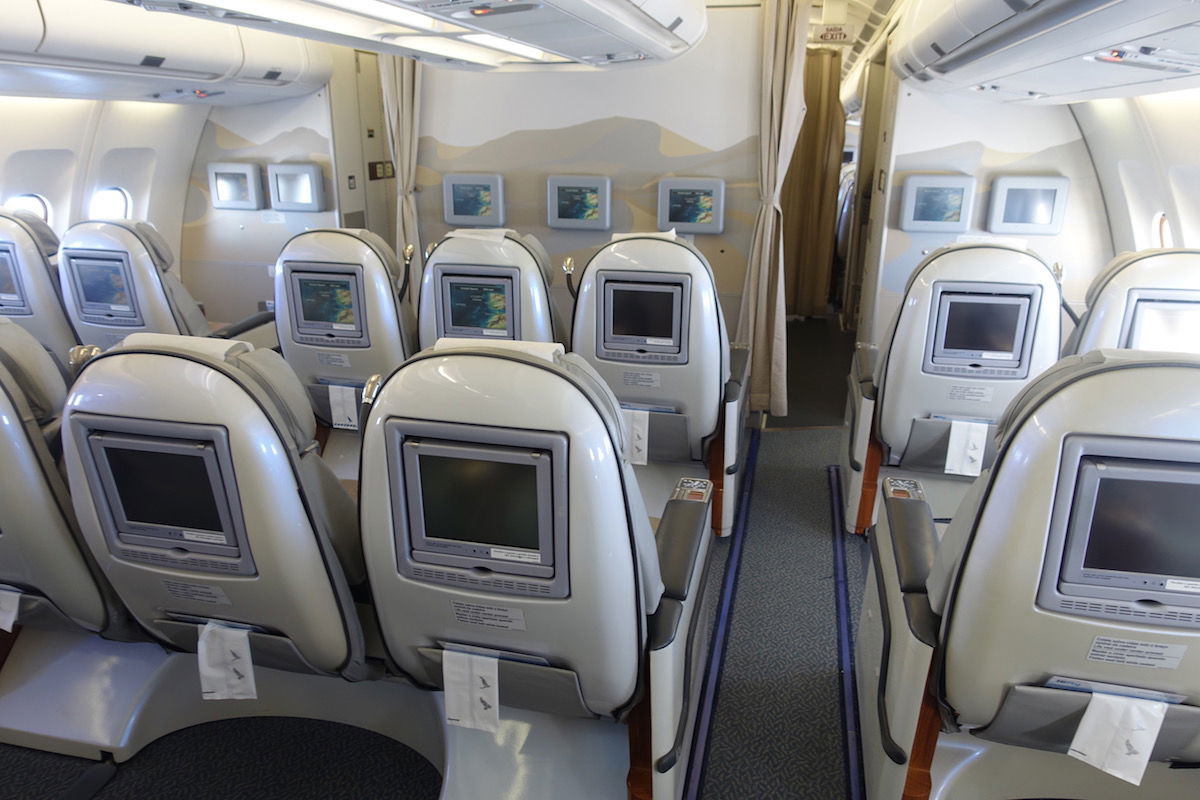 HiFly A340-300 business class cabin
And here's the rear cabin: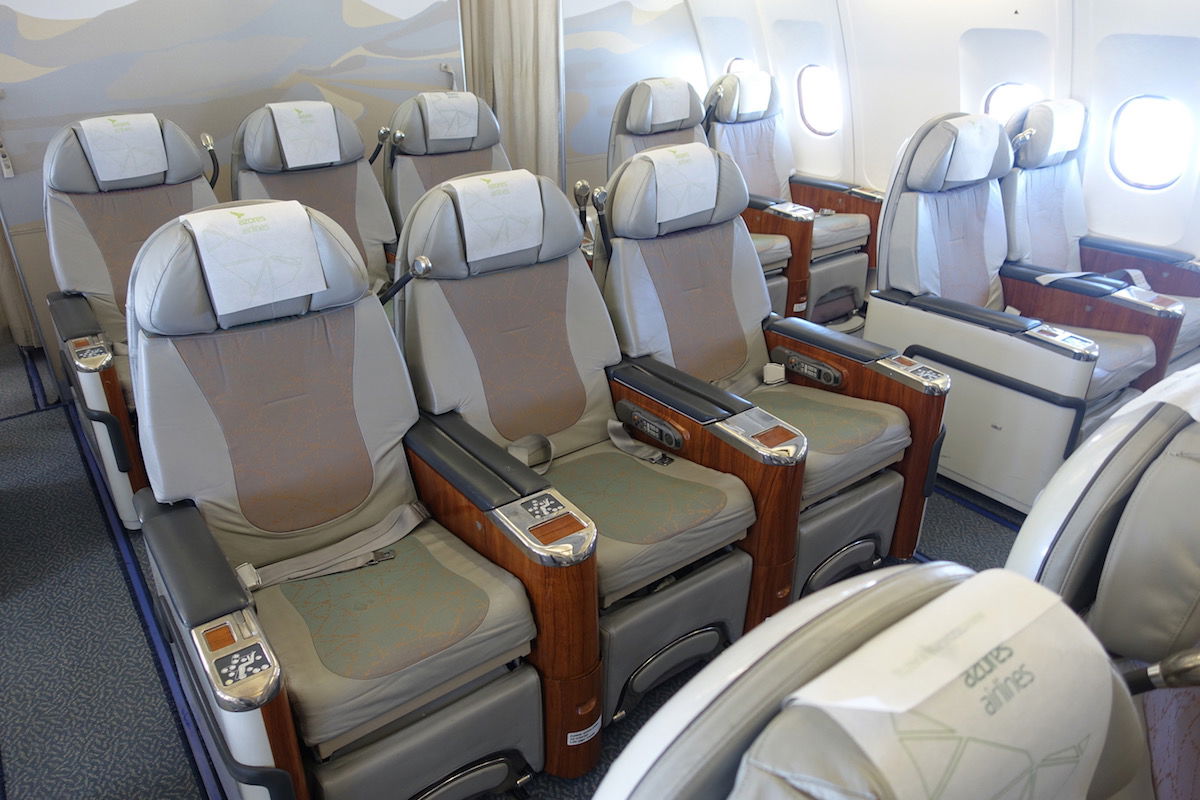 HiFly A340-300 business class cabin
It's crazy to think that this was a business class product that Emirates was offering until last year.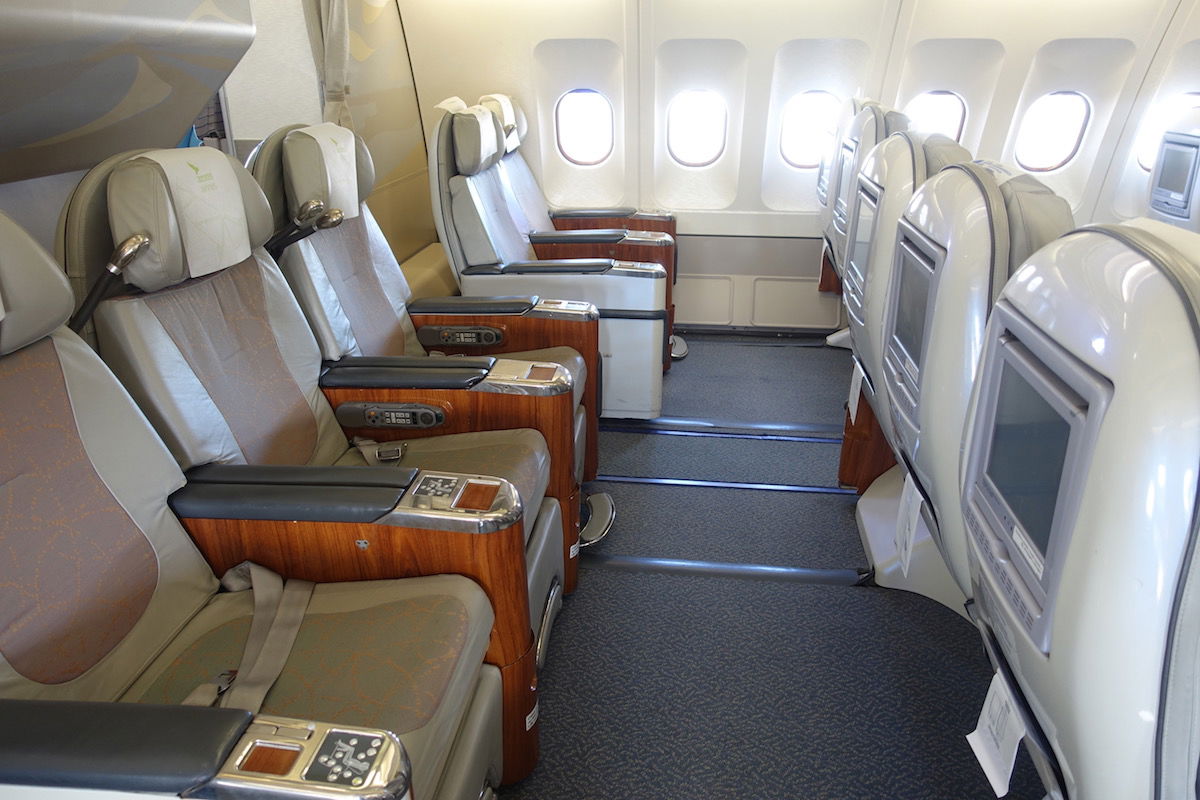 HiFly A340-300 business class cabin
Business class also had a much better view of the wing and engines.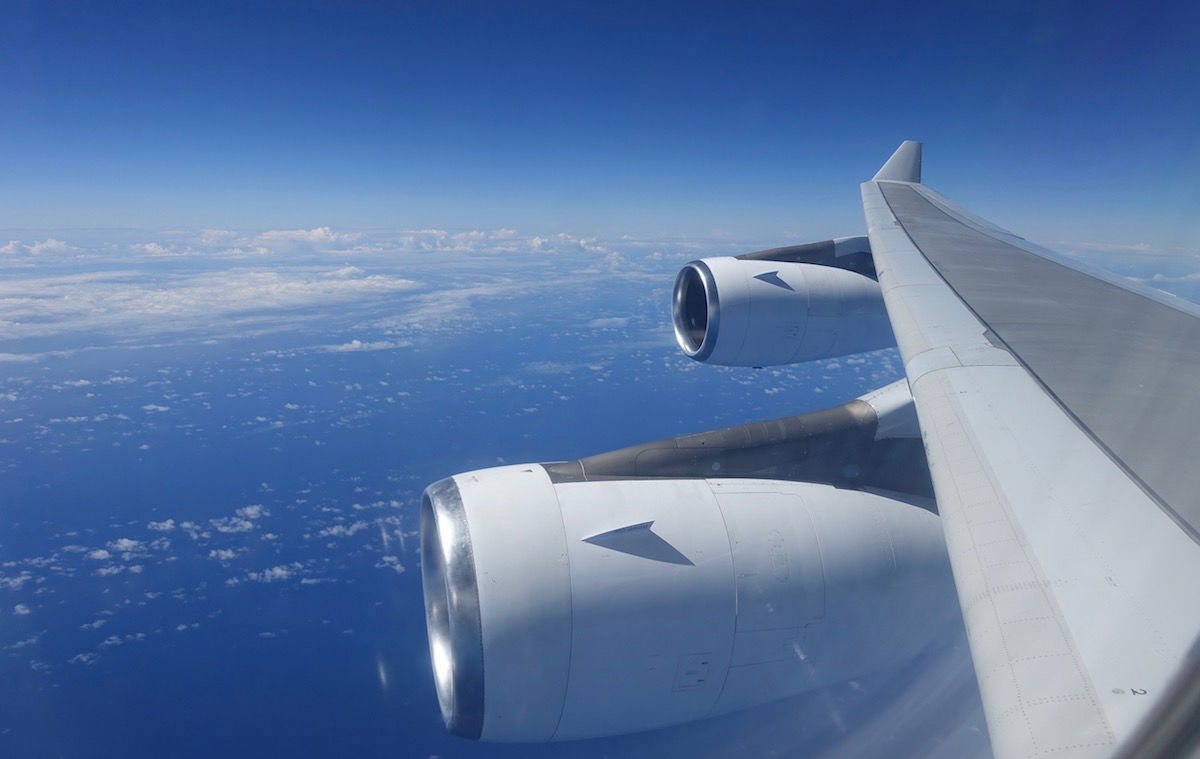 Wing view enroute to Lisbon
The service began about 45 minutes after takeoff, with some cheap and very wet warm towels.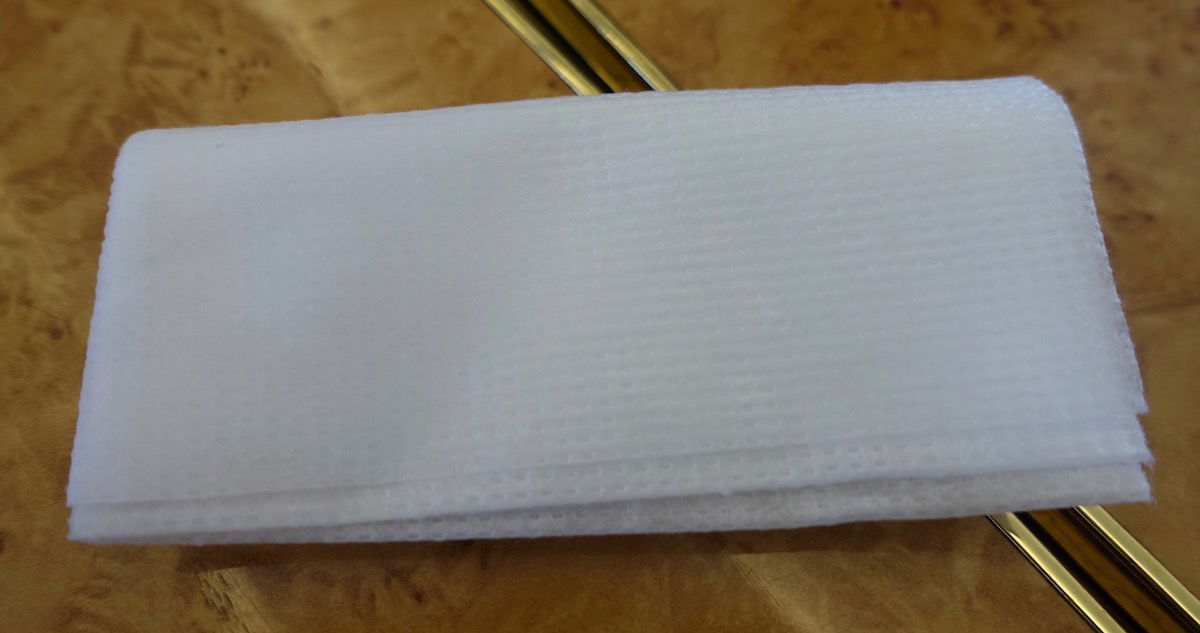 Azores Airlines business class hot towel
Shortly thereafter breakfast was served. There wasn't a choice, but rather everyone got the same thing.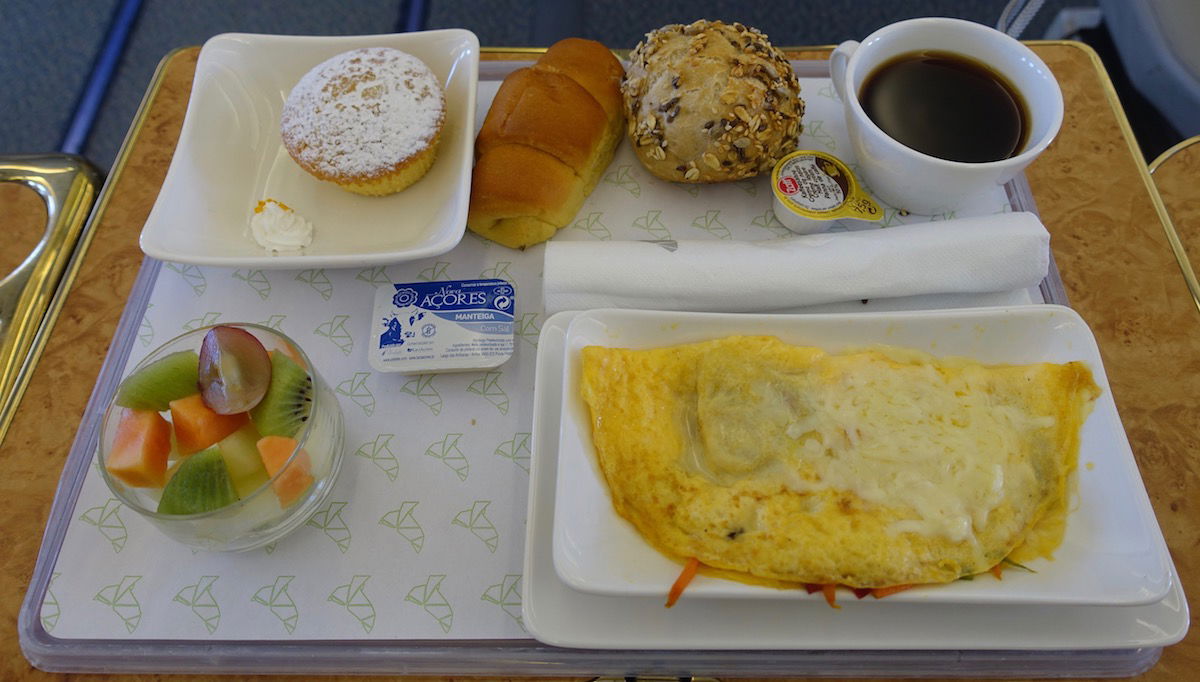 Azores Airlines business class breakfast
There was an omelet with a few veggies in it, which didn't add much flavor. The omelet was also only lukewarm.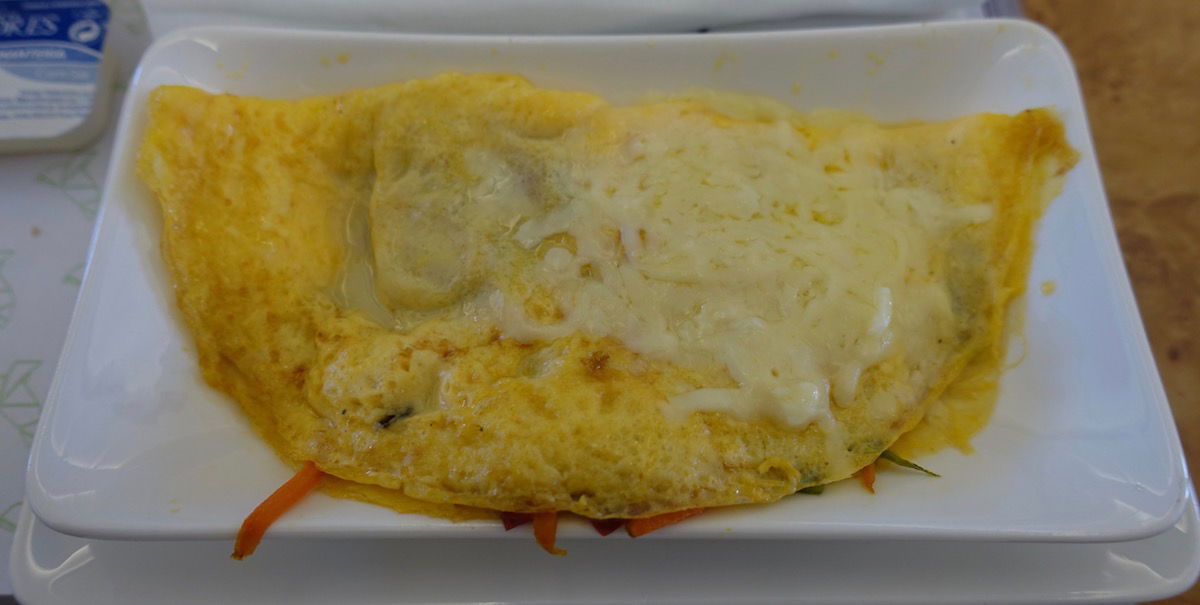 Azores Airlines business class omelet
Then there was a small side of fruit.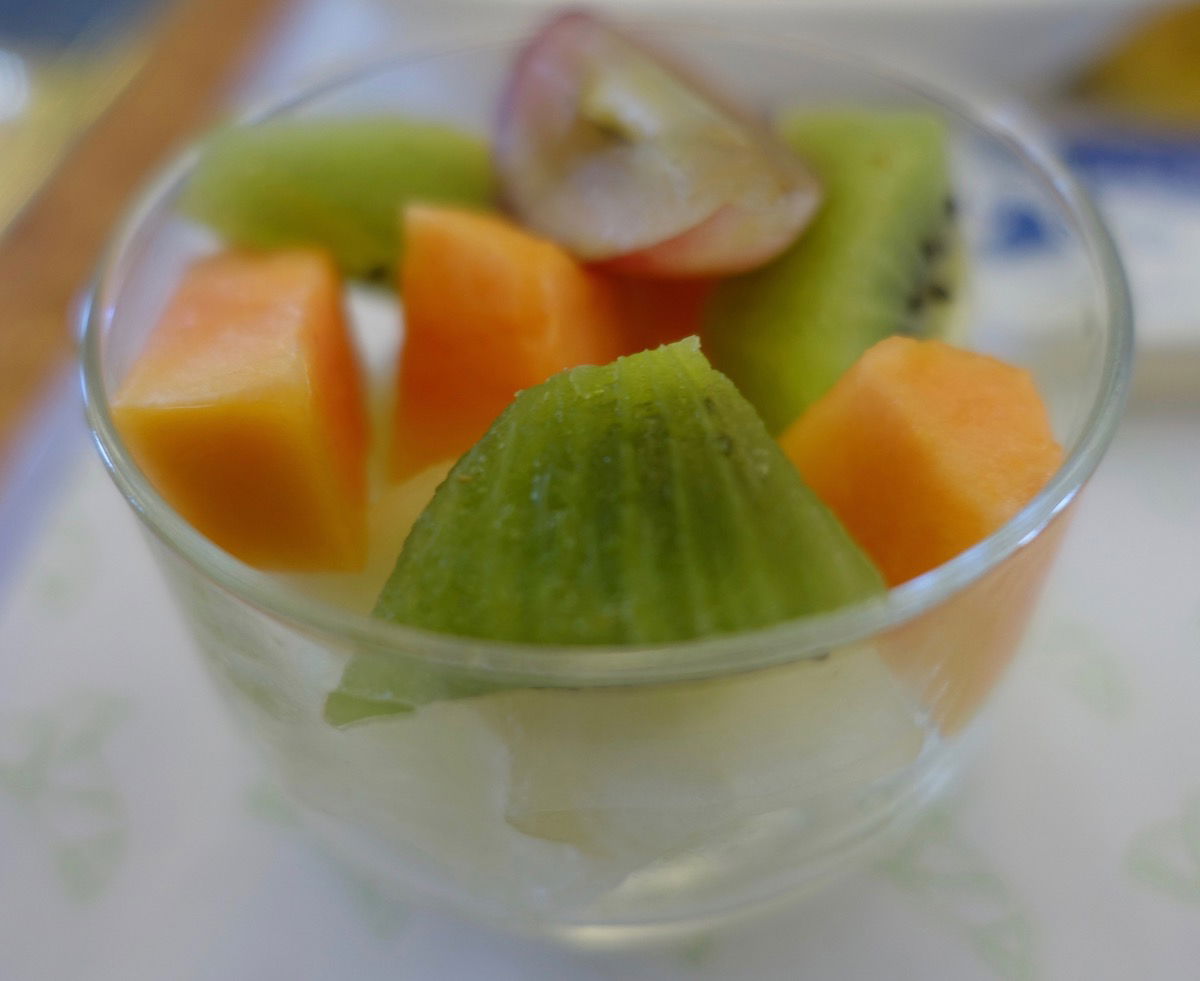 Azores Airlines business class fresh fruit
Then there was a tasty piece of cake.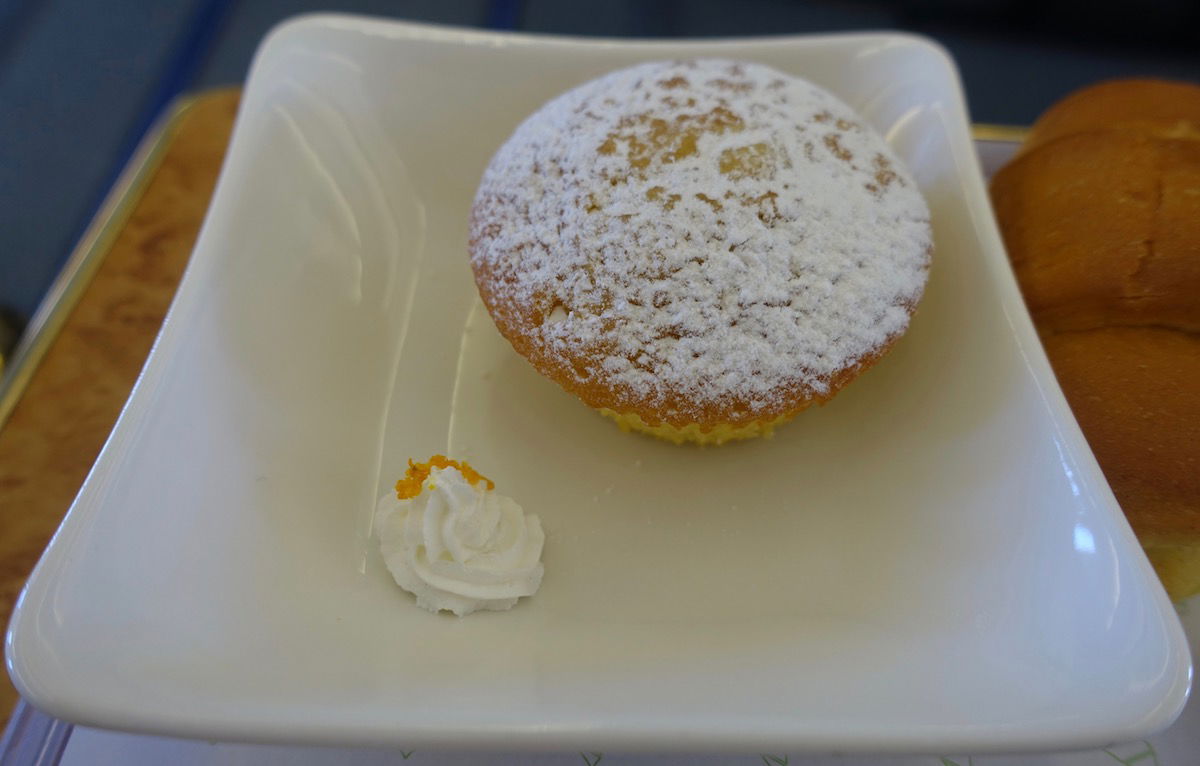 Azores Airlines business class tart
And then there were two rolls.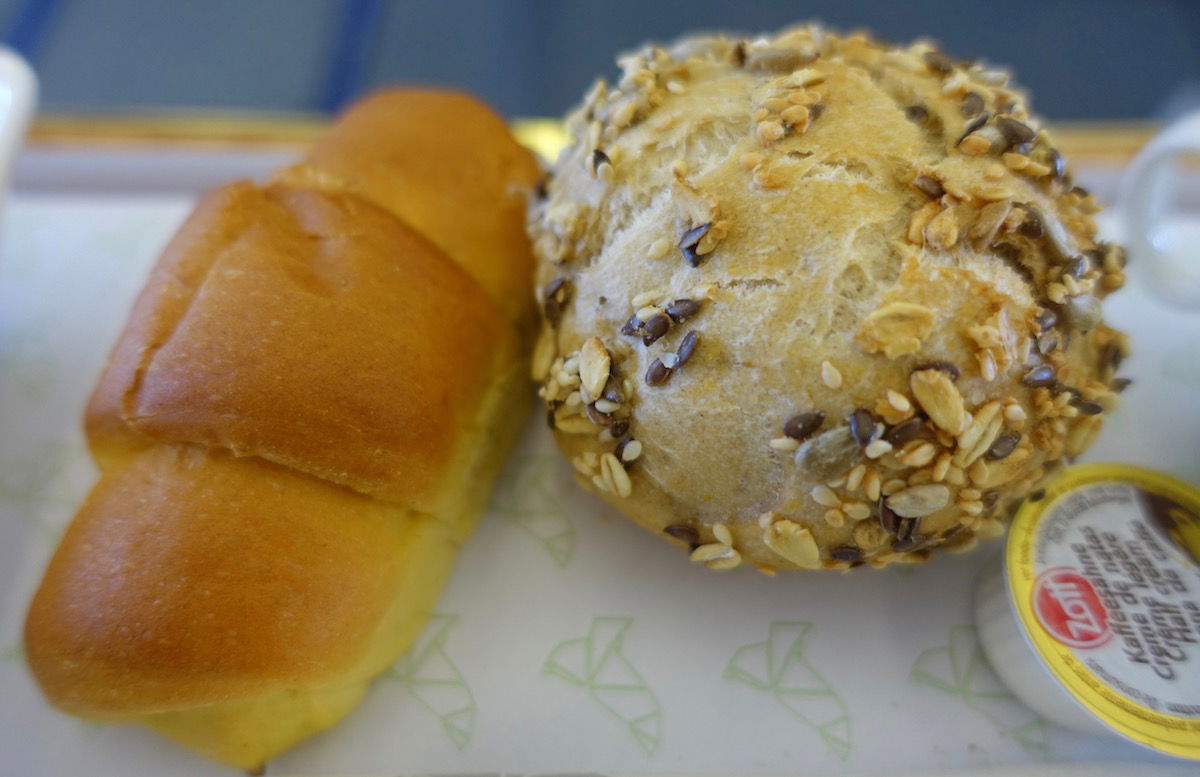 Azores Airlines business class bread
Overall it was a perfectly okay breakfast, though nothing special. For what it's worth, even though this is a HiFly plane and crew, the food & drinks are the standard Azores Airlines ones.
The crew was generally friendly. They weren't amazingly attentive, or anything, but they were much friendlier than my previous Azores Airlines crew.
I spent a bit of time talking to the purser, given how fascinating I find their jobs to be. The purser explained that they're temporarily based all over the world, and then operate flights that base. They'll work 20 days "on" and then get 10 days off. I brought up that I remembered when Finnair was leasing planes from HiFly temporarily, and he explained that he was based in Helsinki at the time, and would just constantly fly back and forth to New York.
He explained that the day after this flight they were going to fly to Dusseldorf to work some airberlin flights.
Being a flight attendant is interesting enough to begin with, but this is especially interesting, in my opinion.
About 30 minutes before landing we began our descent, at which point the crew already prepared for arrival. There were some bumps on descent. Since I didn't have a window, the only entertainment I had was the airshow on the bulkhead.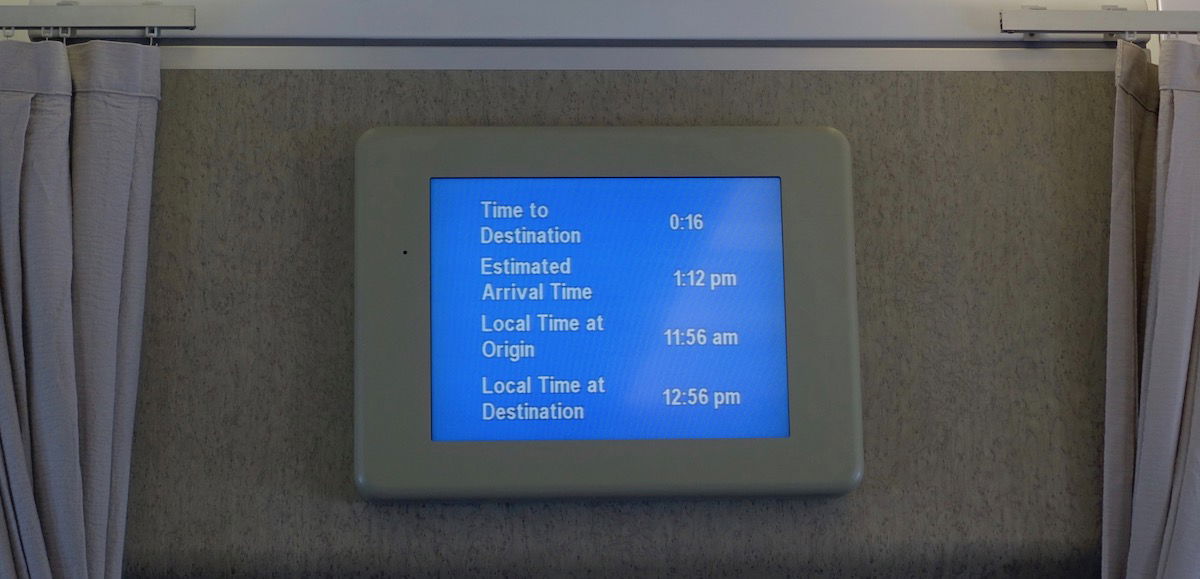 Airshow approaching Lisbon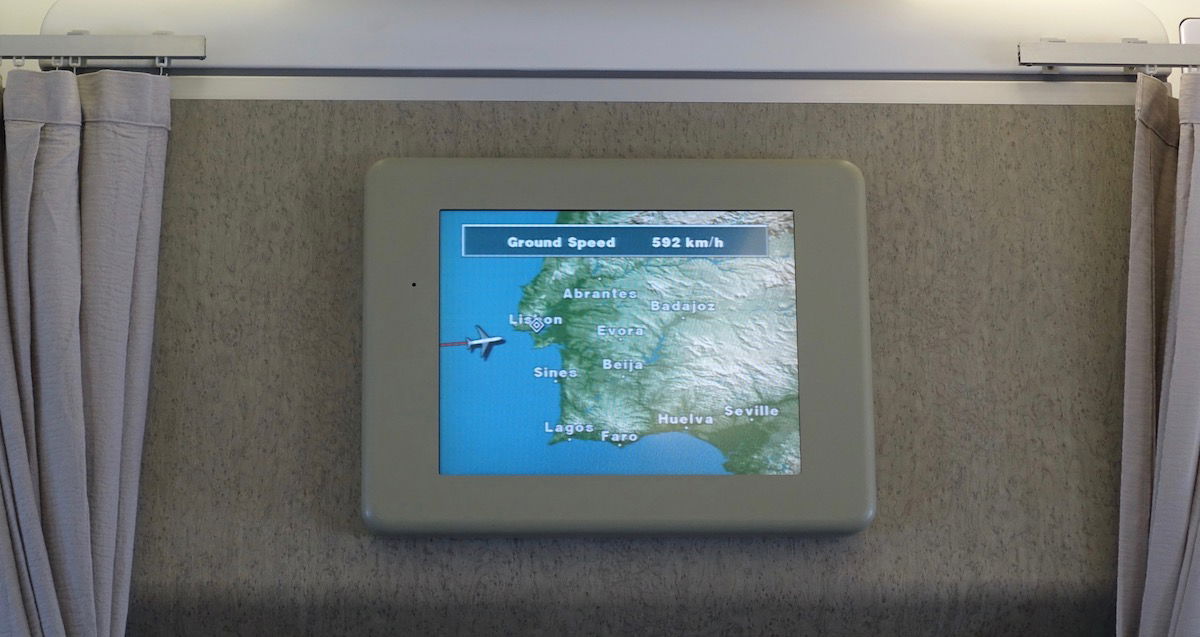 Airshow approaching Lisbon
We had a smooth touchdown in Lisbon at 1:15PM, and from there a five minute taxi to our stand, where we arrived at 1:20PM, about 25 minutes behind schedule.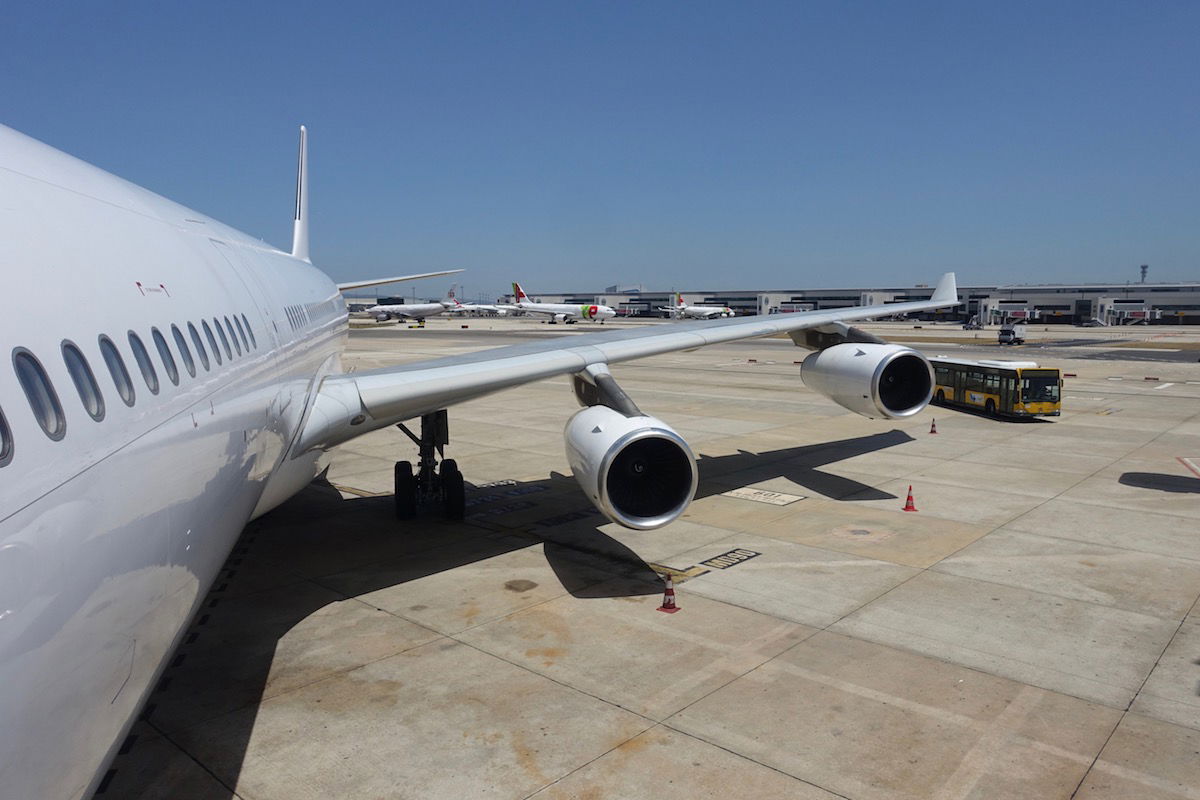 HiFly A340 on arrival in Lisbon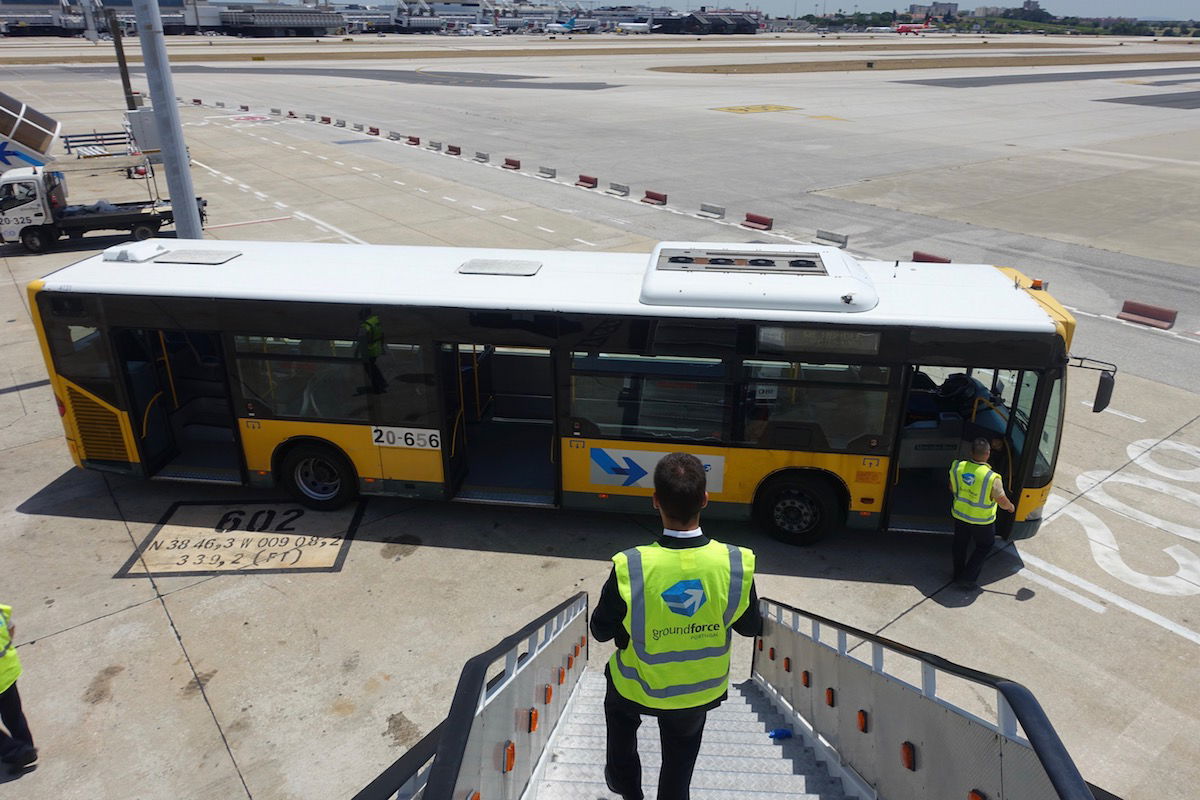 Bus to terminal in Lisbon
We arrived at a remote stand, so from there had a roughly 10 minute bus ride to the arrivals area. It was cool to once again have a view of the exterior of this unique plane.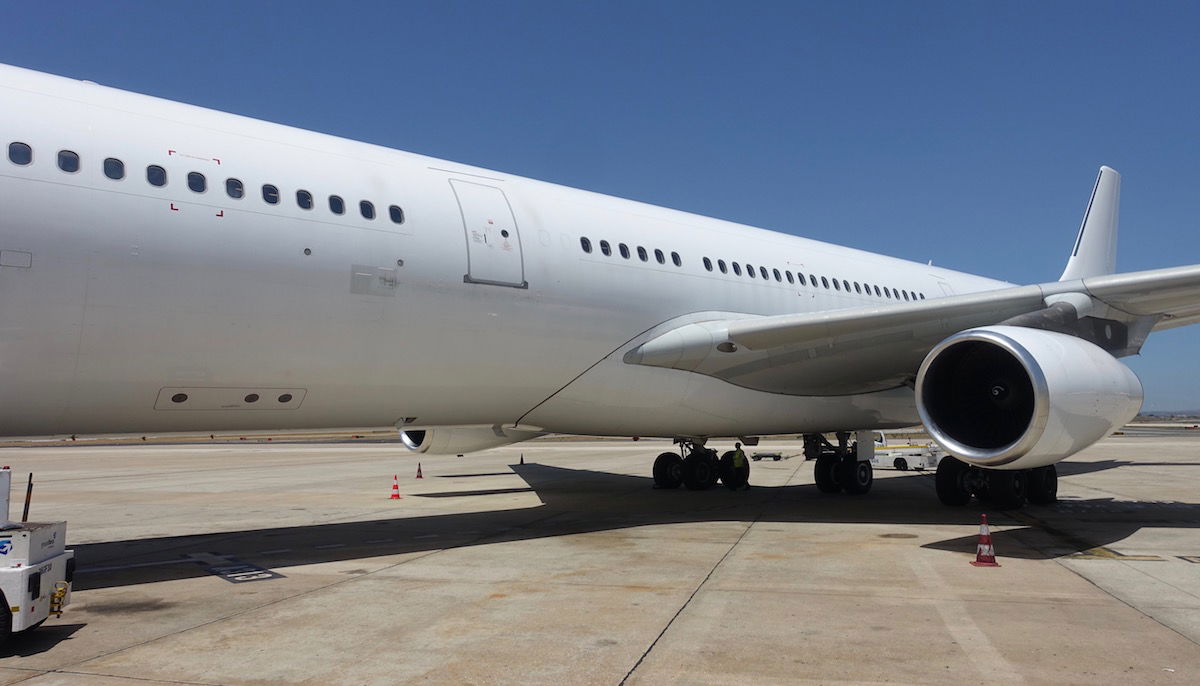 HiFly A340 on arrival in Lisbon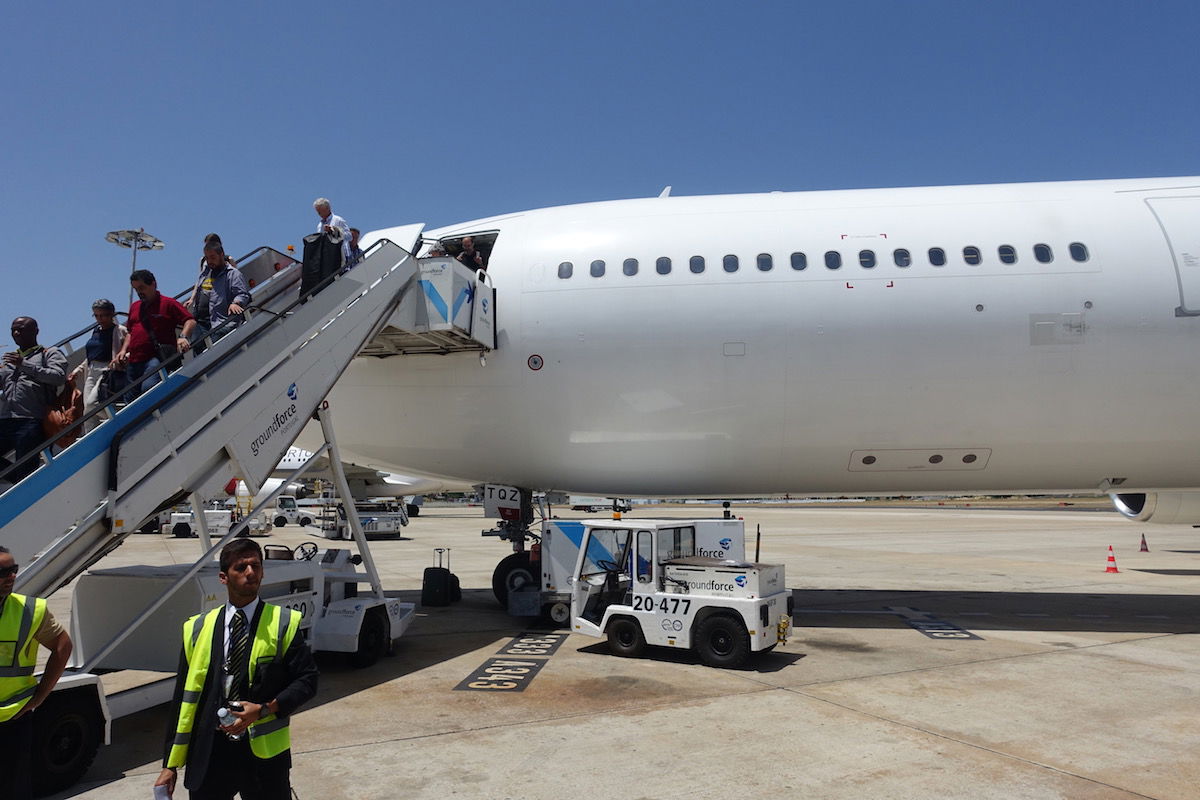 HiFly A340 on arrival in Lisbon
As we drove to the terminal we had a view of the TAP Portugal A330 retro jet.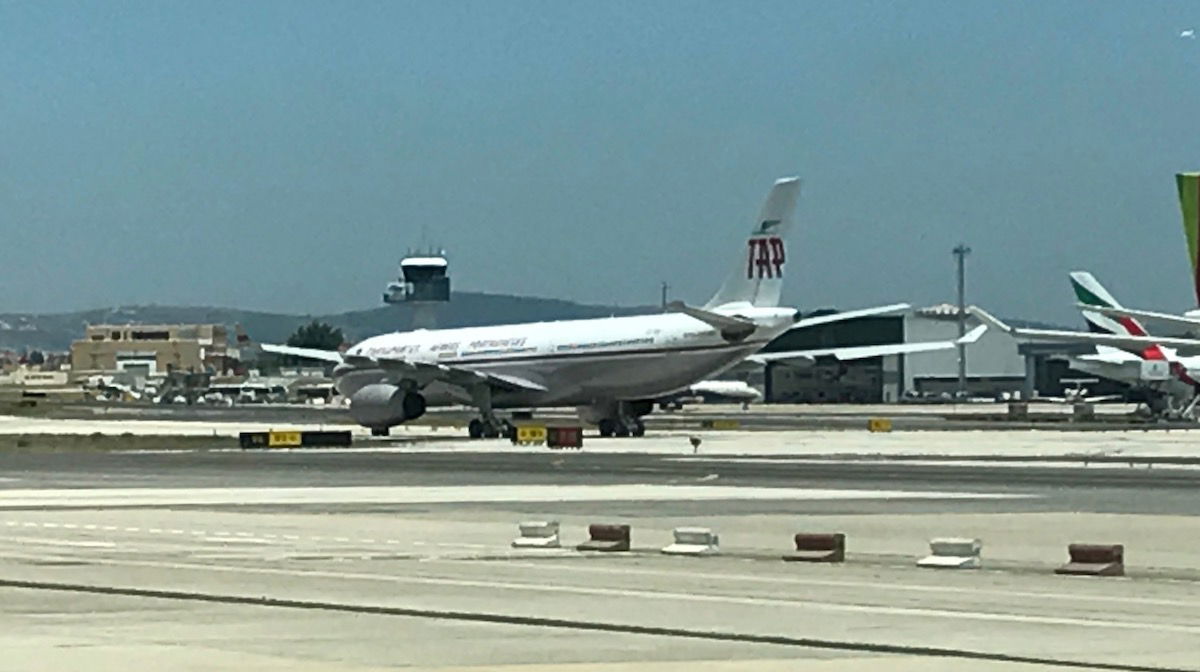 TAP retro livery A330
Azores Airlines A340 business class bottom line
What an incredibly unique flight. It's not every day that you get to fly on a former Emirates A340. While the crew wasn't over the top, they were certainly friendlier than the Azores Airlines crew, which is pretty sad, because they don't really have much of an incentive to be nice, as it's not even their airline.
As much as Azores Airlines wasn't good at all, as an aviation geek this was such a satisfying trip. Getting to fly an A310 and then an ex-Emirates A340 was a real treat.