---
Once boarding started I headed down the stairs and onto the bus. Once there were a few dozen passengers on the bus we drove to our remote stand, a drive which took maybe five minutes.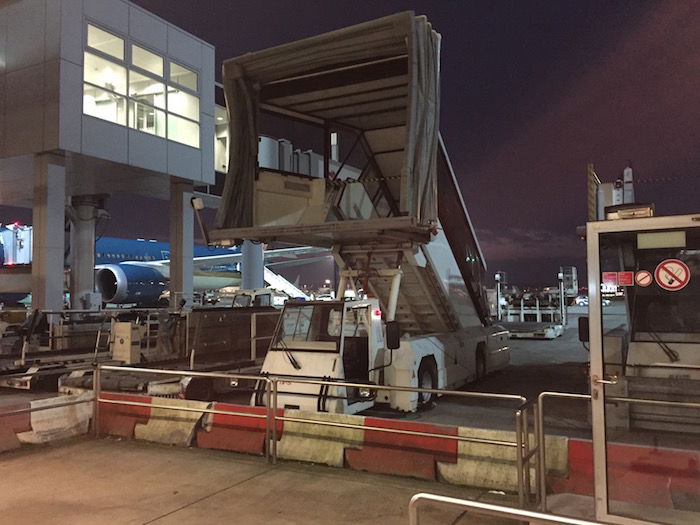 View from bus to remote stand at Frankfurt Airport
The flight was on one of Air France's Embraer E190s, which are operated by their regional airline, "HOP!"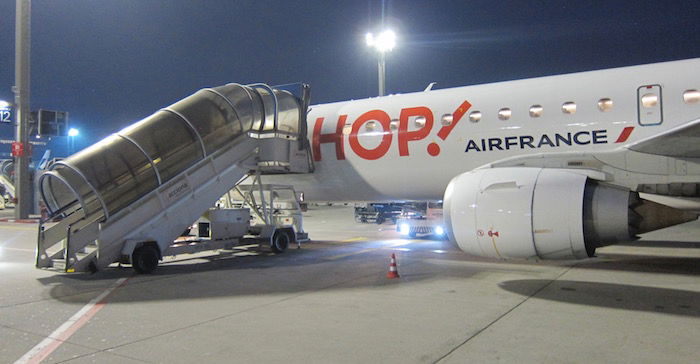 Air France HOP E190 at Frankfurt Airport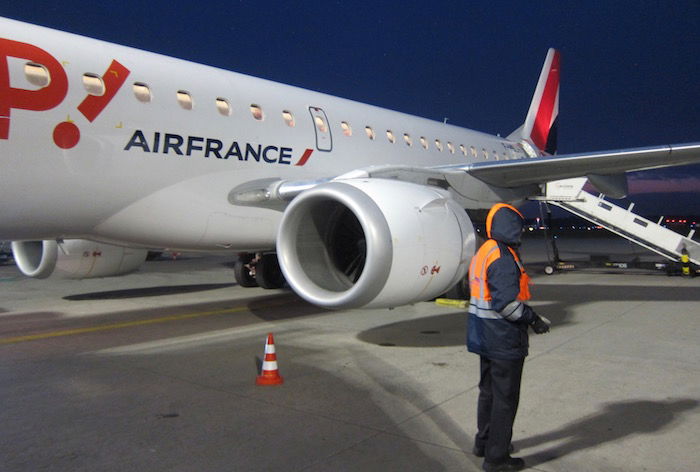 Air France HOP E190 at Frankfurt Airport
Air France 1019
Frankfurt (FRA) – Paris (CDG)
Thursday, February 18
Depart: 7:25AM
Arrive: 8:55AM
Duration: 1hr30min
Aircraft: Embraer E190
Seat: 1A (Business Class)
At 7:05AM I boarded, and was greeted by the purser, Claire. She pointed me towards my seat. Air France's E190s have a total of 100 seats. I really do love the larger Embraer jets, perhaps even more than larger narrowbody jets. They're in a 2-2 configuration, so no one is stuck in a dreaded middle seat. Furthermore, the cabins feel spacious and modern, and the windows are large.
On most airlines, intra-Europe business class is simply economy with a blocked middle seat with better food, drinks, and service. This gives the airlines lots of flexibility, since they can adjust the size of the business class cabin before every flight to match demand.
In this instance, however, there weren't even any blocked seats on the E190, since there are no middle seats. So if you are in business class, it's in theory better to book a plane with rows of three seats, as you'll have the middle seat blocked.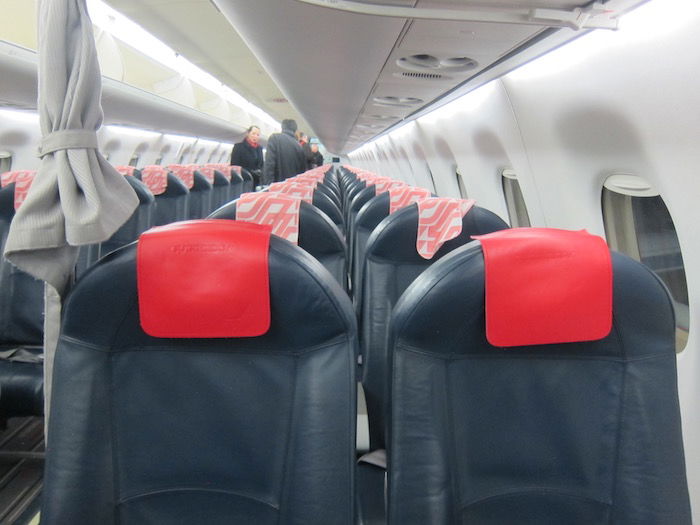 Air France Embraer E190 cabin
I assigned myself seat 1A, and had an empty seat next to me, so I guess it worked out in the end.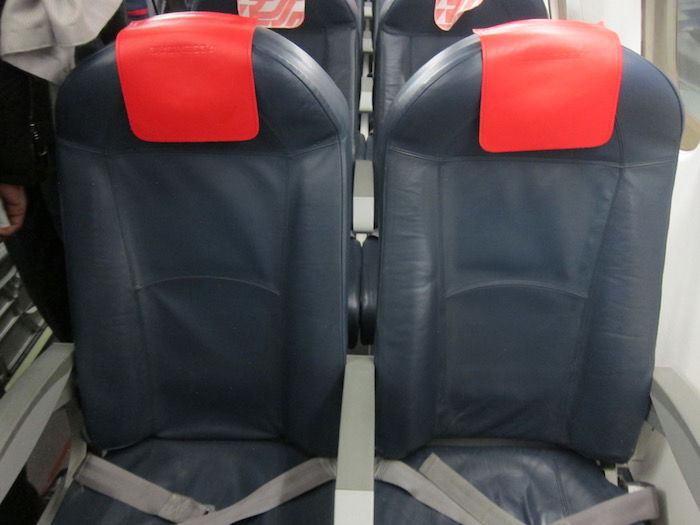 Air France intra-Europe business class
There was a lot of legroom in row one, so I was quite happy with my choice.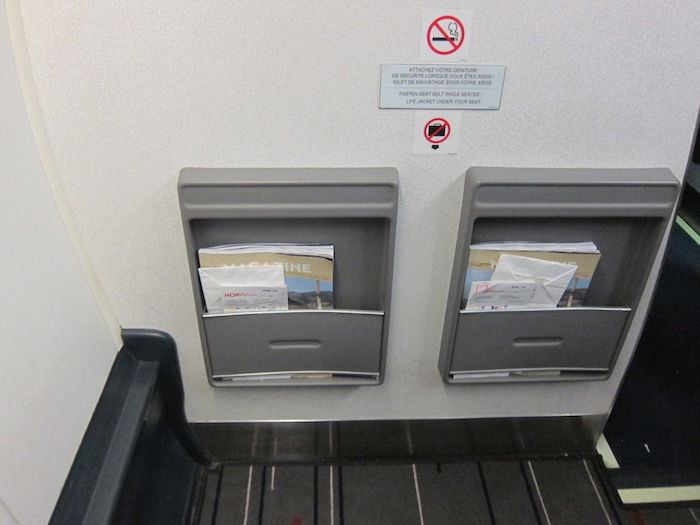 Air France intra-Europe business class legroom
On this particular flight, business class consisted of two rows, and there were four other passengers. There was a couple seated across from me, and a couple seated immediately behind me, leaving the back right pair of seats open.
Economy was quite full, however, so the aisle was crowded for about 15 minutes while everyone boarded.
At that point the lovely purser offered me a refreshing towel, though there were no pre-departure beverages (as is often the norm intra-Europe).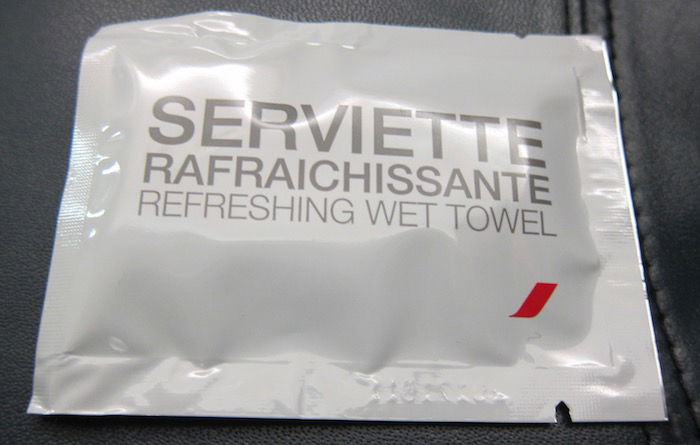 Air France business class refreshing towel
At 7:20AM the aircraft door closed, and three minutes later we began our pushback. I was intrigued by the plane next to us, as the livery didn't look familiar. As it turns out, it was a SunExpress plane in a special livery.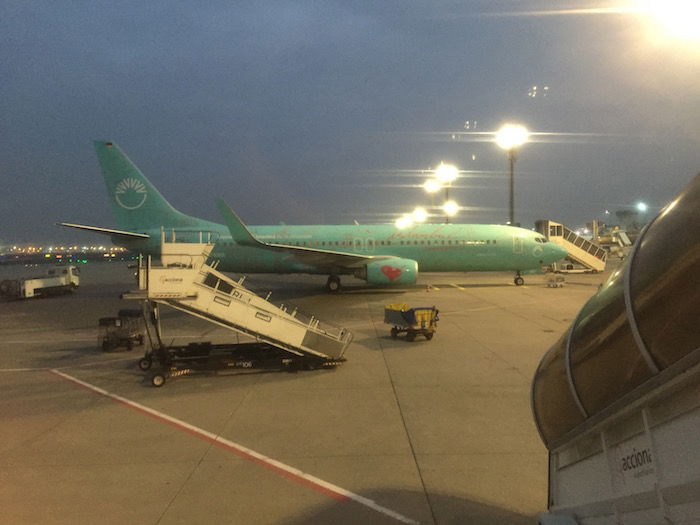 737 at remote stand next to us
At this point the purser introduced herself over the PA and informed us of our flight time of 50 minutes. The manual safety demonstration took place as we taxied out to runway 18, which took a bit over 10 minutes. The pilots taxied with purpose, and at one point I figured we were just driving to Paris, and might still achieve an on-time arrival with the speed at which we were taxiing. 😉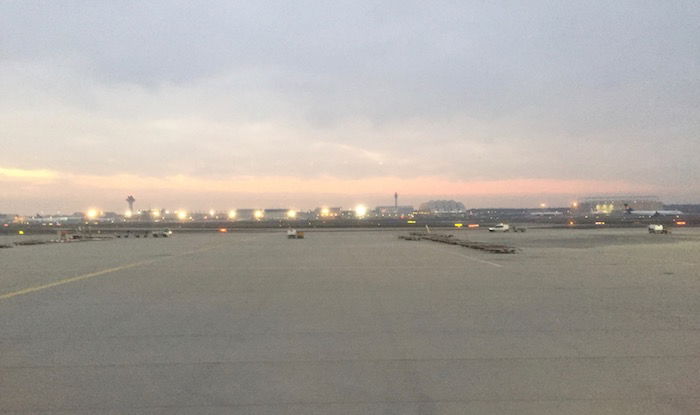 Taxiing Frankfurt Airport
It was a fairly quiet morning at Frankfurt Airport, and we were cleared for takeoff as soon as we made it to runway 18.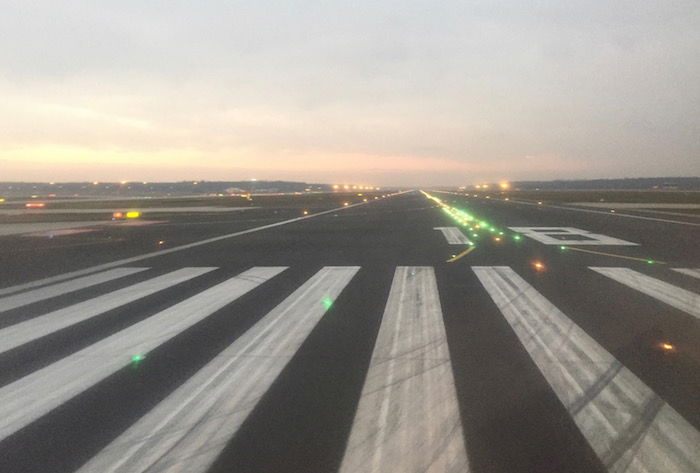 Taking off Frankfurt Airport
We were airborne at 7:35AM, and my eyes were glued out the window. I love sunrises and sunsets in general, especially from planes. While it was a hazy morning at first, above the clouds I was treated to a breathtaking sunrise.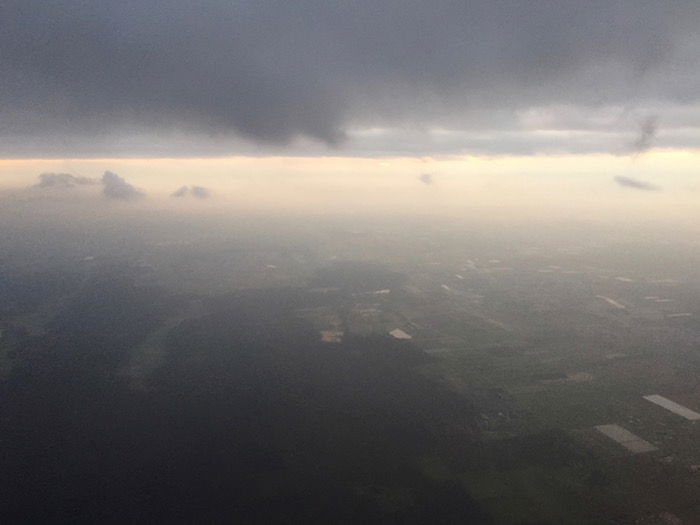 View after takeoff from Frankfurt Airport
There's nothing quite like that moment where you break through the clouds and get your first glimpse of the sunrise…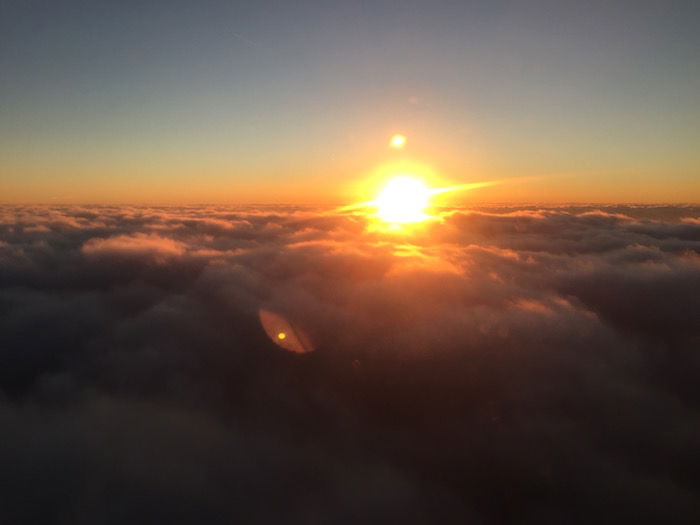 Sunrise view above the clouds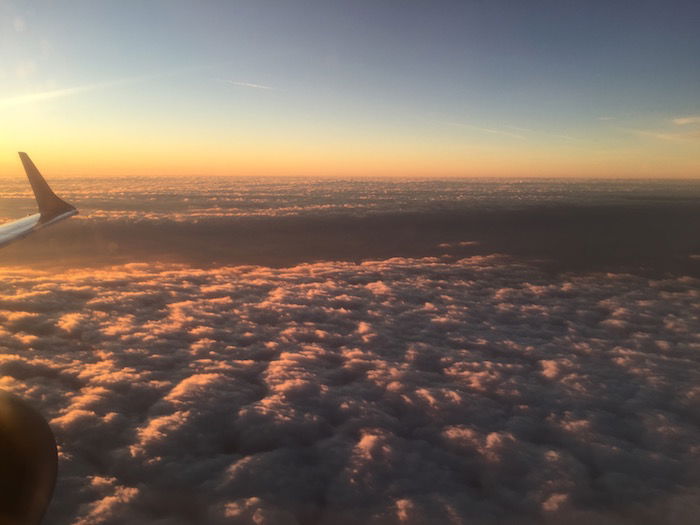 View enroute to Paris
Five minutes after takeoff the seatbelt sign was turned off, and then five minutes later the meal service began. Since I was in the bulkhead, my tray table had to be extended from the side of my seat.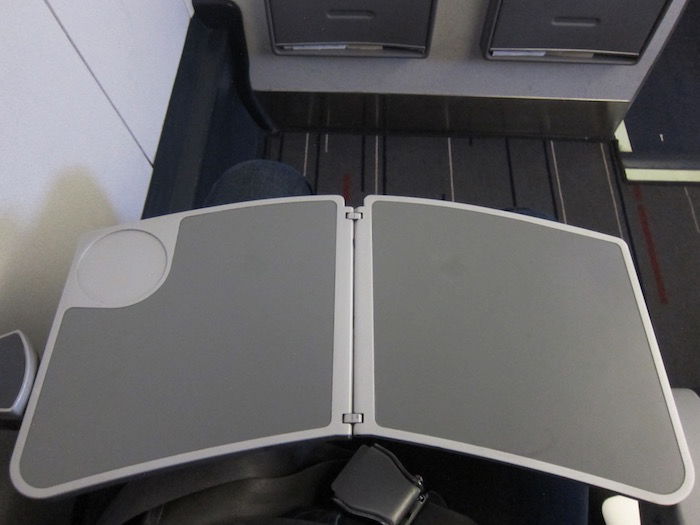 Air France E190 tray table
Breakfast consisted of a plate with some cheese and cold cuts, as well as a fruit salad on the side. While it's common on European airlines, I don't really get why they serve the snack with the plastic covers still on, especially given how limited space is in economy seats.
I was also offered a bread roll, though it was cold and hard — it would have been much better heated.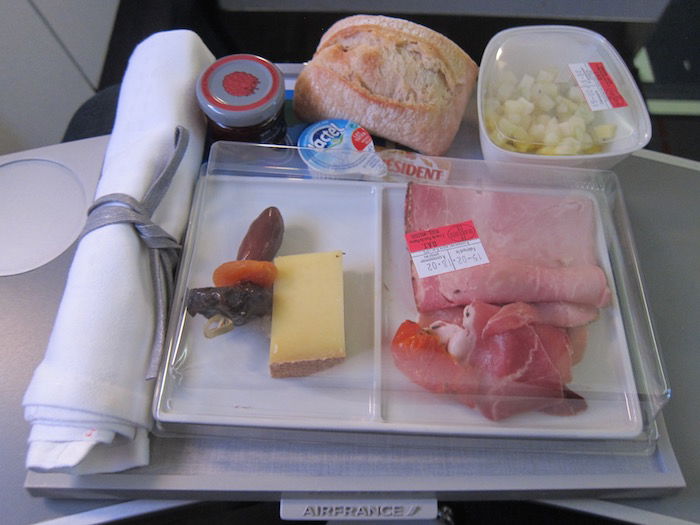 Air France business class breakfast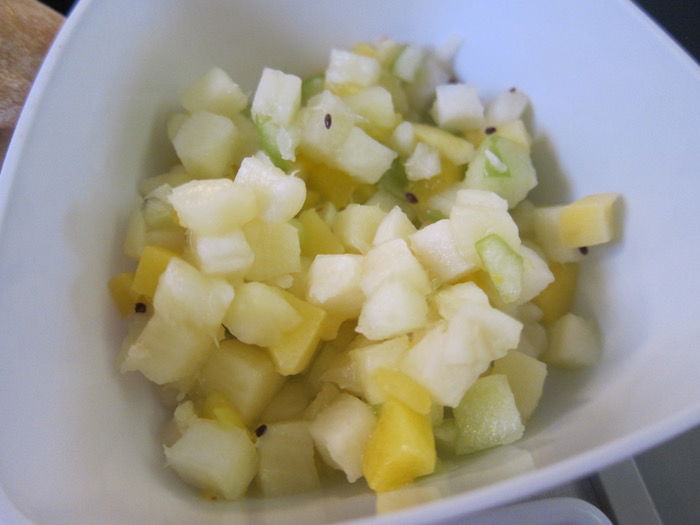 Air France business class breakfast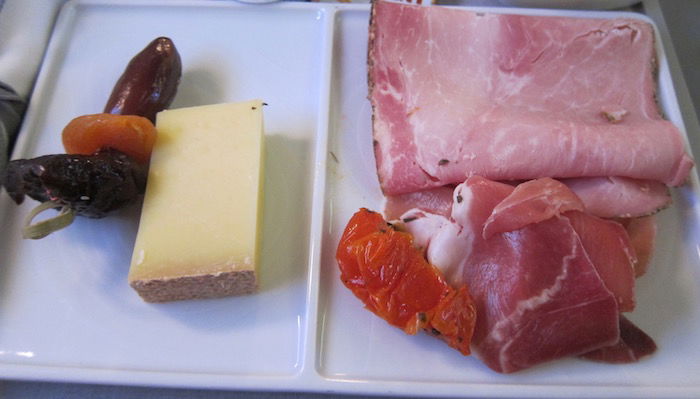 Air France business class breakfast
Once the trays were distributed, I was offered orange juice and coffee. The coffee was served in a plastic Nescafe cup, which is actually my preference over a coffee cup, though I did find that a bit unusual. Perhaps it's due to the limited galley space on the EMB190.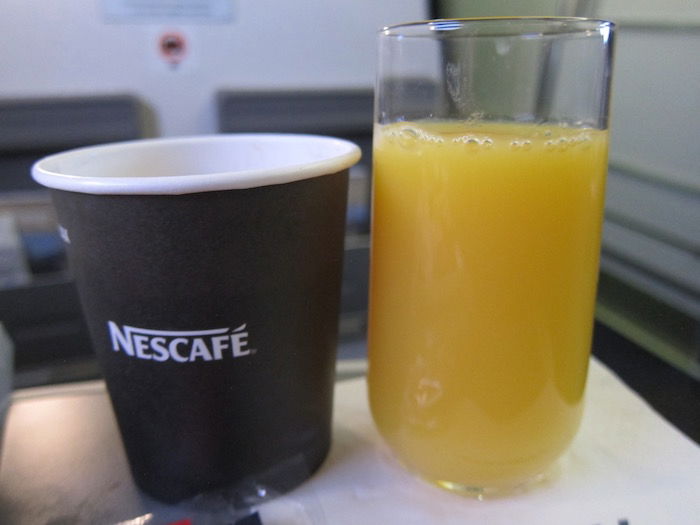 Air France business class orange juice and Nescafe coffee
The purser was lovely, though, and checked back every few minutes to see if anyone wanted anything.
I quickly headed to the lav after breakfast, which was on the small side, as is the norm on regional jets.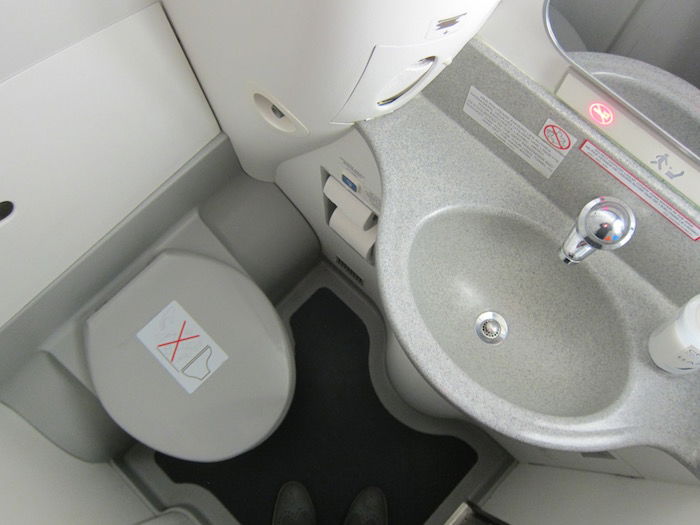 Air France E190 lavatory
The purser briefly went to economy to help with service there. The plane only has 100 seats, which means it technically only needs two flight attendants. However, the flight was staffed with three flights attendants, which seems much more reasonable to perform any sort of service on a 50 minute flight.
About 30 minutes into our flight we began our descent, and about 40 minutes into the flight the seatbelt sign was turned on. At this point the captain made his announcement, informing us we'd be landing at around 8:25AM.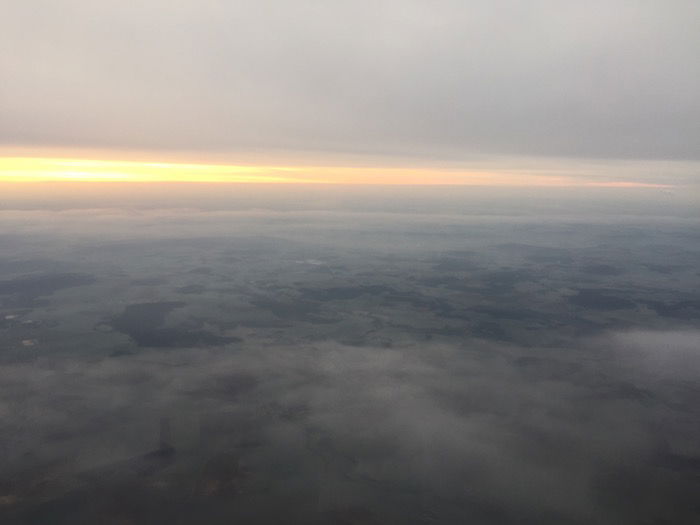 View on approach into Paris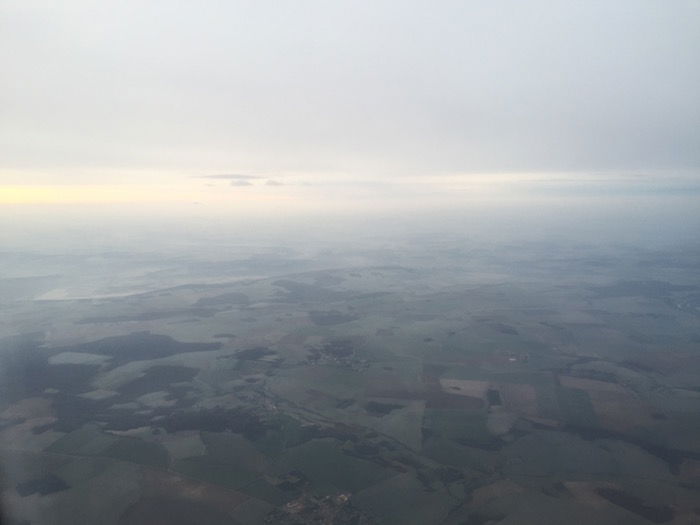 View on approach into Paris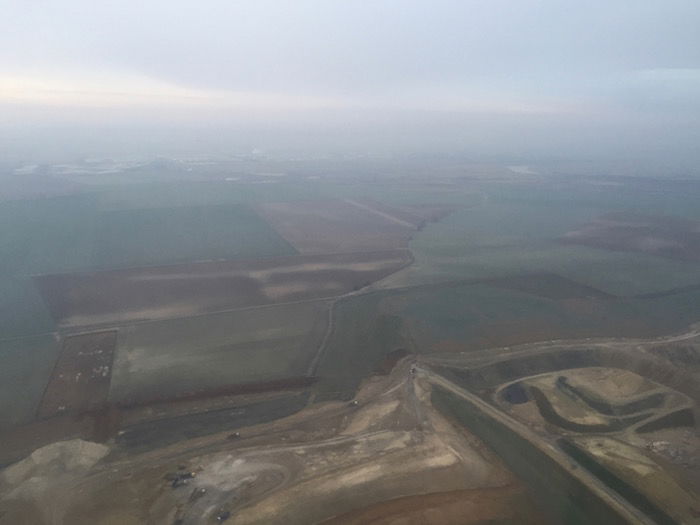 View on approach into Paris
Charles de Gaulle Airport is massive, as I could already see it a couple of minutes before landing.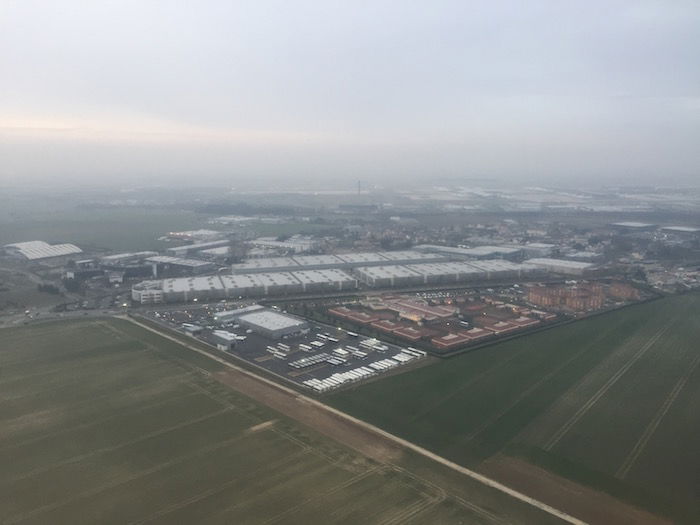 View on approach into Paris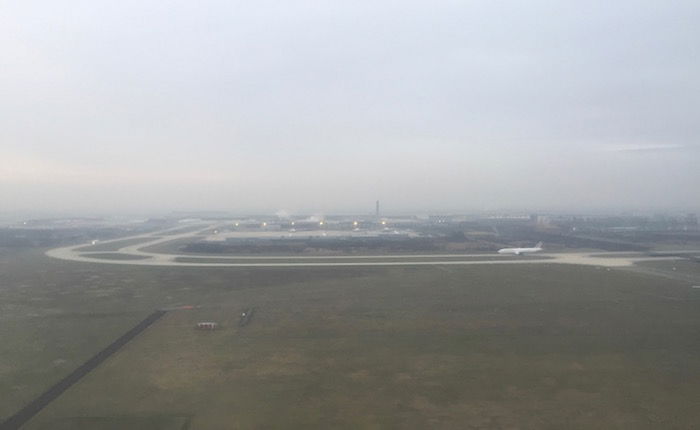 View on final approach into CDG
We touched down on runway 27R at 8:25AM, and from there began the taxi to our stand. On this flight we spent almost as much time taxiing as in the air, as it was a 20 minute taxi before we made it to our gate, and that was with a really fast taxi.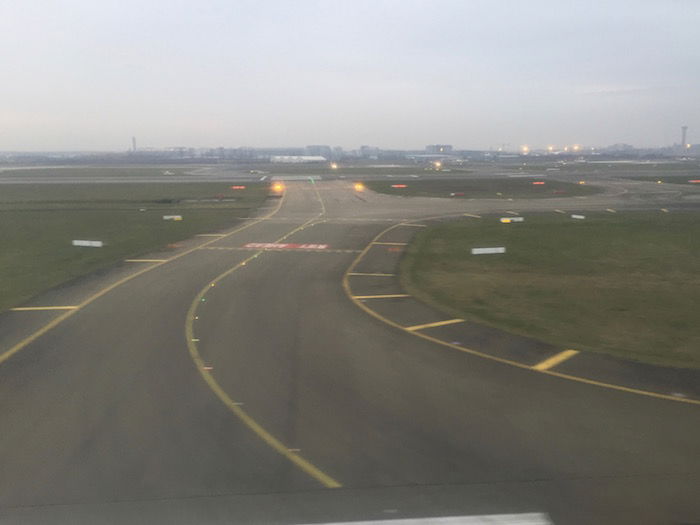 Touchdown in Paris!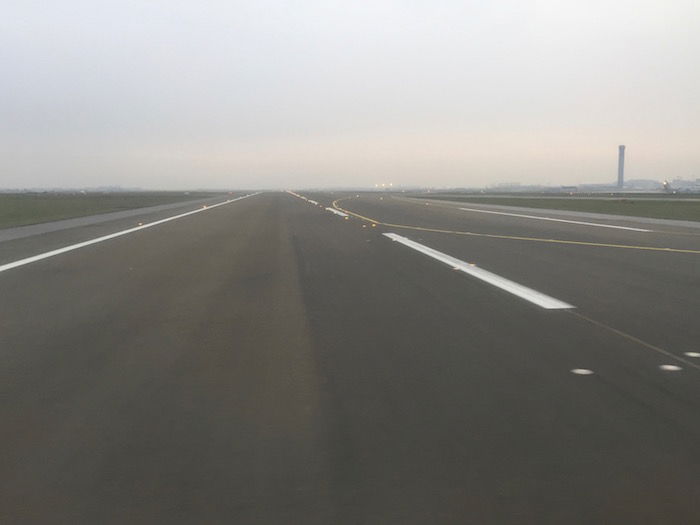 Taxiing Paris Charles de Gaulle Airport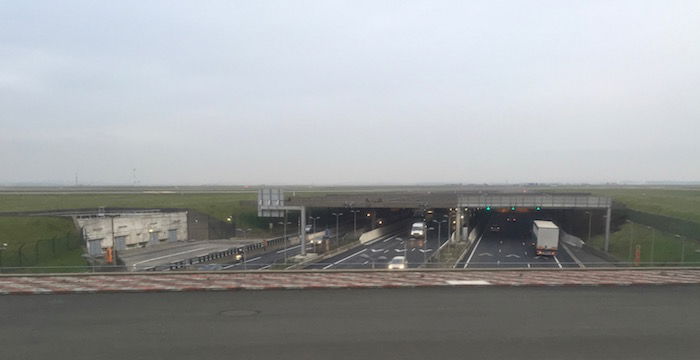 Taxiing Paris Charles de Gaulle Airport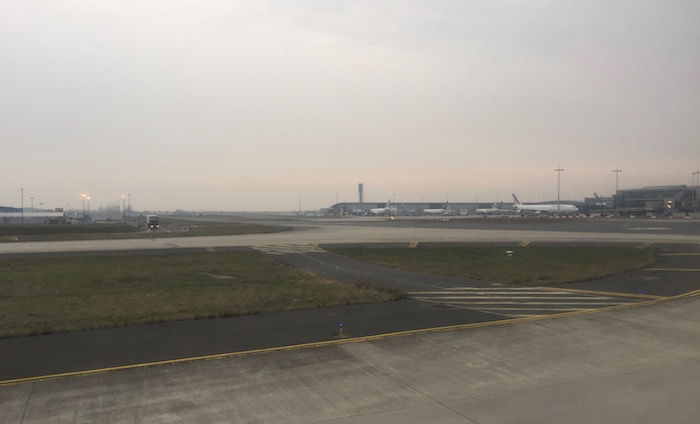 Taxiing Paris Charles de Gaulle Airport
Eventually we got to a remote stand, where the Air France HOP planes seem to park.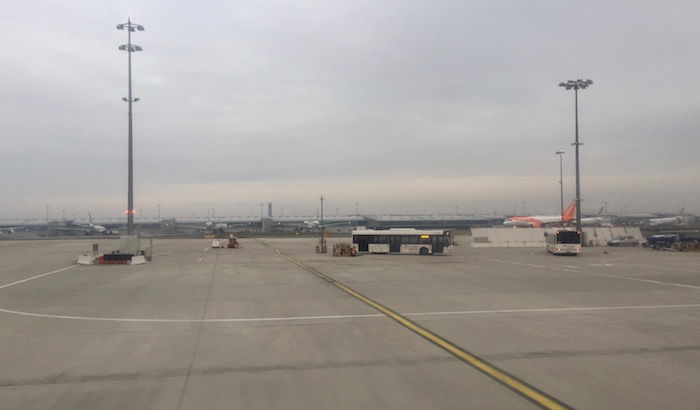 Taxiing Paris Charles de Gaulle Airport
We pulled in next to another E190 at around 8:45AM, at which point the seatbelt sign was turned off.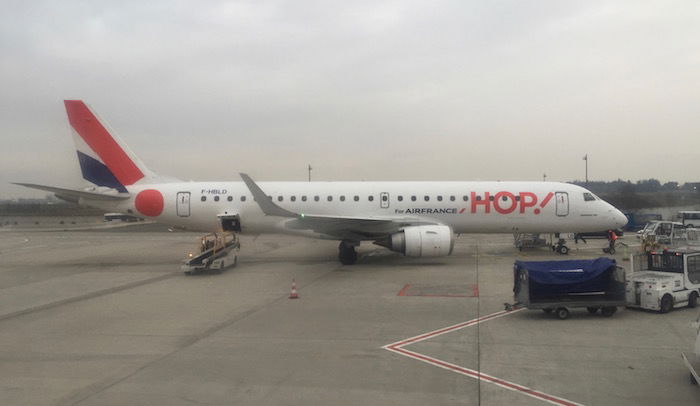 Air France Hop plane at CDG
It took them a few minutes to pull the air stairs up to the plane.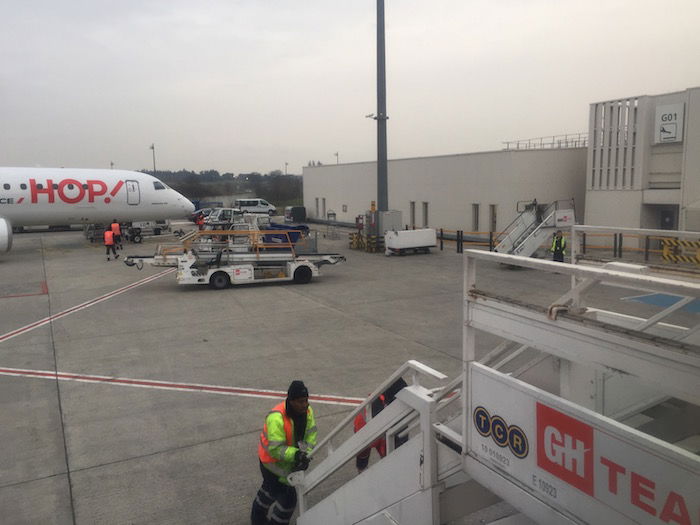 Airstairs CDG Airport
The couple seated across from me was standing in front of me when it came time to deplane, though once the door opened an Air France representative walked onto the plane and had a quick word with the purser. She then said "Mr. Schlappig, I am here to drive you to the first class lounge." She motioned for the people standing in front of me to move to the side, and I was escorted to the car waiting to take me to the lounge.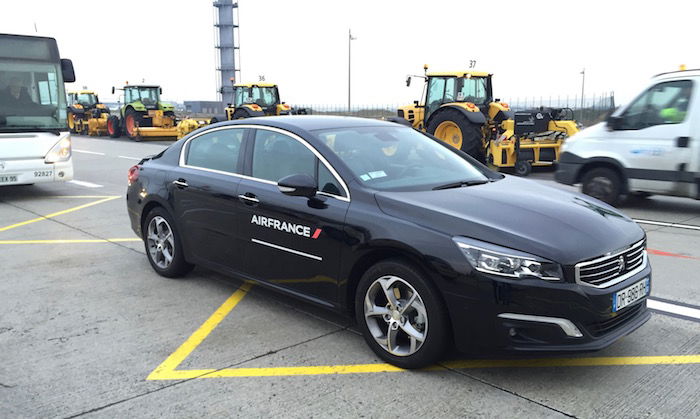 My transfer from the plane
Ah, Air France first class ground services!
Air France HOP business class bottom line
In general Europe probably has my least favorite business class of any region in the world. It's certainly nothing like business class within the Middle East, for example. Still, this was a perfectly enjoyable flight. The purser was very friendly, and the EMB190 is a comfortable jet. Between an empty seat next to me and an incredible sunrise, I was a happy camper.
The real highlight was what was awaiting me on the ground in Paris.