---
Air France 1631
Milan (MXP) – Paris (CDG)
Friday, June 30
Depart: 7:35AM
Arrive: 9:05AM
Duration: 1hr30min
Aircraft: Airbus A318
Seat: 3A (Business Class)
The flight from Milan to Paris was operated by an A318, which is such a cute little jet. As is the norm in intra-Europe business class, the size of the cabin could be adjusted depending on the loads. On this flight there were 2.5 rows of business class in front of the curtain (the right side starts at row one, while the left side starts at row two).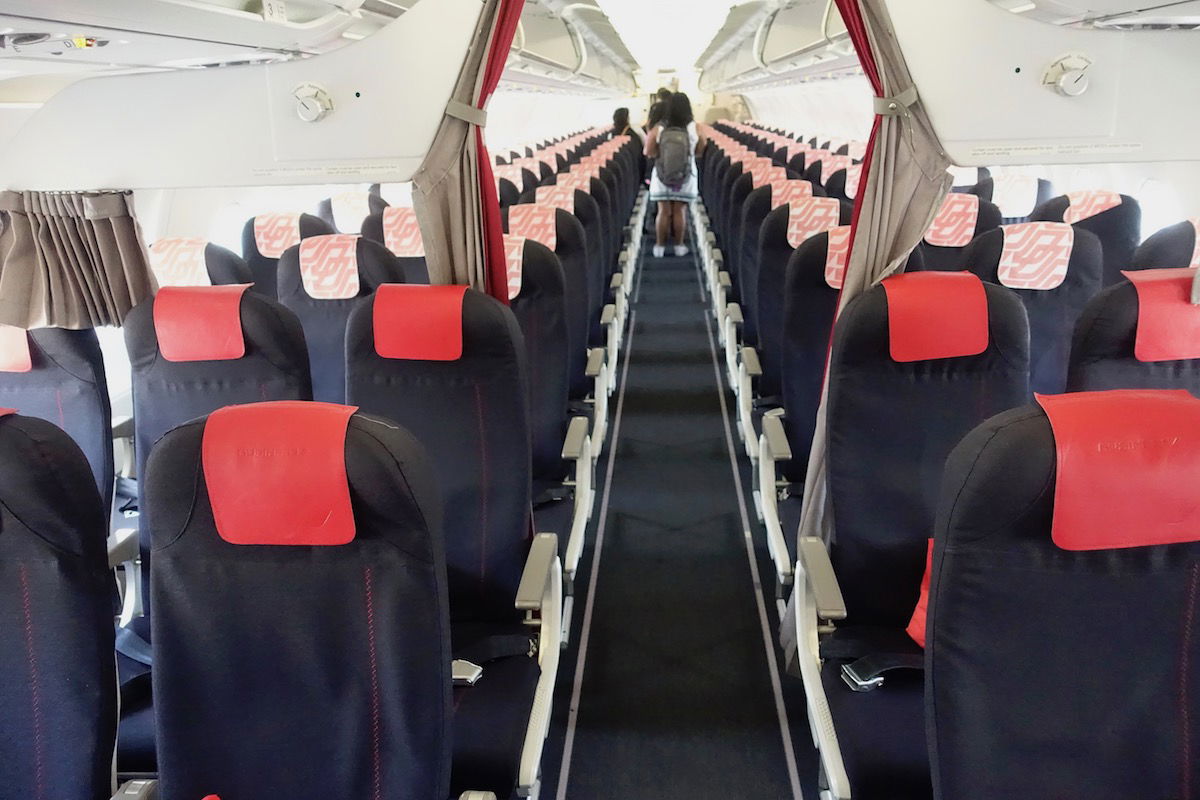 Air France A318 cabin
I assigned myself seat 3A, the window in the last row of business class. While the middle seat was formally blocked, unlike on other airlines there wasn't a tray table in the center seat to make that obvious.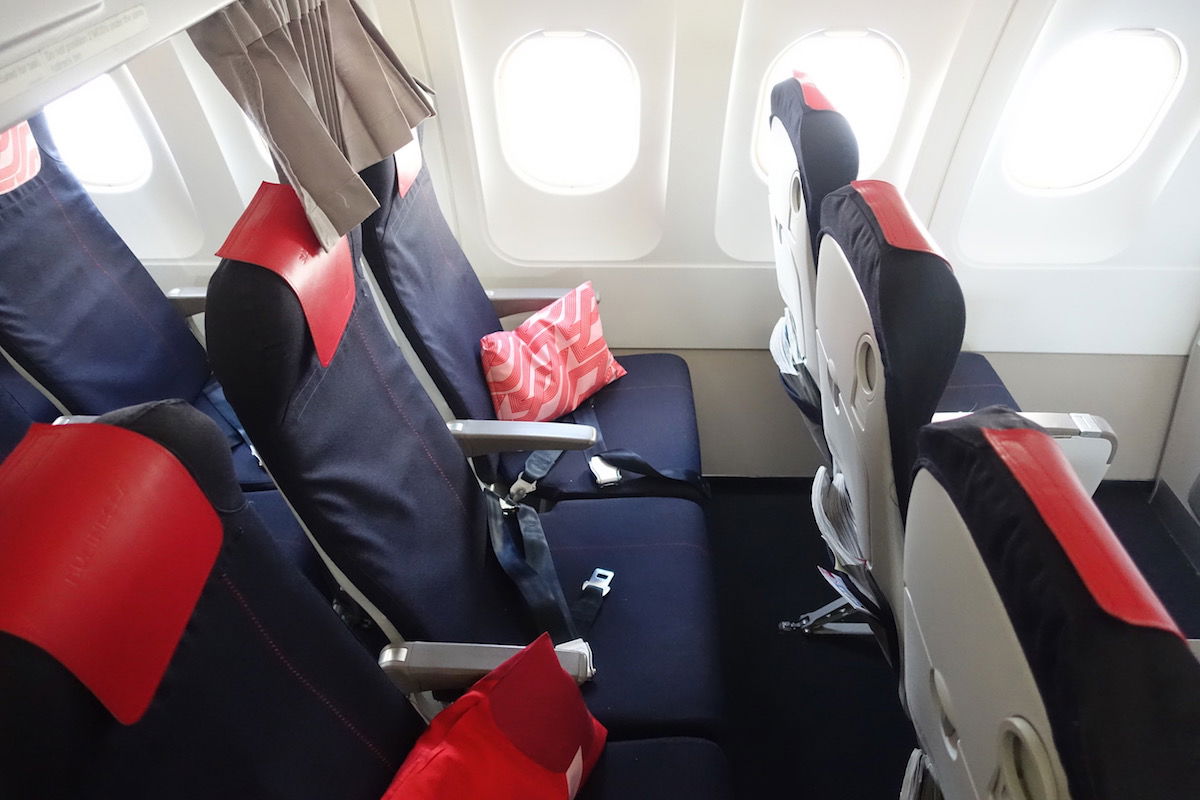 Air France business class A318
The legroom was definitely on the tight side, given that there's no extra legroom in business class vs. economy.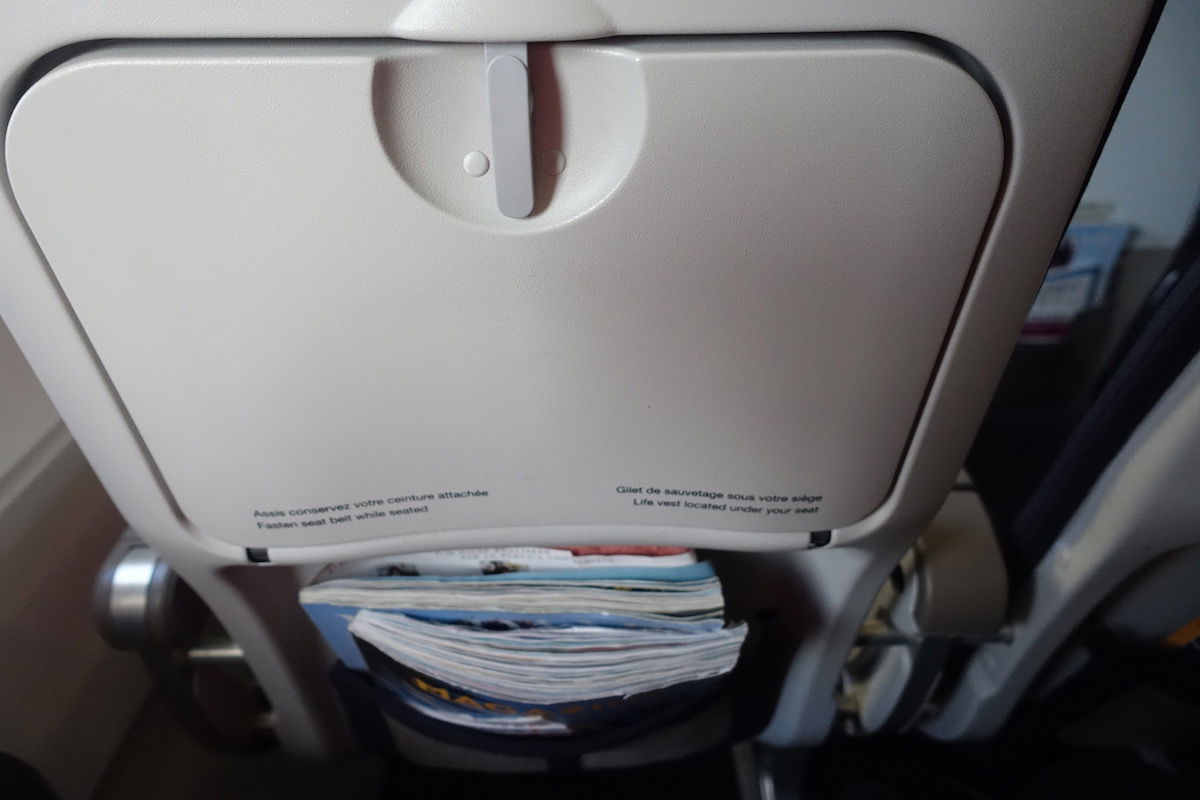 Air France business class legroom A318
Everything felt small — even the tray table was smaller than usual. However, I liked that there was a separate cupholder, which is a cool feature.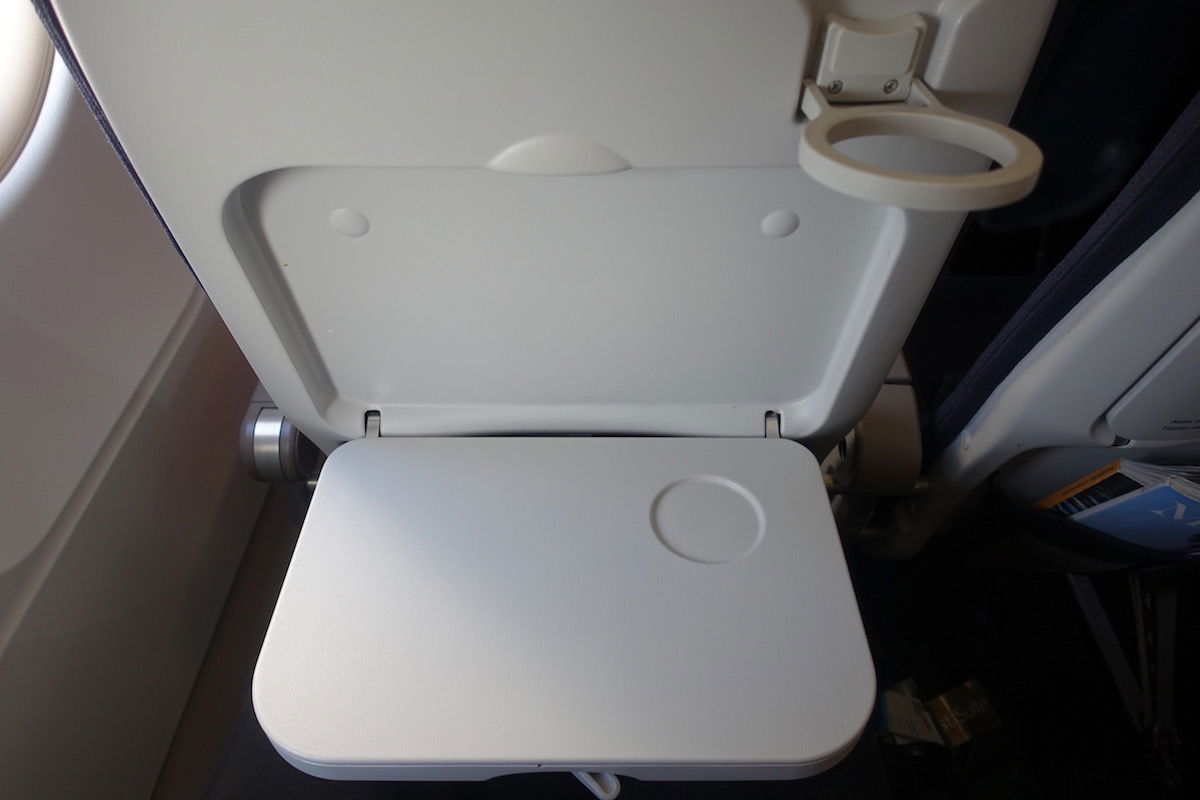 Air France business class tray table A318
Waiting at each business class seat was a pillow, which also added a bit of color to the cabin.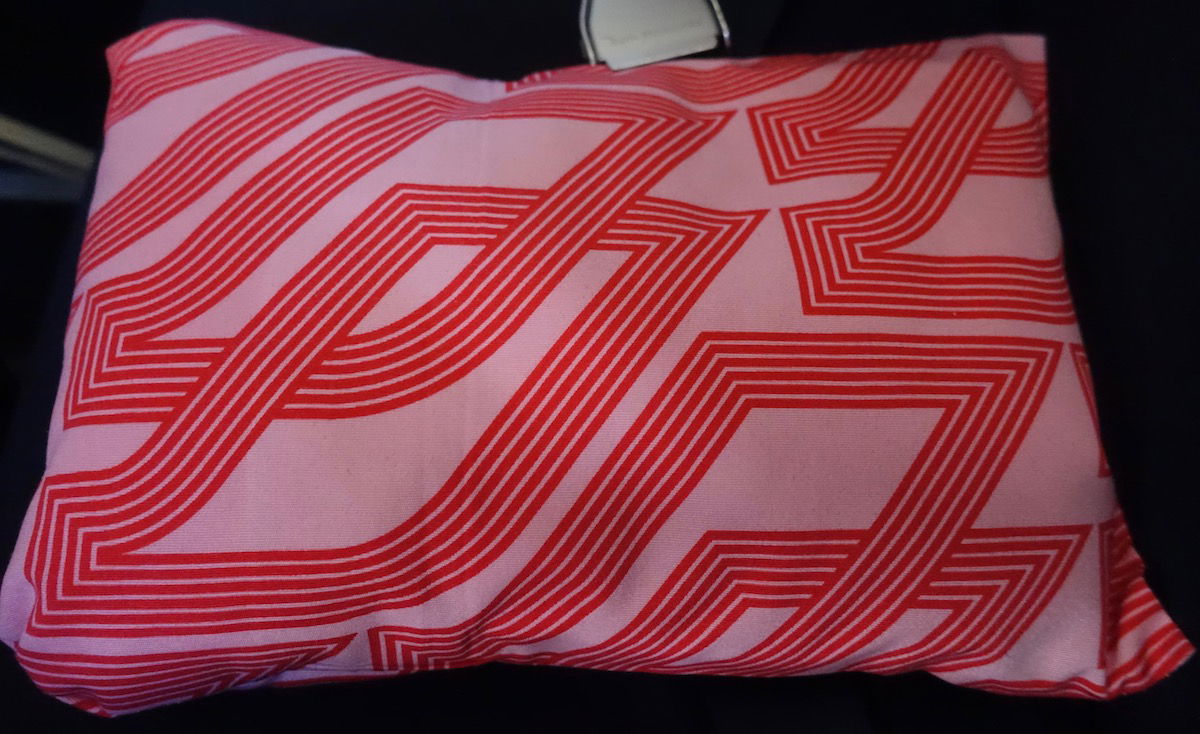 Air France business class pillow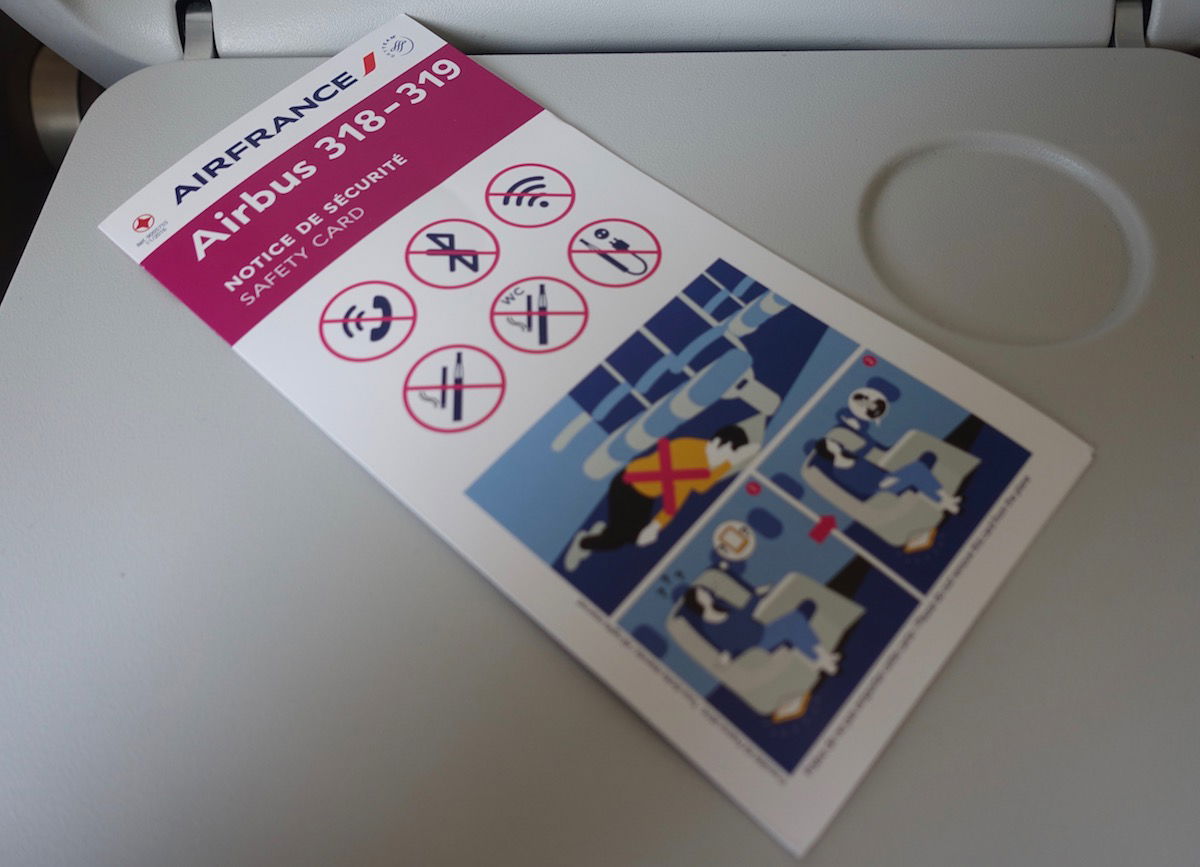 Air France A318 safety card
Boarding was efficient, and was complete within about 10 minutes. Eight of the 10 business class seats were occupied, and economy also looked pretty full.
While boarding was done quickly, the door stayed open for another 20 minutes. Finally at 7:35AM the door closed, at which point the captain added his welcome aboard, and informed us of our flight time of 65 minutes. At that point Natalie, the purser, made her welcome aboard announcement, and her crew did a manual safety demonstration.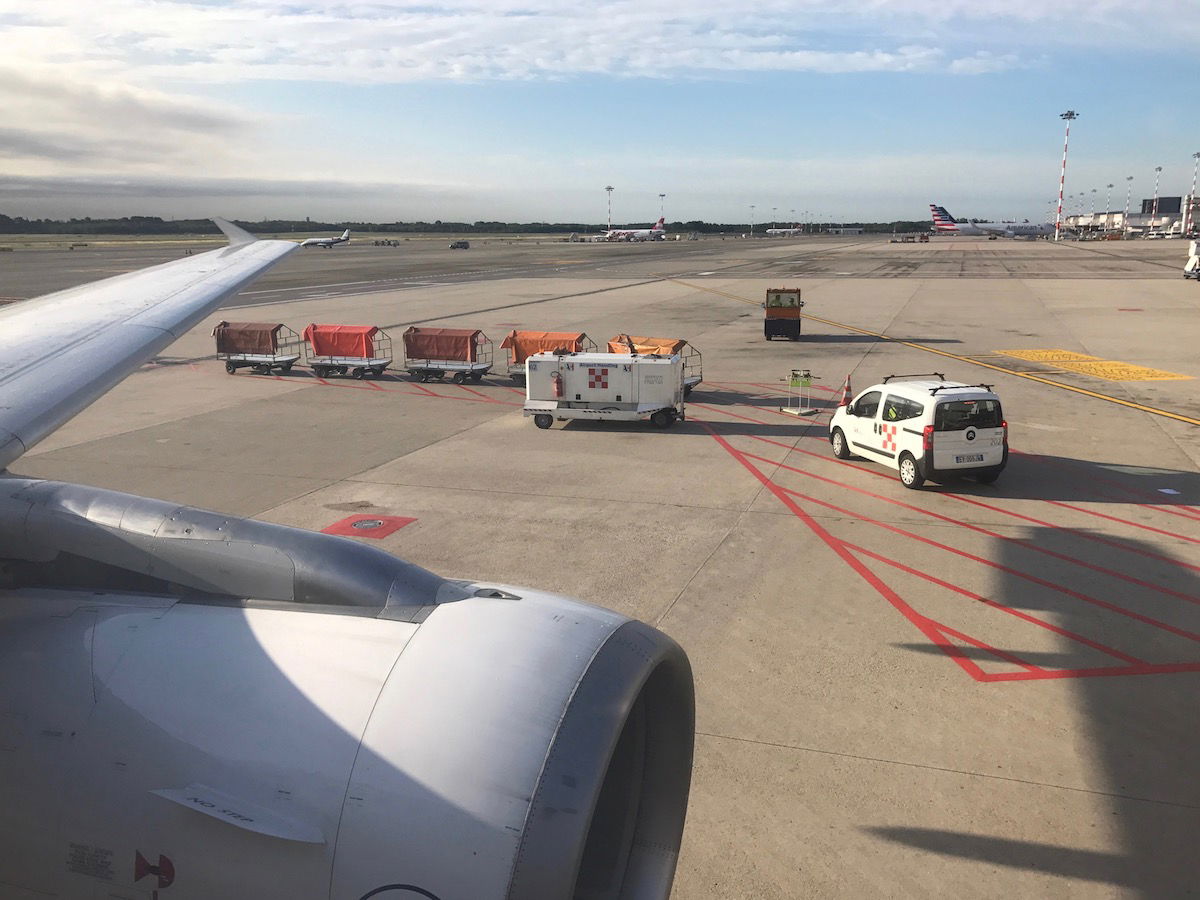 View from gate at Milan Malpensa Airport
At 7:40AM we began our pushback.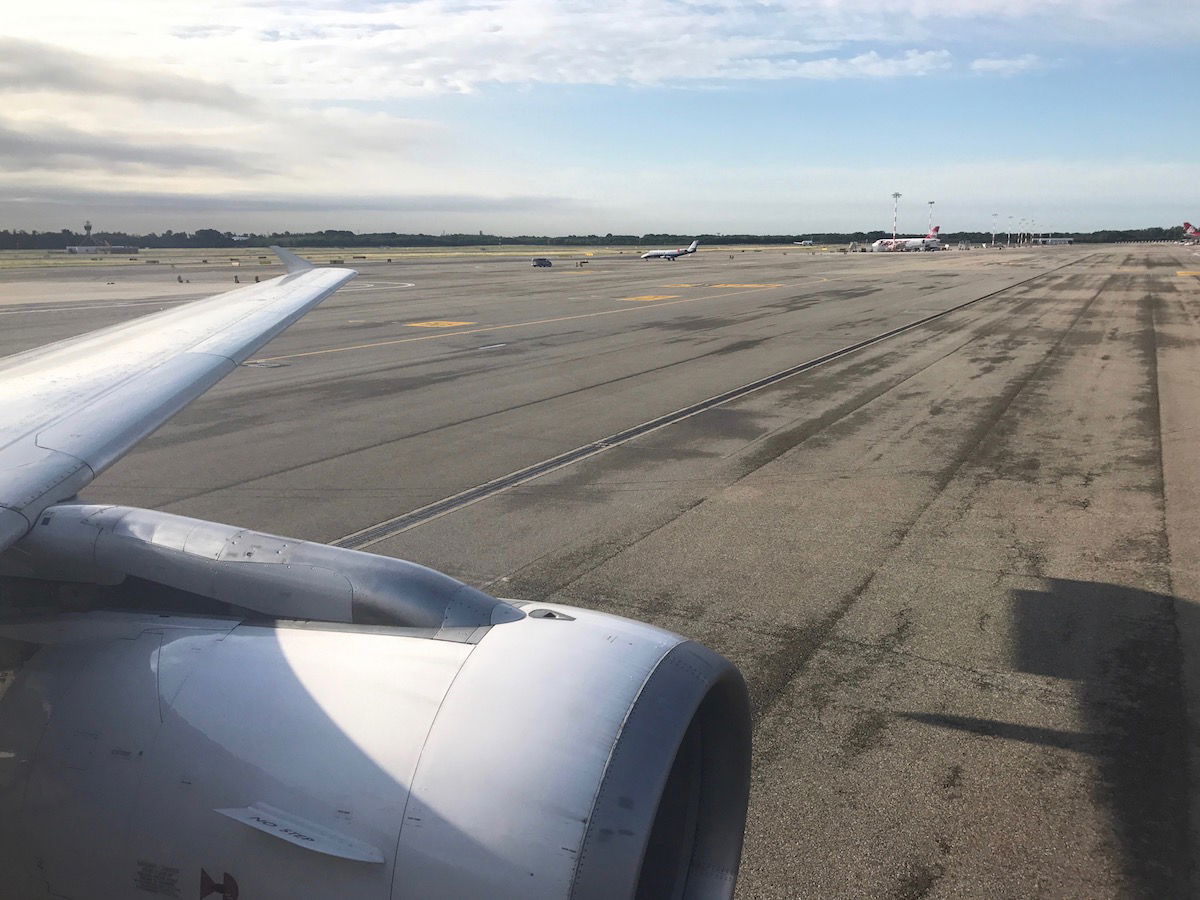 Pushing back Milan Malpensa Airport
While we had quite a long taxi to the departure runway, the pilots taxied with purpose, and within 10 minutes we were cleared for takeoff on runway 35L.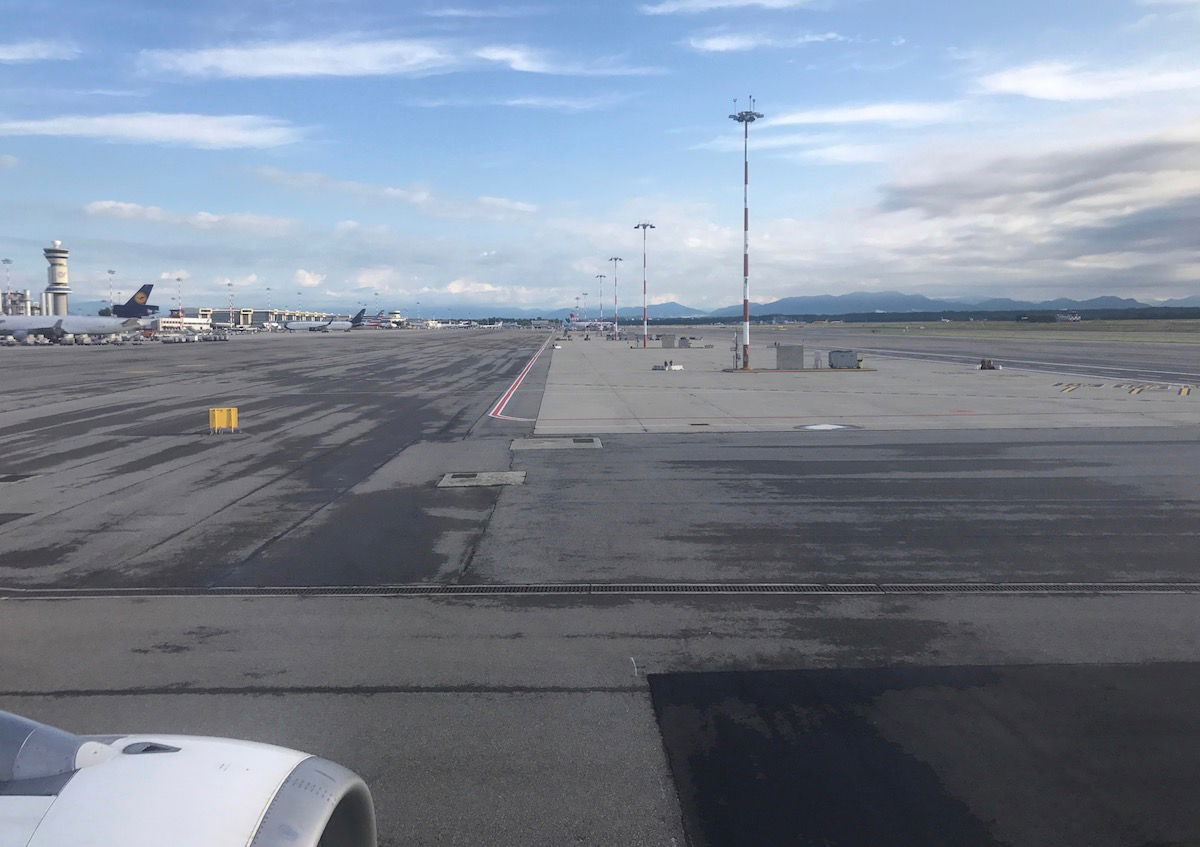 Taxiing Milan Malpensa Airport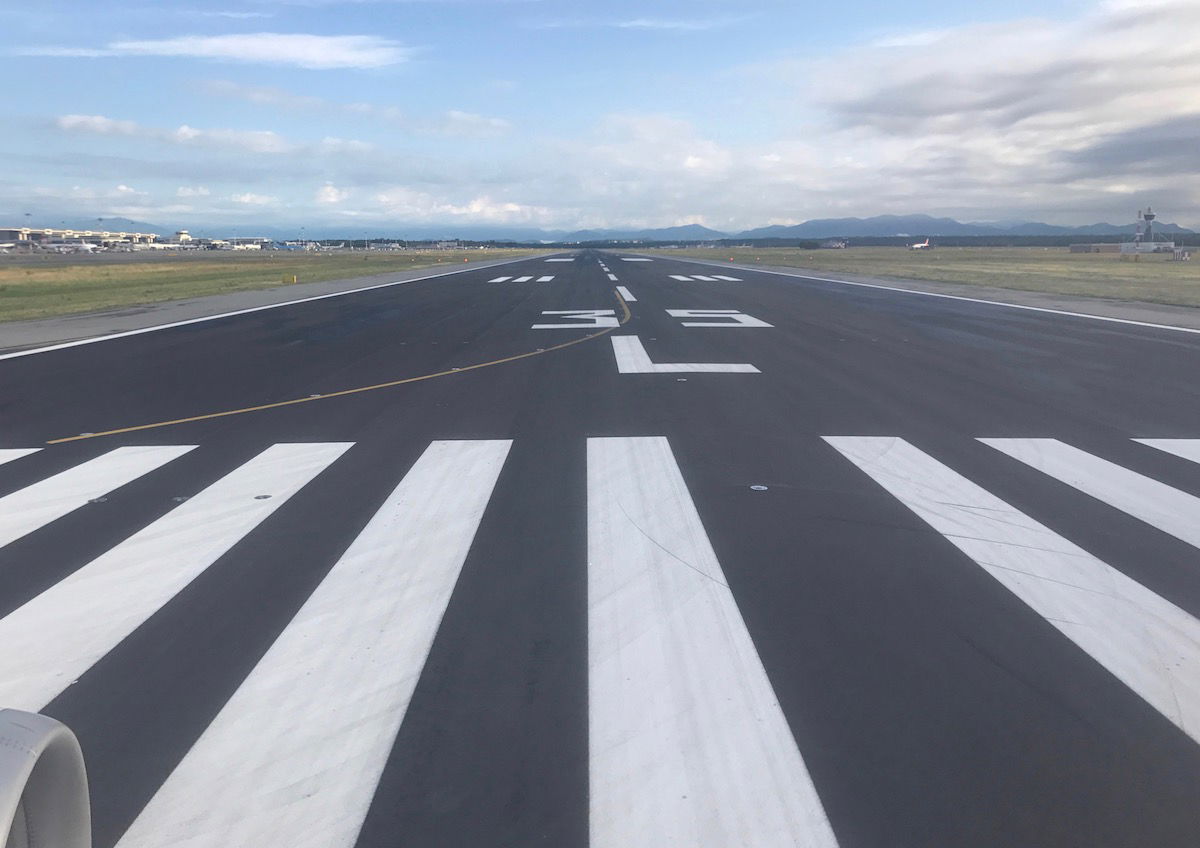 Takeoff Milan Malpensa Airport
We had a quick and bumpy takeoff roll, and steep climb out.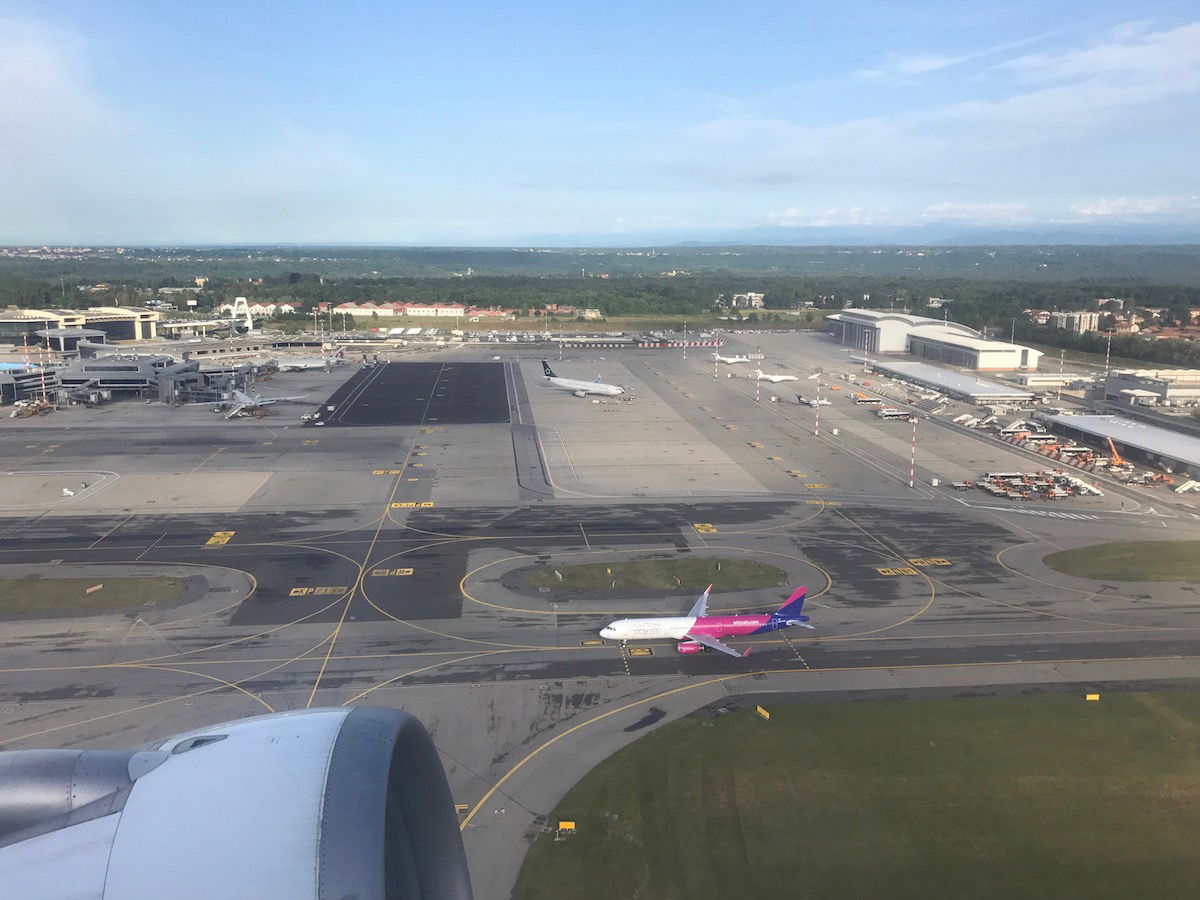 View after takeoff from Milan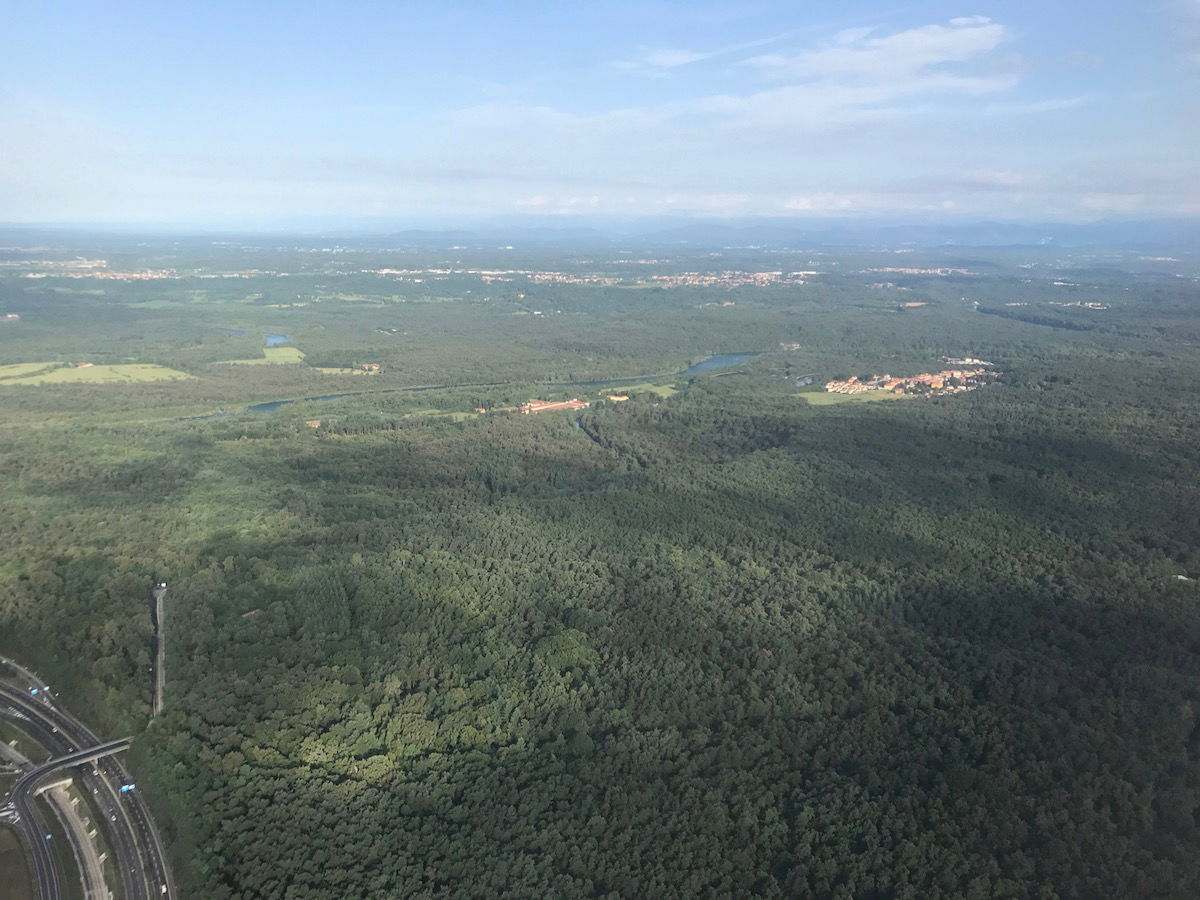 View after takeoff from Milan
The seatbelt sign was turned off five minutes after takeoff, at which point the crew closed the curtains between the galley and business class, and between business and economy.

Air France A318 business class cabin
I quickly checked out the lavatory at the front of the cabin. The only amenities there were sanitary wipes.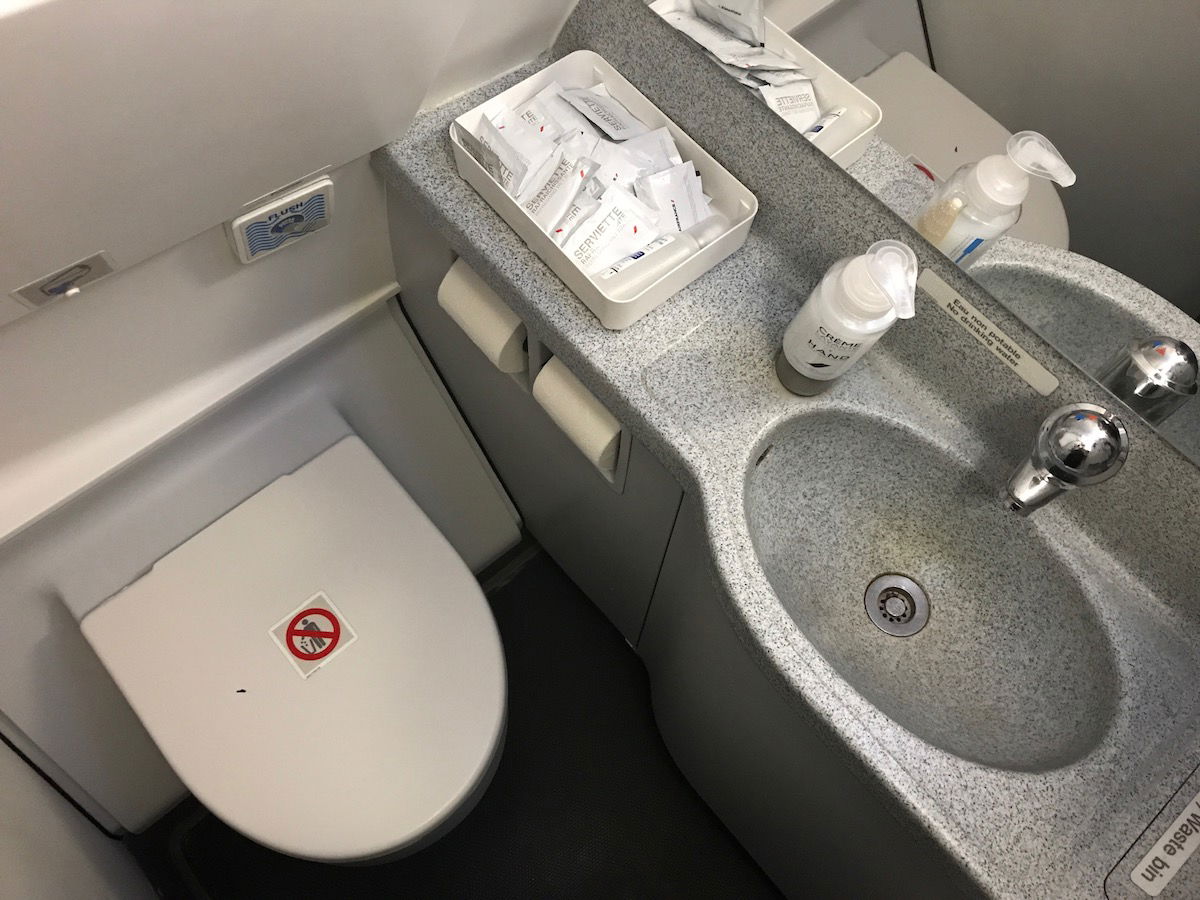 Air France A318 business class lavatory
Once back at my seat I was treated to some incredible views.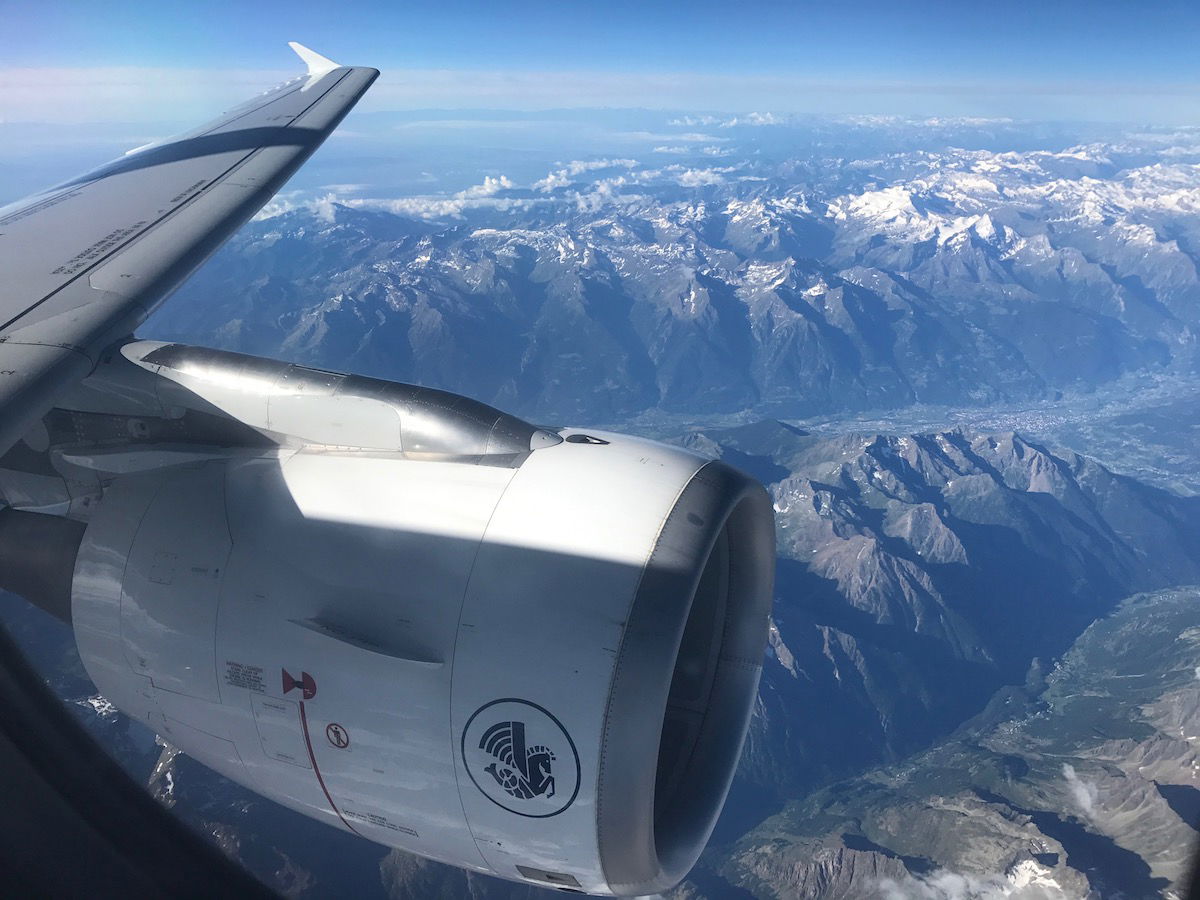 View enroute to Paris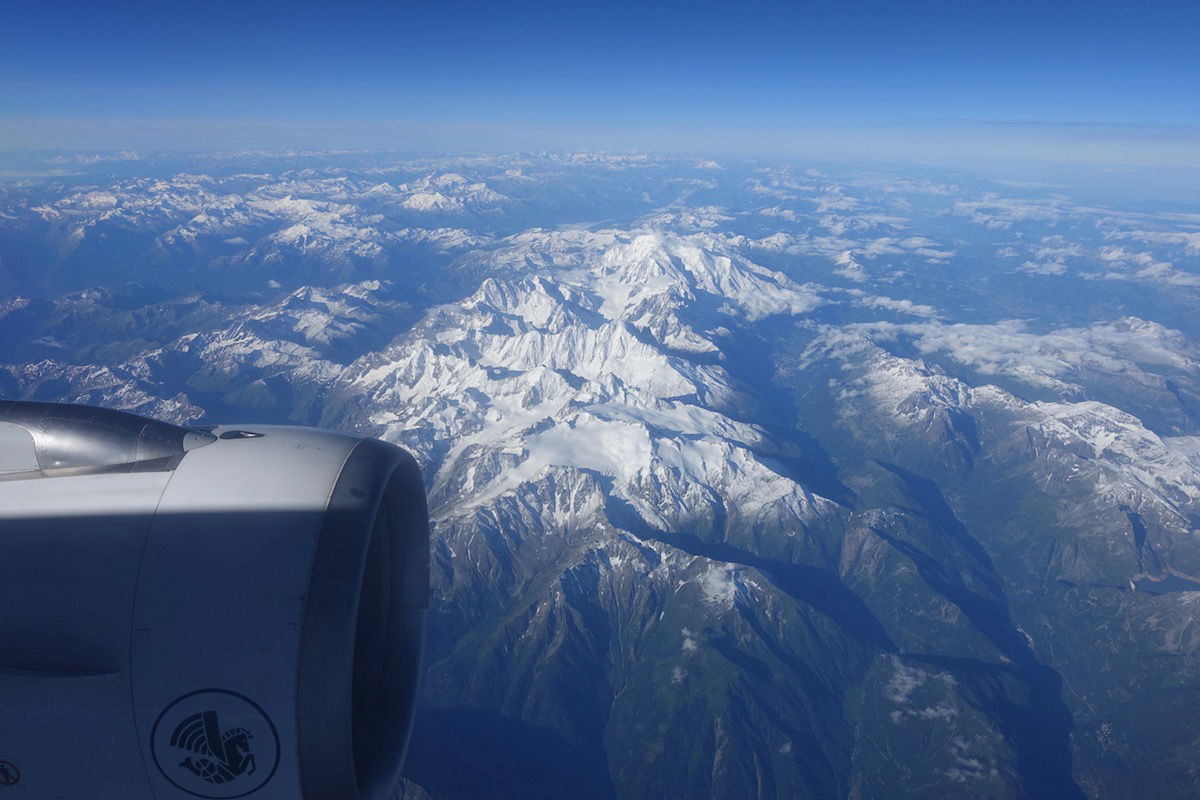 View enroute to Paris
The purser began the business class service 20 minutes after takeoff. Breakfast consisted of cold cuts, cheese, fresh fruit, yogurt, a roll, and a croissant.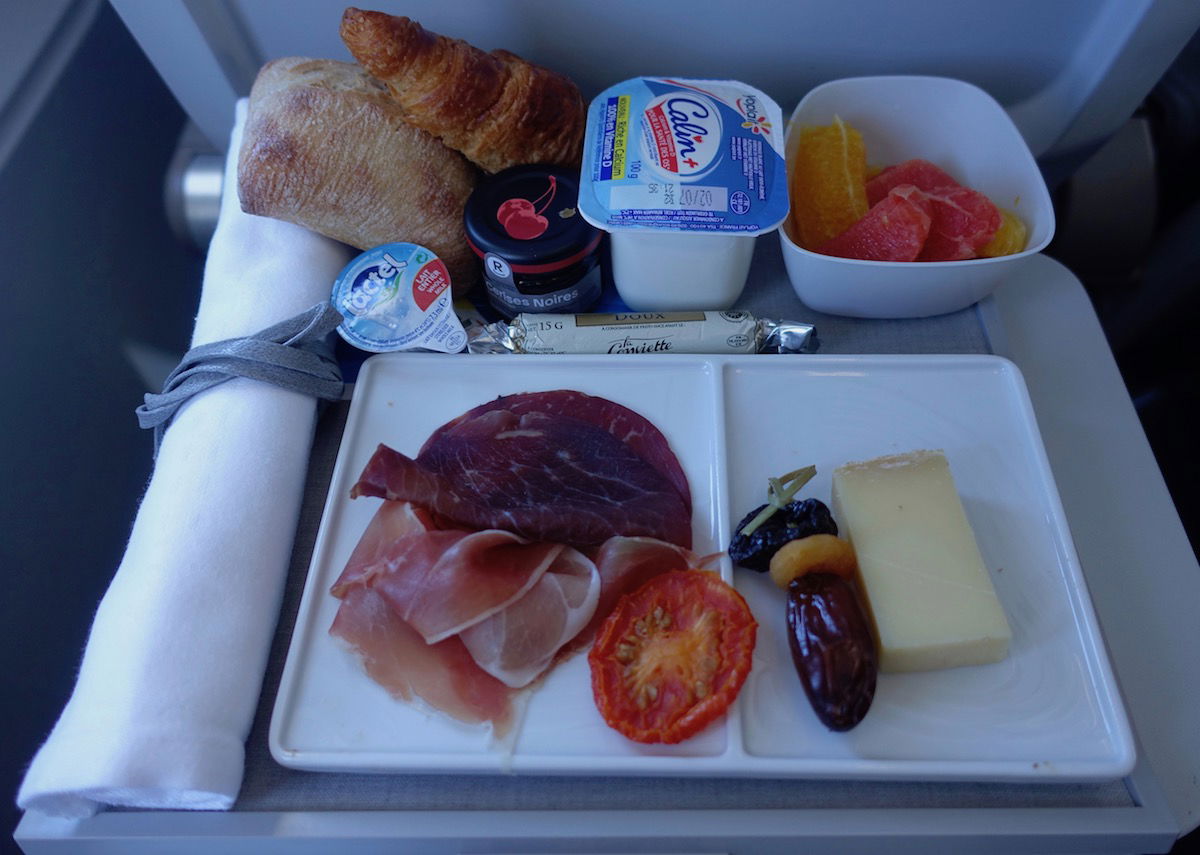 Air France business class breakfast
I also ordered some coffee and water. Water came in the form of a bottle, while coffee was powdered, to my surprise.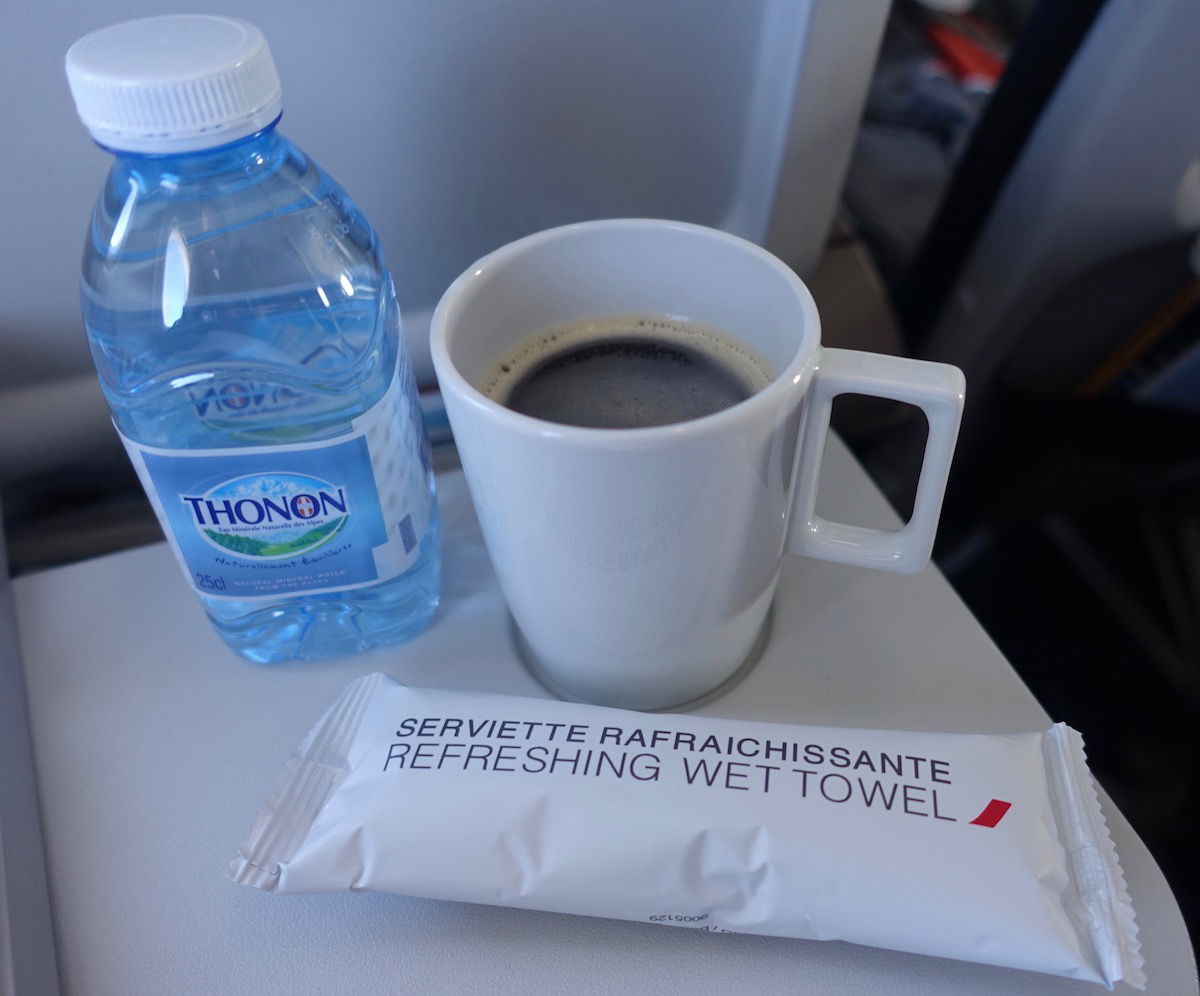 Air France business class drinks
The purser was incredibly professional, and offered several drink refills. At 8:20AM local time the captain gave us updated arrival information, informing us that we'd be landing at 8:50AM. Moments later we began our descent.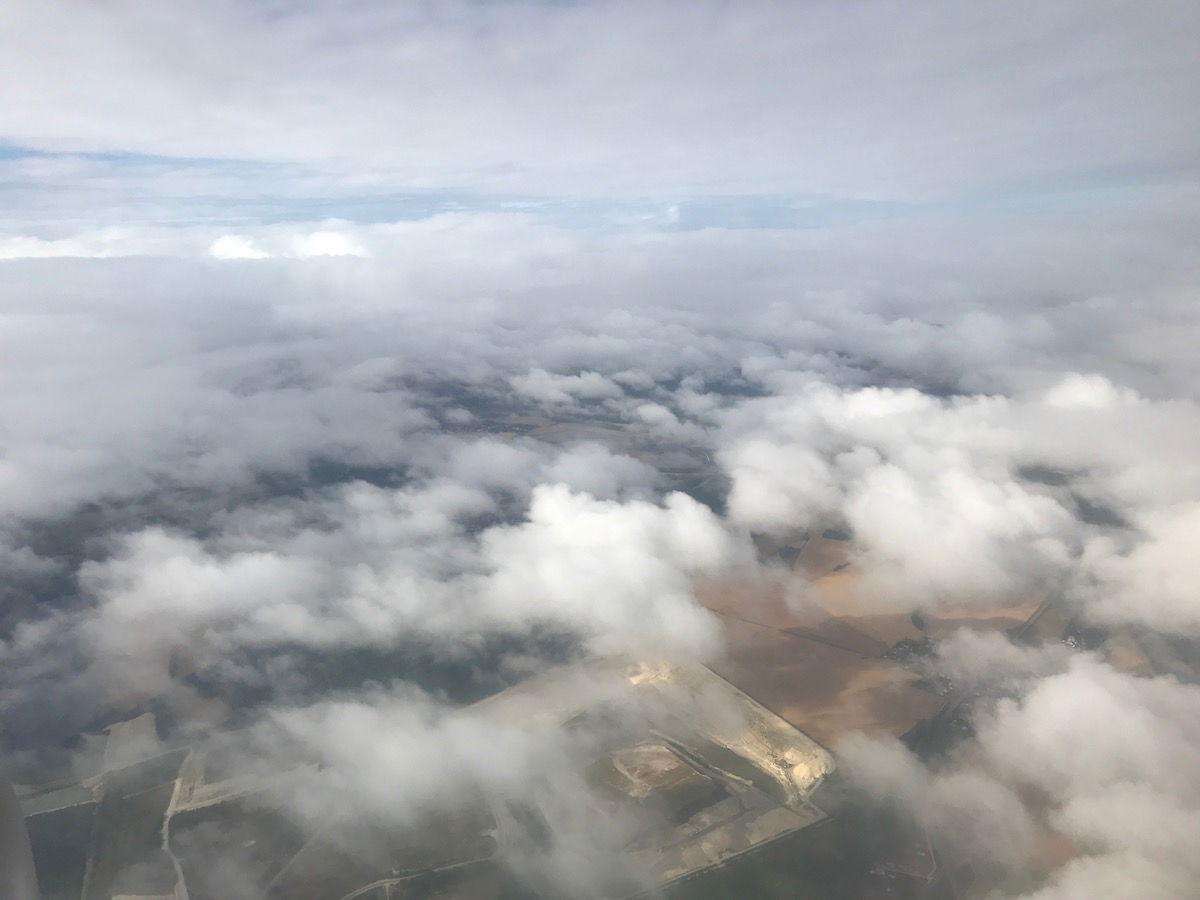 View approaching Paris
While it was a cloudy day over Paris, the views on approach were still beautiful.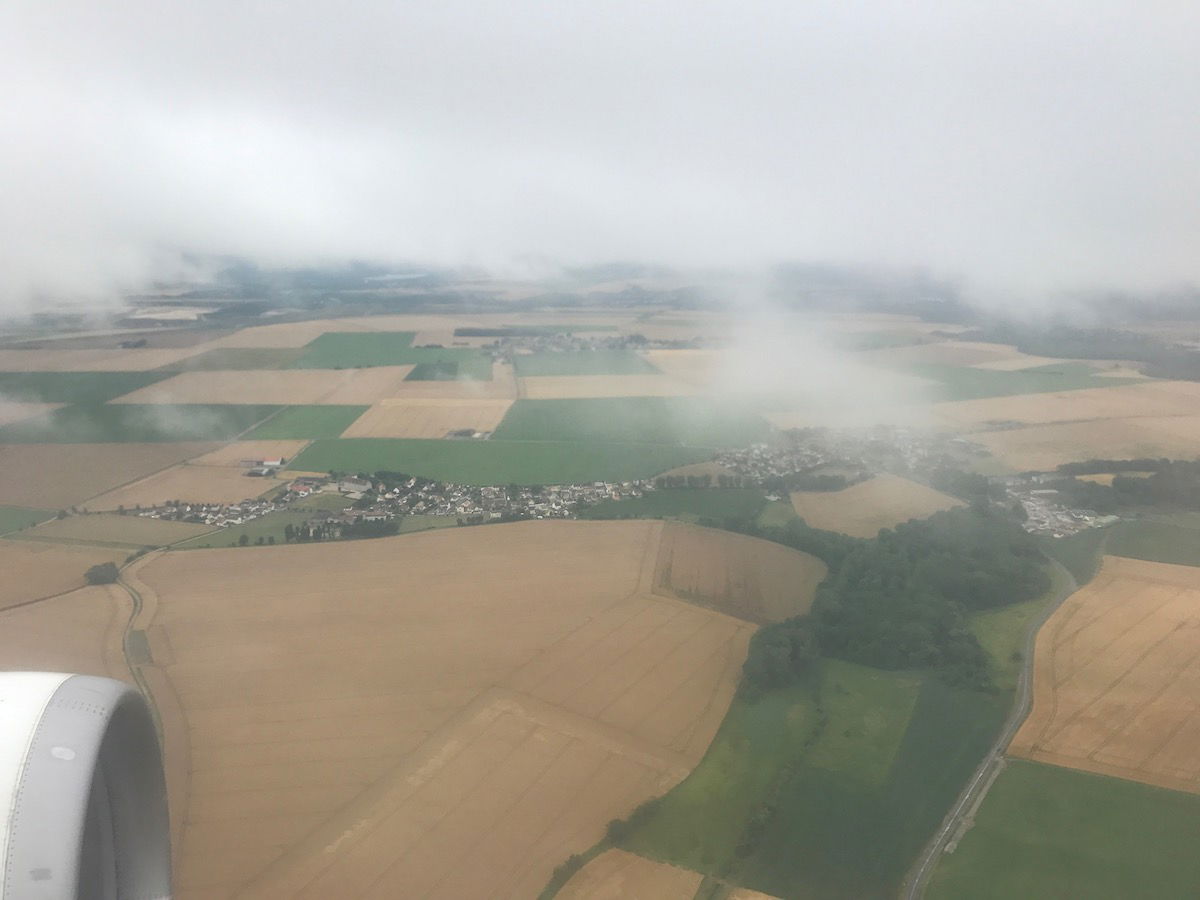 View approaching Paris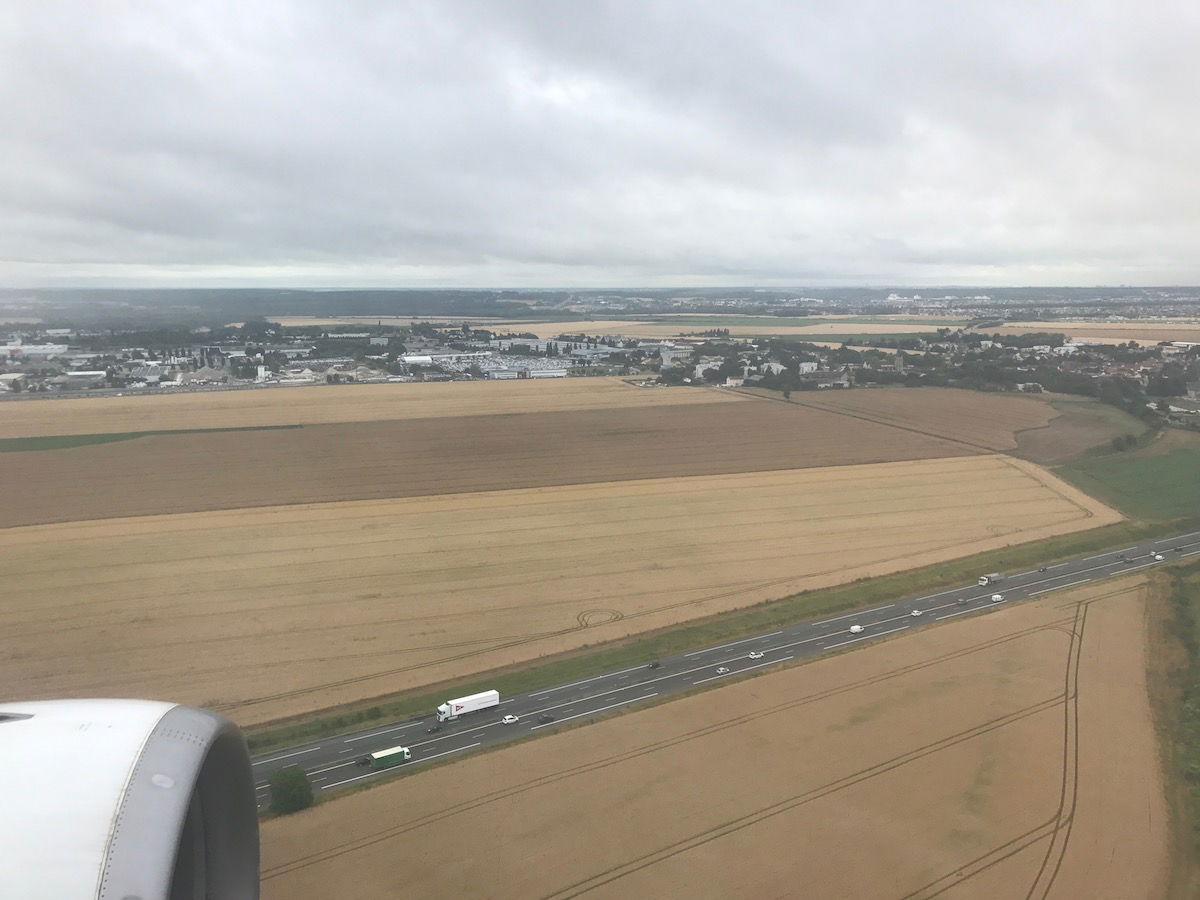 View approaching Paris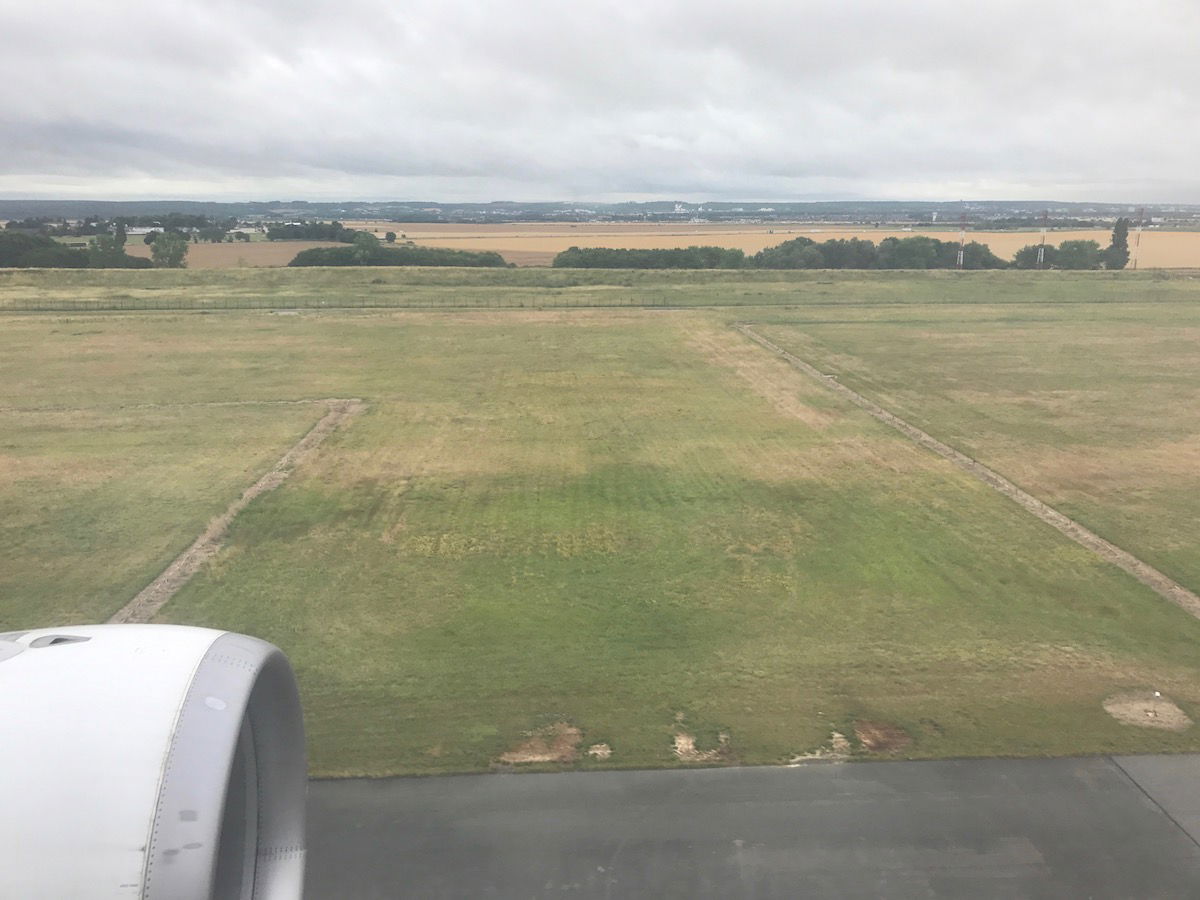 Touchdown Paris Charles de Gaulle
We had a rough touchdown on runway 26L at 8:50AM. We rolled to the end of the runway, and then turned onto the taxiway before crossing 26R.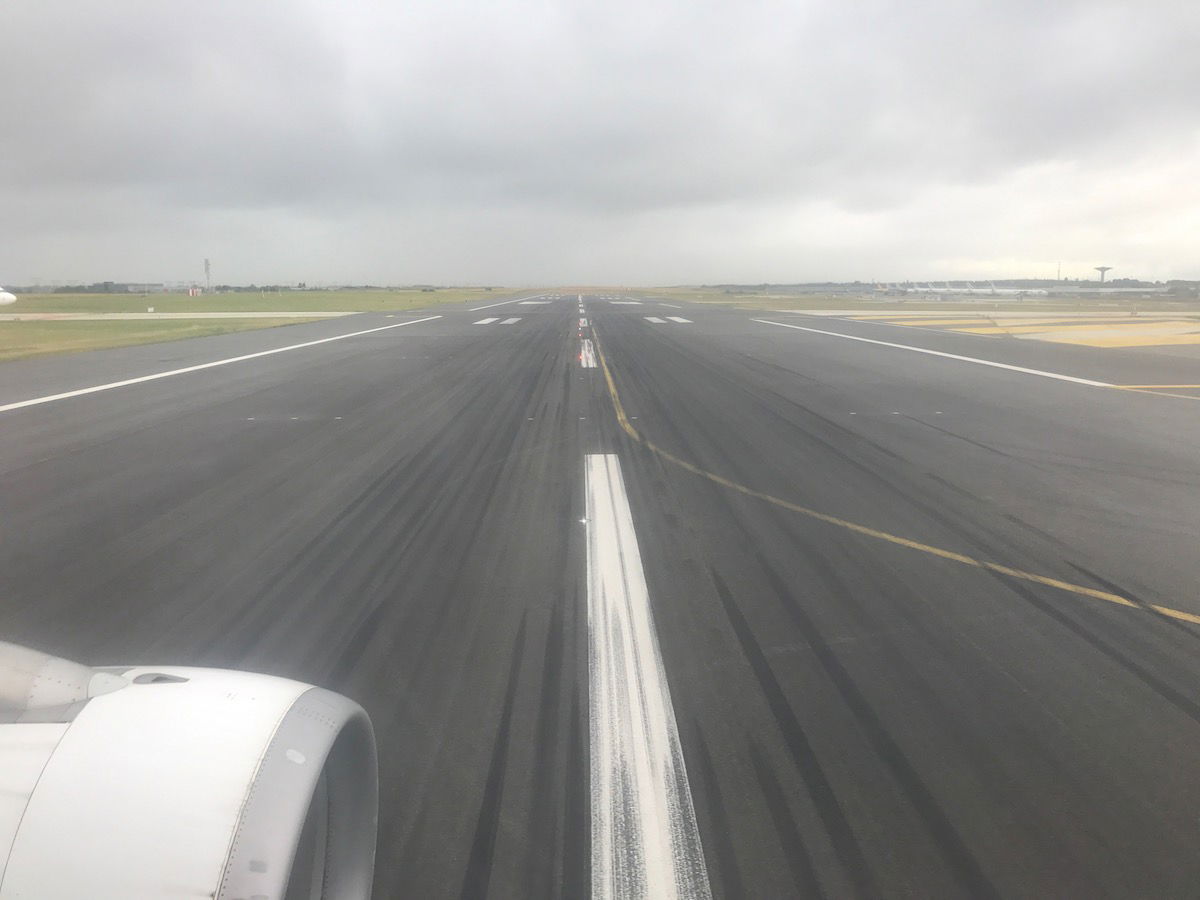 Taxiing Paris Charles de Gaulle Airport
CDG is such a massive airport, and even though we taxied very fast, it took us 15 minutes to get to our arrival stand. On the plus side, it meant we got to pass the Concorde in the distance.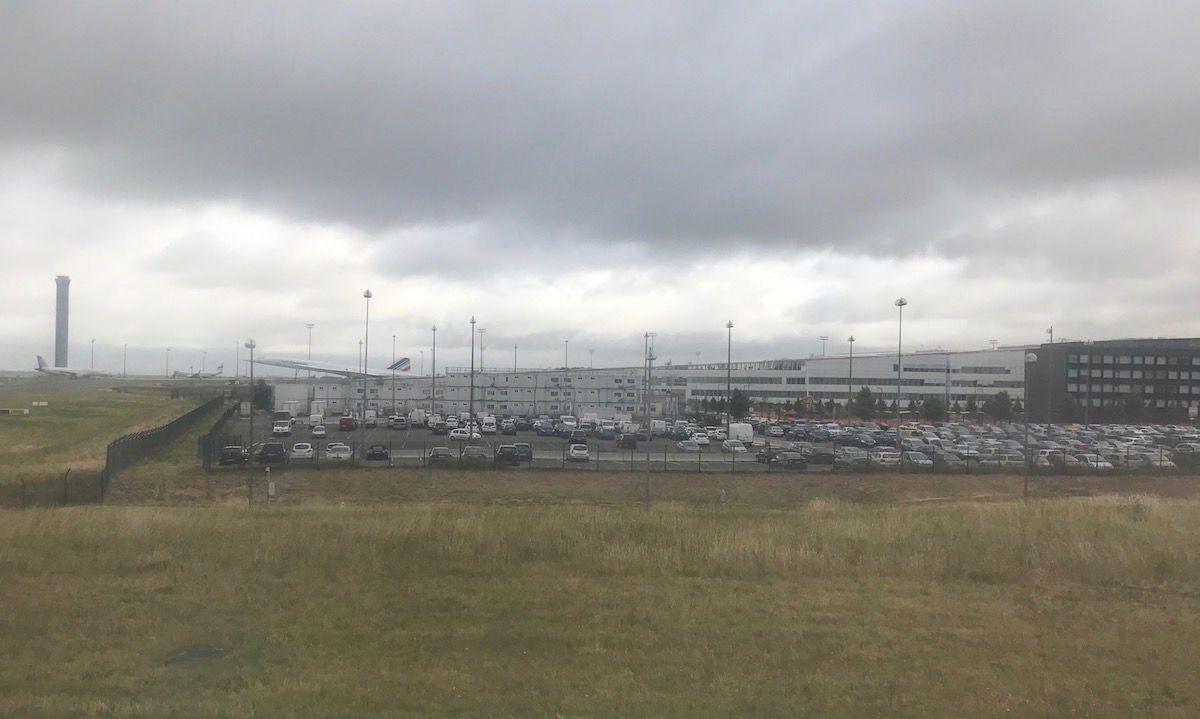 The Concorde Charles de Gaulle Airport
I saw an Air Austral 777 — now there's an airline I really still need to fly!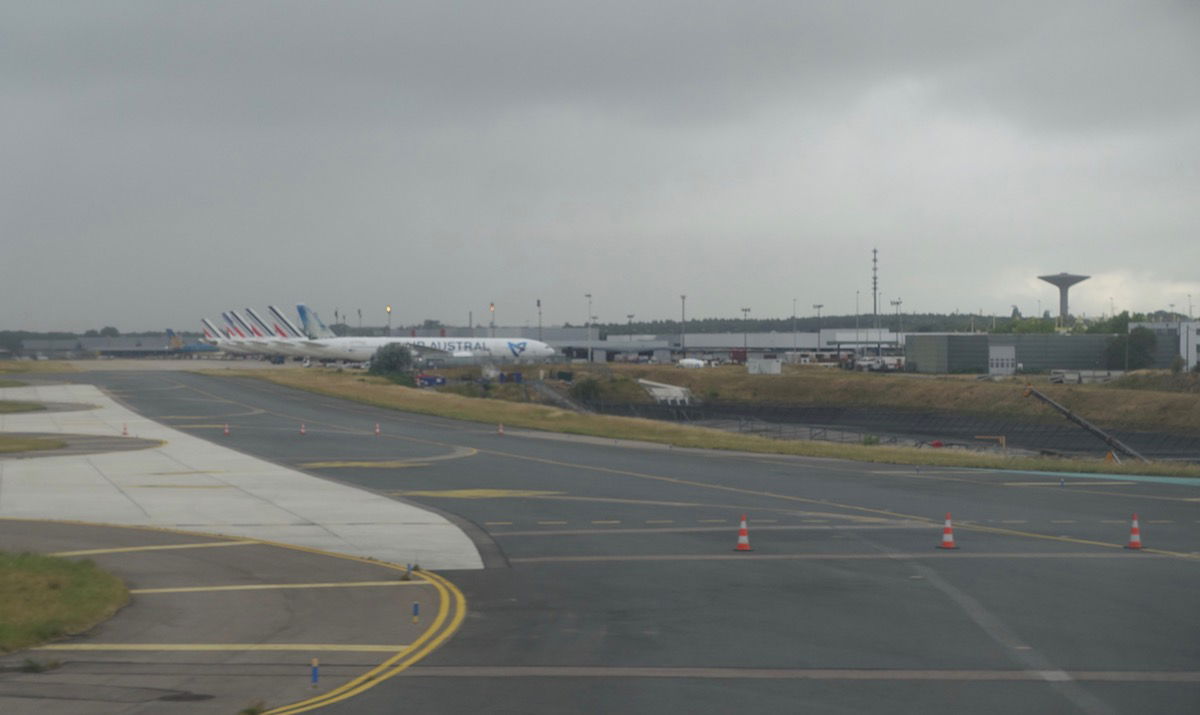 Taxiing Paris Charles de Gaulle Airport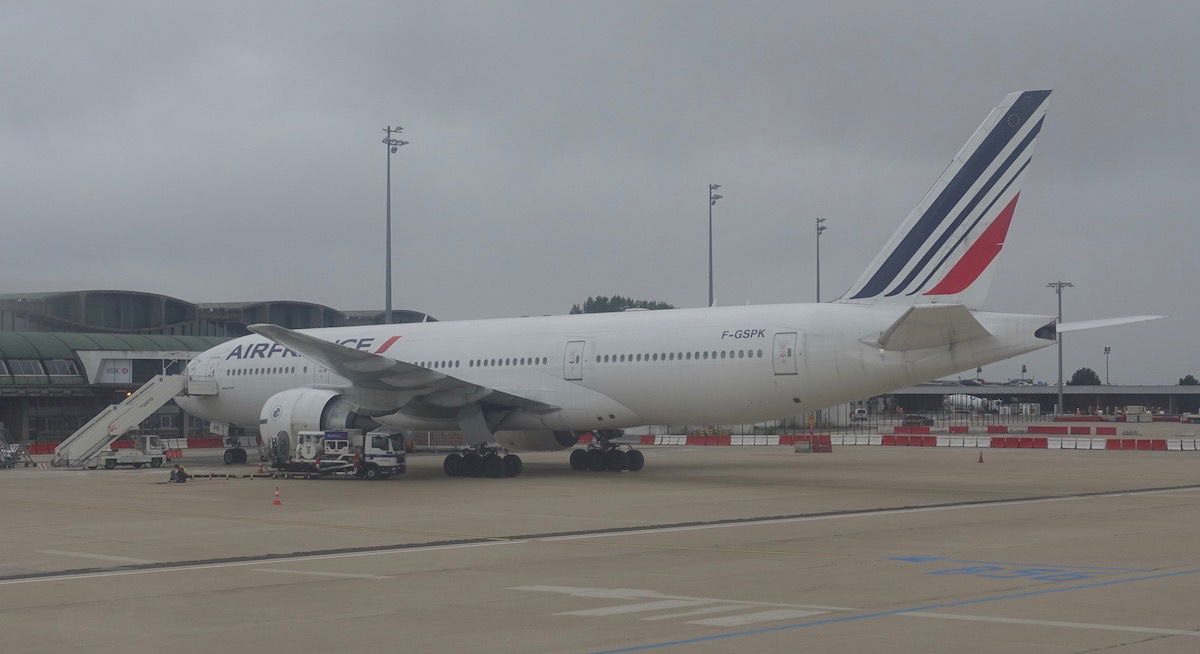 Air France 777-200 Paris Charles de Gaulle Airport
Finally we arrived in the remote stand area, where we'd be parking. While one side had a bunch of Air France Airbus narrowbody aircraft, we parked on the opposite side, where there were few planes.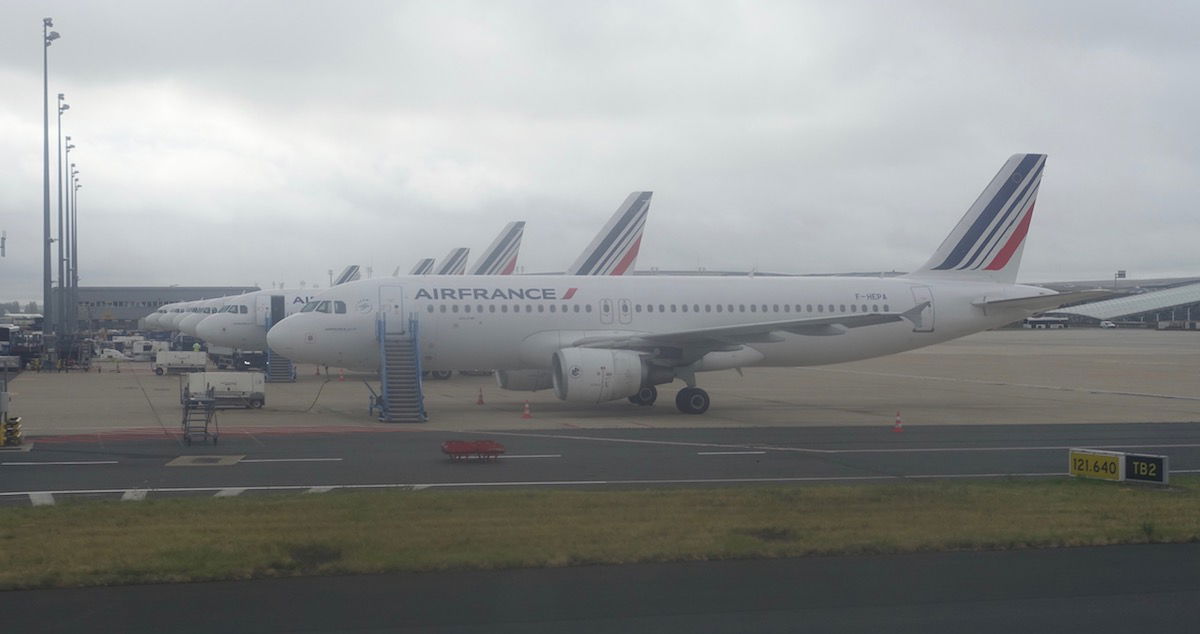 Air France A320 Paris Charles de Gaulle Airport
We arrived at our stand at 9:05AM. They had some issues with the stairs, and then at 9:10AM the door opened.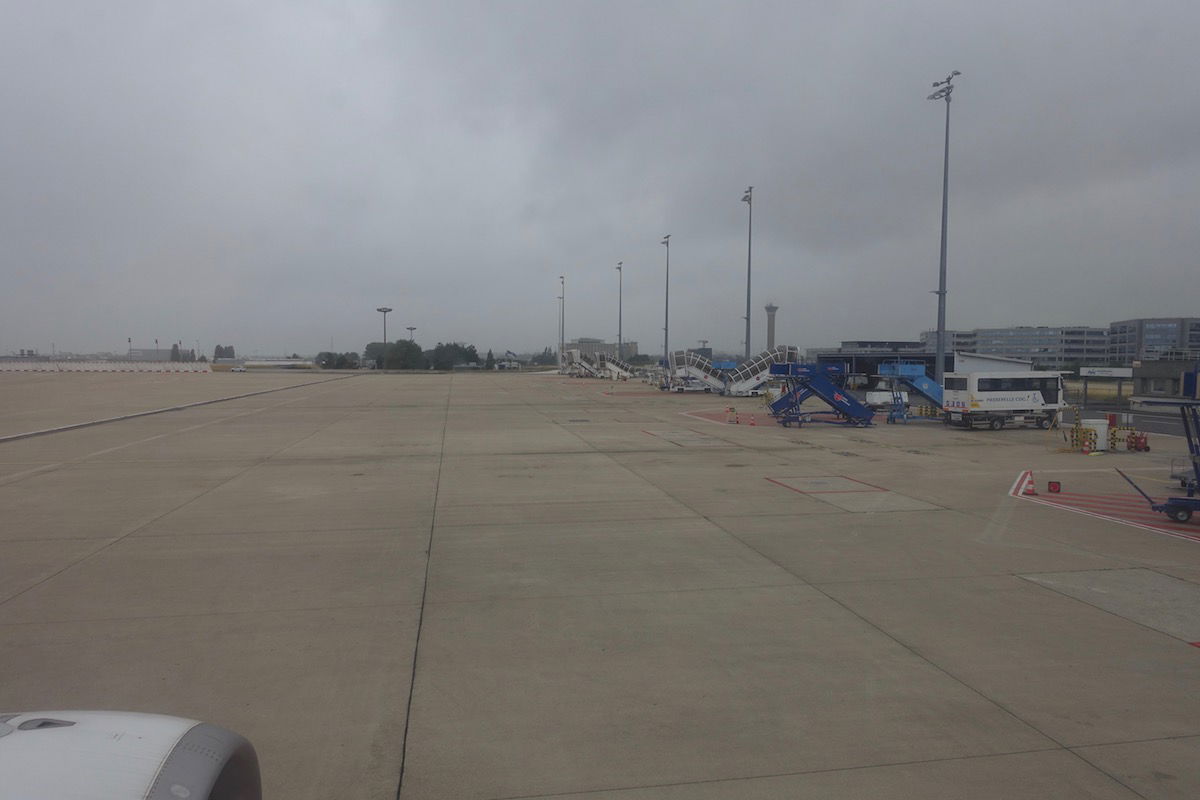 Arrival stand Charles de Gaulle
While I'd usually dread arriving at a remote stand and having to take a bus, I didn't mind it so much today, since there was a Jaguar waiting for me.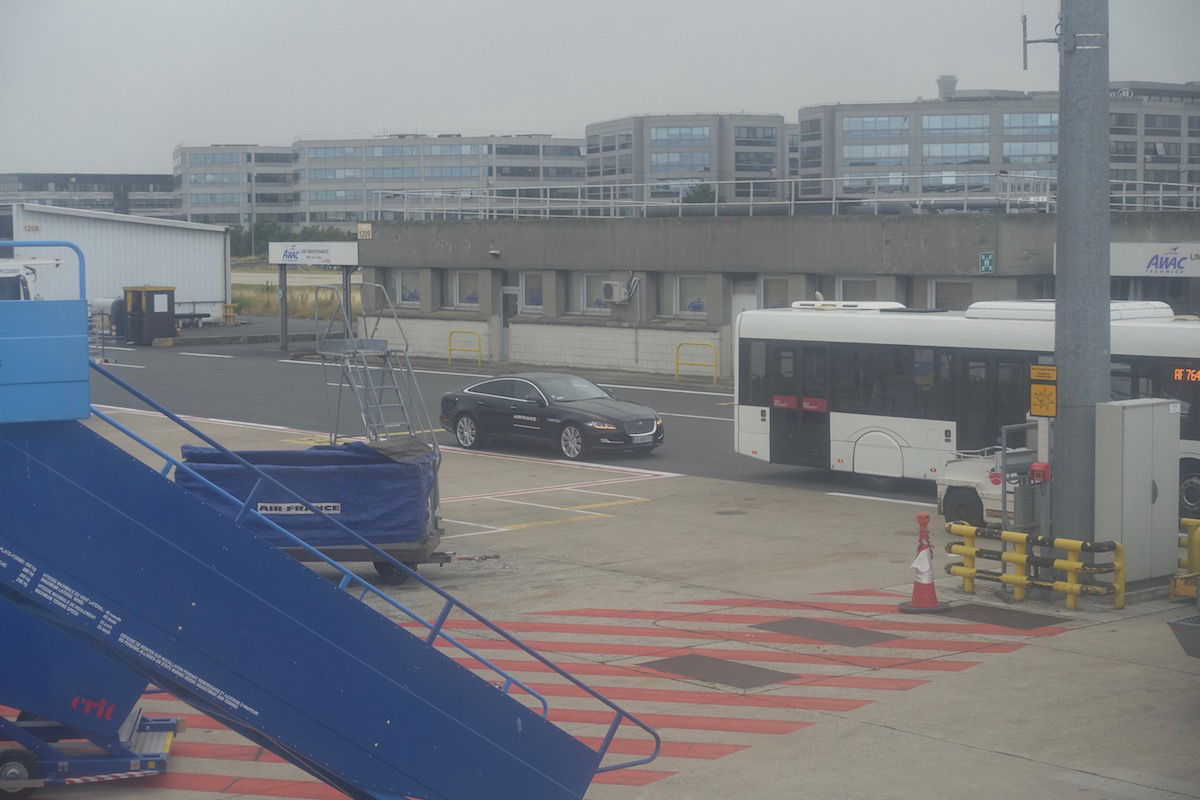 Bus… and my Jaguar!
As soon as the door opened the ground agent exchanged a few words with the purser, who then announced "Mr. Schlappig, please contact the ground staff when leaving the aircraft," which she repeated. Awkward… though perhaps less awkward than my last La Premiere experience, where they wouldn't let anyone off the plane till I got off first.
Air France A318 business class bottom line
Intra-Europe business class is nothing to get excited about, and Air France's product is no exception. On the plus side, the flight was on time and the purser was friendly. Of course what got me really excited was what was coming up next.