---
While I've flown Air France several times before, I specifically flew them from Toronto to Paris because I wanted to fly the A350. Toronto is currently the only North American city to which they fly the plane, and it's a new addition to their fleet.
Background On The Air France A350
Air France has a total of 28 Airbus A350-900s on order, which they plan to take delivery of through 2025. The airline took delivery of their very first A350 in late September 2019. As of now the airline just flies the A350 to select destinations in Africa, as well as Toronto.
What I found most intriguing about the A350 is that Air France chose a new business class seat, though it's arguably not actually better than the reverse herringbone seat they're currently installing throughout the rest of their fleet.
Usually product consistency is something to aim for, so why would Air France do this? It's because the first A350s were earmarked to go to Air France's low cost carrier, Joon, but that has since been discontinued.
It's my understanding they maintained the same interiors that were initially planned for the plane. I assume they could have switched them out, but it would have likely been very expensive, given that these commitments are made way in advance.
How I Redeemed Miles For Air France Business Class
Every month Air France-KLM Flying Blue publishes Promo Awards, which offer discounted limited time award tickets. In mid-October they even published limited time Special Edition Promo Awards, which were even better.
Among those was the ability to fly one-way business class from Toronto to Paris for 32,000 Flying Blue miles plus about $200 in taxes, fees, and carrier imposed surcharges. That's an opportunity I couldn't turn down, given the new plane type.
While Flying Blue has dynamic award pricing, for context business class rates usually start at around 60,000 miles one-way for this route.
Earning Flying Blue Miles Is Easy
Flying Blue is transfer partners with Amex Membership Rewards, Capital One, Chase Ultimate Rewards, and Citi ThankYou, meaning you can transfer points earned from a variety of cards:
Transfer points to Flying Blue with these credit cards:
Air France Business Class A350 Review
Air France 351
Toronto (YYZ) – Paris (CDG)
Tuesday, November 12
Depart: 6:45PM
Arrive: 8:15AM (+1 day)
Duration: 7hr30min
Aircraft: Airbus A350-900
Seat: 6A (Business Class)
At the door I was greeted by two friendly flight attendants and pointed right towards my seat. They boarded the entire plane through the forward door, which isn't ideal since it means everyone boards through the cabin (sorry for the lack of quality cabin pictures, as they boarded business class right after wheelchair passengers, so lots of people were ahead of me).
Air France chose a completely different business class product for the A350-900 than they have on other planes, as they chose the Zodiac Optima seats. These are the same seats you'll find in United Polaris.
The reason they chose this configuration is because of how efficient it is (given that the plane was supposed to go to Joon) — they have 34 business class seats between doors one and two, while most other other configurations would put at most 30 seats in that area.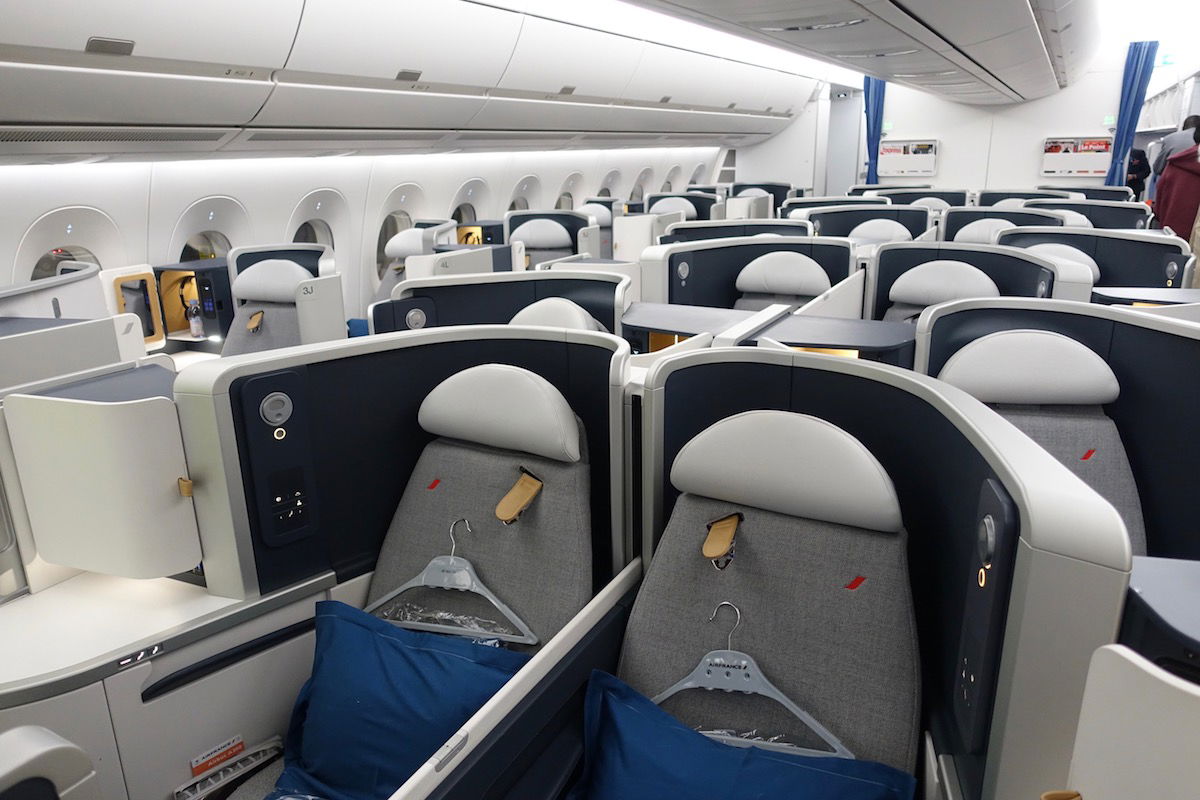 Air France A350 business class cabin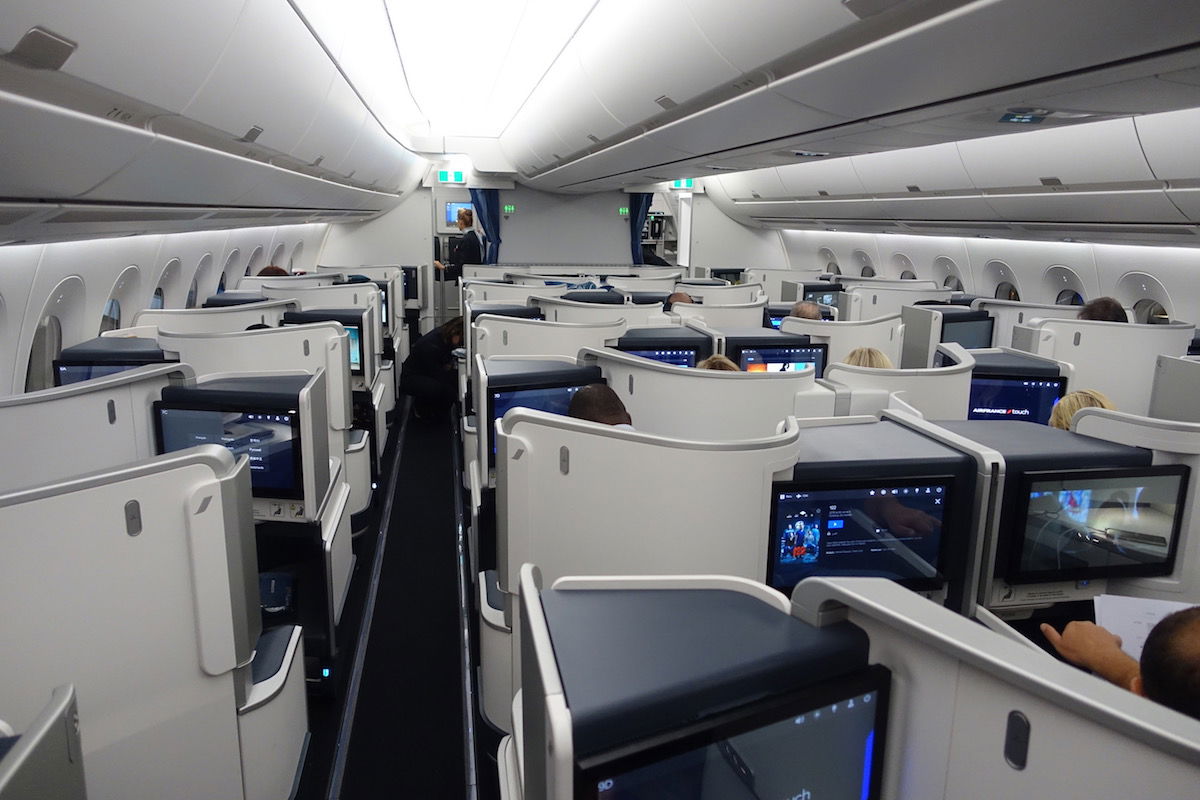 Air France A350 business class cabin
As far as seats in the center section go:
In even numbered rows you have seats that are close together and far from the aisle
In odd numbered rows you have seats that are far from one another and close to the aisle
There is a privacy partition that can be raised between center seats, should you end up in one of the "cozy" seat pairs next to a stranger.
Along the windows you have the same general pattern.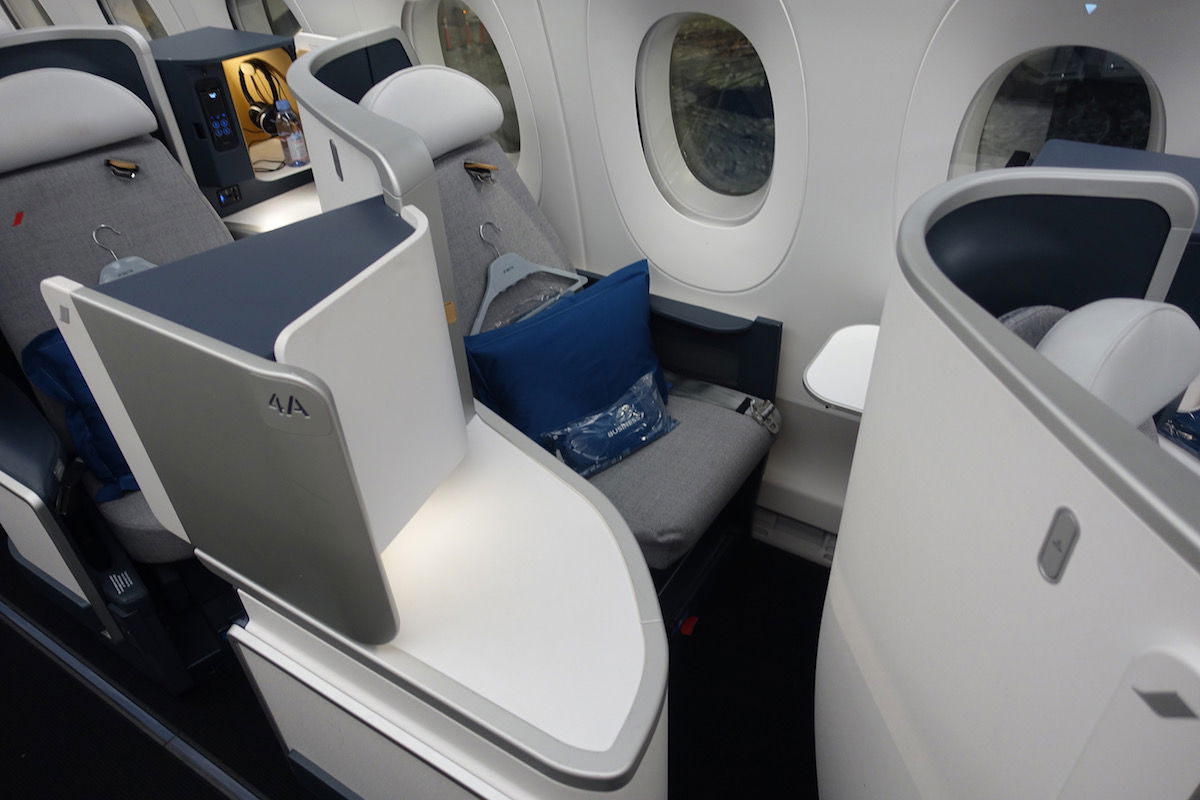 Air France A350 business class seats
In odd numbered rows you have seats that are closer to the aisle and further from the windows, so these wouldn't be my preferred seats.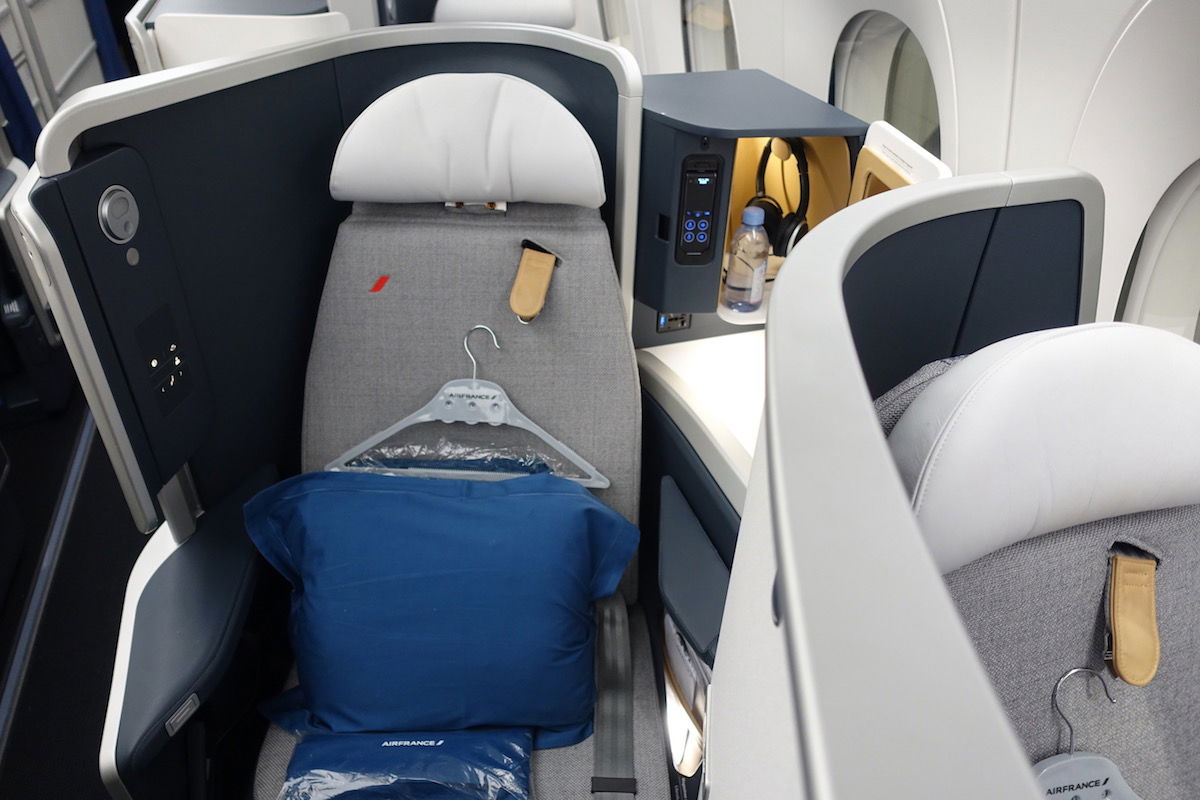 Air France A350 business class seats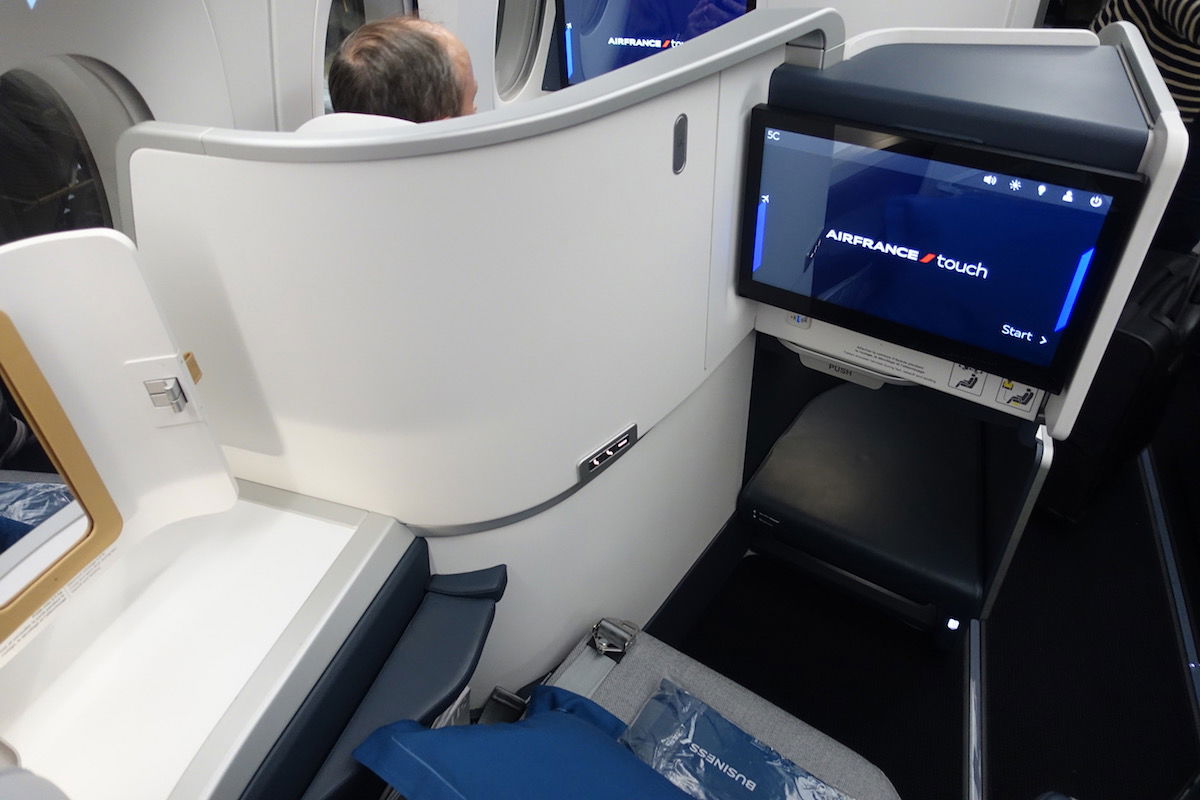 Air France business class seats A350
The best seats to pick are the window seats in even numbered rows, which have the best views and most privacy.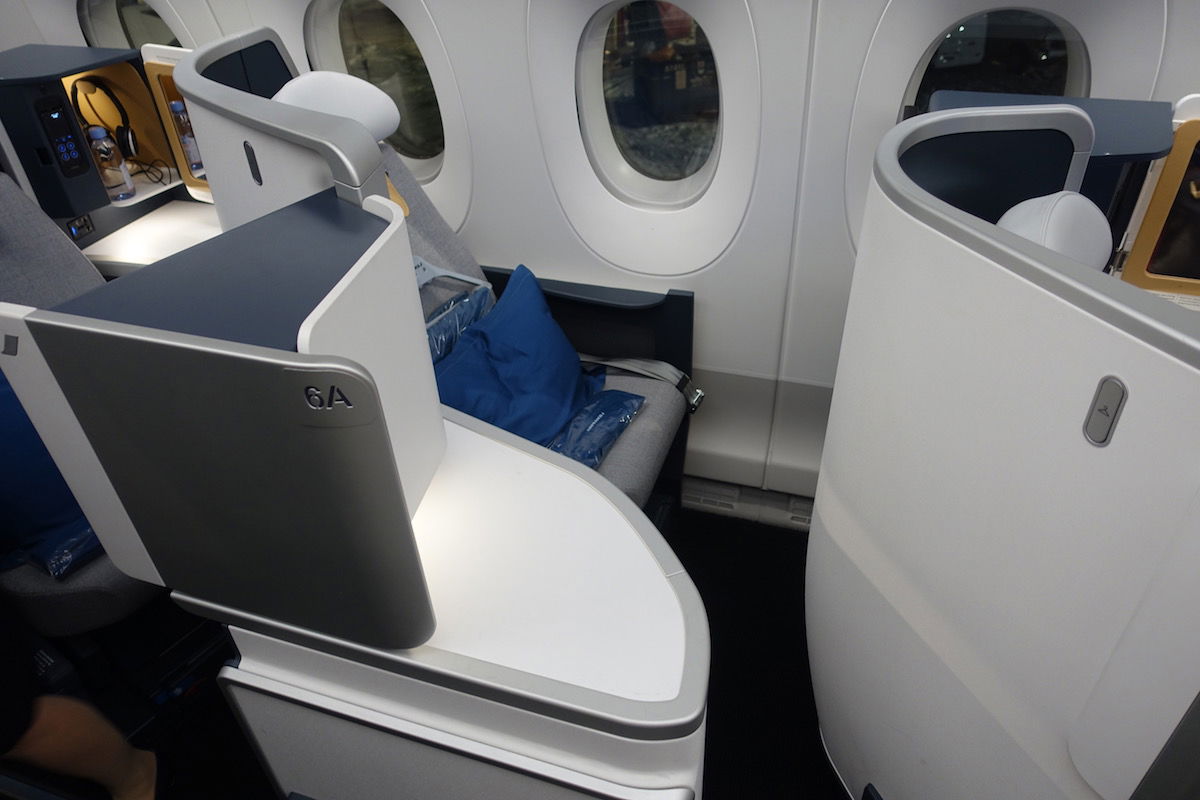 Air France business class seats A350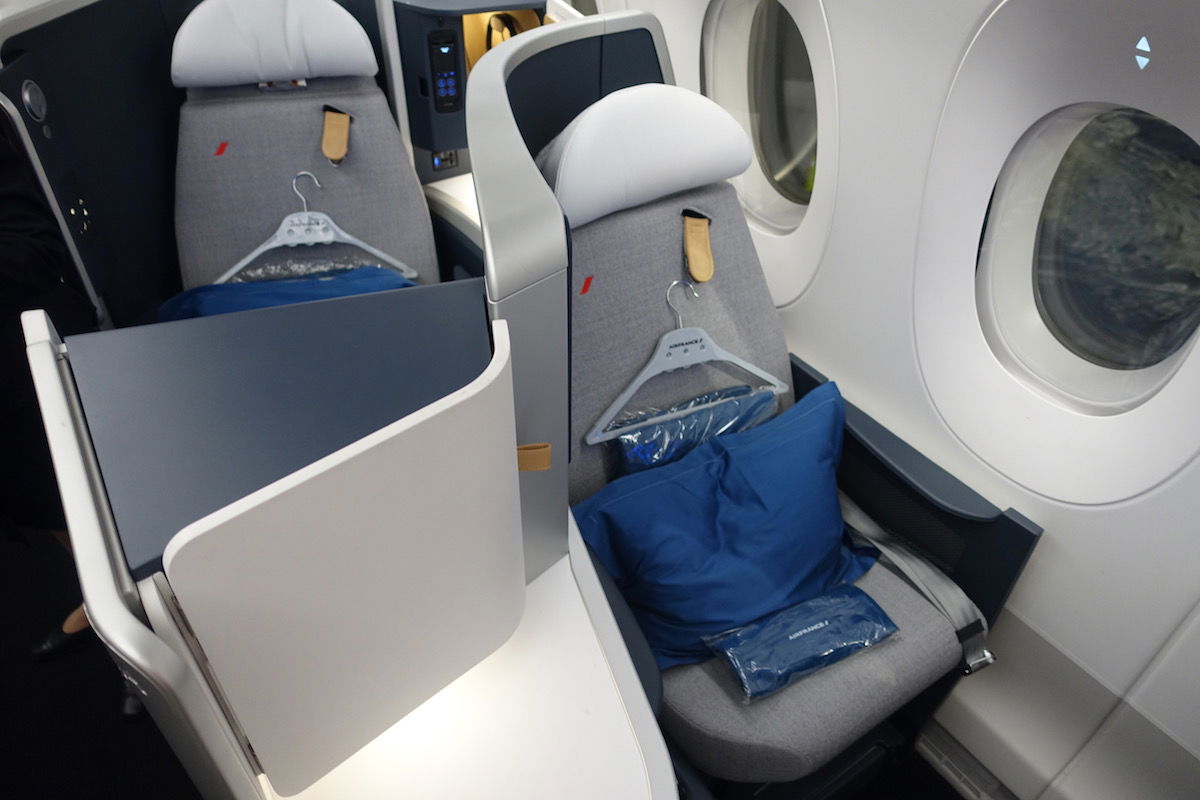 Air France business class seats A350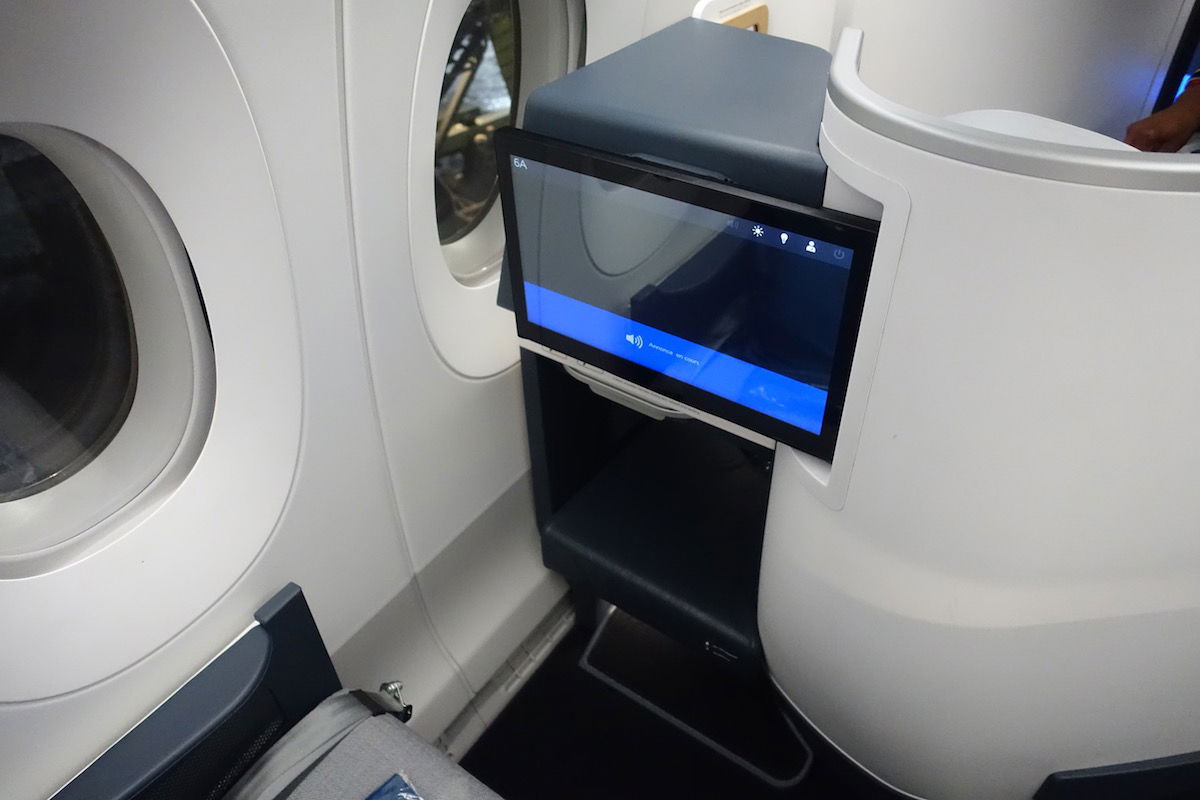 Air France business class seats A350
To the right side of the seat was a fairly large console where you could place things during the flight.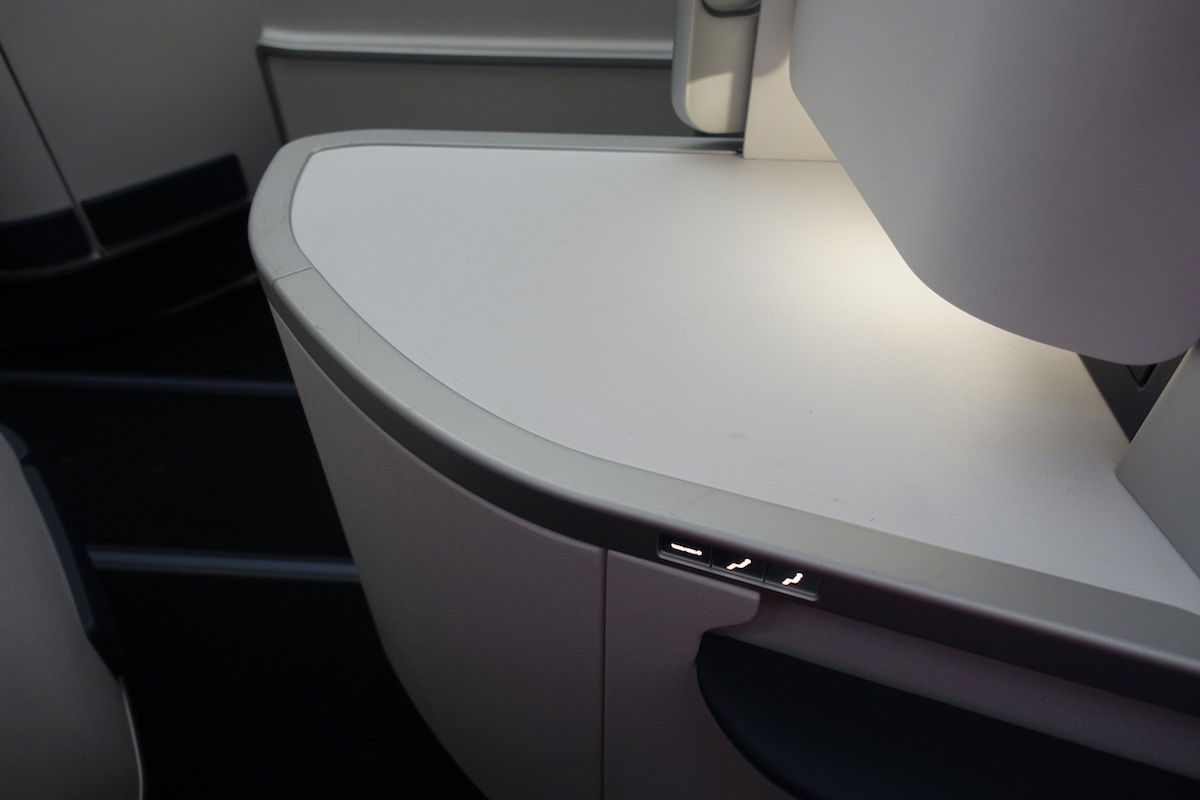 Air France business class seat console A350
There's even a partition you can pull out for a little bit extra privacy (which is something United doesn't have in Polaris).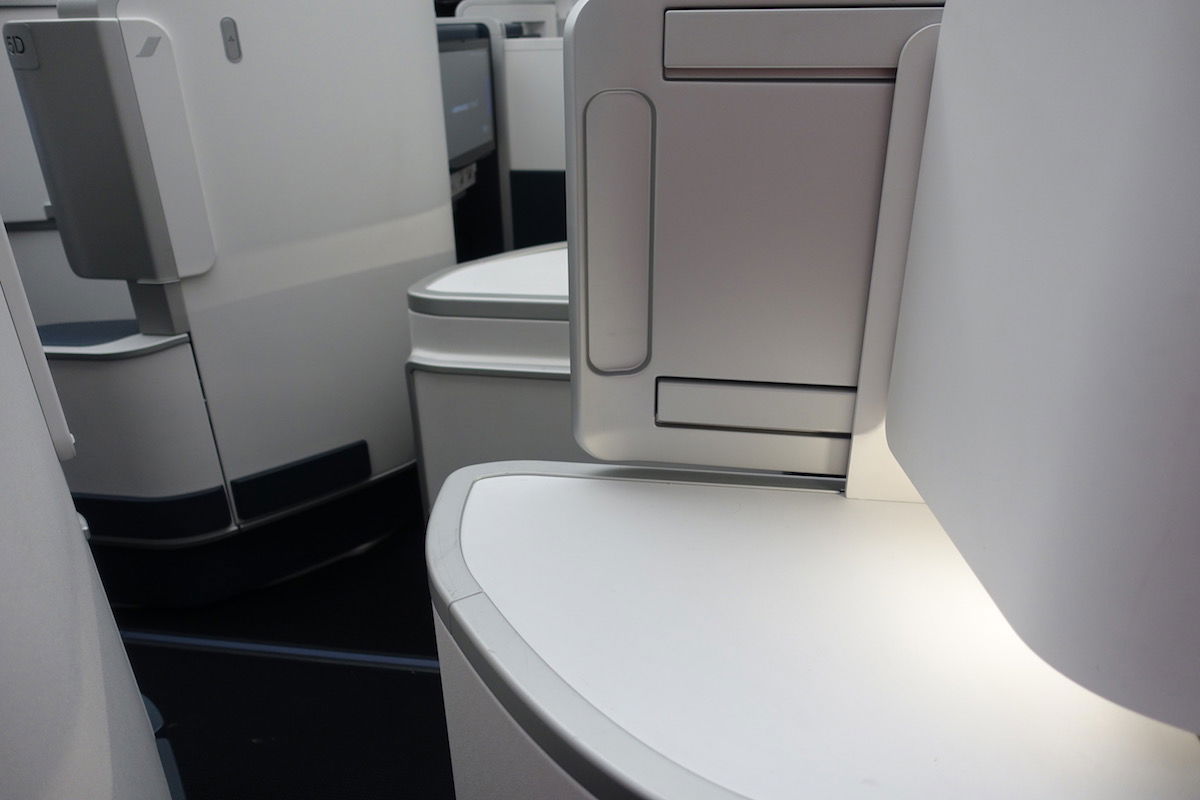 Air France business class privacy partition
Then there's a storage compartment that can be opened and closed, with a mirror and a hook where you can hang the headphones. This is also where the entertainment controller is located, and immediately beneath that you have a 110v and USB outlet.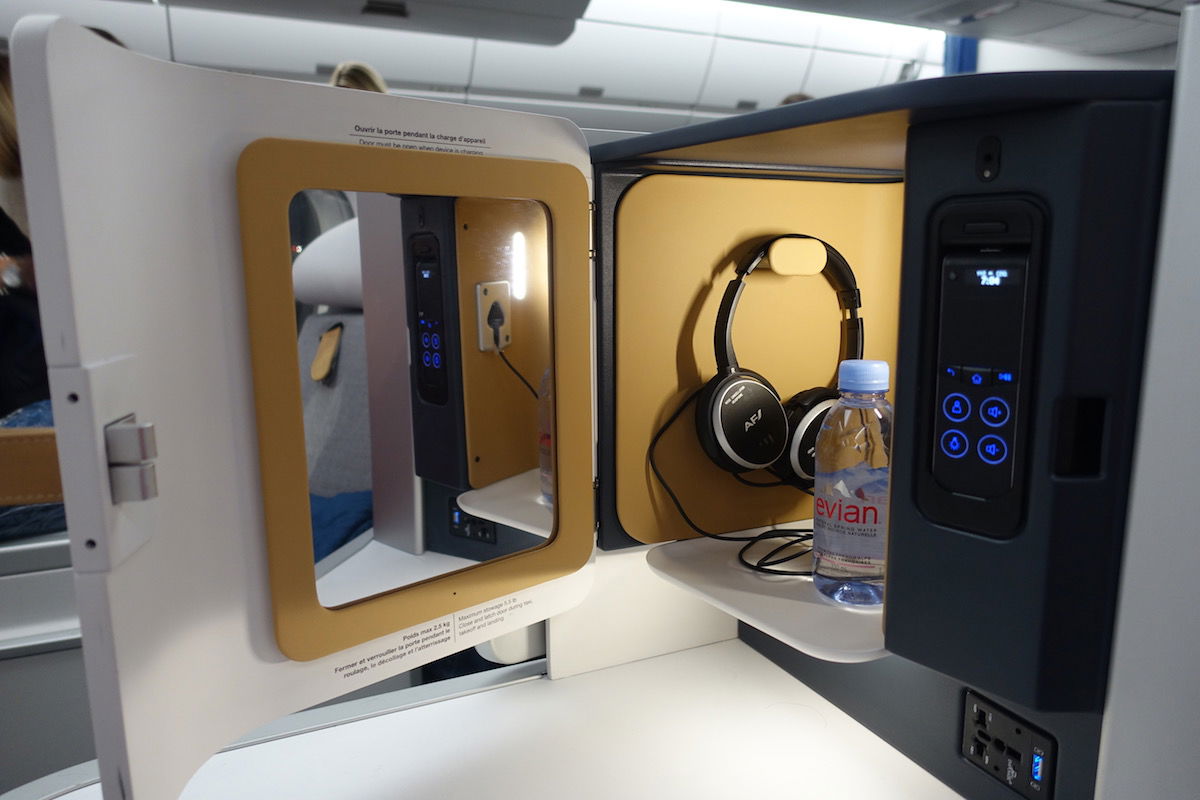 Air France business class seat storage
To the side of that you have a reading light and seating controls.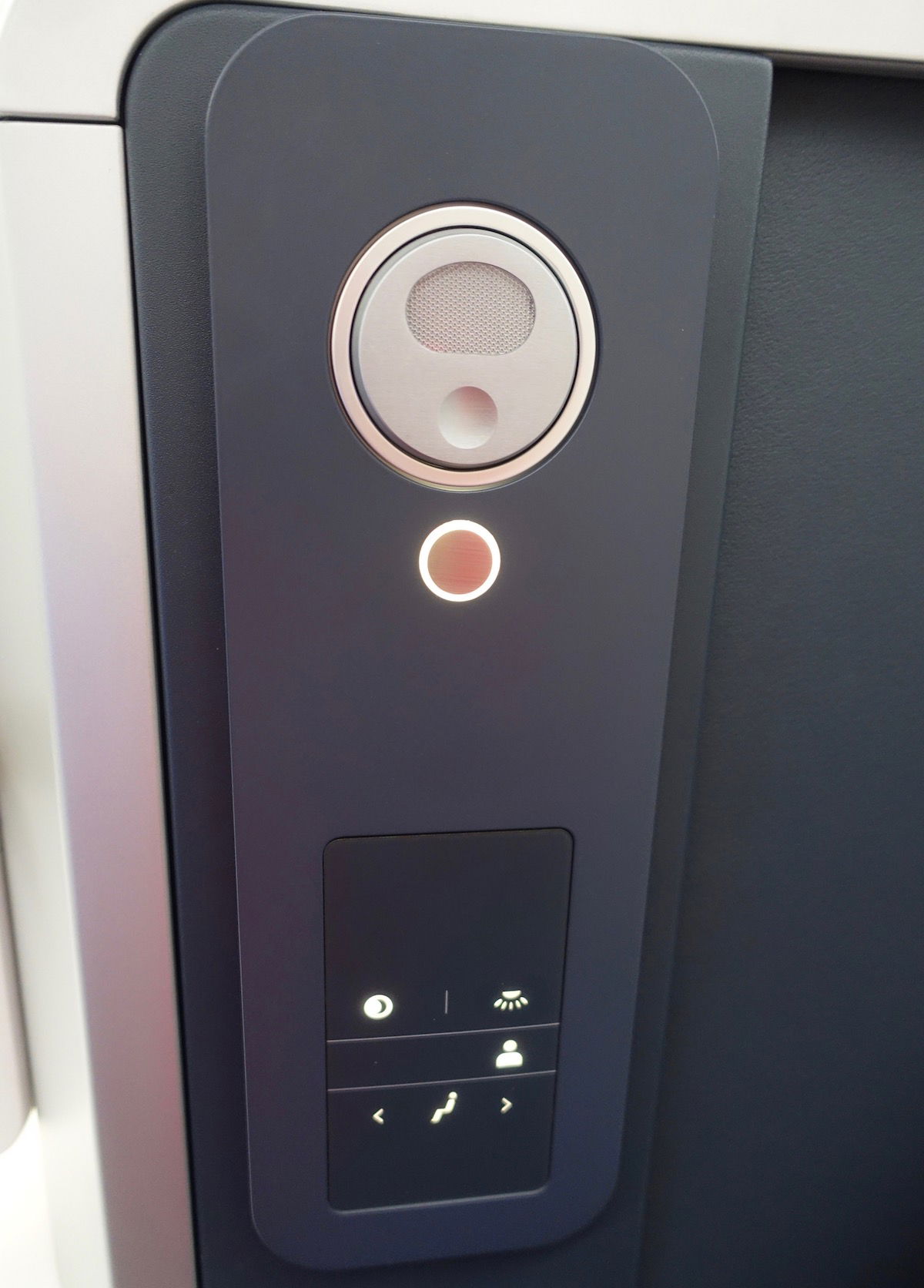 Air France business class seat controls A350
Beneath that are three seat pre-sets.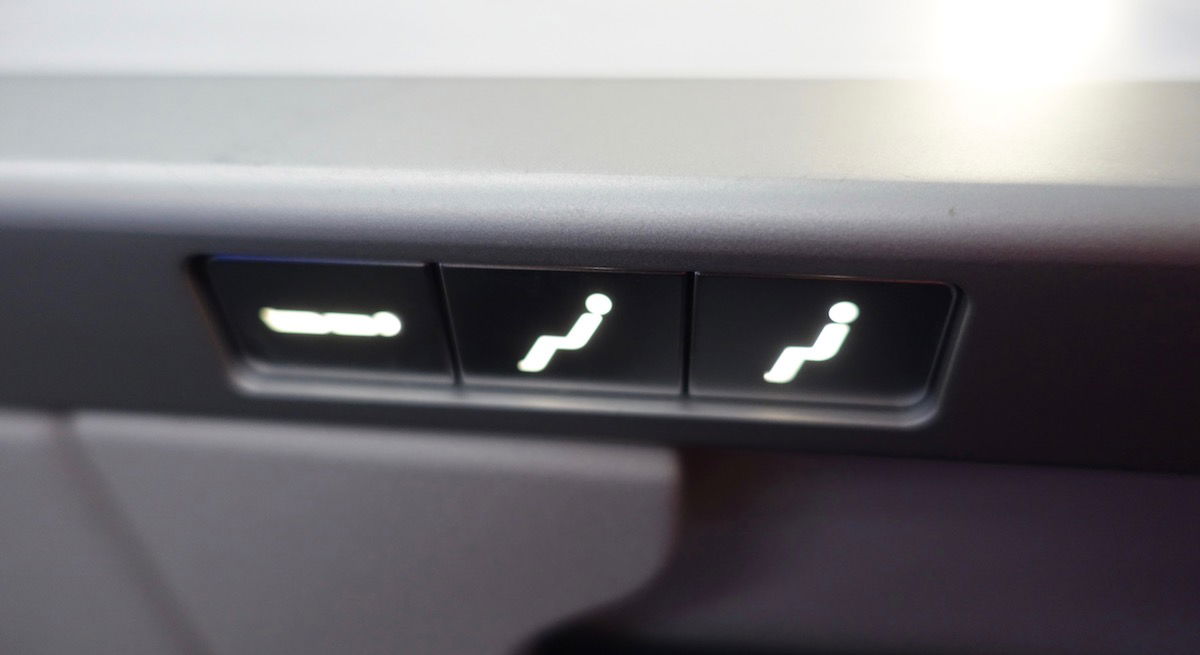 Air France business class seat controls
One concern I have about many seats is how small the footwells are, though I was impressed by the size of this footwell. I found it to be spacious, whether sitting up or laying down. There was also a USB outlet underneath the entertainment monitor.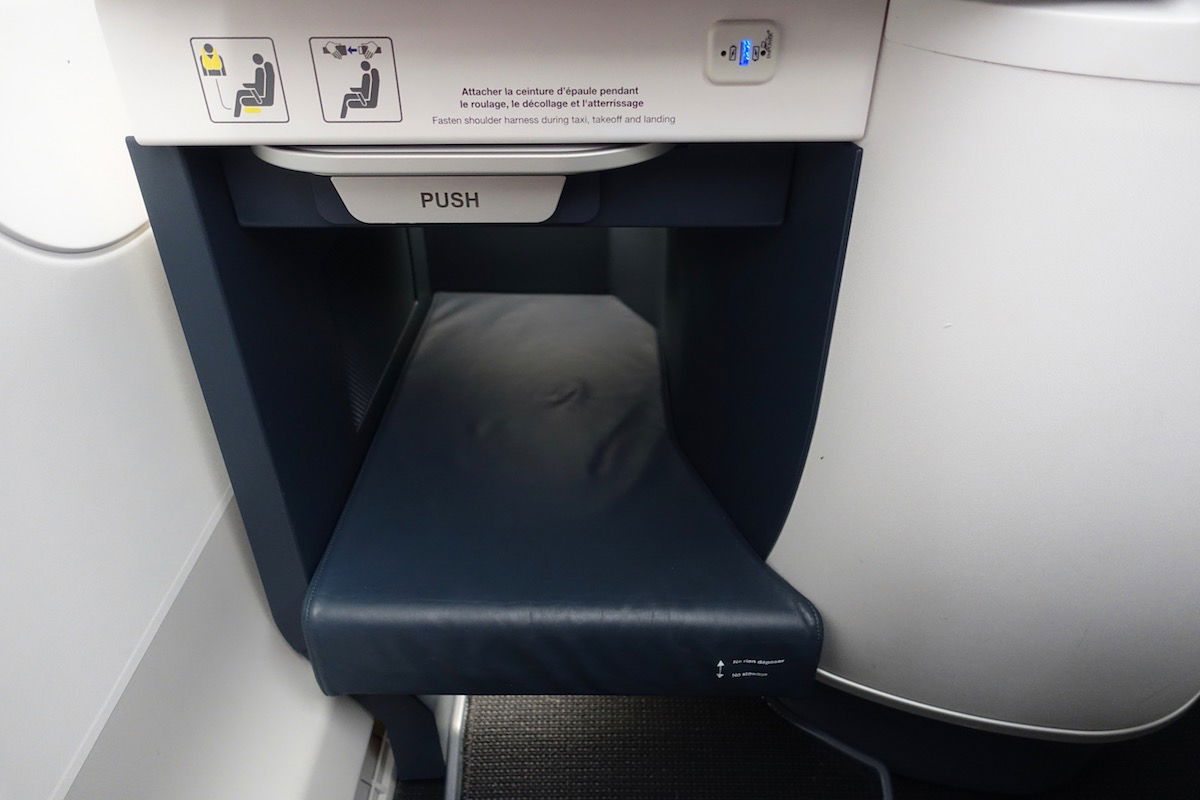 Air France business class seat footwell
The tray table slid out from the seat in front, and was easy to use. It was a good size, but you could still maneuver it so that you can get up while it's extended by turning it 90 degrees to the side.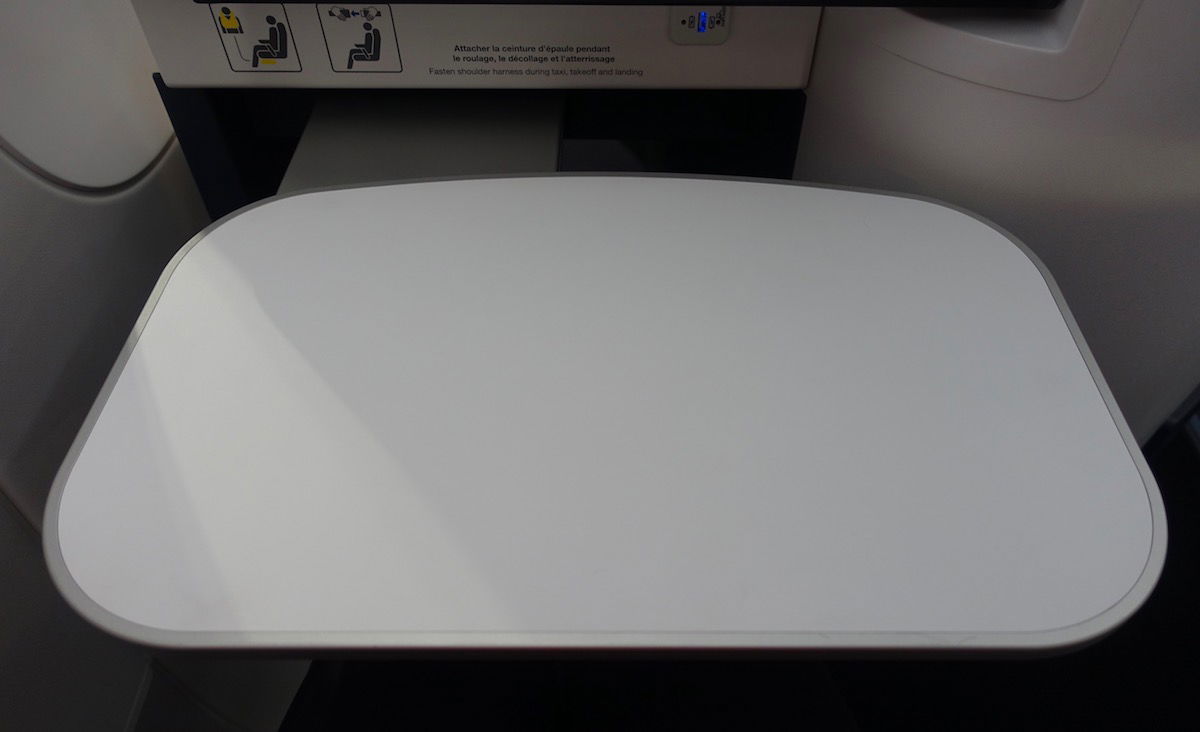 Air France business class seat tray table
The armrests on both sides could be folded up, so that you could maximize the width of the sleeping surface.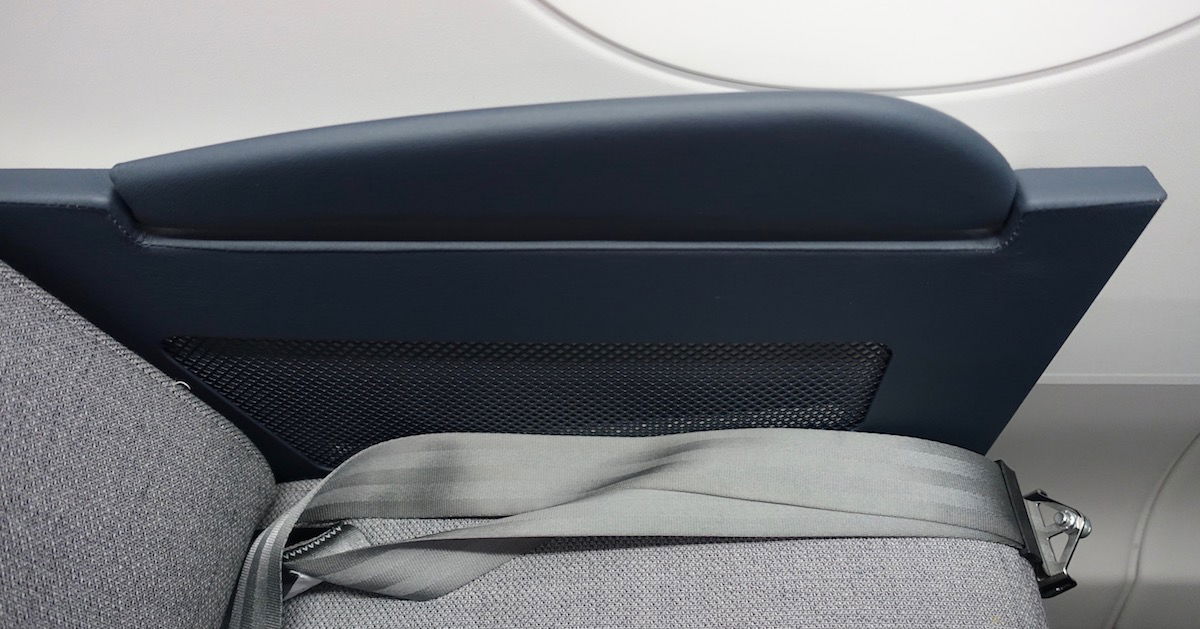 Air France business class seat armrest
One nice high end touch is that the windows had automatic shades, so you could lower and raise them at the push of a button.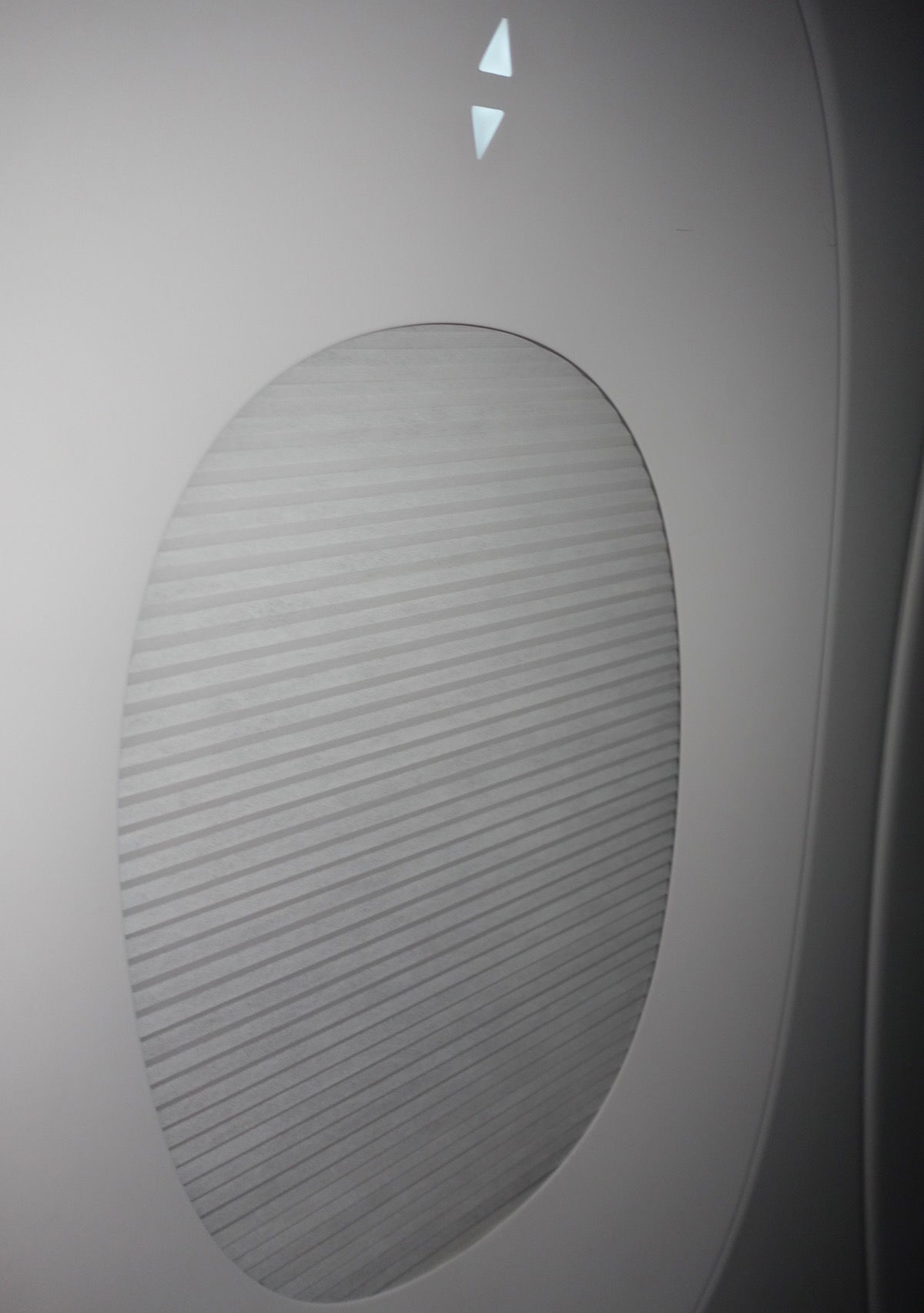 Air France A350 fancy window blinds
I wasn't a fan of was the lack of individual air nozzles. Fortunately the cabin was kept surprisingly cold for a European airline, and I never felt warm.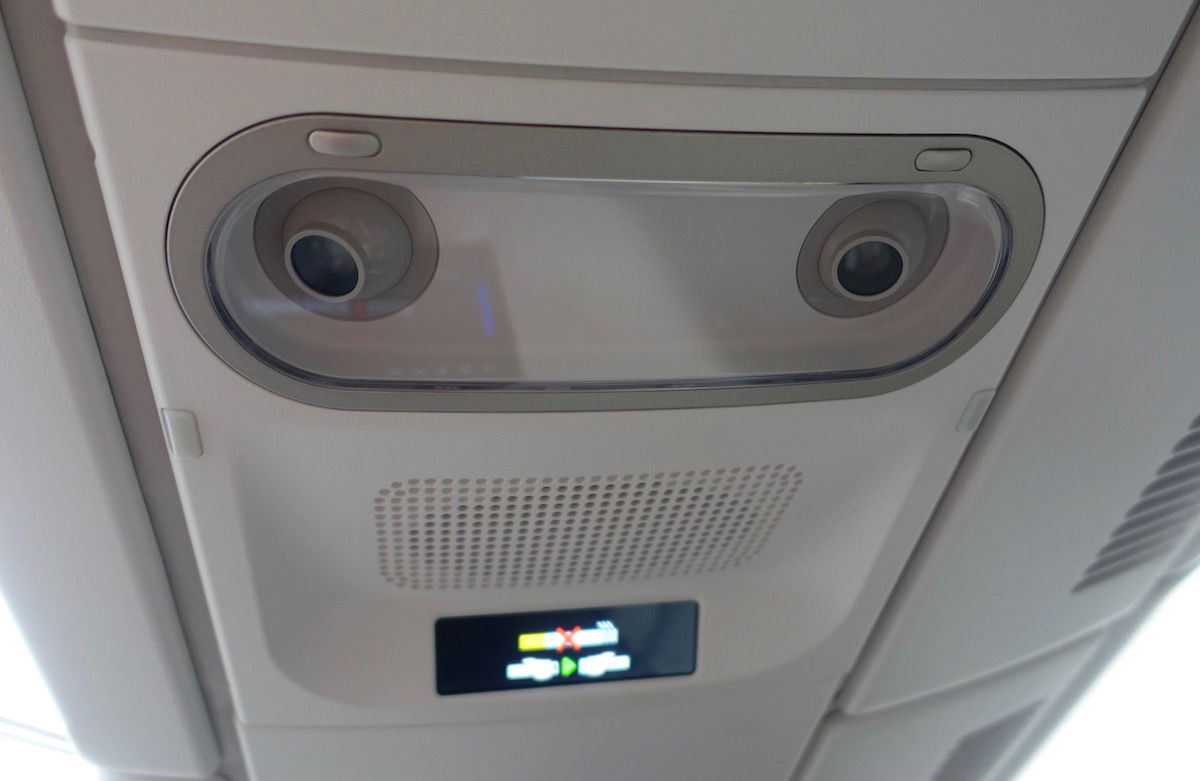 Air France A350 overhead console
All around I thought the cabin was comfortable and sleek. I'd say I'm mostly indifferent when it comes to this seat vs. the reverse herringbone seat Air France otherwise has. Both seats are good.
Already waiting at my seat upon boarding were a pillow and blanket, both of which were soft and plush.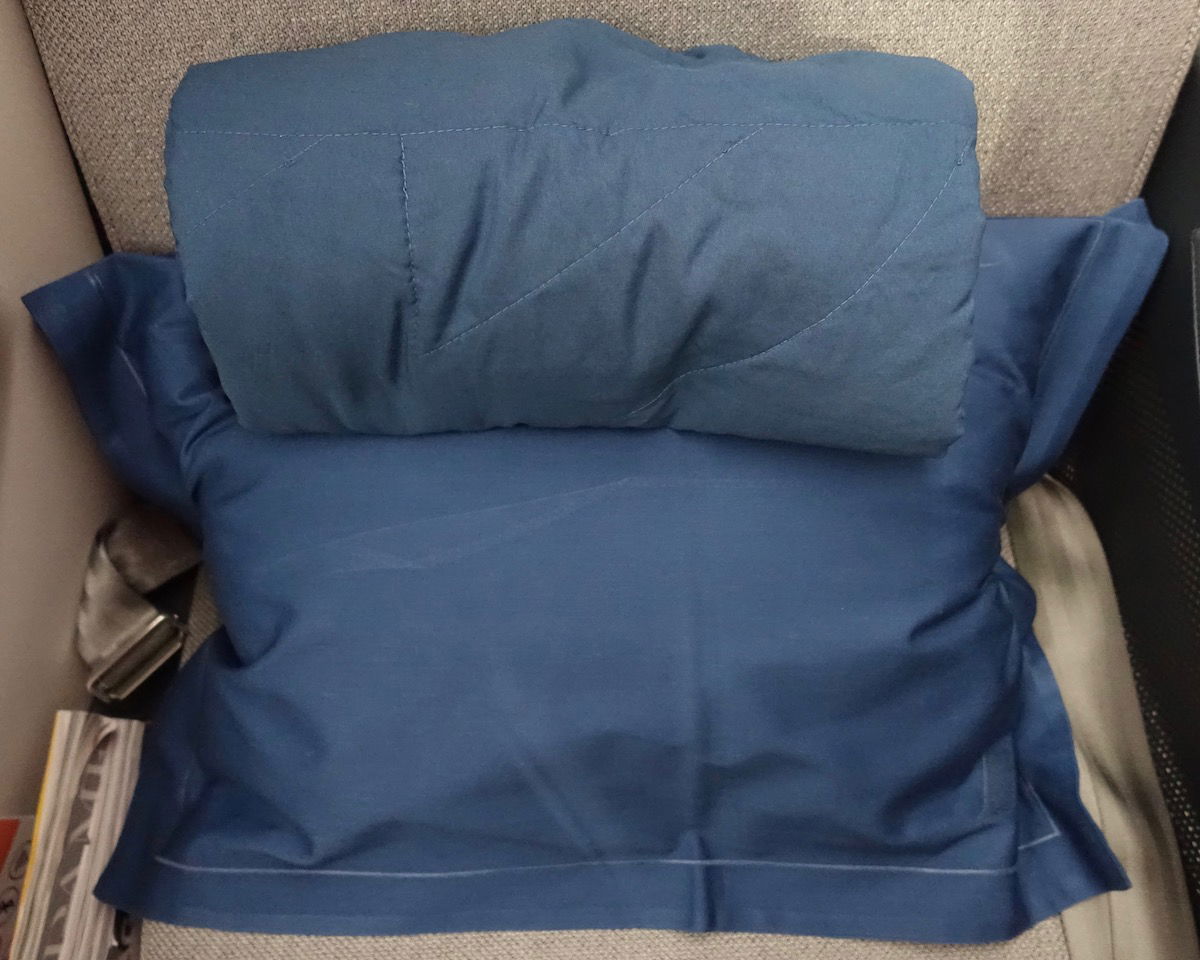 Air France business class pillow & blanket
There were also a pair of pretty good noise canceling headphones. These are three prong headphones, though the audio jack had only one prong. As it turns out, there's a three prong jack inside the storage cubby, which is where you have to plug it in.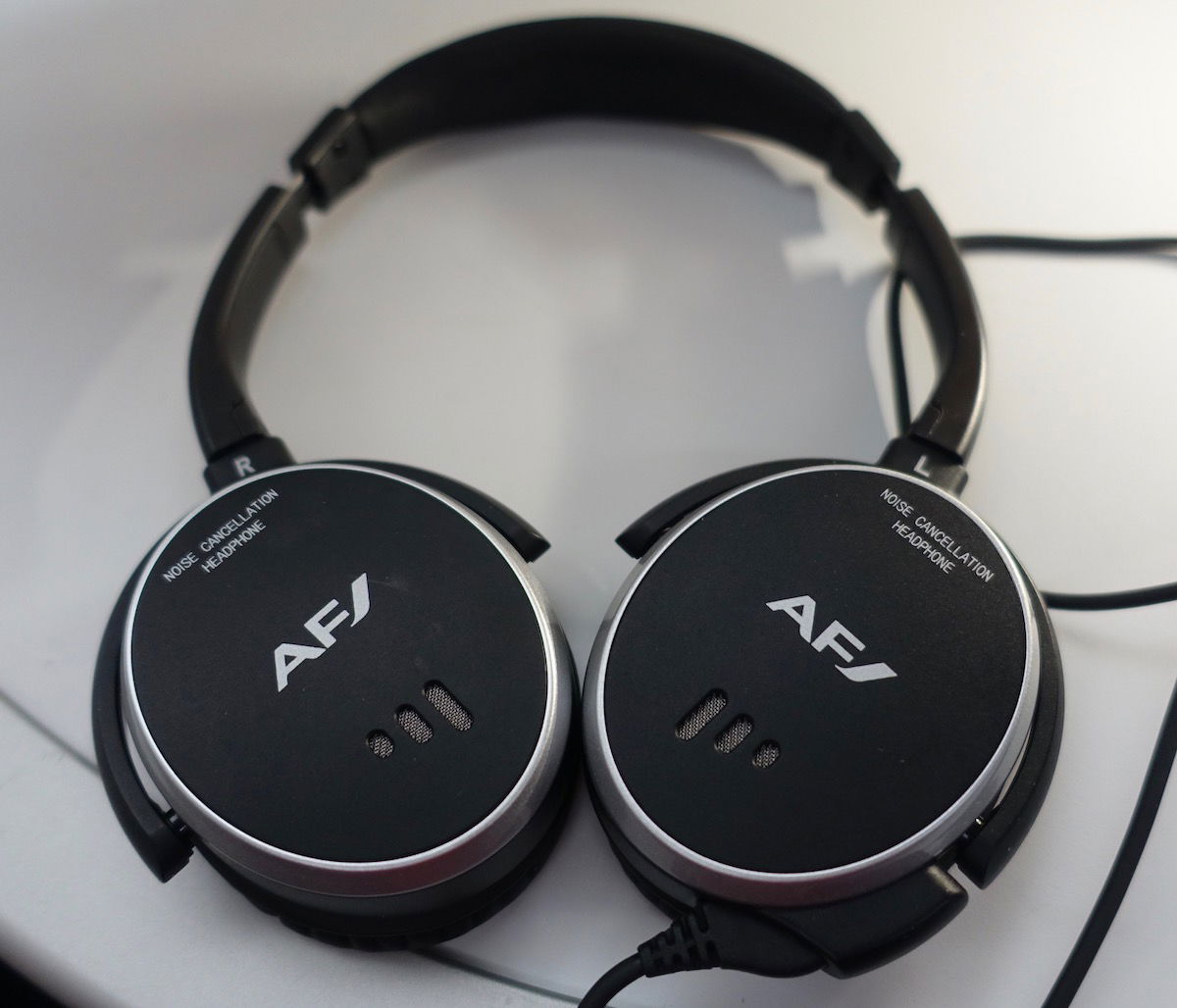 Air France business class headphones
Also waiting at my seat was a hanger. The only reason I'm posting a picture of it is because they're sort of brilliant. See the three things at the top that look like holes? Those are actually dials they can adjust to record the seat number of each passenger, so they know who to return it to.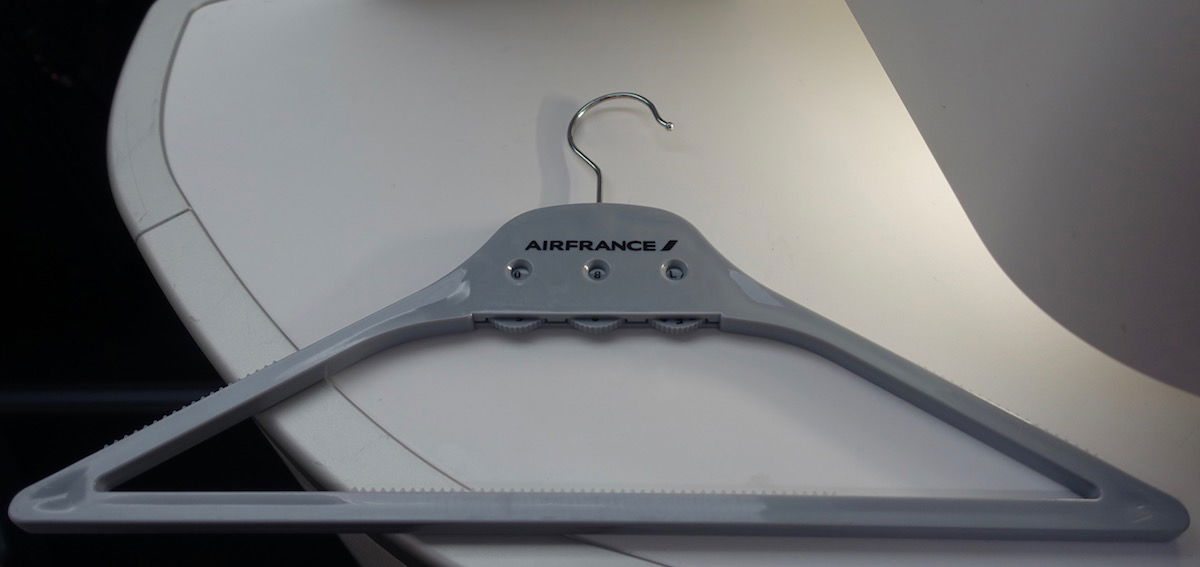 Air France business class clothes hanger
Also waiting at my seat were a pair of slippers, a shoe bag, and a bottle of water.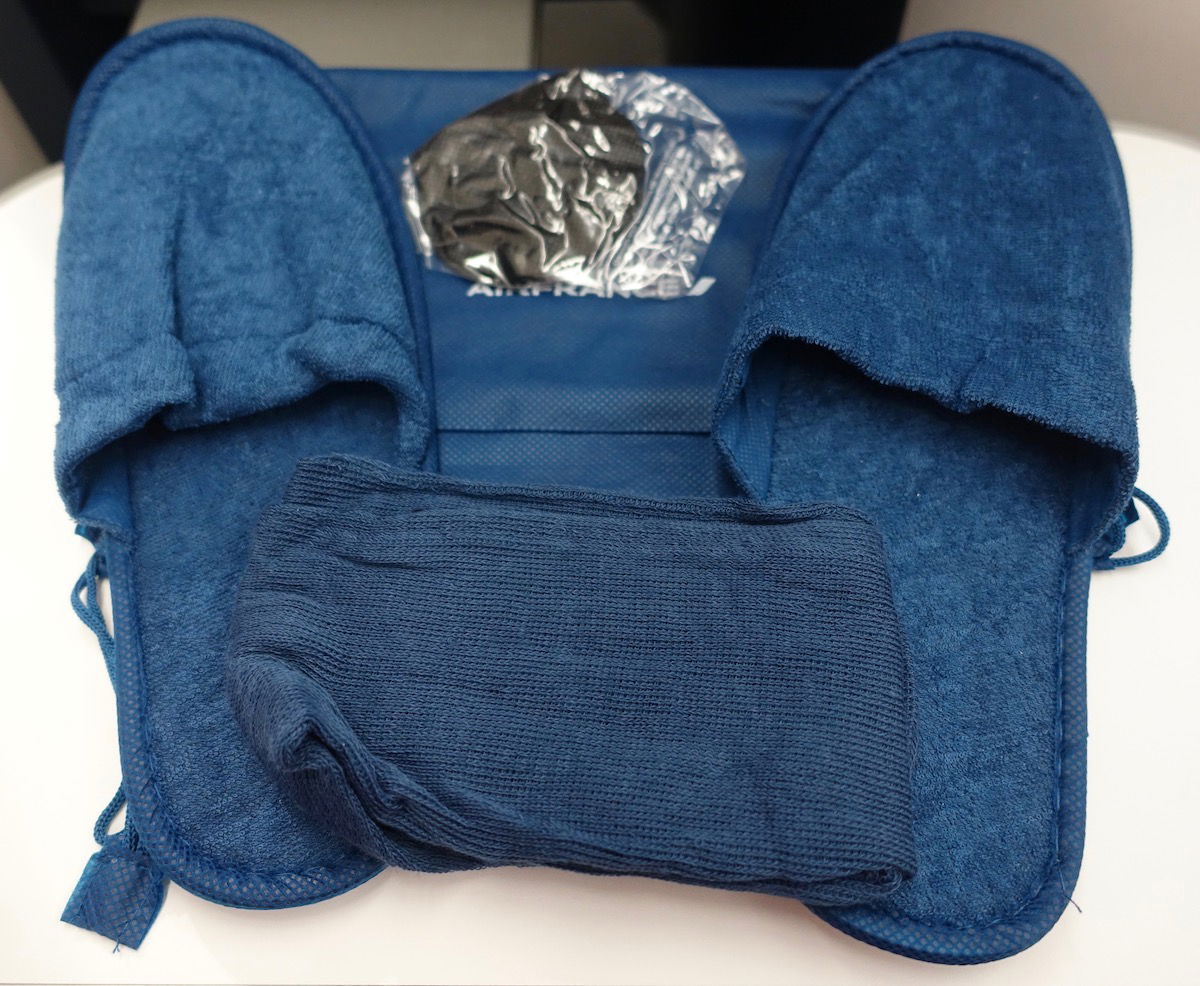 Air France business class slippers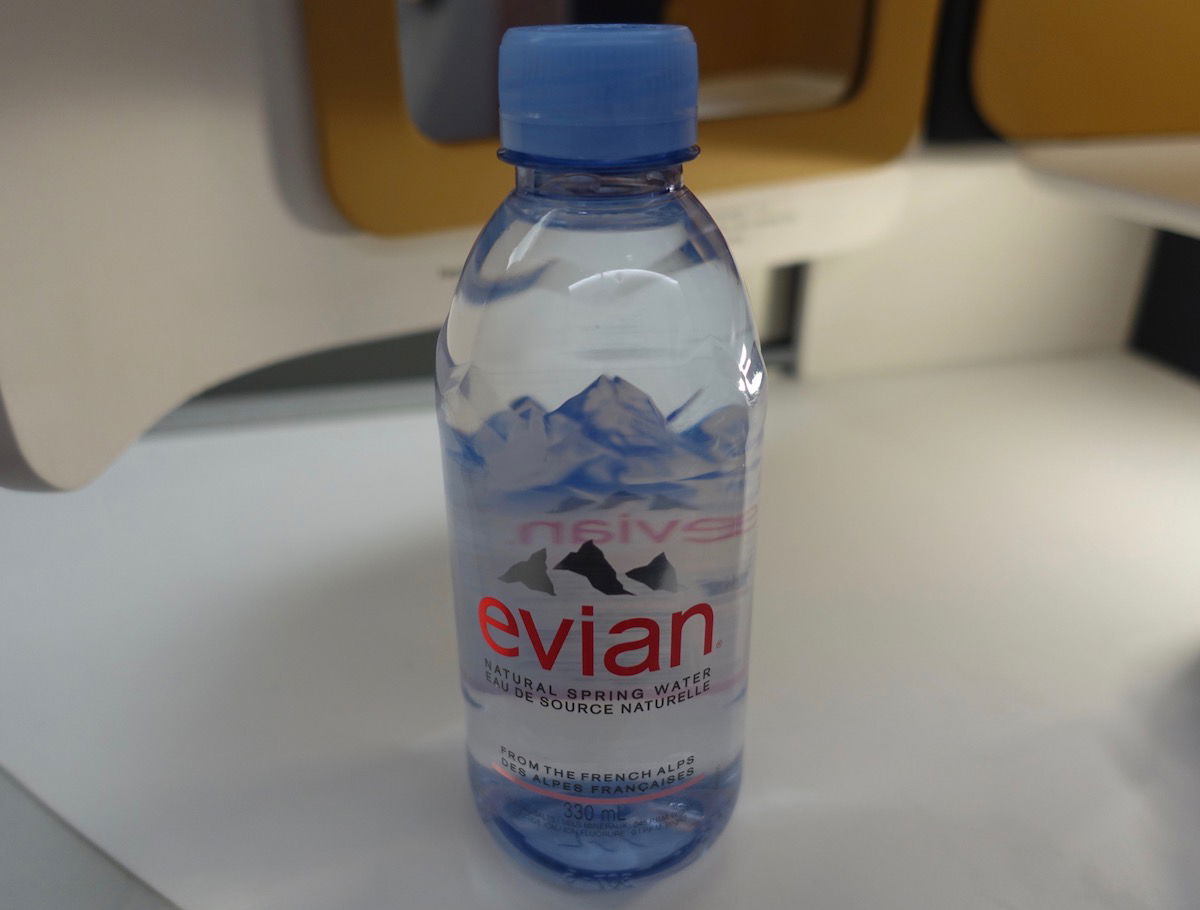 Air France business class bottled water
The boarding process was hectic, as you might expect for a fully loaded flight where everyone is boarding through the forward door.
At 6:55PM the captain added his welcome onboard, informing us of our very short flight time of just 6hr5min, due to strong tailwinds. He anticipated that despite the delayed departure we would still leave early.
A few minutes later pre-departure drinks were offered, with the choice between champagne, water, or orange juice.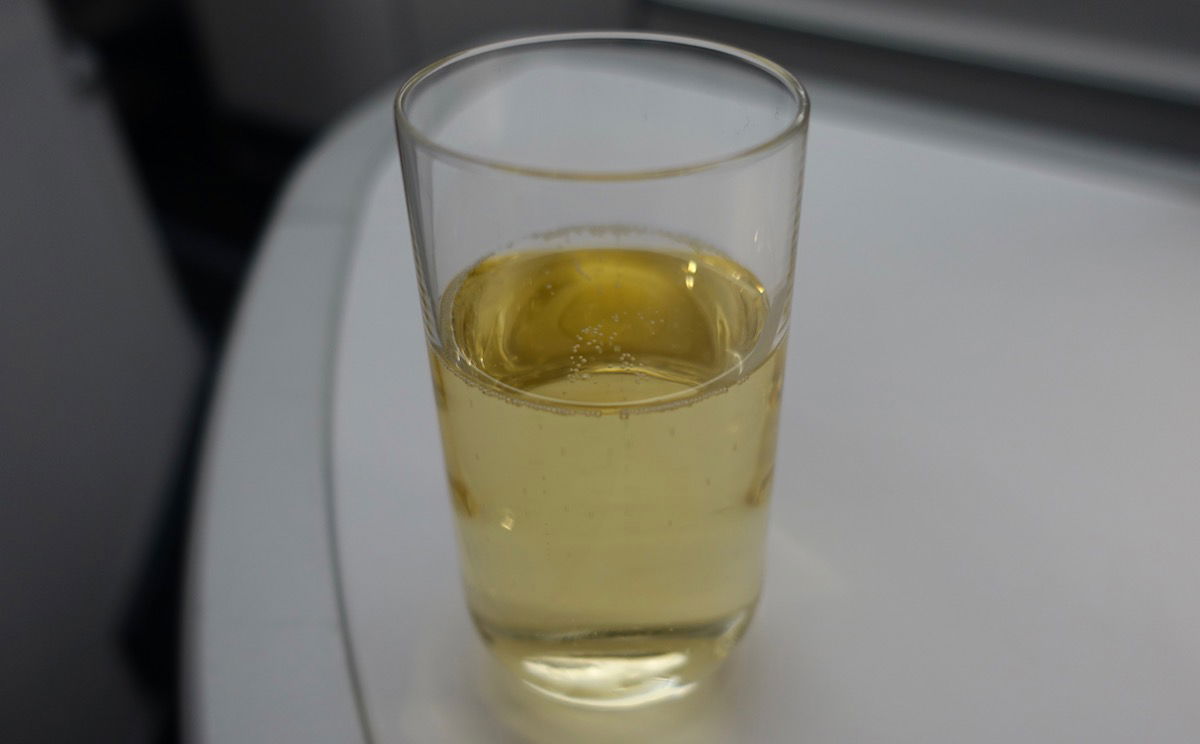 Air France business class pre-departure champagne
Shortly thereafter amenity kits were distributed. There were four different styles of kits to choose from, though they all had the same contents.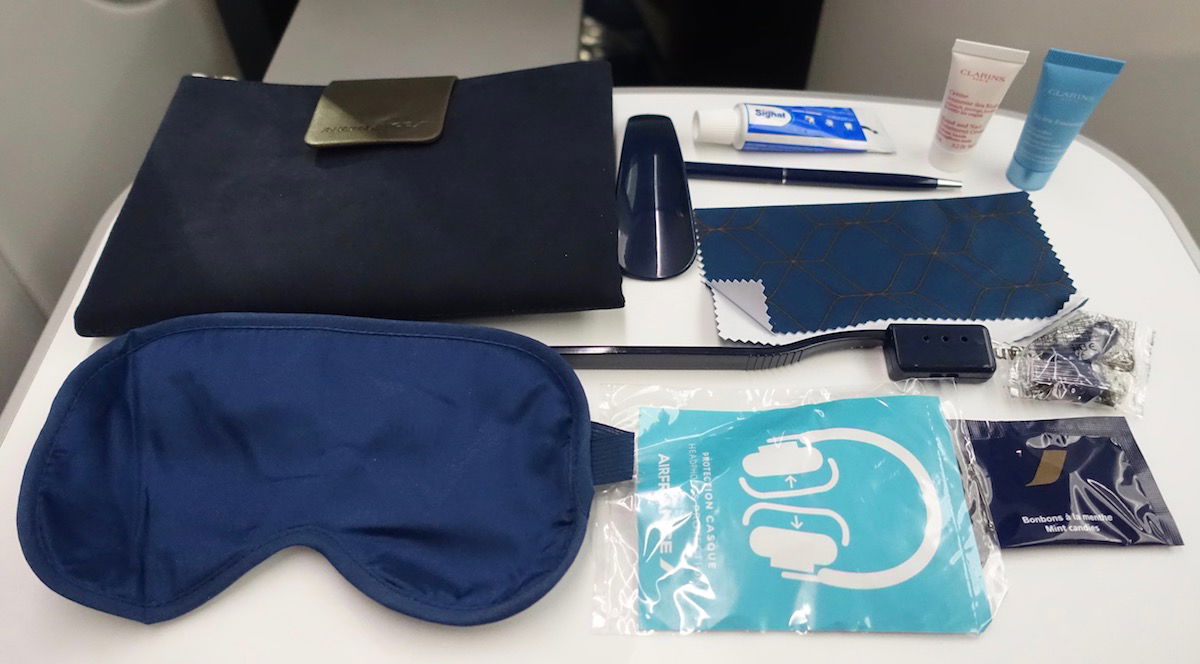 Air France business class amenity kit
Menus were distributed after that.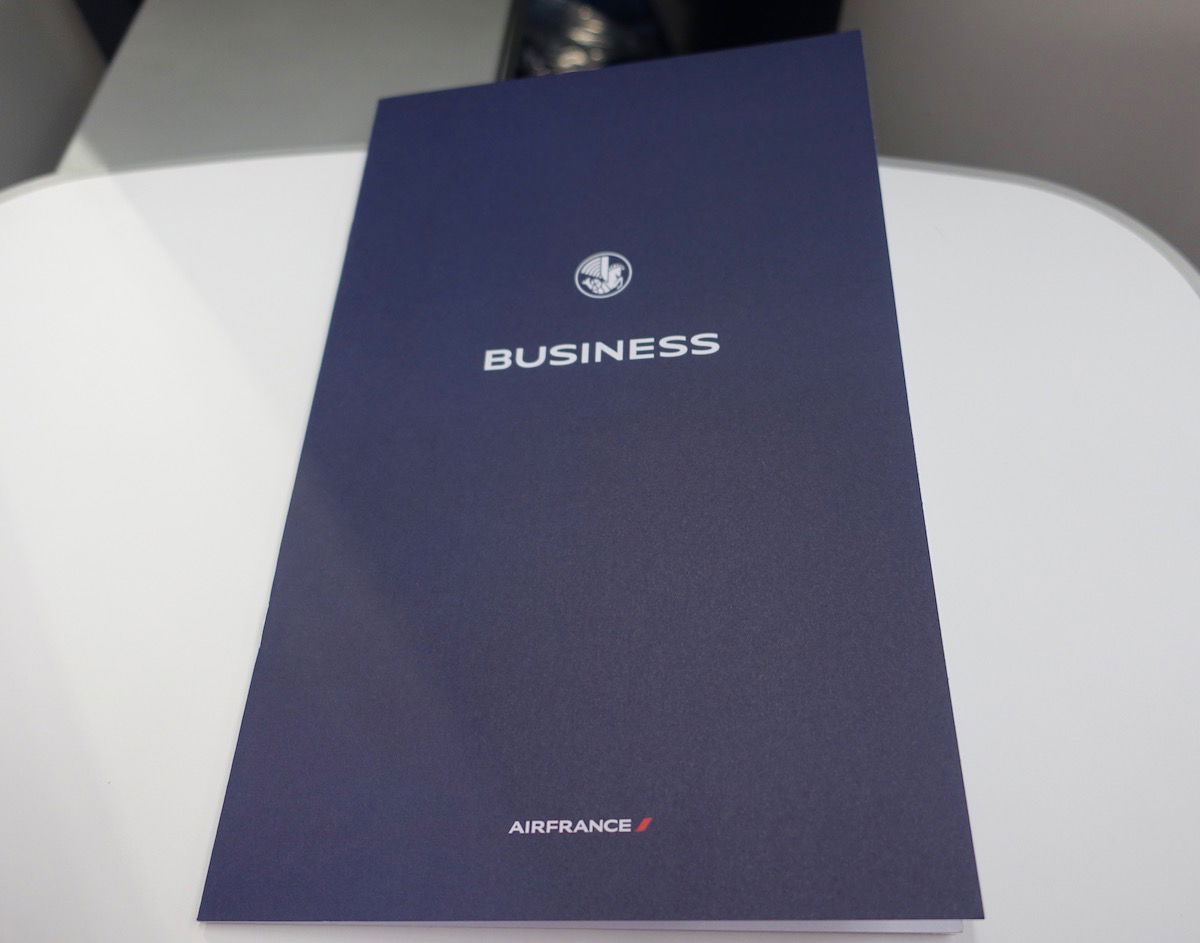 Air France business class menu
A few minutes later the door closed, and at 7:10PM we began our pushback, at which point the safety video was screened.
Air France has a tail camera on the A350-900, so I loved being able to watch that. We had a fairly long taxi, and also taxied pretty slowly, presumably at least in part due to the snowy conditions. At 7:30PM we were cleared for takeoff on runway 24R, with a surprisingly fast takeoff roll.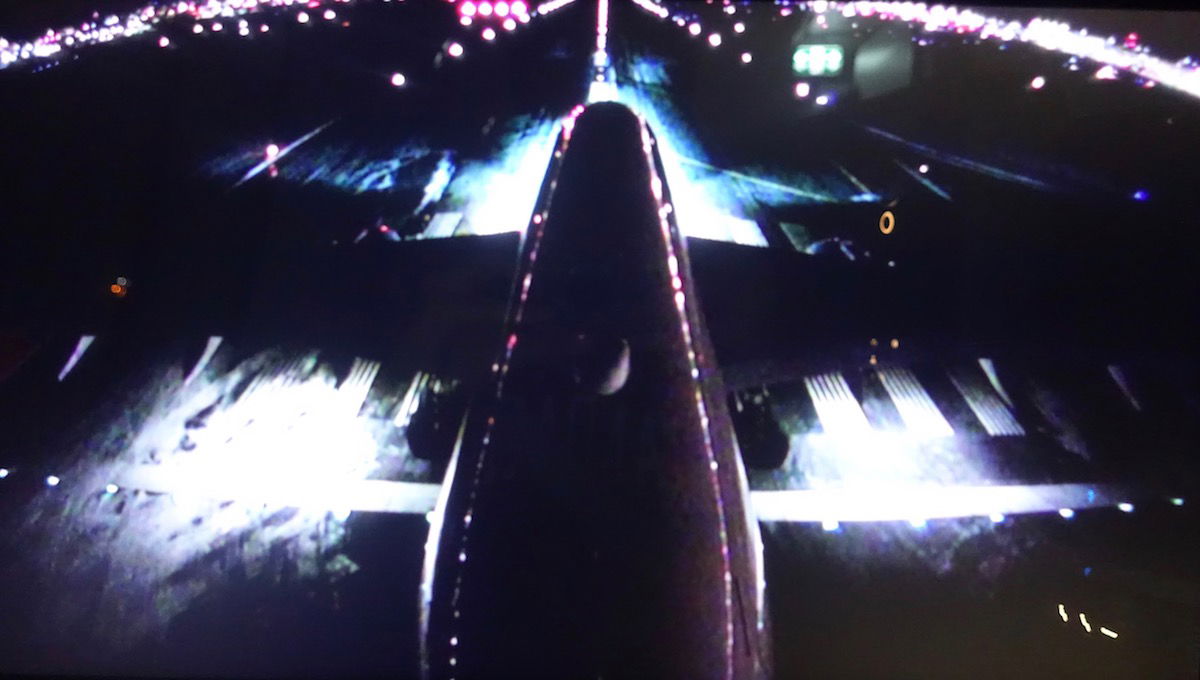 Air France A350 tail camera
As we climbed out I browsed the entertainment selection.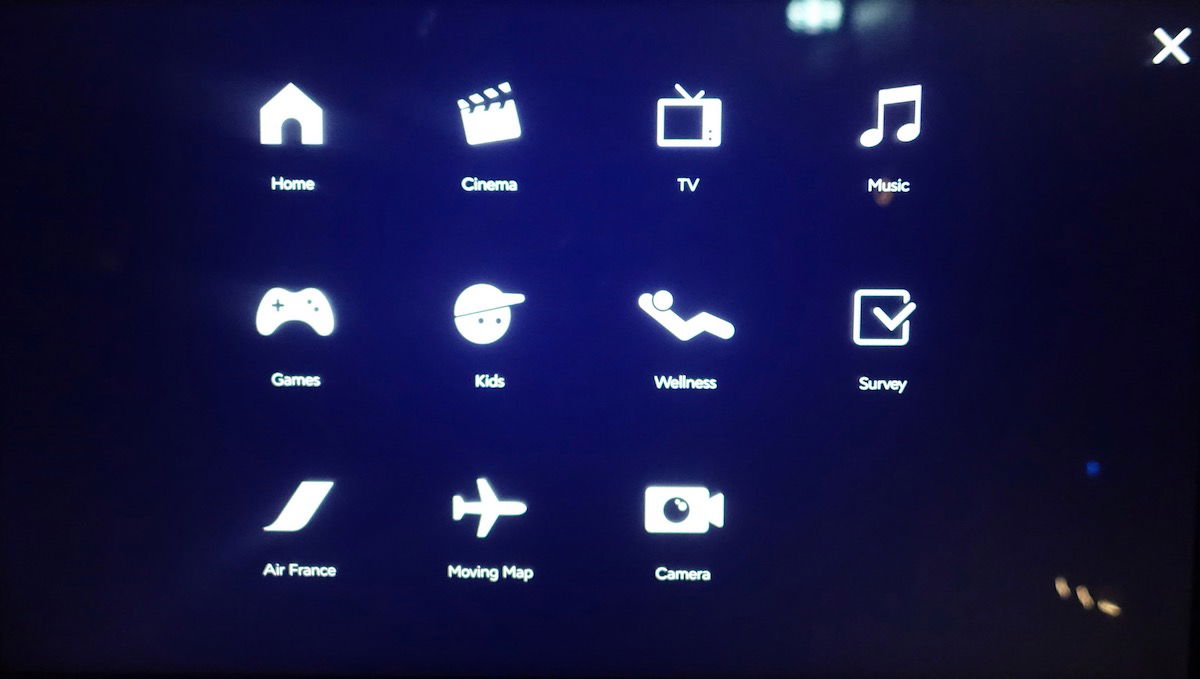 Air France entertainment system A350
I started by taking a look at the map for our flight.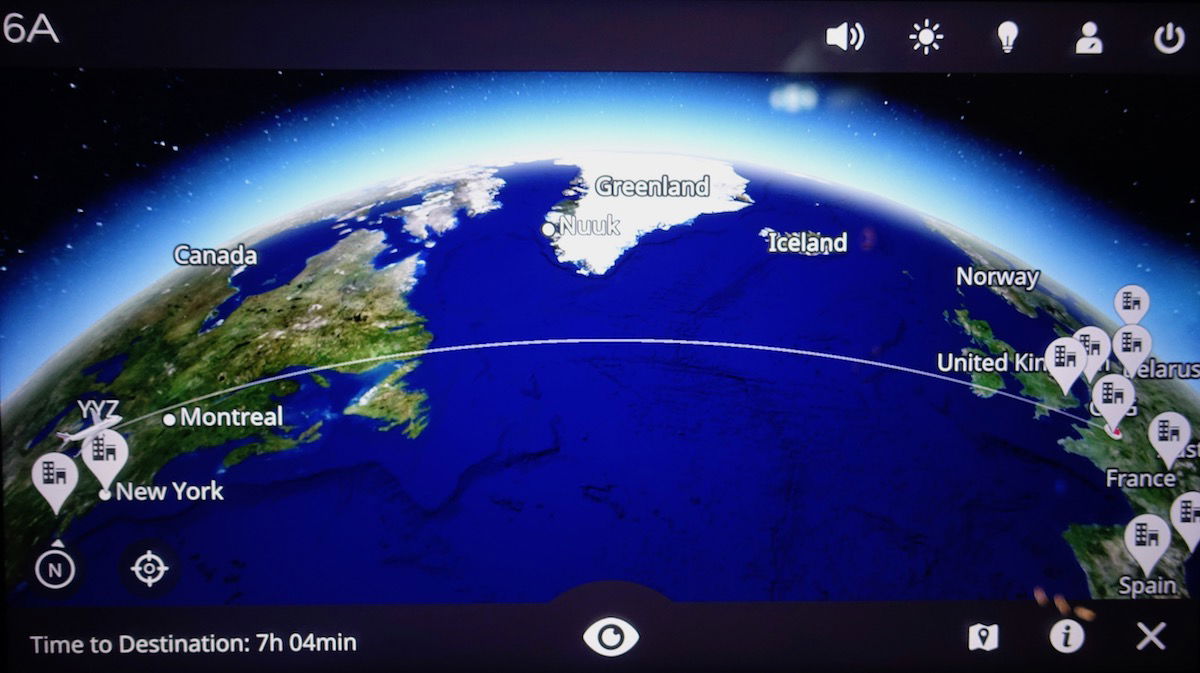 Moving map enroute to Paris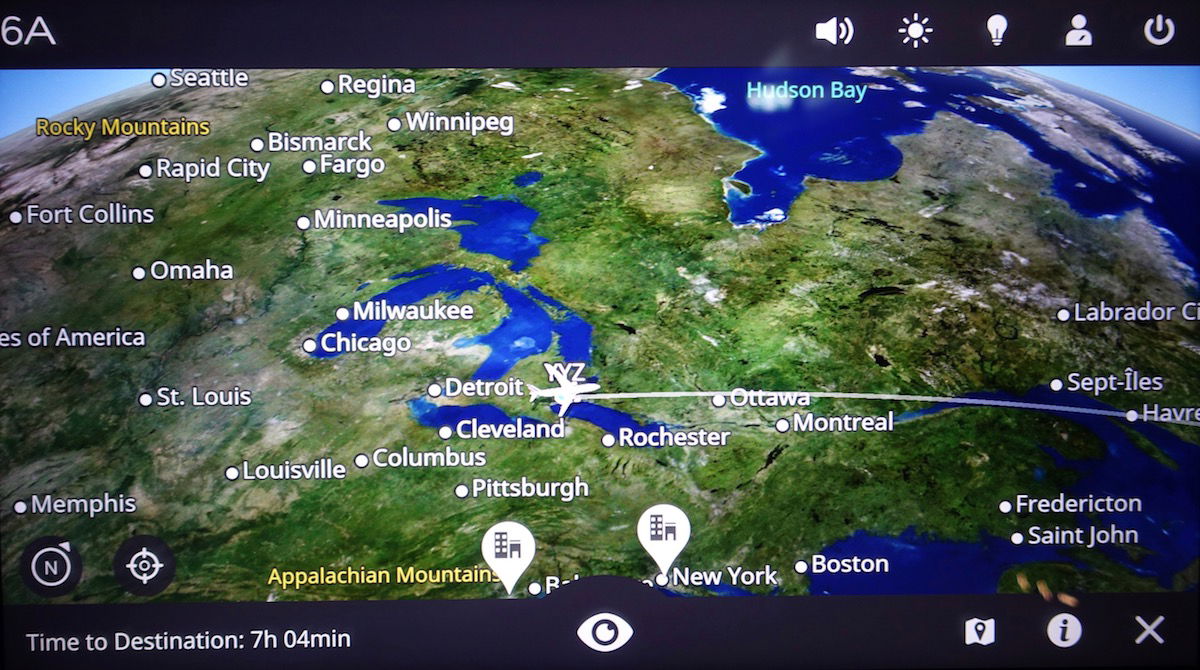 Moving map enroute to Paris
I then checked out the movie and TV show selection, which was excellent, as there were literally hundreds of choices.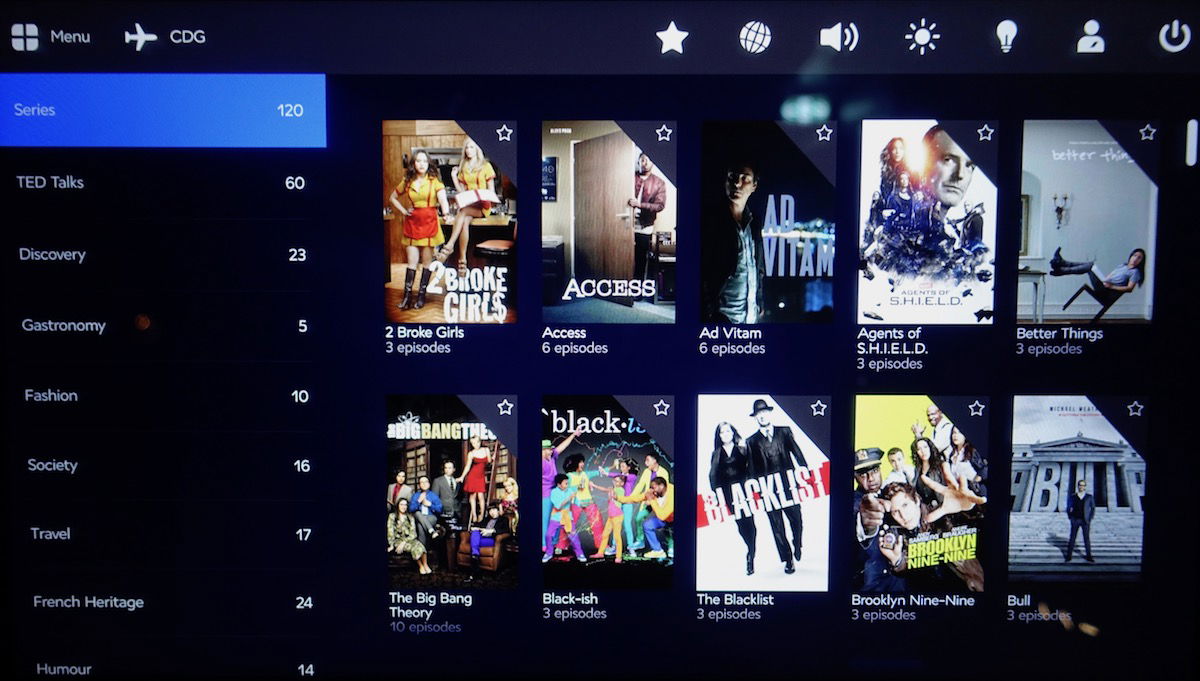 Air France entertainment system A350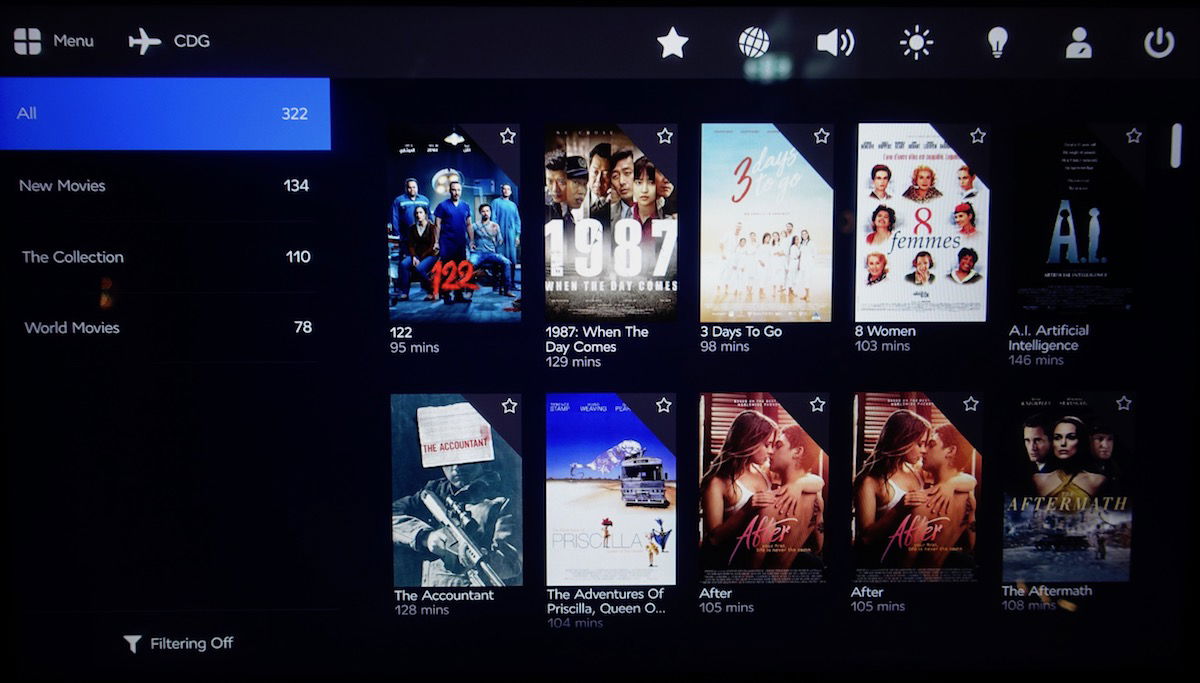 Air France entertainment system A350
Air France also has Wi-Fi on the A350, and they don't have any data caps, which is awesome. There are three options:
Message pass, which includes free messaging throughout the flight
Surf pass, which is basic internet that costs 8EUR for an hour or 18EUR for the entire flight
Stream pass, which is premium internet that costs 30EUR for the entire flight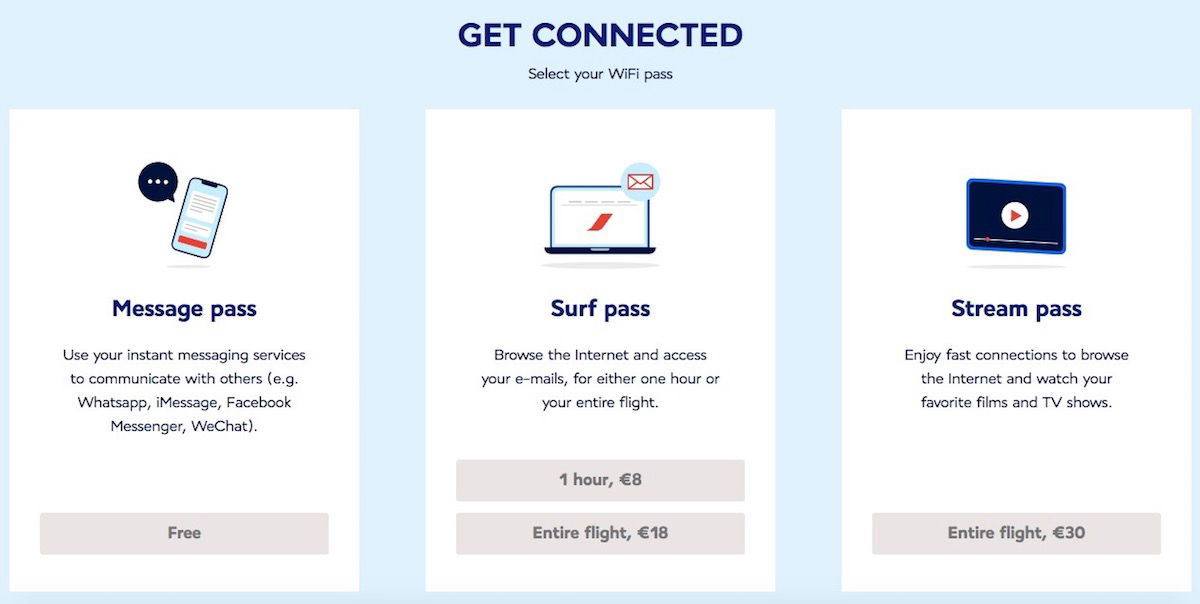 Air France A350 Wi-Fi pricing
I ended up getting the messaging pass on my phone (since it's free), and I purchased the Surf pass on my computer for one hour for 8EUR. The speeds weren't terribly fast, but presumably that's because I didn't purchase the most expensive plan. On a daytime flight I'd absolutely take advantage of the Stream pass to be able to stay productive, but on this short flight sleep was a priority.
I'm thrilled to see that Air France finally has a good option for staying connected inflight.
Service got started very quickly after takeoff.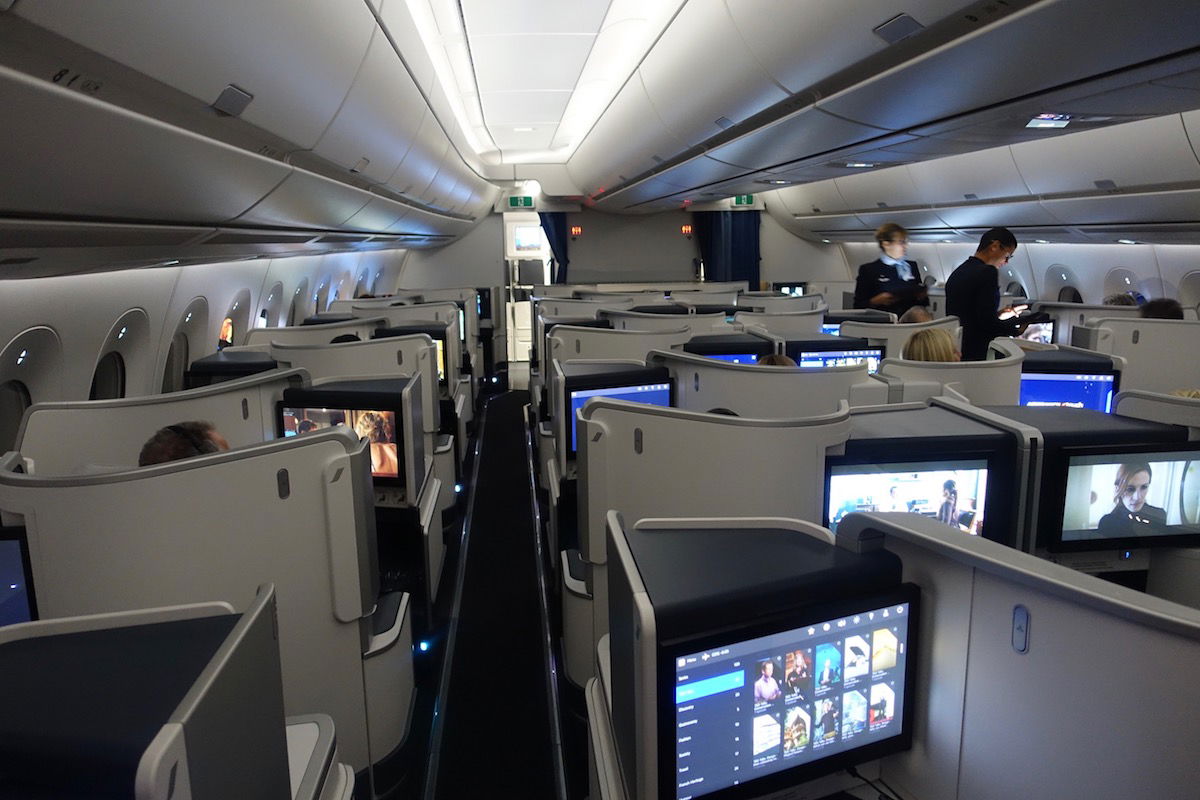 Air France A350 business cabin
Just 10 minutes after takeoff warm towels were distributed.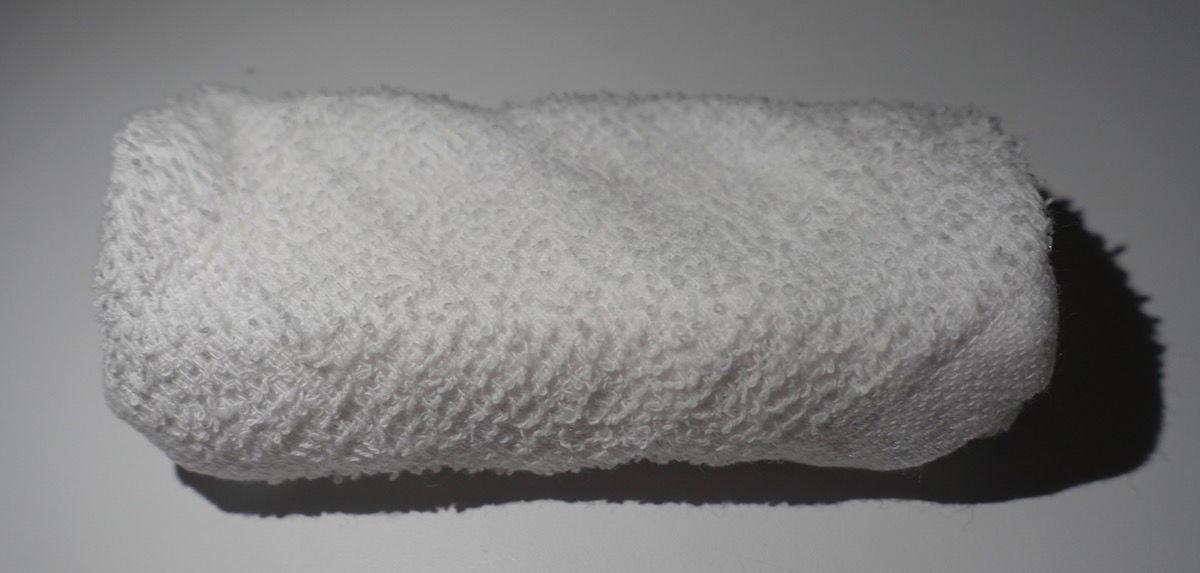 Air France business class warm towels
15 minutes after takeoff one of the flight attendants came by for a "formal" welcome onboard, and she also asked me for my meal choice for dinner, and if I wanted to be woken for breakfast.
The dinner menu read as follows: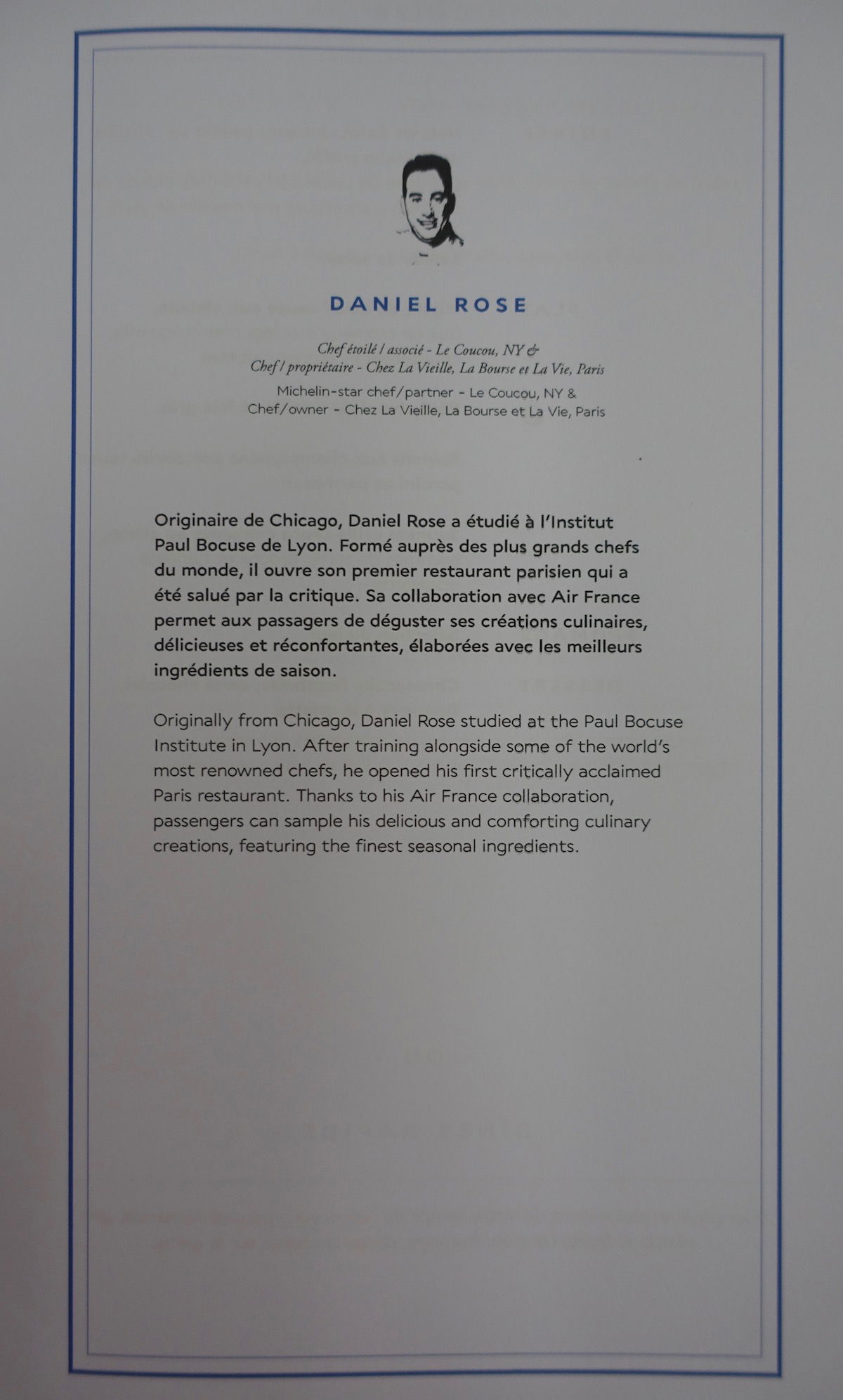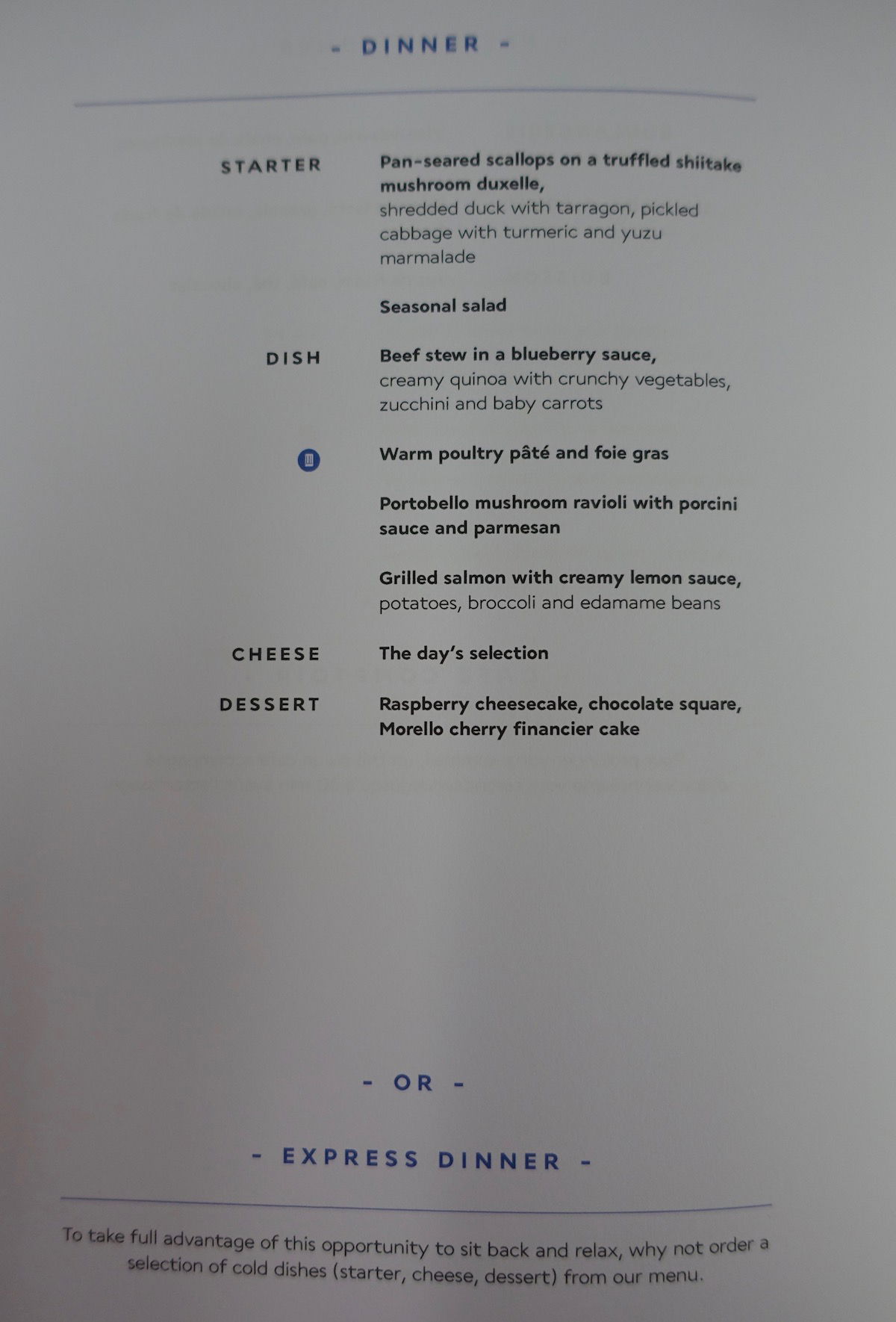 The drink list read as follows: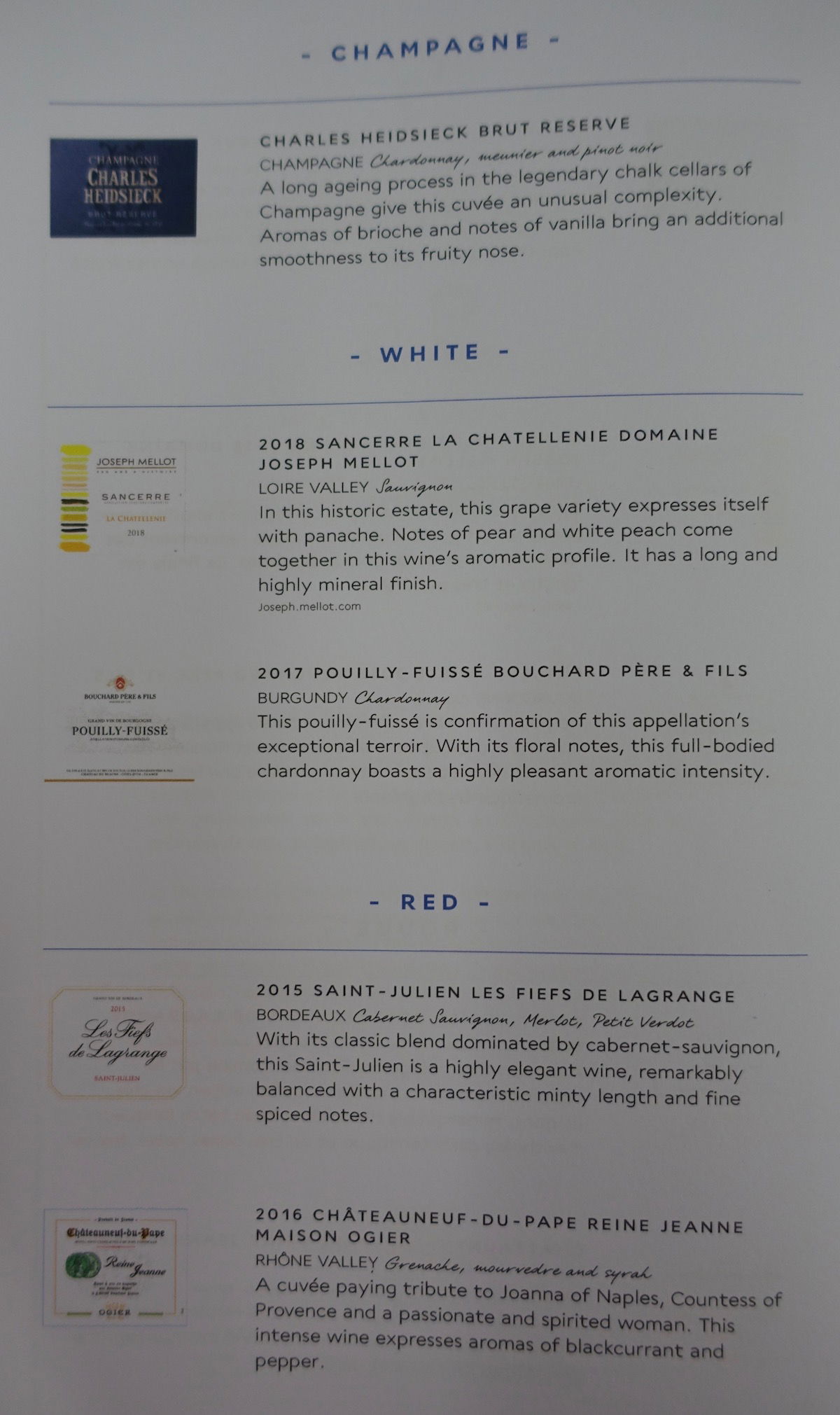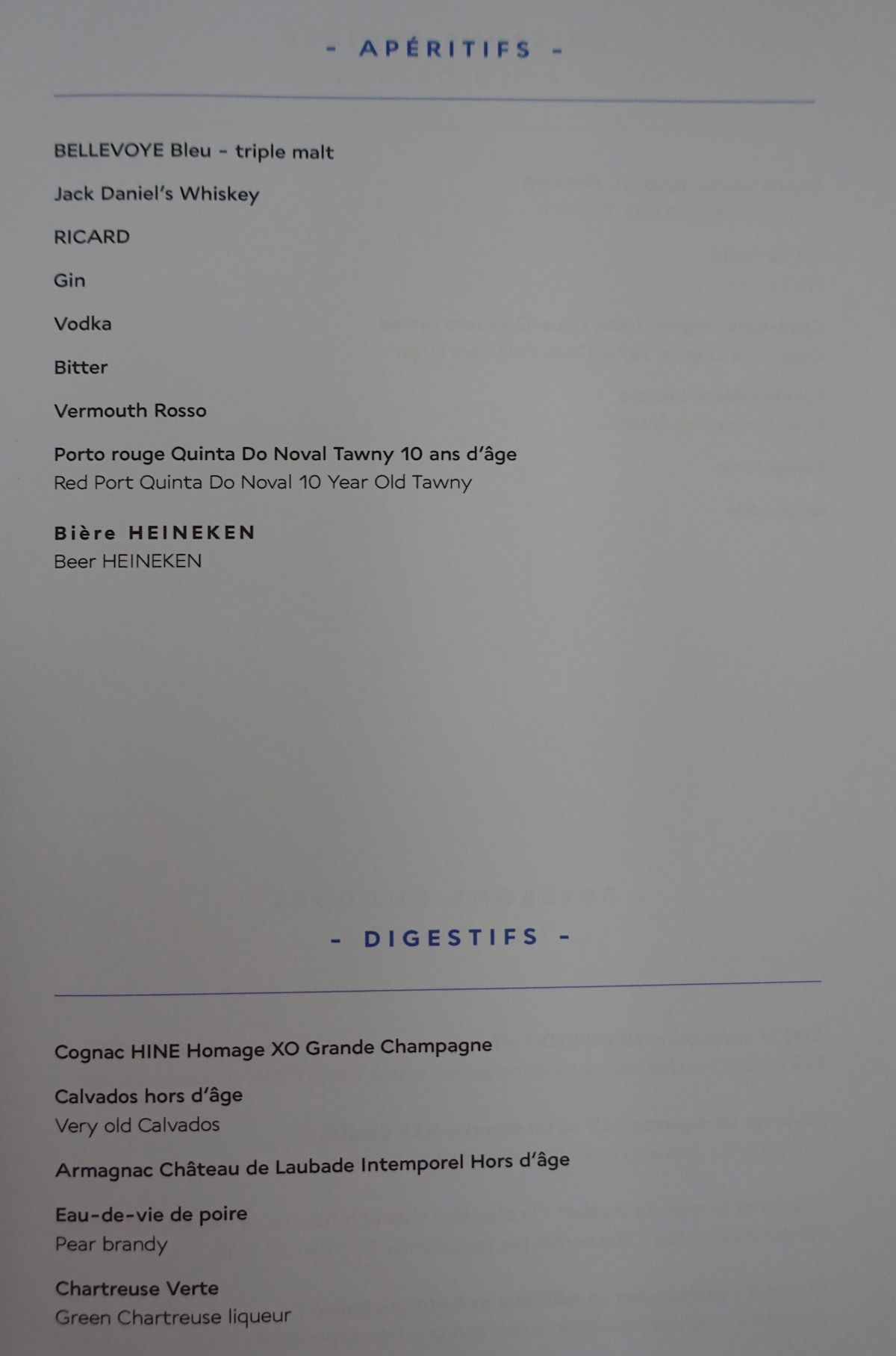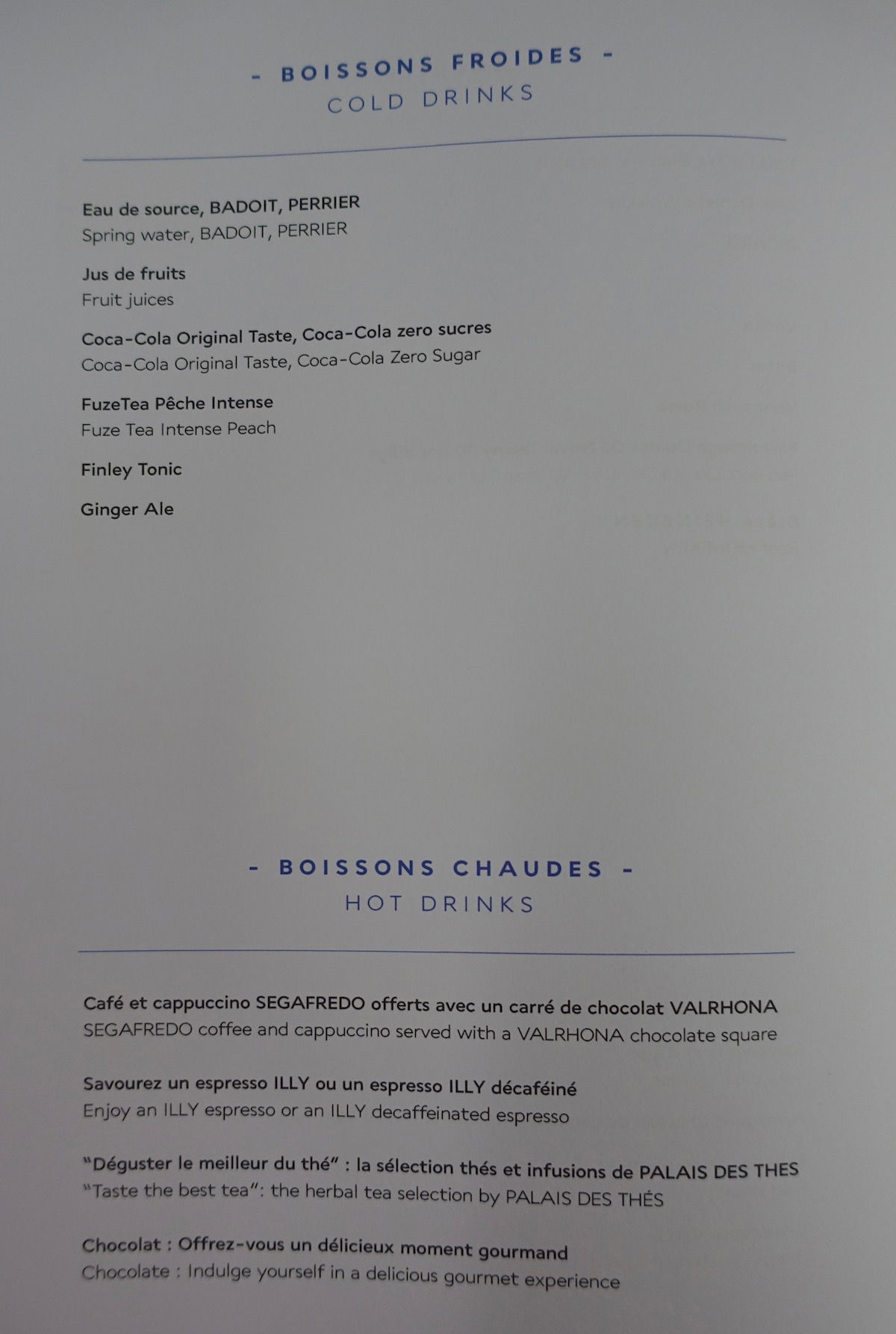 About 45 minutes after takeoff drinks were served. I had a glass of champagne (Charles Heidsieck), which came with delicious packaged cheesy crackers.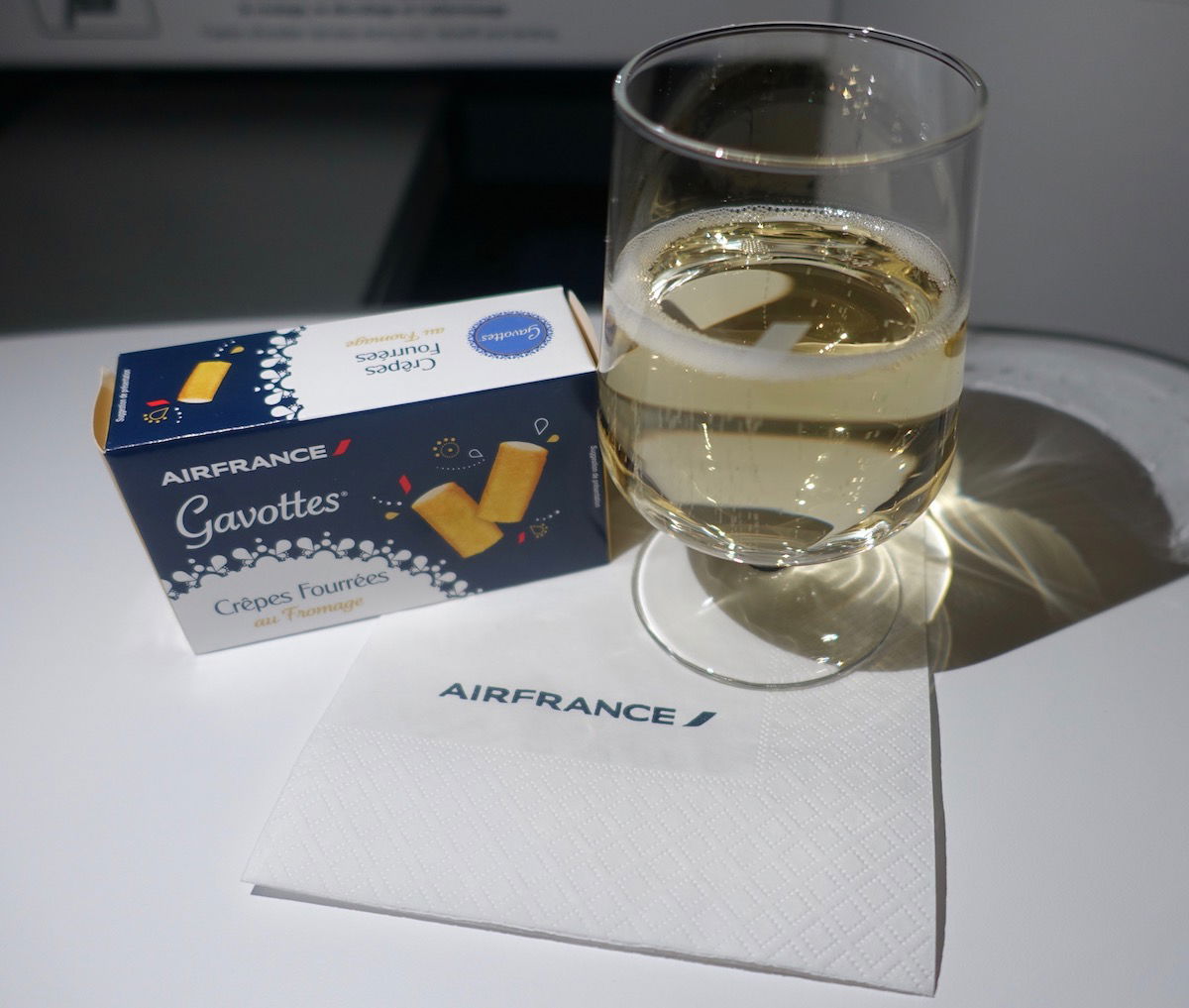 Air France business class dinner — champagne
About an hour after takeoff the starter, salad, cheese, and dessert were served, along with a selection of bread. I had another glass of champagne to go along with it. This tray included:
Pan-seared scallops on a truffled shiitake mushroom duxelle, and shredded duck with tarragon, pickled cabbage with tumeric and yuzu marmalade
Seasonal salad
Cheese plate
Raspberry cheesecake, chocolate square, Morello cherry financier cake
I enjoyed the scallops, cheese, and dessert, though personally I'm not a huge duck guy, and the salad was bland.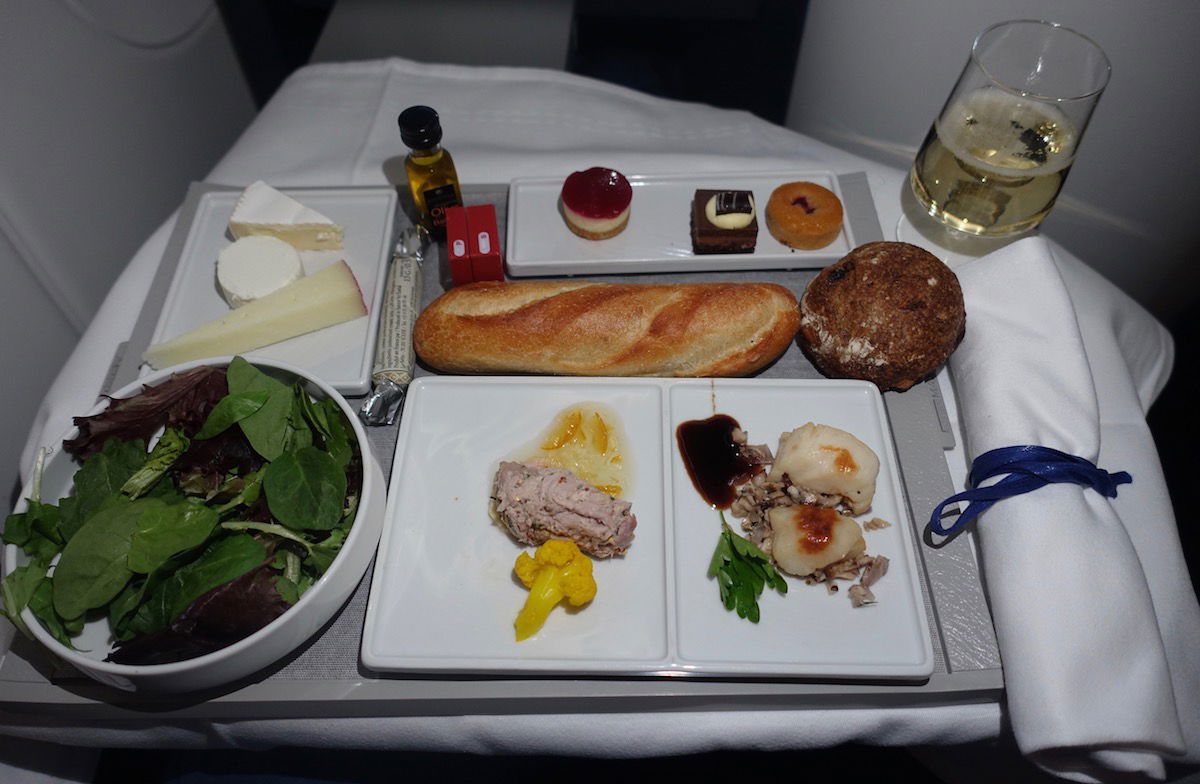 Air France business class dinner — appetizer, dessert, and cheese
For the main course I ordered the grilled salmon with creamy lemon sauce, potatoes, broccoli, and edamame beans. The dish tasted really good, though I do wish airlines would get better about presentation of sauces.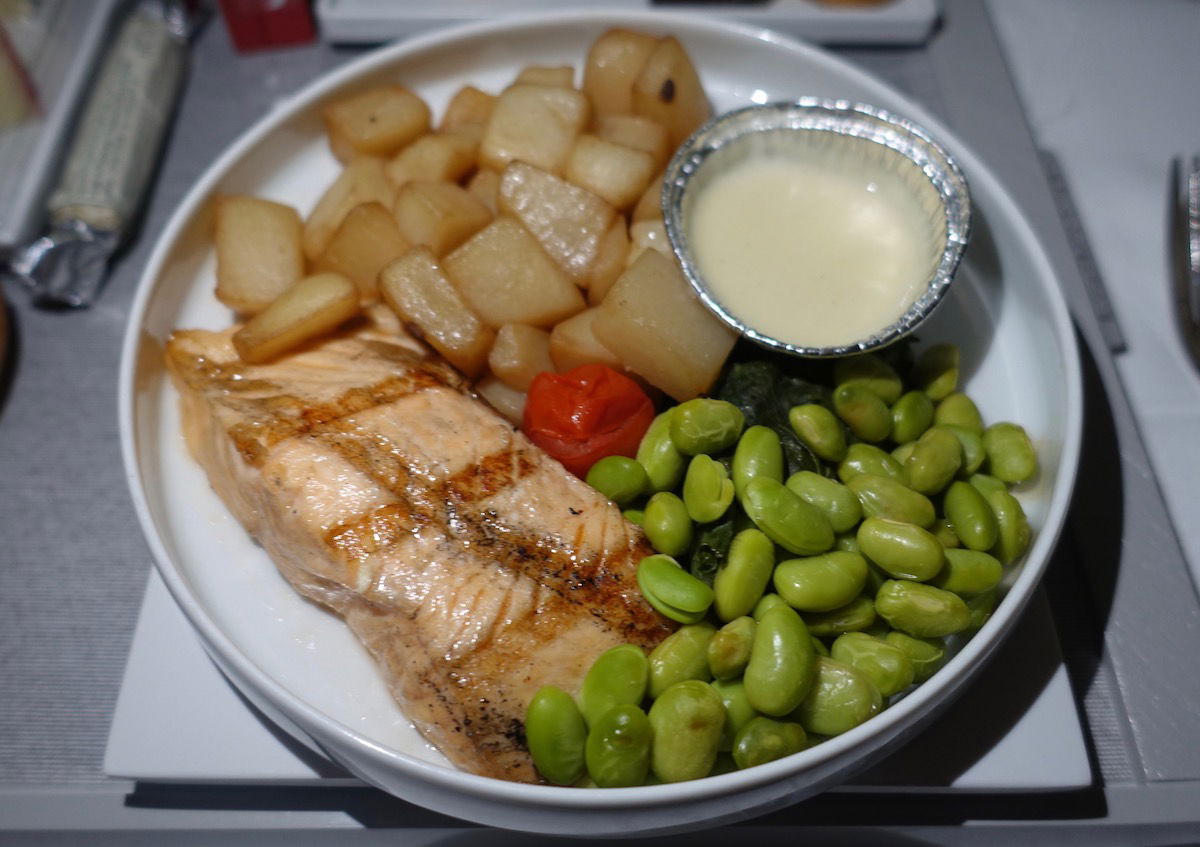 Air France business class dinner — main course
After the meal I was asked if I wanted tea or coffee. I saw they had cappuccinos on the menu, so I ordered one of those, figuring they had a new espresso machine/milk frother on the A350. Only after I received it did I remember that Air France has powdered cappuccinos (as far as I know), so I quickly regretted that.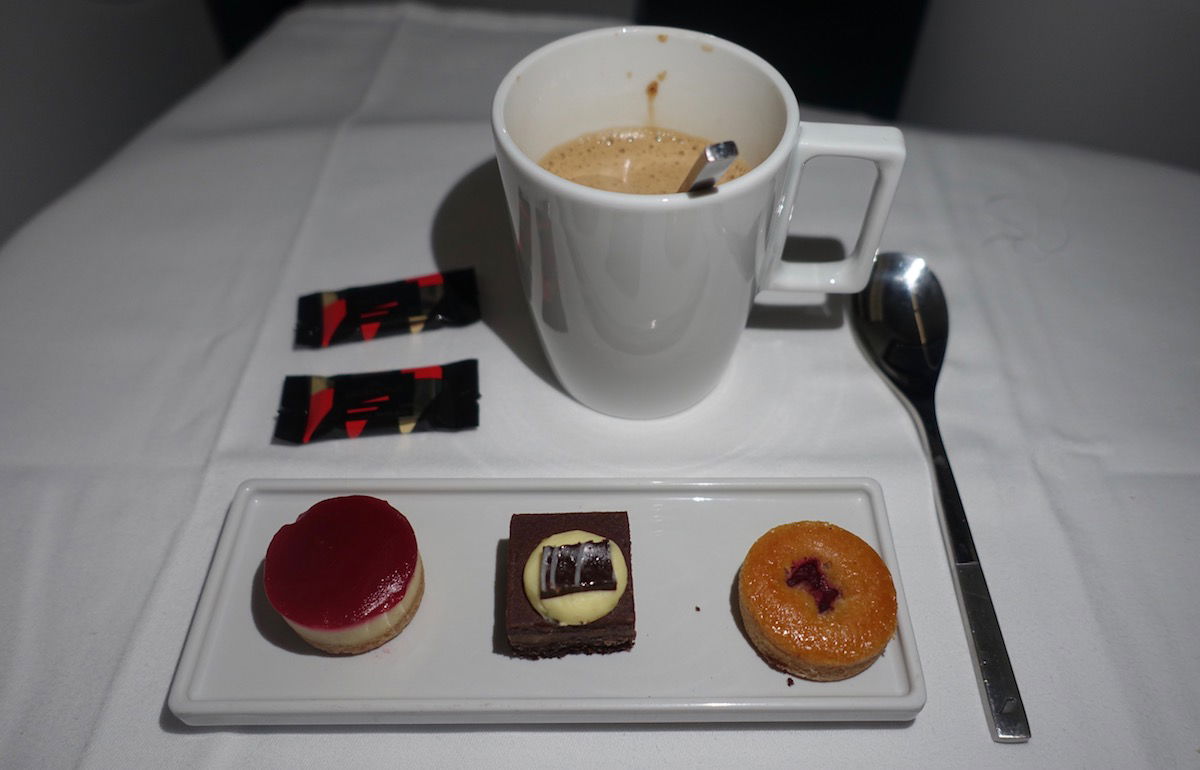 Air France business class dinner — cappuccino and dessert
The meal service was done about 90 minutes after takeoff, and all around I thought it was pretty good. The crew was professional and personable, though not in an over the top way. The service on Air France in business class is a bit assembly line-esque, but this crew definitely made the most of that.
All around I'd describe the meal and service as being solid and above average, without being memorable, it that makes sense.
By the time the meal was done we were over Newfoundland, with under 4hr30min remaining to Paris.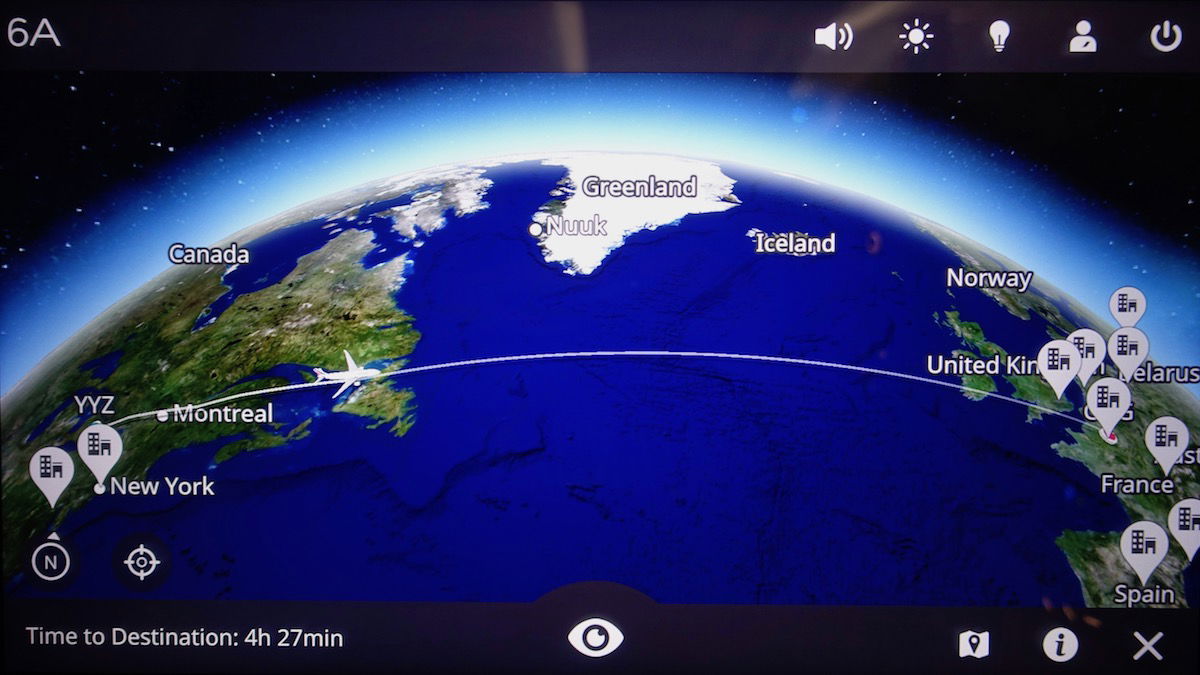 Map enroute to Paris
Before going to bed I checked out the lavatory — there's one at the front of the cabin, and one at the back right of the cabin. They were nice enough, but not especially big.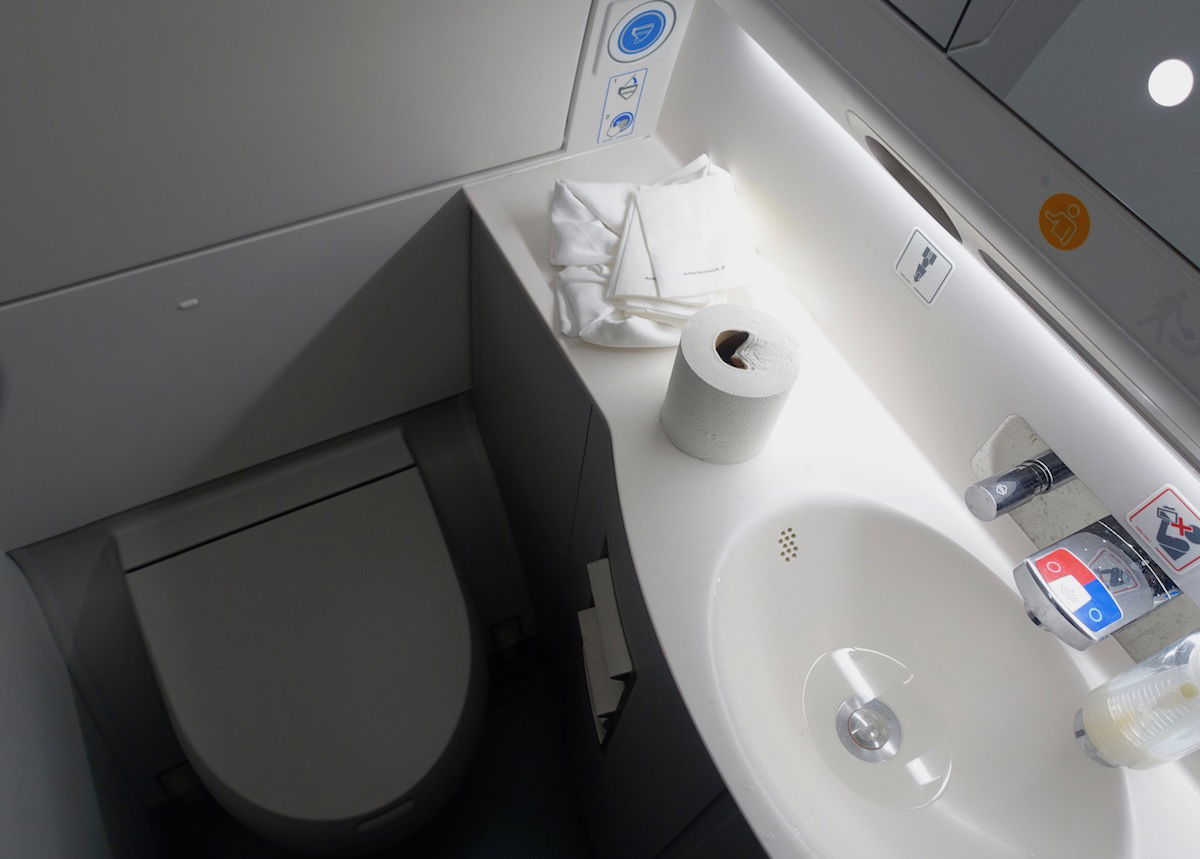 Air France A350 lavatory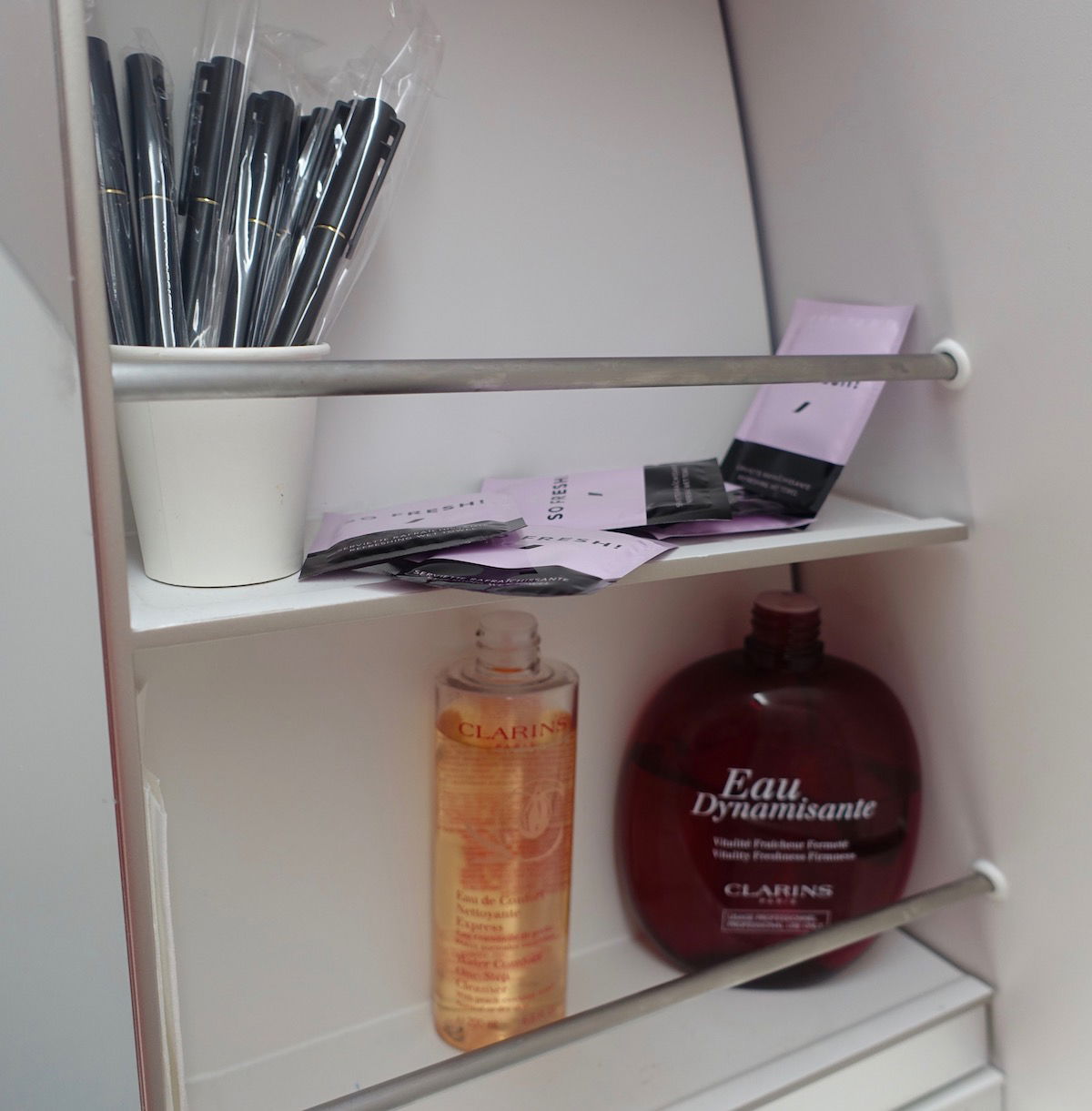 Air France A350 lavatory amenities
At that point I reclined my seat and fell asleep in almost no time. I found the bed to be comfortable, I loved how private it was, and I found the seat spacious enough to sleep on my side with my knees bent without feeling constrained.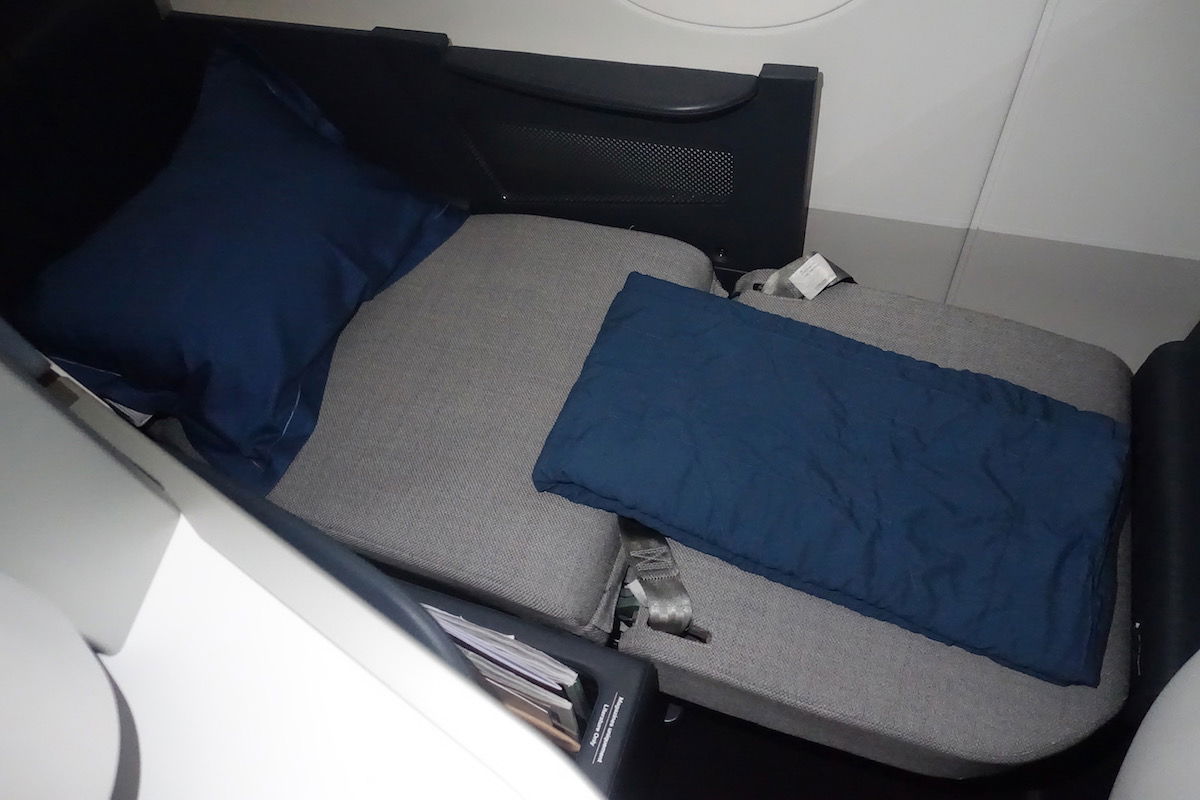 Air France business class bed A350
I slept until just over an hour before landing, at which point the crew began the breakfast service.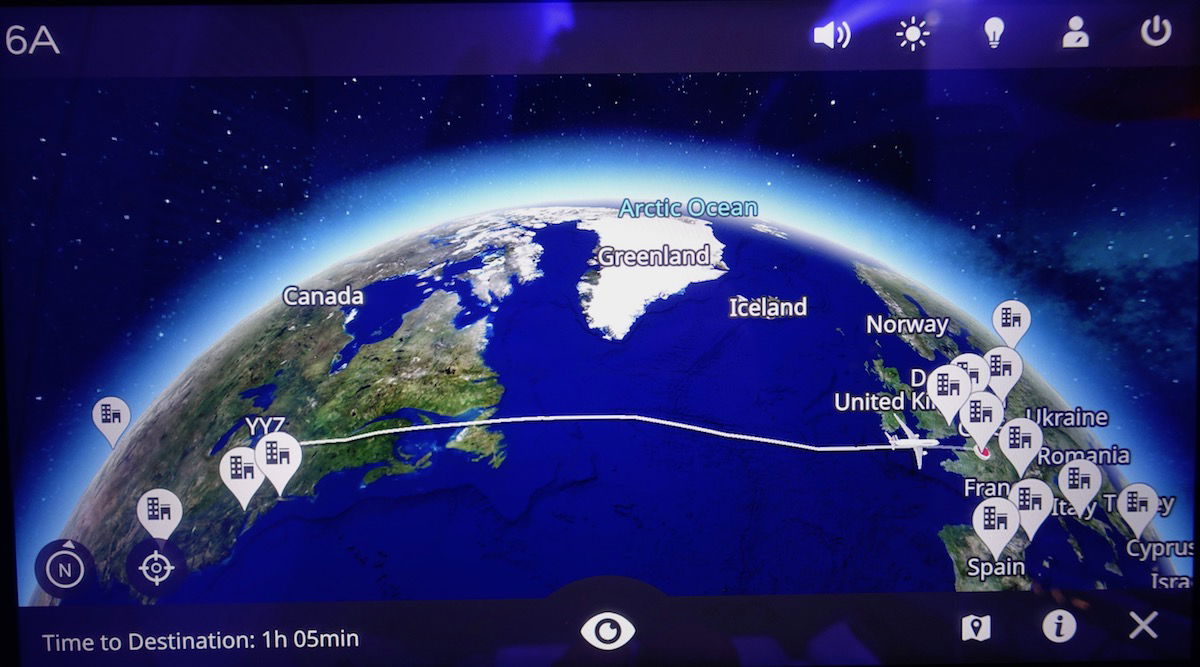 Map enroute to Paris
The crew turned on some rather patriotic mood lighting to wake people up.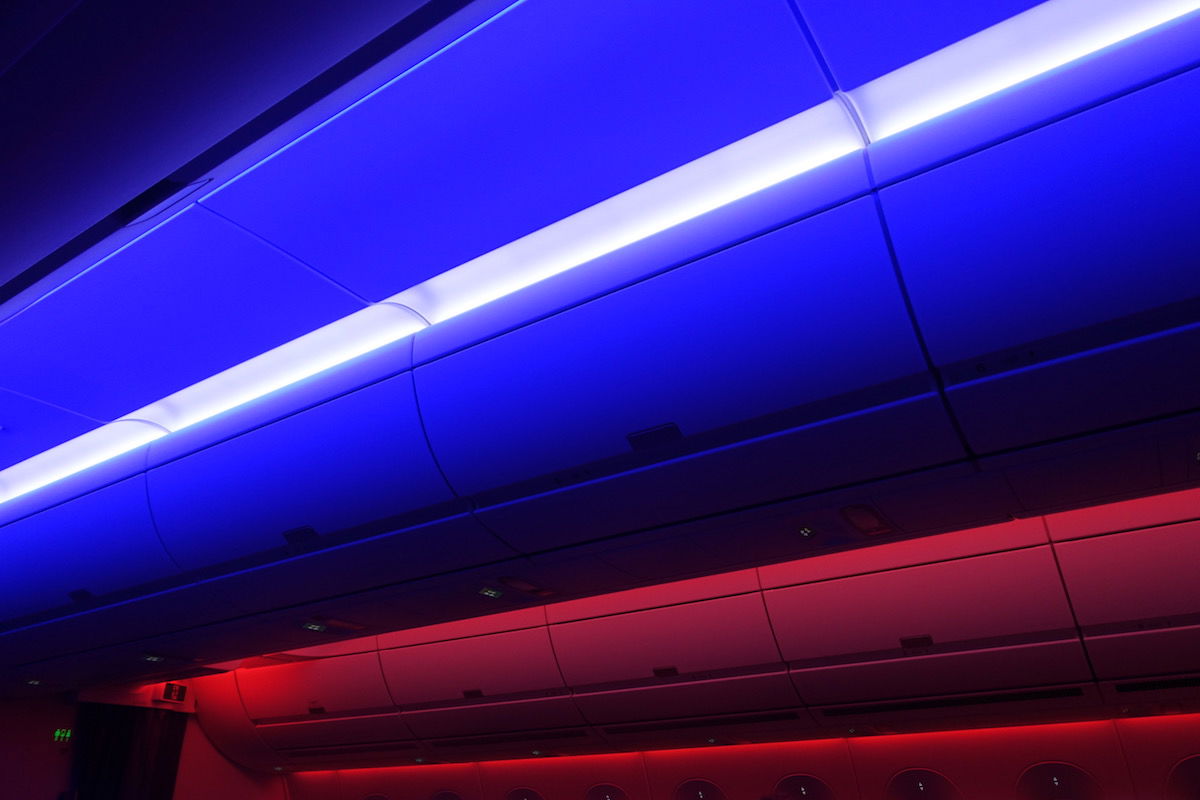 Very patriotic mood lighting on Air France!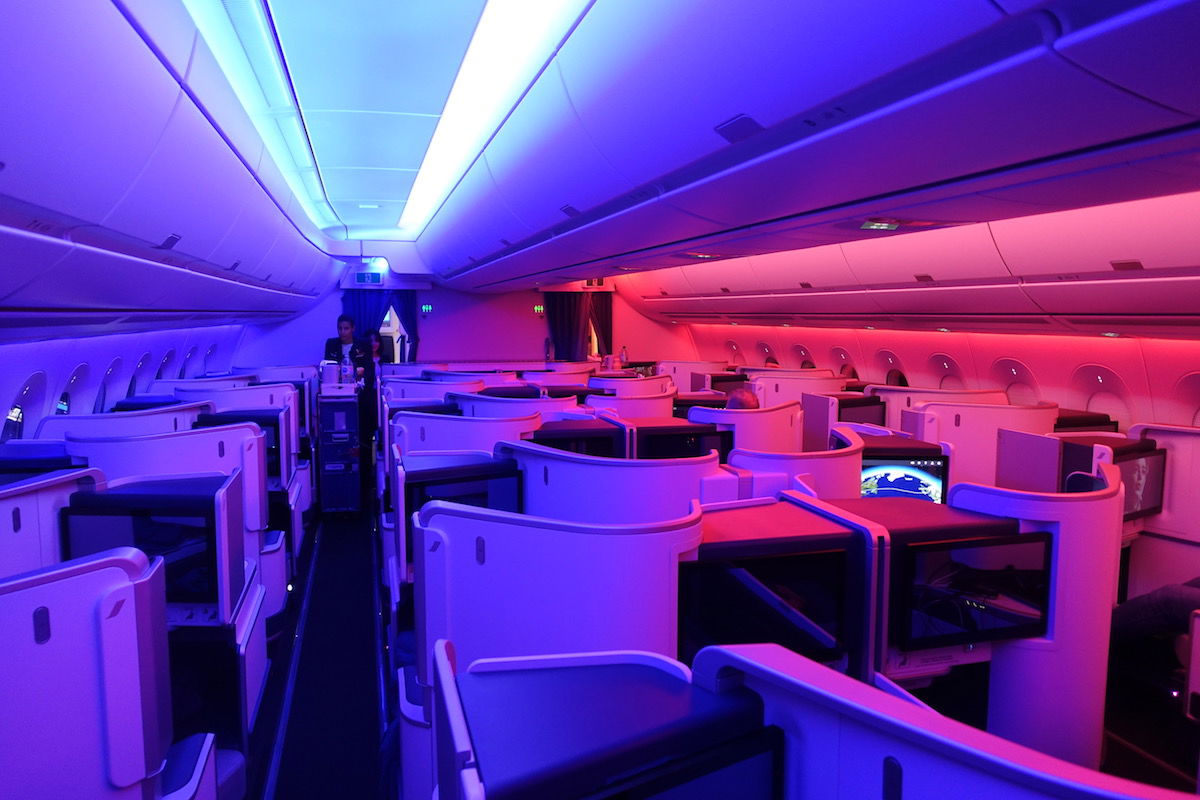 Very patriotic mood lighting on Air France!
The breakfast menu read as follows: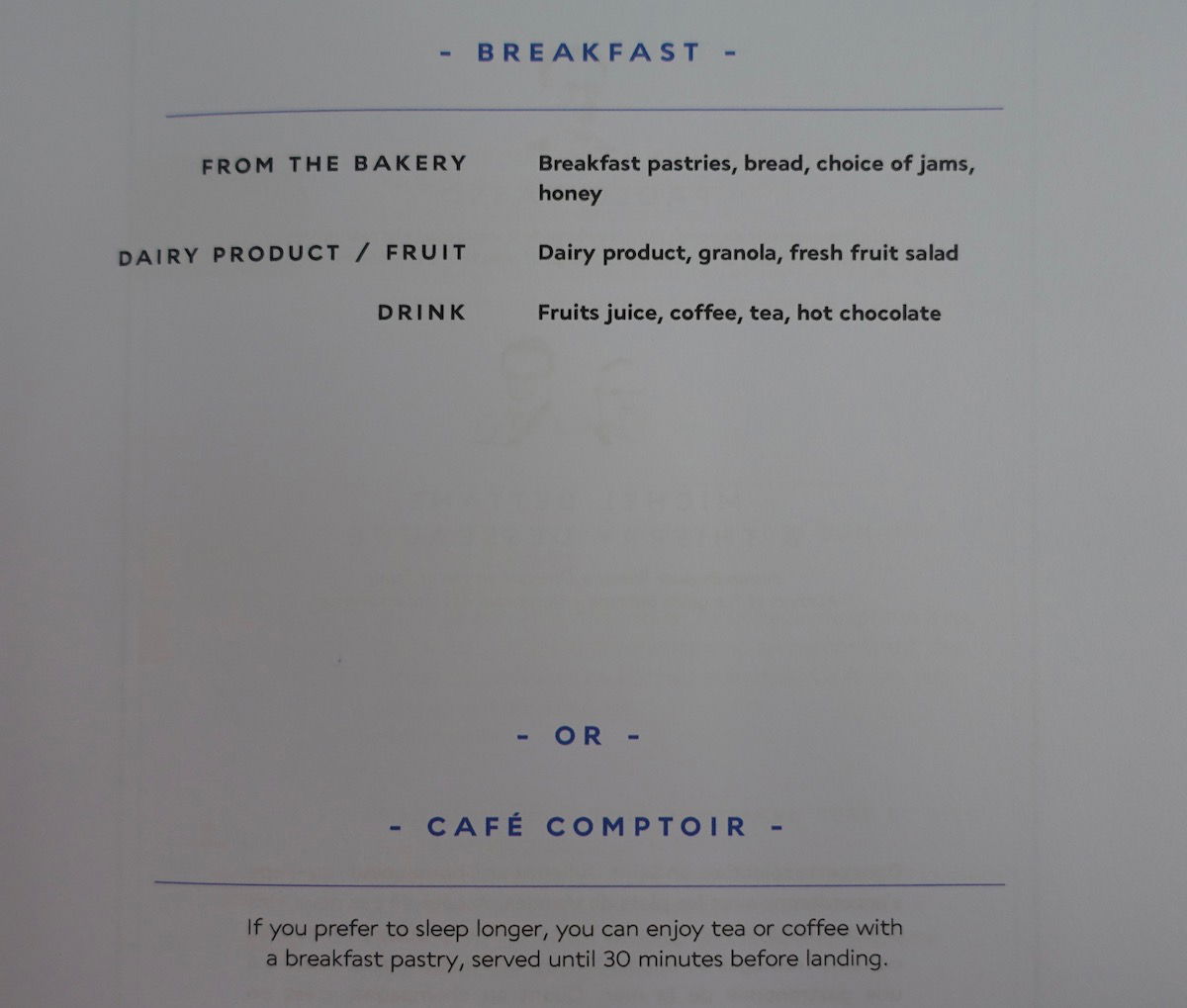 I appreciated that breakfast was fairly light, given that dinner was served just a few hours prior. There was a fruit salad, yogurt with granola, and a selection of bread and pastries.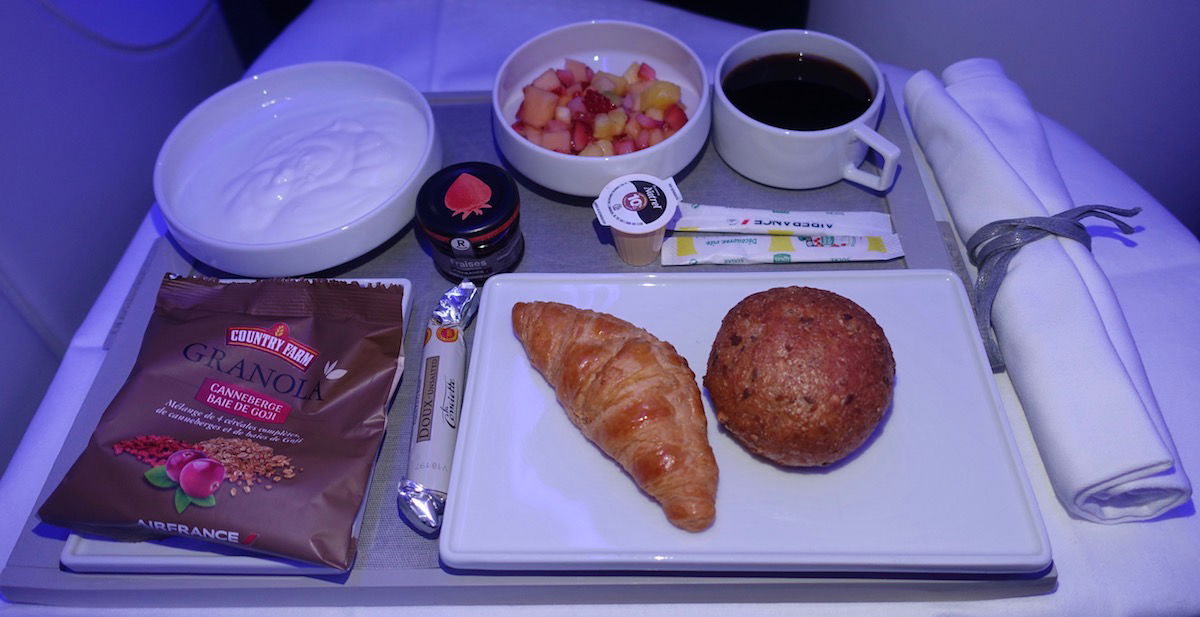 Air France business class breakfast
My only real feedback is that I don't get why airlines use such shallow coffee cups. It just seems like a plane you'd be better off having deeper/bigger mugs, both in the event of turbulence, and also so service can be sped up, and refills don't have to be offered as much.
At around 7:10PM Paris time the captain announced that we would be landing at 7:45AM, and would have a 15 minute taxi to the gate from there. He also apologized for the turbulence overnight, explaining that it was due to a 120 knot tailwind. I must have been really tired, because I didn't feel any of it.
Soon we started our descent, and around the same time the sun began to rise, making for a great view on the tail camera.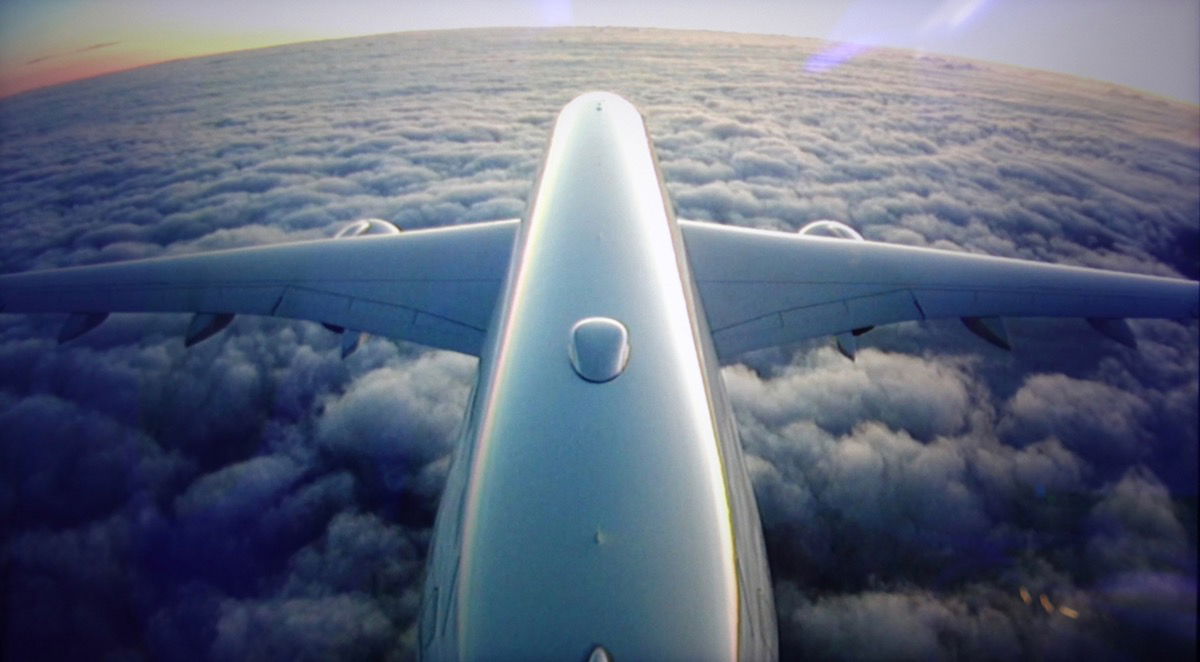 Air France A350 tail camera
The seatbelt sign was turned on about 15 minutes before landing, and also around that time the flight attendant taking care of my aisle came around to every passenger to ask if they enjoyed the flight, which is always a nice touch.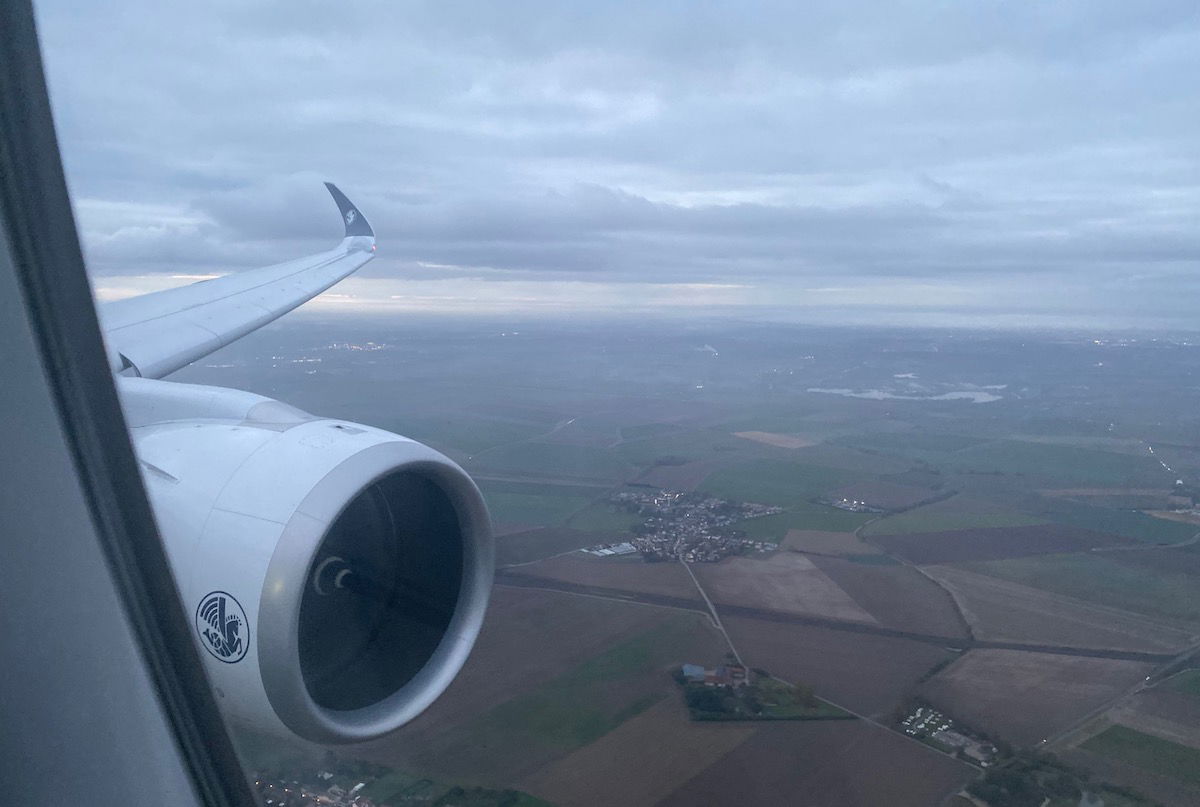 Air France A350-900 wing view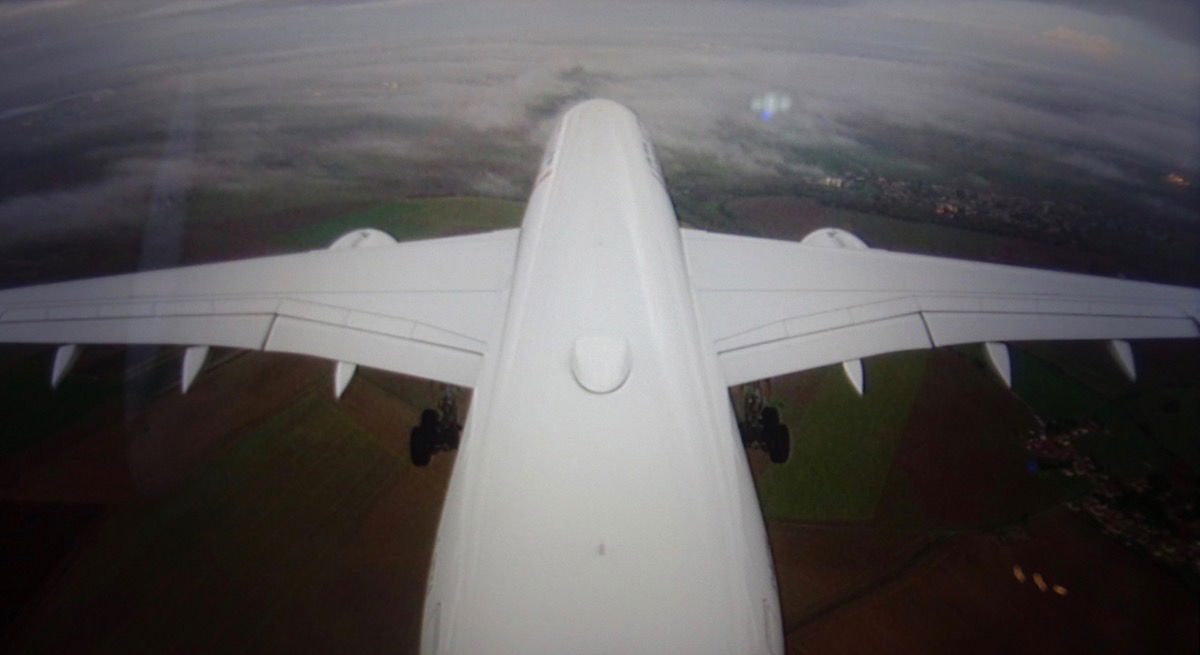 Air France A350 tail camera
We ended up landing on runway 26L at around 7:45AM.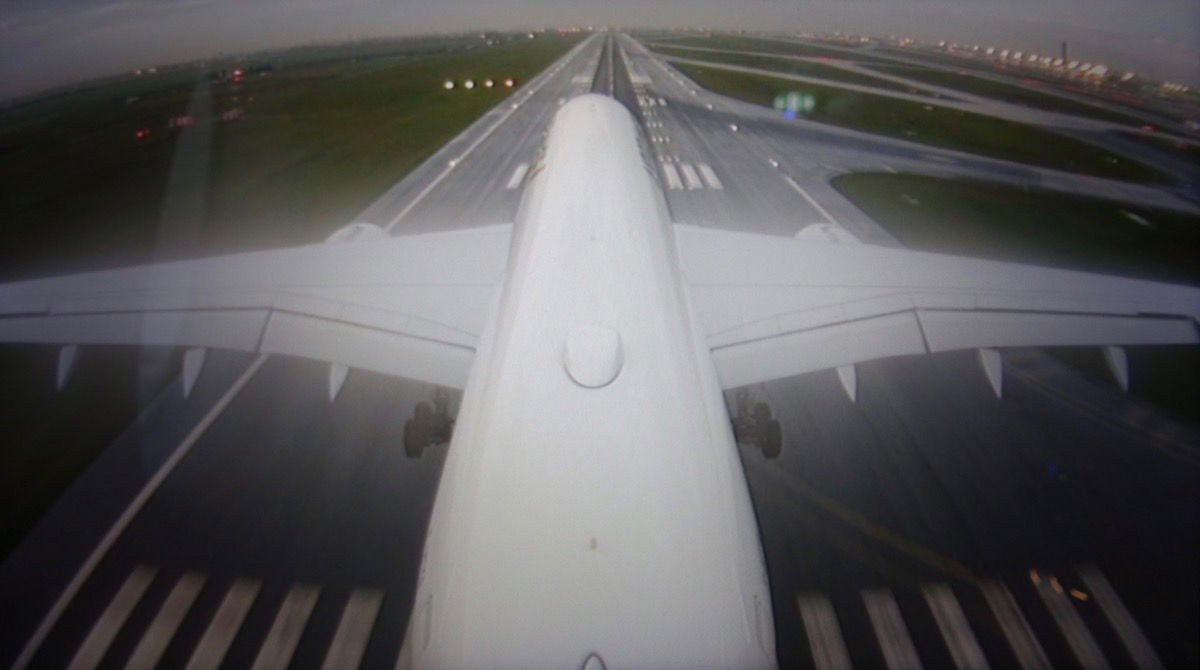 Landing in Paris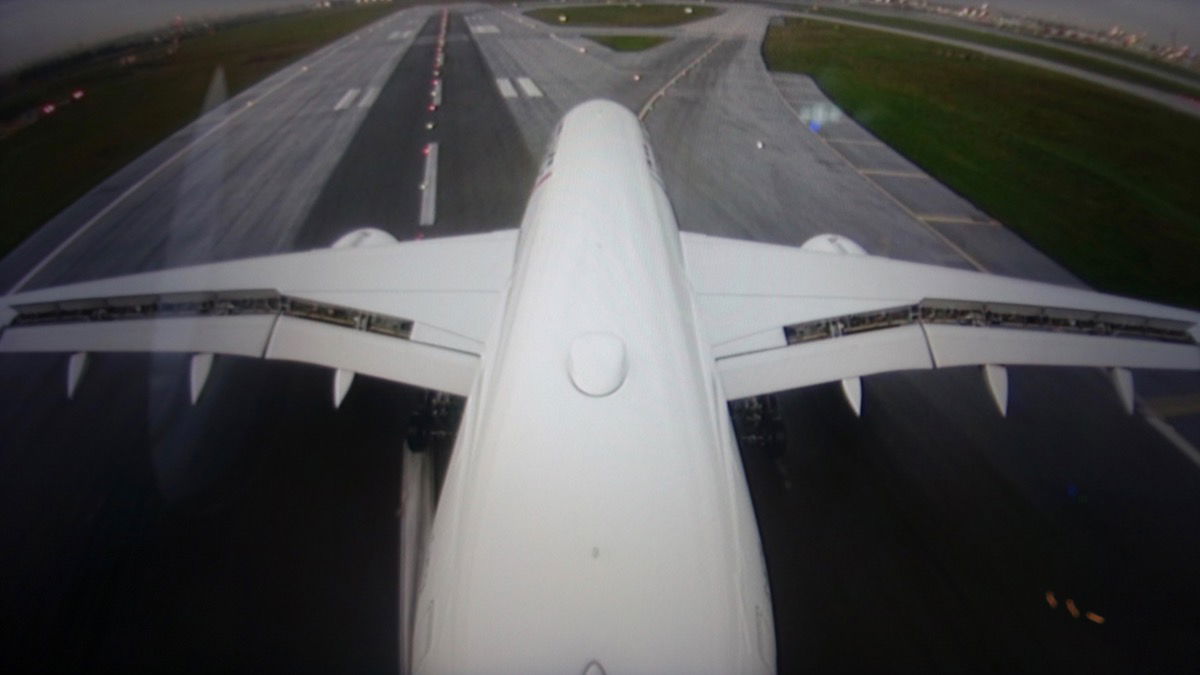 Taxiing at Paris CDG
From there we had a long taxi, before finally arriving at our gate at 8AM.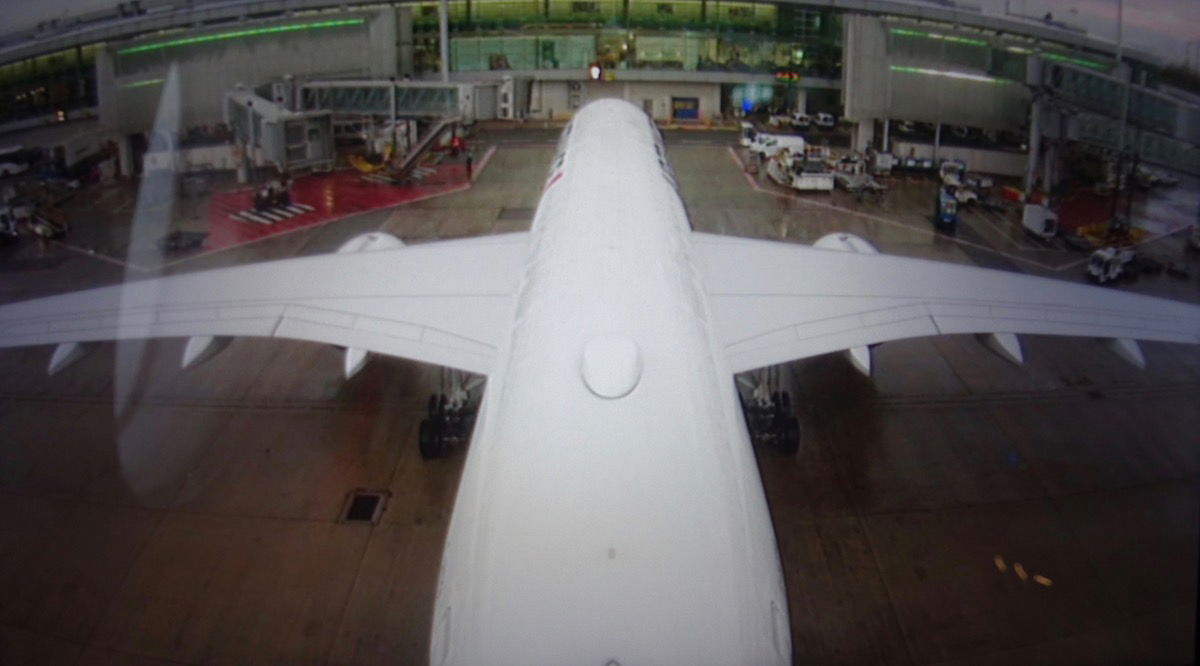 Arriving at gate Paris CDG
Hey there, pretty!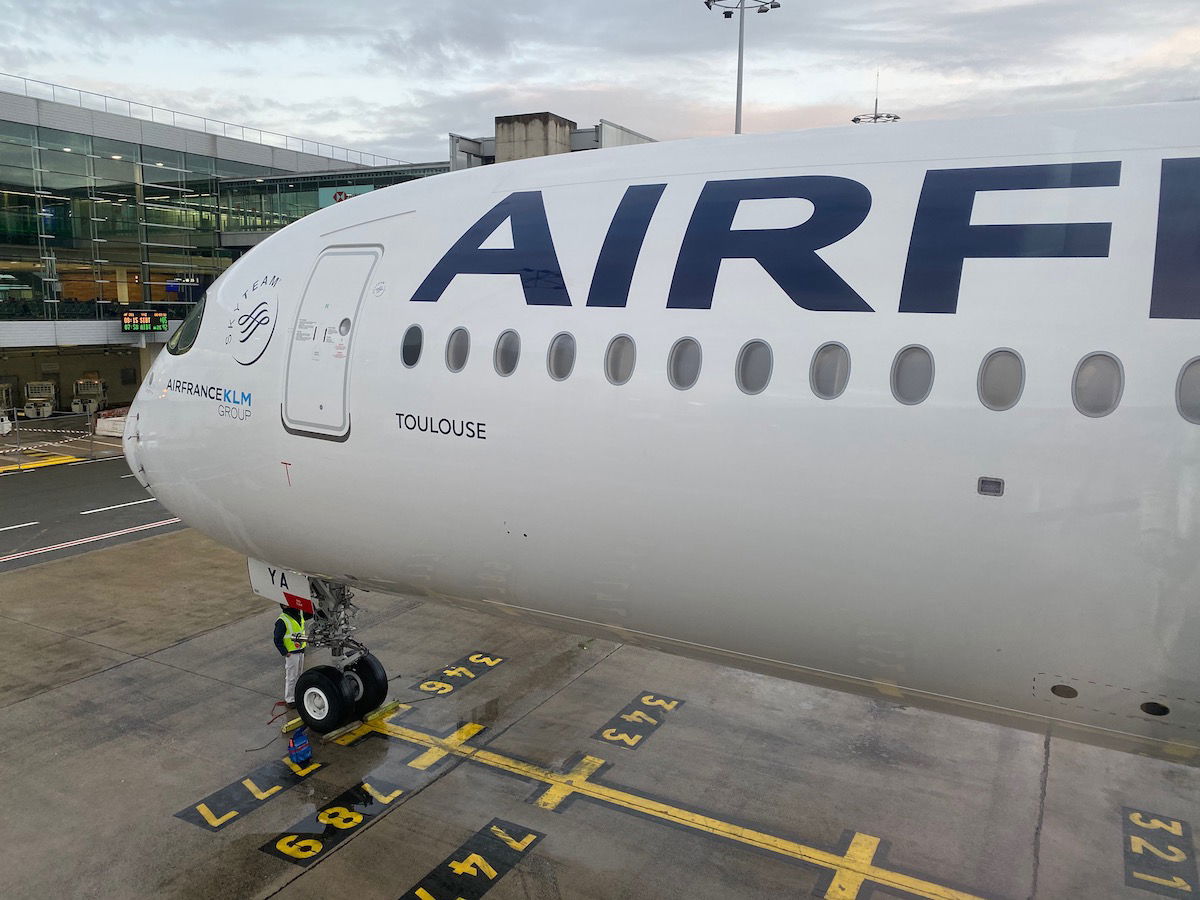 Air France A350-900
From there it was time to go to the arrivals lounge, take a bus, and then fly back to the US.
Air France Business Class A350 Bottom Line
I enjoyed my flight in Air France's A350 business class. While these seats aren't necessarily an improvement over the reverse herringbone seats they have on other planes, I think I like them just about equally, which is saying a lot.
The crew was friendly, the food was quite good, the entertainment selection was huge, and I love that Air France has "proper" Wi-Fi on their A350s. While this doesn't rank in my top five business class products in the world, it's still a very good product, and one I'd recommend without hesitation.
Lastly, I got such a good deal on this flight — redeeming just 32,000 Flying Blue miles is tough to beat (especially since I had transferred them over with a bonus from Amex).
What's your take on Air France's new A350? Do you prefer these seats, or their reverse herringbone seats?