Good morning from Moscow! Tiffany and I have spent the past 12 hours in Aeroflot's 777 business class, flying between Los Angeles and Moscow. As usual I'll share my initial impressions below, though expect a much more detailed trip report soon.
I was so excited about this flight for many reasons. For one, there's a lot of conflicting information out there about Aeroflot. When I told people I was flying Aeroflot, the reaction was almost universally "good luck" or "ew, why?"
But at the same time the airline has a lot going for them. Aeroflot has one of the youngest fleet in the world, they're a Skytrax 4-star airline, and I had read a couple of good reviews about them from the past couple of years.
So, what is flying Aeroflot business class really like?
Aeroflot's 777 business class cabin consists of 30 fully flat seats, spread across five rows in a 2-2-2 configuration. These are standard B/E Aerospace Diamond seats, the same you'll find in business class on Aeromexico, Air China, Saudia, United, etc.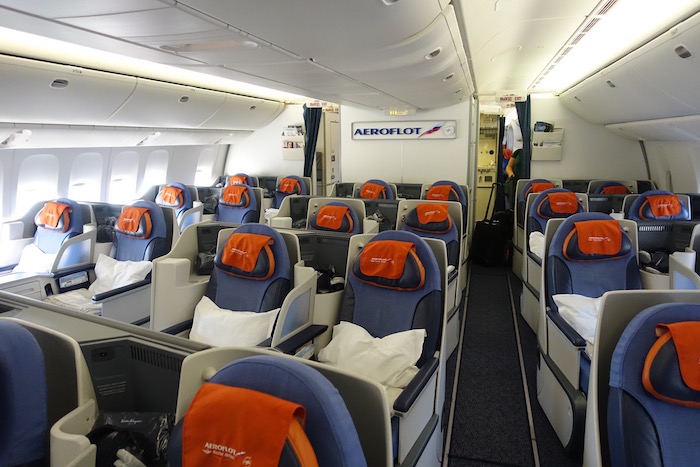 It's not my favorite hard product in the world, but if you're traveling with someone else it's solid, as you can sit next to them while still having a bit more privacy than a traditional forward facing business class seat affords.
I also loved the cabin's color scheme and finishes.
What really impressed me about the flight was the soft product — wow!
Aeroflot's business class catering is spectacular. They serve a legitimate five course meal, and everything is brought out individually, without the use of trays.
There was a turkey roulade and cheese amuse bouche.
Then there was a quail breast, smoked duck, and red beet appetizer.
Then there was a mozzarella salad with sundried tomatoes.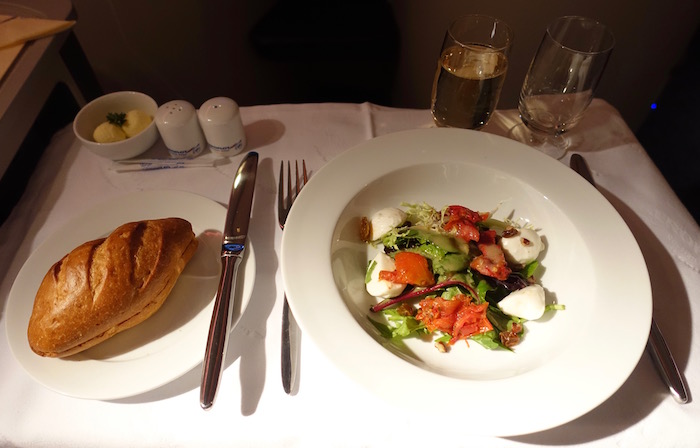 Then there was a green pea soup.
Then for the main I selected a grilled beef fillet with vegetables and risotto.
Then for dessert I had an incredible chocolate mousse gateau.
The food quality was exceptional across the board. This was probably the third best transatlantic business class catering I've had, after Austrian and Turkish. What a pleasant surprise.
An equally pleasant surprise was the service, which was also phenomenal. The crew provided among the best authentic Russian hospitality I've had. That's to say that the crew wasn't constantly artificially smiling as we might be used to in other countries, but they were extremely attentive, precise, and poised.
Just to give a few examples:
At the beginning of the flight "our" flight attendant introduced herself and asked how she may address us; for the rest of the flight she addressed us by name
Flight attendants typically kneeled when talking to passengers, taking orders, etc.
Drink refills were frequent and proactive throughout the flight, and every 5-10 minutes there was a flight attendant through the cabin to see if anyone wanted anything
The service was well thought out; within five minutes of waking up, a flight attendant was by my seat asking if I wanted coffee and/or a snack
The crew frequently cleaned lavatories, and when seeing a passenger headed towards the lavatory they'd often check to make sure it was in good condition
Before landing the purser came through the cabin to offer everyone a small gift, thank them for flying Aeroflot, and ask if they enjoyed the flight
The service was top notch, and so much better than I was expecting.
In terms of other amenities, Aeroflot has very nice Salvatore Ferragamo amenity kits in business class.
There are very nice blankets, though the pillows are a bit on the thin side for my personal preference.
Aeroflot offers wifi on their 777s, though it's provided by OnAir and is outrageously expensive, among the most expensive I've seen on any airline. They charge $40 for 100MB of data, and an additional $1 for each additional MB. I've never understood why airlines increase the incremental cost of wifi when charging based on data usage.
I was also a bit disappointed by the entertainment system, which wasn't especially easy to use, and had a limited selection.
Bottom line
All things considered I thought Aeroflot was excellent. I had low expectations coming in, since historically the airline doesn't have a great reputation. However, our experience was fantastic. The plane was new and in great condition with fully flat business class seats, the food was among the best I've had in business class on a transatlantic flight, and the service was top notch as well.
I absolutely recommend Aeroflot's 777 business class, and if you've been avoiding them due to preconceived notions, give them a shot!