Introduction: Transatlantic Insanity
Review: Aeroflot Business Class 777-300ER Los Angeles To Moscow
Review: Aeroflot Lounge Moscow Airport
Review: Aeroflot Business Class 737 Moscow To Belgrade
Review: Metropol Palace Hotel Belgrade
Review: Belgrade Food Tour
Review: Air Serbia Lounge Belgrade Airport
Review: Air Serbia Business Class A330 Belgrade To New York
Review: Air France Lounge New York JFK
Review: Azerbaijan Airlines Business Class 787 New York To Baku
Review: Hyatt Regency Baku
Review: Baku Airport Lounge
Review: Ukraine International Airlines Business Class 737 Baku To Kiev
Review: Kiev Airport Lounge
Review: Ukraine International Airlines Business Class 767 Kiev To New York
---
Ukraine International Airlines 602
Baku (GYD) – Kiev (KBP)
Thursday, November 3
Depart: 6:15AM
Arrive: 8:05AM
Duration: 3hr50min
Aircraft: Boeing 737-800
Seat: 2F (Business Class)
Upon boarding we were greeted by two young, cute, chipper flight attendants. UIA has a more traditional intra-Europe business class product, meaning that business class is simply economy with a blocked middle seat. This allows the cabin size to be flexible based on demand, and on this flight there were a total of four rows of business class.

Ukraine International Airlines 737 business class
We initially settled into seats 3A & 3C, with the middle seat blocked. While legroom wasn't great, it wasn't terrible either. I was happy to see that Ukraine didn't have the slimline seats with very limited recline that many other airlines have nowadays.

Ukraine International Airlines 737 business class seat

Ukraine International Airlines 737 legroom
As usual, there was a curtain separating business class from economy, and that curtain can be moved based on the demand for the cabin that day.

Ukraine International Airlines 737 business class cabin
Already waiting at our seats on boarding were a pillow & blanket, which many other airlines don't even offer within Europe.

Ukraine Airlines business class pillow & blanket
We were also offered pre-departure beverages in proper glassware. Most European airlines don't serve pre-departure beverages in business class, so I was quite impressed. Even though there was only one other passenger in business class, the flight attendant came around with a tray containing six different types of drinks. I had orange juice, while Tiffany had water.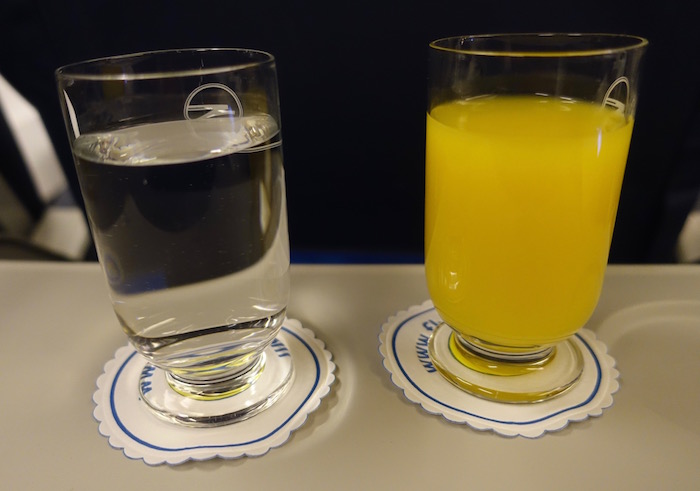 Ukraine Airlines business class pre-departure beverages
As the flight boarded I observed the flight attendant personally greeting every single passenger with a smile, which you don't often see, especially before sunrise.
By 6AM boarding was complete, at which point the crew came around business class with magazines and newspapers. At 6:05AM the captain came on the PA to advise us of our outrageously long flight time of 3hr30min (the direct distance between the two airports is just ~1,150 miles), given that airspaces we were avoiding.
Shortly thereafter the senior cabin crew member added her welcome aboard, and moments later they did a manual safety demonstration.
We began our pushback at 6:15AM. As I looked out the window I was fascinated by the fact that Baku Airport seems to have an A380 gate. The airport is certainly built for expansion, it would seem.

Big gate for a small plane at Baku Airport!
Since the cabin was empty, I decided to switch to seat 2F, so that Tiffany and I could both be in window seats.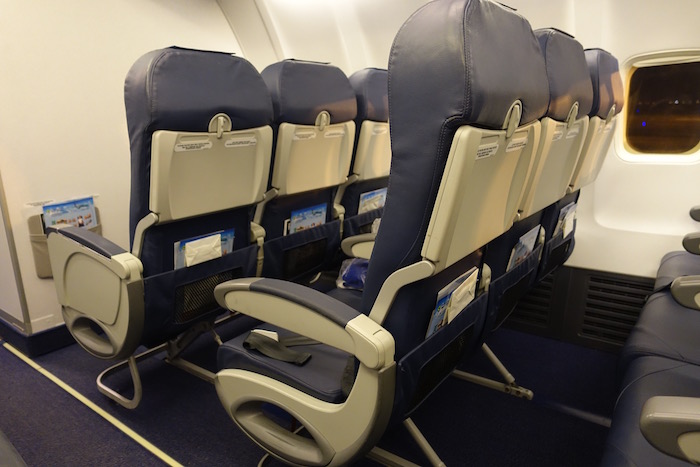 Ukraine International Airlines 737 business class
As we pushed there was an Aeroflot 737 off our right wing.
As we taxied out, the guy in 1A was watching something on his tablet with headphones, and the flight attendant told him he had to remove the headphones for takeoff. His solution? To take off the headphones and keep watching the show at full volume. A few minutes later the flight attendant returned and said it was bothering other guests, and asked him to turn it off until after takeoff.
We had a high speed taxi, and at 6:25AM we were cleared for takeoff on runway 34.
10 minutes after takeoff the seatbelt sign was turned off, and a few minutes after that the crew distributed warm towels.

Ukraine business class hot towel
The crew also passed out small amenity packs, containing socks, eyeshades, and earplugs. It's not often you see that on an intra-Europe flight.

Ukraine business class socks, eyeshades, and earplugs

Ukraine business class socks, eyeshades, and earplugs
The views were stunning once we reached our cruising altitude. The below scenery continued for about an hour, and was only made more beautiful by the sunrise.

Ukraine business class socks, eyeshades, and earplugs
About 20 minutes after takeoff the crew came through the cabin to take drink and meal orders. For breakfast they had the choice between an omelet with potatoes and chicken with vegetables. They also gave the option of dining right away or later on, which was also a nice choice you often don't get within Europe.
Before the meal I was offered a drink, and ordered a coffee. The presentation of the coffee was excellent, including a cute heart-shaped UIA chocolate.
I was offered the choice between cranberries with cashews or mixed salted nuts. Not your typical breakfast starter, if you ask me…

Ukraine business class breakfast — nuts to start
After that I was served the starter course, consisting of cold cuts, a roll, a croissant, fruit, and baklava.

Ukraine business class breakfast

Ukraine business class breakfast — cold cuts

Ukraine business class breakfast — baklava

Ukraine business class breakfast — fruit plate
Once I was finished with that I was served the omelet I had ordered, which was quite bland.

Ukraine business class breakfast — omelet
The crew really was lovely, one of the best I've had within Europe. They were friendly and seemed motivated, which you don't see at many other European carriers. They were also incredibly vigilant about reserving the forward lavatory for business class passengers. As I figured out at check-in and the gate, many of the Ukrainian passengers were quite aggressive when it came to pushing their way forward, though the flight attendants sure were authoritative with sending them to the rear lavatories.
Breakfast was done less than an hour after takeoff, at which point I tried to rest for a bit. Unfortunately I'm someone who can't for the life of me sleep unless I'm in a flat bed, so I don't think I got any real sleep. However, at least I managed to close me eyes for a bit.
After that I took out my laptop and worked for a while.
About 30 minutes before landing the captain came on the PA to provide us with updated arrival information.
As we began our descent, the crew distributed little circular containers that I found odd at first. As it turns out, they're wet wipes that can be accessed by pushing down the center section and then pushing on the rear. Interesting concept, though it feels a bit cheap compared to warm towels.

Ukraine business class pre-landing towels
I've never been to Kiev (though I've heard great things), so I quite enjoyed the views on our descent.
We had a smooth touchdown on runway 18L at Kiev Airport at 7:45AM.
From there we had a 10 minute taxi to our arrival stand. It's amazing to me how almost all of the gates at the terminal were empty, though virtually all of the UIA planes were using remote stands. Grrrr!

Ukraine International planes at Kiev Airport

Ukraine International 737 Kiev Airport
The one upside of remote stands is that it means you can get a great view of the outside of the plane you just flew, as was the case here.
The bus ride to the terminal took about five minutes, though the bus was packed and the driver was aggressive, clearly not considering that there were probably 100 people standing in the back of his bus as he made turns.

Bus to terminal at Kiev Airport
Upon arriving in the Kiev Airport terminal, the real adventure began…
UIA 737 business class bottom line
This UIA 737 business class flight nicely exceeded my expectations. Like most other European carriers, business class was simply economy with a blocked middle, which is disappointing.
However, every other aspect of the experience was better than what I've grown accustomed to with most European airlines — there were pre-departure beverages, pillows and blankets, a meal with several courses, and truly friendly flight attendants.
Overall UIA is a very nice way to fly within Europe. Too bad that's not true of their longhaul experience.