---
Our flight from Baku to Kiev was departing at 6:15AM, so we got to the airport at around 4:30AM. As I noted when we arrived in Baku, the airport is gorgeous, and that's evident before you even enter the terminal. Upon entering the terminal we had to go through a full security screening, including pat downs (even though we didn't set off the alarm). While a lot of airports do basic bag screening before entering the terminal, this is probably the most thorough screening I've seen to even enter the terminal.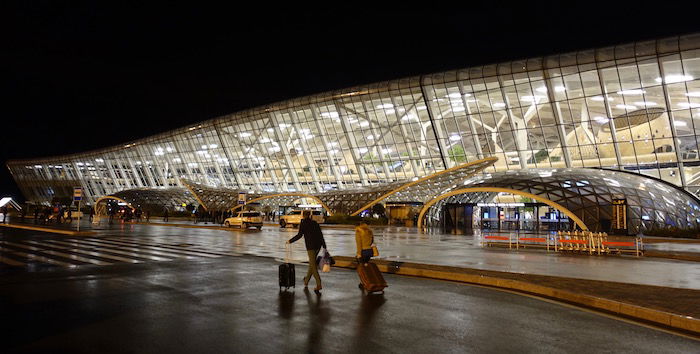 Baku Airport terminal exterior
Once inside the terminal we found the Ukraine International Airlines check-in desk at the far right of the terminal. It was a zoo.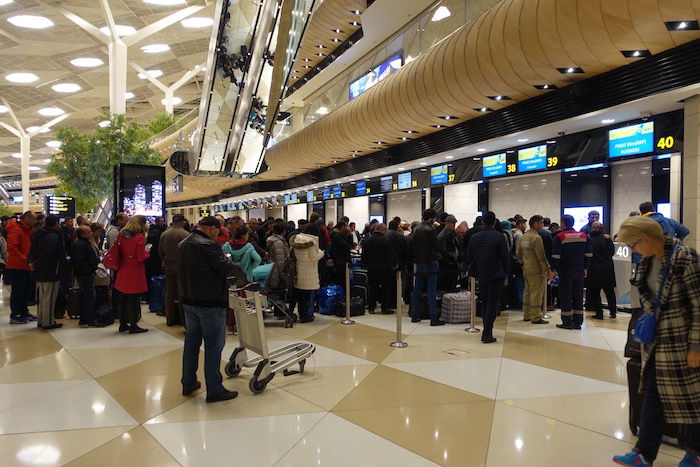 Baku Airport check-in hall
There were tons of people lined up, though in no real order. They had several counters, and everyone just formed their own queues. We tried to get in line at the business class counter, though there were over a dozen people in line there, and there was no one to police the line. Furthermore, there wasn't actually anyone working most of the lines, so they didn't move.
Part of the reason check-in was such a zoo is because UIA only opens their check-in counter at 4:45AM, which is 90 minutes before departure. That seems rather tight, and even when it opened, there were only two staff. Not only was there no order to the queue, but everyone in line was pushy, so if you just waited in line you'd probably be the last person to be checked in, as everyone else would get in front of you.
There was no one working the business class counter, so (rather bravely) Tiffany went up to the front of the line and explained we were in business class, and sure enough they then eventually helped us. After all, UIA advertises priority check-in as a business class benefit, yet no one was working the line.
Our lounge invitations were quickly printed, as were our boarding passes to Kiev. However, they couldn't print our boarding passes to New York, which I didn't think much of at the time.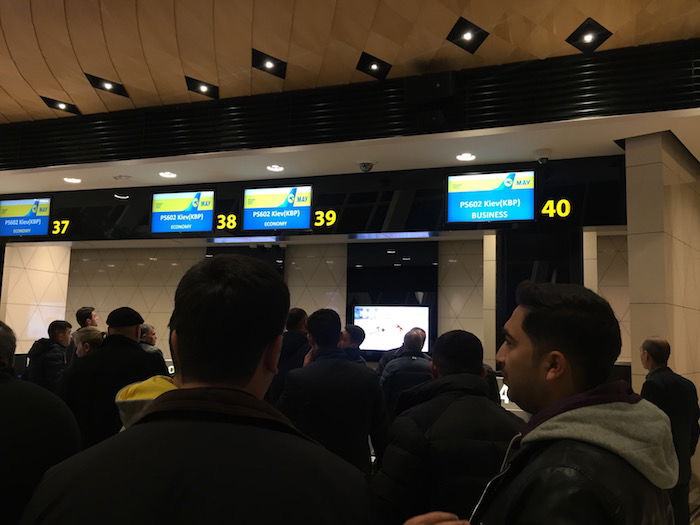 Ukraine International Airlines check-in Baku Airport
From there we headed to the departures level, which is a couple of levels up from check-in, and accessible either by elevator or escalator.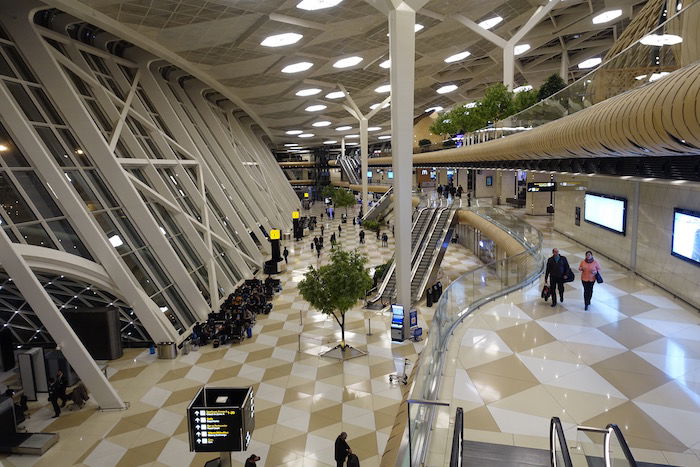 Baku Airport departures hall
Immigration and security were painless, as there wasn't a line at either. It sure seemed like we were among the first people to clear security for the morning. Once again the security screening was thorough, and they were giving all passengers pat downs.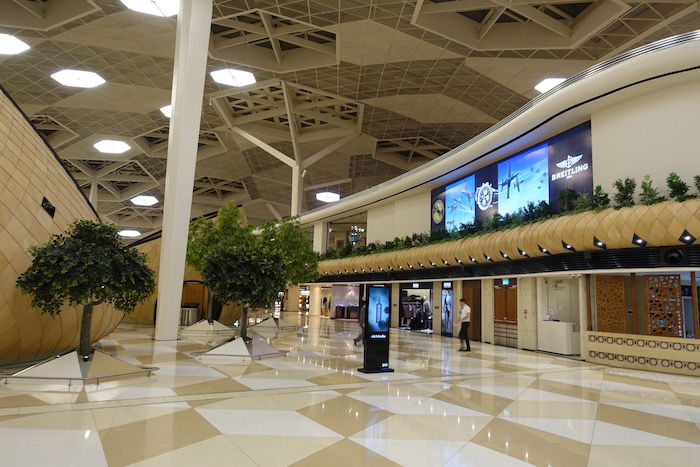 Baku Airport airside terminal
I was fascinated by the airport's architecture, as there were a bunch of things that looked like massive chestnuts. What a cool airport.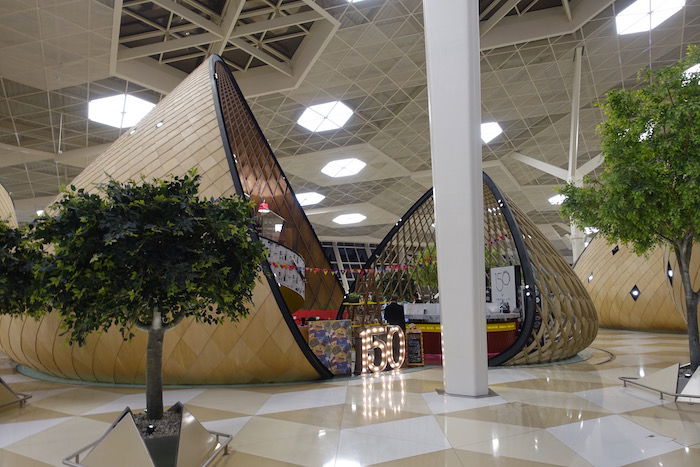 Baku Airport airside terminal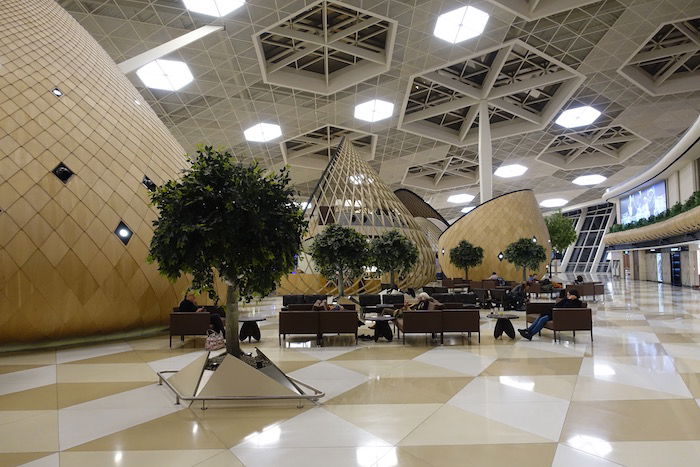 Baku Airport airside terminal
We followed the signage in the direction of our departure gate (#12), and while enroute spotted the escalator to the business class lounge.
Both the AZAL Business Class Lounge and "normal" Business Class Lounge were located one level up from the main concourse.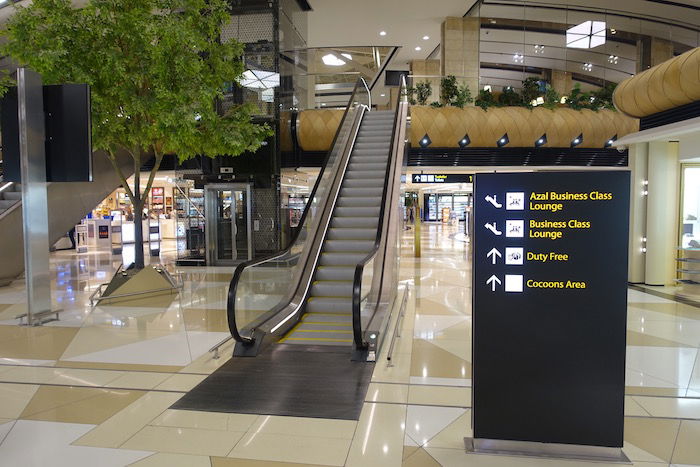 Escalator to Baku Airport lounge
At the top of an escalator was a circular room that was roped off, which you had to walk through to access the lounges.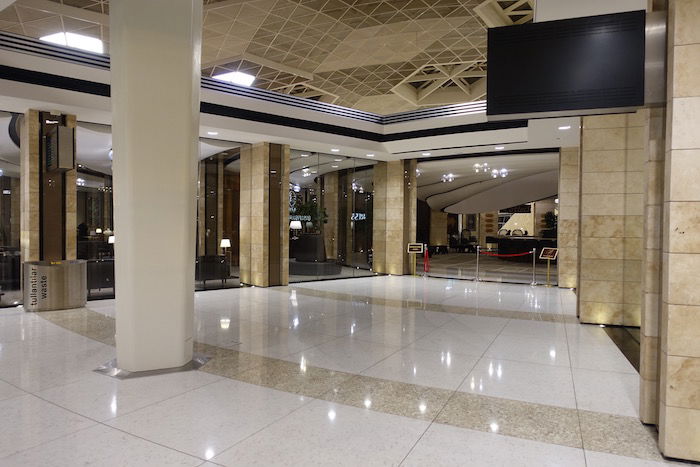 Baku Airport lounge entryway
I don't really get what this area is supposed to be, because it doesn't actually seem to be part of any lounge. I'm not sure if they're not doing anything with it, if it was still closed because it was so early, or what.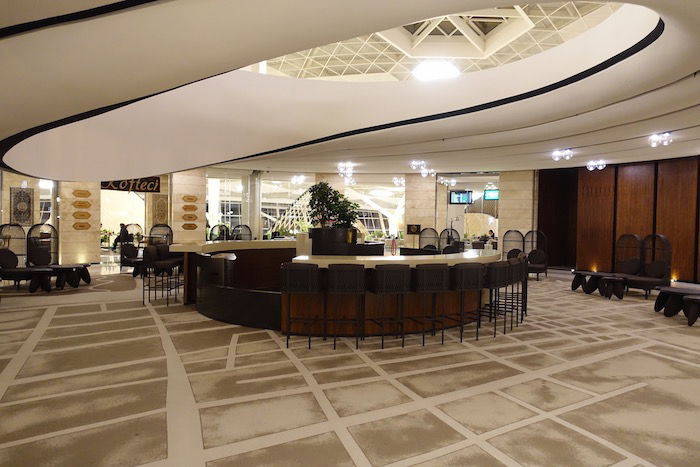 Area in front of Baku Airport lounge
Once in the above area, the generic business class lounge was located to the left, while the AZAL lounge was located to the right. Since we weren't flying with AZAL, we turned left, where we were admitted upon presenting our invitations.
The business class lounge does belong to the Priority Pass program. If your boarding pass doesn't grant you entry, there are many credit cards with lounge access.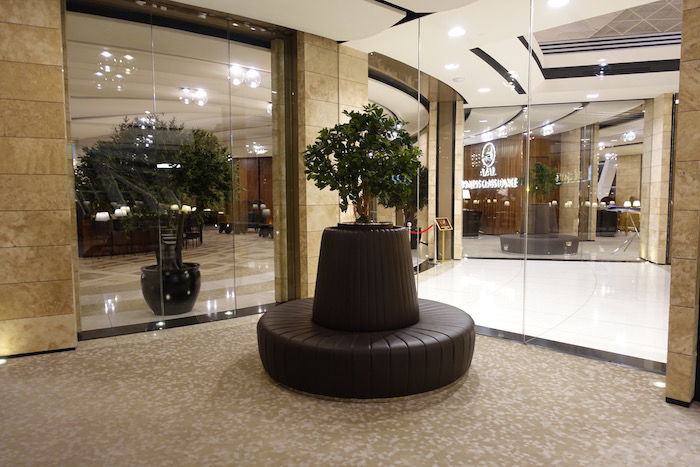 Baku Airport lounge
The lounge itself was quite nice, and the decor matched much of the rest of the airport. The lounge curved a bit, with floor-to-ceiling glass windows overlooking the terminal. There was plenty of seating, and at least at this hour the lounge was pretty empty.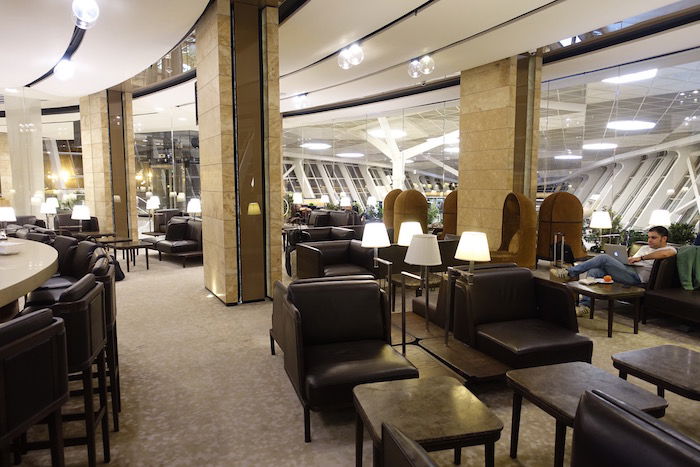 Baku Airport lounge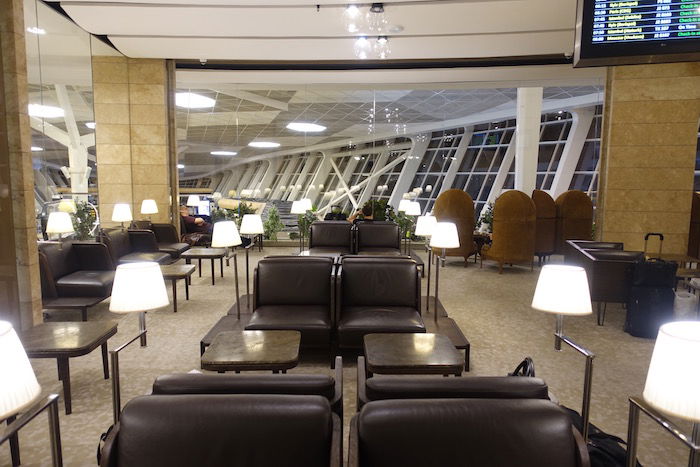 Baku Airport lounge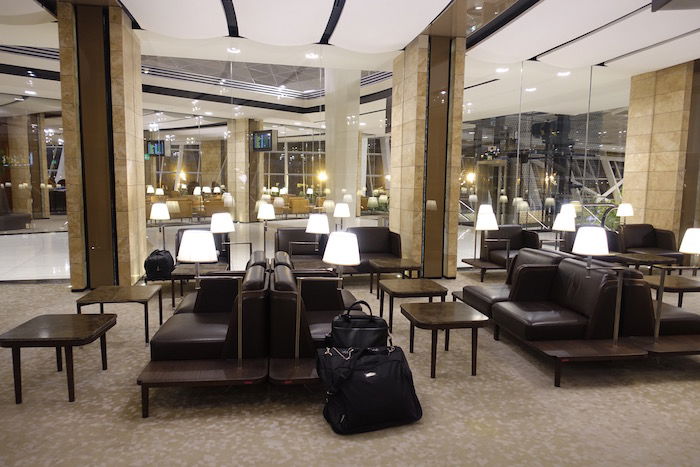 Baku Airport lounge
In the center of the lounge was a bar area.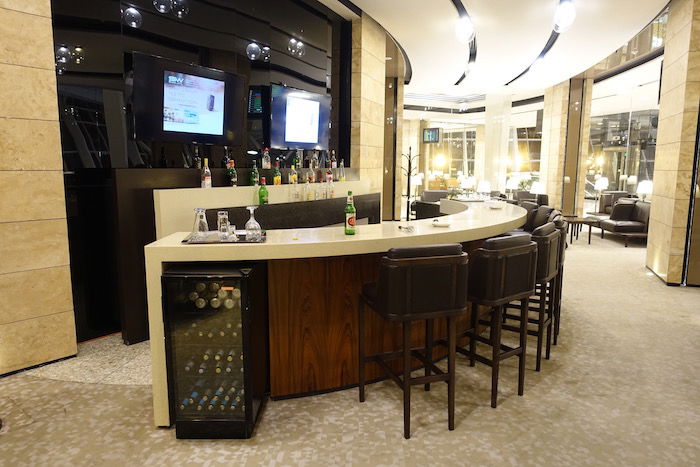 Baku Airport lounge bar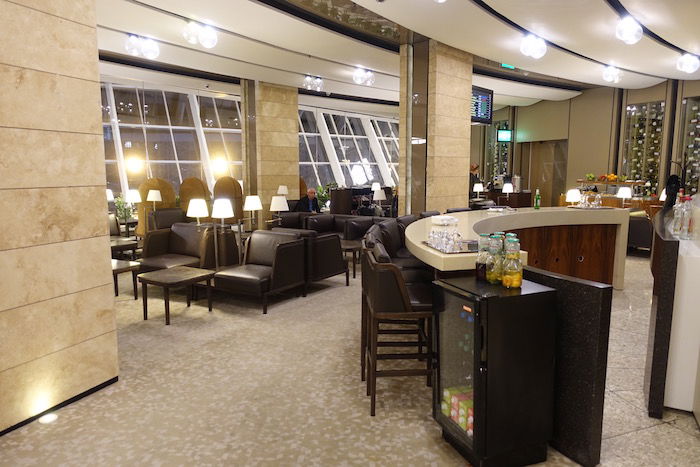 Baku Airport lounge
After snapping the above pictures the lounge attendant came up to me and said "no photo." Grrr! I run into this fairly often, and usually it's just employees on power trips, rather than an actual policy. I assumed it was just someone making up their own rules, since I had no issue taking pictures in the rest of the airport, and there were no posted signs.
I had a job to do, so I put away my camera and took out my phone instead, and figured I'd take pictures of the buffet that way without her noticing. When she disappeared I took a picture of part of the buffet very subtly, though the attendant popped out of nowhere and said "I said no photo." Oops! I'm usually pretty good about subtly taking pictures, so was quite embarrassed at that point.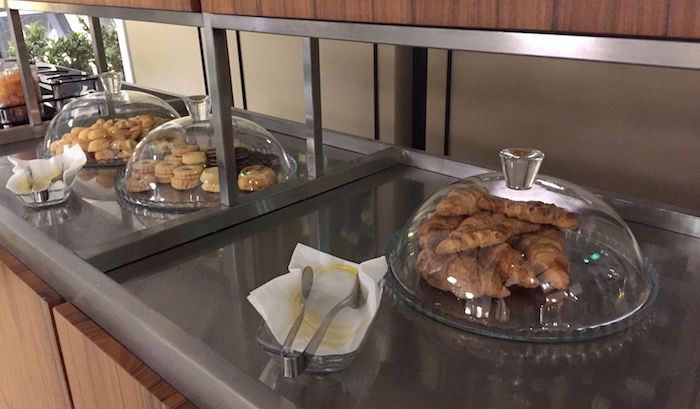 Baku Airport lounge snacks
The food spread consisted of all kinds of carbs, ranging from croissants to muffins to all kinds of other things I couldn't identify (and there was no signage).
The Wi-Fi in the lounge worked reasonably well, so we spent about 30 minutes in the lounge working.
Boarding for our flight was scheduled for 5:45AM, so at around 5:30AM we headed down to our departure gate, which was just a short walk away.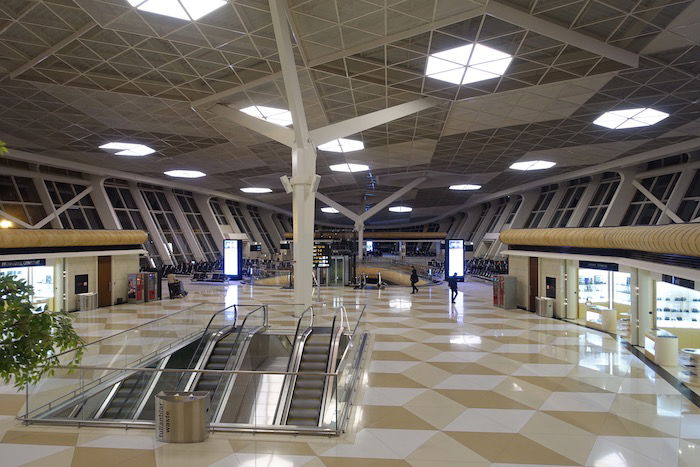 Heading to departure gate Baku Airport
The Ukraine International Airlines flight we were taking actually comes from Aktau, Kazakhstan, with just a short stop in Baku. Gosh, and I thought we had an early start with our 6:15AM departure time!
In terms of other interesting things to note, Aeroflot and Ukraine had check-in desks next to one another, and then also had gates next to one another. Hah!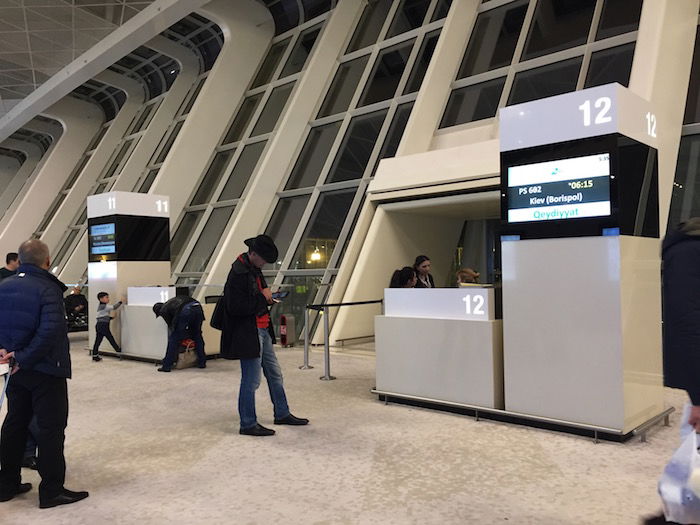 Departure gate Baku Airport: Russia vs. Ukraine
At 5:40AM boarding was called, five minutes ahead of schedule. As seems to the norm in the region, there was no boarding call or anything, but rather they just opened the door to the jet bridge, and then people started storming the gate.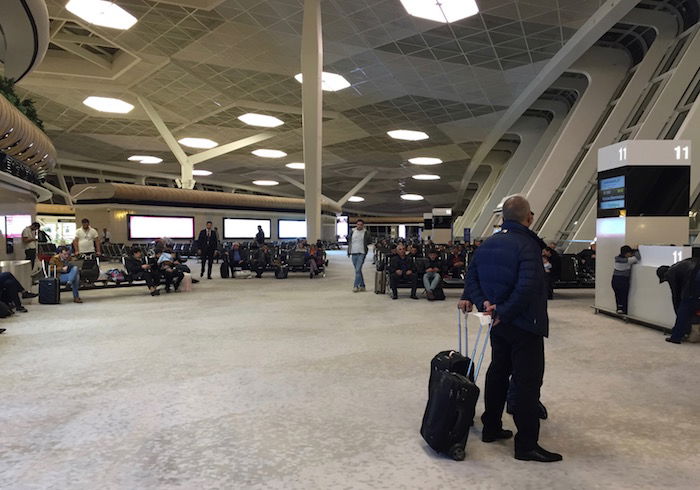 Departure gate Baku Airport
Baku Airport Lounge bottom line
Physically Baku Airport is gorgeous, among the most beautiful airports out there. The lounge was also physically quite nice, at least for a contract lounge.
However, the rest of the experience was a bit chaotic, though I'm guessing fault for that lies more with Ukraine Airlines than the airport. Check-in was crazy, and as seems to be the norm in the region, there was no priority boarding.
I also didn't love being told I couldn't take pictures, but hey, that's life sometimes. Fortunately such situations are the exception rather than the norm.