---
This year I've started doing more and more food tours when I travel. Ben and I did a "pub crawl" style tour in Madrid last year, I took my family on a crazy tuk-tuk tour in Bangkok, etc.
Food tours are a really fun way to get a taste (hah!) of a city in a short period of time, and provide a good introduction to local cuisine, so we definitely wanted to try one in Serbia, as neither of us have spent much time in the Balkans. After a bit of research we decided to book a Belgrade food tour with Food&Culture, which offers three different itineraries: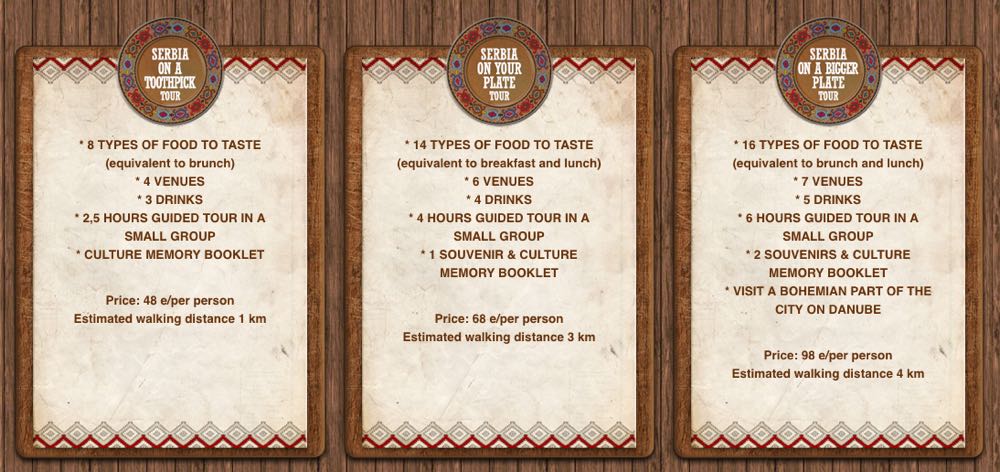 Although we booked on very short notice, they were able to accommodate us for the "On Your Plate" tour. Given that we were there in off-season, we ended up having the tour to ourselves, which was an extra nice treat.
We met our lovely guide, Jovana, outside St. Michael's Cathedral. After exchanging pleasantries she led us to our first stop, in the oldest kafana in Belgrade.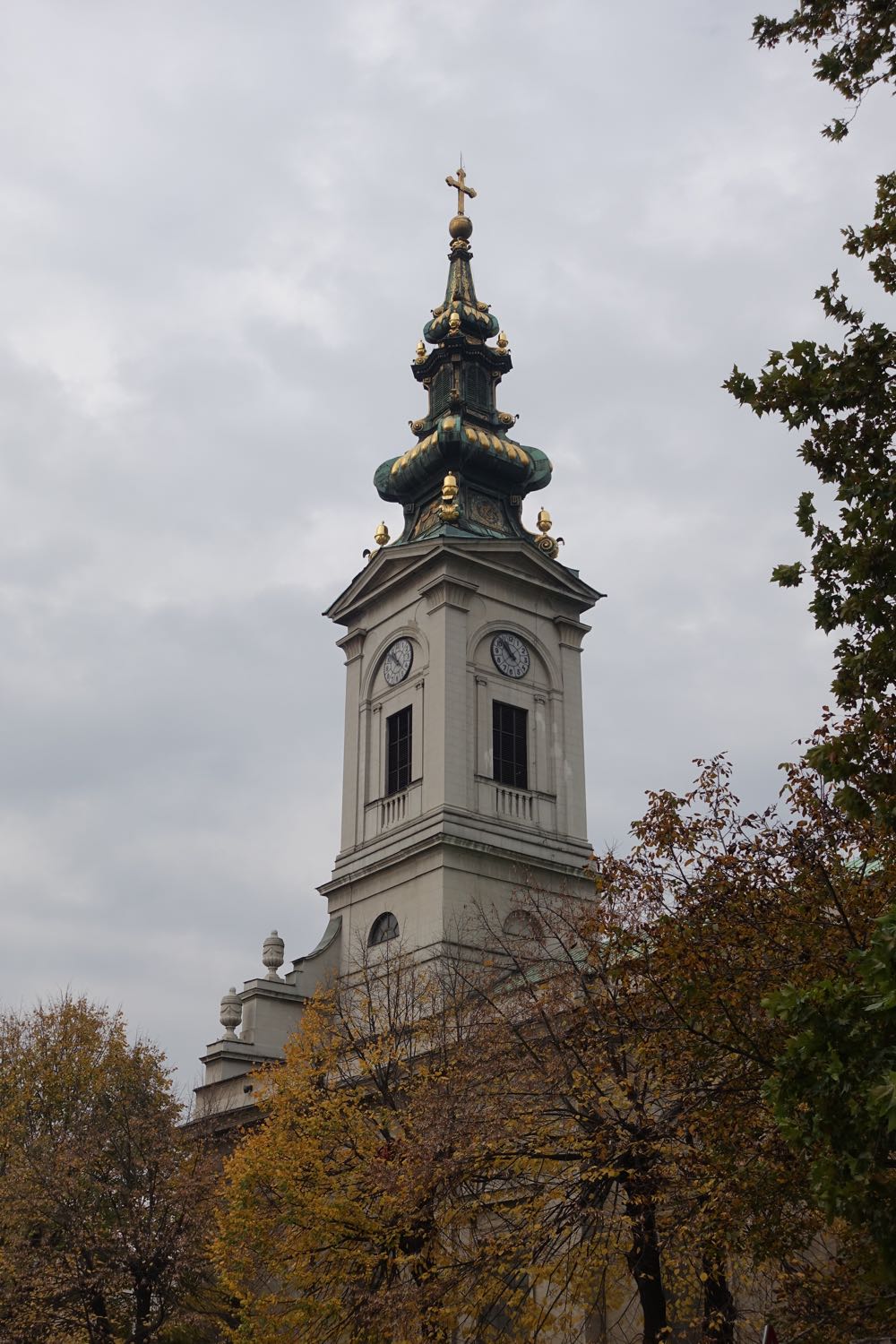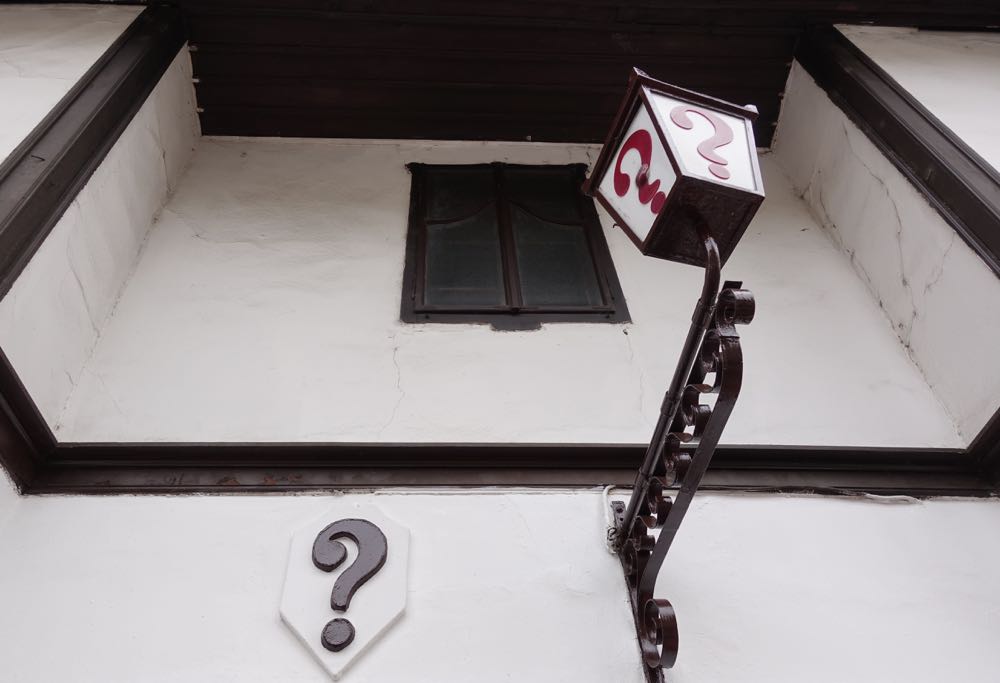 The name was actually "?" as in "We need a new restaurant name, because we got in trouble for calling ourselves 'the bar by the church' but before we came up with something, the '?' stuck."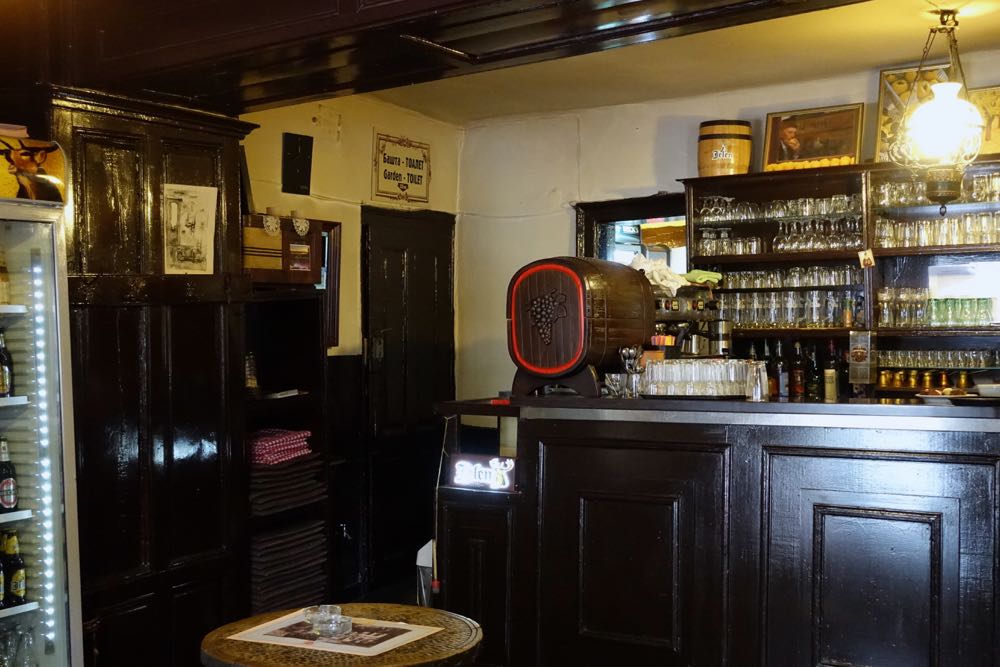 We started with traditional Turkish coffee, and were welcomed with bread and salt. One of my favorite novels is The Bridge on the Drina, and I particularly loved the descriptions of people drinking coffee in the Balkan style, so I loved this as a starting point. (Side note, does anyone want to start a sort of virtual/travelers book club? I think it could be fun.)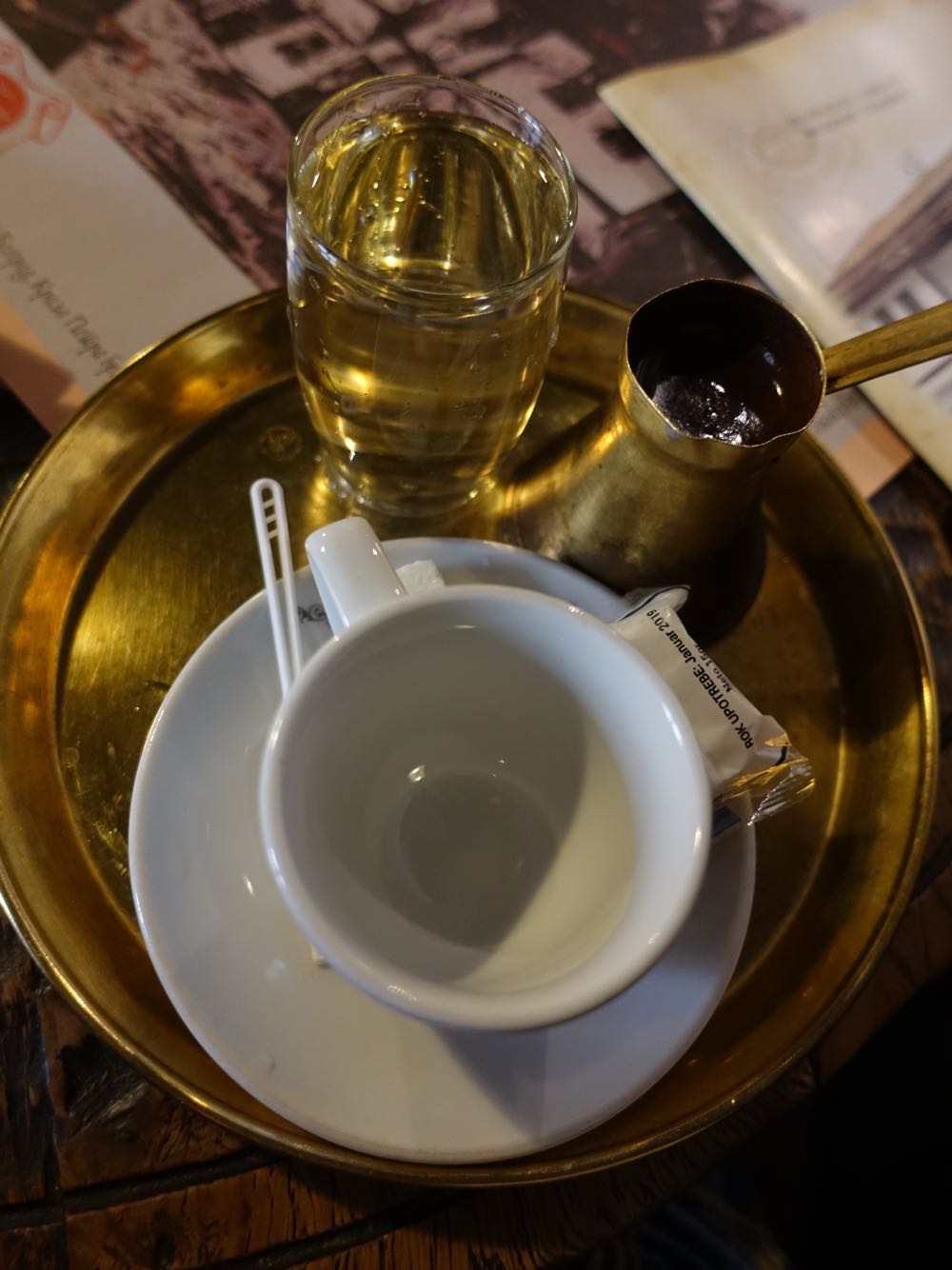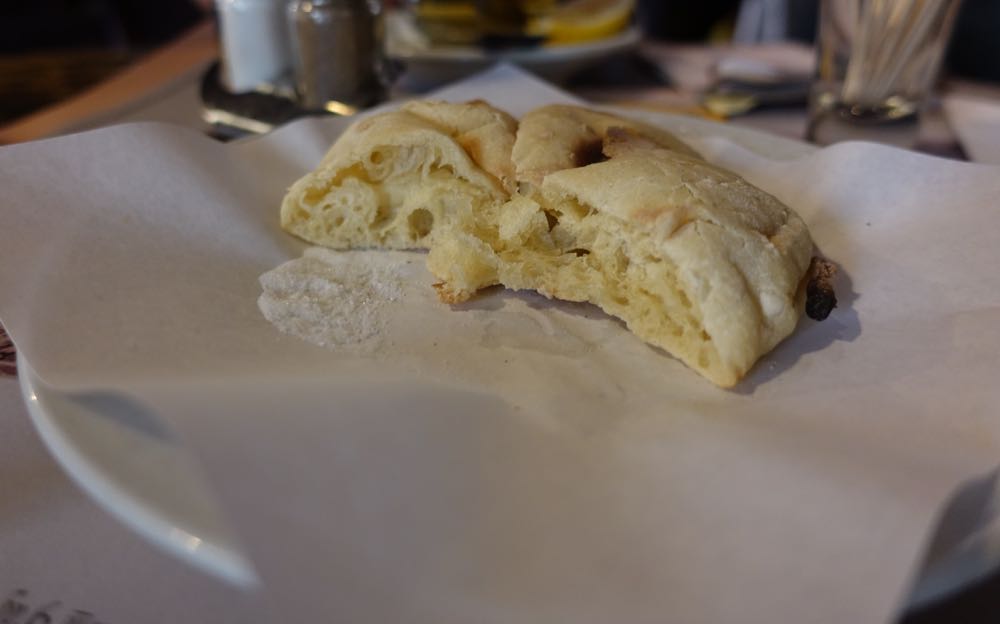 Delicious plum dumplings followed.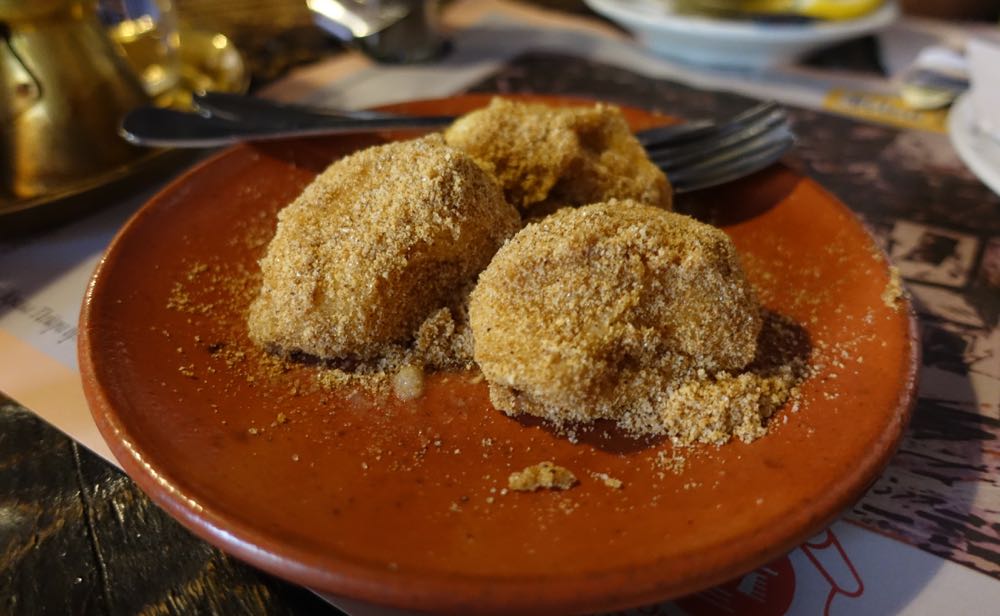 Meanwhile, Jovana shared a brief overview of Serbian history to provide some context to the culinary culture, then gave a lighthearted but too-accurate-to-not-be-sorta-creepy reading of my coffee dregs.
Off to a good start!
If our first visit was a reflection of Old Belgrade, the next was as modern as can be. Crna Ovca (Black Sheep), a new ice cream boutique on one of the main shopping streets.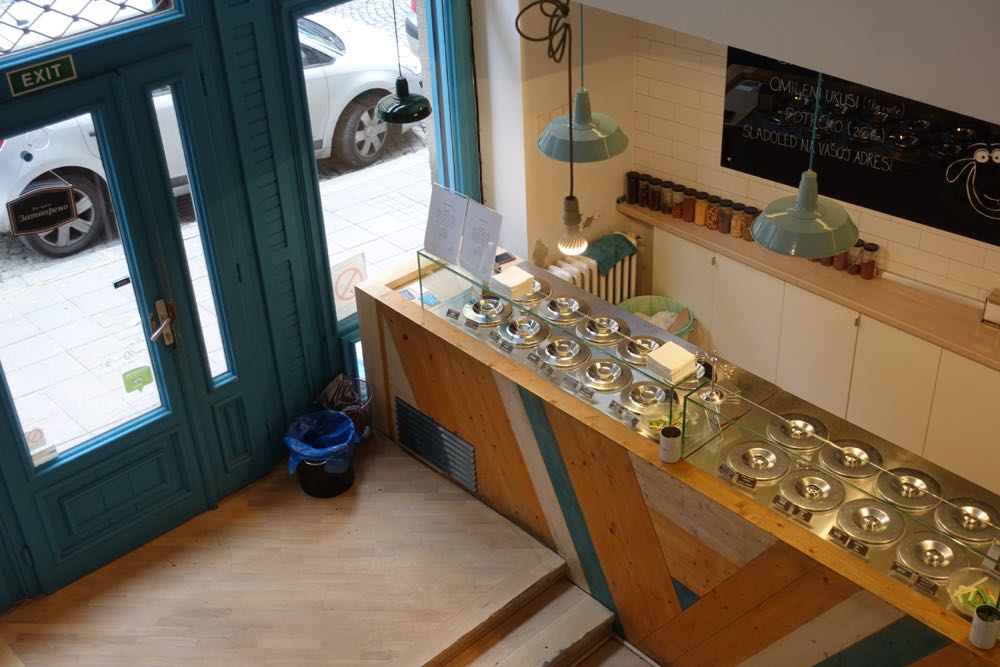 And of course they had all the varieties you'd expect, like chocolate and pistachio and a salted caramel, but the creativity went far beyond the traditional.
I think we tried every kind of nut, from chestnut to walnut to hazelnut, along with black currant, brown butter blueberry and mascarpone raspberry. One of the standouts was a less-sweet sesame with chunks of dark chocolate and coffee beans.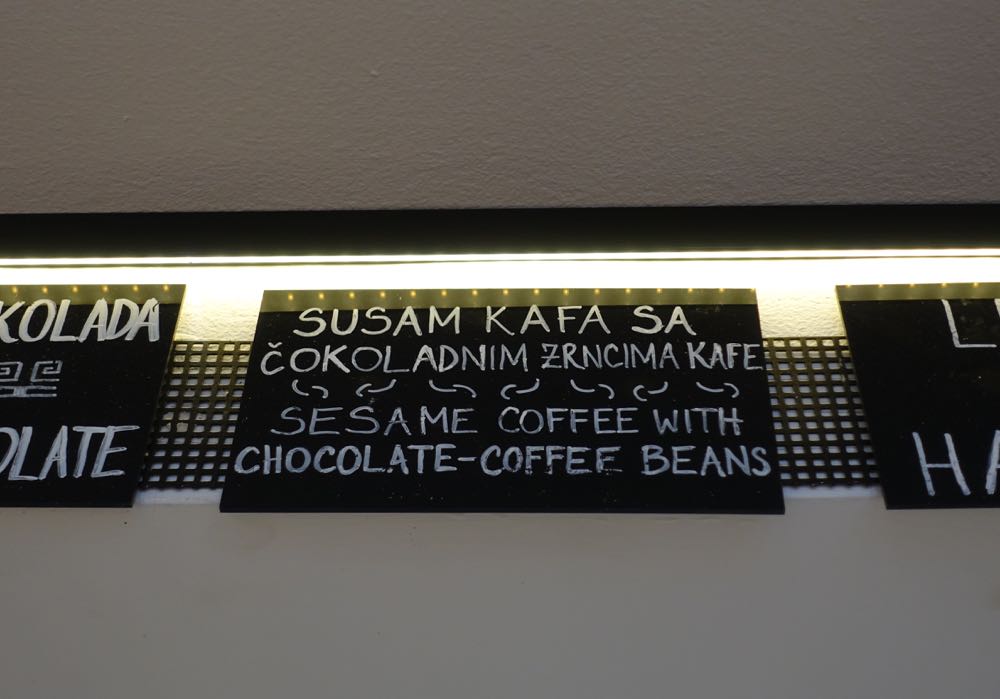 Seriously, I think we sampled 25 flavors of ice cream, and they were all delicious.
Stop #3 was a bit of a walk, and by this time we were getting more comfortable as a group. We talked about travel, and shared experiences, and the challenges of entrepreneurship. Serbia doesn't seem to have the same startup culture that you see in some other places, so a group of young people started their own hospitality/tourism brand is quite unique.
Along the way, Jovana pointed out key sites, like the last remaining mosque in Belgrade.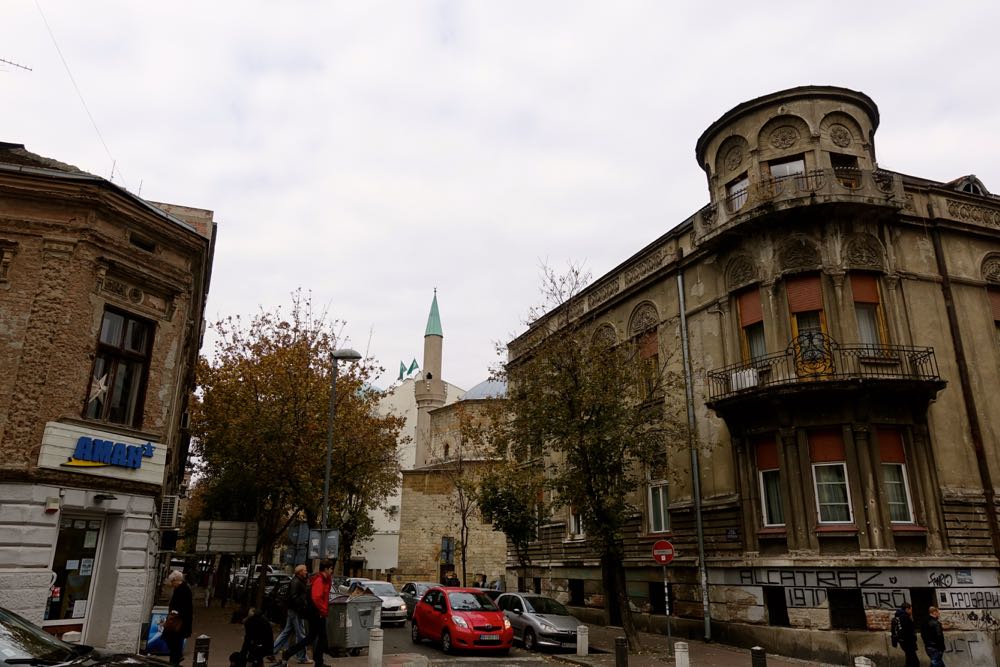 Nestled between a park and a school, and down a garden staircase, was a charmingly old-fashioned restaurant.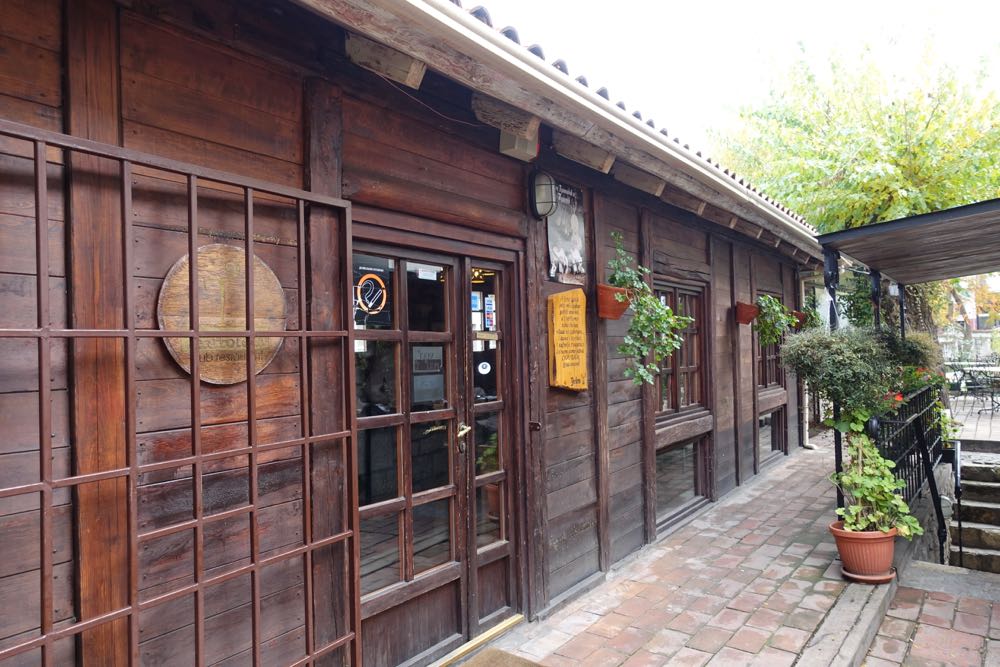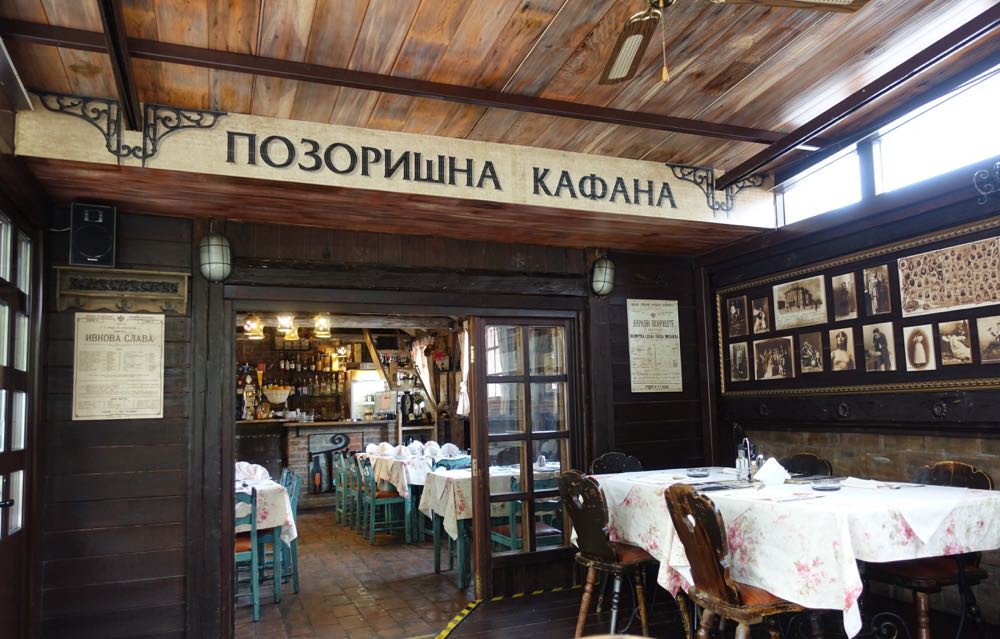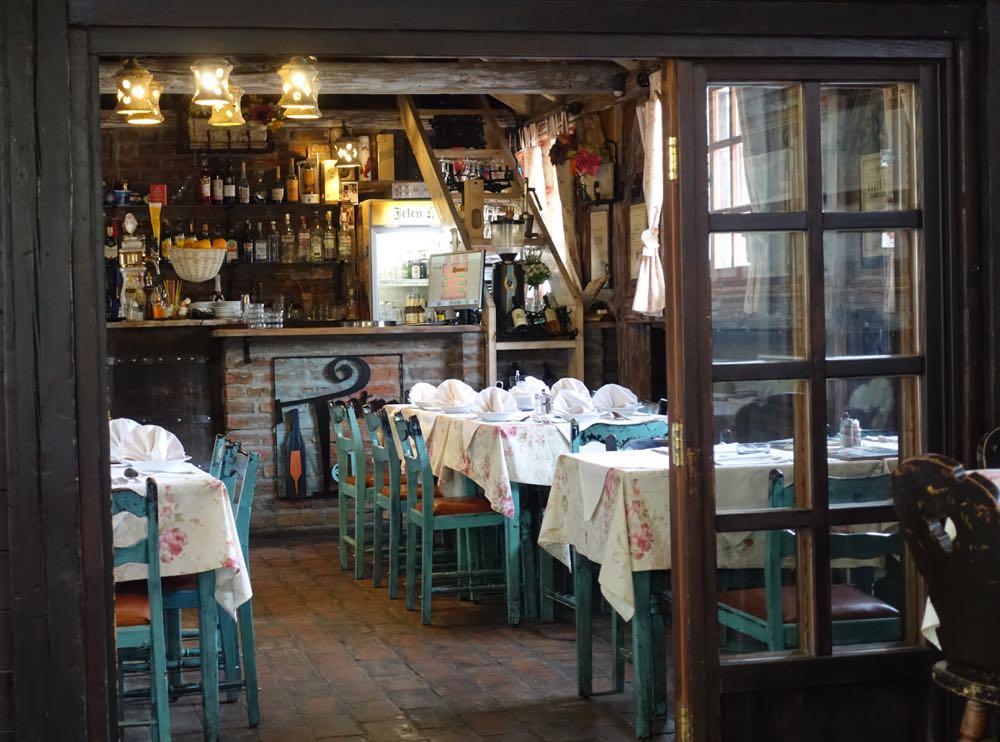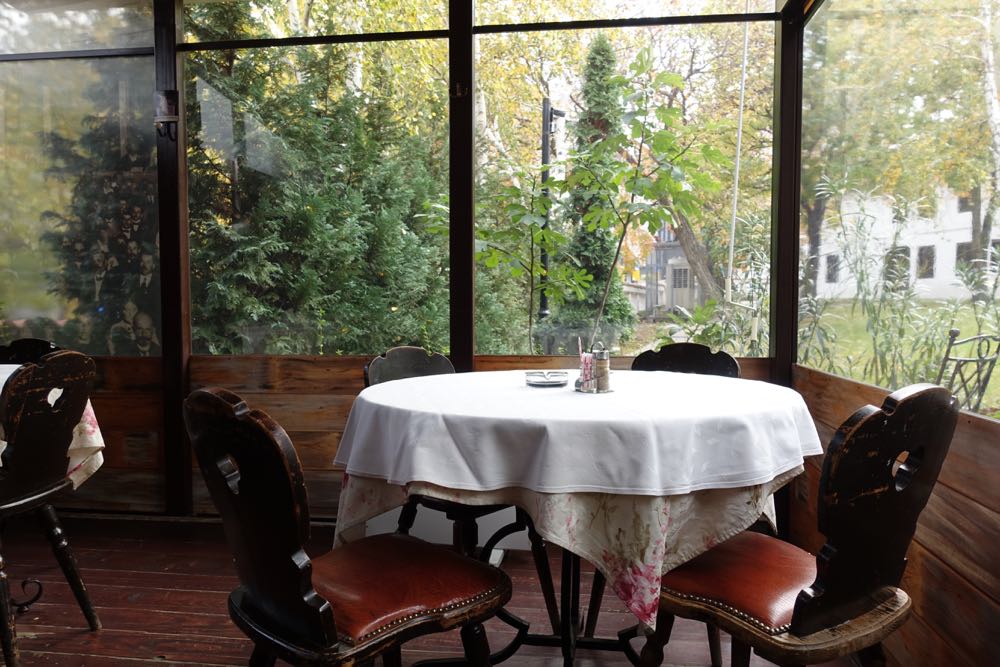 From our window seat we enjoyed a lovely Serbian mezze, with prosciutto, bresaola, ajvar (a Serbian roasted pepper spread), multiple cheeses and a cornbread muffin. During our time in Belgrade we saw these items everywhere (even on our Air Serbia flight), and it was nice to know what everything was.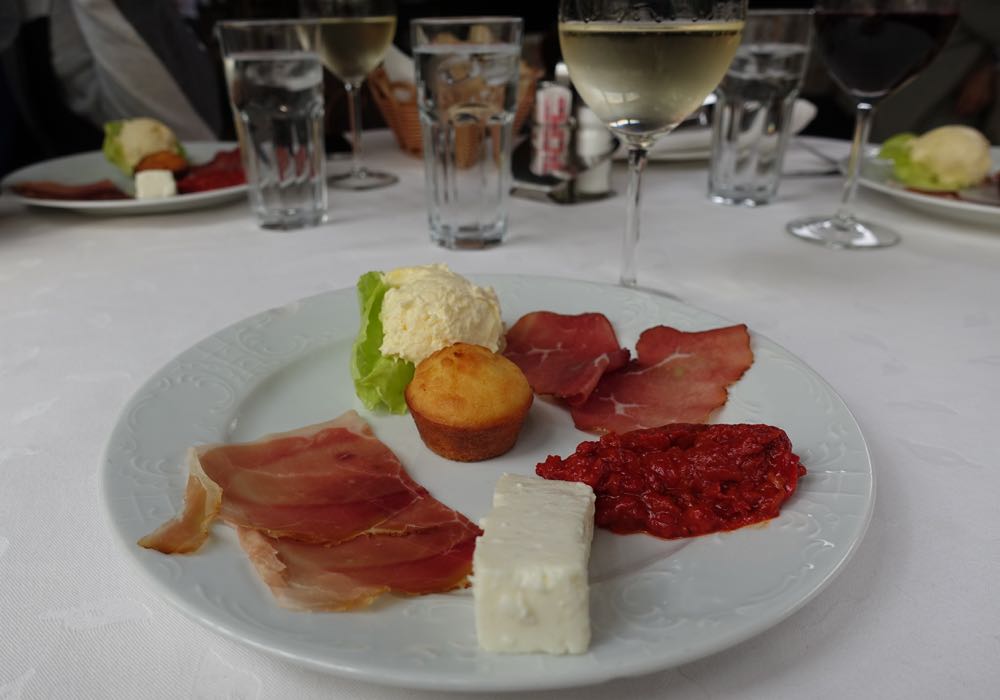 And that ajvar – my goodness! I could eat that every day with just a spoon!
This was also our first taste of Serbian wines, which were consistently impressive.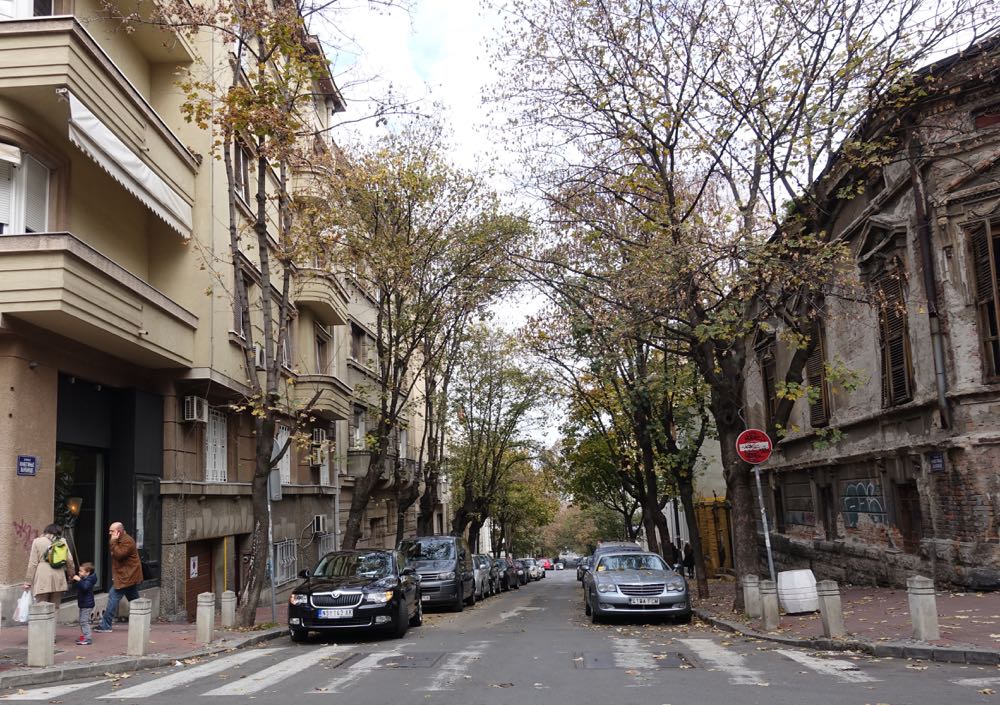 Our next stop was on a side street of a residential area, at a truly ridiculous hipster-Bohemian bar. I don't actually know how to describe the décor, so will let the pictures speak for themselves.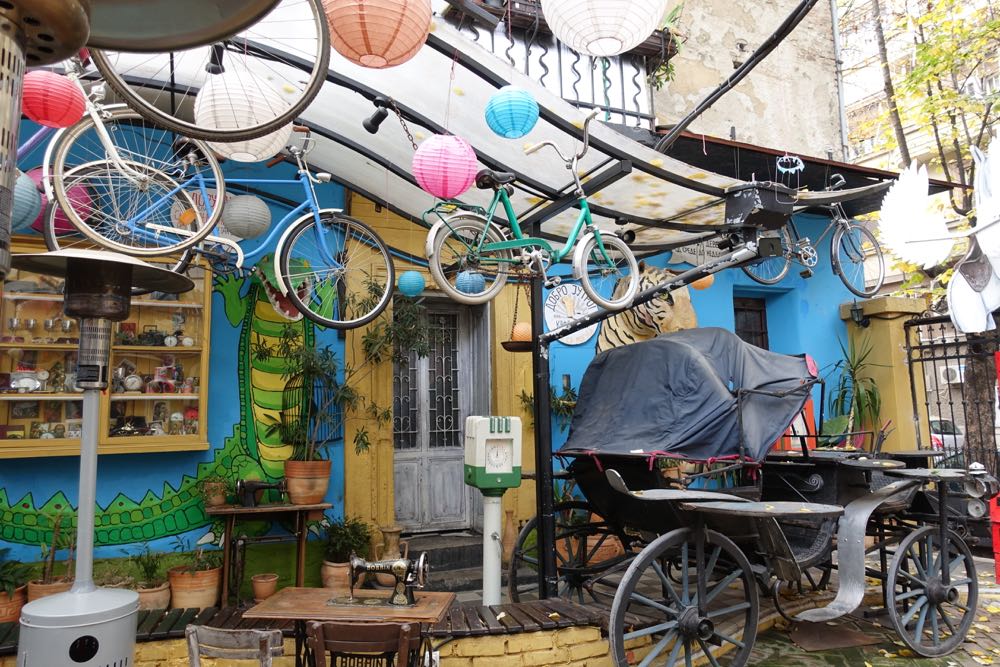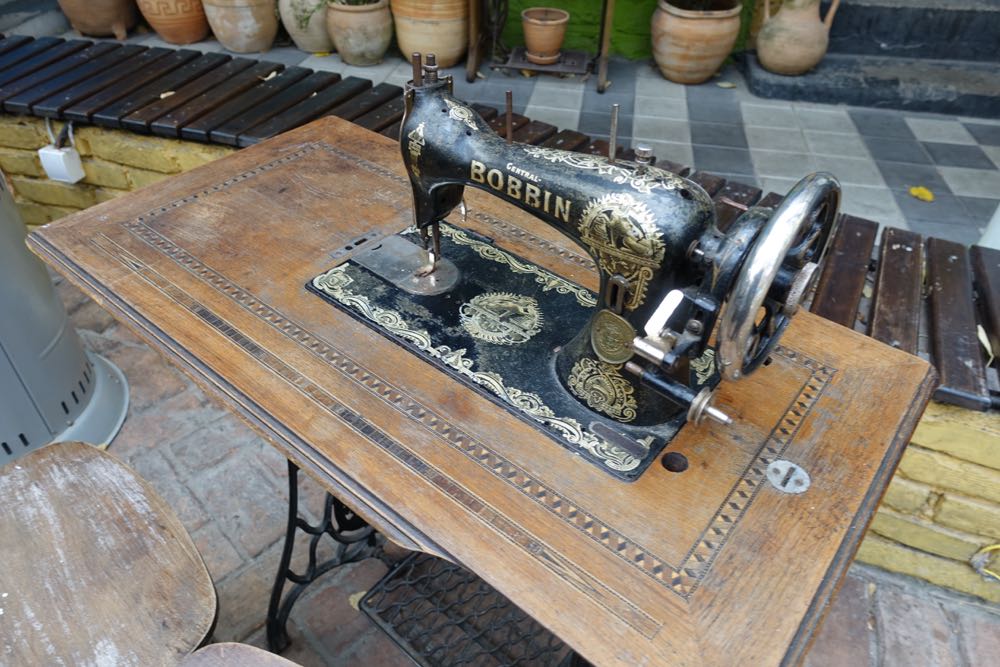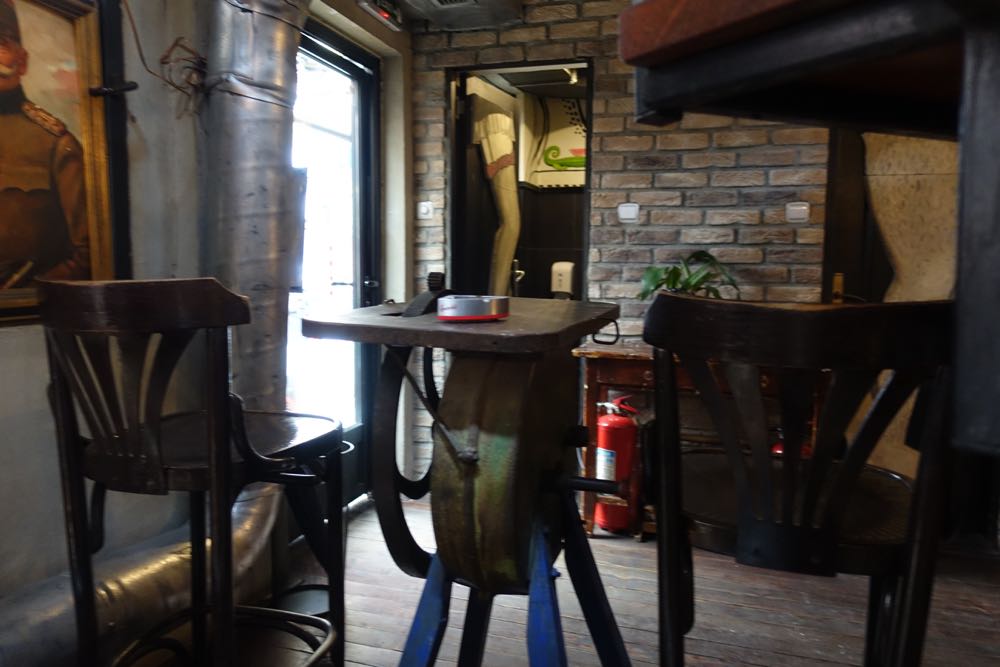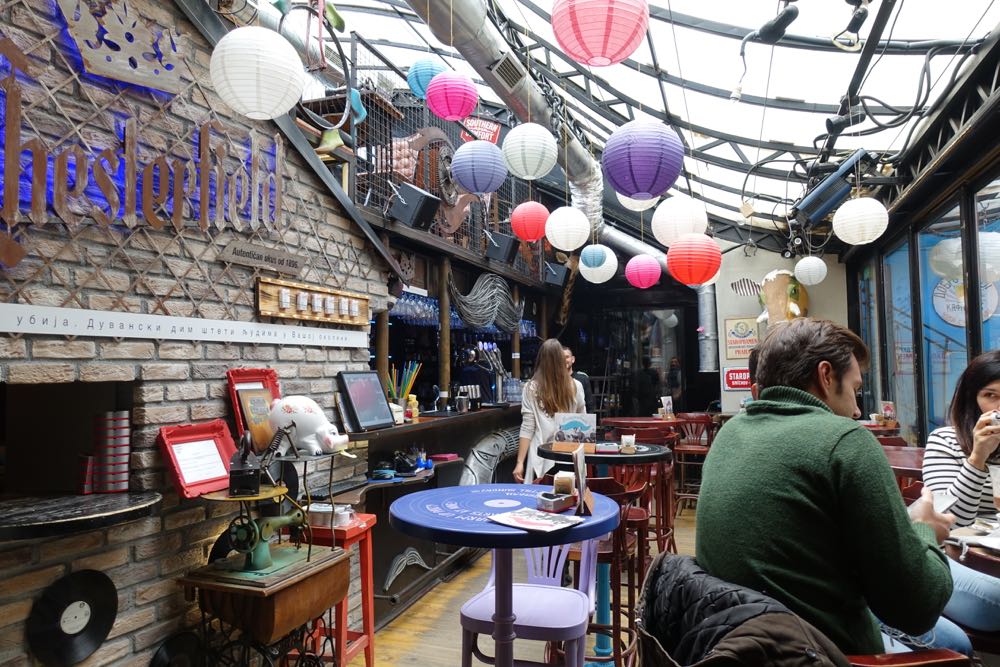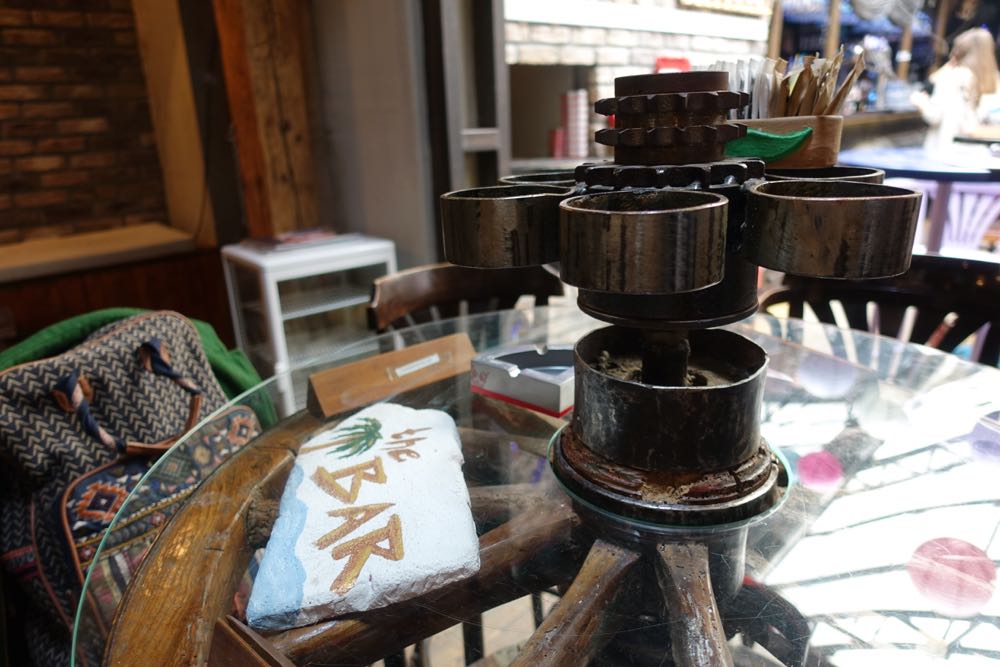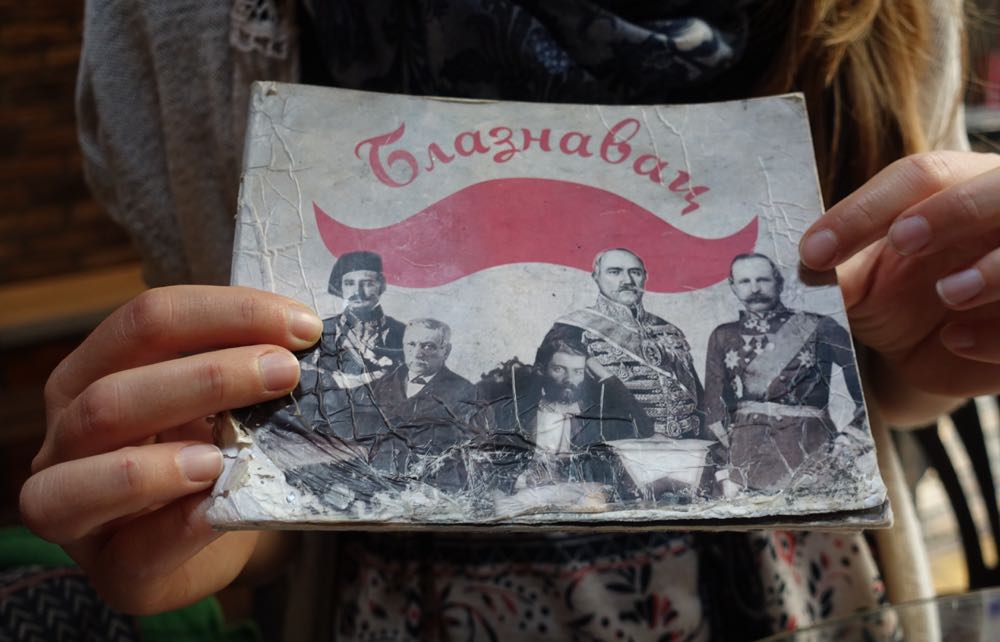 On the menu here? Serbian brandy, or rakija.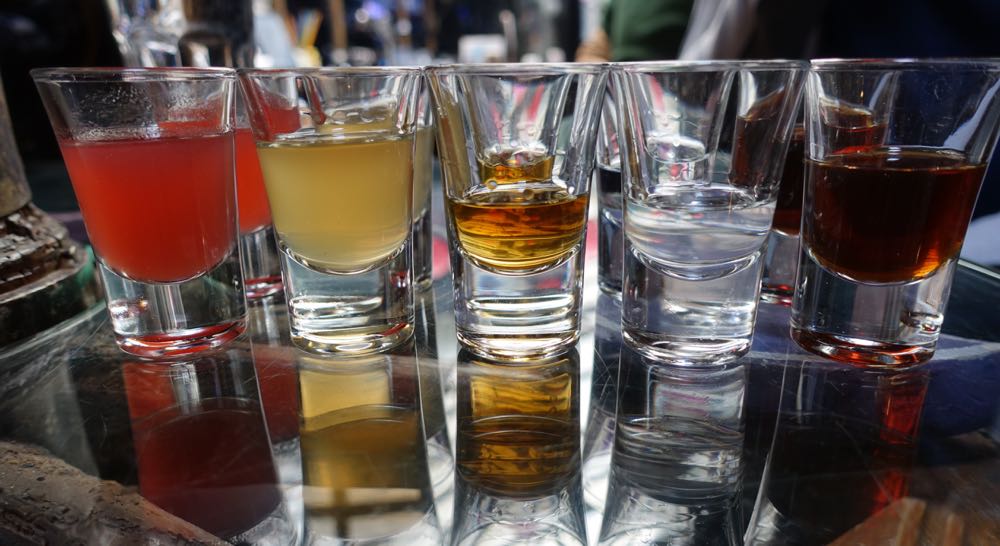 And not just one variety, of course! There was the traditional plum, and also quince, along with raspberry, apricot, and a honeyed plum.
Because what everyone needs at 11:30 on a Thursday morning is five shots of brandy.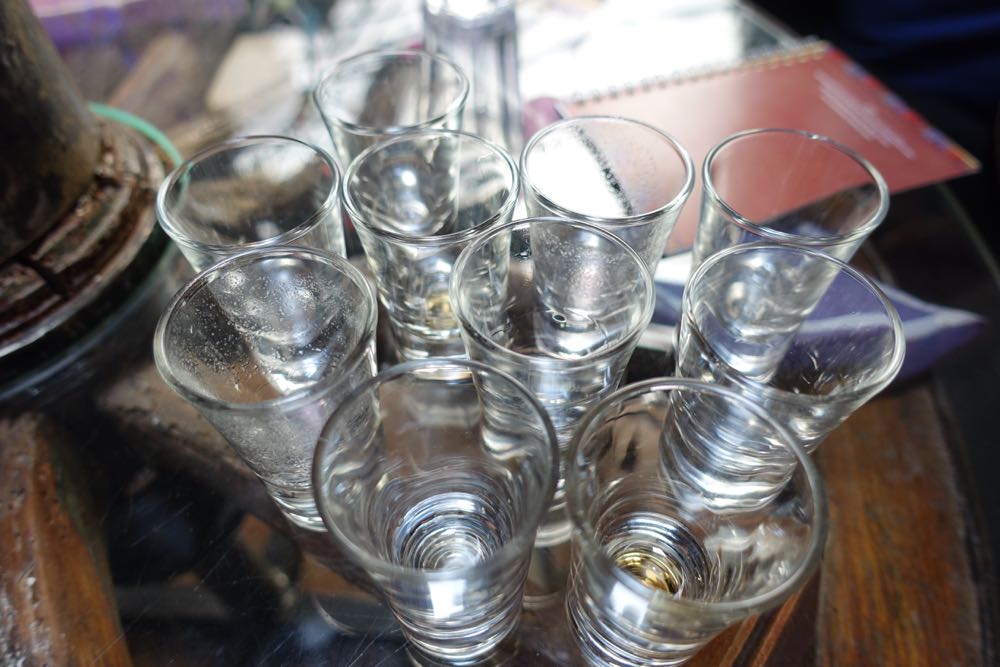 While I was enjoying our time with Jovana, who truly could not have been more gracious or lovely, this could have been the last eating stop on the tour for me. Serbian food is filling, and the portions had been quite generous!
But with three stops left to go, we pressed on.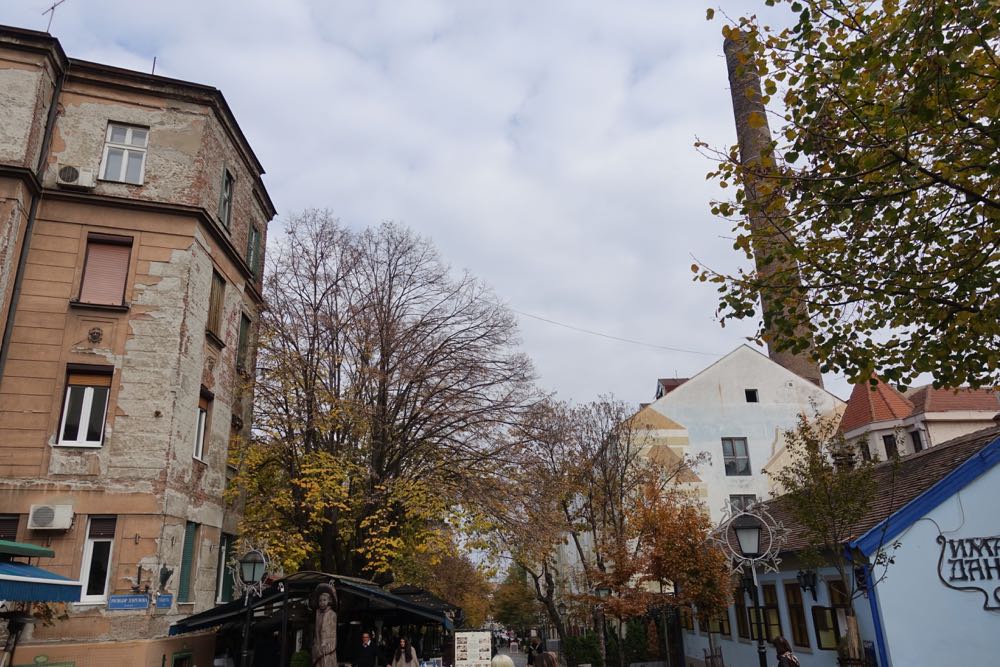 Our next stop was through the Skadarlija neighborhood, which was so charming. Cobblestone streets, flower vendors, and cozy street cafes.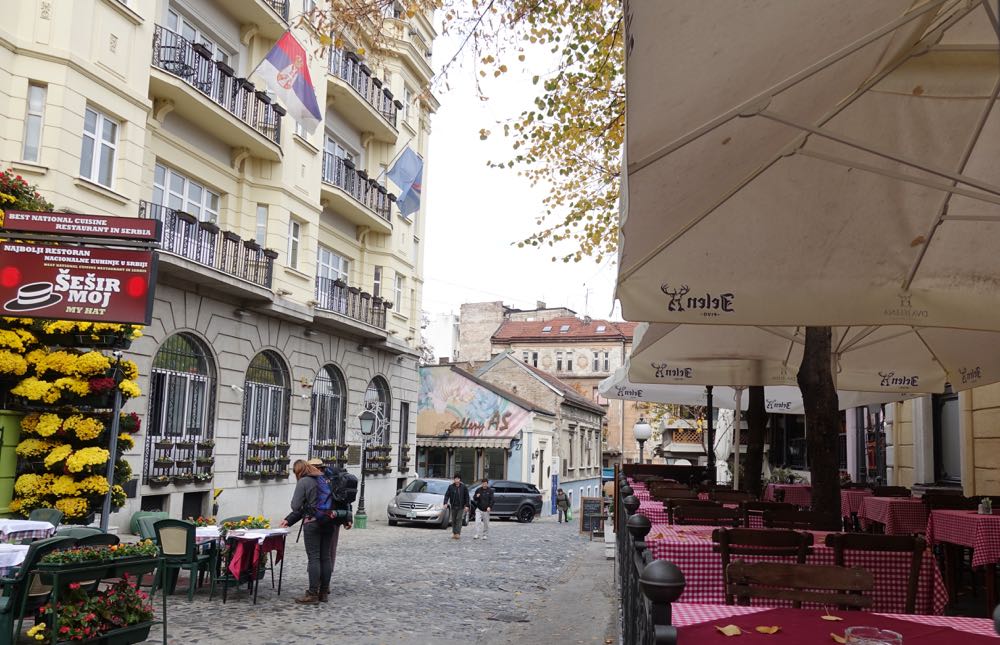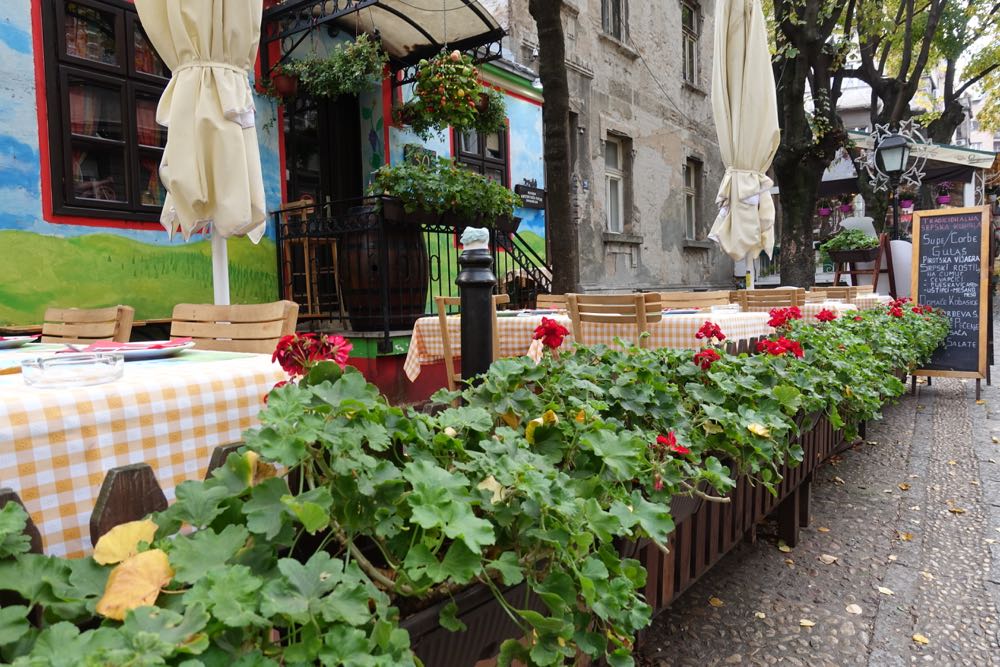 The destination? A corner bakery, famous for its Serbian goulash.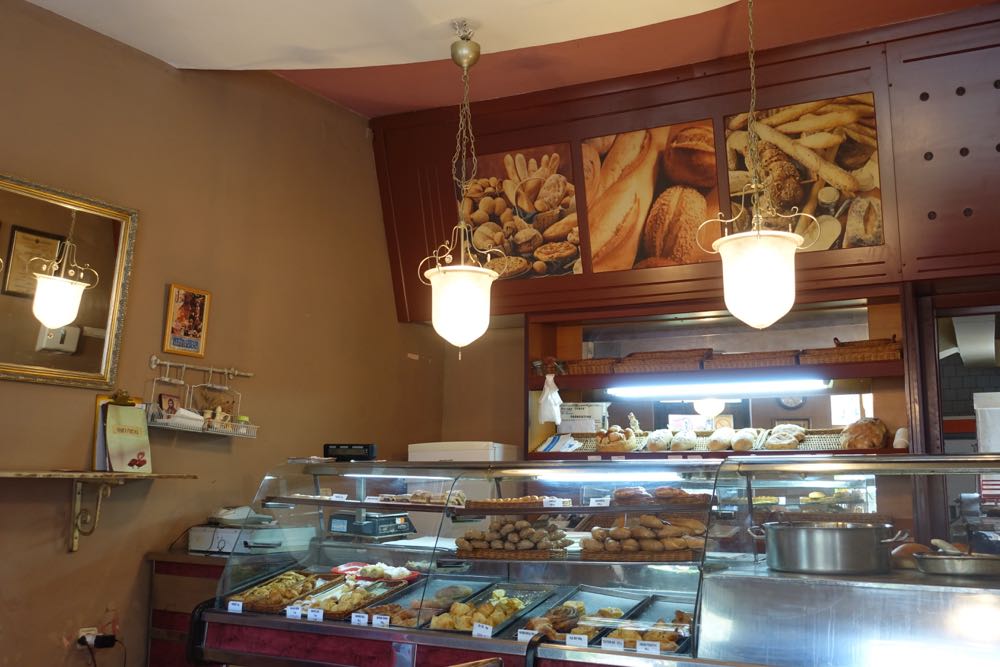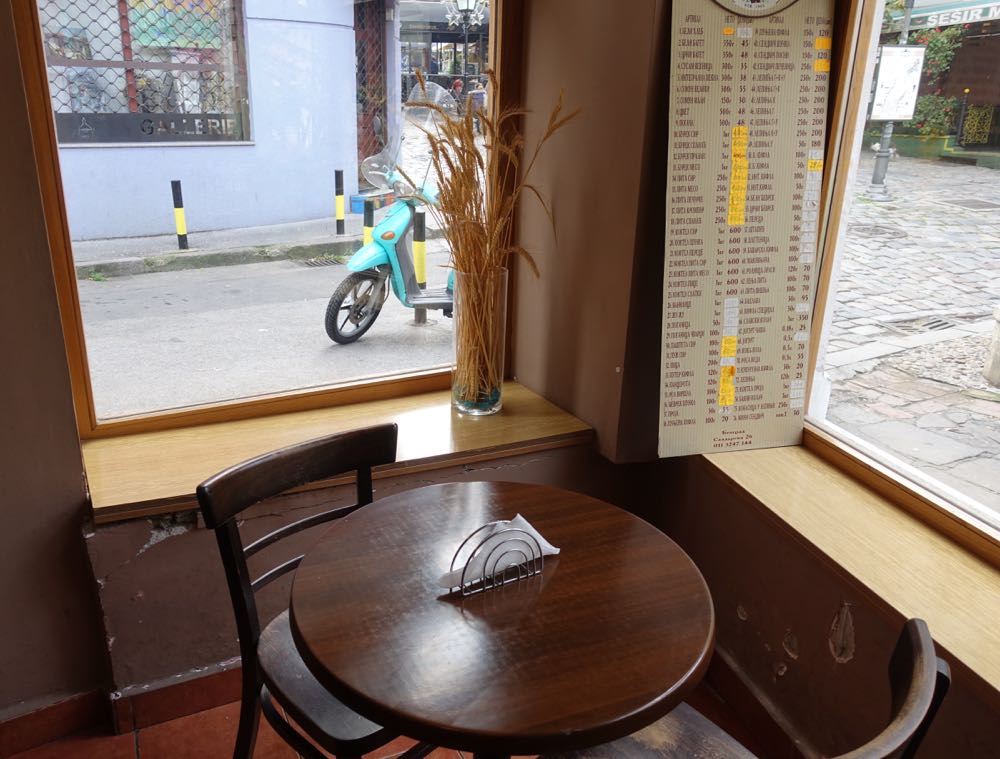 The goulash was accompanied by a Serbian cheese of some sort. It was different than other goulash I've tried, but was quite good.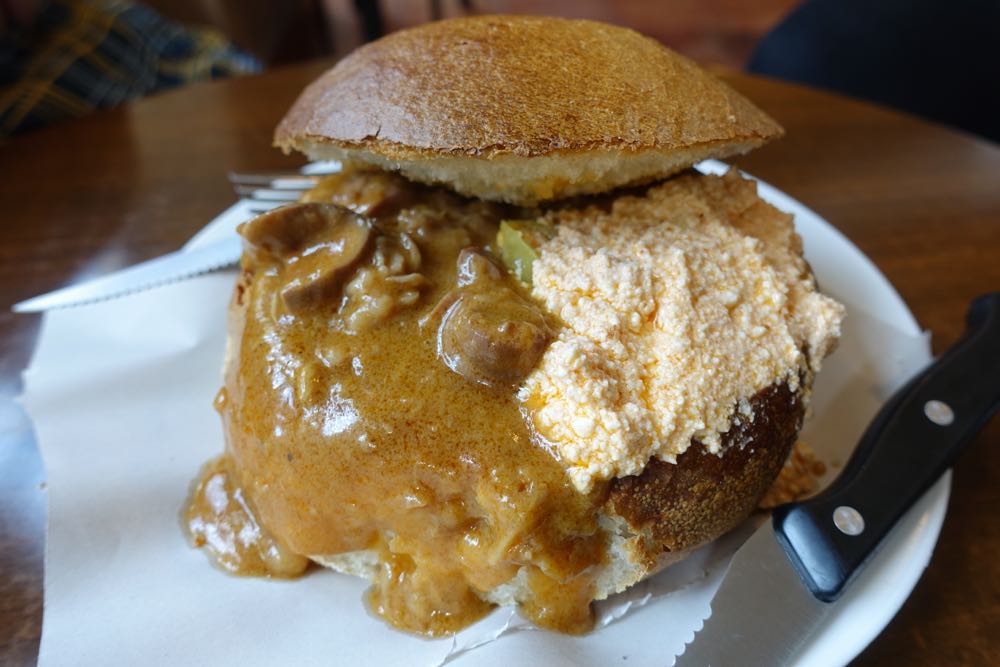 Pressing on, we then visited one of Belgrade's "green markets" – essentially a produce market, with stalls piled high with seasonal fruits and vegetables. Pears, quince, and grapes were in abundance, given the time of year.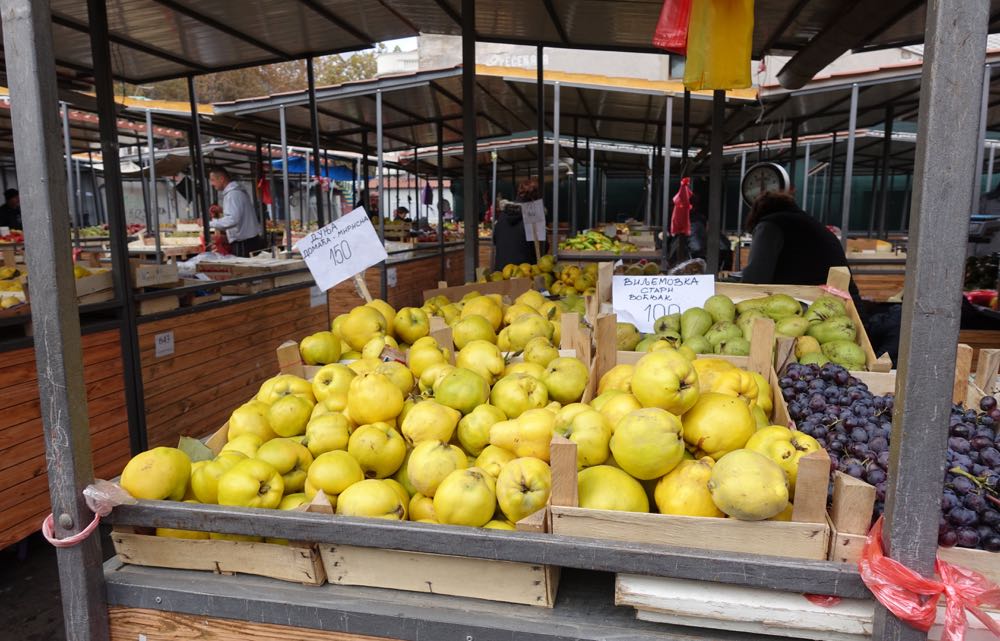 Adjacent to the produce stalls were a collection of low buildings that served as butcher and dairy markets. Jovana introduced us to her "cheese guy," who delighted in passing us samples of fresh Serbian cheeses.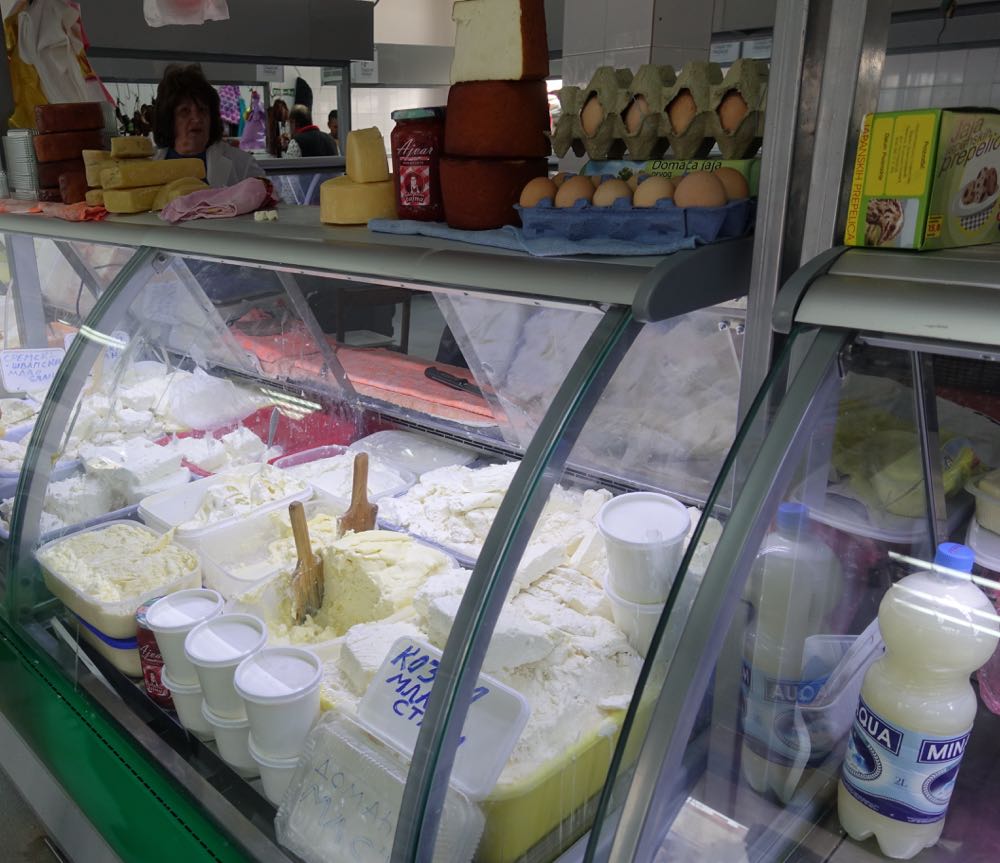 At this point we were so full that every bite was painful, so we went somewhat reluctantly to the final stop.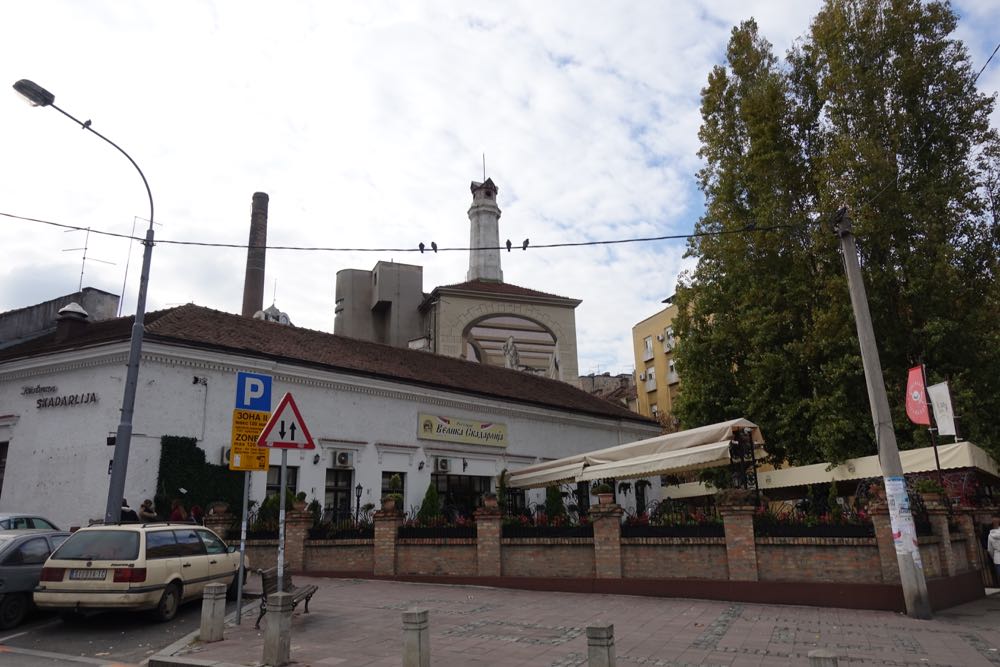 This was a more upscale restaurant, with a formal dining room. While we waited for our order, Jovana shared stories of Serbian weddings and celebrations, and patiently answered our questions about being a child in Belgrade in the 90's.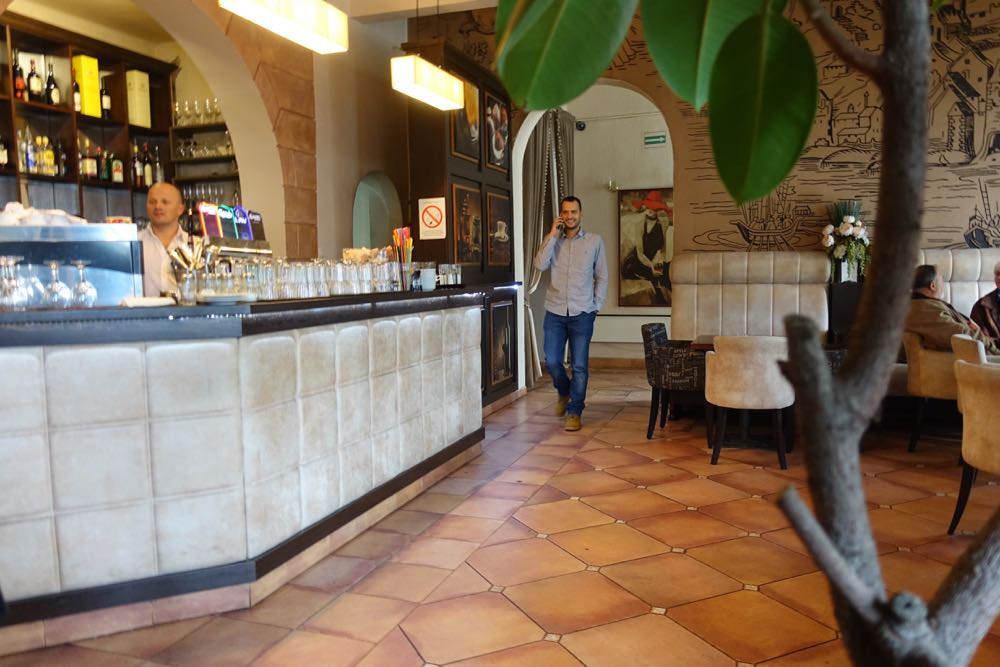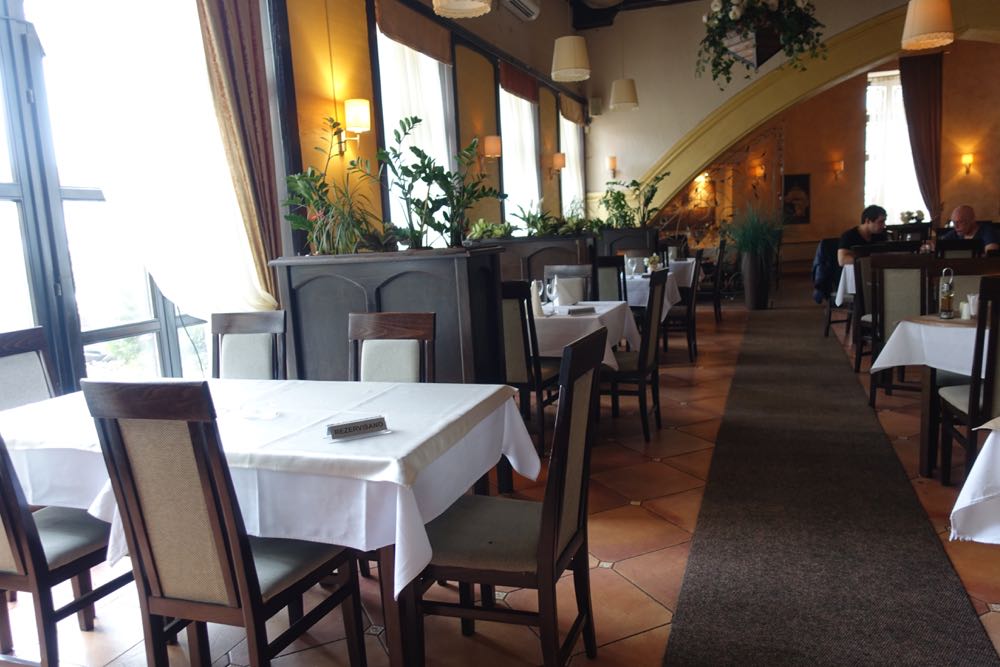 A traditional mixed grill soon arrived, and while everything on the plate was divine we couldn't manage more than a few bites.
Which was too bad, because the meats were very high quality, and the preparation was perfect.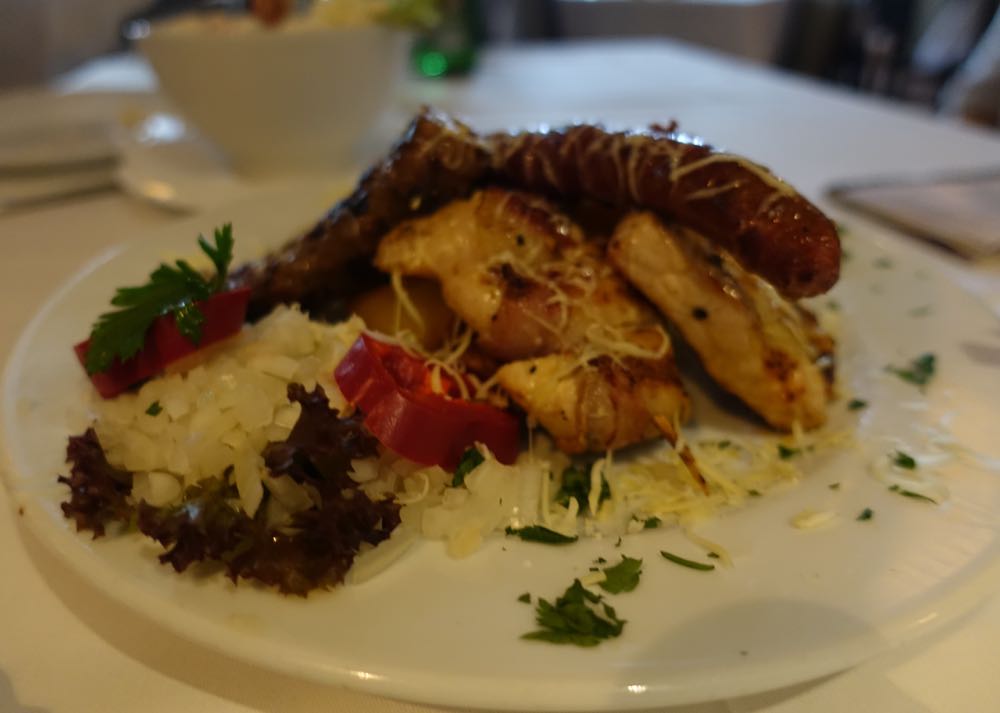 The start of the East Coast business day meant we had to make rushed goodbyes, but it was such a lovely way to spend a morning. The tour was scheduled for four hours, but we ended up spending about four and a half due to all the great conversation.
If you're ever in Belgrade I highly, highly, recommend a Serbian Food & Culture tour. Heck, it's worth adding a stopover in Belgrade just to enjoy this experience!
Jovana and her business partners are delightful people, and tremendous ambassadors for a city that is trying to find its tourism footings. Truly enjoyable.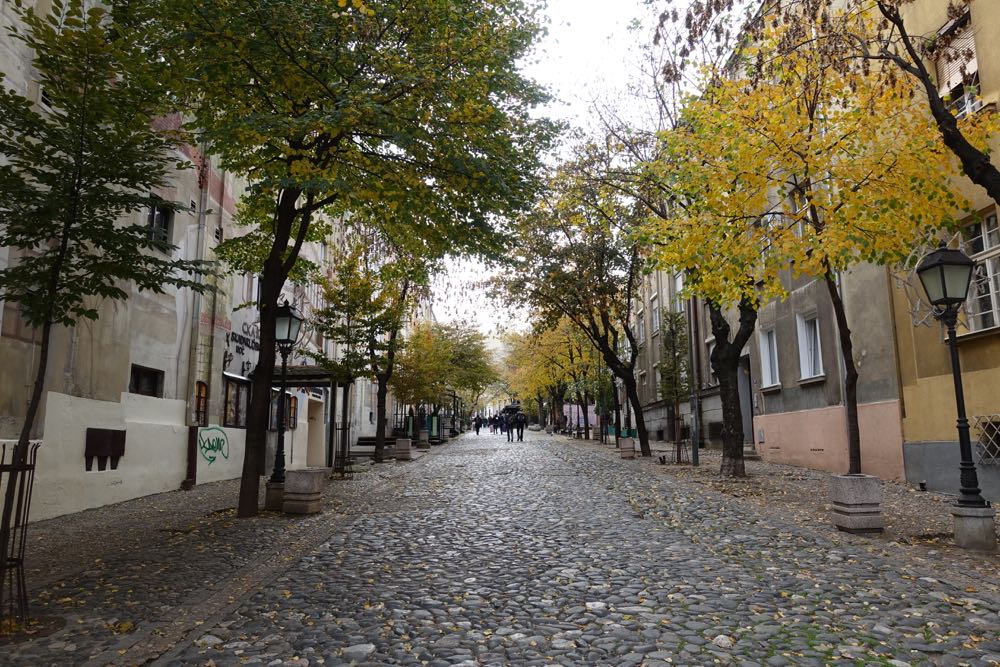 Any other "can't miss" things you'd suggest people experience in Belgrade?