---
The bus from the remote stand dropped us off at the transit area of the terminal, which was chaotic. There were massive queues both for people connecting and also for people arriving.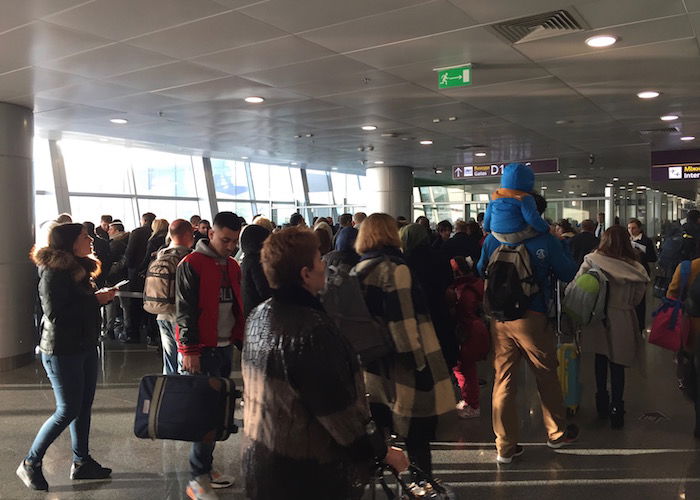 Kiev Airport transit area
They weren't able to print the boarding passes for our flight to New York when we checked in at Baku Airport, so we headed to the transfer desk, where fortunately there wasn't a very long line. Within a couple of minutes the agent printed out our boarding passes, showing a 3:05PM departure time, rather than an 11:05AM departure time.
She didn't even mention the delay, though when we asked her about it she confirmed that the flight was late. After doing some research it seems as if the plane was about seven hours late arriving from Beijing. Our three hour layover just turned into a seven hour layover.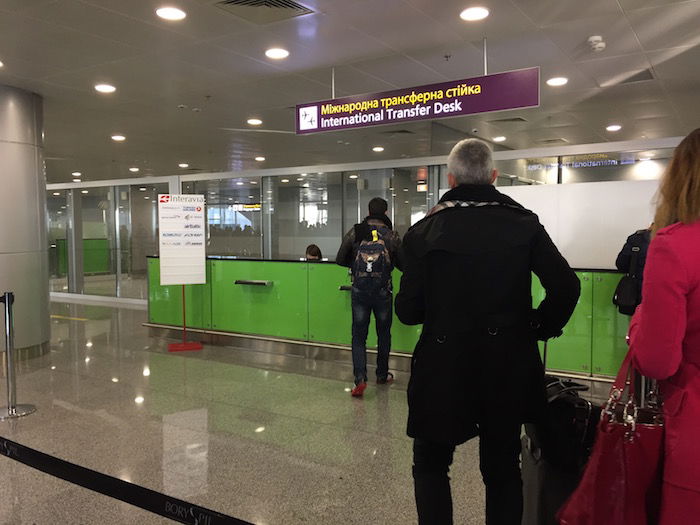 Kiev Airport transfer desk
With our boarding passes in hand we headed to transit security, where there was a long line, though fortunately it moved quickly. Within about 15 minutes we were through, and followed the signage towards airline lounges.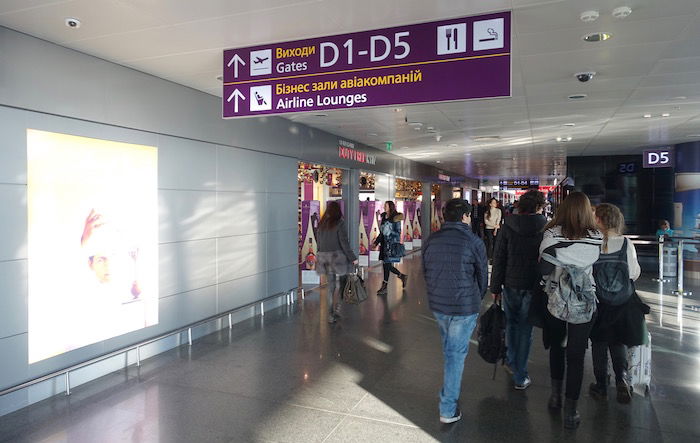 Kiev Airport terminal
We took the elevator up to the fourth floor, where several of the Terminal D lounges were located. We quickly found what appeared to be the UIA lounge, where we were admitted upon presenting our boarding passes.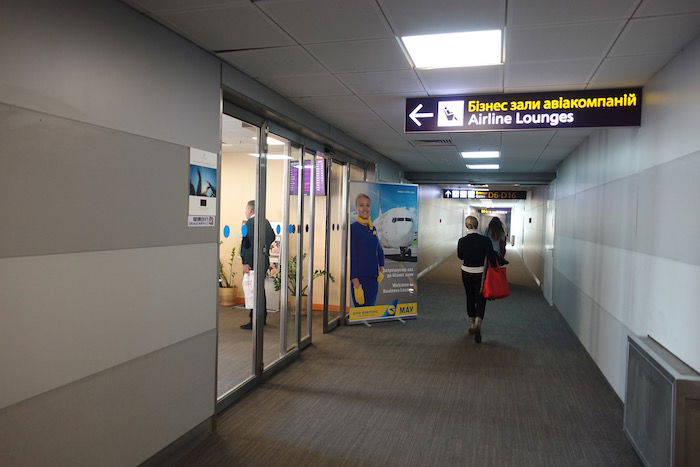 Kiev Airport lounges
This lounge, as well as two other lounges in the terminal, belong to the Priority Pass program. If your boarding pass and cabin don't grant you entry, there are many credit cards with lounge access.
The lounge consisted of one large room with high ceilings and seats primarily aligned in three rows.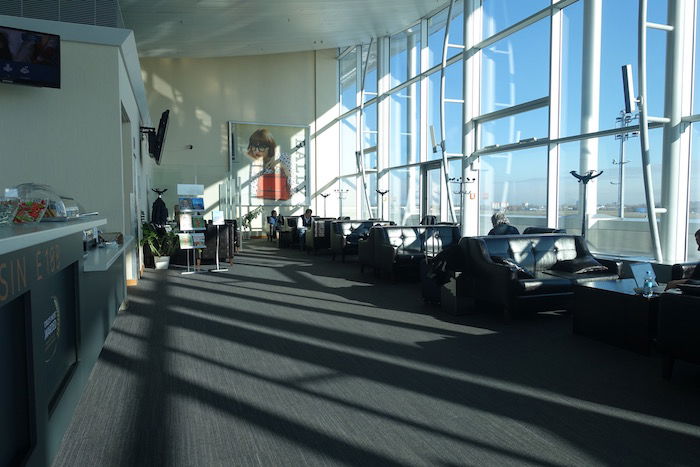 Ukraine Airlines lounge Kiev Airport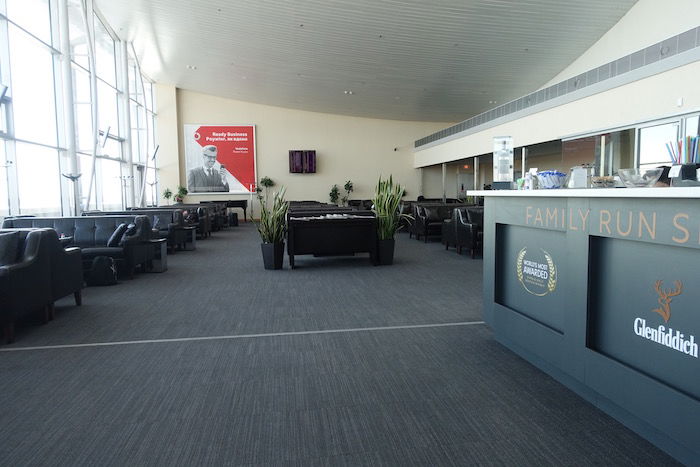 Ukraine Airlines lounge Kiev Airport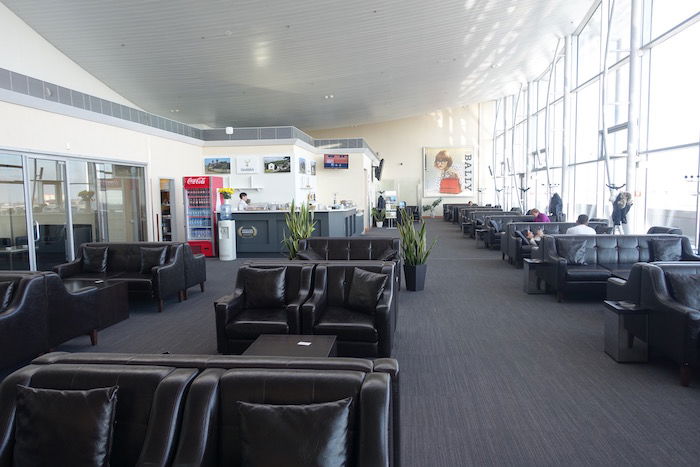 Ukraine Airlines lounge Kiev Airport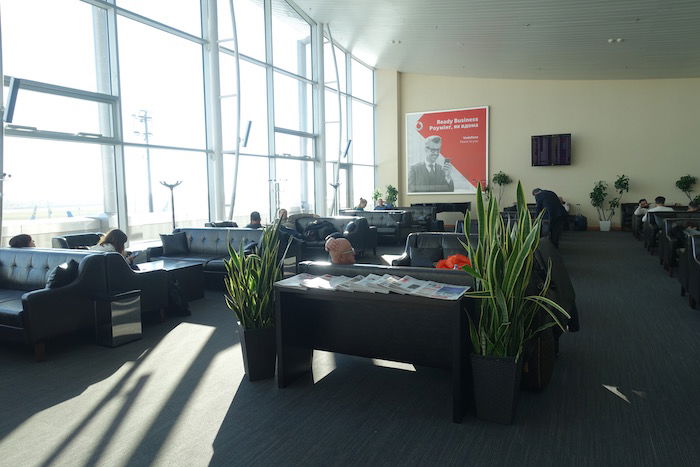 Ukraine Airlines lounge Kiev Airport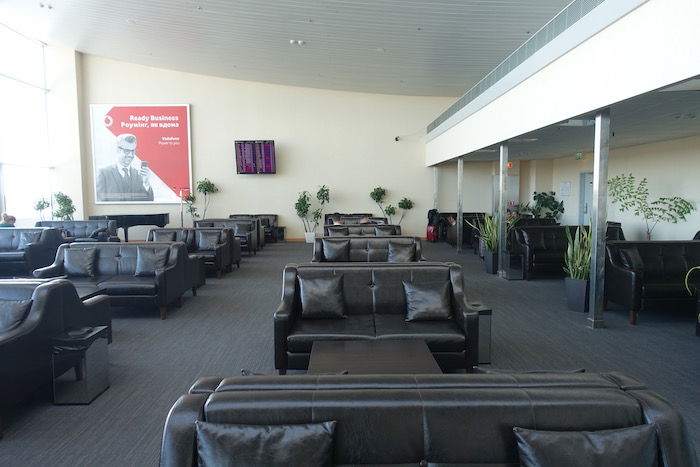 Ukraine Airlines lounge Kiev Airport
I don't know if there's really that much to say about the decor of the lounge that adds to the above pictures.
There was a piano in the far left corner of the lounge.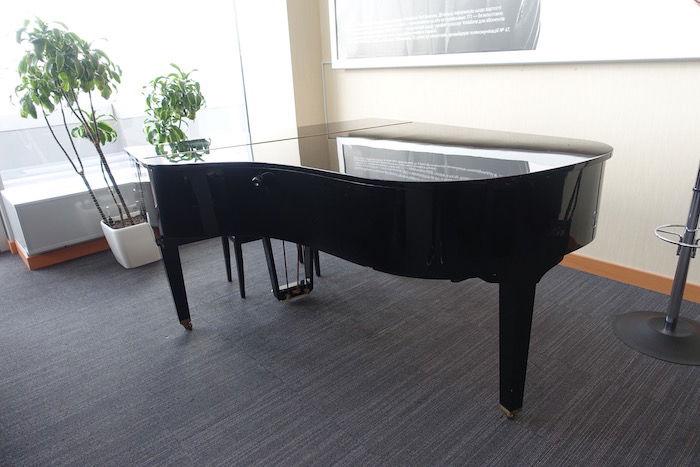 Ukraine Airlines lounge piano Kiev Airport
Back towards the entrance was a bar area. There were croissants, muffins, cold cuts, small sandwiches, cereal, etc.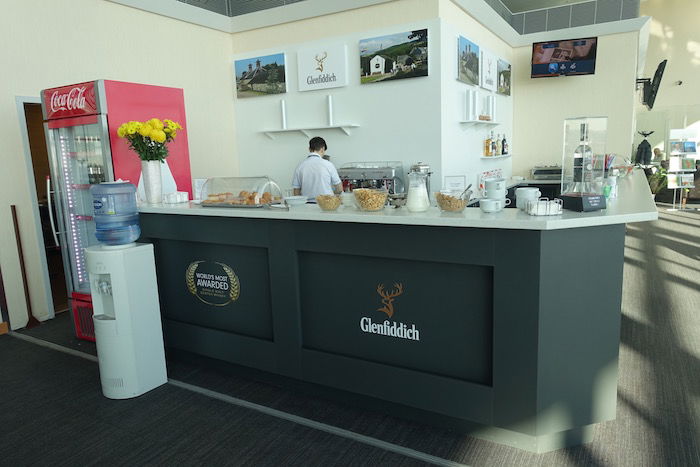 Ukraine International Airlines lounge snack bar Kiev Airport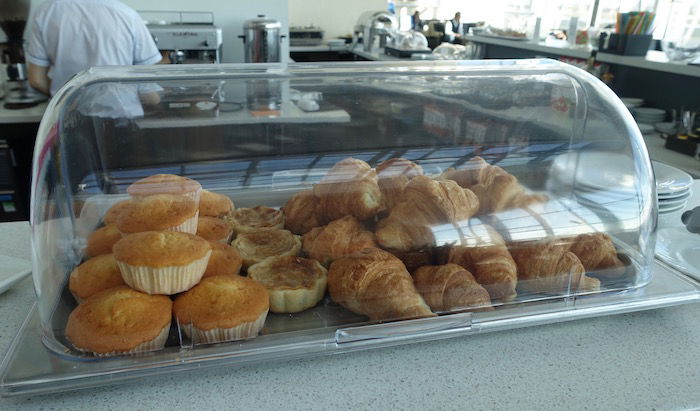 Ukraine International Airlines lounge snacks Kiev Airport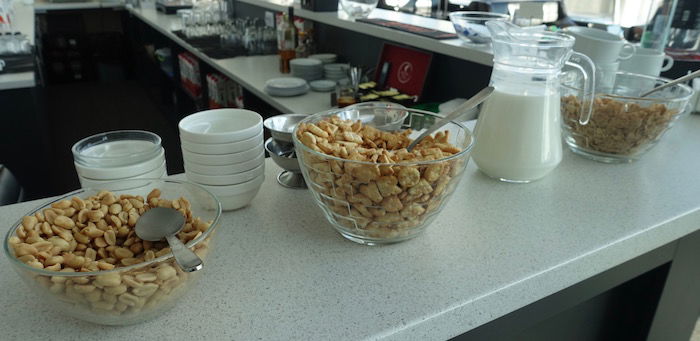 Ukraine International Airlines lounge snacks Kiev Airport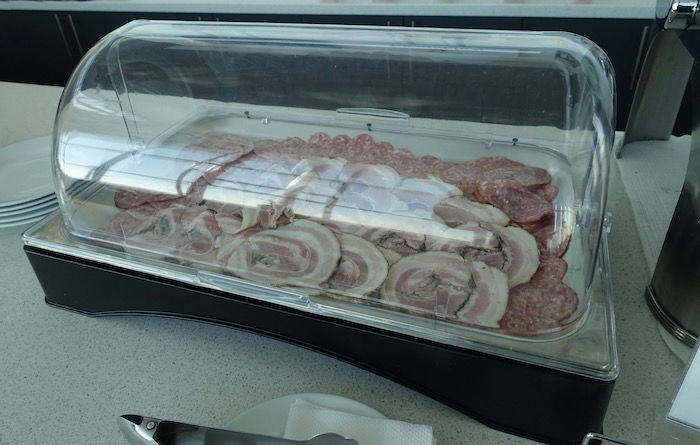 Ukraine International Airlines lounge snacks Kiev Airport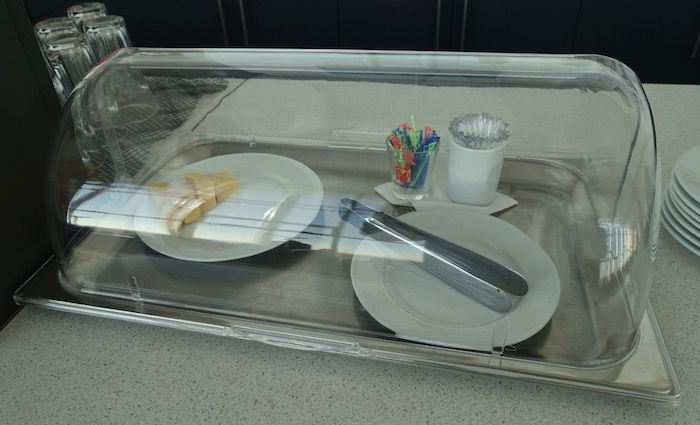 Ukraine International Airlines lounge snacks Kiev Airport
They also had pretty big bottles of Coke products and water, which were probably the highlight of the food & drink selection.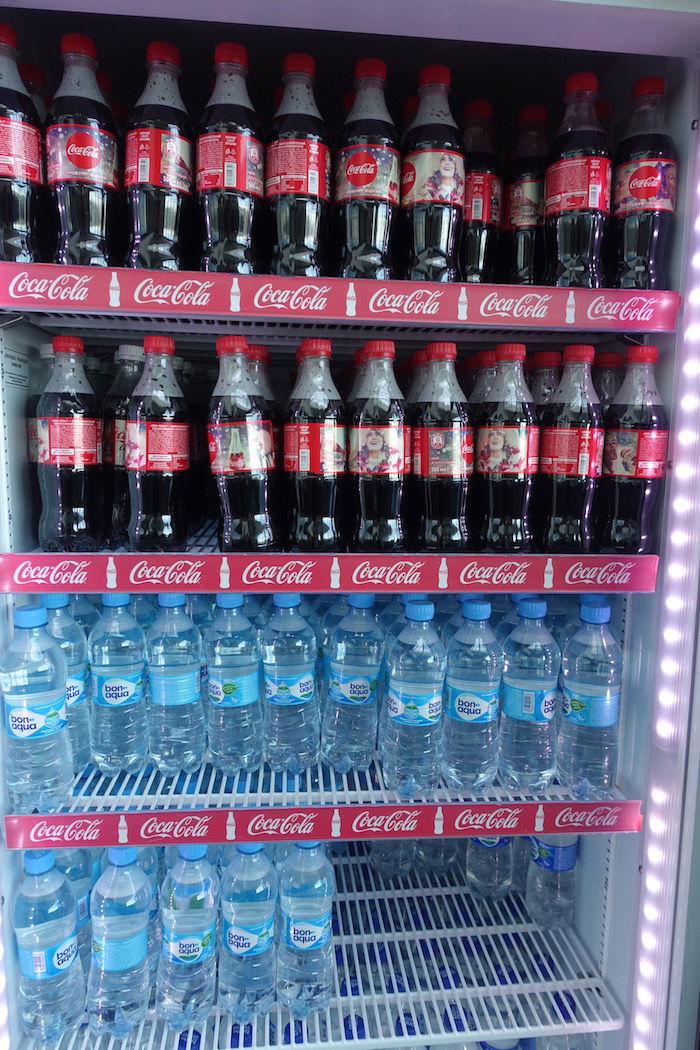 Ukraine International Airlines lounge drink selection Kiev Airport
They even had a legitimate espresso machine, so the server doubled as a barista and could make cappuccinos on request. I was excited about that initially, though the cappuccino I was served had to be the worst non-machine made one I've ever had.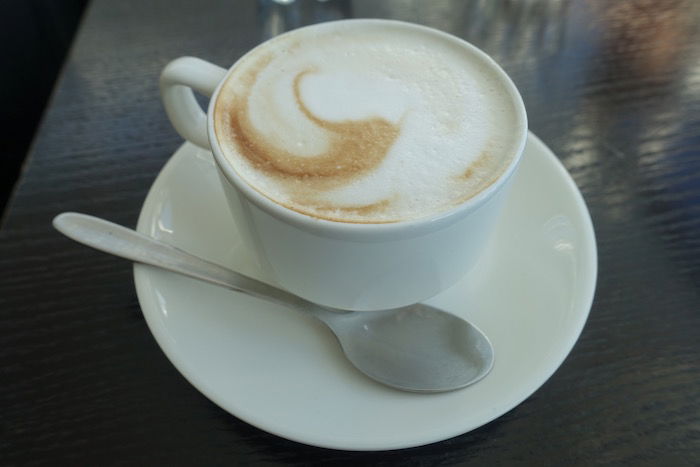 Ukraine International Airlines lounge cappuccino Kiev Airport
There was also alcohol, though it wasn't self serve, so you had to order it from the bartender.
The bathrooms were back near the entrance, and were serviceable.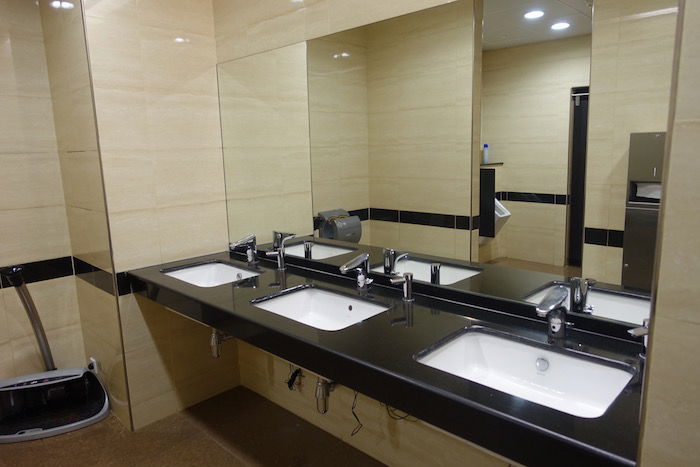 Ukraine International Airlines lounge bathroom Kiev Airport
There were also a few shower rooms, though I didn't have a need to use one.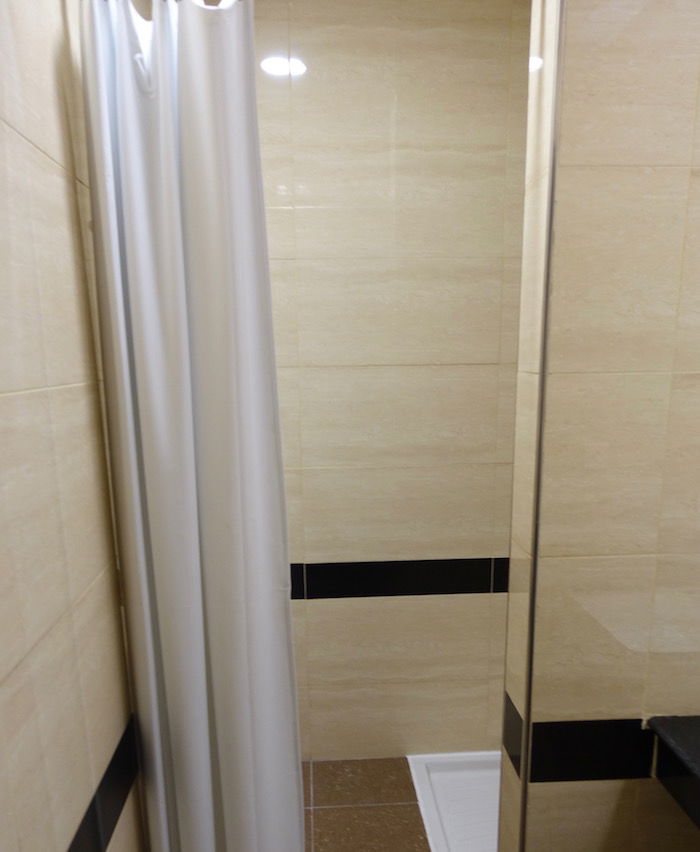 Ukraine International Airlines lounge shower room Kiev Airport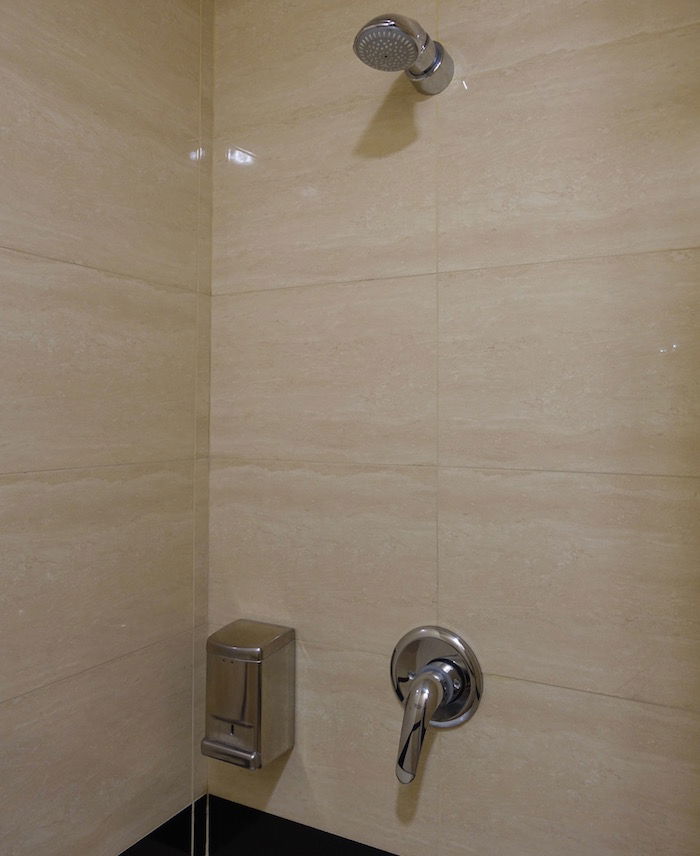 Ukraine International Airlines lounge shower room Kiev Airport
We had a nearly seven hour layover in Kiev, so spent most of the day working. The beauty of our work is that we can work from anywhere, though the Kiev Airport lounge probably isn't at the top of my list of places to work remotely from. 😉
The above pictures show an empty lounge, which was the case towards the end of our stay. However, the first few hours of our layover the lounge was packed, which almost every seat taken.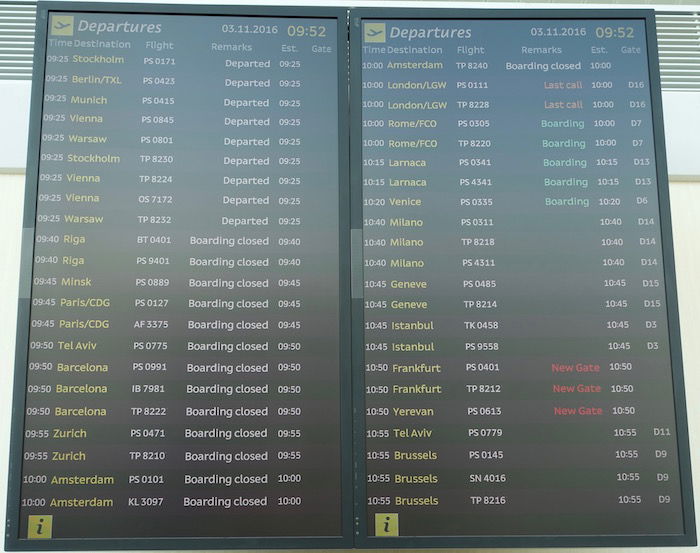 Ukraine International Airlines flight status Kiev Airport
As Tiffany wrote about in a previous post, the most annoying aspect of this lounge is that they have multiple boarding calls in multiple languages for every flight. There was an hour stretch of time where there were announcements nonstop. This is so ridiculous. Sure, maybe make a boarding call if there's a gate change or a flight is delayed, but multiple announcements for every flight? Grrrr!
Our flight from Kiev to New York was departing from gate D1, with a scheduled departure time of 3:05PM. So we headed to the gate at around 2PM, as I wasn't sure if there were additional security checks at the gate, or what.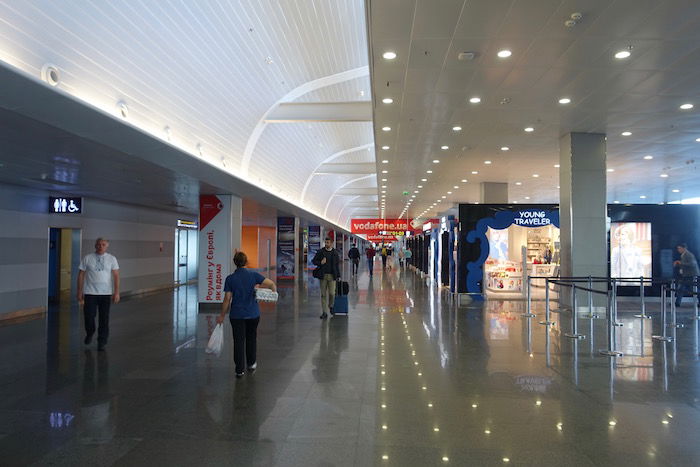 Walking to departure gate Kiev Airport
The walk to the gate took less than five minutes, where we saw the UIA 767 parked at the last gate. UIA's planes look fantastic from the outside, in my opinion. It's also unique that UIA doesn't board 767s through the forward door, as many airlines don't have mid-cabin doors on the 767.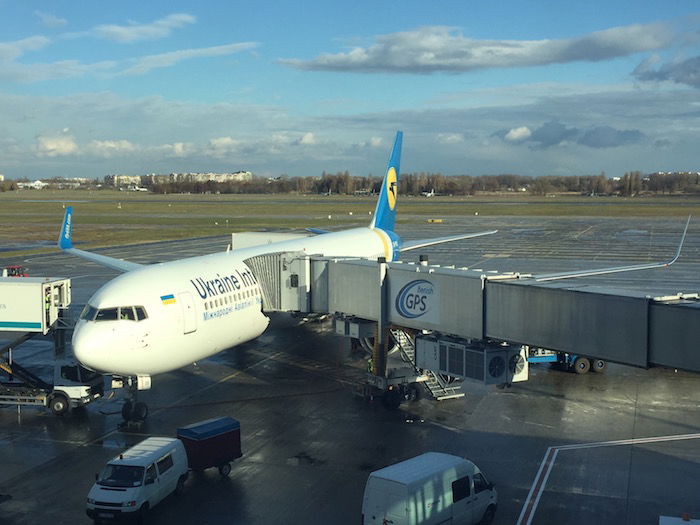 Ukraine 767 Kiev Airport
While there wasn't an additional security checkpoint, the gate was partitioned off from the rest of the terminal, so there was a boarding pass and passport check to get into the area. While there was no priority line here, at least the long line moved pretty quickly.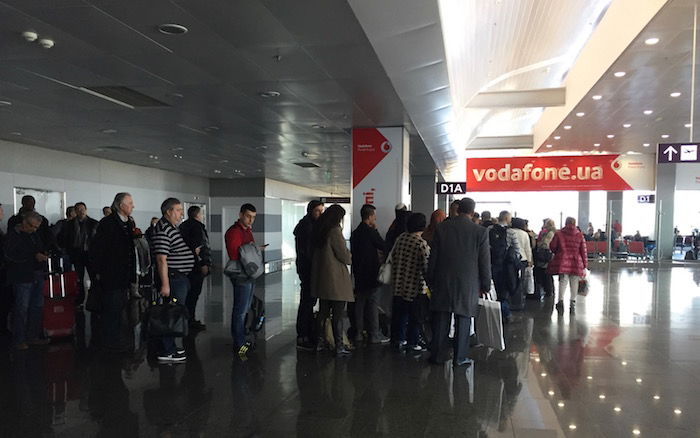 Queue to get into departure gate for New York at Kiev Airport
Boarding was scheduled for 2:15PM, so probably 200 people were crowding the gate and pushing in hopes of being the first on. Eventually it was 2:30PM, 2:45PM, 3PM, etc. There was still no boarding announcement. At this point I asked the gate agent, and she said "we will inform you about the flight in 15 minutes." She didn't.
While there wasn't a properly organized security queue, at this point several business class passengers were in our area, all discussing how they ended up on UIA. There was a guy in business class who was from New York and who was complaining nonstop. He said he saw how cheap the fare on UIA was and figured he'd fly it since they operated the route nonstop, but said "well, I guess you get what you pay for."
Then there was another guy, who talked about how much UIA sucks, and about how he loves Azerbaijan Airlines, which he thought was one of the best airlines out there (while I thought that was crazy at first, after flying UIA's longhaul business class I can see why Azerbaijan is amazing by comparison).
While the two gate agents initially working the gate were quite young, eventually another gate agent more than double their age showed up, and she looked serious. She took them all onto the jet bridge area for a "meeting," and then they returned a few minutes later. They all had very somber looks on their faces, as if they were about to cancel the flight and were expecting a mob-like reaction.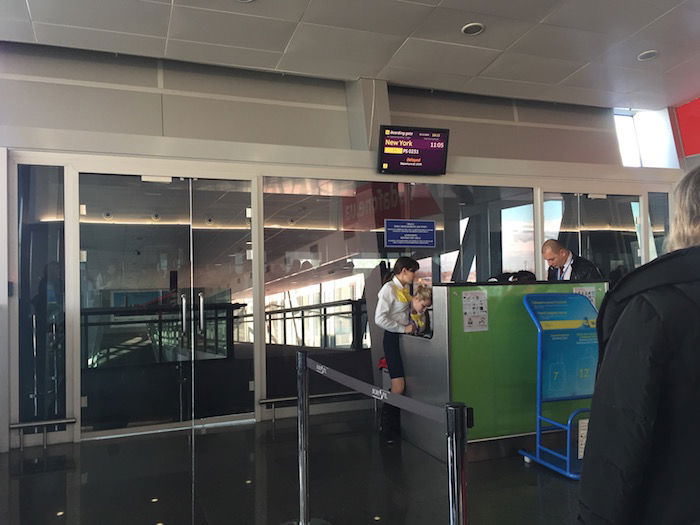 Ukraine Airlines departure gate Kiev Airport
Eventually a departure delay was posted to 3:30PM, though there still weren't any announcements.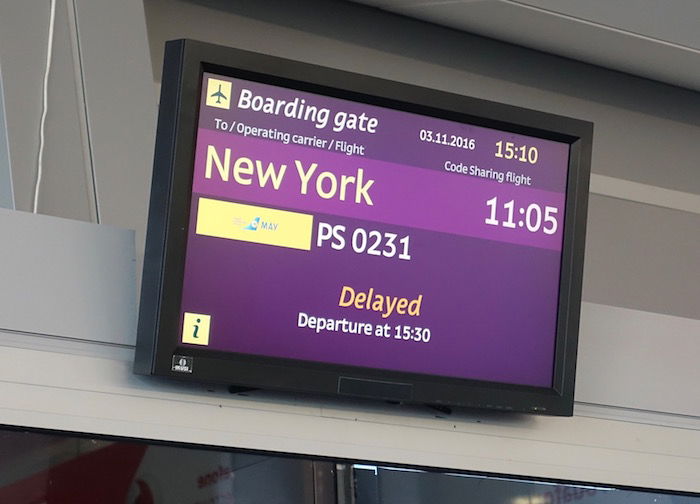 Delayed Ukraine Airlines flight to New York
Finally at 3:30PM boarding began, in no particular order.
Kiev Airport Lounge bottom line
While I thought UIA was above average on my intra-Europe flight, the ground experience in Kiev wasn't. There were no priority lines anywhere, security took a while, the lounge wasn't good, and the lack of communication from the gate agents was terrible.
At least I figured we'd have a relatively comfortable business class product to look forward to once aboard. Hah, if only…