As I mentioned previously, over the coming days and weeks you'll see the occasional post from a fellow reader who has applied to write for OMAAT on an ongoing basis. It's possible that posts will still be in the publication queue after we've announced our decision, so we'll be publishing these anonymously. We hope you enjoy the different perspectives!
---
Summer is almost here and it's the perfect opportunity to redeem some of those sign-up bonus miles! How does business class to Greece sound?
United has a massive European network and great partners, so it's possible (although not always easy) to book a flight to just about any major city in Europe. United is also launching several new routes to Europe this summer, including Newark to Porto, Newark to Reykjavik, San Francisco to Zurich, Denver to London, and Washington Dulles to Edinburgh.
This topic came to mind specifically because a friend just asked me last week, "how do I fly business class to Europe with MileagePlus?" He's a total miles newbie and almost made the mistake of booking United's dreaded three-class 777-200 (gasp!).
Where do I start?
United has a great tool for viewing award rates between origin and destination. Since Europe is definitely a summer favorite, I'll focus on travel between the US and Europe, and I definitely want to splurge for business class.
One reason I love MileagePlus is simplicity. They have two very distinct categories: Saver Awards and Everyday Awards. A one-way Everyday Award to Europe in business class is 155,000 miles, more than double the miles of a Saver Award.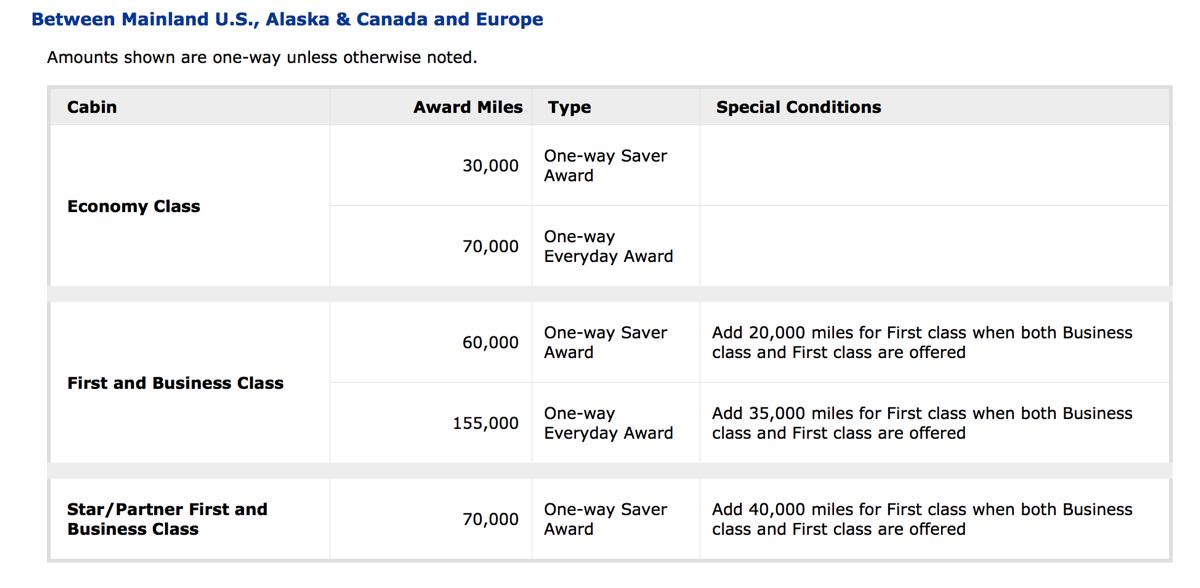 Of course, Saver Awards are much harder to find, but nowhere near impossible if you know where to start. It's also worth noting an Everyday Award in economy is 70,000 miles, the same amount as a Saver Award in business. It sounds confusing, but the answer is quite simple: never book Everyday Awards.
Within the Saver Award category there are two subcategories:
travel on United metal
travel on Star Alliance/partner metal
United recently devalued its program (translation: increased miles needed); fortunately Europe received only a nominal increase in miles needed for redemption. One-way business class travel on United metal is 60,000 miles while partner travel is 70,000 miles.
One thing I like in particular about MileagePlus is that while partner flights are slightly more expensive, they do not add fuel surcharges which can often set you back several hundred dollars. It's truly a sweet spot of the program. United miles are also easy to accrue, given the partnership with Ultimate Rewards.
For the sake of simplicity, "fixed prices" (i.e. no fluctuation) are great since you always know how much it will cost to get to your destination. Of course, not all airlines are created equal, and not all cabins and planes within each airline are created equal.
Flying United "Polaris" to Europe
I'll spare you my full review of United Polaris, but the rollout has been challenging, to say the least. Your options to Europe are quite limited if you want the advertised experience with the Polaris seat.
The only aircraft fully configured with the new Polaris seat is the brand new 777-300ER, United's replacement for the 747. They mostly fly to Asia and Tel Aviv, but there are a few routes to Europe this summer:
San Francisco – London Heathrow eff 23APR18
San Francisco – Frankfurt 23MAY18 – 03SEP18
Newark – Frankfurt 24MAR18 – 31JUL18
These routes are of course subject to change or last-minute substitutions, but given it's now March, I'd feel confident booking one of those routes.
Now, this is where details are extremely important: while the 777-300ER has the best cabin, the 777-200 could be the absolute worst, depending on the configuration:
Three-class 777-200 (operated by United), mostly flying Chicago – Asia with the dreaded 2-4-2 business class and "Polaris First"
Two-class 777-200 HD (operated by United) "high density" cattle car almost exclusively flying to/from Hawaii and between hubs (and from Newark to Dublin, Barcelona, and Madrid this summer)
Two-class 777-200 (operated by Continental) with a more appropriate 2-2-2 configuration and a very sizable cabin of 50 seats; flies mostly ex-Continental routes from Newark and Houston

Unless the 777-200 shows a 2-2-2 business class, do not book it.
United is currently retrofitting its three-class 767-300ERs. Only a handful have been completed, (you can check the progress here) and right now they're subbing in various flights between Chicago, Houston, Newark and Europe.
Two-class 767-300s, 767-400s, and 757-200s have the same seat, which is perfectly fine but not amazing. The 757-200s are especially tired, such a shame for an otherwise gorgeous plane!
There's at least one thing United did well with Polaris, the bedding by Saks. It's among the best of any airline in my opinion, and certainly a (small) reason to consider flying United metal on eastbound red-eyes where sleep is important. I brought my own Saks Polaris bedding on my Turkish flight this summer, but that's a story for a different day.
The best Star Alliance options, plus the stepchild Aer Lingus
The first and most readily available option is United's joint venture partner Lufthansa, which has consistently available business class options. While Lufthansa's First Class delights, its business class merely satisfies; it is, however, a consistent hard product (seat) across the fleet. I'd recommend Lufthansa business on the 747-8 (upper deck), A380, and A350; but otherwise I wouldn't go out of my way to fly them. Lufthansa stands out for consistency, which is something to be said for an airline its size.
Lufthansa Group subsidiaries SWISS and Austrian both offer a far superior experience in business class. You can find award space on both carriers, but their route networks are a fraction of the size of Lufthansa — you'll need to be flexible.
SAS Scandinavian Airlines has one of the best business class seats and is consistent on all routes (service is hit or very miss). The cabin finishes are so delightfully Scandinavian with truly incredible attention to detail. It's gorgeous and absolutely worth trying.
Aer Lingus is an often overlooked option since they are not part of Star Alliance or any alliance, despite being part of IAG (British Airways). They offer a solid hard product and fast-growing network. If you're flying to Dublin or the UK it's a good option.
LOT Polish and Turkish Airlines are always available for a reason: the product is average and generic. Turkish does have incredible food—seriously—but in my opinion, excellent food served by completely disinterested cabin crew ruins the experience. The cabin was also at least 80 degrees… not fun when you're trying to sleep.
TAP is just a mess. I'll leave it at that.
Options are looking slim, what should I do?
You've searched all of the obvious routes and nothing is coming up except a two-stop itinerary with a twelve hour layover. I get your frustration; I've definitely been there!
As someone who searches for flights at least daily, there are a few "oddball" routes I always keep in my back-pocket. There's nothing "odd" about the airline or product, its just a list of routes you wouldn't normally think of (hence the availability).
In no particular order:
SWISS New York – Geneva [A330-300]
SWISS Boston – Zurich [A340-300]
Lufthansa Charlotte – Munich [A330-300]
Lufthansa Detroit – Frankfurt [747-400]
LOT Chicago – Warsaw [787-8]
Aer Lingus Boston – Dublin [A330-200/300]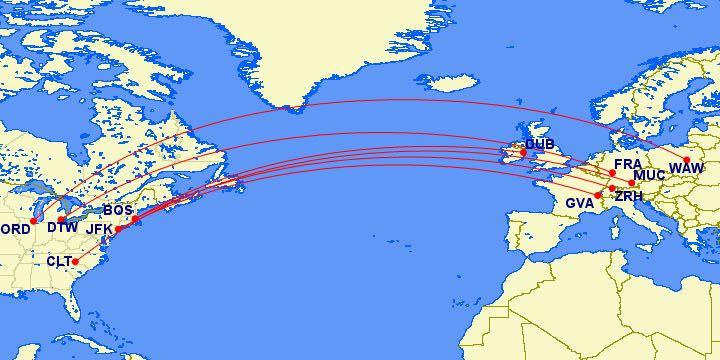 These less-common routes can have significantly better availability: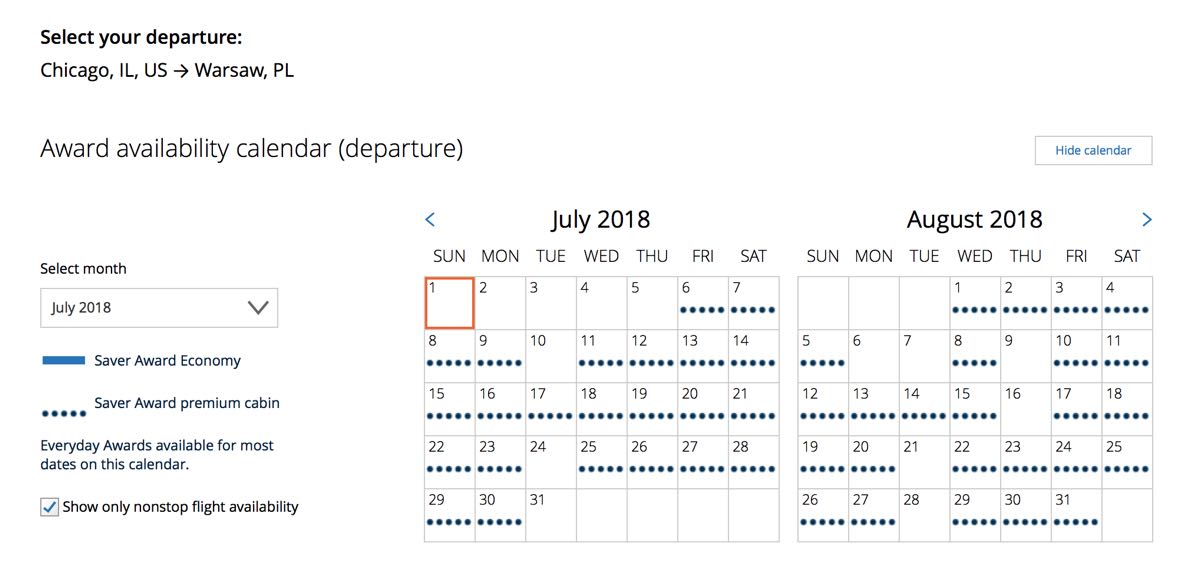 I'm sure there are more out there. Does anyone want to share their "secret" route*?
---
As a reminder, this post was guest-written by a fellow reader. Feedback is appreciated, but please keep the comments kind and constructive.