---
After flying from Paris to Frankfurt, we had just an 85 minute connection before our flight to Los Angeles. While Lufthansa's First Class Terminal is one of my favorite lounges in the world, we didn't really have enough time to visit it. That's because it's actually located outside the terminal, so we would have had to walk along the outside roadway of the airport, and then would have gone back through security at the FCT. So while the FCT is ideal if you have a long layover or your travel originates in Frankfurt, it's not ideal if you have a short connection.
So we visited the A Concourse First Class Lounge, which was near where our flight was departing from. The catch is that Lufthansa only drives you to the plane if you're departing from a different concourse than the lounge you're using, so when using this lounge we'd have to board on our own (the inhumanity, I know!). 😉
As we entered the lounge the friendly associate said "you are of course welcome to use this lounge, but you will not be driven to the plane. If you prefer, you could make the 10 minute walk to the First Class Lounge in the B Concourse, and then you would be driven to the plane. It's completely up to you."
What great service on his part to recommend that, and it's a stark contrast to the associate at the lounge in Paris who didn't even want to let us use the lounge we were entitled to.
We walked over to the B Concourse First Class Lounge, hung out there for 30 minutes, and then at 1:30PM we were driven to our plane. There was one other passenger being driven in the car with us, and he was a grade-A you-know-what. I've never seen someone quite like this.
The entire drive to the plane he was yelling into his phone cursing. "Listen here you f&*#ing a@@hole, if this isn't done by tomorrow I'm gonna kill you." "You're not hearing me, you fa&&it." It was insult after insult after insult. I was in disbelief.
On the plus side, I did enjoy the views as we were driven to the plane. 😉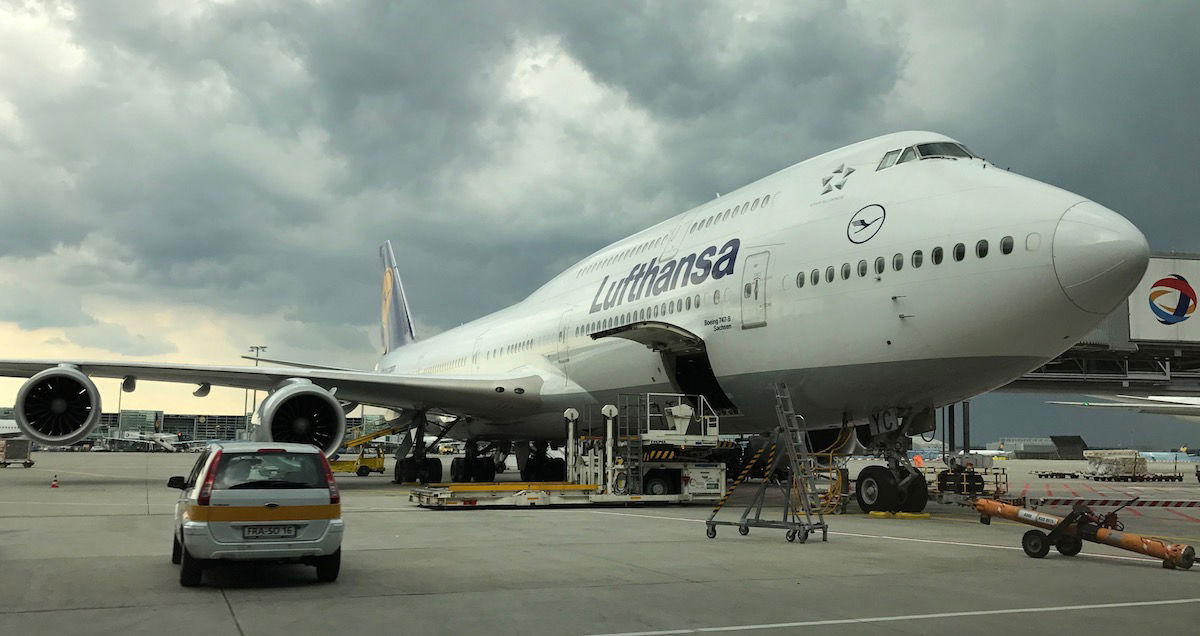 Lufthansa 747-8 Frankfurt Airport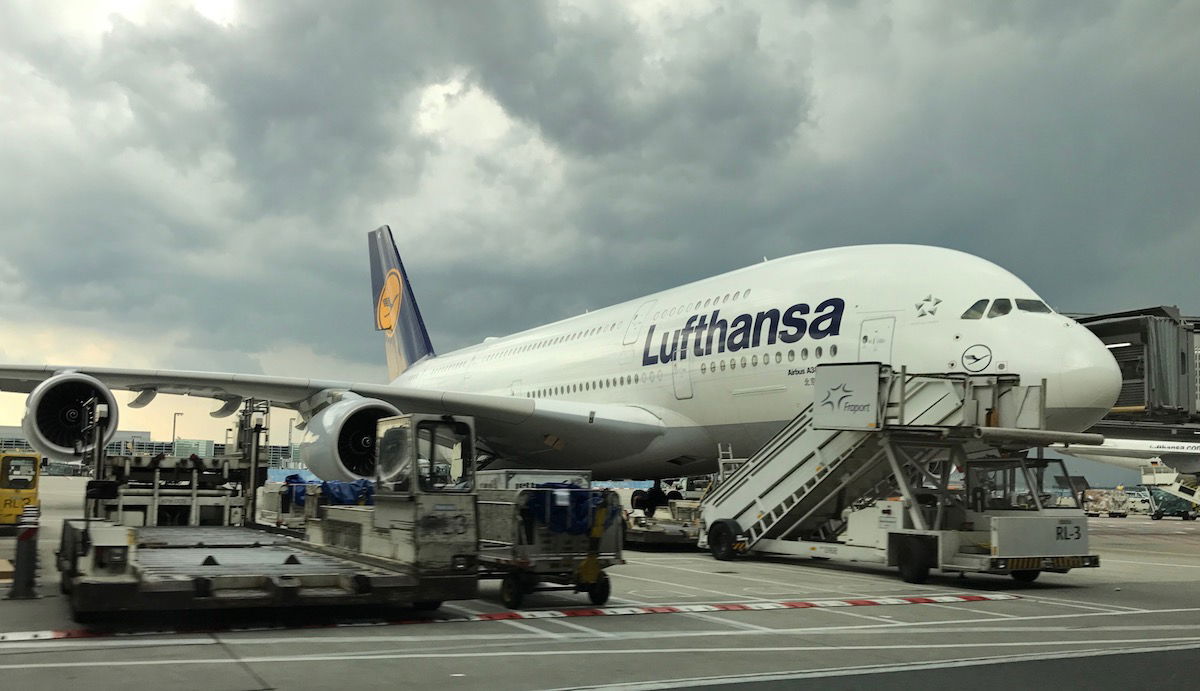 Lufthansa A380 Frankfurt Airport
Eventually our Porsche Cayenne pulled up to the plane, and we were taken up in the service elevator to the jet bridge, where the driver handed us over to the crew.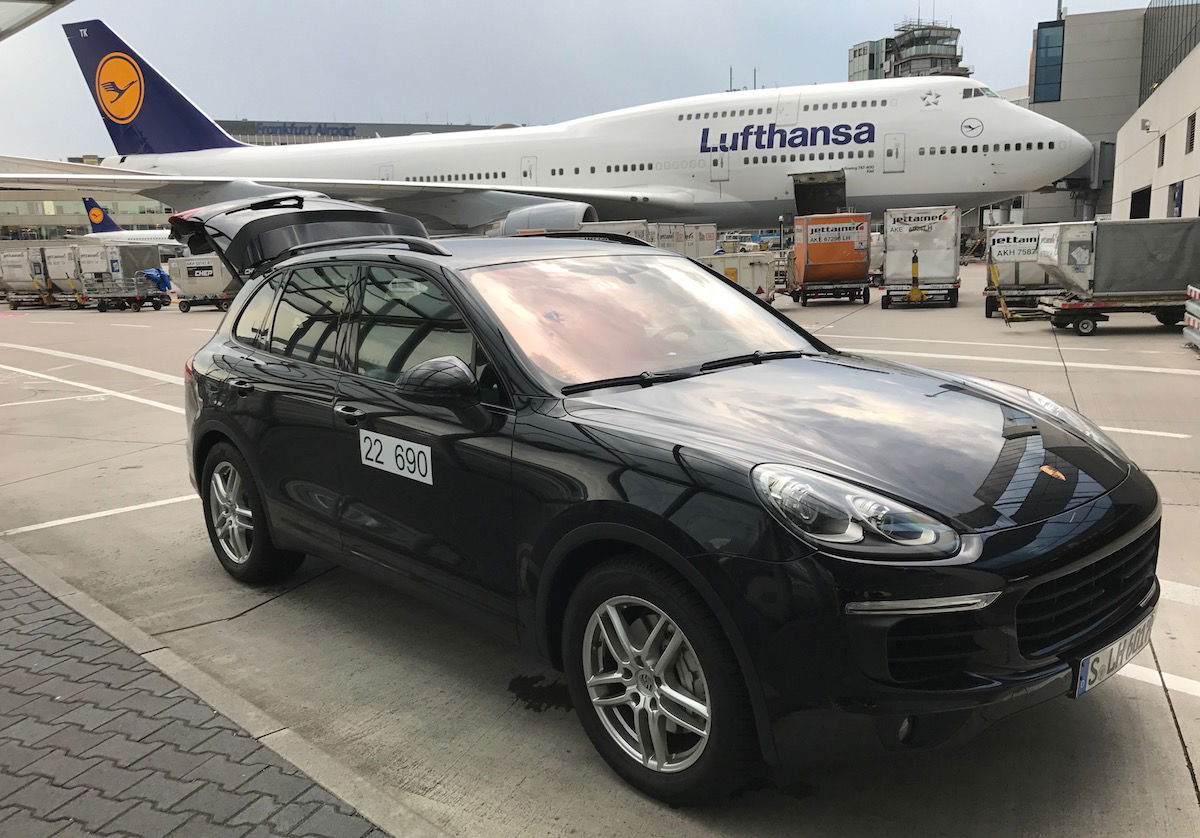 Lufthansa first class car transfer
Lufthansa 450
Frankfurt (FRA) – Los Angeles (LAX)
Tuesday, May 30
Depart: 2:05PM
Arrive: 4:40PM
Duration: 11hr35min
Aircraft: Boeing 747-8
Seat: 3D (First Class)
I've reviewed Lufthansa's 747-8 first class many times before, so will be keeping this review relatively brief. If you want lots of info about the seat, see my previous reviews.
By the time we boarded, four of the eight first class seats were occupied. Then there were the three of us who had just been driven to the plane, meaning that in the end there was one empty seat in first class. Ford and I selected seats 3D & 3G. On one hand I don't love them because they're quite exposed, though they're also the only seats that are truly together, so they seemed like the best option. Oh, we also booked the morning of, so we didn't have much of a choice. 😉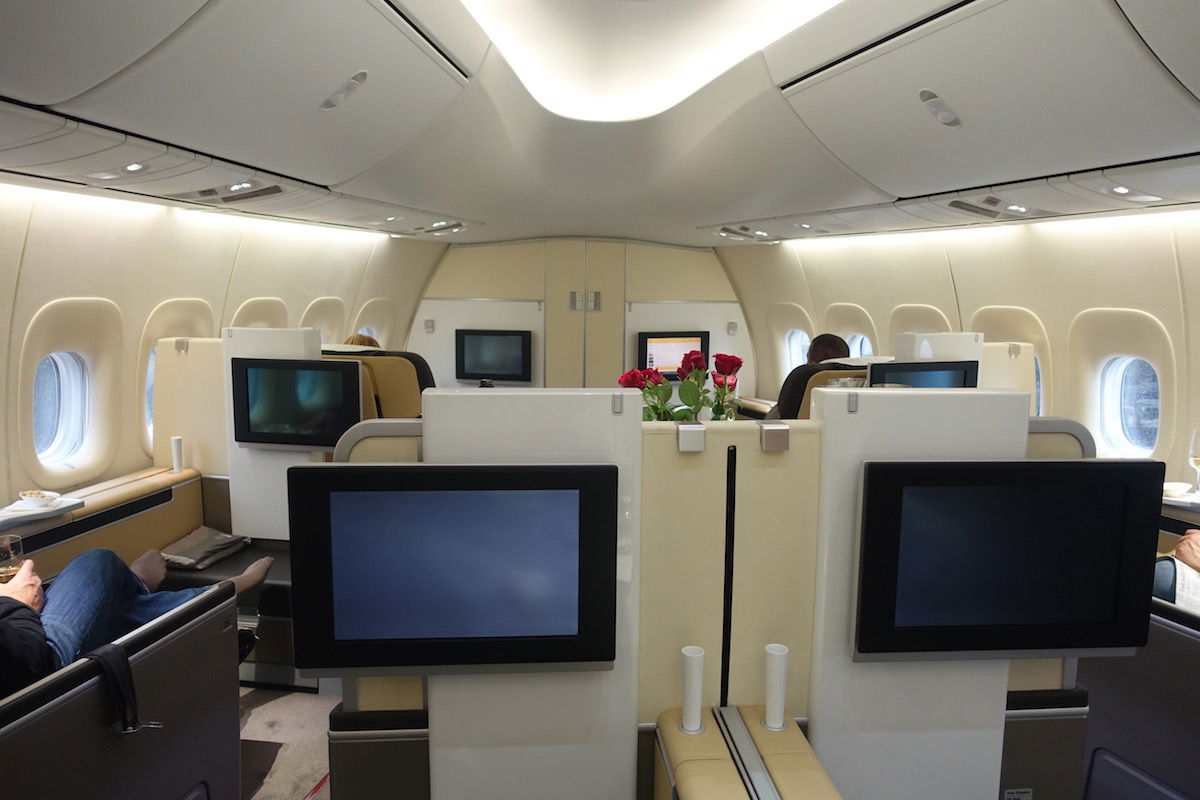 Lufthansa 747-8 first class cabin
The flight attendants were absolute delights. As usual there were two taking care of first class. The flight attendant primarily working in the cabin (rathe than in the galley) was a French Canadian German. She was born in Canada, lived in France, and now lives in Germany. Her German was perfect, so I actually didn't pick up on this until Ford mentioned she had a non-German English accent (which I guess I don't pick up on so much since I'm used to it). Sure enough, she lived in Canada for much of her life.
Once settled in we were offered the usual amenities, including pajamas and amenity kits.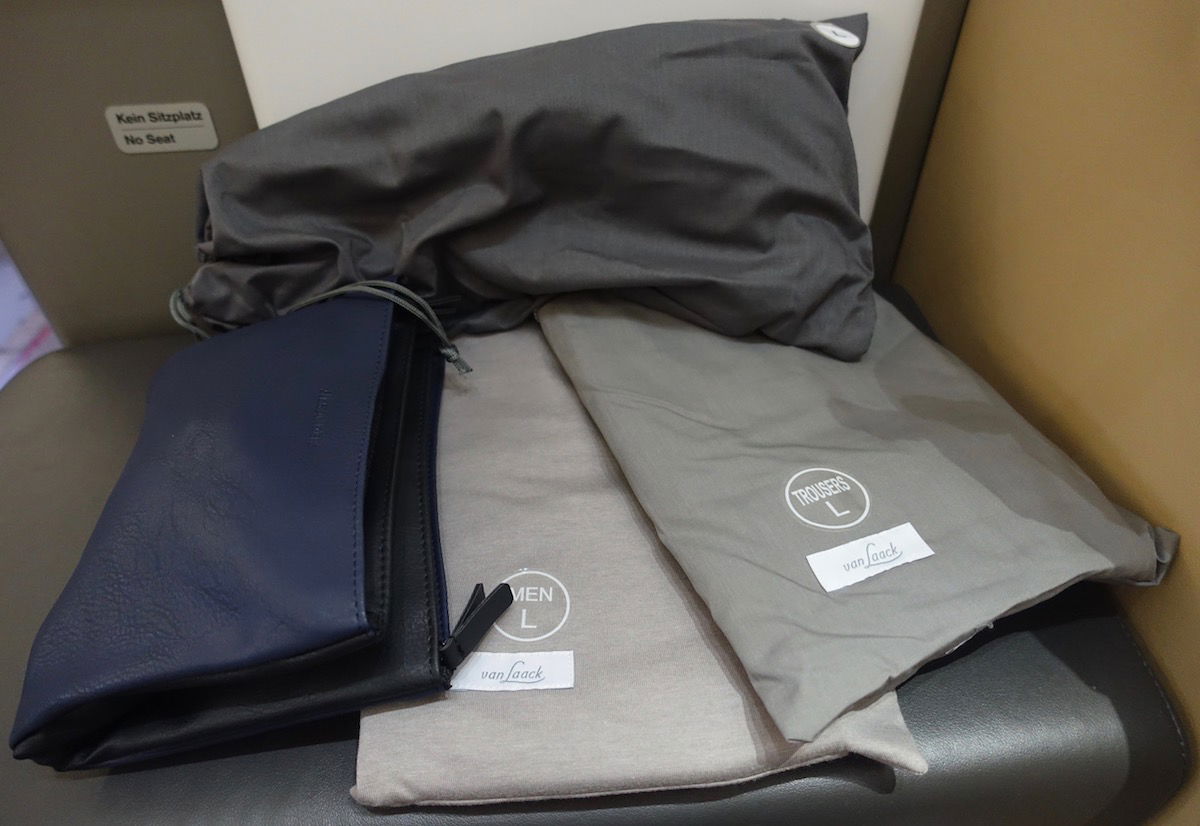 Lufthansa first class pajamas & amenity kit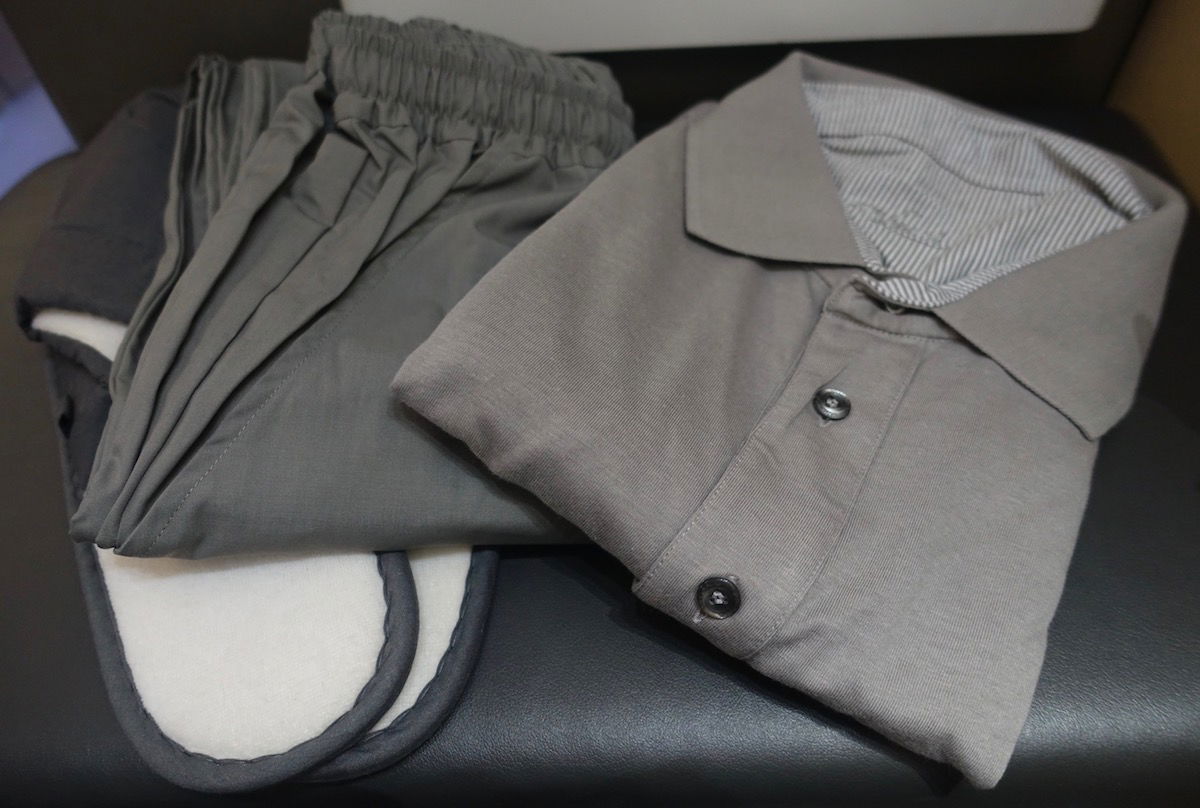 Lufthansa first class pajamas
Last time I flew Lufthansa there were Rimowa amenity kits, which wasn't the case this time around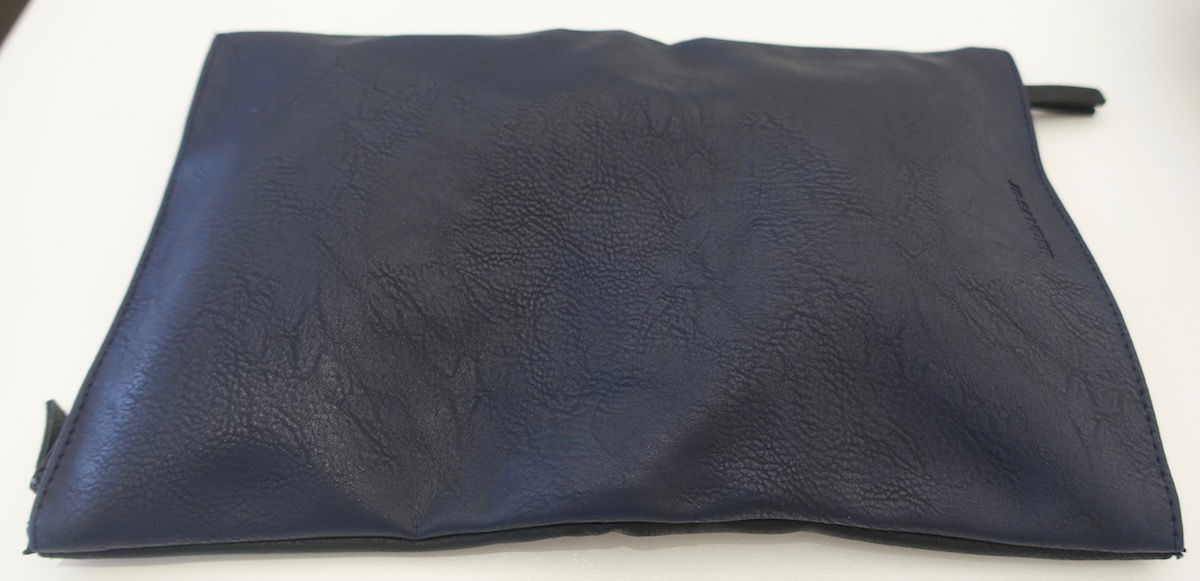 Lufthansa first class amenity kit
The contents were the same as before — including La Prairie amenities — but the bags themselves just weren't the same.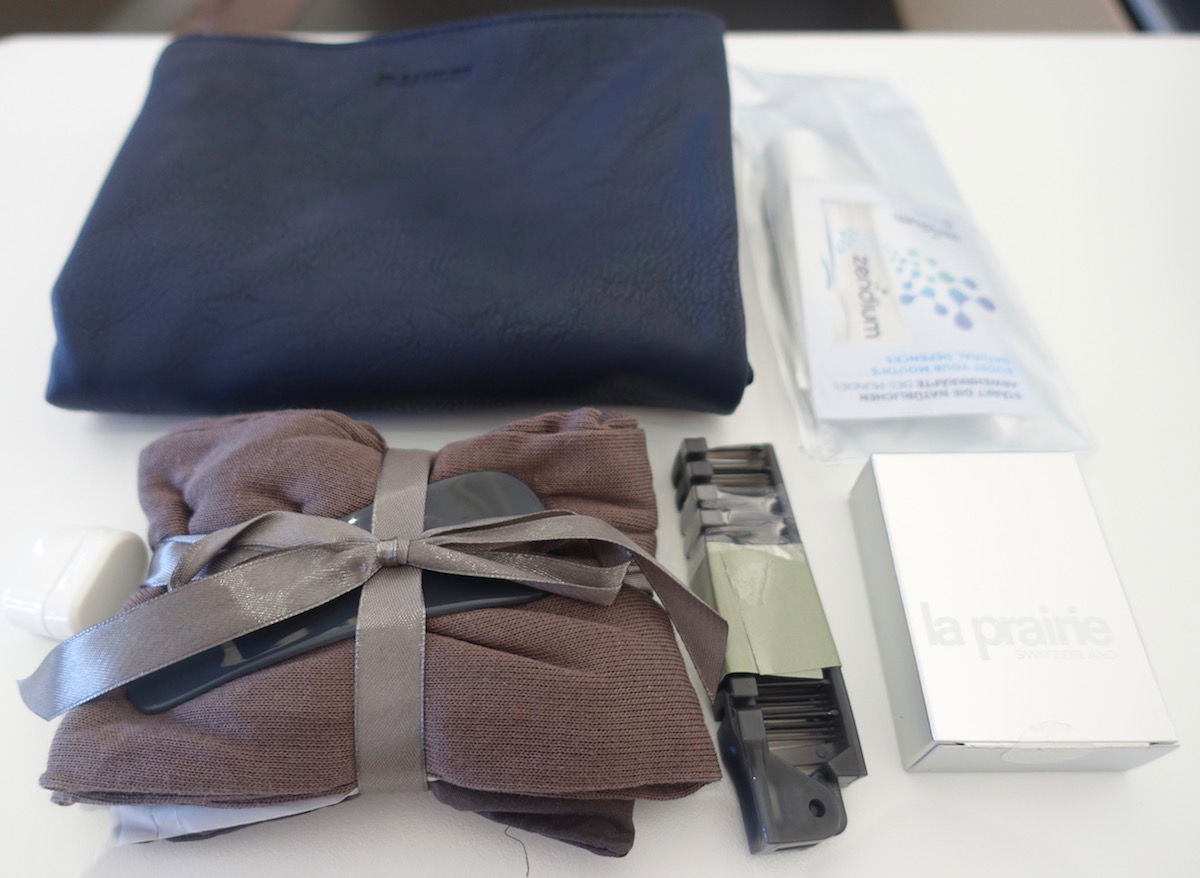 Lufthansa first class amenity kit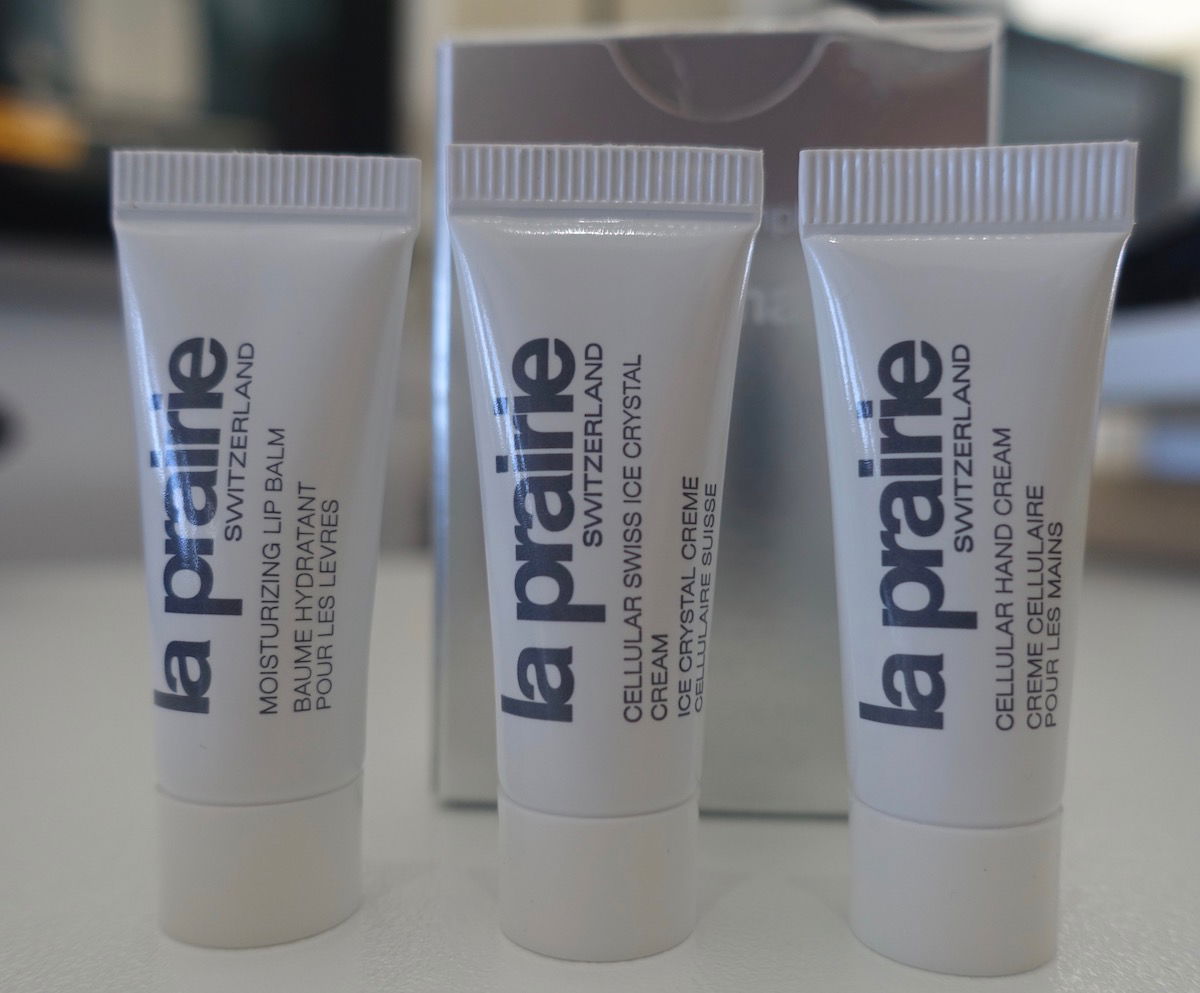 Lufthansa first class La Prairie amenities
Moments later we were offered warm towels, which always have a great scent on Lufthansa.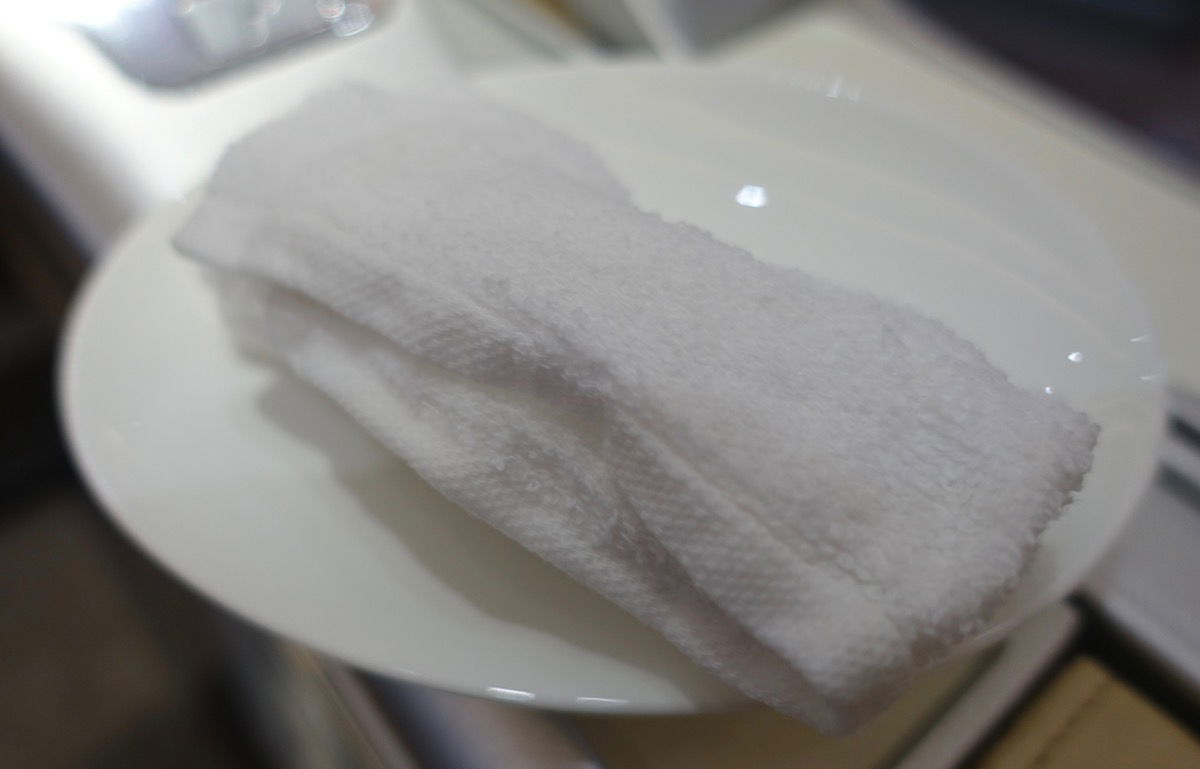 Lufthansa first class hot towel
We were also offered drinks, and selected champagne, which was served with macadamia nuts. Nom nom. Lufthansa is known to mix up their first class champagne every few months, and on this flight they were serving 2003 Cuvee Louise. This was my first time having this champagne, and while it was good, it wasn't among my favorites.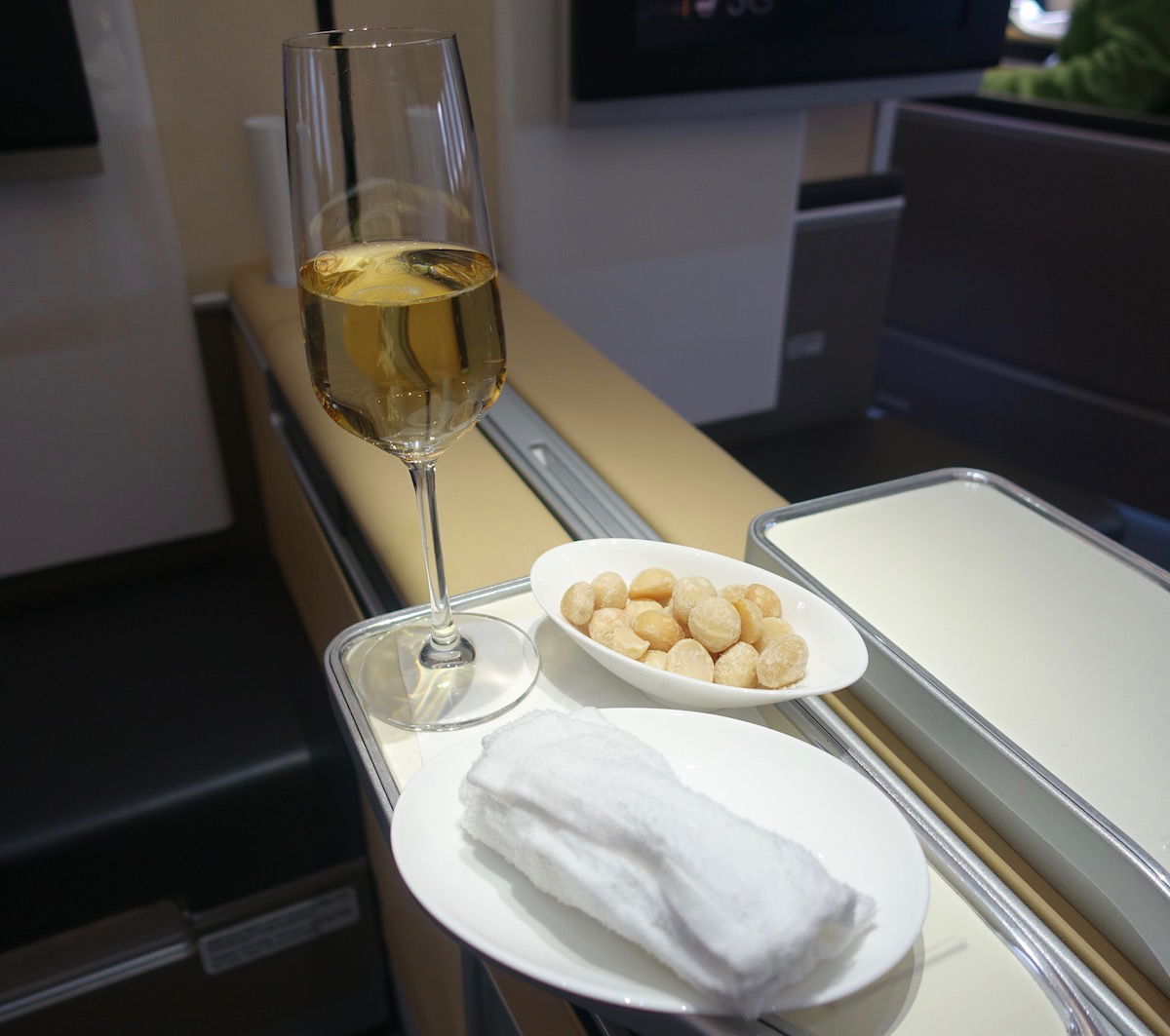 Lufthansa first class pre-departure champagne & nuts
The menu and wine list were also distributed.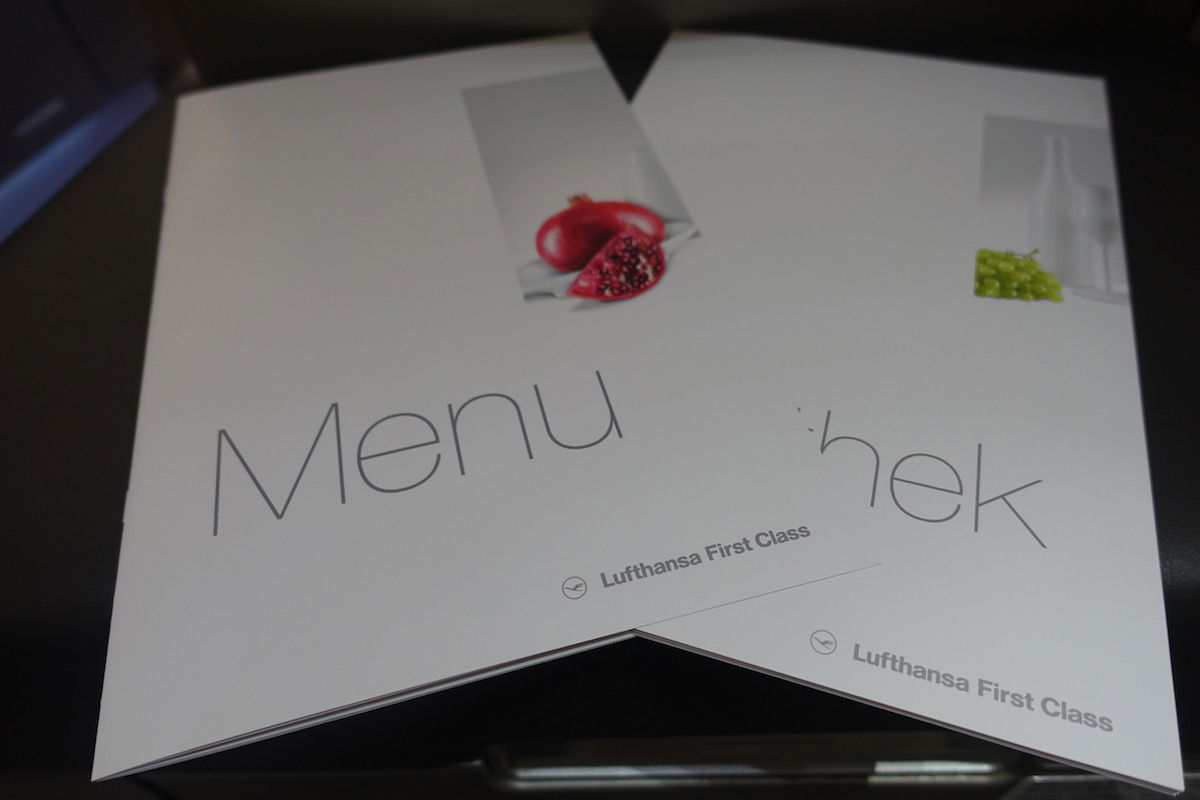 Lufthansa first class menu
As we waited for boarding to finish, the moron who was in the car with us was still yelling on his cell phone. Actually, at this point he was pacing around the cabin yelling into his phone. He dropped an "f bomb" every few seconds (he alternated between f&ck and f&g), and I could tell the crew was horrified.
By 1:50PM boarding was complete, though moments later the captain came on the PA to inform us that we would be delayed due to thunderstorms. The entire airport had shut down, and he predicted that it could be a couple of hours. On the plus side, he said the flight time was only 10hr30min, which is faster than usual, so we'd be able to make up some time once airborne. Oh well, I guess there are worse places to endure a delay.
Meanwhile the crazy guy in first class flipped out. "It's no big deal, this delay can take all day as far as I'm concerned, I just have a big movie premier tonight in San Diego." God bless the Germans, because the flight attendant responded with "I can't tell if you're being sarcastic or not." Hah. Way later in the flight, after takeoff, he told the crew that they needed to call American Airlines to make sure that they held his connecting flight to San Diego.
At this point the purser announced that they would began a drink and snack service in economy to make the wait pass more quickly. Meanwhile in first class they served the amuse bouche, which consisted of wild salmon tartare with mango carpaccio.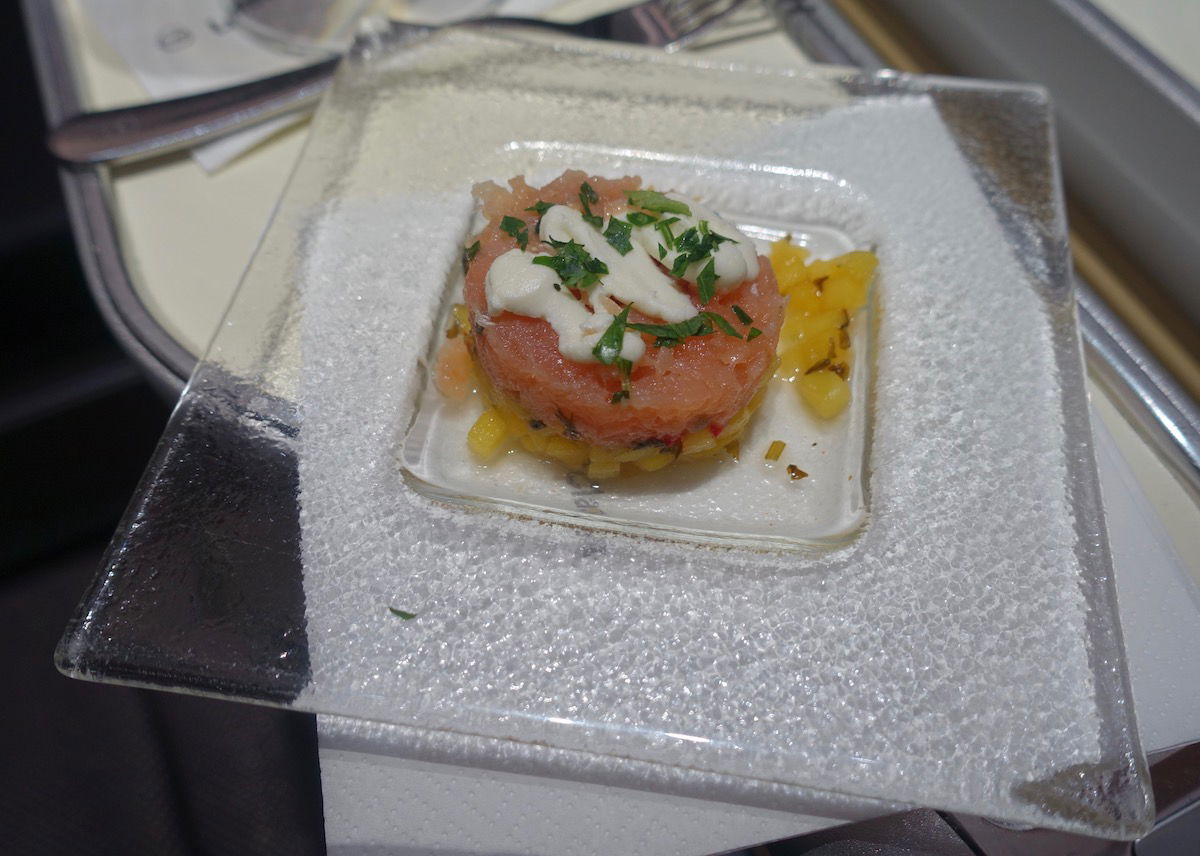 Lufthansa first class amuse bouche
Later on I ordered a cappuccino as well.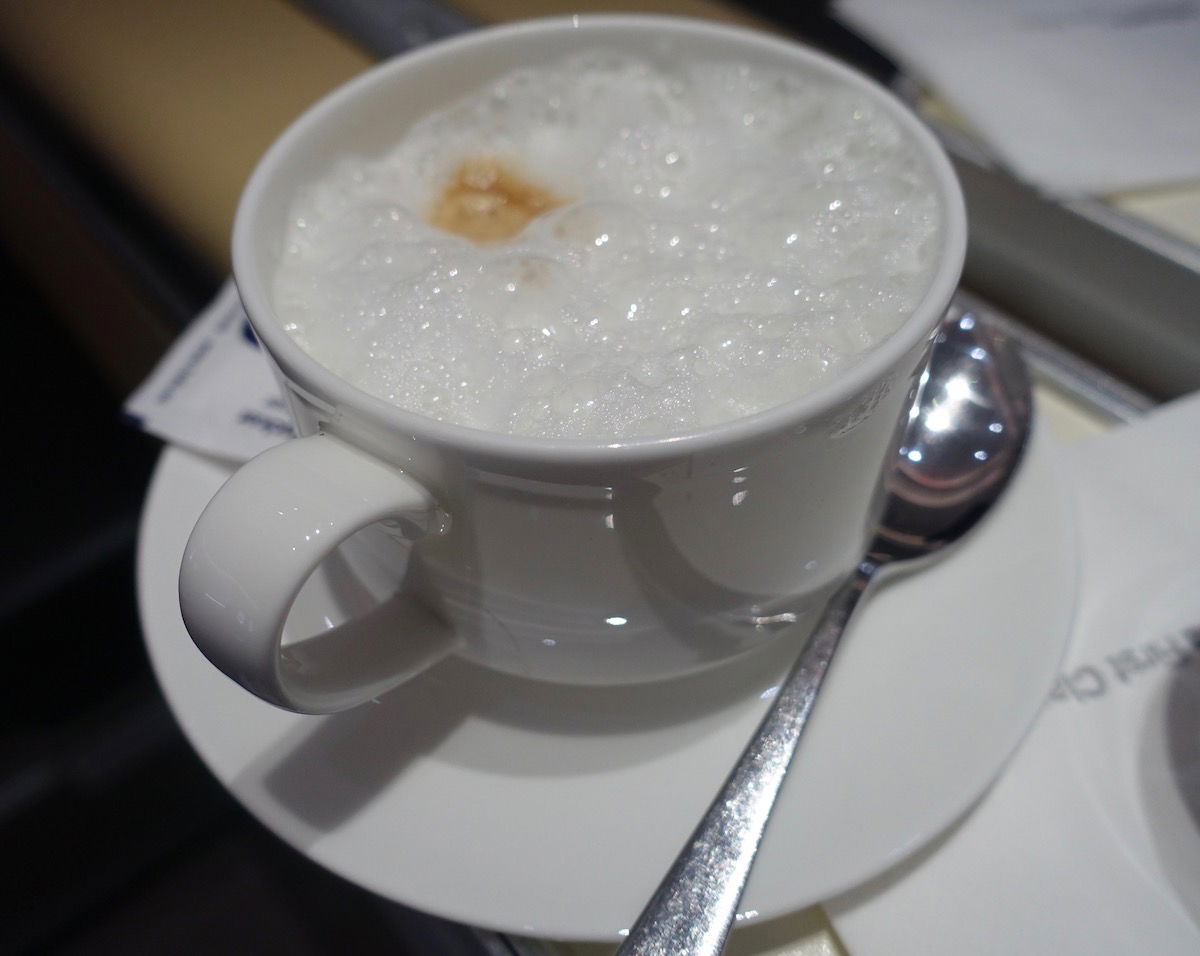 Lufthansa first class cappuccino
Meanwhile our special friend started pacing around the cabin and looking at people, clearly wanting to start a conversation. Everyone ignored him, except the guy in 2K, who was a German HON Circle member (Lufthansa's top tier elite status, which requires earning 600,000 elite qualifying miles every two years). They started a long and loud conversation — they were both clearly a bit drunk — which you couldn't not hear.
I don't remember the last time I've seen two people so insecure start a conversation so publicly. The German started talking about how he was headed to Las Vegas, and how his company recommended he fly nonstop on Condor in business class. "What do they think I am, a peasant? I only fly first class."
Of course the other guy needed to make sure he measured up, so he started talking about how he only flies first class as well. "I'd never fly business class, oh God no. I'd rather die." Then they started talking about how private jets are overrated and Lufthansa is the only way to fly.
The German guy asked the American guy where he lives. "This is home. Lufthansa first class." GMAFB.
Eventually it came time to take meal orders. Our American guy said "you can take his order first, he's a HON Circle and more special than me. I'm only a Senator. But then you can take my order next." Dude, c'mon, it's Lufthansa first class. Everyone is getting their meal choice.
The one thing I appreciated about the German guy is that he called out the American guy a bit:
"So what do you do?"
"You know, movies."
"What about movies specifically?"
"You know, marketing, finance, etc."
"Well marketing or finance? Those are two very different things?"
Other than that the conversation was just terrible. Again, I wasn't meaning to eavesdrop, but these guys were drunk, yelling, and so obnoxious that it couldn't be ignored. I'm happy they found one another, at least.
Anyway, at 3:45PM we finally began our pushback and by 4PM we were cleared for takeoff on runway 25C.
The seatbelt sign was off shortly after takeoff, at which point I connected to the Wi-Fi to start my day at the office. Lufthansa charges just 17EUR for Wi-Fi for the entire flight with no data caps, which is among the best pricing of any airline, especially given how fast it is.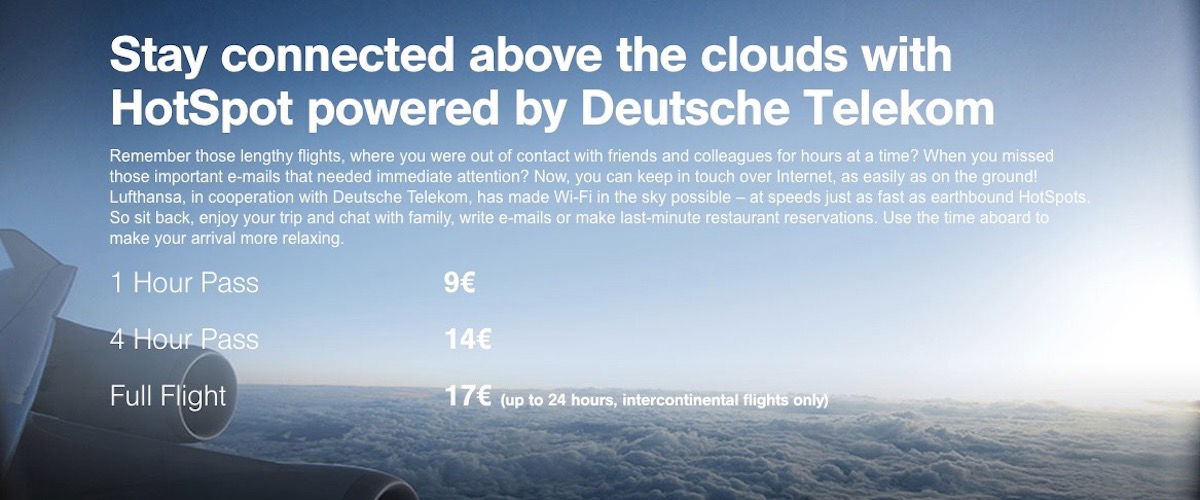 Lufthansa Wi-Fi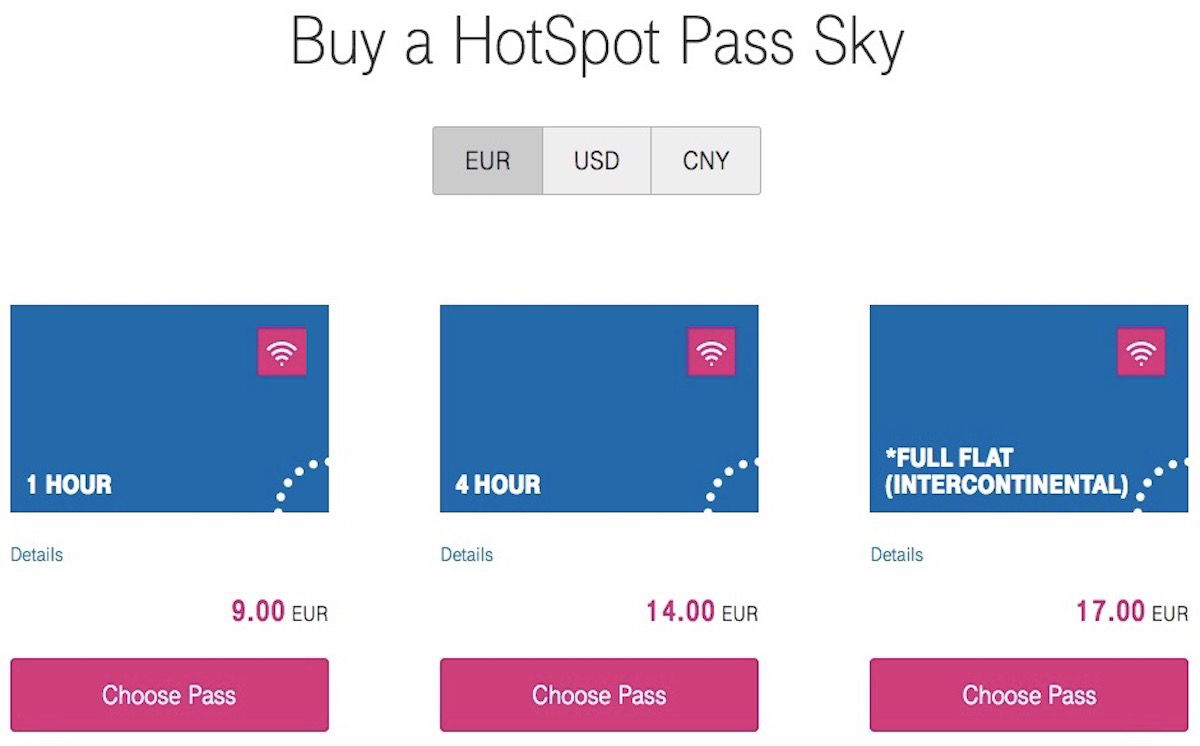 Lufthansa Wi-Fi
15 minutes after takeoff the purser came through the cabin to welcome each passenger onboard. When she came up to me she said "are you the person who flies everywhere for free? I Google all my first class guests before the flight." Heh, not sure that's totally accurate, but…
About 30 minutes after takeoff the meal service began. I was pretty hungry at this point. The menu read as follows: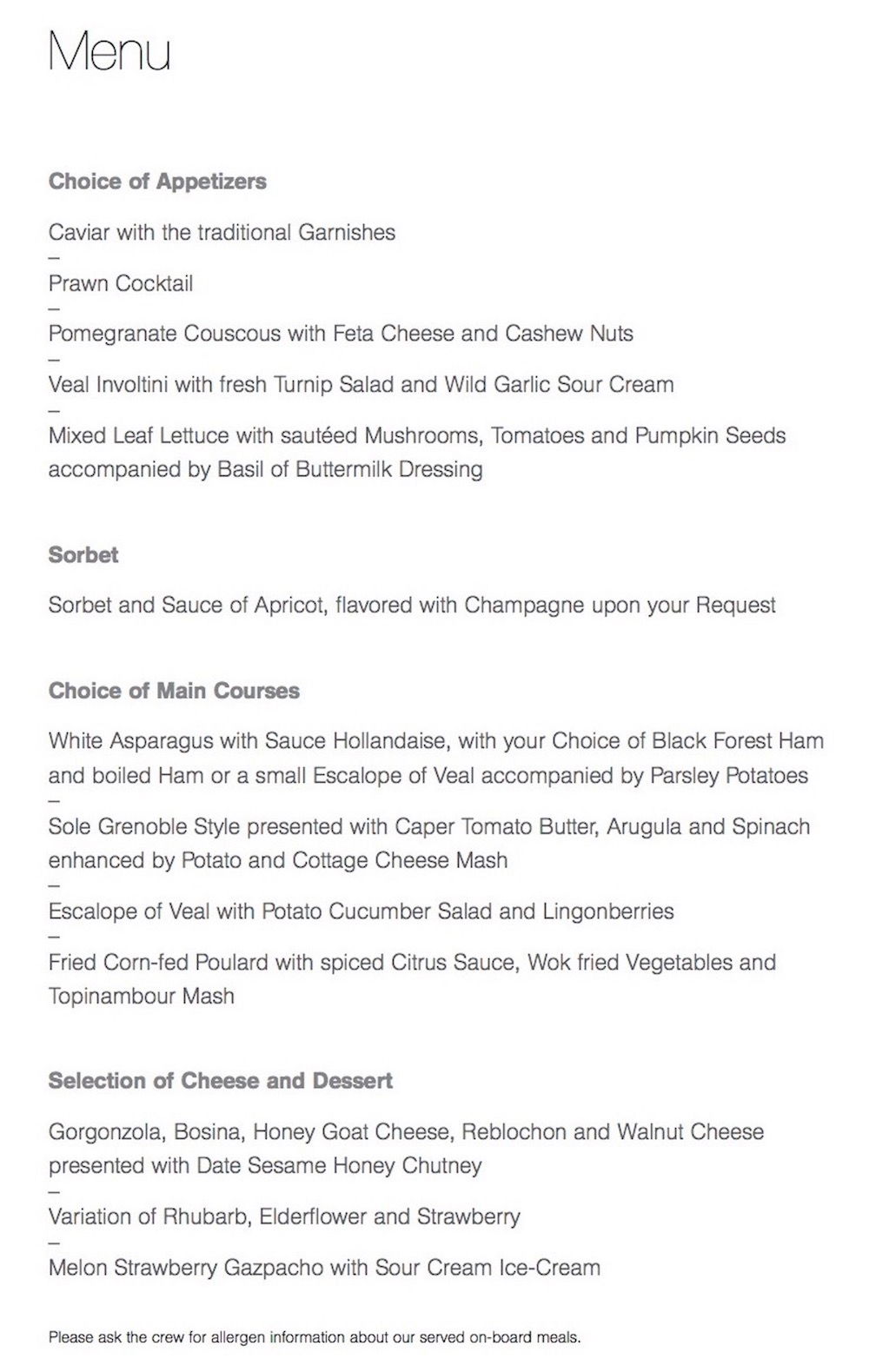 The beverage list read as follows: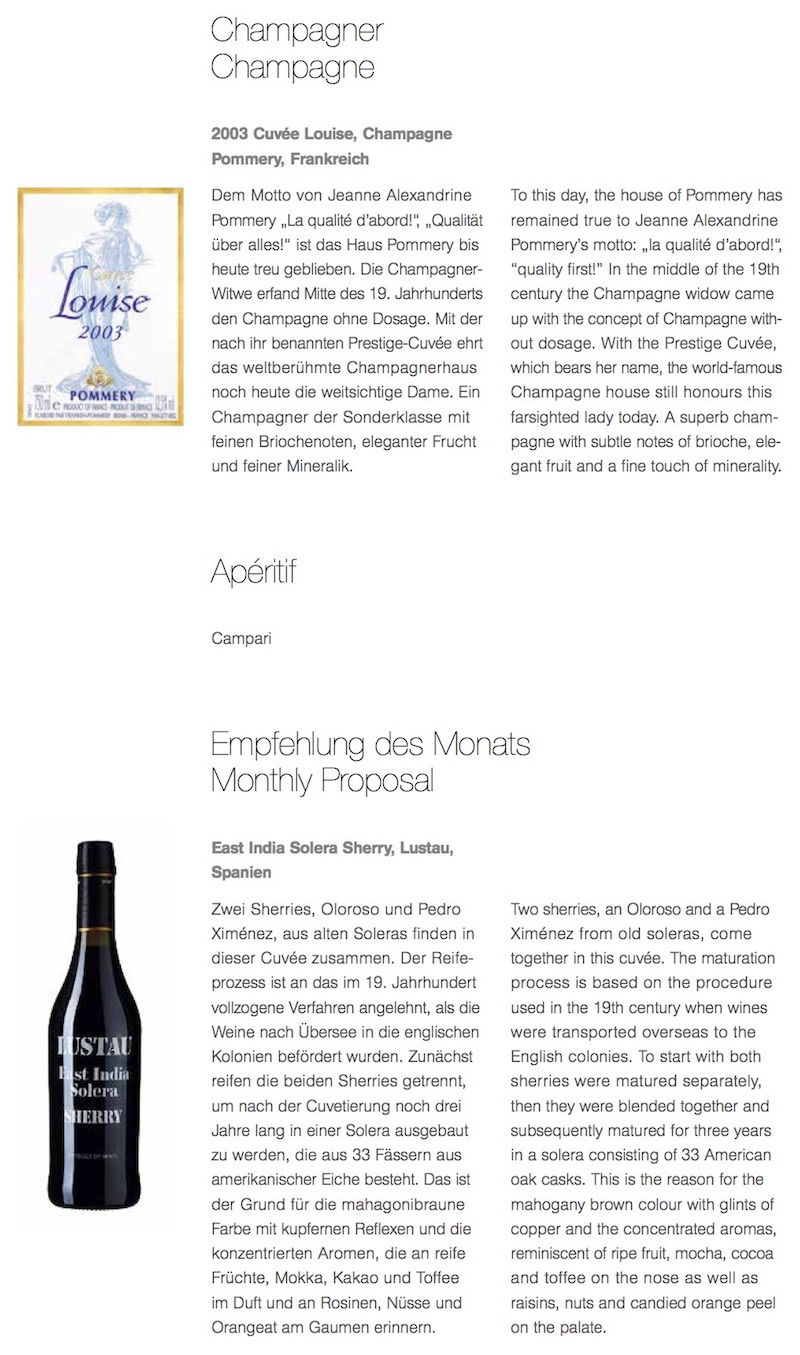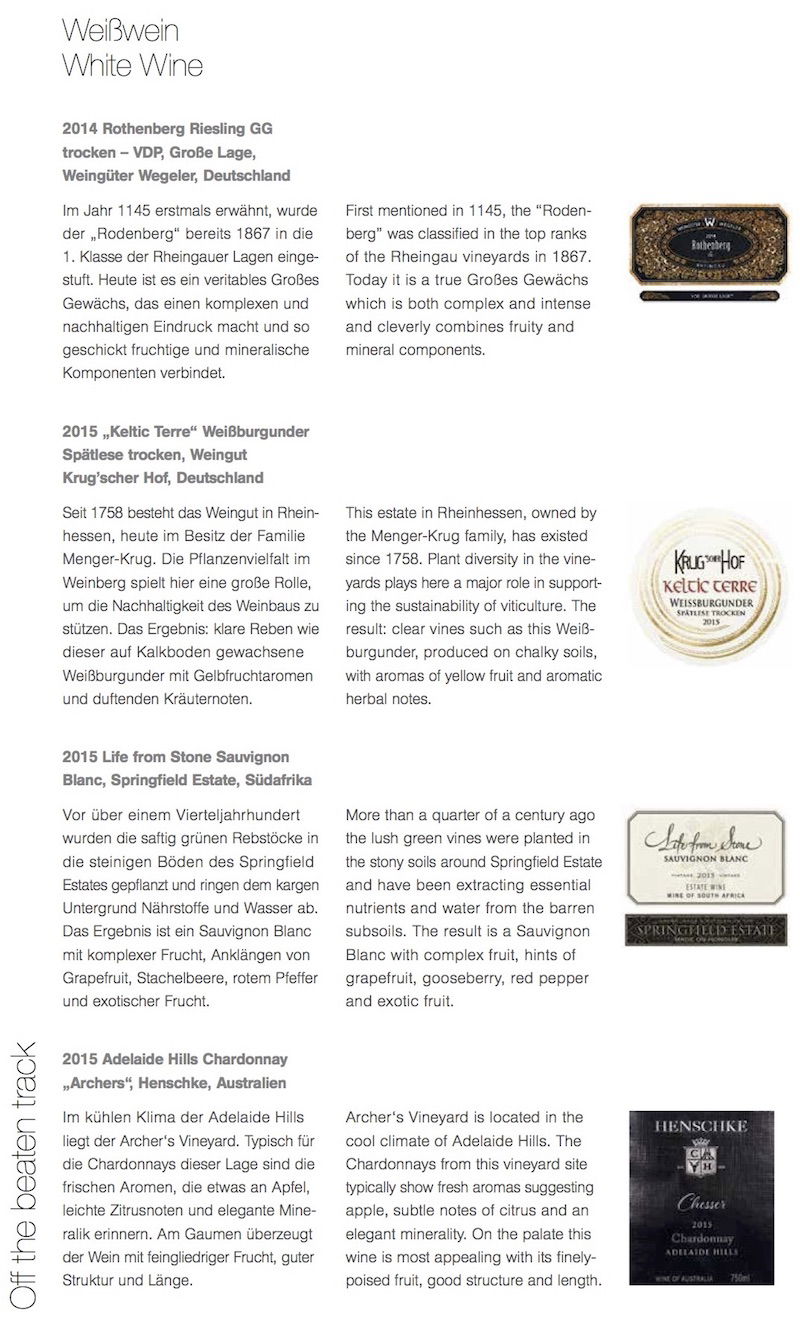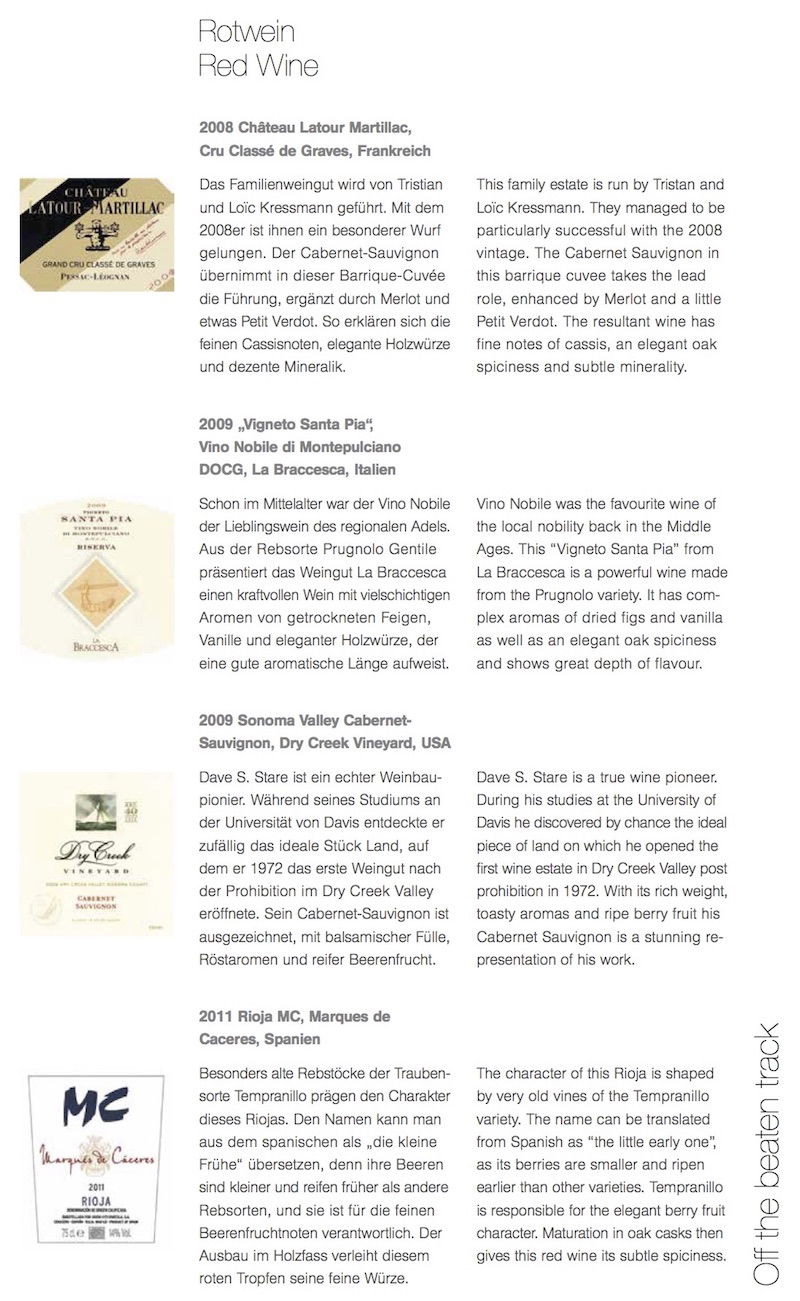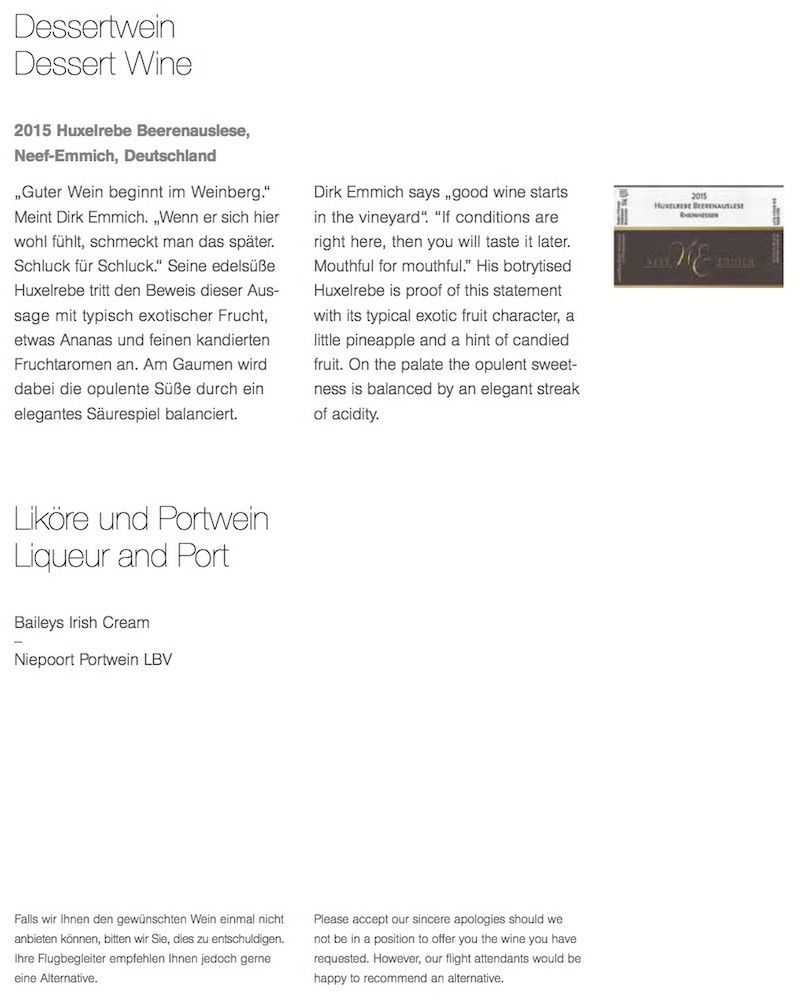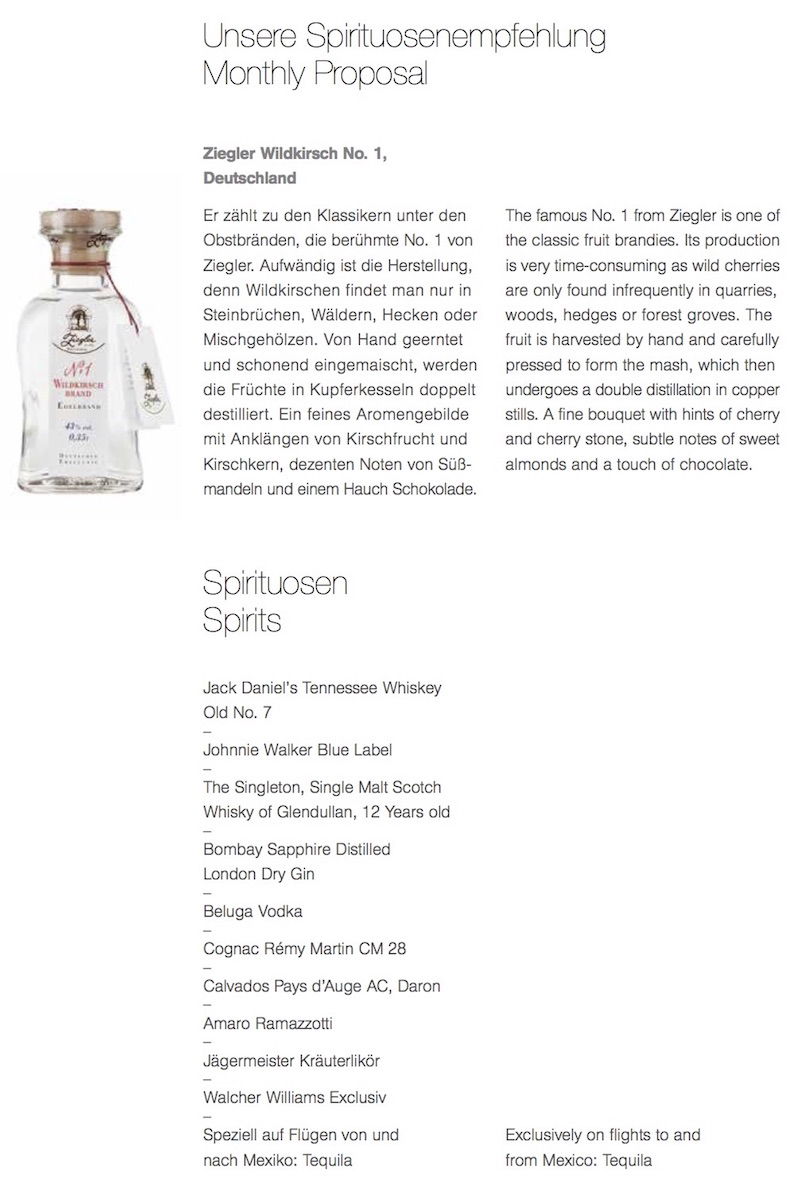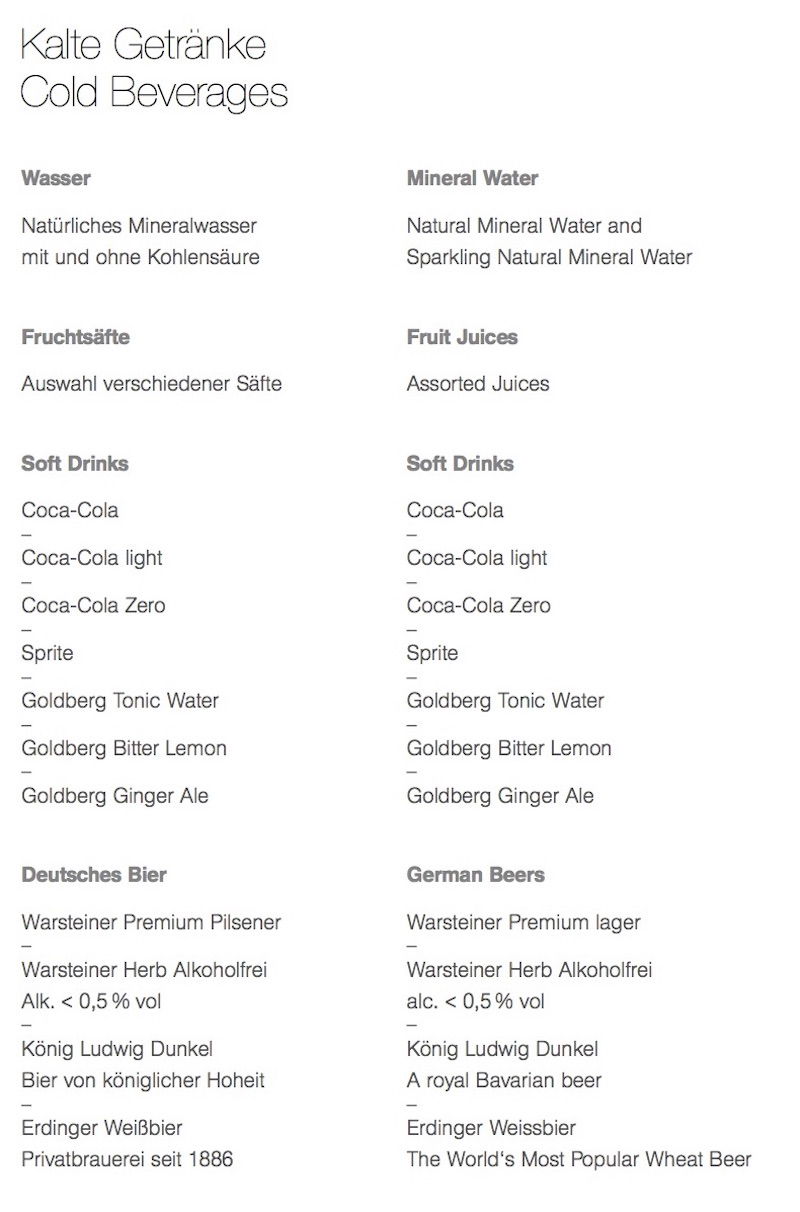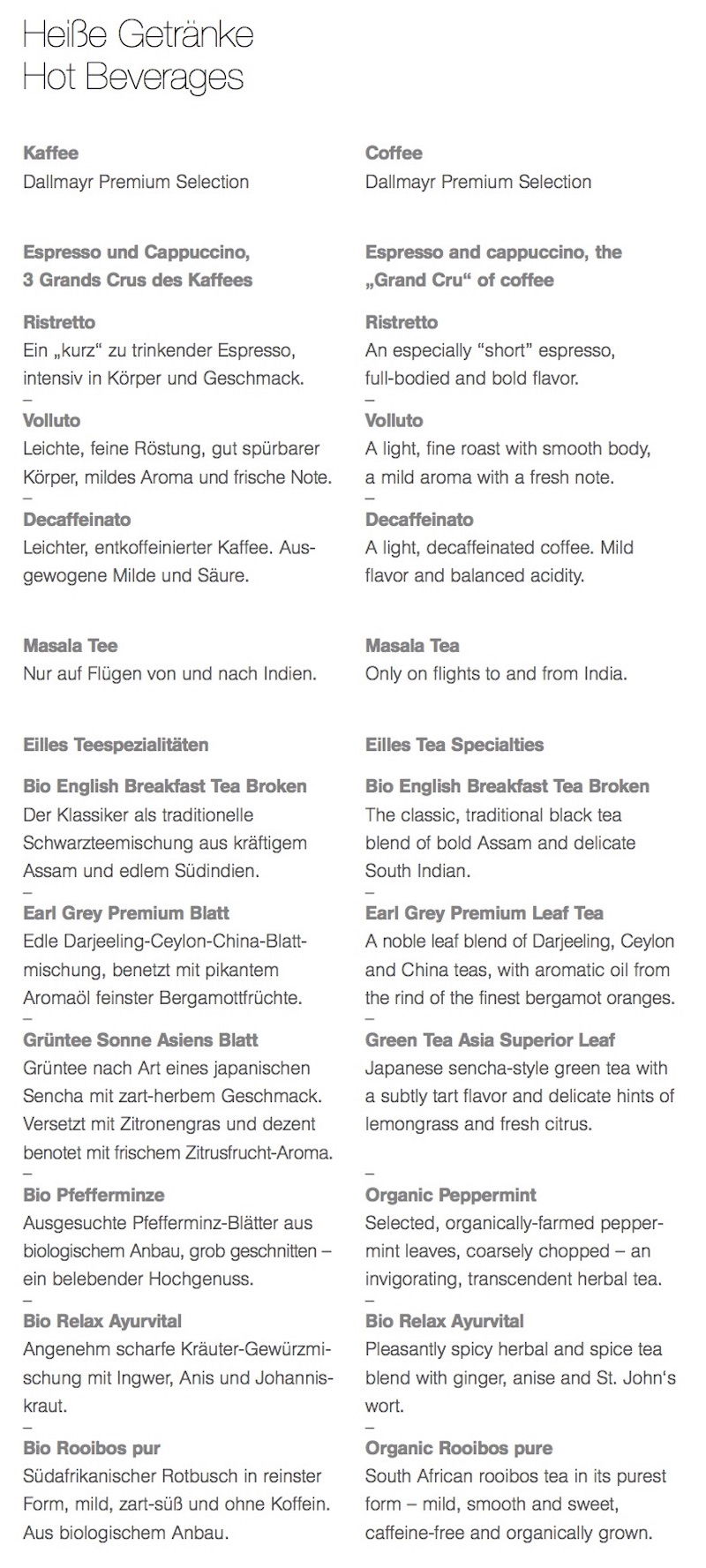 Tables were quickly set, including a bread selection.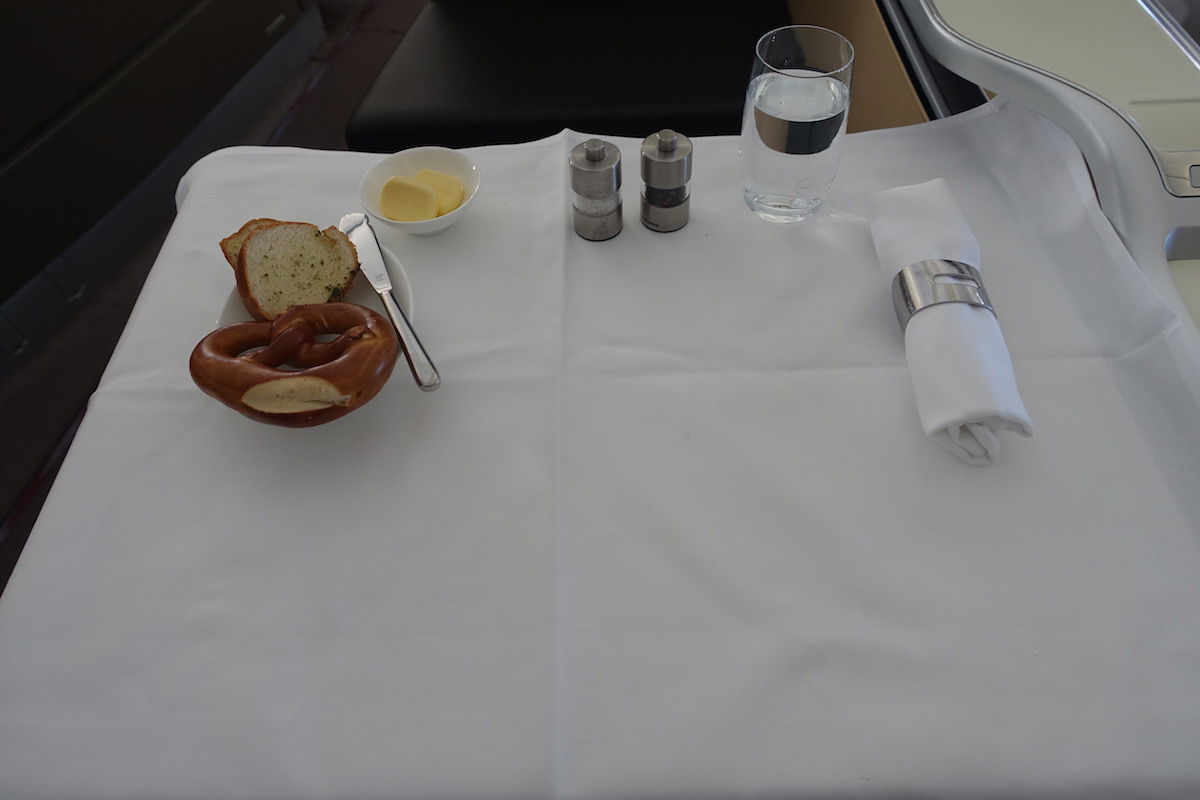 Lufthansa first class table setting
I chose garlic bread and pretzel bread. YUM.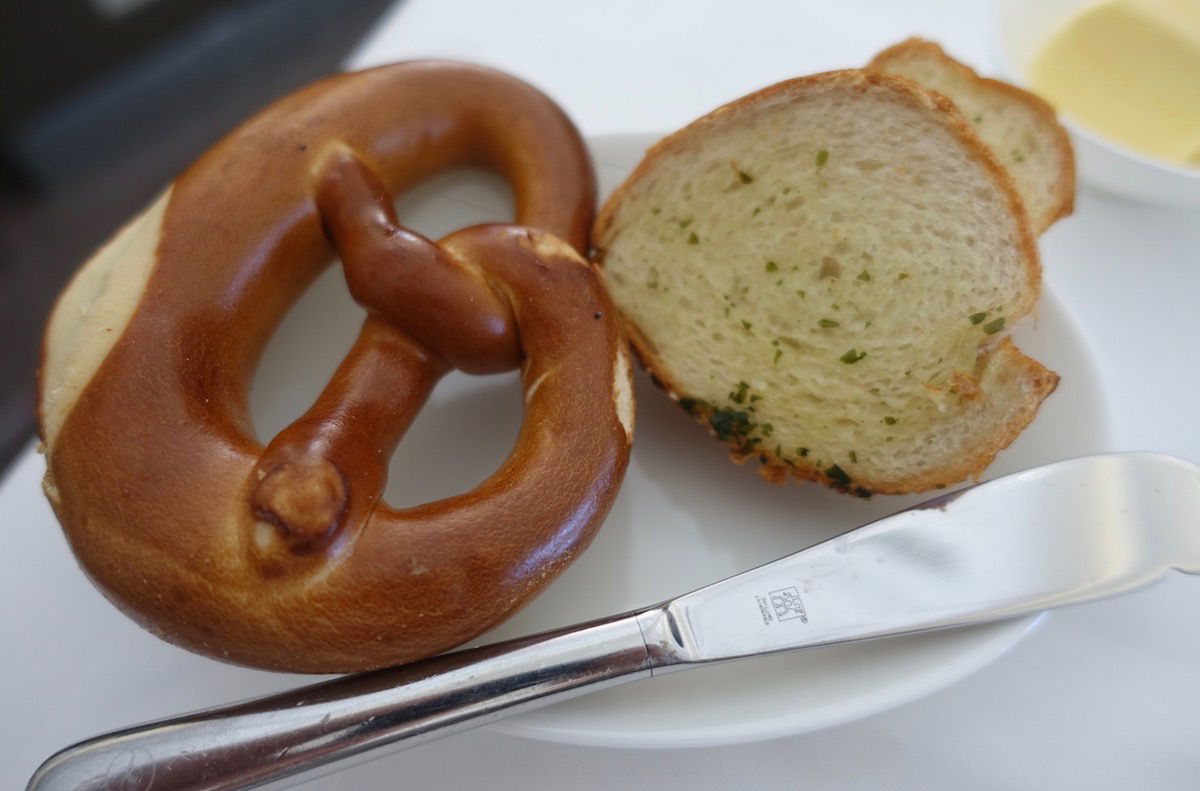 Lufthansa first class bread selection
I love how when departing Frankfurt, Lufthansa has "First Class" stamped on the butter. It's such great attention to detail.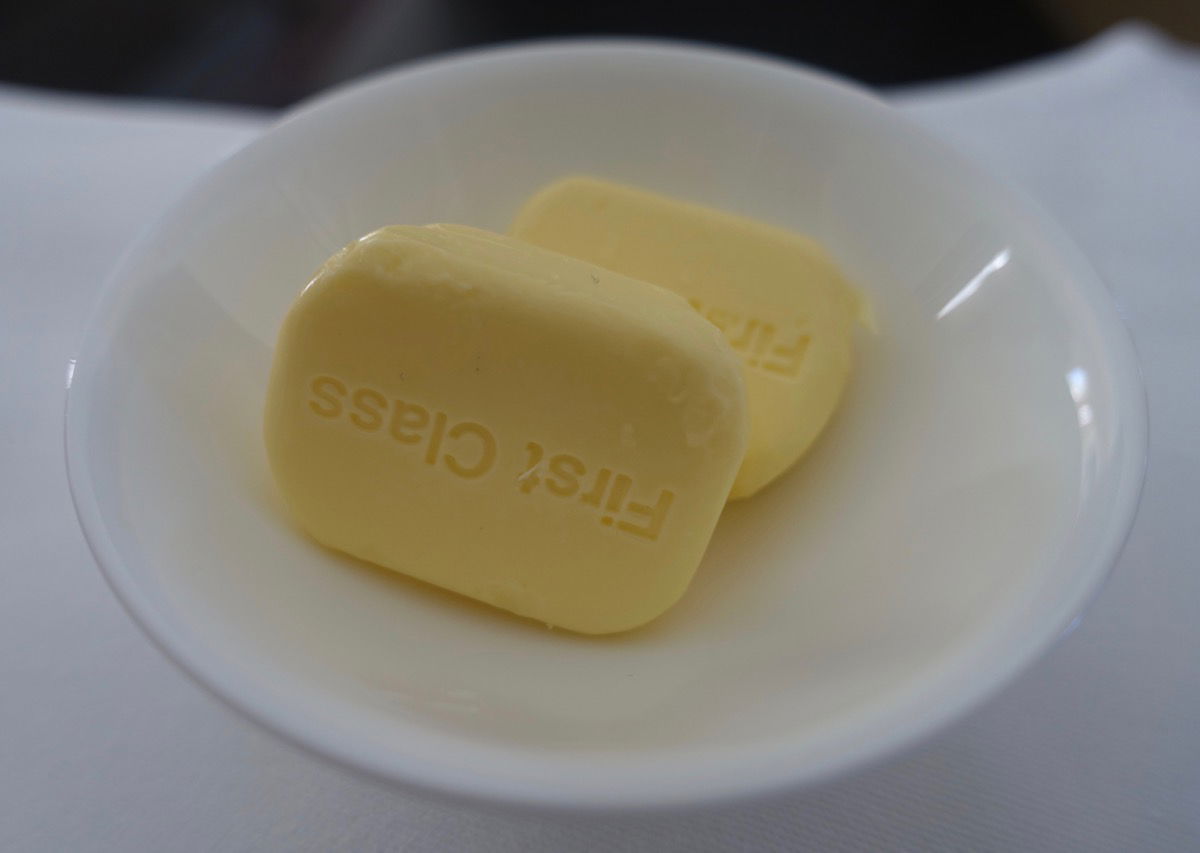 Lufthansa first class butter
Next up was the caviar course off a trolley. The caviar portion wasn't huge, but other than that Lufthansa has among the best caviar presentations of any airline.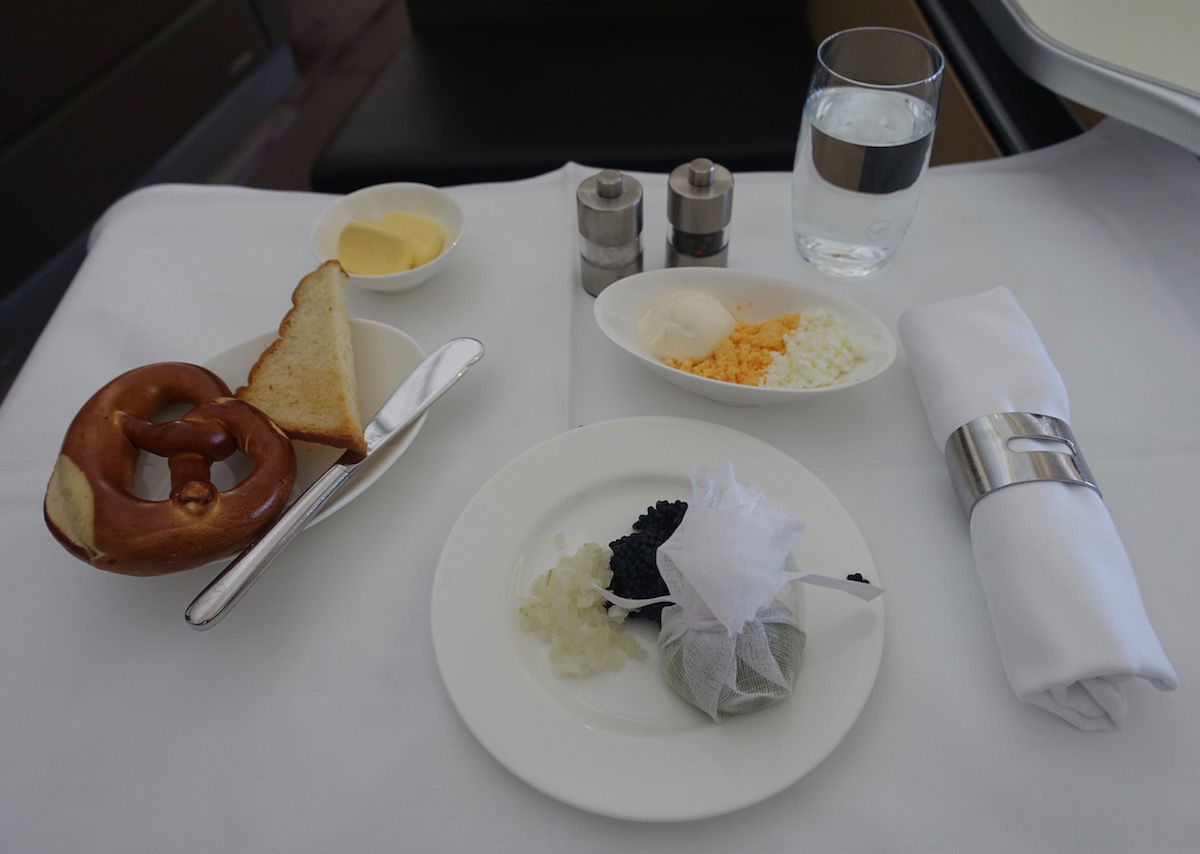 Lufthansa first class caviar service
After that appetizers were served. The choices included a prawn cocktail, pomegranate couscous with feta cheese and cashew nuts, veal involtini with fresh turnip salad and wild garlic sour cream, and mixed leaf lettuce with sautéed mushrooms, tomatoes and pumpkin seeds accompanied by basil dressing.
On Lufthansa you can select all of them if you'd like. I had all of them except the veal, though Ford had it, and I still snapped a picture of it. The appetizers were excellent.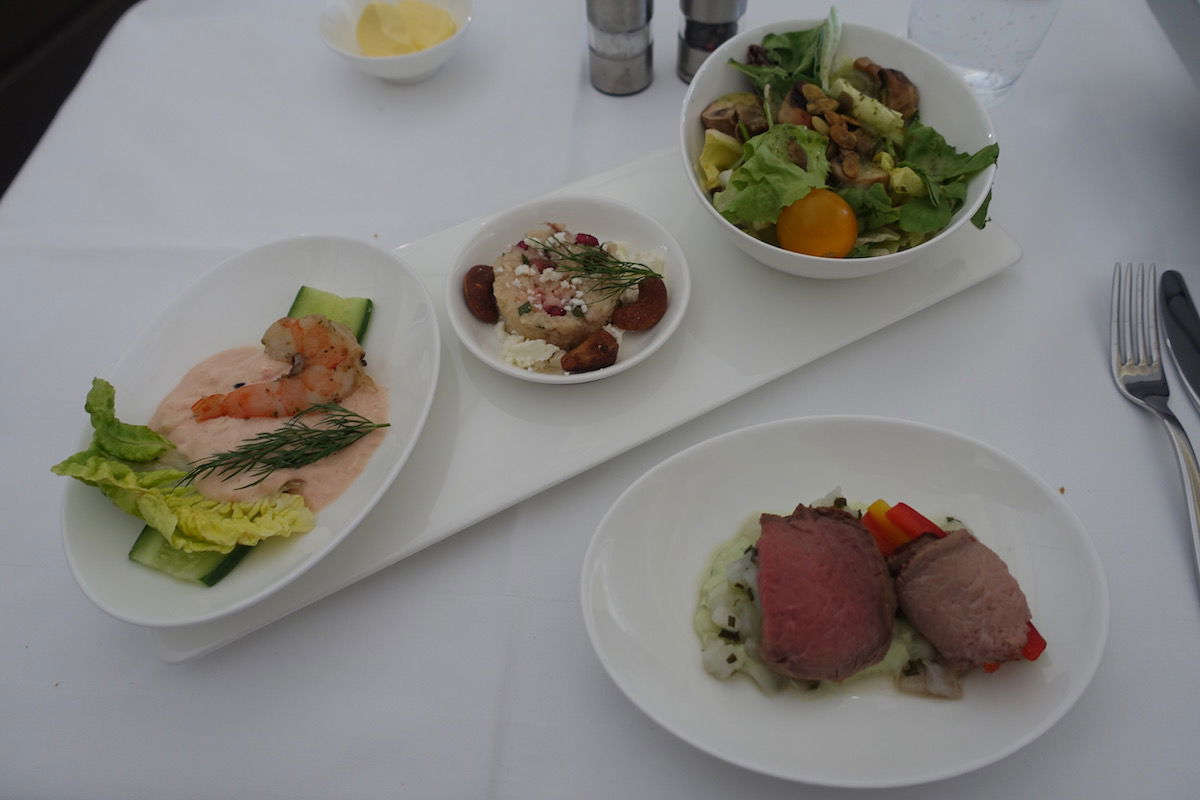 Lufthansa first class appetizers
After that there was an apricot sorbet with some champagne poured in it. Certainly one of the tastier palate cleansers I've had (though come and think of it, I'm not sure how much palate cleansing it did).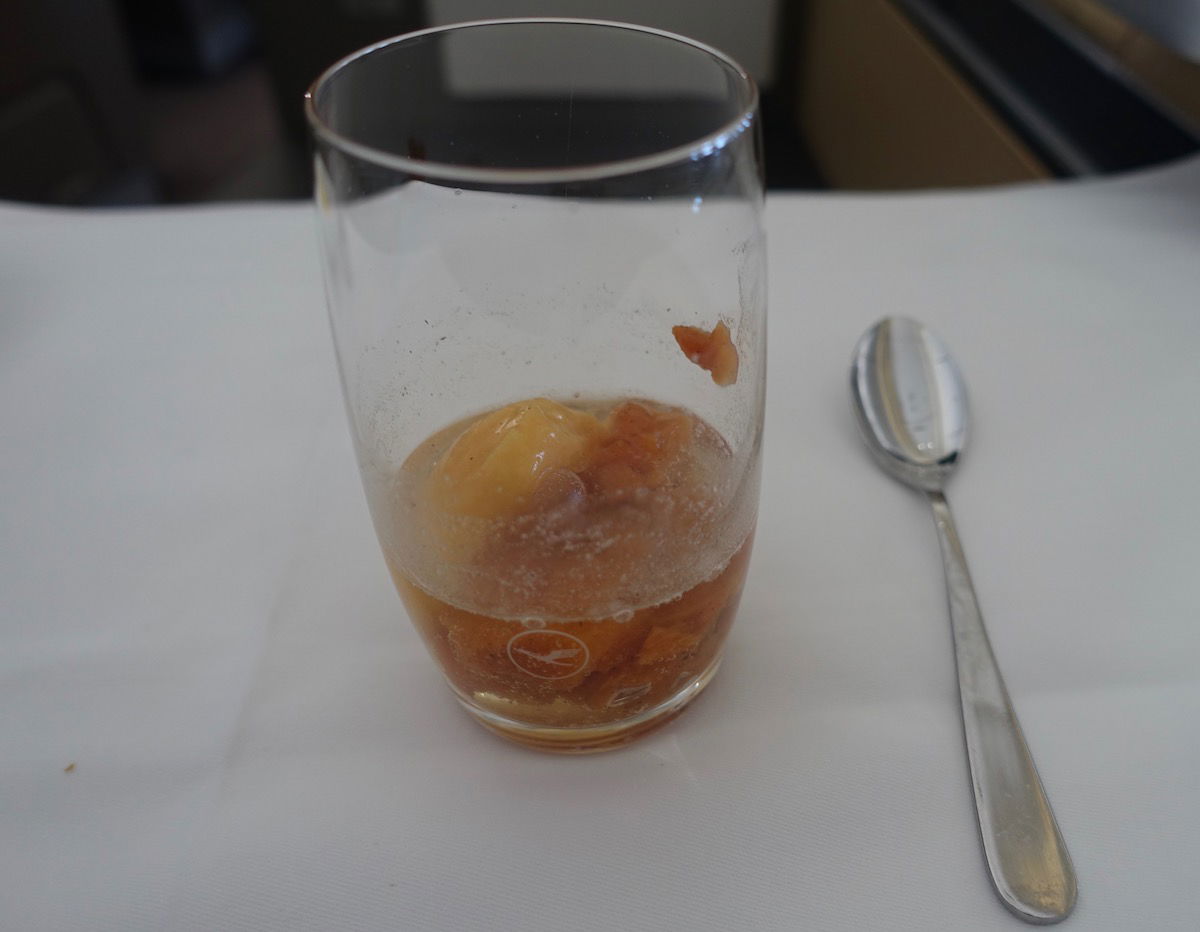 Lufthansa first class sorbet
For the main course I ordered the sole grenoble style with caper tomato butter, arugula and spinach, and potato and cottage cheese mash. It was good, though personally sole isn't my favorite kind of fish.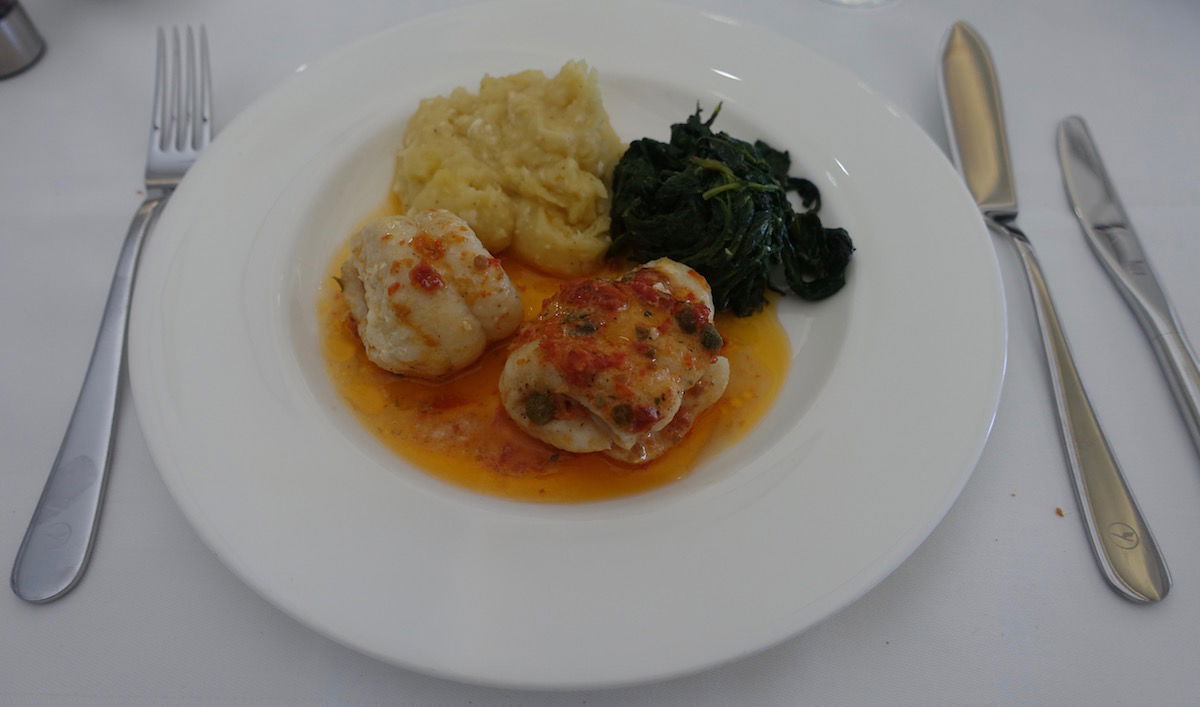 Lufthansa first class main course
Ford had the fried corn-fed poulard with spiced citrus sauce, wok fried vegetables and topinambour mash.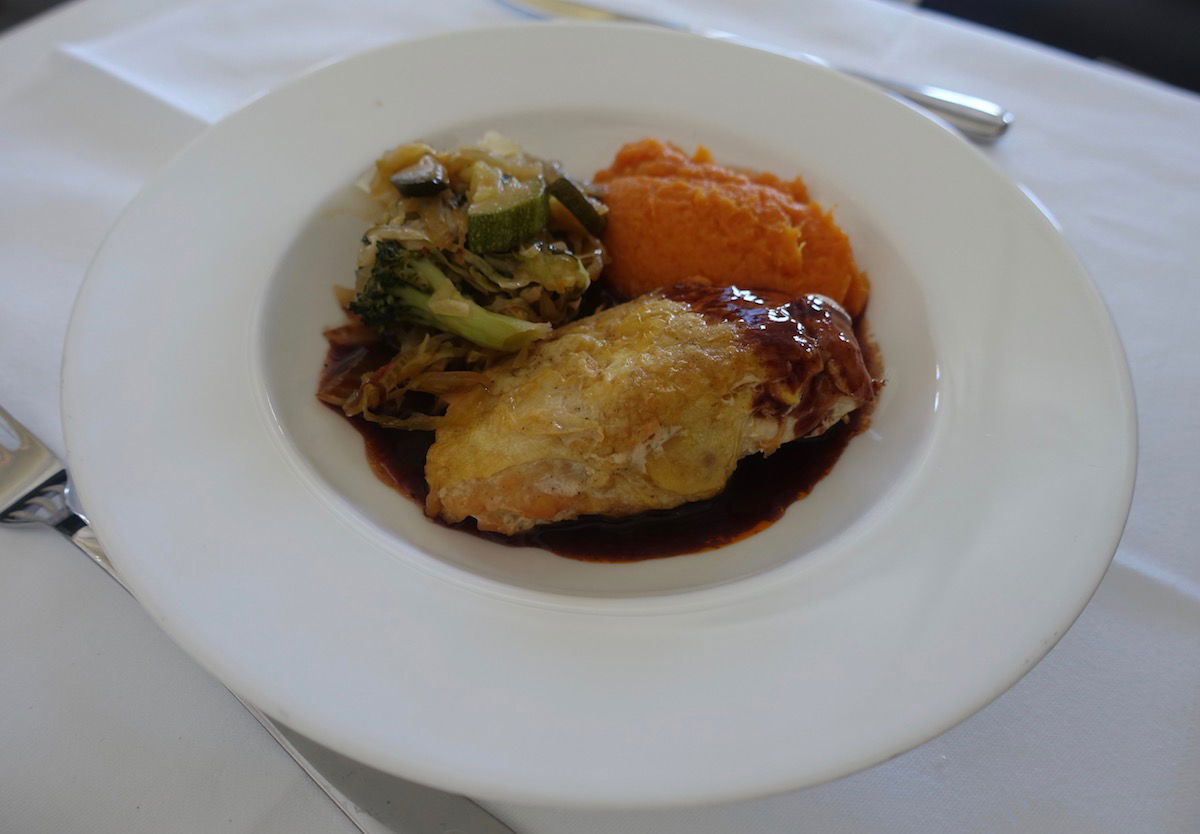 Lufthansa first class main course
Probably the best dish on the menu would have been the white asparagus, but after having it a while back, I think I had my quota for this decade.
The desserts were fabulously complex, as is the norm on Lufthansa.
I had the rhubarb, elderflower and strawberry.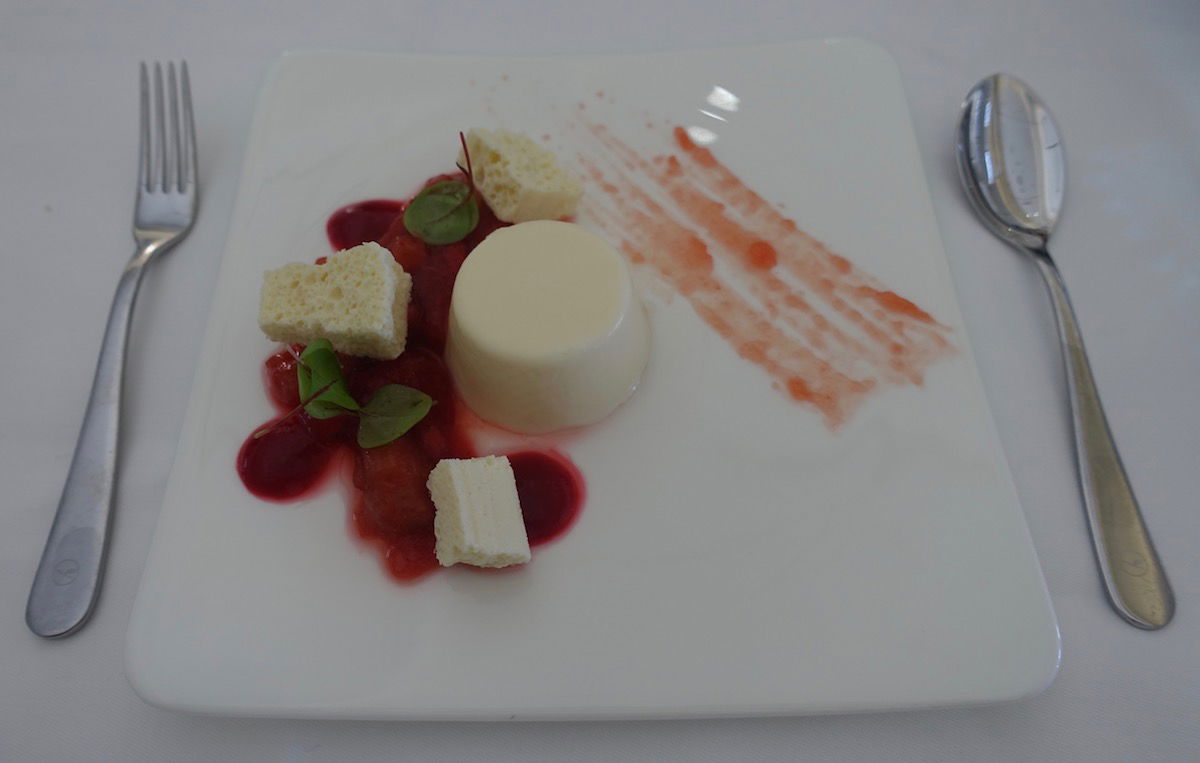 Lufthansa first class dessert
Ford had the melon strawberry gazpacho with sour cream ice cream.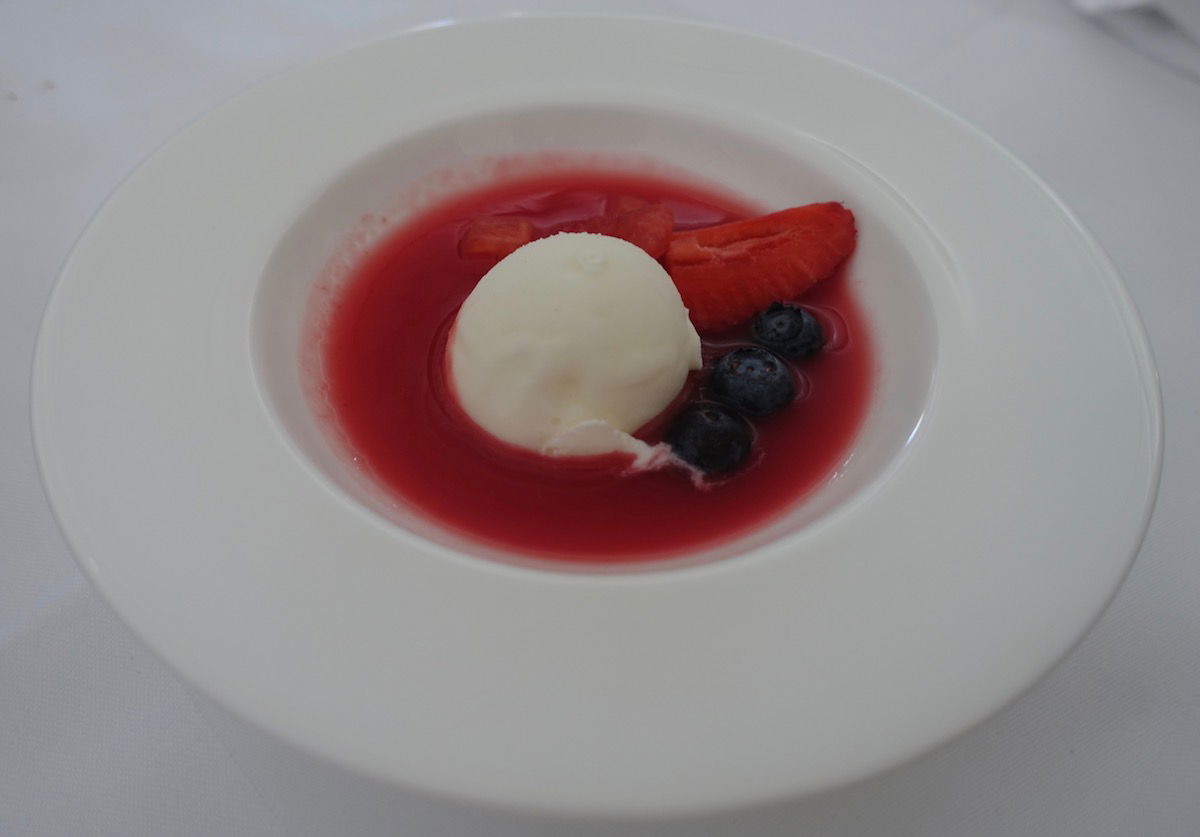 Lufthansa first class dessert
The desserts were actually better than usual for Lufthansa. As someone with a sweet tooth, I can't help but think that my addiction could have been avoided if as a kid my mom offered me things like strawberry gazpacho and rhubarb and elderflower for dessert. 😉
To finish off the meal I had a cup of coffee, along with a chocolate.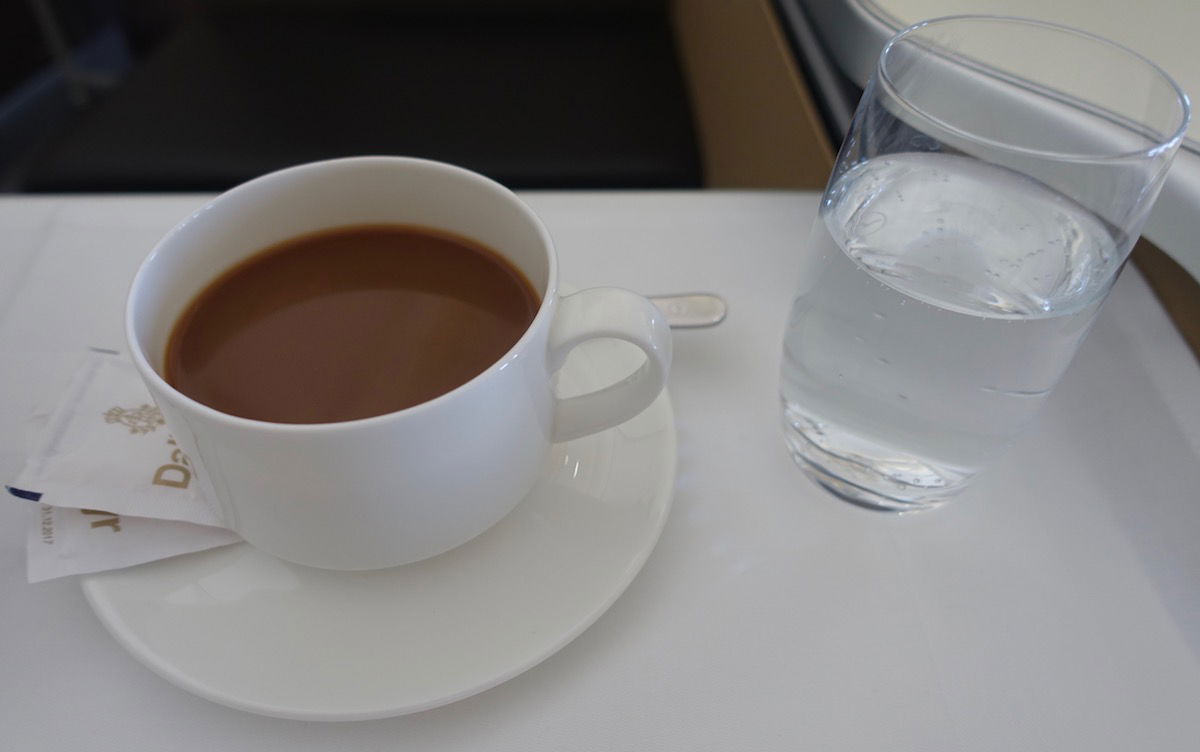 Lufthansa first class coffee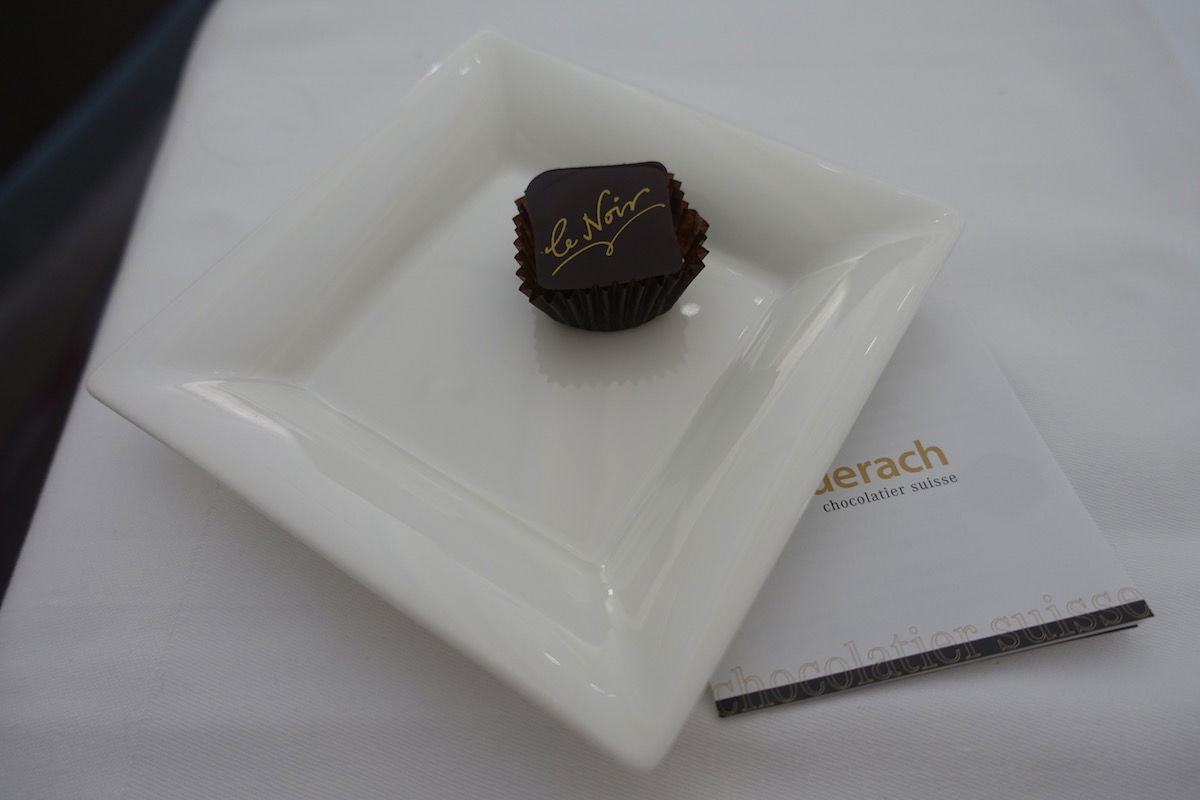 Lufthansa first class chocolate
We were also offered bottled water.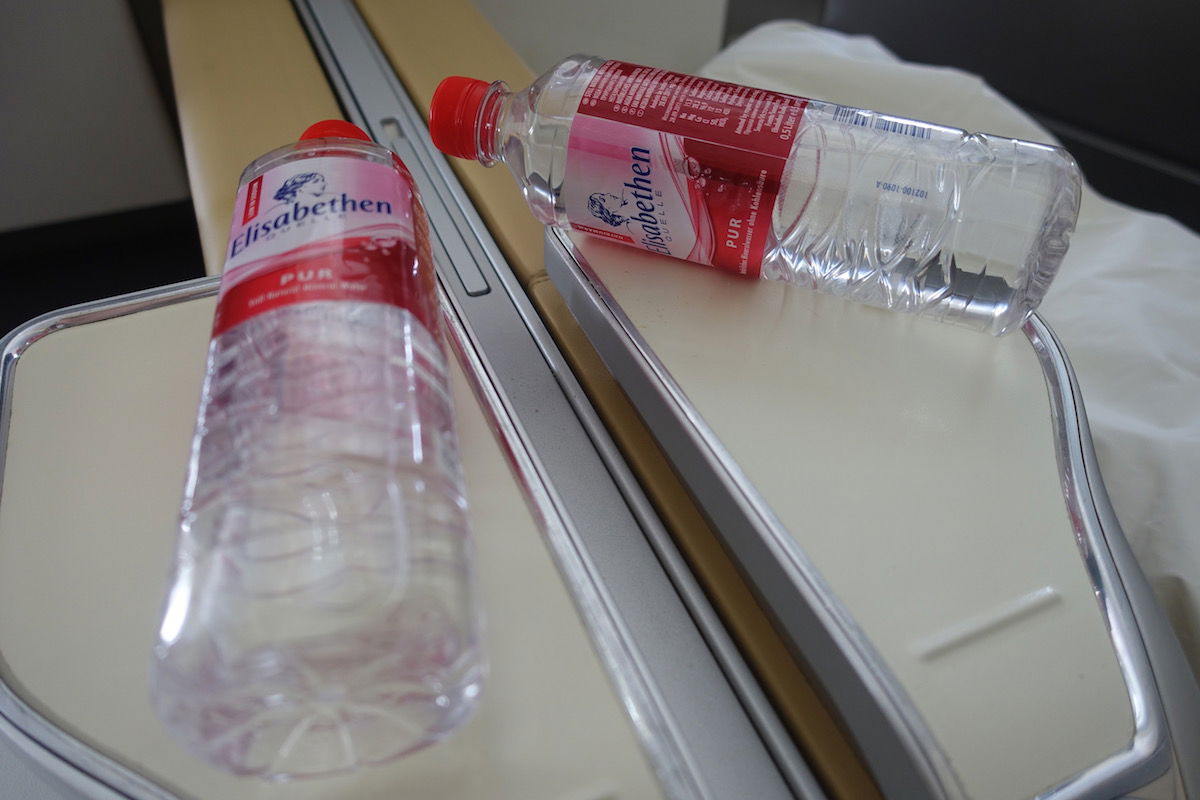 Lufthansa first class bottled water
Lufthansa is incredibly consistent, and this flight was no exception. The meal service was done with about eight hours remaining to Los Angeles. I had a ton of work to catch up on, so while the cabin lights were dimmed and everyone else went to sleep, I just worked for the rest of the flight.
Noticing that I was up, the crew proactively brought me some snacks a few hours later.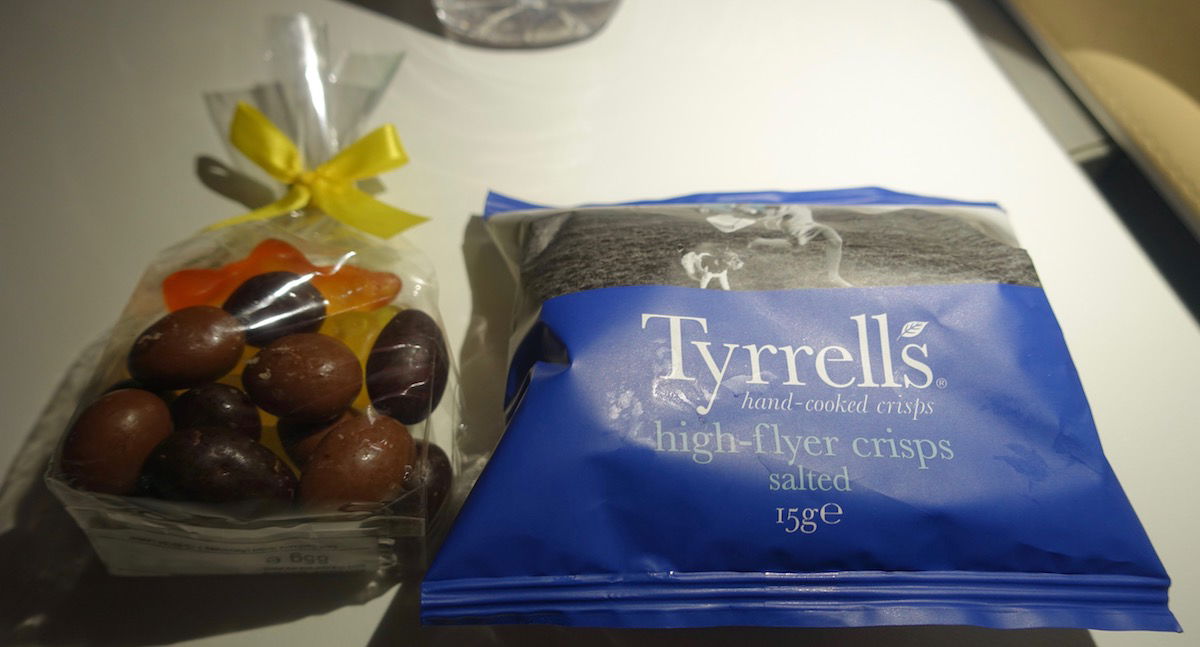 Lufthansa first class snack
Finally 90 minutes before landing another snack was served. The menu read as follows: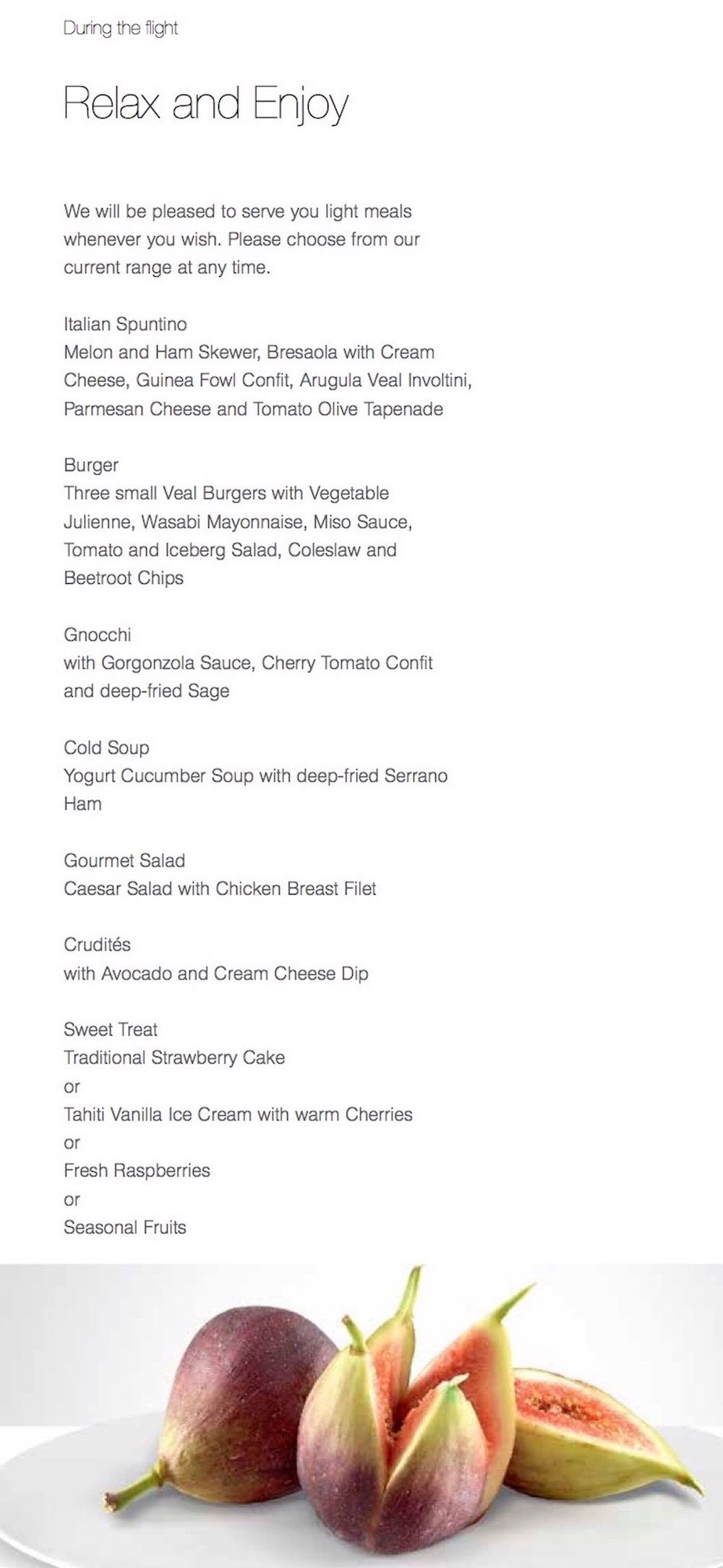 Once again, the table was set and a bread selection was offered.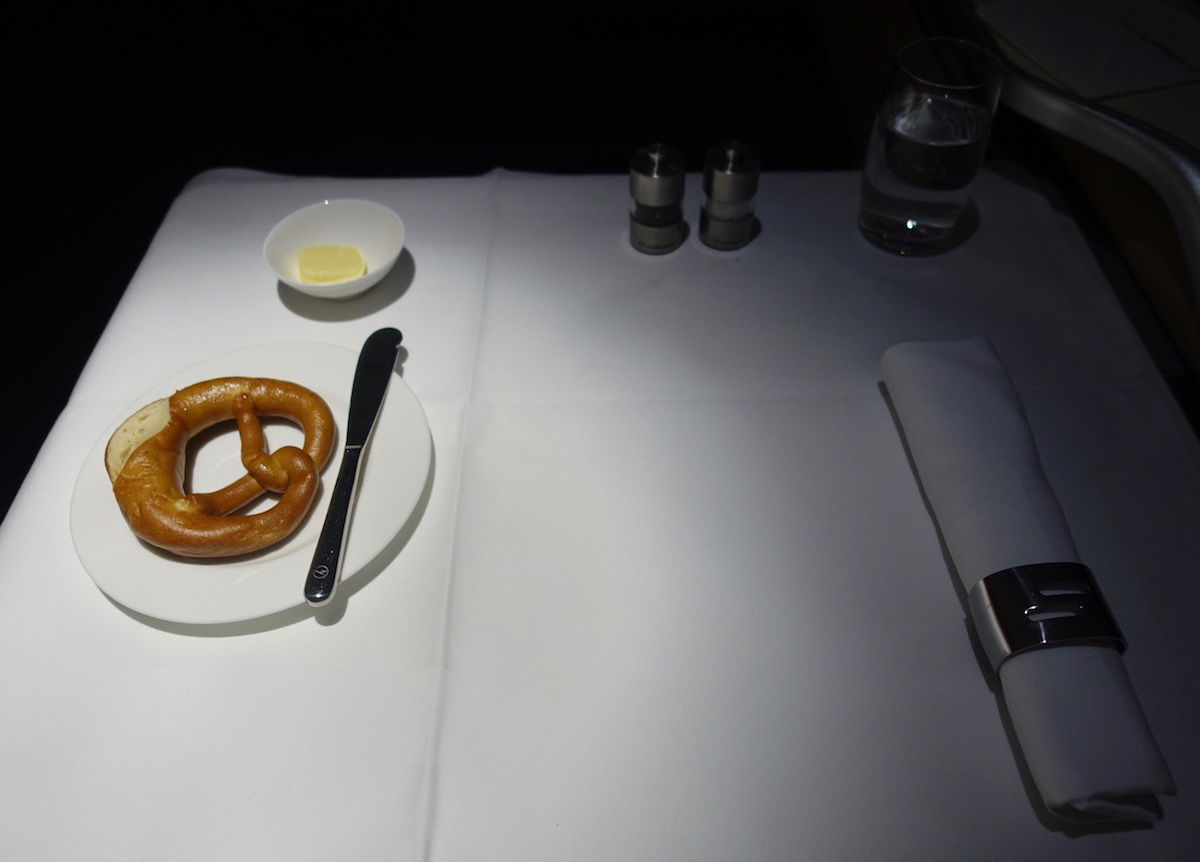 Lufthansa first class snack service
I ordered the gnocchi with gorgonzola sauce, cherry tomato confit, and deep-fried sage.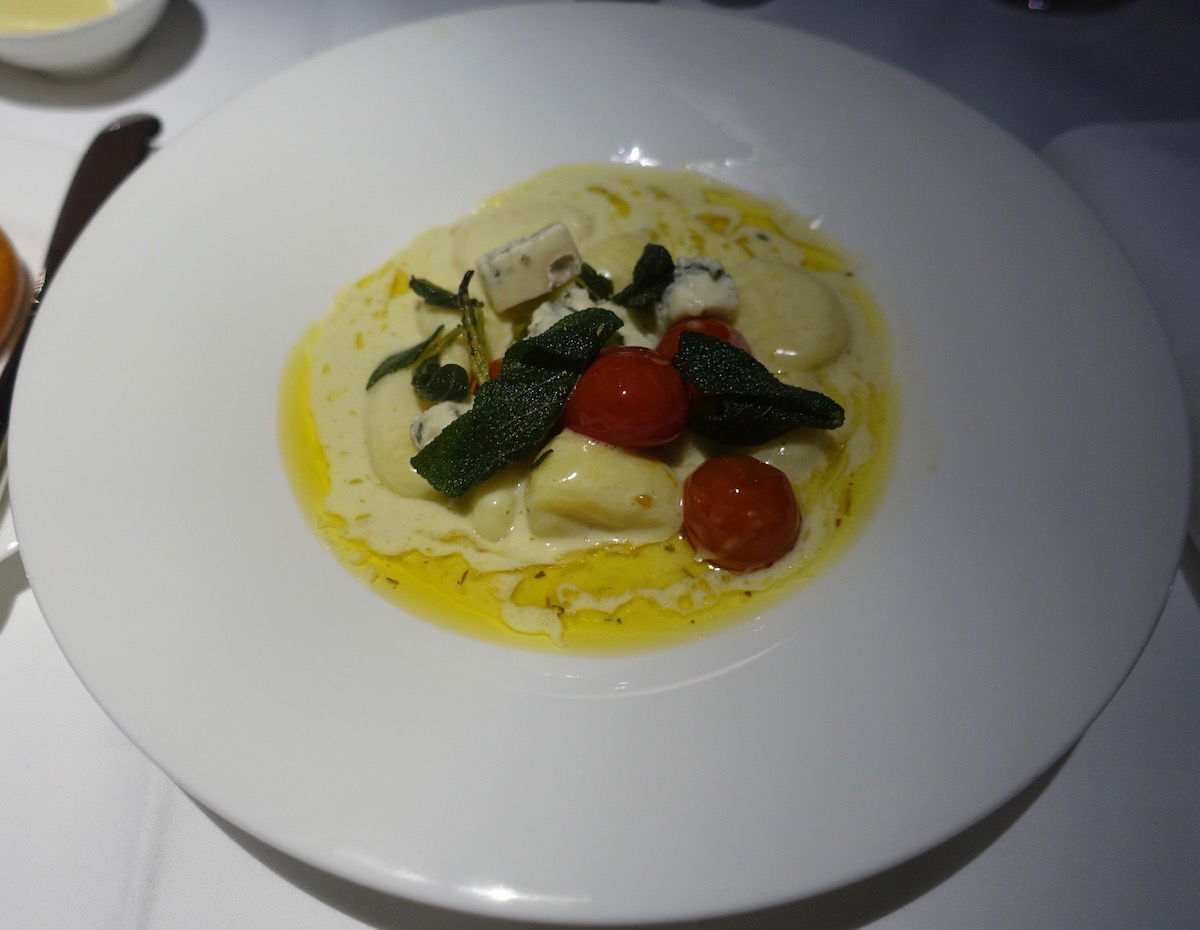 Lufthansa first class snack
Ford ordered the caesar salad with chicken breast.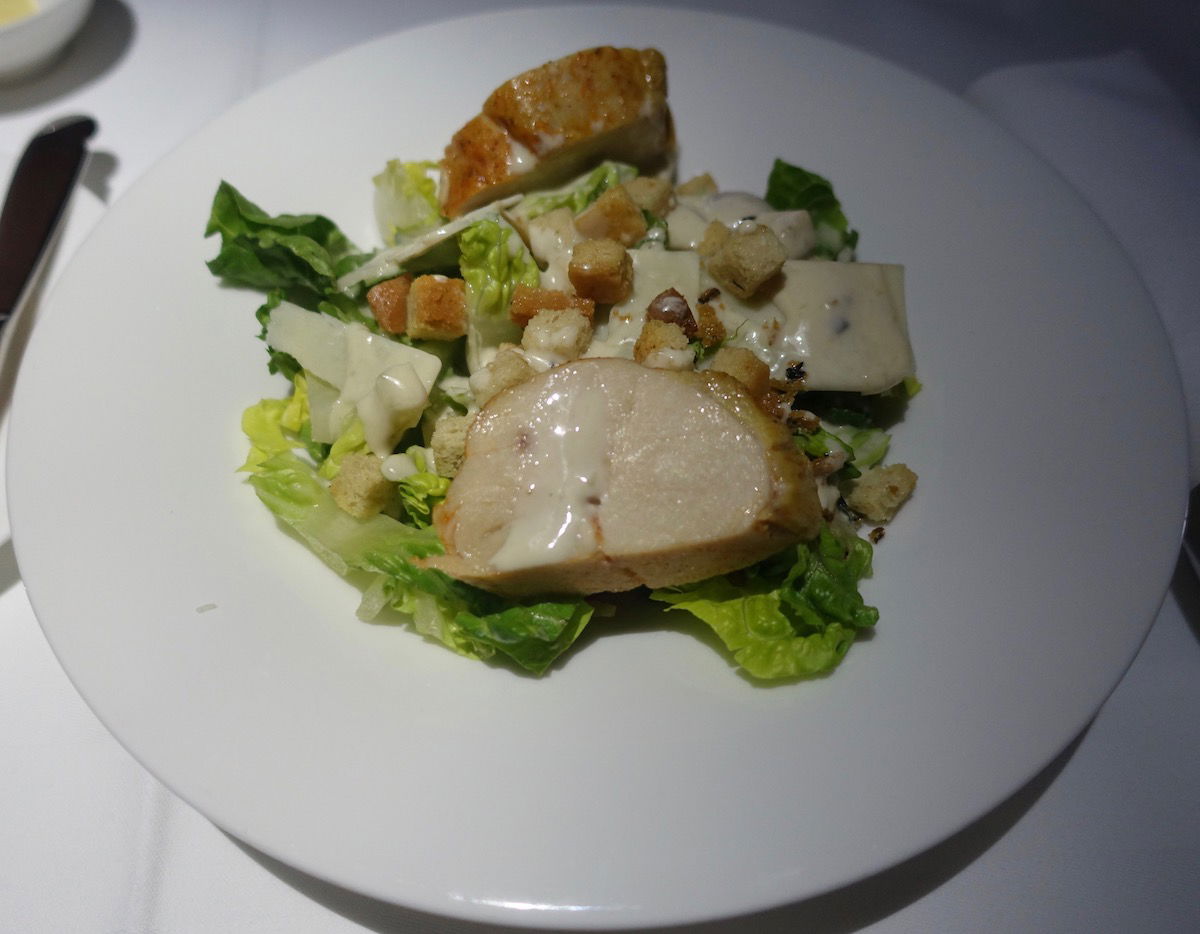 Lufthansa first class snack
For dessert I had the strawberry cake.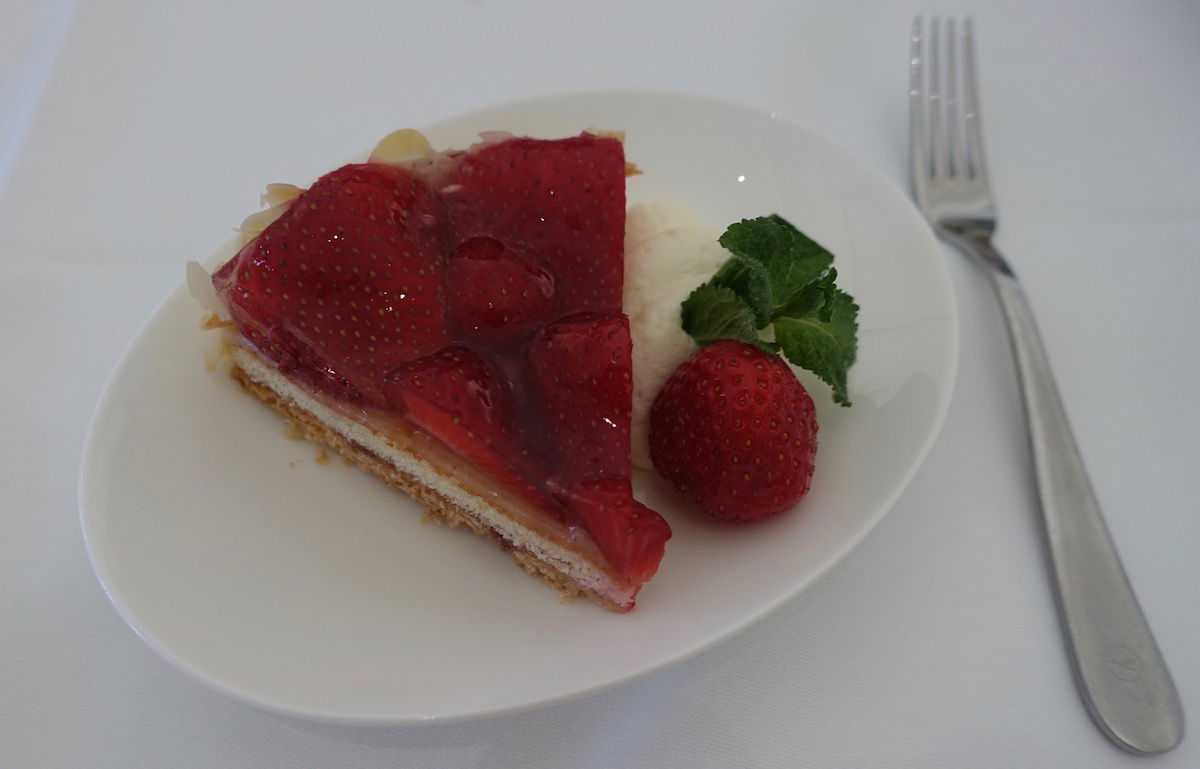 Lufthansa first class dessert
Ford had the vanilla ice cream with warm cherries.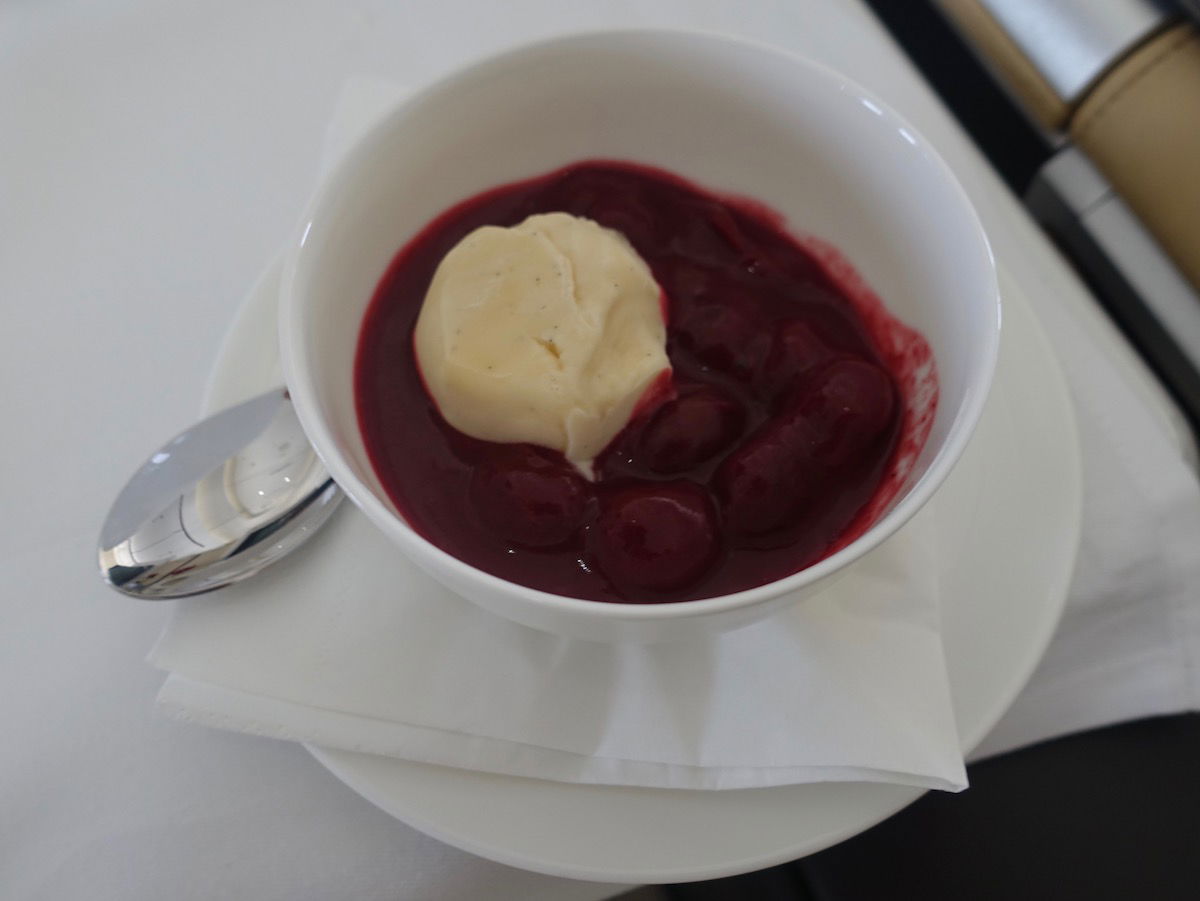 Lufthansa first class dessert
I also had a cappuccino to finish off the meal.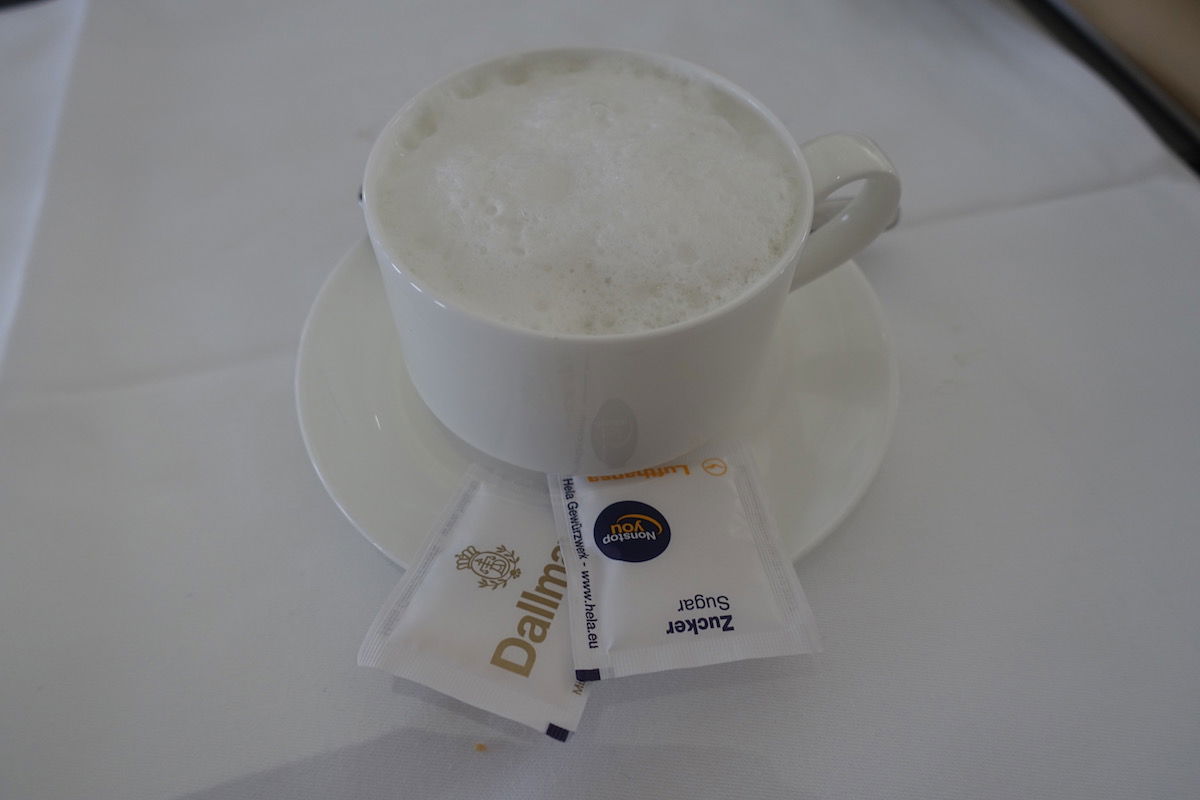 Lufthansa first class cappuccino
The rest of the flight was smooth, and we touched down at LAX at 5:25PM on runway 25L, and were at the gate about five minutes after that. Given our delayed departure, an arrival delay of under an hour wasn't half bad.
Lufthansa first class bottom line
Lufthansa continues to have one of the most consistent first class products in the world. There's so little variance between flights on them, as the cabin is comfortable, service is excellent, etc. There's something to be said for always knowing what to expect in Lufthansa first class. The only negative part of this experience were a couple of the other passengers.