In the interest of full disclosure I was a guest of American Airlines on these flights, though all opinions expressed are my own. I'll take it a step further — if you don't think I'm being fair, let me know in the comments section!
Monday night I had the opportunity to fly American's new business class between New York and London. American first began service with their 777-300ER in January between Dallas and Sao Paulo. They later placed the aircraft on the Dallas to London route. Now that they have another 777-300ER they've also started service between New York and London as of last week. In this post I'll just be sharing my initial impressions of the new product, and in the next post I'll share the joys of a six hour delay incurred in New York due to the weather. Hey, if you've gotta have a six hour delay on American, there's no plane I'd rather be stuck on. And then when I return home I'll also write a full trip report of my experience.
I briefly had the chance to tour the aircraft before boarding began. I figured I'd just share my initial thoughts on each cabin for this post.
First Class
The new first class is definitely a marked improvement over the old product. American has 16 first class seats on the 777-200, which is great for award space and upgrades, though there's no doubt the cabin size takes away from the exclusivity and service. At half the size this cabin is definitely more exclusive and private. That being said I don't think the difference between the new and old first class is nearly as drastic as the difference between the new and old business class.
On the plus side the screens are much bigger and entertainment selection better, though the seats could have been made to be a bit more private, in my opinion. To some degree I almost feel like American overshadowed their new first class with their new business class. Their new business class seat is the best in the industry, while the new first class seat is in the middle of the pack, in my opinion.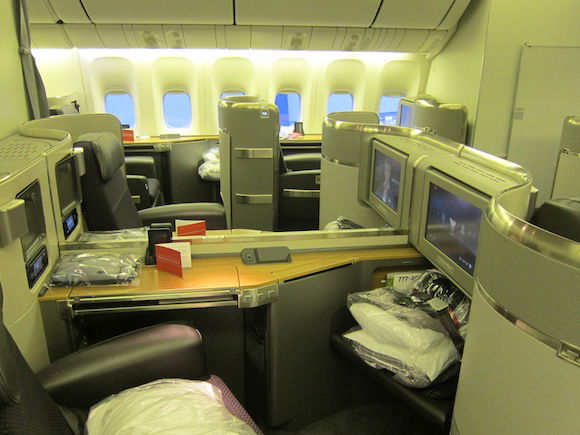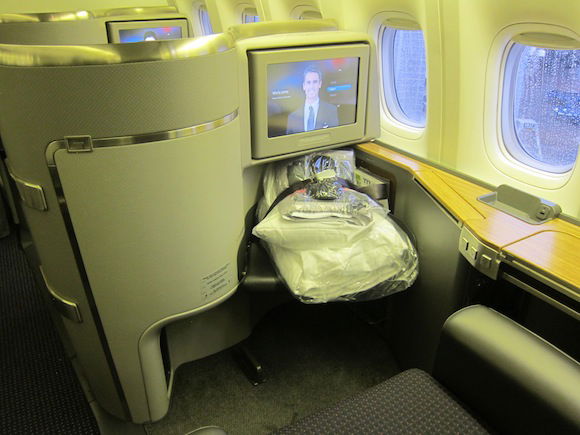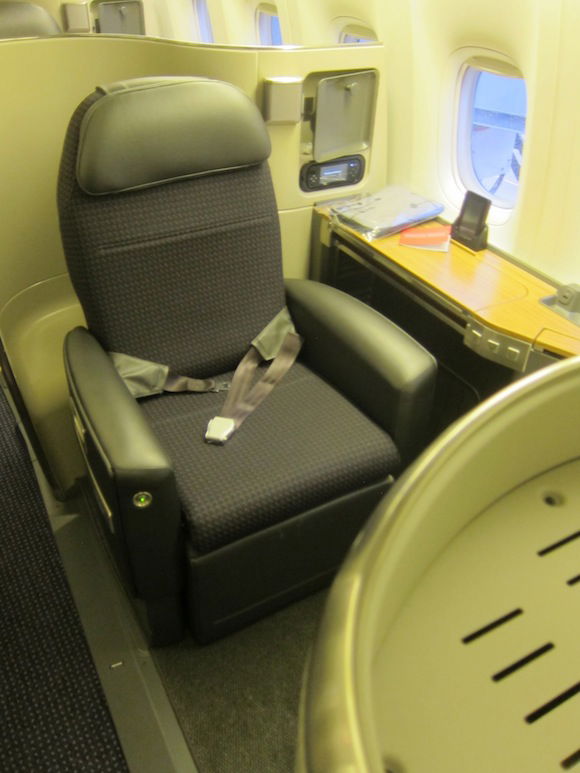 Business Class
If it's true that business class is an airline's bread and butter then American better be ready to make a lot of sandwiches. American's new business class is in a reverse herringbone configuration with only four seats per row. I'd argue reverse herringbone seating (also found on Cathay Pacific's entire longhaul fleet and US Airways' A330s) is hands down the best business class hard product out there. It's rare that I'll claim anything is unarguable, though I think this is as close as it gets. I'd actually be curious to hear if anyone has flown reverse herringbone seats and thinks it's not the best business class hard product they've ever experienced.
Business class consists of a mini cabin with two rows right behind first class, and then a larger cabin with more seats behind the second door.
At the end of the day what matters most on a longhaul flight in business class isn't the food or service, but the comfort of the seat, and reverse herringbone is definitely the way to go. I'd argue these seats are on par with the first class seats offered by many airlines. In a way it's funny, because I think American's new business class is actually more private than their new first class.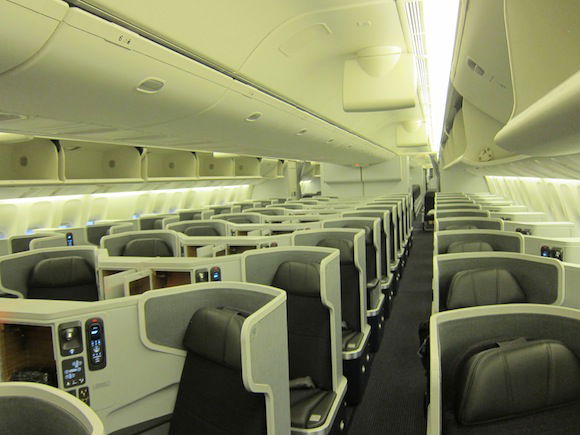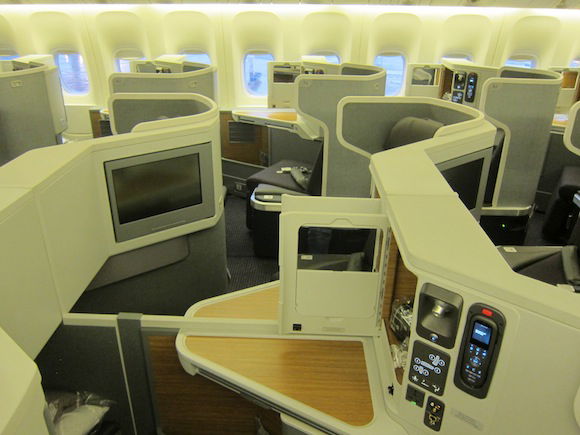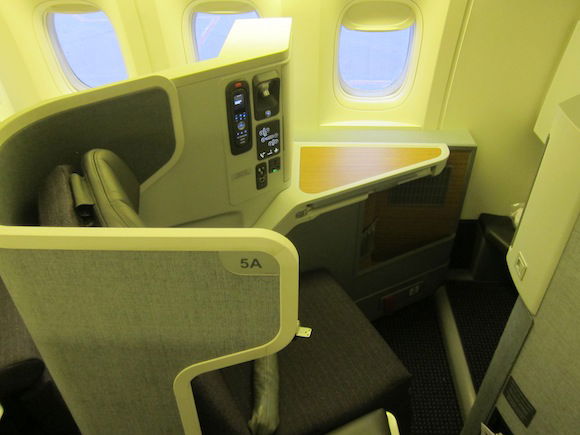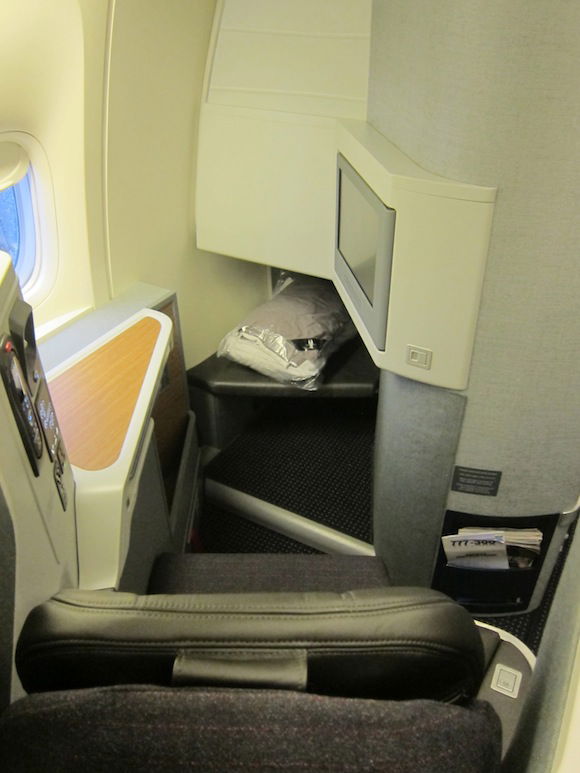 Main Cabin Extra
Main Cabin Extra was surprisingly pleasant. All coach seats on the 777-300ER have personal televisions with audio and video on demand, though what really impressed me was how private the Main Cabin Extra cabin was. It only consists of a few rows and has a bulkhead behind it, so it almost felt like the premium economy products offered by many European and Asian airlines. The legroom was quite good as well, and seating was in a 3-3-3 configuration, as it should be on a 777. 😉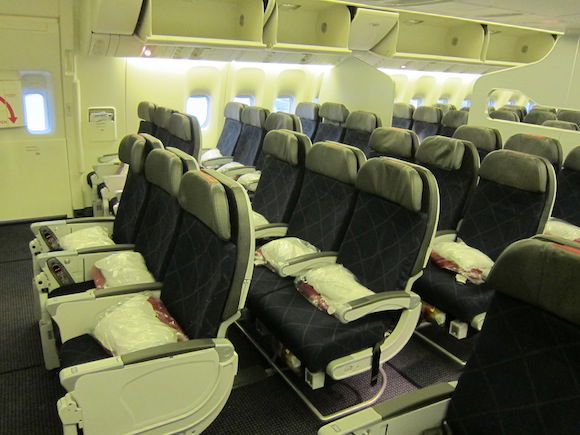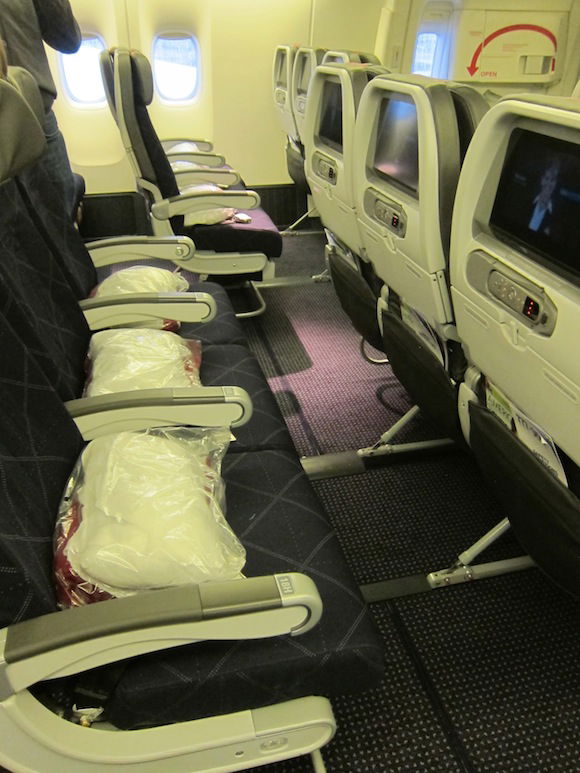 Main Cabin
On the plus side American has personal televisions with audio and video on demand. Unfortunately they went with 3-4-3 seating in coach, so the seats in coach felt extremely tight. Can I blame them? I think we've seen time and again that airlines are investing in their premium products while squeezing in as many coach seats as possible, given that most people book coach based on price.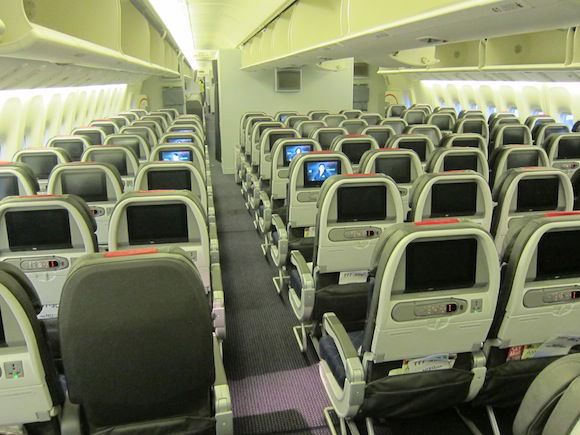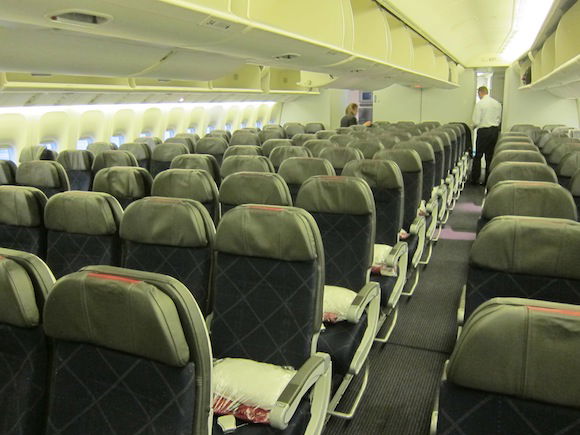 Overall
Being on a brand new longhaul aircraft was exciting. Really exciting. I'm used to the "new plane smell" when flying Singapore, for example, but getting it on a US airline almost made me feel proud. The highlight of the plane really is the new business class, which is spectacular. First class is an improvement, though there are definitely more impressive hard products out there. Main Cabin Extra was a pleasant surprise, and would make me feel a lot better about flying coach. While the standard coach seats have added amenities and entertainment, they sure did feel tight, and I'd try to avoid them.