The "New" American to Europe
---
Given that my itinerary had me spending two nights in London, I instead decided to add on a side trip to Amsterdam, a city I've never visited before. I was also excited that this would allow me to experience the Andaz Amsterdam, which opened just a few months ago. In this post I shared my thoughts regarding the hotel booking process, and in the end decided to pay cash for my two night stay, rather than using 18,000 Gold Passport points per night.
My rate was about 240 Euros per night. While that's far from cheap it seemed worthwhile given that I'd be earning stay credits, could use a confirmed suite upgrade, and they had a promotion for 2,000 bonus points for any paid stay, given that it's a new property.
I had asked for hotel suggestions on Twitter and the Andaz Amsterdam's Twitter team got involved and offered to help with anything related to my booking. After confirming my booking I realized that they didn't actually have standard suites available anymore for both nights (but rather just the first night), so I sent them a direct message asking if they'd still be able to offer a confirmed suite upgrade. I've found many hotels to be more than happy to confirm an upgrade in a non-base suite using a confirmed Diamond suite upgrade, especially only a few days out.
They direct messaged me back to say they had a suite upgrade available for me and that I should contact Gold Passport to have it applied. I did so as soon as I received that message, and direct messaged them back to confirm the suite upgrade had been applied.
Anyway, fast forward to the day of my stay. Due to my extremely late flight from New York to London I missed my connection to Amsterdam and was rebooked on a later one, which got me in around 5PM. I took a train to the central train station in Amsterdam, and a cab from there to the Andaz.
My first impressions of Amsterdam from being driven to the hotel in the cab were really favorable. As the cab driver stopped and said "here we are" I didn't even realize the Andaz was a hotel, as it blends into the neighborhood so well. That being said, Amsterdam seems to have a lot more boutique hotels than just about any other city I've visited.

View outside the Andaz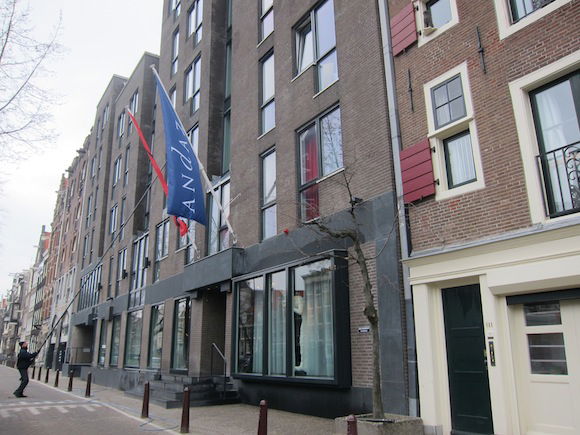 Andaz exterior
While there were no bellman outside I was warmly welcomed once in the lobby, where I was offered a drink. The lobby was really creatively designed, and felt "hip" without feeling too douchey. On the side of the lobby was a big news-style screen with a video of a girl jumping up and down on a bed playing continuously.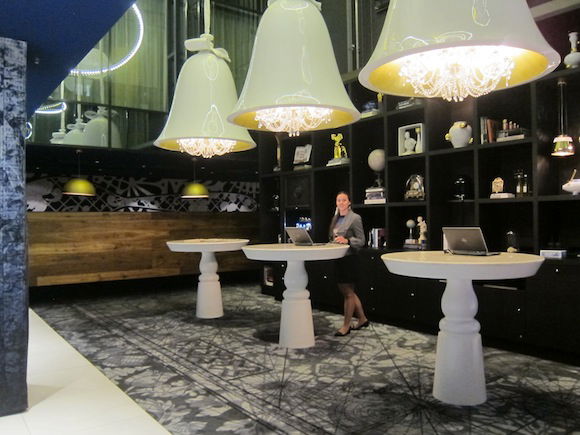 Andaz lobby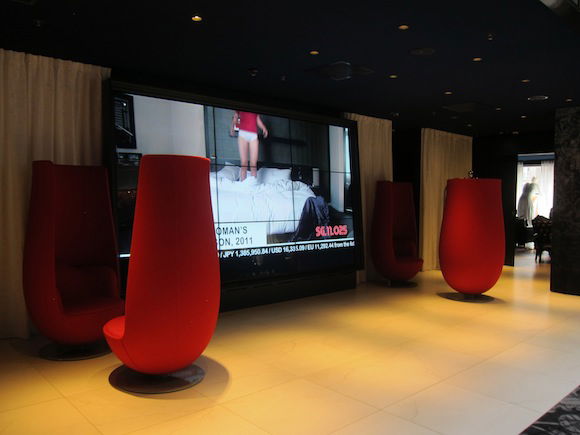 Andaz lobby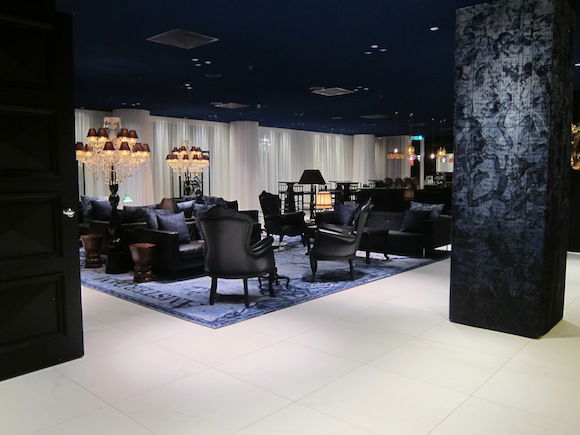 Andaz lobby
The check-in agent was friendly if not a bit inexperienced. All the staff here were really young and enthusiastic, and from talking to them it was clear that they were "fresh blood" to the hotel industry.
Anyway, I was informed I would be in a standard room the first night and a suite the second night. I explained that while that's what Gold Passport confirmed, that I had been in touch with the hotel's Twitter team and that I had been informed they had a suite for me both nights. I was going to chalk it up to a miscommunication though did show them my interaction with the Twitter team. The agent's response? The Andaz Amsterdam's Twitter isn't run by the hotel, but from the United States.
Okay, I'm pretty familiar with social media and I've never heard of a hotel's individual Twitter account being run from abroad. So I asked for clarification that she was referring to the Andaz Amsterdam's Twitter specifically, and not Hyatt or Gold Passport's general Twitter account. She confirmed that and checked with her colleague, who agreed. I simply responded with "wow, okay, that's interesting." Seeing I wasn't too pleased she called over the front office manager, who confirmed the same thing — the hotel's Twitter team is indeed run from outside the hotel. Either three people are lying to me, seriously misinformed, or the hotel has a really bad social media strategy.
Anyway, the miscommunication regarding the upgrade wasn't a big deal to me so I just asked them to downgrade me for both days since I didn't want to switch rooms. Actually the main reason I wanted a suite was to be able to review it, and since I was traveling alone I was perfectly content in a standard room and figured I'd save my suite upgrade for another stay.
The friendly agent walked me up to my room, which can be accessed either through an underground walkway or through the courtyard.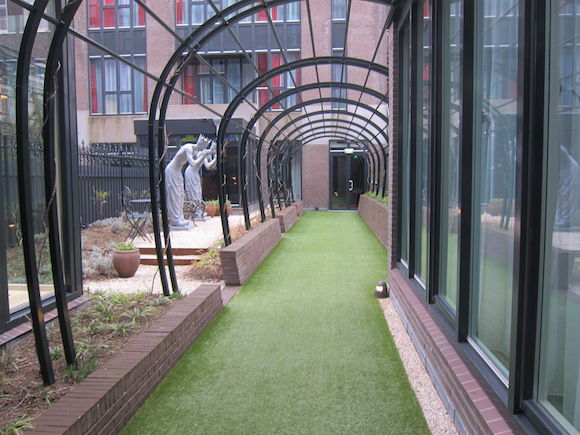 Courtyard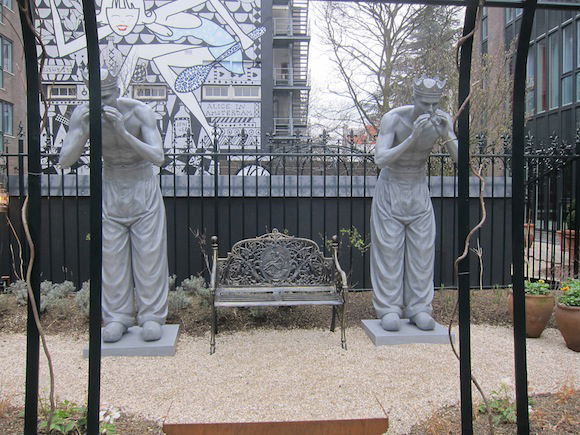 Courtyard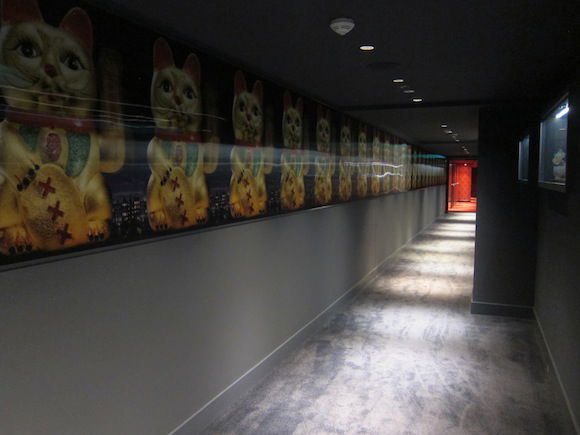 Hallway alternative to courtyard
We took the elevator up to the fourth floor, where my room was located. I loved the design of the elevator.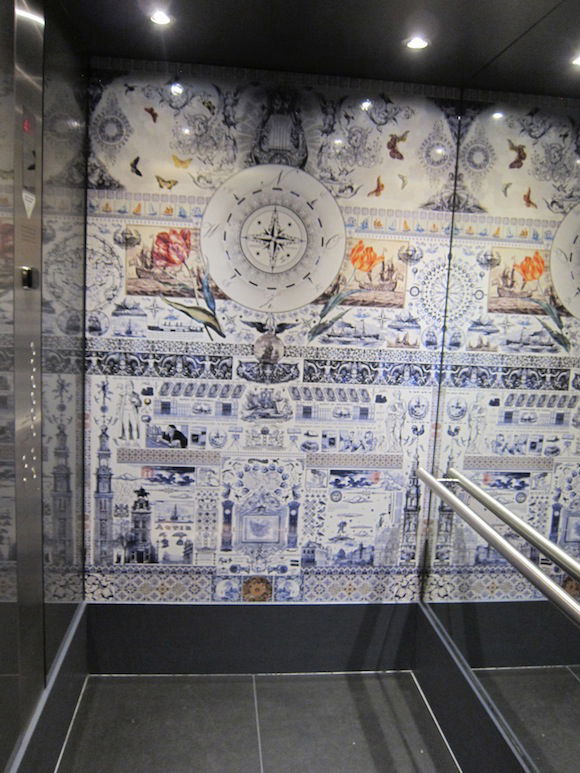 Elevator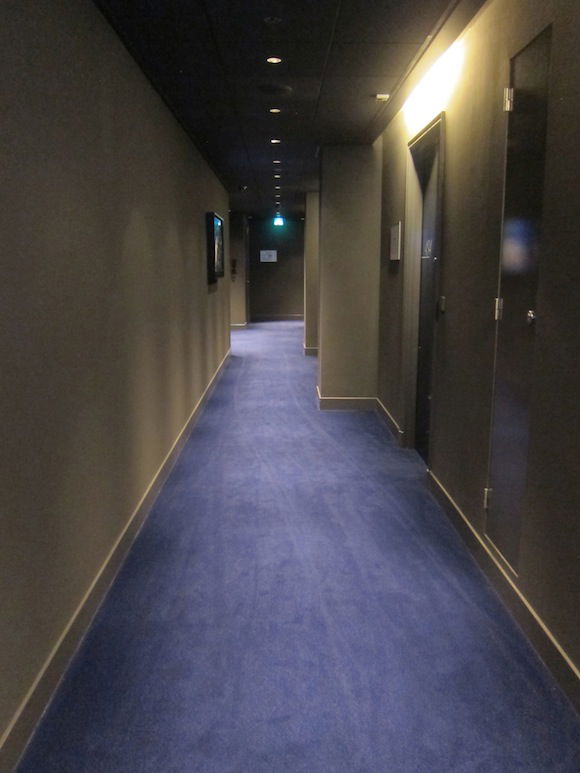 Hallway
I was assigned room 435, a "Large Garden View King."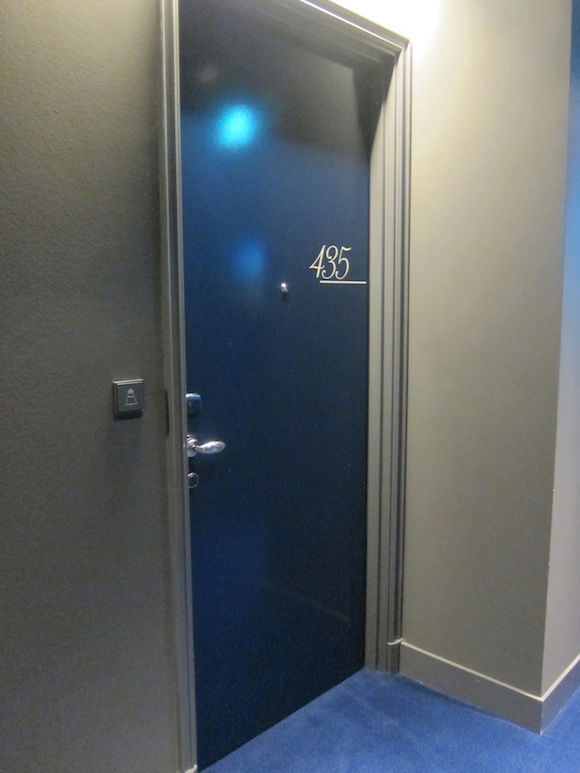 Room entrance
Okay, I usually don't like overly "artistic" rooms, because they end up feeling either cheap or impractical, or more often than not, both. This room was just stunning, in my opinion.
I'll actually let the pictures speak for themselves for the most part, since I thought the interior was so unique without being impractical. My one complaint regarding the room is that I wish the chair by the desk would have had wheels and also been a bit more comfortable. Other than that, I loved the decor.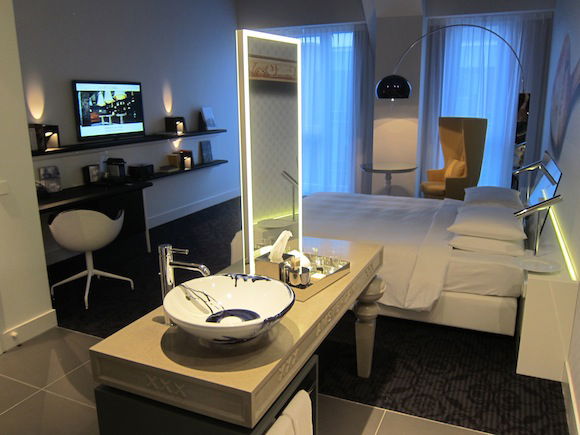 Large Garden View King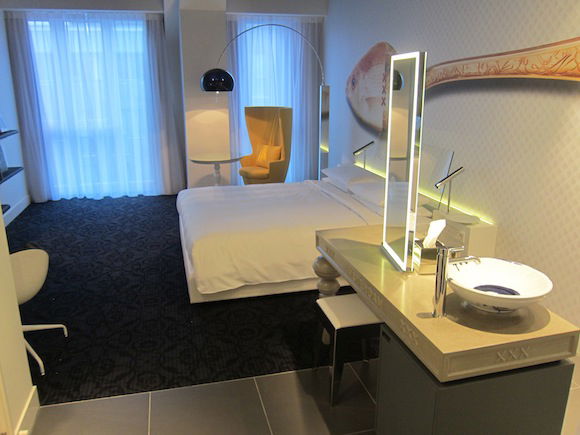 Large Garden View King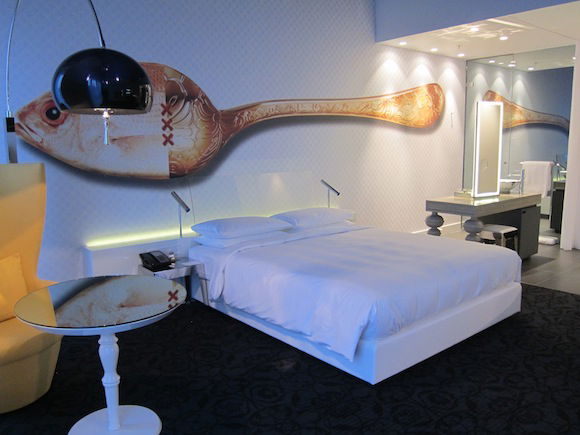 Large Garden View King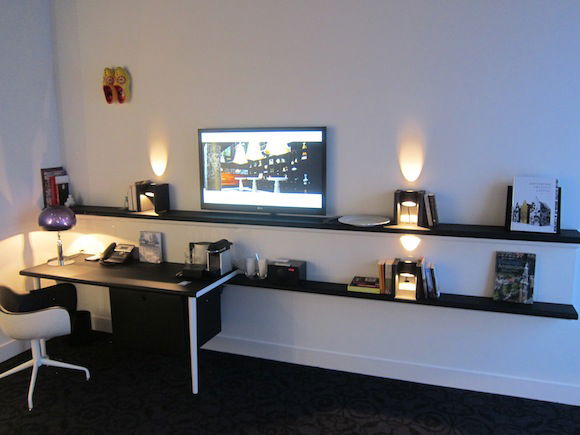 Large Garden View King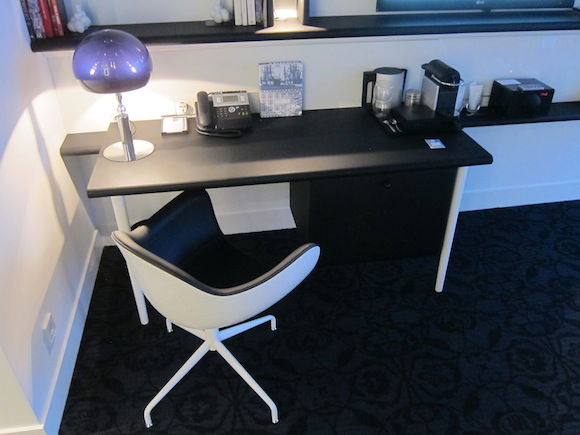 Large Garden View King
Andaz hotels come with free internet, soft drinks, and snacks for all guests. While the minibar was stocked with a decent selection of soft drinks, I was a bit surprised by the snacks… or more specifically lack thereof.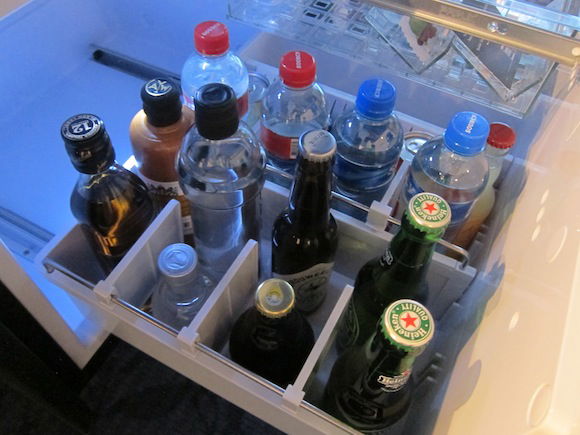 Minibar
The minibar featured just a single granola bar, which seemed cheap.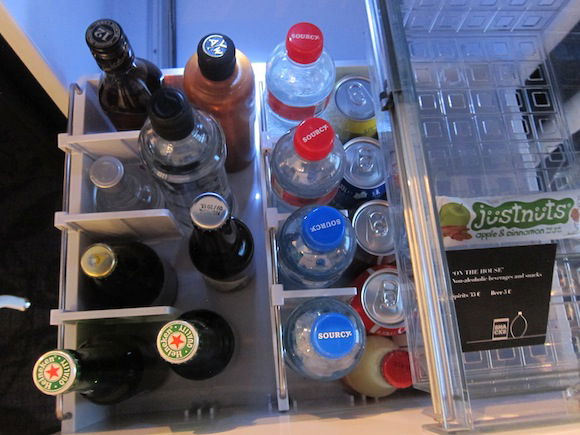 Minibar
The bathroom featured a sink which wasn't separated from the rest of the room.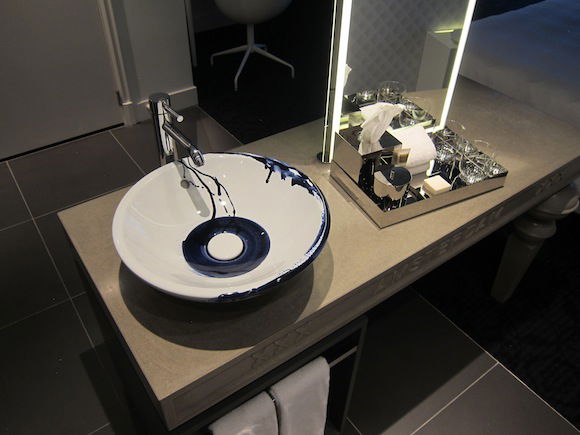 Sink
Then there was a rainforest shower with ZENOLOGY branded toiletries. Interestingly the glass in the shower was see through, but only one way (when looking from the shower to the room).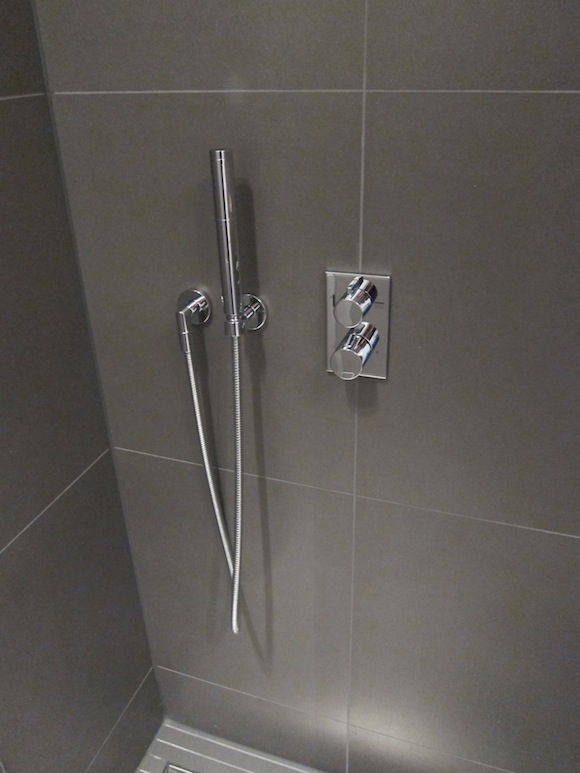 Shower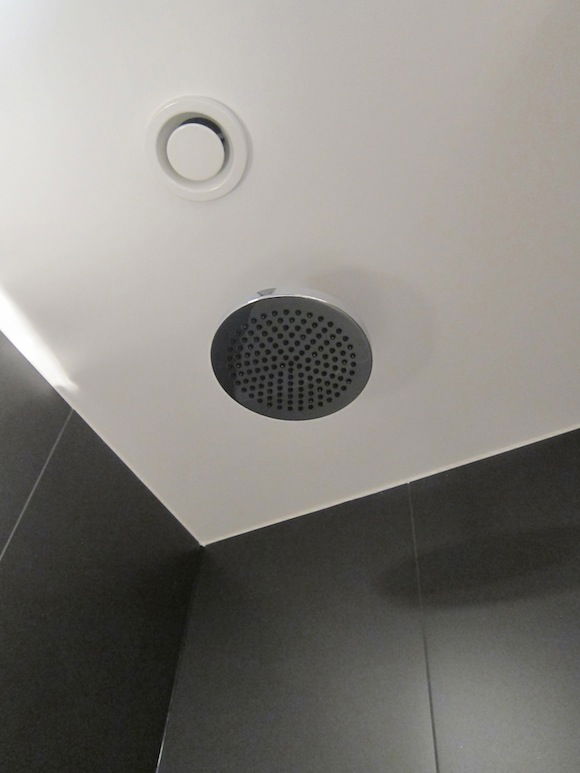 Shower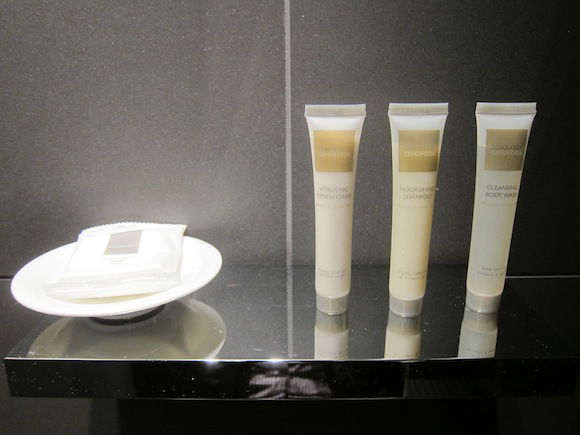 Toiletries
Then the toilet was located opposite of the entrance, and featured the same design as the elevator.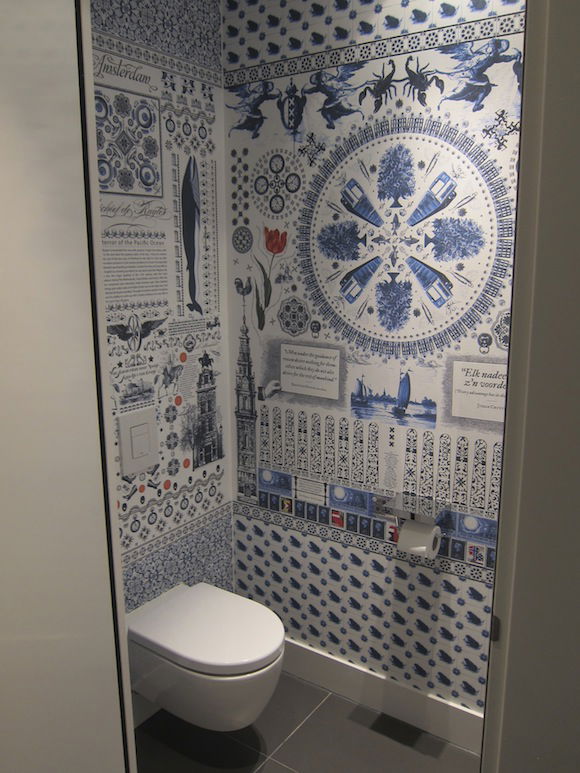 Bathroom
On the desk was a tin of Dutch caramel waffle cookies, which are possibly the most addicting thing ever.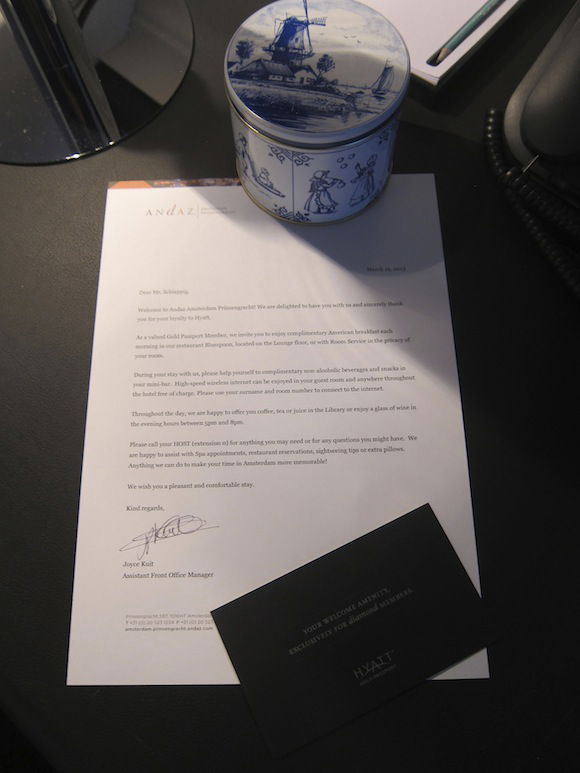 Welcome amenity
As far as the room's views go, while I would have preferred a room facing the canal, the garden view was fine too.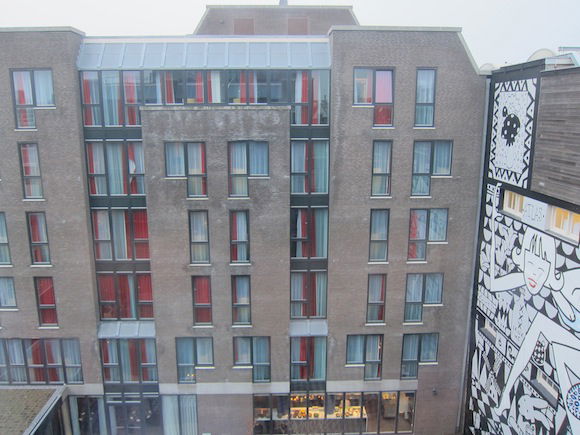 View from my room
The first day I went sightseeing for a bit, then fell asleep and woke up relatively late and ordered room service. About five minutes after placing my order I got a call back asking if I wanted dessert. I was a bit surprised she didn't know because she repeated the order back to me. Then five minutes after my meal was delivered I got a call telling me they didn't have mozzarella cheese, and asked if I wanted a different type of cheese instead. What the…?
The sandwich was extremely plain, as I'm sure you can see below…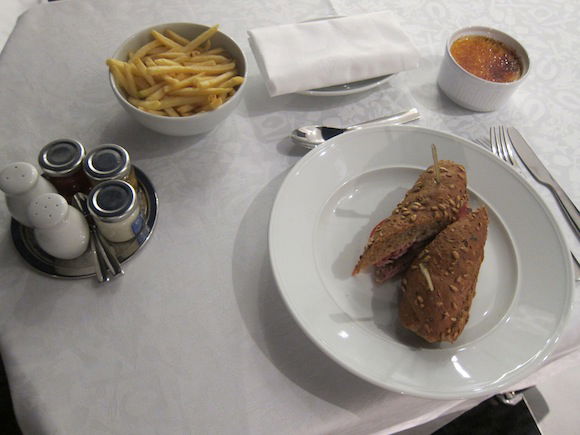 Room service dinner
In the morning I had my complimentary Diamond breakfast at Bluespoon Restaurant, which serves breakfast from 6:30AM till 11:30AM.
I have to say the service in the restaurant was phenomenal. Not only were the servers attentive, but they had a great sense of humor. When I didn't finish a plate one of the servers looked at me in shock and said "how am I supposed to explain this to the chef?"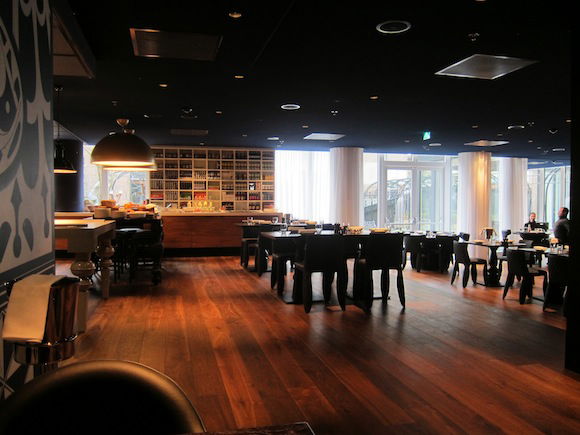 Bluespoon Restaurant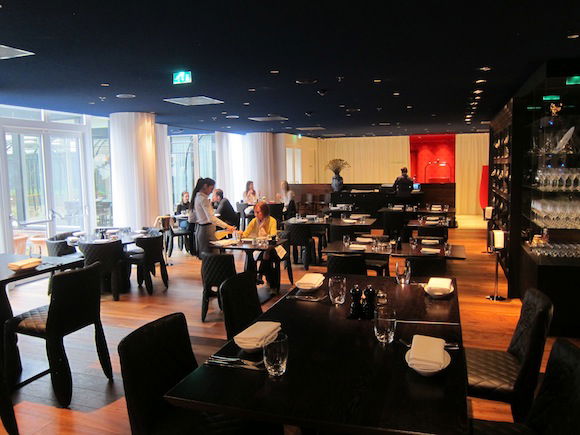 Bluespoon Restaurant
The restaurant had a small buffet and then also a menu off of which you could order main courses.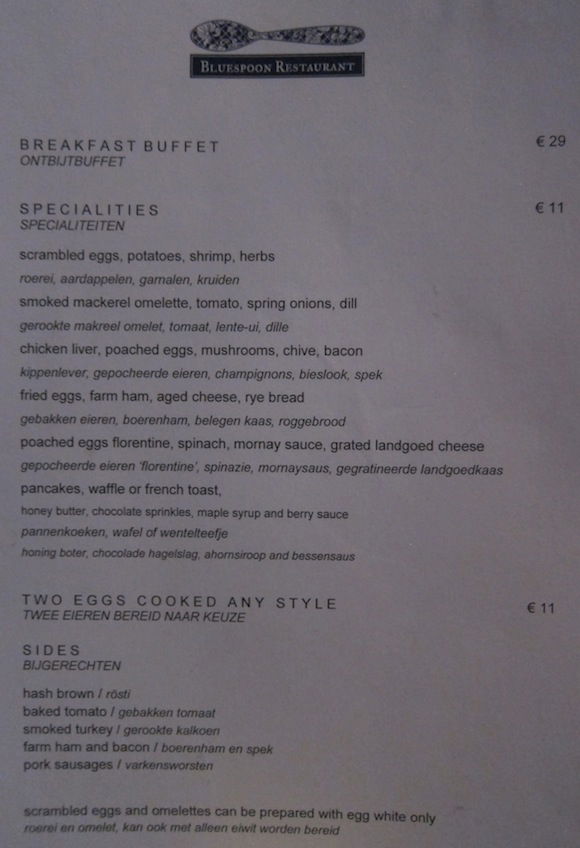 To drink I had an iced coffee, which was promptly served.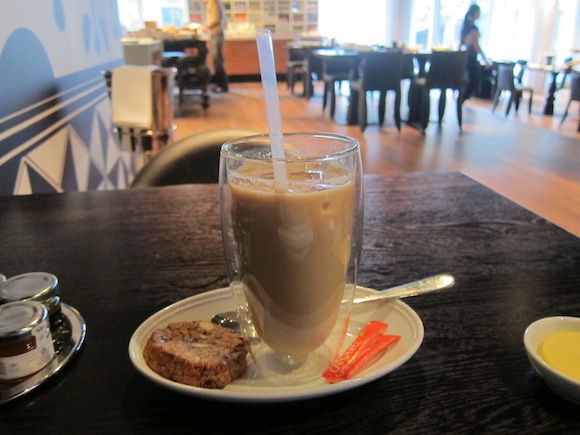 Iced coffee
I stuck mostly to the continental breakfast spread since I wasn't very hungry. It featured both American and Dutch options.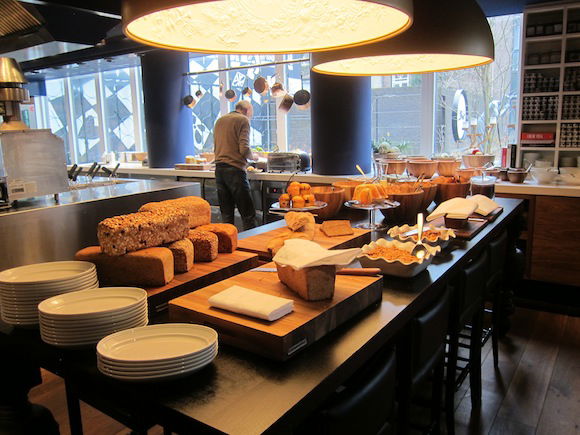 Breakfast spread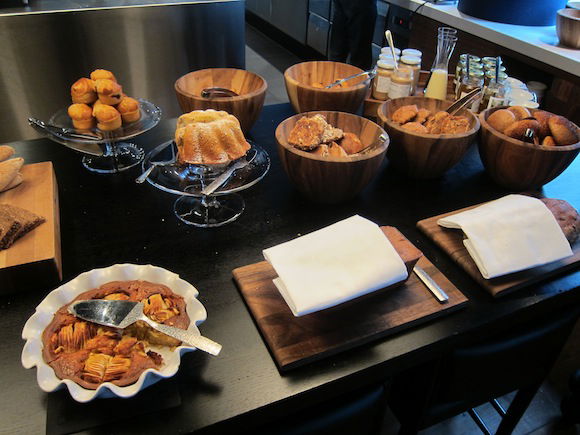 Breakfast spread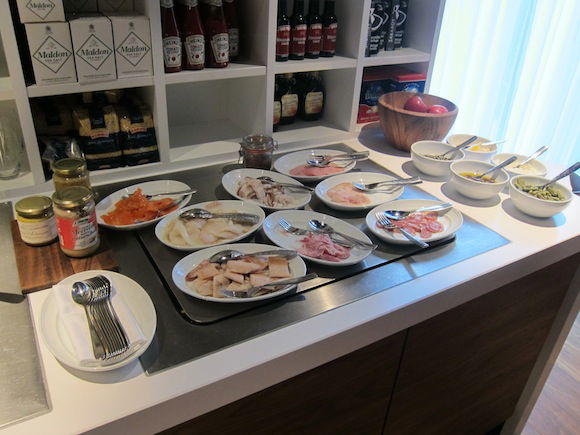 Breakfast spread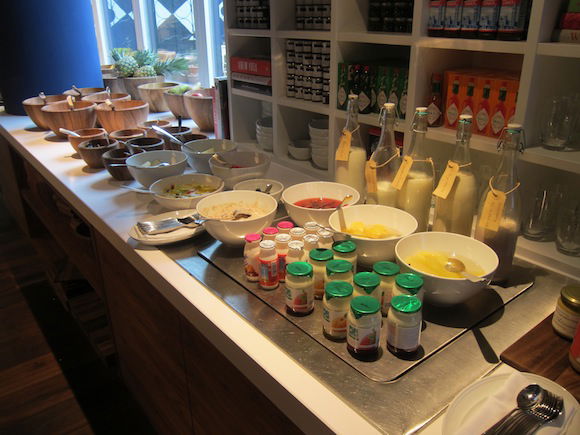 Breakfast spread
After breakfast I had a quick look at the gym, which was basic though sufficient. It didn't feature any views except through the sunroof.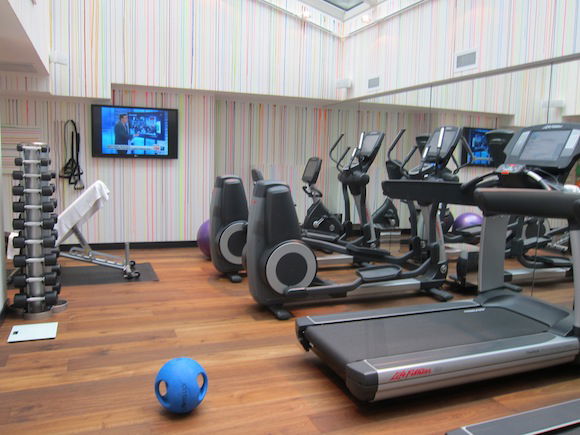 Gym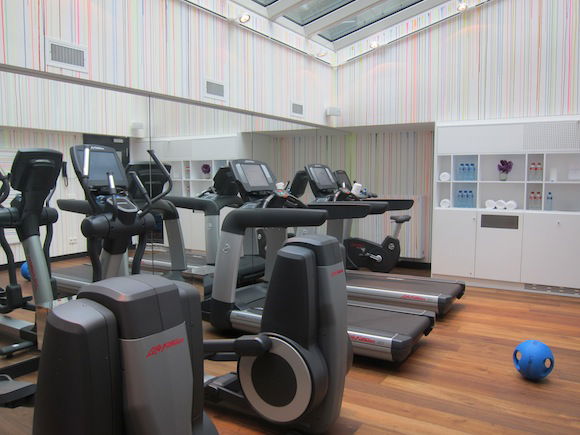 Gym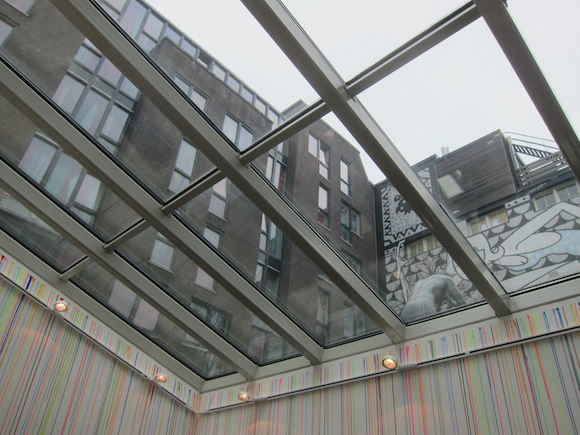 View from the gym
The night of my arrival I made a blog post sharing my thoughts of the hotel, and I thought it was actually pretty positive. When I returned from sightseeing I was contacted by the Director of Operations of the hotel, and we met for coffee. He was an awesome guy and I appreciated he didn't make any excuses for what had happened up until that point, and simply said what they were doing to correct it. He insisted on upgrading me to a suite for the last night, and while I probably wouldn't have otherwise switched rooms given that I was leaving at 5AM the next morning, I figured it was worthwhile for the purposes of being able to compare a suite to a standard room.
The suite was located on the third floor in the main building, so I took the elevator straight up from the lobby.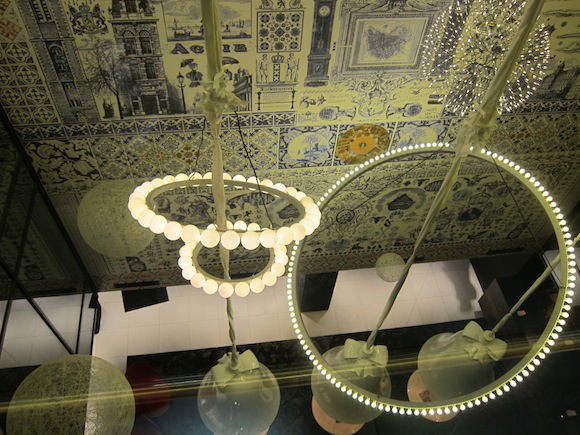 View from elevator
I was assigned room 318, which I believe was a standard Andaz Suite.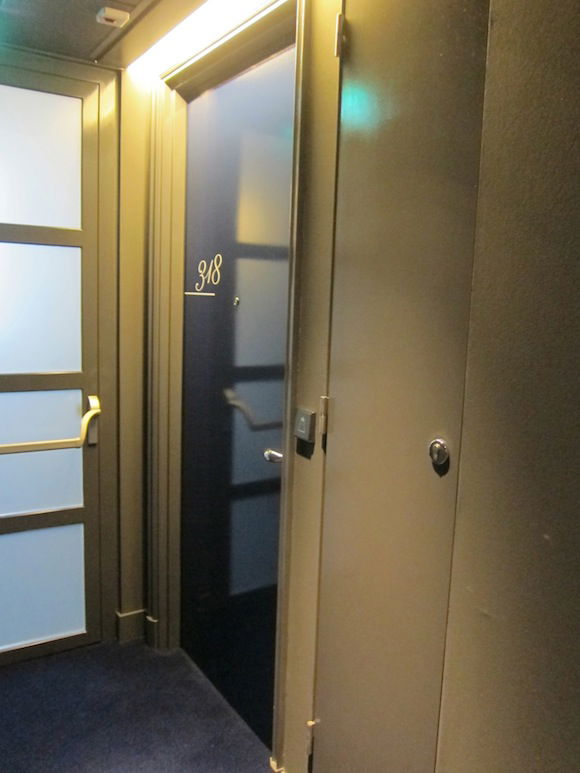 Room entrance
The room had a hallway by the entrance leading to the living room.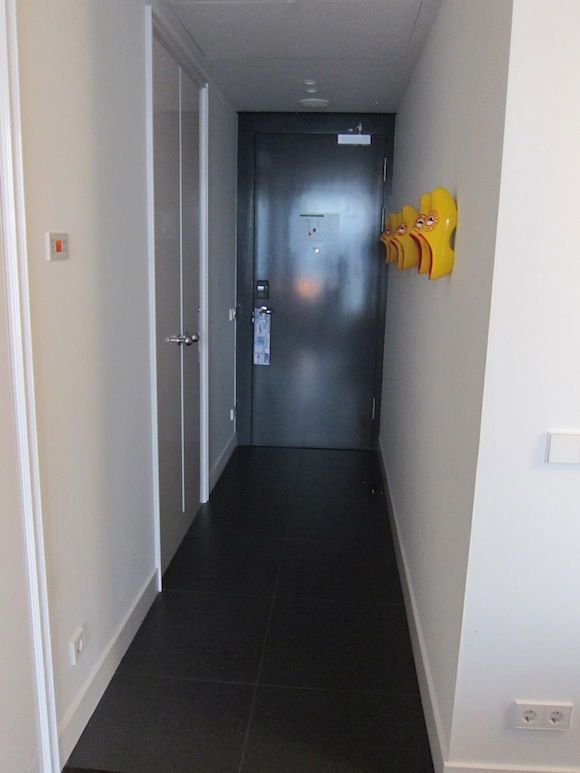 Hallway to living room
The living room featured a couch, chair, ottoman, and desk.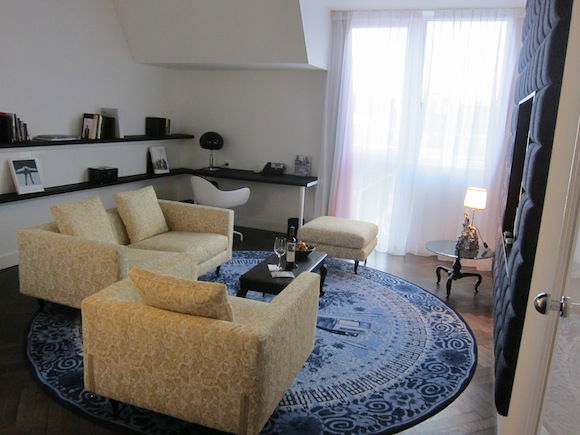 Living room
They all faced a flat screen TV which was built into the wall separating the living room from the bedroom.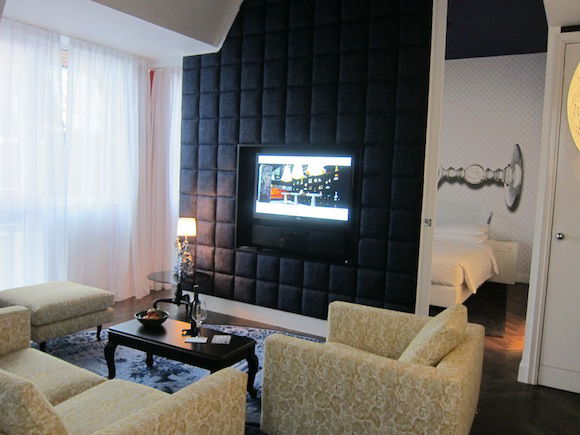 Living room facing towards the bedroom
Also in the living room was the minibar.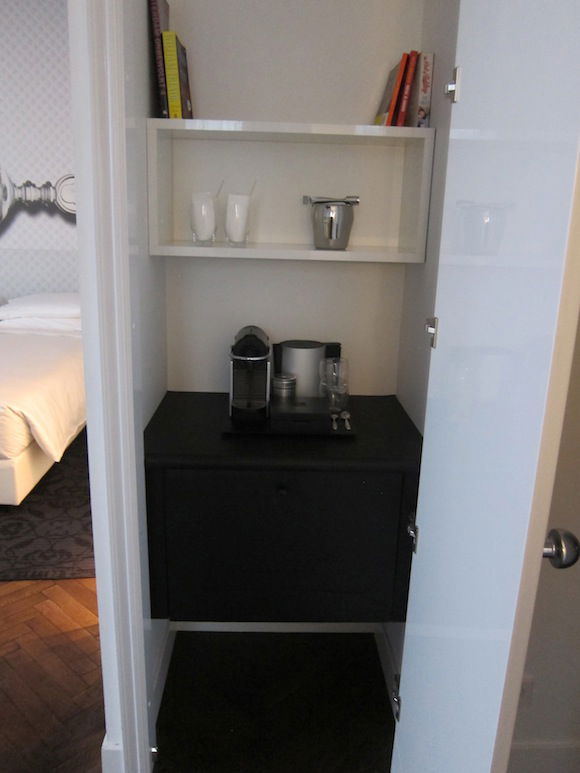 Minibar
This minibar had a couple more snacks. In addition to the granola bar it had chocolate and nuts. I'm not sure if the other room didn't have those because it wasn't a suite or because it was an oversight on the part of housekeeping, but this is more what an Andaz minibar should look like, in my opinion.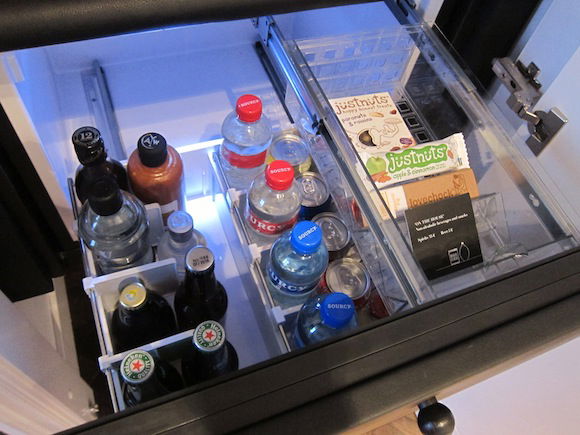 Minibar
The Director of Operations also sent up a bottle of red wine and a bowl of fruit, which was a nice gesture (though I didn't touch either).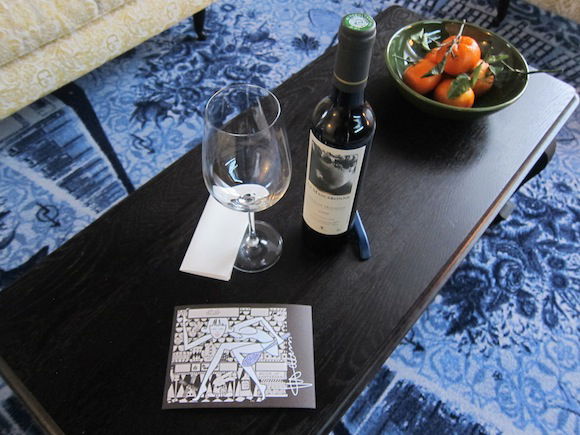 Red wine and fruit
The suite featured views of nearby buildings — not the canal and not the courtyard, but something inbetween.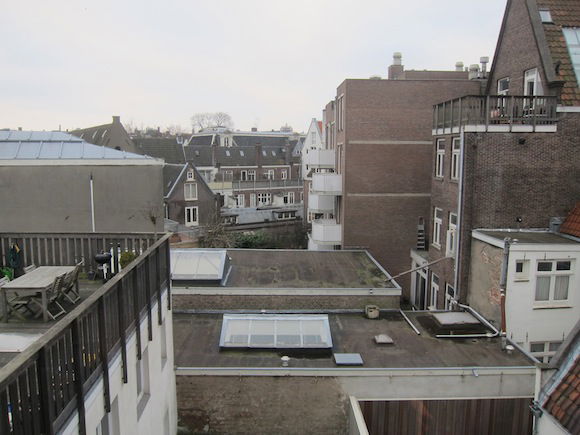 View from the living room
The bedroom also had an awesomely funky design which I really liked.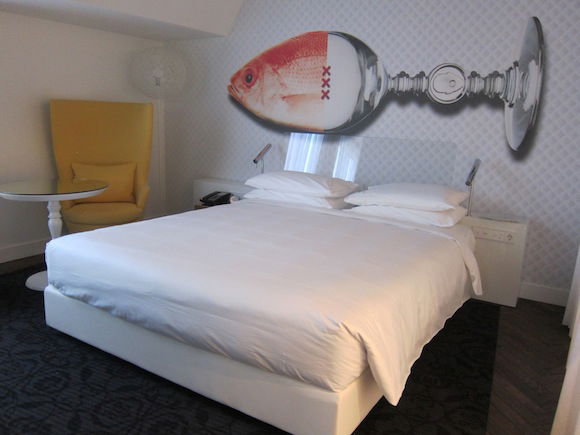 Bedroom
And the bed faced a flat screen TV which was on the same wall as the TV living room.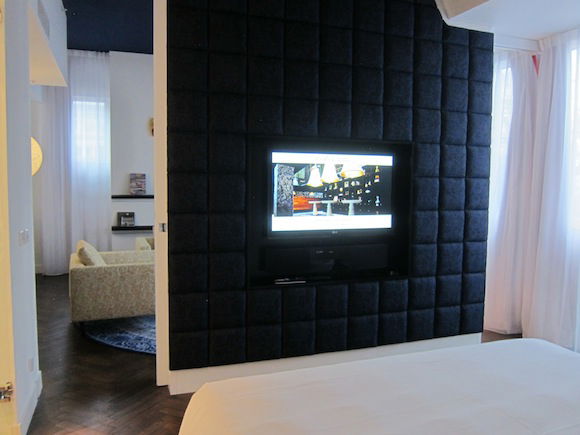 Bedroom TV
The bathroom was much more spacious than in the other room, with double sinks and a soaking tub.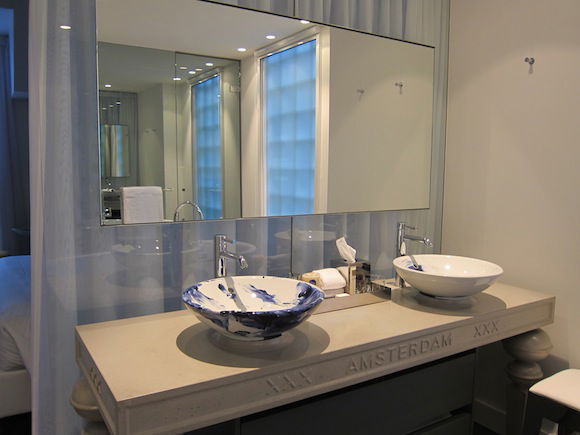 Double sinks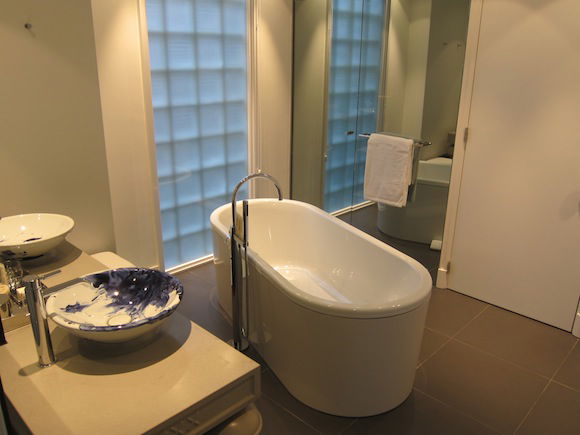 Soaking tub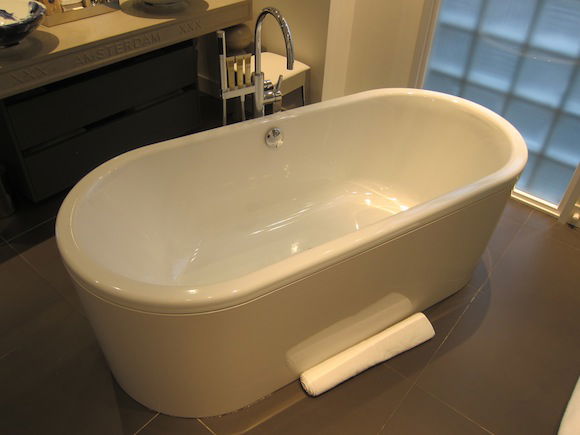 Soaking tub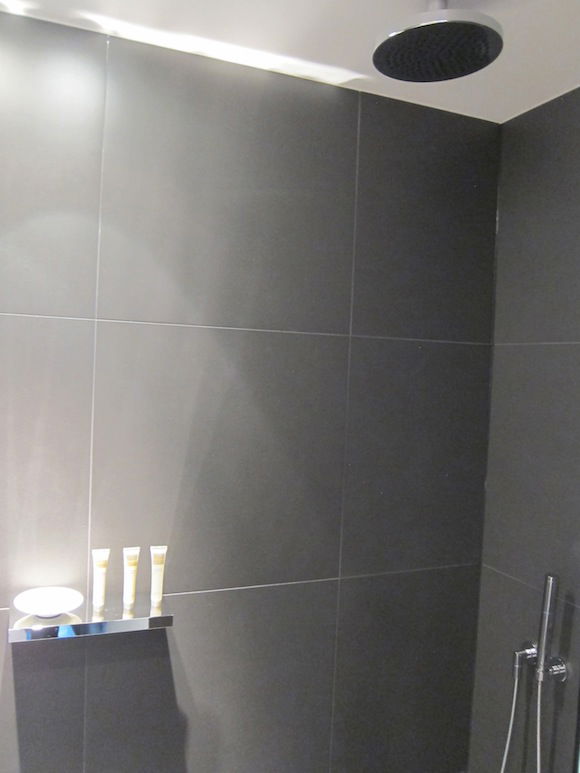 Shower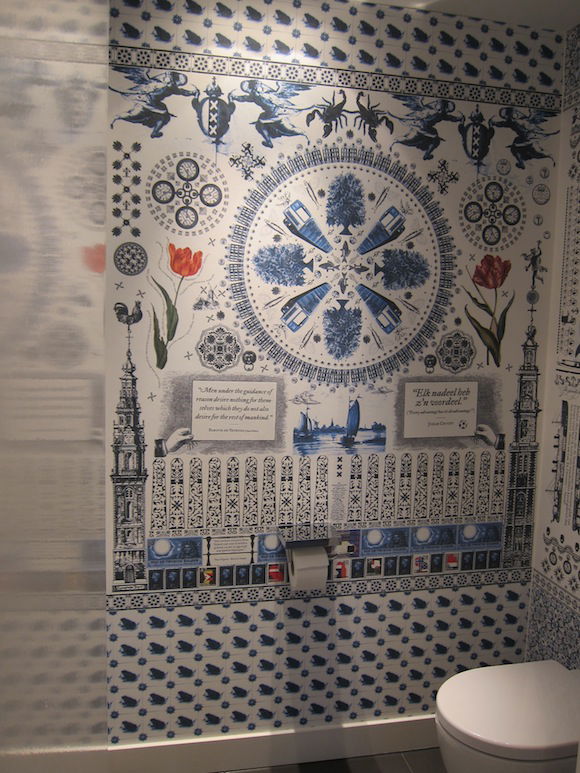 Bathroom
The night before I was departing I called the front desk to see if I could order room service breakfast instead of eating in the restaurant since I was leaving so early. They were accommodating and said it wouldn't be an issue. I ordered muesli and french toast, though was served muesli and toast instead.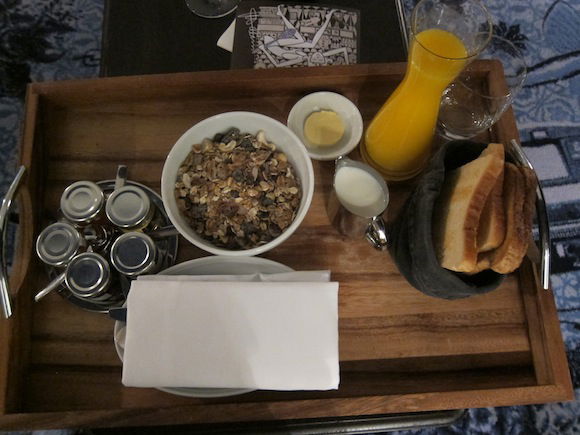 Room service breakfast
Anyway, the stay certainly had some hiccups.
First of all, I loved Amsterdam. Yes, it felt a bit dirty, but I thought the canals were beautiful and loved the food and how walkable everything was. As an American I found the "red light district" to be especially entertaining. I'd return in a heartbeat, as I'm sure it's only more beautiful when it's not 30 degrees and actively raining.
Physically I loved the hotel as well. It's so unique and stylish that it really didn't feel like a chain hotel, not even like an Andaz. I loved that, and even the Large Garden King I was originally assigned was awesome.
The service was well intentioned and enthusiastic. There were tons of hiccups and service failures, but unlike at other hotels, I never felt like they were intentional or out of laziness or spite. The only part of the stay that leaves a bad taste in my mouth is being told by three separate employees that the hotels' Twitter isn't run by the hotel. If they really believed that, it's completely unacceptable. It's 2013 and if not even a single person working the front desk knows who runs the hotel's Twitter, we've got a problem. And if they said that as a lie to try and cover up the service failure, that's even worse.
That being said, I'd return in a heartbeat, and next time be sure that I have my upgrade confirmed in advance. Like I said, I loved Amsterdam and can't wait to return. The funny thing about Andaz properties is that they're some of my favorite hotels out there, but almost without exception my first stay at each Andaz was a mild disaster (that includes the Andaz West Hollywood, Wall Street, and 5th Avenue), though subsequently I came to love the hotels.
Have you stayed at the Andaz Amsterdam? If so, what did you think?