Last year my friend Yaroslav reviewed Qatar Airways Qsuites on a flight between London and Doha. The feedback was great on that post, so he's back with another airline review.
Yaroslav is a software entrepreneur and traveller from Kiev, Ukraine. In his free time he enjoys photography, filmmaking and writing endeavours, which he shares on his Apertoura.com project (instagram.com/apertoura).
---
Update: See here for a 2020 review of China Airlines' A350 business class.
For the past 2 months, together with my wife Sofia, I've been traveling throughout South East Asia. A byproduct of this trip was the opportunity to fly a number of new airlines and airplanes, and try out various aviation products available in this part of the world. The majority of them have been well reviewed on this blog, except one ,  which has not been tested by Ben and the other OMAAT contributors, and was also a personal interest to me.
The review will be about the China Airlines A350–900 business class product on the route from Kuala Lumpur to Taipei. For me, the A350 is the most interesting, beautiful, and pleasant plane in the sky today. I've been pretty late to the party, only trying it with Lufthansa from Delhi to Munich last spring and with Qatar from Doha to Frankfurt last summer. I've also attempted to fly the A350 with Cathay Pacific but in a double unlucky coincidence I had to cancel the trip and as I found out later , the plane was swapped to a 777–300 last minute.
China Airlines currently has a total of 11 A350–900, with 2 more on the way. The first A350 was delivered to the airline in September 2016.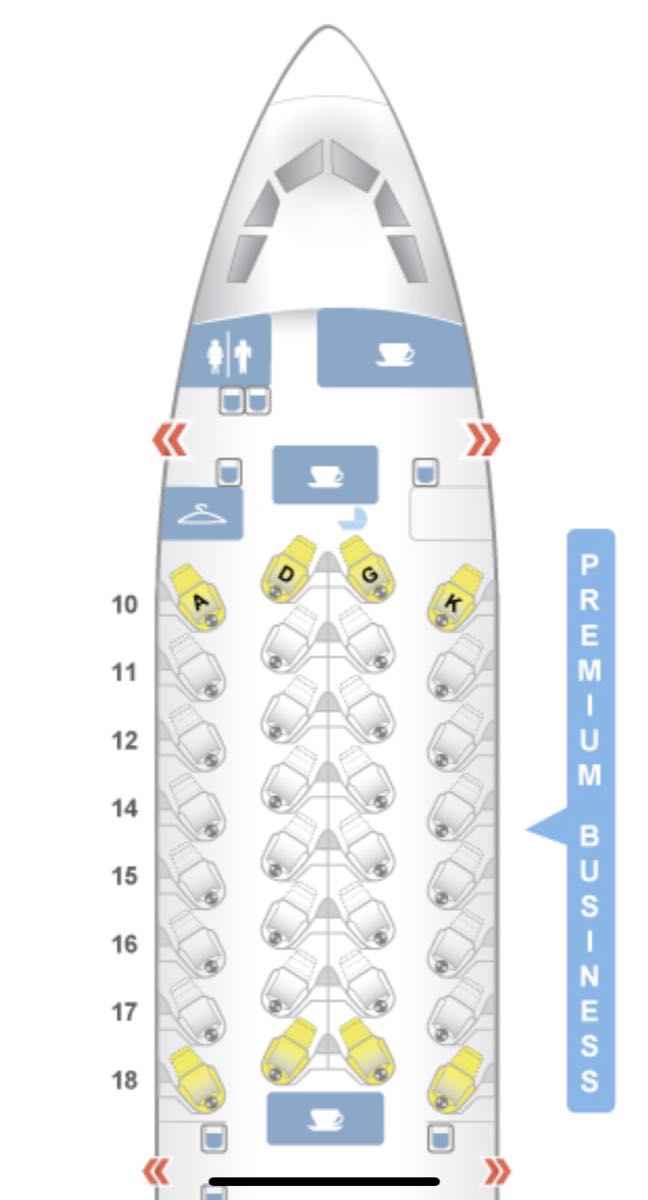 China Airlines A350 seatmap
All of these planes have a reverse herringbone business class product similar to what you would find on Qatar Airways A350–900/787/A380, Cathay Pacific A350/777/A330, Finnair A350, and many others. There are a total of 32 seats located in a single large cabin, in a 1–2–1 placement. All seats have direct aisle access.
It's amazing how a lot of these larger planes, with very comfortable products are often used on short and medium haul routes in Asia. Very different from Europe where the best we can expect is the middle seat blocked and some slightly better food. I dream of the day where paying or redeeming miles for a flight from say Kiev to Madrid or Frankfurt to Palermo will allow you to lay down or at least lounge for a bit, while enjoying wi-fi connectivity gate-to-gate.
So, without further ado, I will proceed with the review.
China Airlines 722
Kuala Lumpur (KUL) – Taipei (TPE)
Depart: 2:25PM
Arrive: 6:55PM
Aircraft: A350–900 (B-18901)
Cabin: Business Class
We arrived almost 3 hours early to get some tax refunds, as well as to arrange for our luggage to be checked in to our final destination. On our first ticket we flew Kuala Lumpur  to  Taipei  to  Frankfurt with China Airlines, and on the second one  from Frankfurt to Kiev with Lufthansa. Thankfully the 2 airlines have interline agreements and after only some brief deliberation, the agent at the Business Check-in counter tagged our luggage to the final destination, issued boarding passes for the first 2 flights, lounge invitations for Taipei, and a Priority Immigration facility invitation for Kuala Lumpur. With all of this paperwork we were off to immigration.
At the middle of the day, Kuala Lumpur International Airport isn't too full, so going through passport control was quick, as was the mandatory customs screening. A short train ride to the satellite building of KLIA1 and we were at the entrance to the China Airlines lounge.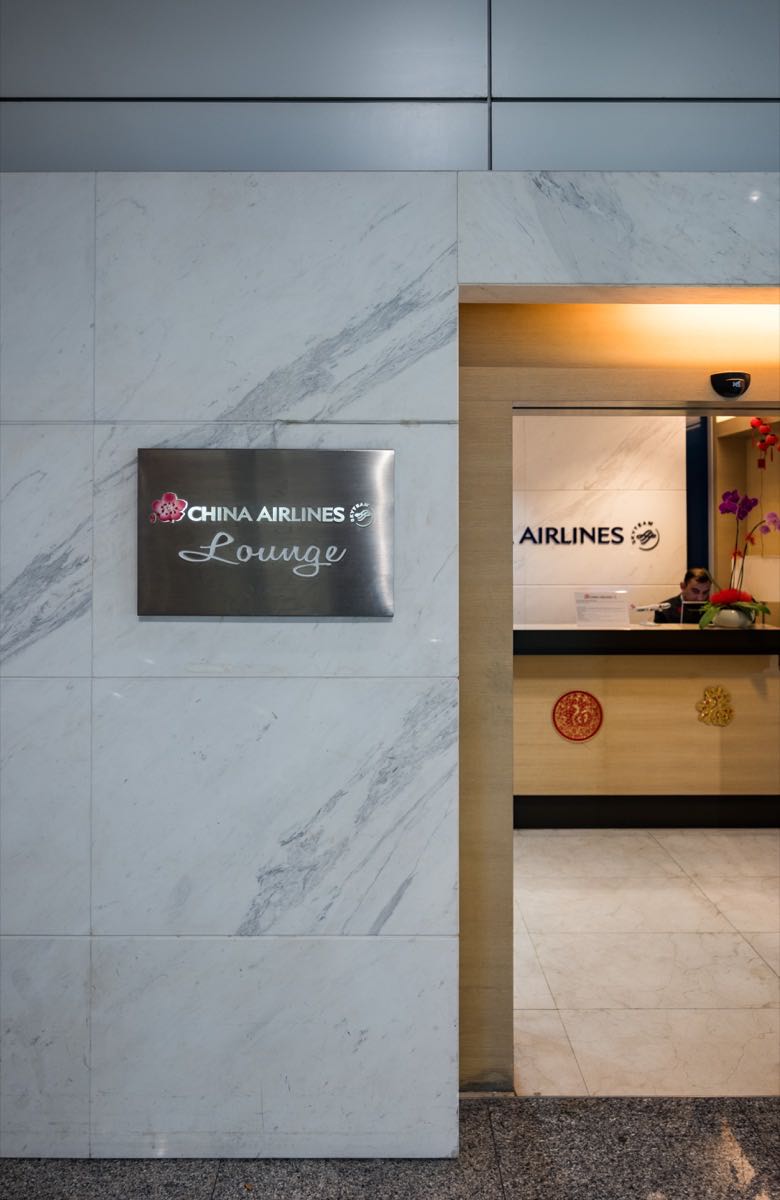 Entrance to the China Airlines lounge
To be honest, I was quite surprised to figure out that for the once daily (on certain days — twice daily) flights that China Airlines operate to Kuala Lumpur they have a proper lounge set up. The agent told us that no other airlines use this lounge, although SkyTeam elites are free to visit.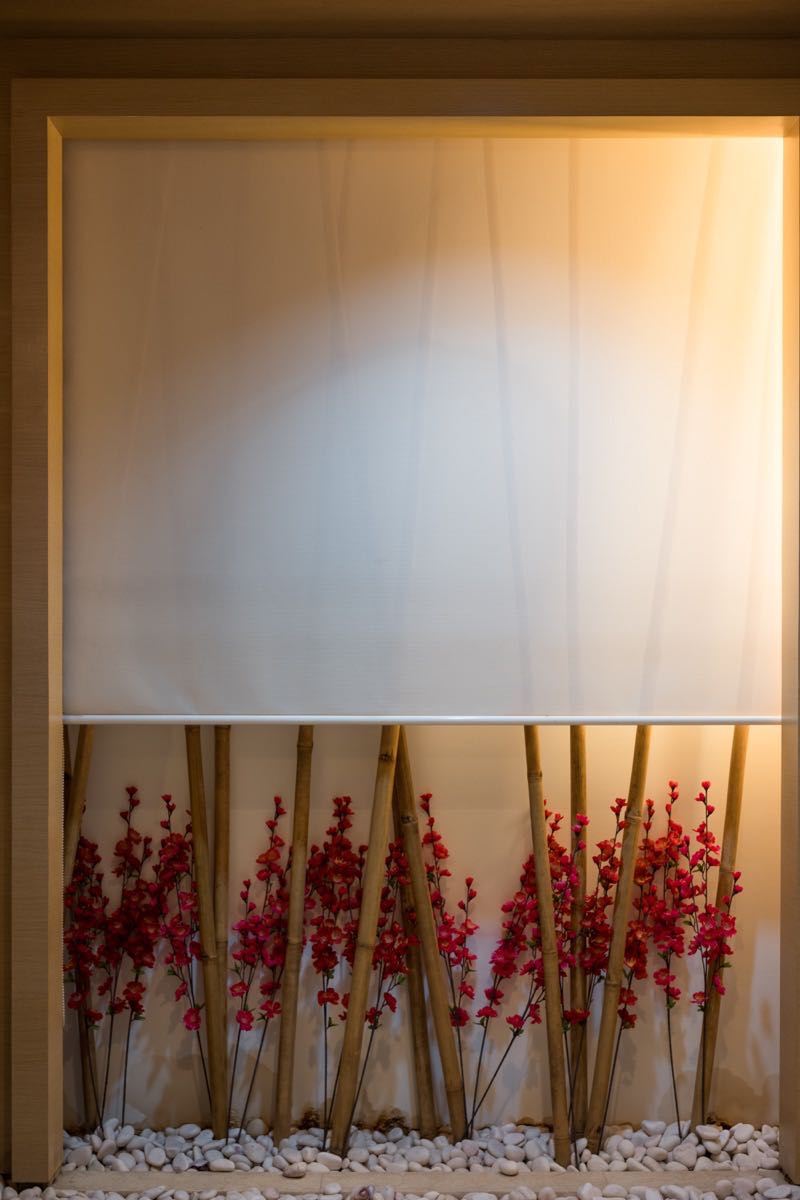 China Airlines KUL lounge decor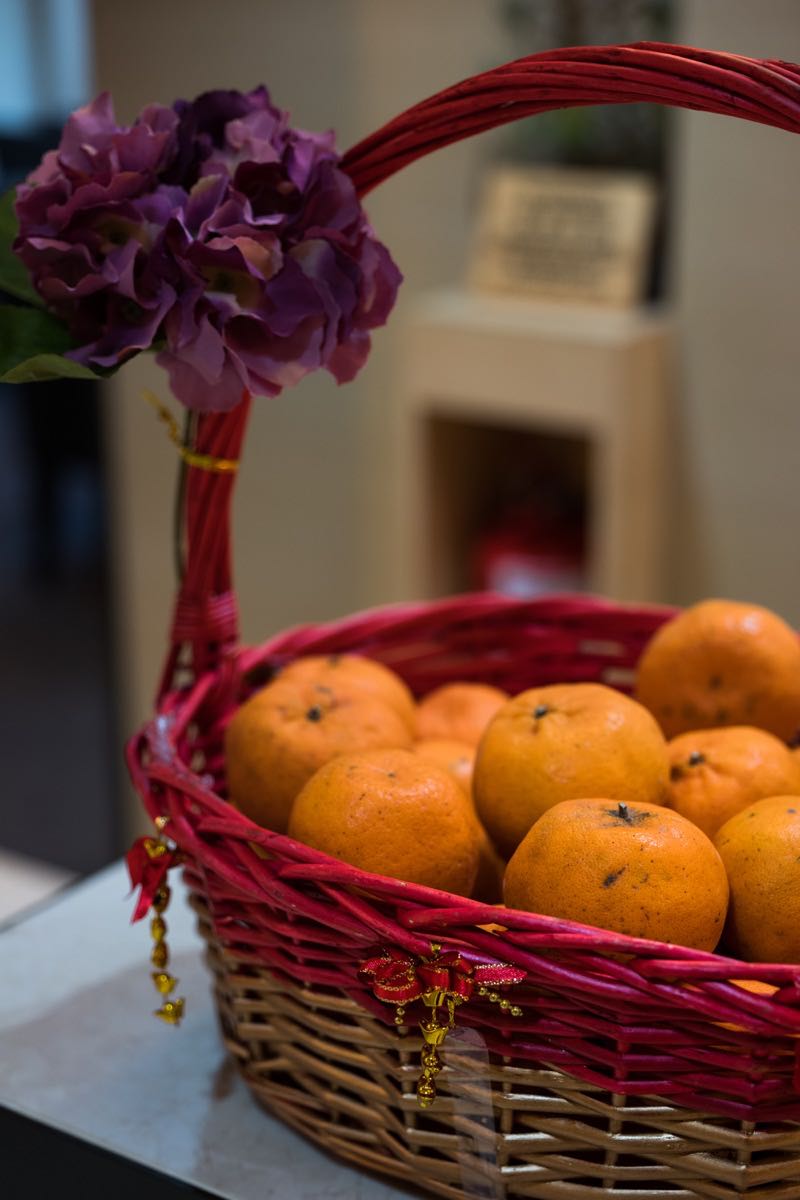 China Airlines KUL lounge decor
The lounge itself is small, but cozy ,  with Chinese vases and some Taiwanese memorabilia adorning one of the walls. Otherwise there was just the food area and fairly dense seating.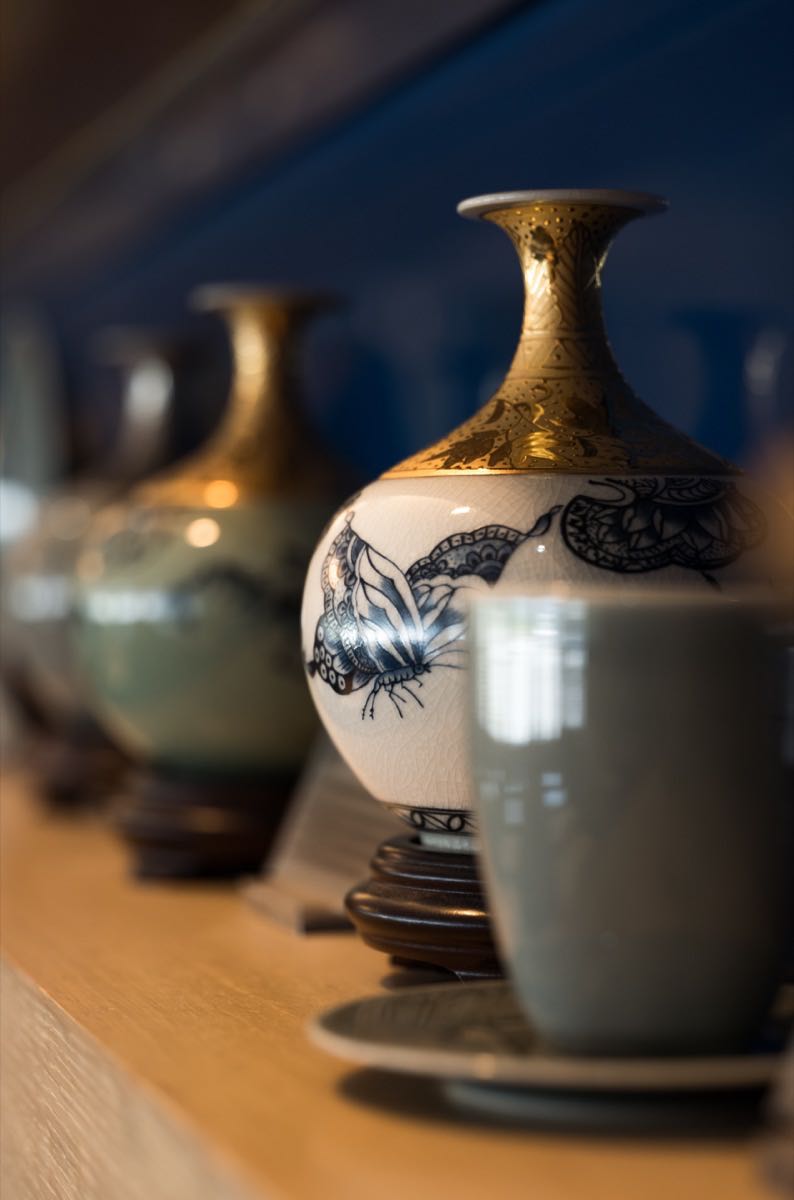 China Airlines KUL lounge decor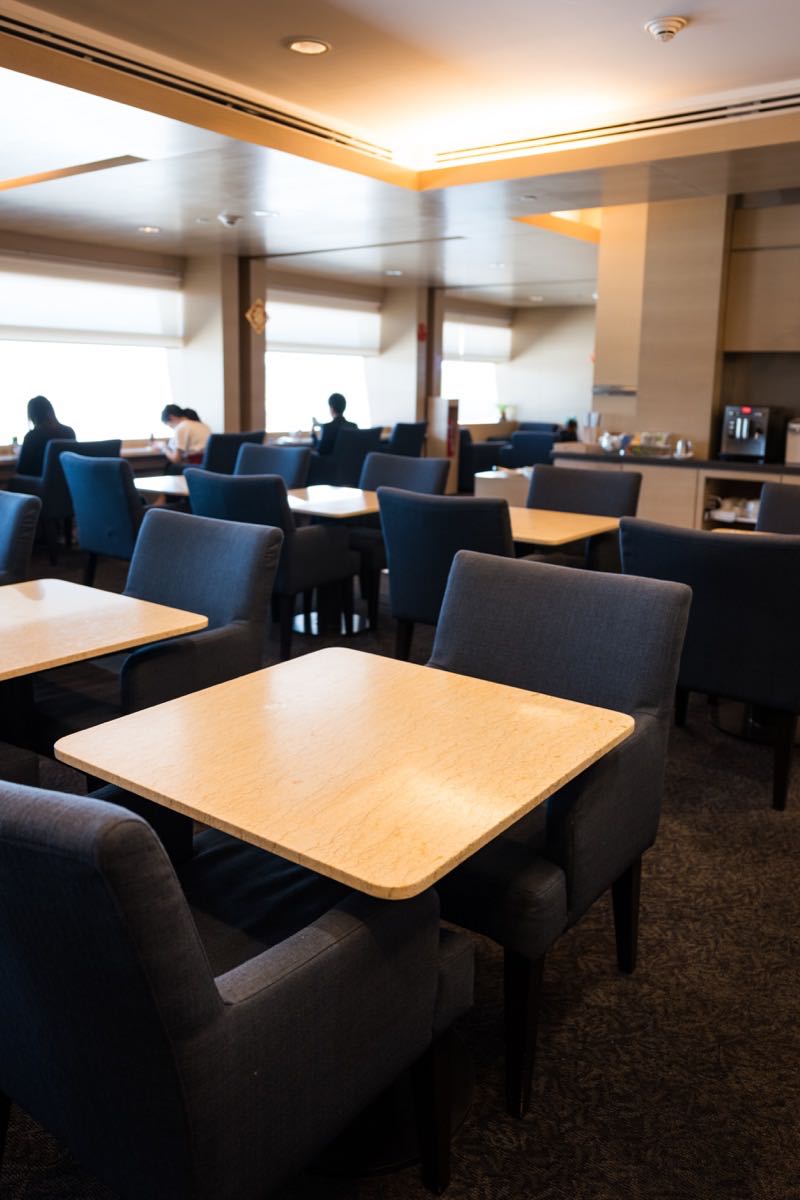 China Airlines KUL lounge decor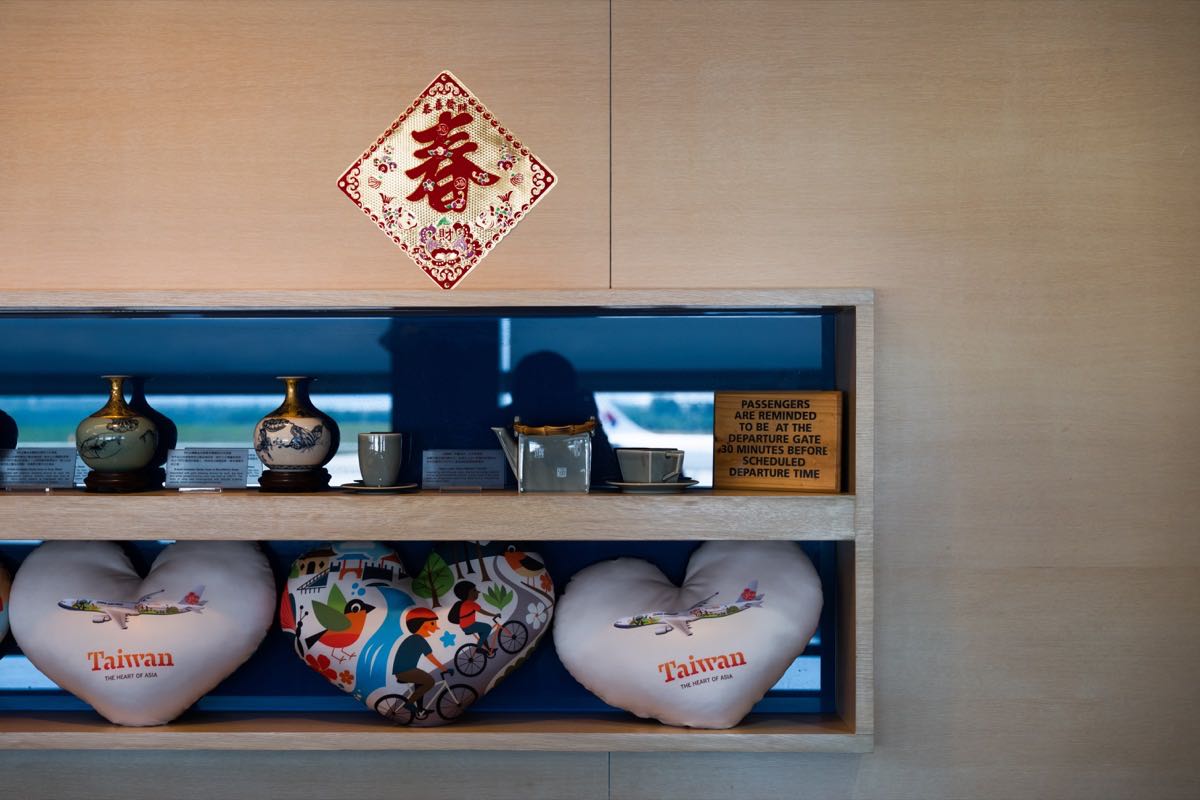 China Airlines KUL lounge seating
In terms of food I would say it was above average with some pretty good fried noodles, beef and grilled vegetables. A selection of pastries, cup noodles, and soft drinks were also available. The coffee machine was very basic — capable of making just espresso or double espresso.

China Airlines KUL lounge buffet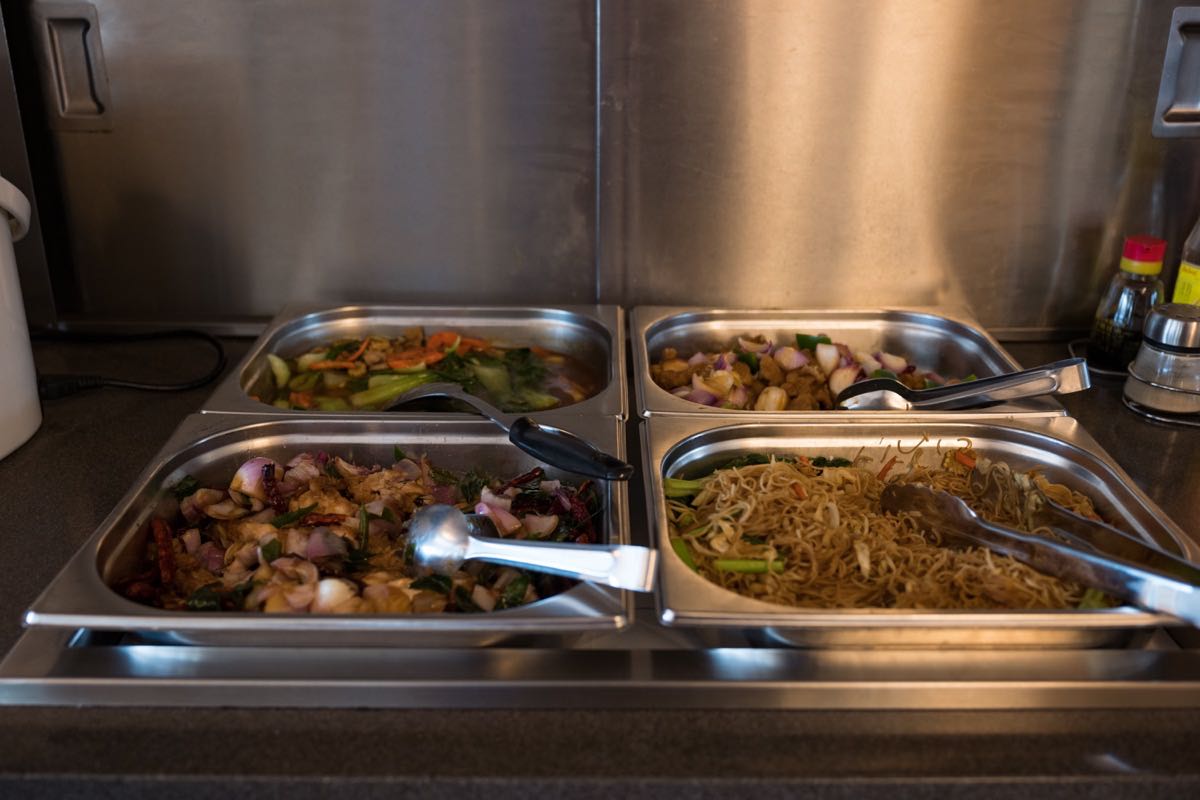 China Airlines KUL lounge buffet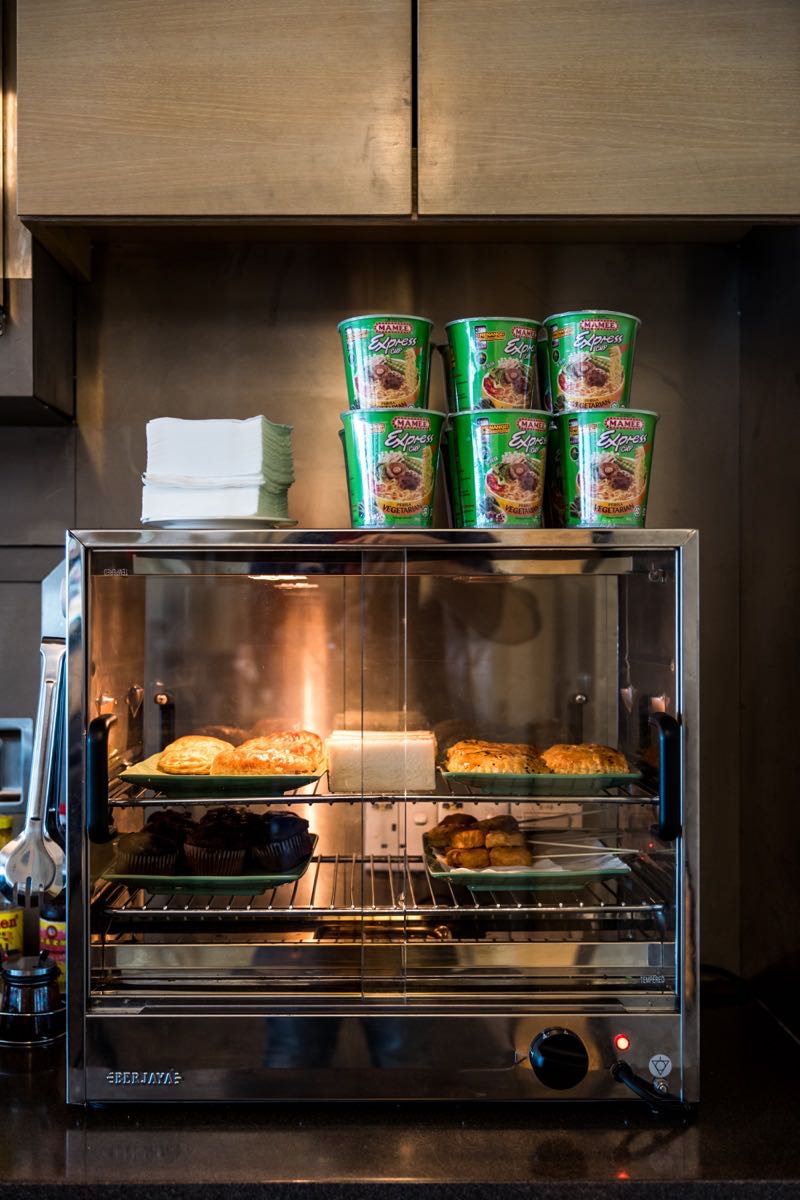 China Airlines KUL lounge buffet
The tea choices were wide in comparison, with about 8 different kinds, most from Malaysia's Cameron Highlands.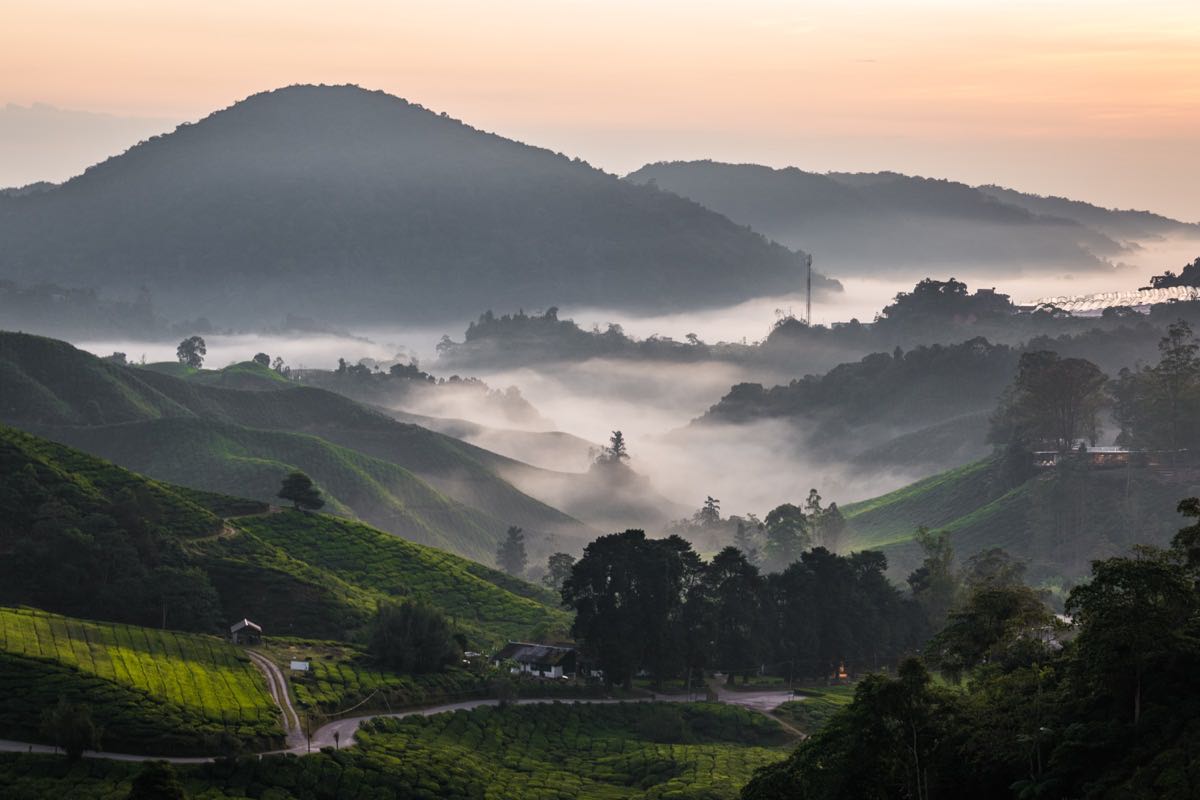 The tea served in the lounge is made here. Photo from an earlier trip.
The highlight of the lounge, at least for me ,  were the expansive views of the 32R runway. Unfortunately all seating next to the windows was occupied, so I had to resort to being the annoying person shooting with a long lens over the shoulder of patrons who just want to rest and have a meal. On the bright side ,  I managed to capture the moment the inbound flight from Taipei landed and taxied to a nearby gate.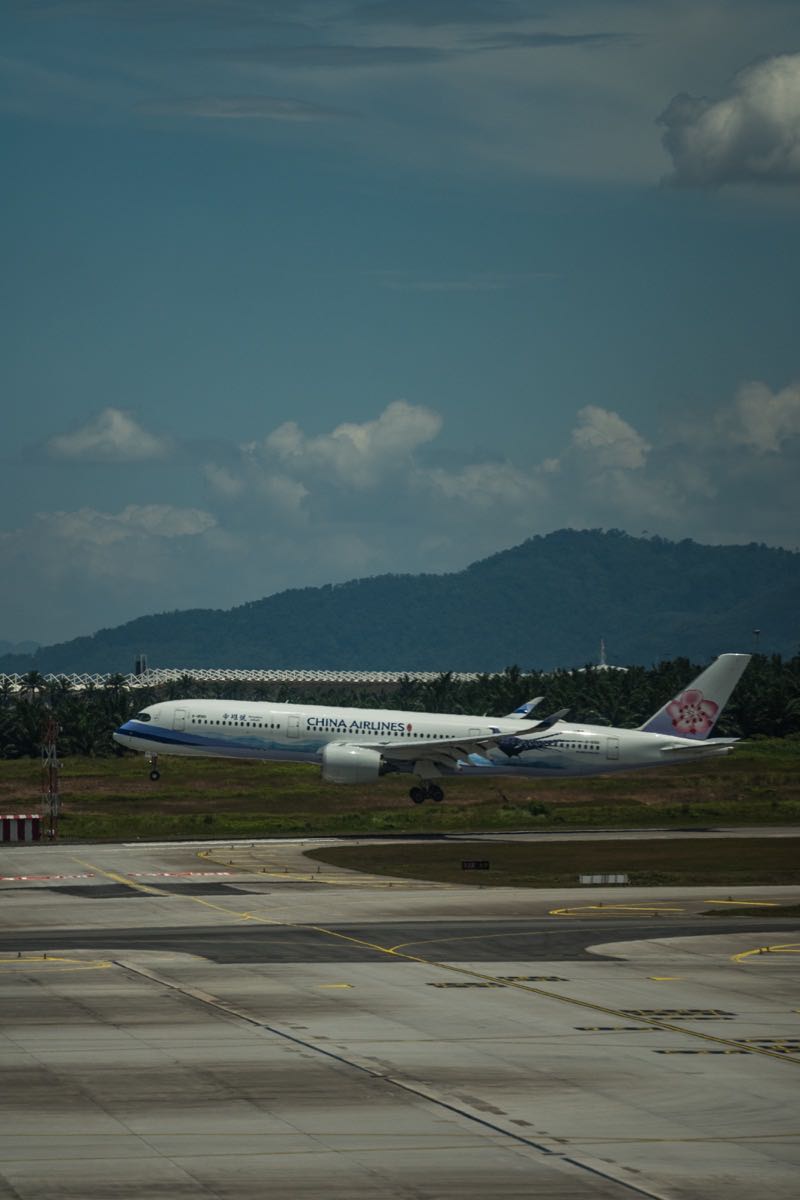 China Airlines A350 landing in KUL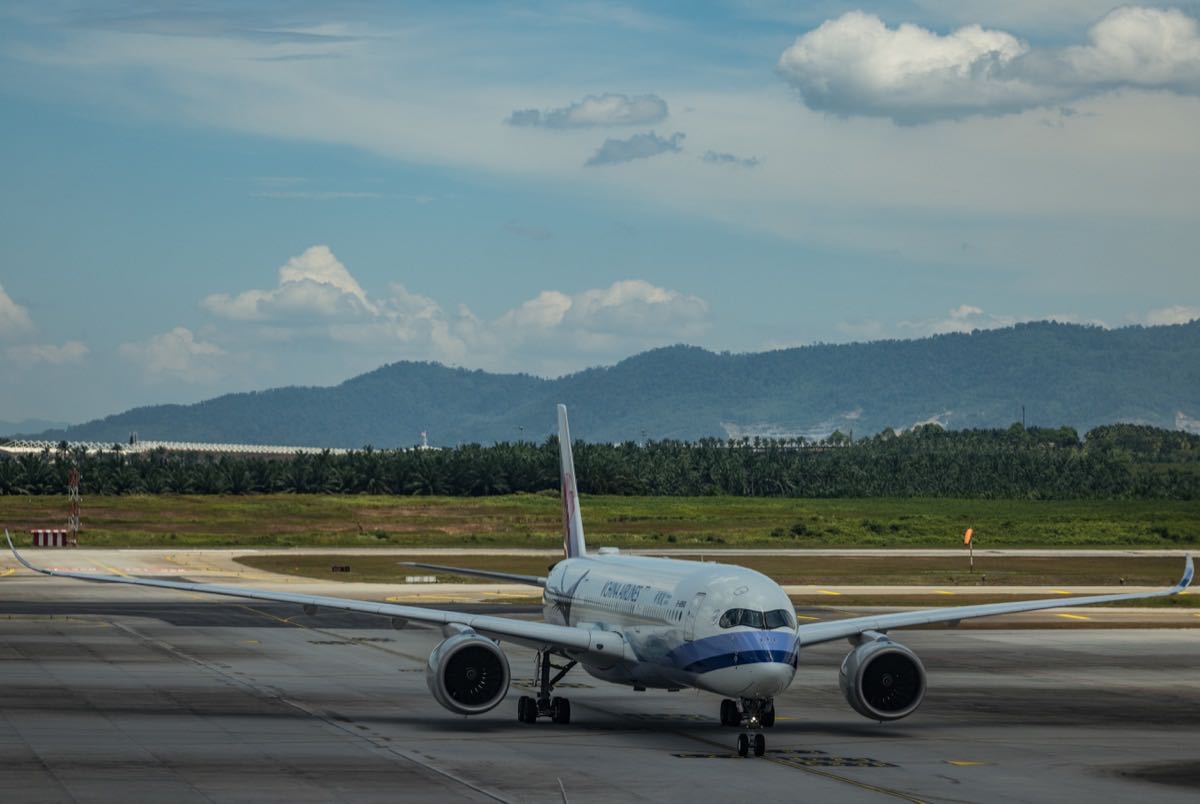 China Airlines A350 with Mikado Pheasant livery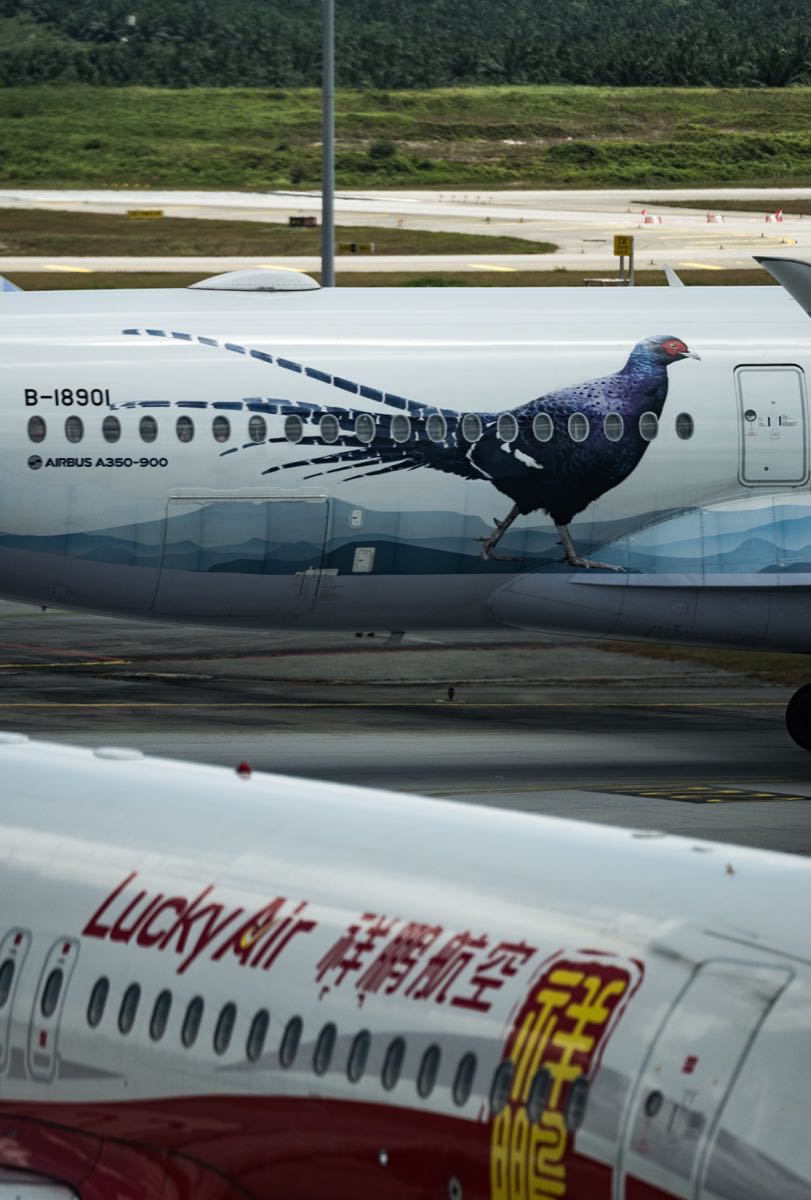 And a Lucky Air plane 😉
After having some noodles and coffee (both quite ok) we went to the gate early, as the security in Kuala Lumpur International Airport is just before the boarding area. There was practically no congestion at the check, so moments later we were boarding the beautiful aircraft. The crew greeted us at the door and led us to our seats. They seemed a bit too reserved though, without the enthusiasm that I often encountered with Middle Eastern airline crews.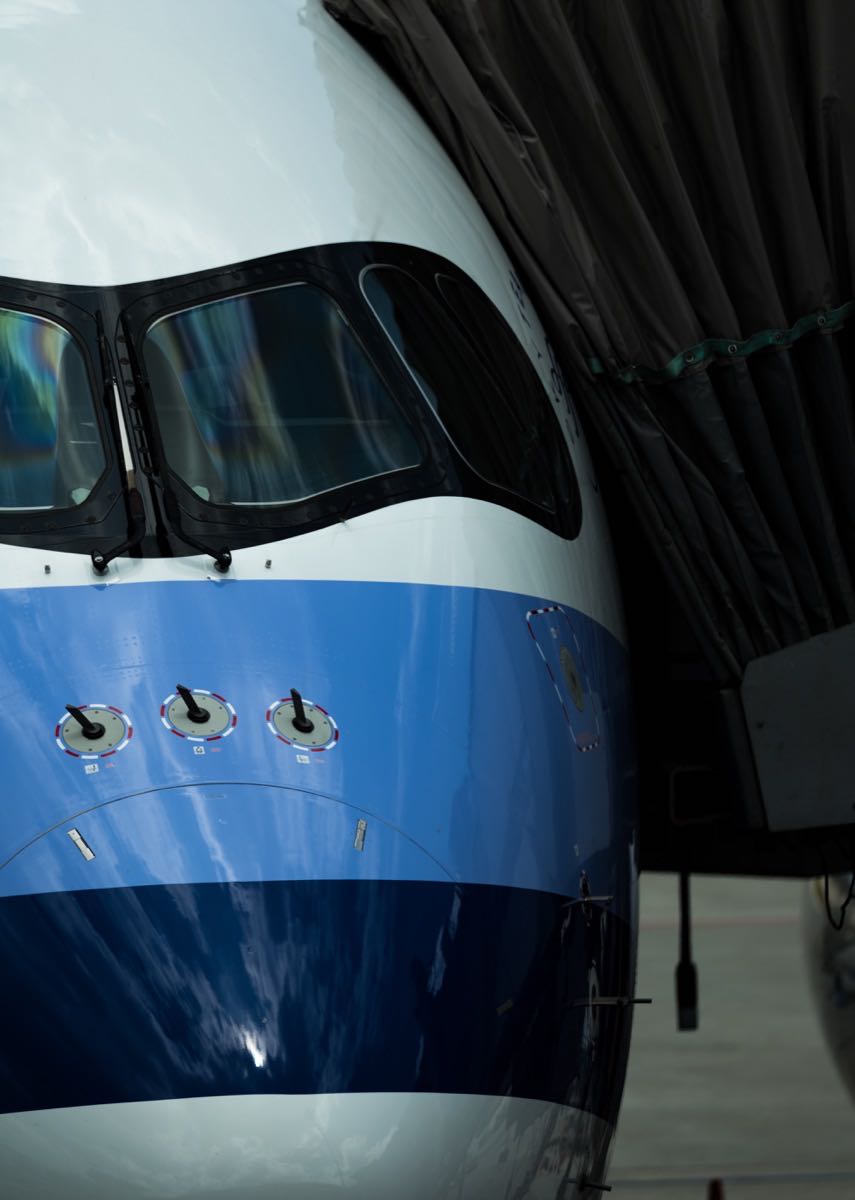 China Airlines A350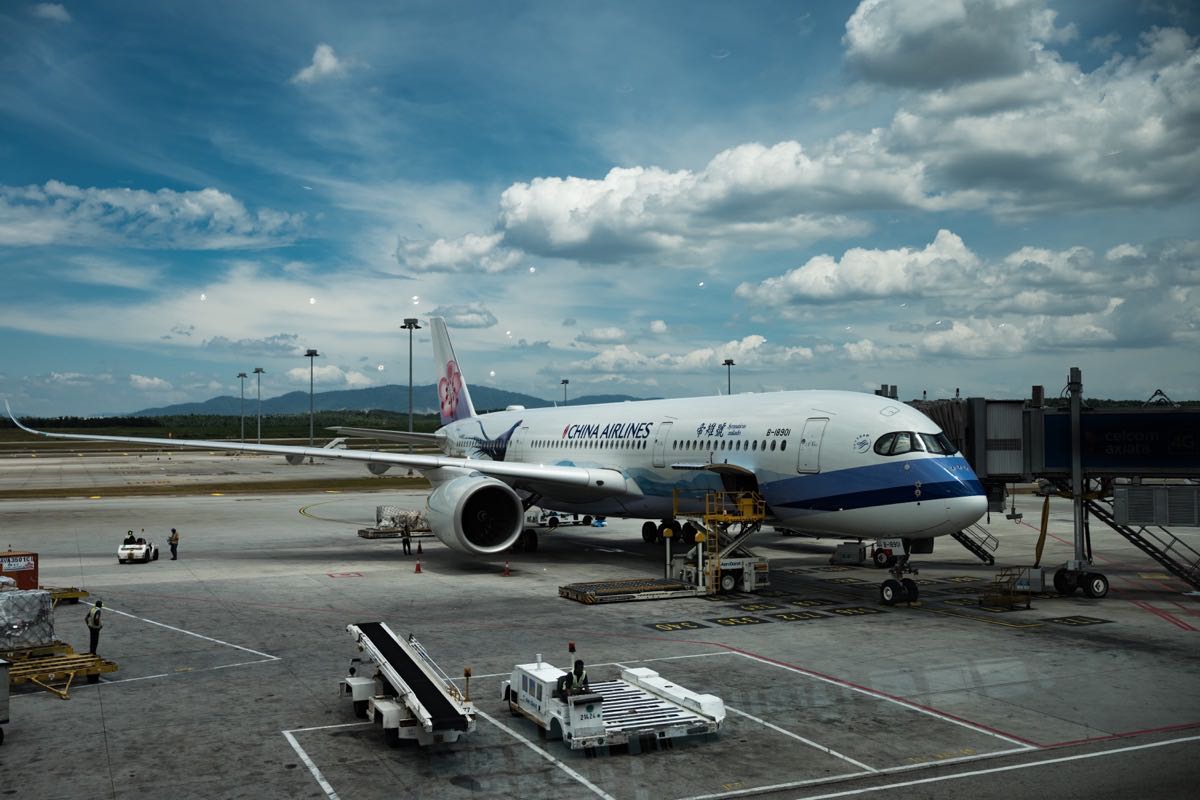 China Airlines A350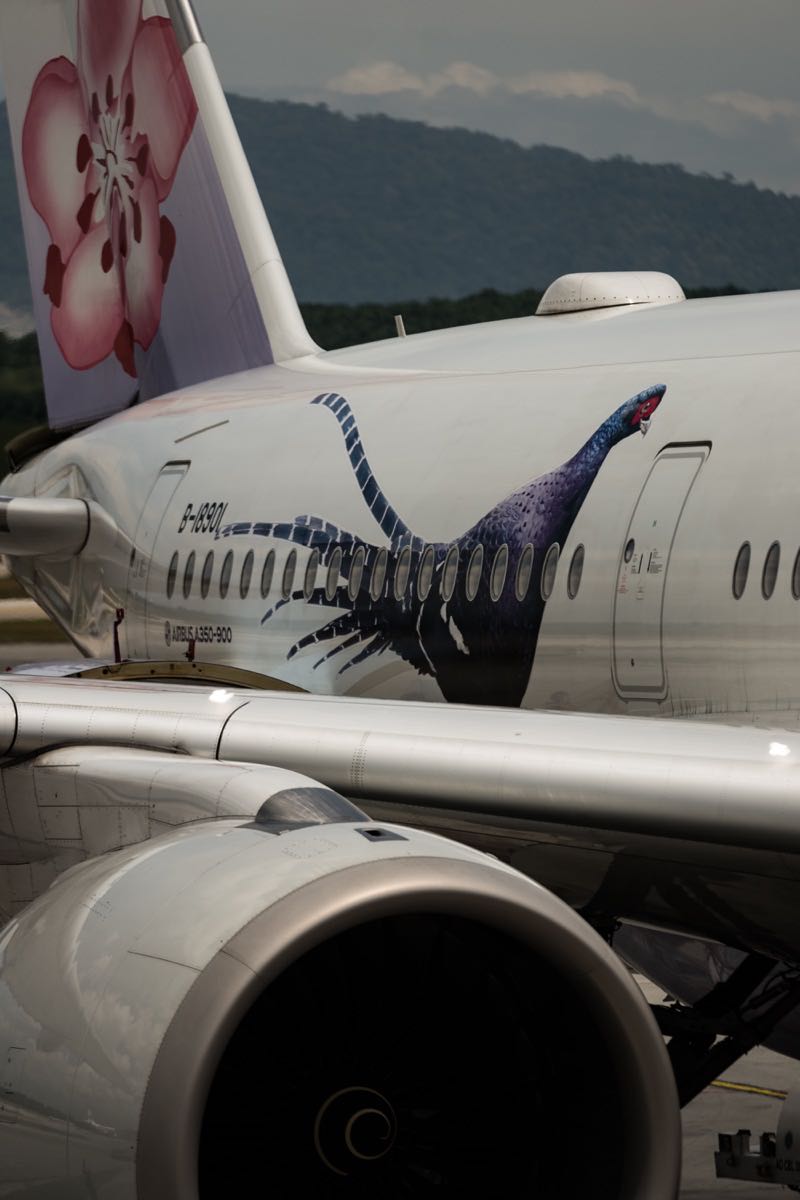 China Airlines A350
The aircraft interior was absolutely gorgeous. The brown and beige tones, in my opinion are the optimal color scheme for a reverse herringbone setup. It gives out such a stylish, elegant vibe. Sophisticated without blingy, understated with a solid touch of class.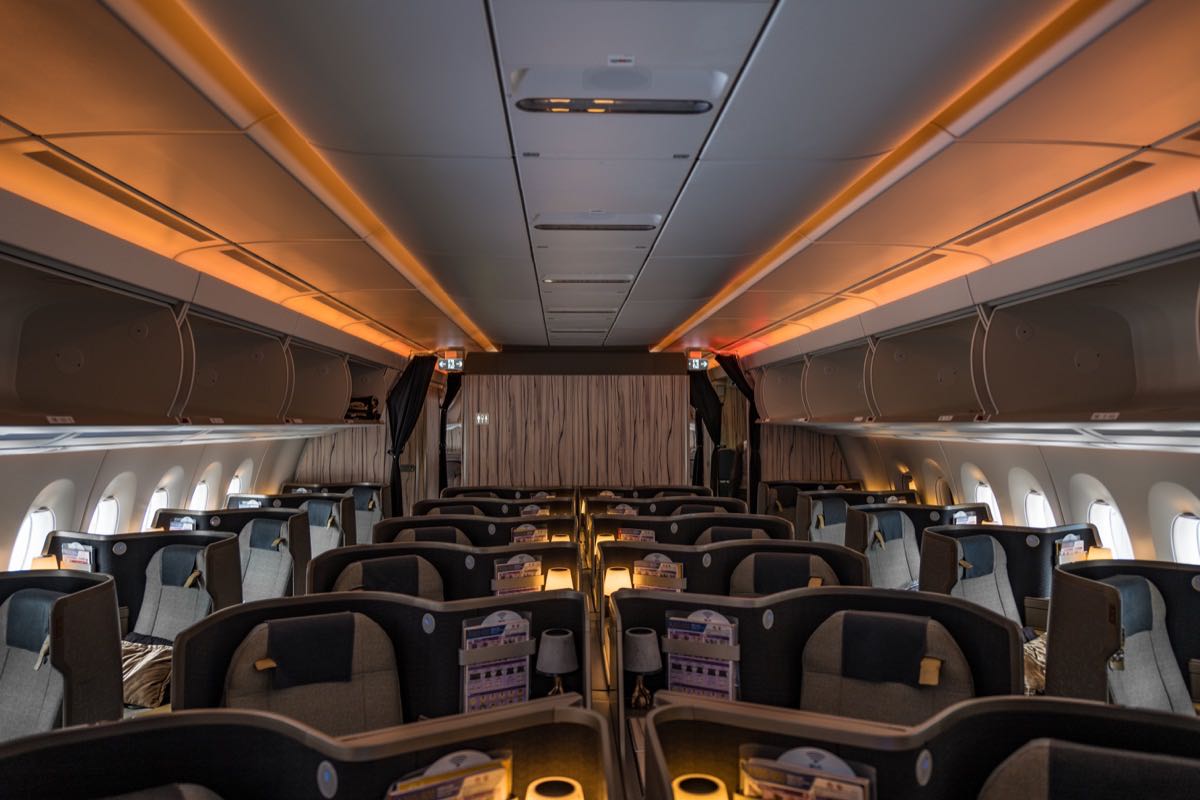 China Airlines A350 business class cabin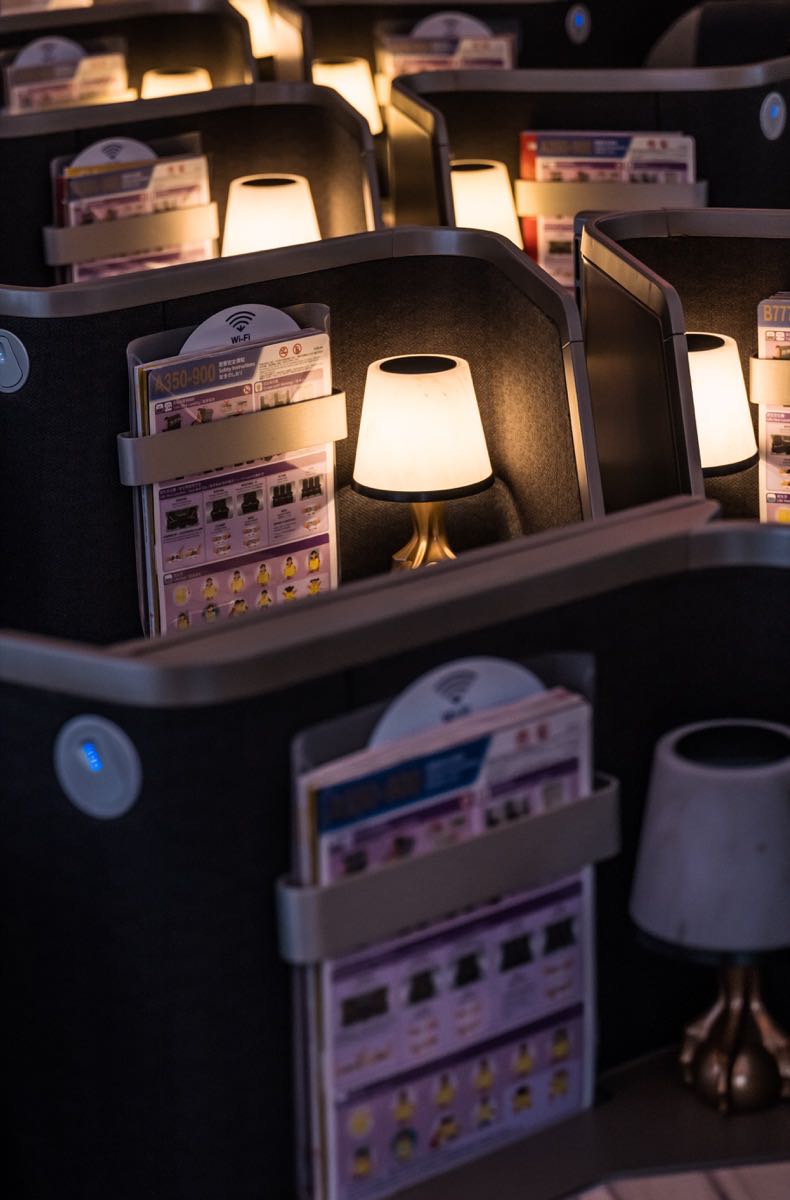 China Airlines A350 business class cabin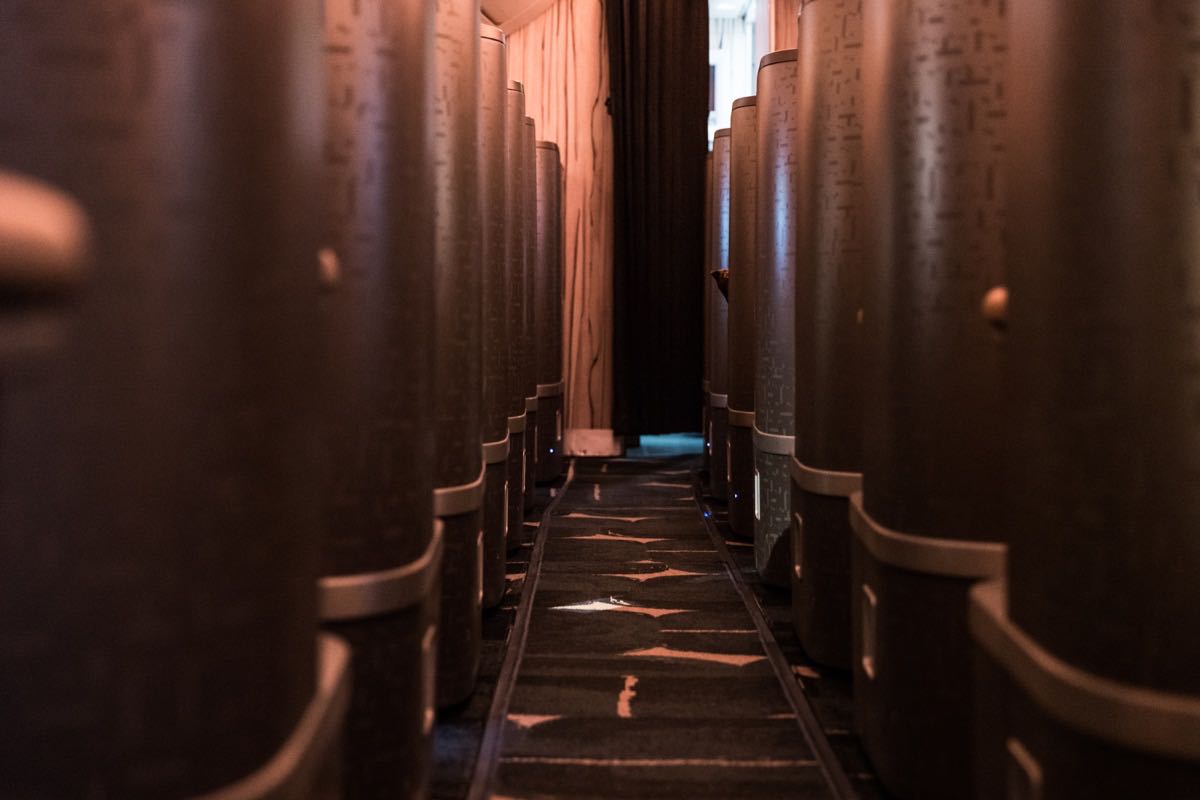 China Airlines A350 business class cabin
Moments after settling down we were offered steaming hot towels, a welcome drink (still or sparkling water, orange or apple juice) and some packaged nuts. At this point we were about 10 minutes behind schedule and boarding was not going too quickly, with everyone going through the front door. At least that left ample time to review the seat.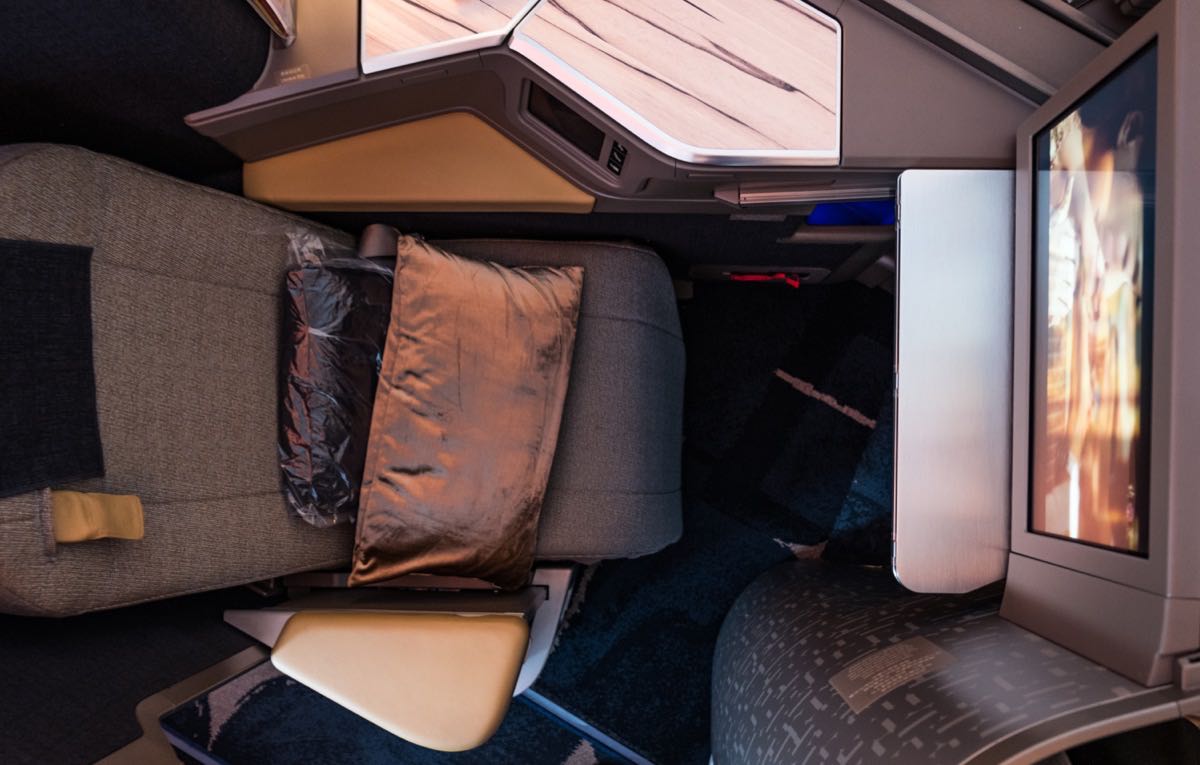 China Airlines A350 business class seat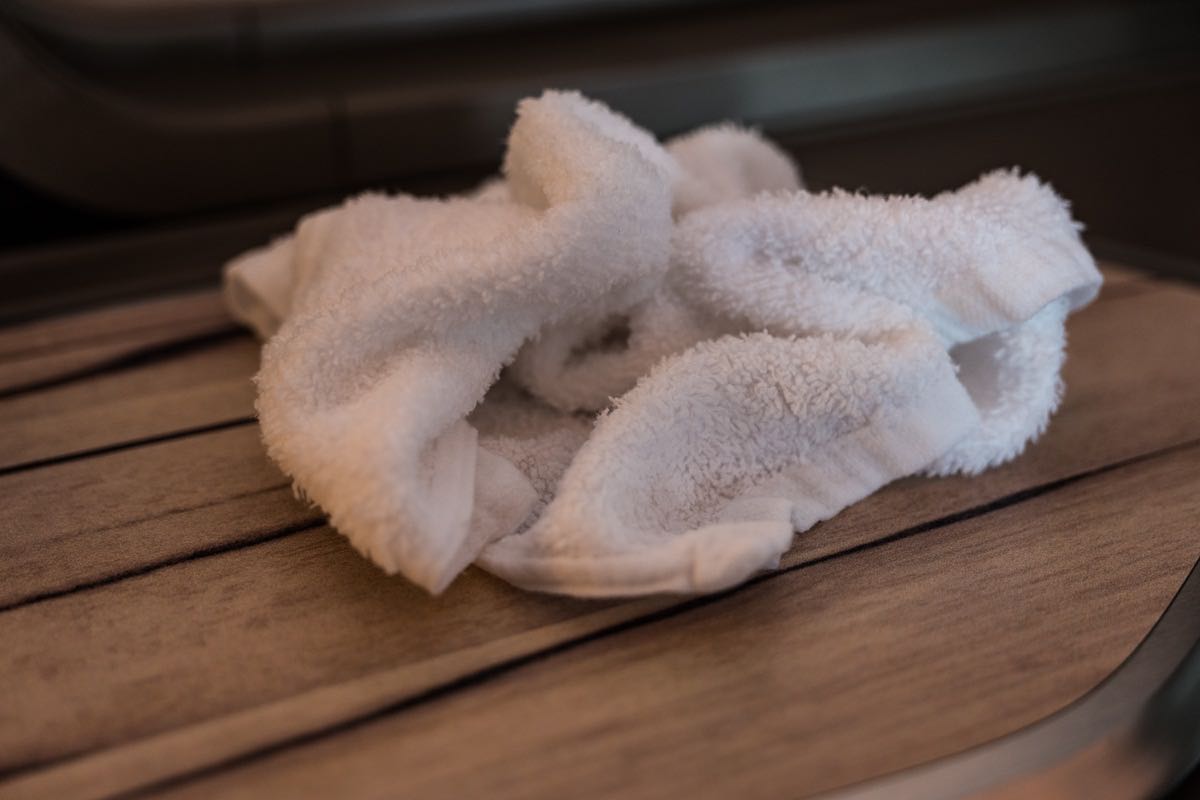 Steaming hot towel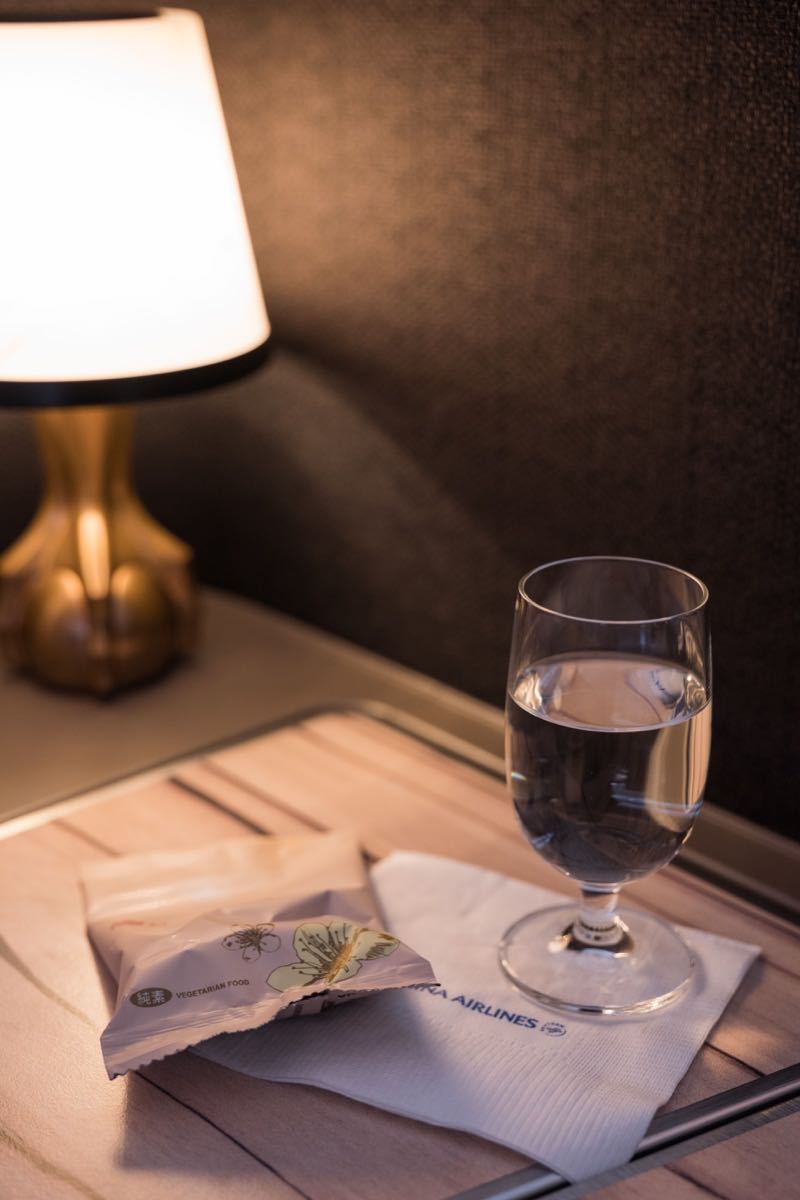 Pre-departure snack and drink
I really loved the materials and textures of the seat and the surrounding cabin, which seemed well thought out and complementary. The only inharmonious element was the industrial light grey of the ceiling. Although I'm not sure this is something that could be customized by an airline.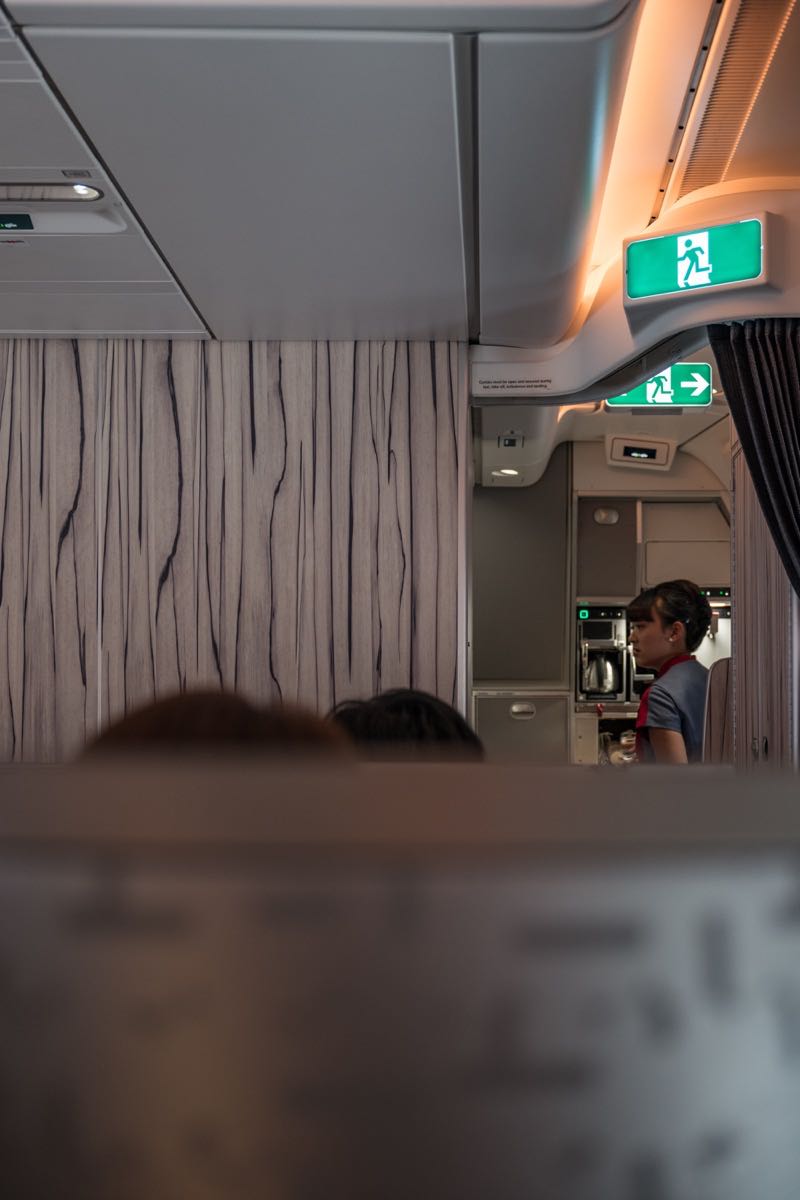 China Airlines A350 faux wood panel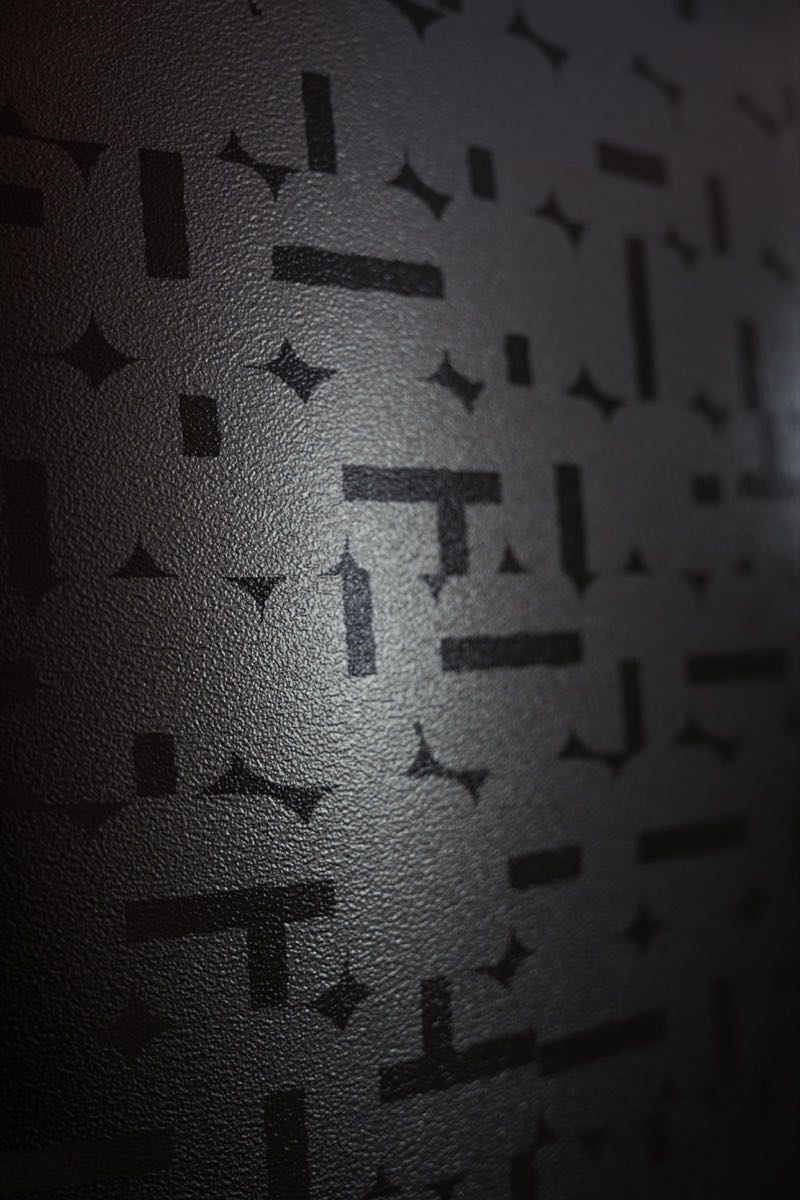 China Airlines A350 business class shell texture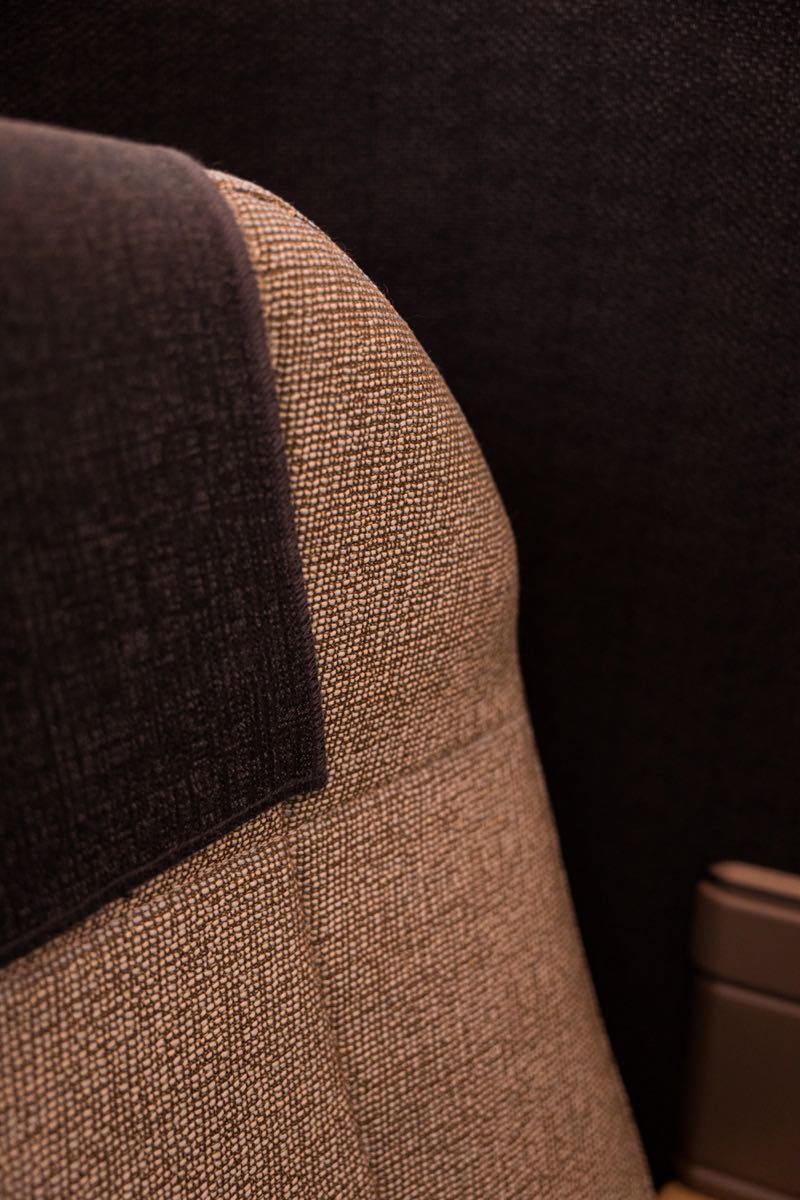 China Airlines A350 business class seat fabric
The seat has a lot of storage space for smaller items, but I failed to find a place to store my 13″ laptop. Within the side counter was a larger container just for storage and a slightly smaller one housing the IFE controller, a power outlet, dual USB ports and the headphone input. Within the armrest (which can be raised and lowered) was storage space for the headset.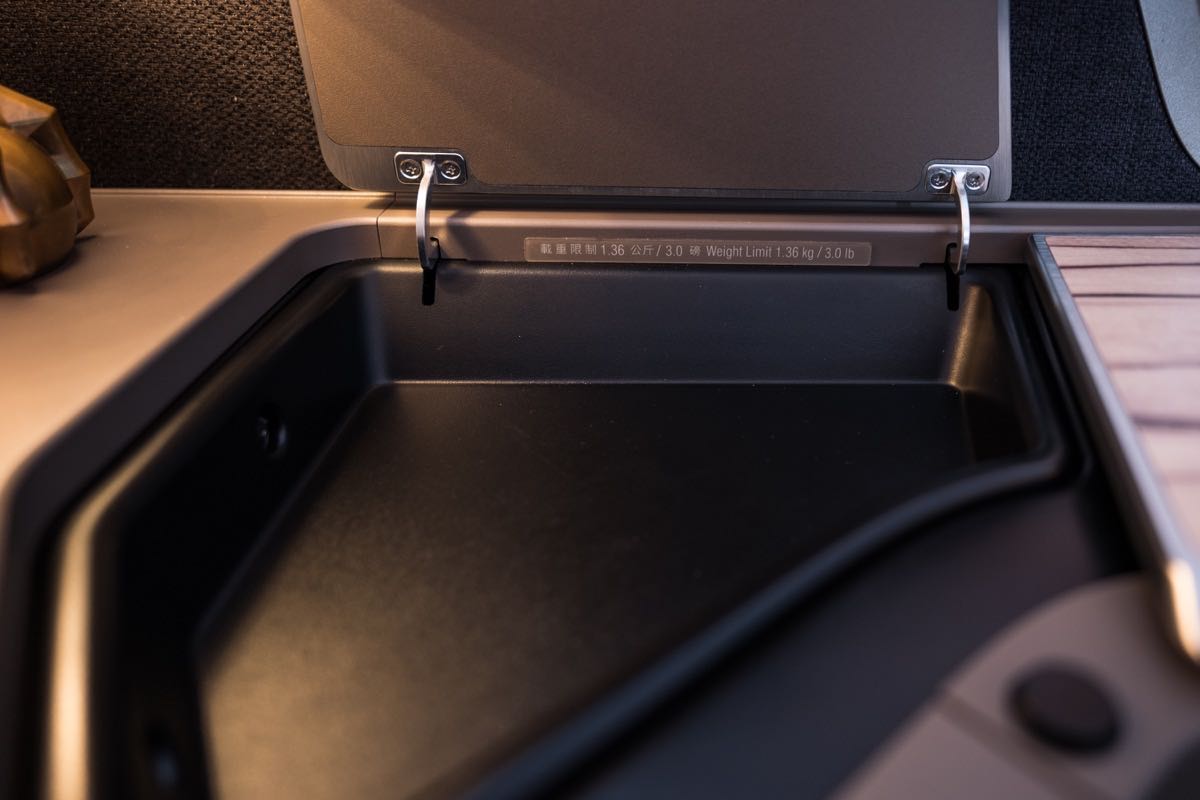 China Airlines A350 business class seat storage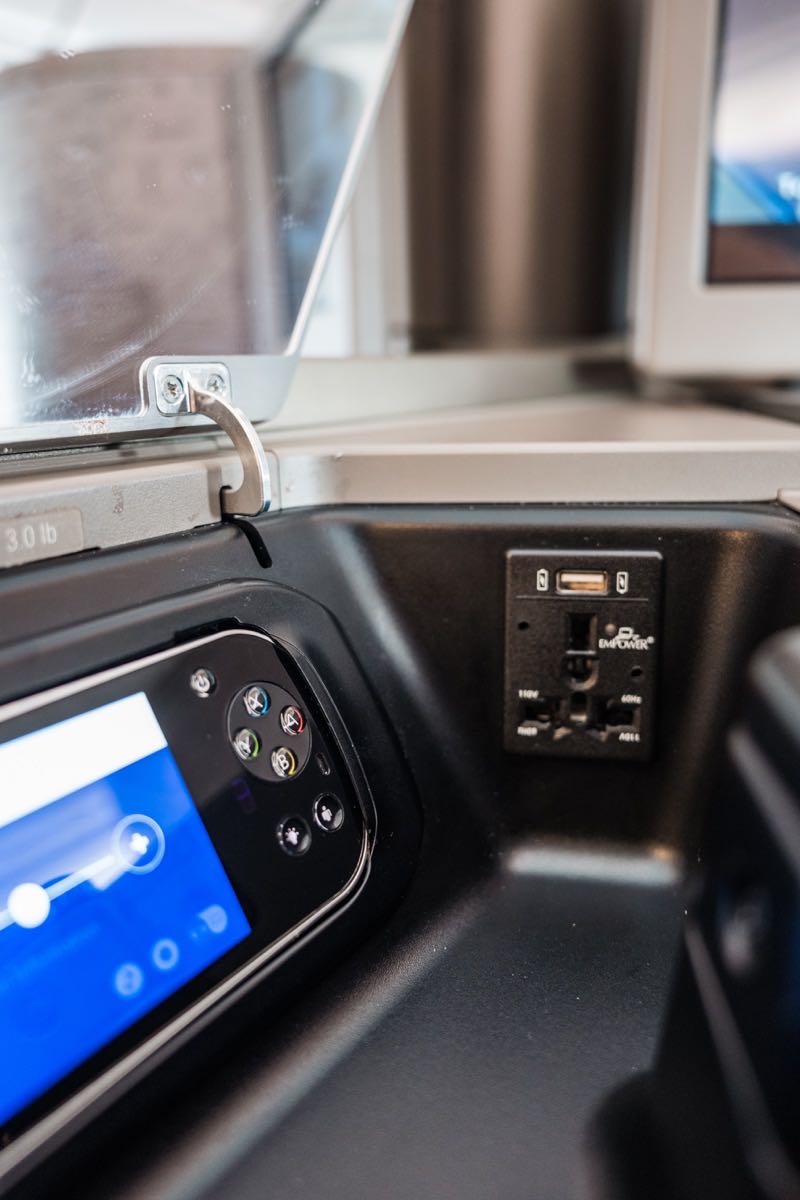 China Airlines A350 business class seat storage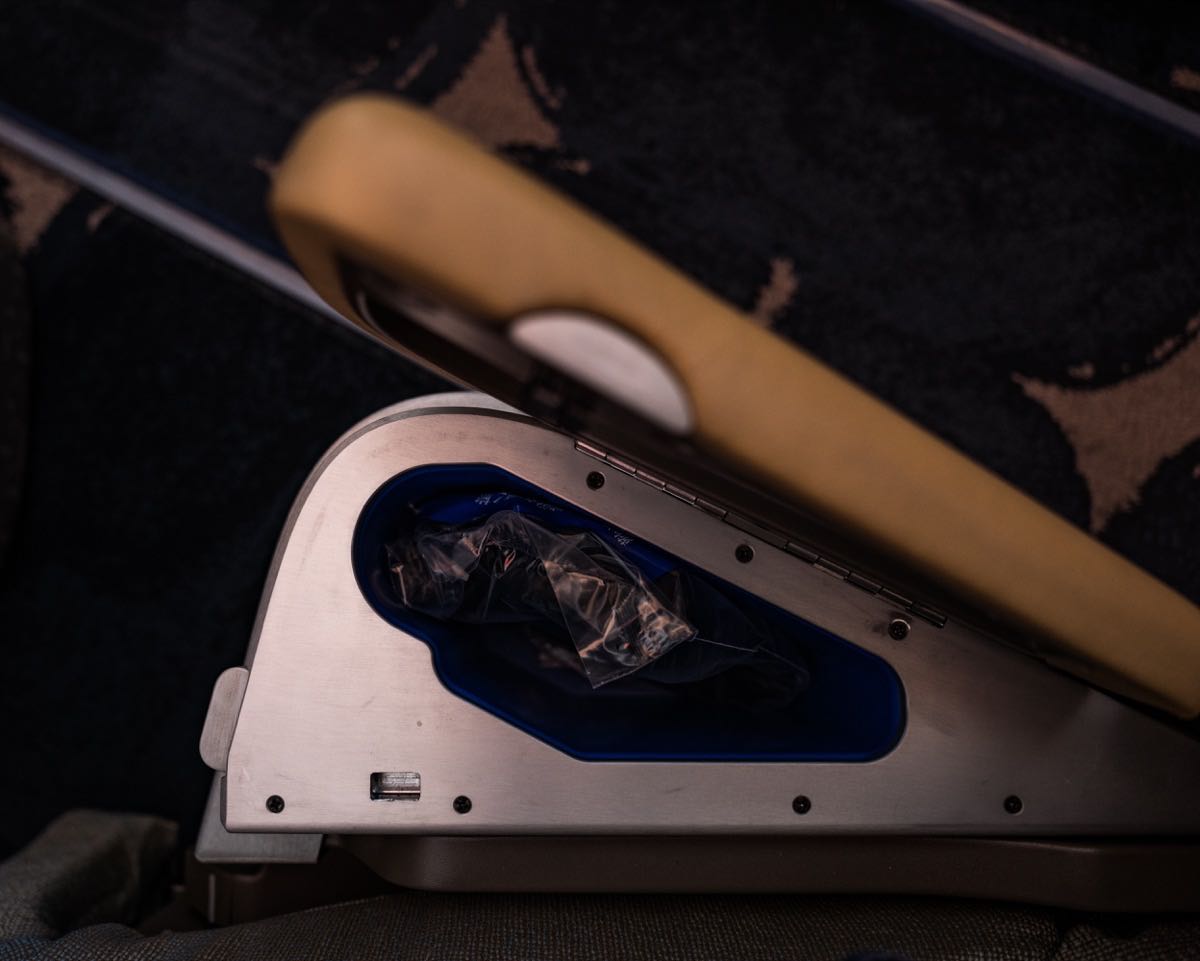 China Airlines A350 business class seat storage
What neatly separates the China Airlines reverse herringbone seats from many others is the small details — things like the lamp, which is very ornate , expensive looking and the mirror built into the cover of the storage housing the IFE controller. When the window shades are closed and you are lounging with a blanket and a cup of fragrant mint tea — the lamp's warm glow makes for a very cozy place to be in.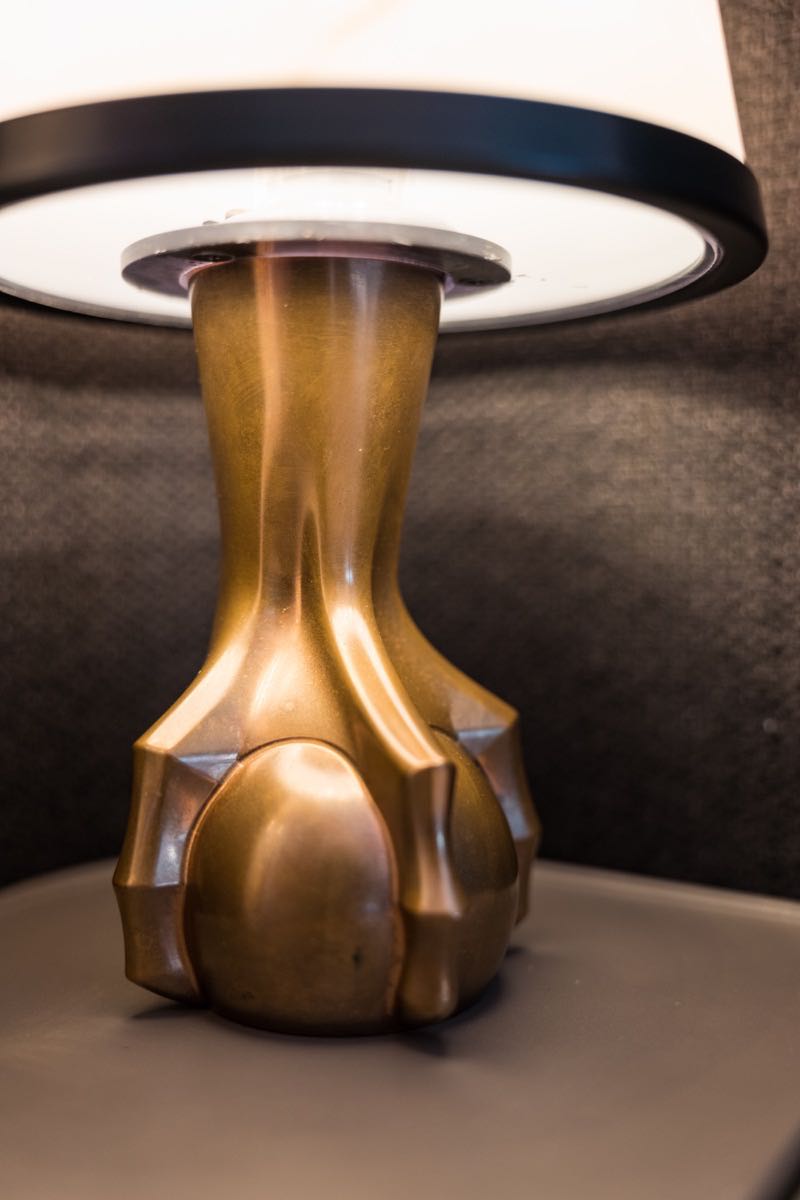 China Airlines A350 business class seat lamp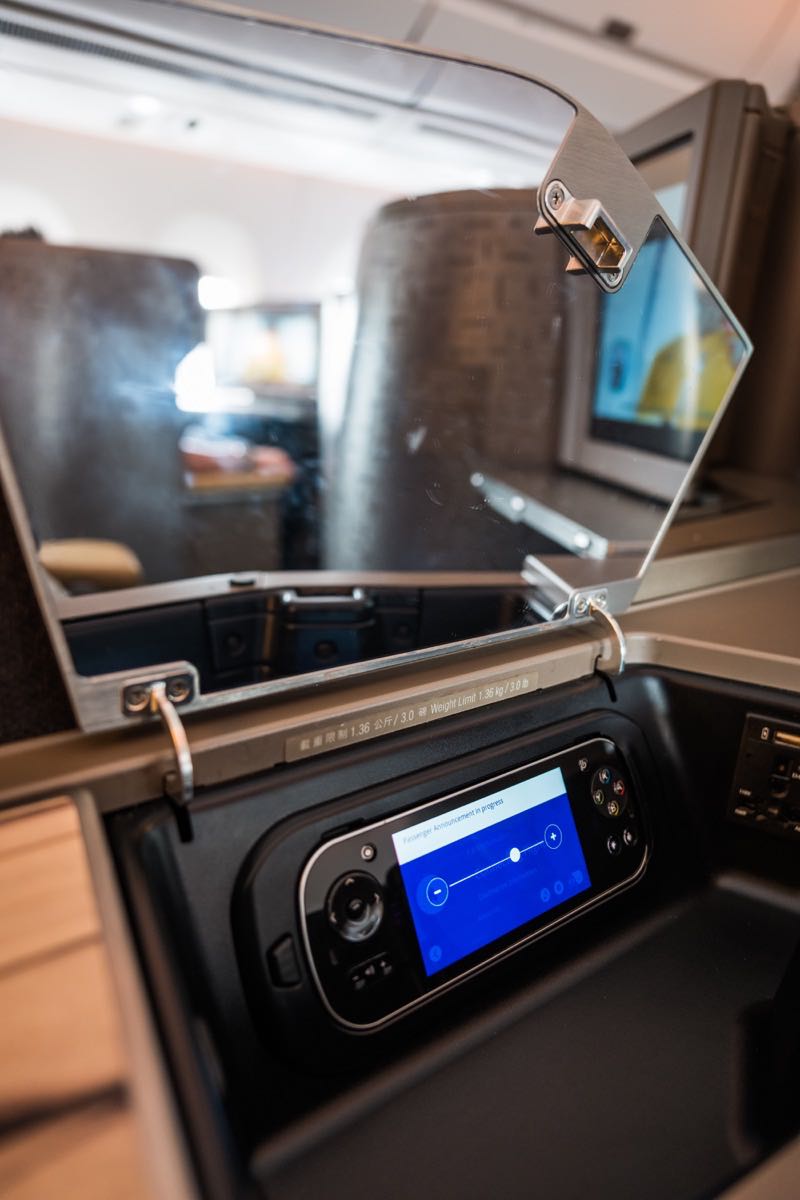 China Airlines A350 business class seat mirror
There is more than enough legroom — while in the upright position I had plenty of space to stretch my legs — and I'm 6'3″. The seat controls are exceptionally easy to use. Lumbar support is adjustable in one position.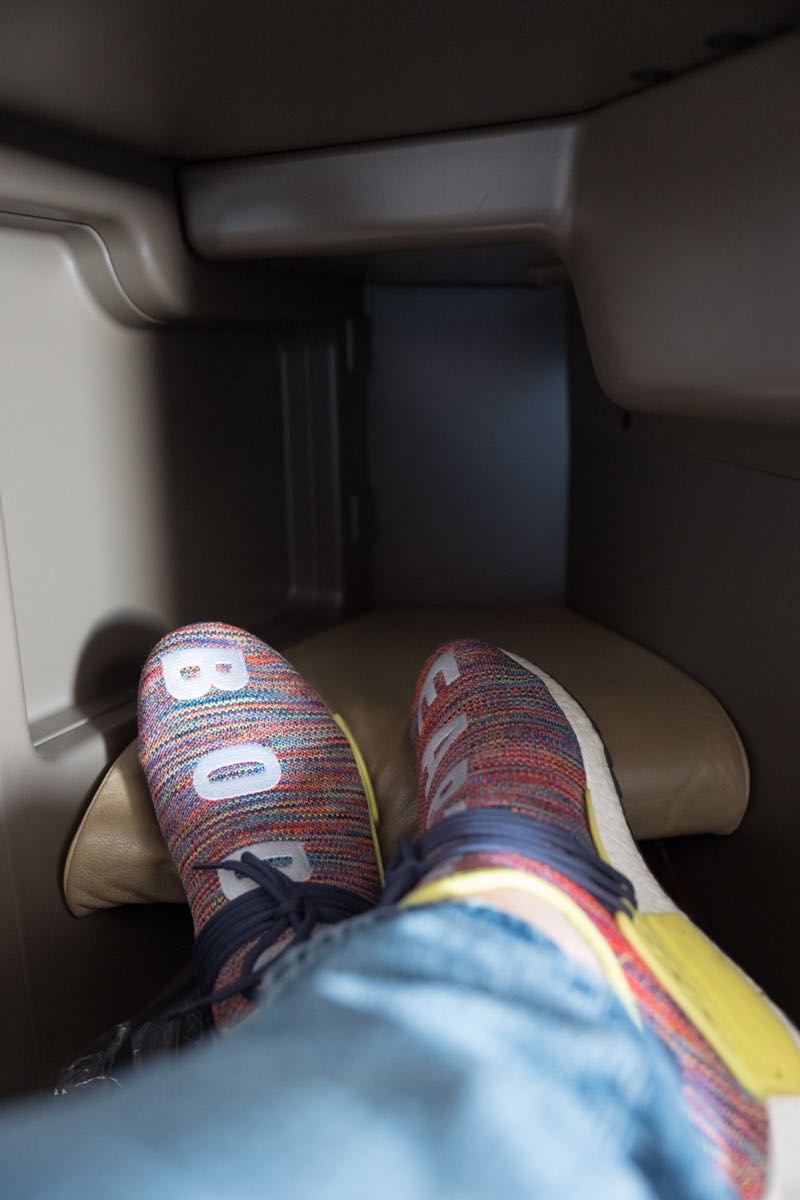 China Airlines A350 business class legroom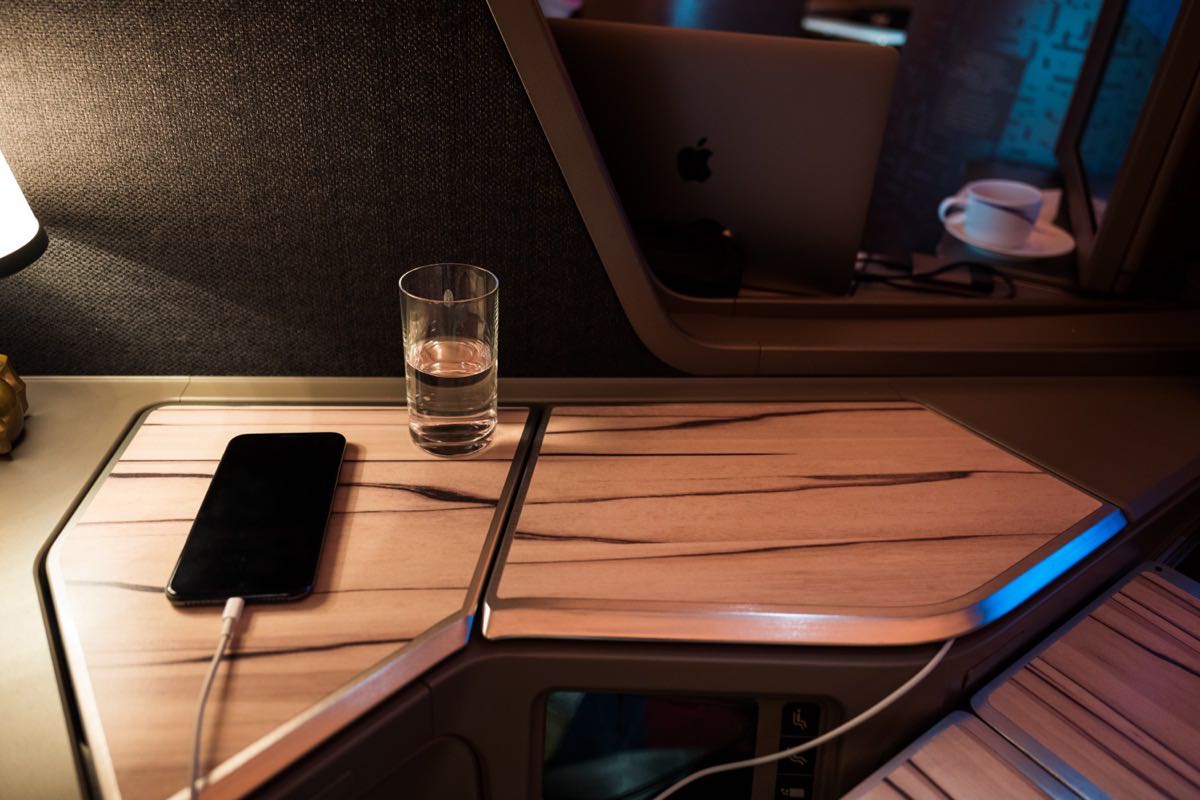 China Airlines A350 business class seat side table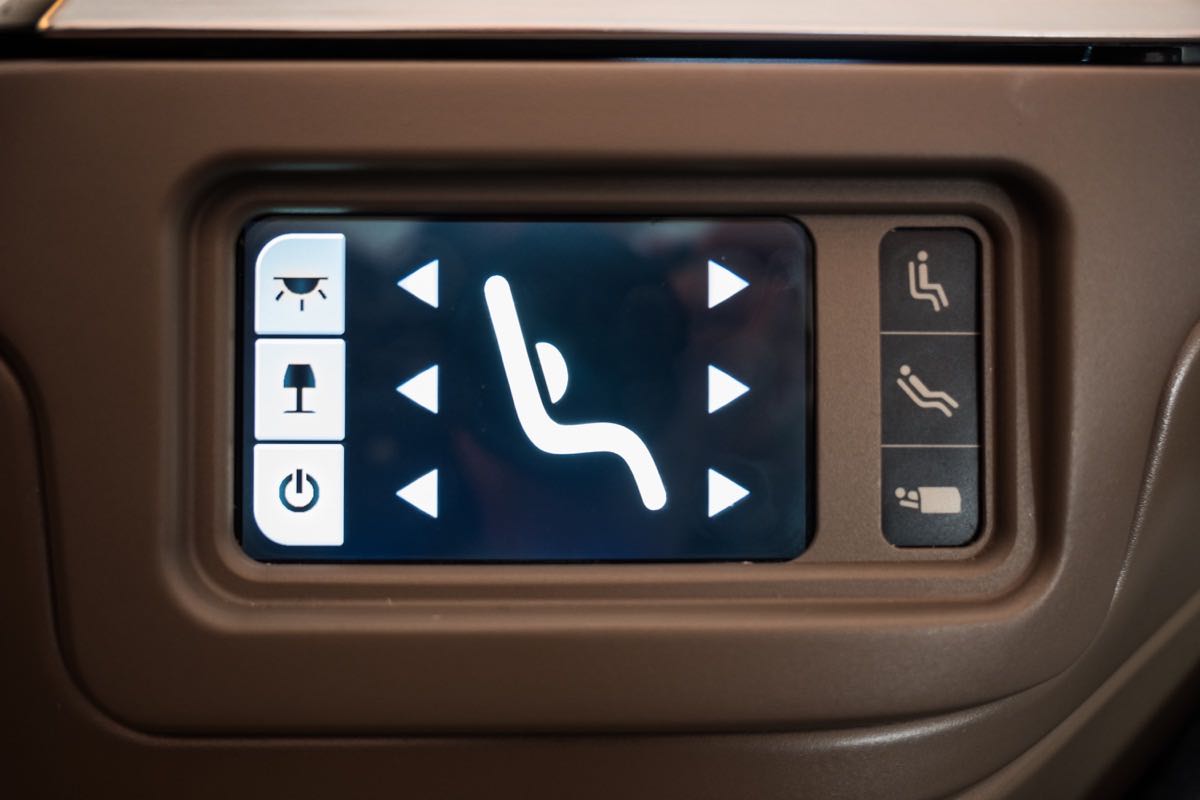 China Airlines A350 business class seat controls
For comfort, design, and convenience I would rate the seat top marks. The only issue I had was limited storage space for larger items like a laptop , but otherwise it was a very comfortable space to be, even for a longhaul flight, and surely for a four hour flight.
The product in general is very similar to the 777, but has some small, mildly noticeable differences:
777s have overhead bins in the middle, in addition to the ones on the sides. This makes the cabin on the A350 much more airy.
The lamp at the seat is more sophisticated on the A350. The one on the 777 just resembles a lamp.
No mirror in the central storage compartment on the 777.
Lumbar support is controlled in 2 positions (upper and lower) on the 777, rather than in 1 position (lower) on the A350.
On the 777   the business class cabin is separated into two , with the  forward one housing 6 rows, 4 seats in each, and the mini-cabin , housing  4 rows, 4 seats in each.
The A350 seat has a car-style diagonal seatbelt in addition to the regular one.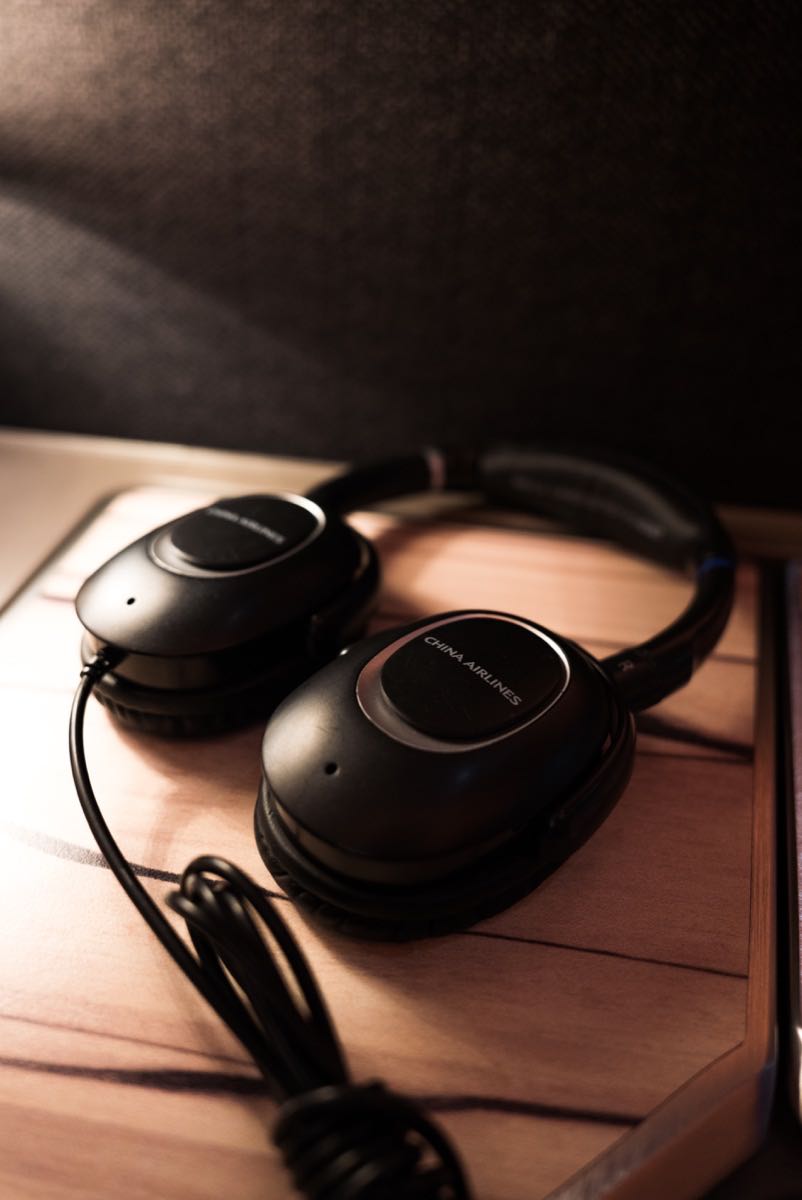 China Airlines A350 business class headphones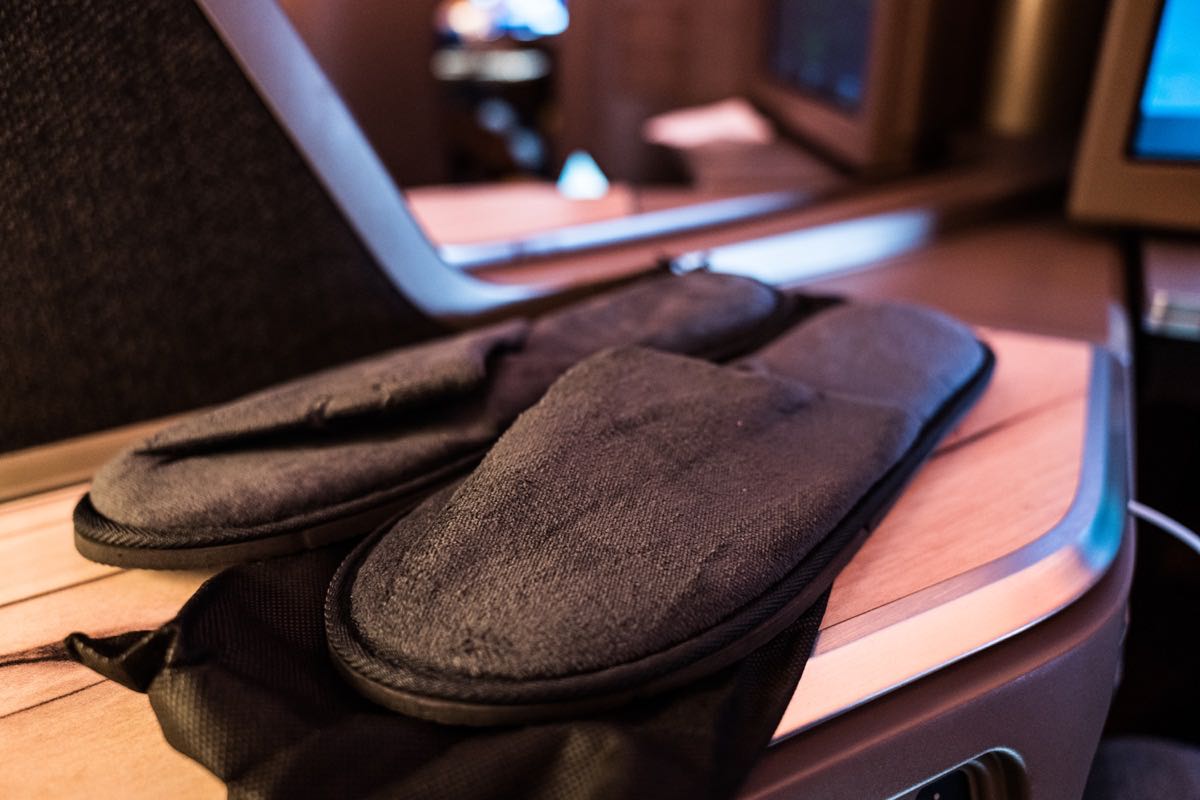 China Airlines A350 business class slippers
No amenity kit was provided for this flight. Just a small pillow, not-too-thick blanket, set of headphones (noise cancelling, but not branded ones like Bose, not comfortable at all) and some high quality slippers. Even the bottle of water present inside one of the seat compartments on longer flights, was absent on this one.
Once boarding was complete the staff distributed menus and took orders for the dinner service.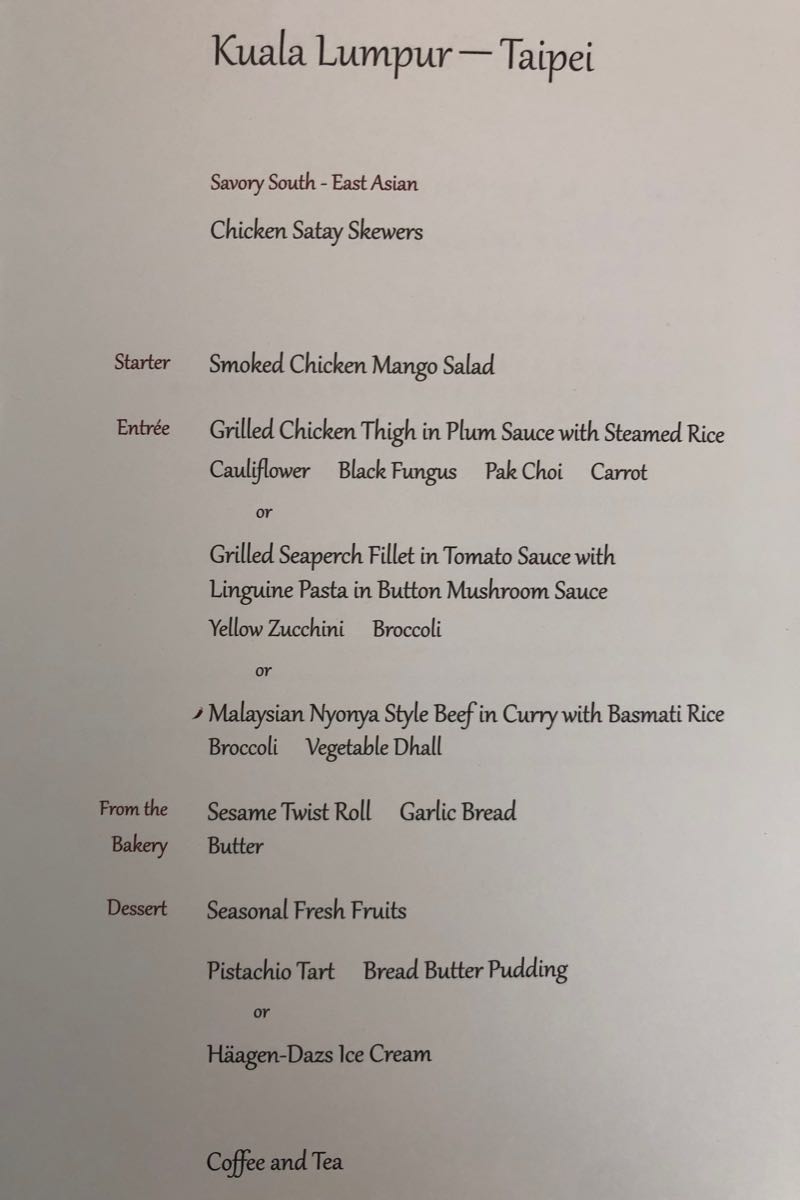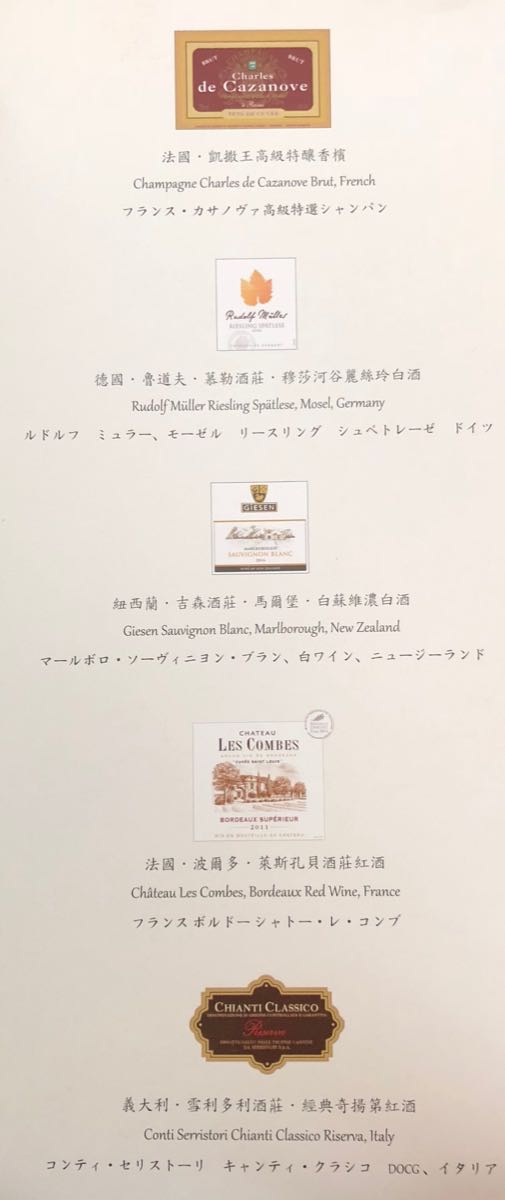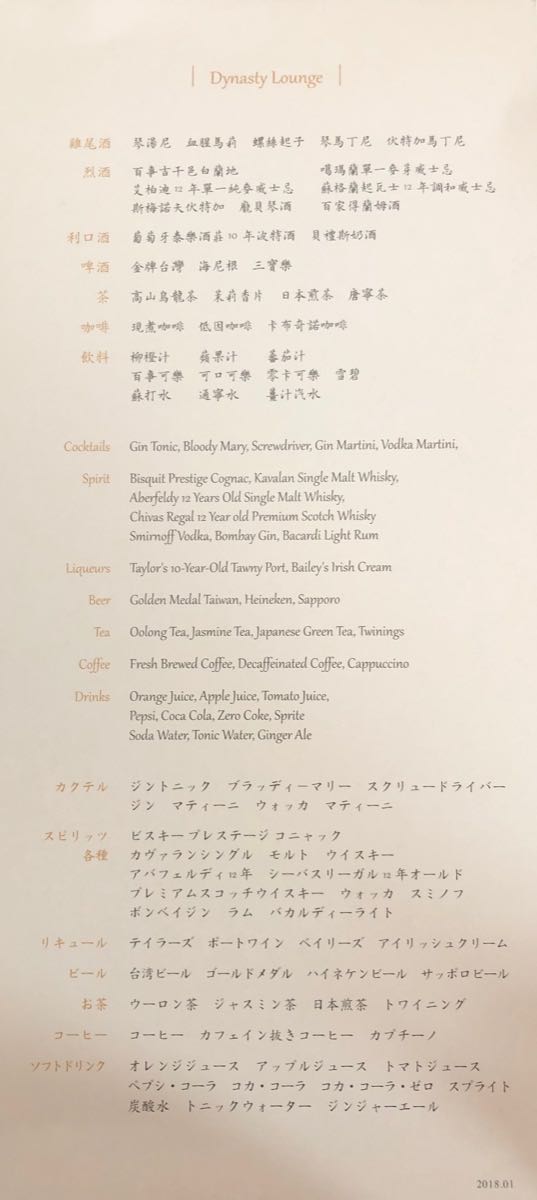 This was a limited dinner service, as the menu only had options for the entree. I chose the grilled chicken thigh in plum sauce, along with some jasmine tea and still water.
The captain soon announced over PA about a delay of 15–20 minutes due to late arrival of the aircraft and shortly after we began our taxi.
The take-off and climb were rather bumpy and turbulent, but I didn't really care about that, as I was pre-occupied and fascinated with the quiet operation of the A350s engines. On full thrust you could still whisper to your companion and he or she would clearly hear you.
China Airlines' whole long haul fleet of 777s and A350s has Wi-Fi installed. So once the aircraft crossed 10,000 feet I attempted to connect. Connectivity is provided by Deutsche Telekom and is reasonably priced at 21.95 USD for 24 hours (16.95 USD for 3 hours or 11.95 USD for 1 hour) with no data usage limits. As I had a 14 hour flight to Frankfurt later in the day I purchased the 24 hour package which would last me both flights.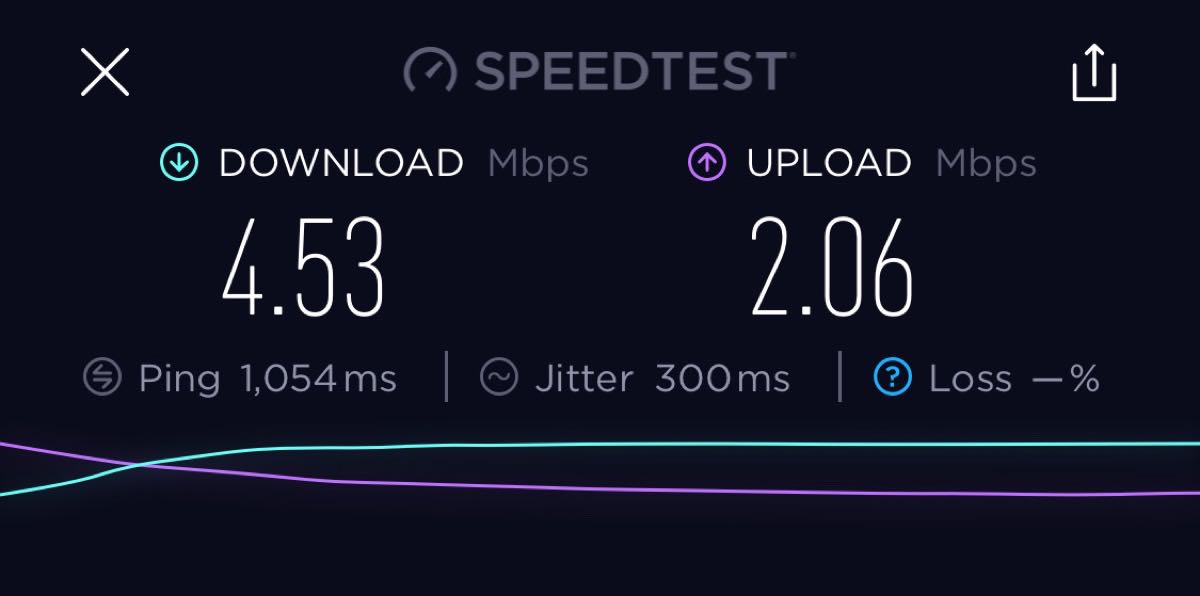 China Airlines A350 Wifi speeds
The seatbelt signs were turned off about 20 minutes into the flight and the cabin crew immediately closed all blinds. Anticipating the meal service starting soon I checked out the remaining parts of the seat — the table and the IFE.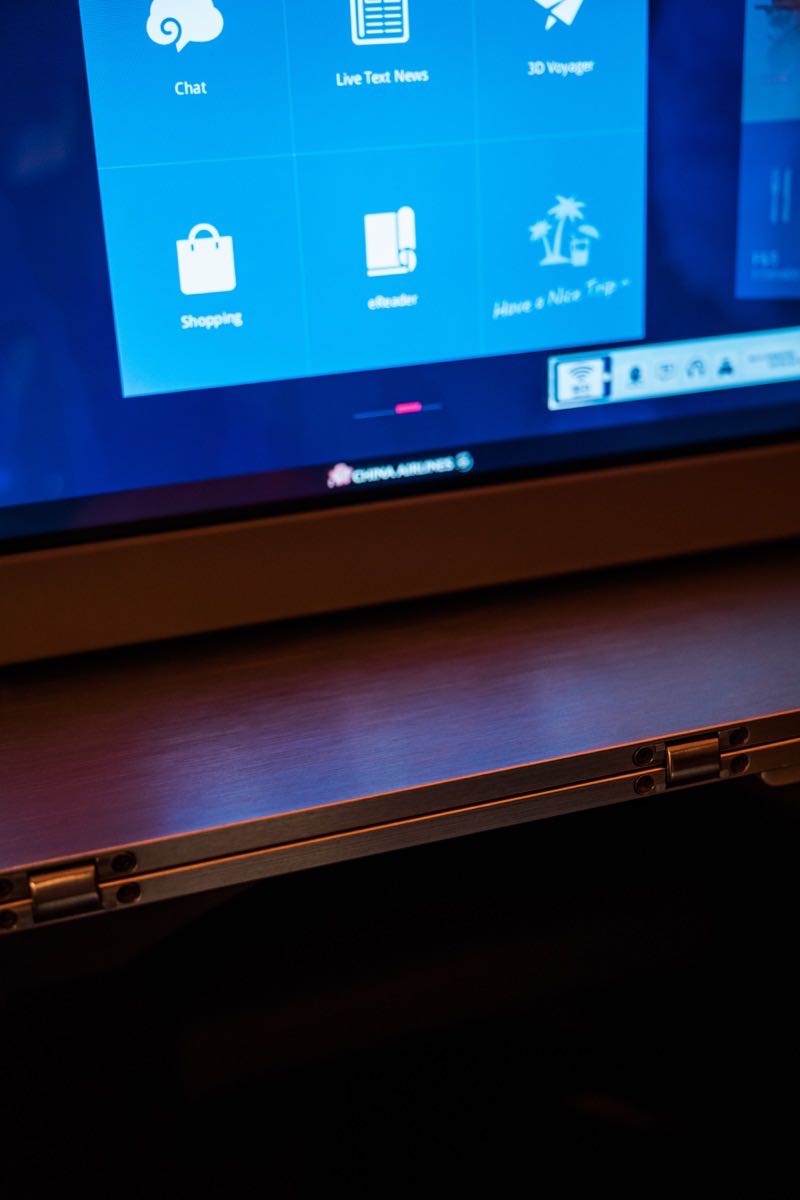 China Airlines A350 business class table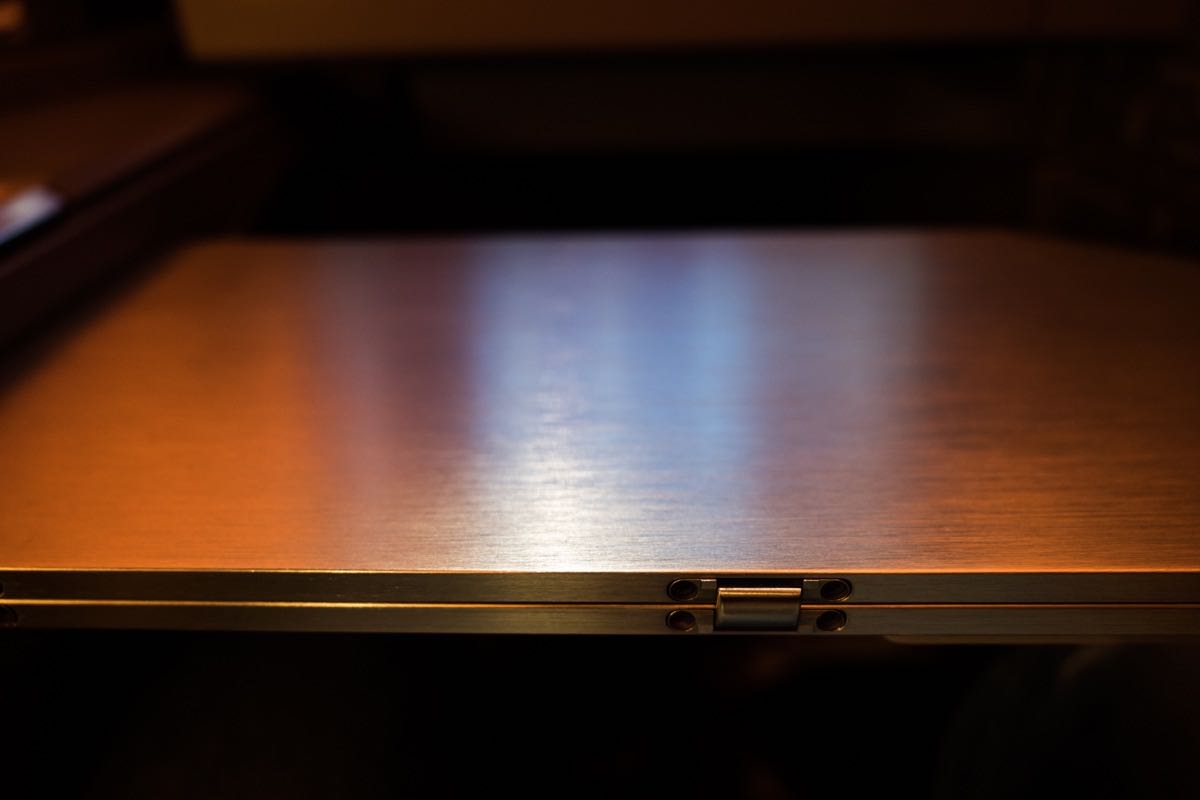 China Airlines A350 business class table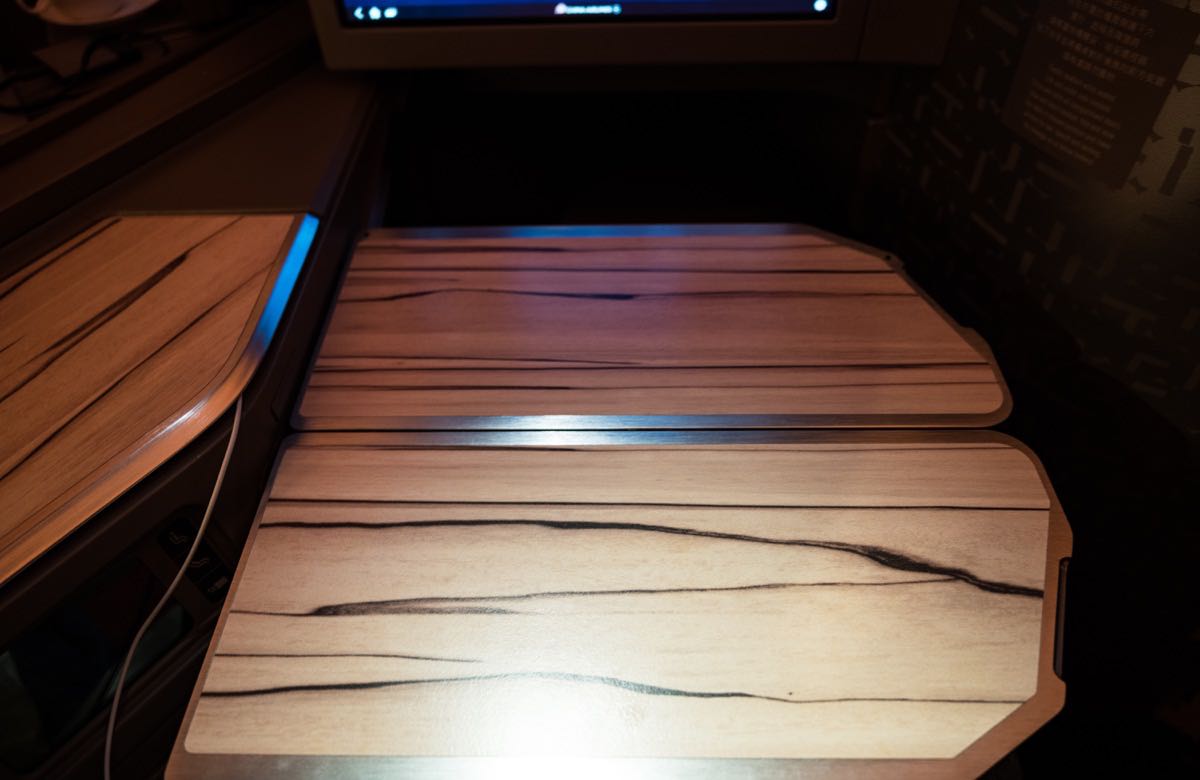 China Airlines A350 business class table
The China Airlines IFE was average, not to the level of Emirates or Qatar offerings, but still having enough quality content for a medium or long haul flight— there were a few recent movies, half a dozen popular series with several episodes each and an interactive flight map.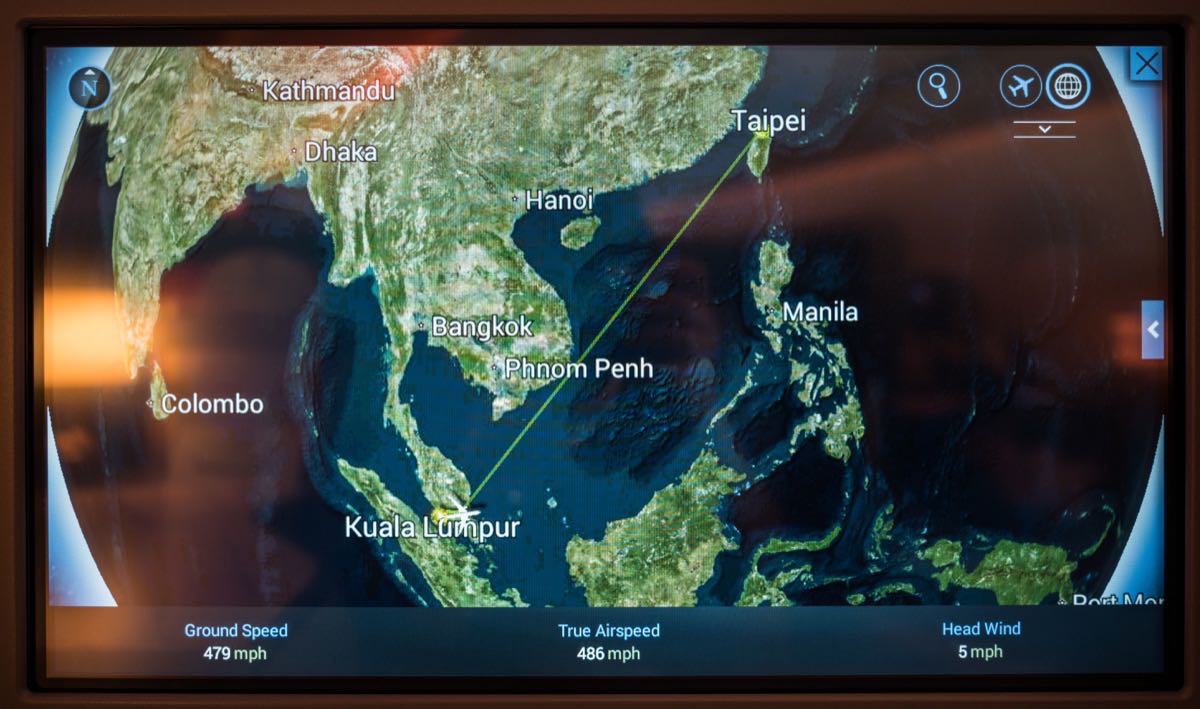 China Airlines A350 in-flight entertainment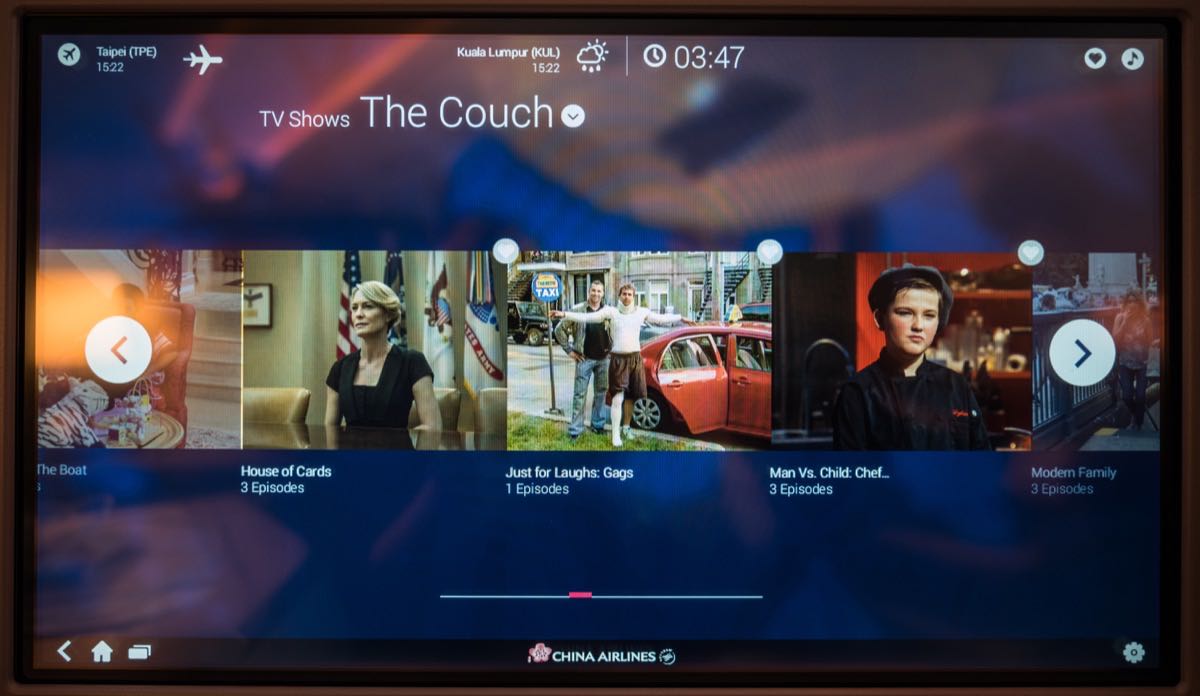 China Airlines A350 in-flight entertainment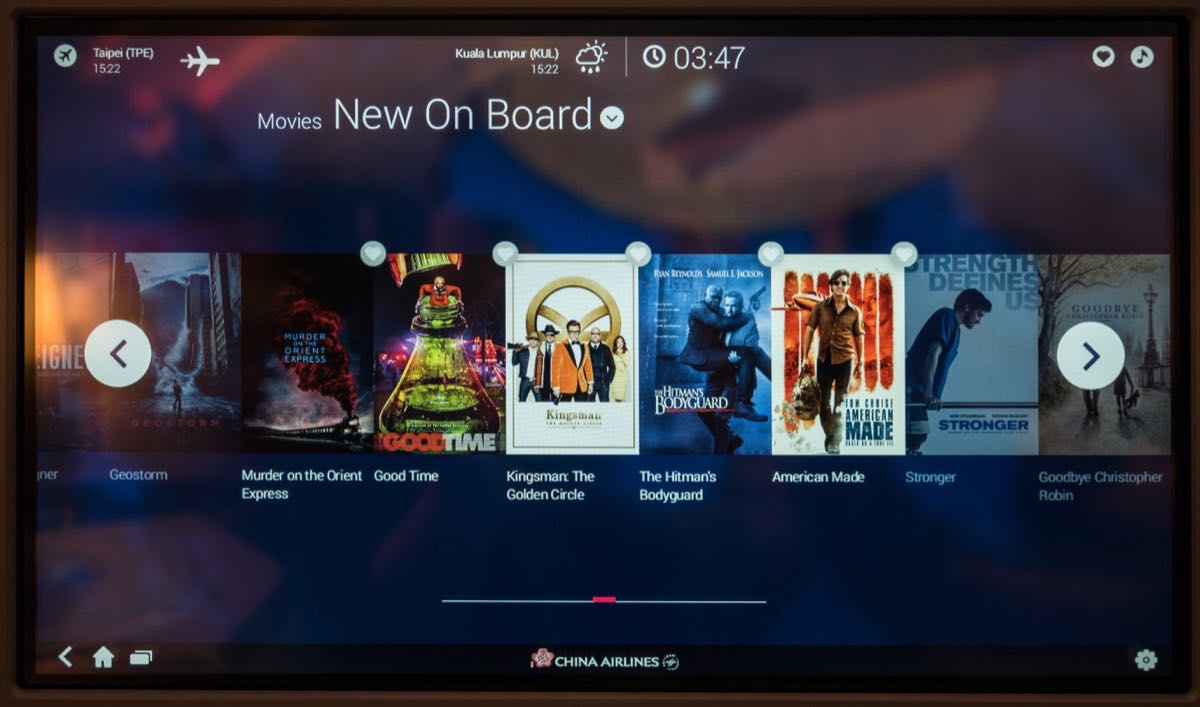 China Airlines A350 in-flight entertainment
Approximately 40 minutes after take-off the appetizer was served — chicken satay with peanut sauce and cucumbers. It was tasty, maybe just a bit too chewy for my taste. The side was a regular cucumber and something that the flight attendant described as also cucumber, yet it lacked any pronounced taste or texture. To drink — I had some still water.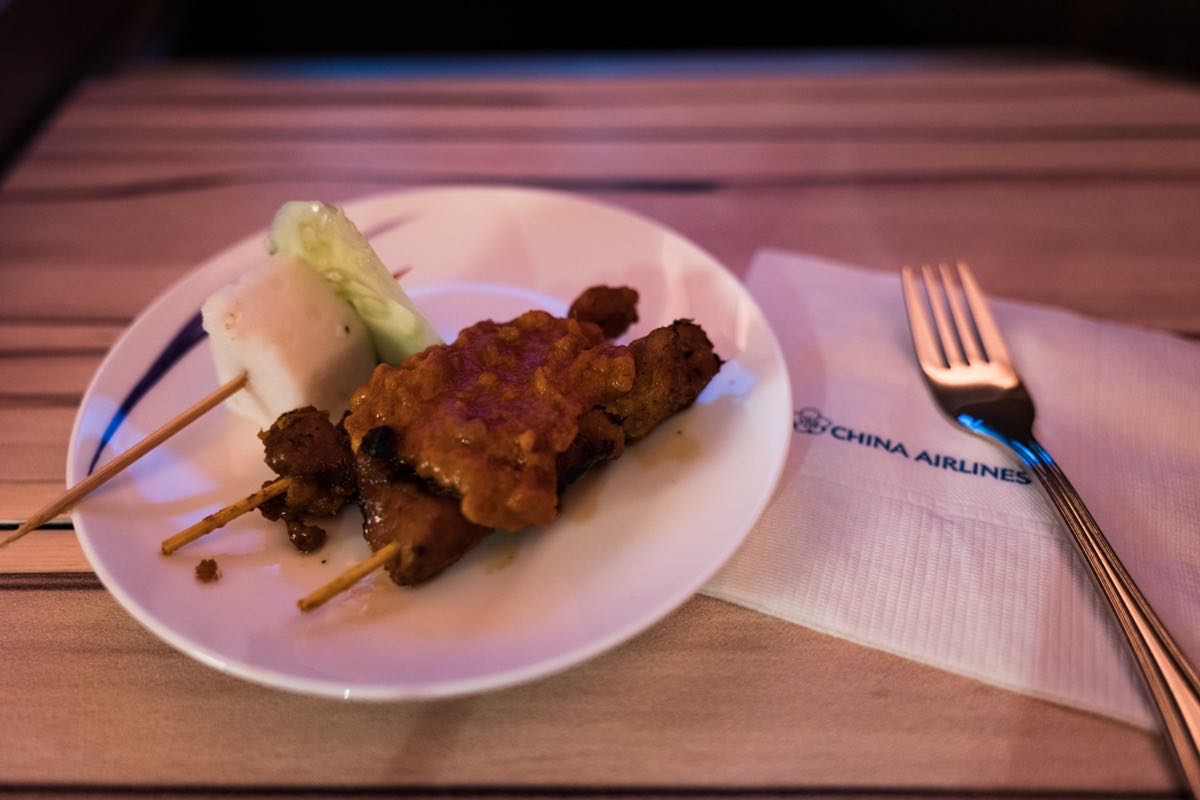 China Airlines chicken satay
After the appetizer something apparently broke down in the food & beverage department, as the entree was served an hour and 30 minutes later. Being a daytime flight most passengers were watching movies, reading, working — so it had less impact than on a redeye long-haul, but still, I would have preferred a quicker meal turnaround time.
While waiting for the food, I decided to try out the lounge and bed mode of the seat.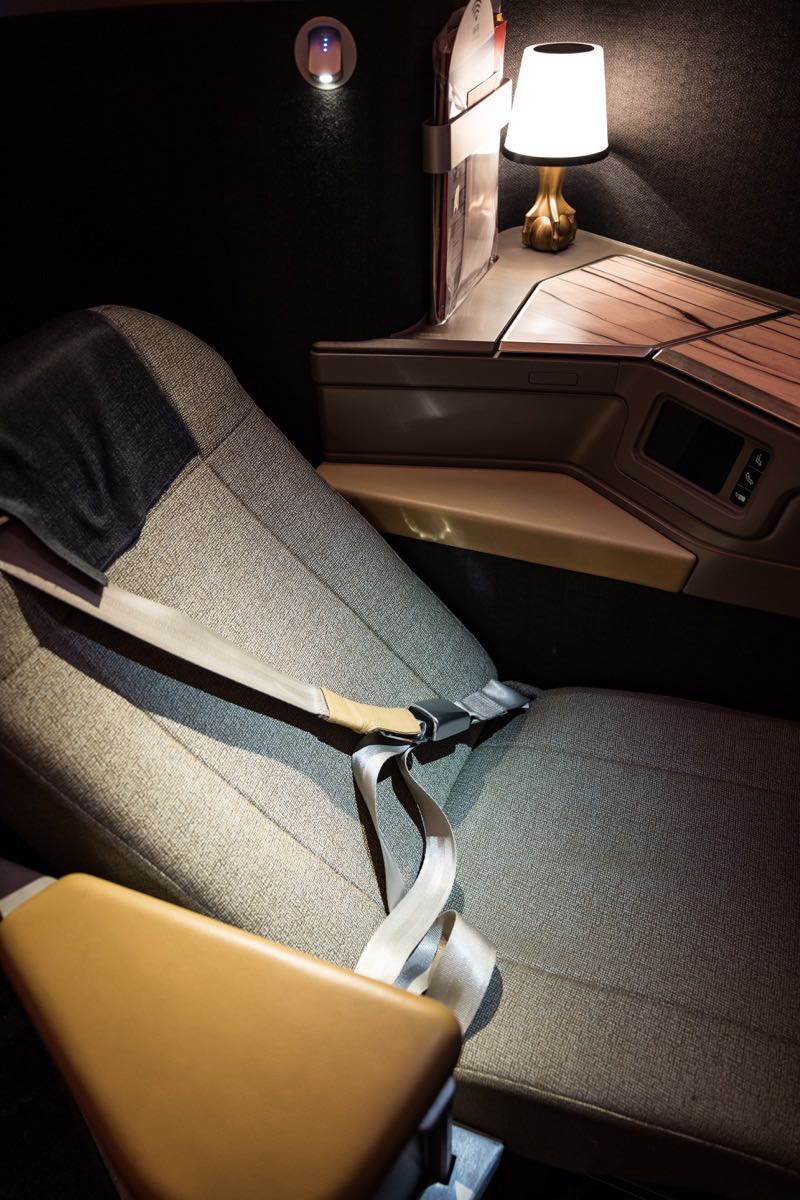 China Airlines A350 seat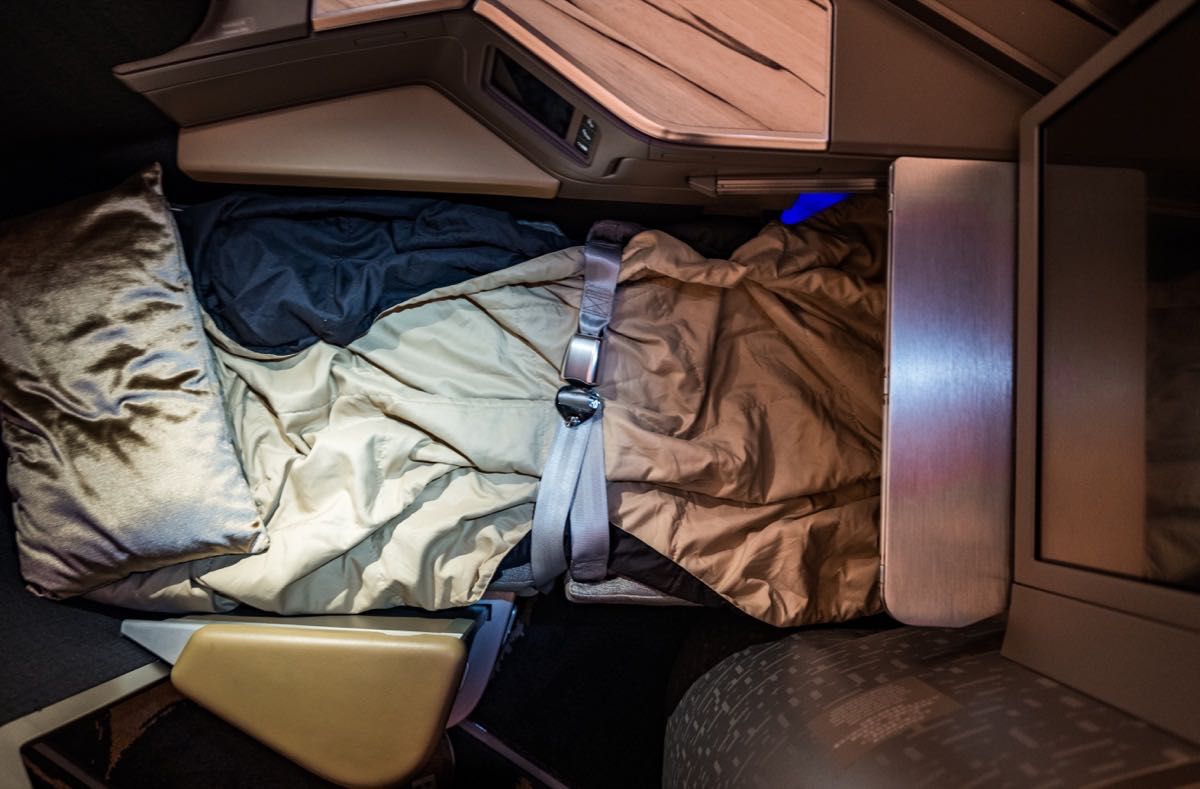 China Airlines A350 seat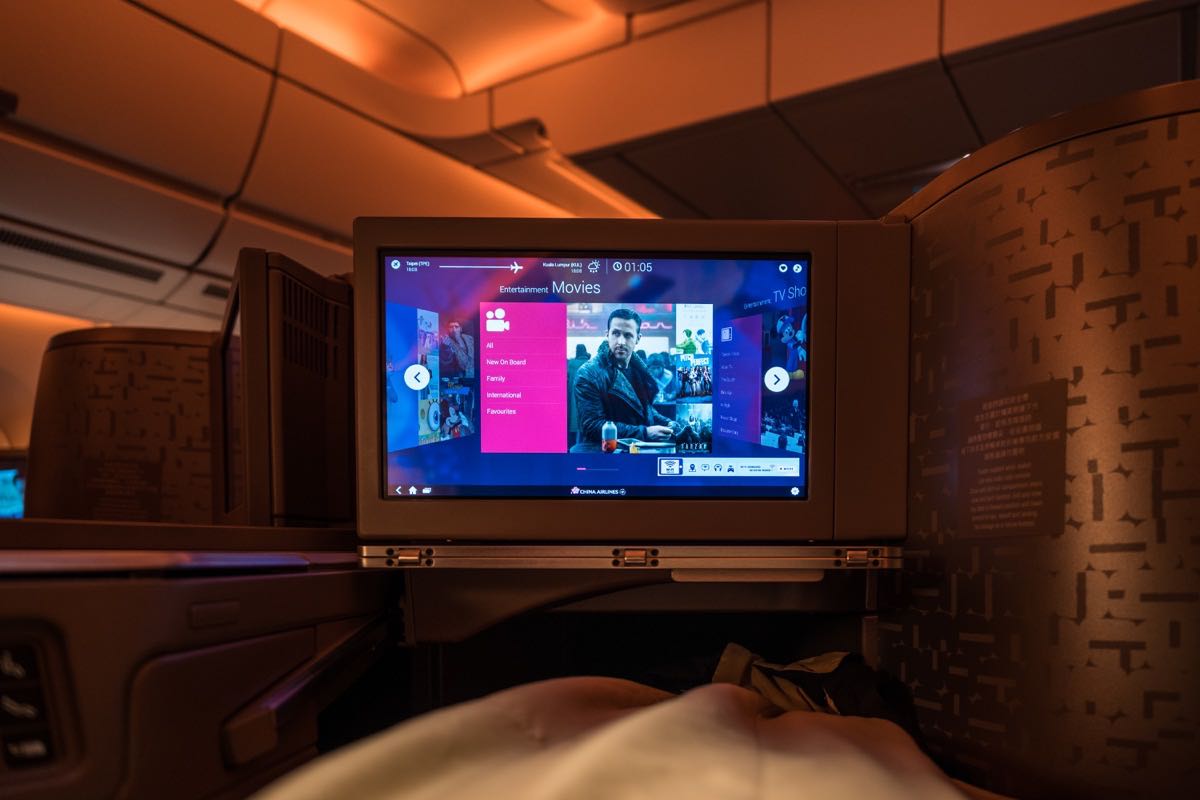 China Airlines A350 seat
The seat proved to be great. Mattress pads are reserved for longer flights but thanks to the softness of the seat — it was decently comfortable when lying down. With the pillow and blanket it was cozy, warm (the cabin temperature was kept lower than usual) and pleasant. There was enough space to lie down on the back or on the side, even for my larger frame. I would have no problems getting a good night's sleep in this seat. Later in the flight I even managed to doze off for a brief moment.
With still no food in sight I went to explore the rest of the plane.
Curiosity brought me to the onboard bar, where one could presumably get some noodles, snacks, sweets or drinks. But to my disappointment it was mostly filled with trash from the slowly proceeding meal service. And when the crew saw me taking pictures — they immediately closed the doors under the premise that it would be nicer that way.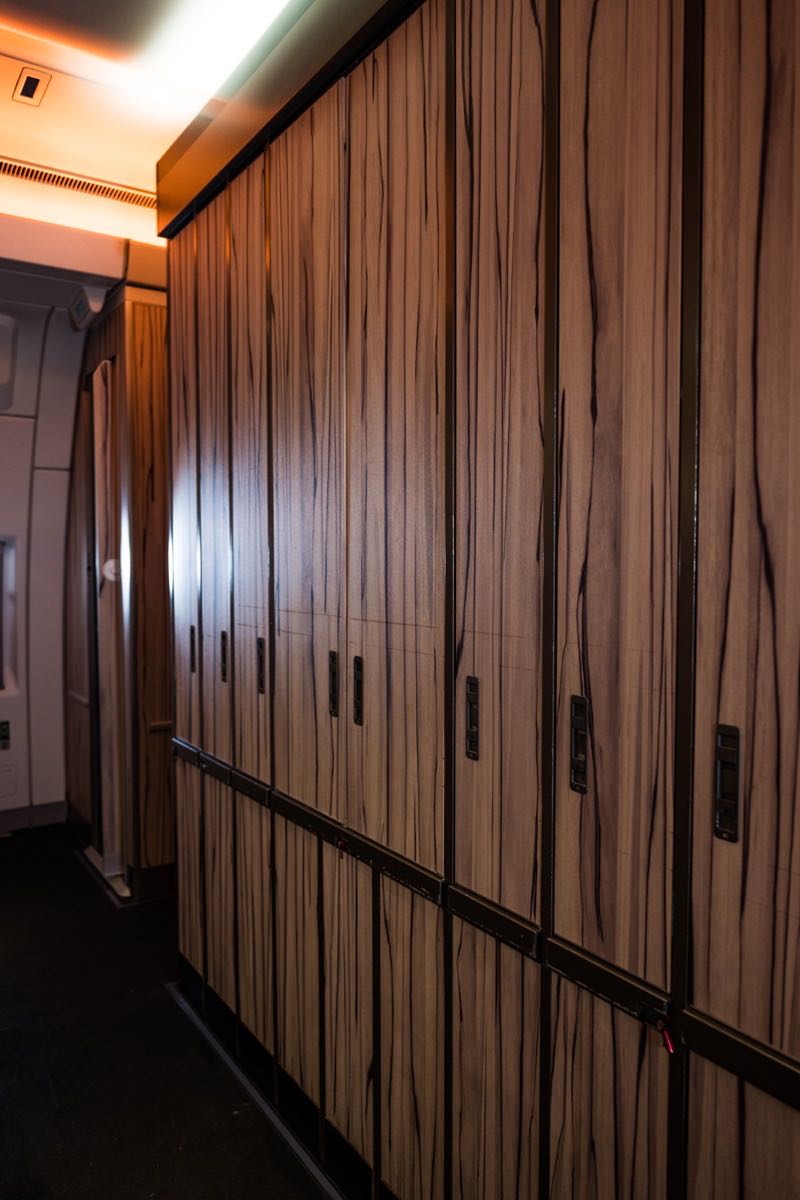 China Airlines A350 bar (closed)
In my opinion this is a lost opportunity, especially on a daytime flight. There is no complicated routine to set it up and it does give the passenger incentive to walk around, grab something to eat, and leave the flight with this small memorable experience. After all — it's not something we are used to on planes.
Sometime around the mid-point of the flight, dinner was finally served.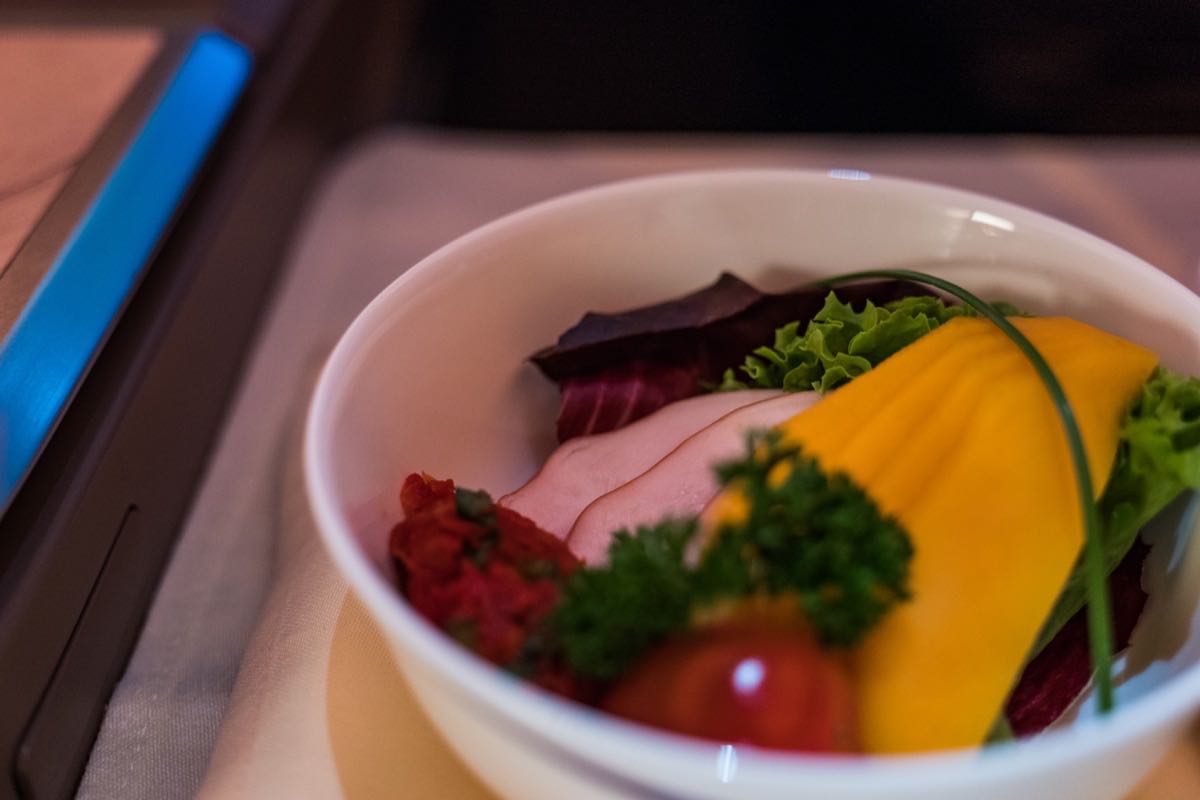 Smoked chicken mango salad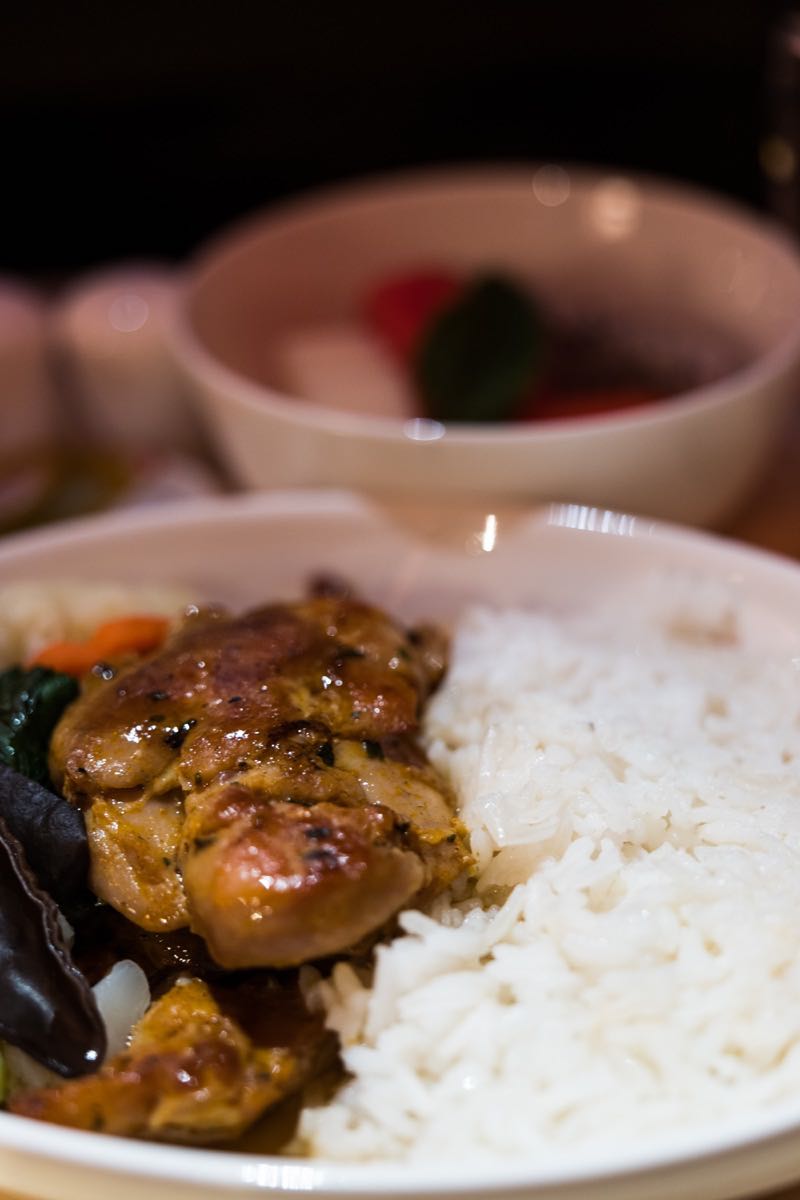 Grilled chicken thigh in plum sauce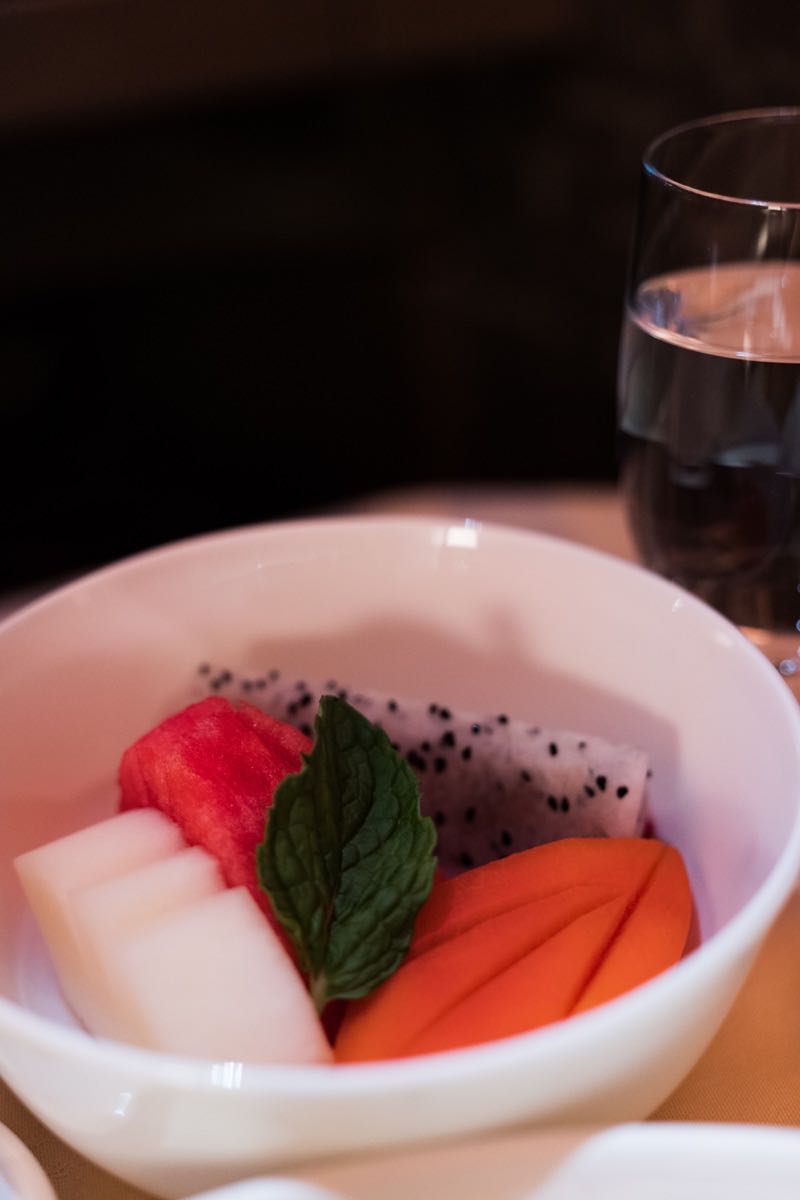 Seasonal fresh fruits
The smoke chicken mango salad had a vibrant fresh taste. The chicken was again a bit too chewy to my liking, but perfectly done in terms of the taste. And the fruit platter was a nice completion to the meal. Generally I liked the food, with my only reservation being the very long process of getting it to the passengers. The crew was working in a very automated fashion, without proactively clearing plates or offering refills. Even when requested I would get the impression that I was disturbing them with my requests.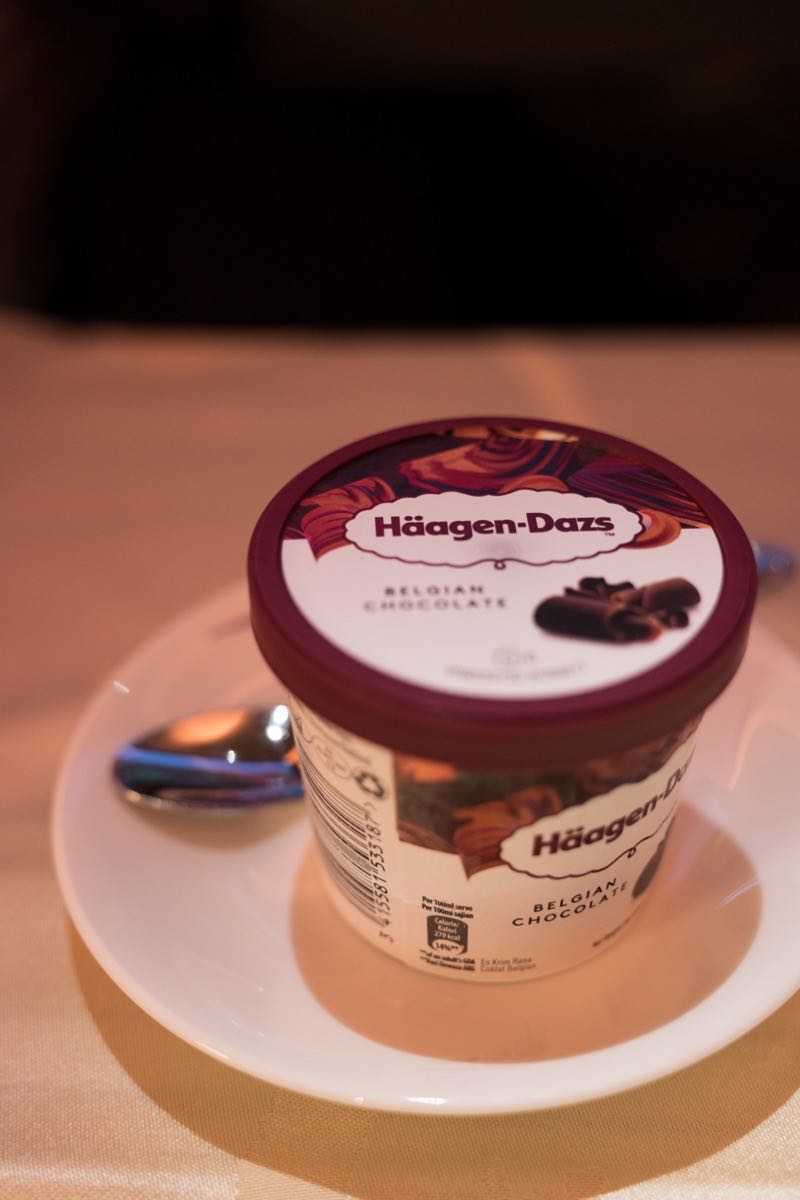 Ice cream for dessert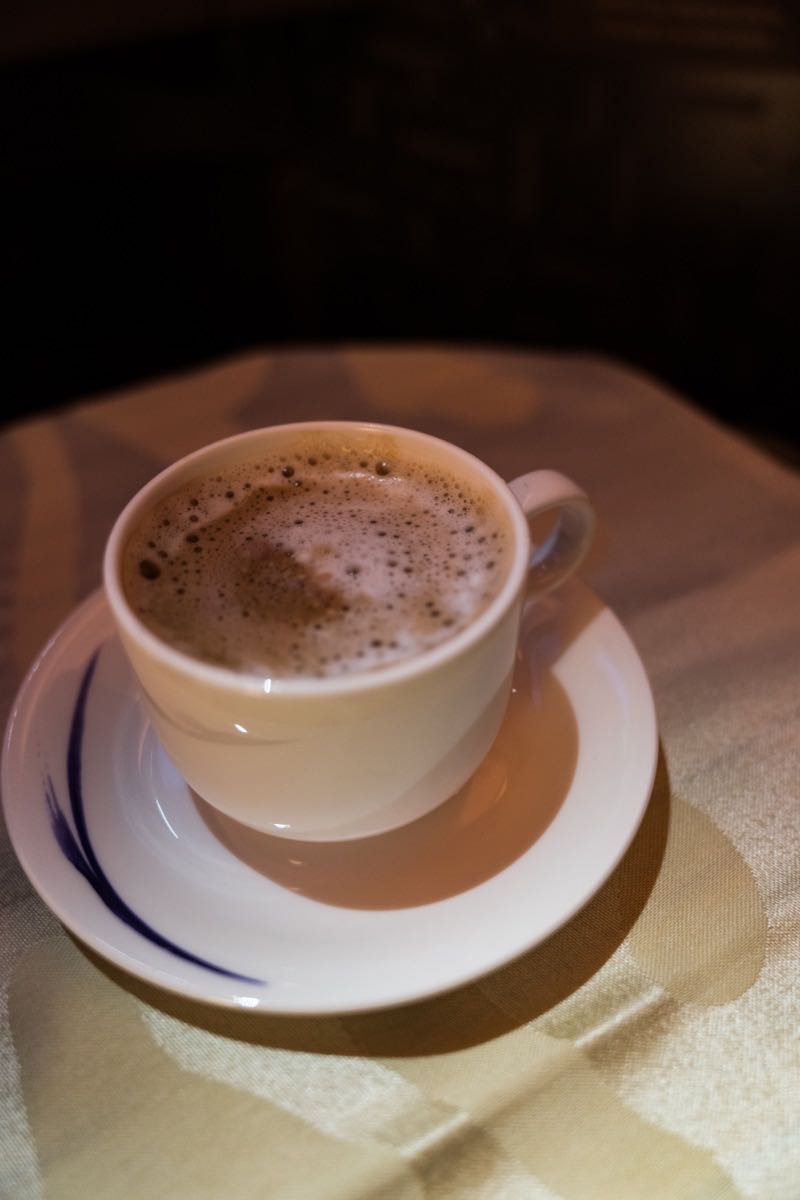 And a cappuccino
After dinner I was offered a choice of vanilla or chocolate ice cream. It was hard as a rock, but after some digging in, I managed to enjoy it. The cappuccino I had it with was also nice.
As the passengers were finishing their meals the first officer announced that we will be starting descent soon.
Bottom line
I left this flight with mixed feelings — the hard product, although not as ground-breaking as the QSuites or Apex  — is perfectly solid and is probably more than enough for a flight of any duration. The lack of interest from the crew during the flight, strange long process of the meal service, lack of the advertised snack bar — it all downgraded the impression. I wouldn't go out of my way to fly China Airlines medium-haul business class again, but there certainly are worse ways to fly.