There's a new airline in the South Pacific that claims to be just months from launching. I'm not sure whether to be suspicious, or just think that the founders are a wee bit optimistic.
What is FLY CORALway?
FLY CORALway hopes to be an airline connecting islands in the South Pacific. On the surface it sure seems like there's a market for this.
For example, in Tahiti you have Air Tahiti Nui, offering long haul flights to destinations like the US and Japan with Boeing 787s, and you have Air Tahiti, primarily offering inter-island flights in French Polynesia with turboprops.
But there's not much in between, which is where FLY CORALway comes into play. Let's talk about what we know about the airline so far.
FLY CORALway's fleet plans
FLY CORALway hasn't yet finalized its fleet plans, but the airline intends to fly either Airbus A220-100s or Embraer 190 E-2 jets. While there are tons of planes on the secondhand market right now, that's not the case with A220s or E190-E2s, both of which are new aircraft.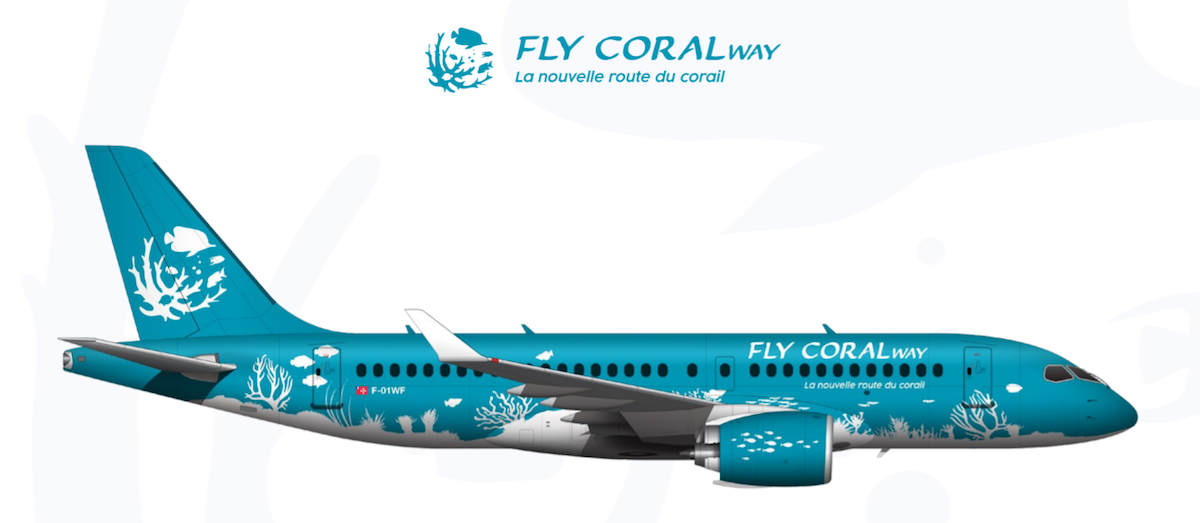 Rendering of FLY CORALway Airbus A220-100
It's one thing if the airline were looking for "standard" E190s, in which case there would be lots of options. But how exactly does FLY CORALway plan on sourcing these new aircraft types with just months notice?
FLY CORALway's cabin configuration plans
FLY CORALway plans to offer two classes of service, and even has renderings of what a FLY CORALway A220-100 cabin would look like.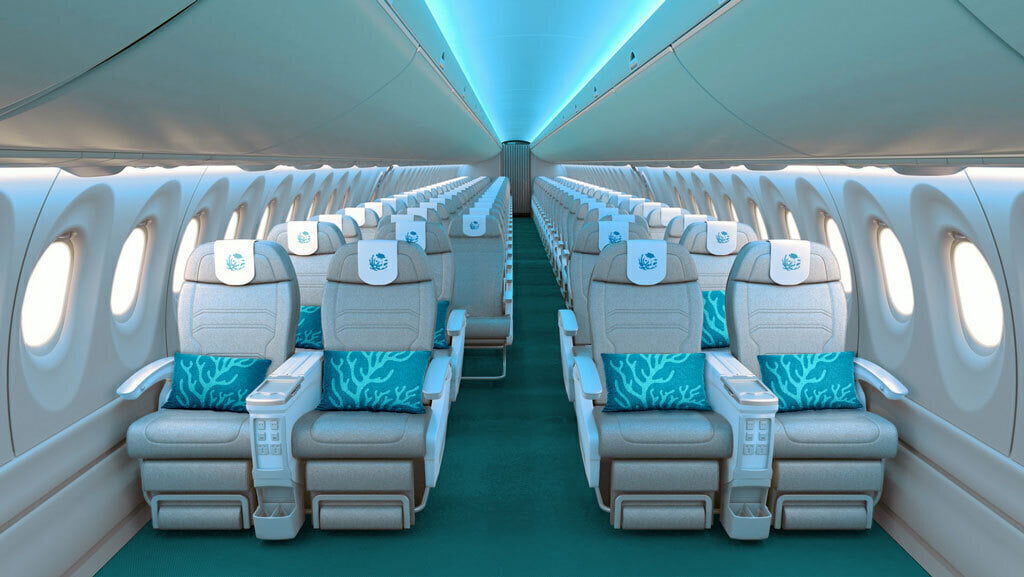 Rendering of FLY CORALway A220 cabin
The airline notes that planes would feature anywhere from 98 to 130 seats:
In business class you could expect around 38″ of pitch
In economy you could expect 31-32″ of pitch
The airline has even published potential seatmaps for the planes:


FLY CORALway's planned route network
FLY CORALway would initially offer service between five airports, including:
Faleolo International Airport (APW) in Apia, Samoa
Nadi Airport (NAN) in Nadi, Fiji
La Tontouta International Airport (NOU) in Noumea, New Caledonia
Fa'a'ā International Airport (PPT) in Tahiti, French Polynesia
Hihifo Airport (WLS) in Wallis and Futuna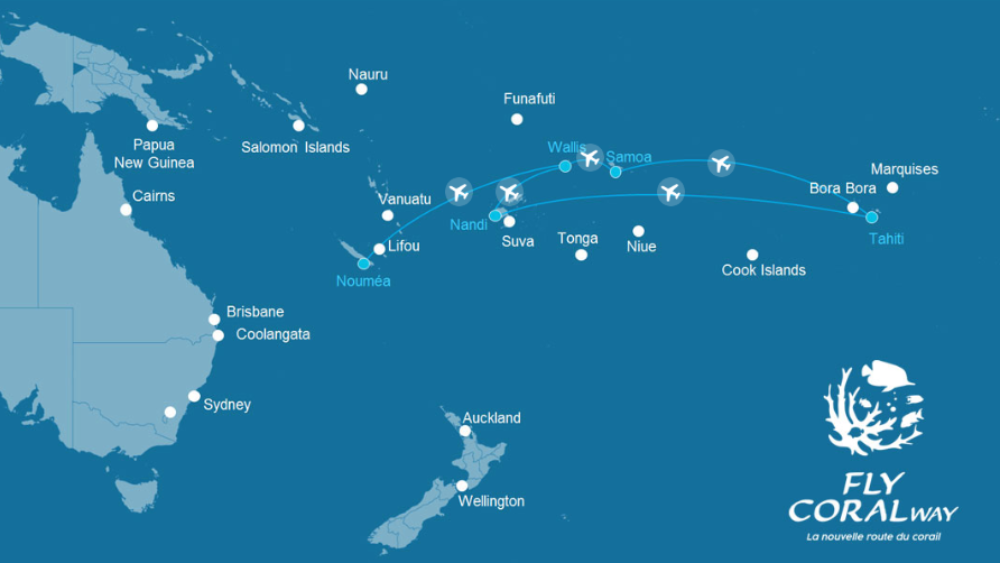 FLY CORALway's potential routemap
If I'm understanding the routemap correctly, the airline would potentially operate the following routes:
PPT-APW 2x weekly
PPT-NAN 2x weekly
WLS-APW 2x weekly
WLS-NOU 3x weekly
WLS-NAN 3x weekly
Suspicious: FLY CORALway already selling tickets
FLY CORALway is already selling tickets for its flights as of June 14, 2021. That seems extremely shady, when you consider that the airline hasn't yet secured a plane, and hasn't even started hiring employees.

If this is a legitimate operation, it's incredibly bad form to start selling tickets if an airline is nowhere close to reliably launching operations, and rather it seems rather Global Ghana Airlines-esque. That's especially true when you consider that vaccines may not be widespread on some of these islands in the coming months.
Now, a few things to note:
The two guys behind the airline claim to have airline experience, including one guy claiming he was involved in the launch of French Bee, but I'm having a hard time verifying that
The people behind the airline claim they will start hiring employees in the first quarter of 2021, with the goal of having 95 employees
The founders have "private financing commitments" and are working on public financing to supplement that, as they are also looking for government support
The founders claim they need around 12 million EUR to launch operations
Bottom line
FLY CORALway is a startup in the South Pacific that plans to launch flights in June 2021. The airline intends to use A220s or E190s to connect islands in the South Pacific that don't currently have much service.
Unfortunately I'm rather suspicious of how the founders are going about launching this airline. Tickets are already on sale, despite the fact that there are no planes or employees yet.
That being said, I'd love to see this airline become a reality. This is a market that fills a niche that currently isn't served. In the past when I've tried to plan a South Pacific trip, I've been amazed by the lack of connectivity between some islands. This airline would be perfect for something like that.
What do you make of FLY CORALway, both in terms of the concept, and in terms of the viability?