Taiwan's Starlux Airlines has just put flights to LAX on sale. This also represents the first time that Starlux is selling its Airbus A350-900 first class product. It's exciting to see a brand new first class product being introduced, though I can't help but point out the unconventional approach that the airline is taking to first class, and wonder if this strategy will stick.
Starlux Airlines' modest A350 first class seat
Starlux has introduced all new first & business class products on its Airbus A350-900s, which will be used for long haul flights. Starlux Airlines will be the only airline in Taiwan to offer first class. The airline is known for incredible quality, so in that sense many were surprised that the airline didn't go more over-the-top with its first class.
Specifically, Starlux's A350 first class cabin consists of just four seats, in a 1-2-1 configuration. Arguably it's not even a separate cabin, as it's simply the first row of business class, and there's no curtain between first class and business class.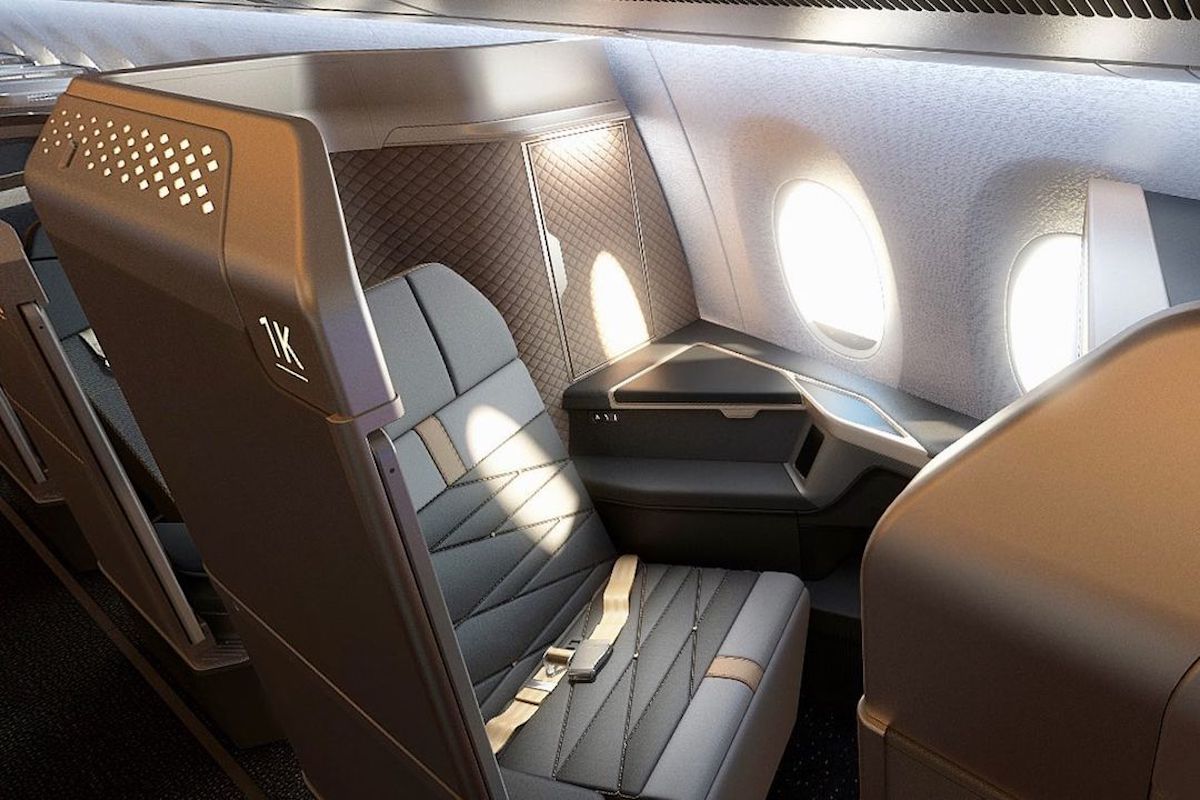 In some ways the product sounds like some of the "business class plus" seats we've seen introduced in recent years, like the JetBlue Mint Studio, Virgin Atlantic Retreat Suite, etc. More than anything else, it efficiently utilizes the space at the bulkhead.
The seat has some useful features, like 60-inch doors and privacy partitions, 32-inch 4K screens with bluetooth audio, zero-gravity seat settings, and personal wardrobes for storing luggage. However, there's no denying that the airline didn't set out to create the world's best first class hard product.
First and business class is exclusively between doors one and two, and the airline managed to fit 30 seats in this space (four first class seats and 26 business class seats). As a point of comparison, Qatar Airways' A350-900s with reverse herringbone seats have just 24 seats in that space (though there is a little bar at the back of the cabin).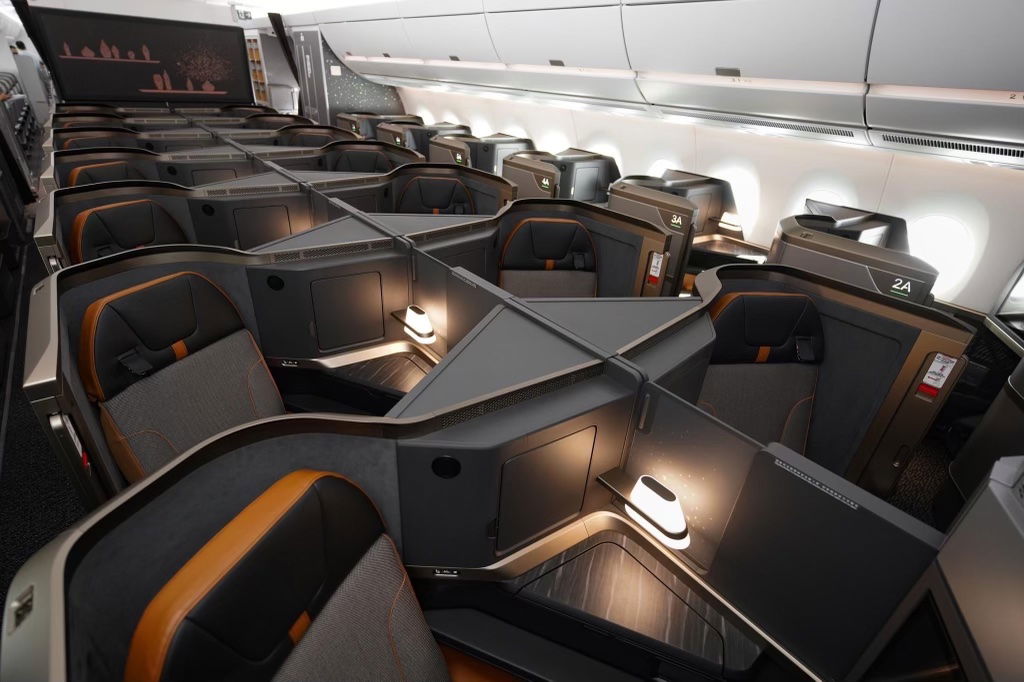 To be clear, I don't think there's anything wrong with introducing a first class product that's incrementally better than business class, though you'd also hope that the price reflects that.
Starlux Airlines investing in first class service
Starlux Airlines is known for its incredible soft product in all cabins, and that will also extend to first class on the A350. While we don't know the full details of Starlux Airlines' first class soft product, here are some things we do know, as observed by readers Gary and Ryan:
In Taipei, Starlux first class passengers will receive chauffeur service to & from the airport (TPE)
In Los Angeles, Starlux first class passengers will be able to use PS, the private suite that offers chauffeur service to & from the plane, allowing you to skip the terminal altogether; if you're traveling alone you'll have access to The Salon (a shared space), while if you're traveling with someone, you'll have access to The Suite (a private space)
While exact details of food & drinks in first class aren't known, dine on demand will be offered, and there will be caviar
It sounds like Starlux is really going to invest in its first class soft product both in the air and on the ground, which doesn't surprise me. Whether that makes up for the lack of separation from business class remains to be seen, though.
Starlux Airlines first class pricing is steep
When we first saw Starlux Airlines' first class product, many of us assumed it would come at a reasonable premium over business class, since it's not even in a fully separate cabin. Now that flights to Los Angeles are on sale, we see that's not the case. First class fares are really steep, consistently, at least triple the price of business class.


I can't help but wonder if Starlux Airlines will be able to find people willing to pay $10K+ for its first class product. Admittedly lots of airlines have very high sticker prices for first class, but then there are ways to get a much better deal. However, most of those presumably don't apply here:
Starlux Airlines has limited opportunities to redeem miles for first class, especially as the program doesn't have any airline partners
While it could change, as of now fares aren't considerably cheaper if connecting, as is often the case with other airlines
I can't imagine Starlux Airlines has many corporate contracts right off the bat that offer huge discounts to travelers, since this will be the carrier's first long haul route
At these fares, I can't imagine Starlux will be able to consistently fill any substantial number of seats. Even with just four seats, you're not going to regularly find people willing to pay these kinds of fares, in my opinion. Furthermore, while Taipei is an amazing city, it's not Tokyo, Hong Kong, or Singapore, in terms of pricing power for tickets.
So I'm curious if Starlux adjusts its pricing strategy going forward, if the airline provides lots of ways to upgrade from business class, or what.
There's one other important point to address when it comes to transpacific pricing at the moment. Since the start of the pandemic, we've seen huge increases to transpacific fares, especially in premium cabins. Why? Because pre-pandemic, mainland Chinese carriers were capacity dumping like there was no tomorrow, and other airlines were forced to compete.
With airlines from mainland China having reduced transpacific service so much over the past few years, and with transit in mainland China not even having been possible for so long, that hasn't been a consideration. I imagine that this is a trend that we'll start to see reversed as more mainland Chinese carriers restore their networks in North America.
Bottom line
Starlux Airlines will finally be launching its first class product, with the introduction of the Airbus A350s on transpacific flights. Starlux has an intimate first class cabin, with just four seats. Oddly it's not even separated from business class, but is just the first row of the cabin.
While the hard product probably won't blow anyone away, I expect we'll see an amazing soft product both in the air and on the ground.
Starlux's first class pricing is optimistic, and I just can't imagine the airline can sustain this pricing. I'm curious to see how this plays out.
What do you make of Starlux Airlines' first class strategy?