As I hinted at on Monday, this week I flew Spirit Airlines, which I've been wanting to do for a long time. I paid dearly for the privilege, as the ticket cost me twice as much as an American ticket would have cost with complimentary upgrades, lounge access, etc. But I've been wanting to fly Spirit, to see if flying with them is really that different than the experience offered by other US airlines. On Tuesday Travis shared his experience flying Spirit a while back, which summed up the experience pretty well.
While I'll have a full trip report soon, I first wanted to share my biggest takeaways from the experience. Put another way, if you've never flown Spirit before, here are the things you should know before booking. In no particular order:
Pay for a carry-on
Spirit Airlines charges for both carry-ons and checked bags. Oddly they actually charge more to carry-on than to check a bag, which seems counterintuitive. For example, for my flight from Los Angeles to Seattle, it cost $5 more to carry-on than check.

You might think "well then I'll just check it because it will be easier and I won't have to fight for overhead bin space." DON'T DO IT! The queues to check bags at Spirit are insane. I think this is intentional, so that they'll convince you to carry-on for your next flight.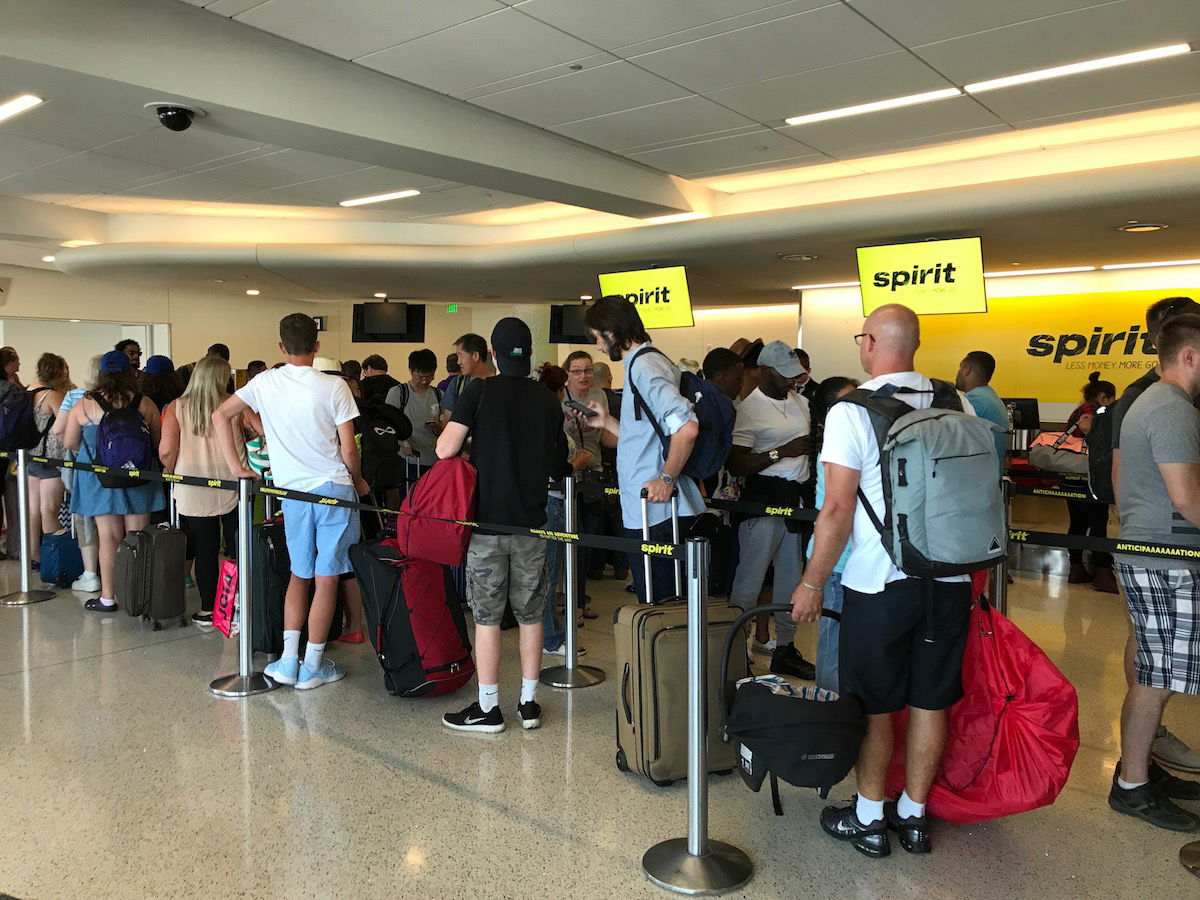 Also, anyone who pays for a carry-on bag automatically gets Zone 1 boarding, meaning you'll be among the first onboard. So when you pay for a carry-on you're not only saving yourself a lot of time, but also getting pre-boarding. Of course all of this assumes that you're not just taking a personal item, which is the real way to score a deal flying Spirit.
Get a Big Front Seat
Spirit's Big Front Seat might be the best value in domestic travel in terms of the upgrade cost. The seat doesn't come with any other privileges, besides a more comfortable seat (you don't get more service, pre-boarding, etc.). However, paying $32 for an upgrade to what's essentially a domestic first class seat on a Los Angeles to Seattle flight is a phenomenal value, especially given that Spirit has the tightest seat pitch of any US airline.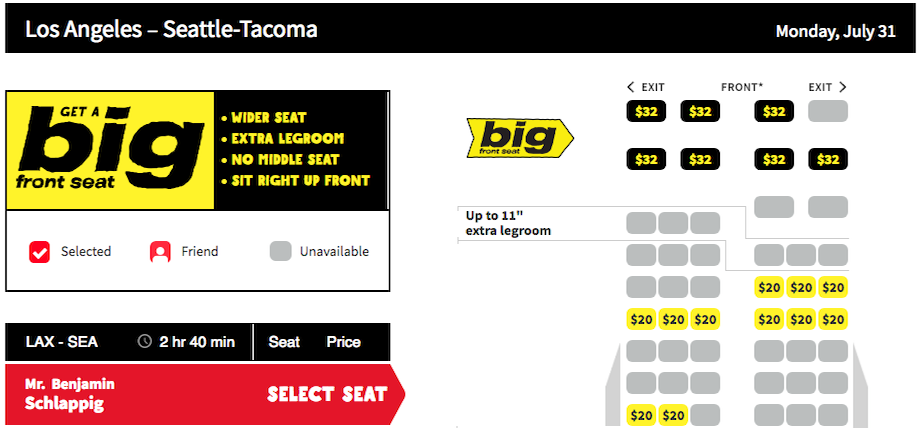 I understand a lot of people fly Spirit because they're looking to save as much as possible, so this isn't for everyone. However, if you're in a position where you can spend the extra money, do it.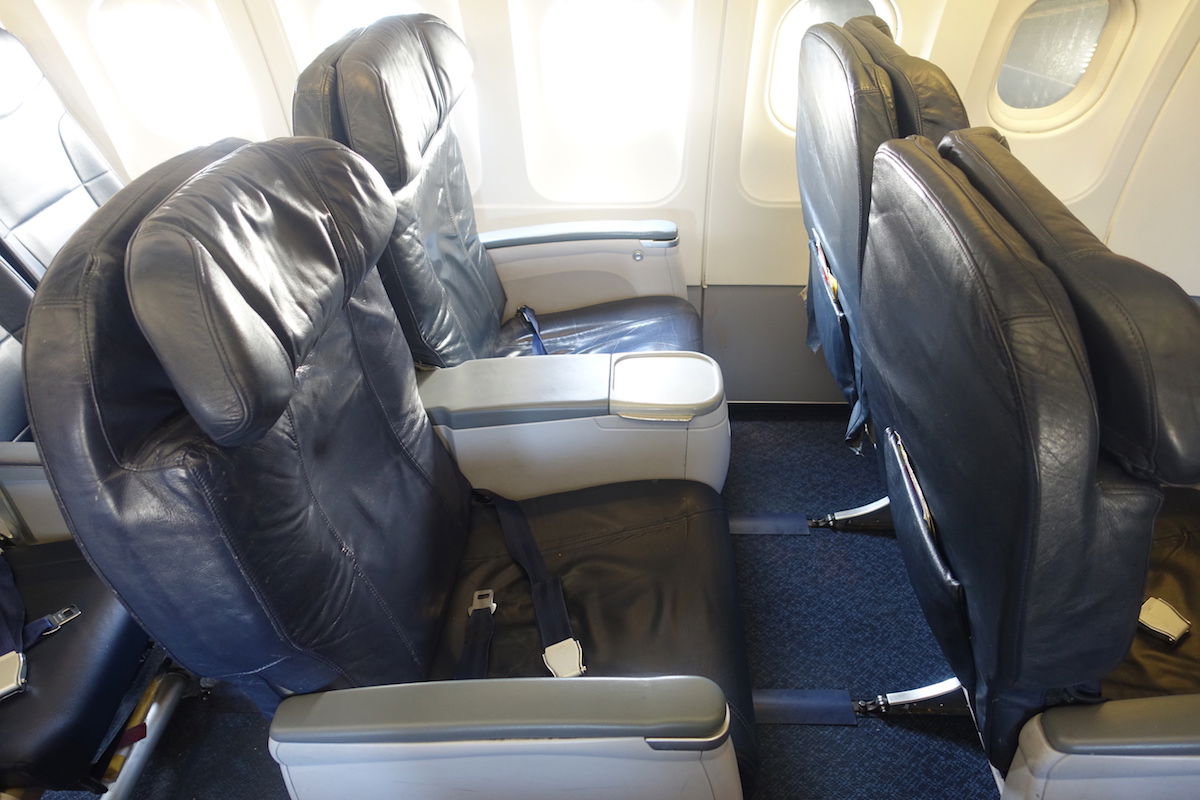 Make sure you know how to read
This was the part of the Spirit experience that surprised me the most. There are many things you can accuse Spirit of — not being transparent isn't one of them. They are transparent to the point that the booking process is a PITA. They ask you about a hundred times if you're sure you don't want to pay for a bag, if you're sure you're good with your selection, if you're sure you understand what you're getting yourself into.
Yet overhearing the people at the gate, I was blown away by the amount of aggression and anger directed at Spirit. "Can you believe how much they charged me for a bag? How was I supposed to know I had to book it in advance." Like, um, Spirit couldn't be more transparent.
So be sure you know what you're getting yourself into… please. If you pay $100 to check your bag on Spirit, you have only yourself to blame.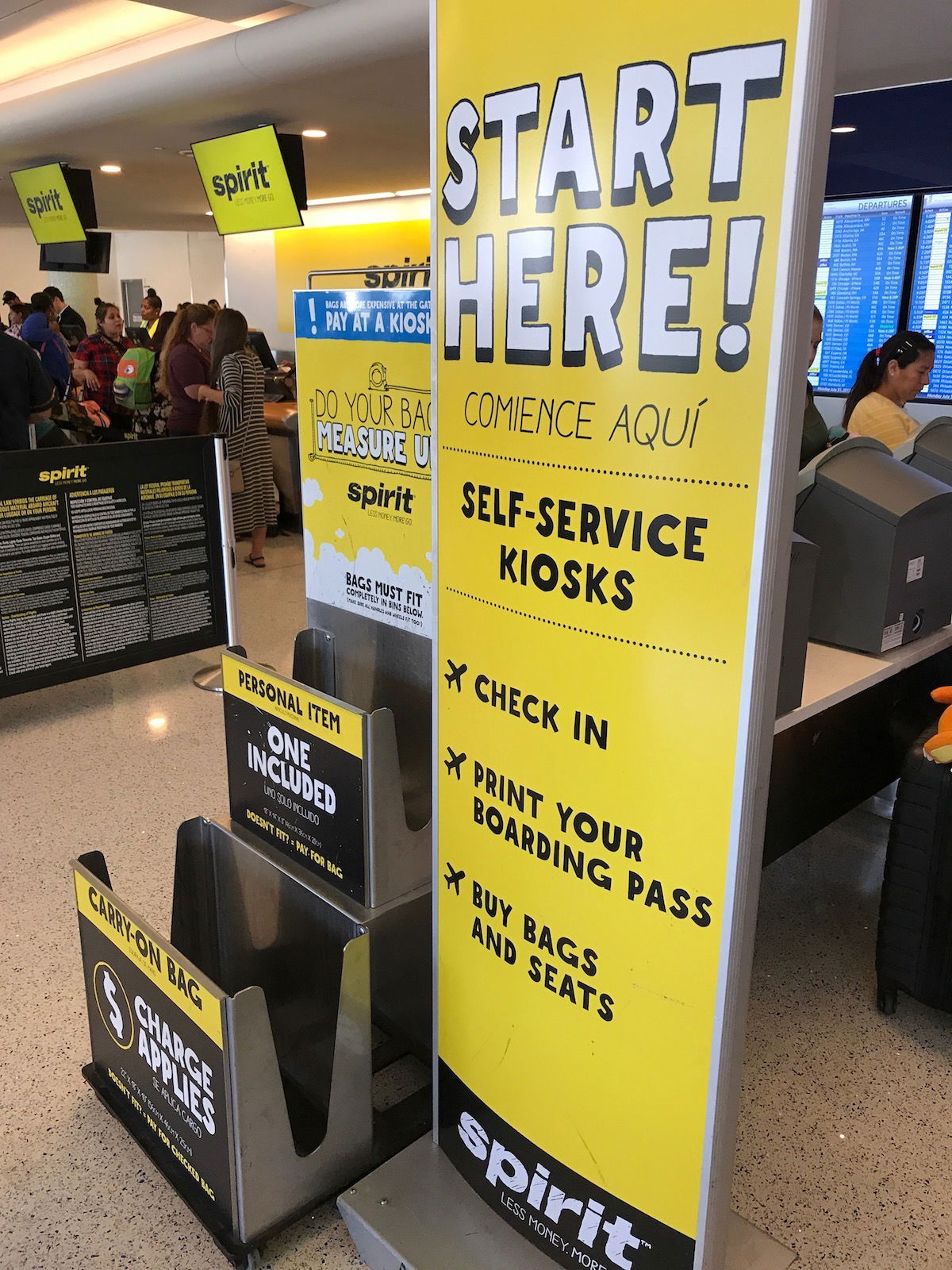 The worst part of the Spirit experience is…
I'm trying to phrase this delicately. For the most part I don't find there to be a big difference between passengers on different US airlines. However, when we hear of stories of fights breaking out on planes, it seems to be Spirit flights half the time. That's not a coincidence.
The crowd on this flight reminded me a lot of the people you'd find sitting at slot machines in Las Vegas at 6AM on a Sunday morning smoking cigarettes and still drinking.
I only had a few passengers seated near me, and before the door even closed I heard passengers use the "n" word, the "c" word, and the "s" word (derogatory term for Latinos). And that was before I put my headphones on and drowned everyone out for the rest of the flight.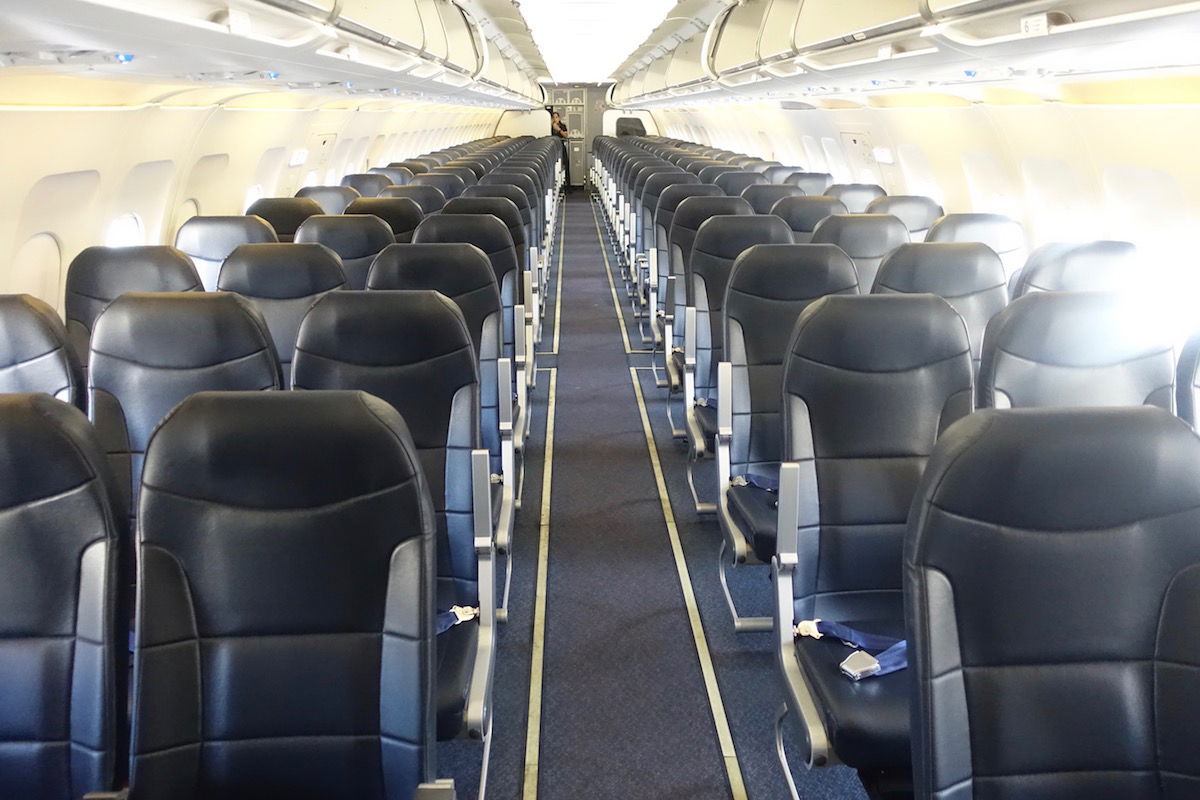 Arrive early if you're going to check a bag
This goes along with my first point above, but if you're going to check a bag, arrive early. Way early. Like at least two hours early, because you may be stuck in line for over an hour. If you're not checking a bag you should be fine arriving whenever.
Don't (necessarily) fly Spirit
Spirit no doubt has consistently low fares, but nowadays so do many other airlines. So don't just blindly book Spirit thinking you're going to get a great deal. Don't get me wrong, there are circumstances under which they may be the best value by far, and if you're traveling light, it can be a killer value. But by the time you add in a $30+ bag and all kinds of other fees, you may be paying a premium for the privilege of flying Spirit.
So just know what you're getting yourself into, and compute the "all-in" cost before booking.
Have a good attitude
I have the utmost respect for people who work for Spirit. The way I saw passengers treating Spirit employees was unbelievable, and despite that, they were all friendly. Passengers were letting their out their anger about the Spirit experience at employees, even though they have only themselves to blame.
I found that just by being polite and smiling I found that I got great treatment.
More importantly, though, you have to go into the overall experience with a good attitude. Are you checking a bag? Expect to wait an hour. Expect your seatmates will be crazy. Expect the flight will be delayed a bit. And hopefully you'll come out with a positive impression.
BuzzBallz FTW
In the same way that I like to taste test the drink selection in international first & business class, the same applies on Spirit. Their, ahem, "signature cocktail" is "BuzzBallz." They have three flavors — Choco Tease, Tequila Rita, and Mile High Lemonade. The lemonade is actually available exclusively on Spirit, and who wouldn't want to have Spirit's exclusive signature cocktail?
Well, I've gotta say, they were delicious. Well, except the Tequila Rita. Yes, I felt like I was at a trashy college party, but they were tasty and really alcoholic. A buzz certainly helps make a Spirit flight more enjoyable!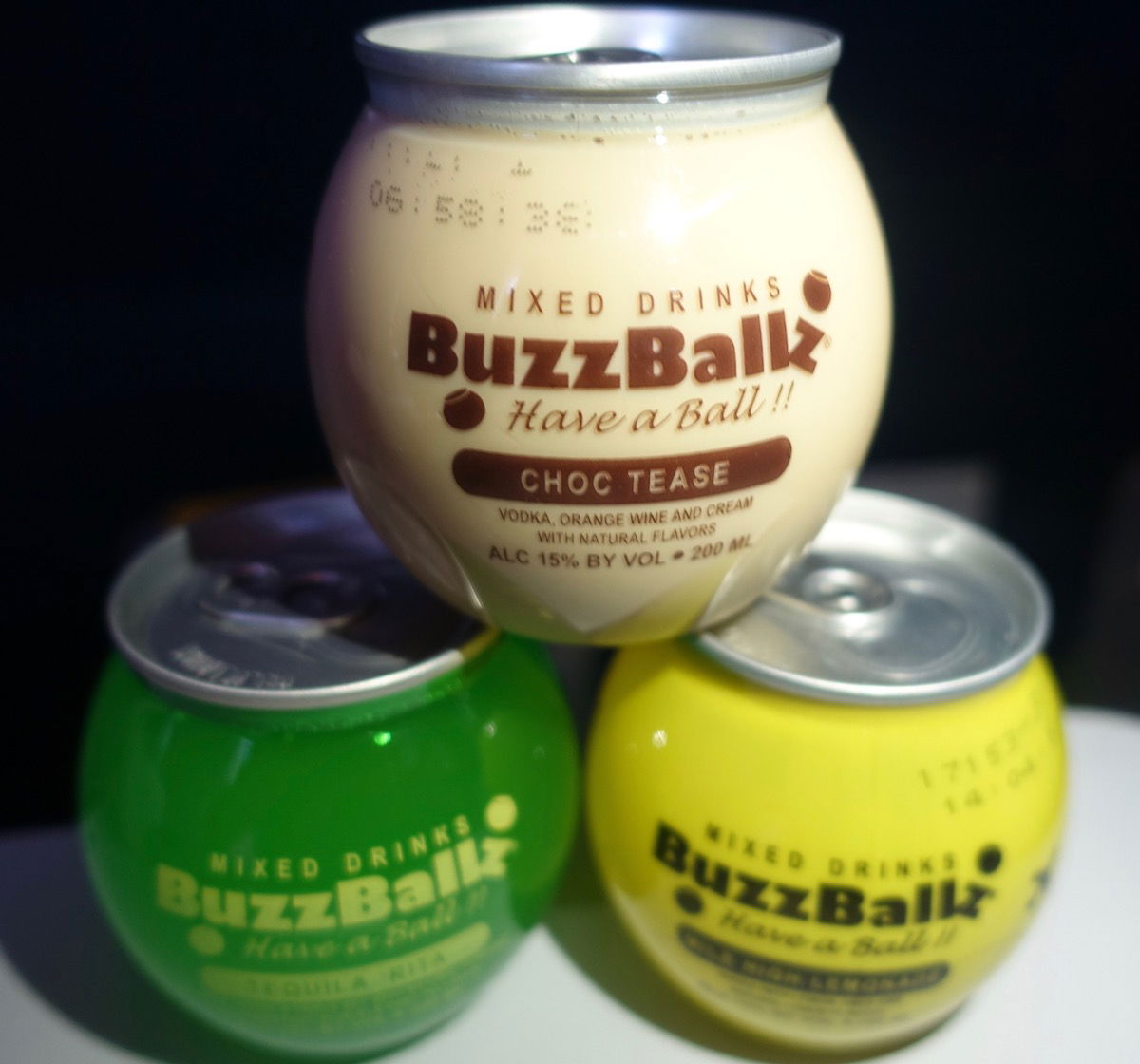 Bottom line
I have a ton of respect for Spirit Airlines. They have a positive effect on airfare in the US, regardless of whether you fly with them or not. I also respect their transparency, even if they don't offer my preferred "experience." However, for many they make travel more accessible, and that's great news. Just be prepared for some rowdy fellow passengers, and long lines if you check a bag. Otherwise it's actually a pleasant experience.
Anyone have any other tips for making the Spirit experience as pleasant as possible?