It finally happened — after 15(ish) years of being pretty loyal to World of Hyatt, I've finally earned Globalist status for life.
What does it take to earn lifetime Hyatt Globalist status?
World of Hyatt Globalist is my favorite top-tier hotel status level, and the World of Hyatt program also offers lifetime Globalist status. Specifically, you can earn this by racking up one million base points in the World of Hyatt program. You earn 5x base points per dollar spent, so that equates to $200K in qualifying spending with Hyatt over the years — yow!
Obviously that's a lot of money, but keep in mind that back in the day I lived in hotels full time for an extended period of time, so I was paying for hotels in lieu of paying rent.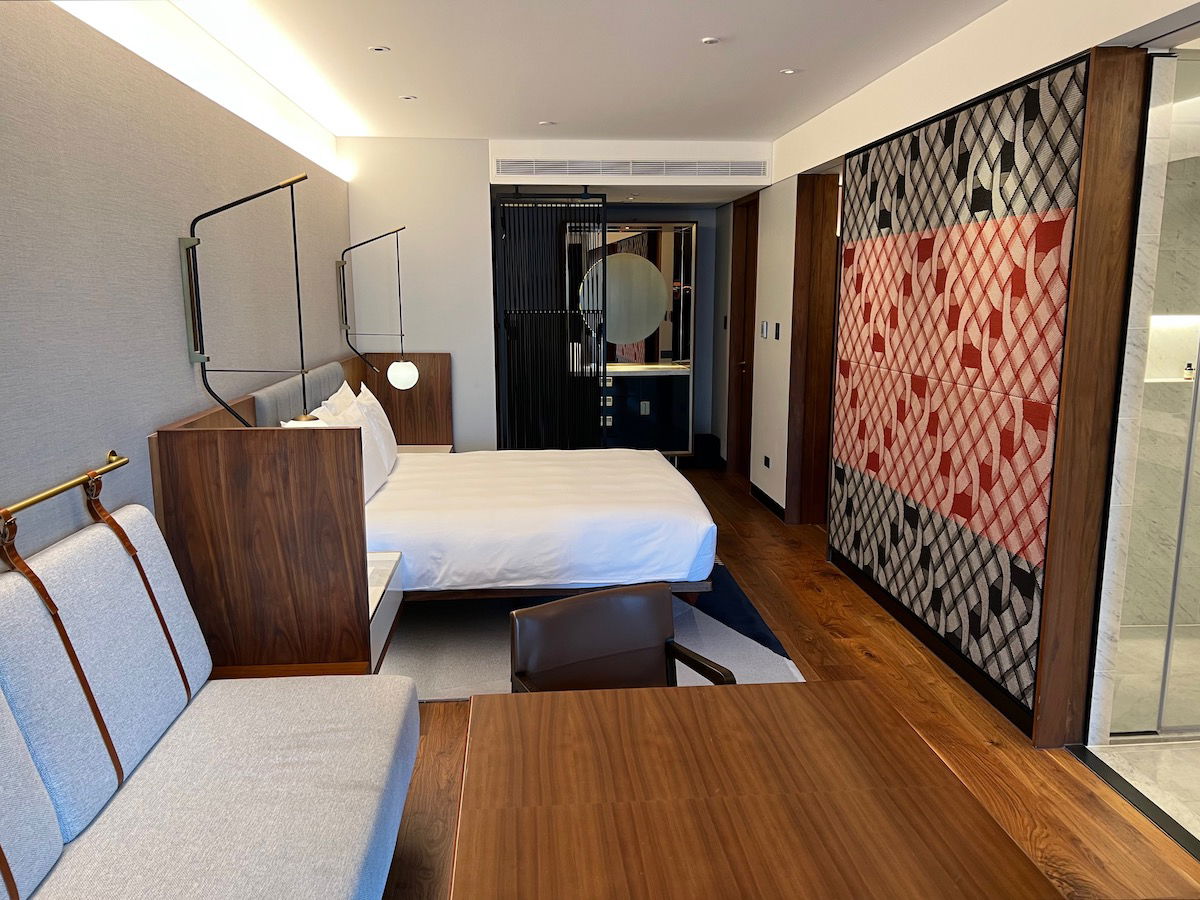 What stay earned me lifetime Globalist status?
I recently posted the introduction to my Austin trip report. As you may have guessed based on the title ("The Trip Of A Lifetime To Austin), I qualified for lifetime Globalist status at the Thompson Austin.
A few months back I posted about my general thought process of planning a special stay for this occasion. While I had hoped to do something grander, I ended up just being practical. Between moving, being a new dad, family health issues, etc., I didn't want to delay this stay any further.
So I figured the Thompson Austin was at least a decent place to reach this special milestone, since most of my upcoming Hyatt stays will be at limited service properties. I'd rather earn this at a Thompson with friends than at a Hyatt Place alone!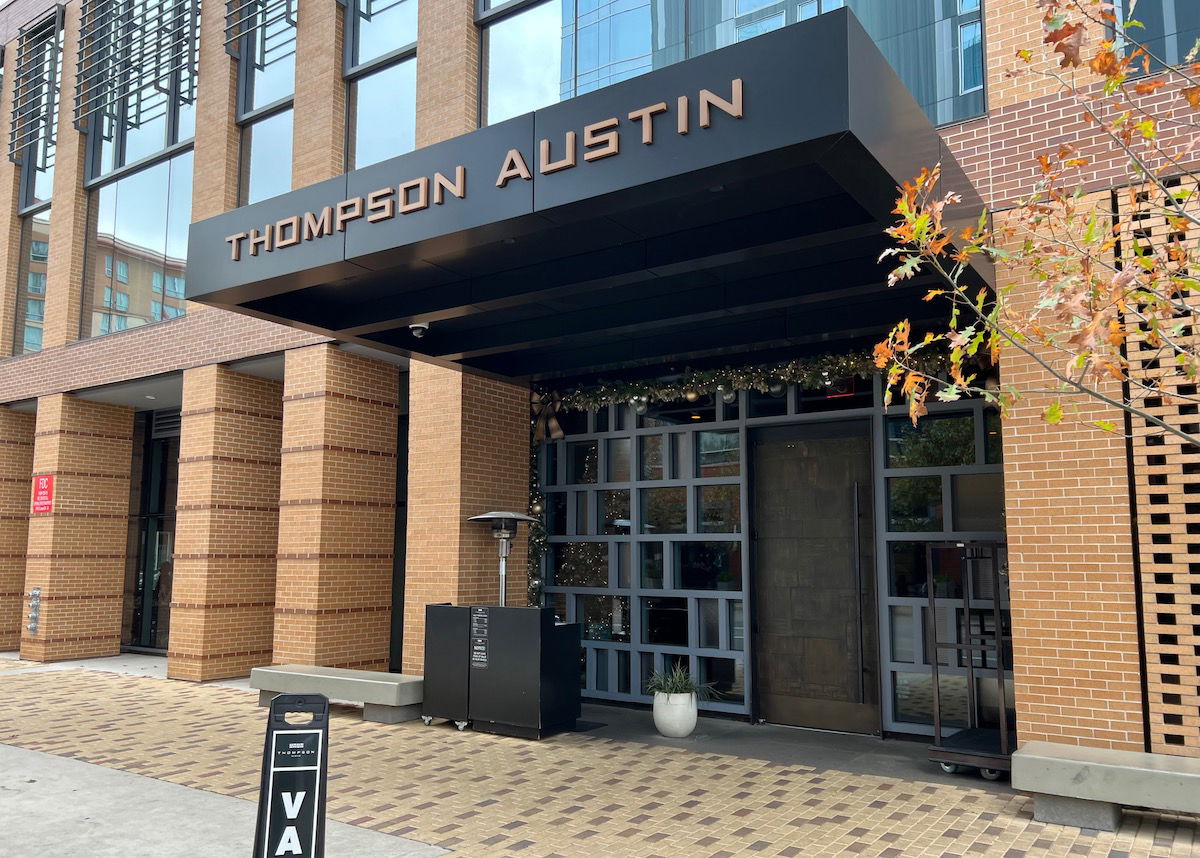 Does anything special happen when you earn lifetime status?
So, how was my stay that qualified for lifetime Globalist? Well, the same as every other stay, really. I had used a confirmed suite upgrade to block a suite, and that's exactly the room I got.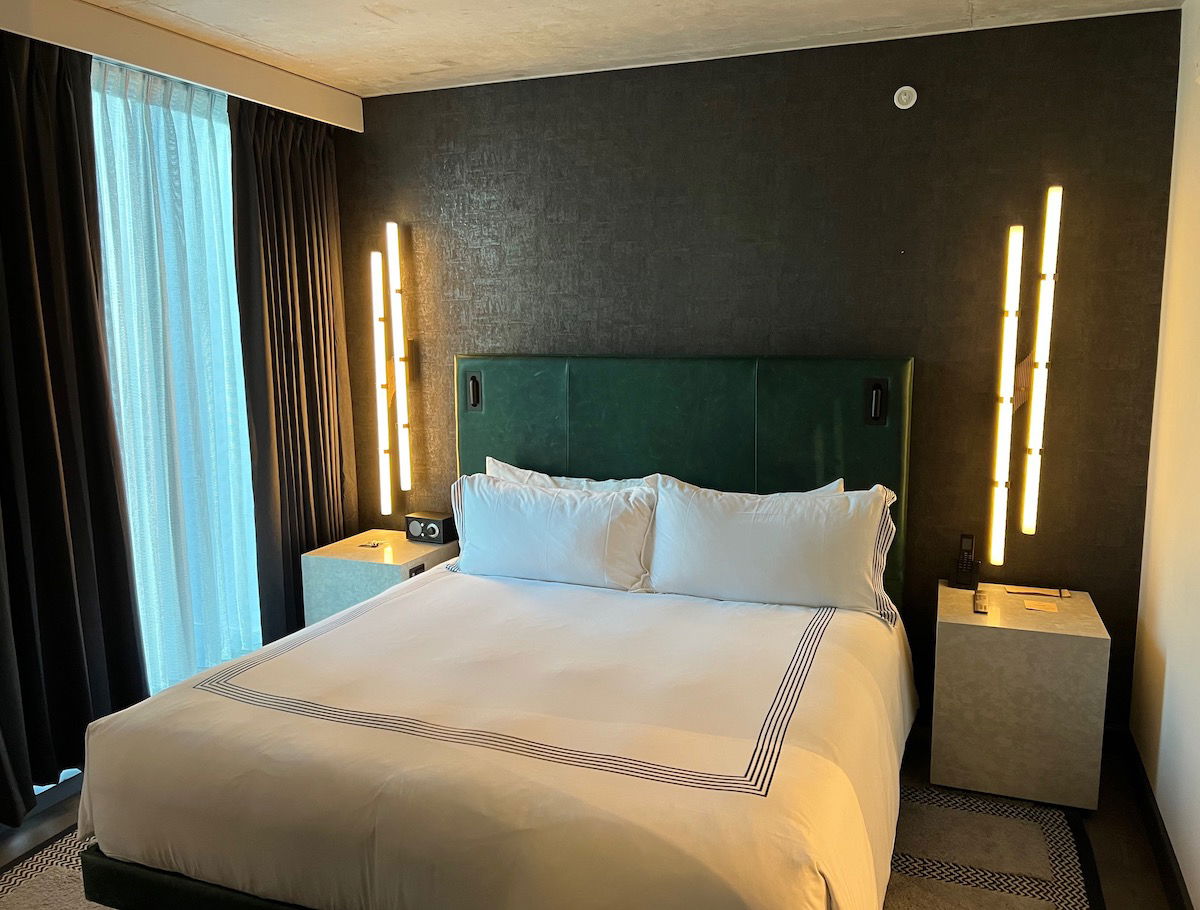 I received a modest welcome amenity, but presumably that was on account of having booked through the Hyatt Privé program, where that's a published benefit.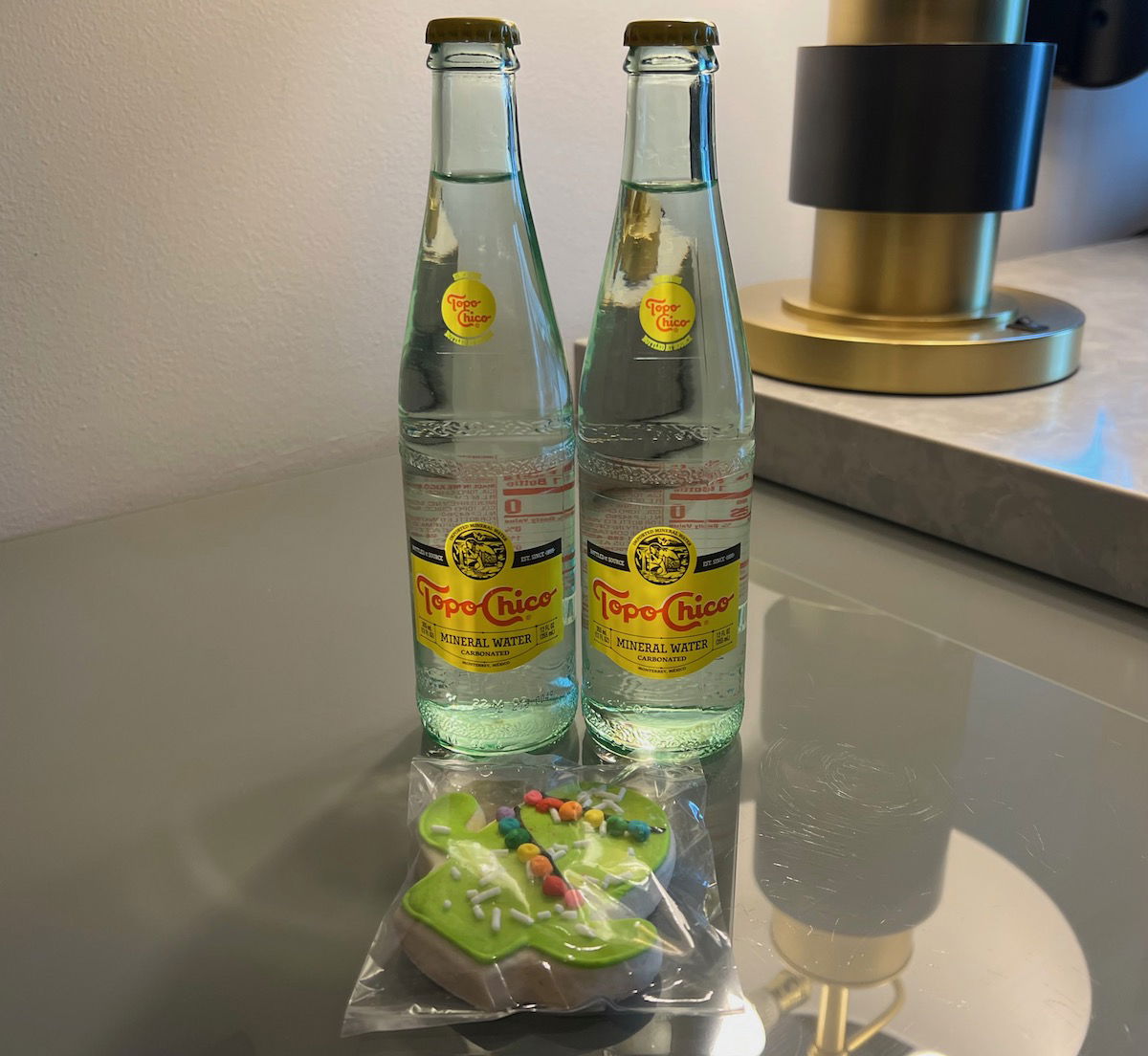 There was no on-property recognition of the milestone otherwise, which is of course fine. Sorry to disappoint the peanut gallery that assumes that bloggers get special treatment. 😉
The day after I checked out, the stay posted to my World of Hyatt account as usual. When I opened the World of Hyatt app, there was a pop-up congratulating me on earning lifetime Globalist status.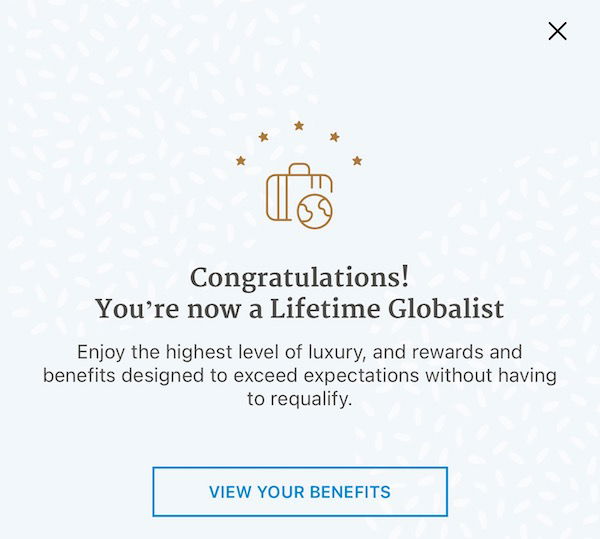 I also received an email with the subject line "Your Benefits: Upgraded for Life," and this outlined all the perks I'll receive as a lifetime Globalist member.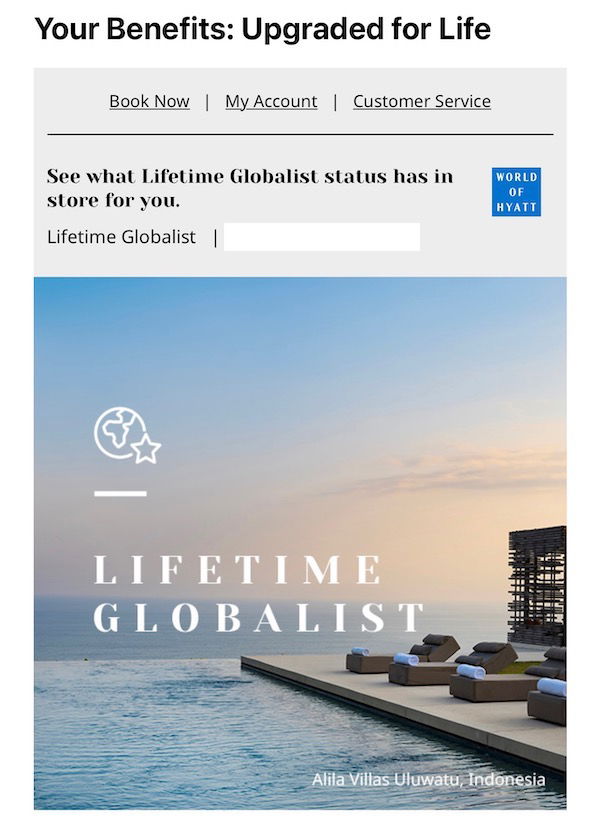 The Hyatt website and app now show any mention of status as being about "Lifetime Globalist," rather than "Globalist."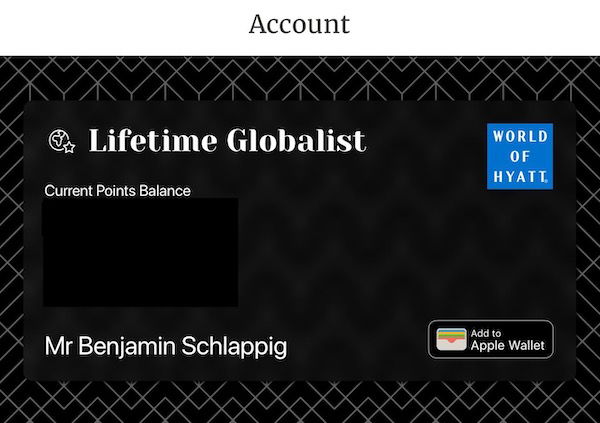 I'll report back over time as to whether I notice any difference in on-property treatment as a lifetime Globalist member compared to before. Based on what I've read, the difference in recognition is minimal, if anything.
How will this change my Hyatt stay patterns?
I feel incredibly lucky to have earned lifetime Globalist status in my early 30s, since (God willing) I'll hopefully have quite a bit of time to enjoy it. Now that I've earned lifetime Globalist status, how will my hotel loyalty strategy change? Well, probably not at all.
The beauty of lifetime status with World of Hyatt is that it offers incremental value, even if you'd otherwise earn Globalist status. It's the only hotel loyalty program where that's the case (though I'm sure a certain prolific commenter will be by shortly to make some counterfactual arguments).
Lifetime Globalist members get all standard Globalist perks, plus several of the Milestone Rewards perks annually, including four confirmed suite upgrades, a Category 1-7 free night award, etc.
Even if you're a lifetime Globalist, there's still a big incentive to remain engaged in the program, since you can essentially double dip. In other words, if you are a lifetime Globalist member and rack up 60 elite nights in a year, you'll receive eight suite upgrade awards, two Category 1-7 free night awards, etc.
I suspect I'll still qualify for Globalist with 60 nights before, especially with the help of credit cards. And then I'll just have more free night awards, I'll be able to confirm a vast majority of my stays in suites in advance, etc.
More than anything, it's just nice to know that I have this status in the bag, and don't have to worry about earning it anymore. Loyalty programs sometimes change the requirements for earning lifetime status, so it sucks when you've been working toward something for years, only to have the goalposts changed on you (this is why I think it's not worth pursuing lifetime status as a goal, other than at the margins).
I think it's also important to mention that the exact details and benefits of Globalist status may very well change over time. It's possible that confirmed suite upgrades or free night awards might not be part of the program a decade down the road — who knows. I just trust that lifetime Globalist members will maintain whatever the highest status is in the program going forward.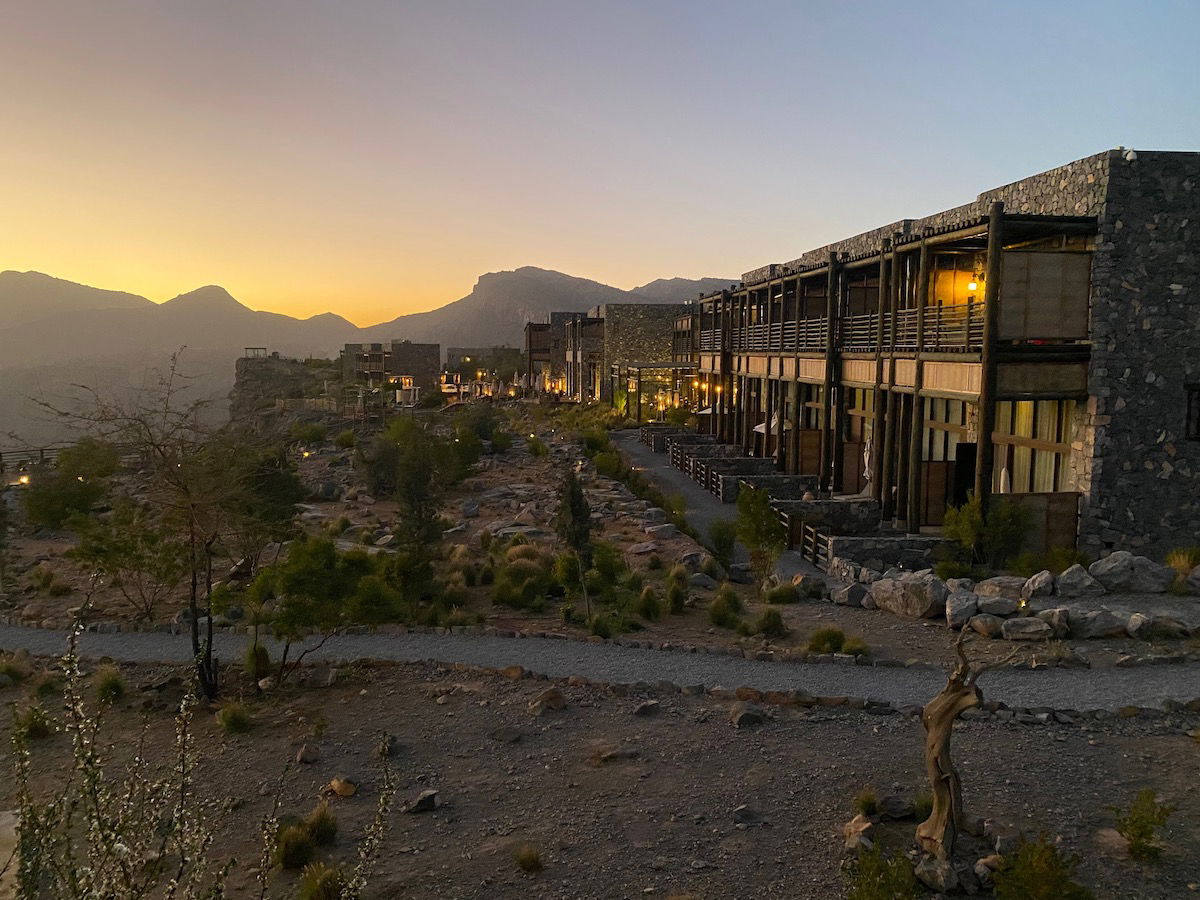 Bottom line
After more Hyatt stays over the years than I can count, I've finally earned lifetime status with World of Hyatt. For the time being, this won't at all change my stay patterns with Hyatt — I'll probably continue to qualify for Globalist annually, but I'll just get some great incremental annual rewards, including four additional suite upgrades and a Category 1-7 free night award.
It's also nice to know that I have Hyatt's top tier status in the bag for life, whether changes are made to the lifetime program as such, or I just have a year where I'm not able to stay at Hyatts as much.
Many were wondering what the actual lifetime qualifying stay would be like, so I can report back that it was entirely anti-climactic, and was like every other stay.
To fellow lifetime Globalist members, anything I should be aware of? Do you notice a difference in treatment compared to "regular" Globalist status?