In the interest of full disclosure, OMAAT earns a referral bonus for anyone that's approved through some of the below links. These are the best publicly available offers (terms apply) that we have found for each product or service. Opinions expressed here are the author's alone, not those of the bank, credit card issuer, airline, hotel chain, or product manufacturer/service provider, and have not been reviewed, approved or otherwise endorsed by any of these entities. Please check out
our advertiser policy
for further details about our partners, and thanks for your support!
Southwest Airlines does things very differently than other airlines in the United States. Arguably the most distinctive aspect of the Southwest travel experience is how the airline boards planes. Some people love it, while others hate it.
During my recent trip to Austin, I flew Southwest for the first time in years, so I wanted to write a post about the carrier's boarding process. In the next installment I'll be reviewing the flight as such.
How boarding works on Southwest Airlines
Southwest Airlines is the only major airline in the world that doesn't assign seats. Rather the airline has a very different boarding process — the order of passenger boarding is determined by the "position" someone is in, and as a result that's also the order in which people can pick seats once on the plane.
If you ask me, Southwest's boarding process is quite polarizing. On the one hand, it's often referred to as a "cattle call," and at times it can get a bit frantic, especially toward the end of the boarding process. On the other hand, it's surprisingly orderly, much more so than on many other airlines.
Southwest assigns boarding positions rather than seats
Southwest Airlines passengers are assigned specific boarding positions, consisting of a letter and then a number:
You'll either be in group A, B, or C, with A being allowed to board first, B being allowed to board second, and C being allowed to board last
You'll be given a specific number within that range, which determines the order in which you can board within each group
In other words, the person with boarding position A1 can board first, while the person with boarding position C60 can board last (if the number gets that high on a particular flight). While other airlines board passengers based on larger zones, on Southwest there's quite literally a person-by-person priority for boarding.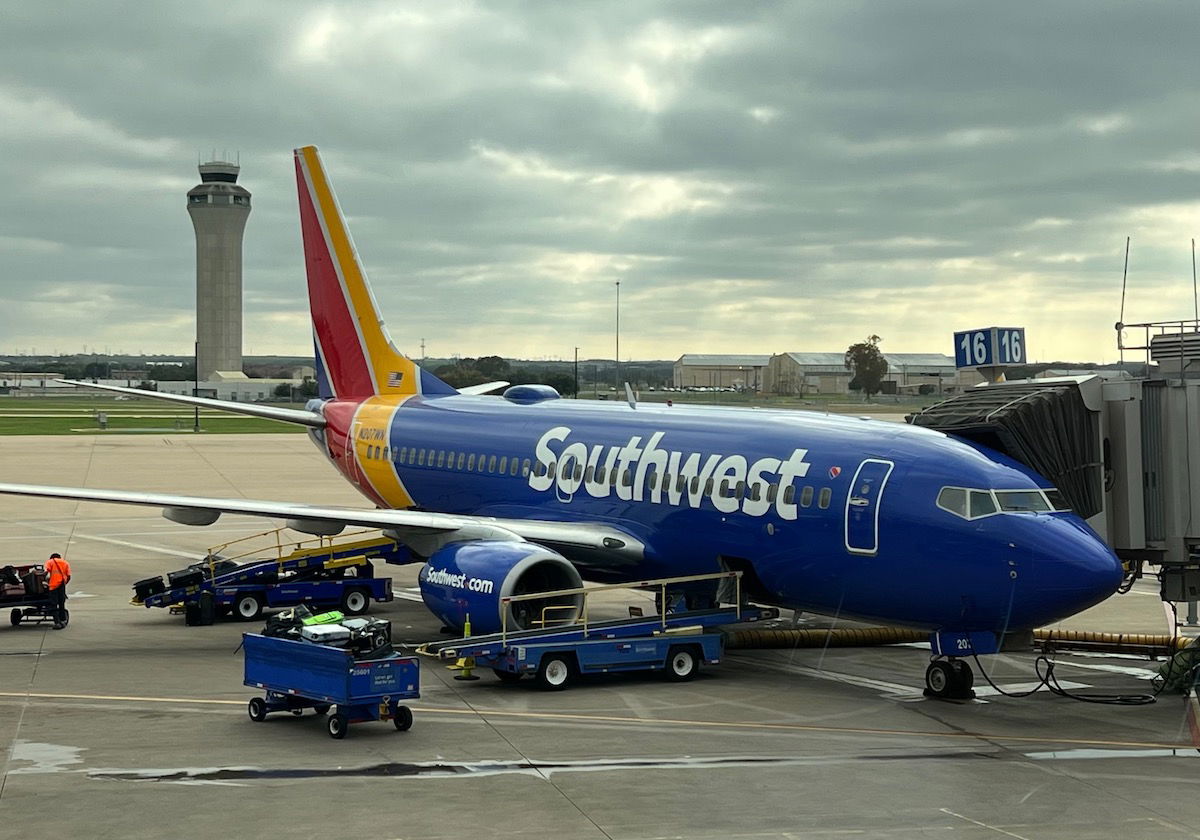 The logistics of boarding Southwest flights
With most airlines, you kind of just have a mob that storms the gate when boarding is about to start. By comparison, Southwest's boarding process is quite civilized. Southwest's gates typically have six big "markers," each of which lists numbers. On the left side you'll see numbers 1-30, and on the right side you'll see numbers 31-60. Each sign indicates where you should stand based on your boarding position, with ranges of five numbers.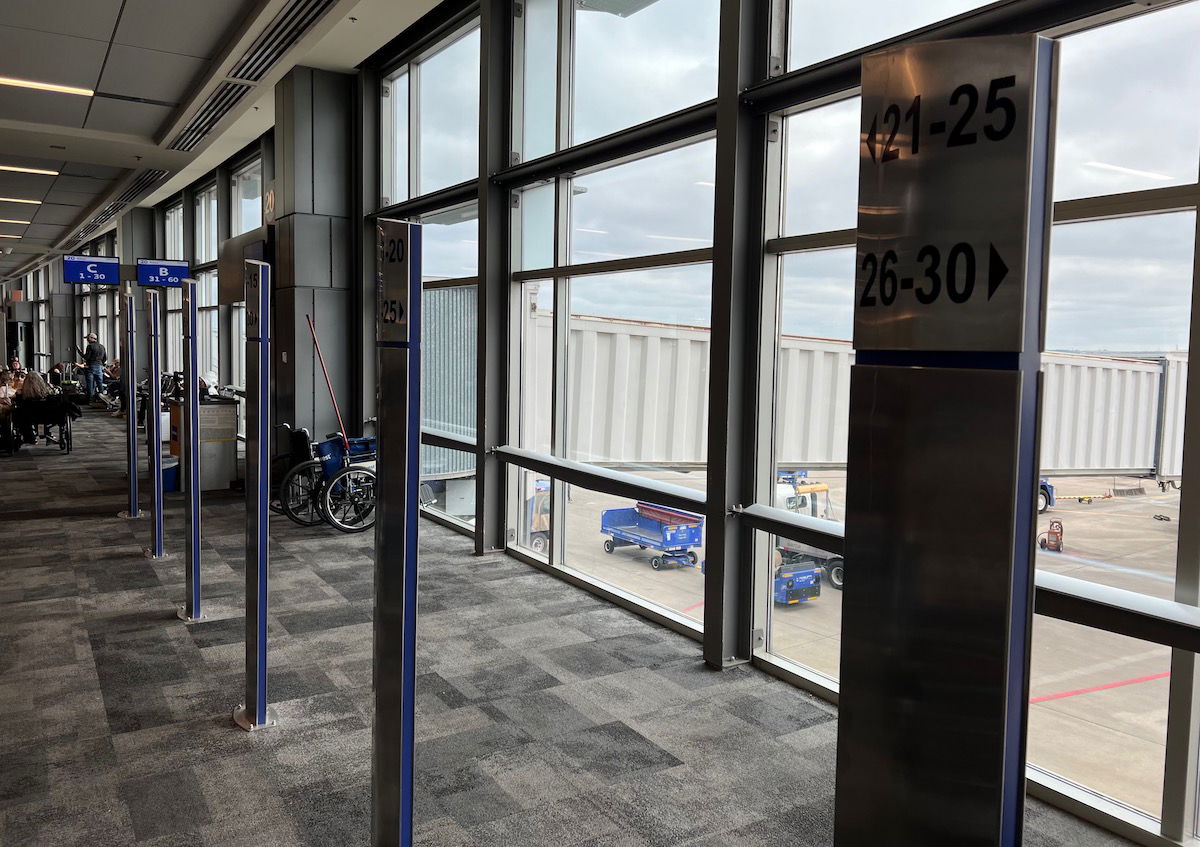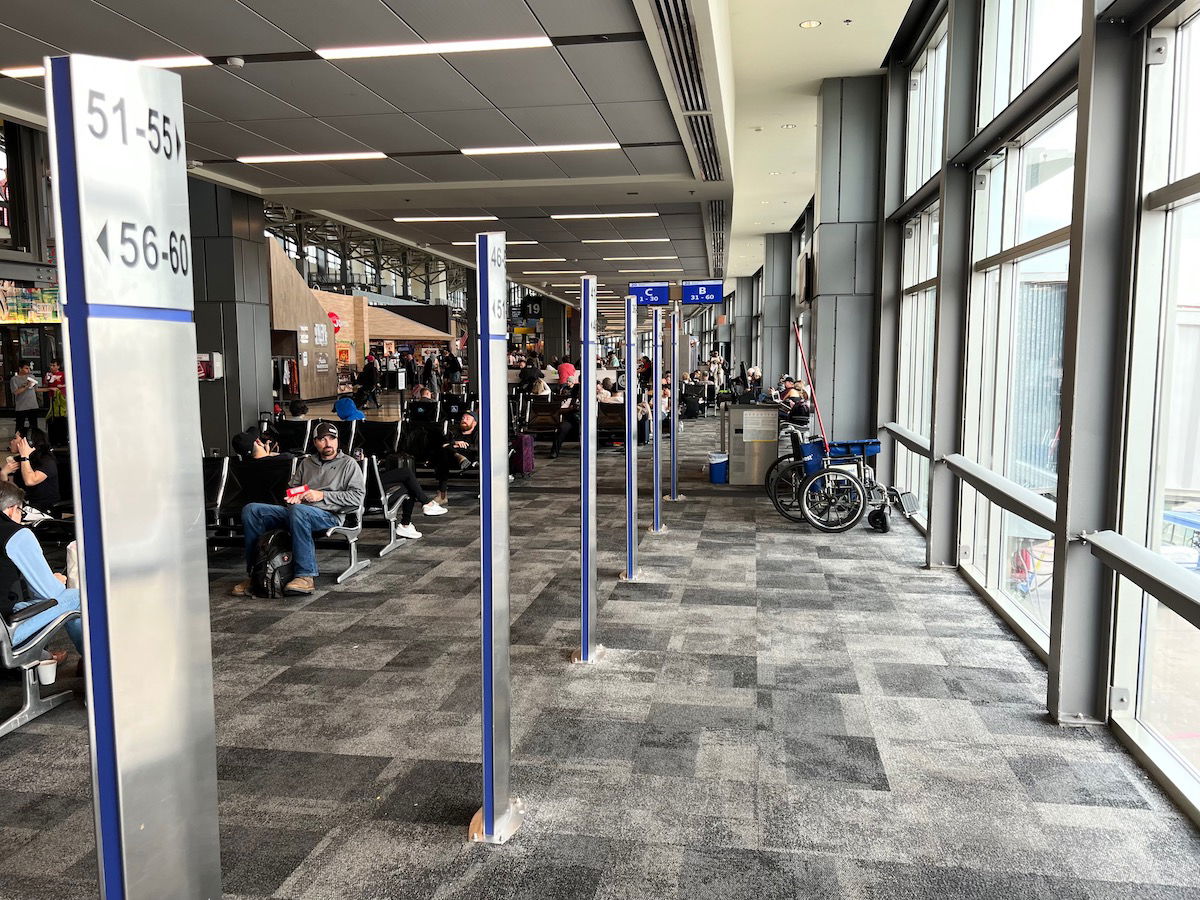 As you can tell, at each given point this setup can accommodate up to 60 people, with 30 on each side. There are then monitors at the very front of this line, which indicate whether groups A, B, or C are boarding. In other words, once group C is boarding, the up to 60 people will be able to line up.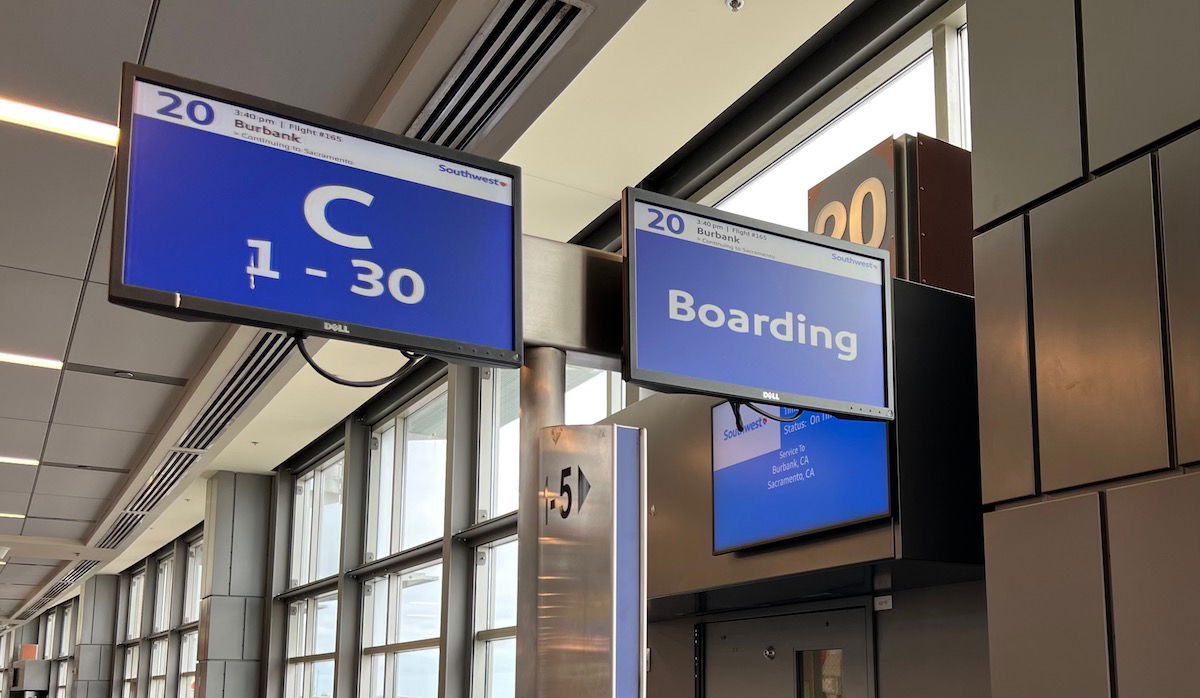 You'll want to line up in the exact area where your number is. In other words, if group C boarding starts, and you're assigned position C2, you'd want to stand in the 1-5 section. It's customary to ask those around you what their position is, so you can be sure you're in the right order (in other words, you'd want to make sure you're behind C1 and in front of C3).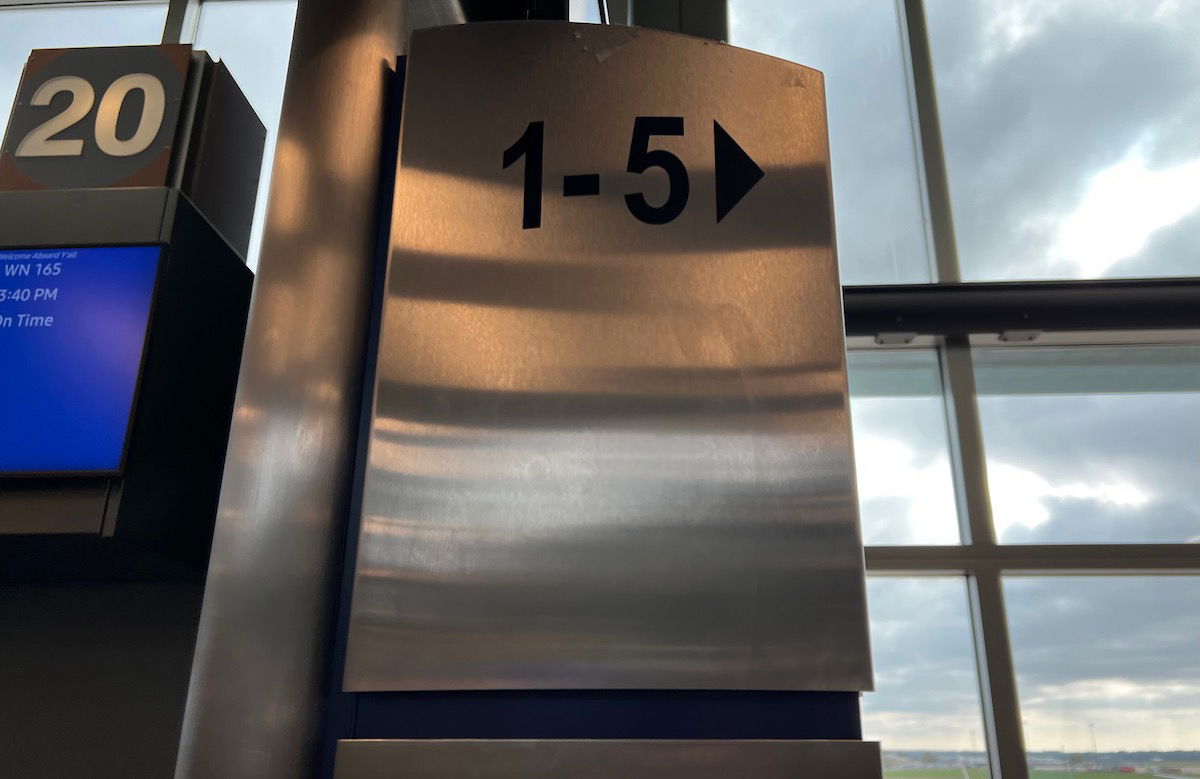 While everyone does have to line up with this system, there's not really a rush or panic, unlike on some other airlines. There's no need to get in line a long time before boarding. Rather you can line up just a couple of minutes before boarding starts, and get in the appropriate line. Just make sure that you don't line up until your general group is being boarded. In other words, if you're in group C, don't get in line until group A and group B are totally boarded.
Southwest Airlines family boarding & more
We're used to airlines offering to pre-board families, those needing extra time, military, etc. How does that work on Southwest Airlines?
Southwest allows family boarding between groups A and B; this allows up to two adults traveling with a child six years old or younger to board at this time, assuming they're not already in group A
Southwest allows active duty US military (with a valid ID) to board between groups A and B, assuming they're not already in group A
Southwest allows those requiring extra time to board between groups A and B, ahead of family boarding, assuming they're not already in group A
As you can tell, the intent is to provide these passengers the opportunity to sit together, though only after the first set of passengers board, and are able to get the best seats (bulkheads, exit rows, etc.).
Note that the only passengers who can board before group A are those in wheelchairs. On some routes there are quite a few wheelchair passengers, so often many of the best seats will be occupied by those travelers.
How Southwest boarding positions are determined
Southwest Airlines boarding priority is determined based on when you check-in. To secure the best possible boarding position, you'll want to check-in online exactly 24 hours out. The closer to departure you check-in, the worse your boarding priority will be.
Below I'll talk about some of the ways to get upgraded boarding, but checking in early is generally going to be your best bet. Now, I'd note that just because you check-in exactly 24 hours out doesn't mean you'll have a great boarding position. For example, I checked in 24 hours in advance (to the second), and I was assigned position B16. In other words, 75 people (A1-60 and B1-15) had higher priority for boarding than I did.
Still, if you check in exactly 24 hours out, you'll almost certainly be able to avoid a middle seat, if that's your goal.
I should also mention that if you're traveling with others but don't have consecutive boarding groups, you can either board separately, or can board with the lower priority. However, you can't have someone else board with your higher priority. Southwest also doesn't allow reserving seats for others once onboard.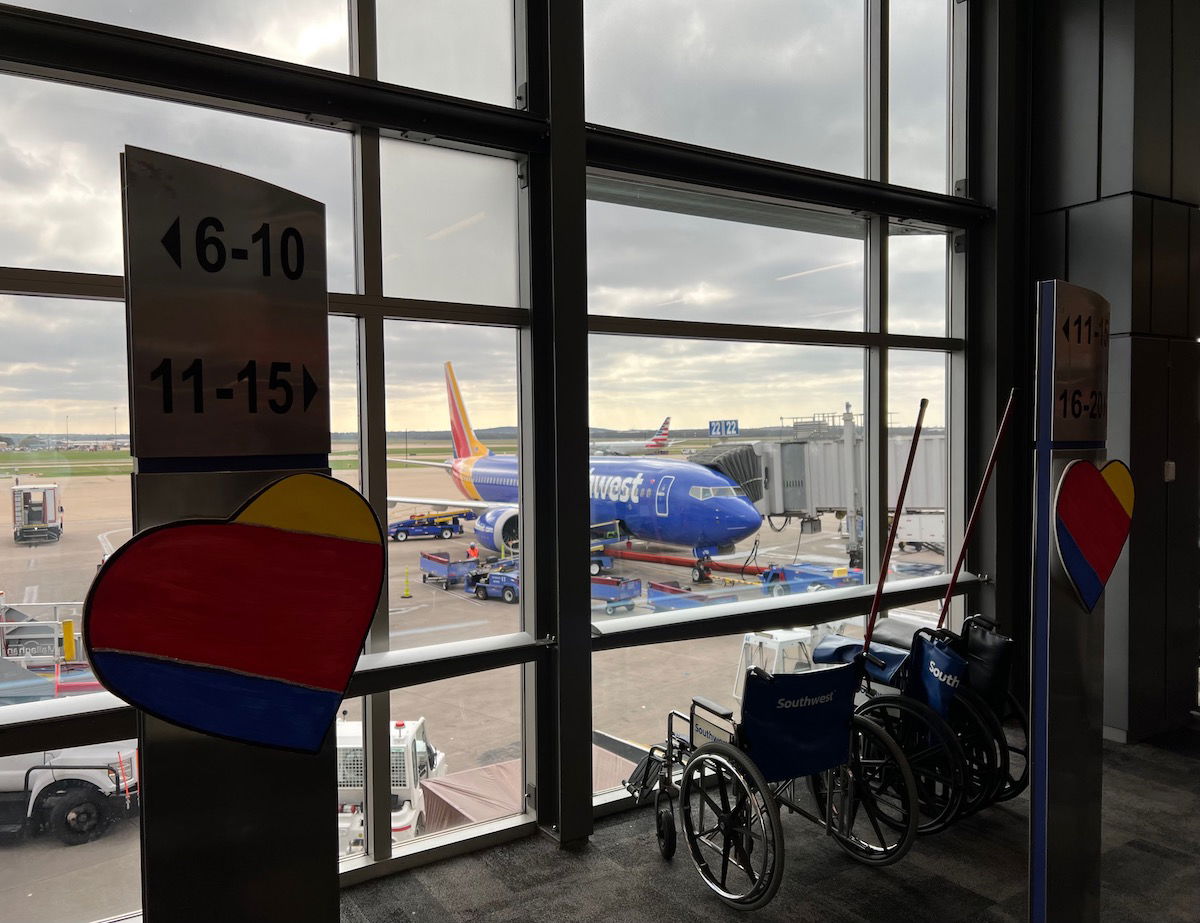 How to secure early boarding on Southwest
As mentioned above, checking in 24 hours out is the best way to secure a decent boarding position. However, how do you secure the best boarding positions, if the goal is to get a bulkhead seat or an exit row? There are a few things to consider:
If you purchase a Business Select fare (Southwest's most premium fares), this automatically comes with A1-15 boarding
If you have Southwest Rapid Rewards A-List status, you'll receive a boarding position immediately behind Business Select, so you can expect it to generally be in the A16-A30 range
You can pay for EarlyBird Check-In, where Southwest will automatically check you in 36 hours before departure; while this should get you a good boarding position (almost always in zone A), note that it doesn't guarantee a specific boarding priority, as you're behind Business Select customers and A-List members
The day of departure you can purchase upgraded boardings in positions A1-15, subject to availability; note that this will only be available if all the Business Select fares weren't purchased
Having co-branded Southwest Airlines credit cards can potentially help you secure early boarding as well: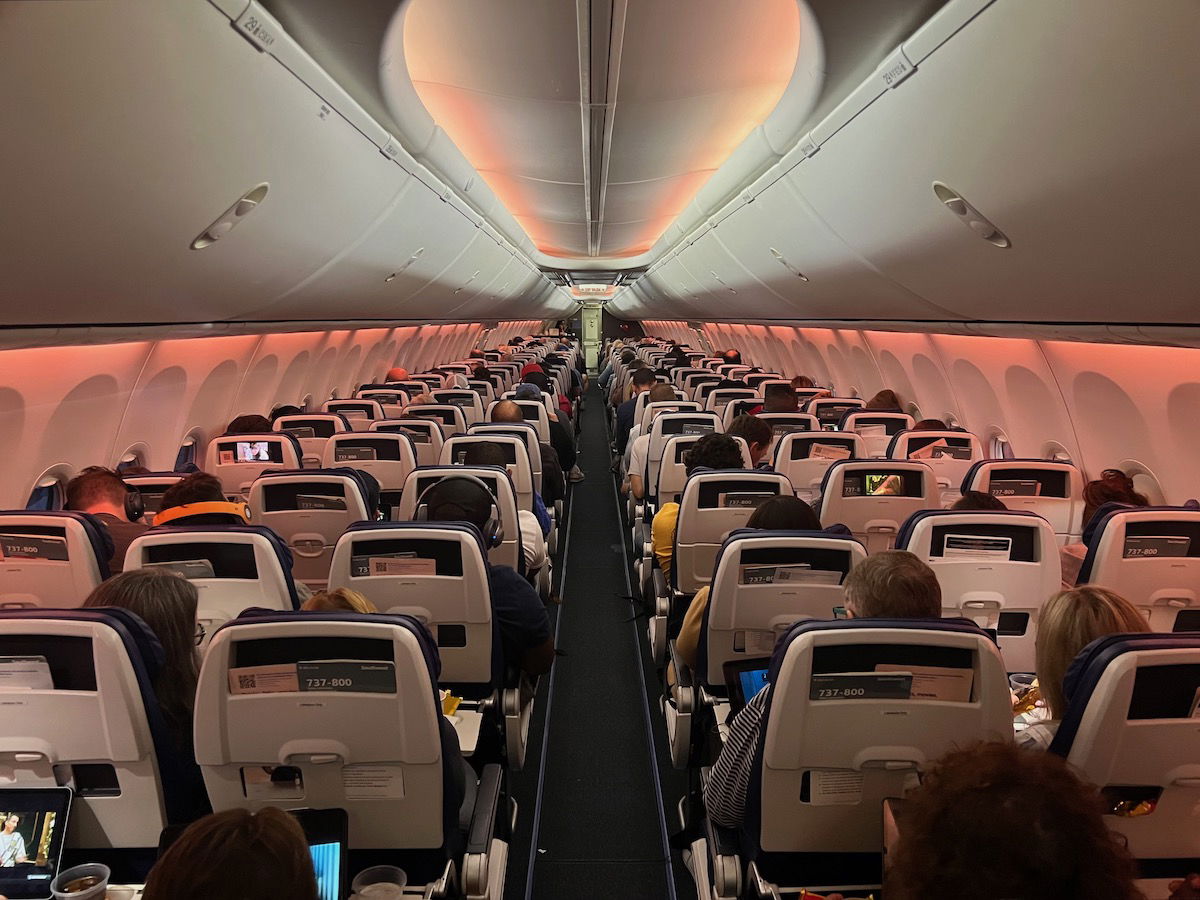 Is Southwest's boarding process awesome or awful?
People seem to either love or hate Southwest Airlines' boarding process. Let me share my take on that based on a couple of different factors.
Southwest's boarding is surprisingly orderly
While some people like to refer to Southwest's boarding process as a "cattle call," in my experience this offers one of the most organized boarding processes in terms of how people line up in the gate area.
On other airlines, people tend to crowd the gate area even when it isn't their turn to board. Meanwhile at Southwest, everyone has an exact spot where they're supposed to be, and that also minimizes the unnecessary crowding.
Personally I'm a bit surprised by how consistently orderly the Southwest boarding process seems to be, since there's a bit of a learning curve to understanding this, compared to other airlines. I guess it shows you that Southwest has quite a few loyal customers who are used to this system.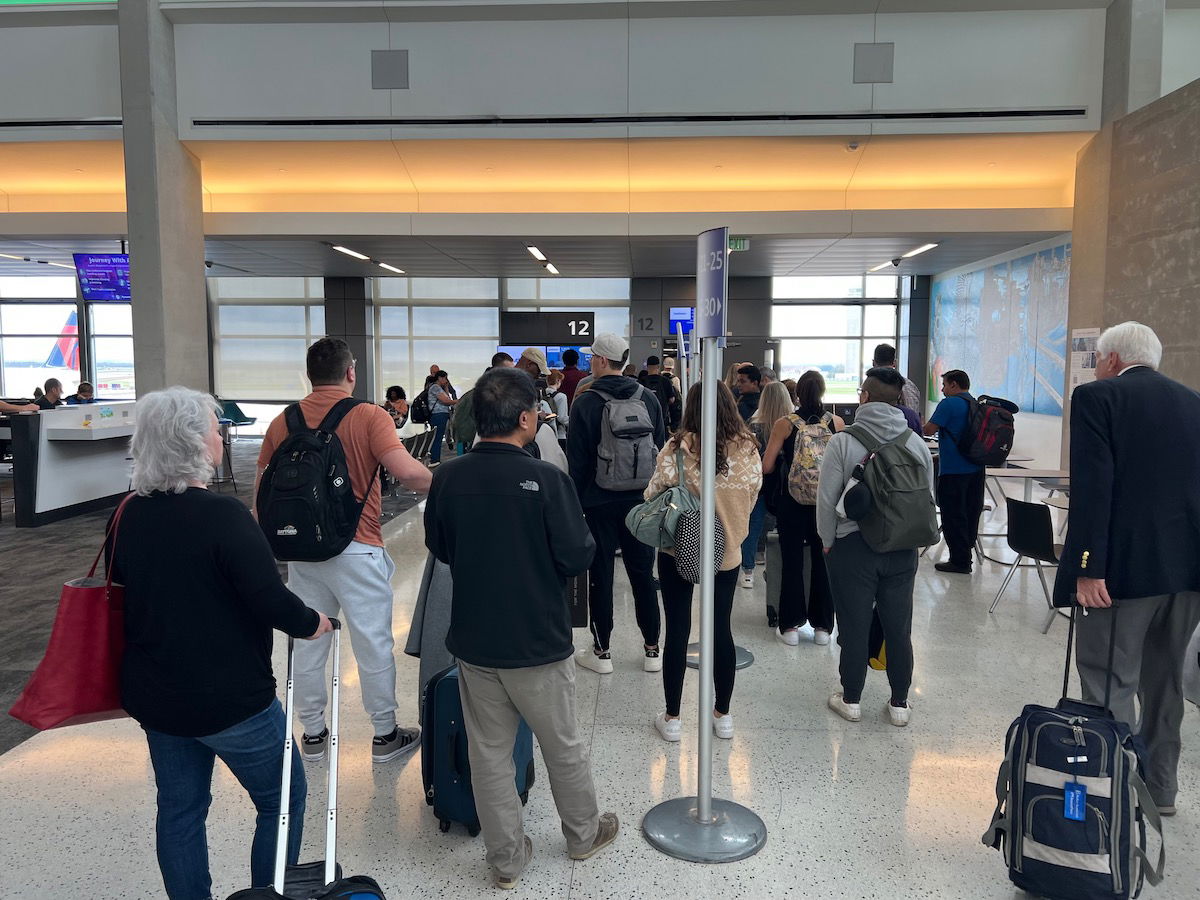 I don't like not having an assigned seat
While the boarding process is pretty organized in the gate area, I find it to be a different story once onboard, at least on a full flight. I know in theory the open seating concept is supposed to speed up boarding, but that doesn't necessarily match my experience, at least based on the flight that I took.
There were all kinds of people going to the back of the plane trying to sit together, only to later be coming back "upstream" to find seats. Toward the end of the boarding process, the crew was offering free drinks to anyone willing to move, in order to have a mother and daughter sit together. You had several people trying to reserve seats for others, only to be told they couldn't do that.
So while I can appreciate that being able to sit anywhere is theoretically efficient, it can become a game of musical chairs if a flight is full.
I do think this process is pretty fair, in the sense that everyone has the same chance of getting at least an aisle or a window seat, by just checking in early. I prefer that to how other airlines like to charge even for regular economy seats.
However, as an elite member and frequent flyer, personally I prefer knowing exactly where I'll be sitting, so that I can plan my flight accordingly. For example, if I'm going to be in a middle seat, I'll probably just load entertainment on a personal device, while otherwise I might plan on trying to work the entire flight.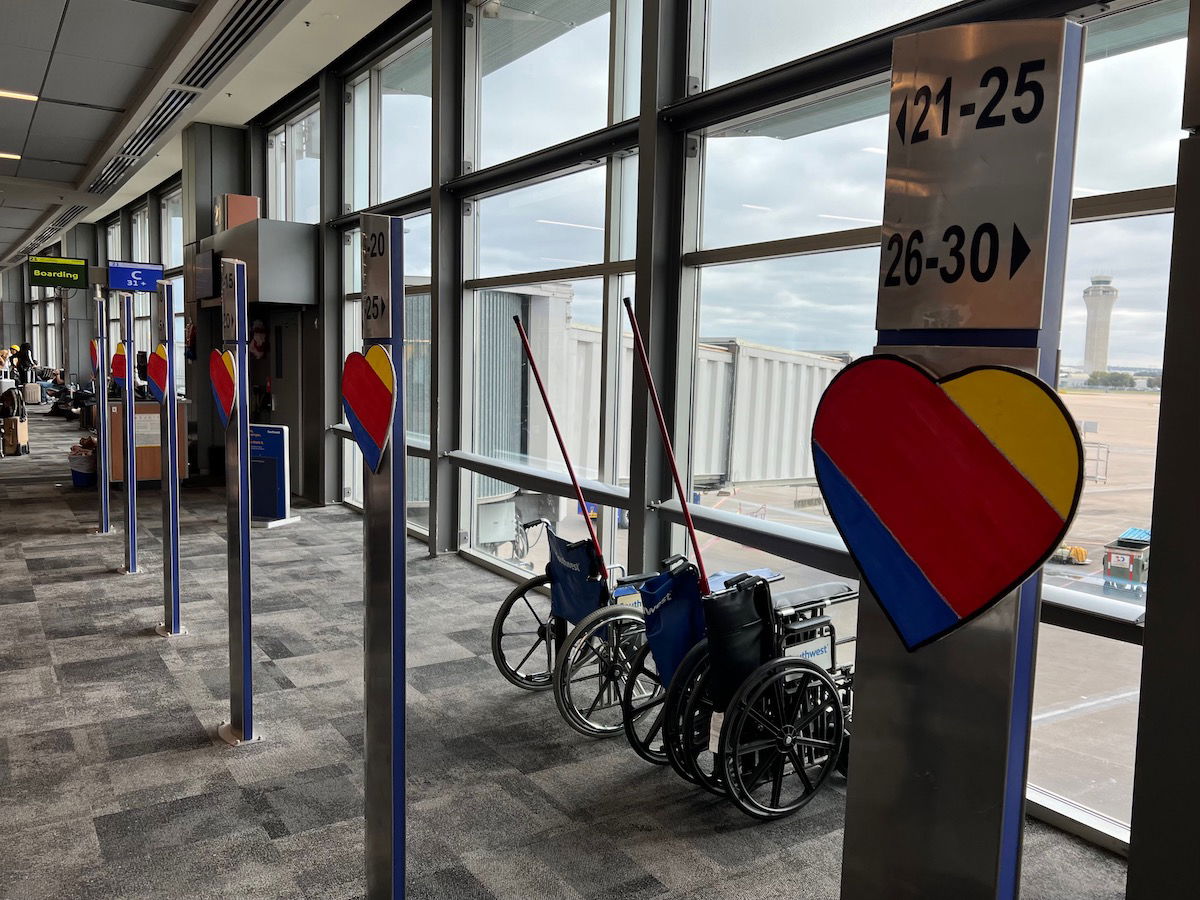 Bottom line
Southwest Airlines takes a different approach to boarding than other airlines. Rather than assigning seats, the airline has open seating, and allows passengers to board in a specific order.
Some people love Southwest's boarding process, as it's a rather fair way to go about boarding, and it's also quite organized. However, many don't like not having an assigned seat, and find it to be kind of chaotic once onboard.
What do you make of Southwest's boarding process? Do you love it or hate it? Any tips I missed?