For my recent trip to Austin, I flew Spirit Airlines on the outbound, and Southwest Airlines on the return. In this installment I wanted to review the return flight, as it was my first time in years flying with Southwest. I'm not trying to be insensitive by publishing this review right now, as I recognize that there are quite literally millions of people who wanted to take Southwest flights over the holiday, but haven't been able to.
So, how was my Southwest experience? While I very much appreciate and respect many of Southwest's policies (two free checked bags, free drinks and snacks, etc.), my experience left a lot to be desired, between non-functioning Wi-Fi, a filthy cabin, and the general lack of amenities.
How I booked my Southwest Airlines ticket
I booked my Southwest Airlines ticket with cash. Specifically, I paid a total of $118.98 for the following flight:
12/11 WN1827 Austin to Fort Lauderdale departing 4:00PM arriving 7:30PM
There's no denying that this was an exceptional value, when you consider that Southwest Airlines includes free carry-ons, two free checked begs, tickets changes without fees (credits never expire), etc. For passengers without elite status who are checking bags, flying with Southwest is a no-brainer in many cases.
It's worth noting that I was initially excited that my flight would be operated by a Boeing 737 MAX 8. However, the day before departure, my flight got swapped to a Boeing 737-800.
Southwest Airlines check-in & boarding
I arrived at Austin Airport roughly 90 minutes before departure. I wasn't checking a bag, so I could skip the Southwest Airlines check-in counter. The counter seemed to be operating pretty smoothly, though, for those checking bags.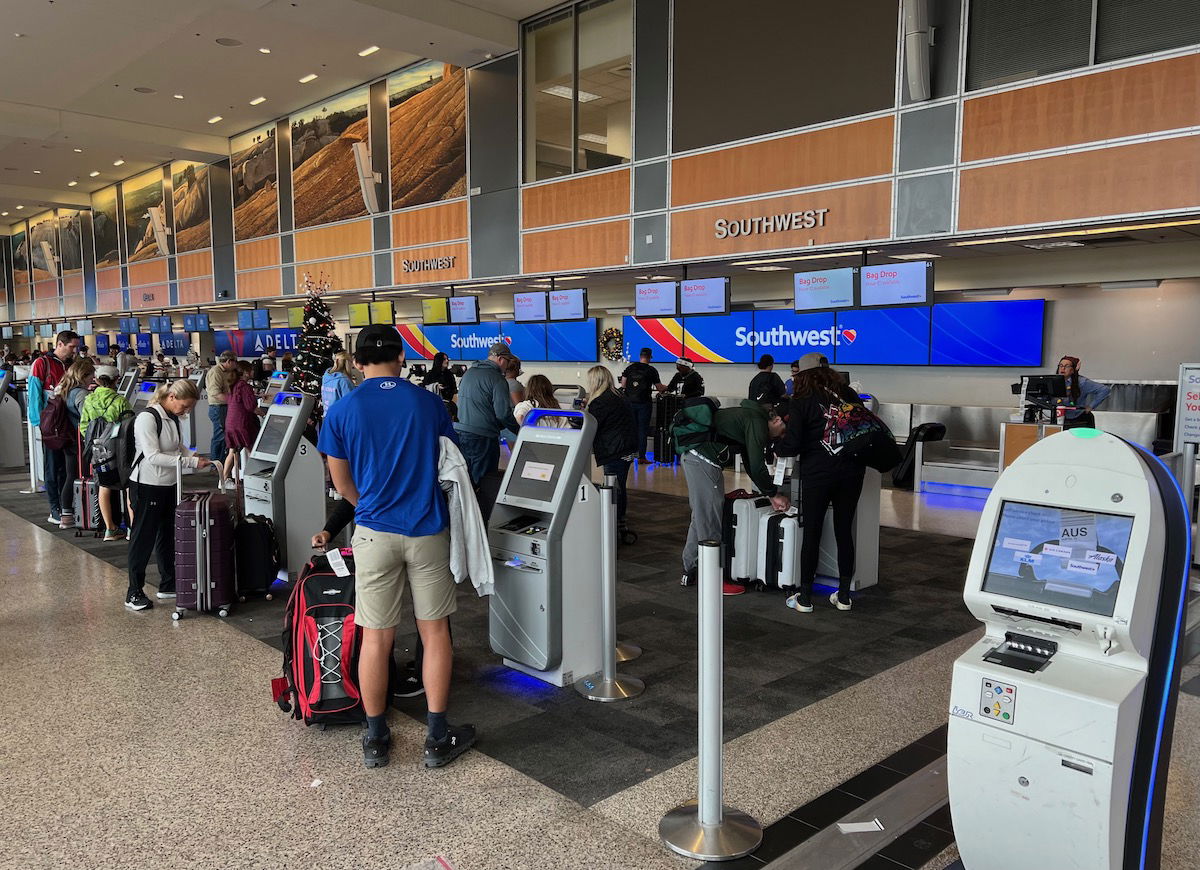 Austin Airport was busy on the Sunday afternoon that I was traveling. I'm not sure what exactly to make of the airport — it seemed pretty nice overall, and there's a good selection of food & beverage outlets, yet there was something that felt odd about the terminal. I can't quite pinpoint it, though.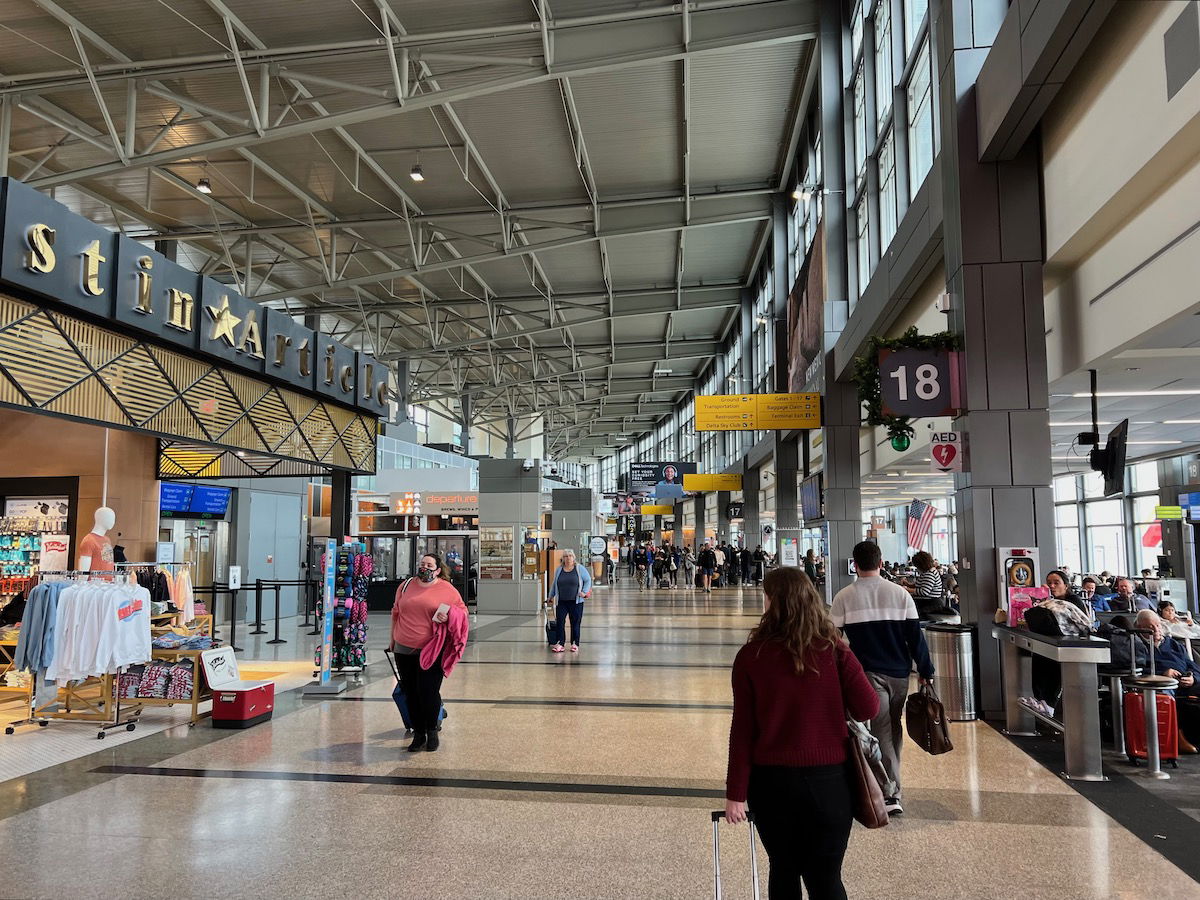 My flight was scheduled to depart at 4PM, with boarding scheduled for 3:30PM. Southwest operates many "direct" flights, where a flight has the same flight number, but has a stop (or multiple stops). Unlike other airlines in the United States, Southwest lets passengers stay onboard the plane if they're booked all the way through on one of these direct flights.
In this case, the same flight number originated in Los Angeles. The direct flight was operating all the way from Los Angeles (LAX) to Austin (AUS) to Fort Lauderdale (FLL) to Washington (DCA). Hopefully no one was booked on all three segments. 😉 On this particular flight, there were roughly 15 people traveling from Los Angeles to Fort Lauderdale via Austin, who stayed on the plane.
The plane arrived at the gate shortly after 3PM. My flight was operated by a roughly 11 year old Boeing 737-800 with the registration code N8301J.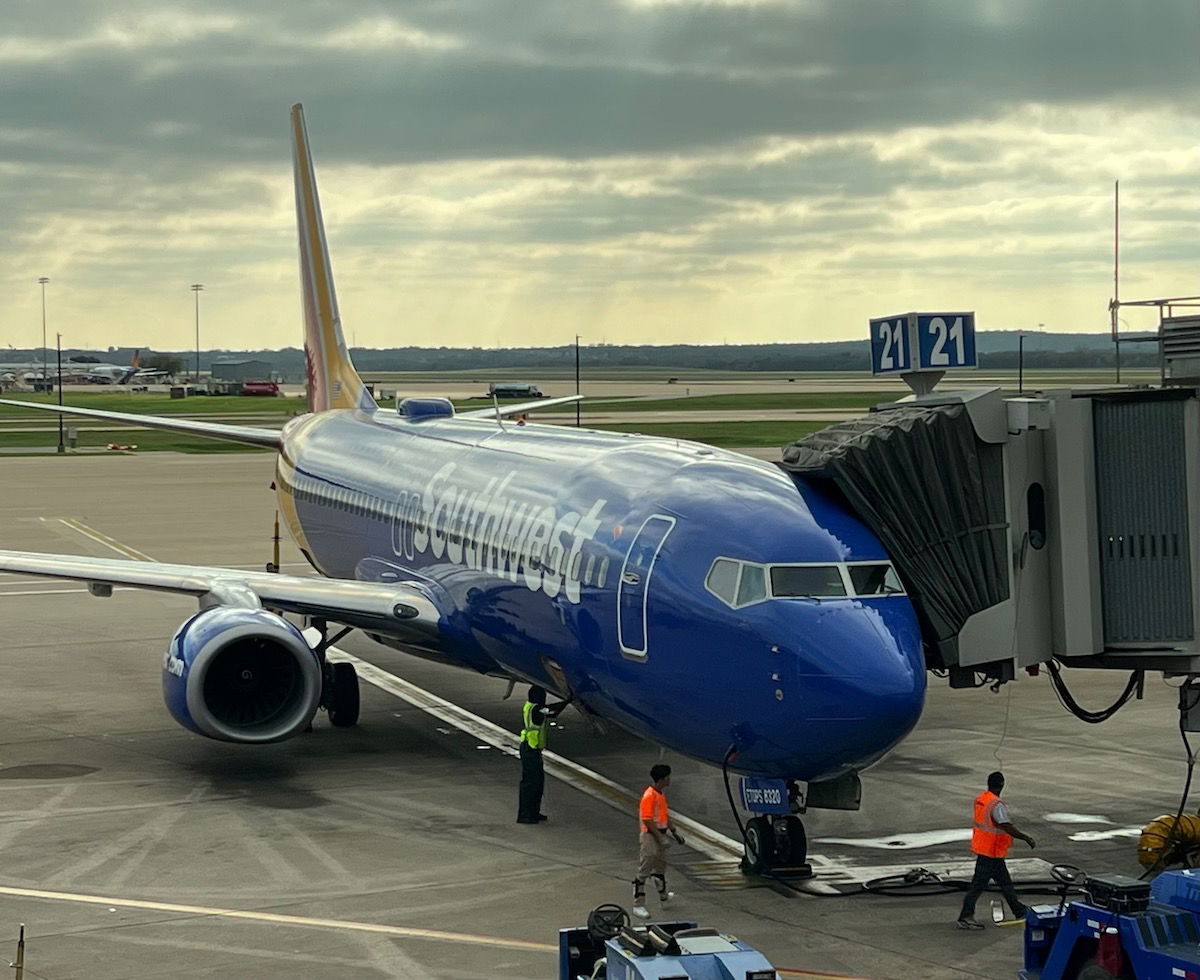 In the previous installment of this series I wrote all about Southwest Airlines' boarding process, which is unique.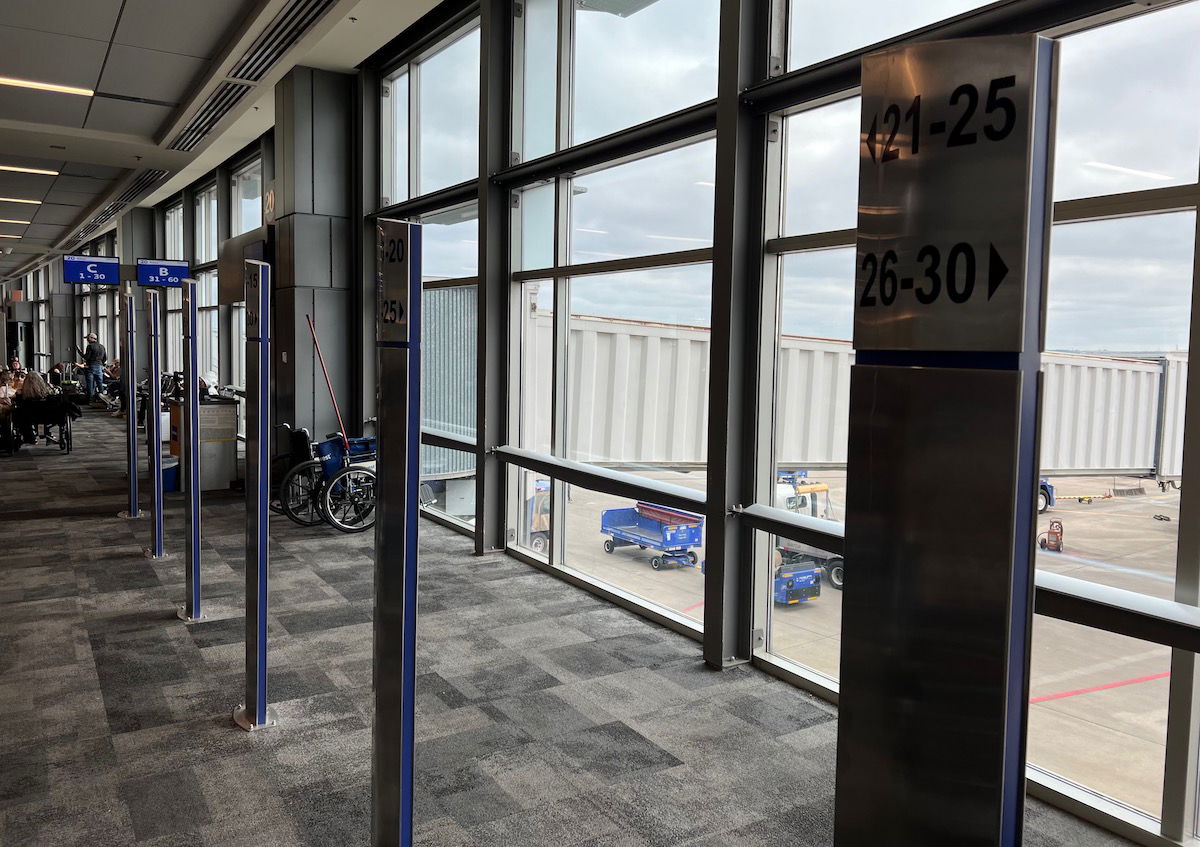 In the interest of full disclosure, I had reached out to Southwest's communications team in advance to ask about the possibility of pre-boarding, so I could snap a few pictures of the cabin while respecting the privacy of other passengers. Otherwise this is nearly impossible, given Southwest's boarding process.
They kindly obliged. For what it's worth, I was in boarding position B16. Out of respect for those with status and those who paid for priority boarding, I just took an aisle seat behind the wing, which I should have been able get based on my boarding position (some were still empty roughly halfway through the boarding process).
Southwest Airlines Boeing 737 cabin & seats
Southwest Airlines' Boeing 737-800s feature a total of 175 seats, in a standard 3-3 configuration. I'd say the interior was somewhat updated, in the sense that it had mood lighting and modern leather seats, but it didn't feature the larger overhead bins you'll find on the latest generation 737s.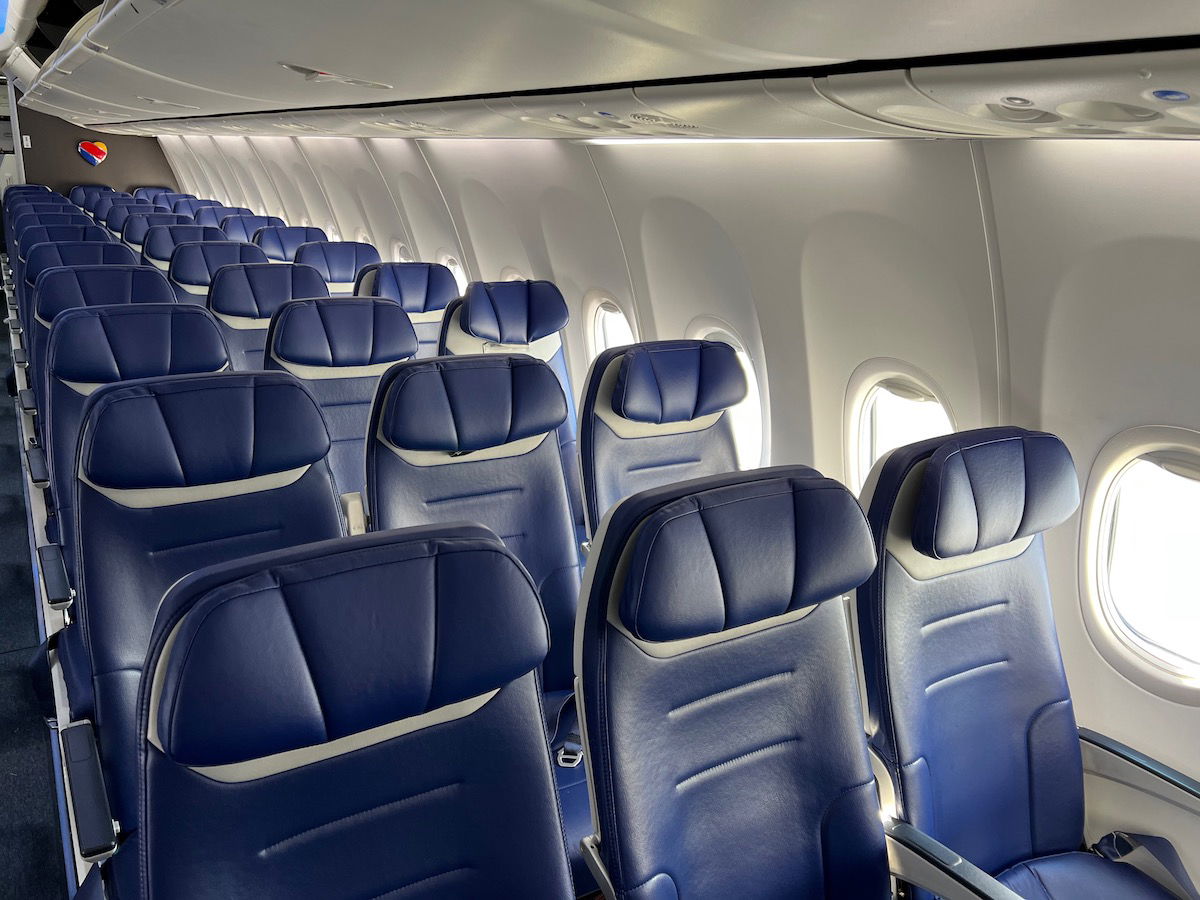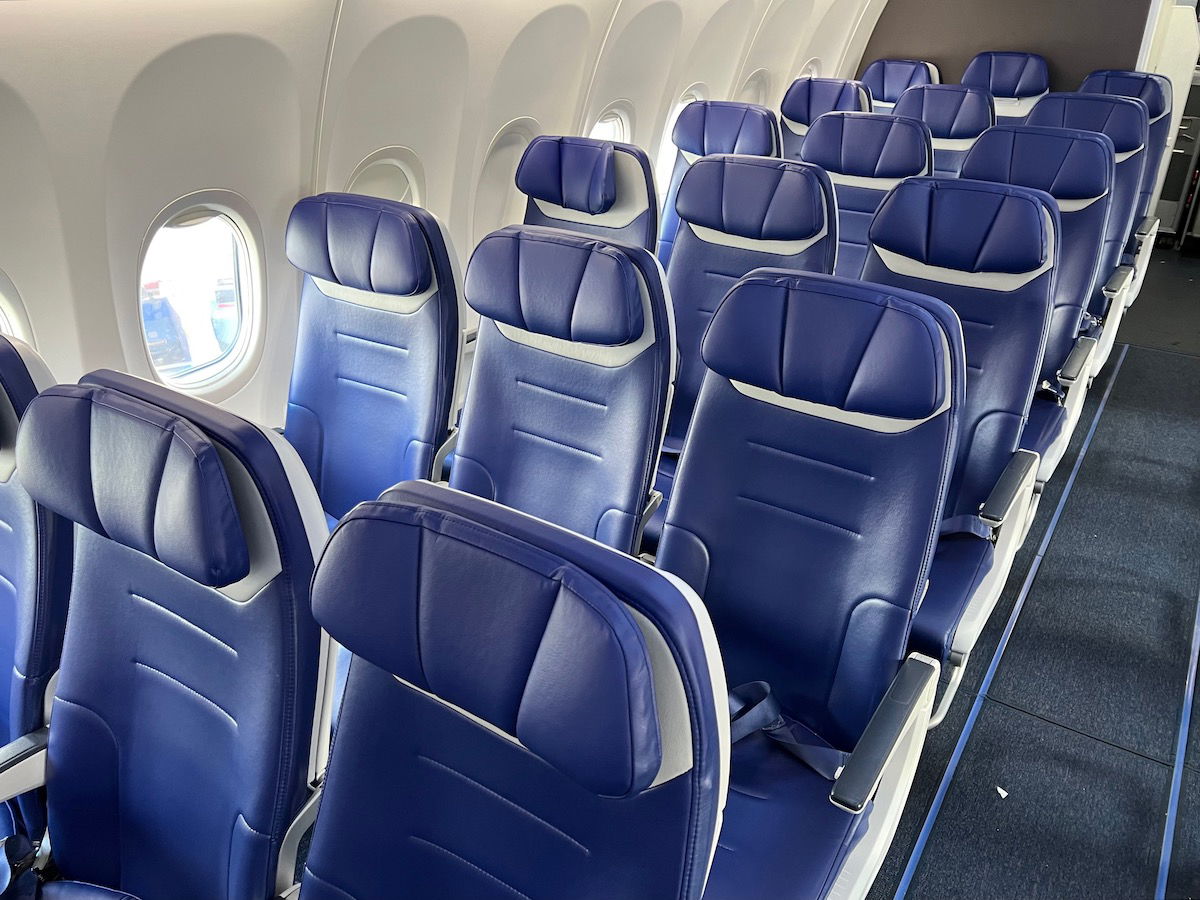 On the plus side, I found legroom to be excellent for "standard" economy. Southwest allegedly has a minimum of 32″ of pitch, so the seats felt noticeably not tight (I wouldn't say any economy seats are "spacious," but there was definitely more room than on other airlines).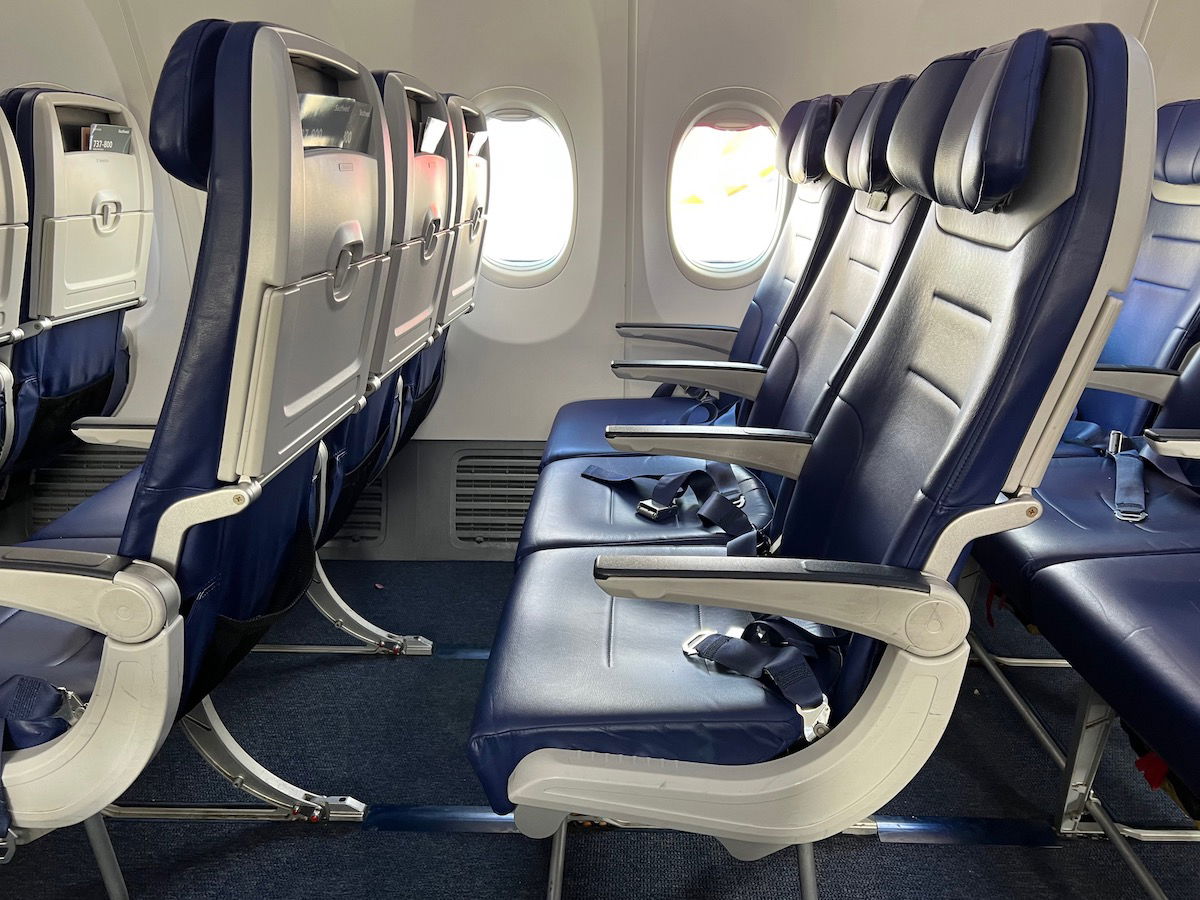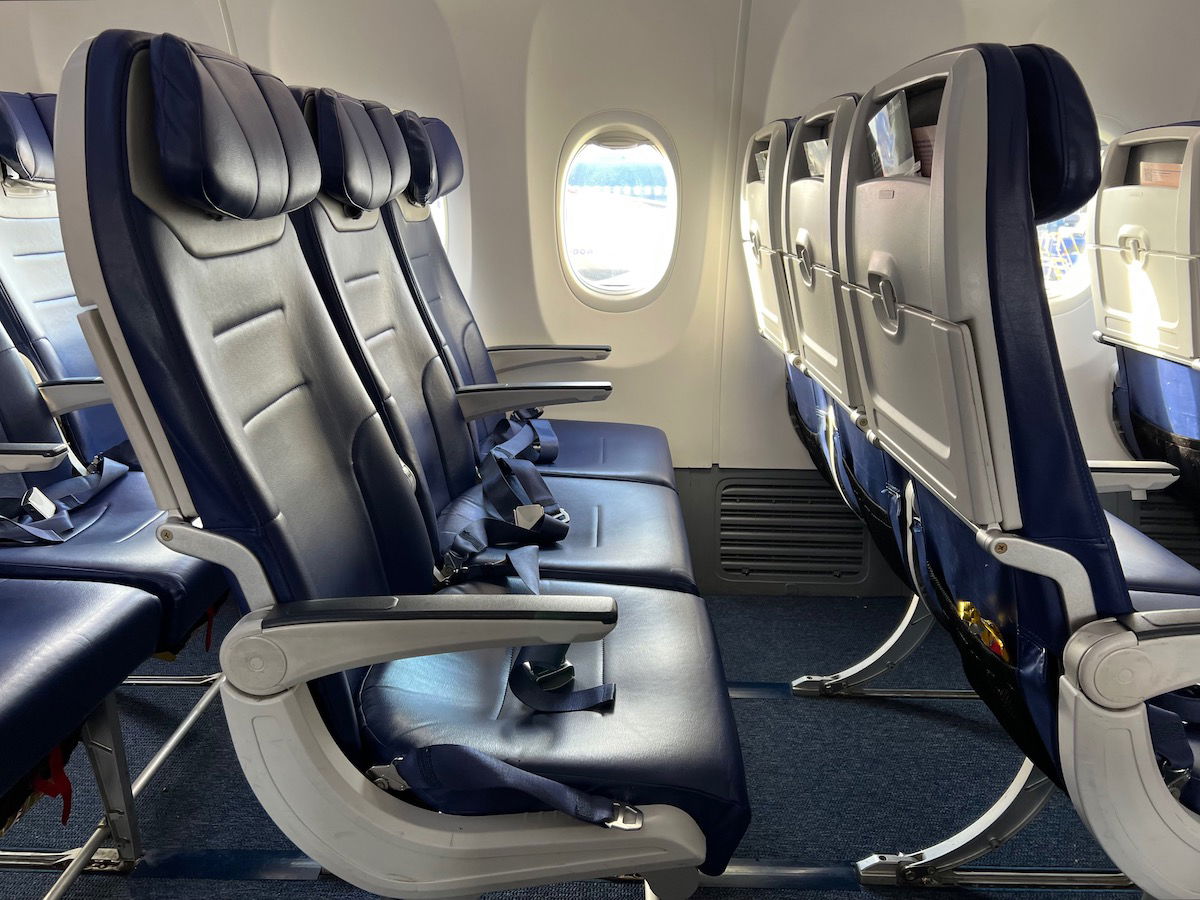 I appreciated how the seats had proper headrests with "widgets," so that you could easily get your head pretty comfortable.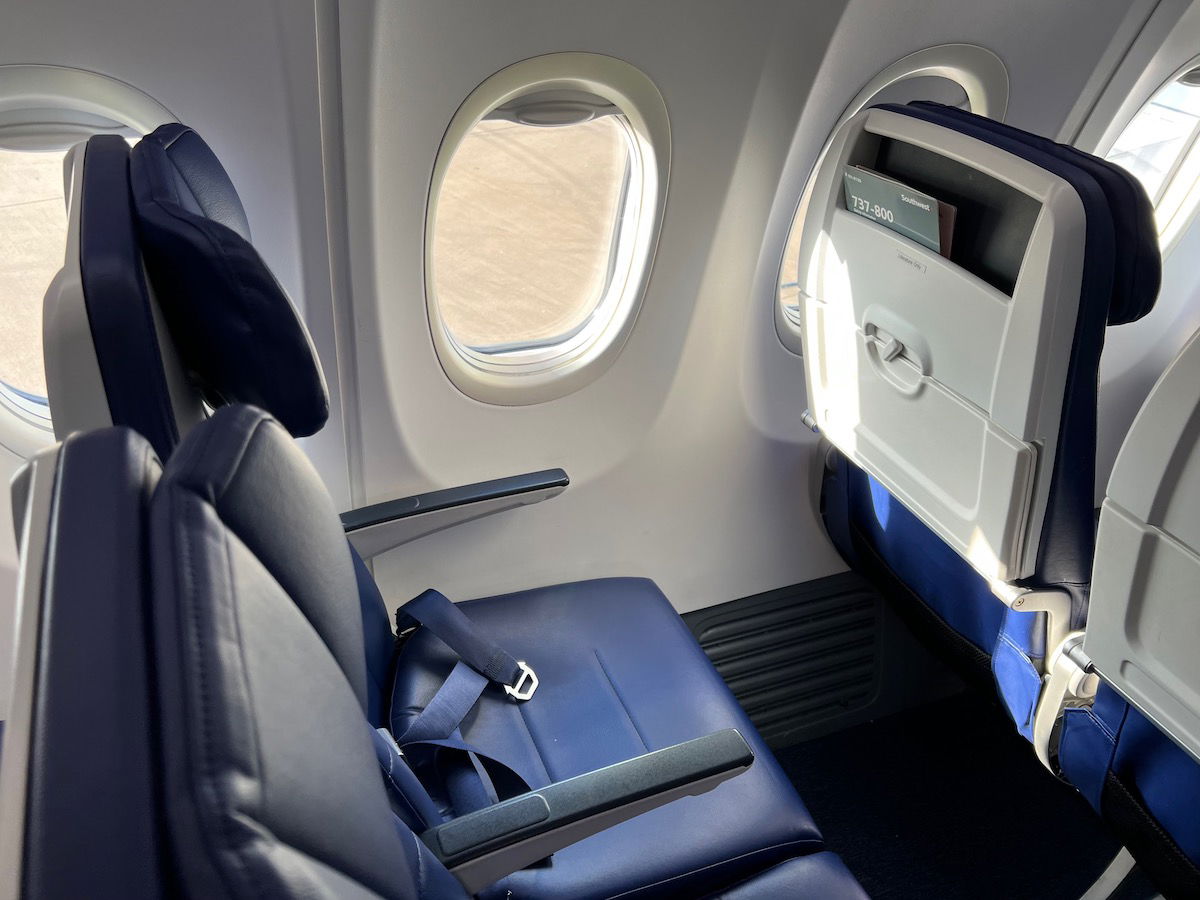 Each seat also had a literature pocket, plus a full-size tray table.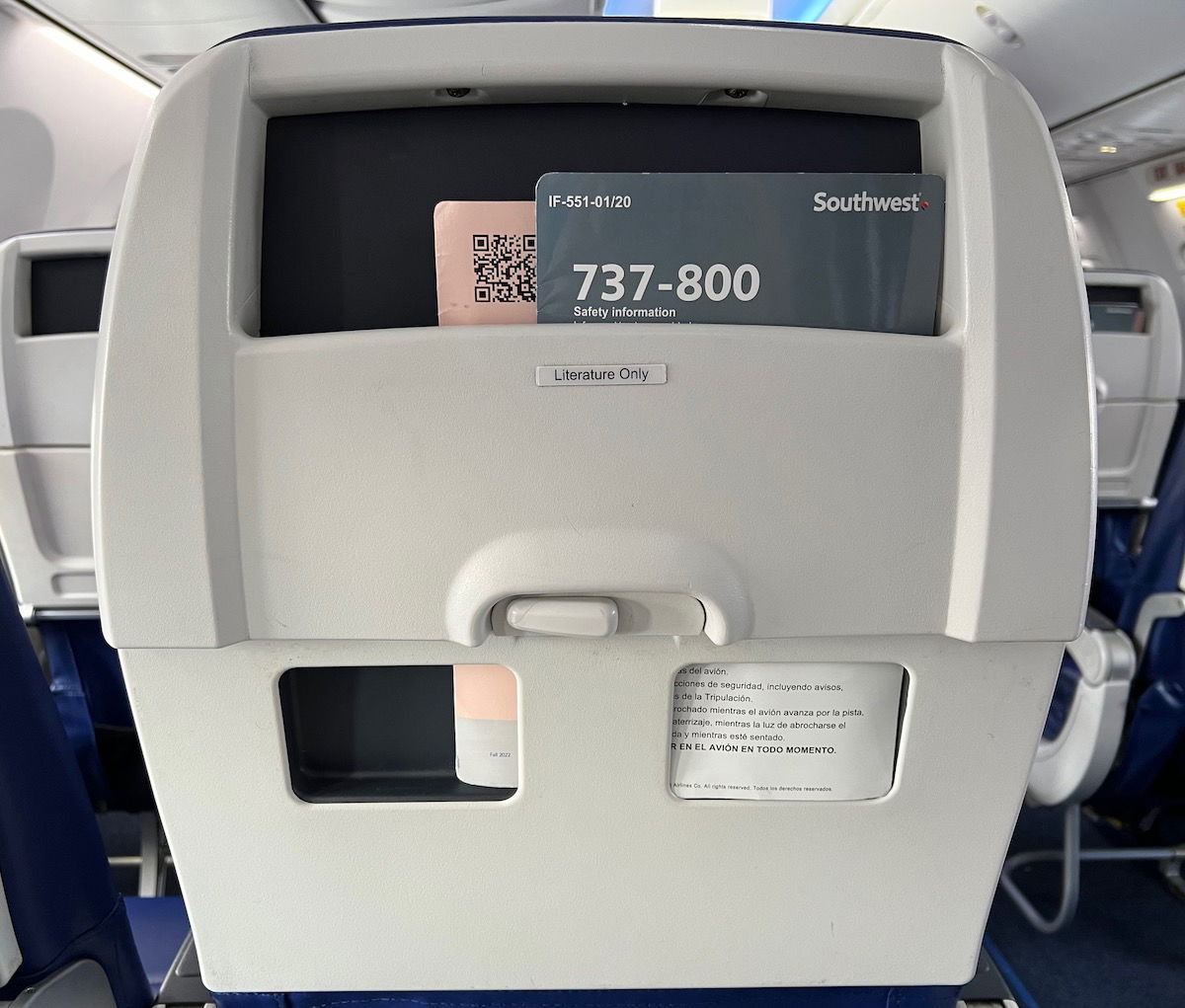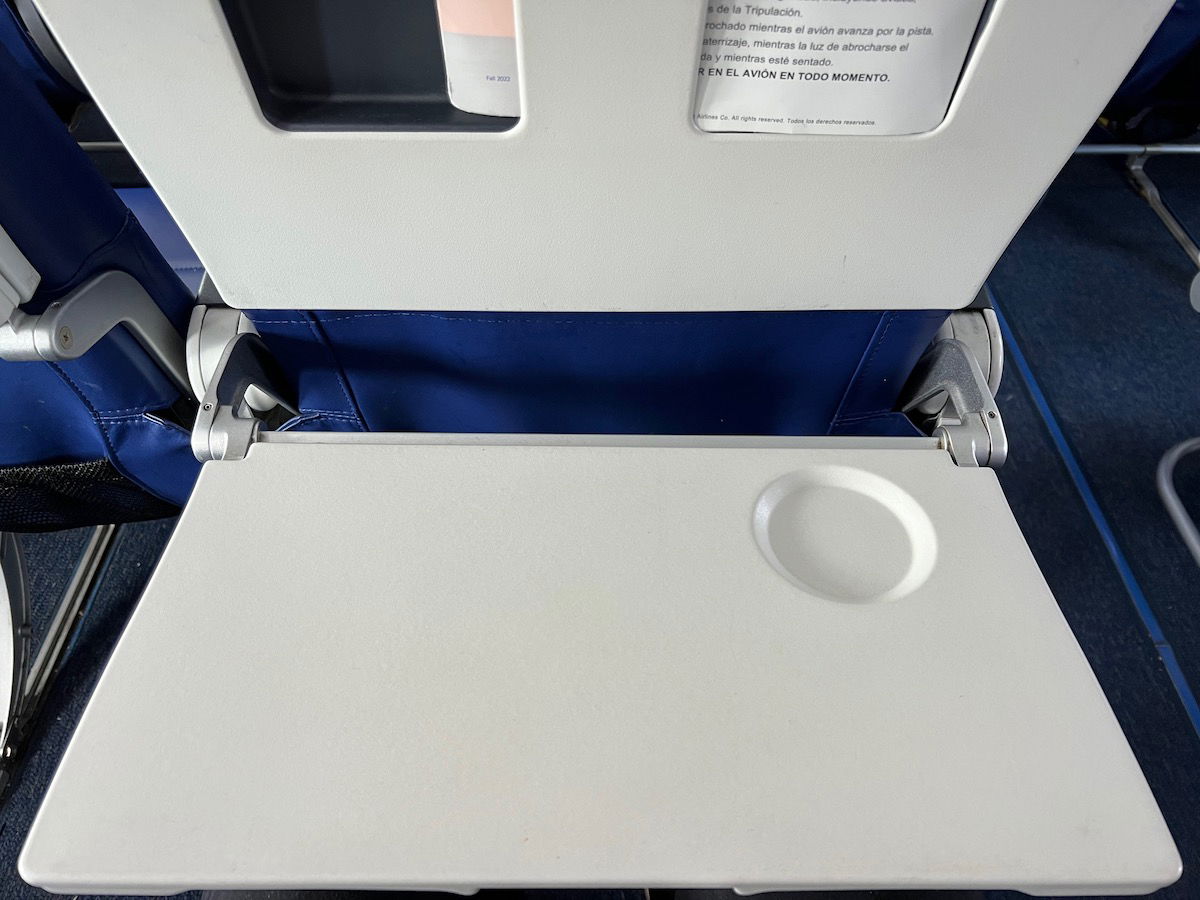 Unfortunately other than that, the seats are pretty bare bones:
Southwest Airlines doesn't currently have power outlets on any planes; the airline plans to start installing these in 2023
Not only does Southwest lack seatback entertainment, but the airline doesn't have personal device holders, as you'll find on many other airlines
I find it strange how Southwest is seemingly stuck in its ways, and seems to be the last to update its interiors with useful amenities, even when it's clear that something will have long-term value.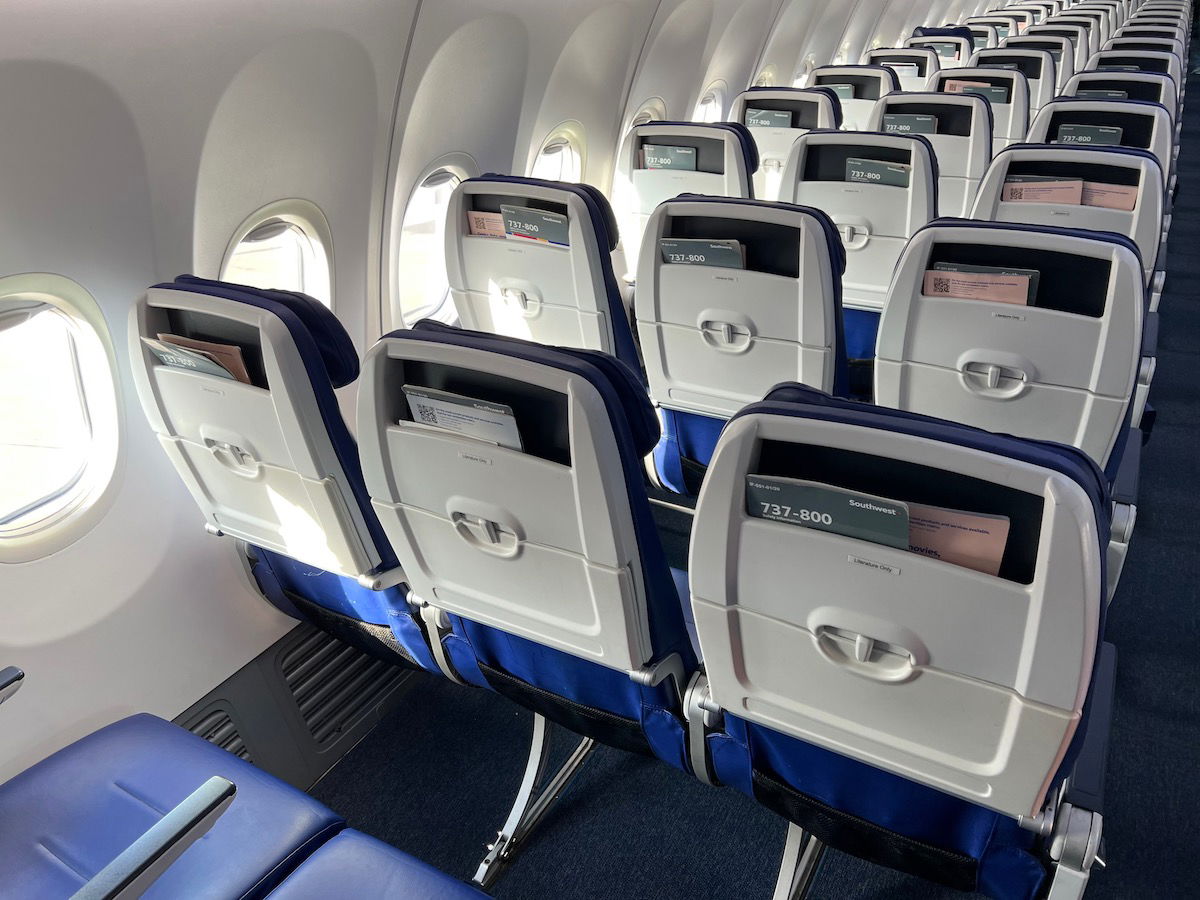 Each seat had a reading light and an air nozzle.
The overhead bins were updated compared to the 737 bins we saw a decade ago, but weren't as large as you'll find on newer jets.
For those with low enough boarding positions to secure an exit row, Southwest has three rows of seats around the overwing exits. There are two full sets of rows, plus one row with two seats on each side, rather than three.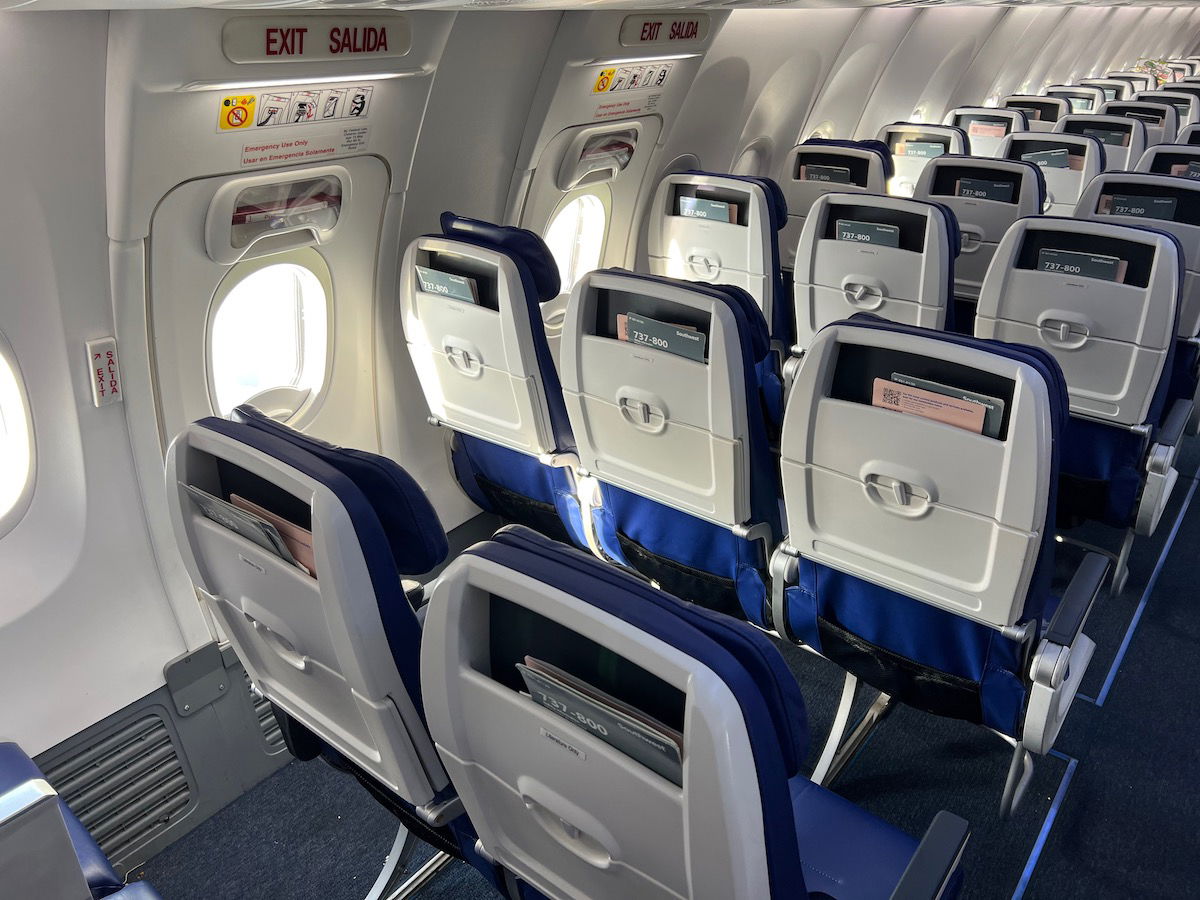 Seats 16A and 16F are probably among the most popular, as they feature virtually unlimited legroom. Those traveling with just one other person may appreciate 15B and 15C, as well as 15D and 15E. While these seats don't have much extra legroom, it's nice to not have to sit next to a stranger.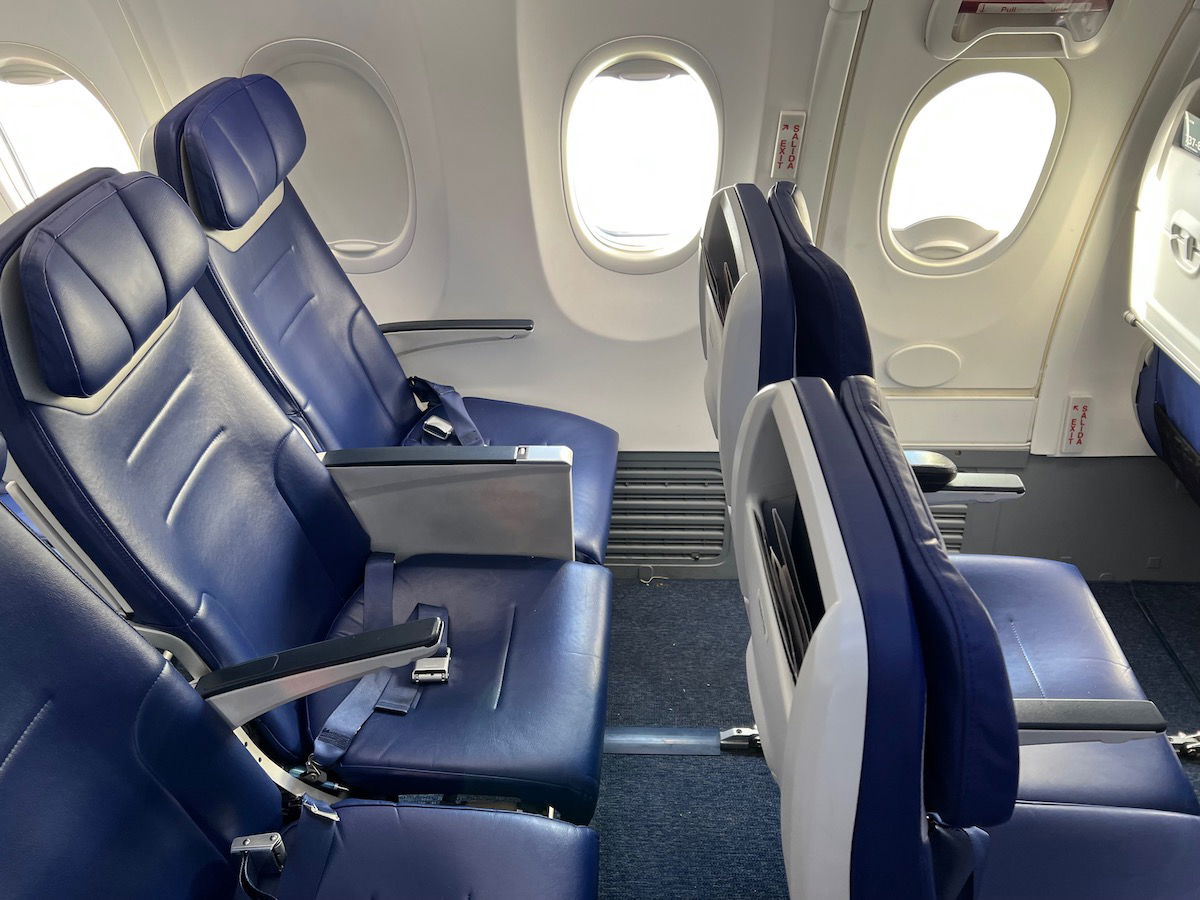 Then the forward exit row (row 14) featured significantly more legroom than standard seats.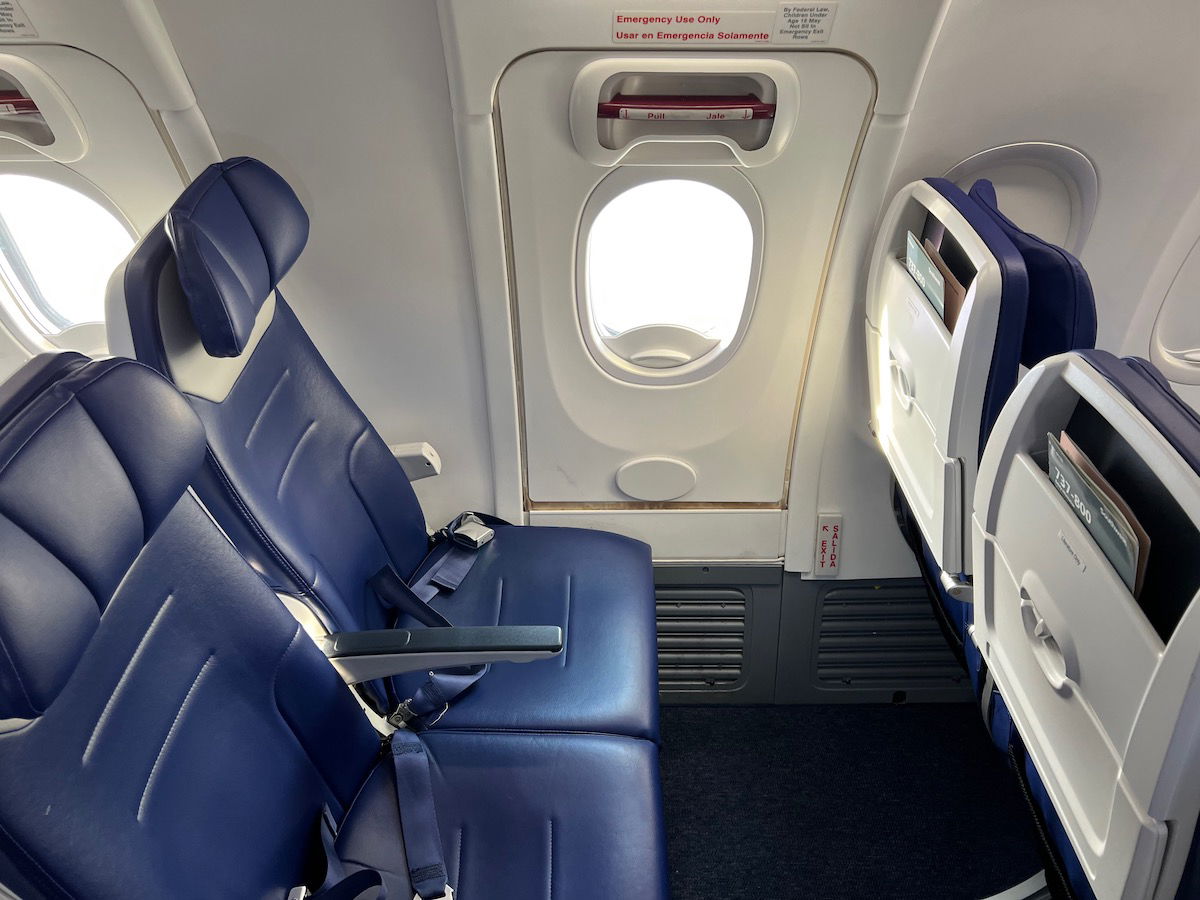 One thing that stood out to me upon boarding was how filthy the cabin was. On these "direct" flights, it seems that the cabin isn't really cleaned in any way. The flight attendants work hard to "tidy" the cabin by crossing the seatbelts, but that seemed to be it. I was amazed by how the carpet looked, and the general lack of cleaning in the cabin. This had to be one of the dirtiest cabins I've seen in some time (and that's saying a lot).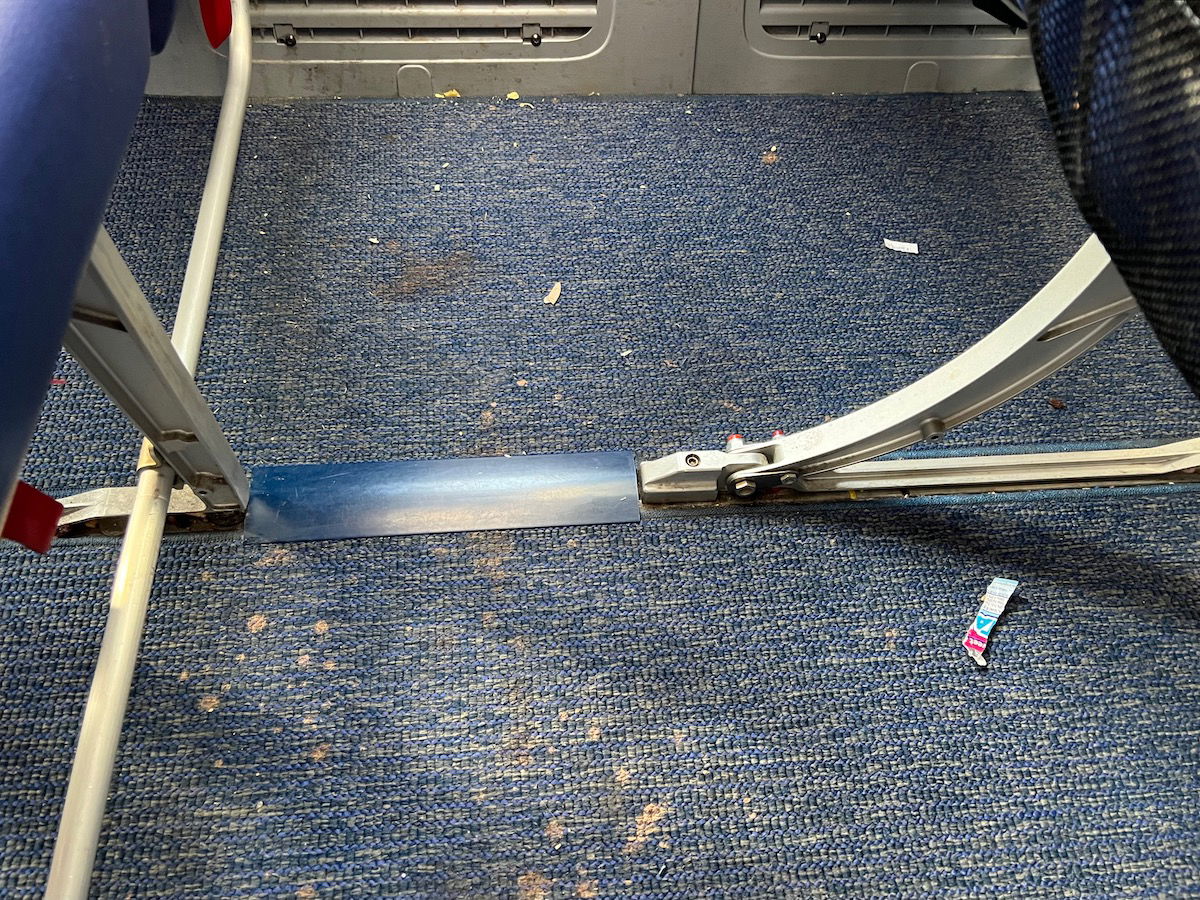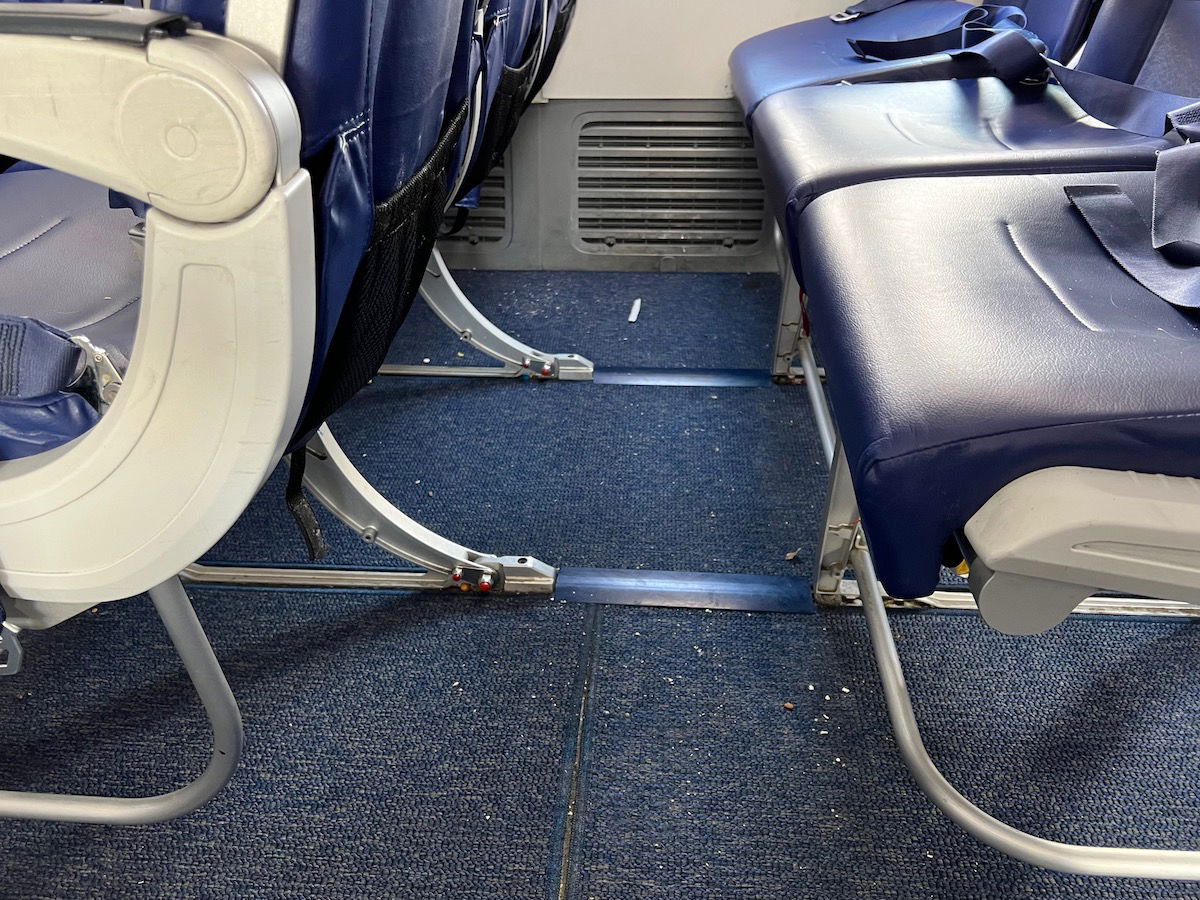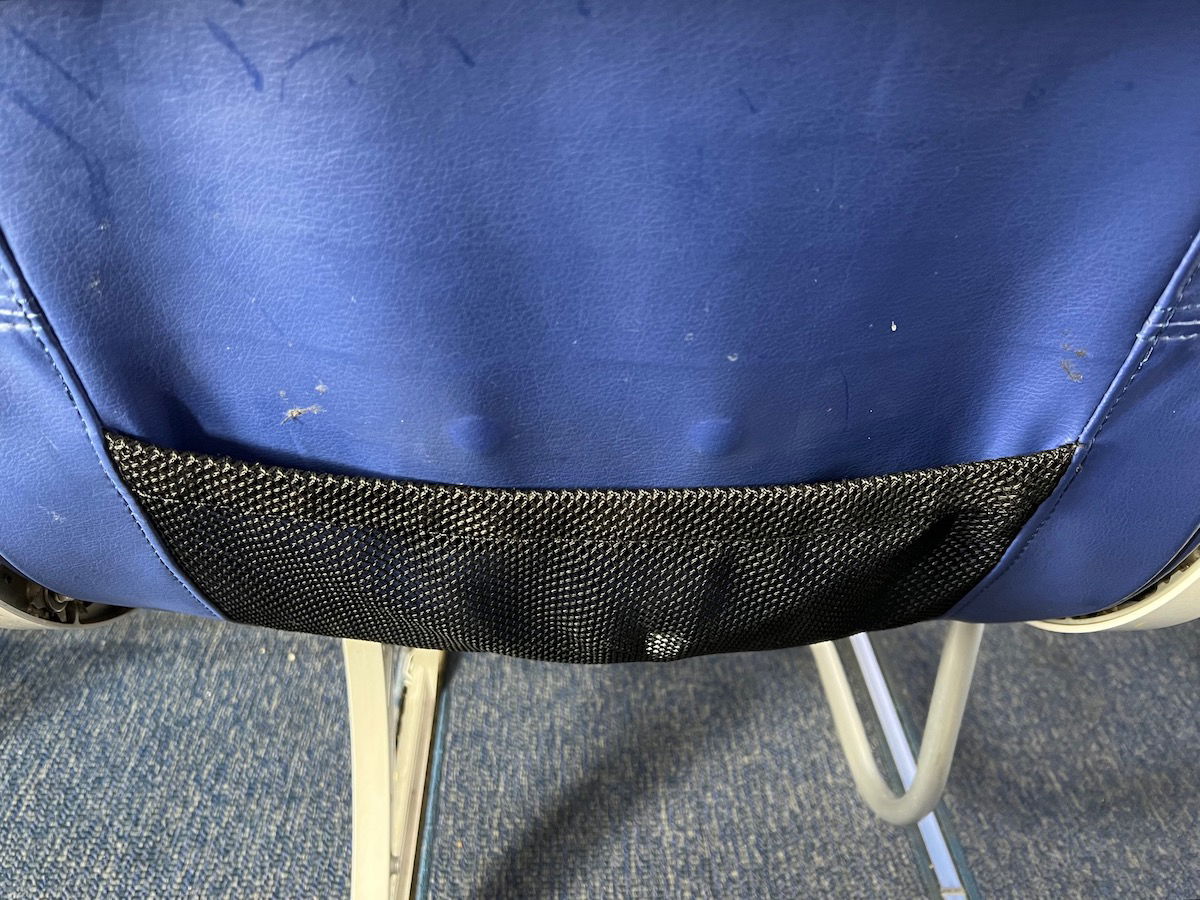 Southwest Airlines departure from Austin
I know people have varying opinions on Southwest's boarding process, and my opinion evolved as the process continued. For the first 15 minutes it seemed incredibly orderly and efficient, as people were boarding in a rush, clearly trying to snag good seats. That's a good thing.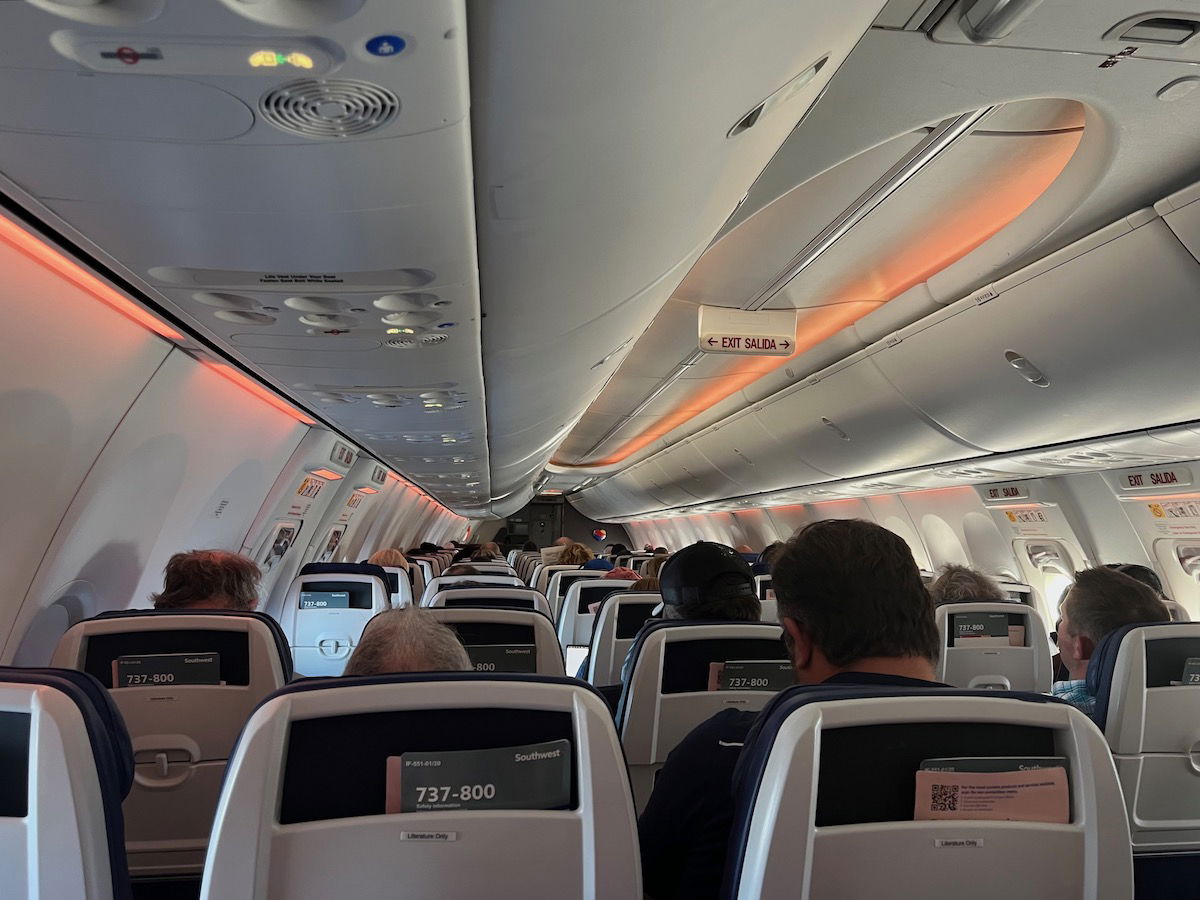 Unfortunately after that it just became a huge mess. This flight was nearly full (170 of 175 seats were occupied). Lots of people ended up in the back of the cabin, and then had to walk toward the front of the cabin, which obviously isn't easy.
Then you had parents separated from children, to the point that the flight attendants were making announcements to offer free drinks to anyone who was willing to switch seats.
Even though boarding started on-time, it ended up taking 40 minutes, and the door only closed at 4:10PM. At that point the captain announced our flight time of 2hr9min.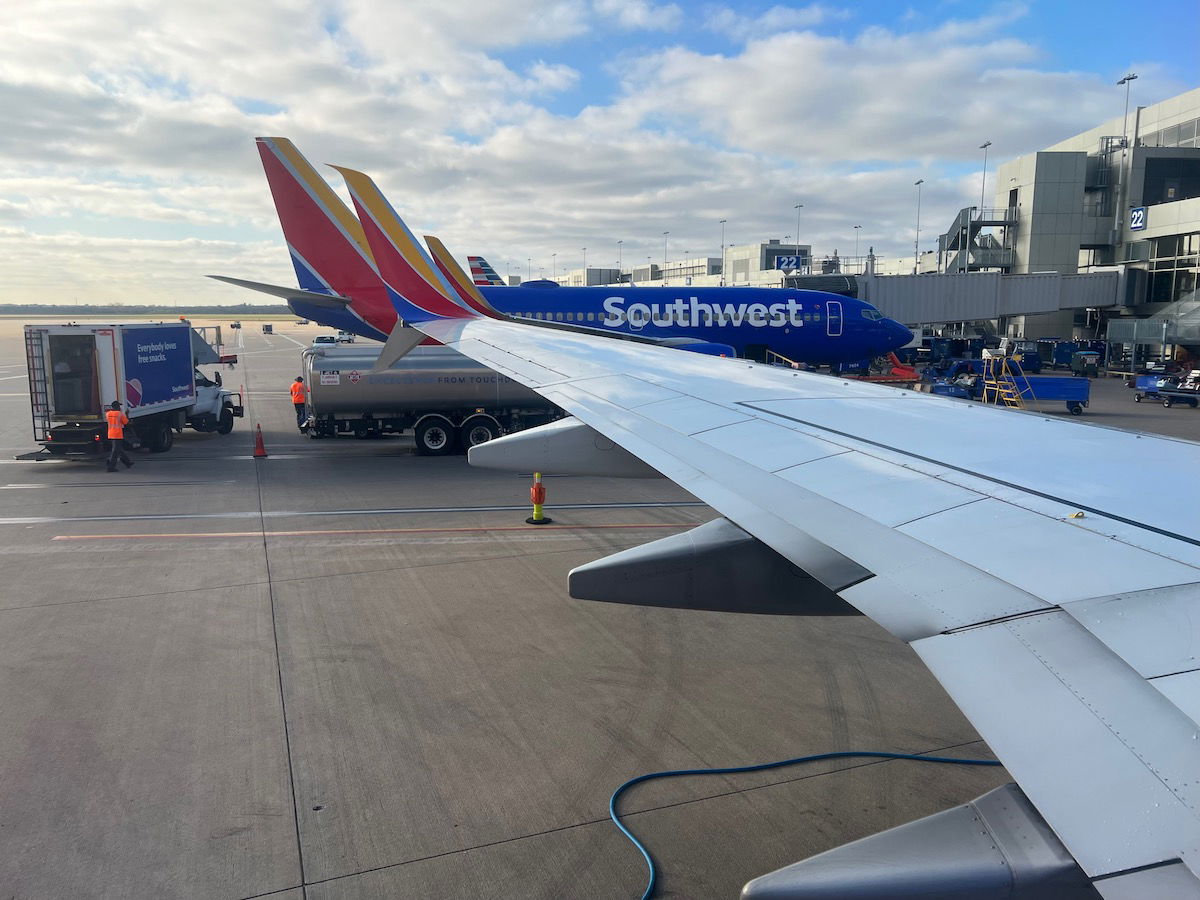 We pushed back within minutes, at which point the crew performed their manual safety demonstration. While Southwest is known for sometimes having humorous crews, this one was definitely more "by the book."
We ended up taking off from Austin at 4:30PM. The seatbelt sign was turned off about 20 minutes after takeoff.
Southwest Airlines Wi-Fi
Once airborne, I tried to connect to Southwest Airlines' Wi-Fi network. The airline charges just $8 for an all-day Wi-Fi pass, which is reasonable pricing, since it applies regardless of the route and whether you're taking multiple flights.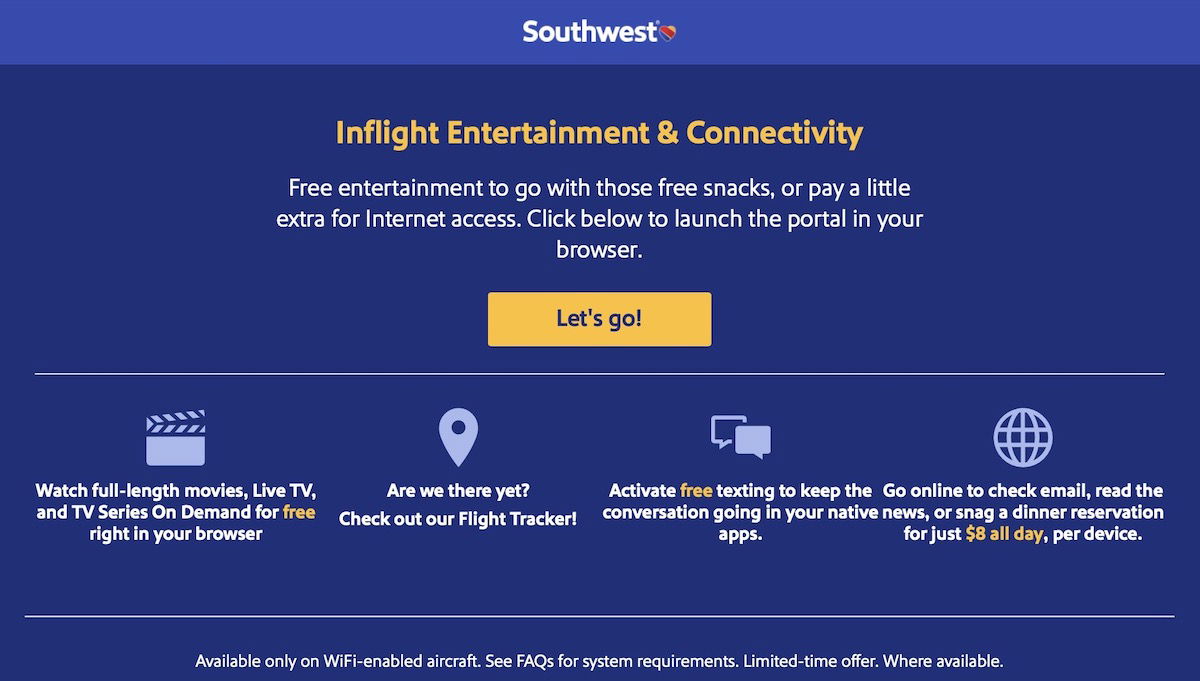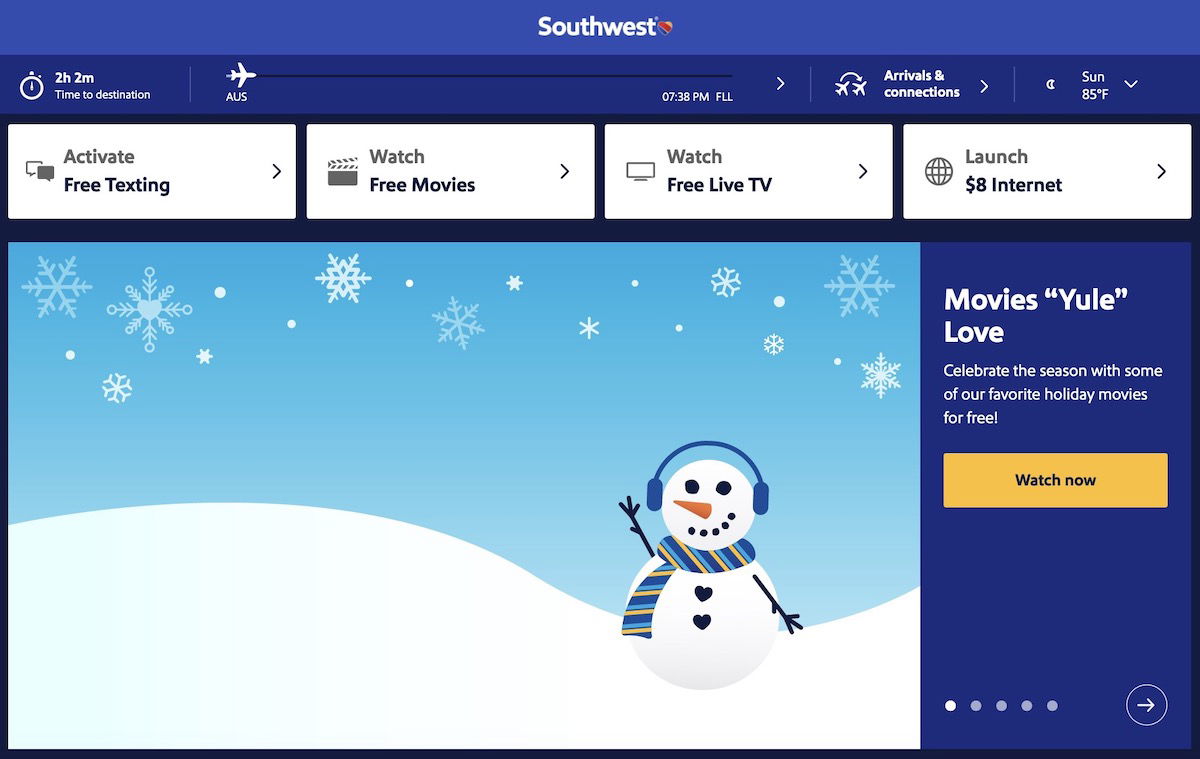 Connecting to the Wi-Fi was easy.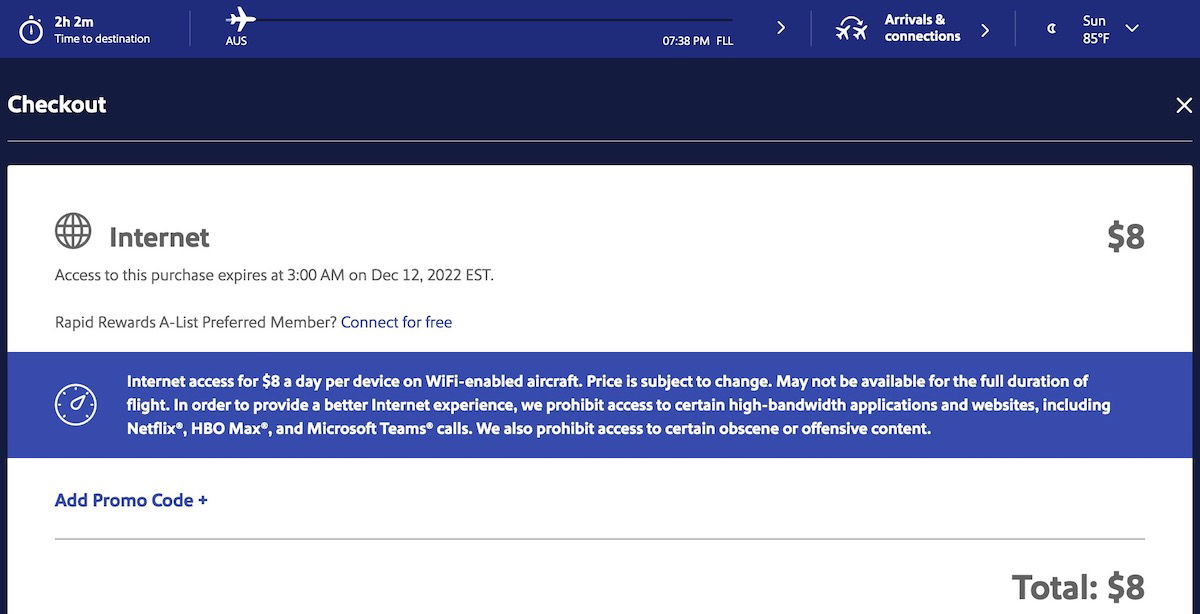 Unfortunately actually using the Wi-Fi was a different story. It worked for the first 30 minutes, but was extremely slow, to the point that it was almost unusable. Then for the rest of the flight it was fully unusable.
I was under the impression that Southwest's Wi-Fi was mostly pretty reliable, so I had planned on working the entire flight, and didn't load any other entertainment.
I had stupidly left my headphones at home on this trip (that was a mistake, as I always take them). So my inflight entertainment ended up being overhearing the college girl behind me cry for much of the flight about how her boyfriend broke up with her nine days ago. Oy.
Southwest Airlines food & drink selection
Southwest Airlines takes an interesting approach to its food & beverage service. The airline offers non-alcoholic drinks and snack mix for free (on longer flights snack boxes are offered, but there's no fresh food), and has alcoholic drinks available for purchase. You can find the menu below.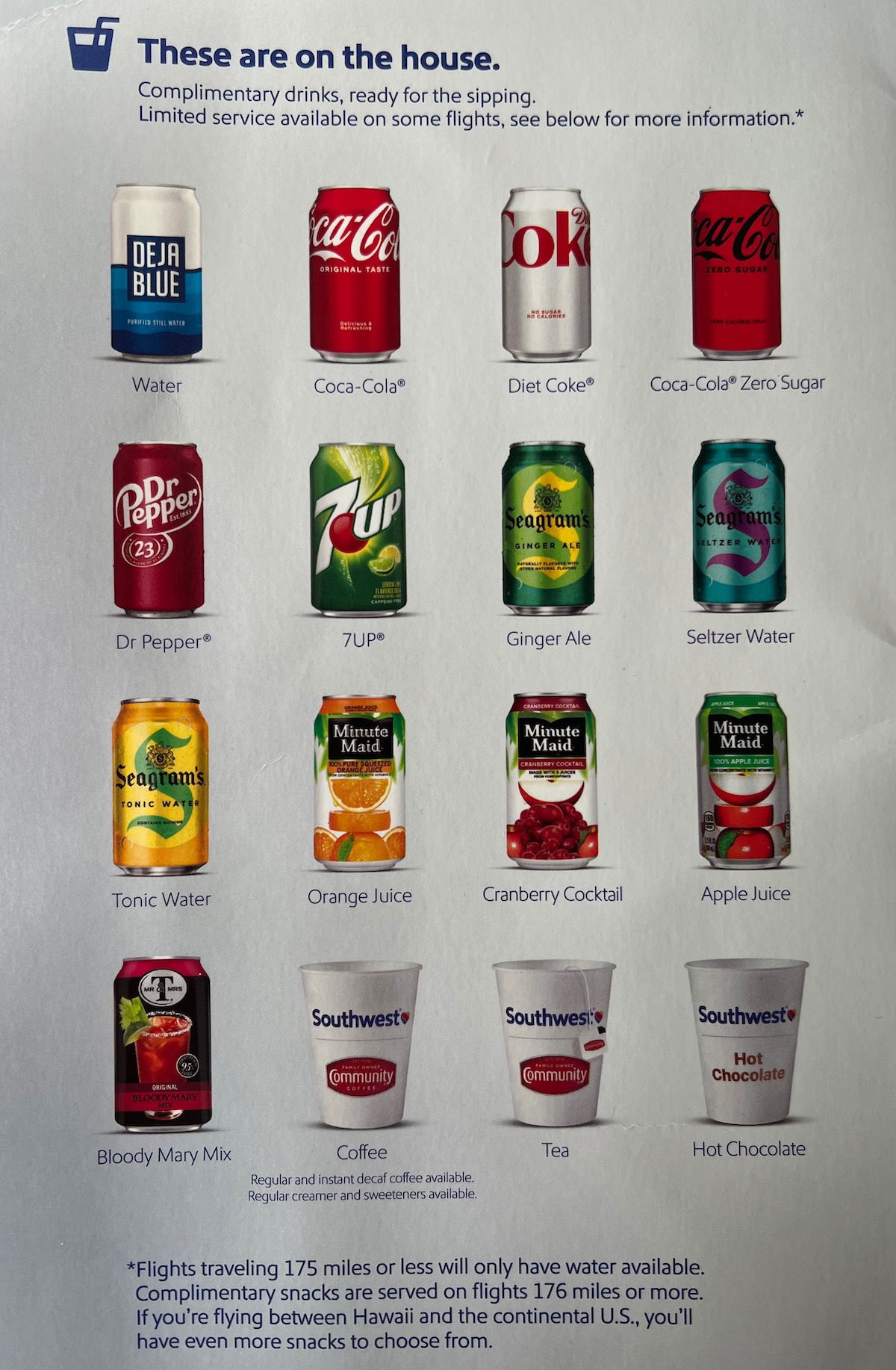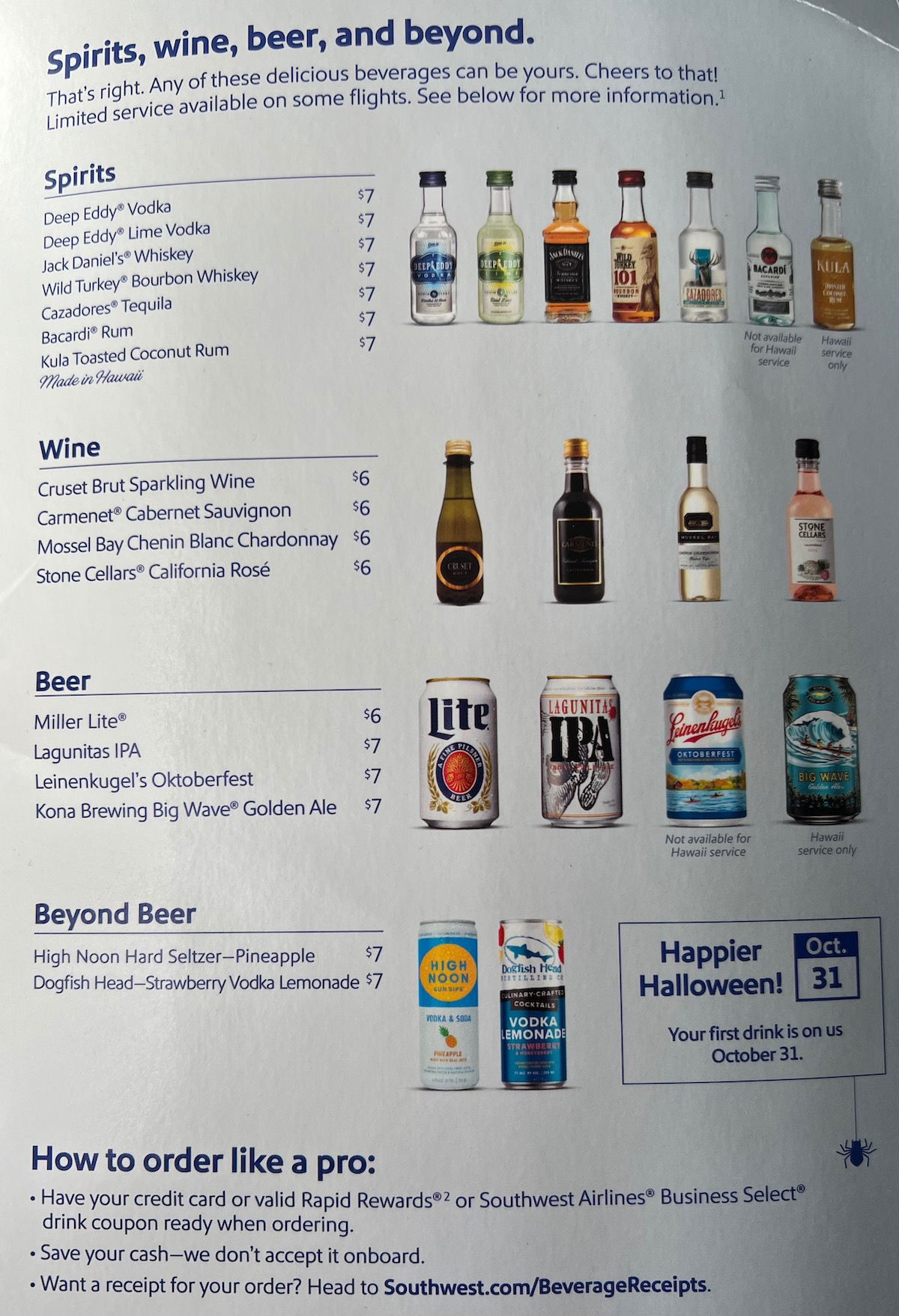 Tthe airline doesn't sell any food beyond what's offered for free, which seems to me like a missed revenue and customer experience opportunity. Sometimes it's nice to be able to buy either a larger snack or something fresh.
Furthermore, Southwest doesn't use beverage carts, but rather flight attendants use trays. Each of the flight attendants is responsible for one "section" of the plane. They come around and ask each person what they'd like to drink, and then they later bring it on a tray that can hold roughly a dozen drinks. Those who purchase alcohol only get charged after the entire service is complete, as flight attendants come around with their card readers at the end of the flight.
I ordered a Diet Coke to drink, which was served with snack mix.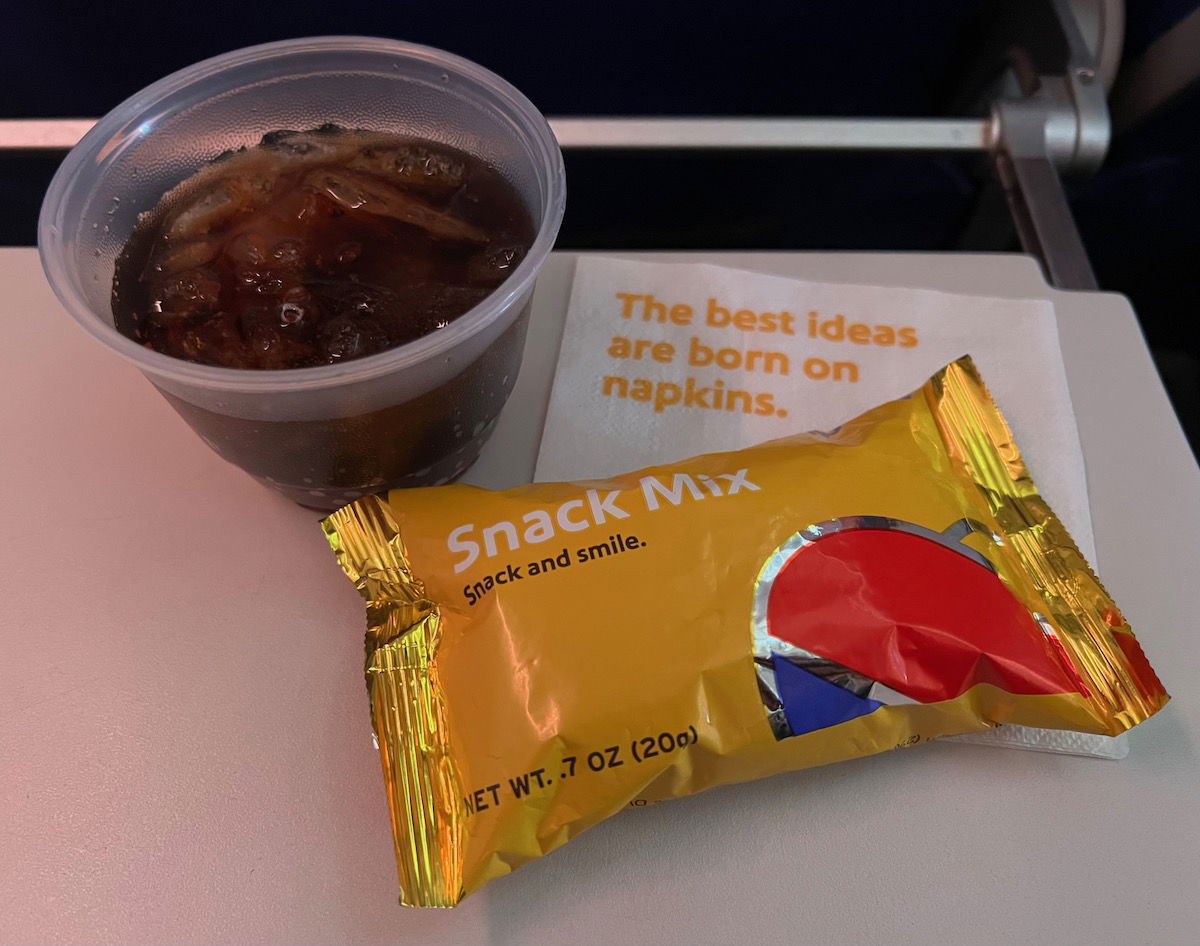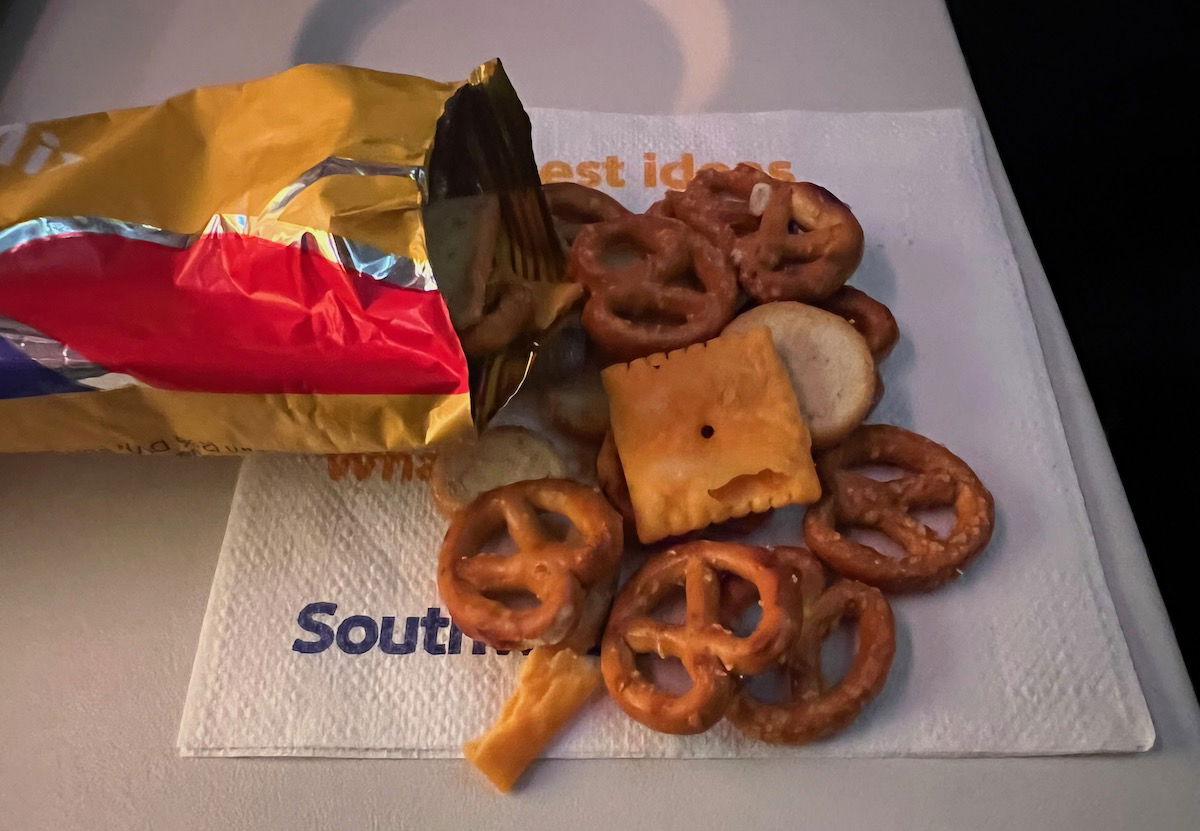 The crew was totally fine — they weren't rude, but they weren't also overly friendly. They did their duties, but that's about it.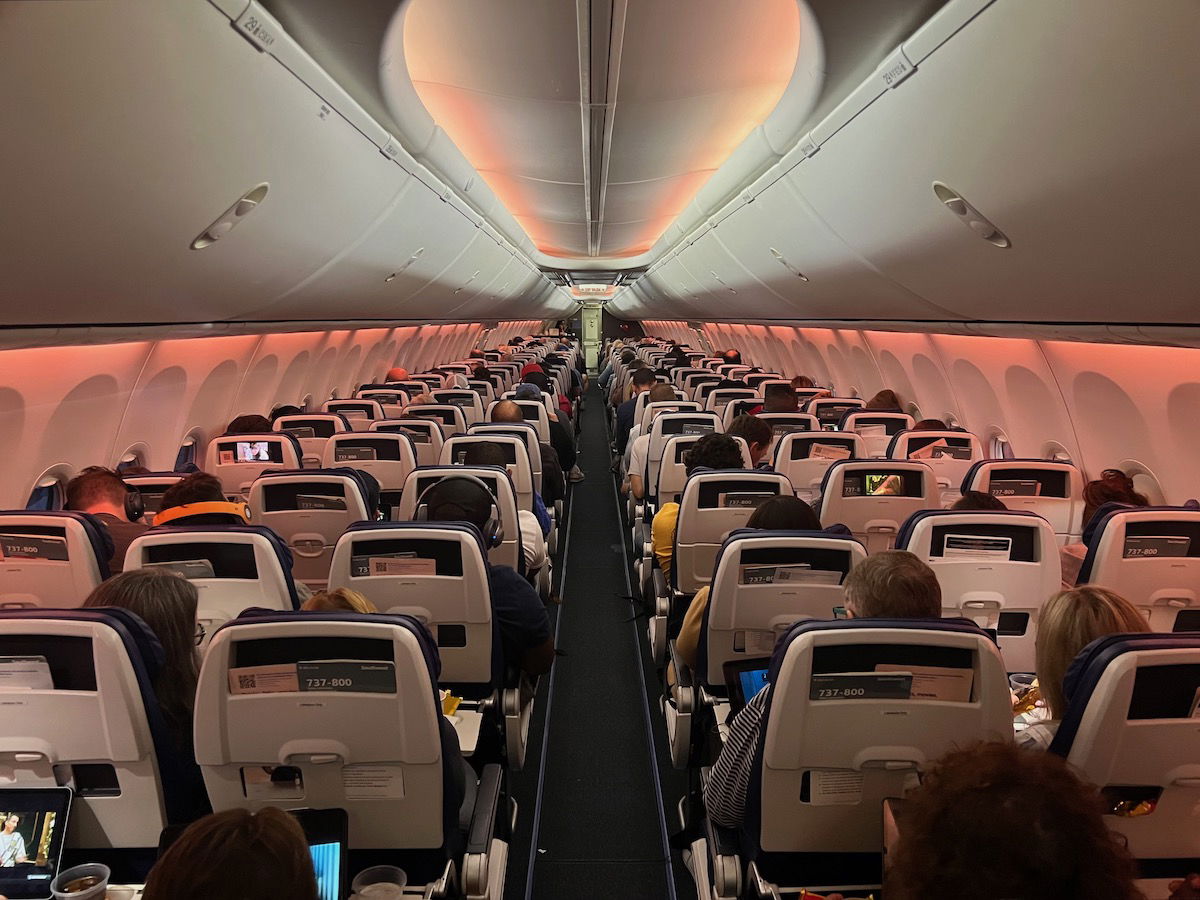 Southwest Airlines Boeing 737 lavatories
Southwest Airlines has three lavatories on Boeing 737-800s, with one in the front and two in the back. Toward the end of the flight I visited the lavatory in the back. It was in reasonably good condition, especially given how the rest of the plane looked.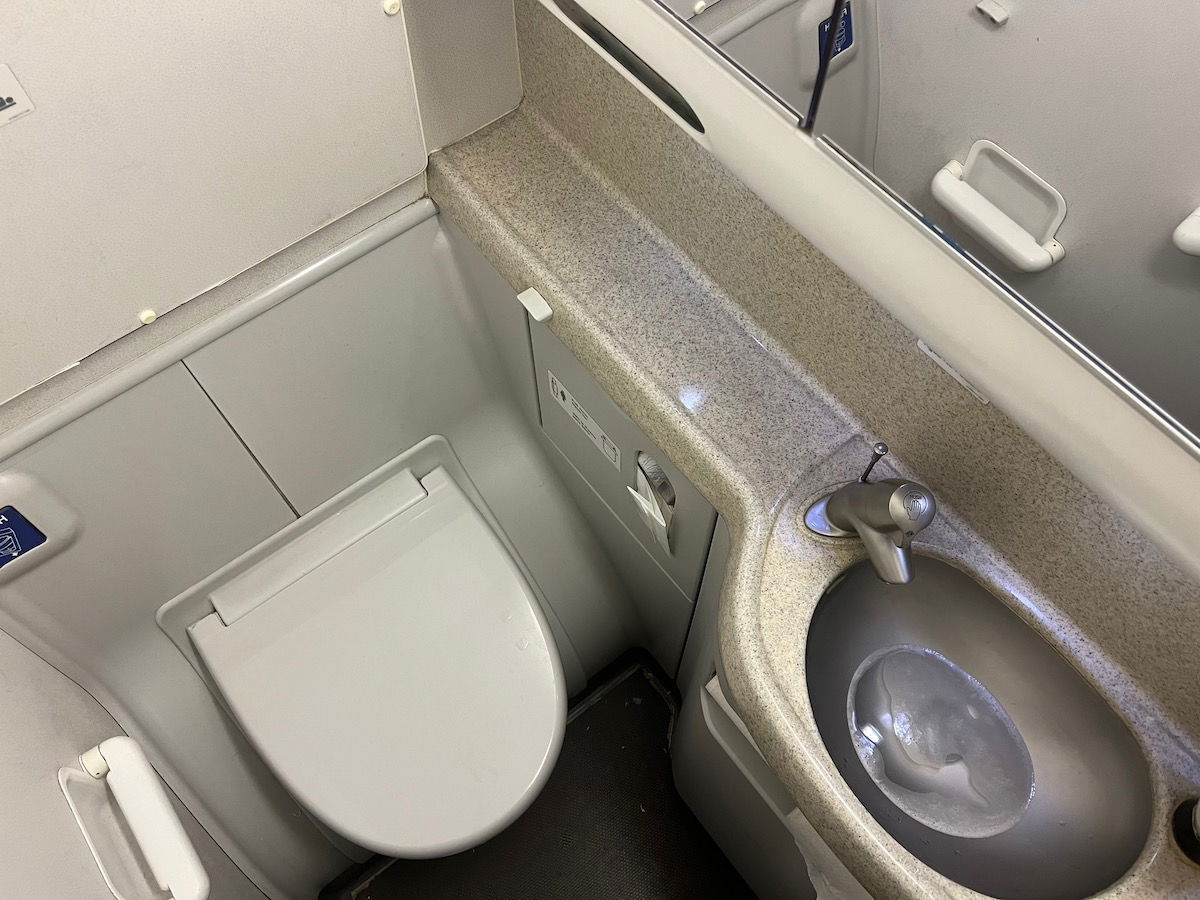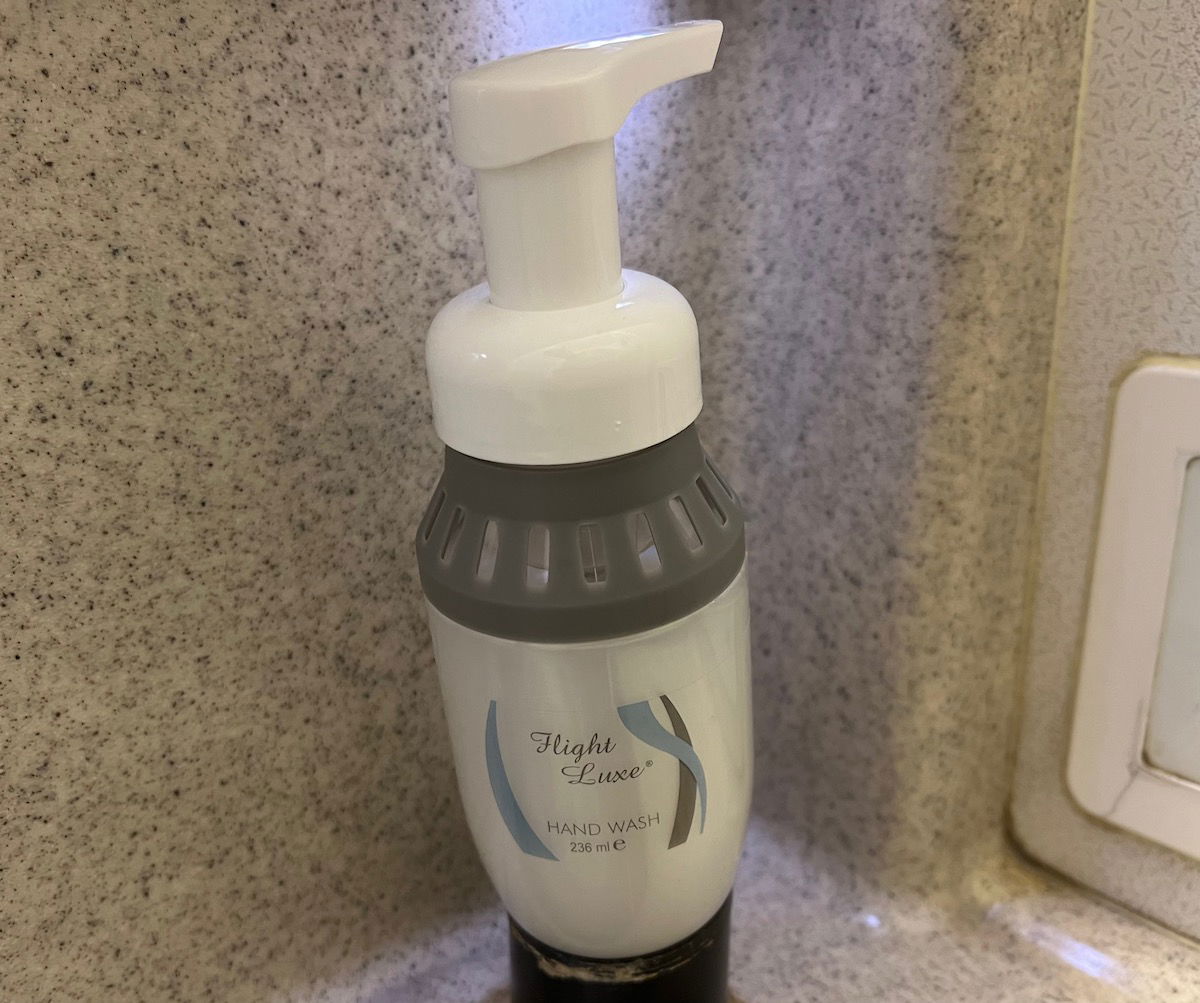 Southwest Airlines arrival in Fort Lauderdale
At 6:30PM EST (nearly halfway through the flight) the captain announced that we'd be encountering some significant turbulence, so he turned on the seatbelt sign for around 30 minutes. There didn't end up being a single bump, though I can appreciate the desire to be safe rather than sorry.
At around 7:20PM EST the captain announced we'd be landing in around 30 minutes. We began our descent a few minutes after that, at which point the seatbelt sign was turned on. We ended up touching down at 7:50PM and were at the gate a few minutes after that, about 25 minutes behind schedule.
What I found interesting was how slow the deplaning process was, as it took 15 minutes from the time we arrived at the gate until I was able to deplane in row 20. I'm not sure what was going on, but clearly people used up all their sense of urgency for the day during the boarding process, rather than during the deplaning process.
Bottom line
I really appreciate what Southwest brings to the market (well, when the airline is operating reliably), as the airline holds both ultra low cost and legacy airlines accountable with its change fee policy, two free checked bags, and more.
That being said, my experience of actually flying with Southwest left a lot to be desired — the cabin was filthy, the boarding process was chaotic, the Wi-Fi barely worked, and I don't understand the carrier's lack of power outlets and personal device holders. For my own purposes, I'm also not a fan of the boarding process, as I like to know in advance where I'll sit.
So while I'm happy that Southwest exists (after all, the airline carries more domestic passengers than any other airline), it's an airline I don't plan on flying with much in the future. If I'm going to avoid flying with a legacy airline, personally I prefer Spirit Airlines' Big Front Seat.
Let me emphasize, however, that I think for many travelers Southwest continues to be a great option. If your alternative is flying economy on Frontier or Spirit, then Southwest offers a meaningfully better product.
If you've flown Southwest, what was your experience like?