Hello from Warsaw! Last week I wrote about how I was trying to decide whether to fly LOT Polish Airlines' Boeing 787 business class or Singapore Airlines' Boeing 777 first class across the Atlantic. I decided on the former (that's what most of you voted for), so I just completed the 8hr20min flight from Chicago to Warsaw on the 787-9.
LOT is one of the less talked about Star Alliance airlines across the Atlantic, and for that matter, I hadn't flown with the airline in many years, so I was curious to see how the experience is nowadays.
Well, it was more or less what I was expecting — the seats and entertainment aren't terribly competitive, the food was quite good, and the service was well intentioned, though it could have been a LOT more Polish(ed). Don't worry, I'll be here all week/for the next decade. 😉
While I'll have a full trip report soon, in this post I wanted to share some initial thoughts on the LOT business class experience.
LOT Polish Airlines' 787 business class seats are outdated
LOT's Boeing 787 Dreamliners all have the same business class seats, which are fully flat and in a 2-2-2 configuration. At some point many years ago this was a cutting edge product, though that's definitely not the case anymore.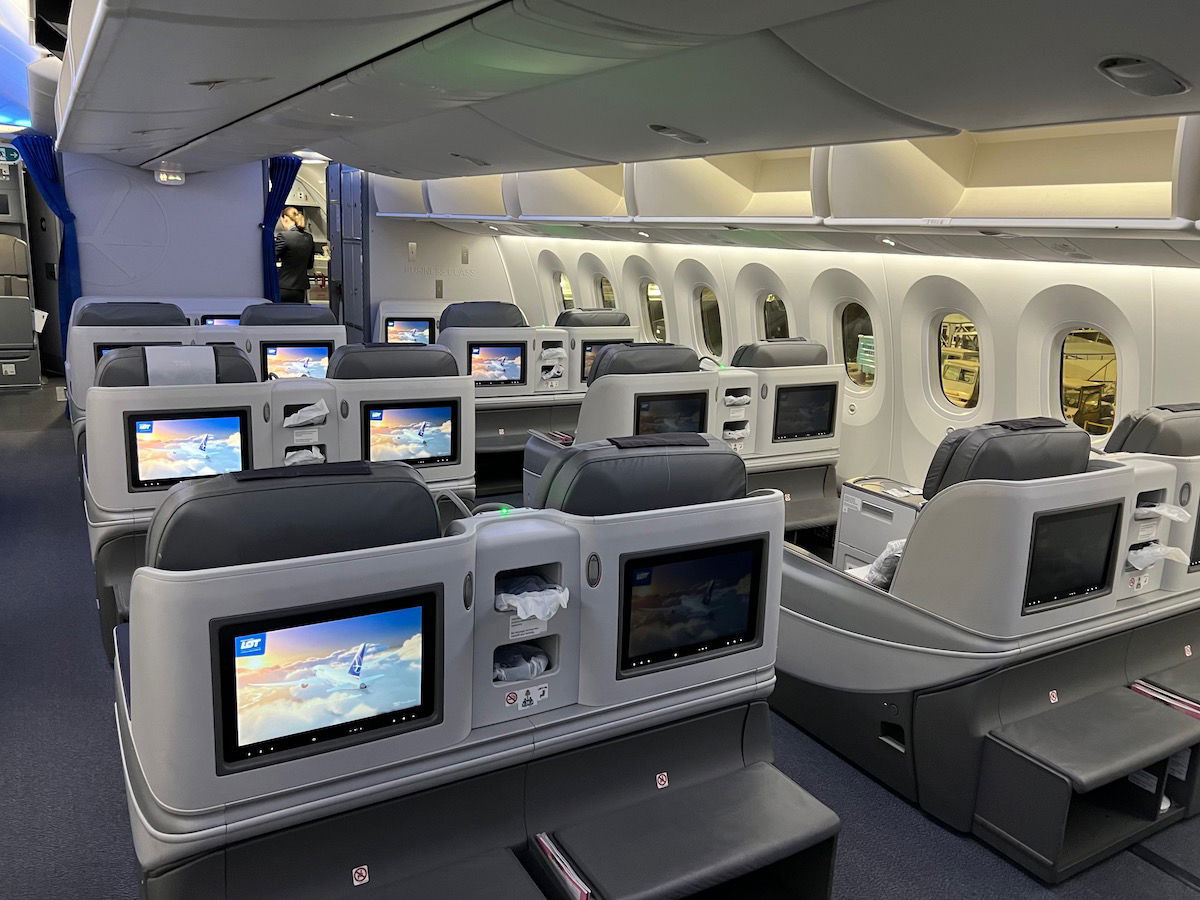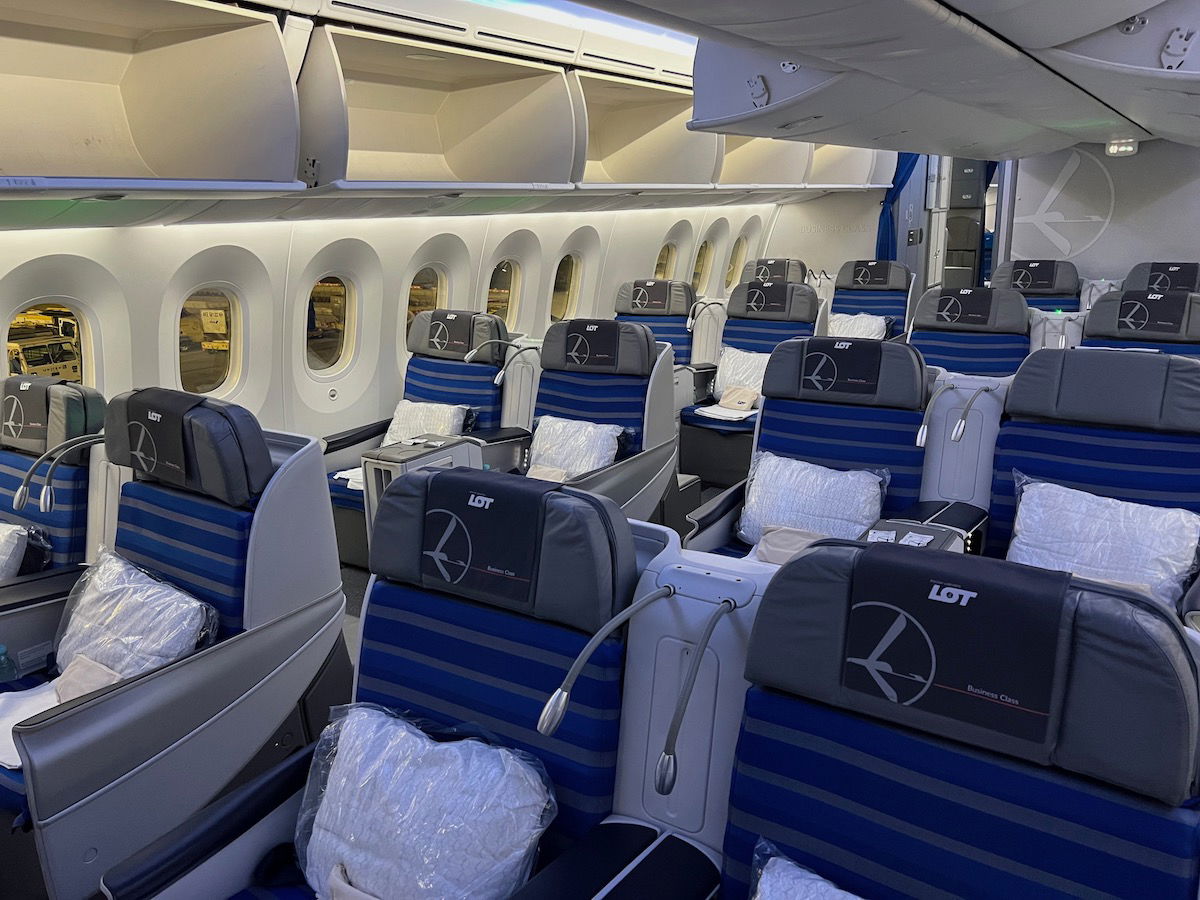 Obviously you can get much more updated seats on other airlines, though in all honesty, this product isn't half bad. Many might like this product if traveling with a companion (since you can sit next to them), and it's also good not to have to squeeze your feet into some small footwell.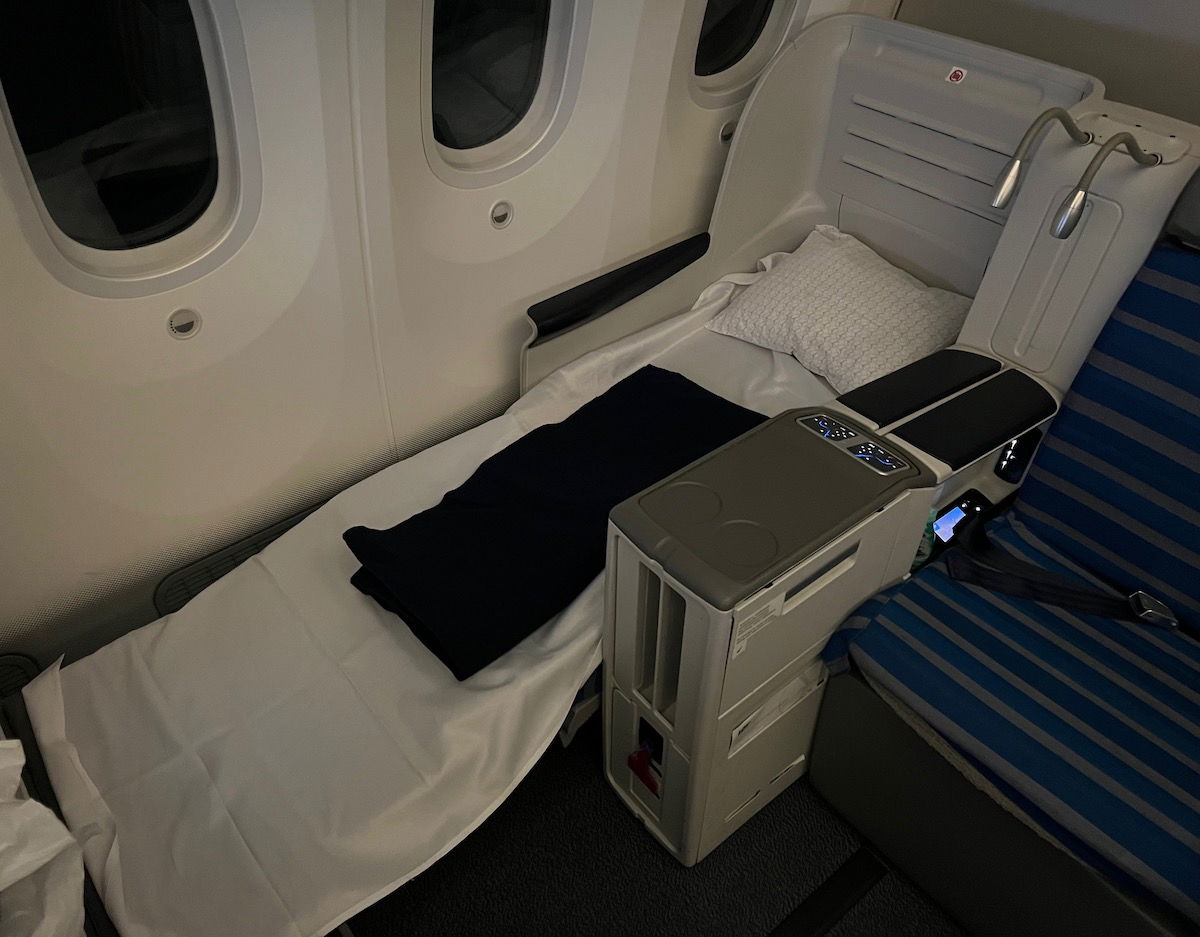 On this particular flight, the 24-seat cabin was also only half full, so each passenger could have a pair of seats to themselves if they wanted to. I wouldn't love this product if I were seated next to a stranger on a full flight, but under the circumstances, I thought it was perfectly pleasant.
It's not just that LOT hasn't invested in new seats, but the airline also doesn't offer Wi-Fi. Furthermore, while the entertainment selection has a decent number of movies and TV shows, it's not the most updated library you'll find. So definitely bring your own entertainment.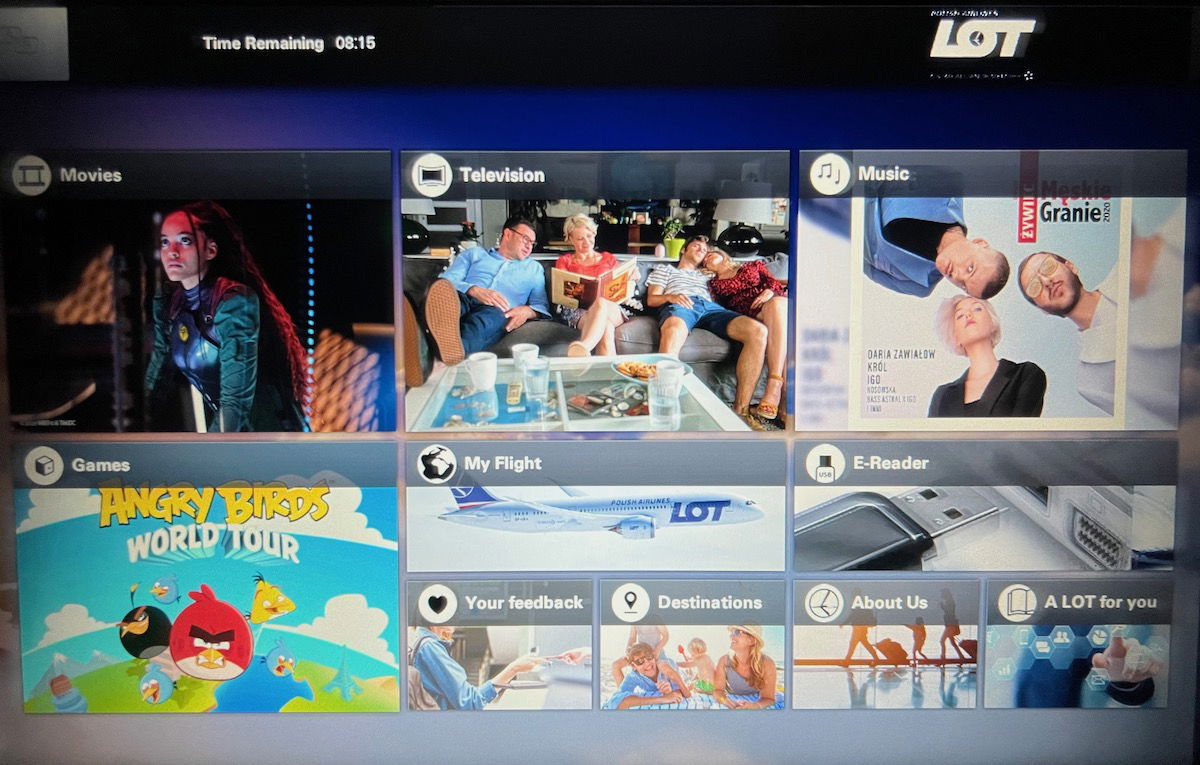 I intentionally made sure to fly LOT on an eastbound overnight flight where I intended to sleep, since this would be a very boring flight in the other direction.
LOT Polish Airlines' business class food is quite good
LOT's business class catering is fairly competitive, and is better than what you'll find on some other airlines. However, the execution left a bit to be desired.
For the main meal, the menu indicated that there was an appetizer choice of pickled prawn with fennel puree or roasted carrot soup with parsley. I was just proactively brought the former, so I'm not sure if they ran out of the other option, or just assumed everyone wanted this, as I didn't see any trays with soup.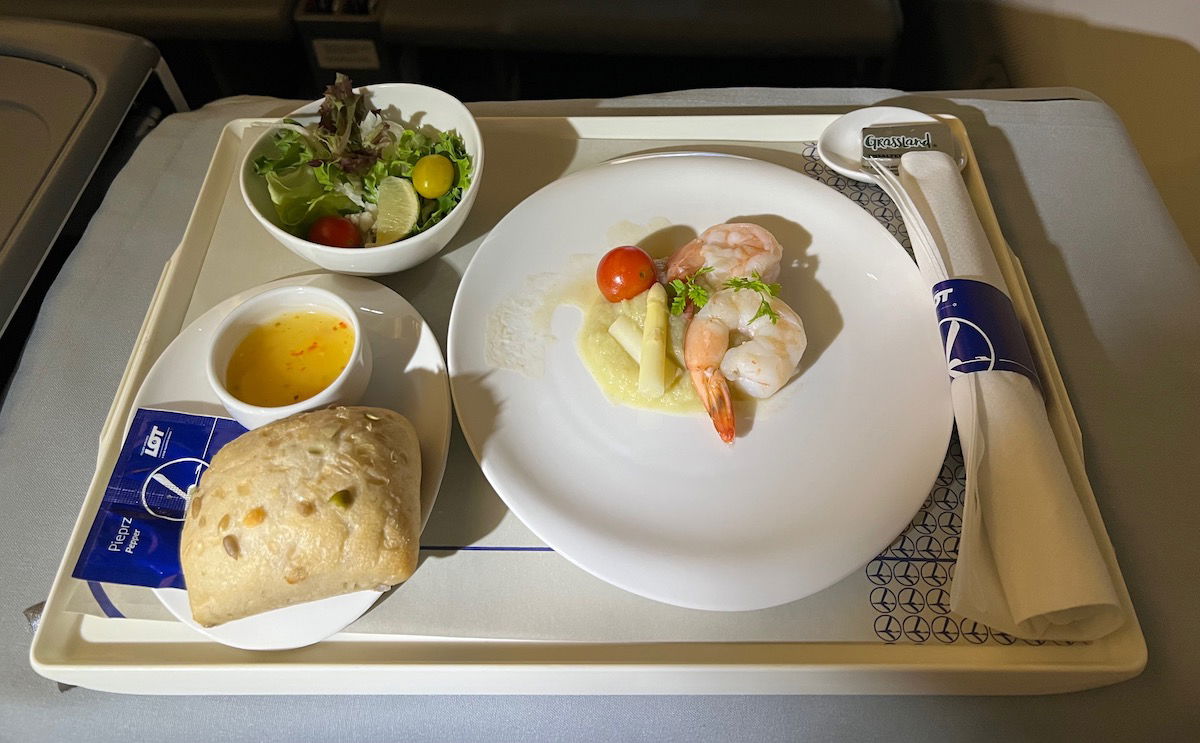 For my main course, I selected the cheese ravioli with vegetable puttanesca sauce. On the plus side, the food was served on a large plate and was clearly plated in the galley. Furthermore, the ravioli tasted really good. However, I think a bit more attention to detail could've gone into the presentation. I'm not sure if they were trying to do some sort of plate art and got distracted, or just threw the sauce at the plate.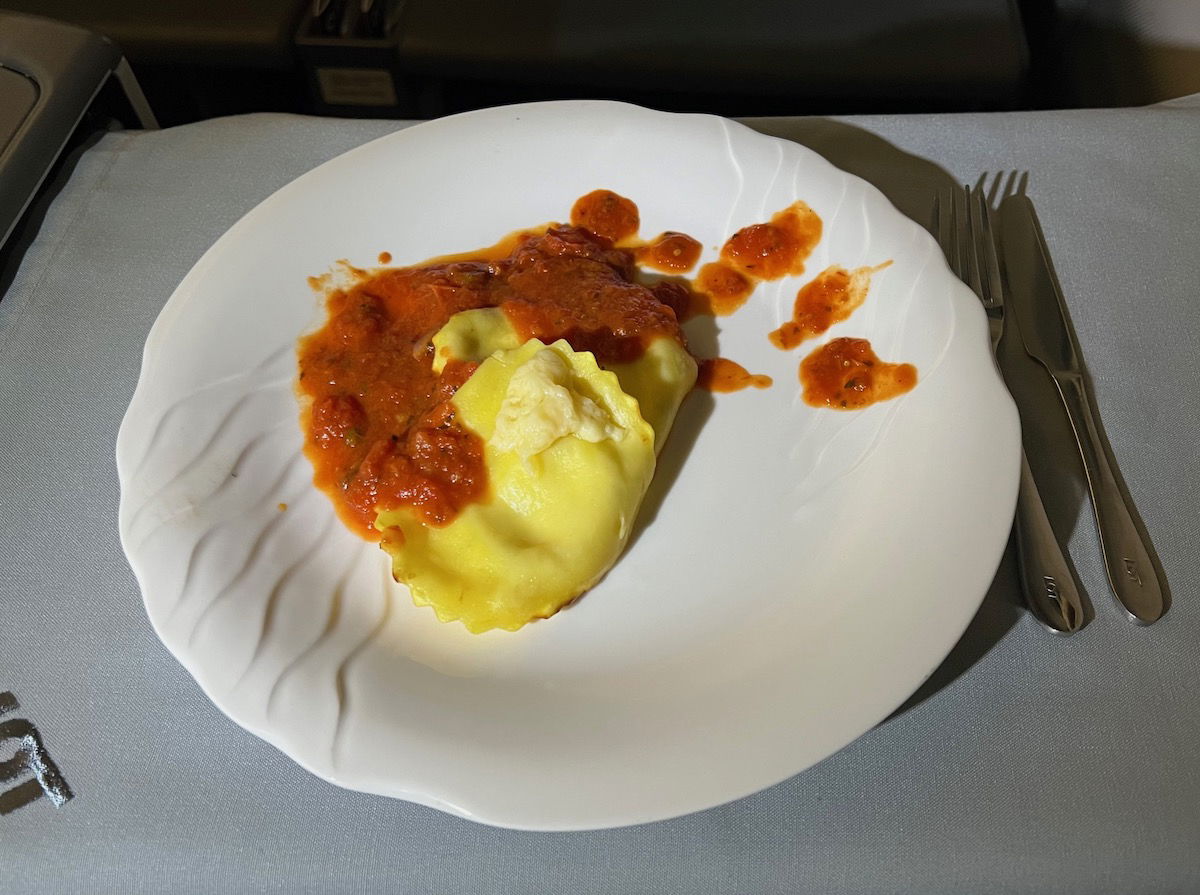 Perhaps the highlight of the LOT meal service is the after dinner trolley with cheese and several dessert options.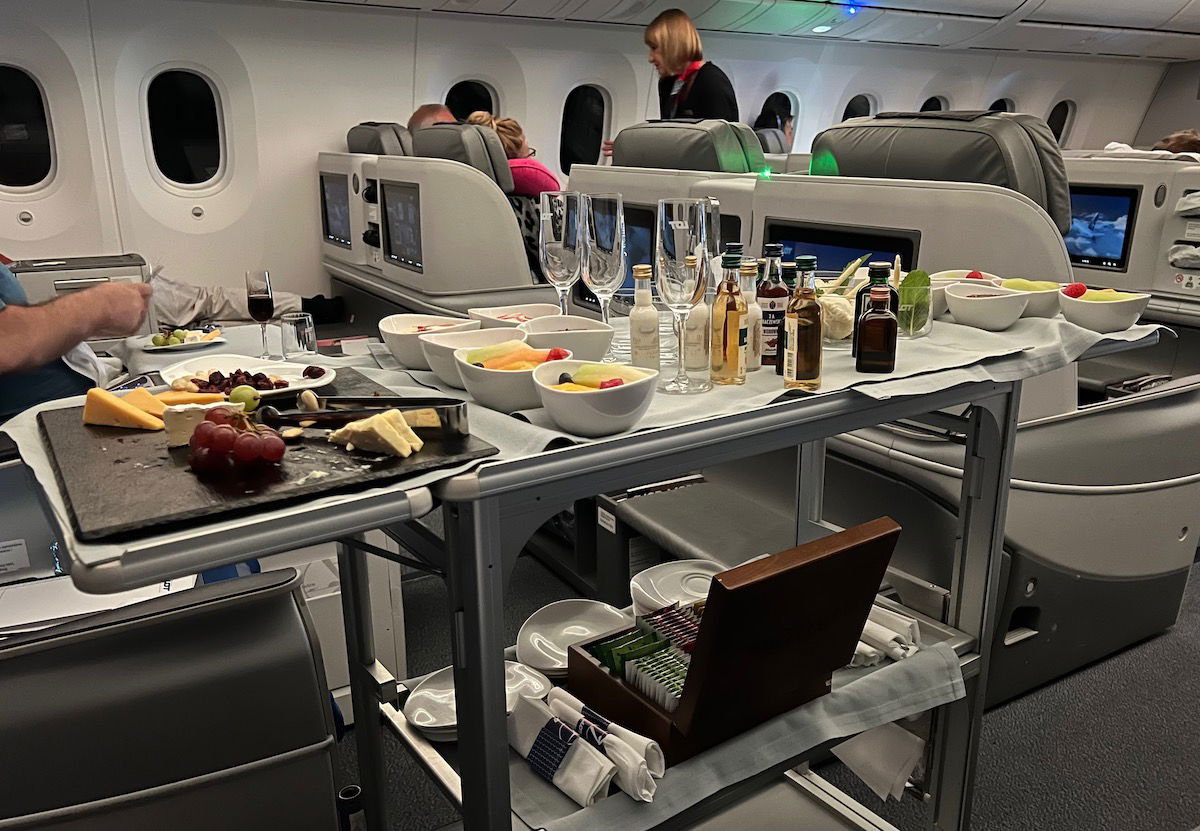 In the morning, I tried to order a cappuccino, which was listed on the menu as an option, yet the flight attendant informed me that they don't actually have anything to froth milk with on the plane. Okay, then why are these kinds of things listed on the menu?
Then for breakfast there was the choice of a hot or cold option. I was just proactively brought the cold option.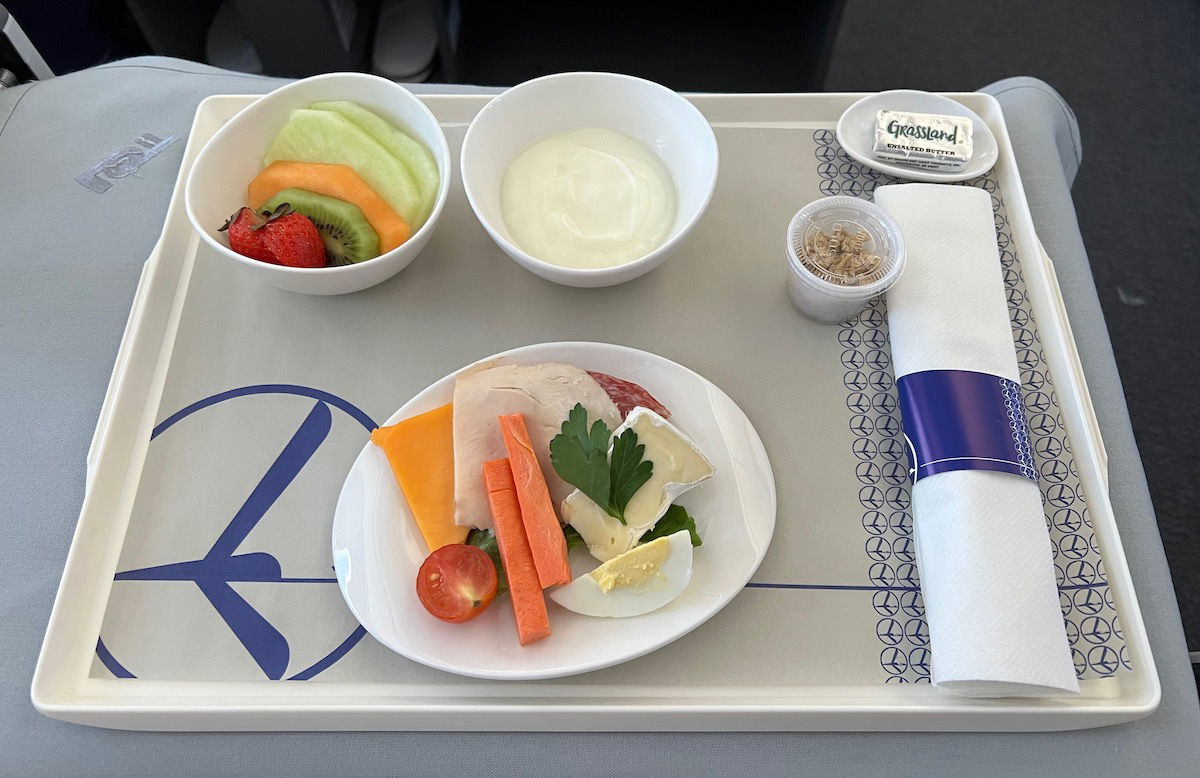 I asked if the hot option was available, and I was informed it wasn't. That's a bit disappointing in a half full cabin, especially when they're promoting after takeoff how you can still buy upgrades to business class.
I also noticed that after the door closed, a young guy (who I believe was a family member of a crew member, but I'm not sure) was moved to business class. Want to guess what he was eating? Yep, the hot option. It just seems like if you're going to upgrade passengers after the door closes, you should prioritize those who were actually booked in the cabin.
About a minute later, the flight attendant returned to my seat with a hot option, which she had just removed from the tray of another passenger, who I guess no longer wanted it. That would typically be considered a no-no in the US, but…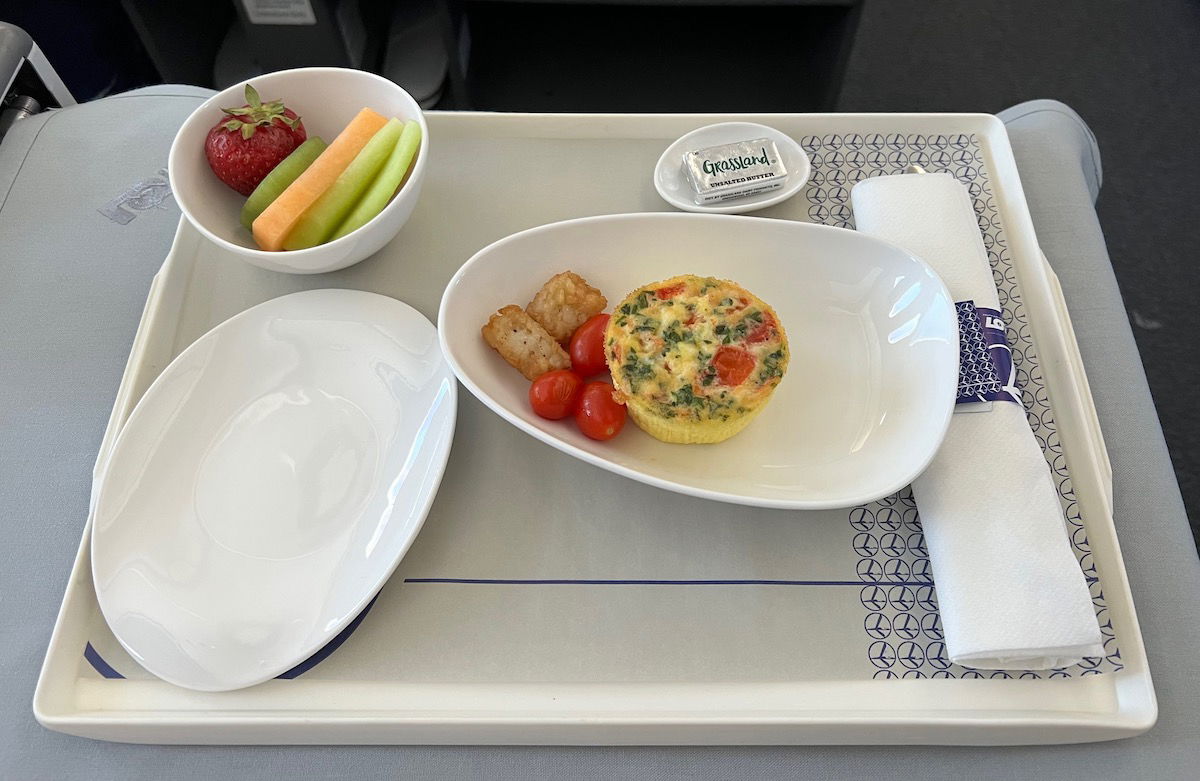 Speaking of breakfast, I appreciate that the airline actually serves americanos that are quite good. The problem is that there's only one machine onboard, and that's where all coffee is served from. So with a half full cabin, it took about 15 minutes to get a cup of coffee, since everyone was having coffee. I imagine this would take even longer with a full cabin. Maybe it's time to invest in a second machine?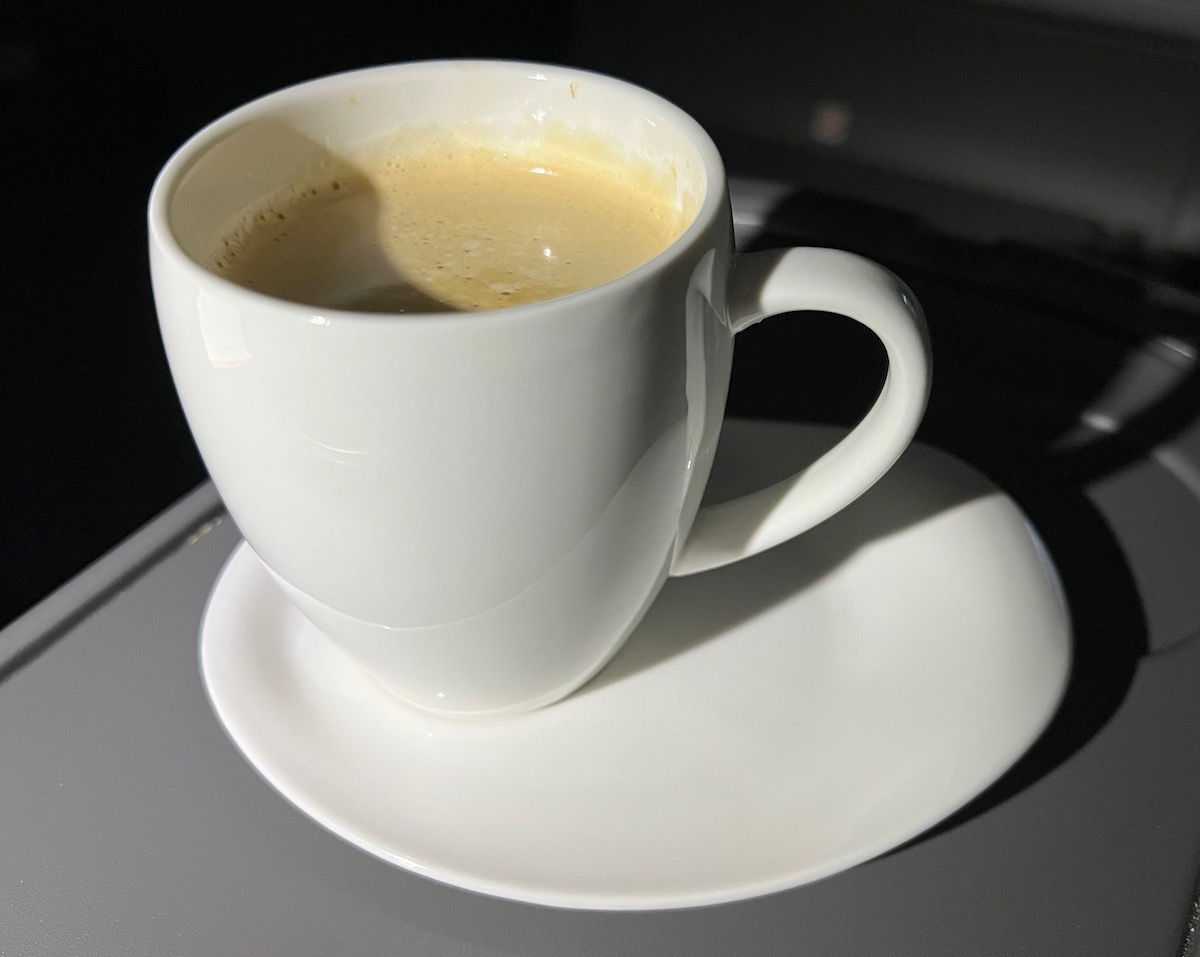 So anyway, the food quality was quite decent, but there were so many little issues with the presentation, availability of items, etc., that it detracted from that the experience.
LOT Polish Airlines' service is well intentioned
I know the above might make it sound like the service wasn't good, but the crew was honestly extremely friendly and well intentioned. Both the purser and the business class flight attendant were attentive, constantly smiling, and seemed to enjoy their jobs.
Admittedly service was rough around the edges (as I've highlighted above), but the crew tried really hard, and there were very apologetic for any shortcomings. There were also some things they did really well, like pouring wine from the bottle at the seat, the purser thanking each passenger on descent for flying with LOT and offering them a Polish sweet, etc.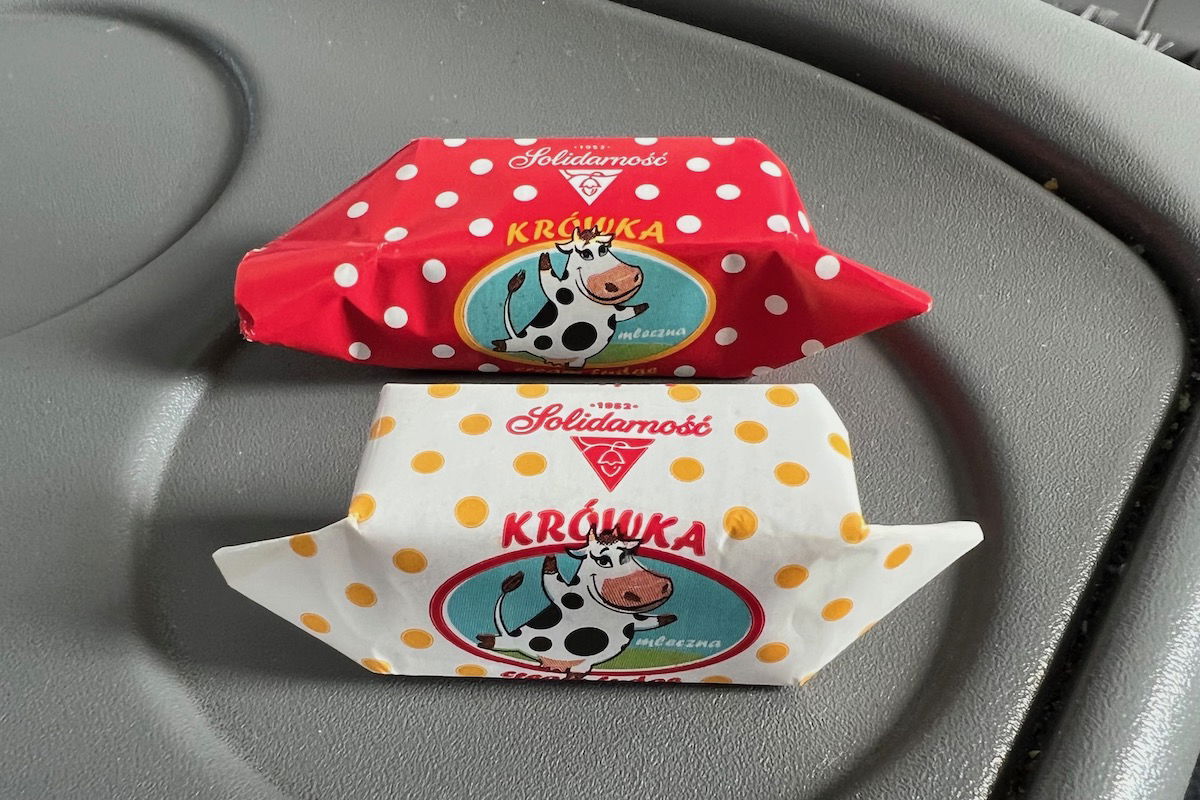 Bottom line
The LOT Polish Airlines Boeing 787 business class experience was more or less what I expected. The seats are a bit outdated, the entertainment isn't great, and there's no Wi-Fi. However, the food tasted quite good, and the crew was friendly.
I do hope that LOT eventually invests in a better hard product, introduces Wi-Fi, and refines its service a bit, in which case this would be a very competitive product.
Personally I wouldn't hesitate to fly with LOT again on an eastbound flight if the airline had a schedule that was convenient for me, and especially if I was traveling with someone. However, I wouldn't seek out the airline either.
What do you make of the LOT business class experience?