Hello from Miami! I just spent a bit of time in Europe. On the outbound, I flew LOT Polish Airlines' Boeing 787-9 business class from Chicago to Warsaw, while on the return I flew ITA Airways Airbus A330-900neo business class from Rome to Miami.
Earlier this year I flew ITA Airways' A350-900 business class from Miami to Rome, and I was even more excited about this flight. While the A350 flight was great, ITA's A350s were acquired on short notice and initially intended for Hainan Airlines, so the interior was quite generic. Meanwhile the A330-900neo marks a new chapter for ITA, as it's the first long haul aircraft specifically designed for the new Italian flag carrier.
While I'll have a full review soon, I wanted to share some initial impressions of the experience. Honestly, in terms of soft product, ITA is a force to be reckoned with across the Atlantic.
ITA A330neos have a comfortable, stylish business class
ITA Airways' A330-900neos have 30 business class seats. These are staggered, customized Vantage XL seats, in a 1-2-1 configuration. This is very similar to the product that you'll find on the A330-900neos of Delta and Virgin Atlantic, except ITA elected not to install doors at these seats.
This staggered configuration is about as good as business class seats get on A330s, though admittedly they're a bit narrower than you'll find on wider jets, like the A350 and 787.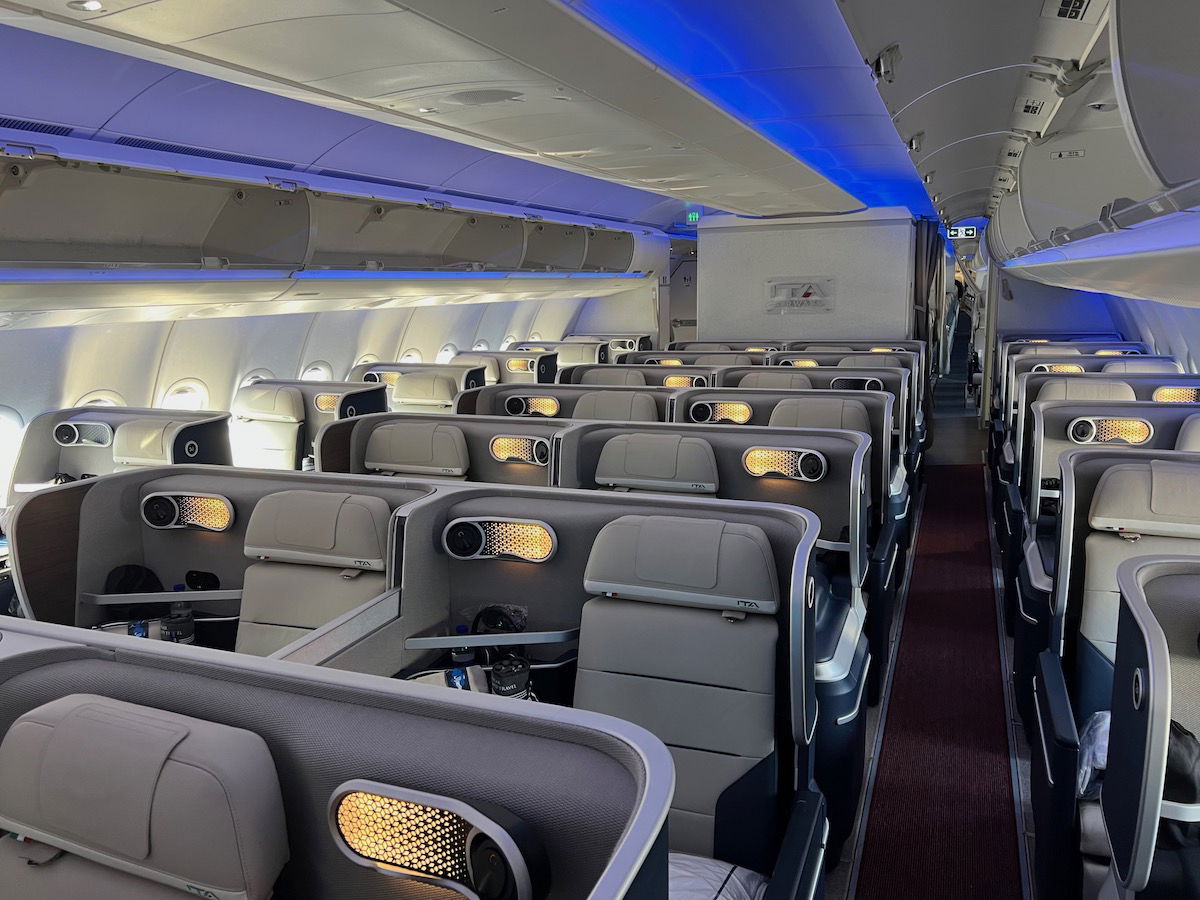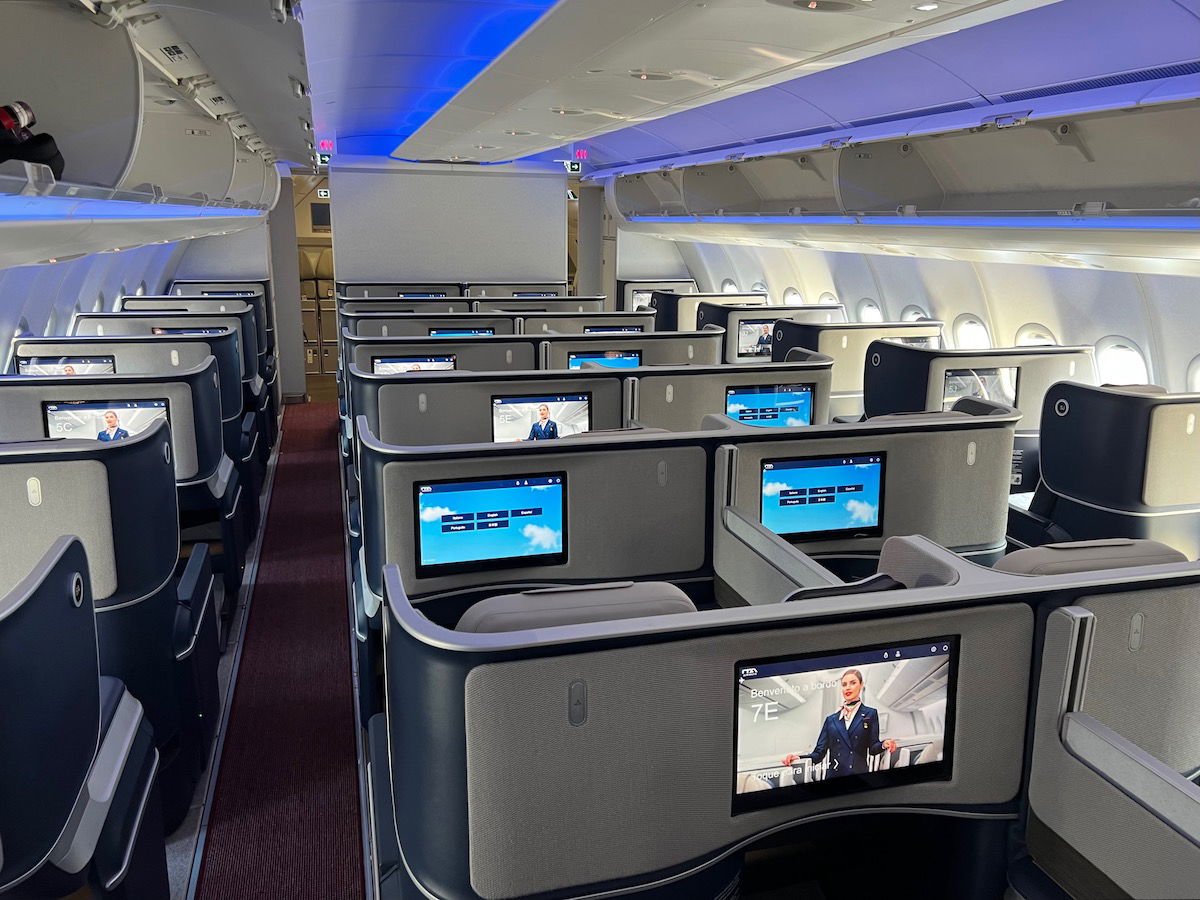 The attention to detail with the design and finishes was great, from the blue and gray decor, to the mood lighting, to the excellent tech, including bluetooth audio, USB-A and USB-C charging, and more.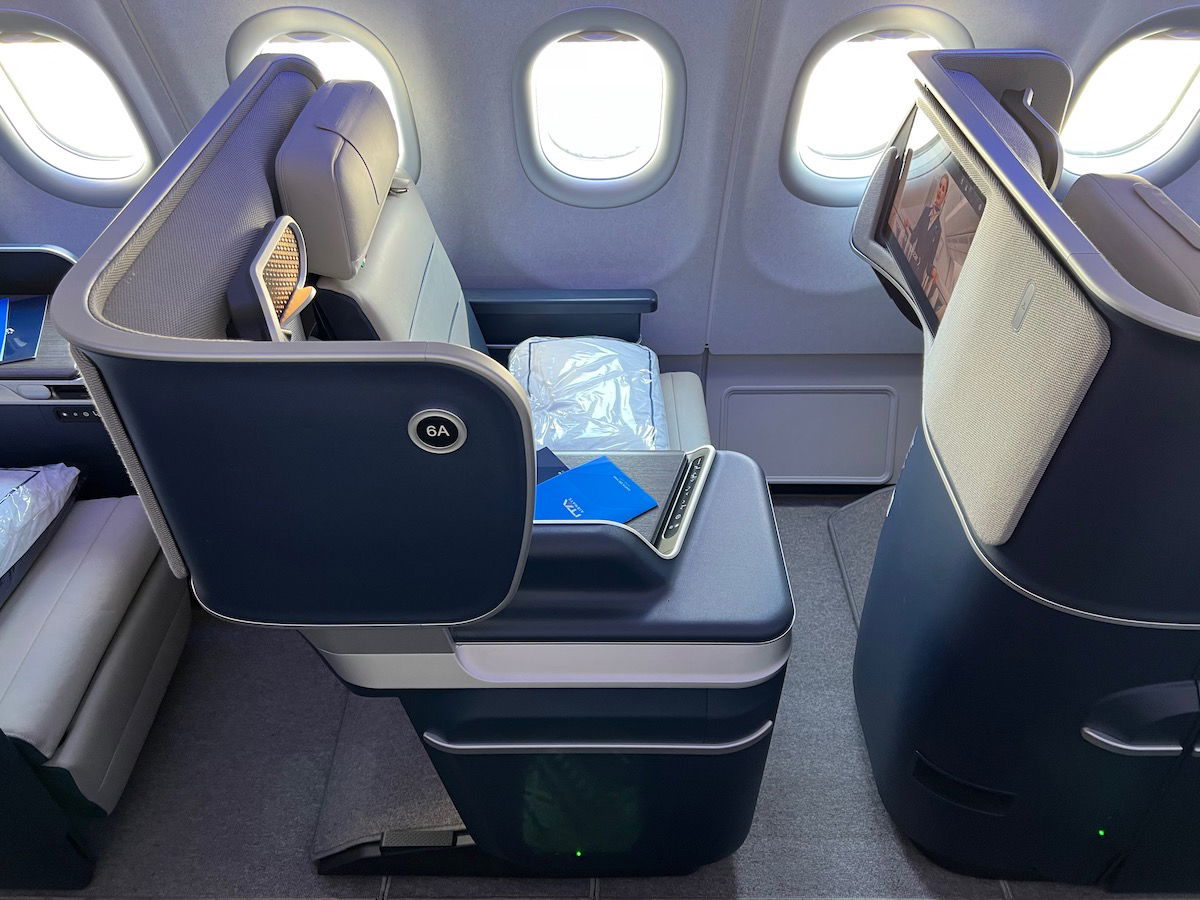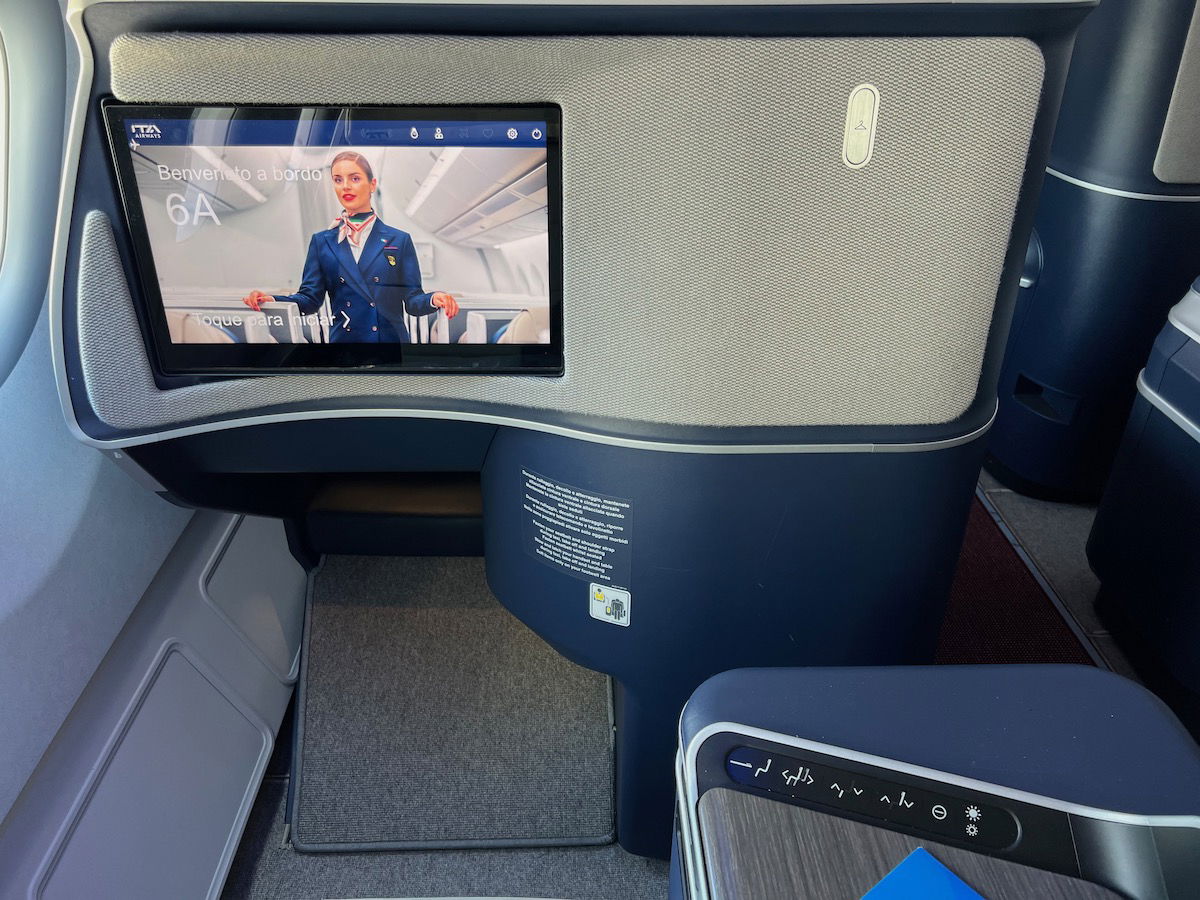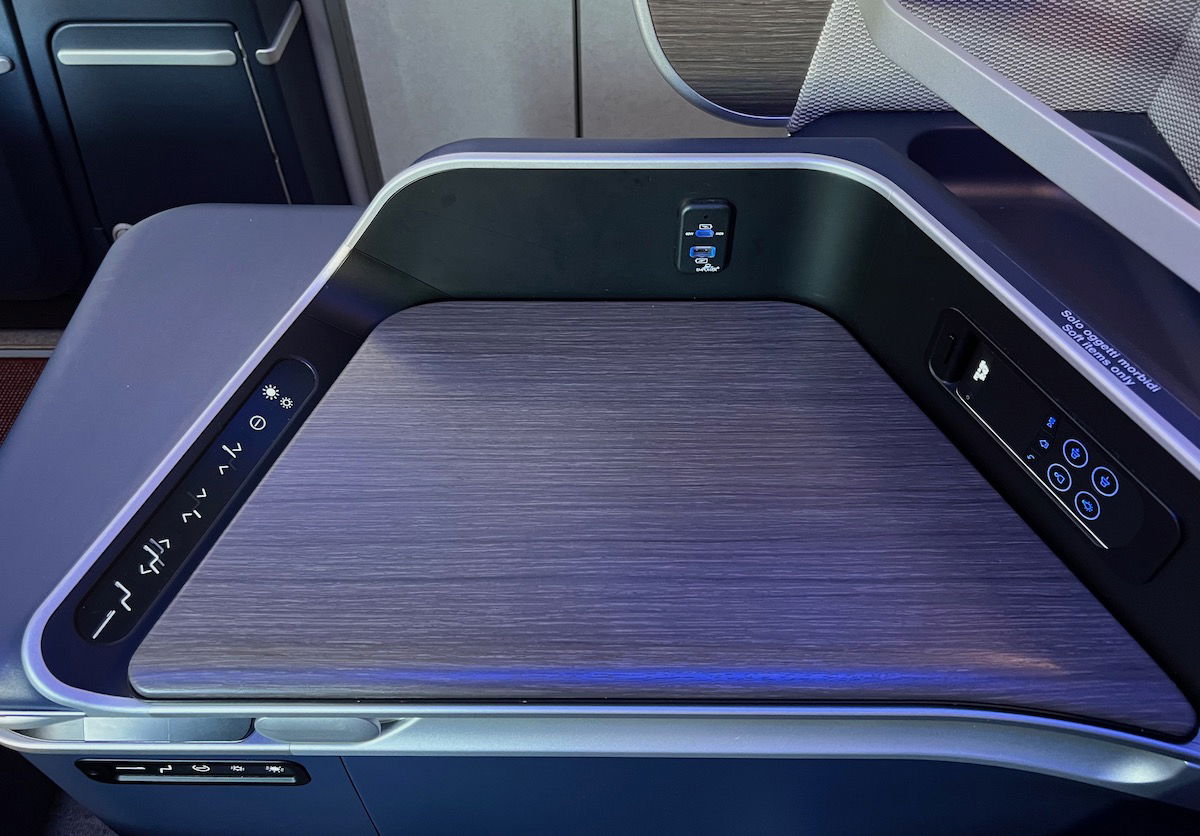 While there are marginally better business class seats out there, I thought this was a good product, and I liked the way that ITA customized the cabin.
ITA's business class catering is phenomenal
The area where ITA Airways really shines is with its catering. ITA must be one of the top five airlines in the world for food quality. The food was even better than on my last ITA flight, and I already thought it was great last time.
This started when we stepped onboard, with pre-departure drinks of choice. It's not often you can order a pre-departure espresso in business class!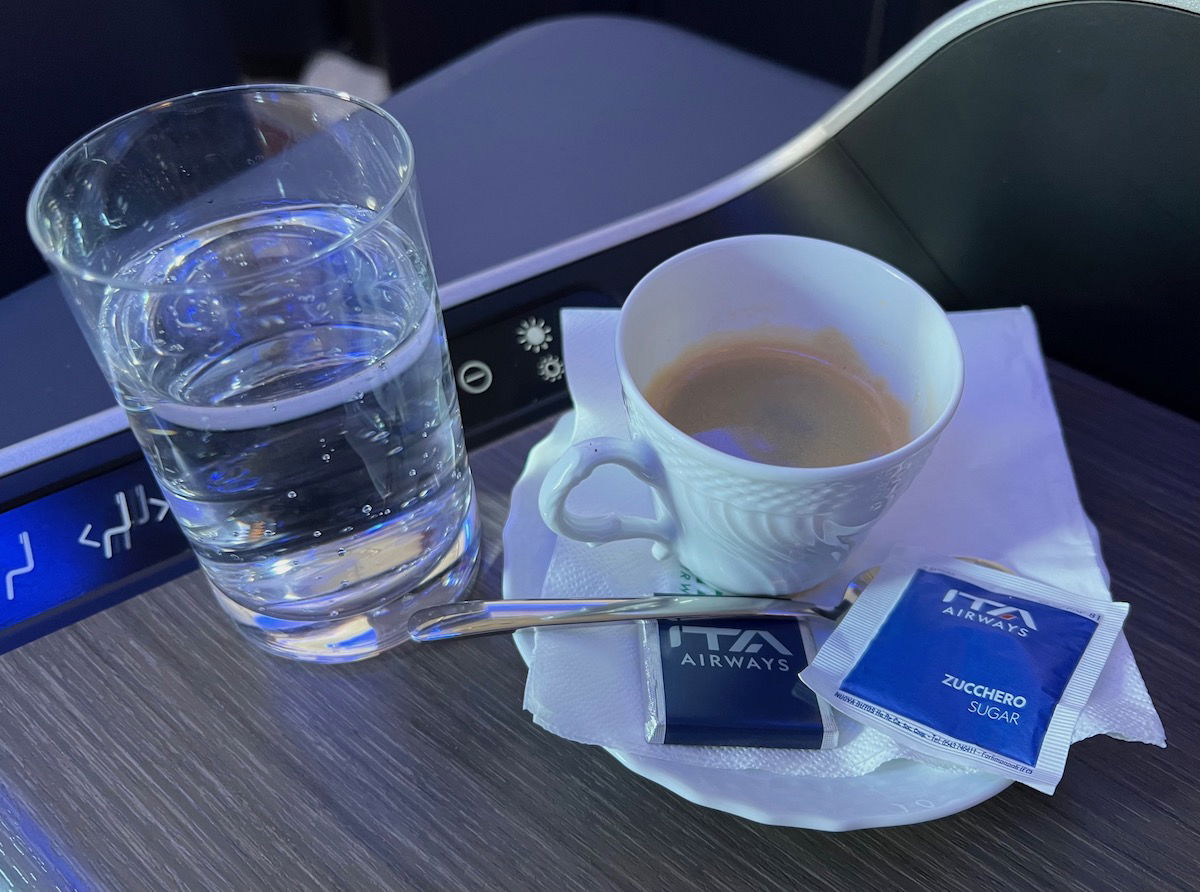 After takeoff, a delicious lunch was served. To drink, I ordered an aperol spritz, which was accompanied by a tuna mousse and caper puff pastry. Yum.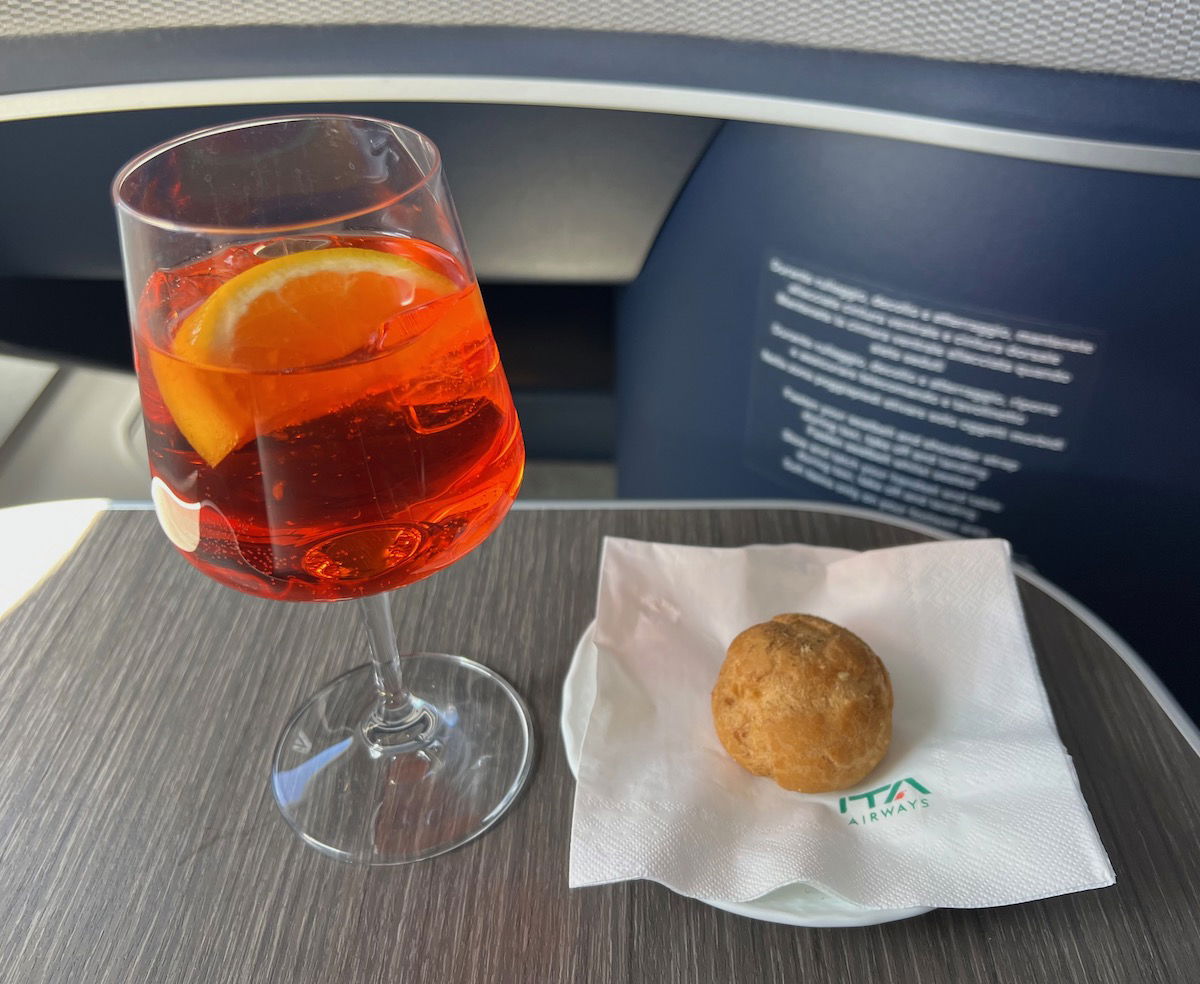 Next up was the appetizer, for which I selected the citrus lobster salad with yogurt. I had a very nice Sardinian white wine to drink.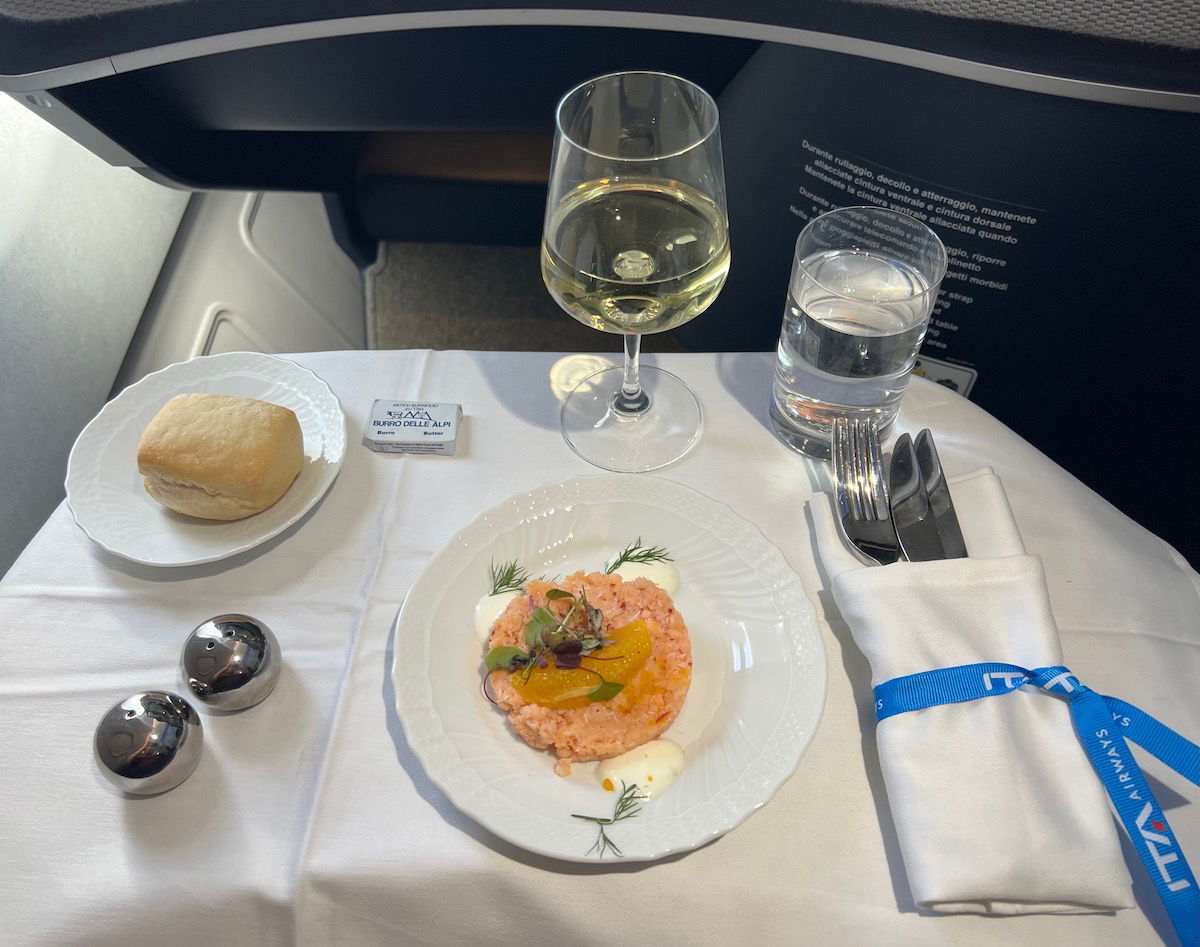 Next up was the pasta course, and for this I selected the buckwheat ravioli with fried eggplant, tomatoes, and mozzarella, served with cream and basil drops. I couldn't believe this was being served on a plane, as it was restaurant quality.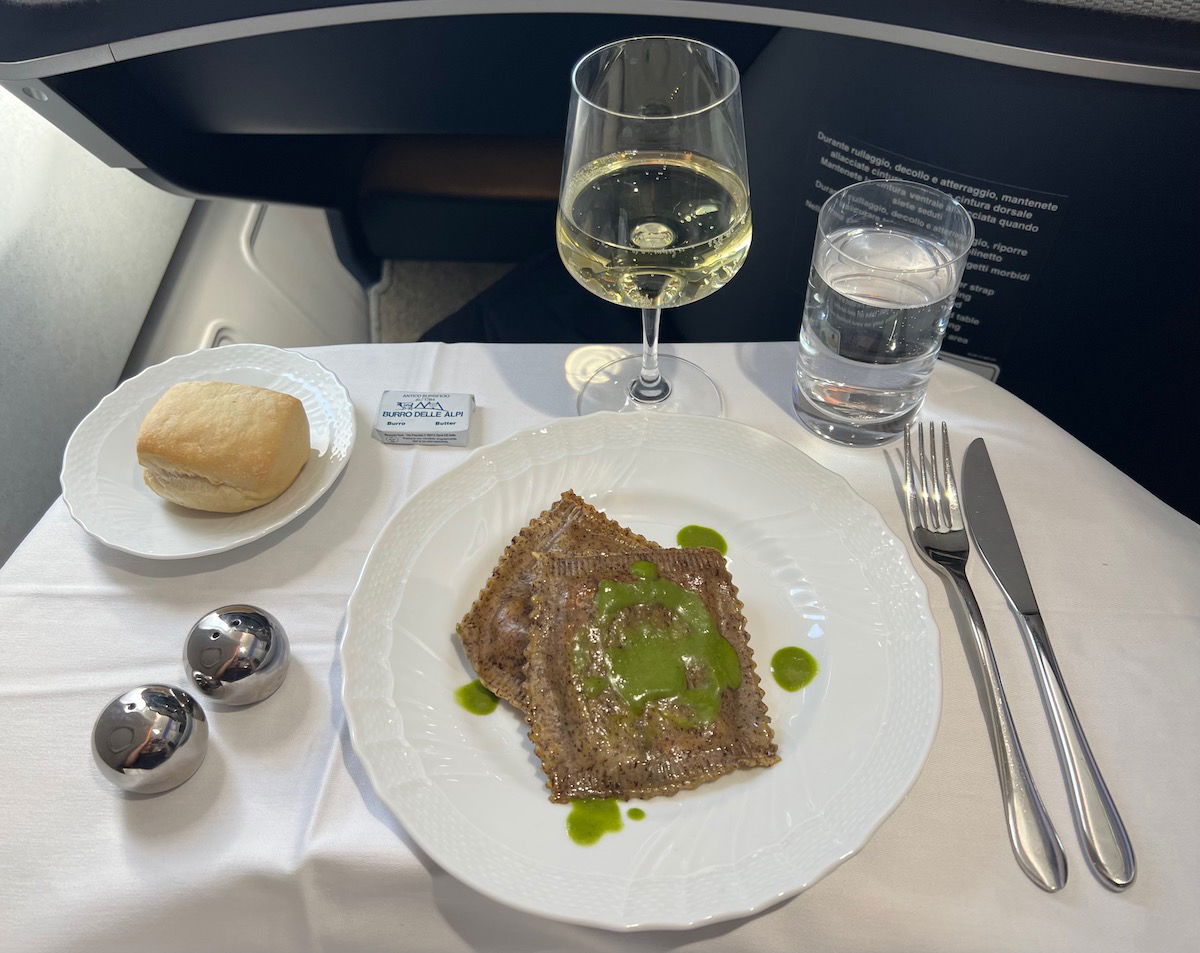 Then there was the choice of beef or fish, and I selected the rock fish "acqua pazza" style, which was also very good.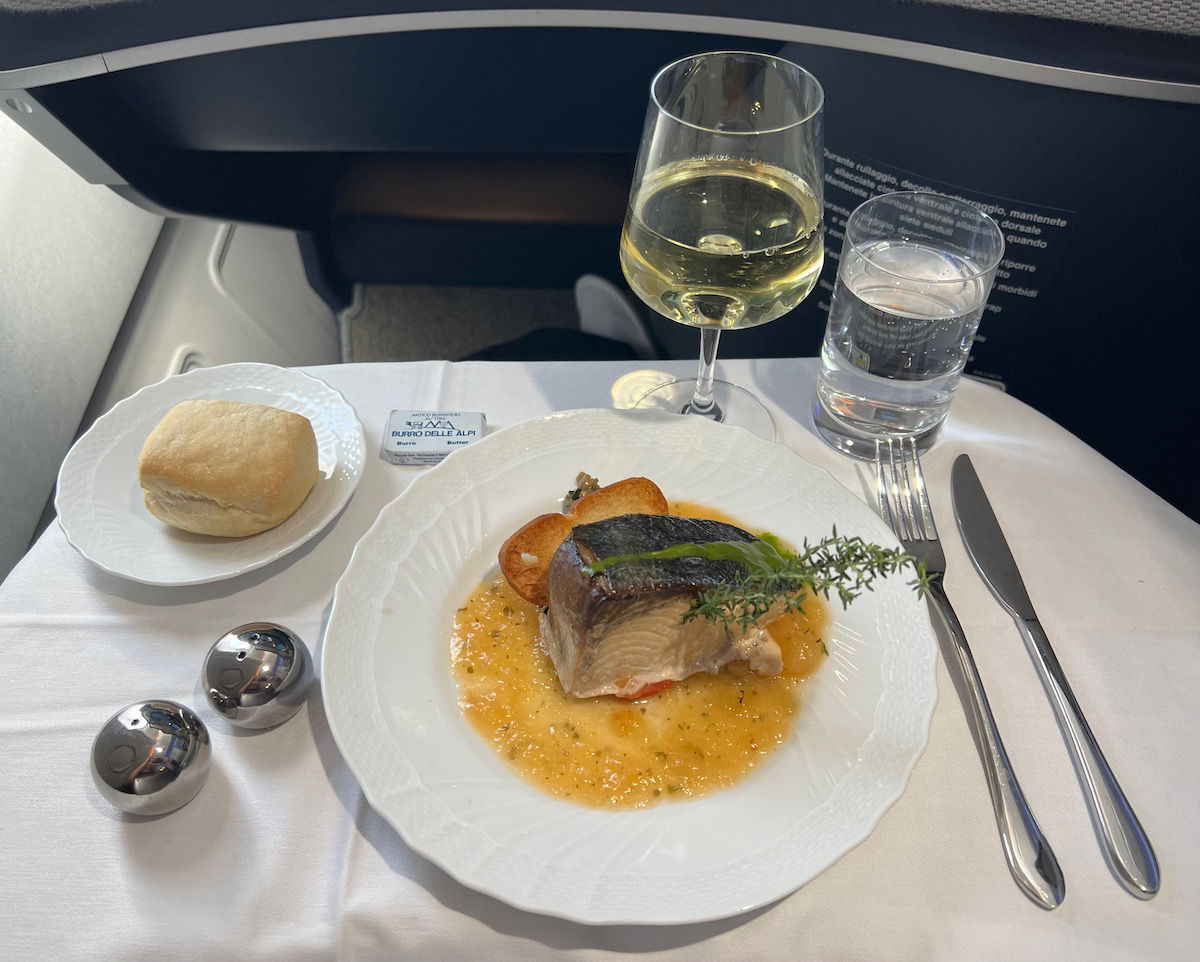 Lastly there was the choice of dessert, fruit, and/or cheese, and I selected the dessert that consisted of lemon sponge cake, as well as a fruit plate.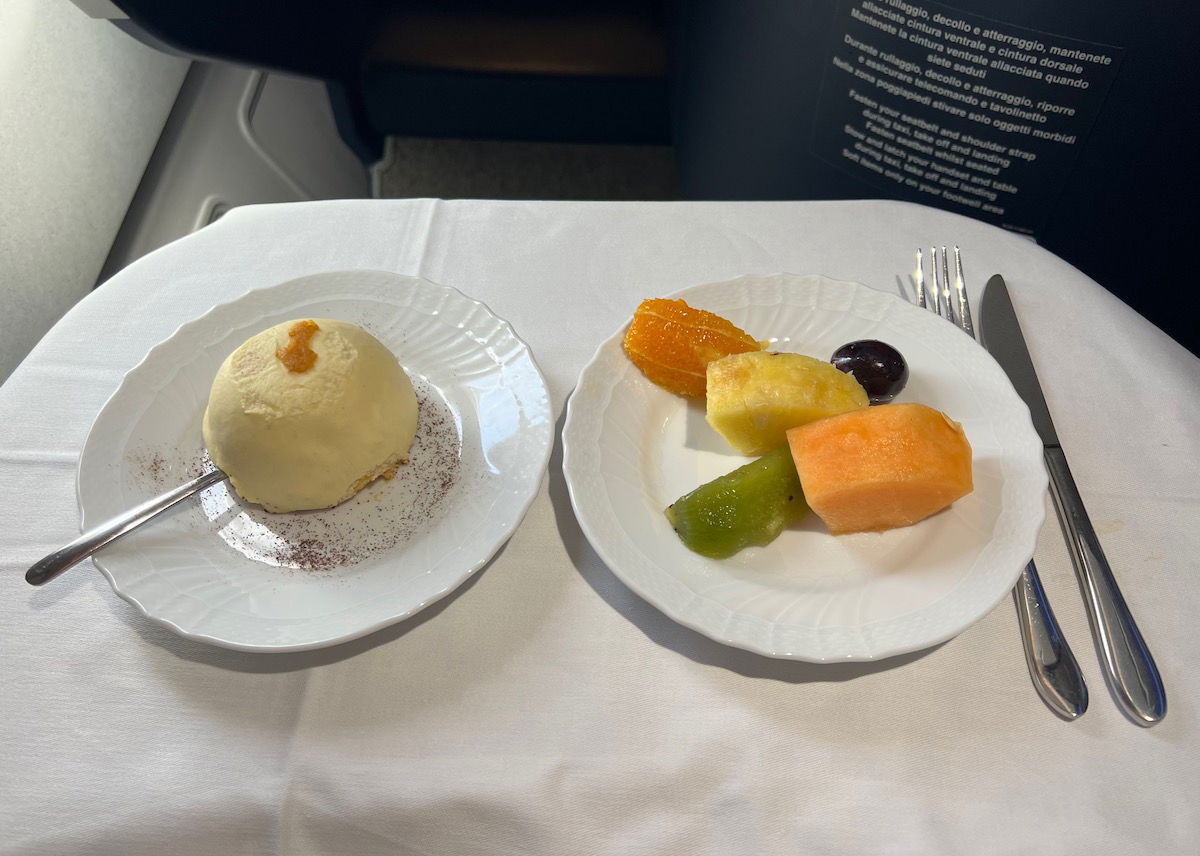 Last but not least, I finished off the meal with a limoncello and an excellent cappuccino (a weird combo, I know!).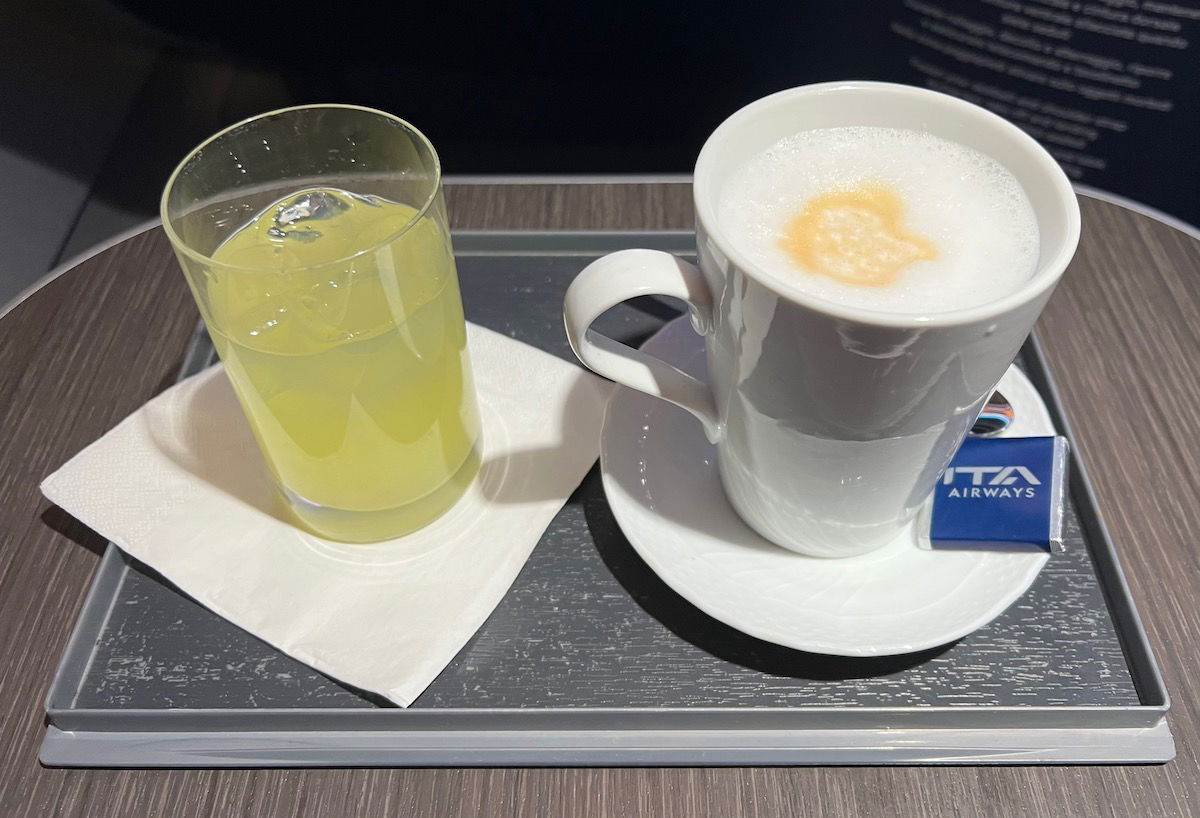 This is easily one of the tastiest meals I've ever had in business class. And the rest of the food was great as well. For example, the pizza served as a mid flight snack was the best attempt at pizza I've ever had inflight.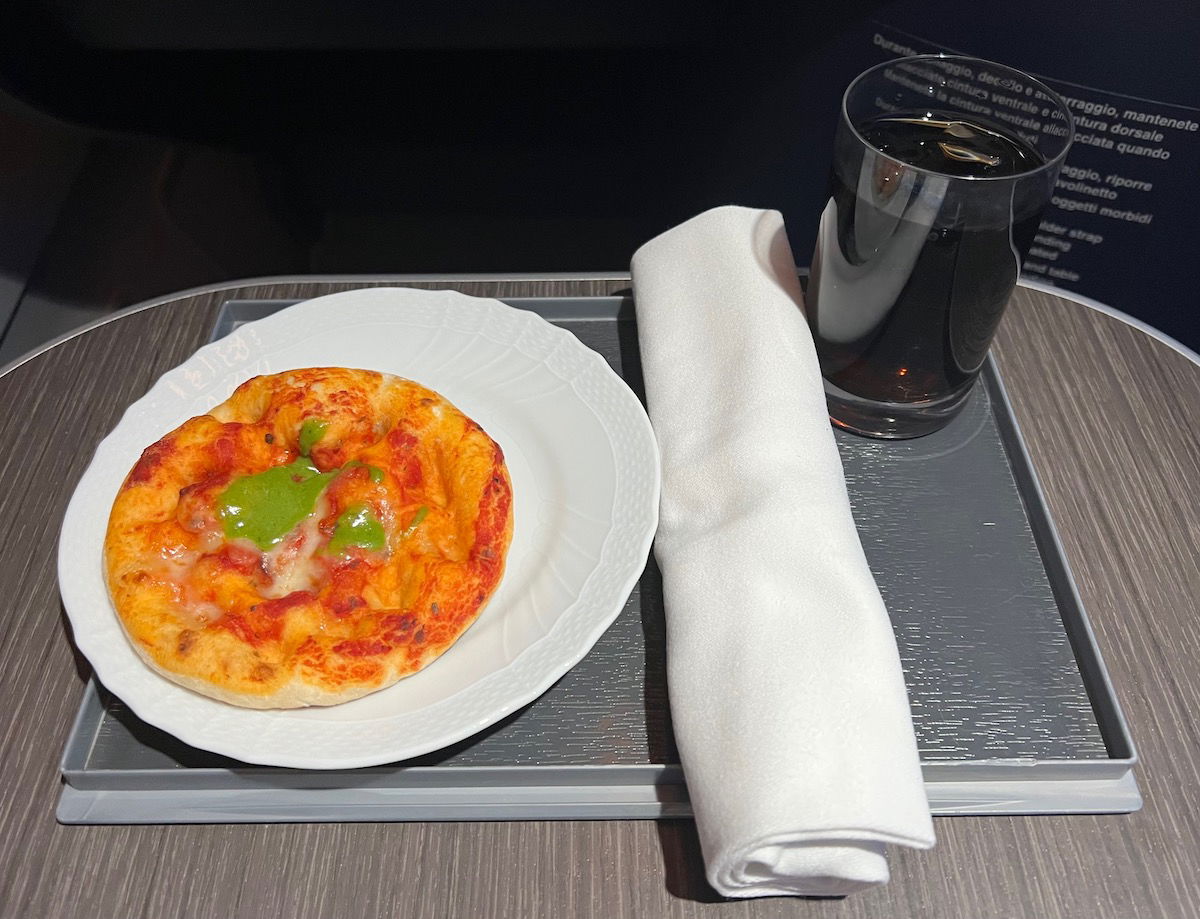 Service on ITA was very friendly
On my last ITA Airways long haul flight I had excellent service, and I wondered if that was luck of the draw, or reflective of service on the airline. Well, I'm happy to report that service on my second long haul ITA flight was even better.
The experienced crew had mostly previously worked at Alitalia, and they couldn't have been lovelier. They truly seemed to enjoy their jobs, and were very good with customizing the service flow. They were efficient, friendly, and had an eye for detail.
The airline's service procedures also feel very premium, in terms of food being served directly on a tablecloth on the tray table (rather than on a tray), wine being poured at the seat, coffee being served with a cute little chocolate, etc.
How I booked this flight
While ITA Airways belongs to SkyTeam, it's not actually possible to redeem most SkyTeam points currencies on ITA. Fortunately Virgin Atlantic Flying Club lets you redeem points on ITA. The one-way business class award from Rome to Miami cost 85,000 Flying Club points, and there were no carrier imposed surcharges.
How did I acquire those points? Well, several weeks back, Bilt's rent day promotion offered a transfer bonus to Virgin Atlantic Flying Club. The amount of the transfer bonus varied based on your Bilt elite status. I was eligible for a 125% transfer bonus, which was enough to make me speculatively transfer some points. So in reality I paid just 38,000 Bilt points per ticket, which I'd say is quite a great value!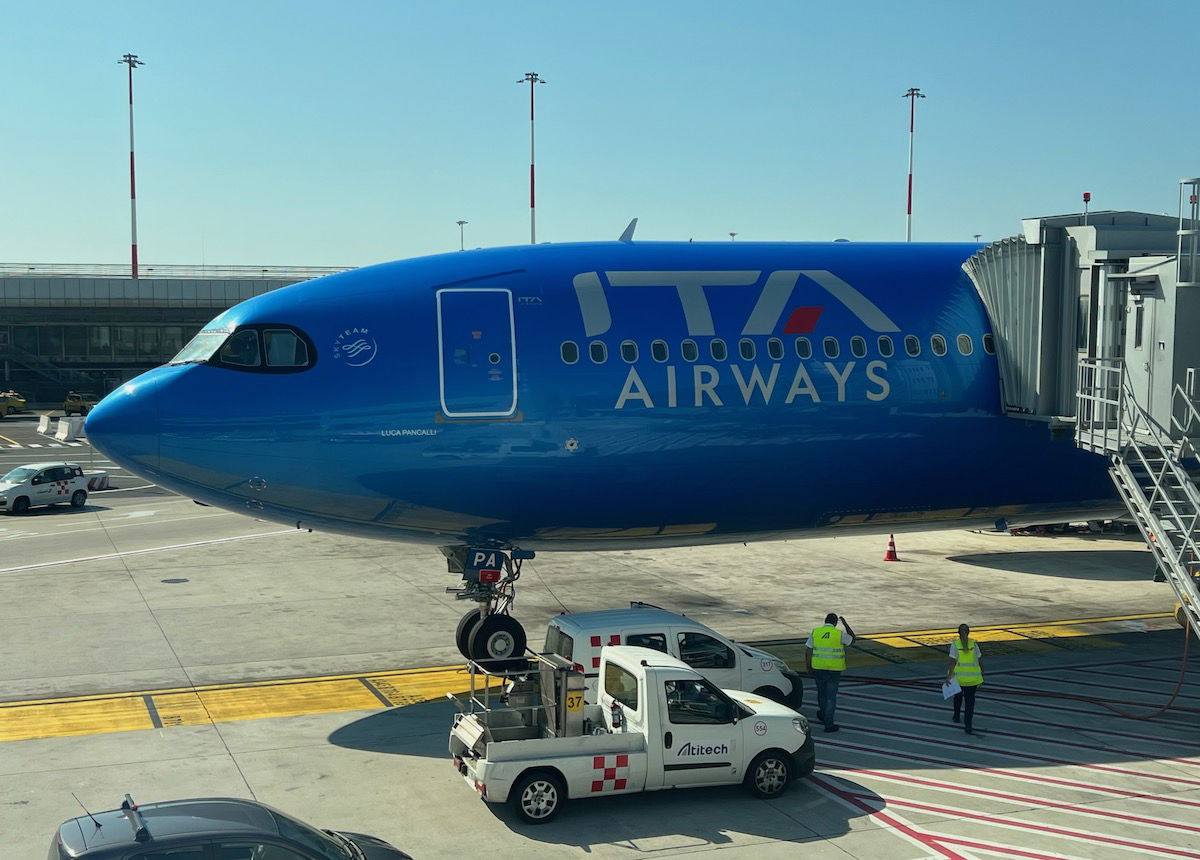 Bottom line
I just had the chance to cross the Atlantic on a brand new ITA Airways A330-900neo, and what a lovely flight it was! ITA's soft product is what impresses most, with exceptional food and friendly service. The A330neo offers a great experience as well, with excellent tech, comfortable seats, and a stylish cabin.
If you have the chance to fly ITA long haul, I can't recommend it enough!
What do you make of ITA Airways' A330-900neo business class?