---
I got to Terminal 5 about 75 minutes before departure, only to find Swiss check-in completely deserted. I briefly had one of those "oops" moments where I questioned whether I didn't convert the time properly, showed up on the wrong day, or something else.
I weaseled my way up to the check-in counter, where the agent had my boarding pass waiting for me and said "you're the last passenger to check-in." I was surprised so asked if I had missed the cut off, to which she responded "you're in first class. What cut off?" Love it!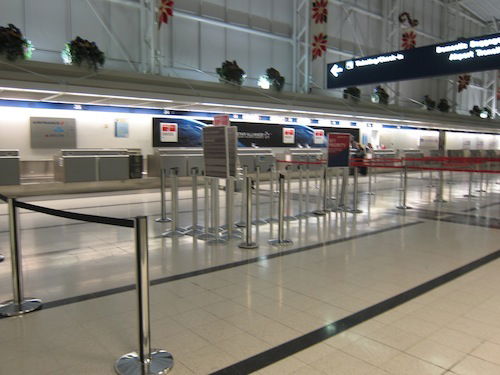 Check-in counter
I headed straight to security, where the regular queue was a mile long, though fortunately the premium security line was a more reasonable 15 minute wait. I was in line behind the rather spunky Aer Lingus crew, and I have to say, I kind of want to fly them now.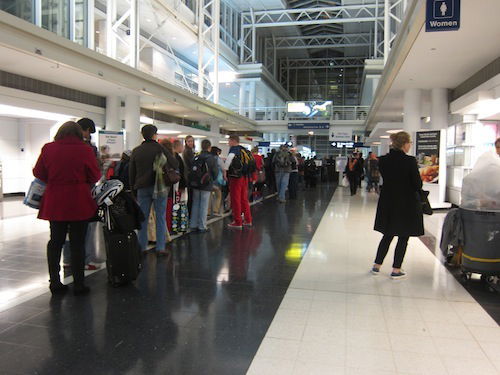 Security line
I was chosen for the full body scanner, and as usual requested a private pat down instead. When you get a private pat down the TSA agents carry your belongings to the screening room for you, and one of the agents tried to place my bag on top of my laptop. I asked him nicely not to do that and explained it could damage and scratch my laptop to which he responded "really, your laptop is going to be damaged?" At this point the other TSA agent snickered at him to be quiet, and I asked "am I being unreasonable to not want my laptop to be scratched?" The other guy quickly jumped in and said "of course not." At least one person was reasonable…
After a most pleasant three minute massage (the only thing missing was spa music and a relaxation fountain) I was on my way. The Swiss lounge is located just past security. At the entrance I was pointed left to the first class section, where I met my friend since he had a different inbound flight.
It's worth noting that I took the same exact flight on Swiss back in 2009, and you can read that review here. Last time the lounge was pretty awful, featuring nothing more than rabbit food (not that you really need a meal before boarding an international first class flight, but it's still nice to be given the option if you want to sleep aboard).
This time they had changed the setup of the lounge. Not only was it remodeled, but they changed the layout as well. Instead of just having a few seats, they added some dining tables to the lounge, and substantially improved the food selection.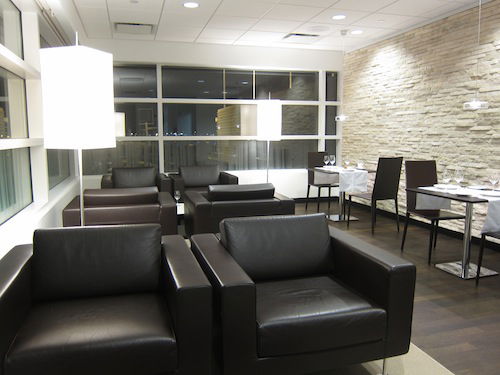 First Class Lounge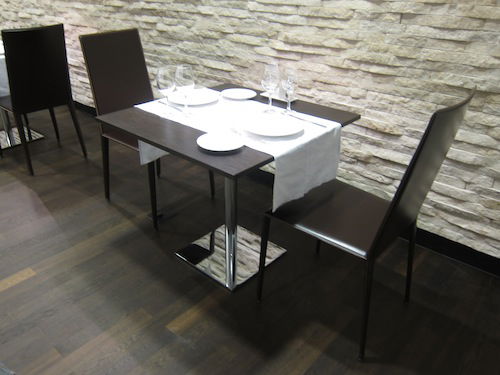 Dining table
The lounge now also featured a real buffet, including salad, appetizers, and even a menu with a handful of options.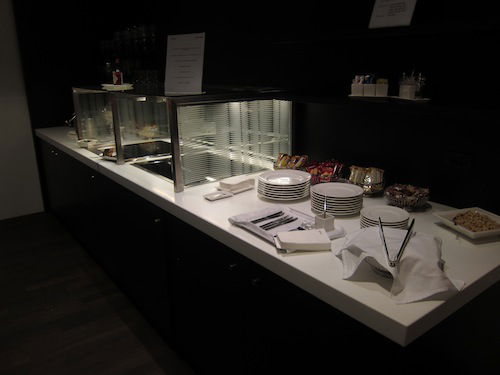 Buffet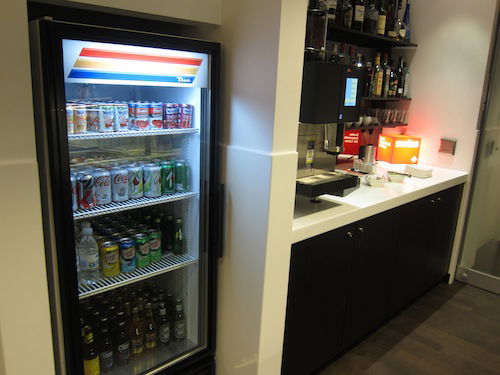 Drink selection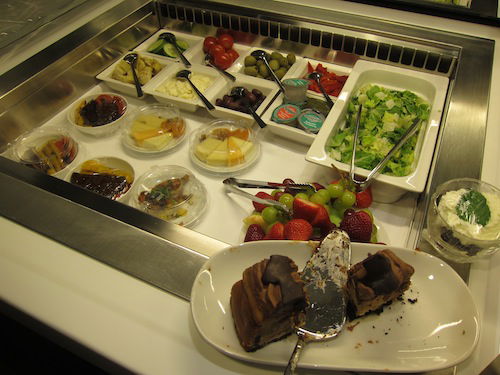 Snack selection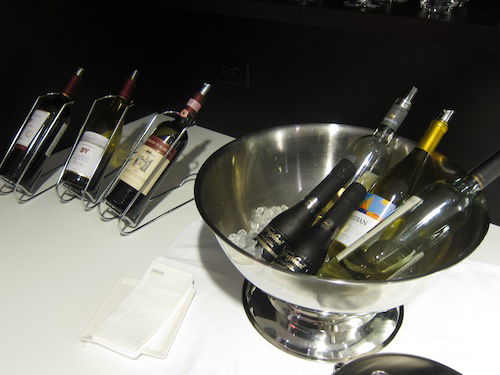 Wine selection
The menu read as follows: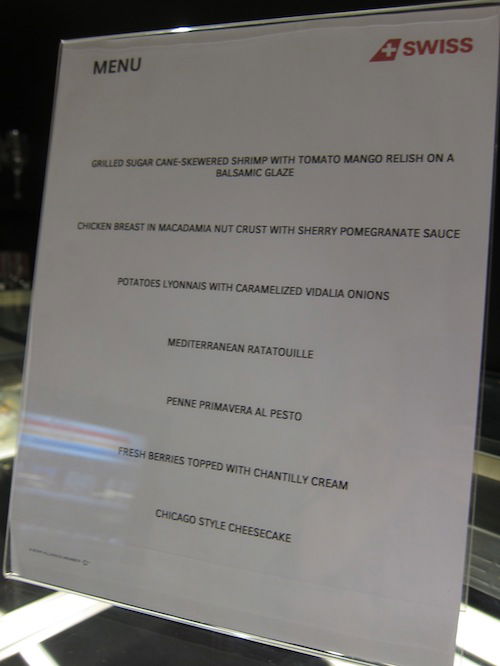 Obviously the menu isn't worth ruining my appetite over prior to an international first class meal on one of my favorite airlines, though the waiter convinced me to go with some shrimp, and in preparation for heading to Germany I figured I had to have a pretzel roll.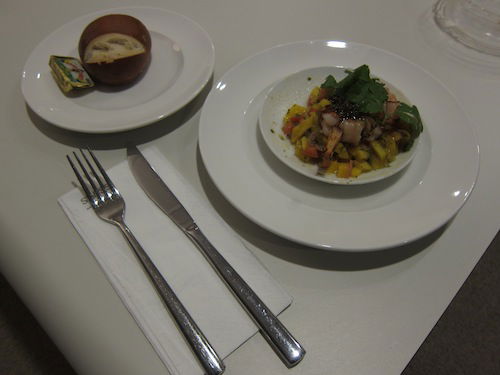 Pre-flight snack
Given how late I got to the lounge we had only about 20 minutes before boarding was announced.
On the whole I was impressed at the improvements they've made at this lounge since the last visit. Kudos!
But the real highlight would be awaiting us aboard the flight to Zurich.