In the interest of full disclosure, One Mile At A Time earns a referral bonus for anyone that's approved through some of the below links. These are the best publicly available offers that we have found for each card. Opinions expressed here are the author's alone, not those of the bank, credit card issuer, airlines or hotel chain, and have not been reviewed, approved or otherwise endorsed by any of these entities. Please check out my advertiser policy for further details about our partners, including American Express, Capital One, Chase, and Citi, and thanks for your support!
Introduction: An Arctic Summer
Review: SAS Business Class A330 Los Angeles To Stockholm
Review: SAS Lounge Stockholm Airport
Review: Hotel Continental Oslo
Review: Radisson Blu Longyearbyen Hotel
Review: SAS Lounge Oslo Airport
Review: SAS Lounge Copenhagen Airport
Review: W Hotel St. Petersburg
Review: St. Regis Moscow
Review: Business Lounge Moscow Domodedovo Airport
Review: Singapore Airlines First Class 777 Moscow To Houston
---
After four incredible nights in St. Petersburg, we had a two day visit to Moscow at the end of our trip, before returning to the US.
For our stay in Moscow I decided to book the St. Regis. I had been trying to decide between the St. Regis and the Park Hyatt, though in the end decided on the former, mainly because Starwood is running a promotion right now, while Hyatt isn't.
I also feel like there isn't a city better suited for St. Regis design than Moscow. I've stayed at many St. Regis properties that I felt should have been in Moscow, based on the gold finishes, etc. While I love Park Hyatt's minimalist decor, I feel like minimalism is a bit out of place in Moscow. 😉
The St. Regis Moscow is a Category 5 SPG property, so a free night costs just 12,000 Starpoints. The paid rate was $350+ per night, so redeeming points seemed like a no brainer.
We took the Sapsan train from St. Petersburg to Moscow, and from there took a taxi from the train station to the hotel. The ride should have taken 15 minutes, but it ended up taking 50 minutes due to an incompetent driver.
The St. Regis has a fairly unassuming exterior, aside from the flags hanging out front.
The St. Regis curves around the block, and has an incredible location. There's a beautiful pedestrian zone along the side of the hotel, with lots of cute bars, restaurants, etc. Red Square is just a short five minute walk away as well. Most of Moscow isn't especially picturesque to walk around, but this was one of the nicest areas.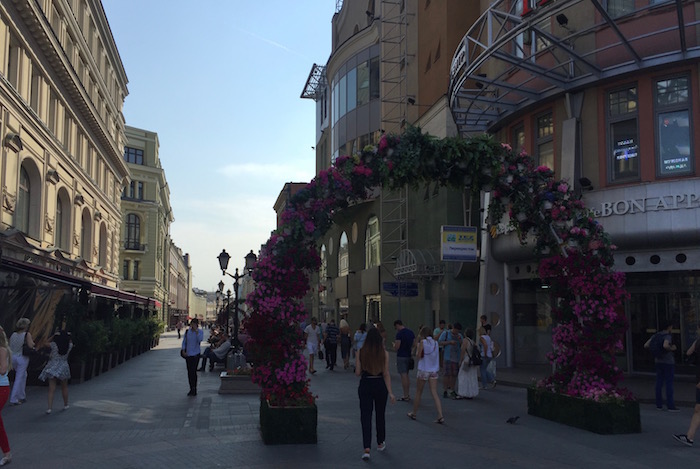 Pedestrian area near St. Regis Moscow
The hotel's driveway began to feel more St. Regis-like, with the gold fixtures and finishes.
The lobby was stunning, between the chandelier, fresh flowers, and varied patterns on the floor and ceiling.
The associate who checked us in was friendly, and confirmed we had been upgraded to an Astor Suite (I had applied Platinum suite night awards on this stay, given that I saw the Astor Suite was eligible for suite night award upgrades, which I assume isn't otherwise part of the Platinum upgrade pool, since it's not a standard suite).
The associate also explained that the hotel used to be a Kempinski, and was converted into a St. Regis about three years ago.
Our room was located on the sixth floor, so we took the elevator up there, where we found a split level floor. Turning right you had to walk up half a set of stairs to get to the rooms, while turning left you were led directly to rooms.
We were assigned room 616, located in one of the corners of the hotel.

St. Regis Moscow room entrance
The suite was big in terms of square footage, though what immediately stuck out to me was how high the ceilings were — they must have been at least 15 feet!
There was an entryway with a guest bathroom to the right, and then a table with a painting above it to the left.

St. Regis Moscow Astor Suite entryway
The guest bathroom featured a toilet and sink.

St. Regis Moscow Astor Suite guest bathroom
Immediately ahead was the living room.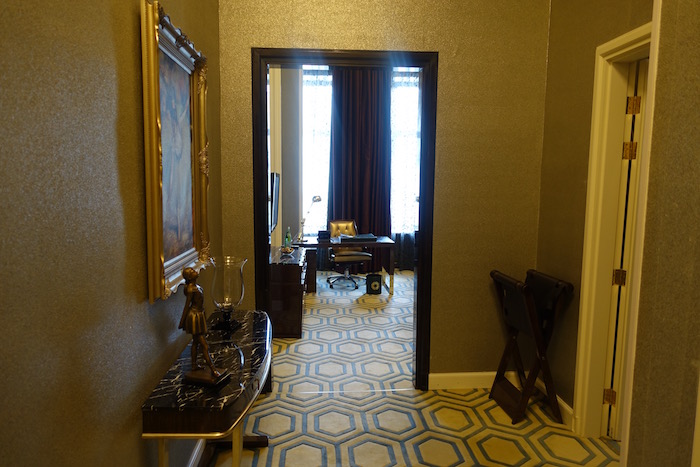 St. Regis Moscow Astor Suite entryway
The living room was large, with a couch that could seat two, as well as two chairs, all surrounding a coffee table.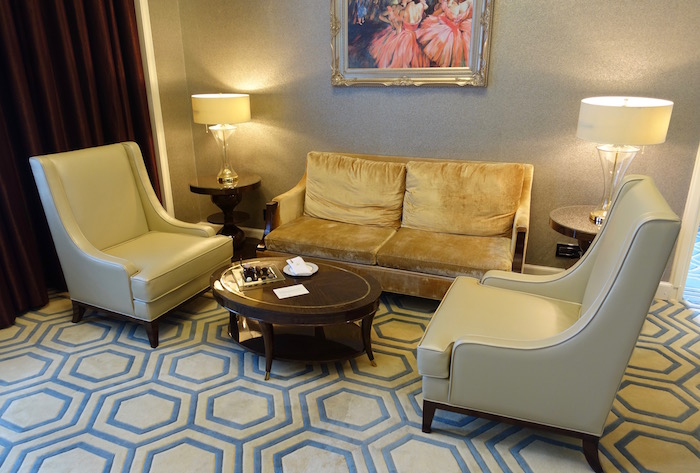 St. Regis Moscow Astor Suite living room
Along the other wall was a desk with chair, along with a wall mounted TV.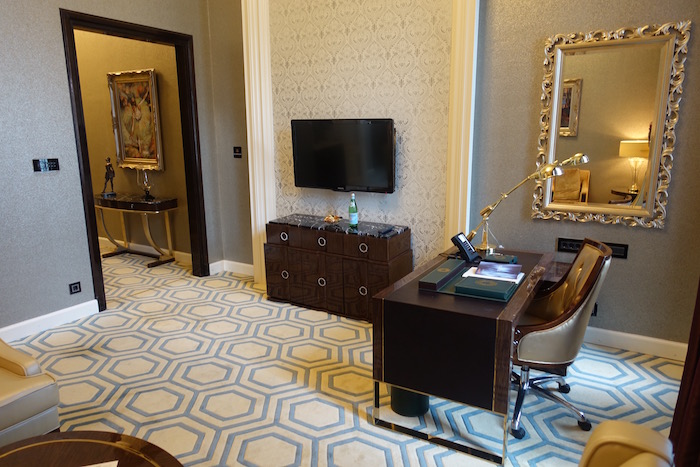 St. Regis Moscow Astor Suite living room

St. Regis Moscow Astor Suite living room
Even the desk felt quite opulent.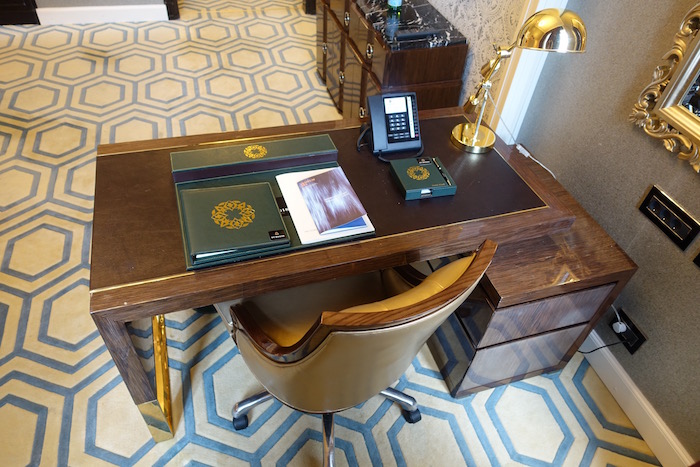 St. Regis Moscow Astor Suite living room desk
Next to the couch was the minibar, which featured a fairly modest selection.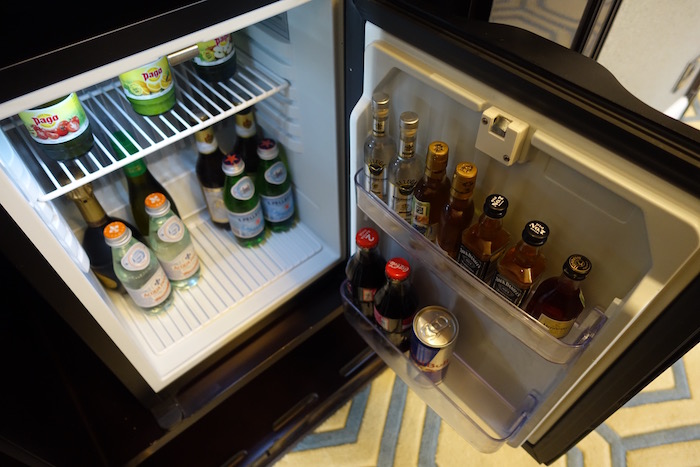 St. Regis Moscow Astor Suite minibar
I loved the attention to detail and art in the room. It really almost felt like a residence, rather than a hotel room. For example, below is what was on top of and next to the minibar.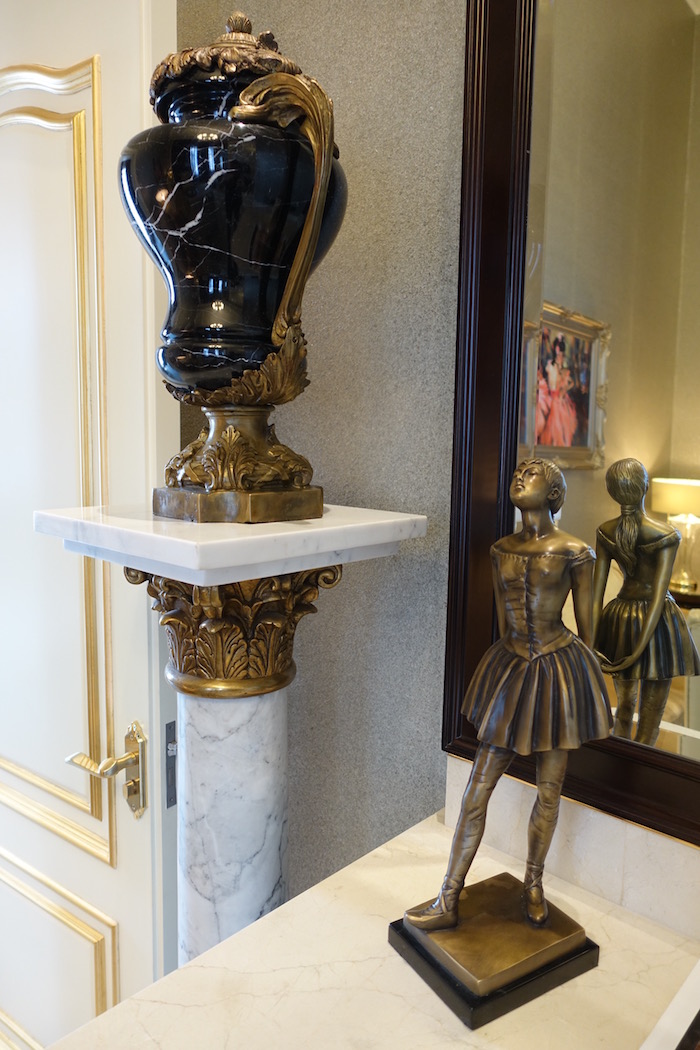 St. Regis Moscow Astor Suite design
The living room was separated from the bedroom by a door. It was nice to have a legitimate king size bed, given that our first two hotels in Europe had queen beds or just two twin beds pushed together. The bedding was top notch as well.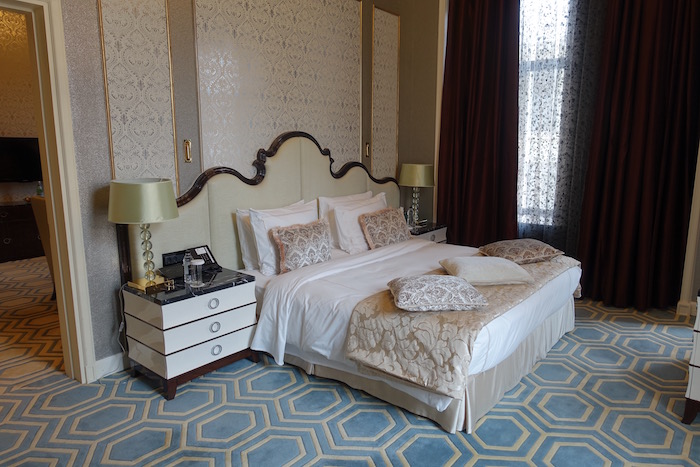 St. Regis Moscow Astor Suite bedroom
In the corner of the room was a chair with ottoman.

St. Regis Moscow Astor Suite bedroom
I couldn't get over how opulent the room felt, between the extremely high ceilings, long drapes, etc.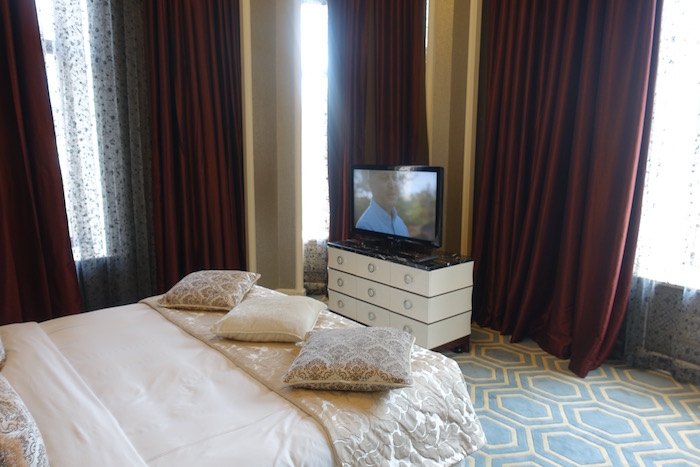 St. Regis Moscow Astor Suite bedroom
Since this hotel is integrated nicely into the block it's on, there's not much in the way of views from this hotel, other than of the side streets.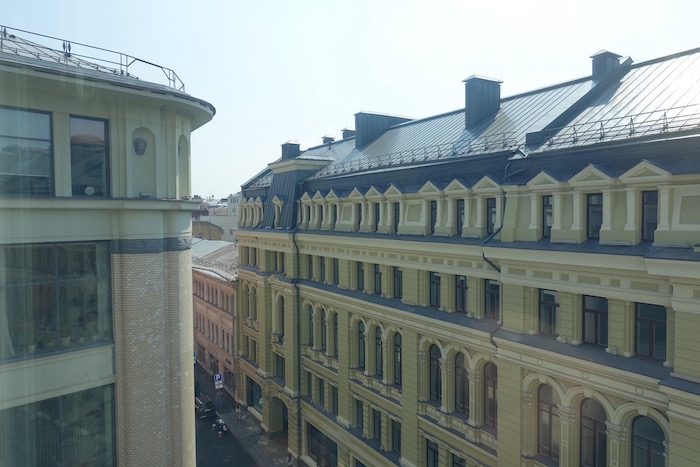 St. Regis Moscow Astor Suite view
The bathroom was connected to the bedroom, and featured a sink, toilet, tub, and walk-in shower.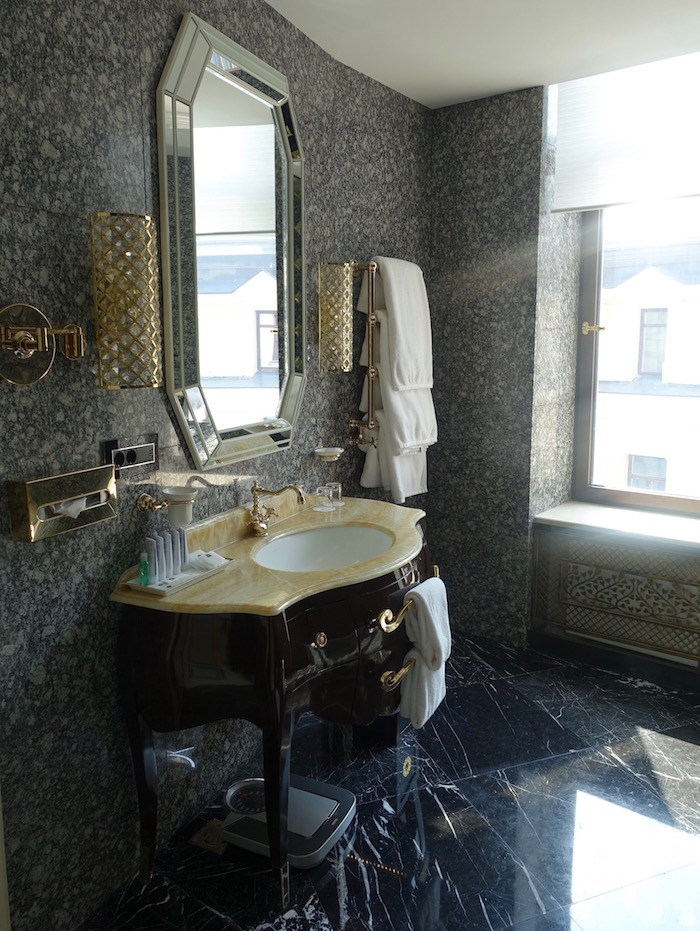 St. Regis Moscow Astor Suite bathroom

St. Regis Moscow Astor Suite toilet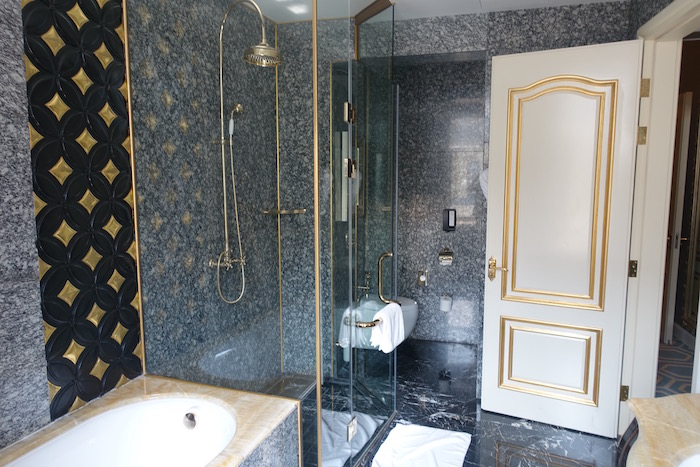 St. Regis Moscow Astor Suite shower
The water pressure in the shower was excellent, as was the temperature control.

St. Regis Moscow Astor Suite shower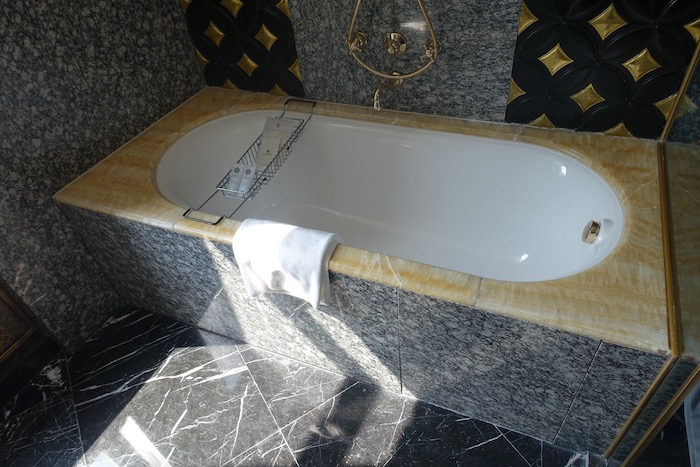 St. Regis Moscow Astor Suite bathtub
As is the norm at St. Regis properties, toiletries were Remede branded, which I quite like.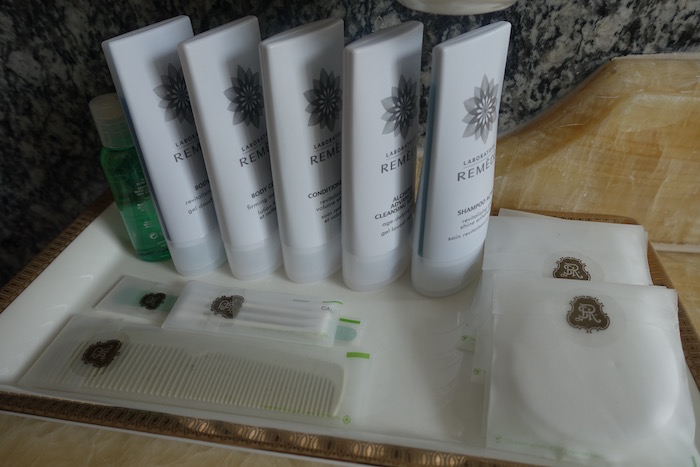 St. Regis Moscow Astor Suite Remede toiletries
I'd also note that there was a second door connecting the living room to the bedroom, via a hallway that had quite a bit of closet space.

St. Regis Moscow Astor Suite hallway between rooms
As a welcome gift, the hotel had a bottle of sparkling water, some nuts, and a dessert plate, which was a nice touch. I couldn't get over how big the bowl of nuts that they gave us was. For scale, that's a full size bottle of Pellegrino next to it.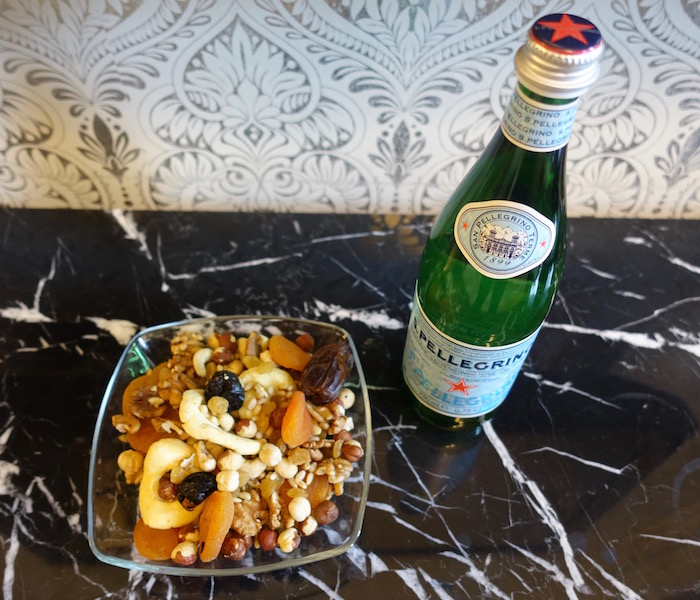 St. Regis Moscow Platinum welcome gift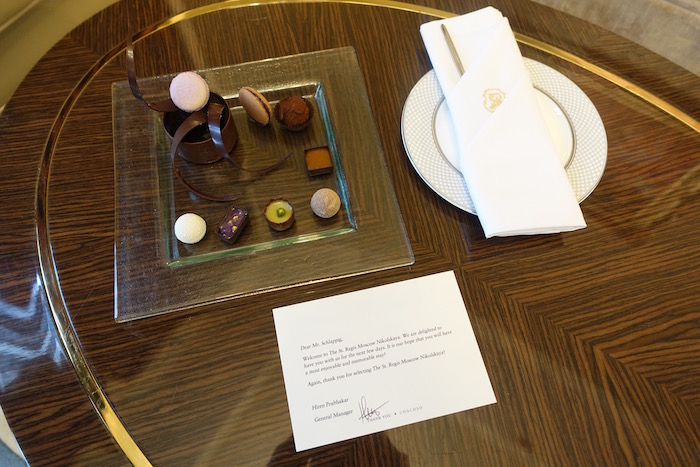 St. Regis Moscow Platinum welcome gift
There are two other things I should note about the room. First, the wifi was high speed, so I had no issues there. Second, while the hotel had air conditioning, it never really got as cold as I was hoping it would, even when putting it to the lowest setting. It wasn't unbearably warm, but it would have been nice if it got a few degrees cooler.
Moments after we arrived at our room, our butler, Anna, introduced herself. She was extremely friendly, though I don't generally get much use out of the butler service (I don't really have much to pack and unpack, let alone do I want someone doing it for me).
My favorite feature of St. Regis butler service is the complimentary tea & coffee, so upon arriving at our room we each ordered a coffee with milk, since we wanted to go out and sightsee.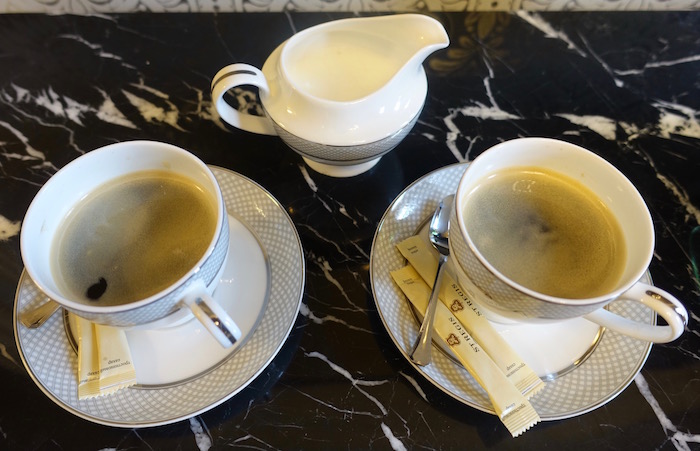 St. Regis Moscow butler service coffee
But this stay we actually ended up getting more value than usual out of the service. There was a number where you could text the butler team, which I far prefer to picking up the phone. So we could order coffee, have them change our dinner reservations, ask for extra toothpaste, etc., all without picking up the phone.
As a Platinum member I chose breakfast as my welcome amenity, and it was served in A Tavola, the hotel's ground floor Italian restaurant.
The restaurant was beautiful, and not at all too crowded for the morning we ate there.
The breakfast buffet was excellent, and consisted of several stations.
There was a station with cold cuts and cheese.

St. Regis Moscow restaurant breakfast buffet
Then there was a station with fresh fish and veggies.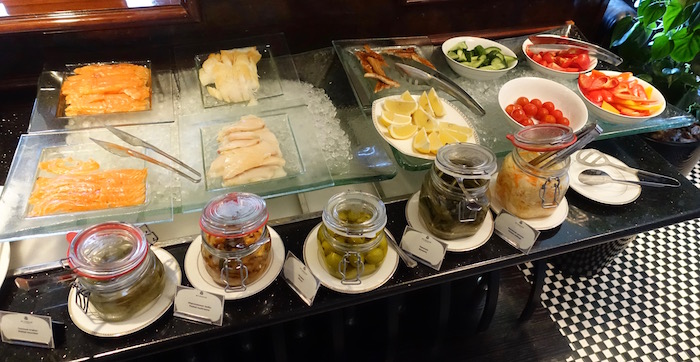 St. Regis Moscow restaurant breakfast buffet
There was fresh fruit, yogurt, muesli, and fruit.

St. Regis Moscow restaurant breakfast buffet

St. Regis Moscow restaurant breakfast buffet
Then there was all kinds of bread, croissants, muffins, and pastries.

St. Regis Moscow restaurant breakfast buffet
There was even an area with accompaniments to other things, like jam, nuts, etc.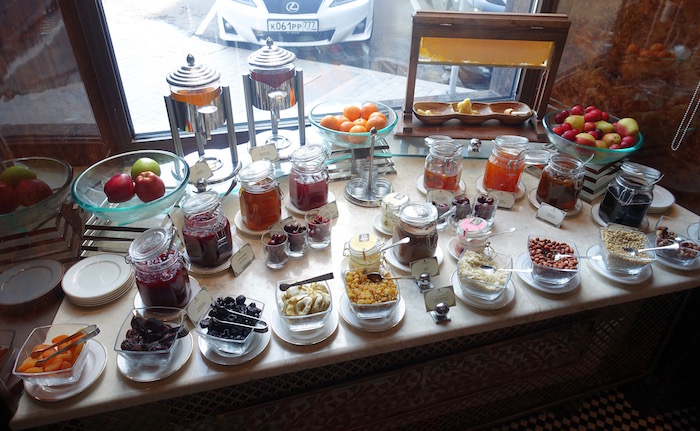 St. Regis Moscow restaurant breakfast buffet
Then there was a station with freshly squeezed juice and bottled water (both still and sparkling).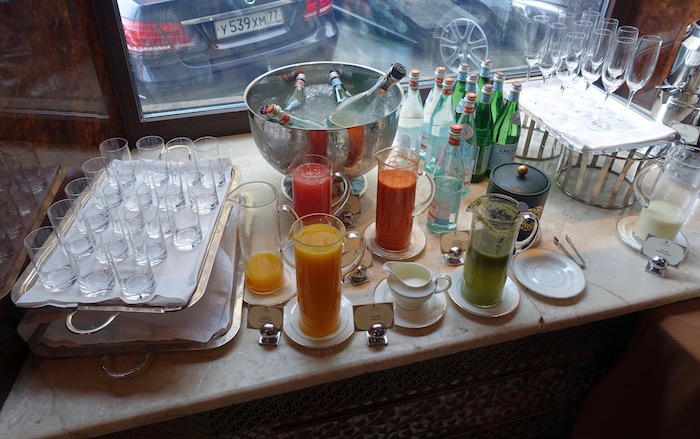 St. Regis Moscow restaurant breakfast buffet
Then of course there was also a hot selection.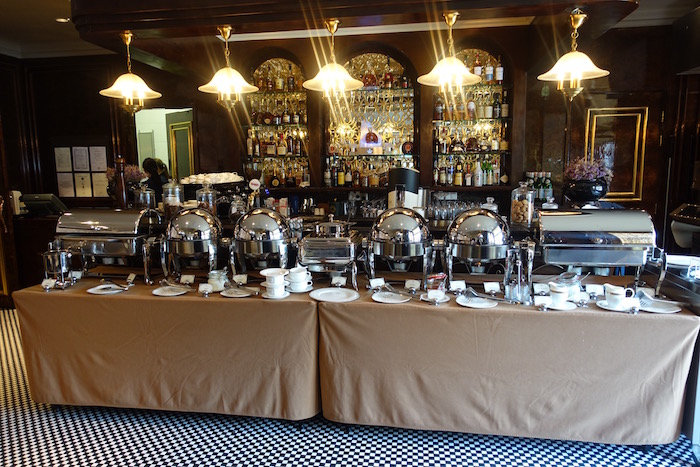 St. Regis Moscow restaurant breakfast buffet
My favorite section was the one with the tasty Russian carb-loaded dishes. Mmmm…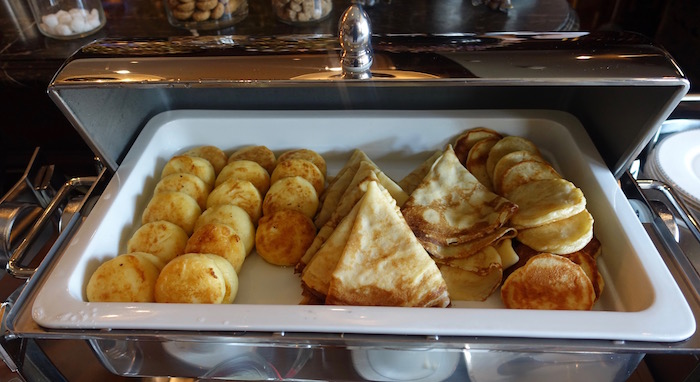 St. Regis Moscow restaurant breakfast buffet
While service in the W St. Petersburg breakfast restaurant was terrible, service in this restaurant was excellent. Our coffees arrived quickly and plates were cleared quickly.
To give one example of one of the servers going above and beyond, I was eying the Russian pancakes in the above picture. One of the ladies working there came up to me and said "may I make you a plate with how we eat it in Russia?" She proceeded to plate it beautifully, and then added jam, sour cream, and condensed milk. How awesome is that (other than the fact that I think she was trying to give me a heart attack)?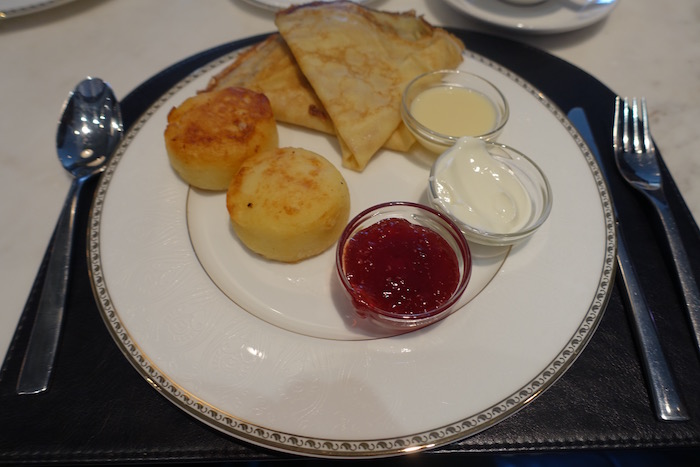 St. Regis Moscow restaurant breakfast buffet
Every St. Regis has a signature bloody mary, which is because the bloody mary (or "red snapper") was invented at the King Cole Bar at the St. Regis New York. I've made a point of trying them at every St. Regis property I've been to, even though I'm not usually a bloody mary guy.
So the second afternoon we went to the hotel's opulent lobby lounge for that.
This particular bloody mary had a very strong beetroot flavor, and was by far my least favorite St. Regis bloody mary I've ever had. Blech!!! Admittedly I should have known I wouldn't like it since I don't generally like beetroot, but I did want to make a point of trying it.
The hotel has an Iridium Spa, which is where the pool and gym are located.
For an indoor pool I was very impressed, as it was large enough to swim in, rather than just to splash around in. It also had jets you could stand under that were like a high pressure shower.
There was also a hot tub, which I was excited about in theory, though unfortunately it was just lukewarm.
The gym overlooked the pool from one level up, and featured modern equipment.
After a fun two nights in Moscow, we took an Uber to Moscow's Domodedovo Airport at around 6:30AM, plenty early for our 9:40AM Singapore Airlines flight to Houston. We were happy to get to the airport, after almost getting killed by our Uber driver.
St. Regis Moscow bottom line
I highly recommend the St. Regis Moscow. While the hotel's decor isn't my personal style (I generally prefer more minimalist design), I thought it was perfect for Moscow. The location, facilities, and service at the St. Regis were top notch, and at 12,000 Starpoints per night, staying here was a heck of a deal.
I'd definitely recommend this hotel, though if I returned I'd probably try another hotel (like the Park Hyatt), just so I can review something new.
If you've been to Moscow, do you have a favorite hotel in the city?