In the interest of full disclosure, OMAAT earns a referral bonus for anyone that's approved through some of the below links. These are the best publicly available offers that we have found for each card. Opinions expressed here are the author's alone, not those of the bank, credit card issuer, airlines or hotel chain, and have not been reviewed, approved or otherwise endorsed by any of these entities. Please check out my advertiser policy for further details about our partners, and thanks for your support!
Introduction: An Arctic Summer
Review: SAS Business Class A330 Los Angeles To Stockholm
Review: SAS Lounge Stockholm Airport
Review: Hotel Continental Oslo
Review: Radisson Blu Longyearbyen Hotel
Review: SAS Lounge Oslo Airport
Review: SAS Lounge Copenhagen Airport
Review: W Hotel St. Petersburg
Review: St. Regis Moscow
Review: Business Lounge Moscow Domodedovo Airport
Review: Singapore Airlines First Class 777 Moscow To Houston
---
We arrived at Moscow's Domodedovo Airport at around 7:15AM, well in advance of our 9:40AM flight to Houston.
Security at the airport seemed to be super tight, and not just in a "security theatre" kind of way. Even on the outside roadway there were tons of officers with machine guns.
In order to enter the check-in area you had to go through a security checkpoint. The problem was that the line for this checkpoint was so long that there wasn't even room for everyone to stand (since there was maybe a 30 foot area inside the terminal before the checkpoint started).
There was a revolving door, and in front of us was an older lady who ended up falling because she was walking too slowly, and got hit by the door from behind. She seemed to be hurt pretty badly because I heard something crack as she fell. Fortunately the armed officers helped her right away, and paramedics showed up shortly after that.
I didn't take pictures in the check-in area, simply because I didn't feel especially comfortable doing so based on how vigilant the officers seemed to be.
Singapore Airlines check-in consisted of just a couple of counters, and they were mostly empty. It seems like most passengers on this flight are just transit passengers coming from Singapore.
The agent checking us in was extremely professional, and directed us towards the premium security queue.
They had one of the most impressive premium immigration and security areas I've seen. Rather than having to deal with the really long queue in the rest of the terminal, there was a private channel for premium passengers.
We were through both passport control and security in less than 10 minutes.
The security checkpoint let out right in front of the lounge that Singapore Airlines passengers use in Moscow.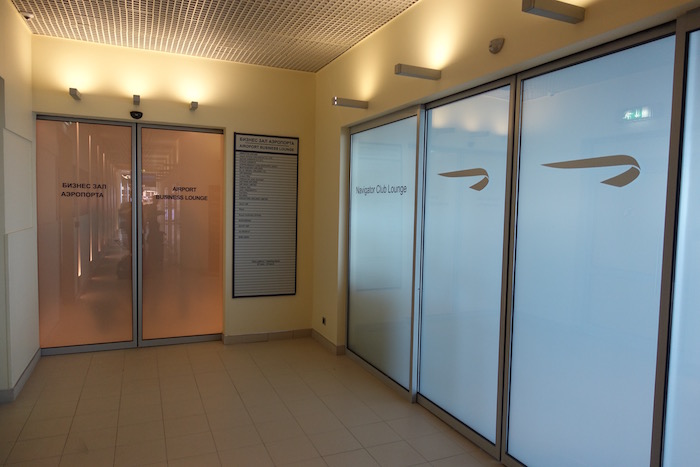 Domodedovo Airport Business Lounge entrance
Specifically, Singapore Airlines passengers have access to the Airport Business Lounge, which is a contract lounge used by many airlines. We were admitted after presenting our lounge invitations and boarding passes.
It's worth noting that this is also a Priority Pass lounge. The following US credit cards offer Priority Pass memberships, and are a better value than paying for a membership outright, in my opinion:
The lounge itself was fine for a contract lounge. On the plus side, the lounge was really quiet, which contrasts to the last time I used this lounge many years ago. I'm not sure if it was just the time and day we were there, or if it reflects the overall decreased premium demand for travel to/from Moscow.
The lounge consisted of one main room with several rows of seating.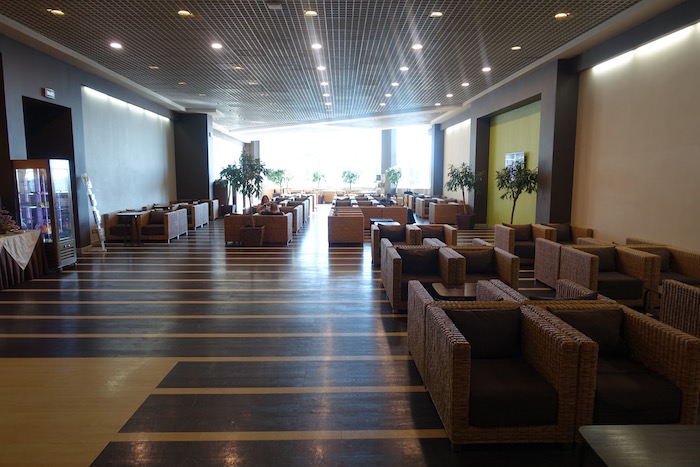 Domodedovo Airport Business Lounge seating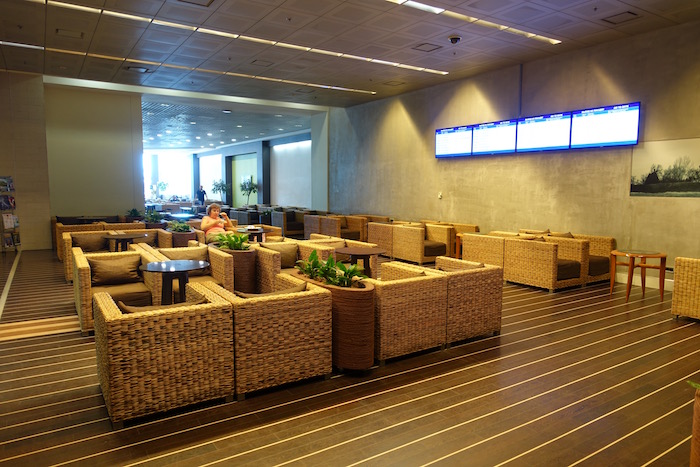 Domodedovo Airport Business Lounge seating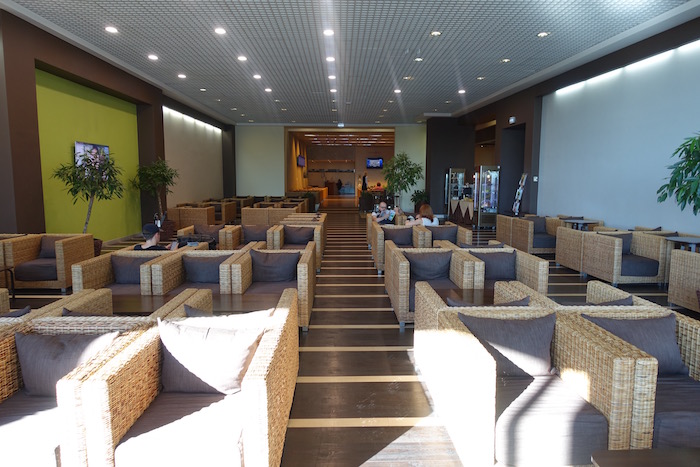 Domodedovo Airport Business Lounge seating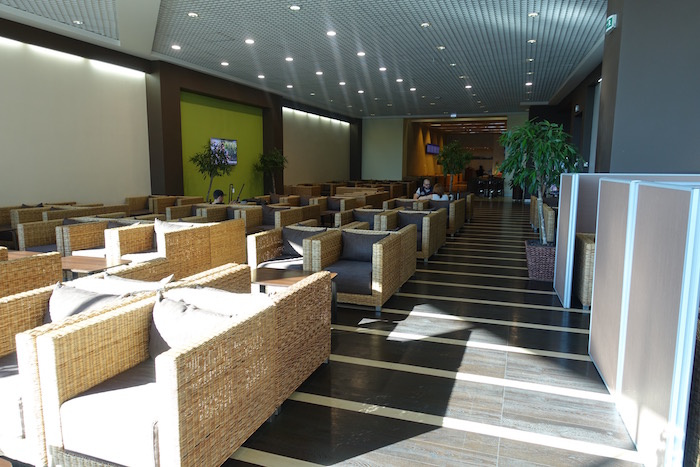 Domodedovo Airport Business Lounge seating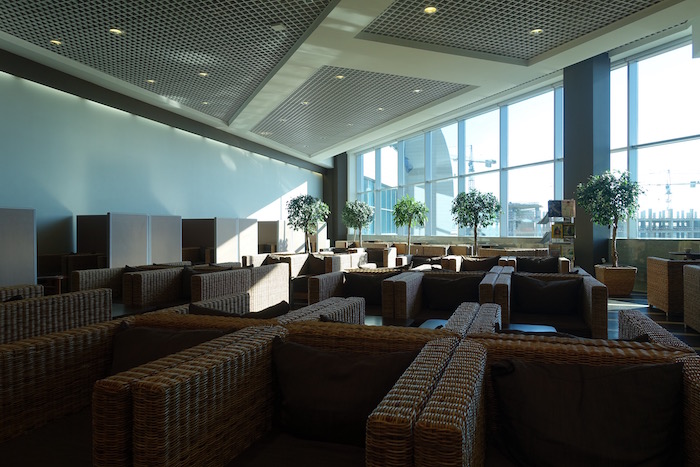 Domodedovo Airport Business Lounge seating

Domodedovo Airport Business Lounge seating
Towards the back of the lounge there were even some areas with privacy partitions, which were the only areas of the lounge with any privacy.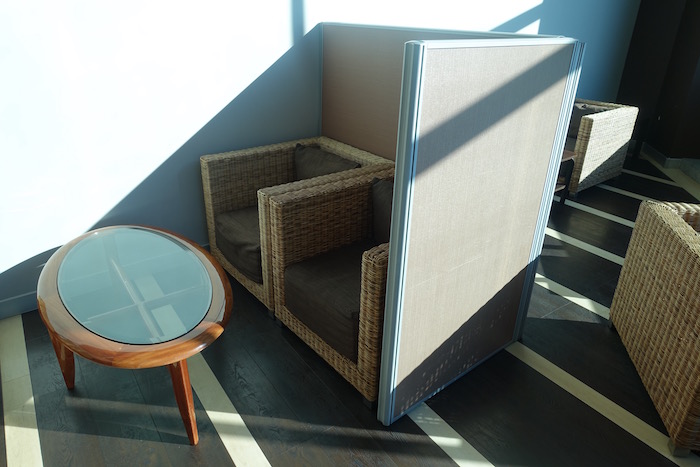 Domodedovo Airport Business Lounge seating
Past the entrance and to the left was the food & drink area, which was reasonably impressive for a contract lounge.
In the main room was a table along with two fridges.

Moscow Airport Lounge food selection
There was chocolate mousse, profiteroles, cake, cubed cheese, fresh fruit, etc.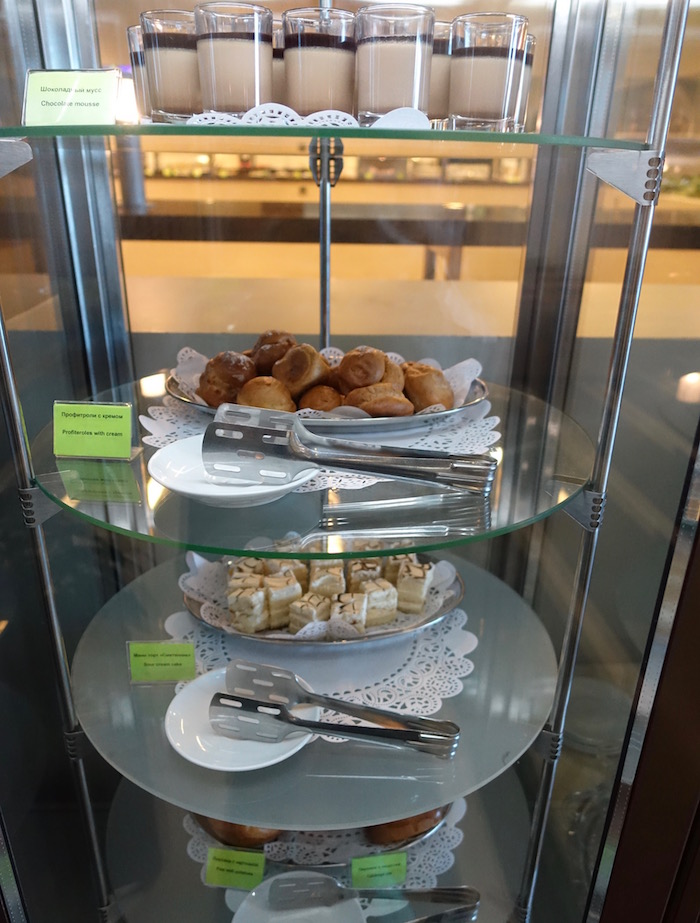 Moscow Airport Lounge food selection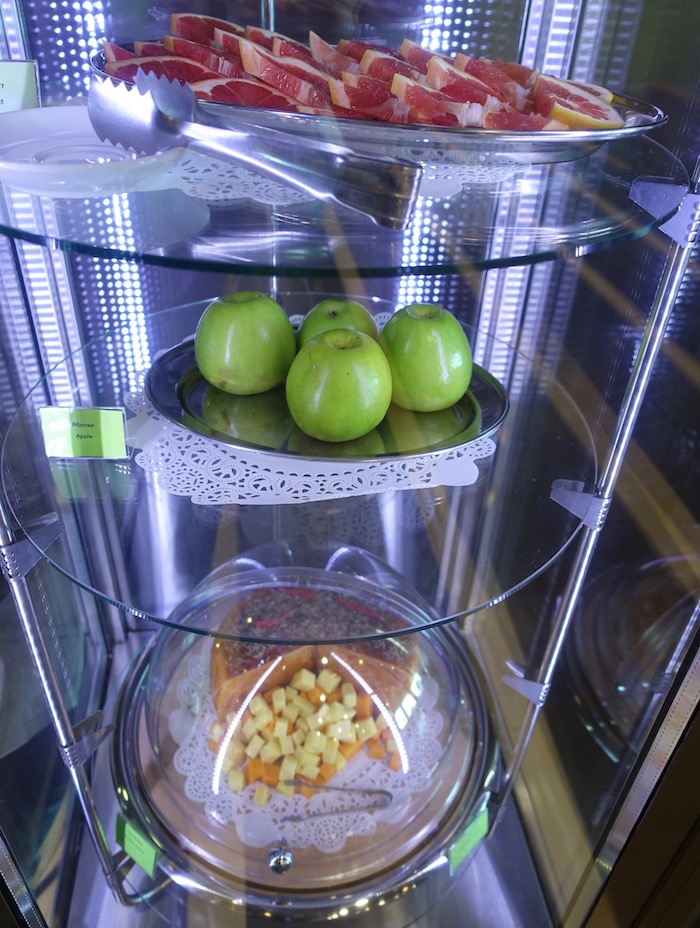 Moscow Airport Lounge food selection
Then there were cookies, chips, snack mix, nuts, etc.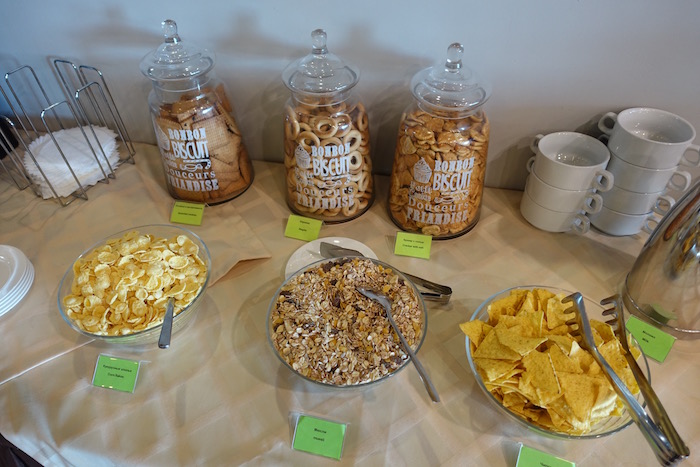 Moscow Airport Lounge food selection

Moscow Airport Lounge food selection
Next to that was a side room with a more extensive selection of food, along with drinks.
There was even some seating along a high-top bar here.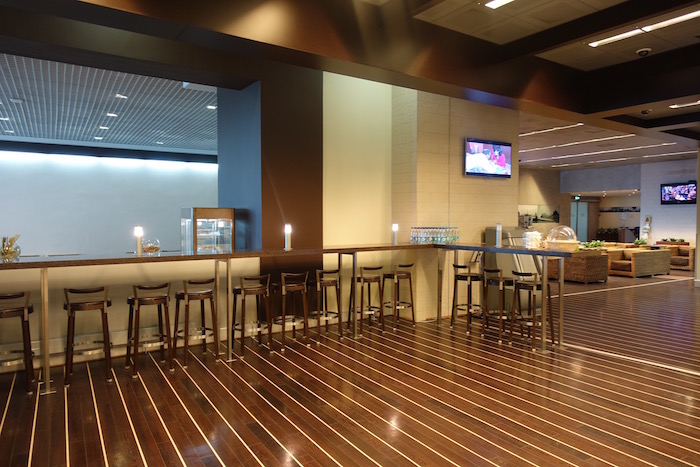 Moscow Airport Lounge buffet area seating
There were individual cans and bottles of beer, soda, water, etc.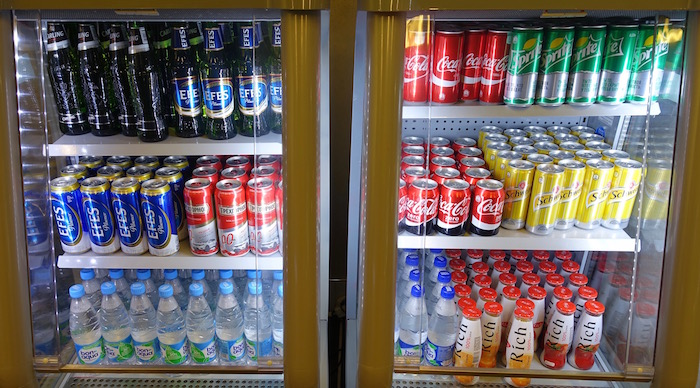 Moscow Airport Lounge drink selection
Then there was salad, finger sandwiches, and all kinds of other things that actually looked quite decent.
There were also two types of soup.
Then there were also six hot dishes.
In the far corner of the buffet was the liquor selection, a coffee machine, etc.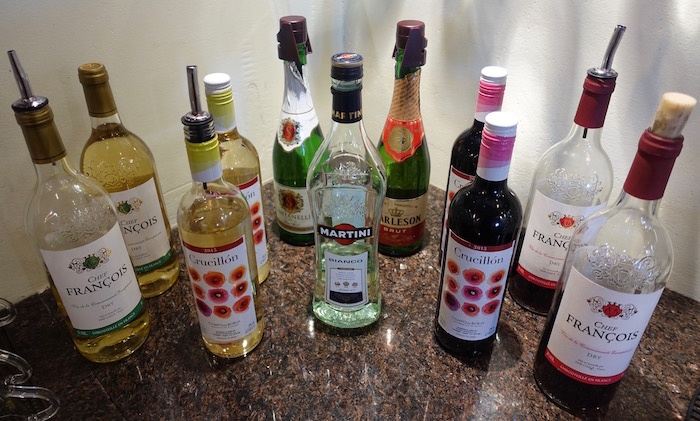 Moscow Airport Lounge alcohol selection
Next to the buffet was a play area for kids.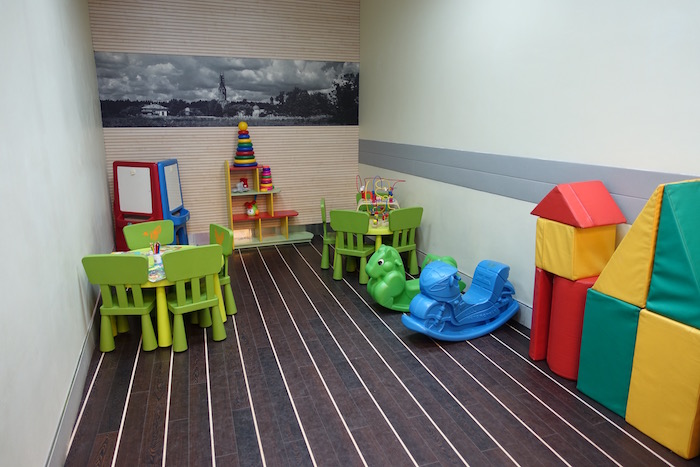 Moscow Airport Lounge kids play area
There was also a small business center.

Moscow Airport Lounge business center
The lounge's bathrooms, including the one shower, felt quite bare bones, however.

Moscow Airport Lounge restroom
The lounge had huge windows in the far end of it, which had great views of the apron, as well as of the runway in the distance.
Eventually our Singapore Airlines 777 arriving from Singapore pulled into the closest gate to the lounge.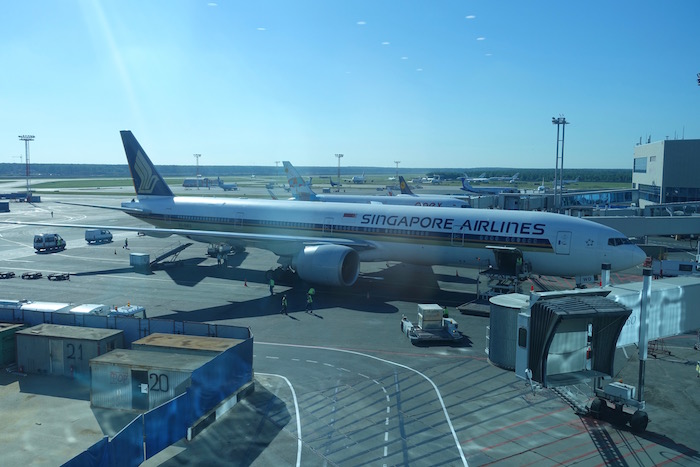 Singapore Airlines 777 from Moscow Airport lounge
We decided to leave the lounge about an hour before departure and walk around for a bit, since there wasn't much to do in the lounge. We started by looking at our 777 from a different angle (at least that's what I wanted to do, and Ford kindly plays along with my airport desires).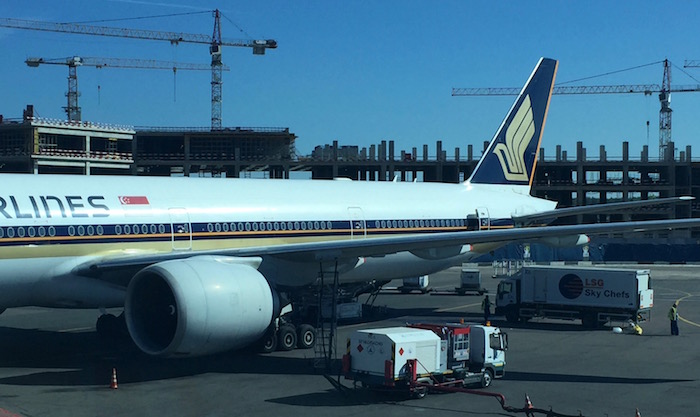 Singapore Airlines 777 taking us to Houston
The terminal itself was fine, and had a lot of duty free shopping, as you'd expect.
Eventually we headed to our departure gate at around 9AM, for a scheduled 9:10AM boarding time. While the queue to enter the gate area was extremely long for economy, there was no line for first & business class. At the gate there was once again a superficial luggage search, where security people went through our bags.
The gates at this airport are "enclosed," and the one Singapore Airlines uses sure feels like it should be used for an A320 at most, rather than a 777. It was packed, with standing room only.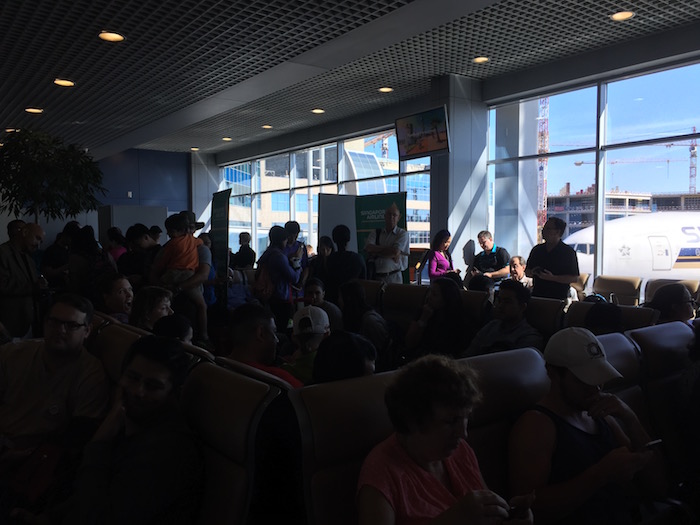 Singapore Airlines departure gate at Moscow Airport
At 9:10AM first class boarding was called, so on we went!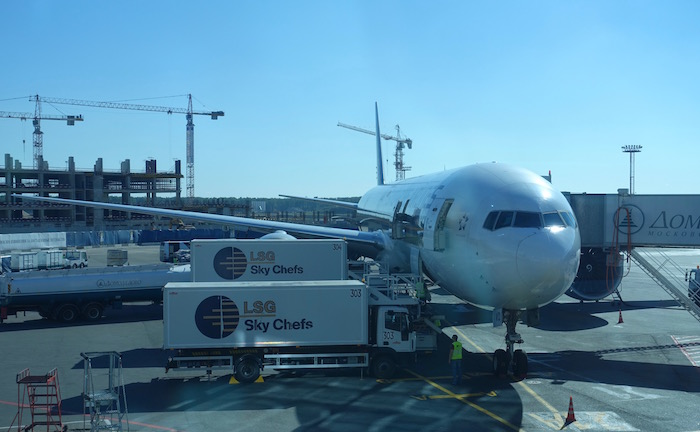 Singapore Airlines 777 taking us to Houston
Moscow Airport Business Lounge bottom line
This was a solid contract lounge, better than I remember it being a few years back. No, I wouldn't make a point of spending more time here than I had to, but as far as contract lounges go, this one is fine. There was plenty of space, the lounge was quiet, and the drink and food selection were decent.
The only thing I consumed in the lounge was bottled water, given that I wasn't about to spoil my appetite before a Singapore Airlines first class flight with contract lounge food. 😉
The following links will direct you to the rates and fees for mentioned American Express Cards. These include: The Business Platinum® Card from American Express (Rates & Fees), and The Platinum Card® from American Express (Rates & Fees).