Introduction: An Arctic Summer
Review: SAS Business Class A330 Los Angeles To Stockholm
Review: SAS Lounge Stockholm Airport
Review: Hotel Continental Oslo
Review: Radisson Blu Longyearbyen Hotel
Review: SAS Lounge Oslo Airport
Review: SAS Lounge Copenhagen Airport
Review: W Hotel St. Petersburg
Review: St. Regis Moscow
Review: Business Lounge Moscow Domodedovo Airport
Review: Singapore Airlines First Class 777 Moscow To Houston
---
The reason I heard about Longyearbyen in the first place was because of the Radisson Blu, given that it claims to be the world's northernmost full service hotel. Based on the pictures it didn't exactly look glam, but then again, Longyearbyen isn't a destination you visit for a luxury vacation, but rather for the nature.
Given that we were visiting in early July, it was absolute peak season. While I have a sizable balance of Club Carlson points, we decided to book a paid rate instead. The paid rate was ~$250, while a redemption would have cost 70,000 points (that's Club Carlson's highest award cost for a standard room). I value Club Carlson points at ~0.4 cents each, so I thought paying cash represented a better value.
On top of that, as a Gold member I earn 23 points per dollar spent on hotel spend, so I have to consider the points I'm forgoing if I elect to redeem points. So while ~$250 per night is more than I usually like to spend on a rather dumpy hotel, in this case I was really paying for the destination rather than the hotel.
The Radisson Blu is about a 10 minute drive from Longyearbyen Airport. Our taxi driver was a lovely lady from the Philippines, who had been in Longyearbyen for about three months.
The hotel has a great location, right across from town.

Radisson Blu Polar Hotel exterior
The hotel's exterior isn't especially attractive. I think a different coat of paint could make a big difference.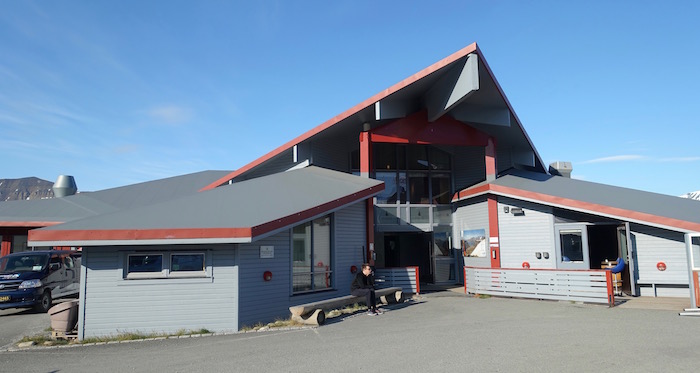 Radisson Blu Polar Hotel exterior
However, I liked the outdoor seating area with furs to keep warm, given that even with full sunlight it's chilly (and really windy) here.

Radisson Blu Polar Hotel outdoor pub seating
There was plenty of parking for cars out front, though you won't want to park your dogs there! 😉
Inside the entrance was an area where you could store shoes. I'm not sure who exactly was storing their shoes there, though, since everyone I saw inside still had shoes on. I suspect that's more important in winter, when it's snowy outside.

Radisson Blu Polar Hotel shoe storage
Across from the shoe storage area was the hotel's pub, which I've heard is quite decent. However, there were too many cute places in town, so we ended up never visiting there.
Past the pub was a gift shop, where we ended up buying some outrageously priced gloves to stay warm. Oops.

Radisson Blu Longyearbyen gift shop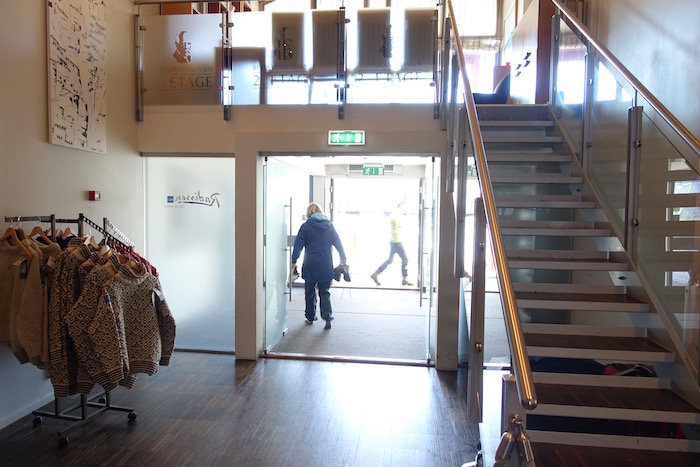 Radisson Blu Longyearbyen lobby
Reception was located inside the lobby and to the right.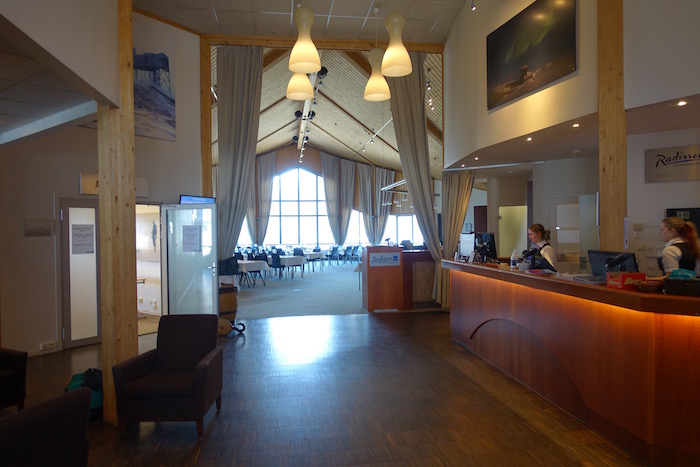 Radisson Blu Longyearbyen lobby
While I usually hate drawn out check-in processes, this one was the opposite extreme. I provided my credit card, though she said she didn't need it. Instead she literally said "breakfast is open from 7AM until 11AM, here is your key." Within 15 seconds of arriving at the desk we were checked in. She also wasn't especially friendly, which I found to be a contrast to the rest of the people in Longyearbyen.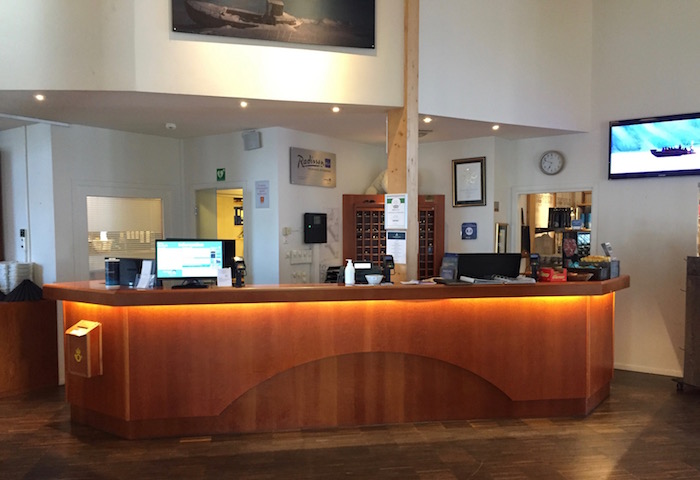 Radisson Blu Longyearbyen reception
While I had my Club Carlson Gold number on the reservation, we didn't receive a room upgrade, or even the welcome gift which I'm entitled to. For that matter, the points for the stay never posted (though I just requested missing points credit). So in retrospect I should have probably followed up on that while at the hotel, though I didn't bother since we spent most of our time outside the room.
Also in the lobby was a small sitting area with a few seats, where a lot of people waited until their tour buses arrived. I sat there one morning at around 3AM getting caught up on work. It was sort of surreal to sit in a lobby in full daylight that was completely empty.

Radisson Blu Longyearbyen lobby
Across from the sitting area was a polar bear display.

Radisson Blu Longyearbyen polar bear
Our room was located one level down from the lobby, so we followed the hallway down from reception.

Radisson Blu Longyearbyen hallway
In the hallway was a public computer.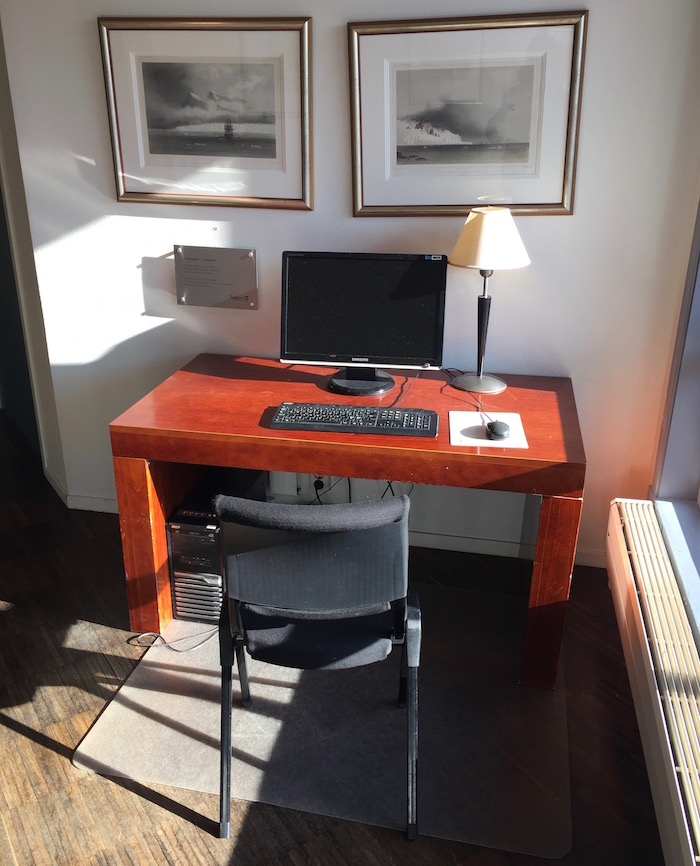 Radisson Blu Longyearbyen business center
From there we had to take the stairs down a level (there may have also been an elevator, but I never saw it).

Radisson Blu Svalbard stairs to room
The hallway was fairly basic, and our room was the third one on the left.
Perhaps the only part of the hallway decor that was nice were the room doors, which had pictures from back when Longyearbyen was a mining town (I believe).

Radisson Blu Svalbard room entrance

Radisson Blu Svalbard floorplan
The room itself was in decent condition and perfectly serviceable.
While I had booked a room with one bed, this bed was basically two twin beds pushed together. I liked that there were two separate duvets, but wish there wouldn't have been a big gap in the middle of the mattress.
Across from the bed was a wall mounted flat screen TV, as well as a luggage rack.
Then next to the bed was a chair.
In the corner of the room was a desk with another chair and a lamp. Oddly there wasn't a telephone anywhere in the room.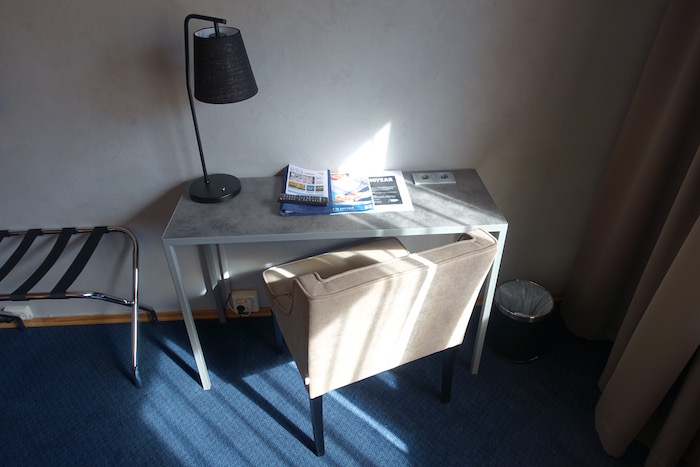 Radisson Blu Svalbard room desk
The room basically faced the entrance to the hotel. So unfortunately the views weren't very good (since there are mountains in the other direction), but at least it was fairly quiet. Given that there's 24 hours of sunlight here, the rooms have excellent blackout curtains. We could easily make it pitch dark, even though it was bright as could be outside.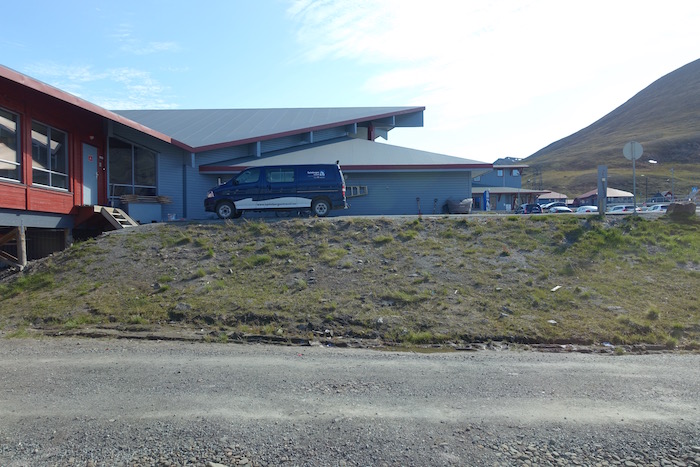 View from room at Radisson Blu Svalbard
The room also had a sparsely stocked minibar.
Given that the hotel was pretty basic otherwise, I was a bit surprised to find a Nespresso machine in the room.

Radisson Blu Svalbard Nespresso machine
I thought the room was in pretty good condition overall. Perhaps my one complaint is that it felt bland. Svalbard is such a captivating and unique and charming destination, so I found it a bit disappointing that they didn't incorporate more of the location into the room.
While the room was fine, the bathroom was really disappointing. It felt like a hospital bathroom, and was very poorly designed.

Radisson Blu Svalbard bathroom
The toilet was tiny, and all the toiletries were out of dispensers (for the bathroom there was a shared body wash/shampoo liquid). Fair enough, given how remote Svalbard is.

Radisson Blu Svalbard "toiletries
The worst part of the bathroom was the shower, which just had a tiny shield separating it from the rest of the bathroom. No matter how I adjusted the handheld shower head, the entire bathroom got drenched every time I showered.
All guests at the Radisson Blu receive complimentary breakfast, which is served daily from 7AM until 11AM. Aside from the furniture, I thought the breakfast area was pretty cute, with high wood ceilings and great views of the mountains in the distance.

Radisson Blu Spitsbergen restaurant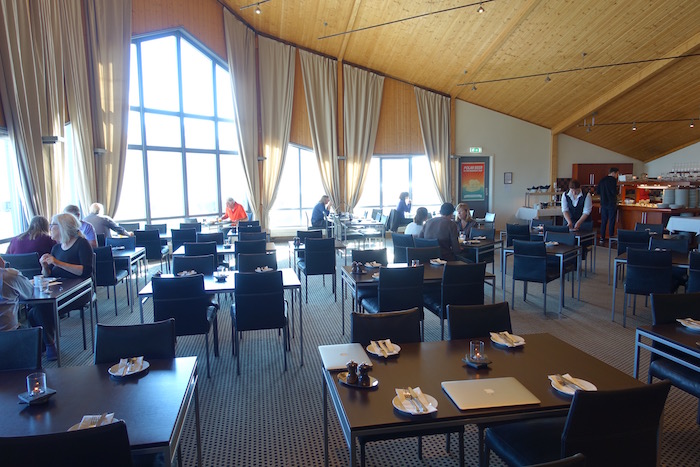 Radisson Blu Spitsbergen restaurant
The breakfast spread was excellent, at least as far as I'm concerned. I'm not generally a fan of Nordic food, so perhaps that's why I was pleasantly surprised.

Radisson Blu Spitsbergen breakfast buffet
There were canisters with self serve coffee.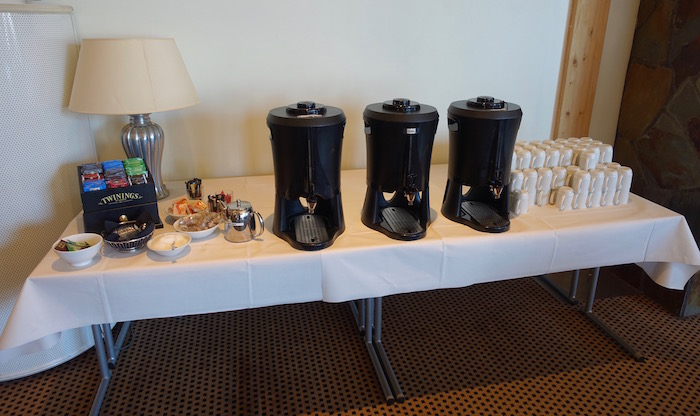 Radisson Blu Spitsbergen breakfast buffet
The buffet consisted of fresh fruit, all kinds of pastries, freshly baked rolls, etc.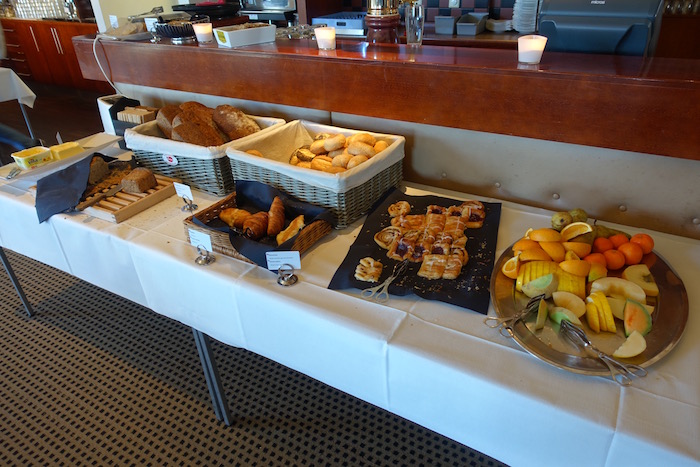 Radisson Blu Spitsbergen breakfast buffet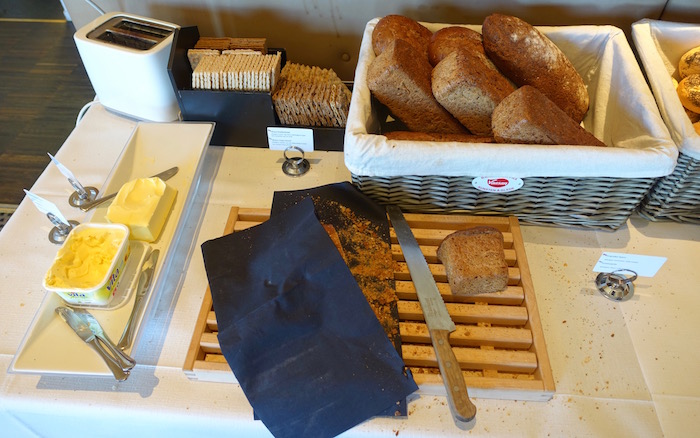 Radisson Blu Spitsbergen breakfast buffet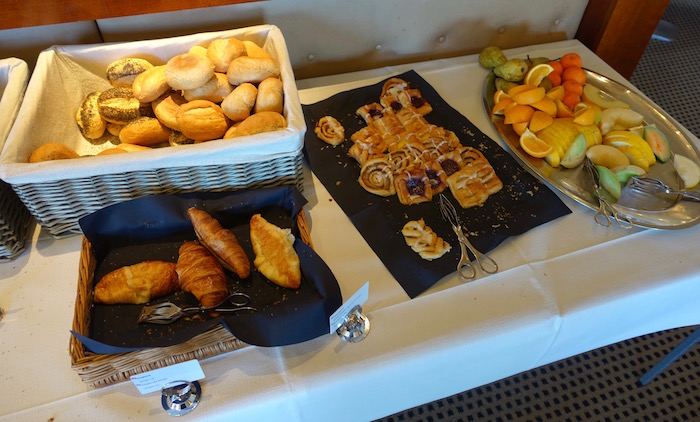 Radisson Blu Spitsbergen breakfast buffet
Then there was a selection of fresh veggies, cold cuts, fish, etc., which I generally avoided.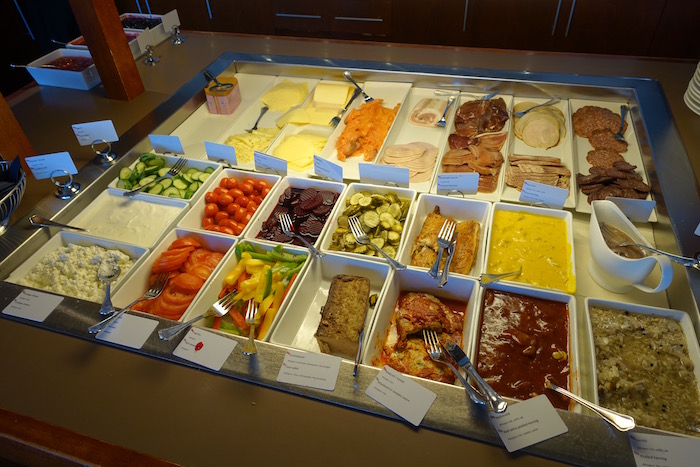 Radisson Blu Spitsbergen breakfast buffet
There was a hot selection, including scrambled eggs, mushrooms, tomatoes, etc.

Radisson Blu Spitsbergen breakfast buffet
There were several types of yogurt and cereal.

Radisson Blu Spitsbergen breakfast buffet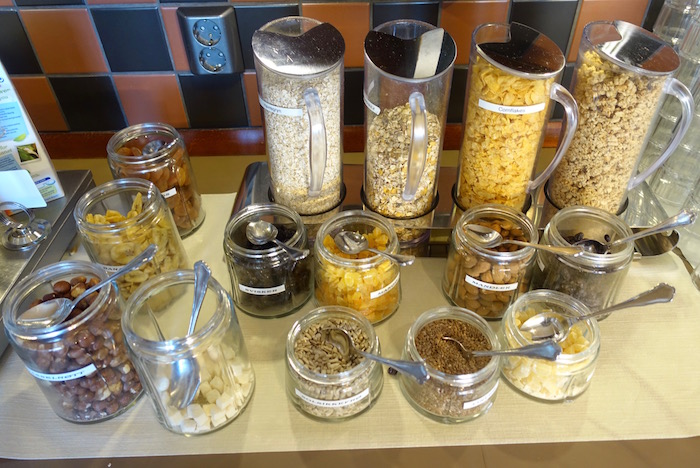 Radisson Blu Spitsbergen breakfast buffet
Then there was a make your own waffle machine, which was my favorite part of the buffet.

Radisson Blu Spitsbergen breakfast buffet
Milk was available out of a machine, which I don't think I've ever seen at a hotel buffet before.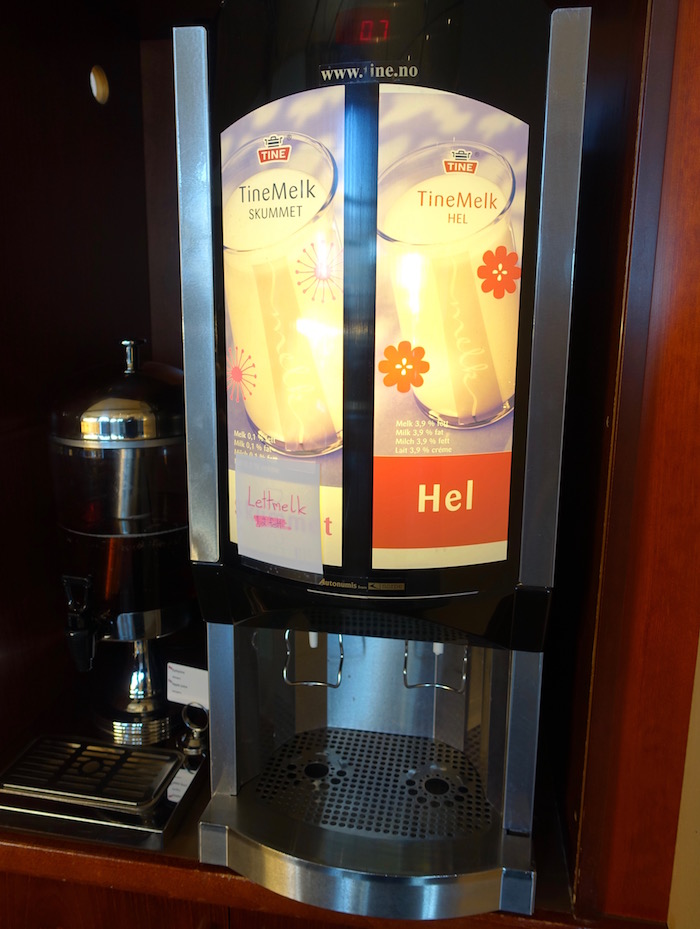 Radisson Blu Spitsbergen breakfast buffet
Then there was orange juice as well as still and sparkling water.

Radisson Blu Spitsbergen breakfast buffet
In terms of other things to note about the hotel…
Wifi was surprisingly fast. I wasn't expecting to have a great wifi connection in such a remote place, but it was as good as anywhere, and free for all guests.
Service at the hotel was hit or miss. The front desk staff were partly extremely nice, and partly rude and indifferent. I certainly found the service at the hotel to be much more inconsistent than in other parts of Longyearbyen, where people seemed to have a consistent sense of pride in their home.
The Radisson Blu has a great location in relation to the town. When you walk outside the hotel you'll be in the town's main street within a couple of minutes. Within a 5-10 minute walk you can access restaurants, bars, a supermarket, etc.
When I first arrived in Longyearbyen I sort of dismissed the town as such, as it looks like a bunch of shacks, but there are some beautiful and charming places in town, surprisingly.
I highly recommend Kroa Restaurant, which is cute and consistently packed, so be sure you make a reservation (the below picture was taken when we went back for a second time at 5PM, which is before everyone has dinner).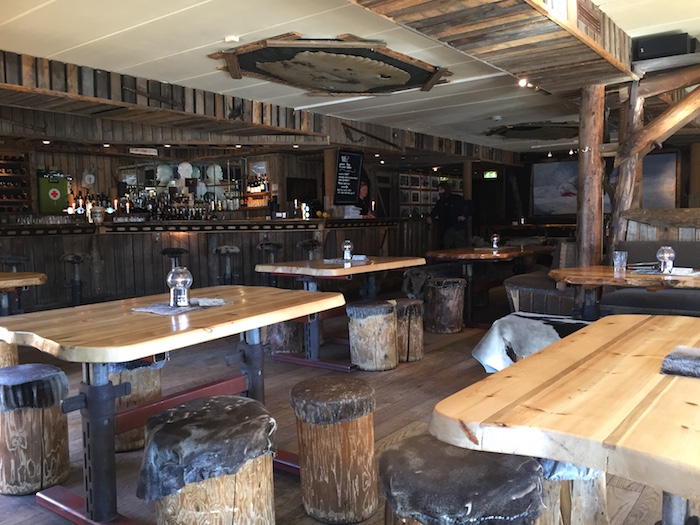 Kroa Restaurant Longyearbyen
I also highly recommend Karlsberger Bar.
For more on Svalbard as such, see the previous posts I've written about it:
Bottom line
The Radisson Blu has a great location, within walking distance of the central part of Longyearbyen. The rooms are perfectly fine, though also bland. I was a bit surprised by how hit-or-miss the staff were.
That being said, Svalbard isn't about hotels, but rather about the destination, so when you consider that, I think the hotel was perfectly fine. If I were to return to Longyearbyen, I might consider either the Spitsbergen Hotel or Svalbard Hotel (the latter has the best location, so that might be my first pick).