Introduction
From Airbus To Megabus: A Trip Of Contrasts
Review: Six Senses Zighy Bay Villa
Review: Six Senses Zighy Bay Activities & Dining
Review: Al Maha Bedouin Suite
Review: Al Maha Desert Resort Dubai Dining
Review: Al Maha Desert Resort Dubai Activities
Review: Dubai International First Class Lounge DXB
Review: Qatar Airways First Class A320 Dubai To Doha
Review: Qatar Airways First Class A380 Doha To London
Review: British Airways First Class A380 London To Los Angeles
Review: British Airways A380 First Class Tasting Menu
Review: Sheraton Gateway Los Angeles Airport LAX
Review: American Flagship Lounge Los Angeles LAX
Review: American First Class A321 Los Angeles To New York
Review: Hilton Austin Airport
---
Upon arriving at the self proclaimed "5-star gateway to the world," we first found ourselves in what can only be described as a mess of a security line. The queues were insane, though fortunately there was a premium line which only had a very short wait.
Since this flight was last October, we headed to Qatar Airways' Al Mourjan Business Class Lounge for our layover. That's because we were visiting before Qatar Airways opened the Al Safwa First Class Lounge.
Our layover was fairly short, so you can't really complain when you consider we headed straight up to the second floor of the lounge for a few glasses of Krug. Overcoming jetlag is all about adjusting to the time at your destination as soon as possible, and as luck would have it, it was happy hour in LA. So this seemed like a good enough start! 😉

"Breakfast" in the Qatar Airways Al Mourjan Lounge Doha
Our flight to London was scheduled to depart at 7:45AM, so we headed to the gate at around 6:45AM. We were departing from gate A3, which is just a short walk from the lounge.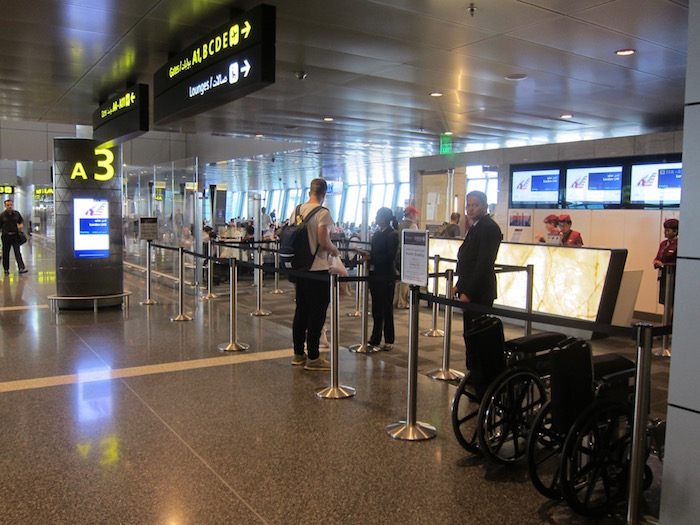 Qatar Airways A380 departure gate Doha Airport
In addition to the main entrance to the gate area, there's a separate entrance for first & business class passengers, which leads directly to the upper deck. That's the benefit of a purpose-built A380 gate, I suppose.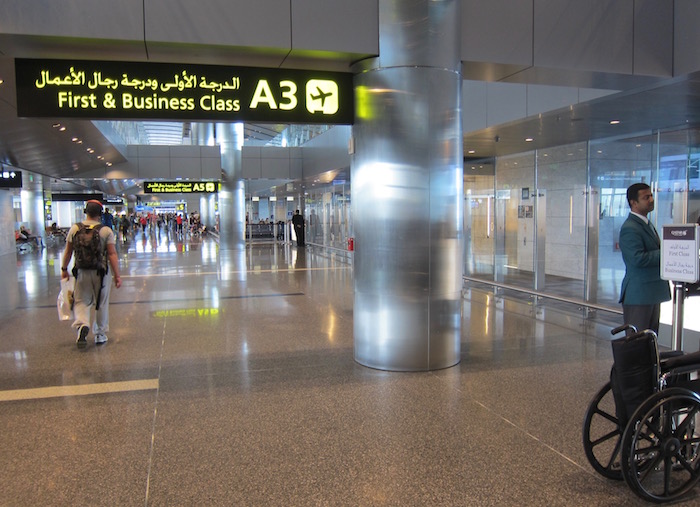 Qatar Airways A380 departure gate Doha Airport
Upon having our boarding passes scanned we took the elevator up a level, where the first & business class gate area was located. As you can see below, it was still empty, despite only being a few minutes before boarding (presumably most passengers only board when they really have to).

Qatar Airways A380 first & business class departure area Doha Airport
The whale jet was parked outside, though due to the way the windows are positioned, it's tough to get a great picture.
At around 7:05AM boarding was called, and we were still among the only passengers in the gate area. We headed down the upper deck jet bridge, where I managed to snap a slightly better picture of the plane.
As we boarded I also had a bit of a flashback, and realized that I had flown the Doha to London A380 inaugural flight, exactly a year prior, on October 10, 2014. That meant that we were flying on Qatar's one year anniversary of operating the A380.
Qatar Airways 3
Doha (DOH) – London (LHR)
Saturday, October 10
Depart: 7:45AM
Arrive: 1:15PM
Duration: 7hr30min
Aircraft: Airbus A380
Seat: 2A (First Class)
Upon boarding we were welcomed aboard by the cabin manager and one of the first class crew, and pointed left towards the first class cabin. Qatar's A380 first class cabin is on the upper deck, to the left of the main entry door.
The cabin has a total of eight seats spread across two rows. I tend to think the cabin is quite sleek, though at the same time it's really not competitive with what's offered by Emirates and Etihad in terms of privacy. Then again, the longest route on which Qatar operates the A380 is about seven hours, so perhaps they feel that's not needed.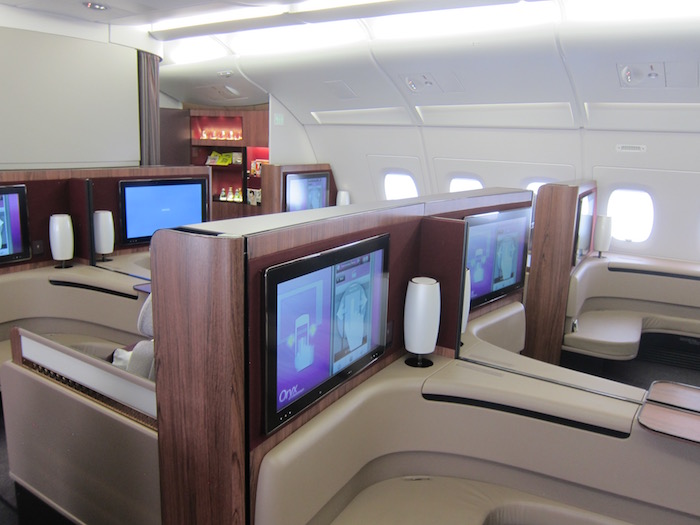 Qatar Airways first class cabin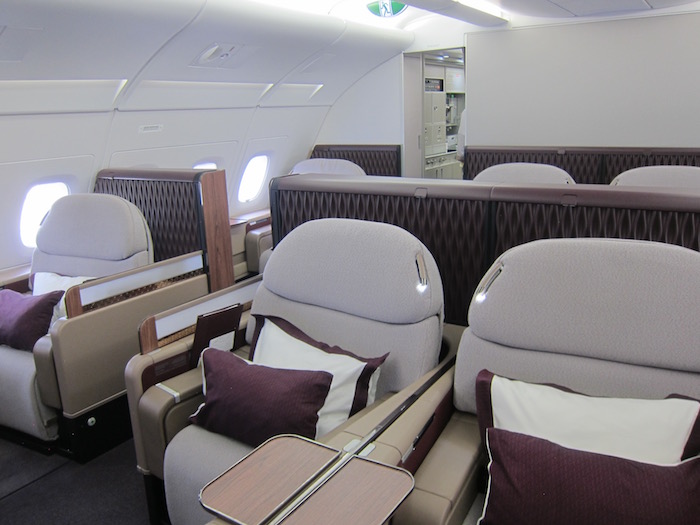 Qatar Airways first class cabin
I was seated in 2A, while Andrew and Tiffany were in the two seats across from me.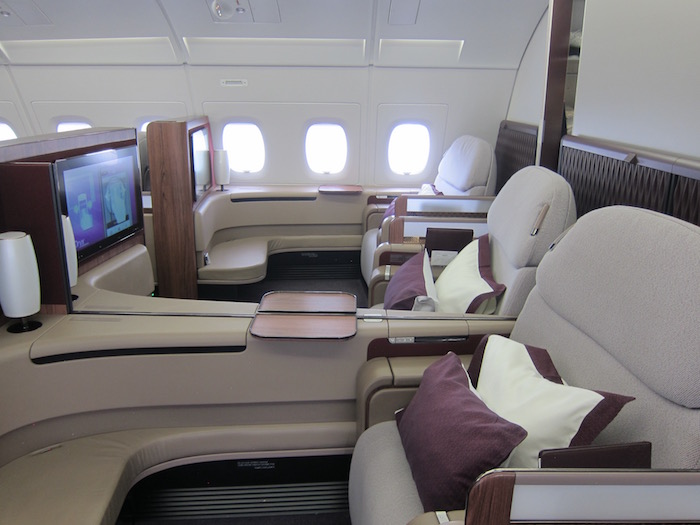 Qatar Airways first class cabin, row two
The seats are more or less identical whether you're in row one or two. The advantage of row one is that you're further from the galley, while the advantage of row two is that you're further from the bathrooms.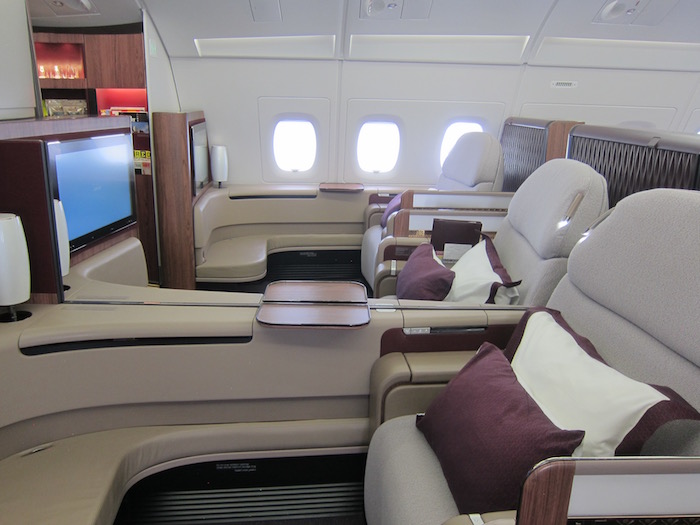 Qatar Airways first class cabin, row one
I will say that Qatar's first class seat is extremely comfortable for just "lounging." It's one of the most comfortable airplane seats in the upright position.

Qatar Airways A380 first class cabin, seat 2A
There's no denying that the finishes in the cabin are beautiful and understated. There's not the level of bling you'd find on Emirates or Etihad, but rather just understated luxury.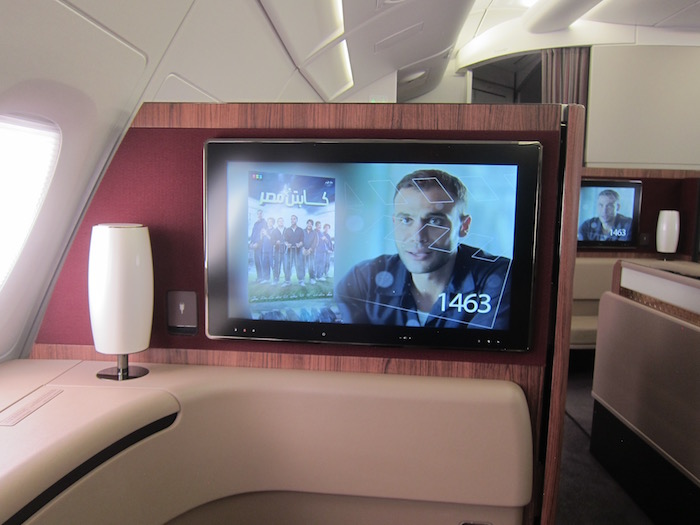 Qatar Airways A380 first class cabin, seat 2A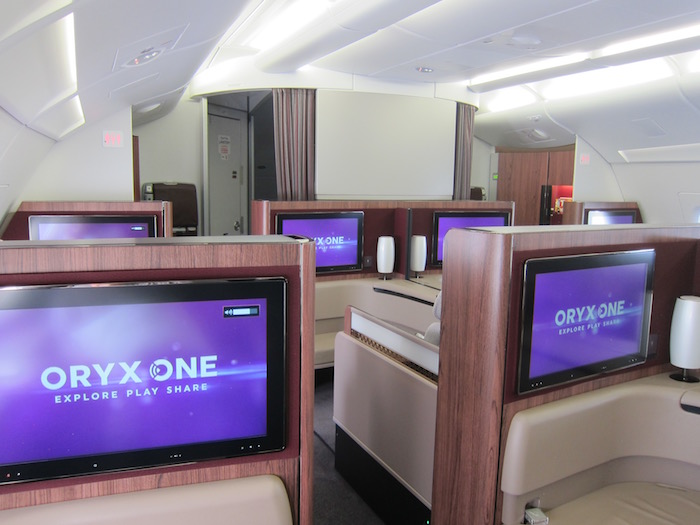 Qatar Airways A380 first class cabin
To the left of the seat is a large console, on which drinks and other items can be placed without having to take our your tray table.

Qatar Airways A380 first class seat side table
To the left of the seat was a place for bottled water, as well as the entertainment controller (which I find rather difficult to use).

Qatar Airways first class entertainment controller
To the right of the seat was a further storage compartment, as well as a monitor for seat controls.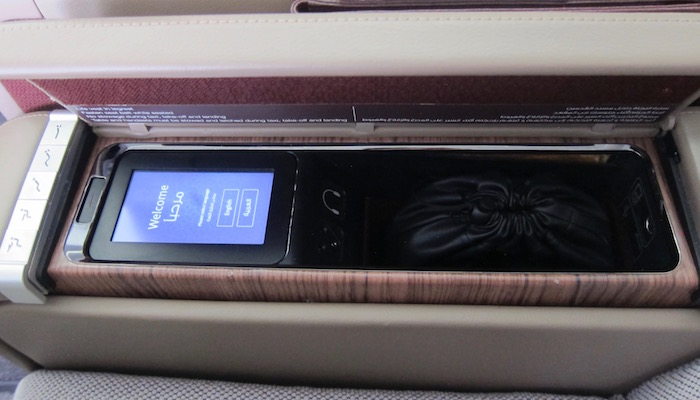 Qatar Airways first class seat controls and storage compartment
Then the seat pre-sets were located to the right of the seat, along with the controls to lift the privacy shield between seats (which have to be lowered for takeoff and landing).

Qatar Airways first class seat controls
Each seat also has a private closet, which is quite spacious. Waiting in the closet was the amenity kit.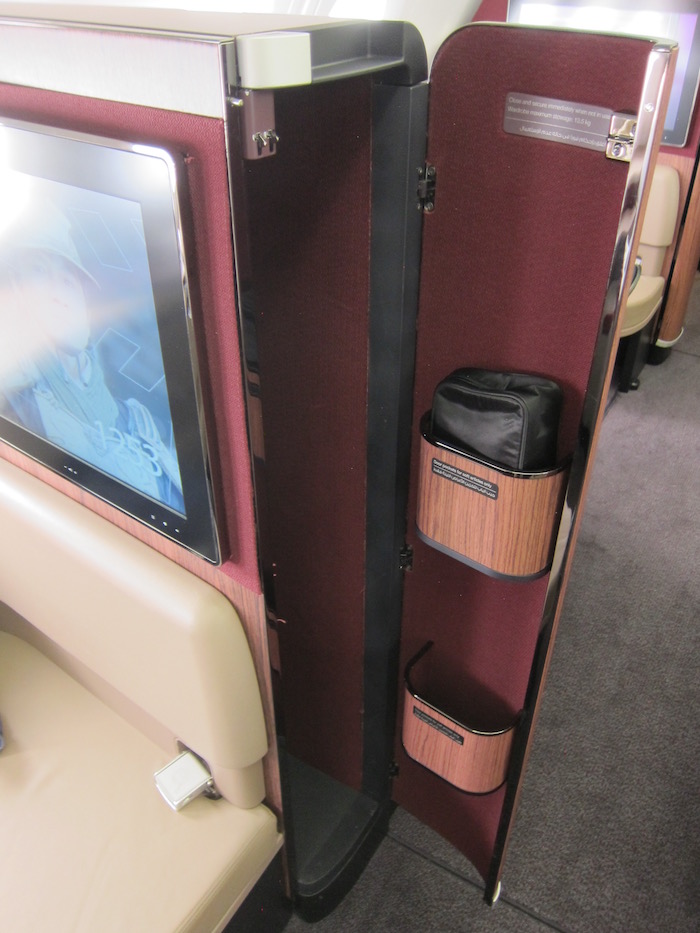 Qatar Airways first class closet
Qatar's amenity kits are provided by Armani, and are fairly nice. On the inaugural A380 flight they had limited edition A380 amenity kits, which didn't seem to be on offer anymore. Furthermore, a year prior they also offered slippers and pajamas, which weren't offered on this flight. Qatar Airways sure seems to be cost cutting.

Qatar Airways Armani amenity kit
As it was their first time on the A380, I showed Andrew and Tiffany the two lavatories at the front of the cabin. They're not quite as over the top as Emirates' shower suites, but they're probably on par with the bathrooms offered by Lufthansa, for example.

Qatar Airways A380 first class bathroom
The bathrooms are spacious and soothing, and are well stocked with amenities.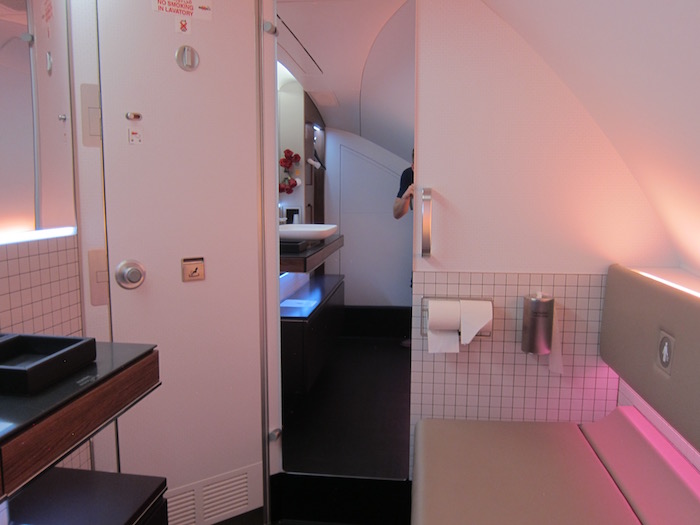 Qatar Airways A380 first class bathroom

Qatar Airways A380 first class sink

Qatar Airways first class bathroom amenities

Qatar Airways first class bathroom amenities
Just behind the bathrooms are some display areas with light snacks and some bottled drinks, along with magazines. It's a bit of an odd display since no one ever seems to use it, though it does look nice.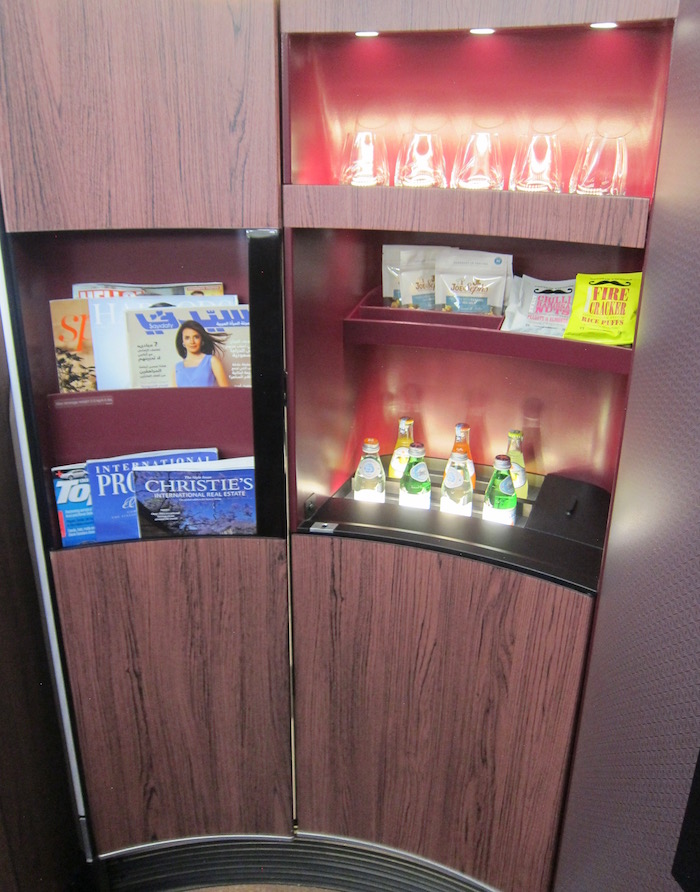 Qatar Airways A380 first class drink display
And then of course between the two lavatories are the stairs to the lower deck, which is a nice reminder of just how massive the plane is.
So I'm generally not very impressed by Qatar Airways crews, and that's probably a function of the working conditions at the airline. While I find they use a lot of the terms typically associated with good service ("my pleasure," "certainly," etc.), it doesn't usually come across as very sincere, in my experience.
It was perhaps more evident on this flight than any other Qatar Airways flight I've taken — the crew didn't want to be there, and they made sure we knew it. It wasn't one thing in particular, but rather just a combination of everything throughout the flight.
I was offered a pre-departure beverage, and ordered a glass of Krug. It took about five minutes for it to be delivered. The cabin was hot during boarding (extremely hot), and the flight attendant just put a hot towel down next to my drink. It might sound minor, but Qatar crews are supposed to ask whether you want a hot or cold towel, even in business class, let alone first class. In this instance it was especially hot in the plane, so a cold towel would have been even nicer than usual.
I asked if I could get a cold towel instead, and she said "okay." She returned another five minutes later with it.

Qatar Airways first class pre-departure Krug
After that, menus were distributed for the flight, which were in a nice leather binder. As the flight attendant handed me the menu she said "I will take your breakfast order for after takeoff shortly." It might sound like a minor distinction, but it's a dine on demand menu, so you're supposed to be able to eat what you want when you want.

Qatar Airways first class menu
Aside from the three of us, there were three other first class passengers. They were all traveling separately, and I believe they were all Qatari. They all seemed rather unamused by the product, and even less amused by the three of us knowing one other, and having conversations.
As boarding finished up we were offered Arabic coffee and dates.

Qatar Airways Arabic coffee & date
We were also given complimentary wifi vouchers, which is a nice touch on Qatar's part.

Qatar Airways complimentary wifi voucher
Despite our scheduled 7:45AM departure time, at 8AM we still hadn't moved. Around that time the captain came on the PA to advise us we would be departing shortly, and that there was a slight delay due to a sick passenger, as their bags had to be offloaded. He expected we would still arrive on schedule. Furthermore, he informed us that our flight time was 6hr55min, and we'd be cruising at 38,000 feet.

View before pushback at Doha Airport
Finally at 8:10AM we began our pushback, at which point the safety video played.
Our taxi to the runway was a quick one, and at 8:25AM we were airborne.
It was a hazy morning, so I couldn't get any great pictures. On top of that, the A380's small windows don't exactly help.

View after takeoff from Doha Airport
10 minutes after takeoff the seatbelt sign was turned off, at which point the service began.
The menu read as follows: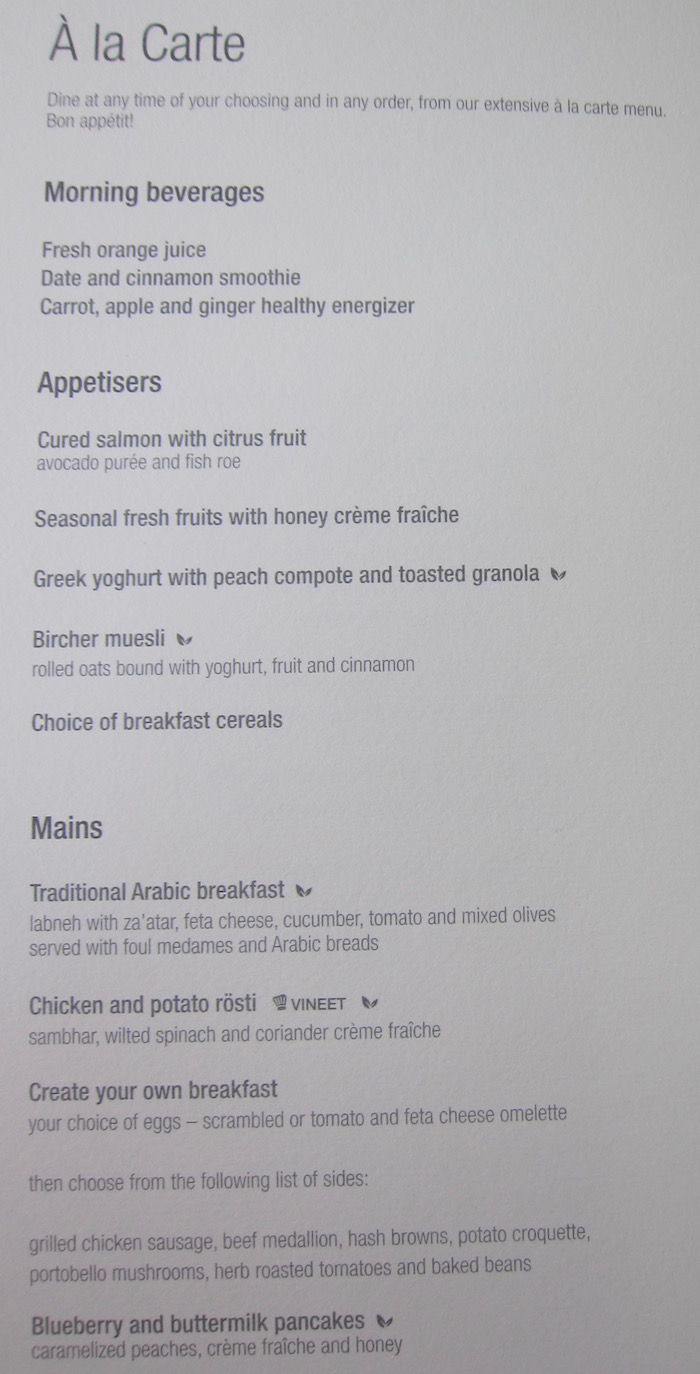 And the beverage list read as follows:
The first class flight attendant came by my seat and asked what I wanted for breakfast. I placed my order, and within about 15 minutes the breakfast service began.
I began with a date and cinnamon smoothie, which was oh-so-tasty!

Breakfast drink — date and cinnamon smoothie

At that point my table was set for breakfast, including a breadbasket with a croissant, danish, and some Arabic bread.
There were also strawberry jam to go along with it.
To start I had the cured salmon, which was tasty.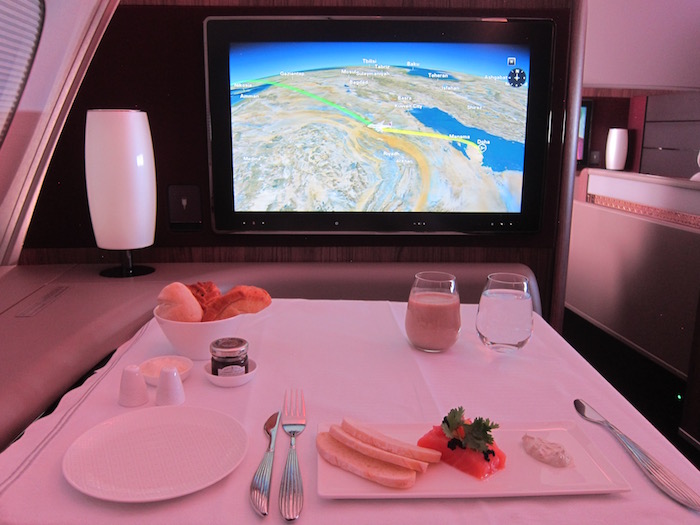 Breakfast starter — cured salmon with citrus fruit

Breakfast starter — cured salmon with citrus fruit
I then had a granola parfait, which was also delicious.

Breakfast starter — greek yogurt with peach compote and toasted granola

Breakfast starter — greek yogurt with peach compote and toasted granola
I had ordered a coffee at the start of the meal service, though it only arrived after my parfait had been cleared.
Then for the main course I ordered the Arabic breakfast, which was quite good.

Breakfast main course — traditional Arabic breakfast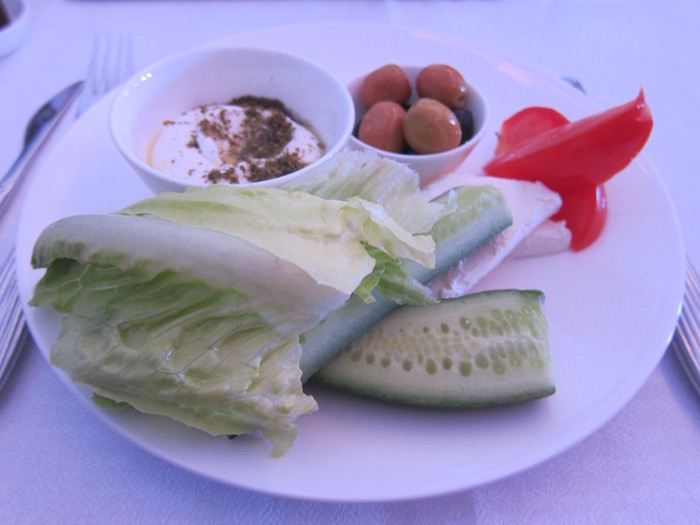 Breakfast main course — traditional Arabic breakfast

Breakfast main course — traditional Arabic breakfast
The meal was tasty, though for an airline which is focused so much on the soft product, I found the differentiation between first and business class to be almost non-existent. The catering reminded me almost exactly of what I had between Doha and Frankfurt last year in business class. There's not one thing about the menu which sets it apart.
The service was what really disappointed me, though. It's one thing if the flight attendants had just been disorganized or not especially friendly, but they were both. Plates were never proactively cleared, I was never addressed by name, never asked if I wanted anything else, etc.
It was pretty funny when Andrew asked what kind of cereal they had, and the flight attendant said "the one with the chicken." Cereal with chicken? Ew! Then we realized she meant Corn Flakes.
After breakfast I asked to have my bed made, which was promptly taken care of. The sleeping surface in Qatar first class is quite large and comfortable, and the bedding is good as well. The seat does lack privacy, though, as you only have a shield separating you from the cabin, much like in Lufthansa first class.
After breakfast we headed to the business class bar, which is located behind the business class cabin. Qatar's A380 business class product is virtually the same as on the A350, and consists of reverse herringbone seats, which is a fantastic product.

Qatar Airways A380 business class cabin
Qatar's bar is located behind business class, which is still in front of a mini economy class cabin. The bar space itself is gorgeous (my favorite of any onboard bar), both in terms of design and the amount of space allocated it.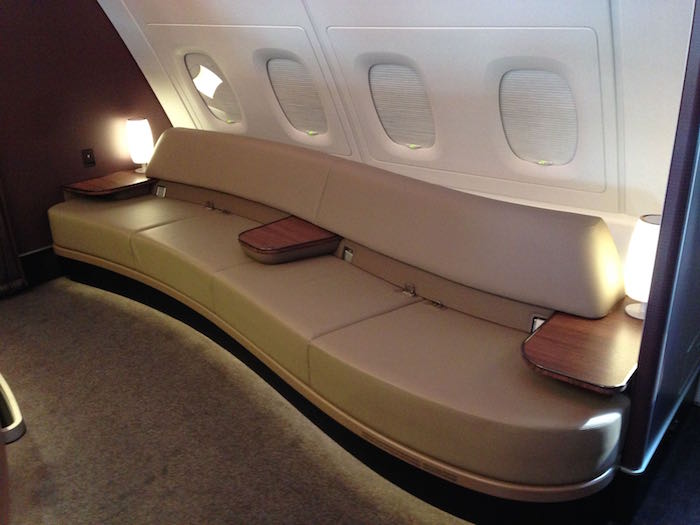 Qatar Airways A380 business class bar seating
While the first class crew was quite lazy, the bartender was super nice… almost too nice. He was this Eastern European guy who loved flying. LOVED flying. Like, he put my love of flying to shame.
He engaged us in conversation, and started with "am I the only one who loves flying and is sad when the plane has to land?" He was hoping Qatar Airways would begin flying the A380 to New York or Los Angeles. Why? Not because he wants to visit those places, but because it means he can fly (and work) longer flights, as he almost exclusively flies the A380.
Eventually the cabin manager asked if he wanted a break from the bar, and he said "no, why would I want a break? I love flying!"
So I suppose I commend his next-level enthusiasm. It was unlike anything I've seen before from a crewmember.
While Qatar's bar remains gorgeous, I will say that they've cut down significantly on the snacks on offer there since the plane was introduced. On the inaugural flight there was a large selection of snacks available, while on this flight there were just nuts and chips, which was pretty disappointing.
Fortunately they still serve Krug, so we stayed well hydrated. I didn't get any pictures of the bar on this flight, though here's a picture from my last Qatar A380 flight.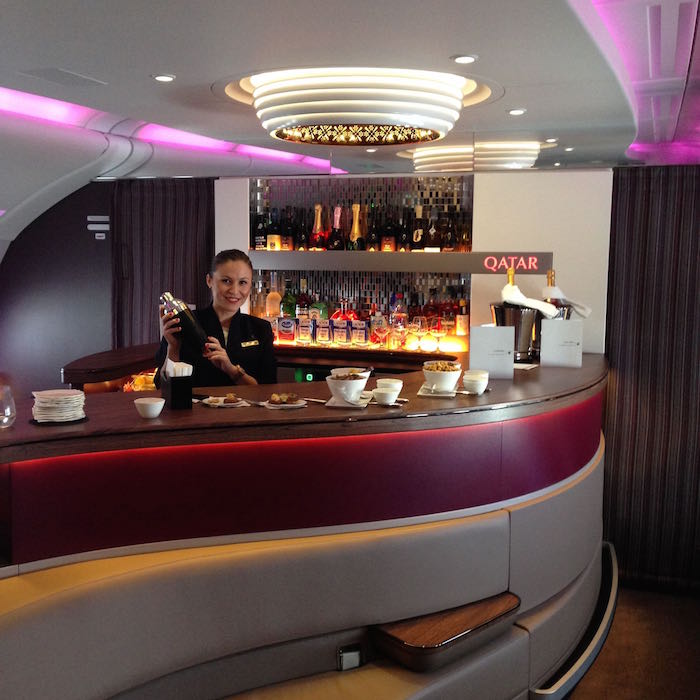 Qatar Airways A380 business class bar
Eventually I napped for a bit, and then as we were passing over Western Europe I decided to have a snack before landing.
The menu read as follows: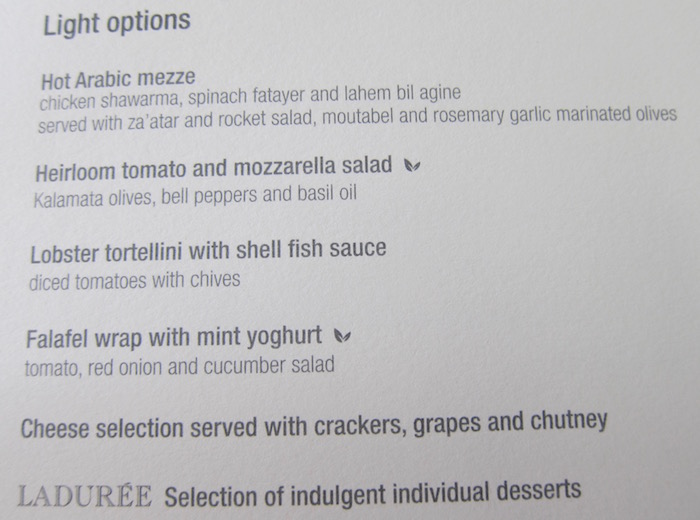 I had the falafel wrap with mint yoghurt, which was simple but tasty.

Qatar Airways pre-arrival snack — falafel wrap with mint yoghurt
I had also ordered the heirloom tomato salad (and actually requested for that to be served first), but they forgot about it. So after they served me the falafel wrap they tried to remove my tablecloth, though I reminded them I had ordered the salad as well. Rather than apologizing they just said "oh."

Qatar Airways pre-arrival snack — heirloom tomato & mozzarella salad
Tiffany had the mezze (Andrew wasn't eating, since he was conked out due to overdosing on about three glasses of Krug over the course of eight hours).

Qatar Airways pre-arrival snack — hot Arabic mezze
After I finished the salad they again immediately tried to clear the tablecloth. I stopped them again and asked what kind of dessert they had. The cabin manager said she would check what kind they had and get back to me. Instead of telling me what they had, 15 minutes later she just placed the below on my tray. In fairness, they were tasty. 😉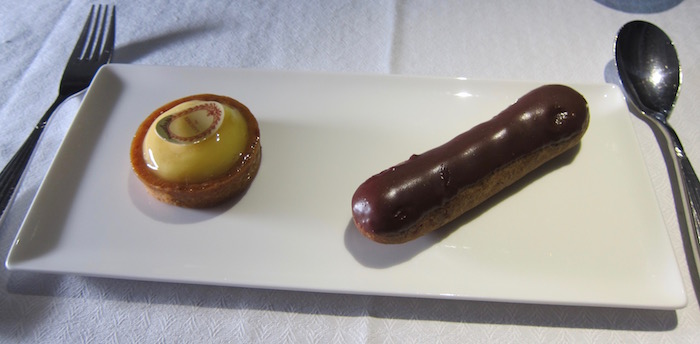 Qatar Airways pre-arrival snack — dessert

Qatar Airways pre-arrival snack — dessert
I then asked for some coffee with milk, which was served another 10 minutes later (you'd think a coffee drink would be proactively offered, but it wasn't).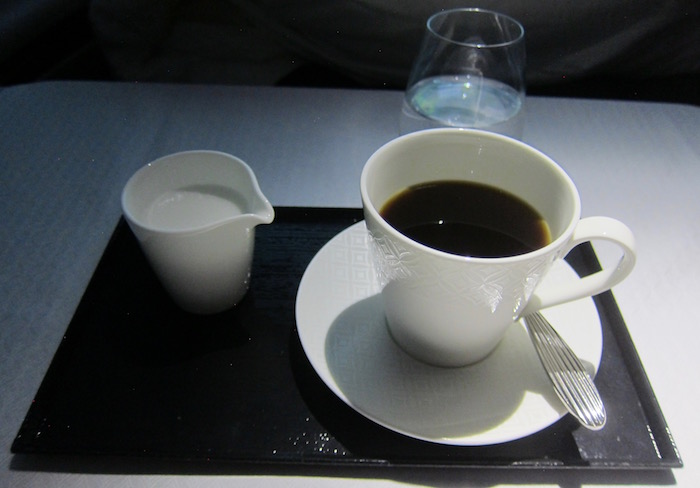 Qatar Airways pre-arrival coffee
Shortly before we began our descent, the UK landing cards and fast tracks immigration cards were distributed.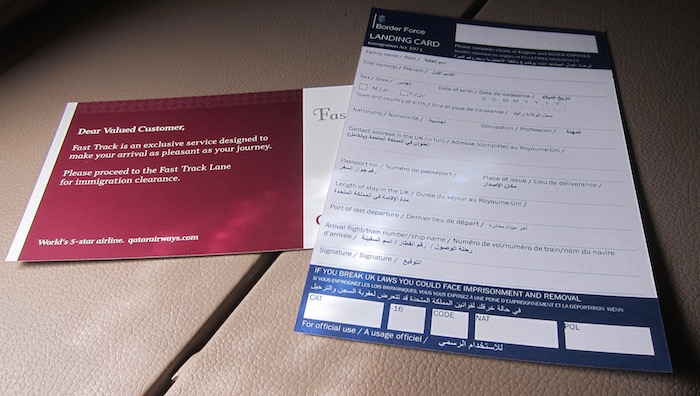 UK landing card & fast track pass
At around 1PM in the UK, the captain came on the PA to inform us we'd be landing in about 30 minutes.
We ended up getting assigned a holding pattern for about 10 minutes, which isn't too bad by Heathrow standards, if you ask me.

Airshow on approach into London
It was an overcast afternoon in the UK (as usual), though the views of the countryside on approach were still nice.

View on final approach into London

View on final approach into London
We had some fantastic views as we were about to touch down, including of British Airways' Terminal 5, a Virgin Atlantic 787, a Qantas A380, and more.
We touched down at 1:40PM, and from there had just a five minute taxi to our arrival gate at Terminal 4, which possibly has the most interesting traffic of any terminal at Heathrow.

Taxiing London Heathrow Airport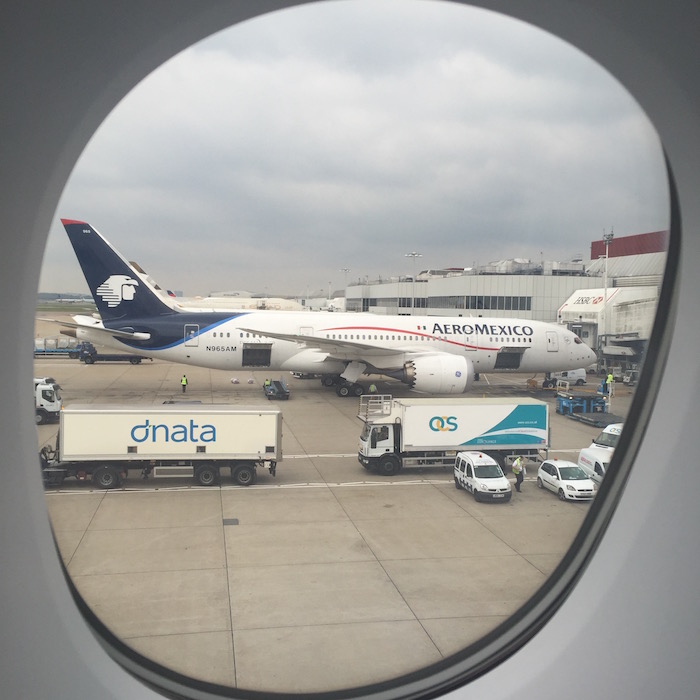 Aeromexico 787 London Heathrow
Upon deplaning I snapped one last picture of the gorgeous A380, and from there we began the long journey to Terminal 5, where I'll pick up in the next installment.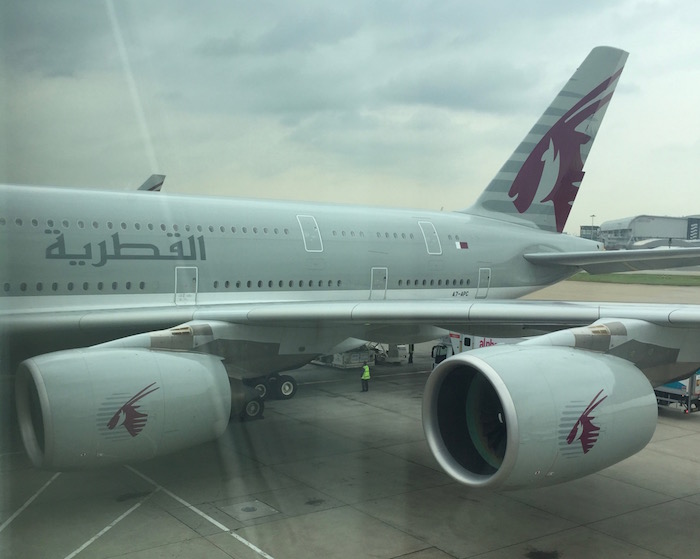 Qatar A380 upon arrival at Heathrow
Qatar Airways A380 first class bottom line
There are many things great about Qatar Airways' A380, including the reverse herringbone business class seats (which are the best hard product offered on any A380) and the onboard bar. However, I find the first class cabin to be rather underwhelming compared to the offerings of Emirates and Etihad.
But I was particularly disappointed by the soft product on this flight. The crew was apathetic, and the food in first and business class is almost identical. Furthermore, it's clear Qatar Airways is cost cutting, between them eliminating pajamas, taking snacks away from the bar, etc.
All-in-all, a rather underwhelming flight on the world's (self-proclaimed) best airline.