Introduction
From Airbus To Megabus: A Trip Of Contrasts
Review: Six Senses Zighy Bay Villa
Review: Six Senses Zighy Bay Activities & Dining
Review: Al Maha Bedouin Suite
Review: Al Maha Desert Resort Dubai Dining
Review: Al Maha Desert Resort Dubai Activities
Review: Dubai International First Class Lounge DXB
Review: Qatar Airways First Class A320 Dubai To Doha
Review: Qatar Airways First Class A380 Doha To London
Review: British Airways First Class A380 London To Los Angeles
Review: British Airways A380 First Class Tasting Menu
Review: Sheraton Gateway Los Angeles Airport LAX
Review: American Flagship Lounge Los Angeles LAX
Review: American First Class A321 Los Angeles To New York
Review: Hilton Austin Airport
---
After a couple of nights in Dubai, it was time for Tiffany, Andrew, and me to return to the US the long way, ultimately routing via Doha, London, Los Angeles, New York, and Austin.
Our Qatar Airways flight from Dubai to Doha was scheduled to depart at the glorious hour of 5:30AM, so Tiffany and I drove from the Park Hyatt to the airport at around 3:45AM. We made it to Terminal 1 at around 4AM. This is the terminal which most major airlines other than Emirates depart from.
While Terminal 3 is sort of modern (in a sterile and not completely finished-looking way), Terminal 1 is dated.

Dubai Airport Terminal 1 check-in hall
We looked at the departures monitor to see which check-in area Qatar Airways used, and were at their desk within minutes.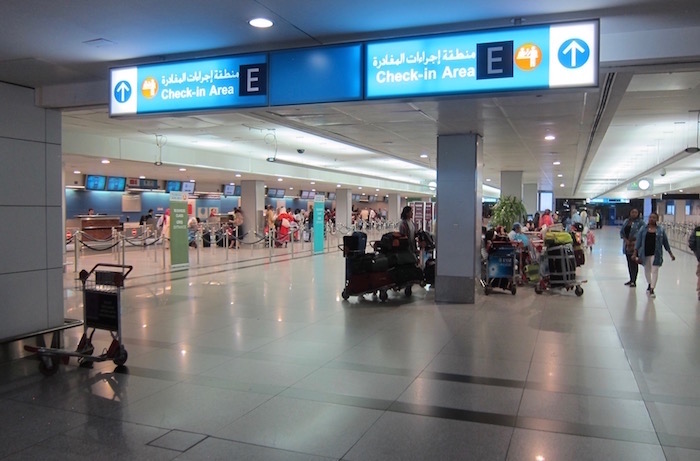 Dubai Airport Terminal 1 check-in hall
There were no queues to check-in, so within a minute or so we were issued our boarding passes all the way to Los Angeles. The associate checking us in commented "wow, that's quite a routing."

Qatar Airways check-in Dubai Airport
From there we proceeded to the security checkpoint, where there was only a very short queue. We were in line behind a Royal Brunei crew headed to Bandar Seri Begawan. While I have no interest in traveling to Brunei, their uniforms were gorgeous. I'm still tempted to fly the airline sometime on their service between Dubai and London… if only there was a way to redeem miles for it.
As I cleared security the check-in agent came running up to me. I had accidentally left my US passport at the check-in counter. OOPS!
I have both a US and German passport, and had used my German passport to enter the UAE (since it had more empty pages), but needed to show my US passport to prove I could return to the US. I had accidentally left it behind, though. Thank goodness he brought it to me, because otherwise I would have been in big trouble. It was a bit complicated, since I had already cleared immigration, so they gave him a hard time about returning it to me.
After security it was quite a walk to actually get to the departures area, as it required walking through a long tunnel.

Walking to gate at Terminal 1 Dubai Airport
From there we headed up an escalator and found ourselves in the terminal.
The terminal was much more modern than the check-in area, which I guess shouldn't come as a surprise since airside terminals are basically shopping malls, so they do everything they can to make them look nice and maximize sales.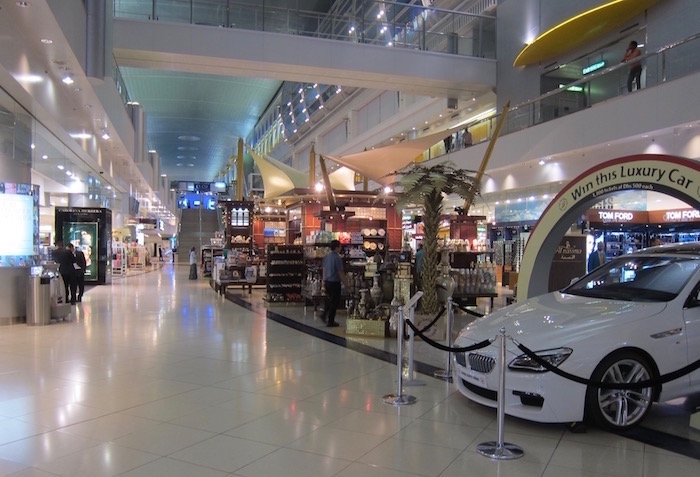 Terminal 1 Dubai Airport airside

Terminal 1 Dubai Airport airside
We headed to the Dubai International First Class Lounge, which is the contract lounge Qatar Airways and many other airlines use in Dubai. That's a fancy name for a contract lounge, if you ask me. The lounge was located near gate C12.

Dubai International First Class Lounge exterior
At the entrance we presented both our boarding passes and lounge invitations, and were promptly admitted and also handed "receipts" with wifi codes.
For those without laptops, there was a business center with multiple computer stations right as you walked through the hallway into the lounge.

Dubai International First Class Lounge entryway and business center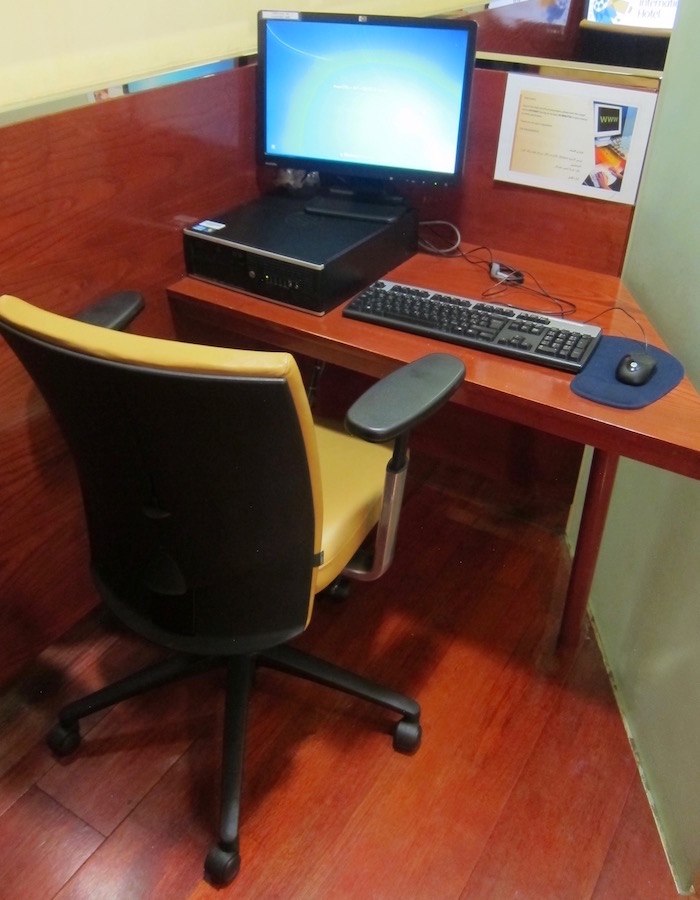 Dubai International First Class Lounge business center
The lounge itself was rather drab, to put it mildly. There was a good amount of seating to the left, though it was designed in a way which minimized privacy. There were no partitions, and seats faced one another.
At the far end of the lounge was a massage chair. It seems a bit odd to put a massage chair (presumably intended for relaxing) immediately under the TV with the volume on, but whatever…
To the right were the stairs to the upper level smoking section, as well as more seating, and then the dining area at the far end of the lounge.
The dining area had about five tables, each of which sat two people.
Then the buffet itself was along the edge of the lounge. The selection was varied, though I can't say that it looked especially appetizing. Then again, nothing other than caffeine looks appetizing to me at 4AM.
There were a selection of about five hot dishes.
Then there were cold cuts, sushi, and some veggies.
There was also a selection of fresh fruit and cheese.
There was a case with some sweets, which possibly seemed even less fresh than the other things on display in the lounge.
Then there was some lamb kibbeh under a hot lamp.
There were several types of toast, croissants, danishes, bread, etc., along the far wall.
There was also a centerpiece display with some whole fruit, dates, Arabic sweets, and yogurt.
The drink selection was extremely extensive for a contract lounge, though I can't say that the setup was the classiest I've seen. Still, it's not often you see over two dozen brands of liquor in a contract lounge (even if it wasn't especially high end stuff).
The wine selection was equally impressive.
Then there were several types of juice, as well as a rather outdated-looking espresso machine.
In addition to the food spread, there were waffles and eggs available on demand from 4AM until 11AM.

Dubai Lounge waffles & eggs on demand
The bathrooms were located on the first level, just across from the entrance. They were in decent shape.
The first floor of the lounge was rather crowded, though I saw a sign pointing to the "smoking room," which was apparently upstairs. I figured it was just a small partitioned off area.

Dubai Lounge signage for smoking section
I was wrong. The smoking room was upstairs, and was actually the entire room. The upstairs area was bigger than the downstairs area, and nicer… and barely anyone was using it! It didn't even smell like smoke.
The smoking floor of the lounge also had a dining area, with a slightly less extensive buffet than downstairs. The selection consisted primarily of cold options.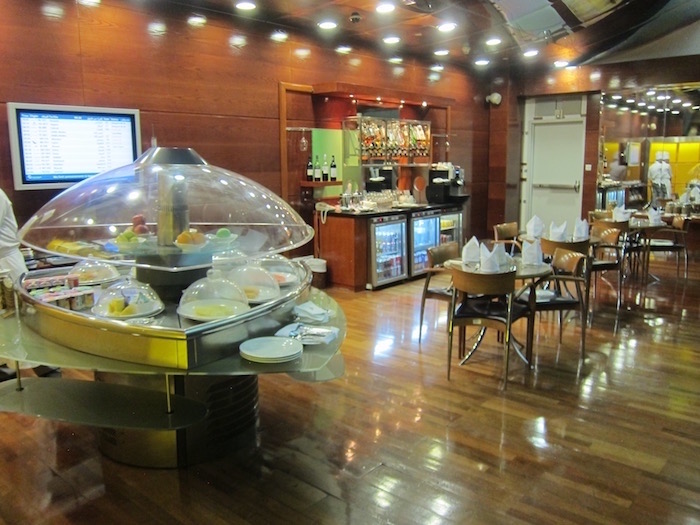 Dubai Lounge smoking section dining area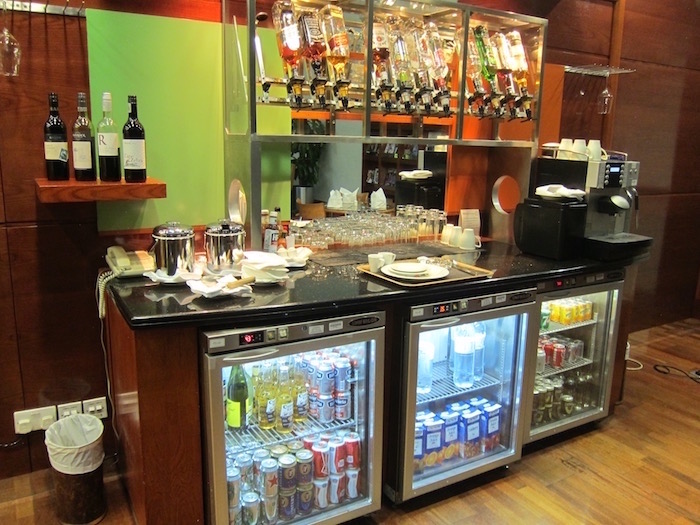 Dubai Lounge smoking section dining area
Then up another set of stairs from the smoking level were the shower rooms.
Unfortunately they were locked, so I wasn't able to look at them.
After I had toured the lounge, we settled in downstairs. I tried to log onto the wifi and get some work done, though unfortunately the wifi quality was terrible and borderline unusable.
Andrew showed up at the lounge at around 4:40AM, about 10 minutes before the scheduled boarding time. So within minutes we left the lounge and headed to gate C15, where our flight was departing from.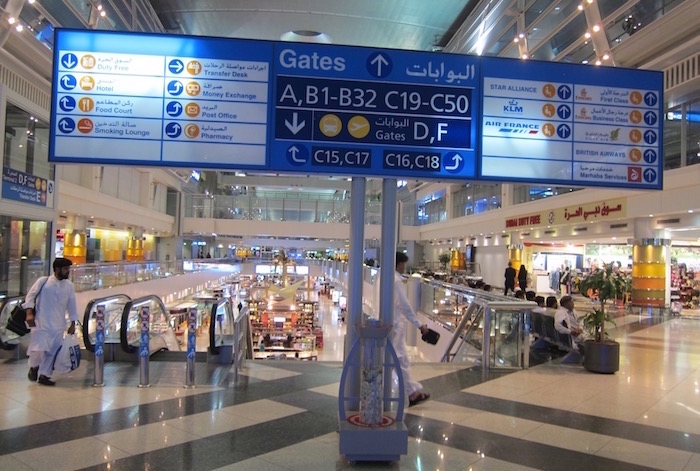 Dubai Airport Terminal 1 gate area
While an A320 was at our gate, there was also a Qatar Airways 787 at the gate next to us, which was nifty to look at.

Dubai Airport Terminal 1 gate area

Qatar Airways 787 Dubai Airport

At 4:50AM boarding began, starting with first class.
Dubai Airport First Class Contract Lounge
Terminal 1 at Dubai Airport in general is pretty underwhelming, and this lounge isn't really much different. I guess it's actually a slightly better contract lounge than many of the others I've visited in the region (including in Abu Dhabi, Bahrain, Cairo, etc.). The food and drink selection was quite extensive for a contract lounge, though I can't say the quality was especially great.
The most disappointing thing for me was that the wifi didn't work well, which I consider to be the most basic airline lounge amenity.
But hey, if you're flying an airline out of Terminal 1 which doesn't have their own lounge, this is probably your best option.