In the interest of full disclosure, One Mile At A Time earns a referral bonus for anyone that's approved through some of the below links. These are the best publicly available offers that we have found for each card. Opinions expressed here are the author's alone, not those of the bank, credit card issuer, airlines or hotel chain, and have not been reviewed, approved or otherwise endorsed by any of these entities. Please check out my advertiser policy for further details about our partners, including American Express, Capital One, Chase, and Citi, and thanks for your support!
Introduction
From Airbus To Megabus: A Trip Of Contrasts
Review: Six Senses Zighy Bay Villa
Review: Six Senses Zighy Bay Activities & Dining
Review: Al Maha Bedouin Suite
Review: Al Maha Desert Resort Dubai Dining
Review: Al Maha Desert Resort Dubai Activities
Review: Dubai International First Class Lounge DXB
Review: Qatar Airways First Class A320 Dubai To Doha
Review: Qatar Airways First Class A380 Doha To London
Review: British Airways First Class A380 London To Los Angeles
Review: British Airways A380 First Class Tasting Menu
Review: Sheraton Gateway Los Angeles Airport LAX
Review: American Flagship Lounge Los Angeles LAX
Review: American First Class A321 Los Angeles To New York
Review: Hilton Austin Airport
---
I'll say it right off the bat — I loved Al Maha Resort, the Starwood Luxury Collection property just outside of Dubai. It was one of my favorite uses of Starpoints ever.
To back up a bit, ordinarily redeeming points at this property is outrageously expensive. However, with the Marriott/SPG merger, Al Maha is available for just 60,000 Marriott Rewards points per night. That might still sound high, but there are some aspects to redeeming here which make it an especially good value:
All rooms are standalone villas with plunge pools
All rates at this hotel include full board (breakfast, lunch, and dinner)
All rates at this hotel include two activities per day, like dune bashing, camel riding, falconry, etc.
When you factor in how much you'd otherwise spend on three meals per day plus activities, that's quite some value.
So we decided to book two nights at the resort. For what it's worth, the pre-paid rate at this resort would have been ~$1,700 per night including taxes and service charge.
The best ways to rack up those points is through the Marriott Bonvoy American Express Card or Marriott Bonvoy Business™ American Express® Card.
We were driven from the Six Senses Zighy Bay to Al Maha, which took about 2hr30min. Driving to Al Maha required driving almost directly through Dubai.
It's amazing how close Al Maha Resort is to Dubai — it's only about 60km away, and the drive only takes about 45 minutes. But you feel like you're a world apart.
Once you enter through the main gate of the hotel, it's still a ~10 minute drive to get to the actual resort. That's because the resort is in the 225 square kilometer Dubai Desert Reserve.
As we drove towards the main building of the hotel I noticed just how spread out all the suites were. The hotel has ~42 standalone suites, and they're extremely spread out, which is great in terms of privacy.
The main lobby building was gorgeous, and upon our arrival we were greeted by the guest service coordinator, Maria. She was lovely, and took our passports and invited us to roam around the lobby while she processed our check-in at the reception desk.

Al Maha Resort Dubai reception
I'm not sure how to describe the decor in the lobby, other than to say that it feels sort of like an Arabic lodge. It's not the most modern lobby ever, but it blends so well into the environment and is charming.
There were a set of couches in the far corner of the lobby, where people would meet prior to the activities.
There was also a pretty cool shop in the lobby, with all kinds of local art.

Al Maha Resort Dubai lobby shop
After processing our check-in, Maria explained the basics of the resort to us. The resort includes full board, meaning you're given three meals a day. In other words, if you're staying for two days, you get a total of six meals. Water, coffee, and tea were included, though soft drinks and alcohol cost extra.
For each meal you also have the option of dining in the privacy of your suite (for lunch and dinner you were entitled to a three course meal off the in-room dining menu), or otherwise in the hotel's restaurant, where a five course dinner was served. There was tons of flexibility in terms of when you could dine in your villa, though if you wanted to eat in the restaurant, the hours were as follows:
Breakfast: 7AM-10:30AM
Lunch: 12:30PM-2:30PM
Dinner: 7:30PM to 10PM
On top of that there was an all day coffee center with espresso available. There were also snacks in the morning from 5AM until 8:30AM (croissants, danishes, etc.), and then there was afternoon tea from 4PM until 5:30PM.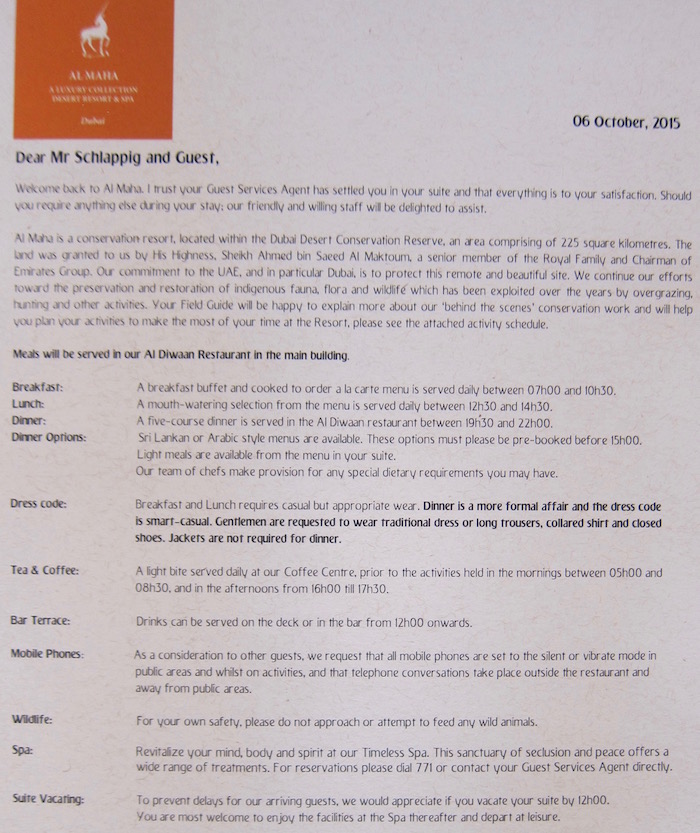 I'll talk a lot more about the food in the next installment, though.
After Maria explained the dining at the resort, we were introduced to Bryan, the activities coordinator. He provided a rundown of the activities at the resort, and explained we were entitled to two per day. The choices were as follows:
Falconry
Nature walk
Ghaf tree walk
Horse riding
Desert drive
Wild life drive
Camel trek
Sundowners
Archery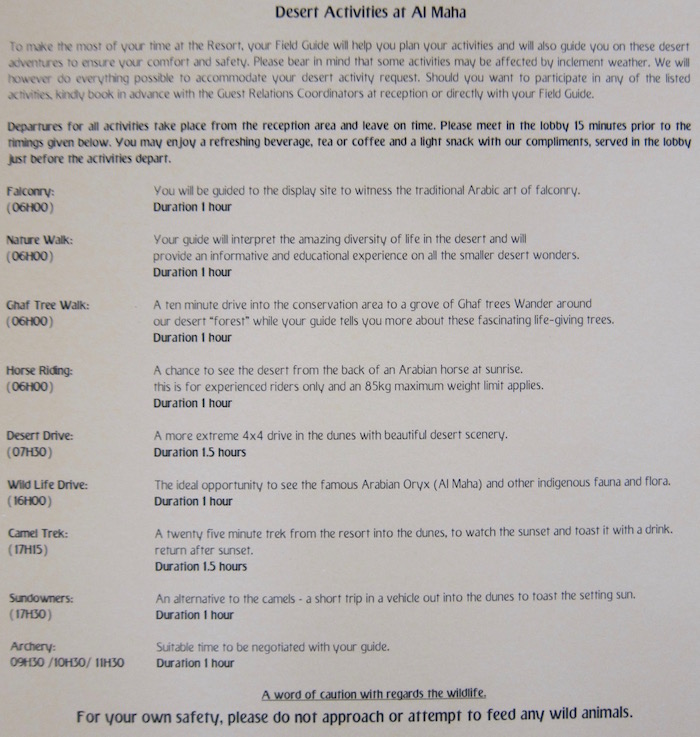 With those formalities out of the way, we were driven in a golf cart to our suite, which was room #22. The rooms are sufficiently spread out here that from most rooms you'll want to call for a golf cart anytime you want to leave your room. Fortunately they're great about picking up within minutes.
I requested a golf cart every time because I knew I'd get lost if I had to find my way on my own (I suck with directions).

Al Maha Resort Dubai golf cart to room
The paths around the resort are pretty narrow, and almost exclusively used by golf carts, since most guests seemed to request them.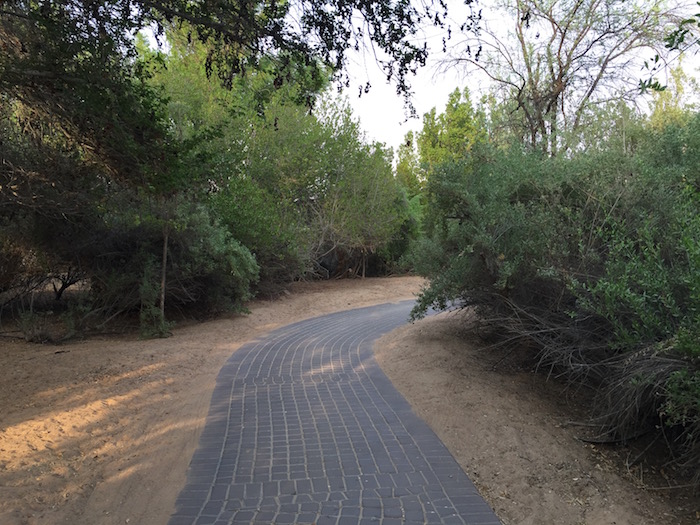 Driving to suite at Al Maha Dubai
The resort is in a desert conservation reserve, and there are animals roaming around the property freely, including gazelles and oryx. They seemed to be friendly, though going up to them was discouraged. Seeing the animals roam around in such close proximity was one of my favorite things about the resort (more on that later).

Gazelle at Al Maha Resort Dubai
Suite 22 was one of the further rooms from the main building, meaning it was extremely private.
The suites blend beautifully into the environment, and look like they have tents as roofs, though best I could tell that was just a design feature.

Bedouin Suite exterior Al Maha Resort

Bedouin Suite exterior Al Maha Resort
Through the double entry door was the desk, with the bathroom to the right and the main room straight ahead.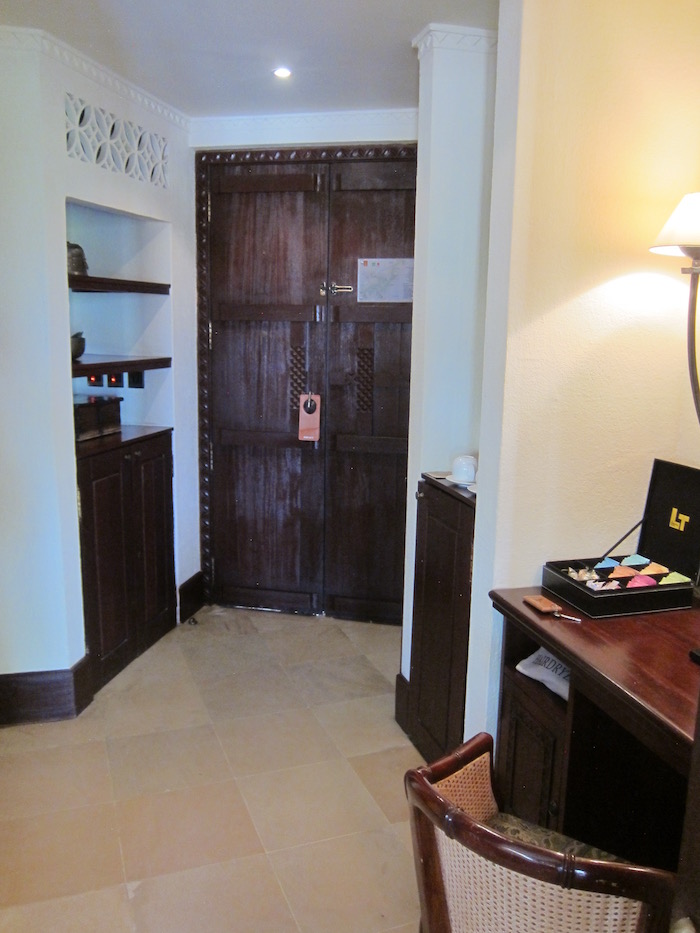 Bedouin Suite entryway Al Maha Resort
The room was stunning, and featured what must have been a California king bed. It was extremely comfortable, and spacious.
Then past the bed were two daybeds of sorts, arranged around a coffee table.

Bedouin Suite living area Al Maha Resort
Waiting on the coffee table was an SPG Platinum welcome amenity consisting of a fresh bowl of fruit, a bottle of red wine, and some Arabic sweets.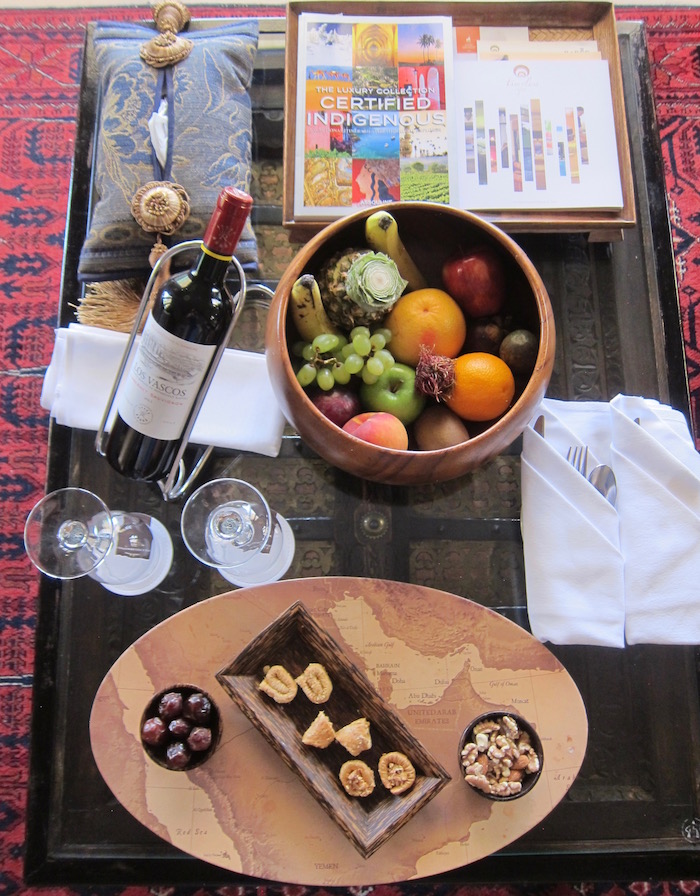 Bedouin Suite welcome amenity Al Maha Resort
Then on the far right of the room was a second desk with two chairs, along with the directory, room service menu, a pair of binoculars, etc.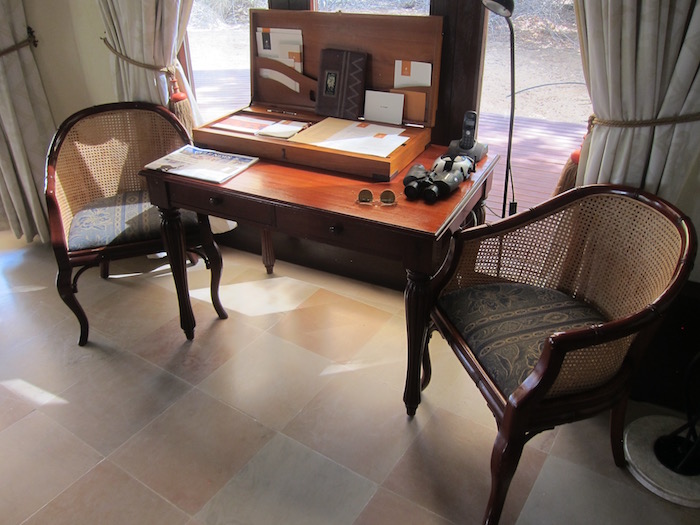 Bedouin Suite desk Al Maha Resort

Bedouin Suite desk Al Maha Resort
Then on the left of the room was an easel, for anyone feeling especially inspired by the landscape.

Bedouin Suite easel Al Maha Resort
The room had double doors which led outside to the patio and pool. More on that later.

Bedouin Suite patio Al Maha Resort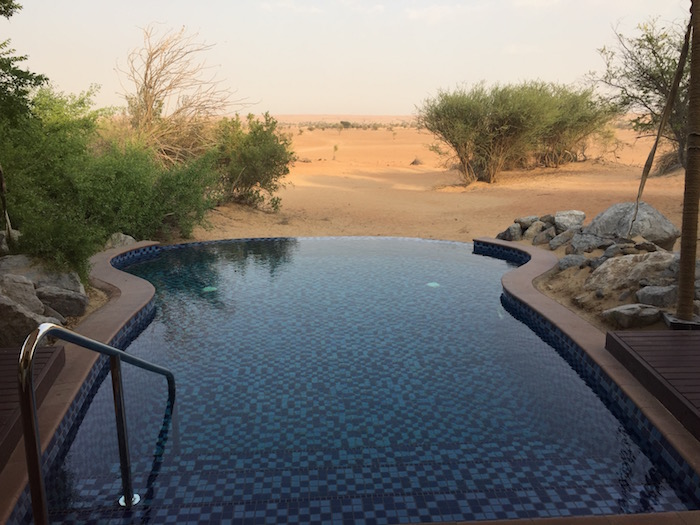 Bedouin Suite pool Al Maha Resort
Back on the desk by the entrance was a Nespresso coffee machine, as well as huge bottles of water (the local water was free, while there was a charge for Evian).

Bedouin Suite espresso machine Al Maha Resort
There were three dozen Nespresso pods, which is the most impressive selection I've ever seen in a hotel room.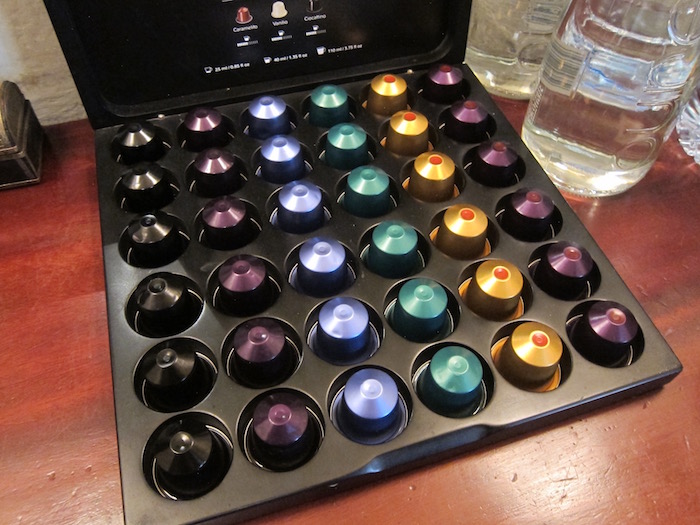 Bedouin Suite pods Al Maha Resort
There were also six types of tea, with several bags for each variety.

Bedouin Suite tea Al Maha Resort
Next to the desk was a kettle. There were also minibar items, all of which were chargeable.

Bedouin Suite minibar Al Maha Resort

Bedouin Suite minibar Al Maha Resort
The bathroom was located "behind" the bedroom, and to the right as you enter through the main door. The bathroom featured a spacious walk-in shower, soaking tub, and double sinks.

Bedouin Suite bathroom Al Maha Resort
There's even direct access outside from the bathroom, should you want to go straight to/from the pool.

Bedouin Suite bathroom Al Maha Resort

Bedouin Suite sinks Al Maha Resort

Bedouin Suite soaking tub Al Maha Resort

Bedouin Suite shower Al Maha Resort
The toilet was located next to the shower, in a partitioned off room.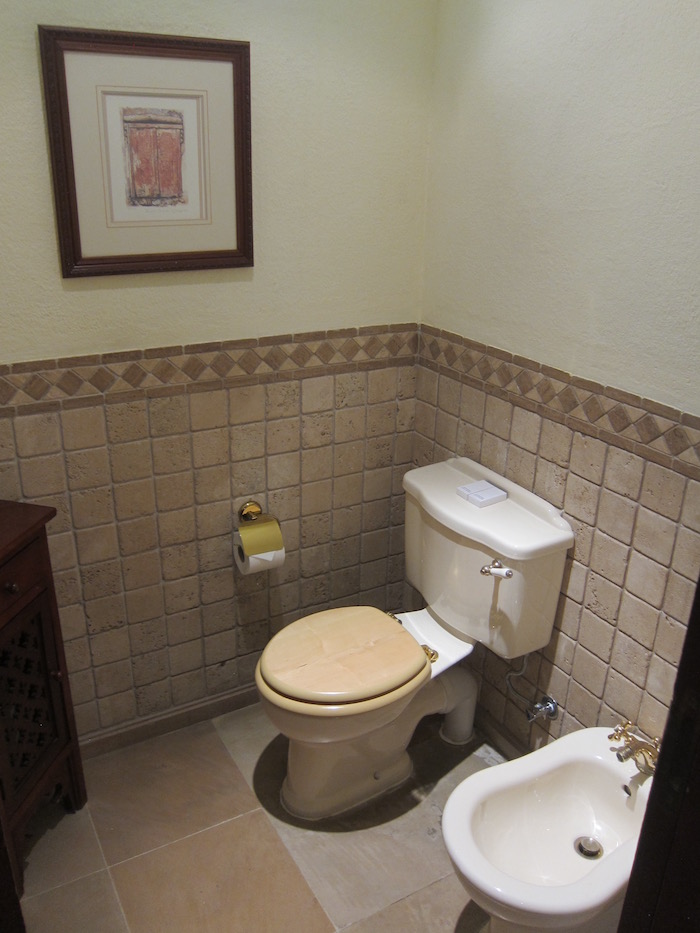 Bedouin Suite toilet Al Maha Resort
The toiletries in the room were BVLGARI branded, which are among my favorite.

Bedouin Suite toiletries Al Maha Resort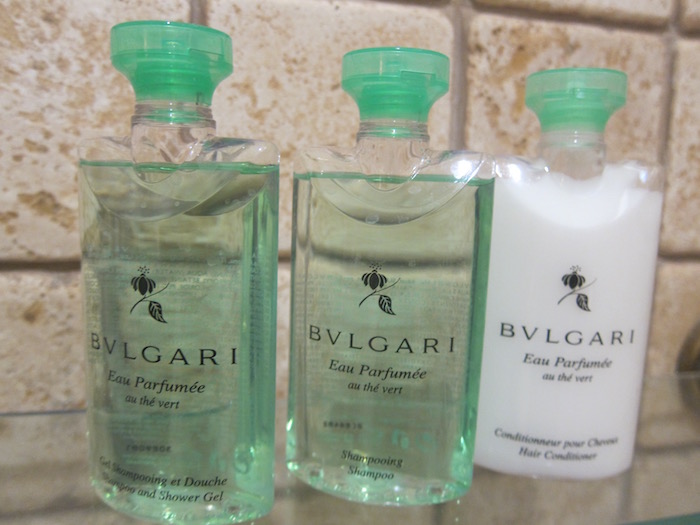 Bedouin Suite BVLGARI toiletries Al Maha Resort
While the room itself was gorgeous, the highlight was no doubt the patio. It featured two lounge chairs, a dining table with two chairs, and an awesome pool.

Bedouin Suite patio Al Maha Resort

Bedouin Suite outdoor dining table Al Maha Resort

Bedouin Suite patio Al Maha Resort

Bedouin Suite pool Al Maha Resort
The views from the deck were breathtaking. Words can't do justice to how peaceful it was to sit in the evening and just watch the sunset with nothing but nature as far as the eye can see.

Bedouin Suite pool Al Maha Resort
The coolest thing, however, was that the gazelles would come right up to our suite. They'd drink from the pool, walk on the patio, etc.

Bedouin Suite gazelle Al Maha Resort
And they weren't even scared of people, really. They were certainly timid, in the sense that they'd back up a bit if you approached them, and they'd never try to enter your room. But at the same time they saw us and heard us, and had no problem being just a few feet away. So cool!

Bedouin Suite gazelle Al Maha Resort

Bedouin Suite gazelle Al Maha Resort
Wifi in the room was fast, and the air conditioning was excellent.
Al Maha Desert Resort Bedouin Suite bottom line
I mean, what's not to love? The suite was large and gorgeous, yet fit into the environment. It was rustic, luxurious, and felt sort of like it could have been a room in a safari lodge, or something. It's awesome to have such a beautiful room in such seclusion, as the villas are so private you can't even see another room.
Even at 60,000 Marriott Rewards per night, this hotel is an absolute bargain (which will probably make more sense to those who haven't been after the next two installments).
What do you make of the suites at Al Maha?