---
In this first installment, my friend Andrew B will be sharing his experience on the trip. Yes, this is the same Andrew who won the trip to Helsinki several years back — we've been friends ever since. He flew to the Middle East for the weekend, redeeming miles for Etihad business class on the outbound, and returning on the mistake fare from Dubai to Austin. On top of that, he had a rather creative way to return home from Austin to DC. Below are his (hilarious) thoughts.
The hardest part of this trip was explaining to my friends why I was traveling from Dubai to Doha to London to LA to New York to Austin, Texas in the span of 3 days. The typical response was a look of horror and disgust, combined with a confused question, like, "why would you do that?"
My justification for this madness is threefold:
I love airplanes and flying.
I've never flown Qatar Airways or British Airways first class before, and I've been itching to try American's first class service between LAX and JFK, so this is a great way to have new experiences while earning a bunch of miles.
The fare was only about $1,700, or 90 percent less than it would normally be. To me, $1,700 is a lot of money, but considering the usual price, it seems like an amazing deal. When I thought about it this way, how could I afford not

to go?
For this trip, I had to meet Ben and Tiffany in Dubai. With Tiffany's help, I booked an award ticket in Etihad's business class on a 787-9 from Washington-Dulles to Abu Dhabi. As a business class passenger, I took advantage of Etihad's complimentary chauffeur service from my home to Dulles, and from Abu Dhabi to Dubai.
Etihad's business class cabin is one of the most beautiful places I've ever been (though as someone who grew up in Queens, New York, it doesn't take a lot of beauty to impress me). Every detail was beautiful, and for a while after boarding I just sat and looked around in awe.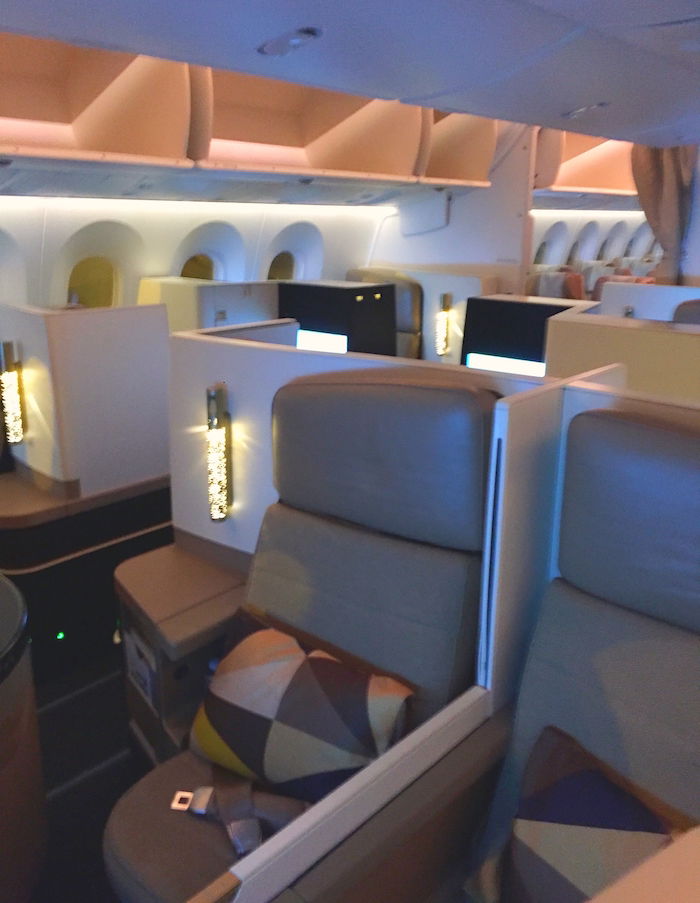 Etihad 787
After sitting at the gate for a while, the captain announced that we were having some technical difficulties that would delay the flight. About 60 minutes after our scheduled departure time, he said that the navigational computer was not working properly, and that the only way to remedy this was to offload all the passengers and turn the plane off and on again.
It's not very confidence-inspiring that the solution for troubleshooting one of the most sophisticated machines in the world is the same as for the $59 Lexmark printer I got at Best Buy.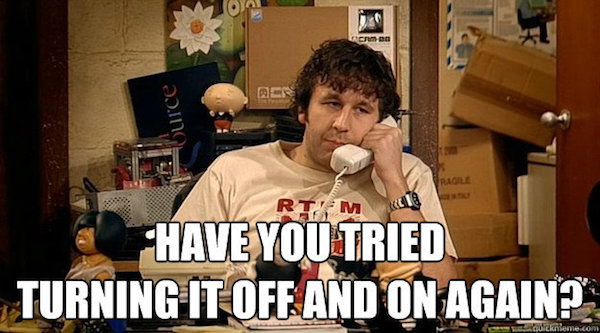 We waited in the lounge for them to reboot the plane, which took less than half an hour. Then we reboarded and were on our way.
I don't have too much to say about the flight itself. Before departure, I was asked what I wanted to eat for dinner. I'd already eaten in the lounge, so I said I wasn't going to eat anything until after we crossed the Atlantic. A couple hours before landing, I ordered a bowl of their finest Rice Krispies and some fresh chocolate chip cookies.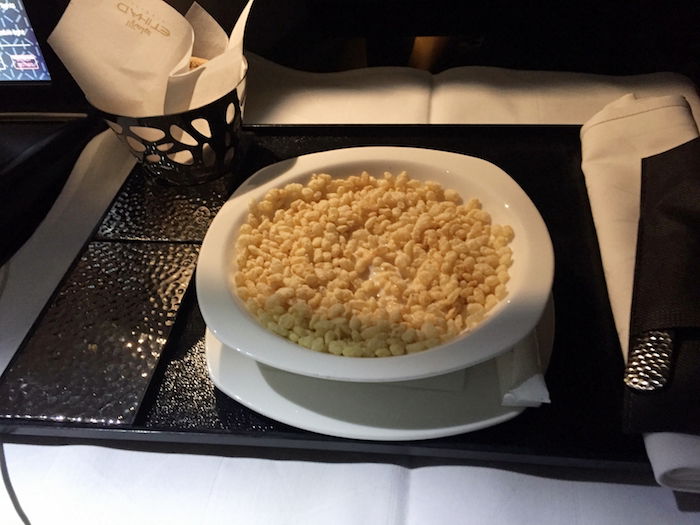 Snap, Crackle, Pop
I will say that the entertainment system was top-notch – any in-flight entertainment that lets me watch the Golden Girls is ok by me.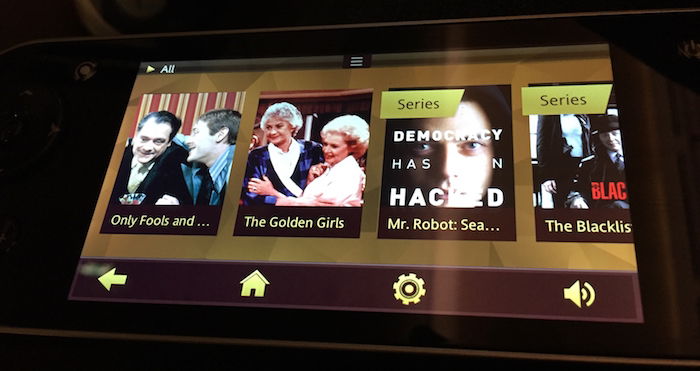 Thank you for being a friend!
The service was cordial but a little robotic. Despite the beautiful cabin, the seat was not great for sleeping. It was too firm for me, even though I generally like very firm beds.
There was a minor medical incident about 90 minutes into the flight, when a woman who looked about 14 or 15 months pregnant with octuplets was having trouble breathing. Flight attendants asked if there were any doctors aboard, and two of them volunteered to help. It looks like they gave her oxygen and she felt better. Good response on the part of the crew, and kudos to the doctors for offering assistance.
Upon arrival at Abu Dhabi, I was issued a voucher for my chauffeur service. When I went outside, there were no signs or other indications of exactly where the drivers were. A man (not wearing a uniform or name tag) came up to me, took my voucher, and started making phone calls on his cell phone. I was worried that this was some sort of scam in which I'd wind up missing a kidney, though he nodded (unconvincingly) when I asked if he was affiliated with Etihad's chauffeur service.
Eventually I surmised that he was having trouble finding someone willing to take me all the way to my hotel in Dubai (I'd made the chauffeur reservation online and had specified my destination in the reservation, so I guess I wasn't expecting this to throw them off). Finally, an Audi pulled up with a very nice driver who took me on the 70-minute trip to my hotel.
Ben and Tiffany both chose to stay at the lovely Park Hyatt Dubai. I wanted to stay near them, but didn't relish the thought of the hard credit pull that would be required to take out a second mortgage, so I decided to stay in a budget hotel. I also get genuine pleasure out of saving money: frugality is as much a part of my Jewish heritage as are latkes and dreidels.
The Ibis Deira City Centre was actually great. It was clean, comfortable, and quiet. The location was also really nice, as it was across the street from a metro station and large shopping center. Ben gave me a really hard time some good-natured ribbing for staying at a budget hotel, but two nights for $120, including taxes, is hard for me to argue with.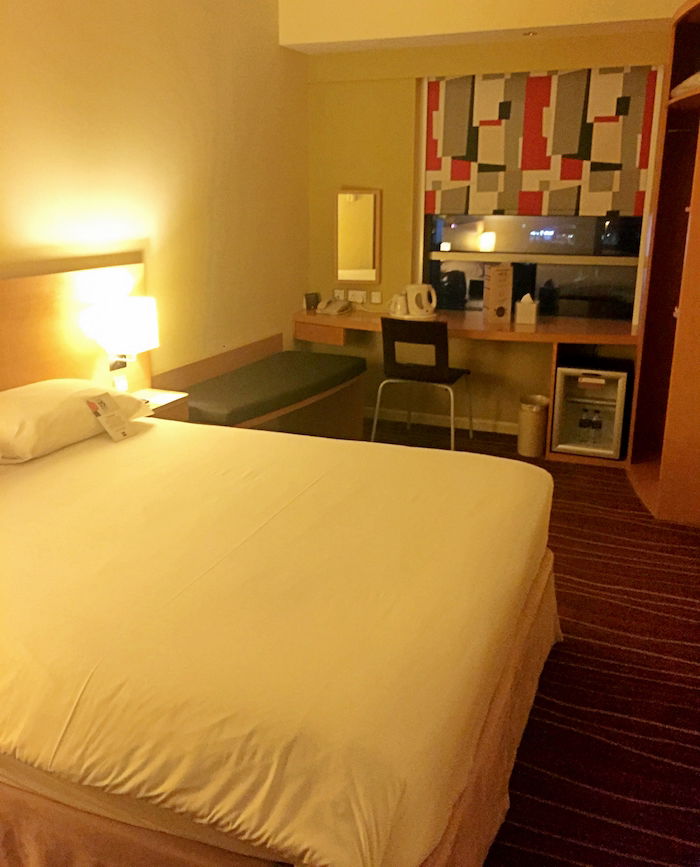 Ibis Deira City Centre
After two nights in Dubai, the first class adventure began. Our first flight, at 6 in the morning, was on a Qatar Airways A320 to Doha. It was a short 1-hour journey, but the aircraft seemed to be new and the seats were beautiful and comfortable. They were angled to be facing slightly away from the aisle, which made them feel a little more private.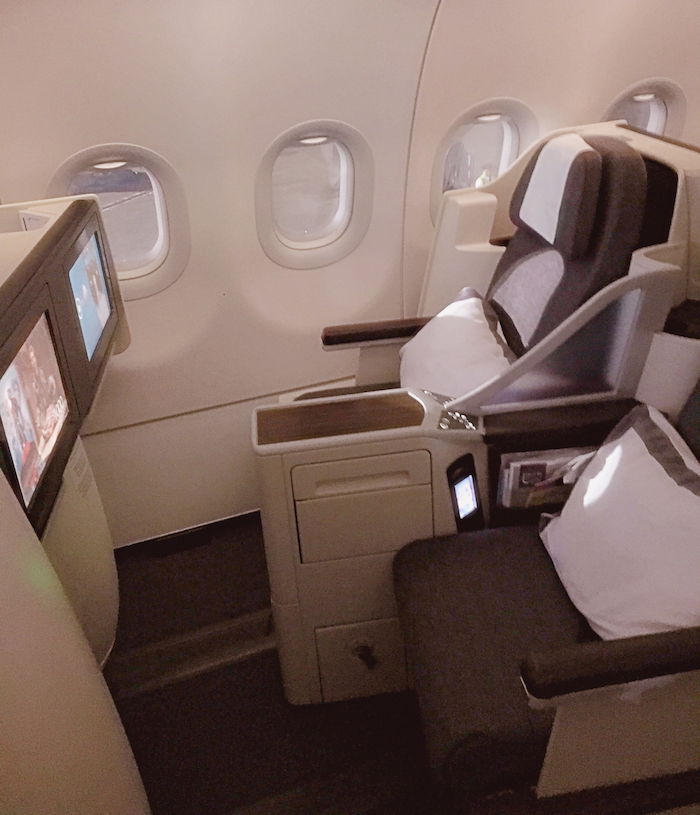 Qatar Airways A320
On arrival in Doha, we parked at a remote stand (a remote stand at a brand-new airport!?) and were able to skip the considerable security lines thanks to the fast-track cards that were handed out to first class passengers. We went to the Al Mourjan Business Class Lounge, which I thought was the most aesthetically pleasing lounge I've ever seen. I told Ben, "This place is so beautiful, I now believe in God." Without skipping a beat, he said, "Well, perfect. The prayer room is down this hallway."
That's when the trouble started. Upon learning that I'd never tasted Krug (generally my experience with champagne is that it tastes like bubbly urine), Ben ordered some for me in the lounge. It was delicious. After two glasses, I had trouble walking in a straight line (yes, I'm a lightweight). I honestly have no memory of going from the lounge to the gate, but somehow I found myself aboard Qatar's A380 bound for London.
Upon boarding, I was struck by how beautiful the cabin was. The light color scheme made everything feel spacious, almost like we were floating on a cloud. The boarding music consisted of nature sounds – primarily birds chirping. I kept checking my clothes to make sure one of them hadn't used my shirt as a bathroom.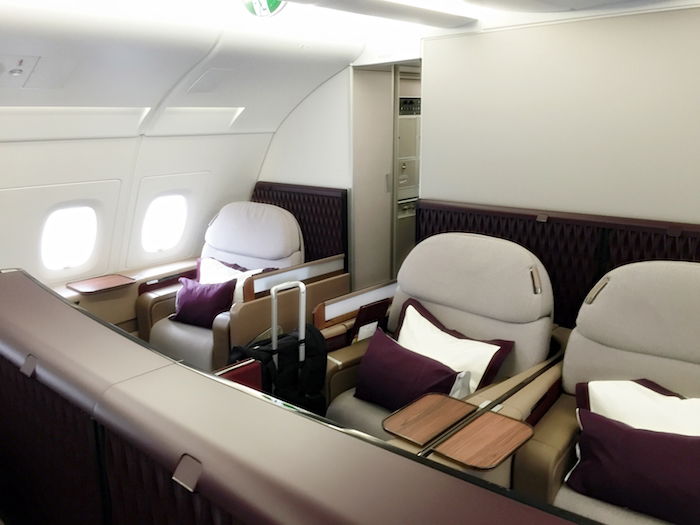 Qatar Airways A380
The seats were ideally suited for both sitting and sleeping. Everything was immaculate, and the lavatories were enormous. I couldn't have been happier with the seats or the cabin. The onboard bar was great as well, with a very friendly bartender.
Ben ordered us up another couple rounds of Krug, after which my liver threatened to strike if it did not receive some sort of overtime pay. I went back to my seat and slept for much of the rest of the flight, barely glancing at the large selection of in-flight entertainment options.
To their credit, the cabin crew in first class was always smiling. However, they were not exactly brimming with personality, and did not provide any service above or beyond what I would expect in business class on any airline (even American ones). When I asked what kind of cereal they had, the purser responded, "the one with the chicken." At first that sounded disgusting, and then I realized she meant Corn Flakes, because there's a rooster on the box.
When we arrived in London, I was tired, hung over, and a little cranky. After a 15-minute bus ride and a 20-minute wait in security, we were ready to enjoy the warm hospitality of British Airways' Concorde Room. Unfortunately, no such hospitality was available, so instead we settled for forlorn staff, worn furniture and a generally grim atmosphere.
When I asked if I could take a shower, I was given an incredulous look and told that the wait was 150 minutes. So I went to the restroom (whose décor was reminiscent of a Khrushchev-era Soviet prison) to change and brush my teeth.
Our next flight to LAX was on a British Airways A380. Ben had been telling me for weeks that this leg would likely be operated by a "mixed fleet" crew of relatively newly-hired, very attractive young flight attendants. So you can imagine my surprise when upon boarding I noticed one flight attendant who looked like Judi Dench and another who resembled Angela Lansbury.
Initially I just guessed that maybe Ben's tastes were different than I'd originally thought, but then he told me this was clearly not a mixed fleet crew. He asked one of the flight attendants, who said that this route hasn't been operated by a mixed fleet crew for a couple months.
The experienced crew provided the best service of this whole trip. They were professional, efficient, and genuinely friendly. The food was also pretty good. Upon hearing us talk about the pastries that usually come with tea service, one of the flight attendants went and got Ben and me each a brownie. (I made Ben give me his, since when it comes to sweets I have very little self control.)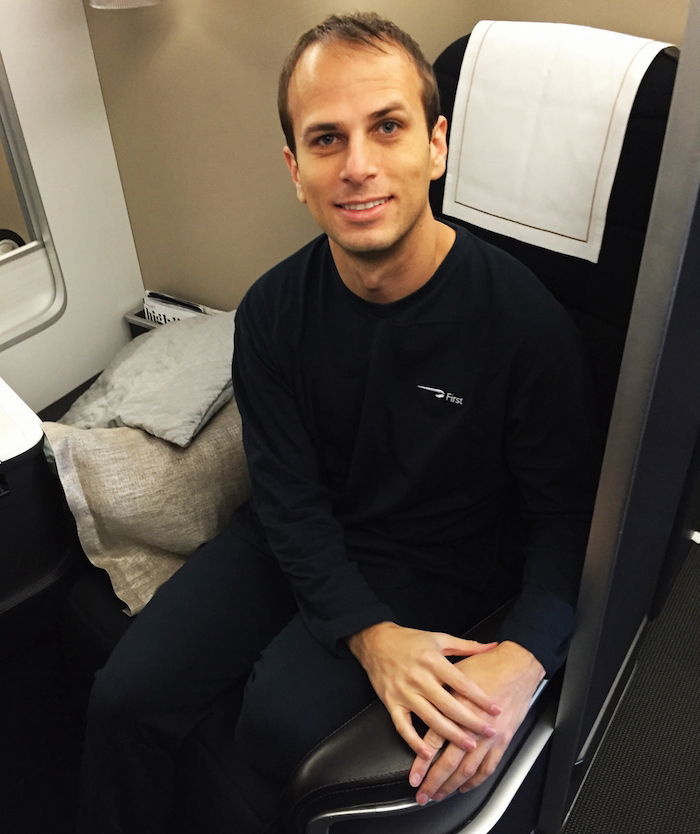 Shortly after dinner, I fell asleep before I'd had a chance to request turndown service. I got up to use the lavatory shortly thereafter, and returned to find my seat had been made into a bed in my brief absence. That was really nice.
The seat itself was nice and comfortable, though it seemed to have some wasted space, particularly a shelf that could have made room for much more sleeping surface had it been movable or retractable. Due to the location of the first class cabin on this aircraft (on the lower level toward the front), the lavatories were much smaller than those on the Qatar A380's upper deck. The entertainment system had lots of options, though it did not work for the last hour or so of the flight.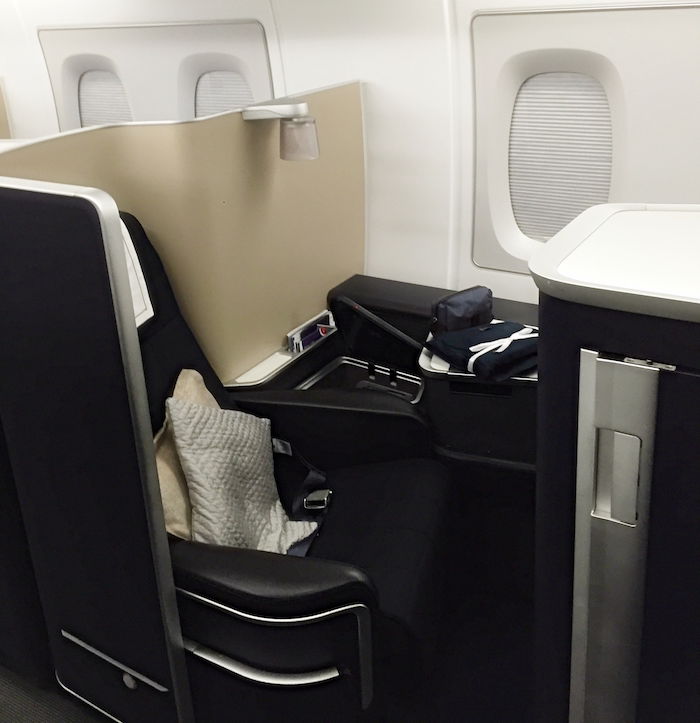 British Airways A380
After a quick overnight at a hotel, the three of us met in the Flagship Lounge at LAX a little before 5 a.m. We boarded one of American's new transcontinental A321s for our flight to JFK. This newer flight had a beautiful and pristine cabin. The seat was great for lounging and sleeping, and the entertainment system was also very good good. The purser had a warm personality, as did the flight attendant who was assisting him.
After a couple hours at JFK, we boarded a 737-800 for the final (and probably least luxurious) leg of our journey together, bound for Austin. Even this flight was nice: it was a newer aircraft with new first class seats and the Boeing Sky Interior, and the food was fit for human consumption.
Ben and Tiffany were going back to the West Coast at the end of the trip, and I was going back to DC. Deciding how to get home from Austin was a bit of a challenge for me. Flights from Austin to DC seemed to be very expensive (about $250), while flights out of Dallas were only about $100.
So, without consulting the two travel experts I was traveling with, I chose perhaps the most awful itinerary imaginable: I took a Megabus from Austin to Dallas. It was scheduled to leave at 10:05 pm and arrive at 1:40 am. It cost only $2.75, and since I was in a generous mood, I decided to splurge for the extra $1.00 fee to reserve a specific seat. Then, I booked a 5:15 am flight out of DFW.
This all seemed great in theory. I figured I'd sleep on the bus. Here's how it actually went down:
I waited in a very dark, sketchy parking lot for my Megabus to arrive. It was an hour late. Around 11:15, we were finally underway. The seats were about as comfortable as those on a regional airliner, with slightly more leg room. The driver made an announcement welcoming us aboard, and warned us several times not to use profanity, lest we wanted to be kicked off the bus. She also asked people not to have long conversations on cell phones, since passengers were trying to sleep.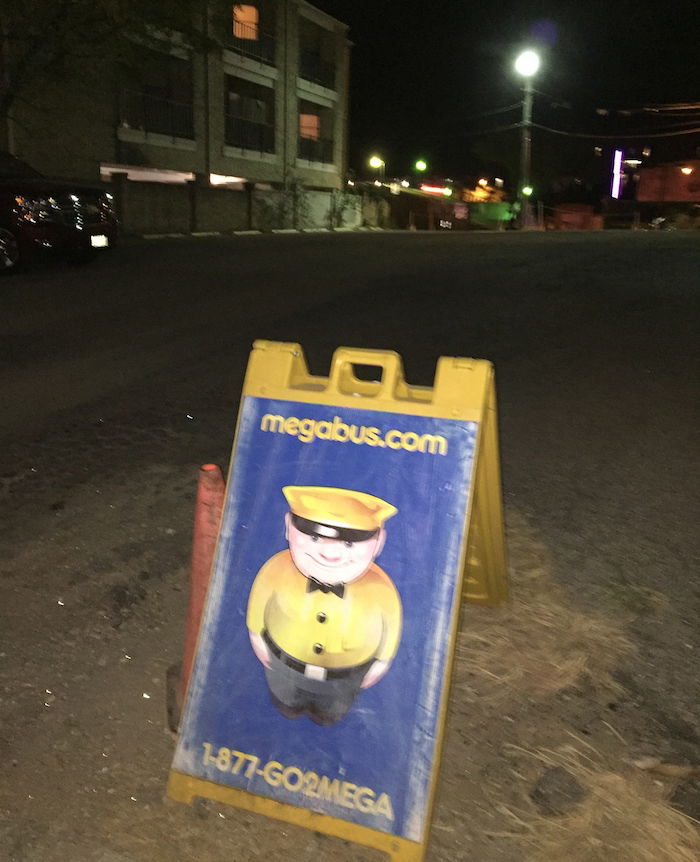 Megabus Parking Lot of Sadness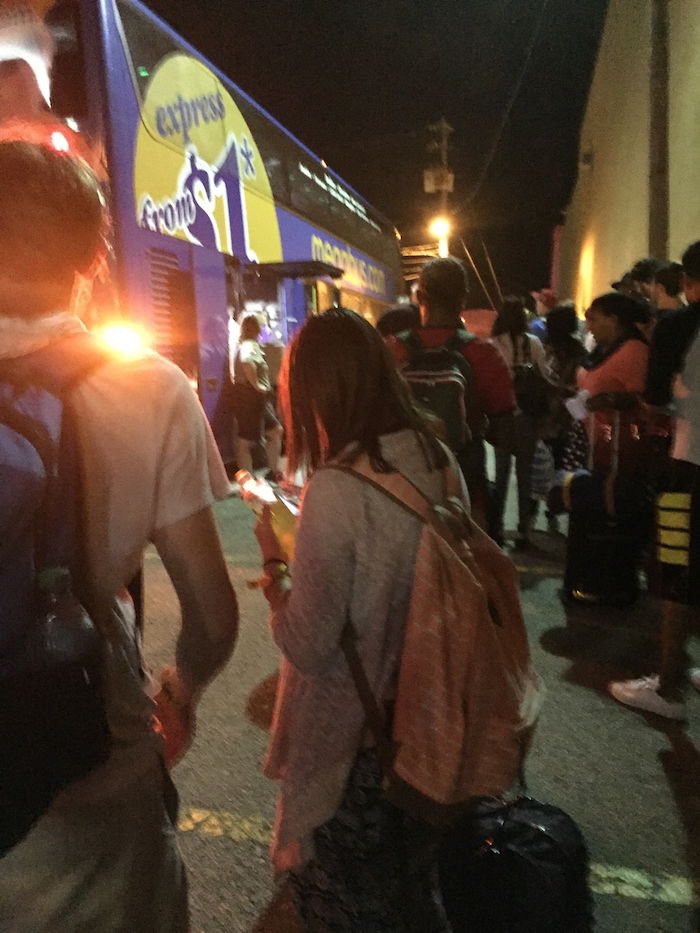 My chariot awaits!
One woman near me did not hear this announcement, as she was having a profanity-laden phone conversation with a recently-released prison inmate. The conversation lasted for practically the duration of the trip, and covered a wide range of interesting topics. I may not have slept, but I sure learned a lot.
The bus stop in Dallas was a 20-minute drive from the airport. To my amazement, even though it was 3 in the morning, a Lyft driver was only a few minutes away. He dropped me off at the airport, where I had to wait before security until 4:30, which is when the checkpoint opened. At this point, I didn't even care, as I'd lost all hope of ever feeling happiness again. I spent the duration of my flights back to DC sleeping, and then slept for 13 hours the following evening.
Lesson learned: even if it only costs $3.75 to take the bus, it may not be a great idea. On the plus side, though, I saved some money and I learned about the difficulties a recent ex-con was facing in during his transition into society.
This trip juxtaposed the luxurious with the not-so-luxurious. The bus ride at the end was a grim reminder of how travel used to be for me before I learned how to better leverage miles and points. Now I realize that the best thing that came out of my Megabus journey was the 8 Chase Ultimate Rewards points I earned for buying the ticket.