Introduction
From Airbus To Megabus: A Trip Of Contrasts
Review: Six Senses Zighy Bay Villa
Review: Six Senses Zighy Bay Activities & Dining
Review: Al Maha Bedouin Suite
Review: Al Maha Desert Resort Dubai Dining
Review: Al Maha Desert Resort Dubai Activities
Review: Dubai International First Class Lounge DXB
Review: Qatar Airways First Class A320 Dubai To Doha
Review: Qatar Airways First Class A380 Doha To London
Review: British Airways First Class A380 London To Los Angeles
Review: British Airways A380 First Class Tasting Menu
Review: Sheraton Gateway Los Angeles Airport LAX
Review: American Flagship Lounge Los Angeles LAX
Review: American First Class A321 Los Angeles To New York
Review: Hilton Austin Airport
---
Rates at Al Maha include full board as well as two desert activities per guest per day. This meant over the course of our two day stay we were entitled to four activities.
The resort offers both morning activities and afternoon activities, given that it cools off during those hours. The choices for activities include the following (see the links above for more details of the specifics):
Falconry — You will be guided to the display site to witness the traditional Arabic art of falconry.
Nature walk — Your guide will interpret the amazing diversity of life in the desert and will provide an informative and educational experience on all the smaller desert wonders.
Ghaf tree walk — A ten minute drive into the conservation area to a grove of Ghaf trees. Wander around our desert "forest" while your guide tells you more about these fascinating life-giving trees.
Horse riding — A chance to see the desert from the back of an Arabian horse at sunrise. This is for experienced riders only and an 85kg weight limit applies.
Desert drive — A more extreme 4×4 drive in the dunes with beautiful desert scenery.
Wild life drive — The ideal opportunity to see the famous Arabian Oryx (Al Maha) and other indigenous fauna and flora.
Camel trek — A 25 minute trek from the resort into the dunes, to watch the sunset and toast it with a drink.
Sundowners — An alternative to the camels – a short trip in a vehicle out into the dunes to toast the setting sun.
Archery — Suitable time to be negotiated with your guide.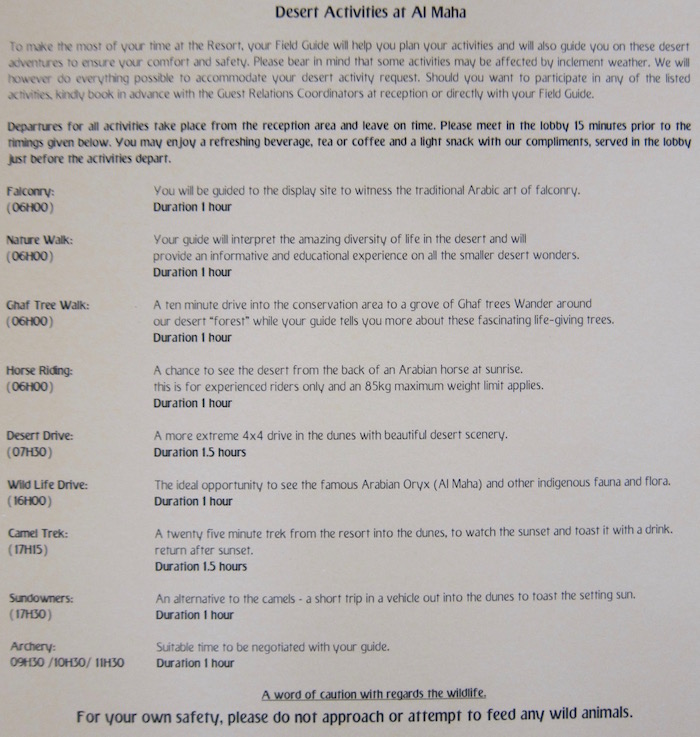 For some more context, here's a video Al Maha put together about the activities offered by the resort:
With that in mind, I figured I'd share my thoughts on the individual activities we took part in. For what it's worth, the hotel was extremely flexible with planning the activities, and we didn't face any capacity controls. You simply let them know what you wanted to do, even if it was 15 minutes before the activity started, and they'd accommodate it.
Al Maha camel trek
This started at 5:15PM, so that we could get to our destination in time for sunset. The camels are all "lined" up, so you're doing this as a group, with two people per camel.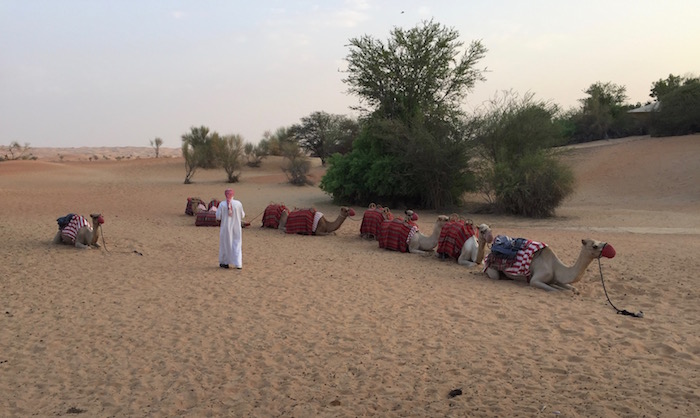 Al Maha activities — sunset camel trek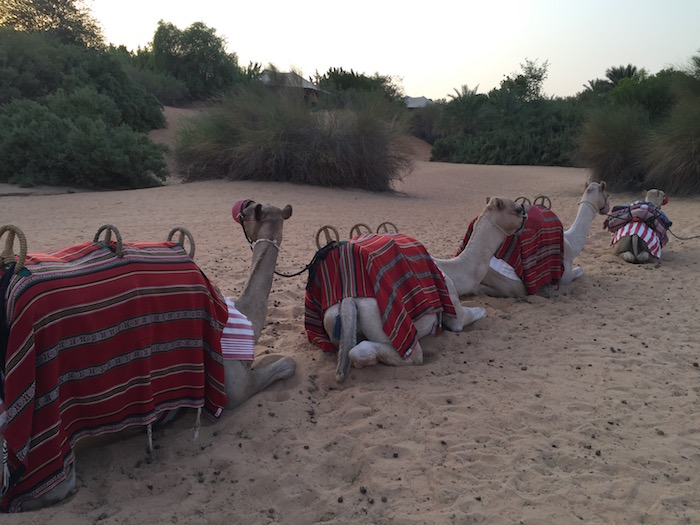 Al Maha activities — sunset camel trek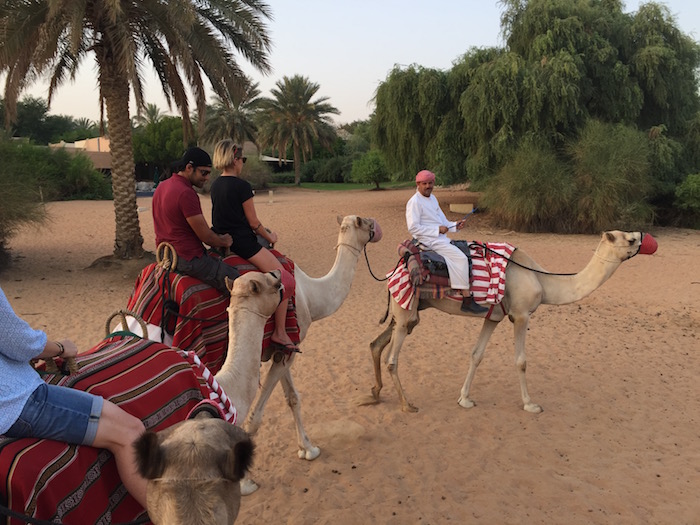 Al Maha activities — sunset camel trek
The camel ride took about 30 minutes, at which point we made it to our destination, a couple of kilometers from the hotel.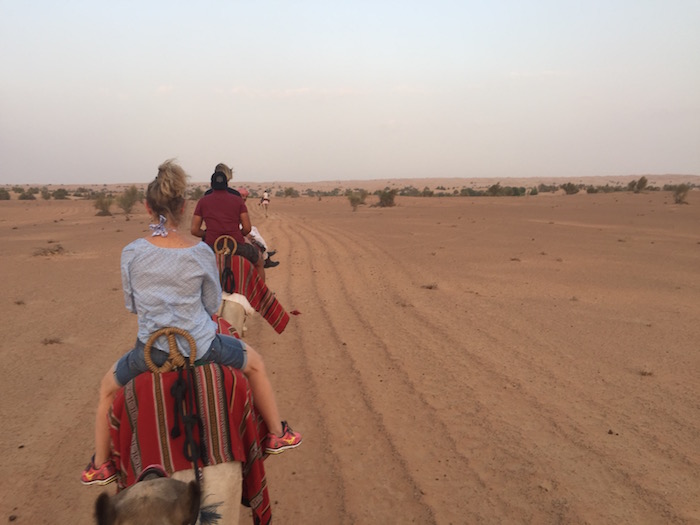 Al Maha activities — sunset camel trek
They had a really cute setup, including champagne, water, and some sweets. It was a nice touch, especially since most of us were going to dinner after the trek.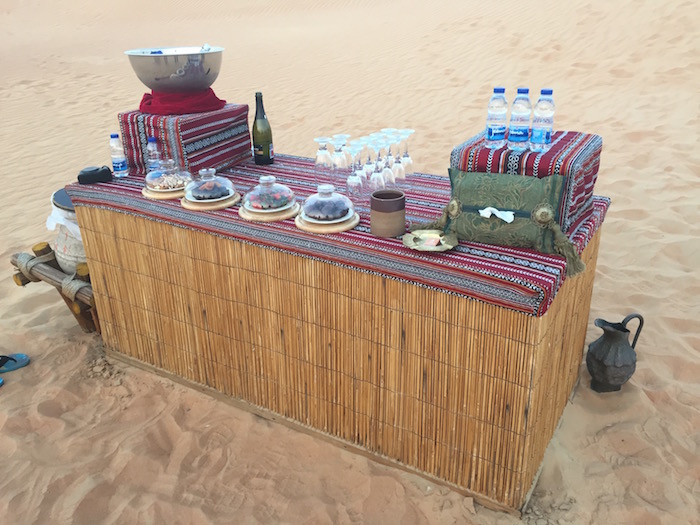 Al Maha activities — sunset camel trek snacks & drinks
After a glass of champagne and roughly 20 minute stop, it was time to return to the resort.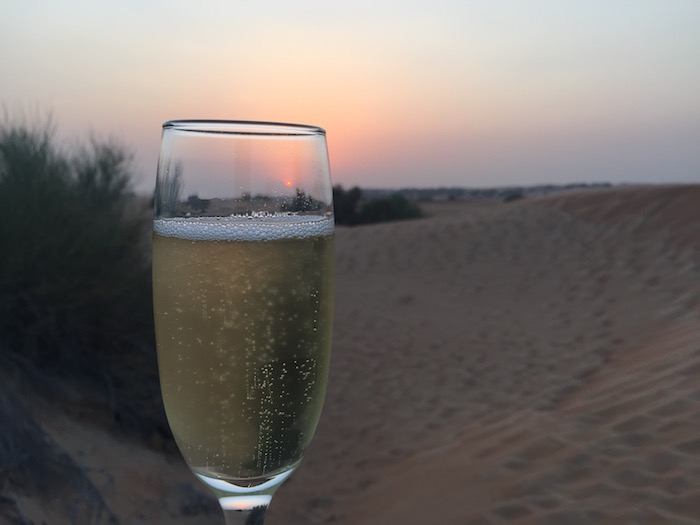 Al Maha activities — sunset camel trek with champagne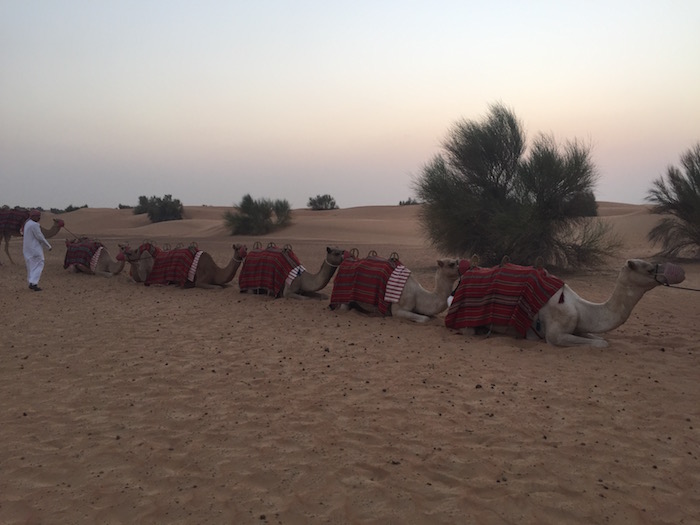 Al Maha activities — sunset camel trek
We watched the sun set even further as we trekked back to the hotel. It was stunning.

Al Maha activities — sunset camel trek
Overall I enjoyed the trek, and would recommend it. It's not some super-intimate, private camel trek, but it's well done given how it's scaled.
Al Maha falconry
The next morning we did falconry, which I was expecting would be the least interesting activity for me… boy was I wrong!
Falconry took place at sunrise just a few hundred feet from the resort, where the wooden benches are located in the below picture.
For one, it was beautiful to watch the sunrise as we sat there.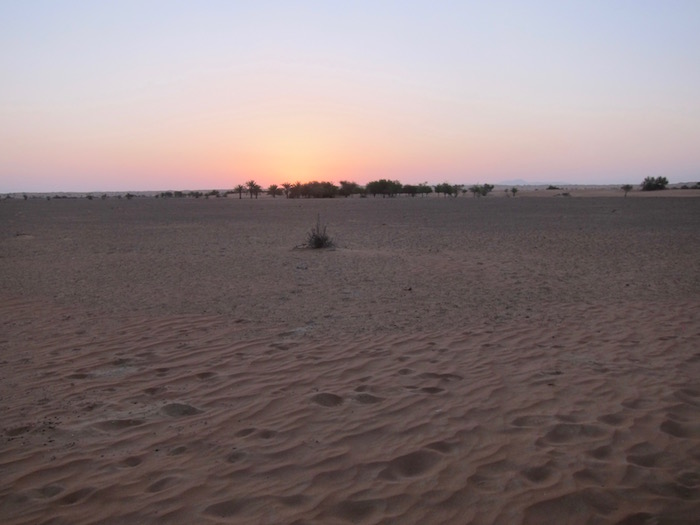 Al Maha activities — sunrise falconry

Al Maha activities — sunrise falconry
But beyond that, the whole explanation and "show" was fascinating. I never understood what falconry was, but the South African guides did a great job explaining it. It was explained to us that we were in luck, since there were actually three falcons present, which is one more than usual. The falcons were driven to the "field" in the cars, which I thought was funny.

Al Maha activities — sunrise falconry

Al Maha activities — sunrise falconry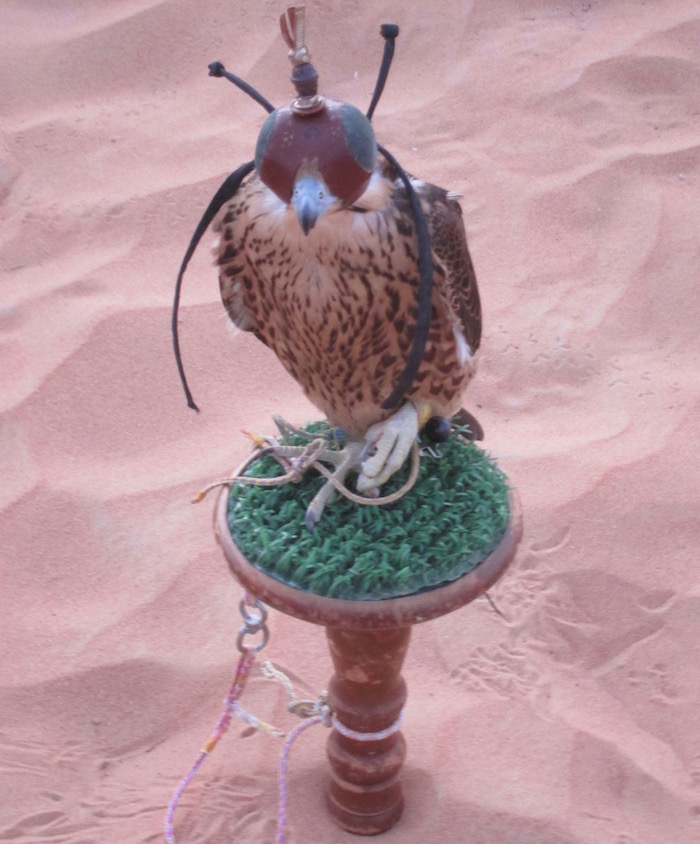 Al Maha activities — peregrine falcon
At first we were shown a couple of types of falcons, and there were even opportunities to hold them. I was a bit scared. Ford, on the other hand, went for it…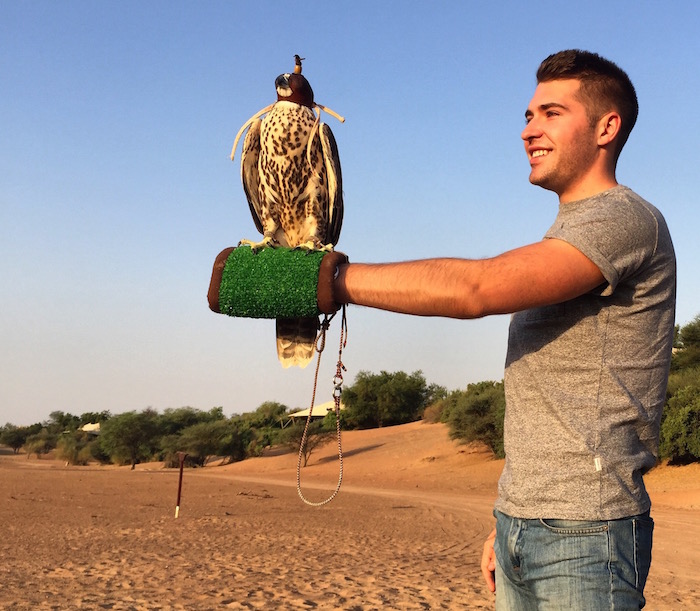 Al Maha activities — Ford with peregrine falcon
The display wasn't limited to falcons, though. We were also shown a desert eagle owl and an eagle. The rivalries between them were interesting, because they seemed to hate one another, and apparently even refused to be in the same car.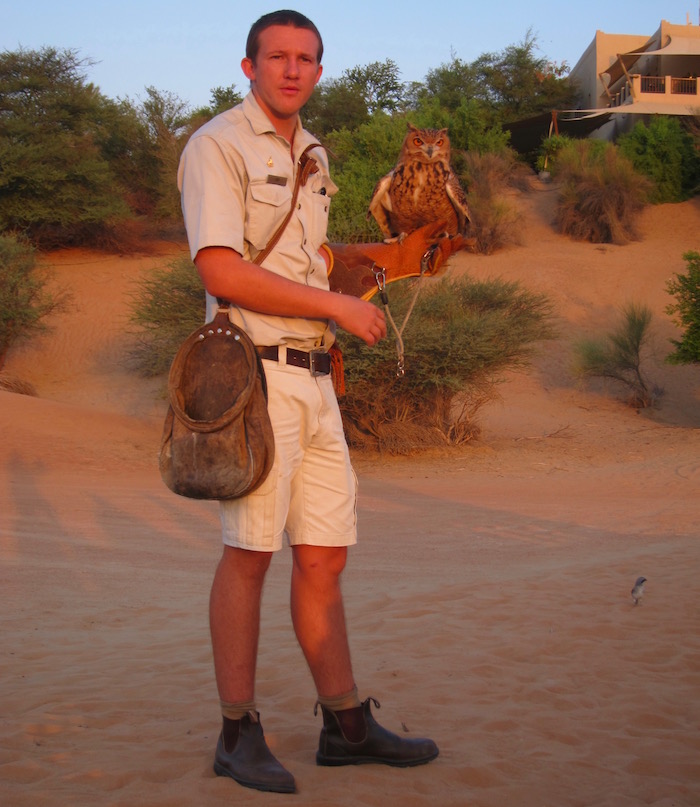 Al Maha activities — desert eagle owl at sunrise falconry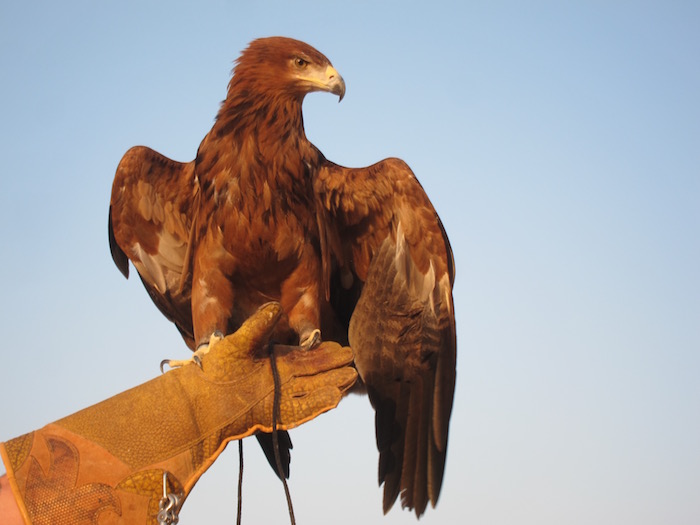 Al Maha activities — sunrise falconry
Then the actual falconry began, which was incredible. Falcons can fly at around 200mph, so they were set "free" to fly quite far, and then brought back in by swinging a rope with some food on the end.

Al Maha activities — sunrise falconry
For even further entertainment, one of the falcons actually got free, so they "lost" him. They have tracking devices, though the batteries on them only last for so long. As of that night they still hadn't found the falcon, so I'm not sure he ever returned. Given how expensive they can be, that's not a cheap "loss."
Falconry was the most pleasantly surprising activity. I didn't expect I'd enjoy it, but I really did.
Al Maha dune bashing
I've done dune bashing a couple of times before in the UAE, and have always enjoyed it. It's exhilarating — you really feel like you could tip at any moment.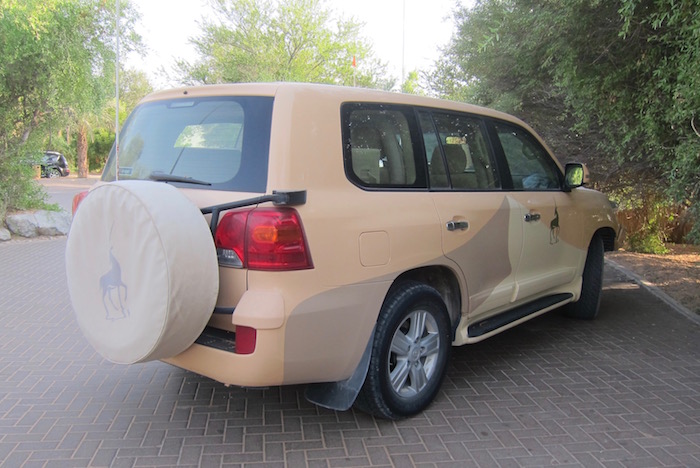 Al Maha activities — dune bashing
Dune bashing doesn't actually occur near the hotel, but rather is about a 15 minute ride away.

Al Maha activities — dune bashing
Fortunately the drive was interesting, as there was lots of wildlife to see, including dozens of Arabian oryx.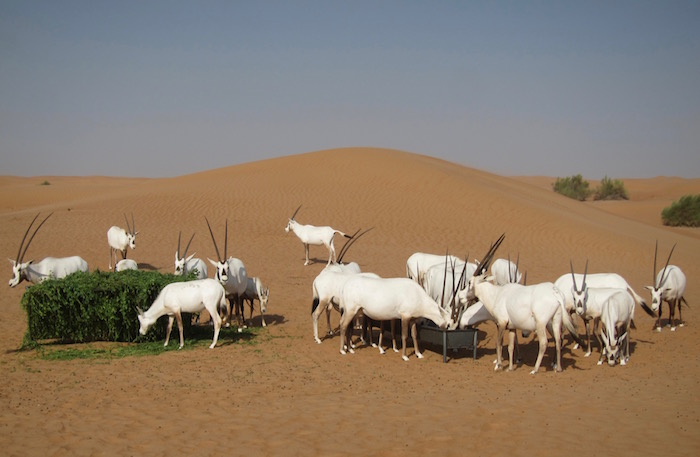 Al Maha activities — dune bashing
After the drive we found ourselves at a gate, which a guard opened as we pulled up. The landscape there felt completely different, as if we were on a different planet. There were no shrubs or animals, but rather just sand as far as the eye could see.

Al Maha activities — dune bashing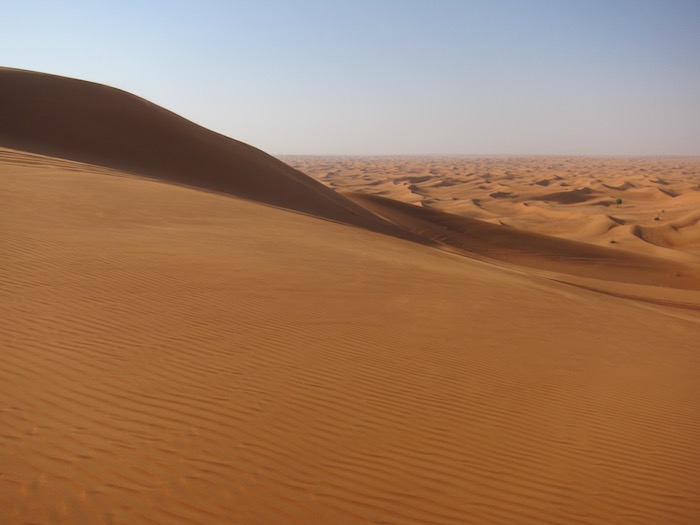 Al Maha activities — dune bashing
Dune bashing occurs in groups, so in our case there were about five cars driving together. That's in case one car gets stuck. One car basically creates the "tracks," and the others follow it. I guess it's a further added security measure.

Al Maha activities — dune bashing
We made a couple of stops enroute, and the views were stunning. I know I have weird tastes sometimes, but a proper desert view might just be among my favorite scenery out there.

Al Maha activities — dune bashing

Al Maha activities — dune bashing
The dune bashing was a lot of fun, and lasted about 90 minutes. I will say, it was a bit milder than some of the dune bashing I've done in the past, which is good or bad news depending on your tolerance.
I always enjoy dune bashing, and this was no exception. But if you're a thrill seeker, you might be a bit let down by this one.
Al Maha Timeless Spa
While not one of the included activties, the hotel has a Timeless Spa, located in a separate building away from the lobby.
You can find the treatment menu for the Al Maha spa here. An hour-long deep tissue massage cost 450AED, or about ~$120. The massage was excellent.
After the massage we were offered tea and fresh fruit.
We also had access to the hot tub, which had pretty cool outdoor views.
Al Maha gym & pool
In the same building as the spa was the gym. It was a decent size, though didn't feature the most modern equipment. Then again, I don't exactly think that's a big deal, given the location.
Outside of the gym and spa was a nice communal seating area, and then also a pool. We never did use the pool, given that we had our own pool.
How many nights should you spend at Al Maha?
I thought two nights at Al Maha was perfect. It allowed us to get in a few activities, enjoy some great meals, and get a spa treatment without feeling rushed.
You could probably visit in one day, given that the hotel is such a short drive from Dubai. You could arrive in the early afternoon, have lunch, do a camel ride in the evening, have dinner, do falconry or dune bashing in the morning, have breakfast, and then get on your way. At the same time, you wouldn't really have time to stop and enjoy the nature.
I could certainly see a case for staying three days, if you want to spend a day just relaxing and reading on your balcony while enjoying the nature. Anything longer than that seems excessive, at least from a value perspective. That's not to say you wouldn't have fun, but rather that there are cheaper places you can "relax."
There's nothing I would have changed about how we planned our stay at Al Maha.
Al Maha bottom line
I loved Al Maha, and even at 39,000 Starpoints per night, it was one of my favorite ever uses of points. You really get a ton of value out of activities and food being included, given how much those would otherwise retail for.
Service throughout the resort was exceptional, the food was great, and I enjoyed the activities. It's also really convenient that Al Maha is so close to Dubai, since it's not some three hour drive into the desert.
I can't recommend Al Maha enough.
Have you visited Al Maha yet, and if not, do you have any interest in visiting?