Garuda Indonesia is an airline that's undergoing an incredible transformation. They have a not-so-great safety record and had an old fleet, though are really trying to get competitive recently, especially as Garuda Indonesia just joined SkyTeam a few months ago.
Their new 777-300ER looks incredible, with private first class suites and a soft product that surpasses it.
I even linked to a Garuda Indonesia trip report last December, noting how impressed I was.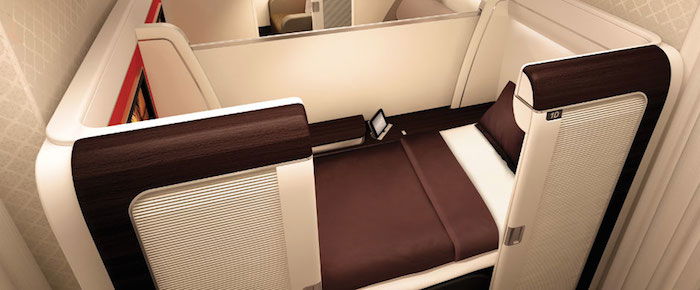 Garuda Indonesia's new 777-300ER first class
But a new trip report just emerged on airlines.net of a flight between Jakarta and Amsterdam in first class on their 777-300ER, and it looks like it might just be the greatest thing… ever…
It's quite possibly the most detailed trip report I've ever read, though is well worth a read. I figured I'd share a few of my favorite parts below.
First of all, Garuda has a first class call center you can contact in advance with (seemingly) any request:
I initially gave the call center a call out of curiosity, but later ended up making friends with the sole agent that always answered every one of my hundred or so calls that followed up until the day of departure.

Apart from the usual select my seat, add my frequent flier services I was able to do here, I was also asked if I wanted 'anything' specific on board. And they really meant it! You can more or less ask the world of them, and they will see to it.

My first request wasn't too creative because I was taken by surprise. I asked for a Bloody Mary which at first was assumed to be a standard offer that can be whipped up on any flight. But after several subsequent calls, I was informed that the proper ingredients of the Bloody Mary are not widely available in Indonesia but that they are working on confirming my request.

My second request was to eat 'Gado-Gado' on board -an Indonesian salad with peanut sauce- over and above the standard catering, naturally. Again, my request was confirmed with a very polite "Mr. Hawi, we are pleased to confirm to you that your request to have Gado Gado onboard GA 88 from Jakarta to Amsterdam is confirmed".

And my third and final request, was to be greeted on arrival from my Malindo flight from Kuala Lumpur -some 13 hours prior to my Amsterdam departure- and escorted to the lounge. And of course, my third request was again confirmed.

Now I had my Bloody Mary, my Gado-Gado, and my meet & assist all secured for my flight, and this was over and above all the other -slightly more important- details like my seat selection, frequent flier, and confirmed ticket.
They even have a meet & greet service. Unlike at other airlines, it's not one person "greeting" you, but rather four(!!!):
My Meet & Assist was promptly at the gate waiting for my arrival. But whilst I only expected one person, I was instead greeted by a group of four First Class Agents that were there to attend only to me. One was Shabeera, who was my personal First Class agent, the other two were Rama and Mufti who were there to attend to my luggage (one each for carry on, and checked baggage), and the last one was Chahia whose sole purpose was to handle my documentation and related procedures such as immigration, checking in for my connecting flight, and what have you.
As you'll recall earlier, the guy requested to be greeted on arrival in Amsterdam. Not only was he greeted, but he was picked up in a car and driven to a private lounge:
Bidding farewell to the crew upon disembarkation, I was quite excited to be at Schiphol again! It is my favorite European airport –we go a long way back- and I was just so happy to be transiting through it again.

However, after seeing yet another white placard with my name printed on it right outside Door 1L, I was yet again taken by surprise! This First Class experience did not end at touchdown; there is more!!!

A friendly lady escorts me out of the aerobridge down the steps leading outside to a black car that is parked right next to the aircraft! Holy Cow, I am wide awake all over again at this point!

I was driven to a private lounge, where I was offered a light snack and some drinks, while the agents liaised with KLM staff on my check-in for my connecting KLM flight, and my handover to the KLM staff.
Wow! I've had a lot of airlines do a good job customizing service, though I don't think I've ever heard of anything like that.
Too bad Garuda Indonesia first class isn't all that attainable on miles. Garuda Indonesia joined SkyTeam in March, which in theory means you should be able to redeem Korean Air SkyPass miles for it. That being said, last time I called Korean Air's SkyPass department to inquire, they told me that they could only book economy or business class.
In theory you could book directly through Garuda Indonesia's GarudaMiles program. The catch is that the redemption rates are high, though on the plus side they are transfer partners with Citi ThankYou points. So it's not impossible to book on miles.
Of the airlines that I haven't flown first class, I think Garuda Indonesia tempts me more than any other… perhaps along with Transaero's Imperial Class.
(Tip of the hat to Bruno)