Updated: 6 days ago
One of the saddest parts of my day (other than explaining to people why their million bank or cash-back style points won't get them to Asia in first class), is when I read a message from someone who has just had all their miles expire.
I also get several notes a day from people in a panic to use their miles before they expire, and these are possibly even more depressing.
So I thought it would be helpful to go through some of the easiest ways to keep your miles from expiring, and hopefully put some rumors to rest along the way.
Know the expiration dates
Each frequent flyer program has slightly different rules for when their miles expire. While we are now seeing more airlines adopt a "miles never expire policy," it's far from the norm. For some international airlines, it's a hard 3-year expiration. For some programs in the US, accounts expire after 18 months of dormancy.
This means that if you let your account sit for 18 months, and neither earn nor redeem a mile, you'll lose them. And this seems to take people by surprise pretty frequently.
So the first step is to know the rules of your program, and then keep track of when the miles expire. I like to use AwardWallet to monitor accounts and expiration dates. Knowing is half the battle!
Here's a quick note on the expiration policies of some of the major programs:
Loyalty Program

Reward Expiration Policy

Mileage Plan miles do not expire.

Mileage Club miles expire 36 months after earning and

can't be extended

without holding Diamond Service elite status.

Asiana Club miles expire after 10 or 12 years, depending on your elite status in the program at earning.

Avios expire after 36 months of inactivity.

Delta SkyMiles never expire.

Skywards miles expire 36 months from the date of earning.

Frontier Miles expire after 6 months of inactivity. (Expiration currently suspended)

Avios expire after 36 months of inactivity.

SkyPass points expire 10 years after being earned, with no option for extending.

LATAM Pass Miles expire 24 months from the date which they were earned.

Qantas Points expire after 18 months of inactivity.

Avios expire after 36 months of inactivity.

Kris Flyer miles expire 36 months after earning, but can be extended for a year for program elite members.

Royal Orchid Club miles expire after 3 years from earning. Miles accrued in each quarter of any given year expire at the end of the corresponding quarter 3 years there after.

Flying Club miles do not expire.

Velocity miles expire after 24 months of inactivity.
Expiration Policies of Airline Loyalty Programs
As you can see, there's a lot of variation, and these things do change over time. But having at least a general sense of how/when your miles might expire is a crucial starting point.
Take flight
This might sound obvious, but based on my inbox I can assure you it isn't.
In a program where any activity resets the clock, making sure to include your frequent flyer number when you do fly will extend the life of your account. My in-laws only make one trip per year, but their miles never expire because each flight extends the expiration date of their miles.
Keep in mind as well that airlines have alliances and partnerships, so even if you're flying a new airline, you might be able to credit to the program where you have the bulk of your miles. It pays to check!
Have the right credit card
"Right" is very subjective here, but having a credit card linked to your mileage account can help with keeping your miles active.
Does just having a co-branded credit card extend the life of your miles? No, despite what some agents might tell you over the phone. Again, it's activity within the mileage account that resets the clock, but a credit card does make that easier, given that making a single purchase a year, or paying your annual fee, will add a few miles to your account.
For some cards, you earn bonus miles upon your account anniversary. Once these post to your airline account — bam! You've earned another 18 months on the clock in addition to the miles. If your card doesn't offer anniversary miles, just set a reminder to use that card at least once per year, and you'll be golden.
Click before you shop
I don't know what marketing intern first came up with the idea of shopping "portals," but they are a brilliant way to earn extra miles, for only a little bit of extra hassle.
I not only earn a tremendous number of miles from shopping portals, but it helps me to keep accounts active that might otherwise get neglected (this is a particularly great tactic to keep accounts active for kiddos, or others who can't get a program's credit card), so it's definitely worth it.
My favorite trick is to leverage the "Buy online pick up in store" functionality that many retailers have nowadays. You click through your shopping portal, and rather than selecting a shipping method can choose to pick the items up at your local store, generally in just a few hours. We actually did this for purchasing tires at Sears once, which was tremendously lucrative, along with most of a home renovation, but even little things like picking up lightbulbs at Lowes, or a drawer-organizer at the Container Store can add up.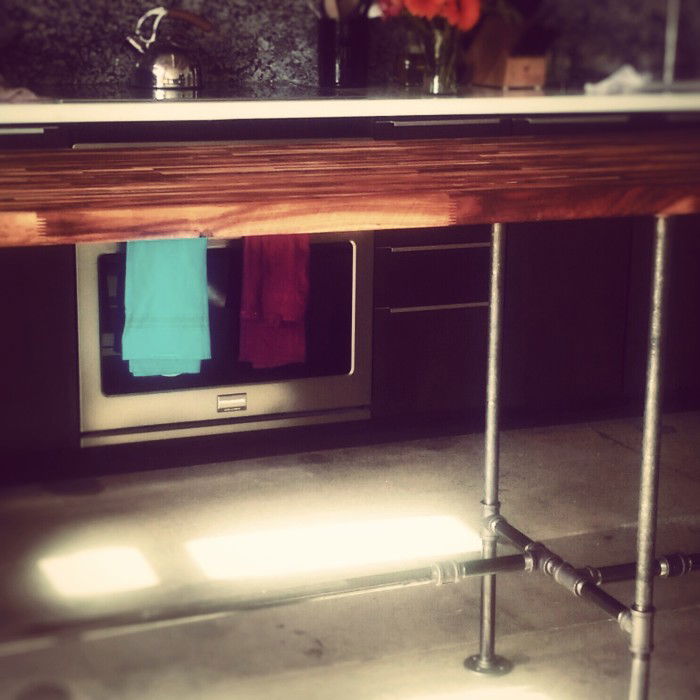 Supplies for a kitchen island earned us a few hundred miles, and kept an account from expiring
As a bonus, the person doing the shopping doesn't have to be the person doing the pickup. If you have a partner, you'll probably appreciate the value in this. 😉
Dine out
Now, I'm not actually going to recommend you actively seek out a restaurant just to earn miles. But it makes sense to link your cards to a dining program just in case. It's always a nice surprise to get an email that you've earned miles after stopping at a random sandwich shop in a town you've never been to before, and this option costs you nothing.
And besides, that pastrami might have just bought you another 18 months in your mileage account!
Watch out for freebies
These aren't as common anymore, but occasionally airlines will have promos where you can get free miles for completing some action — maybe a survey, or a social media contest, etc. You shouldn't rely on little freebies like these, but it still makes sense to keep an eye out, and take advantage for your family's accounts when they do come up.
Move points around
For the most part, you can't transfer points between airlines. But you can transfer points from other places to airlines.
If you have credit card points through American Express Membership Rewards, Chase Ultimate Rewards, or some Citi ThankYou and Capital One cards, you can transfer those points to selected airline partners. Members of the Marriott Bonvoy program can transfer points to dozens of airlines. That's the entire point of a flexible and transferable points currency!
In most cases you'll need to transfer a minimum number of points, and may be restricted to only moving points to your account, or that of an authorized user.
Some airlines also allow you to donate a handful of miles to charity, or redeem miles for a magazine subscription, both of which can be a good option in a pinch. You can move miles between one person and another, but as the airlines charge a transfer fee this is rarely a good option.
Beyond that, even buying the occasional batch of miles can make sense under the right circumstances.
Bottom line
If you're paying attention, there's no reason to have miles expire. Many programs allow you to reset the expiration date just by having activity in the account, and there are several ways to generate miles without even getting on a plane.
For programs that don't have an automatic way to extend the life of your miles, even just tracking the expiration dates can help make sure you use your miles before you lose them.
Has anyone had miles expire? How do you keep your accounts active?