In the interest of full disclosure, OMAAT earns a referral bonus for anyone that's approved through some of the below links. The information and associated card details on this page for the Amex EveryDay® Preferred Credit Card has been collected independently by OMAAT and has not been reviewed or provided by the card issuer. These are the best publicly available offers (terms apply) that we have found for each product or service. Opinions expressed here are the author's alone, not those of the bank, credit card issuer, airline, hotel chain, or product manufacturer/service provider, and have not been reviewed, approved or otherwise endorsed by any of these entities. Please check out
our advertiser policy
for further details about our partners, and thanks for your support!
The New York Times real estate section has a piece today on how to use rewards cards to offset the cost of home renovations. I was interviewed for the story, along with some other miles and points gurus, as well as a few property owners who have leveraged their remodel budget for outsized rewards.
Fortunately however, ours wasn't one of the properties featured in the accompanying photos. When the New York Times is asking to send a photographer over, you really want more of your remodel to at least be at this point: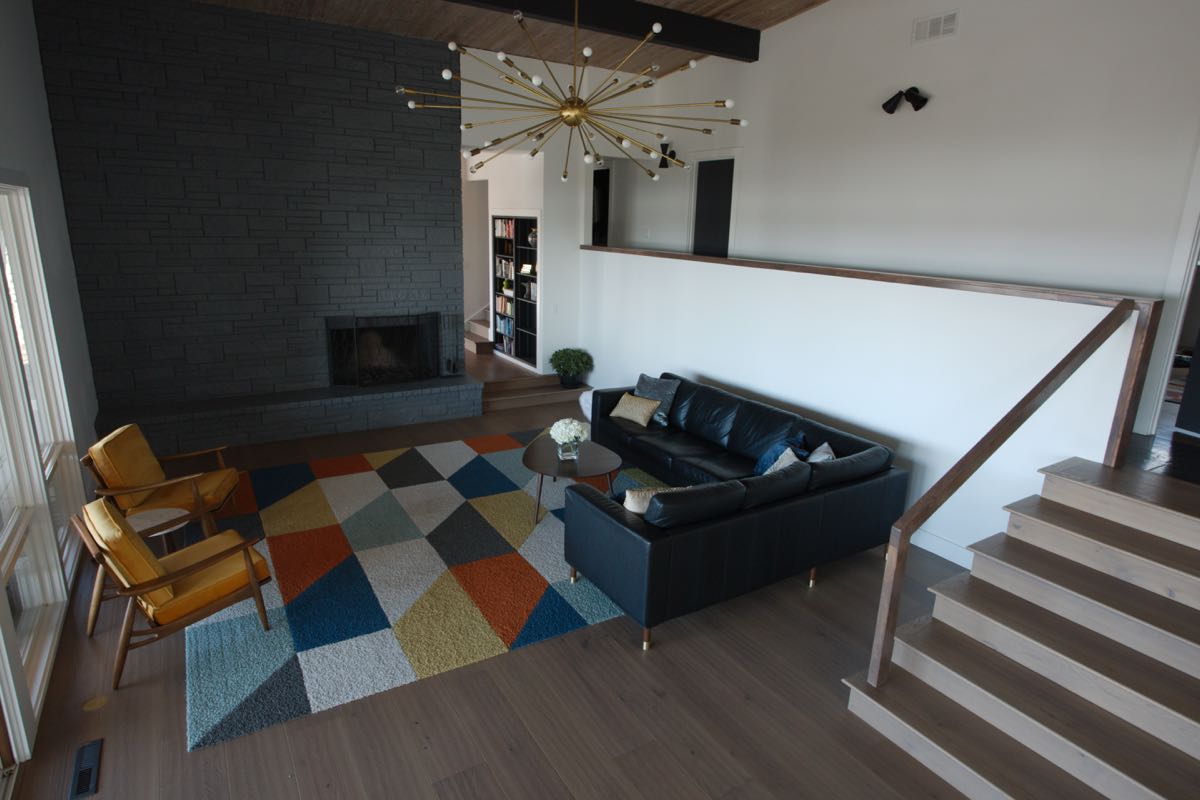 Living room is trending towards done
Rather than this point: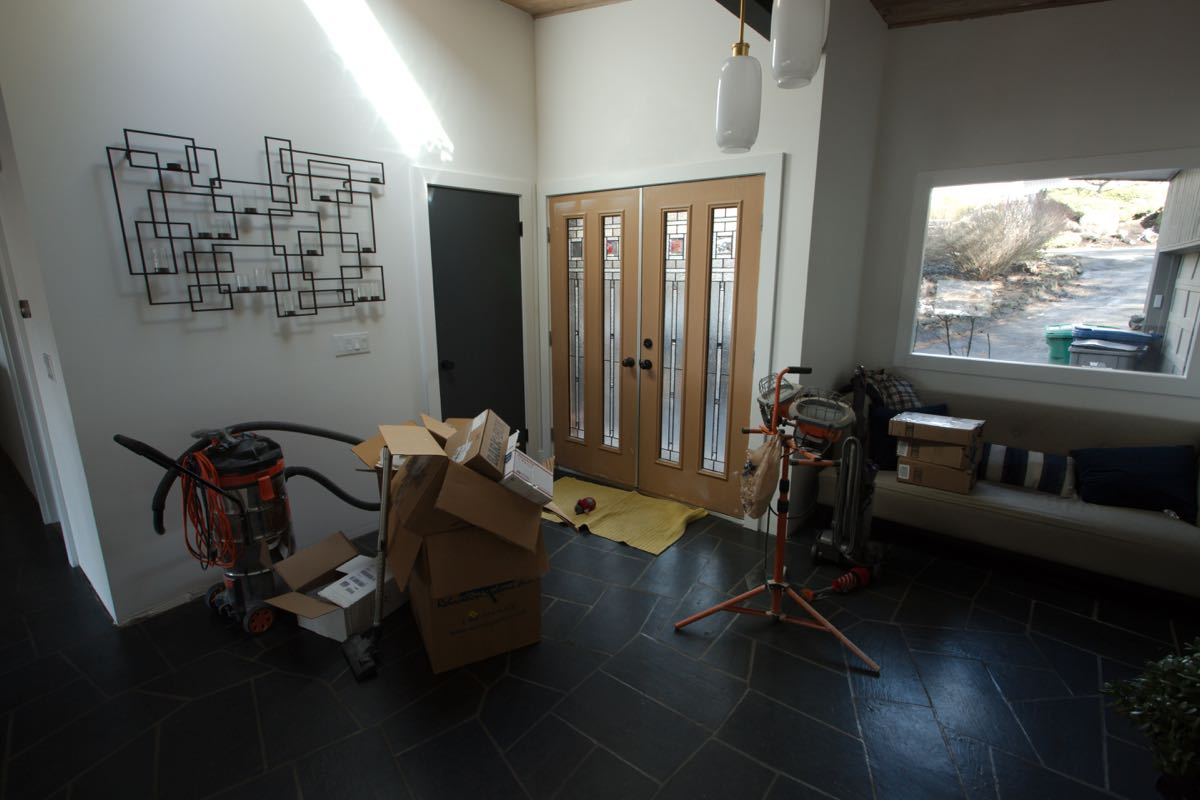 Someday the shop vac won't live in the entryway, but today is not that day
As is often the case with big media stories, the final version places much more emphasis on the impossibility/wow factor, rather than the nitty-gritty details that make it all possible.
And since I'd already gathered a bunch of this info for the interview, I figured it might be helpful to those of you looking to get the most out of your own renovations.
Background on our project
I don't want to go into too much detail on this, because OMAAT is not a house blog (though we have the start of one here, if you're super into that sort of thing), but we purchased a mid-century modern home last April that was…decidedly lacking in the "modern" department.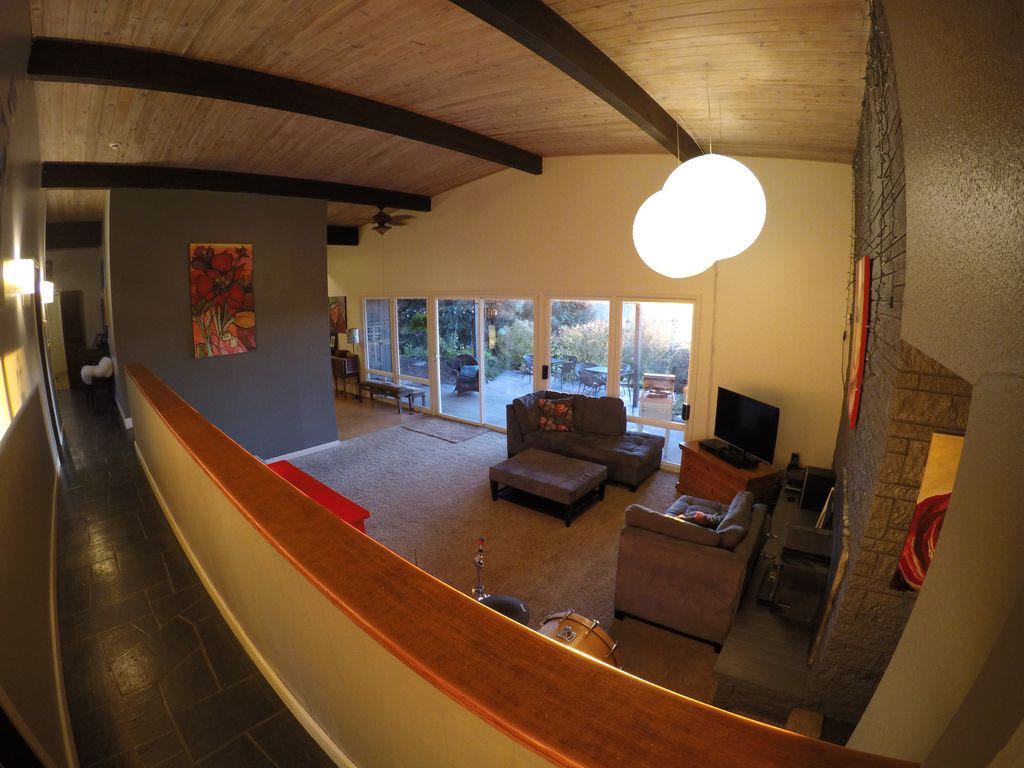 Living room before
According to property records, our 1960's house has had five owners, and four remodels. Hearing from the neighbors though, there have been nearly two dozen families who have lived here over the past 50 years.
Needless to say, the property was somewhere between "desperately needing updates" and "fixer-upper" when we moved in.
The bones of the house are amazing (my dad nearly had a heart attack when we opened a wall to find air-dried old-growth fir had been used for the framing), but there was a significant amount of deferred maintenance, and some truly ill-advised renovations that had been done over the years.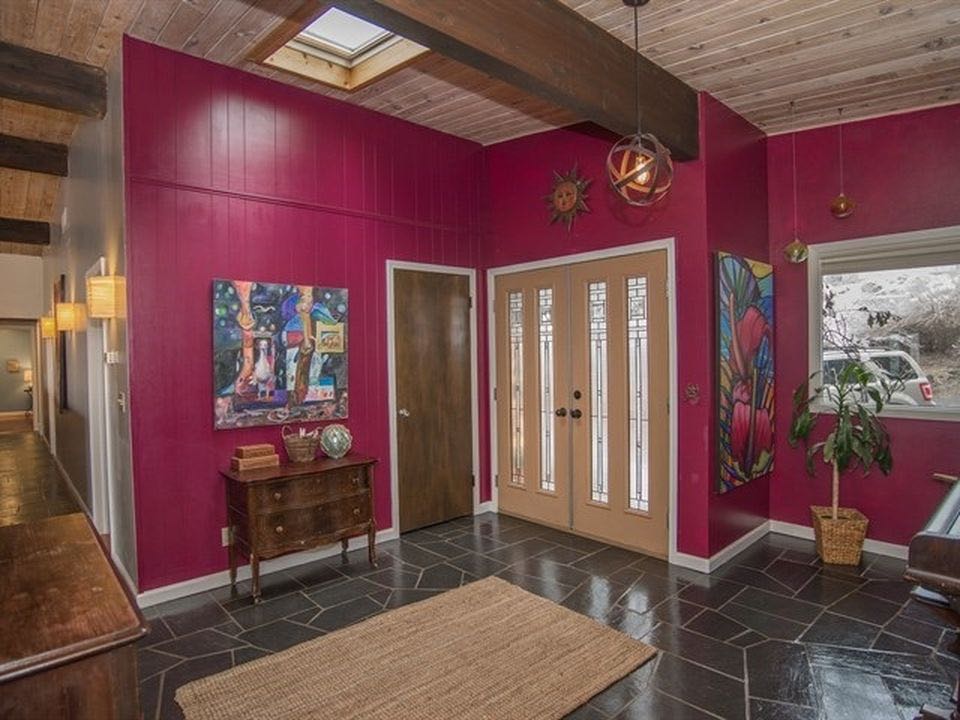 Raspberry wood paneling, why not?
As an example, at some point the original open mid-century floor plan was closed off, making the house feel very dark. There were also nine different types of flooring, and no two rooms had the same baseboards or window-trim treatments.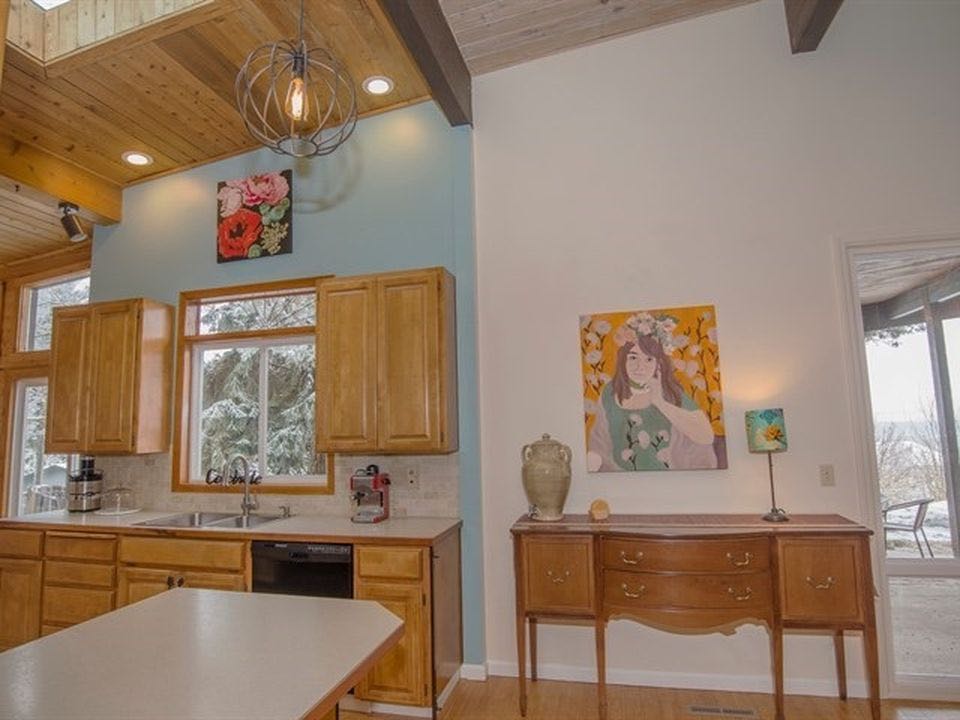 This photo from the listing will tell architectural enthusiasts everything they need to know
On the scale of remodels, ours was theoretically relatively minor. We wanted to restore the original feel of the home without creating a time capsule, so basically set out to undo the prior renovations, bring consistency to the space, and then update two of the bathrooms.
We took out one and a half walls that weren't original, and moved another by three feet, but didn't have any structural changes to contend with, thankfully.
And then we got to do a surprise bonus kitchen renovation, so that was fun. ProTip: don't accept "unable to inspect due to owner's belongings obstructing space" on your home inspection.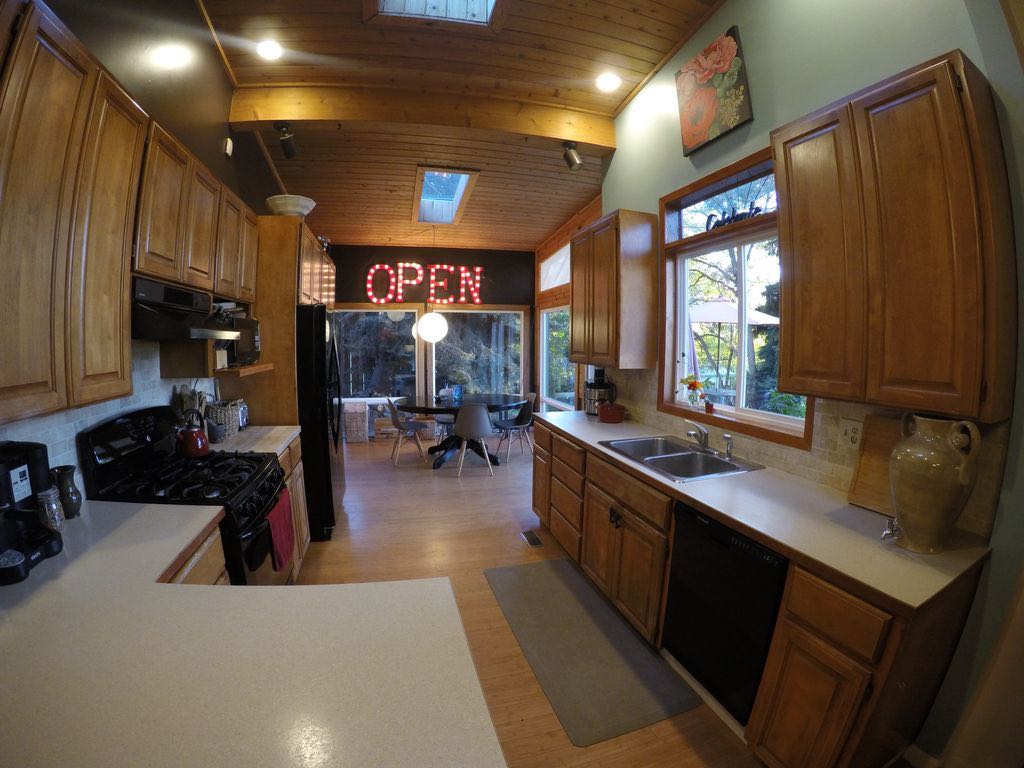 At least we then had an excuse to change out this kitchen that really didn't match the house…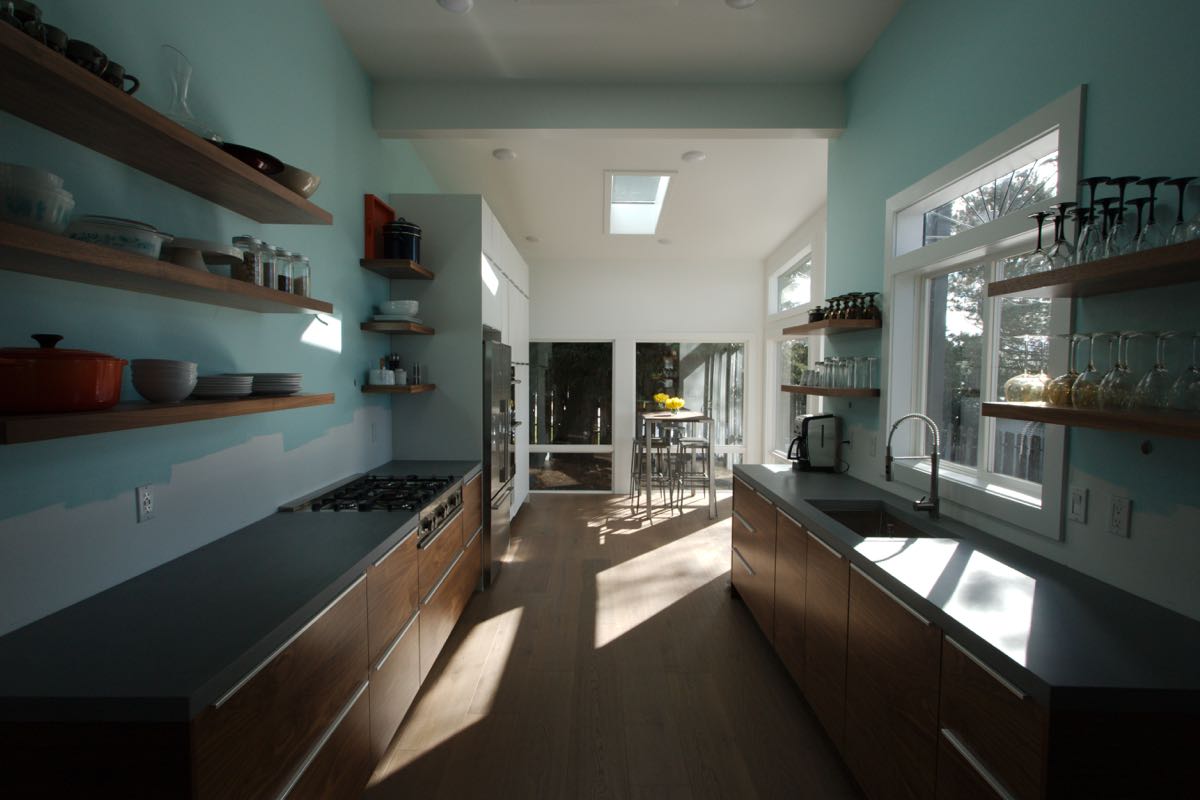 …for something more in keeping with the style. Eventually we might even have a range hood and backsplash!
Fortunately, (since we'd been aggressively saving to buy a house in California for the past ten years, and only needed a fraction of those funds for a down payment on a house in Spokane) we had the cash on hand to do all of this.
That gave us much more leeway in terms of earning miles and points for the project, as we could use a variety of cards to earn the most miles possible.
Get welcome bonuses
This is the focus of the NYT article, and I'm not going to go into it too much. I think if you're reading One Mile at a Time it probably seems obvious to apply for new credit cards before making major purchases.
I will add the addendum that it's critical to think about your travel goals, and how a given card will help you achieve them rather than automatically opting for the best bonus available.
As an example, the day our loan closed we applied for two cards each — a Chase Freedom Unlimited® for him, The Business Platinum Card® from American Express for me, and one apiece of The Blue Business® Plus Credit Card from American Express. Those cards didn't necessarily have the highest bonuses available, but they fit best with the gaps in my mileage strategy.
Just something to think about.
Leverage promotional interest offers
We don't talk about this much on OMAAT, as we like the emphasis to be on paying cards off every month and generally being responsible with your credit, but there are a slew of cards offering promotional interest periods as part of the welcome bonus.
[omaat-credit-cards group='0-apr-purchase' relation='AND' style='light' type="marketplace" cols='2′]