Yesterday we announced that we're looking to bring on another writer to our team, and the comments are full of thoughts and insights from readers. One of those was from Jim, who noted that he'd like to see more family content, and posed a few questions:
For example, I travel a lot for business, and 1-2x a year with family. Should I register my 2-year-old in an FF program? Some let you pool the points with family members. Is that the best strategy?
I thought that was a great question, and probably one that a lot of families have, so figured I'd go ahead and answer it now rather than making him wait until we get through the hiring and onboarding processes. 😉
Never leave miles on the table
At the end of the day, you can't spend miles if you don't earn them, so it's always better to sign up for a program and earn the miles than to not.
This especially applies to kids and other family members that might travel less often — mileage earning is typically tied to the individual traveling, and it's better to earn a handful miles for someone who only travels a few times a year than to miss out entirely.
There are also sometimes unexpected opportunities to earn miles, which you can't take advantage of if you don't have a frequent flyer account. When we went to Thailand a few years ago, our original flights were canceled, and we ended up getting rebooked in paid international first class. So my 5-year-old nephew ended up earning ~12,000 miles — nearly enough for a domestic economy ticket — and if he hadn't been enrolled ahead of time we wouldn't have been able to claim those miles.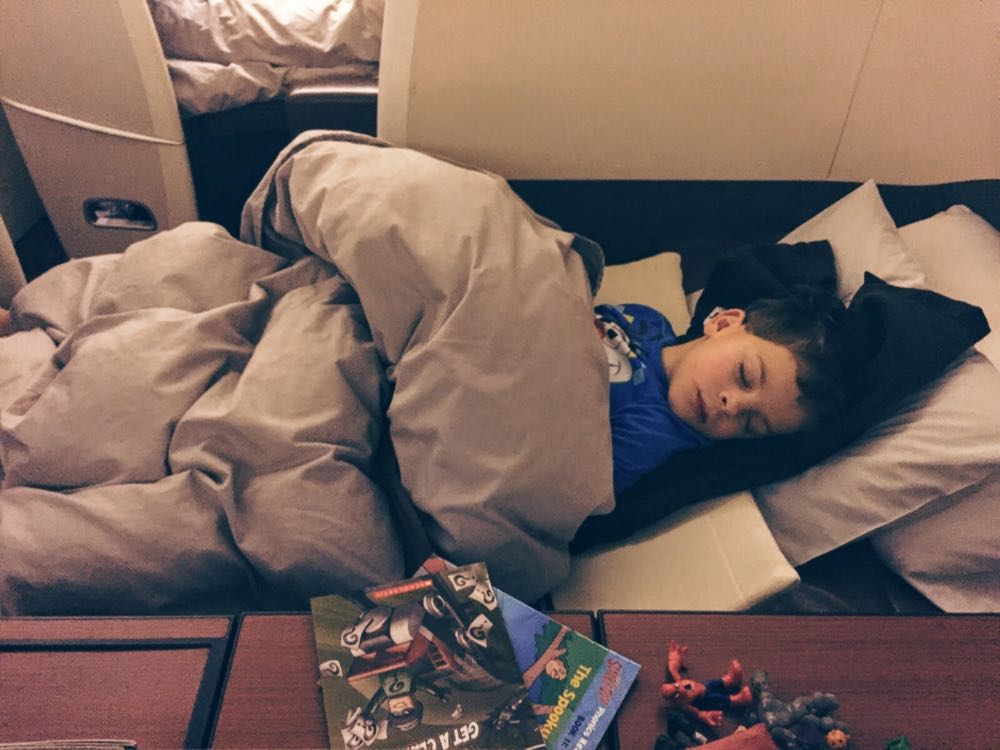 Sweet dreams and mileage-earning in JAL First Class
So, short answer: sign everyone from Junior to Grandma up to earn miles on their next trip.
Choosing a frequent flyer program
Now, you don't need to sign everyone up for every program in existence — that would get exhausting quickly. Given that most airlines have partnerships, you should be able to select just a few programs. Sure, the earnings rates might not be as optimized, but it will save a lot of hassle.
There are few things to think about when deciding which programs to credit miles to:
What airlines do they partner with (both for earning and redeeming miles)?
Do the miles expire, and can they be extended?
Can you easily add miles to the account?
As an example, Singapore KrisFlyer is a good default program for many adults in the US — they have good earnings rates across Star Alliance, a decent award chart, and they're transfer partners of all the flexible points currencies. And we'll often recommend moving points to Singapore if someone is closing a credit card account.
But KrisFlyer is a horrible program for rarely-traveling minors. The accumulated miles expire every three years, whether you have activity or not, and there isn't an easy/cost-effective way to add miles to the account for someone who isn't able to move points from another program.
So while they might not earn as many miles per trip, I'd prefer to have kids accumulate Star Alliance miles in United MileagePlus. United often sells miles for a reasonable rate, which is useful for topping off accounts if you get close to having enough for an award, and they also have a shopping portal.
Miles earned through shopping portals can be a great way to keep less-active accounts from expiring, or to build up the balances those who can't leverage credit cards. My niece and nephew, for example, aren't old enough for credit cards, but still have a couple of frequent flyer accounts, and shopping portals offer an easy way to build up their balances. This is especially true when the portals have big bonuses (particularly around Back To School time) — splitting your purchases across a few accounts can earn you thousands of extra miles.
So even if you consistently fly a certain carrier, be sure to look for partner programs with terms that will allow you to build balances over time for the kiddos, and have the option of adding miles from outside sources. Unless you want to take your kids mileage-running.
Family Pooling
A few programs, such as JetBlue and British Airways, allow families to combine their miles and then collectively redeem them. This is a great feature, but not necessarily your only option
Keep in mind that when it comes to redeeming miles, the account holder doesn't necessarily need to be traveling on the award ticket. So even if a relative only travels every few years, those miles could still be used for other family members.
With family pooling, you can typically only redeem miles for people who are listed in the family account. Depending on the rates at which you earn and redeem miles, this can be more limiting than just having the miles in a separate accounts.
In general, I think the JetBlue program is great for families, and there aren't any real downsides to signing up your crew.
Meanwhile, British Airways Avios are useful, and it only takes a handful to redeem for a short-haul flight, but I don't know that it's significantly better to earn Avios in a household account than to diversify your miles. There's no reason why you can't have one person credit to British Airways, one to Alaska Mileage Plan, and one to American AAdvantage. All three are partners, they all have shopping portals, they all sell miles, and (unless you commit to a BA household account), they all let you redeem miles for anyone.
There are pros and cons to all these programs, and every family will have different needs.
Keep track of the miles
Obviously, if you're going to exert the effort to enroll everyone in programs, you're going to want to maintain those accounts. I like to use AwardWallet to monitor accounts and expiration dates.
Having all the accounts in one place is helpful, and can make it easier to ensure you have enough account activity to keep any miles from expiring.
Bottom line
Since there's no cost to enrolling children in frequent flyer programs (other than a few minutes of your time), I think you might as well setup the accounts.
It might take a few years for them to earn a meaningful amount of miles, but as long as you keep the account active, you'll eventually have enough to do something with. So no reason not to!
Do your kids earn miles? Any other ways you've found to build up their balances?