Like many of you, I manage the miles & points accounts for my entire family. I rely on them to use the right credit cards for their spend, but the rest is on me, including making sure that their points don't expire, helping them redeem their points, etc. Fortunately AwardWallet helps me keep track of the expiration dates of the points in all those accounts, and they even send me emails when points are close to expiring.
Anyway, yesterday while checking on the general status of many accounts, I noticed that my mom's American AAdvantage miles were set to expire next week. She has ~110,000 AAdvantage miles, so that's a significant number of miles that I wanted to make sure didn't expire. AAdvantage miles expire after 24 months of inactivity (if you're under 21, they won't expire), so I guess it has been too long since she has earned or redeemed miles.

You can reset the expiration date of AAdvantage miles with any sort of account activity, whether it be earning or redeeming miles. So in this post I wanted to share what I consider to be the easiest and fastest way to reset the expiration date of American miles.
First let me say that there are lots of other ways to easily reset the expiration of AAdvantage miles, and depending on how much time you have before miles expire, any of them could be great options:
You can buy AAdvantage miles, though there's a $30 processing fee per transaction in addition to the cost of miles, so buying just 1,000 miles would cost you over $60, which is a terrible deal
You can transfer AAdvantage miles to/from another account, though sharing 1,000 miles costs $27.50
You can transfer 1,000 Starpoints to AAdvantage, which is a good option, though it can take a few days
You can use the AAdvantage Dining program to earn some miles, though it takes a few days for miles to post, and it's also easier to do this yourself than to instruct someone else on how to do it
You can use the AAdvantage eShopping Portal to earn some miles, though it takes upwards of a week for miles to post
You can put spend on an AAdvantage credit card, or apply for one, and once the miles post at the end of the billing period, that will reset the mileage expiration
You can redeem AAdvantage miles for magazine subscriptions, which is actually a good deal, but personally we don't really want magazines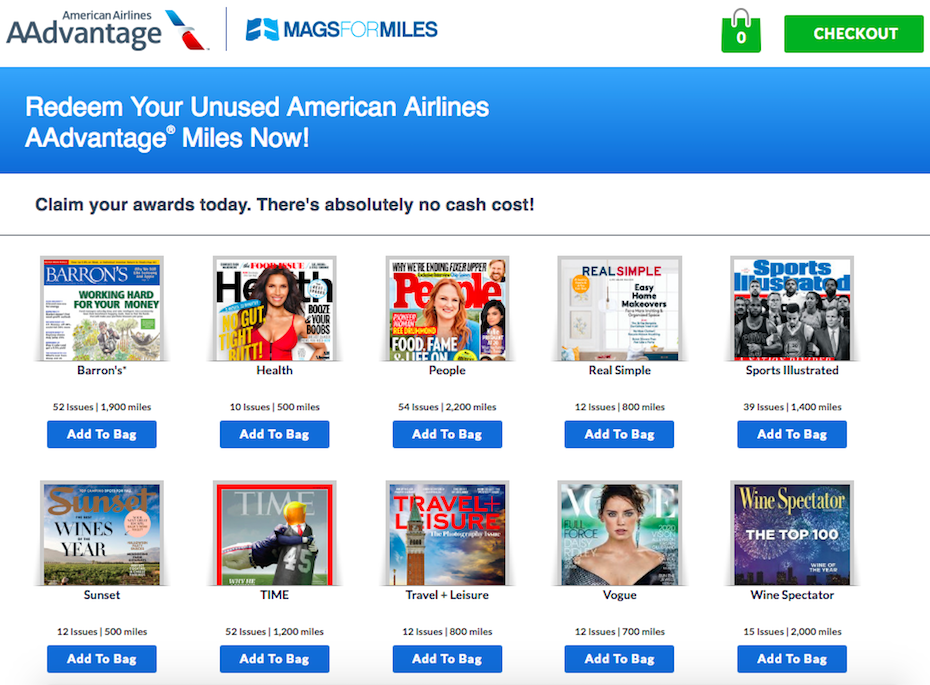 All of these are great options, though the catch is that with the exception of redeeming miles for magazines, all of the other options either aren't instant, and/or are costly.
To me there's one option that's my favorite — it doesn't cost any cash, it's instant, and it even makes you feel good. You can donate AAdvantage miles to charity, and donating 1,000 miles will reset the expiration date of your miles. The three options here include Miles of Hope, Miles for all Who Serve, and Miles for Kids in Need. So we donated 1,000 miles to Miles of Hope.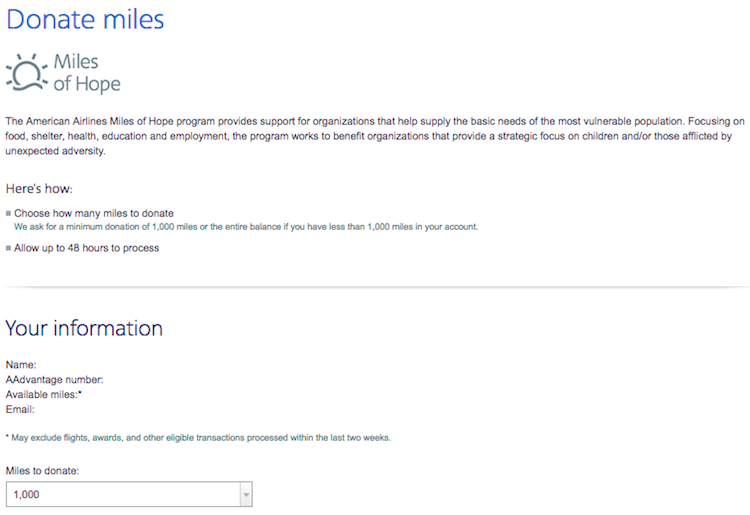 Instantly the miles were deducted from my mom's account, and it showed the new expiration date, of May 2019.

Now, before someone says "you're cheap, you should donate more miles," I think there's one thing that's worth pointing out. While I'm all for charity, I think it's worth keeping in mind that generally redeeming miles for charity isn't a way to maximize value for everyone. Typically the way it works is that the airlines are just making some cash contribution based on how they're accounting for the value of miles, and that amount is almost always going to be lower than what I value the miles at, since I'm good at redeeming them. When it comes to being charitable, you're almost always better off donating cash than miles.