In the interest of full disclosure, OMAAT earns a referral bonus for anyone that's approved through some of the below links. These are the best publicly available offers (terms apply) that we have found for each product or service. Opinions expressed here are the author's alone, not those of the bank, credit card issuer, airline, hotel chain, or product manufacturer/service provider, and have not been reviewed, approved or otherwise endorsed by any of these entities. Please check out
our advertiser policy
for further details about our partners, and thanks for your support!
Reader Pablo asked and/or humblebragged the following over in the "Ask Lucky" forum:
I've been a Delta Diamond Medallion since that level was introduced. Traveling solely internationally out of TPA, I average around 150K+ MQM per year – so hitting the required limits for Diamond every year is not hard. Besides getting the AMEX Delta cards to get additional MQMs, are there any other ways to maximize the amount of MQMs I get for each flight (TPA – LON, TPA – AMS, TPA – SIN, TPA-DXB), or just any other ways to get MQMs? Lifetime MQM at this point is around 2.5M.
Now in Pablo's particular case, I'm not sure why he's looking for ways to get more MQMs, since he has acknowledged it isn't hard for him to accrue 150,000 MQMs or more in any given year.
Of course, with Delta, there is some real value in overshooting your MQMs beyond any given threshold, since those MQMs will "roll over" into your following year's account. So if you ended 2015 with 123,000 MQMs, for instance, you'd be Platinum Medallion (2,000 MQMs short of Diamond), but on the flip side, in January of 2016 you'd have a huge head start with 48,000 MQMs already in your account.
However, again, in Pablo's case, unless he has reason to believe he might not otherwise qualify for Diamond next year and therefore wants to pad his rollover account as much as possible, I'm not sure there's added value in maximizing his MQMs.
But for the average Delta flyer with elite status, MQMs are living, breathing, currency. If you're like me or other Medallion friends of mine, you probably have a spreadsheet with future travel planned out by the MQM.
In short, as Pablo pointed out, there are two ways to get MQMs on Delta:
The Delta SkyMiles® Reserve American Express Card, which gives you the opportunity to spend on your credit card to earn MQMs. This is huge, and by far the most generous non-butt-in-seat way to get elite qualifying miles on any domestic airline.
Fly.
Point #2, of course, is obvious, but the key here is maximizing your MQMs based on routing, fare class and fare price, which I think was Pablo's key point.
Here are some key points to consider when choosing a flight — either to a destination you were going to go to anyway, or for the purposes of a mileage run.
Buy a premium class fare, if the value is good.
The vast majority of first class or business class fares on Delta and its partners earn 150% MQMs based on mileage flown. If you see a "fare war" business class fare on a SkyTeam carrier — we saw plenty of those types of fares last fall — jump on it. LAX to Europe in business class is a solid way of getting ~20,000 MQMs in your account for, in some cases, around $1,500.
Keep in mind some fares qualify for 200% MQM earning. These fares are likely to be prohibitively expensive on Delta, but, for instance:
Notwithstanding the passive aggressive nitpicking between Delta and Alaska, many Alaska Airlines domestic first class fares (the ones in the "F" bucket) earn MQMs on Delta at a rate of 200%. Those refundable first class fares can be had for around $840 each way from LAX to Washington, D.C., for instance. So you can rack up nearly 10,000 MQMs on a ~$1,650 transcon.
Aeromexico, as well, offers reasonably priced fully-refundable fares from time to time. For instance, the latest fare sale to Buenos Aires had such fares from LAX in the ~$1,500 range: those would earn you 24,548 MQMs, which is enormous.
At the same time, too, keep in mind that while flying paid business class on Air France or KLM can be lovely experiences, you get the same rate of MQM earning — 150% — on paid premium economy tickets, which can be far less expensive.
Look at FlyerTalk, and the map function of Google Flights.
FlyerTalk has very up-to-date forums about mileage running deals, and a separate forum for premium fare deals, also. These can be invaluable. If you're a Diamond Medallion and have global upgrade certificates to burn, the economy-class mileage runs can be great, too.
Let's look at some ones recently featured on FlyerTalk (be warned, these are likely not available, but I'm using these by way of example):
Another tool I use frequently is Google Flights' map feature. You can specify departure city, fare class (business or economy) and alliance, put in some dummy dates and zoom out to see where the low fares are. As a general rule, the lowest fare that's furthest away is obviously likely to earn you the most MQM bang for buck. When you click on that fare, you can then click into the calendar function to see a calendar listing of lowest fares for that city pairing in any given month. Plus, Google Flights may suggest different days or nearby airports to get an even lower fare.
For example, I plugged in a week in September for premium cabin fares from LAX and the following map popped up.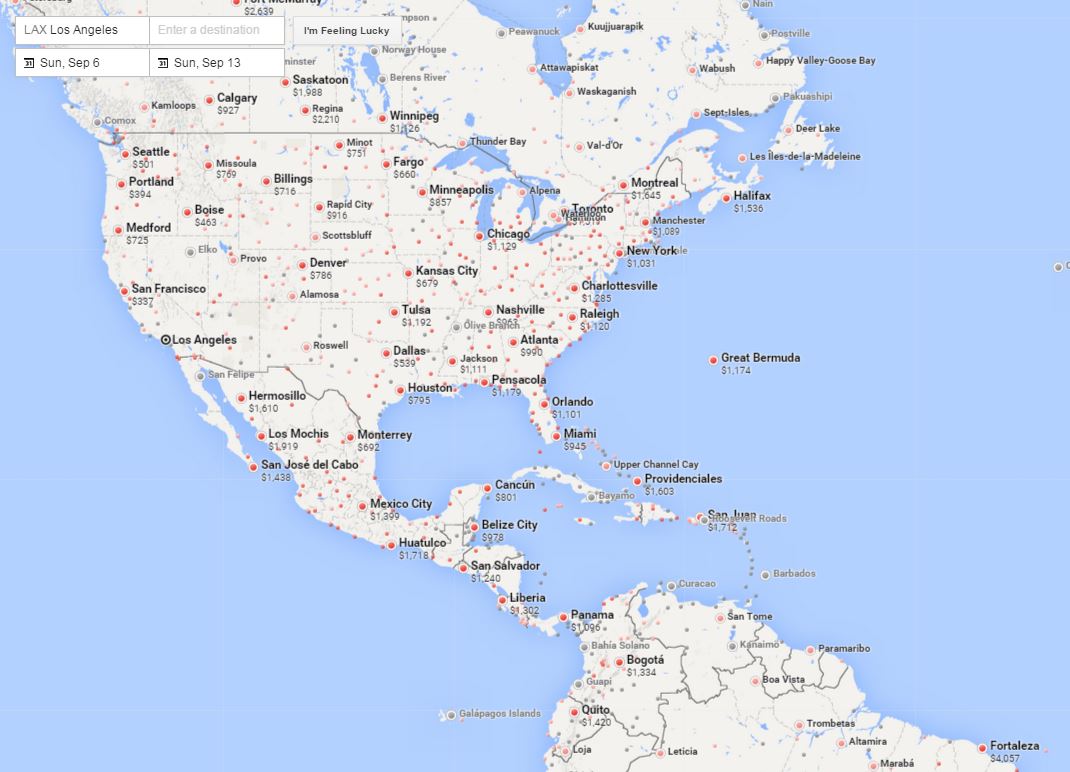 If you look down at the bottom of the screen, Quito popped up at $1,420. Panama's at $1,096 and Bogotá is at $1,334. Let's explore those further.
With Quito, for instance, you can click on the calendar function and see that $1,420 is about as low as that fare is going to get.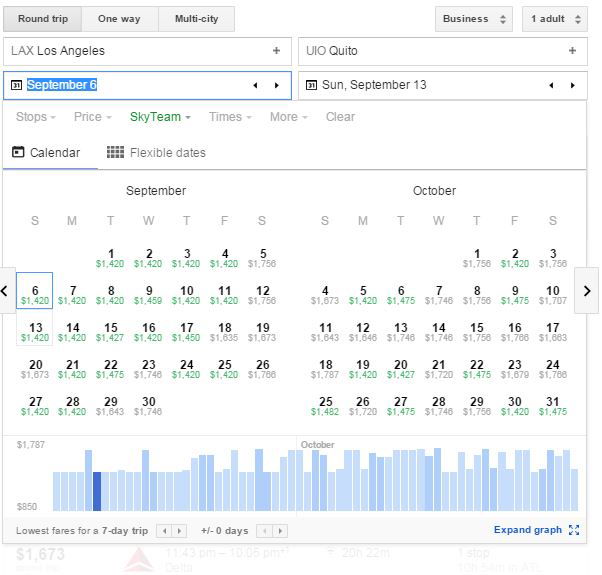 So let's click on the original dates and check out the routing.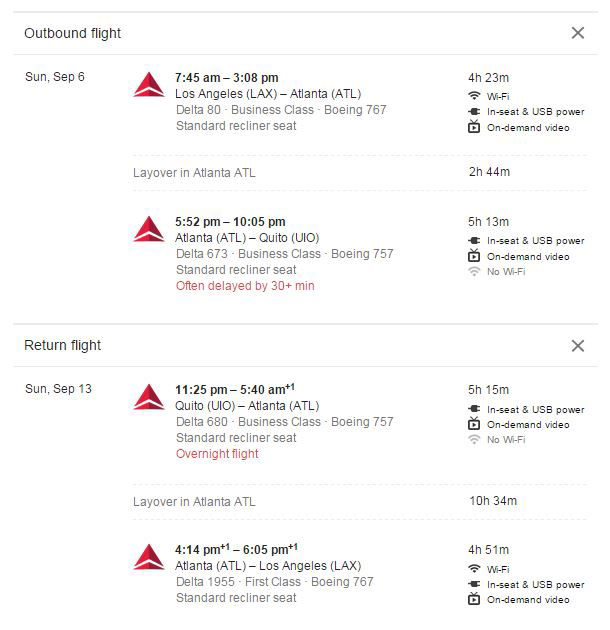 Over on gcmap.com, we can figure out how many MQMs we'll get by typing in the routing and multiplying that by 1.5.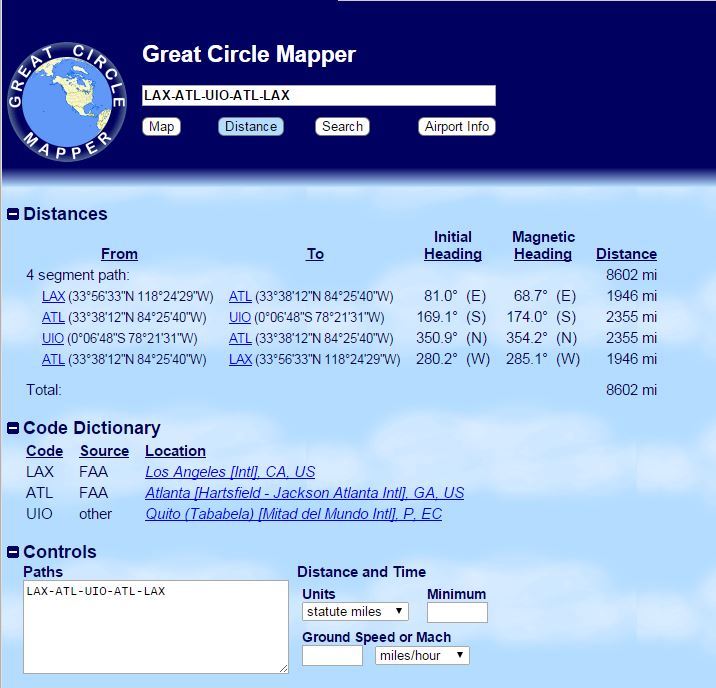 With a base mileage of 8,602 miles, you can yield 12,903 MQMs from a $1,420 fare. It's decent, though not spectacular. However, it's still probably the best bang-for-your buck premium fare at the moment from LAX (by way of example), since the added distance to Quito as opposed to, say, Bogota and Panama, evens out when compared to the relatively small price differential.
But again, if you have Global Upgrade certificates as a Diamond Medallion, or if you don't mind flying coach longhaul, there may be better deals to be had.
Let's check out economy fares from LAX over that same time period.
Here is the map for the Western Hemisphere: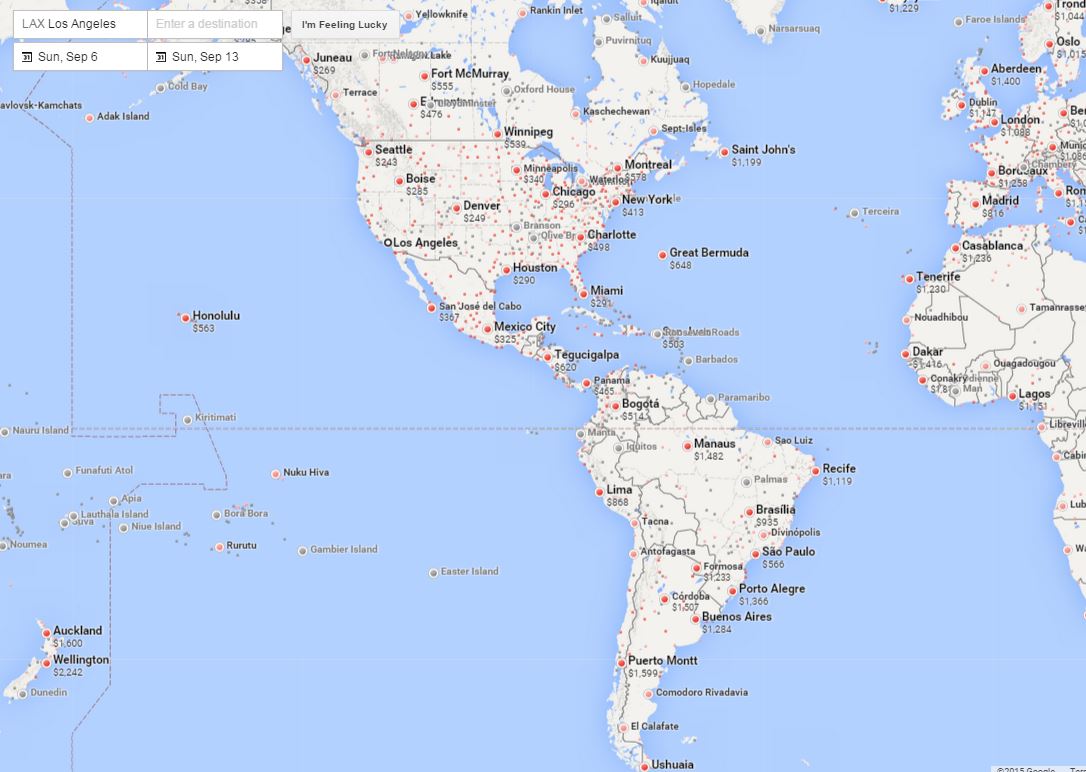 And here's a map showing Asian destinations: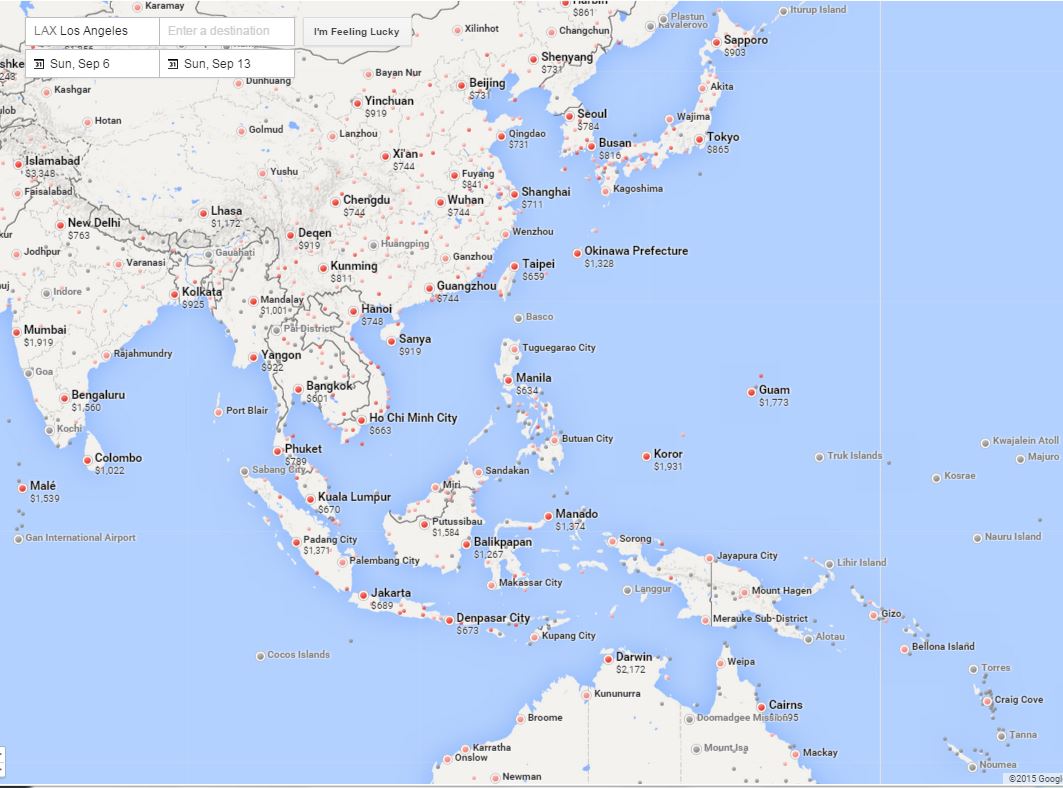 The fares that jump out to me are São Paulo for $566, Bangkok for $601 and New Delhi for $763.
Let's start with São Paulo. The calendar shows $566 is within about $10 of the lowest possible fare, which is fine for our purposes.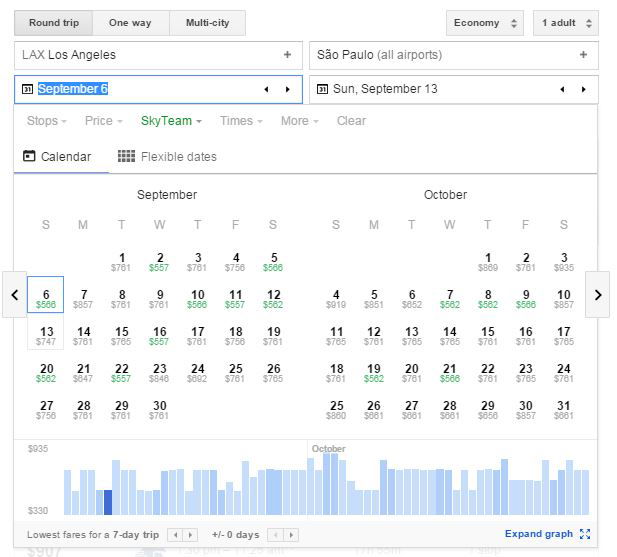 The routing is via Detroit outbound and Atlanta inbound.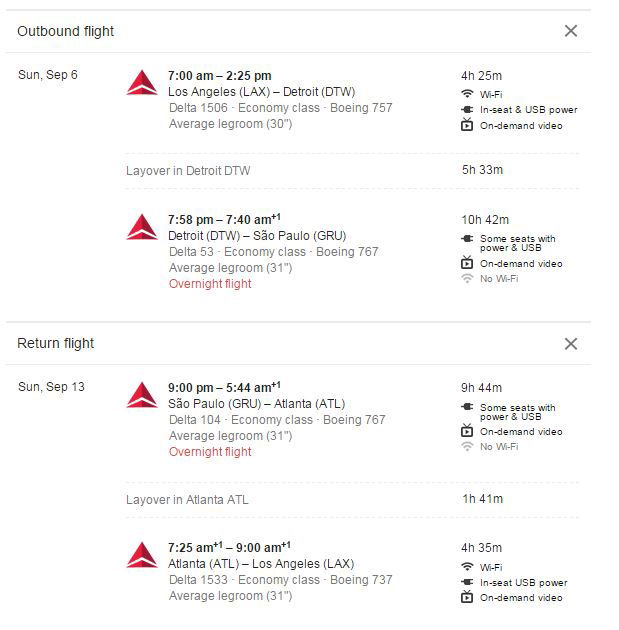 How many MQMs is this routing? Well, since it's an economy fare, it's the amount of flown miles: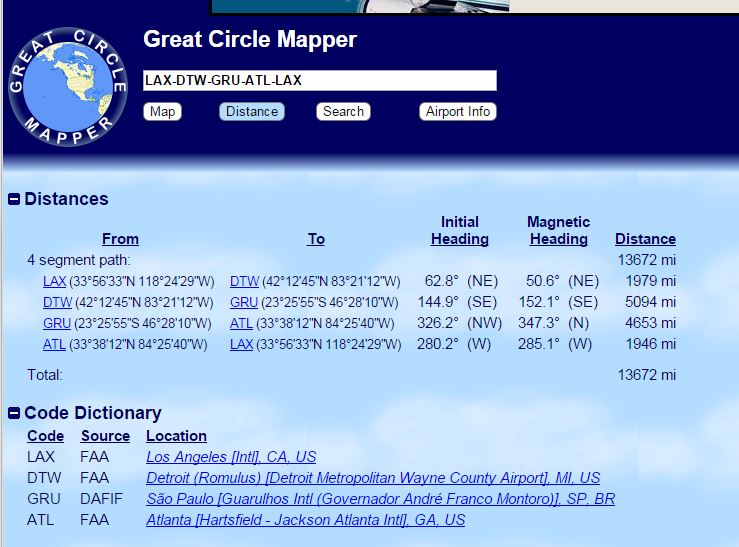 13,672 MQMs for $566 is pretty damn good (it works out to about 4.1 cents per MQM). Plus, since this flight is on Delta metal, it's fully upgradable (pending availability) using global certificates.
As for Bangkok, looks like the $601 fare is on China Airlines via Taipei (which is not upgradable).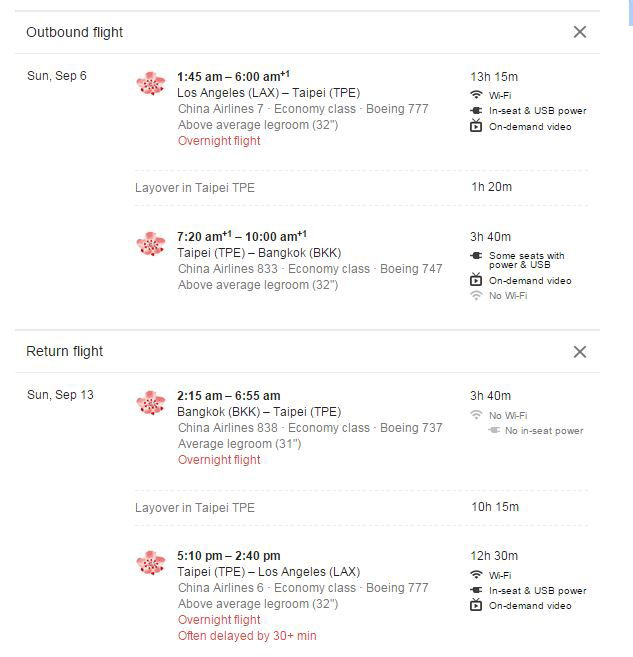 Turns out this routing is at most 16,691 MQMs, which is a haul for $601 — 3.6 cents per MQM, in fact, a great value. However, you'll have to ask yourself if you want to travel 16 hours each way on China Airlines in economy to get there.
Updated to say: I say at most because as commenter Ben pointed out below, certain economy fares on some of Delta's partner airlines do not earn 100% MQMs. Absolutely check Delta's partner earning chart before you book an MQM mileage run, or you may be very disappointed!
Finally, let's look at New Delhi. Looks like it's a bit cheaper to leave a day later, so thanks, Google Flights!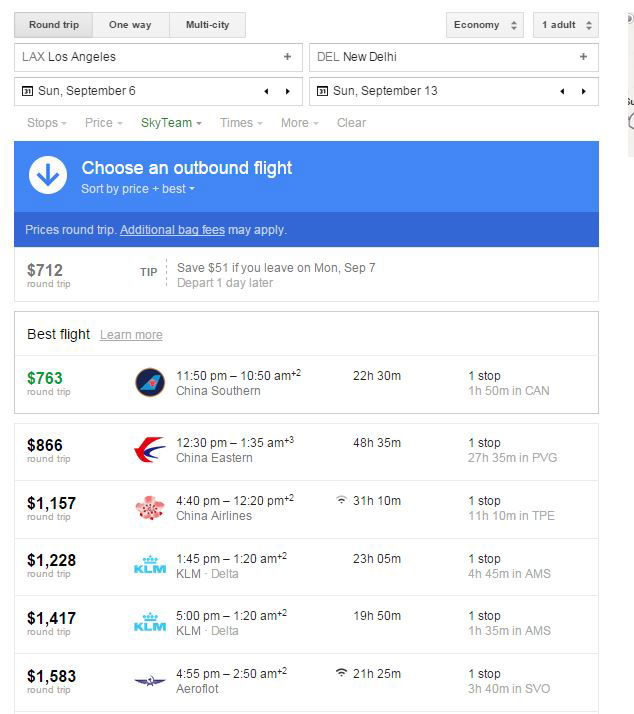 The $712 routing ends up being on China Eastern, which isn't exactly ideal.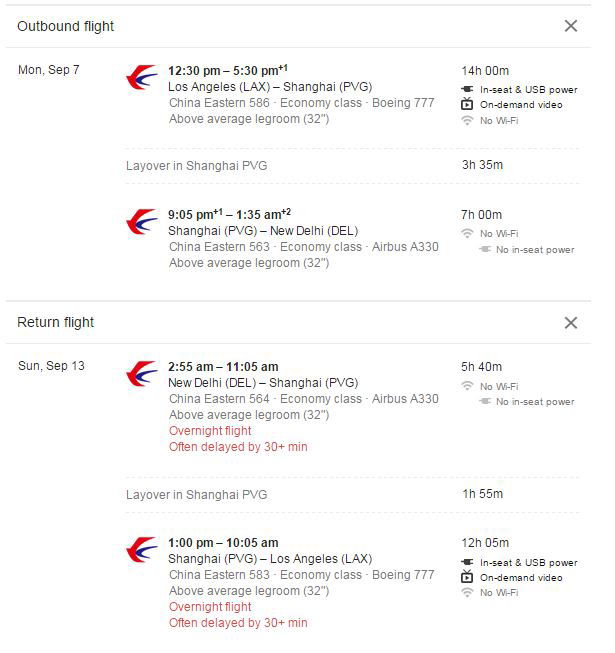 However, as expected, the LAX-PVG-DEL-PVG-LAX routing yields us the highest absolute number of MQMs, at 18,311. At $712, it's slightly less of a "value" than the Bangkok flights, since you're essentially paying 3.9 cents per MQM.
You get the idea. In this case, if I had 4 Global Upgrade Certificates to burn and I didn't mind paying for a Brazilian Visa, I wouldn't hesitate to do two LAX-GRU mileage runs in Delta One for a total haul of 27,344 MQMs and an out of pocket cost of $1,132.
(Of course, that begs the question of whether we should use GUCs simply as a way of requalifying again for Diamond Medallion the following year and getting on a hamster wheel, or if we should use them for pleasure/vacation, as we probably intended them to be used when we first drooled at Diamond Medallion status to begin with.)
If you really care about it, you can Same-Day Confirm onto a more MQM-heavy routing.
This is more the territory of hardcore mileage runners / "Hobbyists" than the typical flyer who wants to get from Point A to Point B relatively efficiently, but Delta's Same Day Confirm benefit for Gold, Platinum and Diamond Medallions allows you to change your routing, up to 24 hours in advance (and subject to fare class availability), at no extra cost. So you could, in theory, change your LAX-JFK flight (2,475 MQMs one-way in economy) to a LAX-MSP-ATL-JFK routing (3,202 MQMs) for an extra "free" gain of 727 MQMs.
Personally, I'd change a routing to avoid bad weather or other operational delays, or to confirm an upgrade, but to me a nonstop is far more valuable than the 727 extra MQMs gained from flying several more hours and dealing with two layovers.
Bottom Line
Congratulations! You're chasing MQMs. It's indeed a hamster wheel and once you've got on, it's very hard to get off.
Assuming, however, you decide to double down and maximize your MQMs, the best way to accrue them — other than through Delta Reserve credit card spend — is to search FlyerTalk and Google Flights (and stay tuned to OMAAT) for low fares with some combination of creative routing, premium cabin fare buckets, distance, value and (if it matters to you) upgradability.
Good luck!