We recently saw Delta make major loyalty changes, including completely overhauling its SkyMiles program, and adding new Sky Club access restrictions. While I can't blame Delta for trying to maximize the company's profitability, I think the airline is going one step too far, and these changes won't have the financial impact the airline is hoping for. Airlines keep wanting more from loyal customers, while offering them less.
In this post I wanted to address a couple of points. First I wanted to talk about the poor job Delta is doing communicating these changes, and then I wanted to talk about how Delta seemingly can't even make a compelling case for the new SkyMiles program.
Delta says customers want new SkyMiles program
While Delta is giving SkyMiles members more ways to earn elite status, the airline is massively increasing requirements to earn status. To look at the two ends of the spectrum, the Medallion Qualifying Dollar (MQD) requirement for Silver status is doubling (from 3,000 to 6,000), while the requirement for Diamond status is increasing by 75% (from 20,000 to 35,000).
No matter how you slice it, status under the new program is much harder to earn. So far, Delta has sent a single communication to SkyMiles members about these changes, describing them as follows:
As SkyMiles Membership continues to grow, we are committed to preserving the exclusivity and experience you anticipate and deserve. We have heard your feedback about the complexity of the SkyMiles Program and for the first time since 2015, we are making changes to simplify the way you qualify for Medallion Status while also rewarding you with more ways to earn Status.

We are dedicated to earning and maintaining your trust with every choice we make. We genuinely hope our commitment to a simplified program with more opportunities to earn Status will enhance your unique Member experience.
Honestly, isn't Delta insulting our intelligence here? The program is emphasizing how these changes are being made due to feedback from SkyMiles members about the complexity of the program. Heck, the company even says that it hopes that it's earning our trust with every choice it makes.
There's not a single acknowledgement in the email about how the company recognizes that not all members may appreciate these changes, or that the company understands how this will make status more difficult for some to earn, etc. The company is just literally pretending that we should be overjoyed by these changes.
That's really poor form when we're talking about such a massive devaluation. Again, the issue isn't the way in which Delta has changed its program (which I think is smart, and copies the American Loyalty Points system), but rather it's the massive extent to which Delta has moved the goalposts, while continuing to offer loyal members less and less value.
At least when Delta announced SkyMiles changes back in 2014, the program acknowledged that the intent was to thin elite ranks, writing "when everyone's an elite flyer, no one is."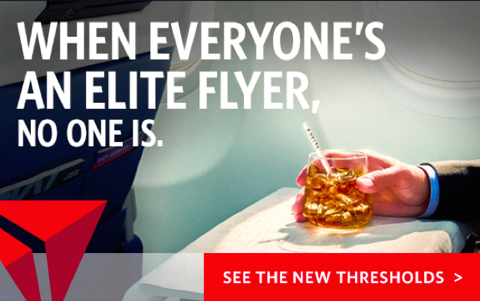 Delta's examples of how easy status is to earn
Delta's webpage about 2024 SkyMiles changes gives three examples of how members can earn elite status with the new program. The program shows how a member could maintain their Diamond, Platinum, or Silver status. I've gotta be honest, I feel like Delta really isn't making a very compelling case here, even with cherry-picked examples.
How Marcus earns Delta Diamond status
Let's start at the top. Delta gives the example of how Marcus earns Diamond status, which requires 35,000 MQDs (as opposed to 20,000 before). Based on the blurbs as well as the fine print:
He takes 30+ trips per year — that includes four Delta One roundtrips per year (each costing $4,400+), 20 first class roundtrips per year (each costing $800+), and six economy roundtrips per year (each costing $400+)
Then he spends $6,000 per year on rental cars booked through Delta Car Rentals
Then he spends $96,000 per year on a co-branded credit card, which also carries a hefty annual fee

I mean, my gosh:
80% of Marcus' travel is in paid first and business class, where he's getting very little incremental value for being a Diamond Medallion member
If he's spending $6,000 on rental cars booked through Delta, hopefully it's not through Hertz, or he might end up in jail and won't be able to complete those 30 roundtrips!
So basically he's getting some incremental value on the six roundtrips per year where he books Delta economy, but I wouldn't even expect first class upgrades to clear regularly there
Under the old program, his two Delta One roundtrips plus 14 roundtrips in first class would have been enough to earn Diamond status; he could forget about the six roundtrips in first class, the six roundtrips in economy, the $96,000 in credit card spending, and the $6,000 in rental cars
What Delta is continuing to do a poor job with is explaining how anyone is coming out ahead here. What is Marcus getting for his increased loyalty? Less competition for upgrades, even though those already don't clear a majority of the time for Diamond members, given how many first class seats Delta sells?
How Meghan earns Delta Platinum status
Delta gives the example of how Meghan earns Platinum status, which requires 18,000 MQDs (as opposed to 12,000 before). Based on the blurbs as well as the fine print:
She takes 22+ trips per years — that includes 16 economy roundtrips per year (each costing $400+), four Comfort+ roundtrips per year (each costing $600+), one first class roundtrip per year (costing $800), and one Premium Select roundtrip per year (costing $2,600)
Then she books a Delta Vacations package for her family to Europe for $8,300
Then she spends $60,000 per year on a co-branded credit card, which also carries a hefty annual fee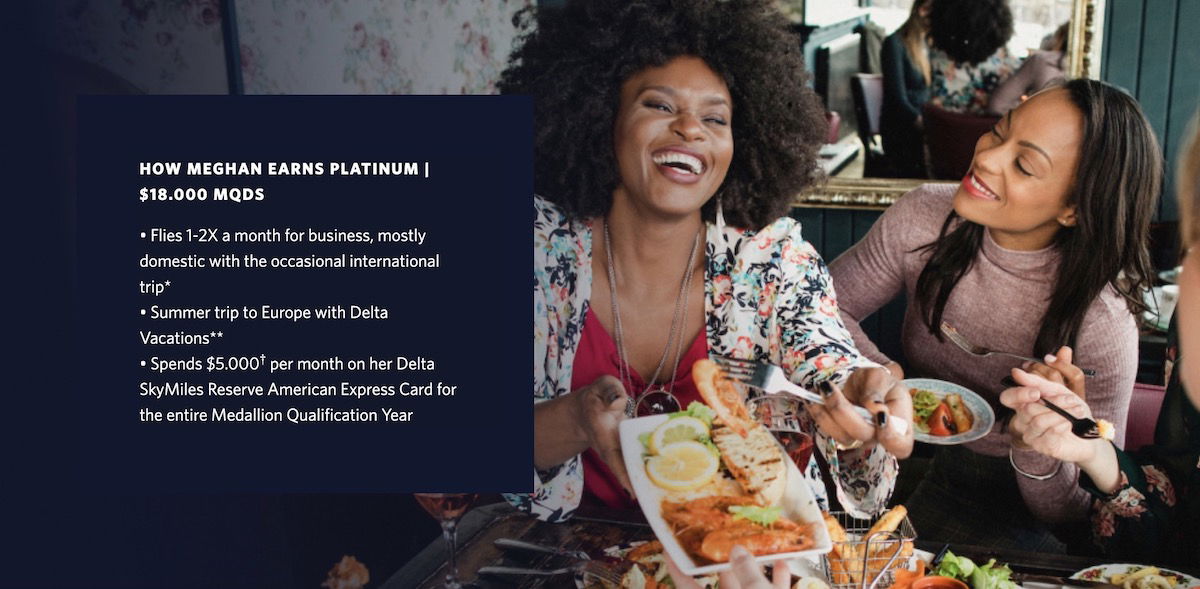 Okay, so:
If Meghan is a Platinum Medallion member, why is she paying for Comfort+, when she receives that for free as a benefit of her status?
Under the old program, her flights alone would have earned her 12,200 MQDs, enough for Platinum status; so now incrementally Delta wants her to book an $8,800 vacation package, and spend $60,000 on a credit card
Her $60,000 in spending on a credit card won't even be enough to her unlimited Sky Club access (despite having the most premium credit card), but she'd be limited to a very small percentage of her travel
Let's be realistic here — how much do we think her first class upgrade percentage with Delta will increase as a result of these changes? Or what other value is she getting that she didn't get before? Never mind that she'll be limited on her Sky Club visits for her high annual fee card, rather than the unlimited visits she currently gets.
How Brandon earns Delta Silver status
Delta gives the example of how Brandon earns Silver status, which requires 6,000 MQDs (as opposed to 3,000 before). Based on the blurbs as well as the fine print:
He takes eight trips per year, all of which are roundtrips in economy costing an average of $400+
He then books $1,500 per year in hotels through Delta Stays
Then he spends $36,000 per year on a co-branded credit card, which also carries a substantial annual fee

Those flights alone would have previously been enough for him to earn Silver status, so Delta is "only" incrementally asking for $1,500 worth of hotel stays plus $36,000 in credit card spending. What exactly is the member getting for all of that, beyond what they'd get for having a basic Delta credit card? Maybe the occasional upgrade to an undesirable Comfort+ seat?
Bottom line
Delta is trying to position its SkyMiles changes as some sort of positive development intended to simplify the program, and is suggesting the changes are based on customer feedback. While there are new ways to earn status, Delta is making customers hugely increase their engagement with Delta, to get the same perks as before.
I'm not saying people shouldn't earn status with Delta, or shouldn't fly with Delta. If Delta is the best fit for your travel needs (in terms of schedule, value, etc.), you should fly with the airline. However, Delta is failing to make a compelling case for why customers should be loyal under the new program.
Delta is making it clear that it expects a lot more loyalty from customers, but the company is failing to explain how it will reward customers in return.