Happy New Year!
Last year was my biggest travel year ever. I woke up on January 1, 2015 in Buenos Aires, Argentina and spent the last hours of December 31, 2015 in Aix-en-Provence, France.
In between I went to, among other places, Madrid, Amsterdam, London, New York, and Tokyo. I flew SkyTeam a lot — and wrote about my experiences on Virgin Atlantic in Upper Class on the A340, and Delta's Delta One business class on the 767.
For New Year's Eve, I went on a last minute jaunt to the South of France using Delta SkyMiles. I booked a one-way award ticket from Los Angeles to London Heathrow in business class using 62,500 miles, but finding a decent return was tricky.
Ultimately I could cross the Atlantic in business class for another 62,500 miles out of London again (I had found availability to Washington and Miami on Virgin, and to Las Vegas on Virgin out of Gatwick). But tickets to and from continental Europe, especially France, to London were outrageous — $800 and up, in economy. So I would be paying through the nose simply for a positioning flight, and I'd have to pay again for another flight to take me from my U.S. gateway to Los Angeles (which, on New Year's weekend, wouldn't have been cheap). And that would be two connections.
In the end, I decided convenience — especially for a short trip — was paramount, and I paid 147,500 miles (Ben would kill me, but he's too busy flying a Gulf carrier for the thousandth time) for a more direct return to Los Angeles from Nice, France — which was very close to where I spent my New Year's — via New York, since Delta operates a fairly one-off JFK-Nice nonstop.
Since I'd reviewed all these products before, I didn't set out to travel with the intention of logging a series of trip reports. However, I wanted to share with you some "updates," if you will, on these tried-and-true products, as well as some other notes from my trip.
1. Virgin Atlantic's A340s have been refreshed
When I flew Virgin Atlantic out of LAX in July, I was massively disappointed by the Upper Class cabin in the A340, which was showing its age. I expected the same thing this time around.
To Virgin's credit, the A340s — or at least this particular one — have been refreshed. The cabin felt sleek and new, and the seats, televisions and surfaces had all been replaced. Color me impressed. (Nota bene, the seats still don't have standard outlets, so you'll need to ask for an adapter as you board.)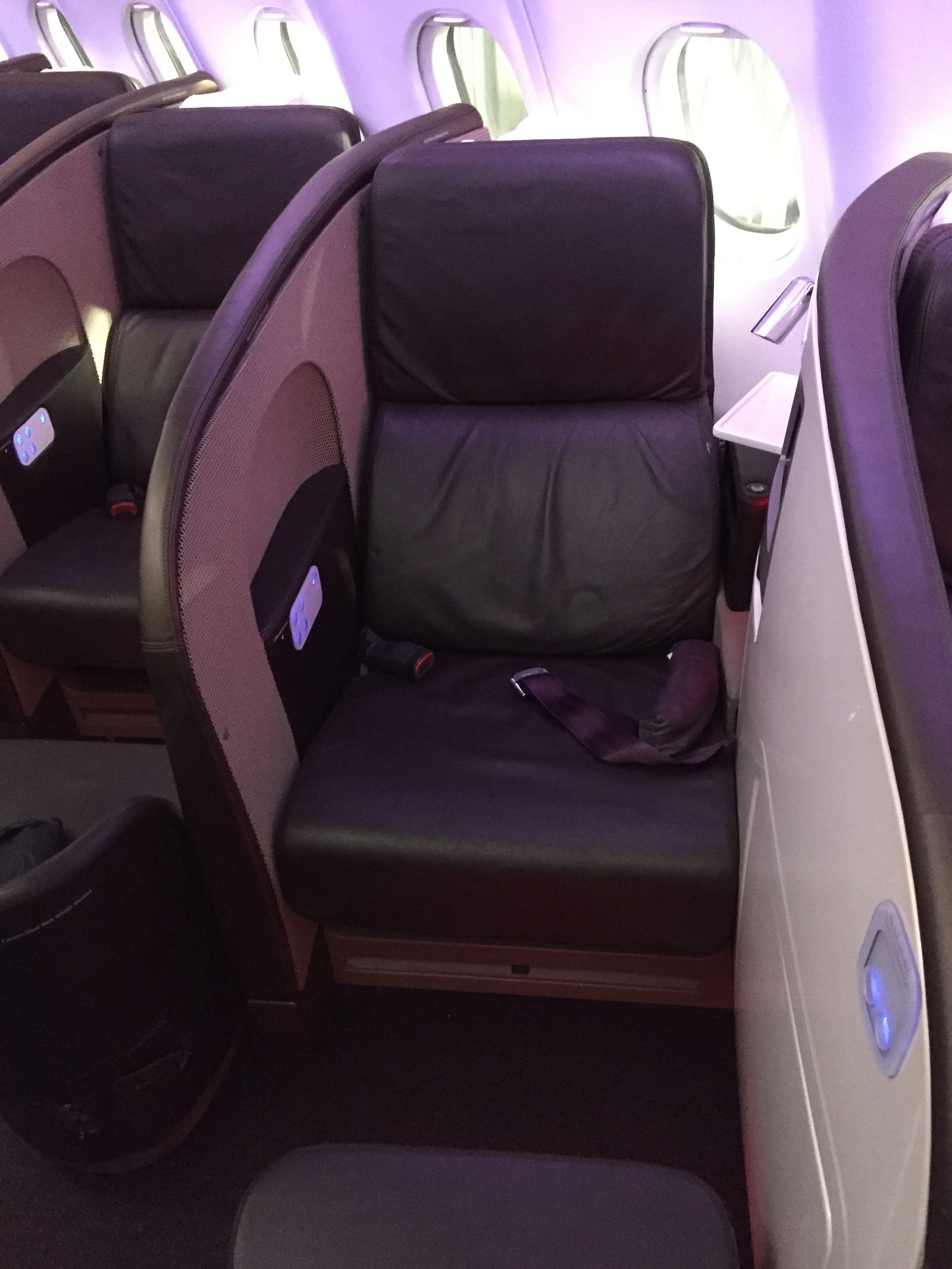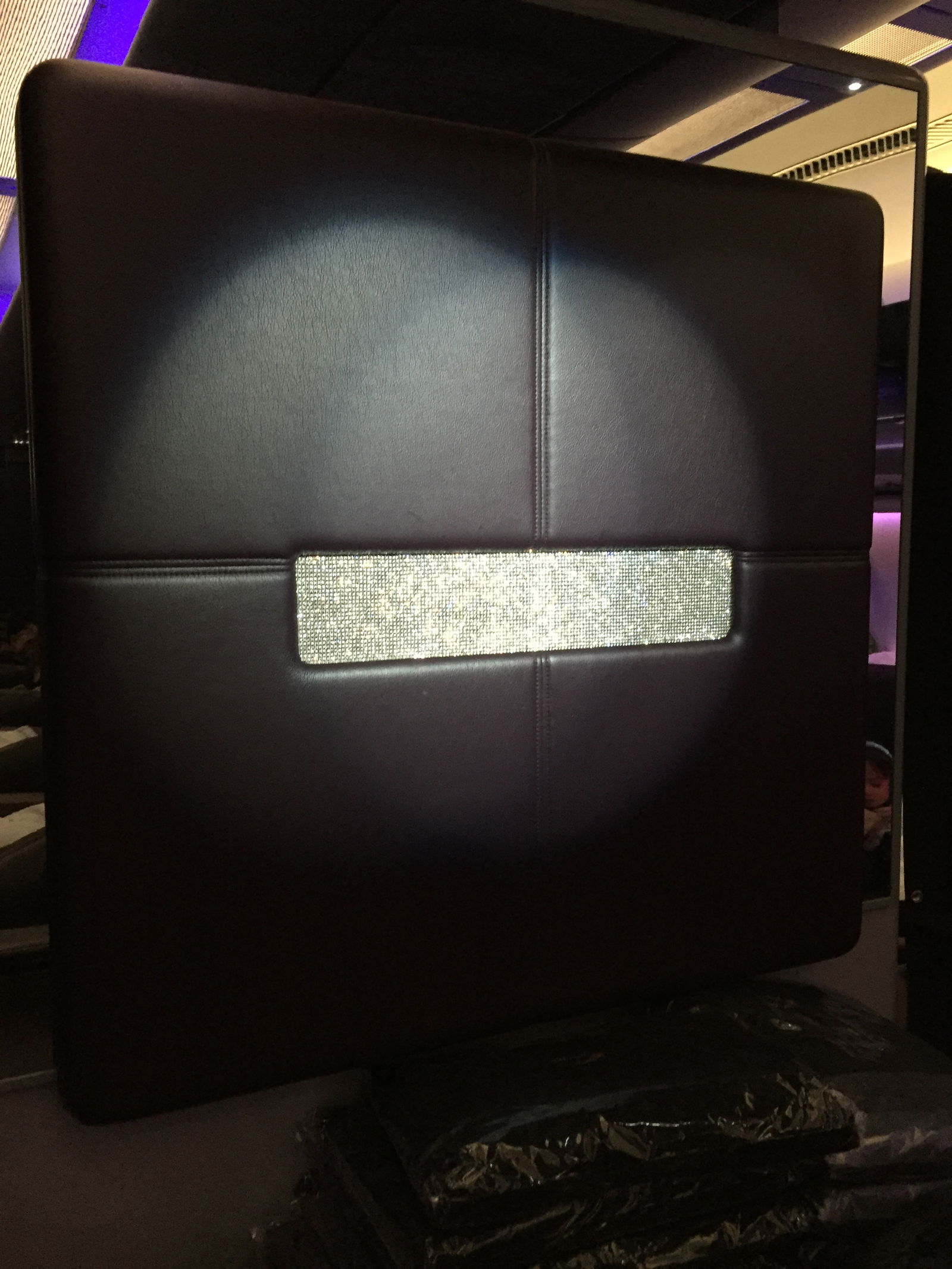 As for the food, it was decidedly middling, as I've come to expect on Virgin. Service was generally delightful if a bit brash and unpolished. The bed remained as dreamy as ever.
So my New-For-2016 update is: The interior of the A340 is vastly improved. Now if they could only install real outlets and equip the planes for Wifi…
2. The No. 1 Traveller's Lounge at Heathrow Terminal 3 is a very decent option
We didn't have to change terminals at Heathrow, but we were flying onward to Marseille via British Airways on a paid economy ticket, without access to the Galleries Lounge. Instead, my Priority Pass card got us complimentary access for two to the No. 1 Traveller's Lounge, which is a terrible name but actually a pretty terrific option for a paid lounge.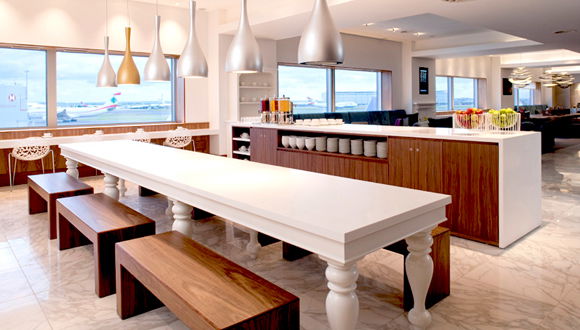 Showers were wonderful, the lounge spaces were ample, well-designed and stylish, the food selections were fairly impressive and the bar served its purpose.
So my New-For-2016 update is: The Galleries Lounge is easy, but often crowded, and the bathrooms are showing their age. If you've got a Priority Pass card, it's worth checking out the No. 1 Traveller's Lounge for fancier showers and a bit less of a zoo atmosphere, though Champagne enthusiasts will note that you have to pay for bubbly at this lounge, while it's free at BA's Galleries.
3. That Delta Nice-JFK flight is pretty handy
France is a large country with many dynamic cities outside of Paris, but for the most part you'll have to fly through dreaded Charles de Gaulle-Roissy airport to reach them (though Air France is introducing a JFK-Paris Orly route) — or worse, Heathrow.
Delta offers the one and only nonstop between the U.S. and anywhere else in France on its Nice-JFK route. The flight's on the less-than-ideal 767, but it doesn't have to be on anything nicer: the route itself is so novel and so convenient that it pretty much sells itself (and does; saver award space is nearly impossible to find and the flight was completely full).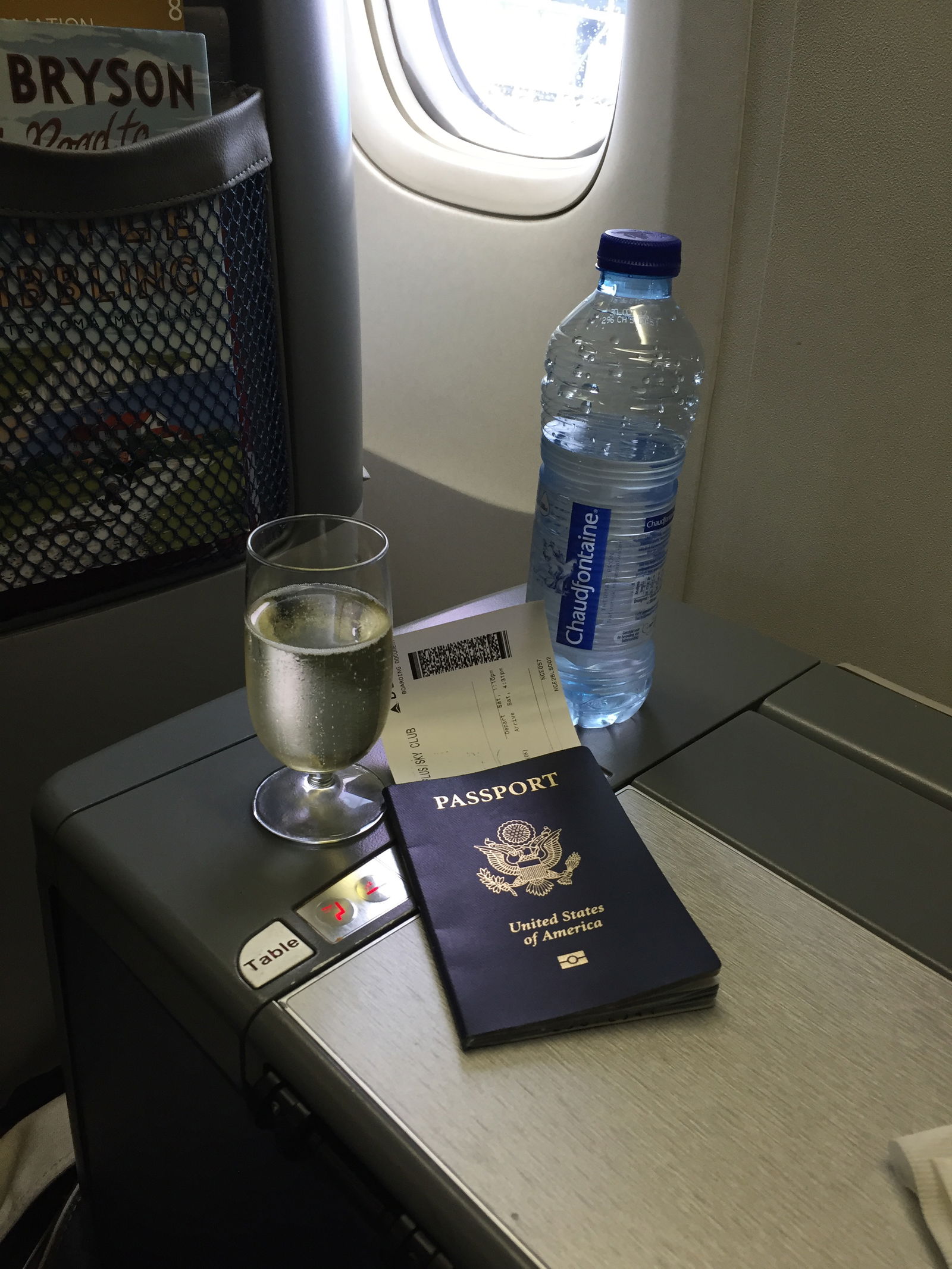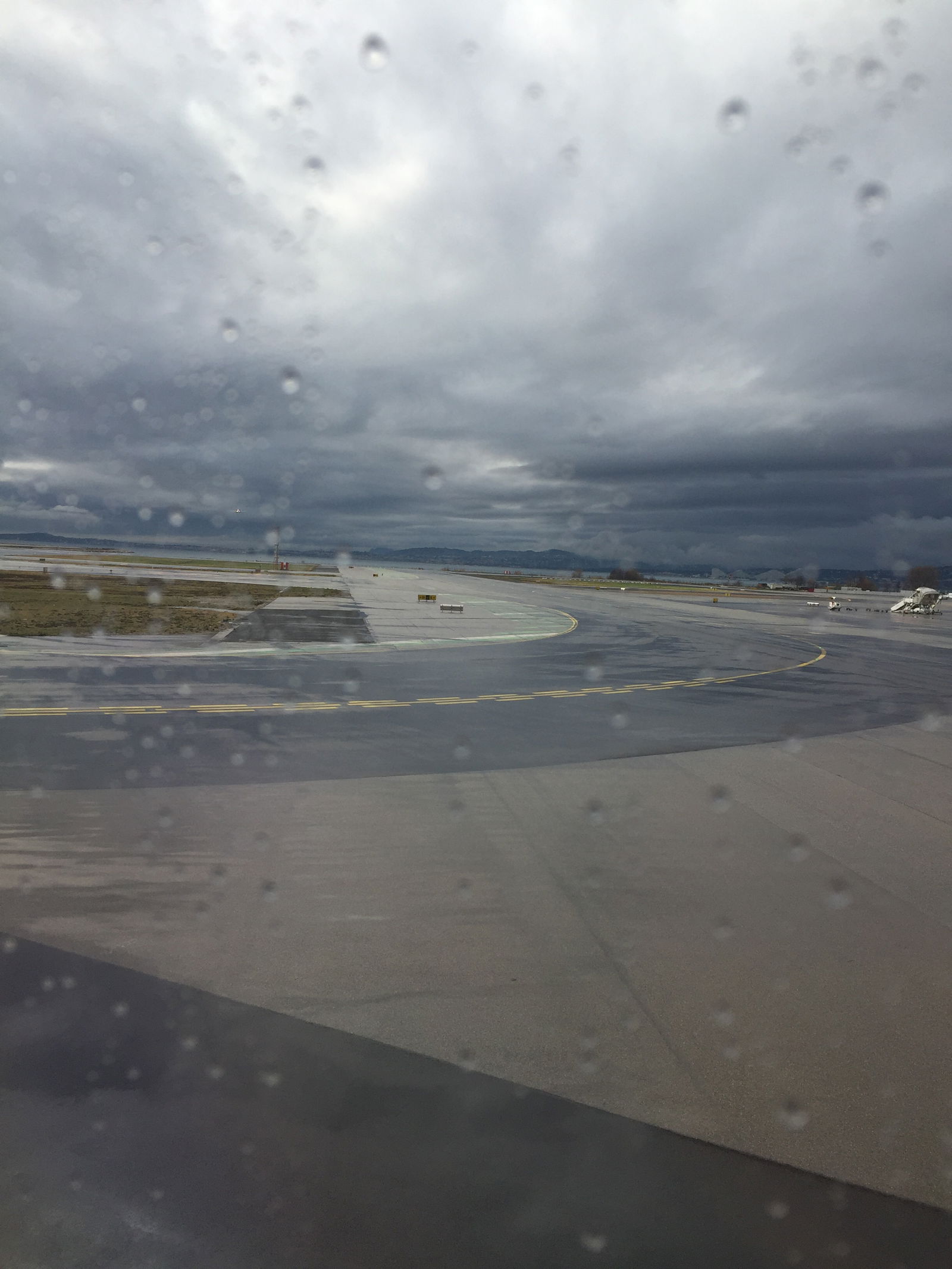 As someone who loves France but hates CDG, this is good news. Delta has carved out somewhat of a niche market flying to "boutique" European cities nonstop from the United States. In season, Delta is the only carrier to fly to Pisa (Florence), Prague and Malaga, and the only U.S. carrier to fly to Reykjavik and Copenhagen.
So my New-For-2016 update is: There's something to be said about not flying through a huge European hub. Nice-Côte d'Azur Airport is small, manageable, easy to get to and not at all prone to delays.
4. Delta really does have the best food… even if its wine list leaves something to be desired
I've actually been somewhat underwhelmed by last few meals in Delta One, so my expectations were fairly low when I settled in. As menus were distributed, though, I was impressed not only with how "upgraded" the menus themselves seemed, but also the choices on offer.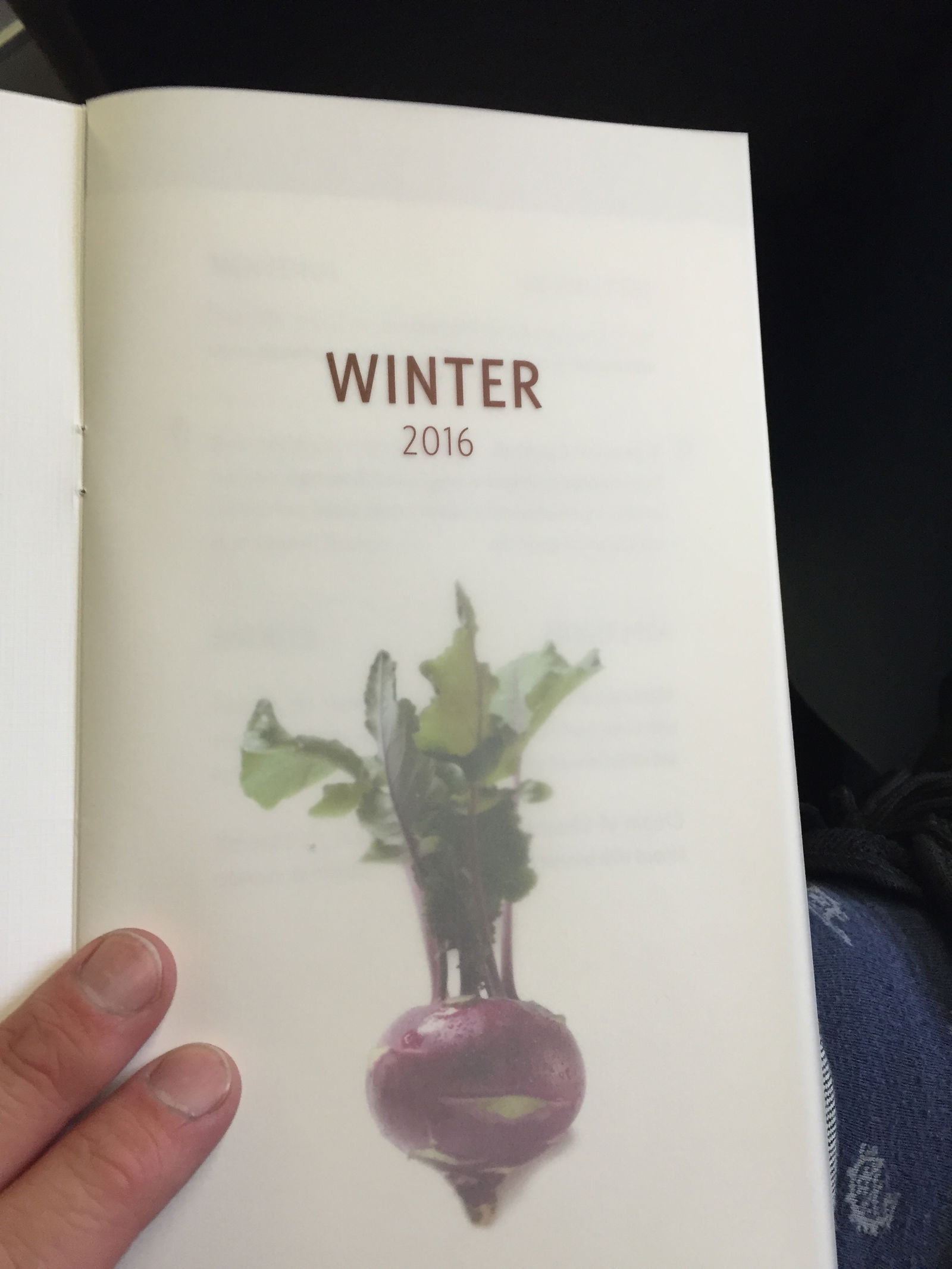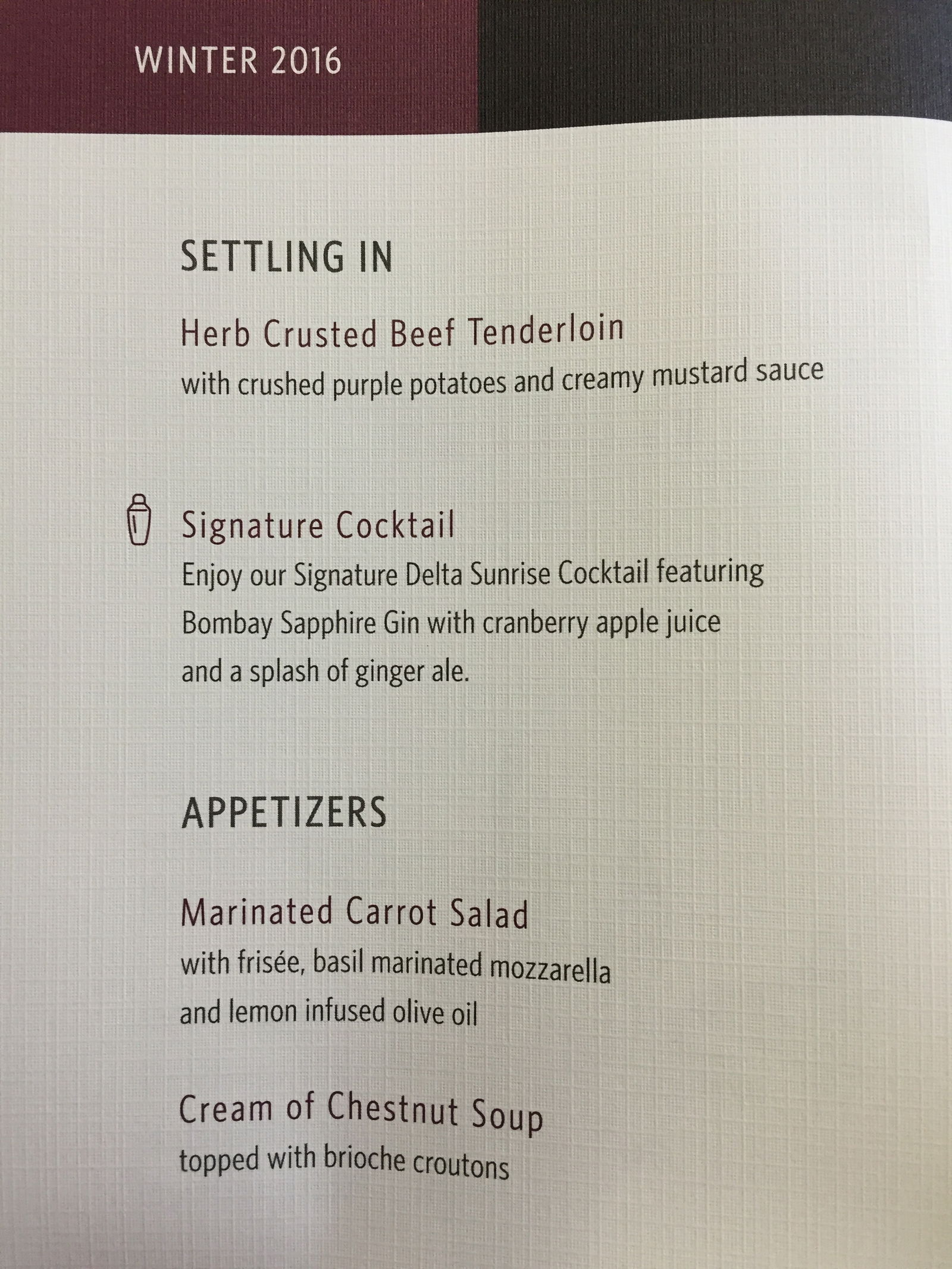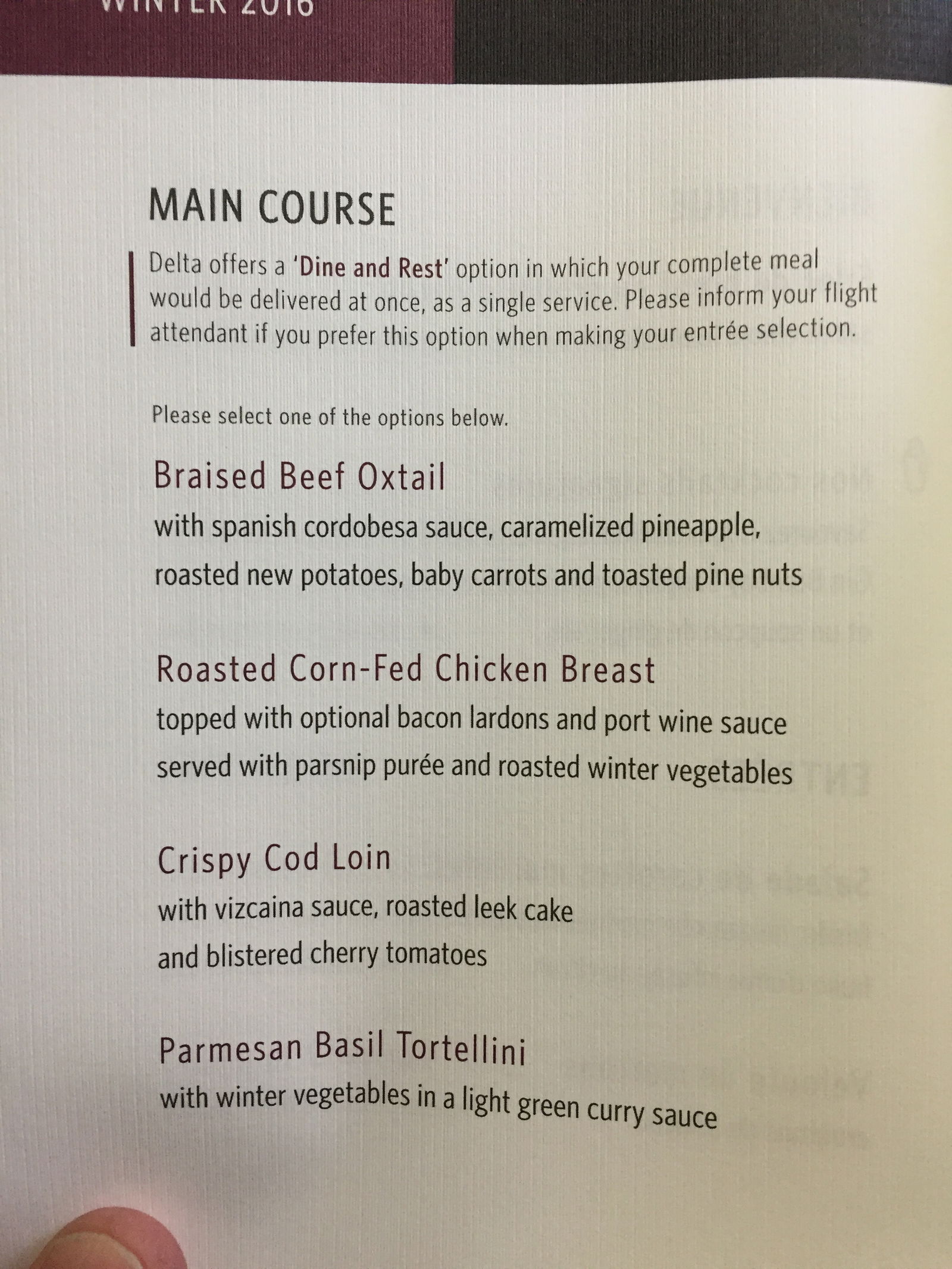 The beef tenderloin starter was tasty, but what really stood out was my roast chicken dish, which was — I kid you not — exceptional. I would have been impressed had I ordered it at a bistro in France, and it was essentially a really terrific coq au vin. The sauce was delicious, the chicken was perfectly cooked and moist, and the parsnip mash was wonderful without being too unhealthy.
Similarly, my food in Delta One from JFK-Los Angeles was also superb. I don't think there's any comparison, domestically speaking.
That all said, I noticed that while on the ground at Nice the flight attendants were carrying trays of sparkling wine up and down the aisles, asking if we'd like Champagne or orange juice. Because I was sitting in the back row, near the preparation area, I noticed they were pouring Segura de Viudas Reserva cava. I casually mentioned it to the flight attendant and she confided, "yeah, we're not allowed to serve the good stuff until we're up in the air."
Mind you, the good stuff is Champagne Gardet, which is also what Virgin Atlantic serves (including on the ground). It's fine, and not especially pricey. It's fairly irritating that Delta won't open the Gardet on the ground because of duty reasons. It's, frankly, cheap of them, and they're counting on no one noticing.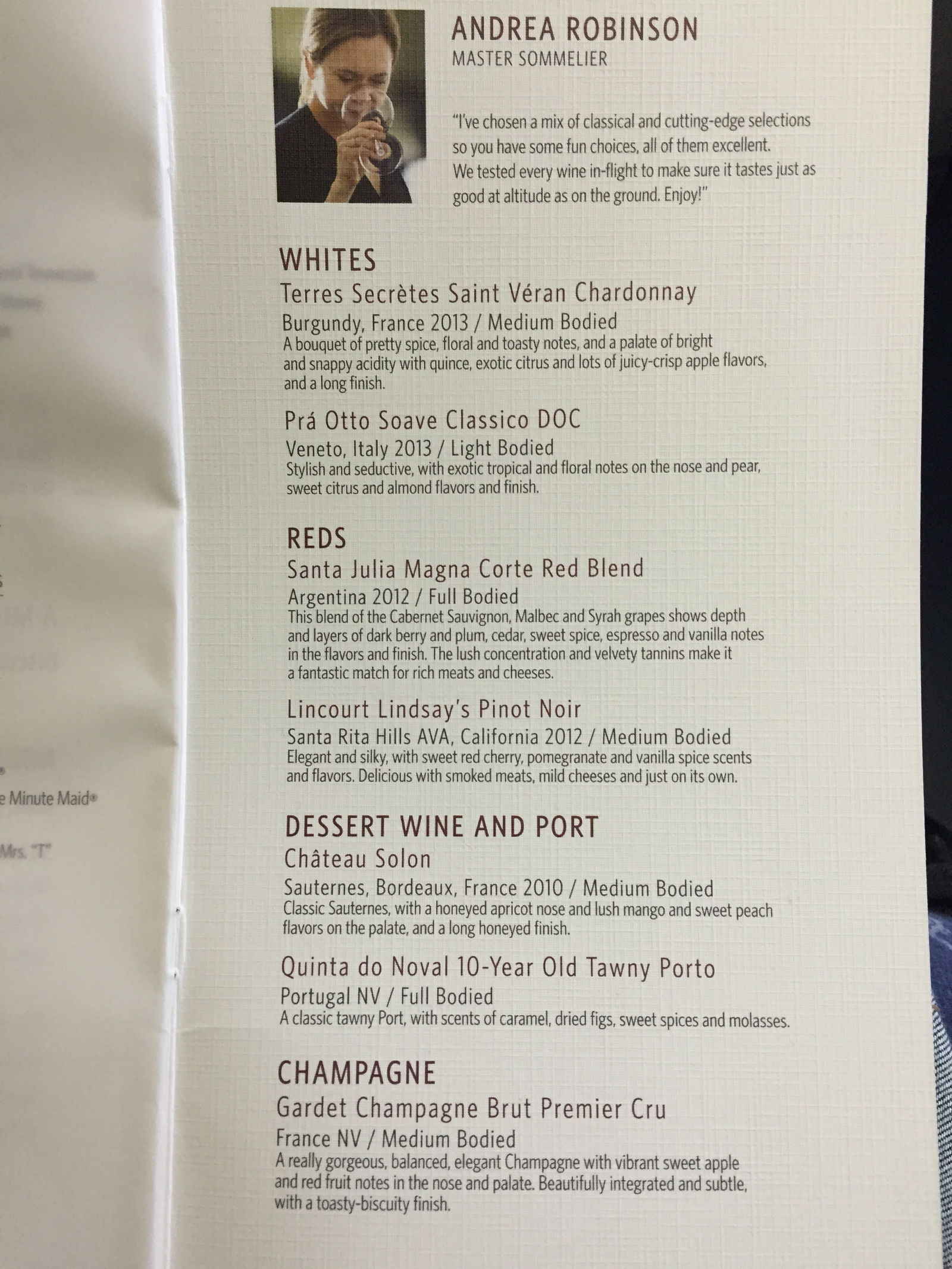 To that point, Delta serves the Segura de Viudas Reserva cava on its JFK-LAX route, and actually lists the sparkling wine — which is, to be clear, not from Champagne — as a "Champagne" in the wine list. That's not only misleading and false advertising (they're trying to genericize the word "Champagne" to take attention away from the fact they're not serving it), but it remains incredibly cheap of the airline — especially when American Airlines serves the real stuff on its JFK-LAX route.
So my New-For-2016 update is: Delta's food service remains unparalleled. You'll get a great business class meal; among the best. Delta's been skimping on the wine list lately and "Master Sommelier" Andrea Robinson needs to up her game — and Delta needs to man up and pay the duties required to serve French Champagne on the ground, in France, of all places!