---
Ben just recently reviewed Delta's international 767 Delta One service on his London trip report, and I recently reviewed Delta One on the transcontinental 767, but I'd actually never flown Delta's business class internationally before, so this was a bit exciting for me, even if it was still on a 767-300, which is one of Delta's least exciting products.
Once again, I entered LAX through the Delta ONE Lounge at LAX, which is a generally nice (if somewhat meaningless) experience and has been reviewed recently both by Ben and by me, as has the Delta SkyClub, where I also spent time before boarding. Generally, my experiences with both the Lounge and the SkyClub were on par with expectations, which is to say very agreeable, though of course the SkyClub isn't comparable to the nicer business class lounges in the Tom Bradley International Terminal.
Delta 637
Los Angeles (LAX) – Tokyo Haneda (HND)
Friday, October 2
Depart: 6:40PM
Arrive: 10:30PM +1
Duration: 11hr50min
Aircraft: Boeing 767-300
Seat: 3A (Delta One)
Although Delta's flight to Haneda Airport is not its flagship route to Tokyo from Los Angeles (that honor goes to the Narita flight, where Delta operates a regional hub), and its timing is considered somewhat strange for an Asia-bound flight, it's hard to beat the convenience of Haneda Airport (which is a twenty minute taxi ride or a train ride from central Tokyo — and indeed, is officially Tokyo International Airport) as opposed to Narita, which is extremely far from the city.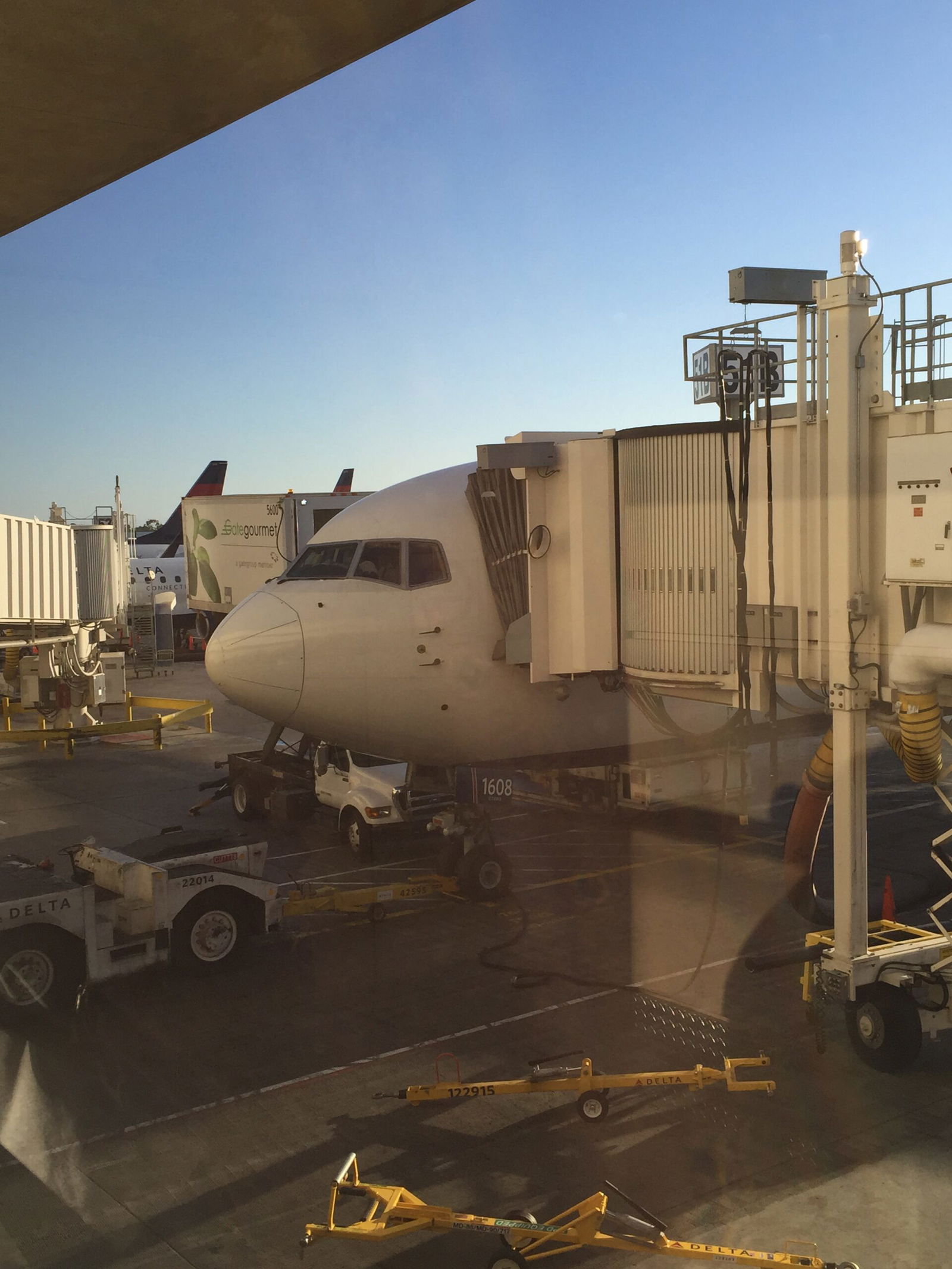 Boarding was incredibly smooth, as the flight had a reasonably light load.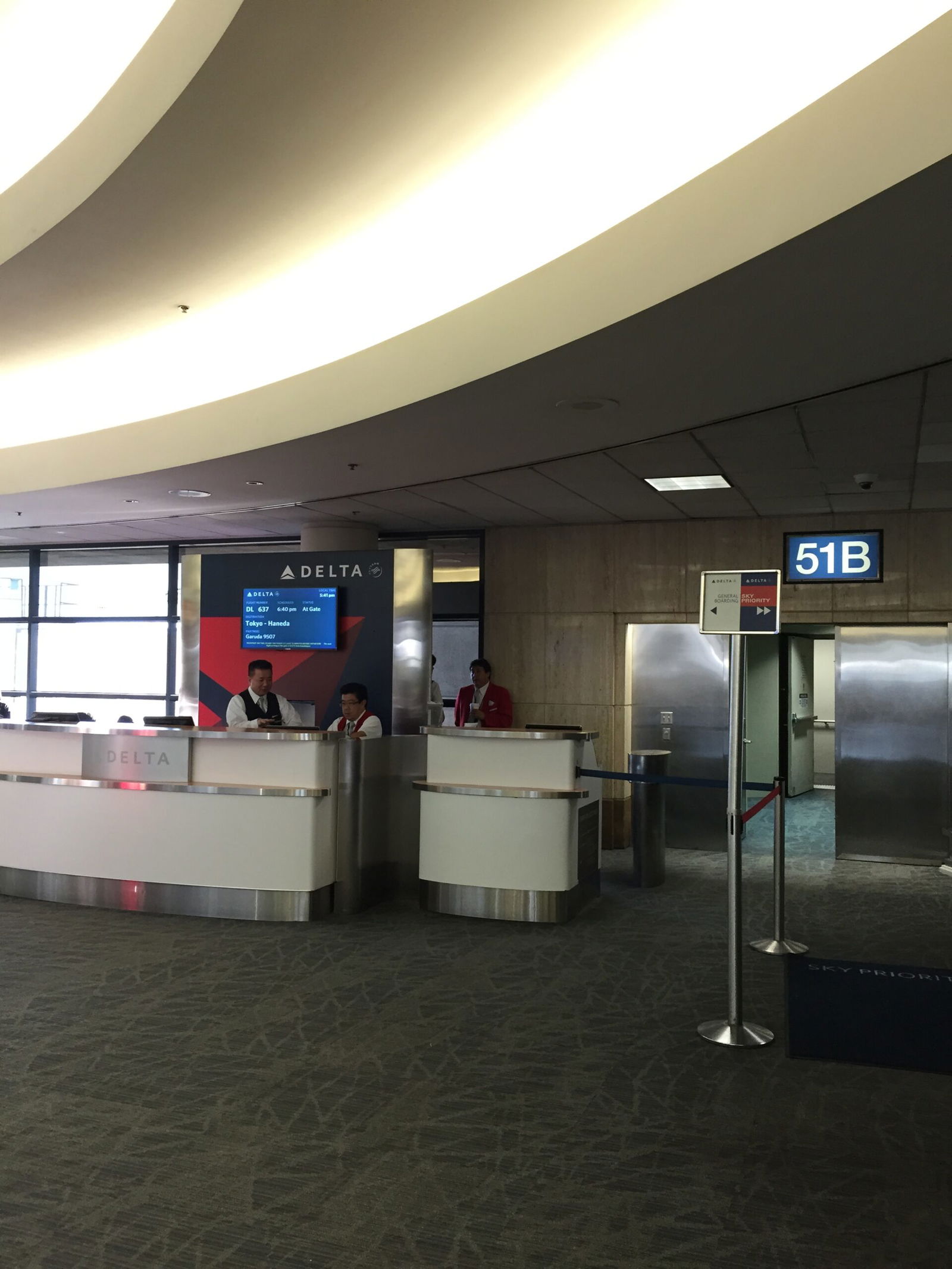 The seat map showed several business class seats empty at the time of boarding, though as we boarded the flight we noticed that the seats ended up all being filled. I'm not sure if the seats were unofficial upgrades to Diamond Medallions, but anecdotally they appeared to be taken mostly by native Japanese speakers, which made me wonder if they were paid upgrades, instead.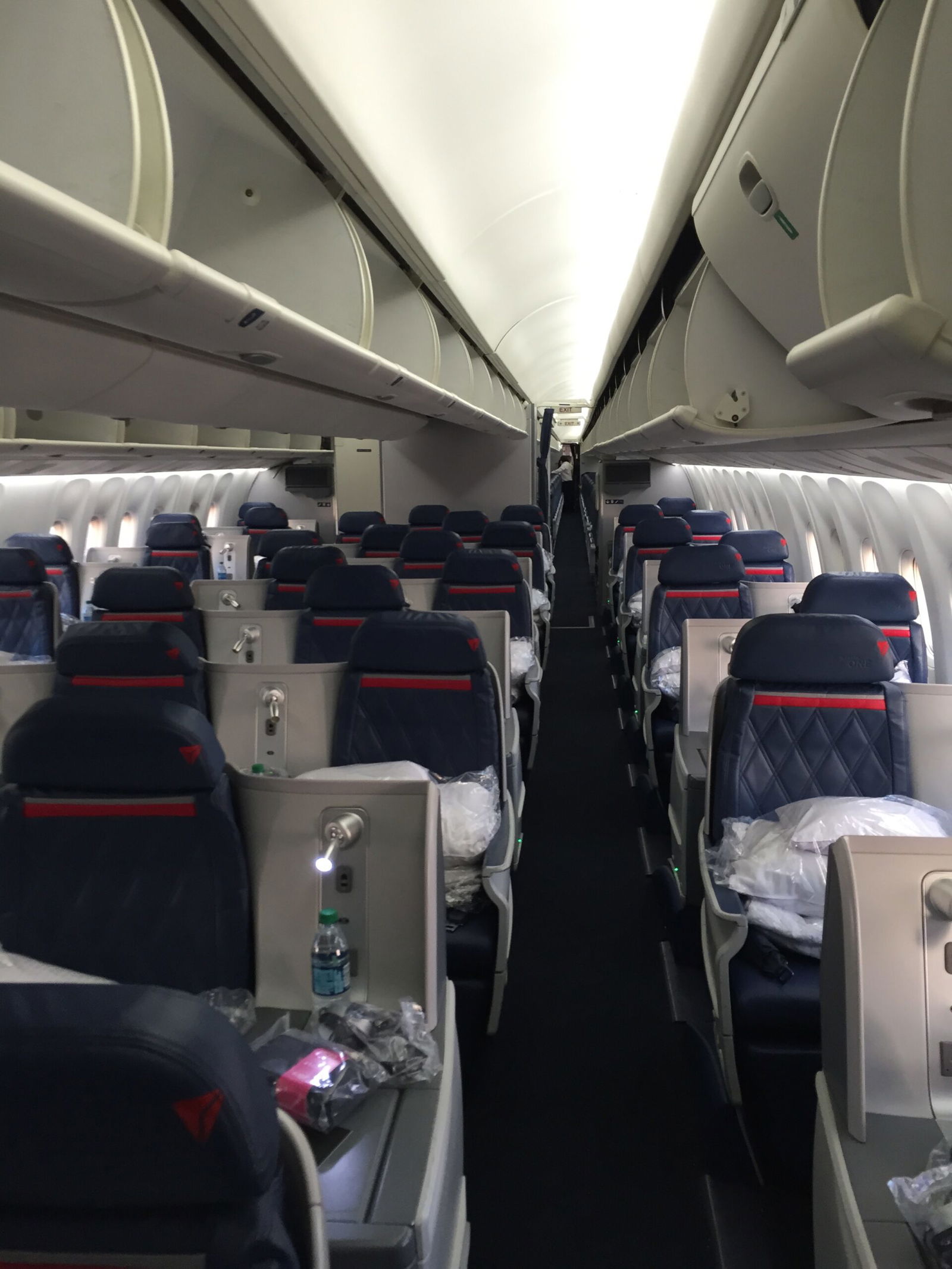 In any event, the Delta One cabin was one of the newer 767 cabins, with the quilted "Delta One" racing-stripe style seats, which in my opinion are a major upgrade from the fairly revolting puke blue Business Elite seats of the past.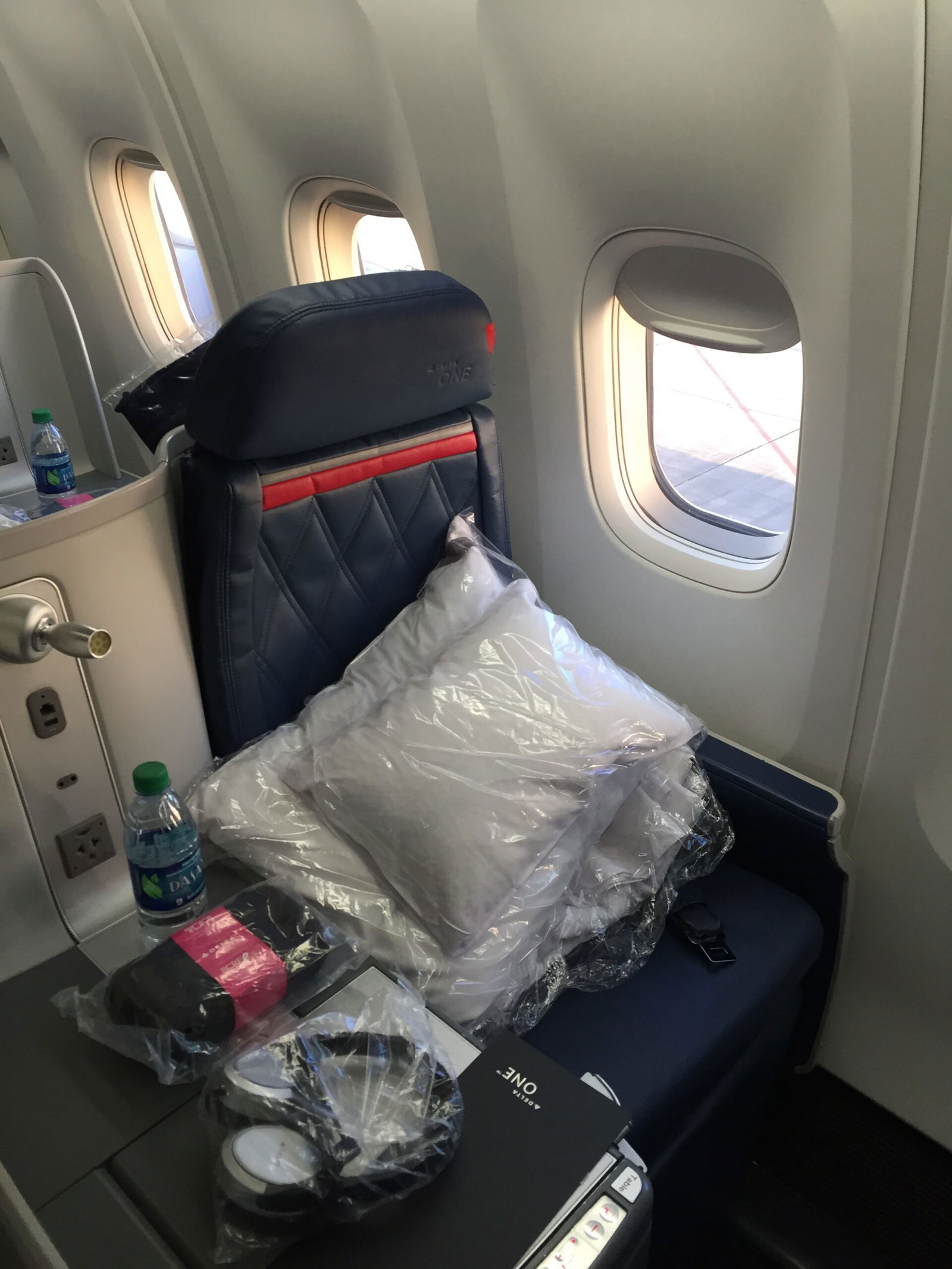 I got to my seat, 3A, and found the usual array of goodies. For its international flights, Delta gives you two Westin Heavenly pillows (a large, fluffy one and a smaller back pillow), as well as a light comforter.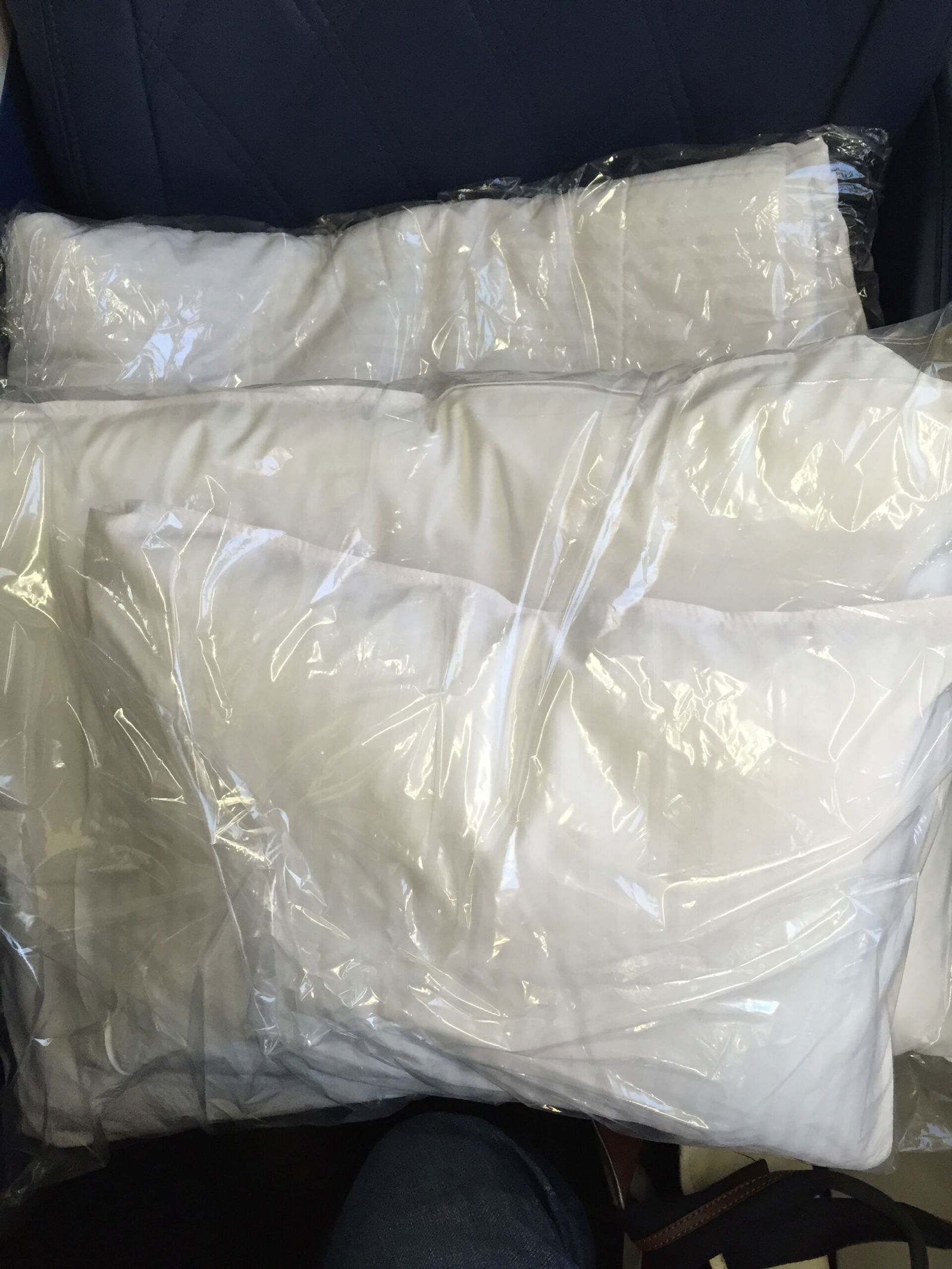 There was a hard-cased Tumi amenity kit on the console, along with noise-cancelling headphones and a full-sized bottle of water (as opposed to the mini-bottles Delta provides even on its Delta One transcontinental flights), which I thought was nice. A pair of slippers was placed in the magazine pouch.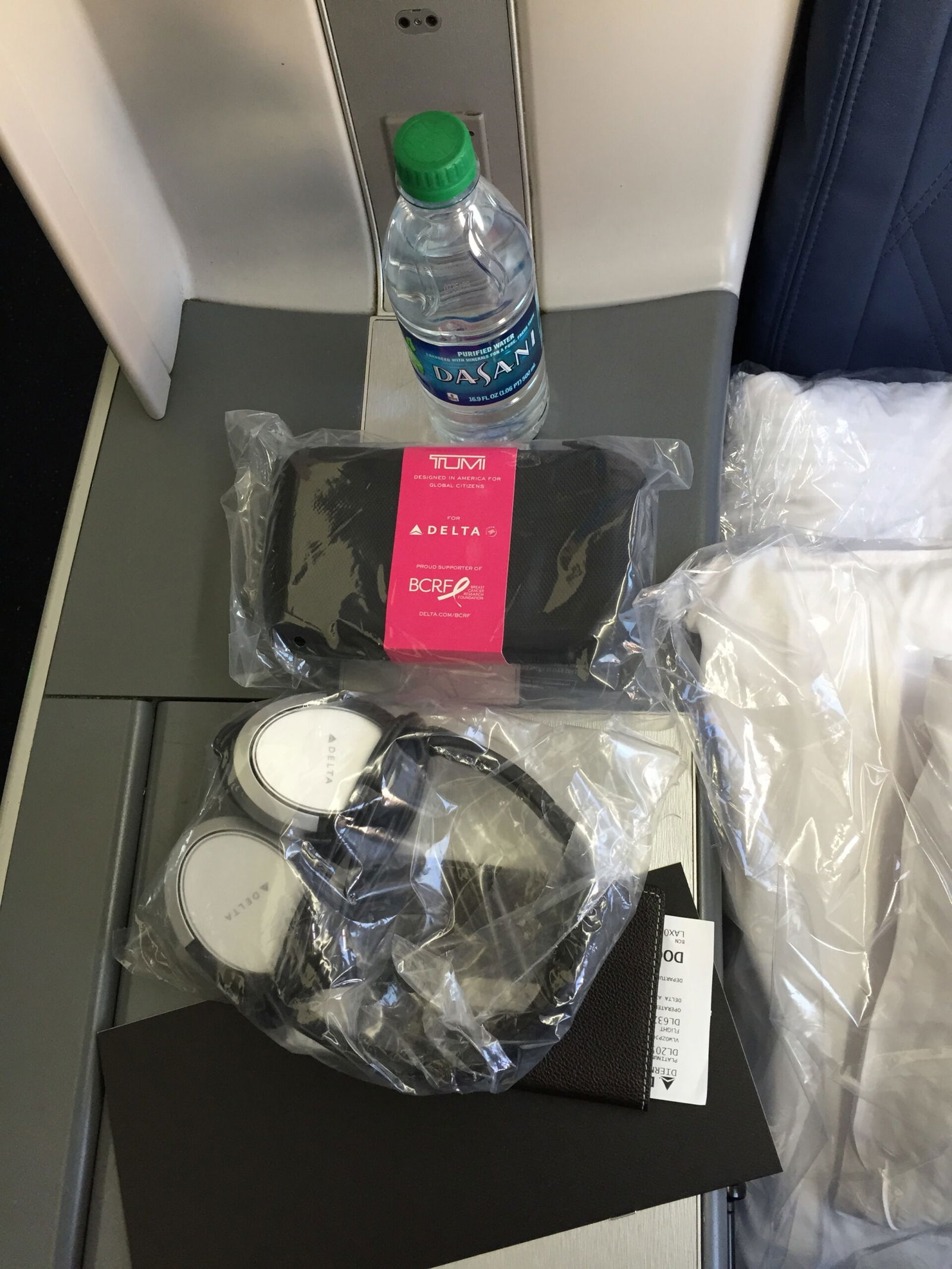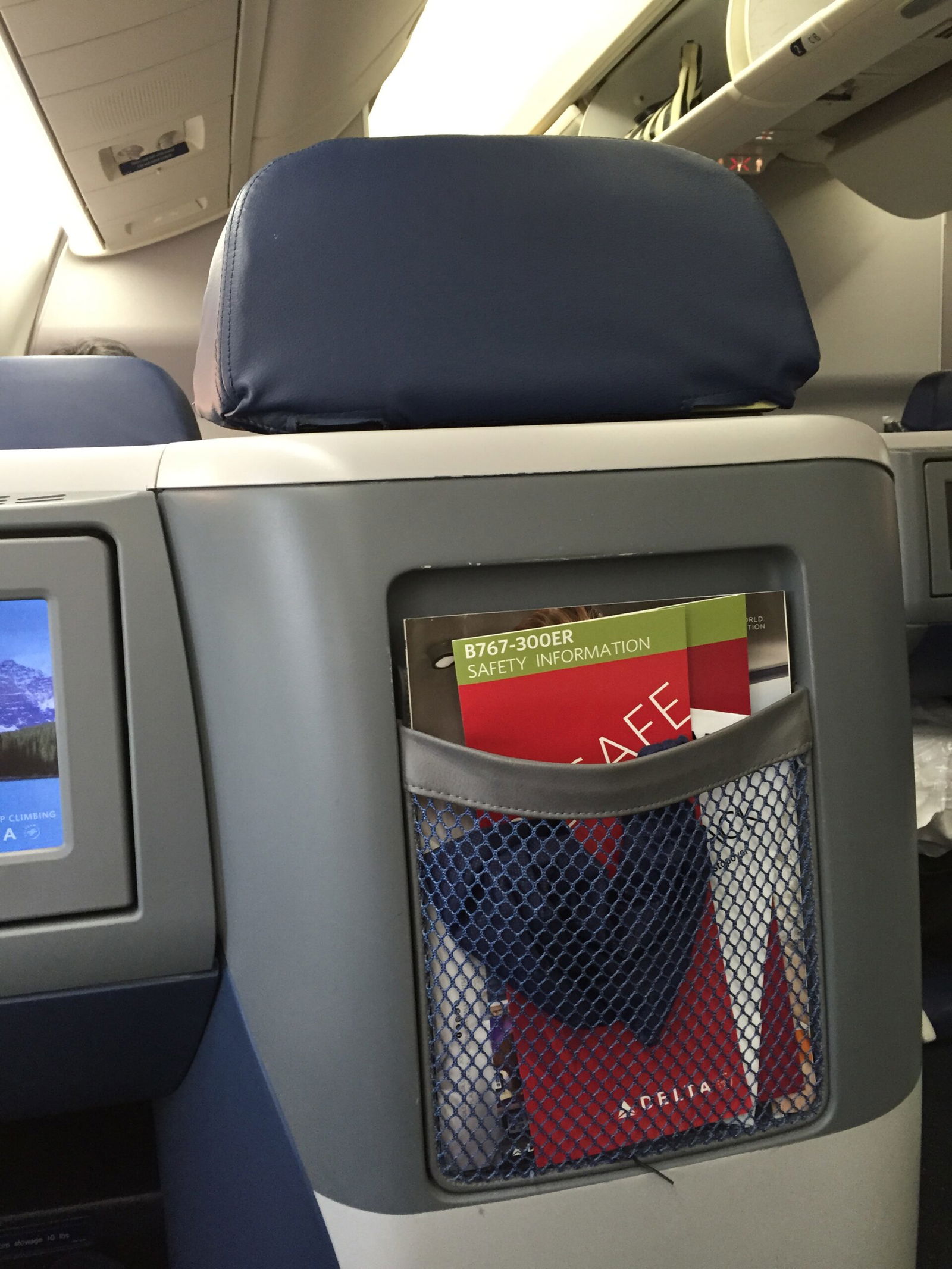 The Tumi kit was packed with the usual Malin+Goetz toiletries, mouthwash, a nice toothbrush with a fairly generously-sized tube of toothpaste, striped socks, an eye mask and, most usefully, a pen (and a very good one at that).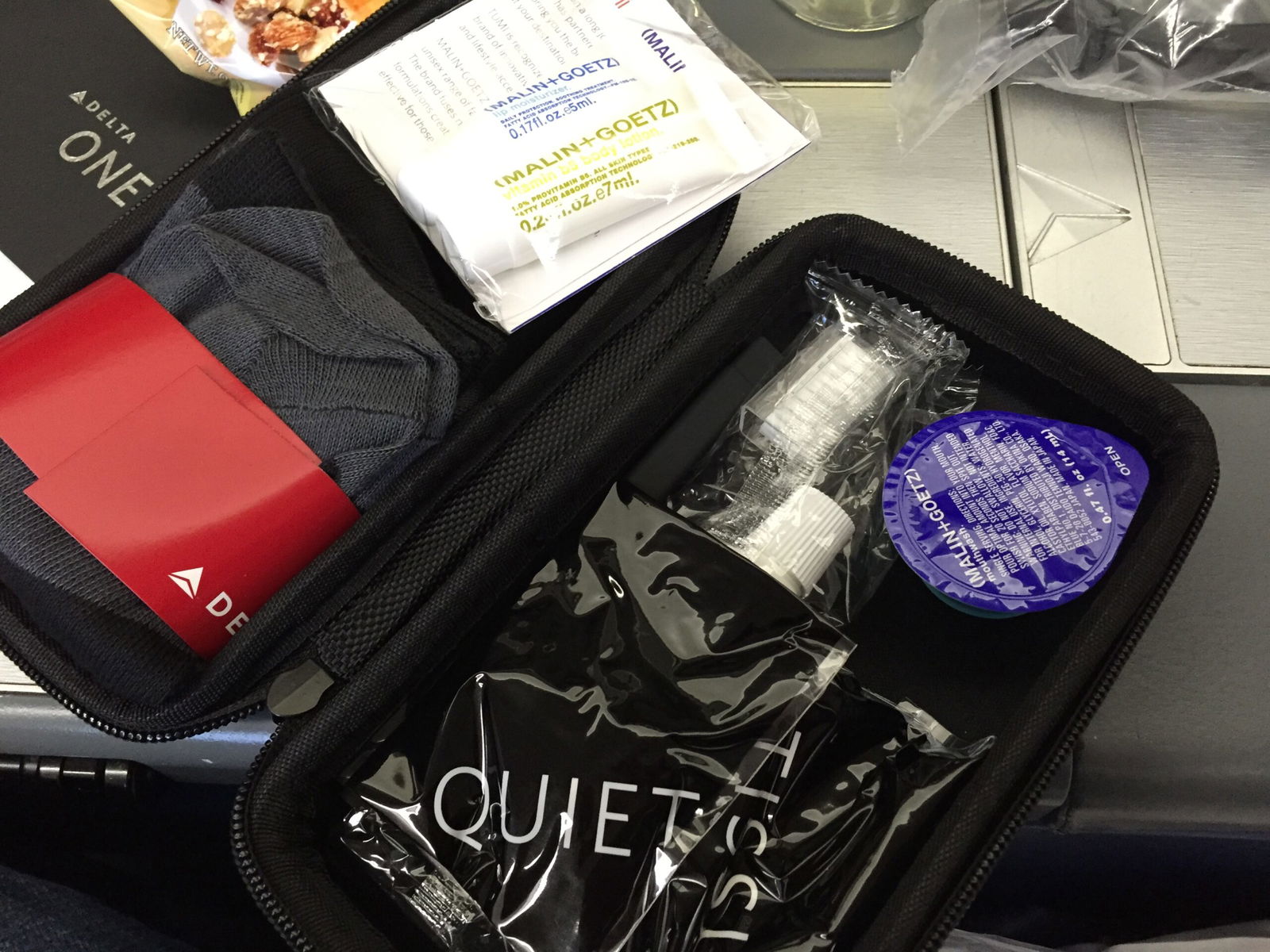 Service was friendly off the bat, with the flight attendant offering to take our jackets as soon as we sat down. Shortly after being seated, the attendant returned with a tray of Jacquart champagne, orange juice, and Miller Lite beer. I chose a glass of champagne (which was served in a real glass, even on the ground – as distinguished from other U.S. based airline practices). The Jacquart Brut Mosaïque champagne was quite good, even if it isn't Krug.
With the champagne, the flight attendant offered me a package of Sahale glazed almonds, which I didn't really eat. Although I'm sure this limits some liability as it relates to passengers with nut allergies, I find a bowl of mixed nuts (even unheated) to be vastly preferable. The nut package is a little tacky, if you ask me.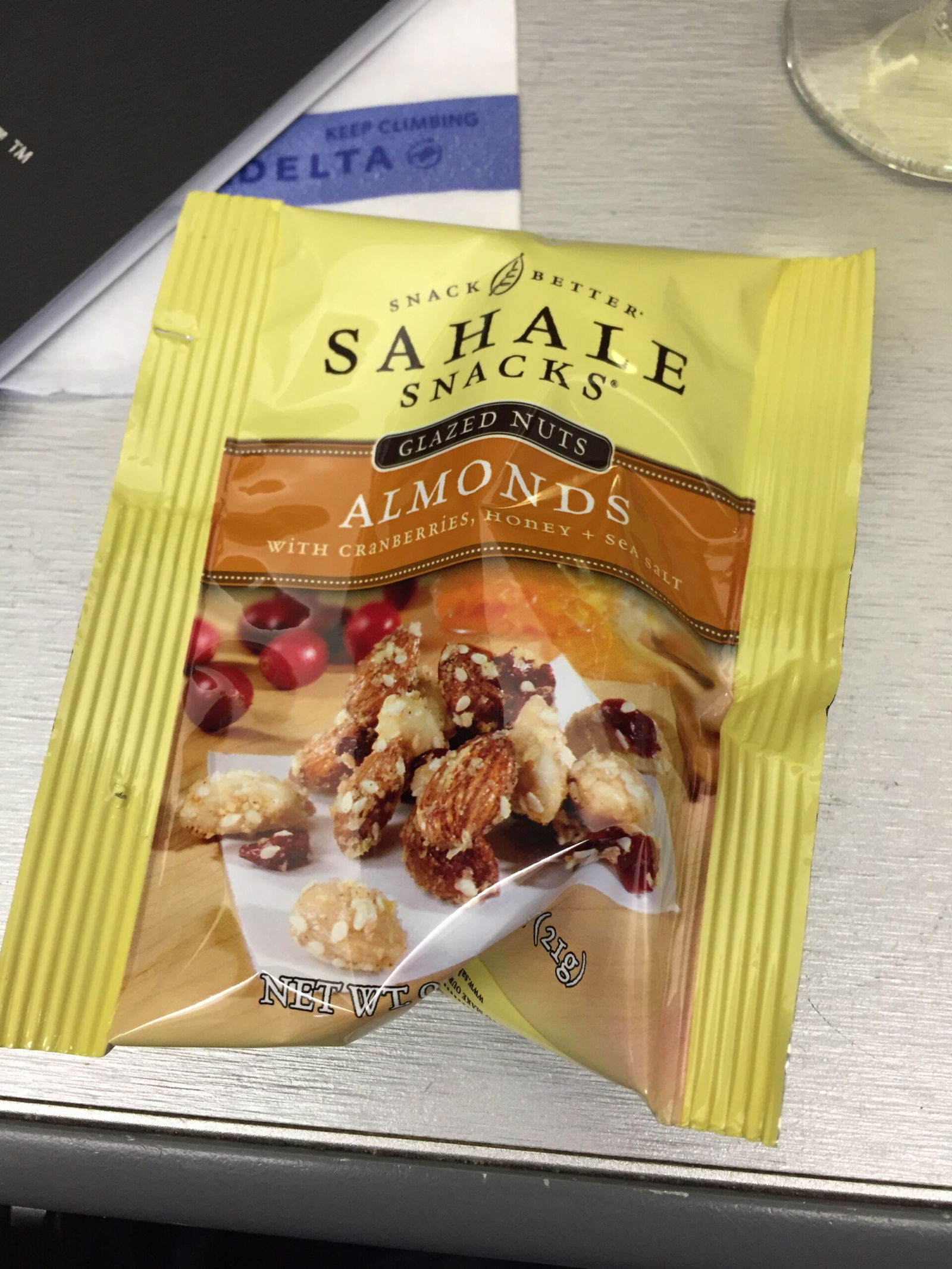 Menus for dinner service were already at our seats.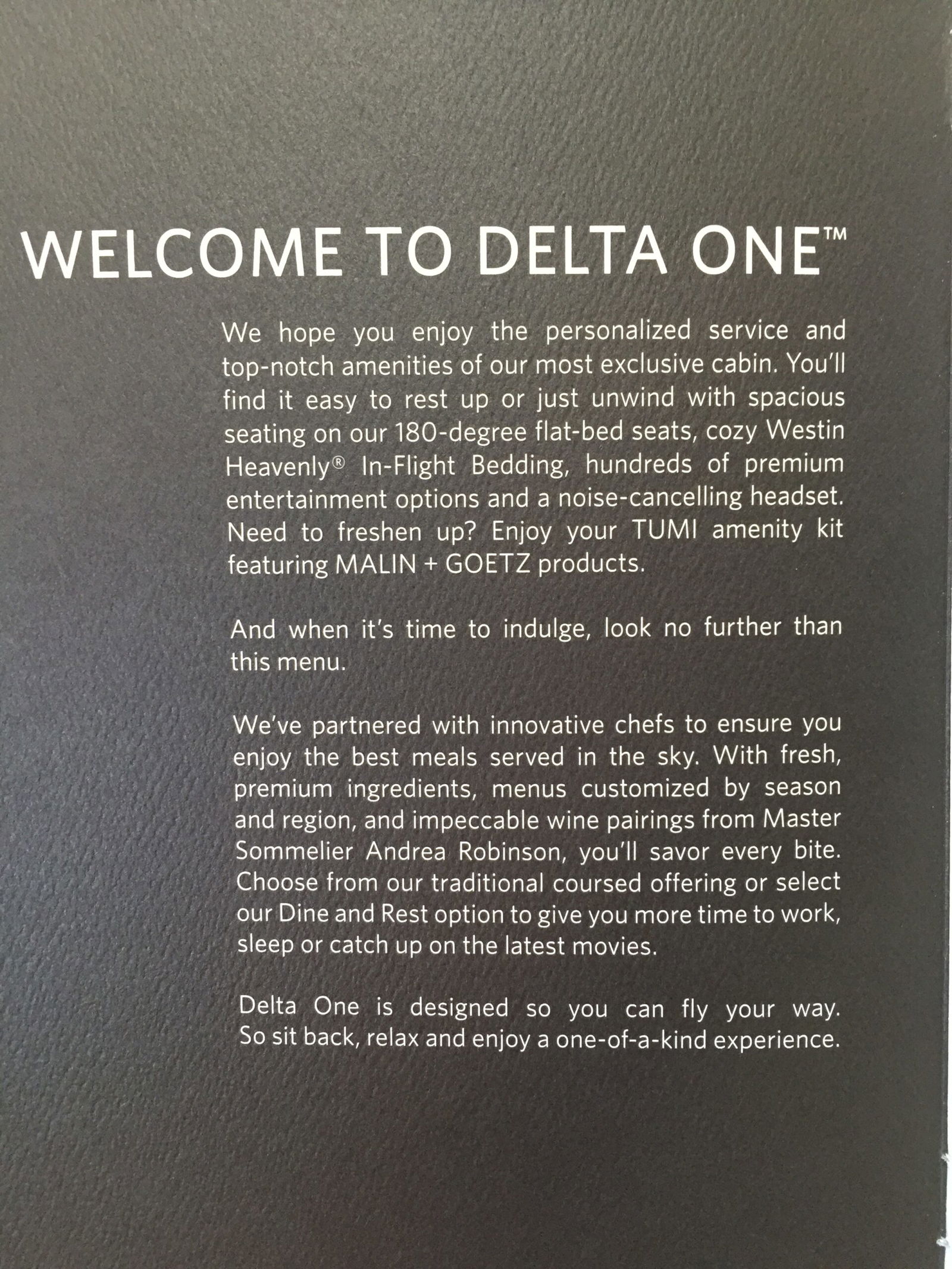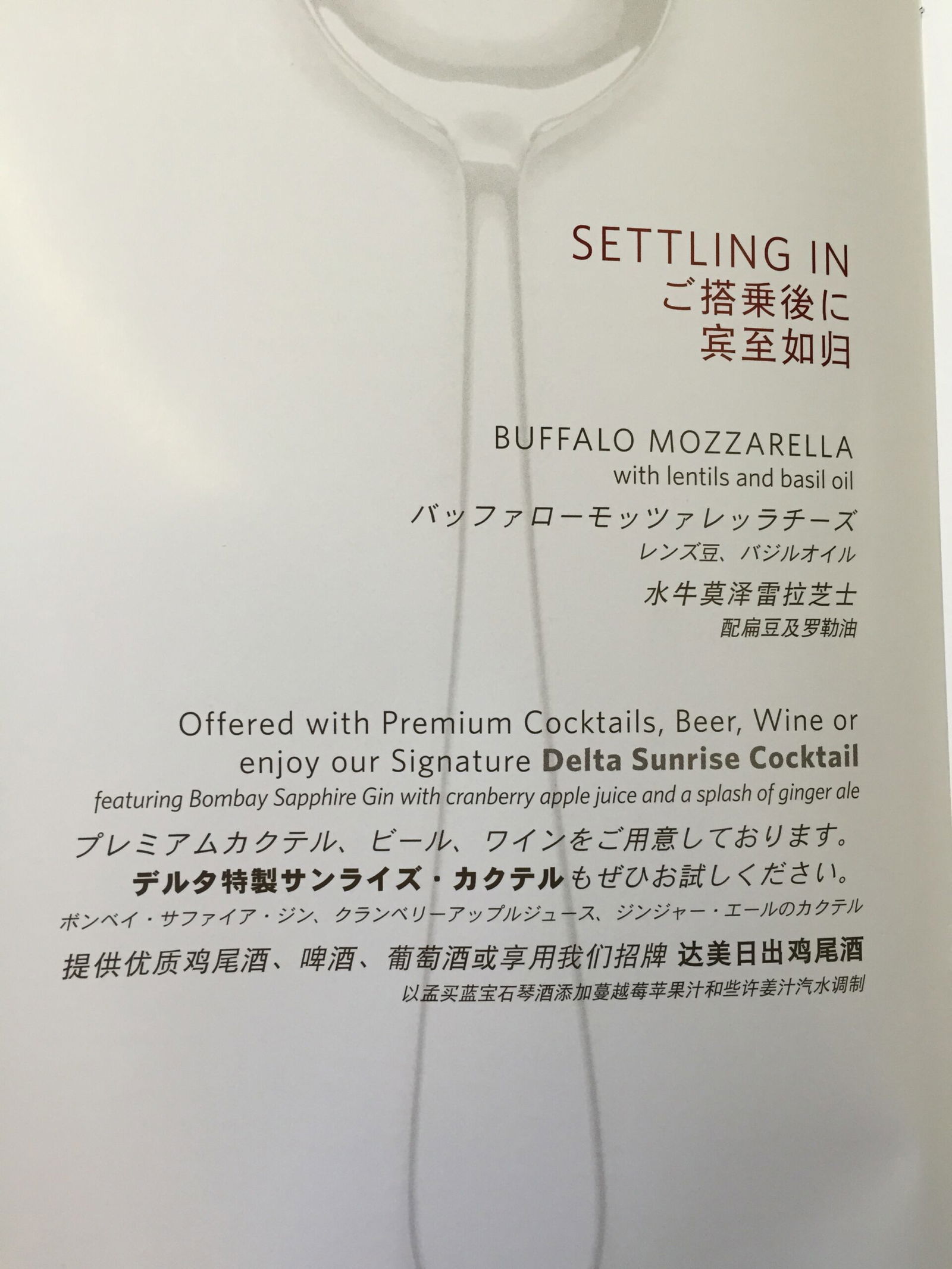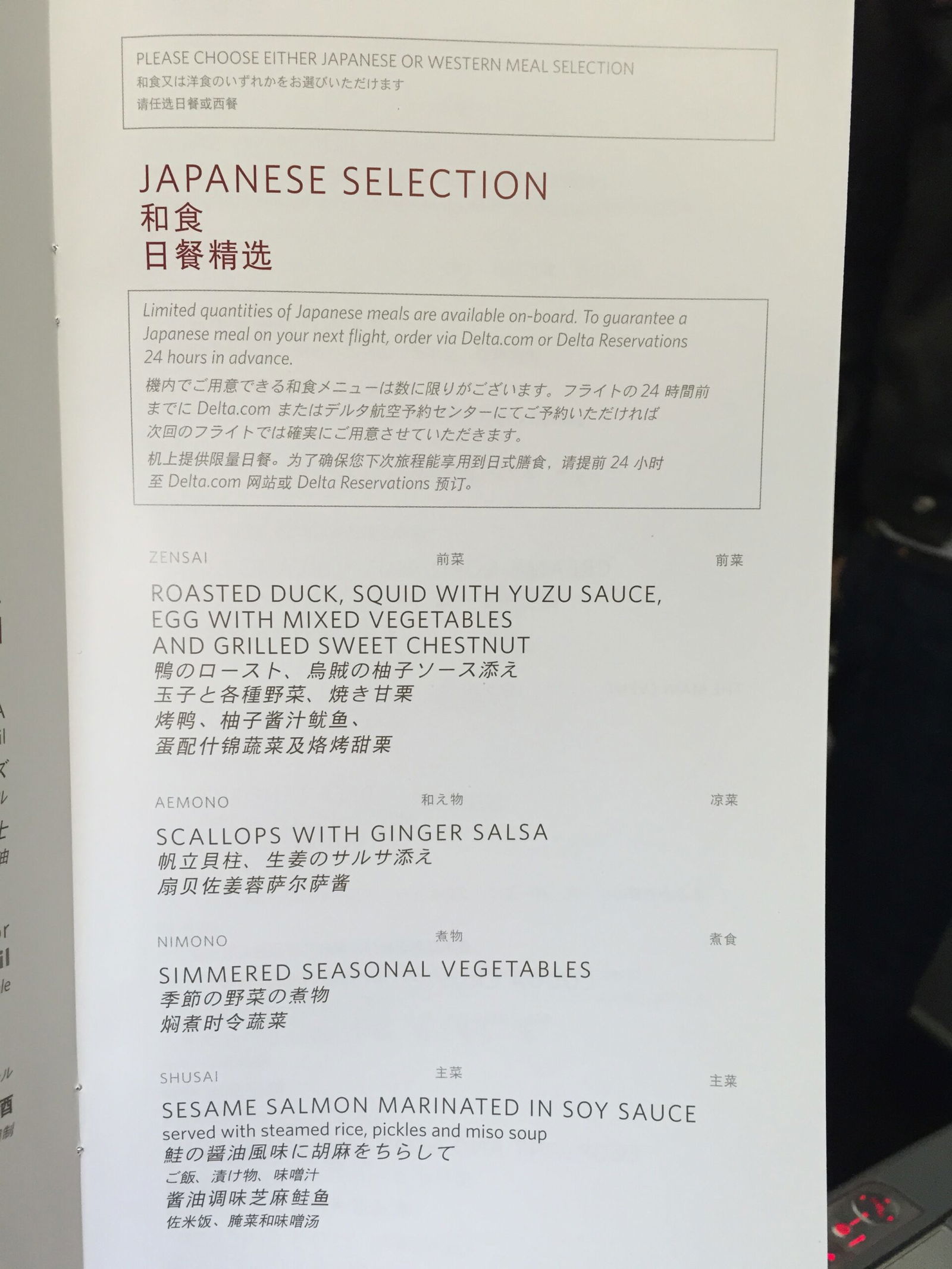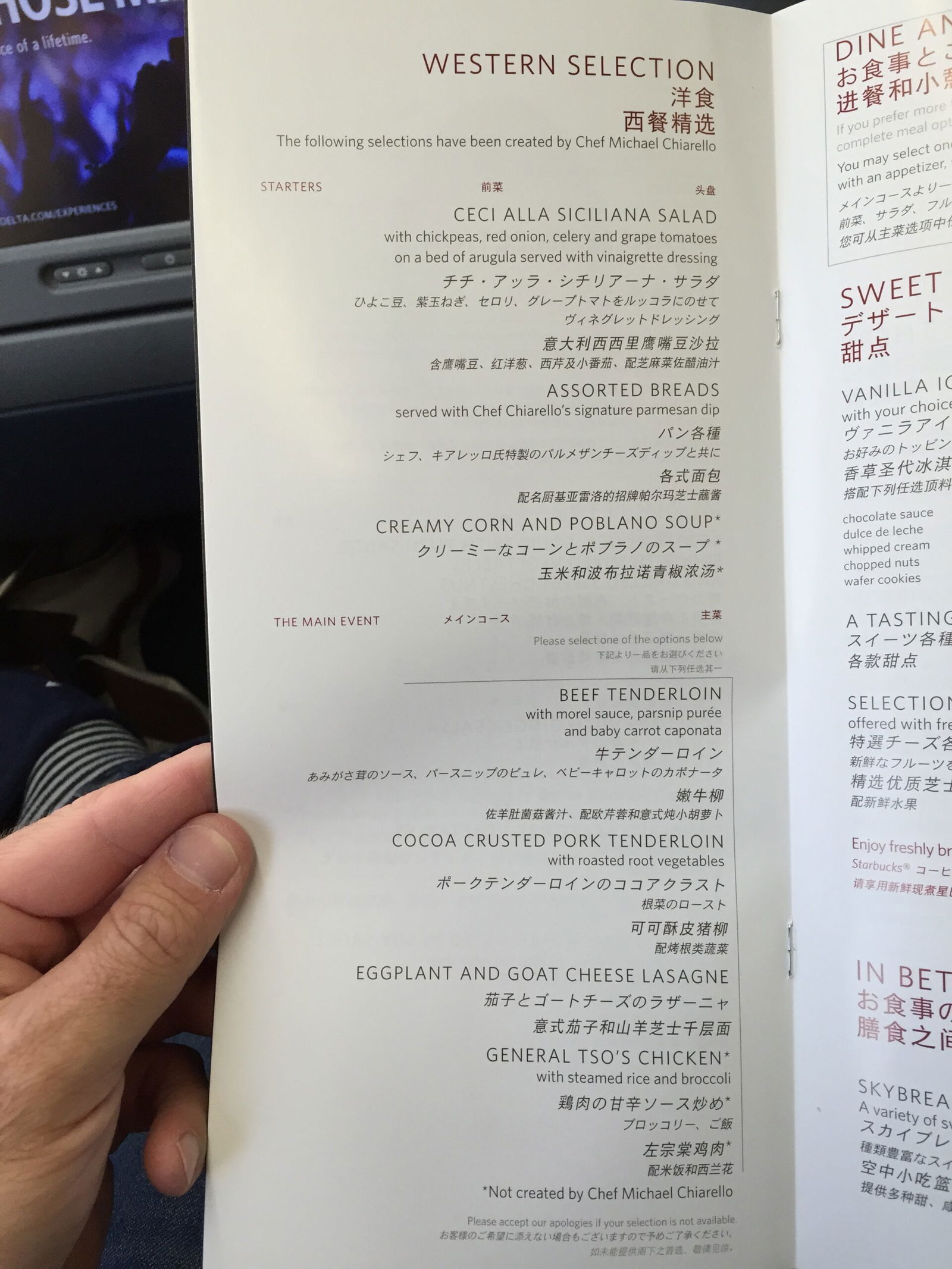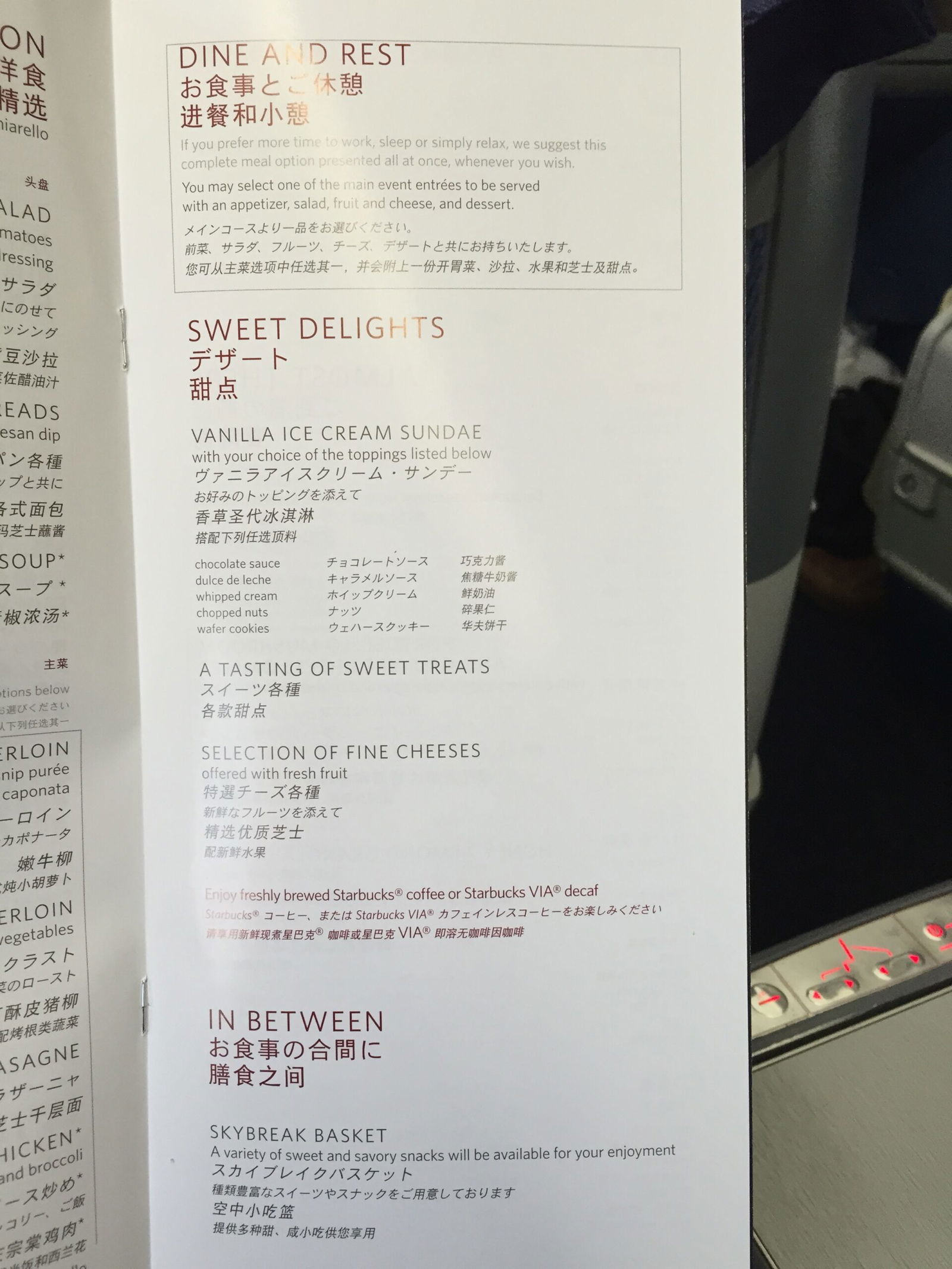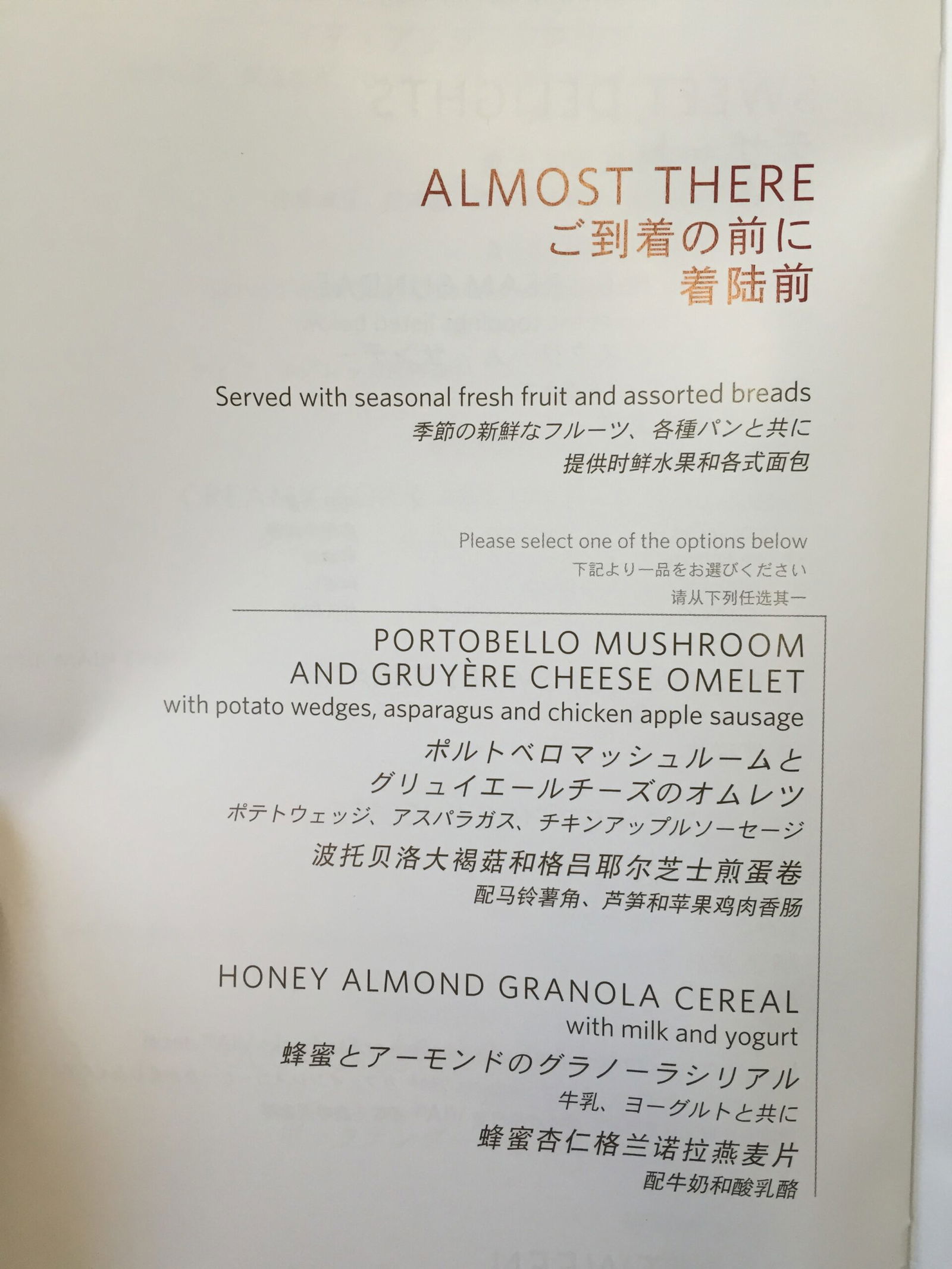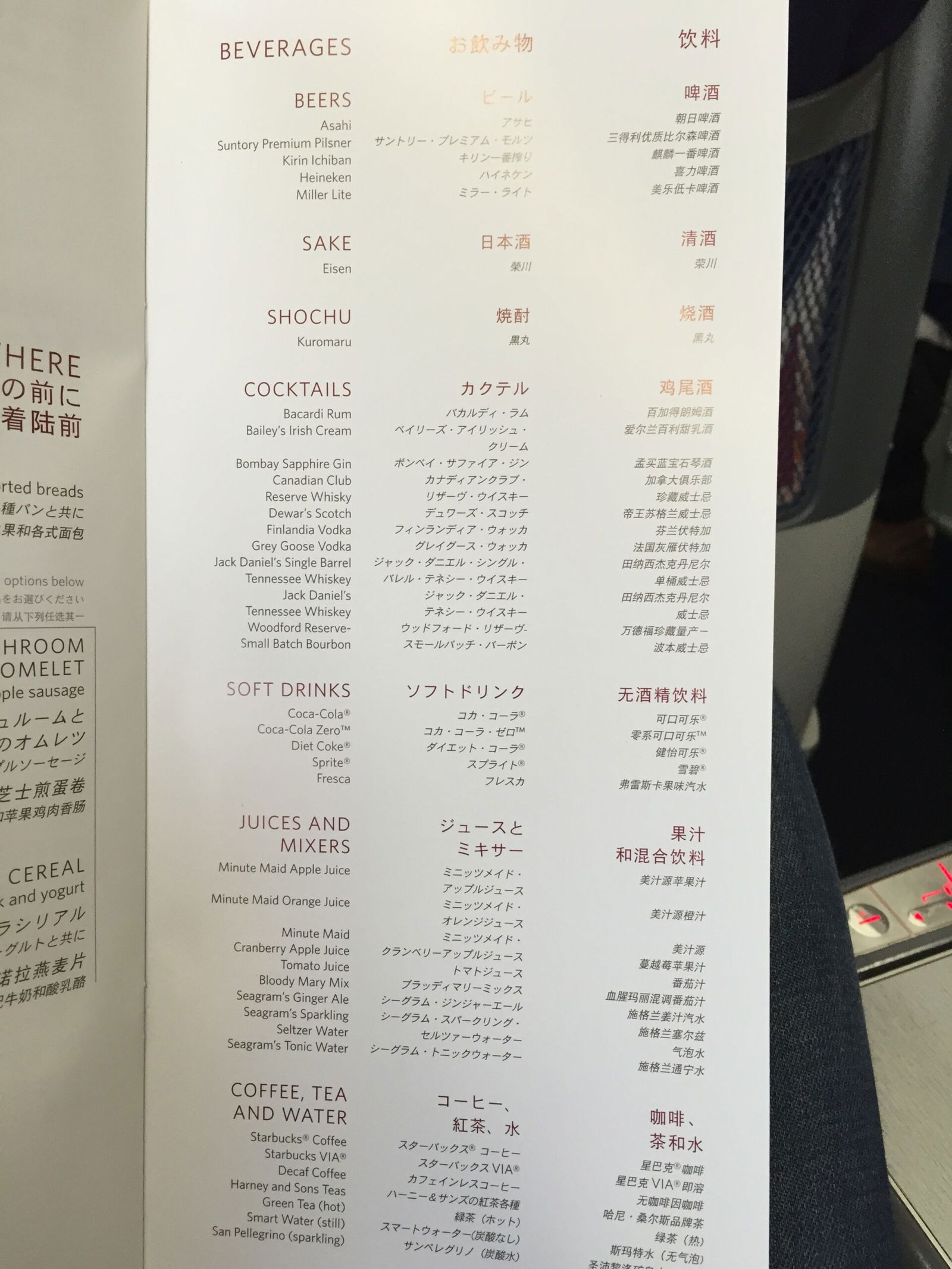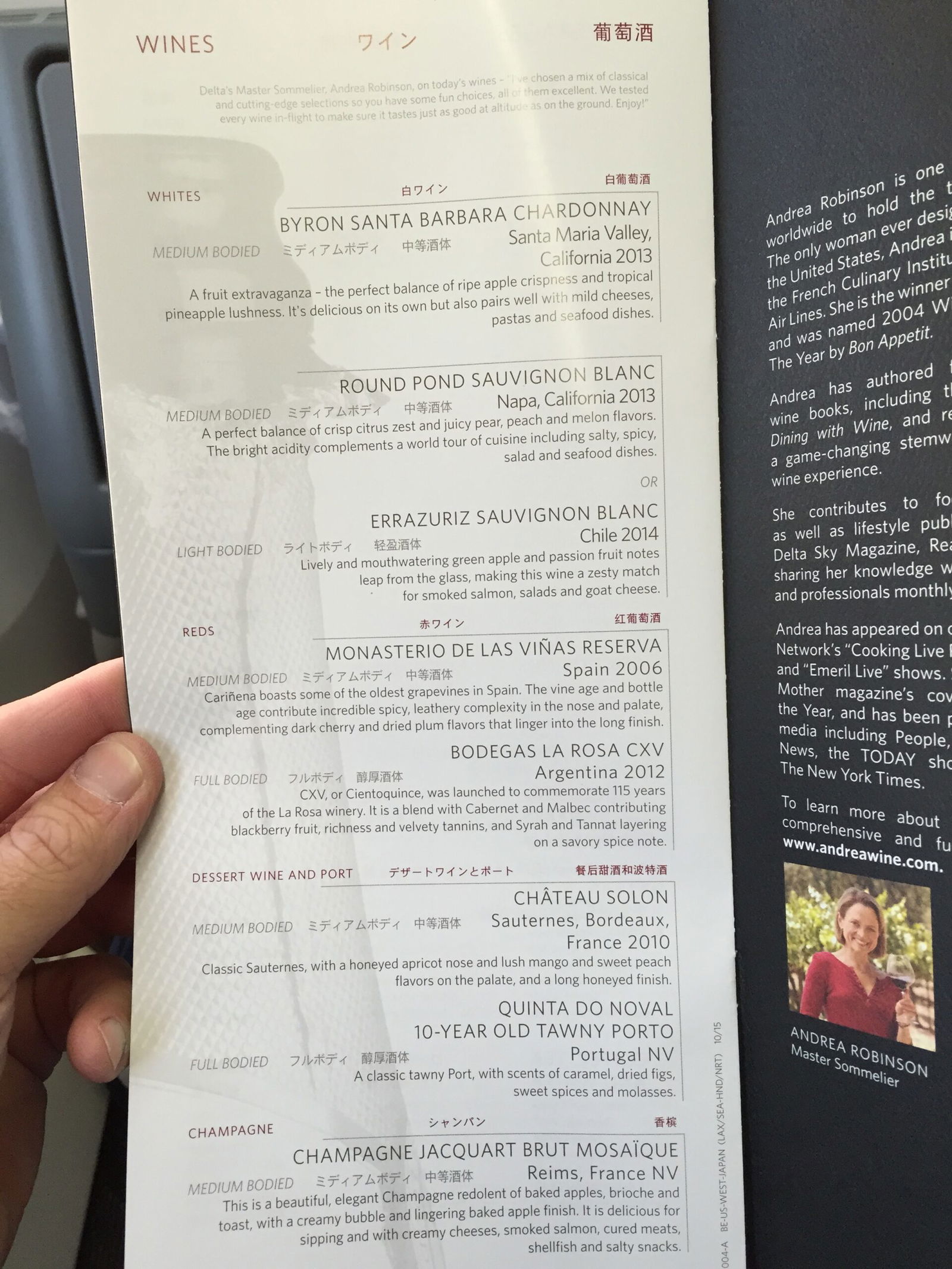 Our flight attendant, Carol, was delightful and friendly as could be. Before we pushed back from the gate, she'd already come around to take our dinner orders, and was cracking jokes with the passengers and giving meal suggestions. Although she said she'd particularly enjoyed the pork option, I went with beef instead — having had an over-sauced pork tenderloin on my last Delta One flight.
My friend had already pre-selected the Japanese meal, though it's worth noting that they were widely available for selection at boarding.
We pushed back from the gate and the standard cutesy Delta safety video came on, as well as the dreaded "I'M RICHARD ANDERSON YELLING AT YOU" introductory video, with this one focusing on Delta's hub operations out of Narita Airport. I know there are many reasons to dislike Richard Anderson, but for me his choice not to modulate the sound and timbre of his voice is incredibly grating, and reminds me of the Will Ferrell SNL character who couldn't control his own volume.
Anyway, we took off without any delay, directly into a beautiful Pacific sunset.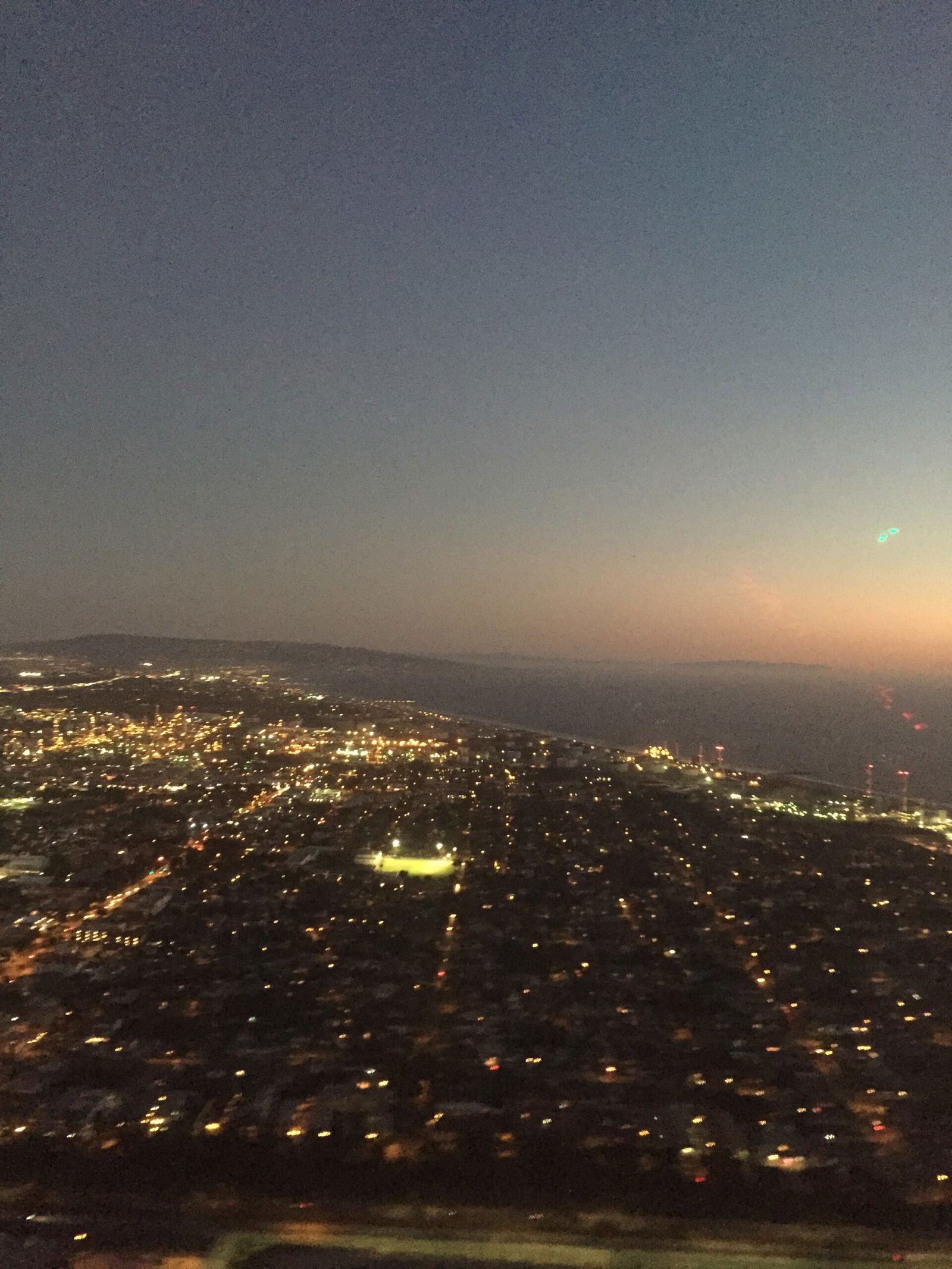 The plane was equipped with Gogo Wi-Fi service, which was fairly reasonably priced at $29.99 (still less than Wi-Fi on Delta One between Los Angeles and New York).
About 50 minutes after takeoff, meal service began with a buffalo mozzarella starter, served with a side of lentils and olive oil. It was good, though the mozzarella was a bit drier than I'd have expected (and the whole dish could have used more of a sauce). I had another glass of champagne to go with the starter.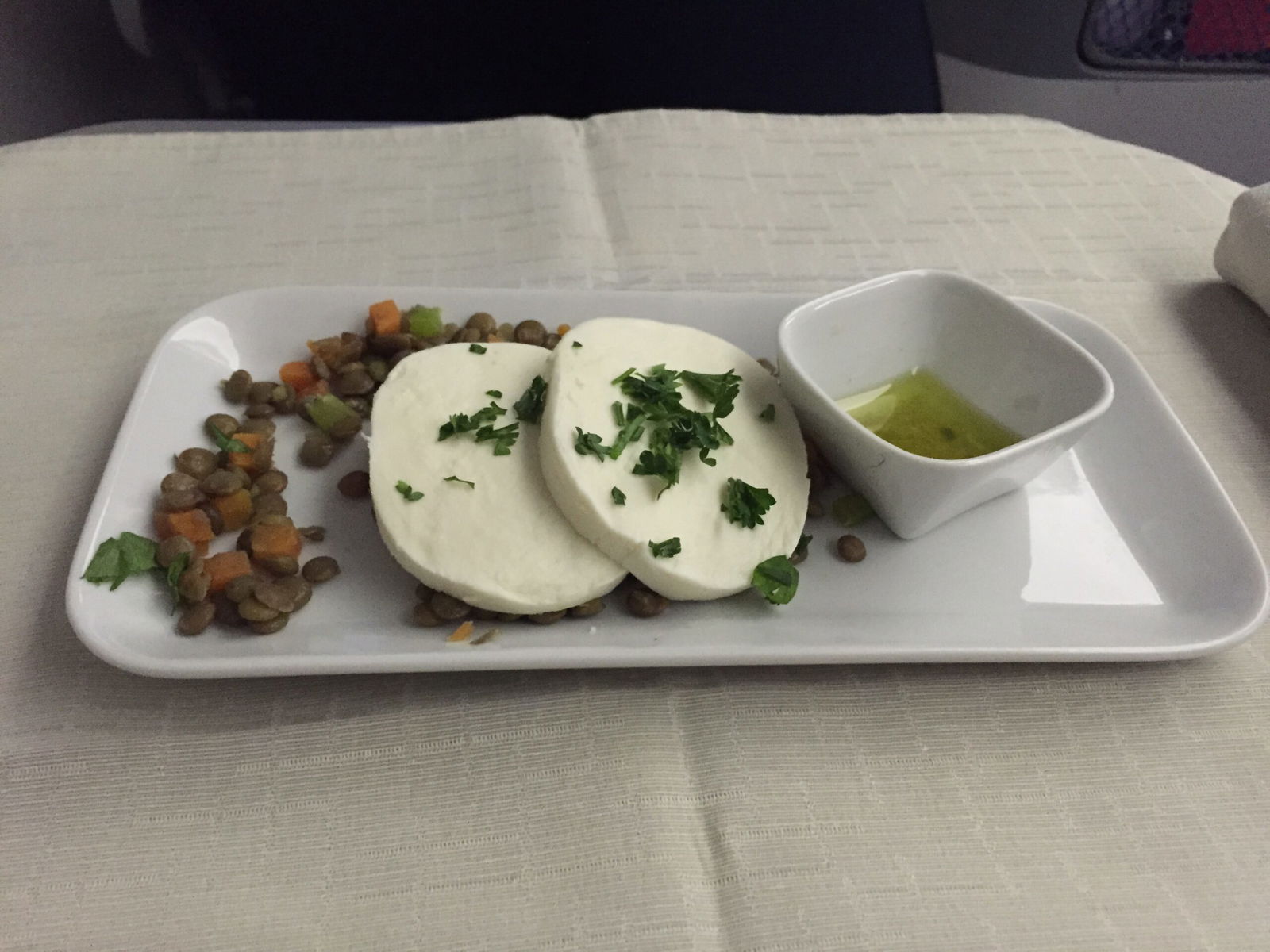 As usual, Delta's Delta Studio in flight entertainment system had a wide selection of movie and TV options, though in this case not a lot of new offerings I'd wanted to see. I decided to watch "Inside Out," which was new to me. My biggest beef with the 767-300 is that the seatback screen size seems almost pathetically small, especially compared with the substantially larger, newer screens on Delta's refurbished 757s.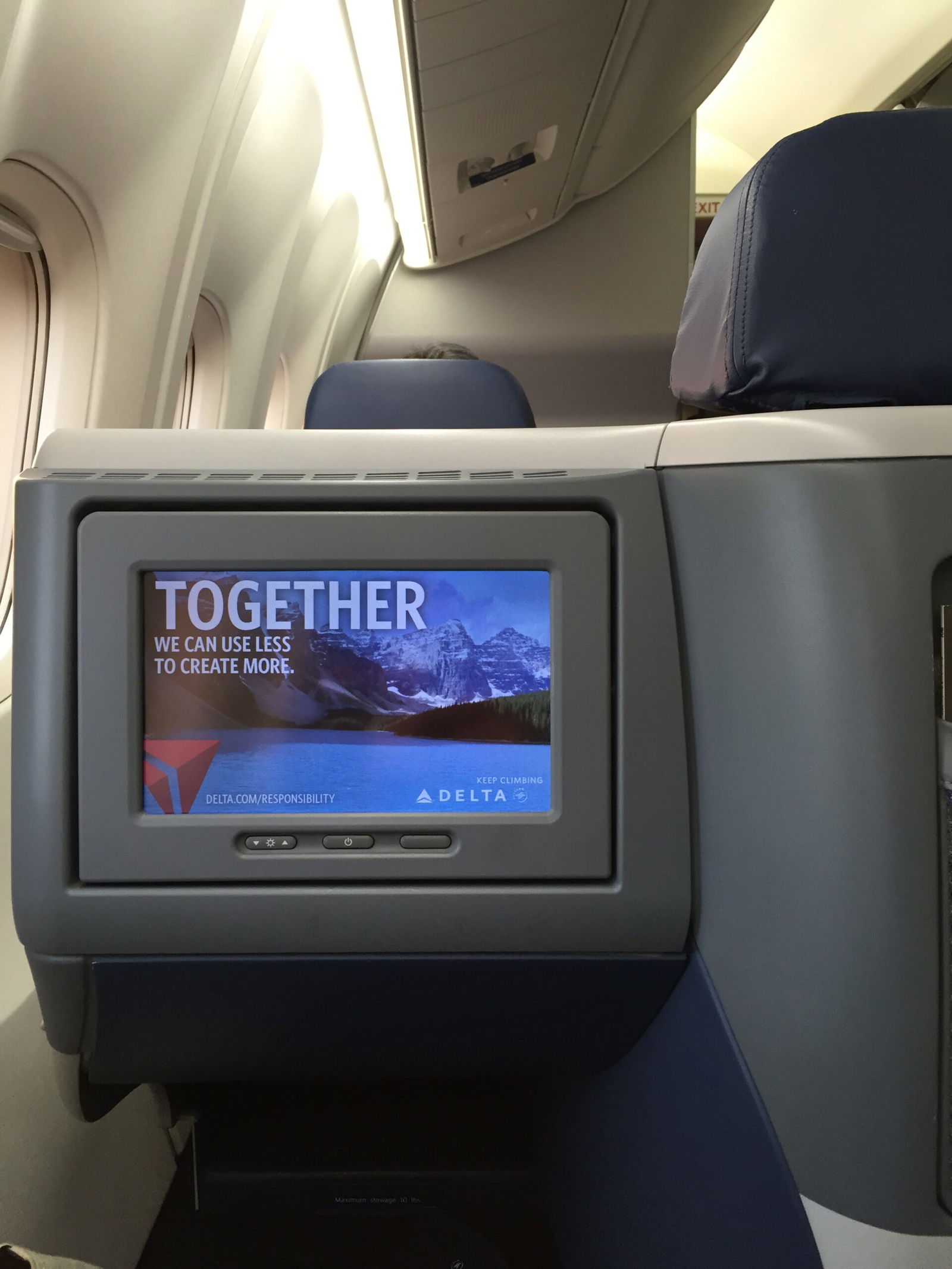 Delta had partnered with FOX to actually bring full episodes of new shows that had premiered that week. Unfortunately, John Stamos' new show, "Grandfathered," was embarassingly bad and unwatchable.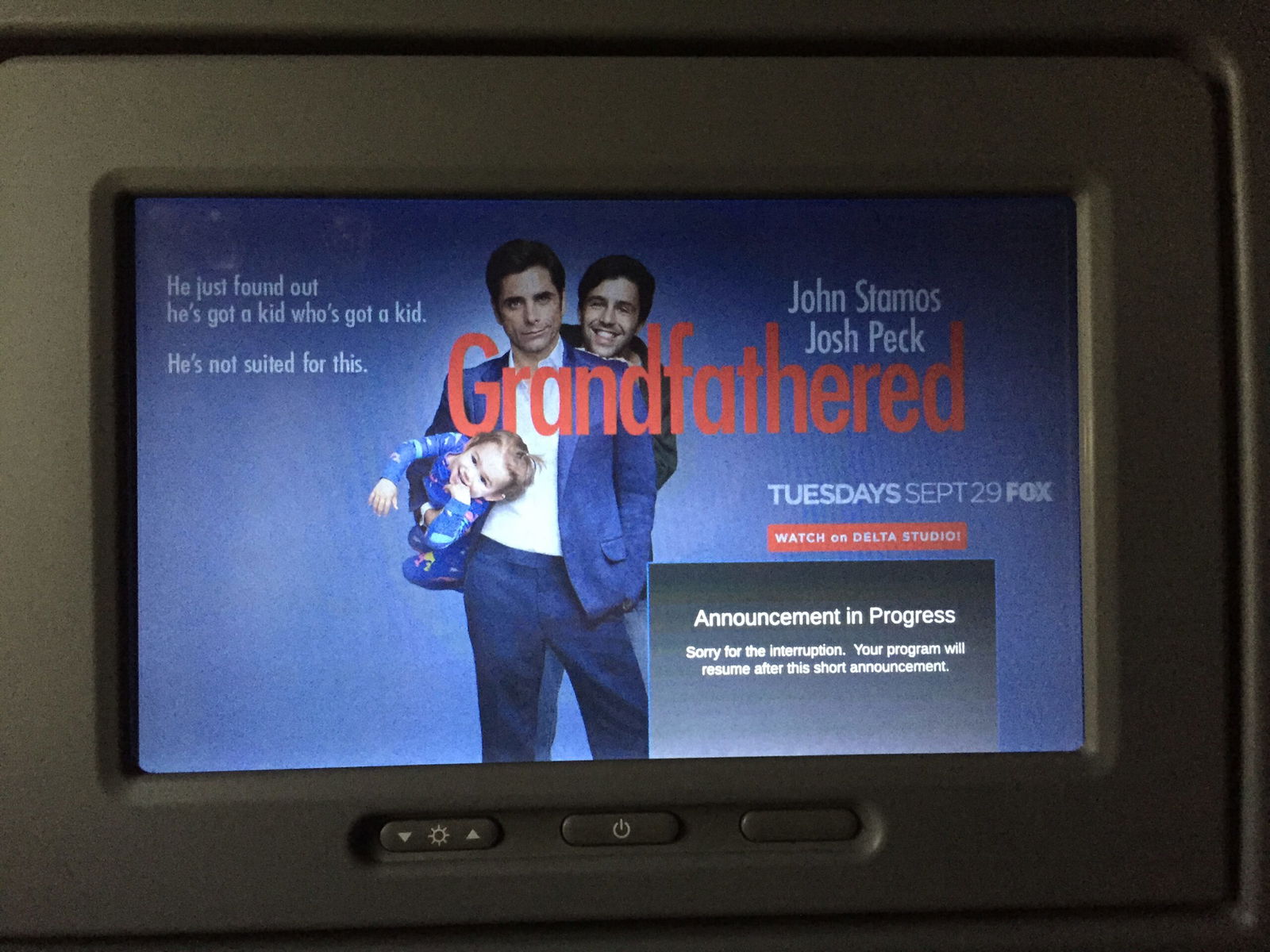 Not too long after the starter course, Carol returned with a tray holding the appetizer and soup course. I ordered a glass of the medium-bodied Spanish wine to go with this course, though it was a bit limp for the altitude. I chose some pretzel bread from the bread basket.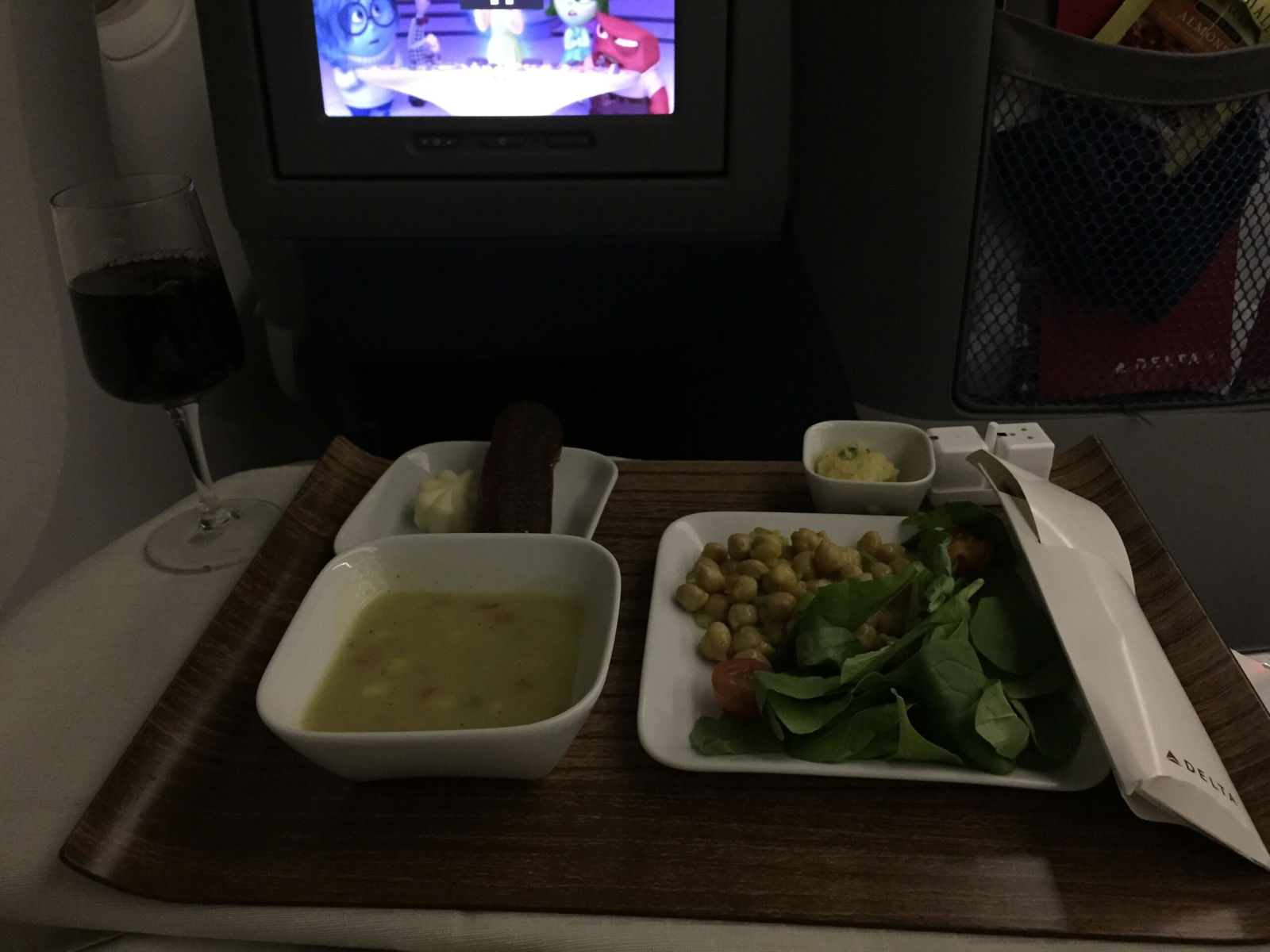 The corn and poblano soup was very flavorful.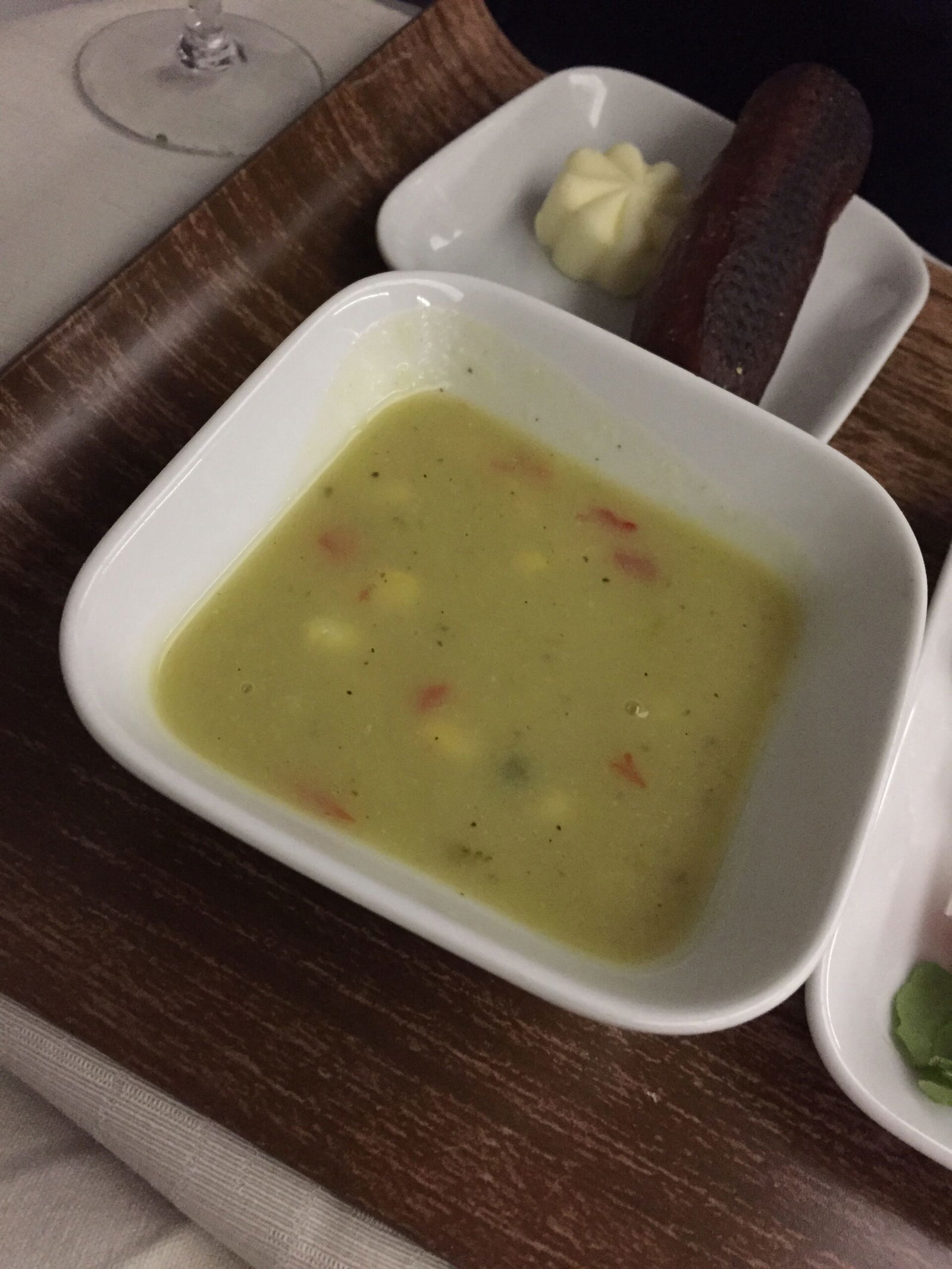 Strangely, the chickpea, tomato and spinach salad wasn't very dressed, and I didn't notice a side of any dressing, either. It was fine – nothing to write home about.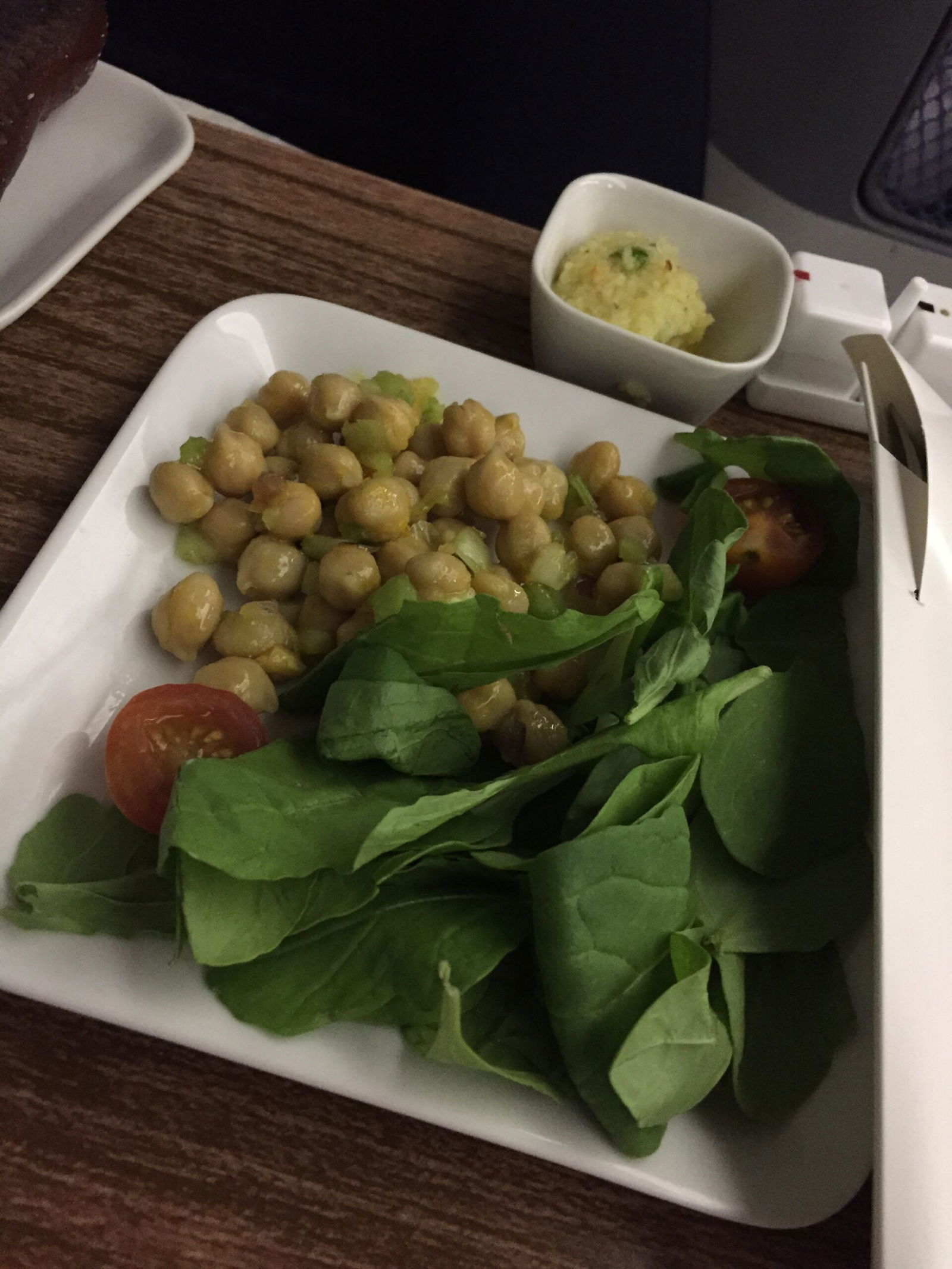 For my main course, I switched to the more full-bodied Argentine Malbec, which was quite tasty. I had ordered the beef tenderloin entrée, which was beautifully plated.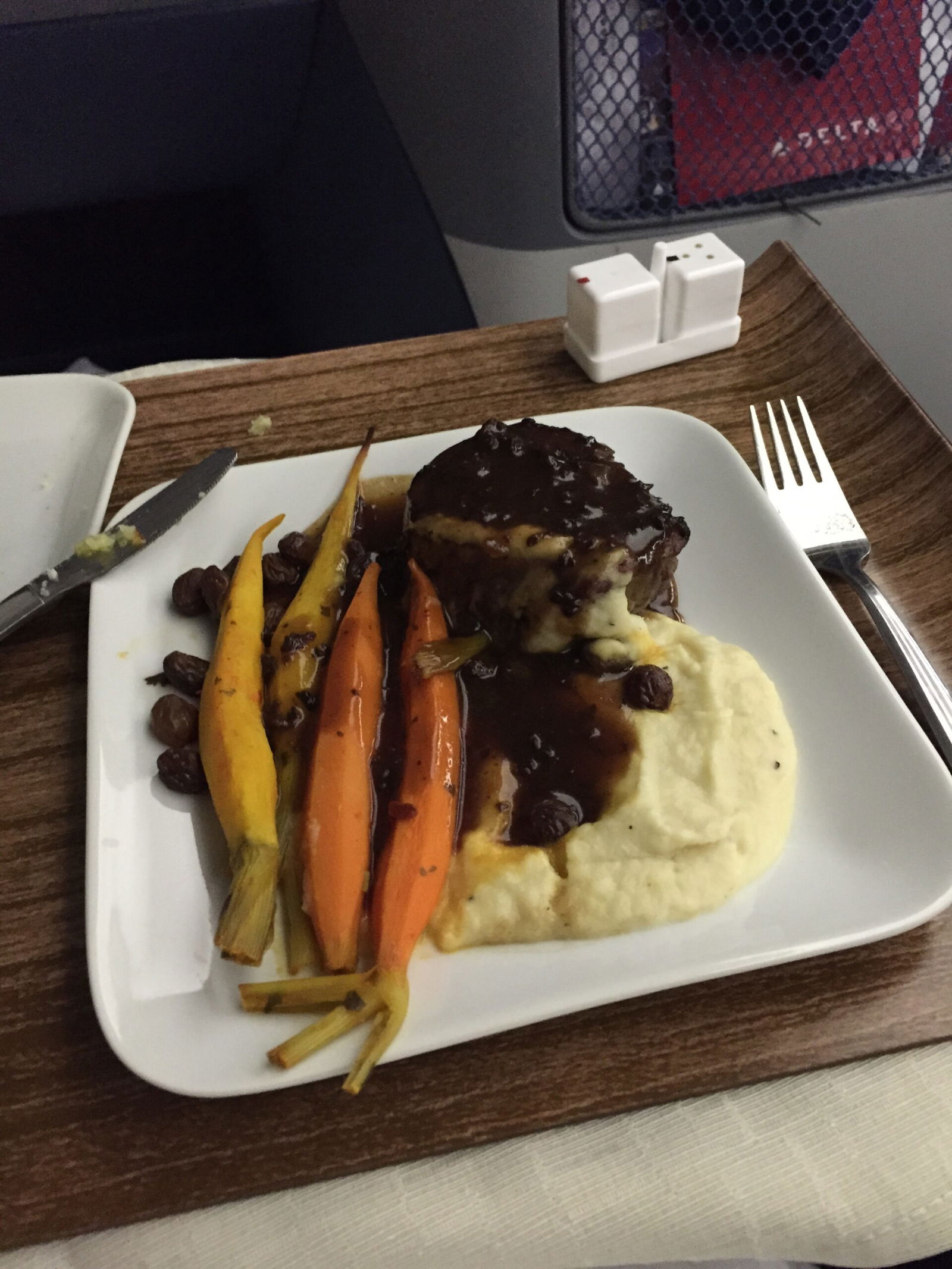 The parsnip purée, baby carrots and morel sauce were delicious. In particular, the parsnip purée was fantastic, and like a tangier, healthier version of mashed potatoes. The beef was good, though a bit more cooked than to my liking.
My friend ordered the Japanese plate and told me his meal was very good, although the sesame salmon dish was a bit too fishy for his tastes.
For dessert, I got a bit of everything — cheese, a few of the smaller dessert bites (which were served from a platter), and a bowl of ice cream. All were good, as anything loaded with sugar tends to be.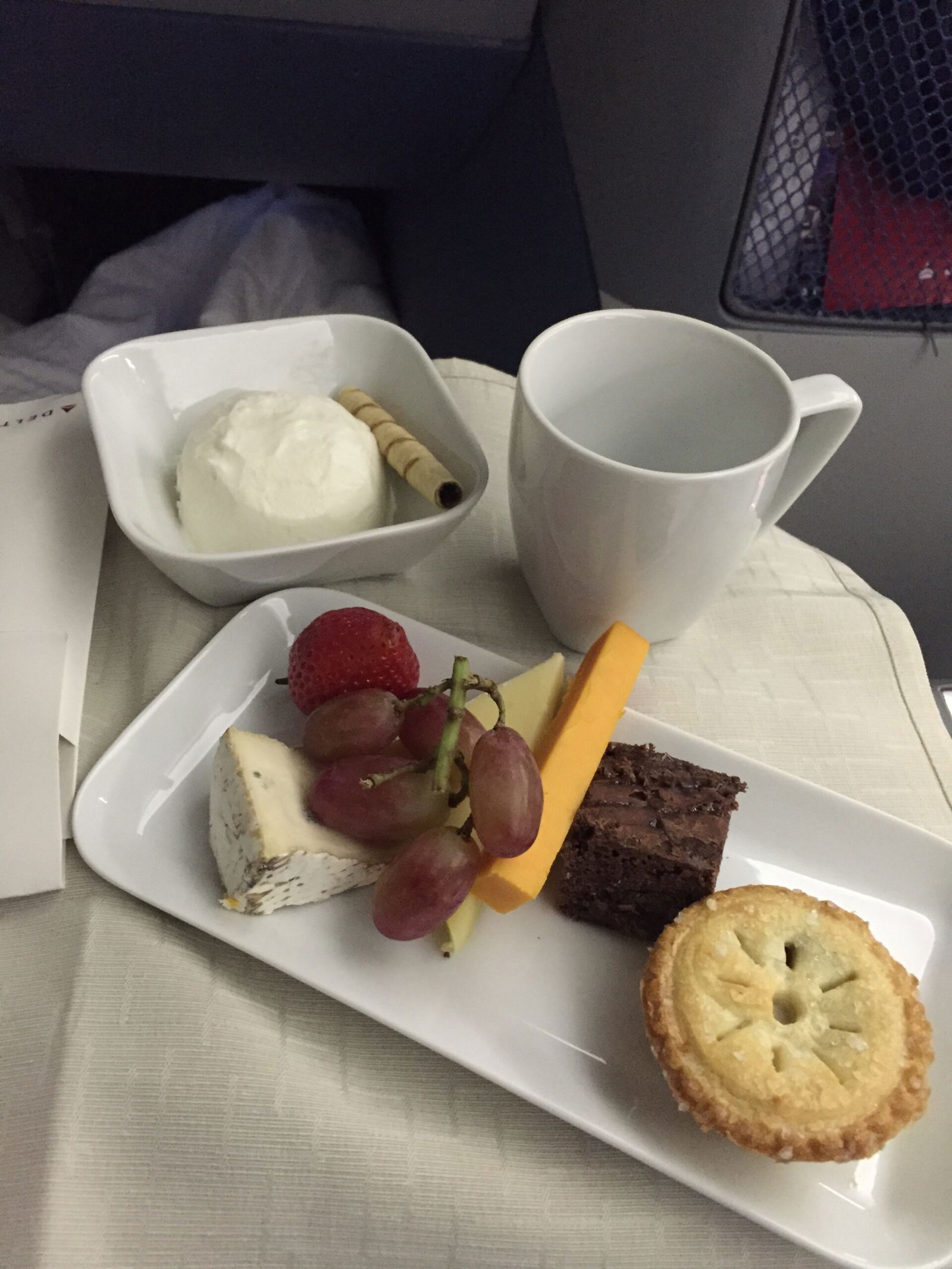 I also ordered a coffee, since it was my intent to stay up for most of the flight. The timing of the flight — leaving L.A. at 6:40pm and arriving into Tokyo at 10:30pm — doesn't really invite a full night's sleep, since you're essentially going to go to bed within a few hours of landing anyway.
Although Ben didn't find the 767 seat comfortable in its fully flat position, I slept just fine. Seat 3A is closer to the window than the aisle, and it's more private. The footwell is indeed smaller than it is on the seats staggered closer to the aisle, but (a) I'm a back sleeper, not a side sleeper, and (b) I was tired, so the seat didn't really bother me much at all. I'm only 5'9″, but I had plenty of room and didn't feel especially constricted in the least.
Nonetheless, I couldn't fight off sleep, and ended up dozing on and off for much of the remainder of the flight. Still, when I was awake, Carol roamed the aisle and proactively offered me coffee refills and more water, which I gladly took.
For whatever reason, this westbound trans-Pacific flight felt particularly long, and indeed took nearly the entire allotted 11 hours and 50 minutes. By the last hour, despite chugging water, I'd gotten quite a headache from dehydration and stale air and was looking forward to landing.
Because I was feeling a bit headache-y, and wasn't particularly hungry anyway, I passed on the final meal course and had more water instead. It's funny to me that the "Almost There" meal was breakfast, despite it being (at that point in the flight) 9pm Tokyo time and 5am Los Angeles time.
We landed on time and parked at a gate that, it turns out, was a good 15 minute walk using moving sidewalks from the immigration hall. It's fascinating to me that Haneda is Tokyo's "secondary" airport (though I recognize it's the primary domestic airport) and yet the international terminal was absolutely gigantic – seemingly twice as large as LAX's.
Delta One 767 Bottom Line
Though I'd managed my expectations based on my own disappointing experience on the 767 between Los Angeles and New York, and based on Ben's disappointing experience from Los Angeles to London, I was very pleasantly surprised by Delta's LAX-Haneda service.
While the 767 remains one of my least favorite configurations, the cabin felt much fresher and newer thanks to something as simple as a seat cover switch — if anything, it got rid of the powder blue color which always seemed so jarring on Delta flights. Of course, the seats aren't nearly as comfortable or private as they are in Delta's reverse herringbone configuration, and the tiny seatback television sets remain a pet peeve of mine.
Service was friendly and proactive, and while I've had certainly had better food in Delta One, it was perfectly decent. I do wonder, given the meals I've had in Delta One most recently and given Ben's and Tiffany's experience to London, whether Delta has let the quality of their food drop ever so slightly, given that they were once known for having the best food of any U.S. domestic carrier. Is Delta resting on its laurels, or have we just had a few one-offs in a row, food-wise?