Emirates' new first class is the best first class product in the world, as far as I'm concerned.
The basics of Emirates' new first class
The bad news is that Emirates only has a total of nine 777-300ERs featuring their new first class, and they don't have any immediate plans to reconfigure existing planes (either 777s or A380s) with these seats. So actually flying on one of these planes can be a real challenge.
Not only that, but the airline is primarily using these planes for European routes, which are only 5-7 hours long, and I'd say those aren't actually long enough to enjoy this incredible product.
I've written in the past about the general challenges of redeeming miles for Emirates' new first class. Emirates blocks first class awards for their new first class up until about two days before departure, at which point they sometimes make some seats available.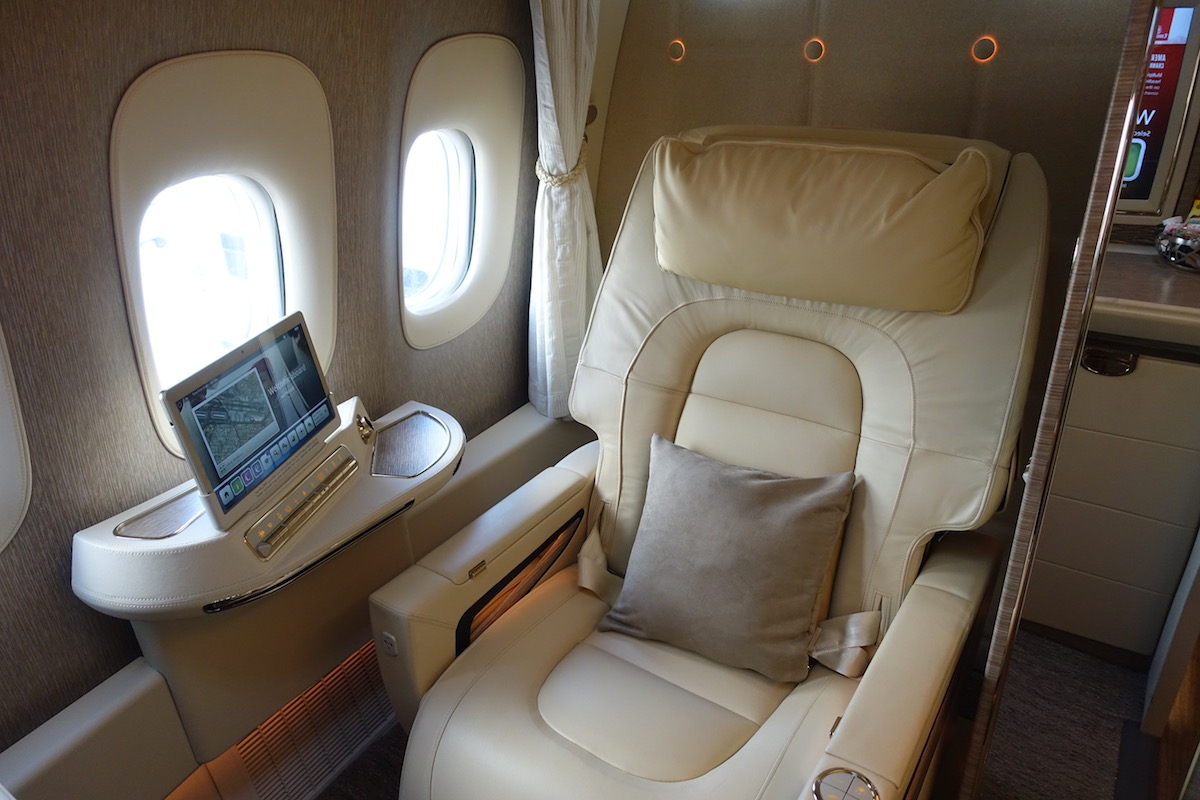 Emirates now (unofficially) offering new first class to US
At the moment there's a spectacular opportunity to fly Emirates' new first class — not just because there's award availability, but because it's the longest route ever to feature Emirates' new first class.
At the moment Emirates is flying their newly configured 777-300ER between Houston and Dubai every other day. This is a 15 hour flight, so is an incredible opportunity to experience this cabin.
For example, there's first class award availability on the flight today from Houston to Dubai.
There's also first class award availability on the flight on Tuesday, which once again features the new first class.
You can tell it's the new first class based on the seatmap — there are only six first class seats, rather than the usual eight.
I would have hoped this trend would continue, though unfortunately as of May 22, 2019, the route is operated by an A380 rather than a 777-300ER, so it seems like there are only two more flights that could feature the new first class on the Houston route.
But it looks like this trend might continue on US routes. For example, Thursday's Dallas to Dubai route also shows the new first class, so the 777-300ER may fly to Dallas every other day as of then, rather than to Houston.
There's no award availability on that Dallas flight yet, though I imagine there will be a couple of days out.
I'm not sure if this trend will continue long-term, or more than likely this is just temporary until early June, when Emirates starts operating these newly configured planes on some more routes, including to the Maldives.
Bottom line
Unfortunately it doesn't look like this is permanent, but at the moment Emirates is offering their new first class on select flights to Houston, and will then offer it on select flights to Dallas. I doubt this will last, but this is a great opportunity while it does.
If anyone has some Alaska miles (or Japan Airlines or Emirates miles) to spare and has some free time this week, you'd make my day if you booked this flight and reported back. Suffice to say I'm super jealous.
(Tip of the hat to @nedc203)