Review: Delta SkyClub San Diego Airport
Review: Airspace Lounge San Diego Airport
Review: Air Canada Lounge Los Angeles Airport
Review: Delta One Check-In Los Angeles Airport
Review: Delta SkyClub Los Angeles Airport
We Skipped Lufthansa First Class For This?!?
Review: Delta One 767 Los Angeles To London
When Using Points Doesn't Make Sense
My First Experience With Airbnb
Review: SPG Suite At The O2 Arena For A One Direction Concert
Review: Virgin Atlantic Clubhouse London Heathrow
Review: Virgin Atlantic Upper Class 747 London To San Francisco
Review: Amex Centurion Lounge San Francisco Airport
Review: Delta SkyClub San Francisco Airport
Review: The Concourse Hotel LAX (Hyatt Affiliated Hotel)
---
After spending some time in the Centurion Lounge, I headed over to Terminal 1 for my Delta Shuttle flight to Los Angeles. My flight was scheduled to depart at 8PM, so I headed over at around 6:15PM, to leave plenty of time to check out the Delta SkyClub before my flight.
However, when I arrived at Terminal 1 I found out that my 8PM flight was delayed by 40 minutes, so the kiosk offered to book me on the 7PM flight instead. After a long day of travel, that seemed like a good option.
By the time I got past security it was 6:30PM, which was when my flight was supposed to board. That being said, it was delayed by a few minutes, which allowed me to check out the Delta SkyClub at SFO, which is quite new.
The SkyClub is located just past the security checkpoint for Terminal 1, on the left side.

San Francisco Airport Terminal 1
The exterior is sleek, and matches the new SkyClub branding, which I suppose goes without saying, given that this is a new club.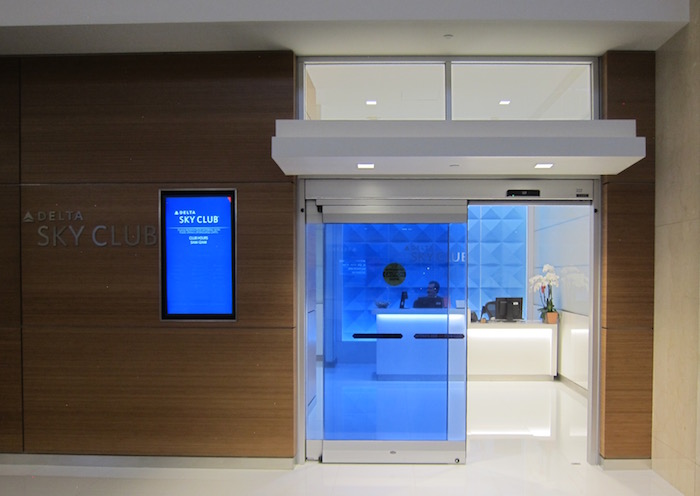 Delta SkyClub entrance San Francisco Airport
The associate at the front desk was friendly, and upon presenting The Platinum Card® from American Express, I was promptly admitted. Anyone with The Platinum Card® from American Express or The Business Platinum® Card from American Express can access the SkyClub same day as long as they're flying on Delta.
I took the elevator up a level to the actual SkyClub, and my jaw nearly hit the floor when I saw the design. Holy cow, aesthetically this is by far the most gorgeous US airline lounge I've ever seen by. By far.
There was a second desk in the actual lounge with agents who can help with any reservations. As I walked in I started snapping pictures of the lounge, and one of the associates commented "take all the pictures you want, this lounge is photo-worthy." And she was right.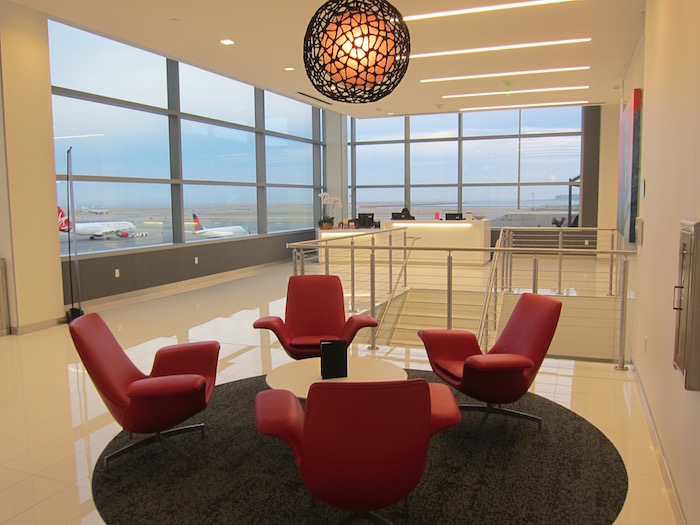 Delta SkyClub seating San Francisco Airport
There were four chairs underneath a light fixture right by the stairs, and then also near the elevator was a stylish (but not especially comfortable looking) couch. Then again, I'm not sure why anyone would actually ever sit there.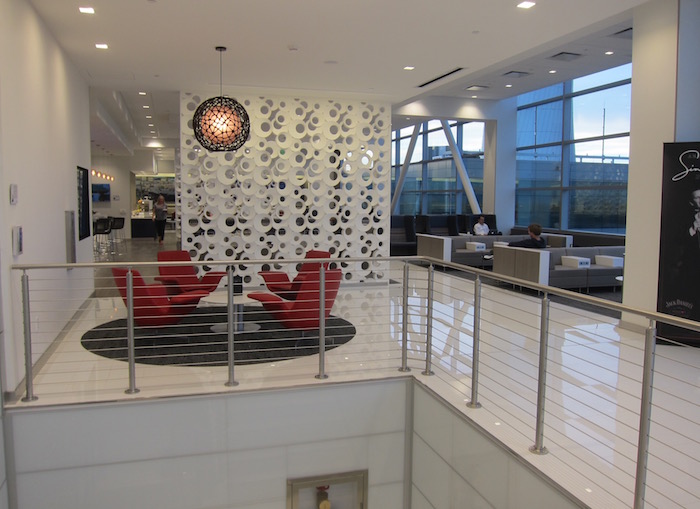 Delta SkyClub entryway San Francisco Airport

Delta SkyClub seating San Francisco Airport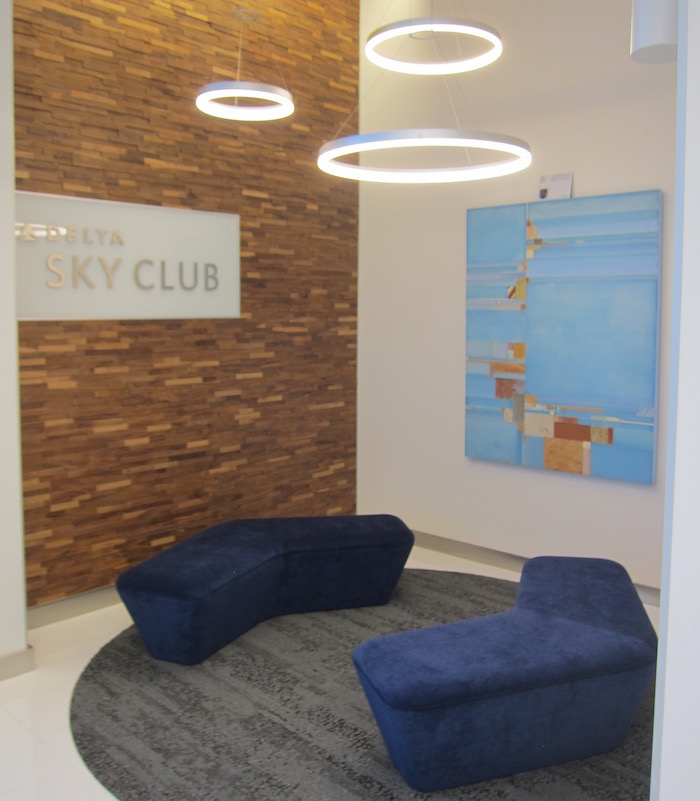 Delta SkyClub entryway San Francisco Airport
The lounge was huge, especially given that San Francisco isn't a hub for Delta. The ceilings were super high, and the lounge was nicely separated into different spaces using partitions and unique furniture.
Closest to the entrance there were mostly couches and plush lounge chairs.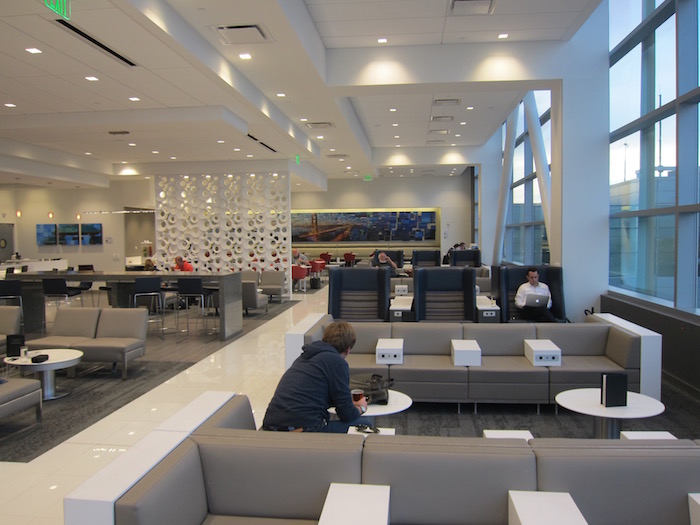 Delta SkyClub seating San Francisco Airport
Then as you walked further into the lounge there were some dining tables, which had a partition from the seating near the entrance for added privacy.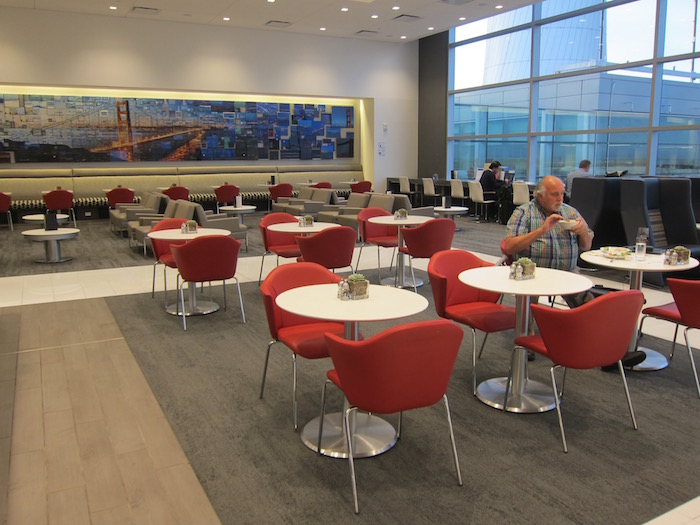 Delta SkyClub seating San Francisco Airport

Delta SkyClub dining area San Francisco Airport
Across from the dining area was the bar, which had dozens of liquor bottles on display.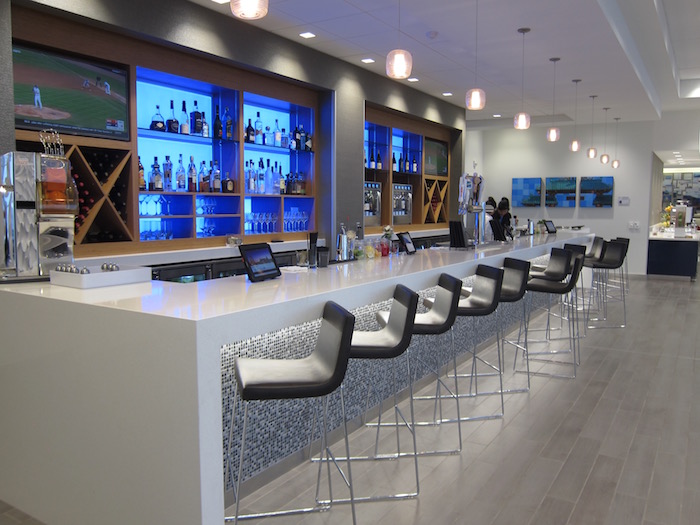 Delta SkyClub bar San Francisco Airport
There were also some unique couch-style chairs, which were stylish. As you can see in the picture below, the seats had plenty of outlets, which was true throughout the entire lounge.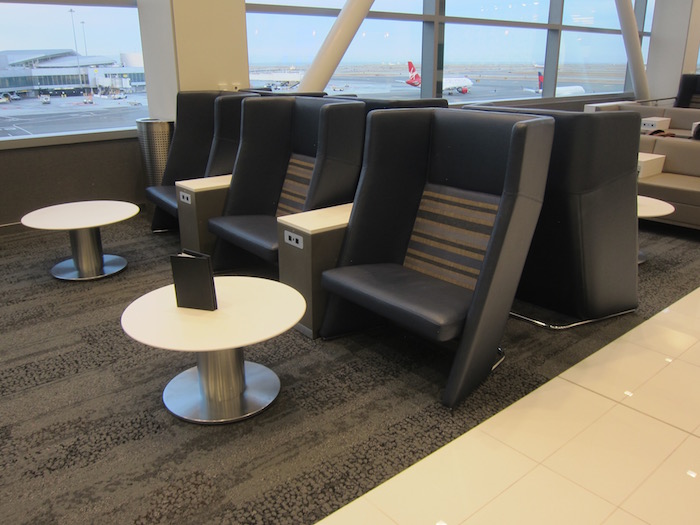 Delta SkyClub seating San Francisco Airport
Then in the back of the lounge were a ton more seats, including some more dining tables with booths.

Delta SkyClub seating San Francisco Airport
The lounge sort of has an "L" shape, so towards the back there's a business center in the corner, which features both cubicles and some high-top communal tables.

Delta SkyClub business center San Francisco Airport
The food spread is located where the lounge bends.

Delta SkyClub buffet San Francisco Airport
On the left side is Starbucks drip coffee, a Starbucks espresso machine (my favorite type of airport espresso machine), iced tea, etc.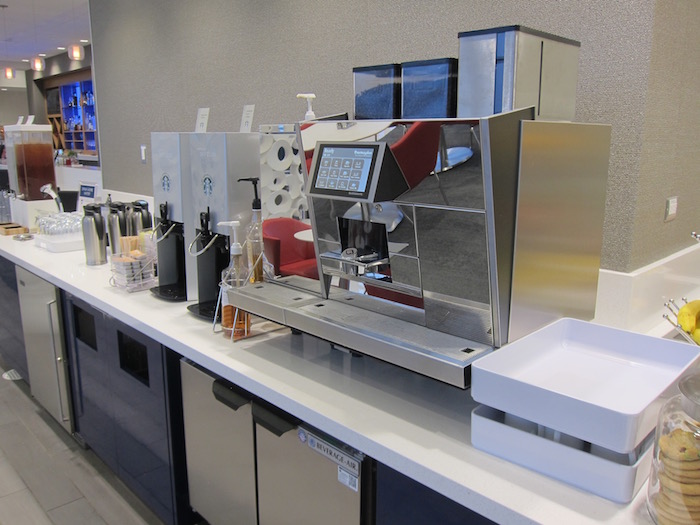 Delta SkyClub espresso machine San Francisco Airport
Then there are whole fruit and cookies.
While the SkyClub food spread isn't to the level you'd get at a non-US lounge or an Amex Centurion Lounge, it is quite solid.
There were several types of spreads, cheese (both packages and cubed), a fruit salad, and mushrooms.
Then there were fresh veggies and salad, with packaged dressing.
Then there were two types of pasta and a chicken salad.
Next to that were croutons, rolls, crackers, etc.
There were two pots of soup next to that.
And then there were a selection of tasty looking sweets.
At the very end of the buffet were two snack towers. Unlike at Admirals Clubs, these snacks are actually quite good, and don't taste like they're past their expiration date.
In the very back of the lounge are the bathrooms and showers.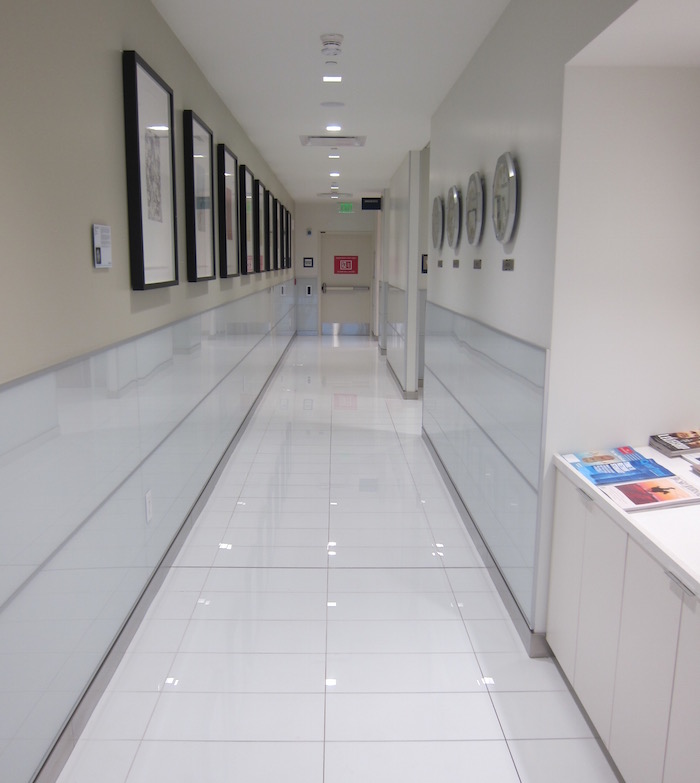 Delta SkyClub SFO hallway to toilets and showers
The bathrooms are gorgeous, with red tile, orchids, and a backlit wall.
The other thing worth noting is that the lounge boasts fantastic views. Because it's a level up from the rest of the concourse, you have views of both the tarmac and the runways, which are pretty awesome.
During my brief visit I saw the Virgin Atlantic A340 taxiing in, which was a bit funny since I had arrived on the other Virgin Atlantic flight earlier.
I only had about 15 minutes in the lounge before it was time to head to my departure gate.
Delta SkyClub San Francisco bottom line
As far as US airline lounges go, SkyClubs take the prize for being the all around best. While the SkyClubs in San Diego and Los Angeles were nice, this one was stunning.
This lounge's design, views, spaciousness, etc., were all unparalleled by anything I've seen from a US airline otherwise.
The food spread was quite good as well, certainly better than what you'd get in an American or United lounge. That being said, it's still not to the level of Amex Centurion Lounges.
But goodness, this was by far the nicest SkyClub I've been to. To think this is just an outstation for Delta…
What do you think of the Delta SkyClub's design?