Production of the A380 ending in 2021 sure is having Emirates rethink their strategy. This could potentially be a big blow for Boeing, and also reflect the direction the airline is headed.
Before we get into the news, lets recap Emirates' current fleet plans.
Emirates' current fleet plans
Currently Emirates' fleet consists exclusively of Airbus A380s and Boeing 777s:
On top of that, Emirates currently has the following planes on order:
35 Boeing 777-8s
115 Boeing 777-9s
40 Airbus A330-900neos
30 Airbus A350-900s
For an airline that previously had such a simple fleet, that sure is quite a complex strategy going forward.
There are a few things to note:
Of these plane types, the 150 Boeing 777Xs were the first to be ordered; these are intended to replace existing 777s, and were ordered before any A380 news was revealed
The A330-900neo and A350-900 order came as a result of production of the A380 ending; Emirates swapped some of their A380 orders for these planes
Emirates had signed a letter of intent to order 40 Boeing 787-10s, but they never executed that agreement; I imagine this was a casualty of Emirates' Airbus order
The latest news on Emirates' future fleet
Emirates President Tim Clark had some interesting things to say in a Seattle Times interview. He confirmed that Boeing and Emirates are currently concluding renegotiations with regards to the 777X.
This is really significant because currently there are 344 orders for the Boeing 777X, and 150 of those are in order. So they represent well over 40% of the orders for this plane, and up until now it didn't seem like that order was in jeopardy at all.
Apparently Emirates is considering deferring or substituting at least part of their 777X order. Clark has said that Emirates plans to keep their order around the same number of planes, though the reality is that if the plane is deferred far enough into the future, it's barely a sure thing anymore.
Emirates is also looking at possibly substituting part of their 777X order for 787s instead.
Emirates had signed a letter of intent for 40 Boeing 787-10s but never executed that, so it sounds like they may now be looking to swap around part of their order, and maybe pick up some 787s at the expense of some 777 orders.
So Clark is suggesting that the airline may instead still order Boeing 787s, though they're more likely to go with the -9 variety rather than the -10 variety. That's because he views the 787-10 as being very similar to the A330-900neo, so there's no need to have both plane types (meanwhile the 787-9 has substantially better range).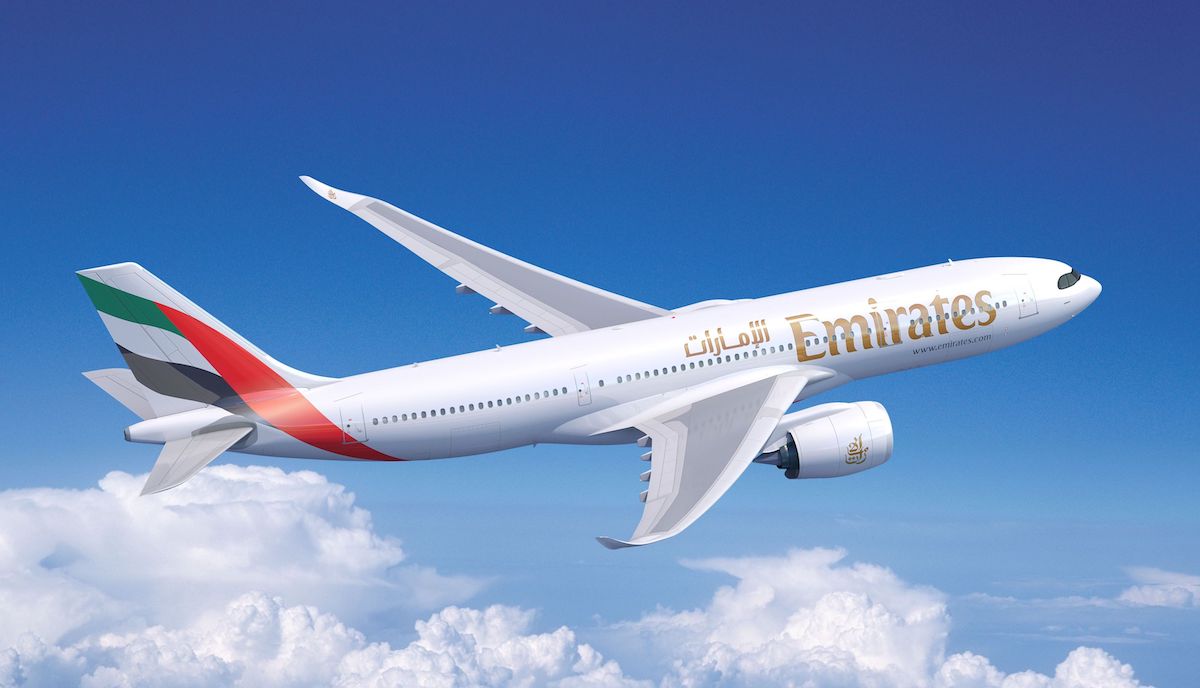 Emirates A330-900neo
While we'll have to wait and see how these talks unfold, it sure seems to me like:
Emirates wants some Boeing 787s, most likely the -9 variety rather than the -10 variety
While Emirates is saying they'll keep roughly the same number of planes on order, the reality is that if they defer deliveries long enough it's far from a sure bet
Emirates is supposed to start taking delivery of 777-9s in 2020, and of 777-8s in 2021. In my opinion the most likely outcome here is that:
Emirates keeps their entire order for 115 777-9s, but perhaps spreads the delivery out over a longer period
Emirates cancels or substantially defers their 777-8s, and replaces them with a 787-9 order
While the 777-9 has been popular, the 777-8 has received fewer orders. It's a smaller version of the new 777X, and it doesn't really have that many advantages over the variants of the 787.

Emirates 787-10 rendering
Bottom line
It sure seems like Emirates is taking a more conservative approach to their growth going forward, which isn't surprising. The airline is under increased financial pressure, and on top of that one of the biggest challenges they're facing is the introduction of longer range medium sized aircraft.
The need for Dubai as a global hub decreases as markets like Europe to Australia can be served nonstop.
I look forward to seeing what kind of an agreement Emirates and Boeing reach. I imagine we'll see at least some swaps or deferrals on the 777X, which would be quite a blow for Boeing, which is already struggling at the moment.