Emirates is known for having cabin crew from all over the world — it's part of the fun of flying with the airline. Several months back I wrote about how the airline had some recruitment events in the United States.
In the next couple of weeks, the airline has another five recruitment events planned in different cities in the United States. So if any OMAAT readers have dreamed of being cabin crew with Emirates, this is your chance. 😉
Want to become Emirates cabin crew?
Emirates will be having five recruitment events for cabin crew in the United States. These events will be held in Washington, Dallas, Miami, Los Angeles, and Seattle, as follows:
January 13, 2023, starting at 9AM in Washington at the Hyatt Place Washington DC/US Capitol
January 15, 2023, starting at 9AM in Dallas at the Dallas/Addison Marriott Quorum by the Galleria
January 17, 2023, starting at 9AM in Miami at the AC Hotel Miami Brickell
January 17, 2023, starting at 9AM in Los Angeles at the Sofitel Los Angeles at Beverly Hills
January 19, 2023, starting at 9AM in Seattle at the Renaissance Seattle
The airline has recruitment events all over the world, though we don't see them in the United States too often. All cabin crew are based in Dubai, so this would involve moving there. These are "open days," meaning you can just show up — you don't need to be invited for an interview.
What are the requirements to be an Emirates cabin crew?
You have to be fluent in written and spoken English; knowing a second language is an advantage
You need to be at least 160cm tall, and need to be able to reach 212cm high
You need to be able to meet the UAE's employment visa requirements
You need at least one year of hospitality or customer service experience
You need a minimum of a high school education
You can't have visible tattoos while in Emirates cabin crew uniform
What's cabin crew pay like at Emirates? In addition to housing in Dubai and health insurance being paid for, as well as transport to & from the airport, uniforms, dry cleaning, etc., the airline claims that starting pay is roughly ~$2,770 per month, or ~$33,000 per year. That's probably a bit on the high side, and doesn't factor in leave, etc. That's also tax-free.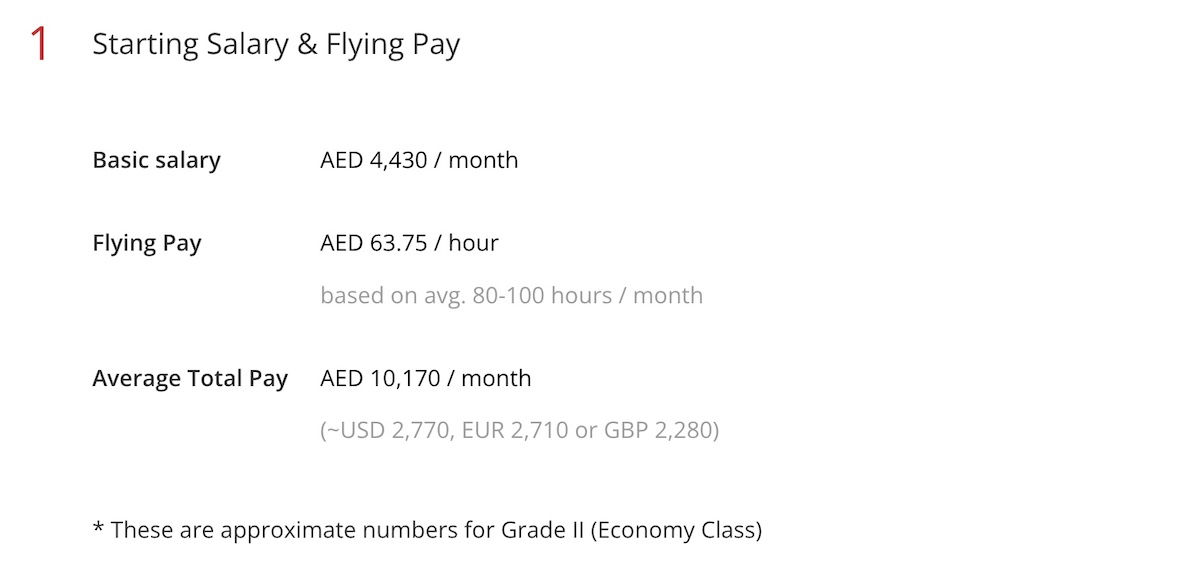 Contracts at Emirates are three years and non-binding, and can be renewed beyond that. There's also a probationary period of six months from joining date, where you can be fired pretty easily.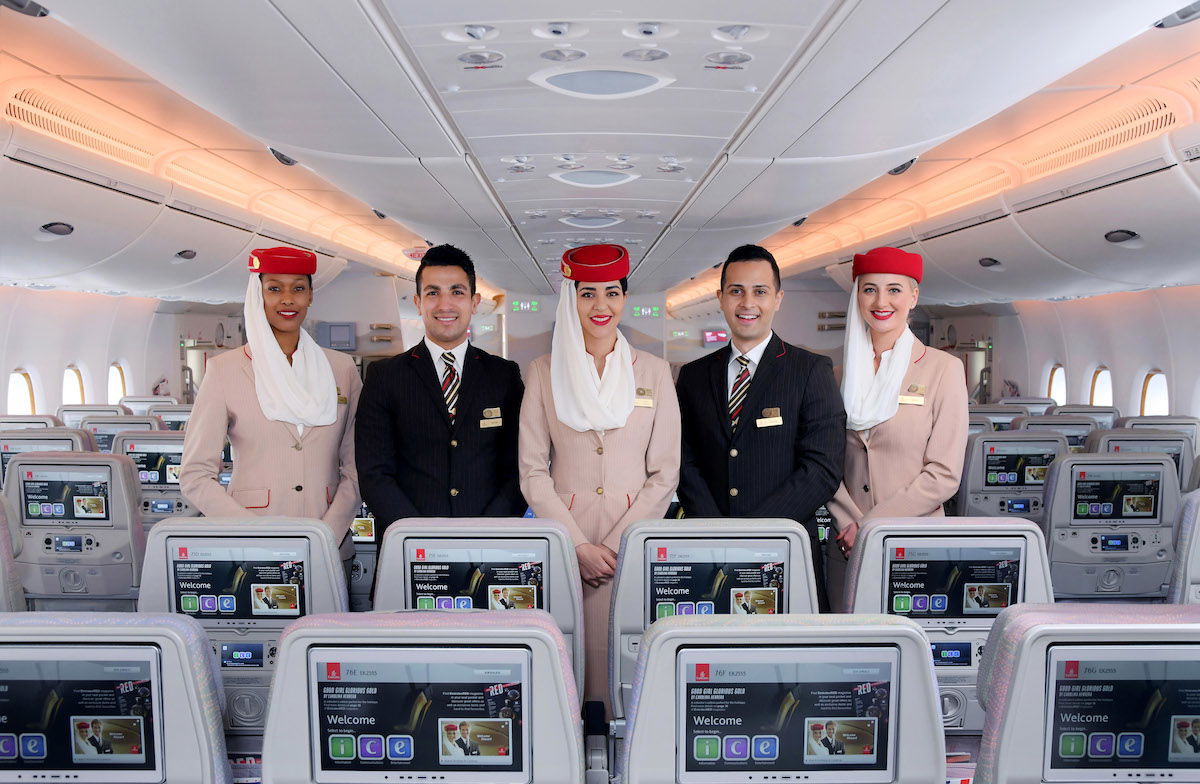 What I find interesting about Emirates cabin crew recruitment
I enjoy how Emirates has cabin crew from 160 countries, as it makes it all the more interesting to fly with the airline. I also think it's worth considering how the economics of Emirates' cabin crew pay impact the different ways that people approach this job.
For some people considering working for Emirates, it's not just a dream job to travel around the world, but it's also really good pay. If you're coming from Kenya, Pakistan, Sri Lanka, Tunisia, Thailand, etc., making $30,000+ per year is an exceptionally good salary, especially without even needing an education beyond high school.
Keep in mind that when you stay longer and get promoted, you make more. You'll find many Emirates cabin crew who have been at the airline for 20+ years, because this is more than they could ever realistically make in their home country. Some are grateful for their life in Dubai, though some of the super senior crews do seem a bit complacent.
When you have people coming from countries like the United States, United Kingdom, etc., the pay is still potentially quite good, though more often than not you'll find that people aren't looking to work at Emirates for the money. They're looking to travel, they're looking to expand their horizons, they're looking to party, and they're looking to post cool pictures to Instagram.
For example, you'll almost never find a purser or first class flight attendant from the United States, because usually it's an adventure of a few years, and then they return home. There's no doubt that can be a really cool experience for many. It's certainly more glamorous to be Emirates cabin crew than to work for a US airline.
However, just as they have layovers all over the world, Emirates cabin crew also do some pretty brutal overnight direct turns. So while they might be posting beautiful pictures from the beaches of Mauritius, the Seychelles, and Phuket, they're suffering through some tough flights as well.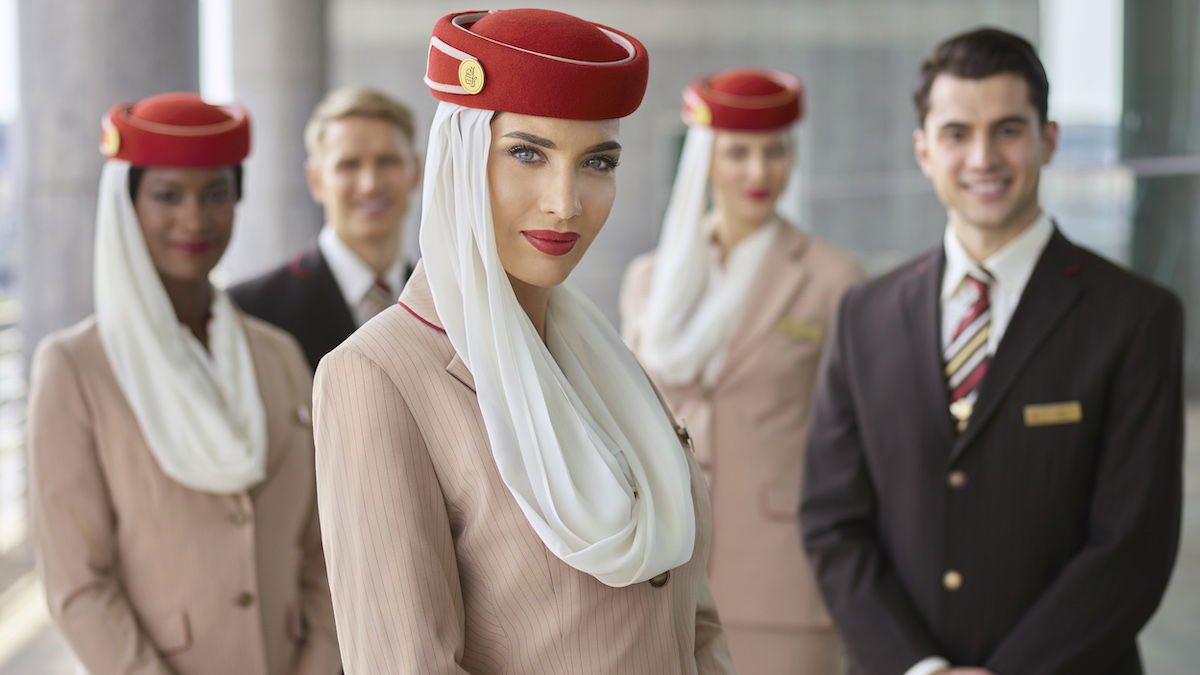 Bottom line
In the next couple of weeks, Emirates will be having five recruitment events in the United States. While the airline recruits from all over the world, it's not that often we see recruitment events in the United States, so it's pretty noteworthy. If you've ever dreamed of being an Emirates cabin crew and the airline is coming to a city near you, this is your chance!
If anyone does attend one of these, please do report back on what it's like — I'd sure be curious!