Thanks in part to the fabulous British Airways sales of last week, hotels in London have been a hot topic around here. Ben has been deliberating options for his Thanksgiving trip (and I'm sure he'll have a post on that process at some point), and it's been a big topic of conversation over on the Ask Lucky forum as well.
I love London, and it's one of my favorite cities to spend time in, but the hotel market (especially when using points) can be absolutely maddening. There are a ton of options, but there aren't really any standouts (especially when using points). Which can definitely work to your advantage, as you have many more redemption opportunities, but I'm not going to lie — there isn't a no-brainer perfect option.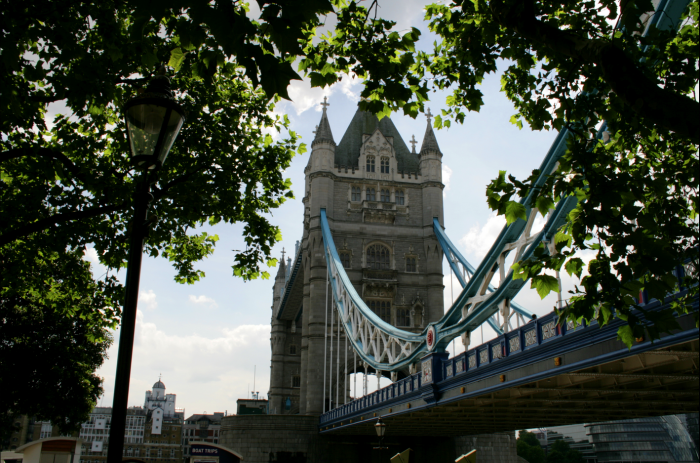 I will say that London is a great city for independent hotels, boutique properties, B&B's, and even airbnb's. However, this is a miles and points site, so let's focus on those options for now. 😉
My general approach
Every city is different, but when it comes to London I think you have to start by deciding which is most important to you:
The best neighborhood
The best value
Obviously everyone is going to define "best" differently, but I can assure you there is no perfect combination of location and value in London. I've probably spent as many hours agonizing over the "best" choice for a hotel in London as I've actually spent at hotels in London. So don't do that — it honestly doesn't help.
If you only have points or status in one or two hotel programs, it might make sense to pick a hotel based on the reviews and location of a specific hotel.
If you don't have points at all yet, and are trying to figure out which to accumulate, or if you're like me and have points everywhere and that's what makes this so impossible, then filtering by neighborhood can be a good place to start.
Choosing a hotel in London
First let's look at a map of the Greater London area, helpfully divided by the transit zones: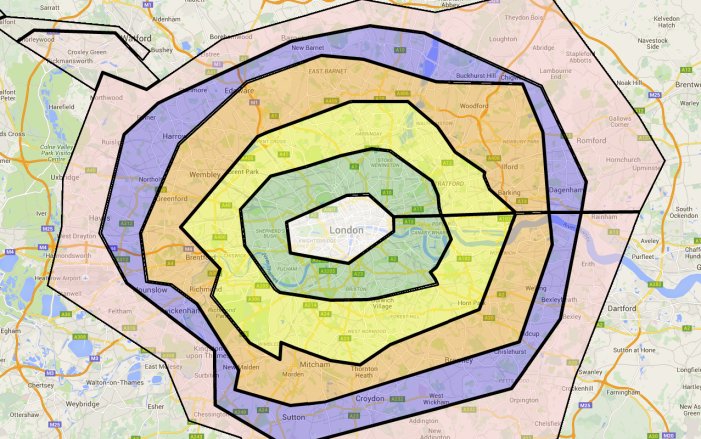 The zones start in the center, so Zone 1 is the white area, with Zone 6 (and Heathrow airport) in the pink area.
This is a little arbitrary, but typically if it's your first time in London, you're going to want to stay in Zone 1. There are still some great properties in Zone 2 (and beyond), and we just had a fabulous trip out in Greenwich, but for first-timers central London is just going to be more convenient. This will put you closer to most of the museums, Buckingham Palace, the key shopping districts, etc.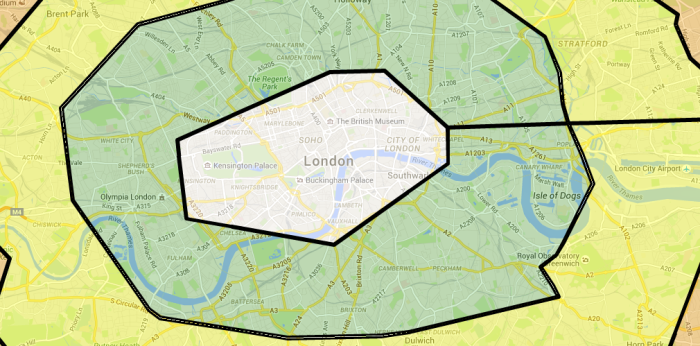 I'm about to offend everyone by either excluding a hotel chain, or butchering neighborhood boundaries, but I've put together a map of the main points-friendly hotels in central London. Hopefully this will provide a good reference as we go through things:
Tips for using the map:
On the upper left is a button that looks like a sliding door. If you click that, a panel will open which lets you select (or deselect) the hotel chains of your choice
Within each hotel layer, click on the down arrow to show the names of all the properties
If you click directly on a hotel name, you'll see more info about the property and – if I've done this correctly – a link to the hotel website
Left click and hold to "grab" the map and move it around
Use the +/- button to zoom in and out
Which neighborhood is best?
This is tricky, and really depends upon your personal preferences. (Also, apologies to Londoners in advance, because I'm about to merge several neighborhoods, divide others, and make myriad sweeping generalizations. It'll be okay, I promise, but feel free to add more specifics in the comments).
Fundamentally, if you're in Zone 1 you're going to be just fine in terms of neighborhood. There are some that I prefer more than others, but as long as you read the reviews of your target property and can avoid a generally unpleasant intersection or something, you should be fine. In terms of being close to "the sites" there are tradeoffs — the Tower of London is a haul away from most of the museums, and neither are particularly convenient to the Theaters, and so forth. So I don't personally feel there is a perfect location for everyone, but a given location might be more perfect for you, if that makes any sense.
Given that, there are six main areas where most of these hotels are clustered, so let's walk through them.
Knightsbridge / Kensington
This is one of the posher areas of London, and if you're envisioning traipsing through Harrod's or sampling the various museums, this is a great location.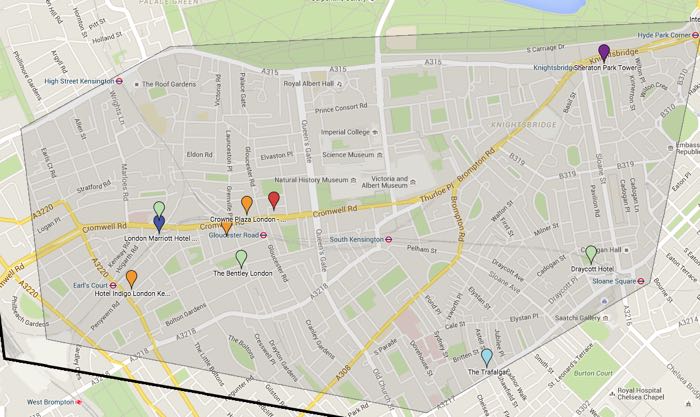 There are also some great independent hotels in this neighborhood (The Berkeley is lovely), and a surprisingly large range of prices. You can take the Tube directly from Heathrow without changing trains, which is a huge plus for many. And it's a very safe area, with lots of beautiful row homes and nice gardens.
I find the area a bit stuffy for my personal preference (I just asked my husband how he would describe Knightsbridge and Kensington and he responded with "miserably fashionable.") So it's clearly not our cup of tea, but I know other people enjoy that vibe.
Best for: Museums
Hotel pick: For SPG Platinums, the Park Tower is a fine choice. Otherwise I think the smaller/independent hotels are generally better here.
Park Lane / Oxford St.
Typically, I think when people say they want to be "near everything" in London, they're imagining an area like this.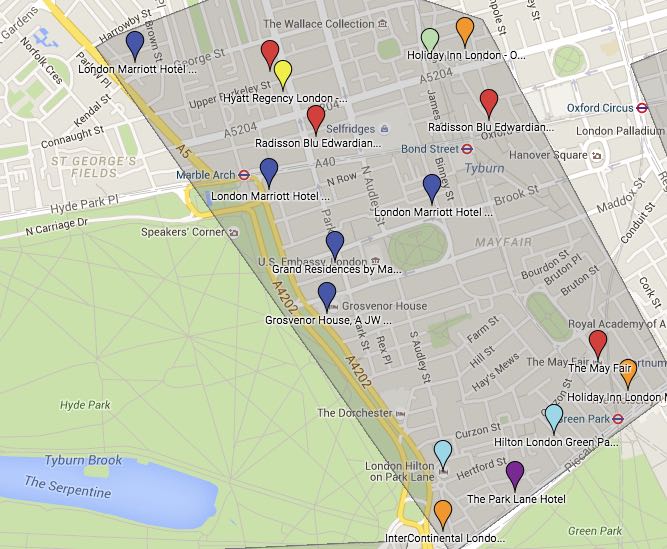 You're close to the parks, which are great for strolling or cycling through on the way to other sites; the main shopping areas run down Oxford St. and Bond St., and you're generally a quick Tube or cab ride away from most of the things you might want to see.
The downside, because there has to be one, is that these properties are pricey. Even when using points you're looking at very high redemption rates, and you really are paying for the location.
Best for: Shopping
Hotel pick: I don't think you can go wrong with any of the higher-tier properties in this area. I like The Intercontinental, JW Marriott Grosvenor House, The May Fair, and Hyatt Regency Churchill. The Park Lane is best avoided though.
Piccadilly Circus / Covent Garden
On the plus side, if you want to be in the thick of things, you really can't get more central than this.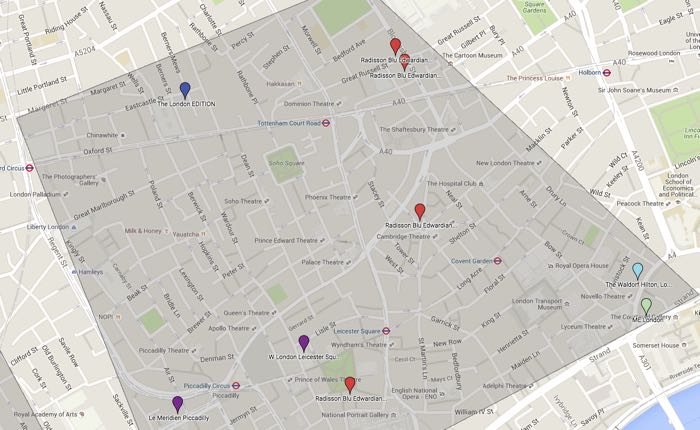 On the downside, you're right in the thick of things. If you've stayed in midtown Manhattan it's a similar experience to being in the area around Piccadilly Circus (not a circus) or Leicester Square (not a square). It's a fun area, there are great, hip, restaurants in the adjacent neighborhoods, and you can't beat the proximity to the West End. But be prepared for lots of traffic and a wall of people when you walk anywhere.
Best for: Theater / Restaurants
Hotel pick: Le Meridien Piccadilly (I actually prefer the W, but the LM is realistically the more rational choice for most people)
Westminster / South Bank
This area is a bit of a catch-22 for me. Theoretically it should be the perfect mix of proximity to the main sites without being too crowded, but there just aren't that many points-friendly hotels: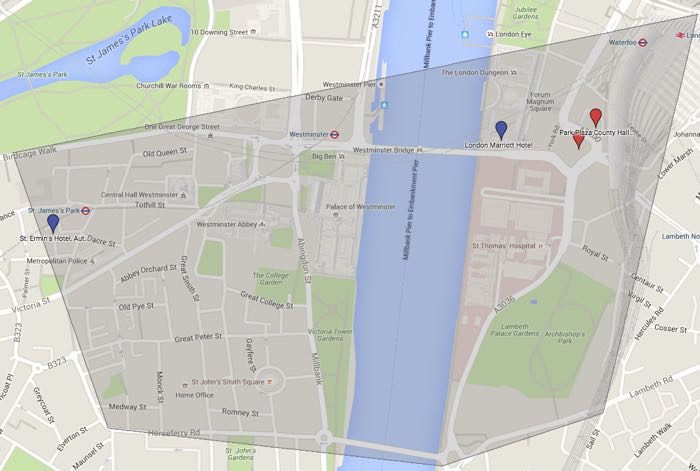 That said, there are quite a few independent hotels in this area, and even the chain hotels on the South side of the river have large (for London) rooms. The Marriott and Club Carlson options on the South Bank are probably the best points hotels in the city for an "all around" balance of convenience and price.
If you're traveling with a kid (or two), I'd probably start here, as the rooms are a bit larger and tend to have a higher occupancy.
Best for: Larger rooms / general sites
Hotel pick: Marriott County Hall
Southwark
I've had some great stays in Southwark, and the area can be downright cheap on the weekends.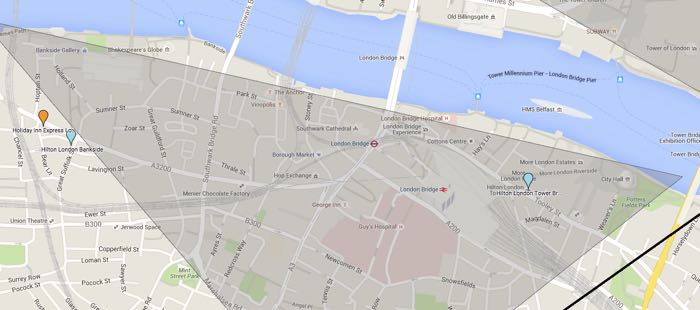 You're still close to many of the things that you might want to see — the Tower and St. Paul's are just across the river, and there's some interesting history on this side of the river. You're also only a few Tube stops away from central London, and the area is pretty walkable. The markets are great, and on sunny days the people watching at Potters Fields is fantastic.
However, this is a bit more of a business district, so a lot of the shops and restaurants close up pretty early, and you are a bit further out.
Best for: Less crowded, still convenient
Hotel pick: Hilton Tower Bridge
East-ish London
This is my favorite neighborhood to stay in when visiting London, but it's probably not going to be your first pick, if I'm being very honest.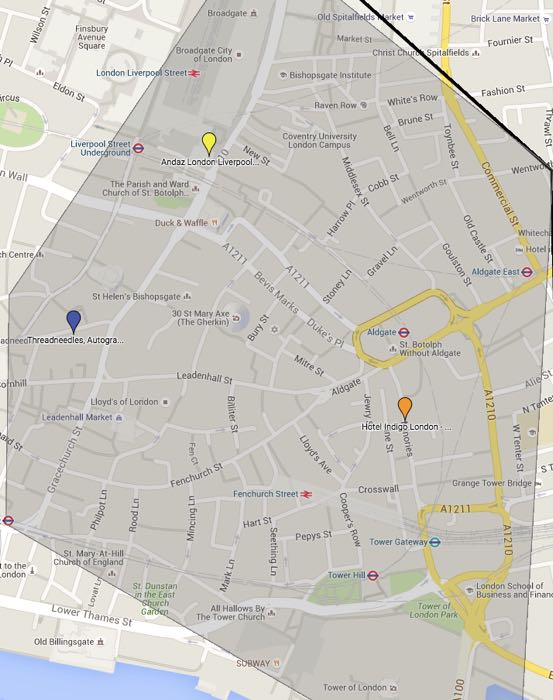 I love the proximity to Shoreditch, the markets at Leadenhall and Old Spitalfields, and being able to stumble over to Brick Lane for a curry. The Tower of London and St. Katherine's Docks are an easy walk or cycle away, and you'd be hard-pressed to find a shop selling "I <3 London" t-shirts.
That being said, you are a few minutes further from the central core. If you plan on going to the theater or to restaurants in Mayfair or Soho every night this might be a bit inconvenient.
Best for: Trendy, less-touristy
Hotel pick: Andaz Liverpool St.
Rooms for three
As I mentioned a while back, the majority of hotels in London have a maximum occupancy of two people, sometimes allowing a child under 12. I don't know if this is due to fire codes or tradition, but it can be a real obstacle.
In general, your best bets for using points for larger groups fall in this order:
Club Carlson (a handful more points can get you a premium/bigger room)
Marriott | Hilton | IHG (many properties allow 3+ in a room)
Starwood (a few properties allow 3+, or option to redeem more points for a premium/bigger room)
Hyatt (basically a Jr. Suite at the Churchill, or a Large King at the Andaz)
Again, it will depend on the specific property, but should give you an idea as to what to expect.
Bottom line
London has thousands of hotels, and it's not a city where I feel there is a single (or even a half-dozen) "best" options.
But there are many solid options, and with a bit of consideration as to your priorities you should be able to redeem points at a good value as well.
What about you? Any favorite (or least-favorite) hotels in London?